Pizza sauce vs pasta sauce? What are the differences between two of the most common condiment varieties in America? I mean, hardly anyone doesn't love a yummy yummy pasta dish or a slice of pizza filled with cheese, sauce, and pepperoni.
At first sight, some people might think that pizza sauce and pasta are just tomato sauce used in two different dishes. However, there are many things that set them apart that you might not know.
If you want to learn why pizza sauce and pasta sauce are considered two separate ingredients, don't miss out on this post.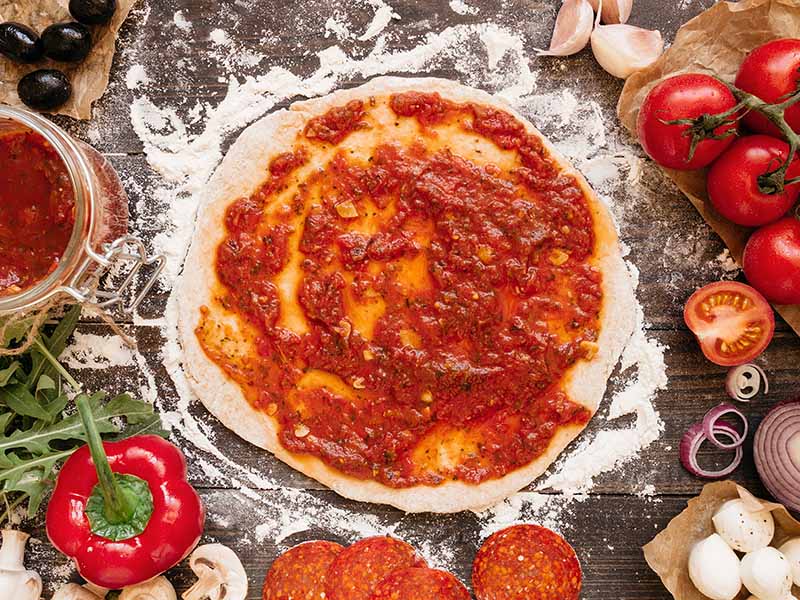 A Quick Comparison Between Pizza And Pasta Sauce
If you've eaten pizza or spaghetti before, you'll know that their sauces are both made from tomatoes. However, being made from the same vegetables doesn't make pizza and pasta sauce the same thing.
Here's a summarization of all the key features of these two ingredients.
| Key Characteristics | Pizza Sauce | Pasta Sauce |
| --- | --- | --- |
| Level of doneness | Uncooked or cooked | Cooked |
| Core Ingredients | Pureed tomatoes or plain tomato sauce, and tomato paste | Crushed tomatoes and tomato puree |
| Might Include Meat | No | Yes |
| Seasonings | Salt and pepper, garlic, red wine vinegar, sugar, and oregano | Various seasonings such as garlic, olive oil, basil, oregano, and bay leaf |
| Flavor | Fresh, tangy tomato flavor with a slight sweetness | Tomato flavor enhanced by an array of spices |
| Consistency | Thick | More watery than pizza sauce |
| Texture | Smooth | Chunky |
| Best Used In | Pizza | Pasta dishes |
All You Need To Know About Pizza Sauce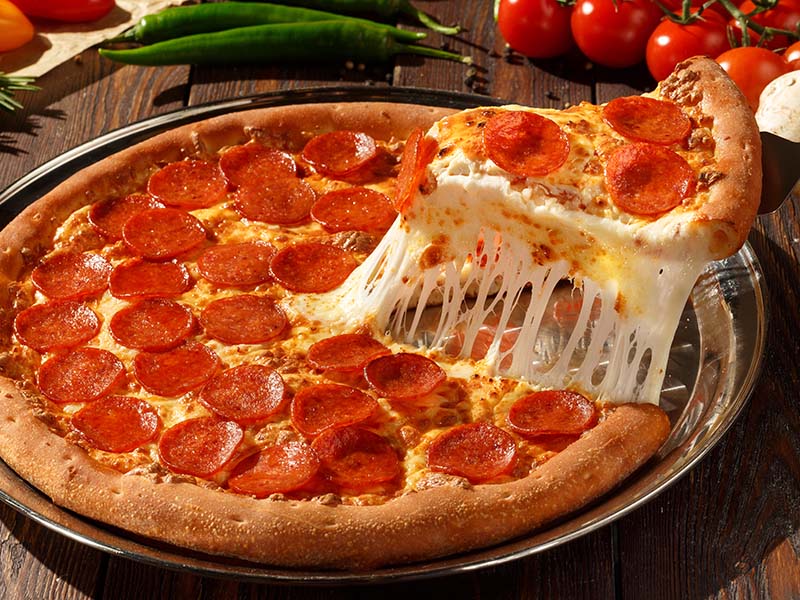 If you have some knowledge about artisan pizza, you'll know pizza sauce is a crucial part of a pizza. It is an uncooked, thick, yet smooth tomato-based sauce.
It has a fresh, tangy tomato flavor profile with a slight sweetness and Italian herb taste that mixes perfectly with the savory and creamy melted cheese.
The core ingredients of pizza sauce often include tomato puree seasoned with salt and pepper, garlic, red wine vinegar, sugar, and oregano. In addition to pureed tomatoes, plain tomato sauce and tomato paste are also used to make pizza sauce.
The general idea is, pizza sauce needs to be thick so as not to turn the dough into a soggy mess during baking. As for why pizza sauce is often uncooked, there are two reasons.
First, since pizza is baked at pretty high temperatures (about 400℉ to 500℉ or even higher), the sauce will cook together with the dough. In other words, it'll be redundant to cook the sauce beforehand.
More importantly, the sauce, and in turn, the pizza, will taste better if it isn't cooked twice. You want your sauce to taste fresh, zippy, and palatable out of the oven, and cooking it more than once is not the best way to achieve these flavor traits.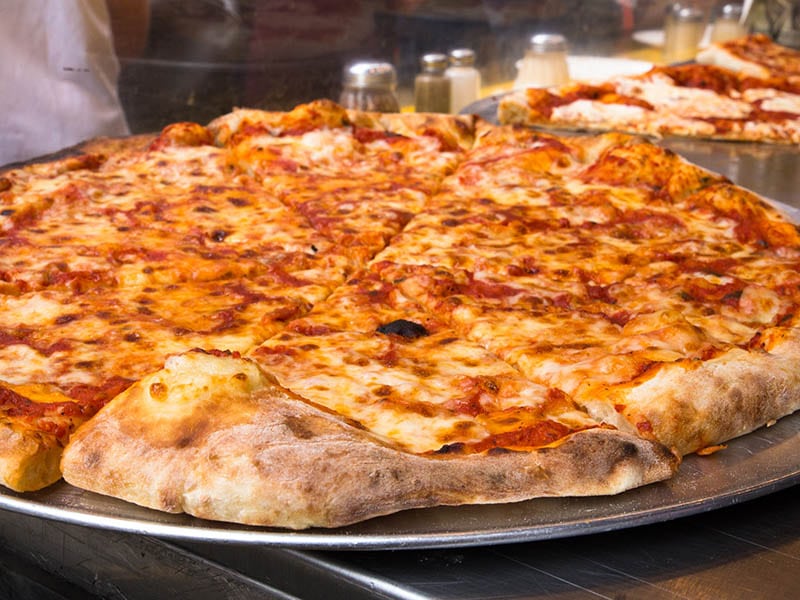 While traditional Italian pizza sauce remains uncooked before going on the pizzas, some other well-known kinds of pizza, such as those coming from New York City, use cooked sauce.
NYC-style pizza sauce is simmered at a low temperature for several hours to bring out the flavors of its seasonings. Doing this will result in a flavorsome sauce that is more to American people's taste.
However, this is not to say that Italian sauce is inferior to American-style sauce in terms of taste. Since only the finest of tomatoes are used in making traditional pizza sauce, it doesn't need to rely on seasonings to create a rich and appetizing flavor.
What Is Pasta Sauce?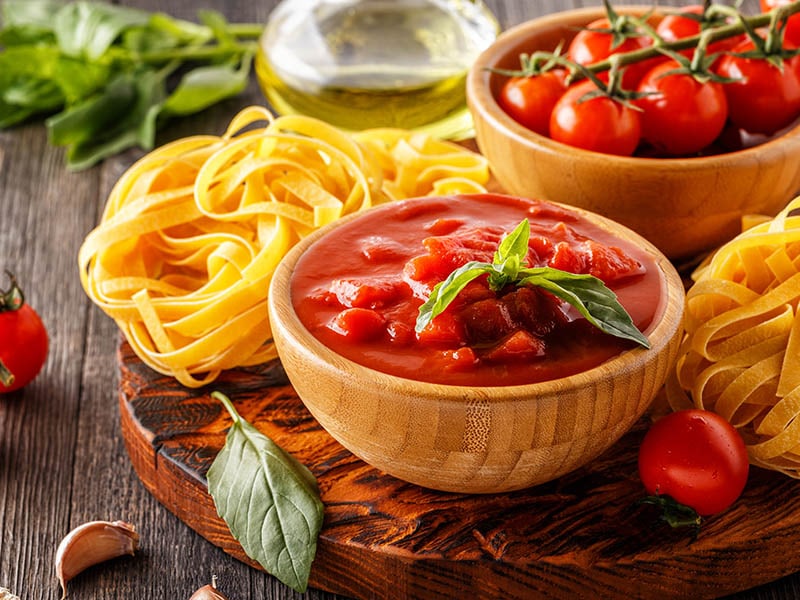 As the name implies, pasta sauce is the sauce that goes in your spaghetti. While there are numerous kinds of pasta sauce, it commonly uses crushed tomatoes or tomato puree and has a higher water content than pizza sauce.
Unlike pizza sauce, which can be either cooked or uncooked depending on where you live, pasta sauce is always cooked by slow-simmering.
Apart from pizza sauce, pasta sauce is also often confused with marinara sauce – a condiment made with tomatoes, onions, herbs, and garlic (1). While American people tend to use the terms marinara sauce and pasta sauce interchangeably, they are not entirely similar.
For example, consistency is one of the common ways to differentiate pasta and marinara sauce. Typically, pasta sauce is a bit thicker than marinara sauce.
So why does pasta sauce need to be cooked? Well, since most people don't cook their pasta along with the sauce, a little cooking in advance is required to take its raw edge off. If you're thinking about trying pasta with uncooked sauce, don't. Trust me; you'll regret it.
During cooking, various herbs and spices such as garlic, olive oil, basil, oregano, and bay leaf are added to the sauce to give its flavor more depth. Because pasta is practically tasteless, it is the perfect base for the flavor-packed sauce to shine.
In addition, people also put Italian sausages or ground beef into their sauce, resulting in a chunky mixture.
Moreover, cooking will thicken the sauce, thus making it easier to wrap around your pasta. A watery sauce won't stick as well as a nicely thickened one, and who wants to eat a dish of spaghetti where the sauce keeps sliding off?
Make the best out of store-bought pasta sauce.
Pizza Sauce Vs. Pasta Sauce – Why They Are Different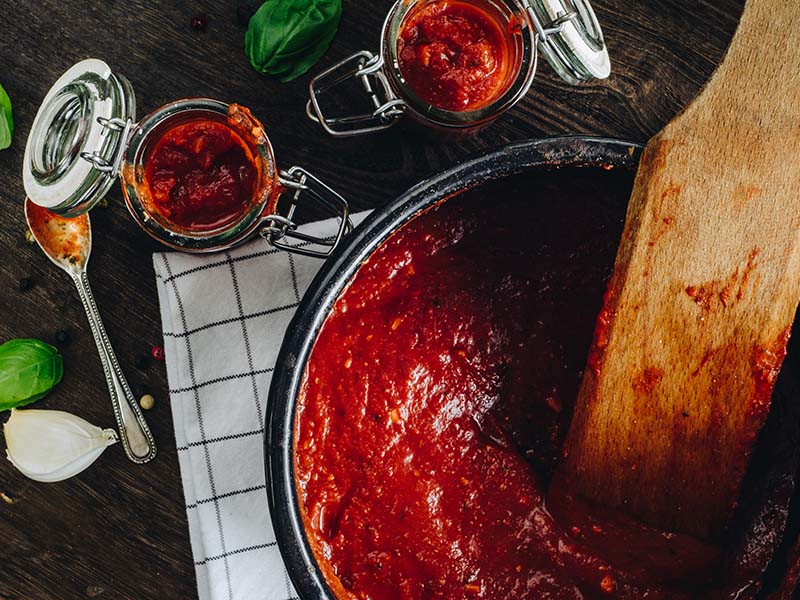 Now that you know what pizza sauce and pasta are all about, let's take a look at the things that set them apart.
First of all, pasta sauce is always cooked, while pizza sauce can be either cooked or raw before going into the oven. They also have a different consistency, with pizza sauce being the thicker one.
However, since meat can be added to pasta sauce, it is often chunkier than the smooth pizza sauce. In addition, pasta sauce features a wide variety of herbs and spices, as opposed to the fairly basic seasonings of pizza sauce.
The bottom line is, although both of them are tomato-based, pizza sauce and pasta sauce share little in common. As a result, don't expect raw pizza sauce to taste good on your pasta. At the same time, keep the thin pasta sauce away from your pizzas.
That said, there's a way to use pasta sauce in pizza making without ruining the dish. I'll show you how to do this later on in the post so keep reading!
Making Pizza Sauce Is Easier Than You Think!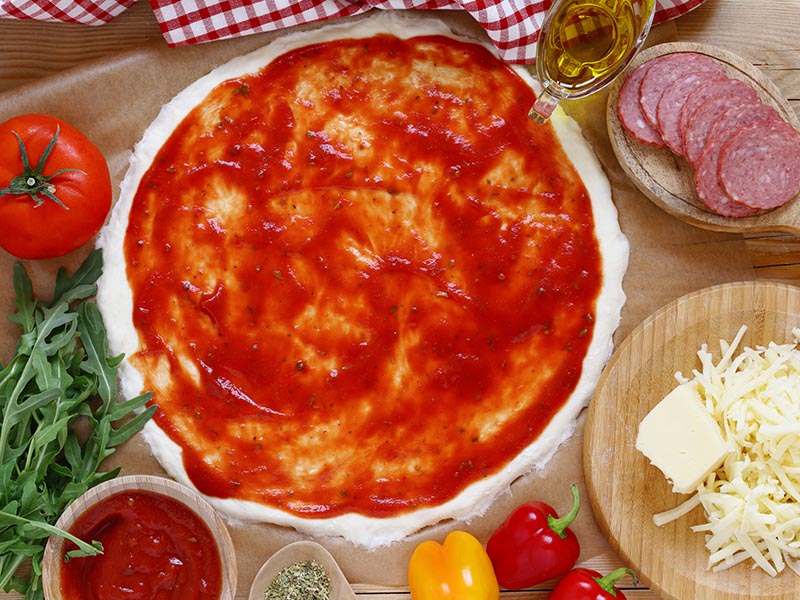 While it's true that pre-packaged pizza sauce is not really a rare thing, many choose to make their own pizza sauce. If you have some time, how about giving homemade pizza sauce a shot?
Prepare These Ingredients
Tomato paste: 6 ounces
Tomato sauce: 15 ounces
Oregano: 1-2 tablespoons
Italian seasoning: 2 tablespoons
Garlic powder: ½ teaspoons
Onion powder: ½ teaspoon
Garlic salt: ½ tablespoon
Black pepper (freshly ground): ¼ teaspoon
Sugar: 1 teaspoon
An Easy Way To Make Pizza Sauce
Five minutes are all you need to mix up some tasty pizza sauce. I wrote "mix" instead of "cook" because there's literally no cooking involved!
Step 1: Mix The Tomato-Based Ingredients
In a medium-sized mixing bowl, mix tomato sauce and paste well until thoroughly combined. Make sure that there's no lump left.
Step 2: Season The Sauce
Season the sauce with the rest of the ingredients, mix well, and your pizza sauce is ready!
Make delicious pizza sauce in just 2 minutes!
How To Store Your Pizza Sauce
You can store your pizza sauce in either a refrigerator or a freezer. Remember to keep the sauce in an airtight container, though. Refrigerated pizza sauce will last up to 2 weeks, while frozen one can be stored for 2 months.
Want Something New? Try This NYC-Style Pizza Sauce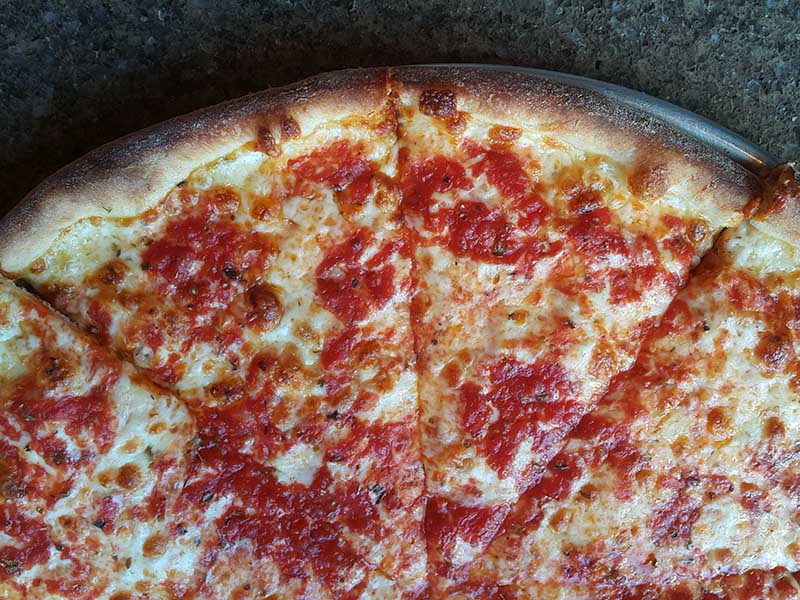 As mentioned above, New York City-style pizza sauce requires a bit of cooking. In case you want to try it, here's a simple recipe that you can make right at home.
You'll Need These Ingredients
Olive oil: 1 tablespoon
Butter: 1 tablespoon
Medium garlic cloves: 2 or 2 teaspoons of minced garlic
Dried oregano: 1 ½ teaspoons
Crushed red pepper: ⅛ teaspoon
Kosher salt: 1 ½ teaspoons
Tomato paste: 6 ounces
Whole peeled tomatoes: 14 ounces
Yellow onion (finely minced): ¼ cup
Fresh basil (chopped): 2 tablespoons
Sugar: 1 teaspoon
How To Make New York City-Style Pizza Sauce
With all the necessary ingredients at hand, time to make some NYC-style pizza sauce.
Step 1: Heat The Herbs And Spices
Add butter and olive oil to a medium saucepan and heat over medium-low flame. Next, add the oregano, minced garlic, red pepper, salt, then stir frequently for 2-3 minutes until they become aromatic.
Step 2: Puree The Tomatoes
Add the tomatoes along with tomato paste, basil, onion, and sugar, then puree until smooth using a hand blender.
Step 3: Cook The Sauce
Cook the sauce over medium heat until simmer, then reduce the heat to low and cook for 1 hour or until it reaches the desired consistency. The sauce should bubble lightly during cooking.
Step 4: Taste And Season
Give the sauce a taste test and season with more salt if you like. Otherwise, your sauce is ready to be used! You can store NYC-style pizza sauce using the instructions above.
Level Up Your Spaghetti With This Pasta Sauce Recipe
Like pizza sauce, making homemade pasta sauce is also a breeze. However, it will take you a bit more time and ingredients to cook spaghetti sauce.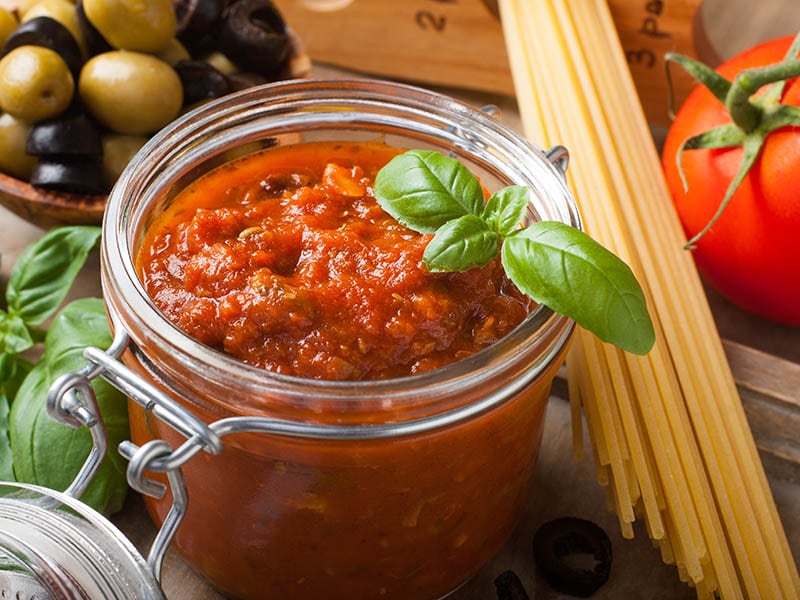 Prepare These Ingredients
Pasta sauce got its complex flavors from a variety of herbs and spices. For the best tasting sauce, make sure to use the highest quality seasonings you can find.
Extra virgin olive oil: ¼ cup
Medium yellow onion (grated): 1
Garlic cloves (finely minced): 3
Carrots (finely grated): 2
Canned crushed tomatoes: 28 ounces
Water: ½ cup
Kosher salt
Black pepper
Dried oregano: 1 tablespoon
Sweet Spanish paprika: 1 teaspoon
Red pepper flakes (optional): 1 pinch
Fresh basil (torn): ½ cup packed
Fresh parsley (chopped): ½ cup packed
Let's Make Some Pasta Sauce
Homemade pasta sauce will take approximately 35 minutes in total to make. With the amounts of ingredients above, you can make enough sauce for 6 servings or about 1 pound of cooked pasta.
Step 1: Cook The Carrots, Onion, And Garlic
Add olive oil to a large pan over medium heat and cook until just shimmering. Next, add the garlic, carrots, and onions. Cook for 5 minutes while stirring regularly until softened.
Step 2: Add The Tomatoes And Seasonings
Pour in the crushed tomatoes and water, then add a pinch of salt and pepper. Add your paprika, oregano, and crushed pepper flakes and stir well. Next, stir in the parsley and basil.
Step 3: Cook The Sauce
Once the sauce has boiled, reduce heat to low, close the lid and simmer for 15-20 minutes. At around the 10-minute mark, check to see if the sauce is too thick and add water accordingly. If you can, use the pasta cooking water.
Step 4: Serve With Pasta
If you're serving the sauce right away, add cooked pasta to the pan and mix to combine. Cook them over low flame for about 5 minutes.
Learn the best way to make Italian pasta sauce.
Tips To Store Spaghetti Sauce
If you want to store your pasta sauce, wait for it to cool, then transfer it to an airtight container or jar. After that, refrigerate the sauce. 3-4 days is the common storage life of pasta sauce in the fridge.
For long-term storage, you can also freeze your sauce. First, pour the sauce into a freezer bag while leaving some headroom for it to expand. Remove as much air out as possible, then seal the bag and freeze it for about 3 months.
To defrost the sauce, simply pull it out of the freezer and let it thaw in the fridge overnight.
Turning Pasta Sauce Into Pizza Sauce And Vice Versa
Due to their clear dissimilarities, using pizza sauce in place of pasta sauce (and vice versa) without any alteration is not a very good idea. In order to use these two sauces interchangeably, you'll need to take a few more steps.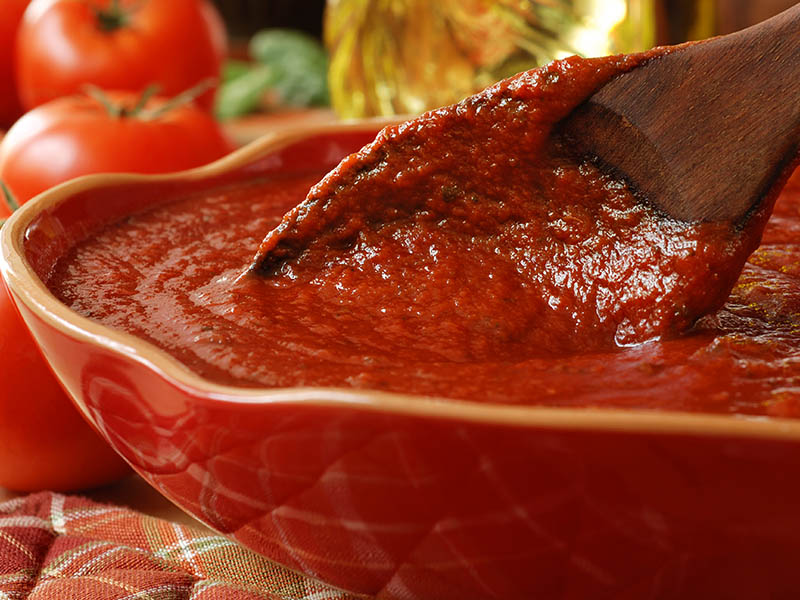 Using Pizza Sauce As Pasta Sauce
Turning pizza sauce into pasta sauce is quite easy. Start things off by sauteing some onions in olive oil, then add crushed canned tomatoes. Next, pour in the pizza sauce and simmer while stirring frequently. If the sauce is too thick, water it down a little bit.
And there you have it, a thin, perfectly seasoned pasta sauce substitute.
Using Pasta Sauce As Pizza Sauce
Since pasta sauce is thinner than pizza sauce, you'll need to thicken it a bit to mimic the consistency of its counterpart.
Step 1: Strain The Sauce
Straining the sauce helps remove the excess water. Typically, crushed canned tomatoes will be more watery than pureed ones.
Step 2: Process The Sauce
Add the pasta sauce to a high immersion blender, high-powered blender, or food processor and process a few times. Doing this will thicken the sauce and make it smoother.
Step 3: Season The Sauce
After blending, your sauce can become a little bland. To fix this, season it with additional salt, pepper, or any herbs and spices that you like.
Step 4: Stir And Filter
Stir well to combine all the extra seasonings, then filter the sauce once again, and you're done!
FAQs
To learn more about pizza sauce and pasta sauce, don't miss these frequently asked questions.
Use The Right Sauce For The Right Purpose
There are many reasons why pizza sauce isn't lumped in with pasta sauce. Each of them boasts unique traits and is best suited for different purposes. Although there's a workaround to use them interchangeably, your food will taste better with the right type of sauce.
Do you have any questions about pizza and pasta sauce? Don't be shy to leave your questions and thoughts in the comment below. Please click the like button and share if you find this post helpful.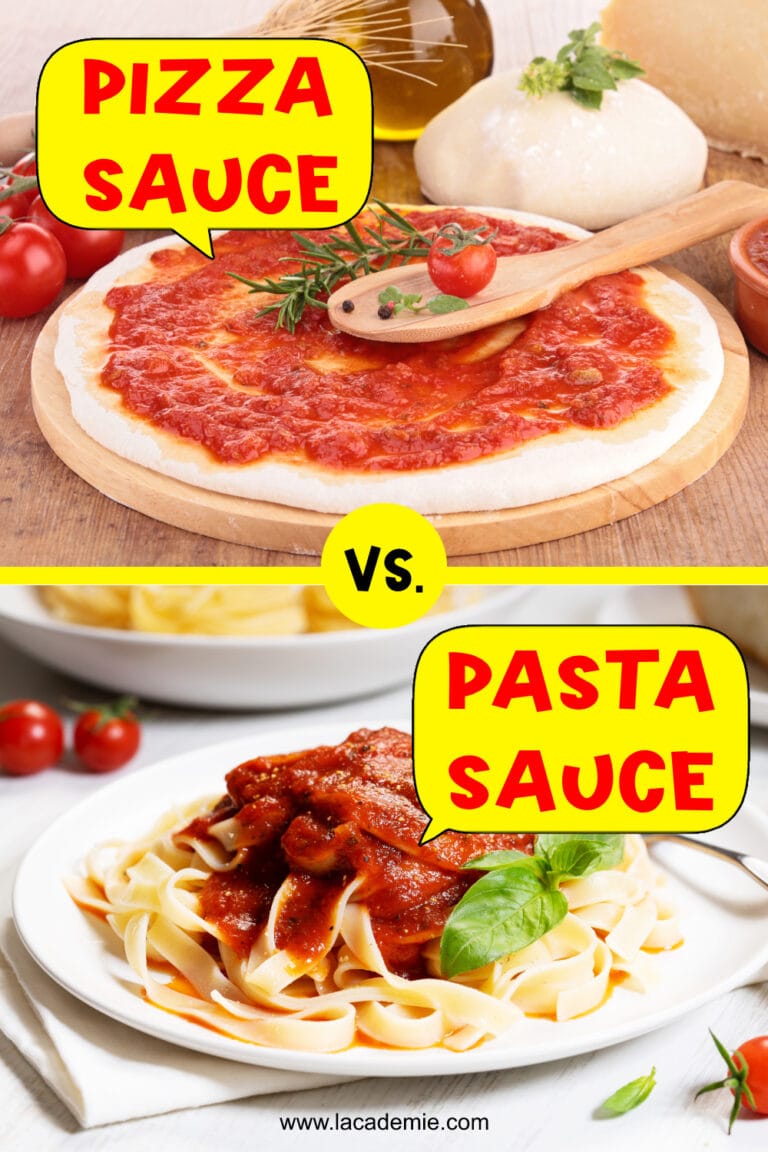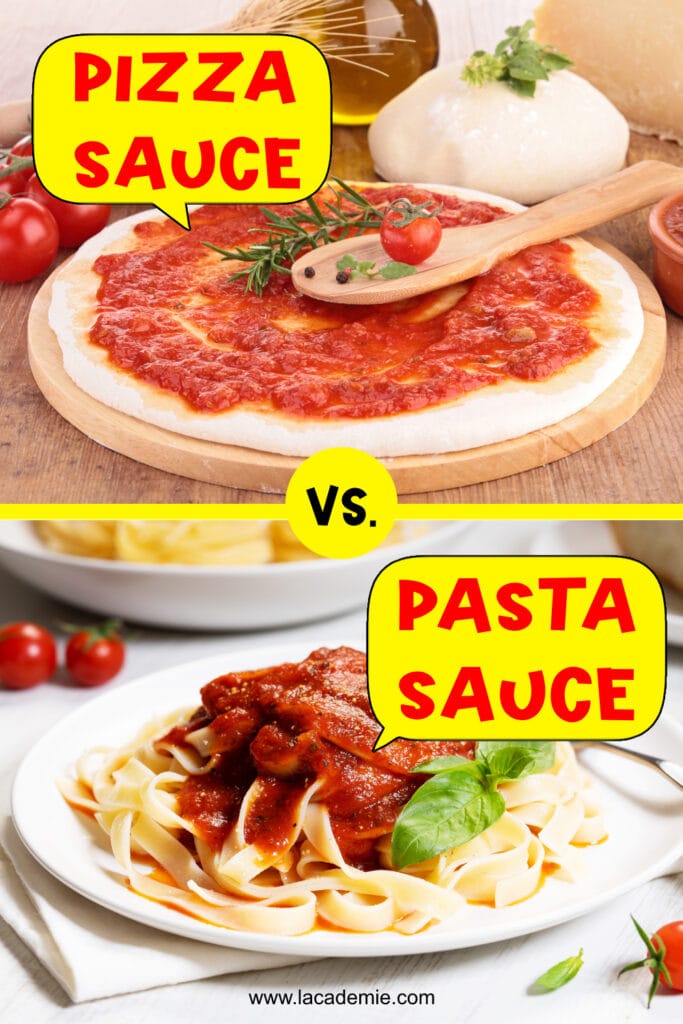 References
Contributors to Wikimedia projects, (2008a). Marinara sauce – Wikipedia
Contributors to Wikimedia projects, (2001). Tomato sauce – Wikipedia