A list of different types of condiments keeps growing with numerous flavorful ingredients to make your dishes taste better. However, what exactly is a condiment? Can you believe these foods' names all start from a to z? If not, let's find out in this article!
Overall, the condiment is one of the important food types that people usually add to enhance the flavor. And this article is an exhaustive list of various condiments on different continents, from Asia to the Americas. I also break down these 63 condiments into 10 classes, including:
Thick Sauces
Oily and Liquidy Sauces
Spreads and Pastes
Spices, Powders, Or Natural Herbs
Dips
Mustards
Salad and Salad Dressings
Pickles and Preserves
Ketchup
And Vinegar
You might question why pickles and preserves or herbs appear in this list, right? So let's begin with the definition of condiments.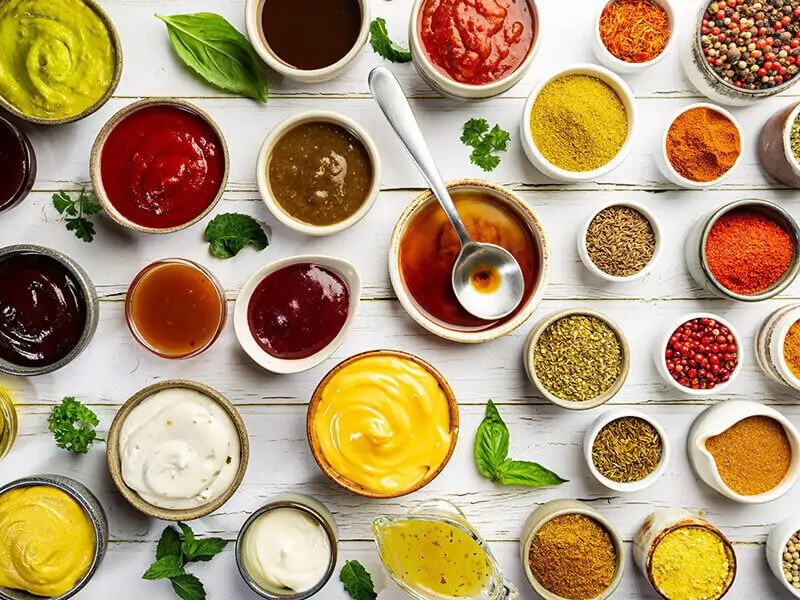 The Overview of Condiment
It is clear to see that condiments are the perfect substance for flavorings. People typically add them after cooking; however, various kinds need to be added during cooking or before serving.
Besides, some condiments can stand alone, while some cannot. They can be in thick form (like thick sauces, dressings, etc.) or powder (like spices, salt, etc.). Therefore, the condiment is a broad term, but as long as it can enhance food's flavor, it is a condiment.
Do you know "condiment" derives from the Latin word "condimentum", which means "spice, sauce, seasoning" and "condire" means "season, preserve, pickle"?
In the past, condiments referred to preserved food and pickles. Though its meaning has changed nowadays, some pickles and preserves are still ideal condiments.
Today, you can find condiments in various types of packages. They can be in a jar, plastic/glass bottle, or single-serving packet (like ketchup and mustard that fast-food or take-out restaurants usually provide).
Wait no more! Keep reading to learn more about the world of condiments with these 63 notable types. Many interesting facts are waiting for you to explore.
How do you know whether it is a type of condiment? This short interview will give you the answer.
Thick Sauce
Sauces vary in texture, ingredients, and color. They can have a cream-like, semi-solid, or liquid texture. In this section, I will mainly focus on 17 types of thicker sauces that play essential roles in various types of cuisines. Some might be sweet; some are savory. 
I also divide them into 2 types: Vegan and Non-vegan thick sauces in this part. But this classification is based only on the traditional versions of these sauces. In reality, you can find many vegan and non-vegan options.
Vegan Thick Sauces
The following are 10 vegan-friendly thick sauces. Some of them are very common in many households.
1. Barbecue Sauce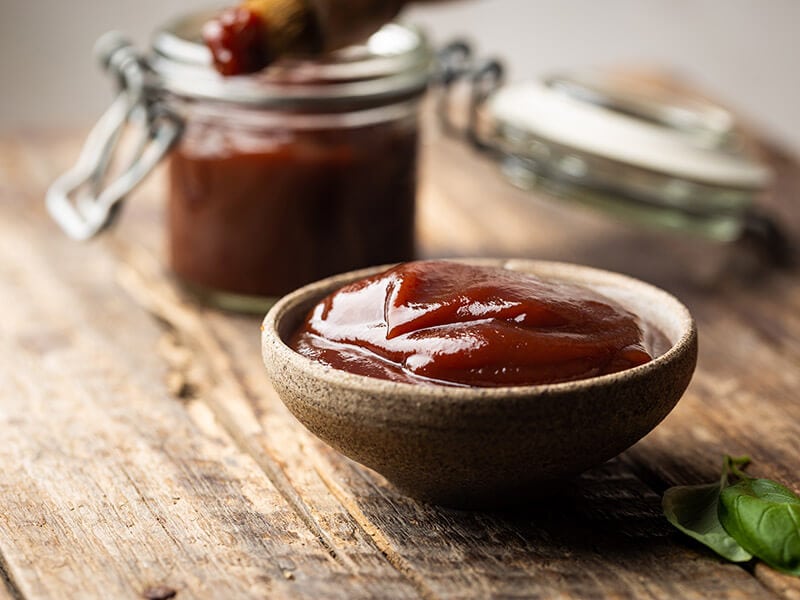 Barbecue sauce (aka BBQ sauce) is the mixture of other condiments, e.g., vinegar, mustard, ketchup, mayonnaise, liquid smoke, sugar, onion powder, and other spices. However, the recipe might be customized based on humans' preferences.
They typically use it as a condiment, marinade basting, or topping for BBQ-cooked meat. BBQ sauce is especially famous in Southern America to perk up the flavor of pork, beef, or chicken dishes. So try them in your favorite BBQ appetizers at your next party.
This sauce can be traced back to the 17th century. The first form of it included pepper, salt, and vinegar. And the BBQ sauce recipe has evolved. Nowadays, you can also find many ready-made BBQ sauces at supermarkets or in groceries.
Moreover, their variants are different by region in the USA. For example, the Texas version heavily uses spices and seasonings like cumin, chili powder, etc., and less sugar and tomato, while the Kansas version consists of spices, sugar, and vinegar in their sauces.
Here is a quick taste test of many types of BBQ sauce with a lot of insights.
2. Marinara Sauce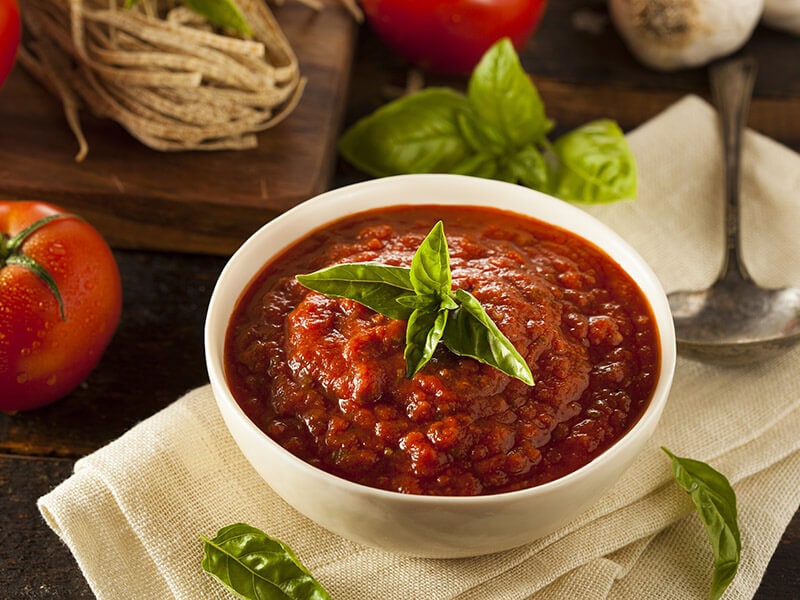 Marinara sauce is seemingly an upgraded style of normal tomato sauce with a concoction of tomatoes, herbs, onions, and garlic. You can find some Marinara sauce styles containing olives, spice, capers, or wine as well.
No one knows the exact origin of this sauce, but it is a significant sauce in Italian-American cuisine. In Central Italy, a cousin of marinara sauce is "Sugo Finto". Or in Italy, Alla Marinara is a sauce mainly made from oregano, basil, and tomatoes.
There are several tasty pasta sauces, and Marinara sauce is 1 of them. They pair well with your pizza and stir-fried dishes too!
3. Chimichurri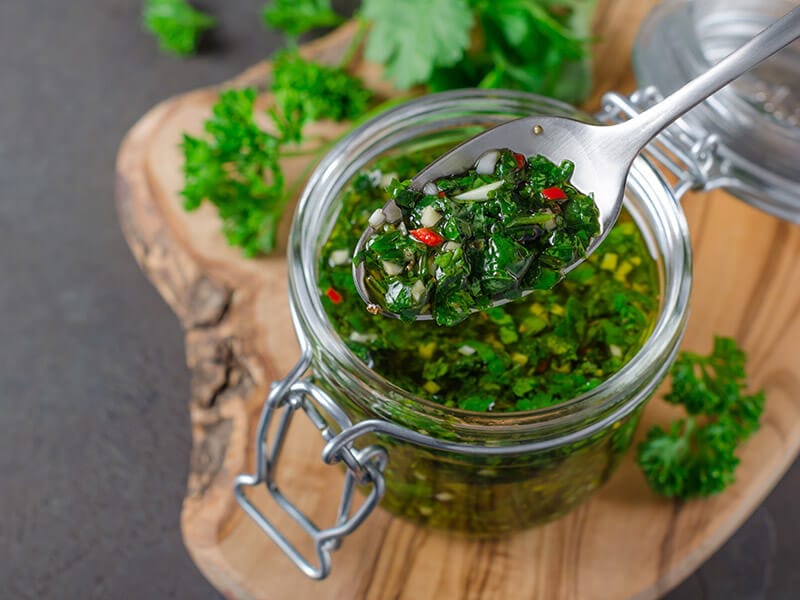 Argentina's cuisine is terrific, and so is their Chimichurri sauce. You can use this uncooked sauce as a condiment (especially for grilled meat) or a cooking element.
They can be the best compliment to steaks and sausages, but pairing them with fish or poultry is also ideal. People can baste this sauce on the meat during cooking, or coat it on the cooked meat surface.
The main components in Chimichurri are olive oil, chopped parsley, minced garlic, red wine vinegar, pepper flake, and oregano. This sauce has 2 styles: red (Chimichurri Rojo) and green (Chimichurri Verde).
The way people use Chimichurri is also different from country to country. For instance, in Mexico, it is a pizza topping made from mustard, mayonnaise, garlic, oil, chile de árbol, etc., with orange color.
If you have not known (or tried Chimichurri sauce before, click here to learn new things.
4. Cocktail Sauce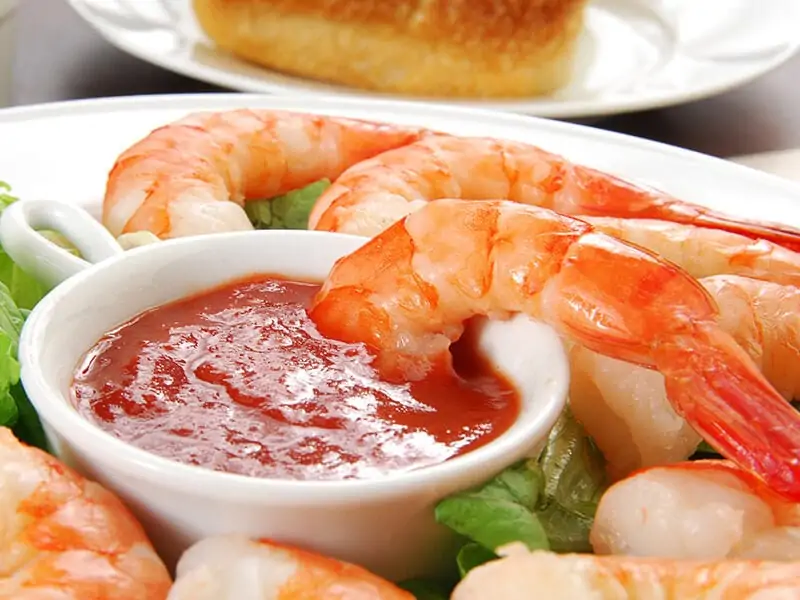 Another name for cocktail sauce is seafood sauce, which implies how people usually consume them with seafood cocktail dishes. They are best served cold or at room temperature, so if you want to serve a simple cold appetizer, e.g., shrimp cocktail, this sauce is the best one!
The origin of this sauce is in the United Kingdom, created by Fanny Cradock – a renowned British chef. In fact, seafood cocktails originated in America in the 19th which typically contained shrimp or oysters. And this sauce made it burst in flavor.
The cocktail sauce includes ketchup (or chili sauce) and prepared horseradish as main ingredients, but some styles might use lemon juice, Tabasco, or Worcestershire sauce as additions.
In other European countries, the locals add mayonnaise to tomato sauce to make cocktail sauce. On the other hand, besides pairing it with a seafood cocktail, the cocktail sauce can go with fish and chips, which is popular in Australia.
5. Chocolate Sauce (or Syrup)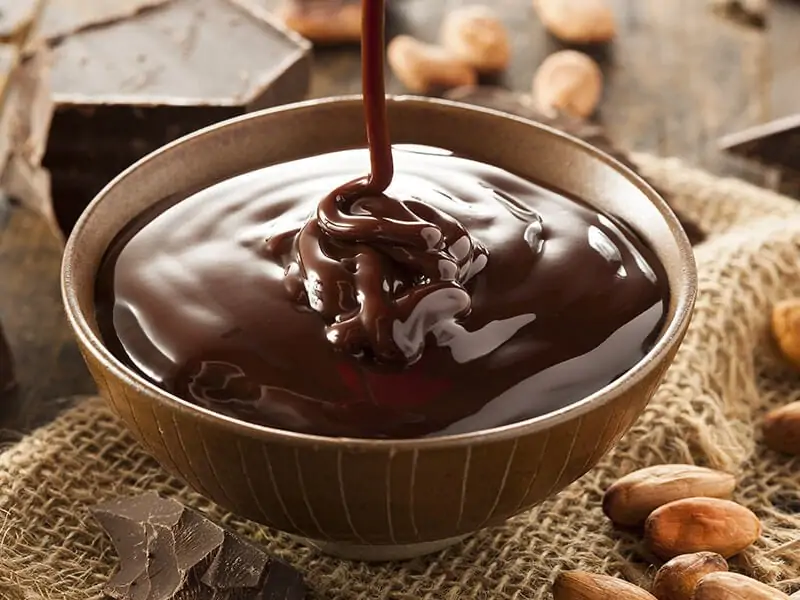 Chocolate sauce (or chocolate syrup) is a sweet condiment used as a dessert sauce or dessert topping (e.g., ice cream, cake, or puddings). They are also wonderful to mix in your milk (or milkshake) to make a tasty cup of chocolate-flavored milk.
Their consistency can be thin, so you can easily drizzle it on your desserts or a thick sauce that requires a spoon to put on the sweet treats. Indeed, decorating your cakes with chocolate sauce will make them more attractive.
You can buy this condiment in many stores, or homemade ones are easy to make. Use unsweetened cocoa powder, sugar (or other sweetened items), and flavorings (if desired) to create a simple chocolate sauce at home.
6. Teriyaki Sauce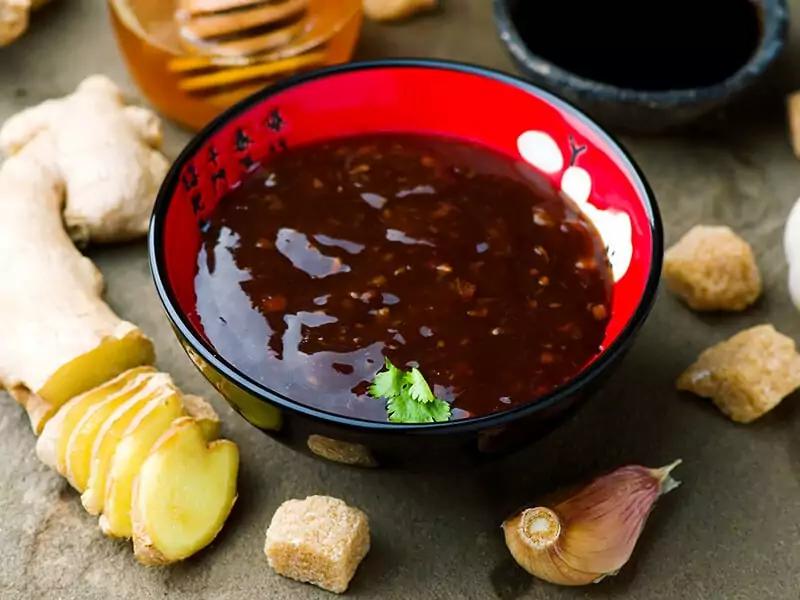 Can you guess the root of this sauce from its name? That's right; Teriyaki sauce is a Japanese-based food with dark color. The 4 main ingredients in this sauce are soy sauce, sake (or mirin with lower alcohol volume), ginger, and sugar.
Based on these ingredients, it's not hard to see that Teriyaki sauce fits into many diets. Keep in mind that some commercial products might add some additional ingredients, such as honey. If you're worried that Teriyaki sauce isn't vegan, you should double-check the ingredient list. 
This sauce features a sweet and tangy taste with strong umami undertones. They can be spicy as well. Moreover, the traditional Japanese Teriyaki sauce is thin, but some commercial bottled ones can be sticky and thick in texture.
Teriyaki also refers to all the meat dishes (like Teriyaki chicken) that have been marinated in teriyaki sauce in American cuisine. Many high-quality Teriyaki sauce products have been used in many fast-food or take-out restaurants in this country.
Check this instruction to make the finest Teriyaki sauce.
7. Steak Sauce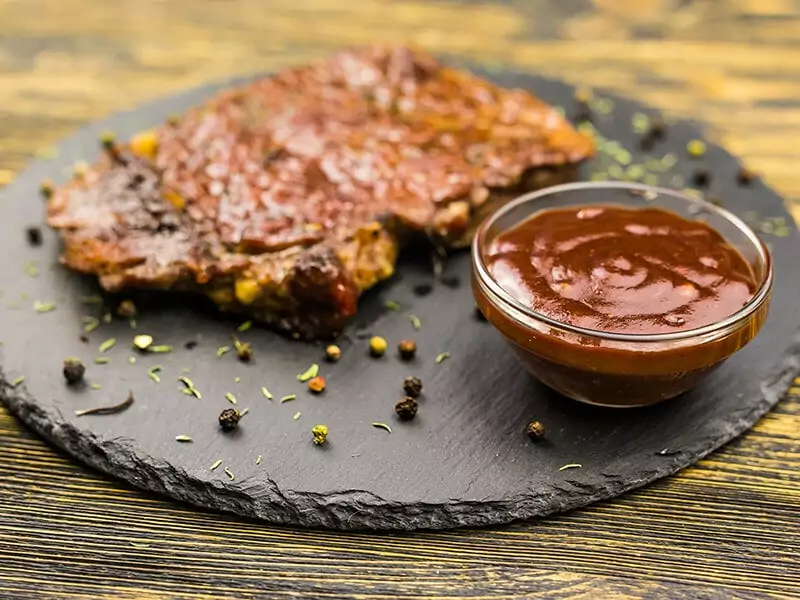 Nothing can beat steak sauce if you need a condiment for your favored types of steak. It is a tangy sauce with a huge reputation in the USA. If you are familiar with brown sauce in many British cooking ideas, steak sauce is a brown sauce's similar version.
Thus, this condiment is brown with a sweet (or tart) taste. You can also sense a bit of peppery flavor in the steak sauce. You can make them at home with tomatoes, raisins, spices, and vinegar or buy them from various commercial brands.
The 3 biggest steak sauce brands in the American market are Lea & Perrins (British), Henderson's A1 Sauce(British), and Heinz 57 (the USA). Their flavors and color might differ from each other.
For example, Heinz 57 sauce has an orange-yellow color, not brown. And their taste is like the mixture of ketchup and mustard seed.
8. Peanut Sauce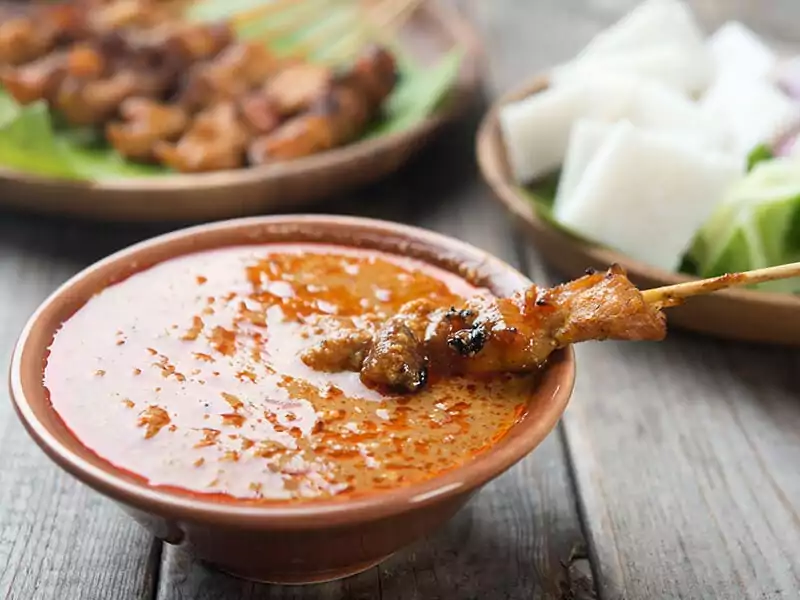 Peanut sauce is a well-loved condiment to match various dishes, especially in some delicious Asian appetizers. They also play an important part in traditional Indonesian foods, which is also the origin of this sauce.
Made from ground roasted (or fried) peanuts, people love to have it with their meat or veggies dishes. Other variants include coconut milk, spices, garlic, tamarind, etc. And based on the water you add in, the consistency of peanut sauce might range from thin to thick.
They especially taste better with grilled skewered meat (satay), so another name for this sauce is satay sauce. You can drizzle it on your salad as a dressing or a dipping sauce for other treats. Serve them at room temperature is preferable.
Its popularity in Asia, particularly in Southeast Asia, is undoubted. But do you know that peanut sauce is also a famous ingredient in Dutch cuisine? The locals usually eat them with their bread, baguette, potatoes, cucumber, or as a component of their deep-fried dish named Satékroket.
9. Hoisin Sauce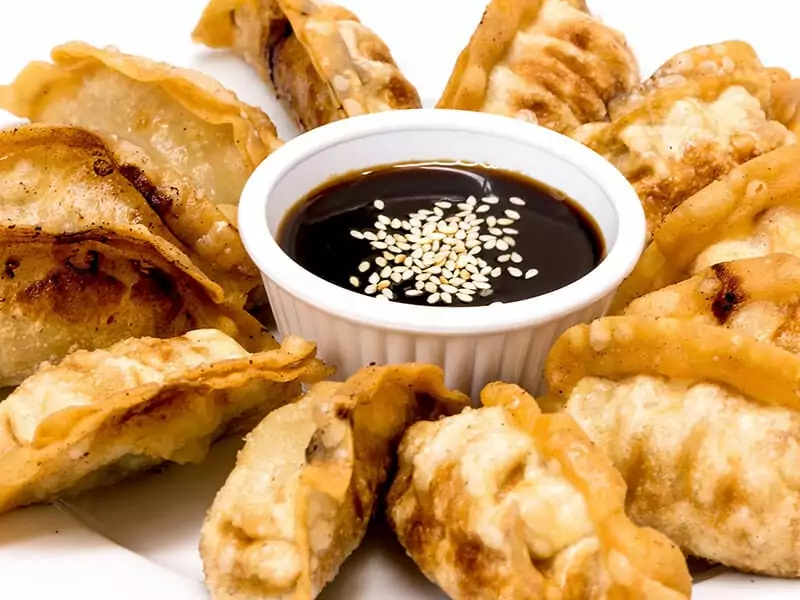 Speaking of traditional Cantonese foods, Hoisin sauce is a must-have element. It is a thick black sauce used as a condiment, a marinade sauce, a dipping sauce, or a meat glaze for stir-fried dishes. Very flexible, right?
The term "hoisin" in Chinese is "seafood sauce", but there is no seafood component in this one. They have a sweet and salty taste made from soybeans (main ingredient), fennel, chili pepper, and garlic. Five-spice powder, sugar, or vinegar are also common ones.
In many tasty Chinese dishes, Hoisin sauce is an excellent marinade for char siu (barbecued pork) or a dipping sauce for pan-fried rice noodle rolls. In American cuisine, it is a perfect dipping for Peking duck and moo shu pork.
In contrast, this thick black sauce is a condiment for phở – authentic Vietnamese food. And it usually goes with hot red sauce (similar to Sriracha) to make this soup-based dish taste more awesome.
Check here to grasp more information about Hoisin sauce.
10. Caramel Sauce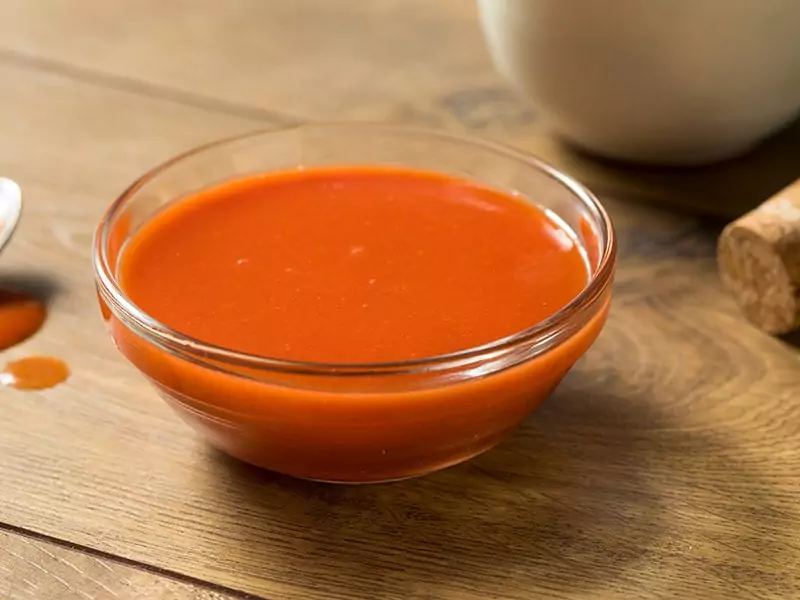 Caramel is a combination of heated sugar and liquid (water or milk) to create a sticky dark-brown (or beige) element. Therefore, caramel's main flavor profile is sweet, and so is the caramel sauce.
Once they dissolve the sugar in liquid and change the color from translucent to a golden brown, your caramel sauce is ready to serve. So whenever you need a sweetening addition to your desserts, especially caramel-based sweets, this sauce is the greatest choice.
However, caramel sauce does not use milk but water instead. Set the heat at low to medium to prevent burning them because this sauce is very easy to overcook. Once caramel sauce is cool, it can turn into hard candies.
Non-Vegan Thick Sauces
The second part is about non-vegan sauces with high consistency. They might be an egg-based sauce or use dairy products to prepare.
11. Mayonnaise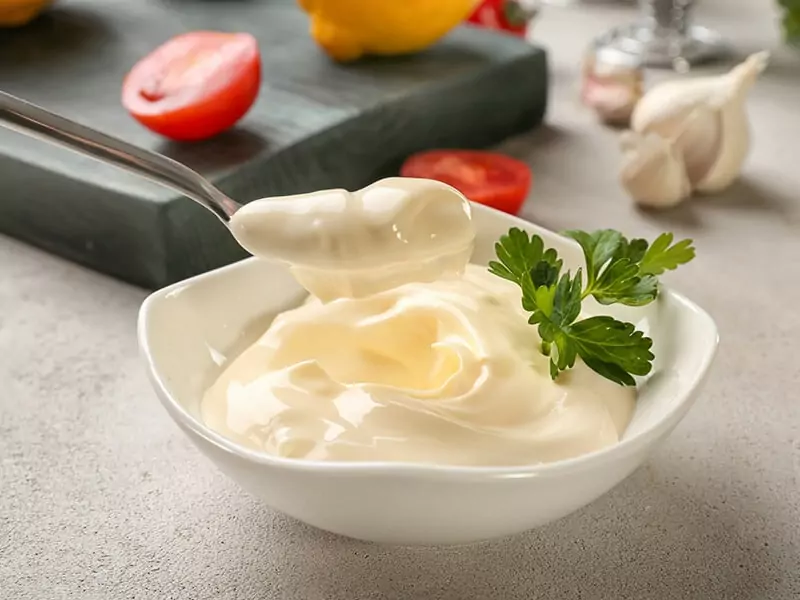 Mayonnaise (shortened as mayo) is Western countries' favorite creamy sauce. Thus, whether you consume salads, fries, sandwiches, or burgers, they mostly come with this sauce as a dressing.
Including egg yolk, oil, and lemon juice (or vinegar), it is a thick (or light) and cold sauce with colors varying from almost white to pale yellow. In addition, mayonnaise is a base ingredient of other sauces, like Tartar sauce, which I will discuss later.
In short, mayonnaise is a typical food in French cuisine with a long history. The initial form of this thick sauce was from 1806. However, the exact origin is still in a debate because some believe it is a Spanish sauce, while others claim mayonnaise is a French-based condiment.
The preparation of mayonnaise has evolved over the centuries. The modern ones can be made by hand or electric mixer to create a thick-gel consistency. Besides, there is vegan-style mayo suitable for egg allergies or vegan diners.
Is mayonnaise a 100% healthy food? This explanation will open your mind about this matter.
12. Buffalo Sauce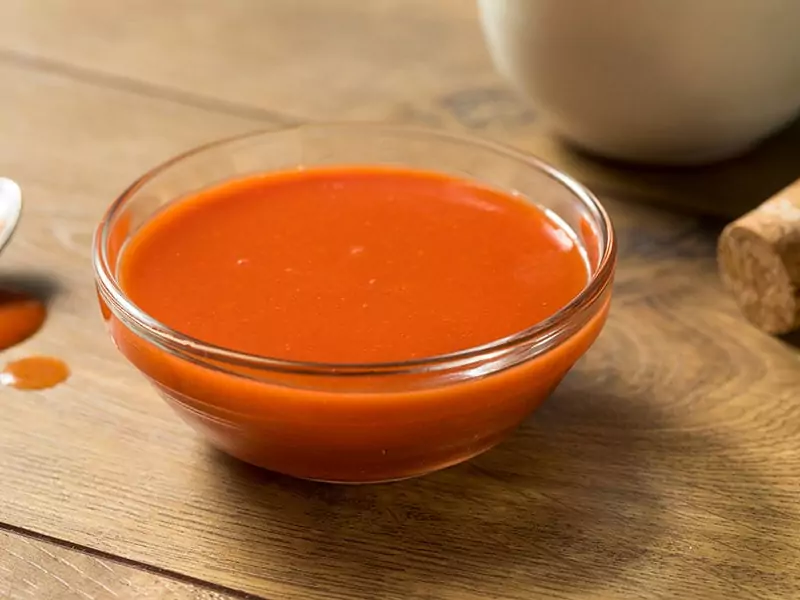 Buffalo sauce indicates a hot sauce created in Buffalo city in New York. Specifically, it is an invention of Teressa Bellissimo, who worked at Anchor Bar in 1964. And she was making this sauce for her son's late-night snack.
If you look for something to go with chicken wings to spice up your taste bud, this sauce is a terrific condiment or dipping sauce. You can mix it with other dishes like meatballs, pork delicacies, French fries, etc.
This sauce is a mixture of hot sauce, fat (like butter), and other components to make a creamy and spicy sauce. Buffalo sauce also needs a thickening agent like cornstarch to reach the right consistency. Some people think this sauce is a fancier version of regular hot sauce.
13. Oyster Sauce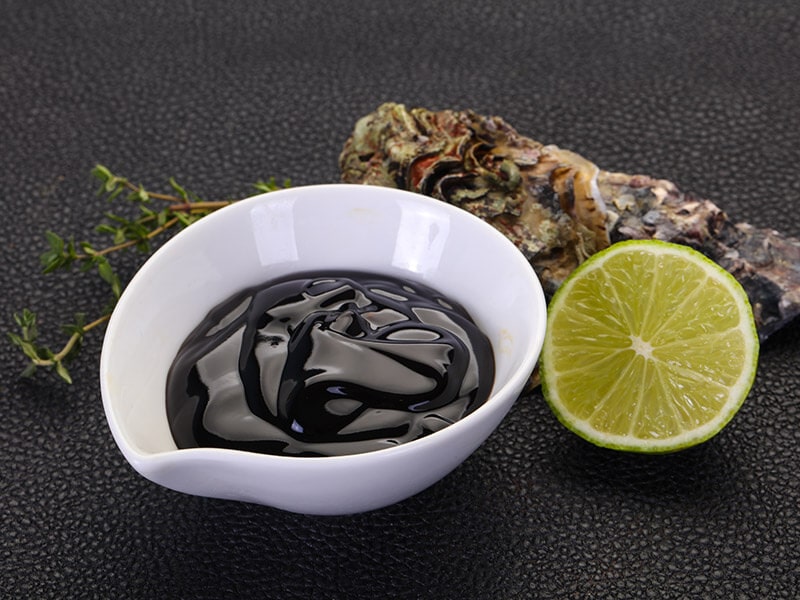 As the name suggests, oyster sauce encompasses cooked oysters (or oyster extracts), salt, sugar, and a thickening agent like corn starch with dark brown color. This is a common condiment in many staple Chinese foods or other Asian cuisines, including Vietnamese, Thai, and Malay.
The first appearance of oyster sauce was in the 1870s in China. Back then, people boiled oysters with water (or seawater) and seasonings in an iron pot and dried them by fire or the sun. Today's versions have similar tastes but in shorter processing time by automatic system.
Oyster sauce is a sweet-and-salty condiment with rich umami, savory, and tangy taste. Chinese mostly use it to make stir-fried noodles (chow mein) or stir-fried veggies. They also use this sauce as a topping in some savories.
You can find many good brands of oyster sauce in the market. If you are a vegetarian, you can try oyster sauce made with oyster mushrooms (or other mushroom types). And the vegetarian variant's price is lower than the original oyster sauce.
14. Pesto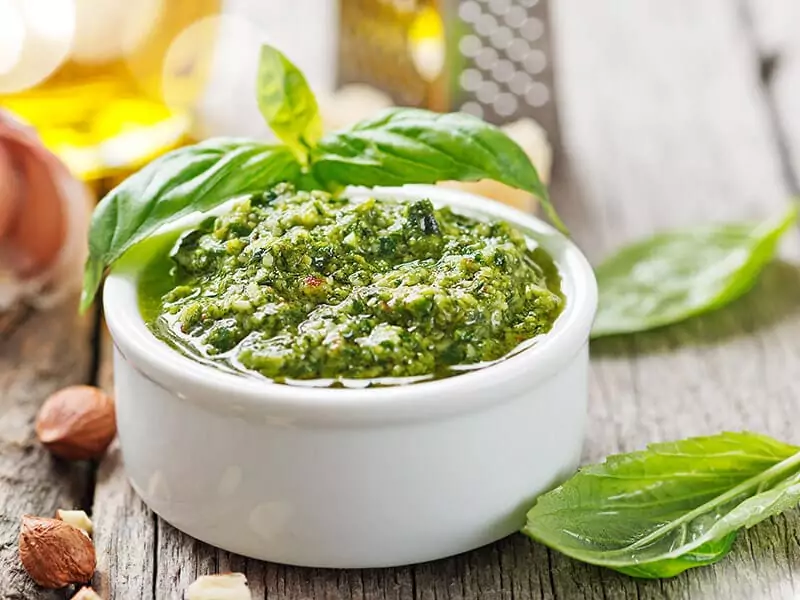 One of the quintessential foods in Italy is Pesto – a green condiment made of crushed basil, garlic, cheeses, pine nuts, olive oil, and other ingredients. Originating in Genoa city, this sauce carries all the traits of Italian cuisine – elegant, simple, and delicious.
The word "pesto" came from the verb "pestâ", meaning "to crush" to imply its preparation. The traditional way to make it is using a marble mortar and pestle to ground garlic, pine nuts, and basil leaves.
And with olive oil and cheese, they become a creamy sauce with high consistency. The most popular way to enjoy this delicious Italian sauce is by matching it with pasta. That's why you can find a thousand pasta pesto recipes on the internet.
There are other pesto variants with other nut varieties, like pecans, walnut, cashew, hazelnut, and more. And some nuts might need a pre-roasting or toasting part before combining them with other components.
With a few steps, you can create a bowl of tasty pesto sauce for your pasta (or other dishes).
15. Aioli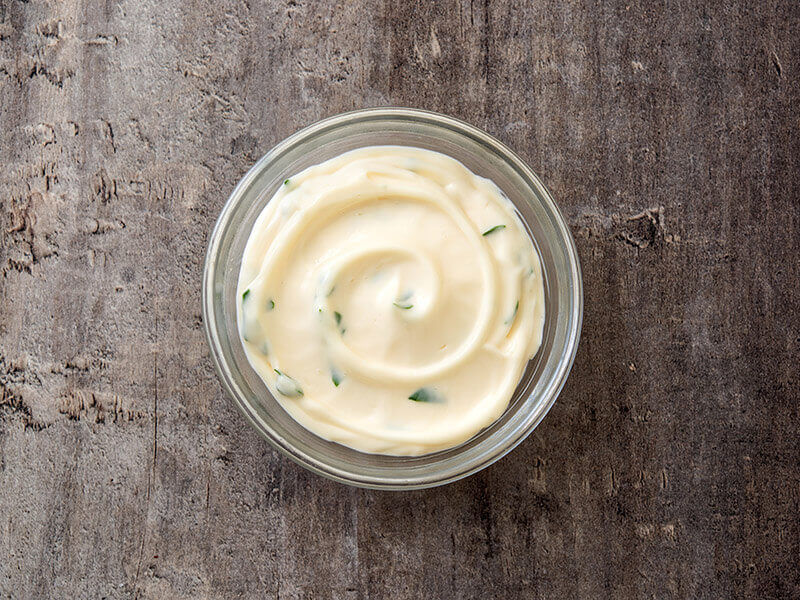 Like Pesto, Aioli is a sauce traditionally prepared by a mortar and pestle to crush garlic with olive oil and salt. Nowadays, a food processor or a blender is a quicker and less-effort alternative to prepare it. However, the result might not be similar to traditional ones.
This food beginning with "A" is a specialty from the Mediterranean, especially in Eastern Spain and Southern France. They have a similar creamy and rich texture to mayo, and both of them are emulsions that can serve at room temperature.
Many versions come with egg yolk. That's why many people describe it as garlic-flavored mayonnaise. Americans had called it mayonnaises Aioli from 1990. Moreover, how people enjoy this sauce differs by region.
They can work well with crackers (in Malta), or with seafood dishes in Occitan cuisine. And Aioli's ingredients are also different in these countries.
16. Tartar Sauce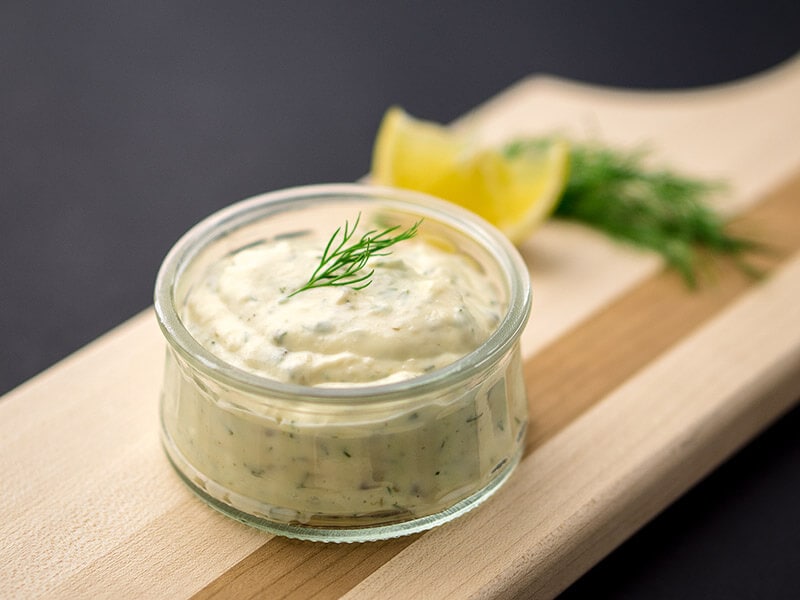 Tartar sauce is a France-origin food mostly served with seafood treats. Serve it as a side food to your fried fish or oysters; you will not regret it!
It is a mayonnaise-based sauce. However, the ingredients of Tartar sauce vary, depending on the country where people make it. They might contain dill pickles, parsley, and onion in America, whereas the United Kingdom version uses capers, lemon juice, gherkins, and more.
Plus, this is a cold sauce that you can find in many countries, including Ireland, India, Fiji, Australia, South Africa, etc.
One of the best recipes to make Tartar sauce is here, so do not miss out!
17. Sweet Chili Sauce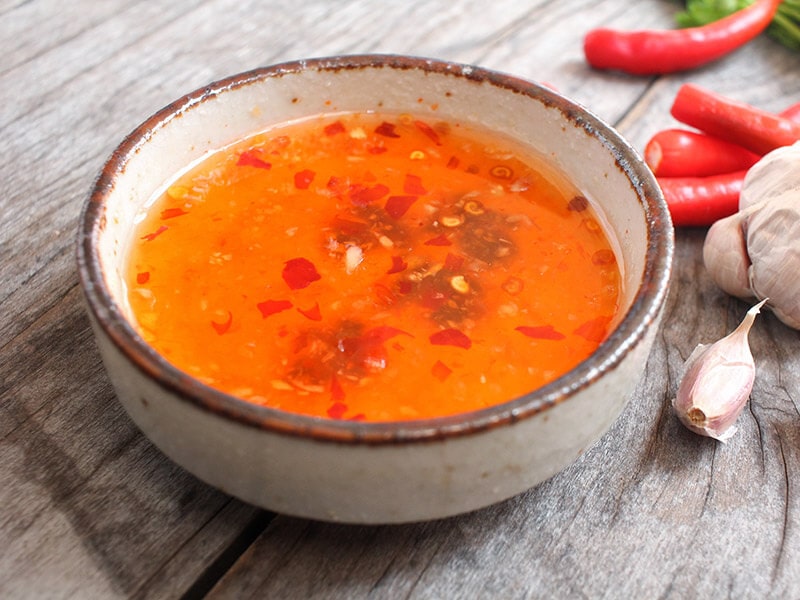 Sweet chili sauce (aka sweet Thai chili sauce) is famous for its sweet, tangy, and spicy flavor. They are especially well-known in Southeast Asia, like Thailand, Malaysia, China, and other Western nations.
Made from red chili peppers, rice vinegar, sweeteners, garlic, and fish sauce (sometimes), sweet chili sauce is a great dipping sauce and accompanion to coconut shrimp, egg rolls, spring rolls, chicken wings, and more.
You can buy a ready-made sweet chili sauce in stores. Some versions are vegan-friendly, offering you more options to choose from. But if possible, try to make them by yourself so you can customize the ingredients based on your preference.
Oils and Liquidy Sauces
Next to multiple varieties of thick sauces, there are a lot of sauces with thinner textures, like these 7 liquidy sauces and oils. Keep scrolling down for more details.
18. Soy Sauce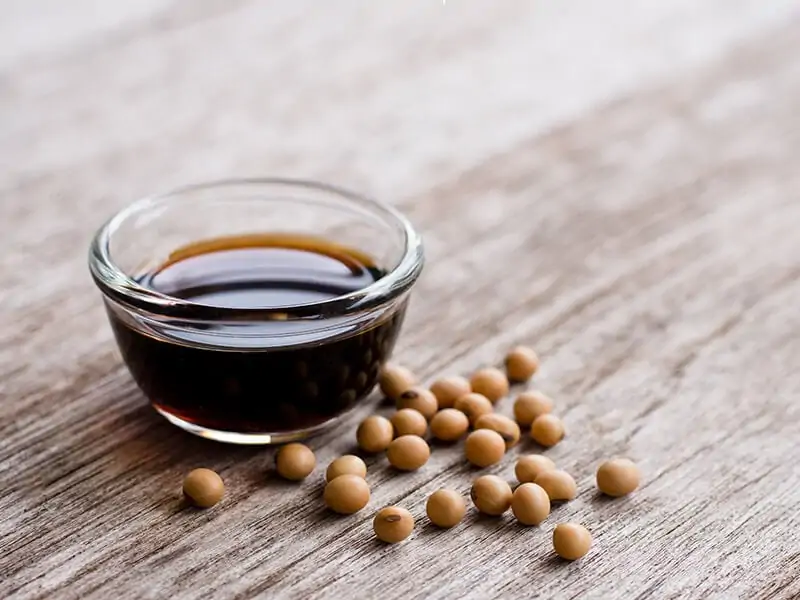 Another Chinese-origin sauce is soy sauce with fermented soybeans as the main component. In American English, people also call them soy, or soya sauce in British English. Overall, it is a liquid dark brown condiment that many Asian countries love to add to their delicacies.
This sauce has become humans' food since 2,200 years ago in ancient China, which derived from soy paste (also made from fermented soybeans). People usually add it directly to the food, or as a dipping sauce for some dishes, like dim sum.
You can find it as a table condiment in many Asian restaurants so that diners can add it to their noodles, rice, or in Japanese cuisine; they are the main condiment to use with sushi and sashimi.
Soy sauce can store well at room temperature. But if you wonder whether soy sauce can go bad, good news: it can, but rarely. Actually, soy sauce's shelf life is quite long. Lastly, ensure you use them moderately since they are quite salty with the umami flavor.
This is a short documentary showing the process of making soy sauce.
19. Fish Sauce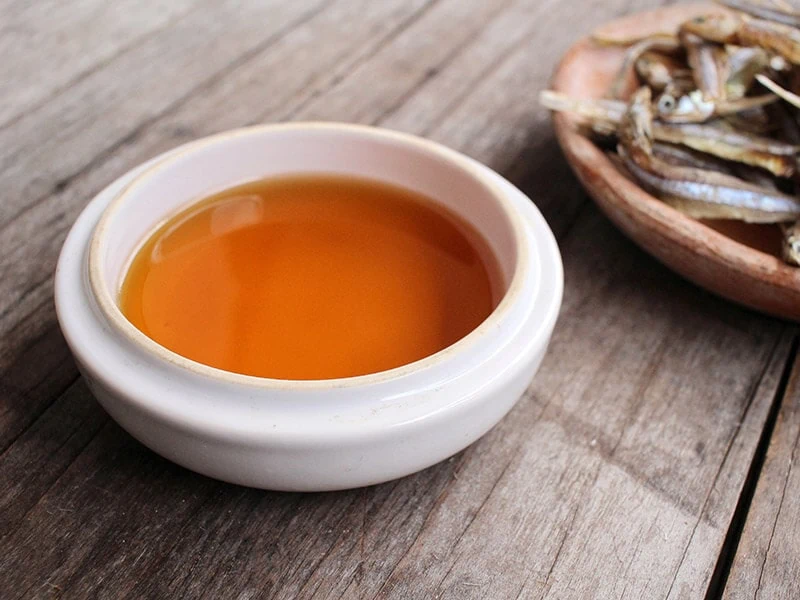 Fish sauce is a staple condiment in Southeast and East Asian cuisines, specifically in many Vietnamese recipes, or Cambodia, China, Thailand, etc. The main components to make this liquid sauce are salt and fish (a whole one) fermented for up to 2 years.
It is an ideal seasoning that you can add during or after cooking, or using it as a dipping sauce is also preferable in these countries. So what is fish sauce flavor? It has rich savory with an umami note and sweet undertones. Therefore, this sauce is a favorite ingredient of many chefs.
Plus, humans also found fish sauce in ancient Mediterranean foods with lower salt levels than today's version. Some fish sauces use concentrated salt, so if you want to add them to your dishes, do not overuse them since they might result in super salty dishes.
The common fish types to make fish sauces are mackerel, anchovies, scabbard fish (in Vietnam), or sand lance fish (in Korea). On the other hand, some Japanese fish sauces use squid or sardine.
20. Worcestershire Sauce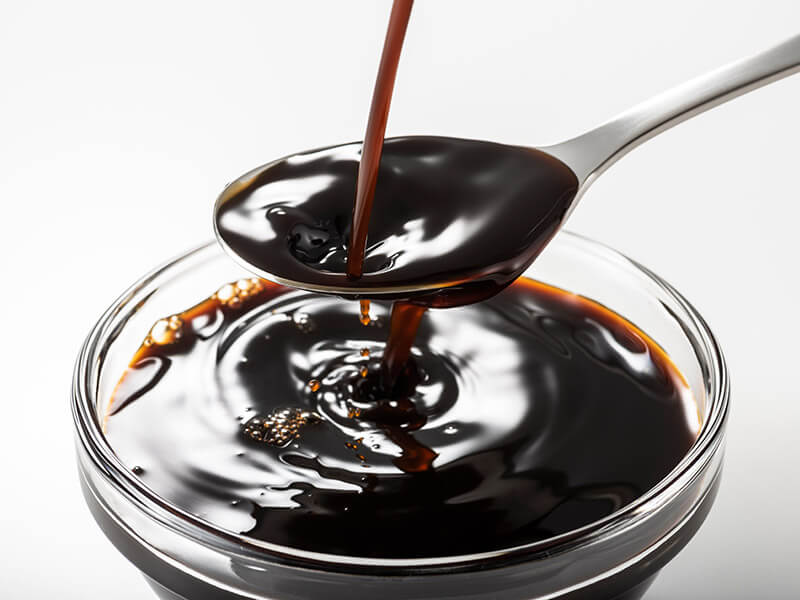 It is hard not to know Worcestershire sauce. But many of you might not know the story behind this sauce.
This is not a product of any chef or food specialist. Worcestershire sauce is an invention of 2 English pharmacists: William Henry Perrins and John Wheeley Lea – the founders of the Lea & Perrins company that also produce the tangy steak sauce that I introduce above.
Worcestershire sauce has a unique taste because it is a mixture of tamarind, anchovies, onion, vinegar, garlic, molasses, and other flavorings. But as a fermented sauce, can Worcestershire sauce spoil? Luckily, this sauce can hardly go bad.
Though it is also a fermented sauce like fish sauce and soy sauce, its taste is quite complex to describe. But the advantage of Worcestershire sauce is it can fit in foods and some kinds of drinks. Have you ever tried cocktails with Worcestershire sauce? They are amazing!
They can be a wonderful condiment to add directly to your hamburgers, steaks, or other cooked treats. You can find vegan options for this sauce, or making them at home is not too challenging.
Let's find out how they make Worcestershire sauce in a factory.
21. Olive Oil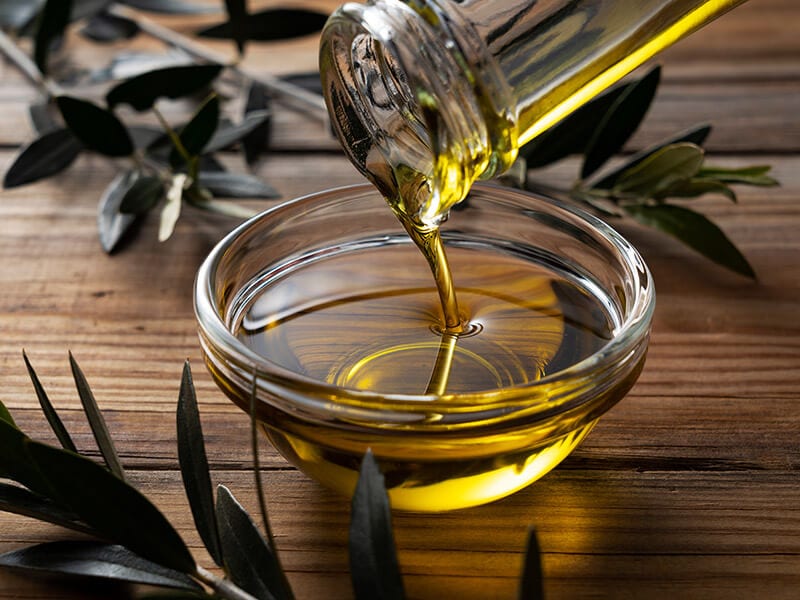 Olive oil is the fat obtained from olive fruits. Their versatility is impressive because they can be a condiment, a dipping sauce, a salad dressing, cooking oil, or many baked goods.
Olive oil has a key role in many European recipes, especially in Mediterranean cuisine, like exotic Greek delicacies. Moreover, you can also find them in countless Spanish recipes or Italian-style treats.
If possible, use extra virgin olive oil for better flavor traits. Plus, they have certain health benefits. A high level of healthy monounsaturated fat in olive oil can reduce the risk of cancer. They are rich in antioxidants that can control your blood cholesterol and improve heart health.
If you are on a diet, olive oil will ensure your healthy weight or promote weight loss. It also protects you from obesity.
22. Sriracha (Hot Sauce)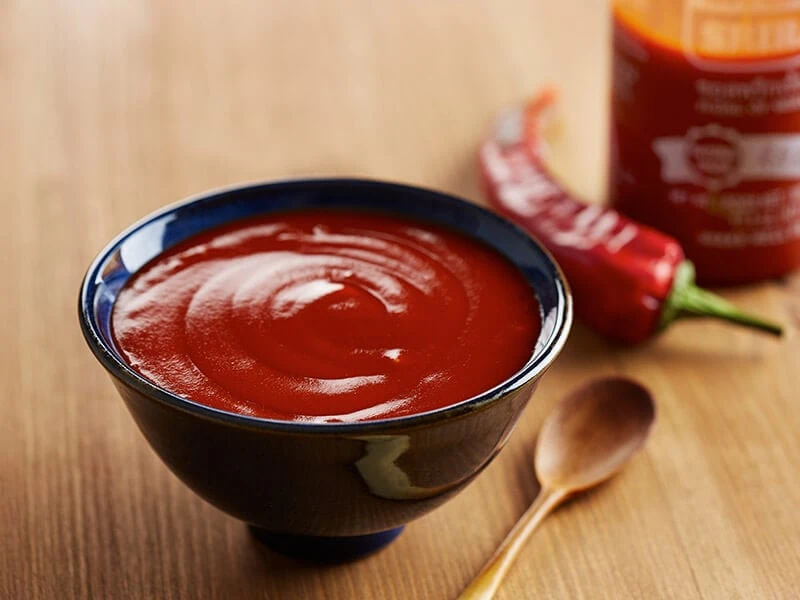 Hot sauce is a broad word to describe many types of spicy condiments. And Sriracha is 1 of the most well-known hot sauces globally. Consisting of chili pepper paste, garlic, distilled vinegar, salt, and sugar, this hot sauce, however, is not too spicy (with 1,000 to 2,500 SHU).
Sriracha can be a suitable replacement for ketchup. They also have a tangy and sweet flavor with a strong hint of garlic. In many countries, the locals consume it as a dipping sauce for dishes, from soup to fried dishes.
The true root of Sriracha is unsure, but it is a Thai's favorite sauce, which many food specialists believe is the origin of Sriracha. And the Thai version is tangier and runnier than other countries' styles.
In contrast, Sriracha products in the USA are sauces from Huy Fong Foods manufacturer. They appear in many famous restaurants in the country.
What makes Sriracha become a famous worldwide sauce? Here is the answer.
23. Maple Syrup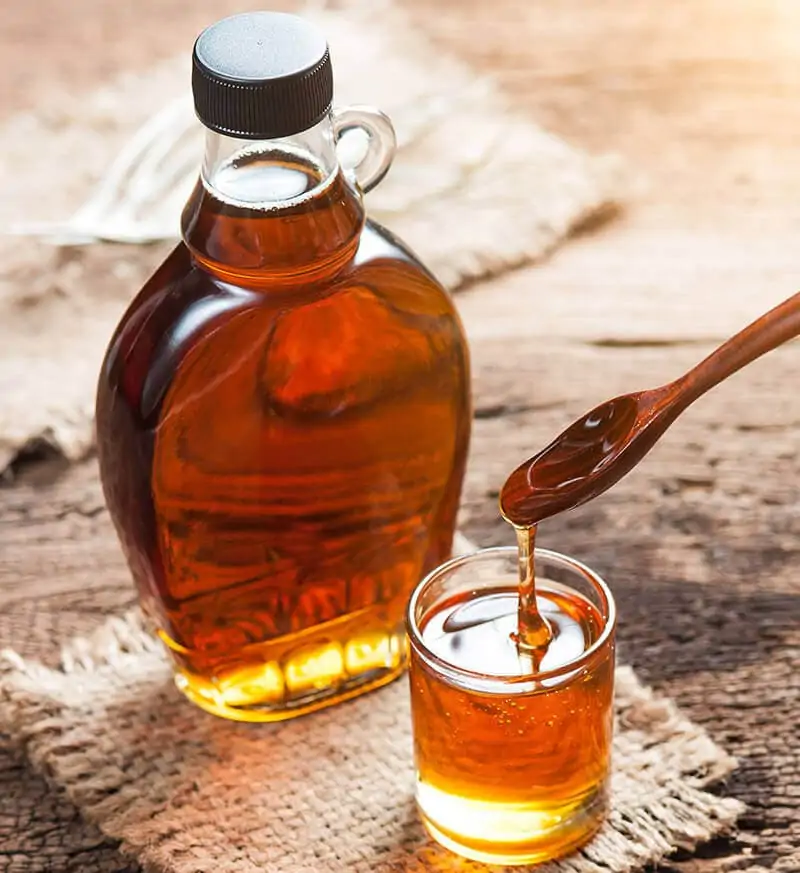 Maple syrup was first introduced to the world by the indigenous people in North America, then spread to European, Canada, and other Western nations. This syrup's hue varies by grade, maple sugar content, or density, which might form pale golden to dark brown.
As a condiment for waffles, pancakes, oatmeal, French toast, etc., maple syrup can enhance the sweetness of these treats. Besides, it is also a great baking ingredient or sweetening agent.
Various maple syrup types have different ingredients. People use the sap from various maple species to make this concentrated syrup, particularly sugar maple, black maple, or red maple.
And as Canada is famous for maple trees, no wonder why Canada is 1 of the biggest producers of maple syrup globally, like the USA.
24. Sesame Oil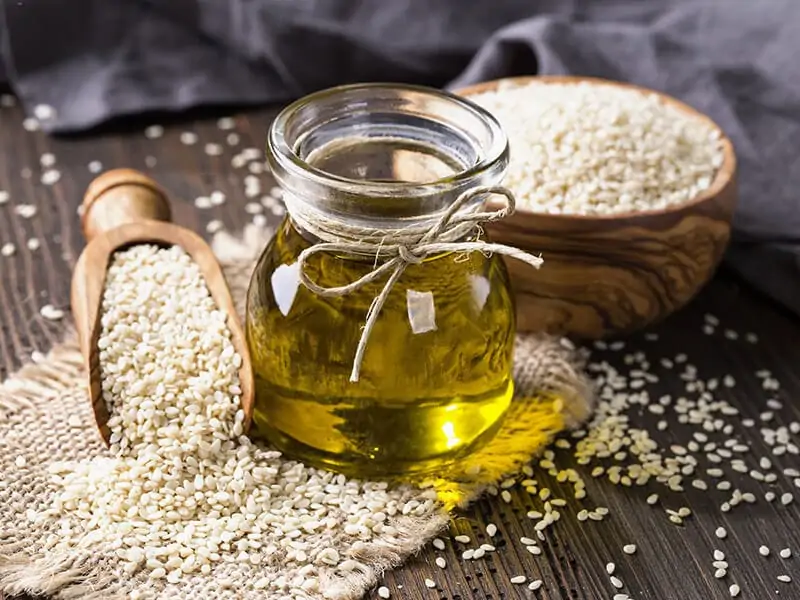 Sesame oil is the extracted oil from toasted (or raw) sesame seeds. People mainly use it as cooking oil, but they are also a good condiment to increase the nutty taste in various dishes.
If they are made from toasted seeds, this sesame oil might not be suitable for frying since you might find them a bit bitter. On the other hand, untoasted-seed oil works better as a frying oil. They have a high smoke point, so you can also use them for deep-fried foods.
It is easy to grab the finest sesame oil product for cooking at supermarkets. However, other sesame oil varieties have distinctive colors. In India, they have a golden hue. Toasted-seeds oil will have a dark brown color, while roasted one has a pale yellow look.
Sesame oil is also a centuries-old condiment because sesame seed is 1 of the oldest drops in human civilization.
Common Spreads and Pastes
The third section is about spread and pastes that people can consider as a condiment. Who would know cheeses can be a condiment, right?
25. Honey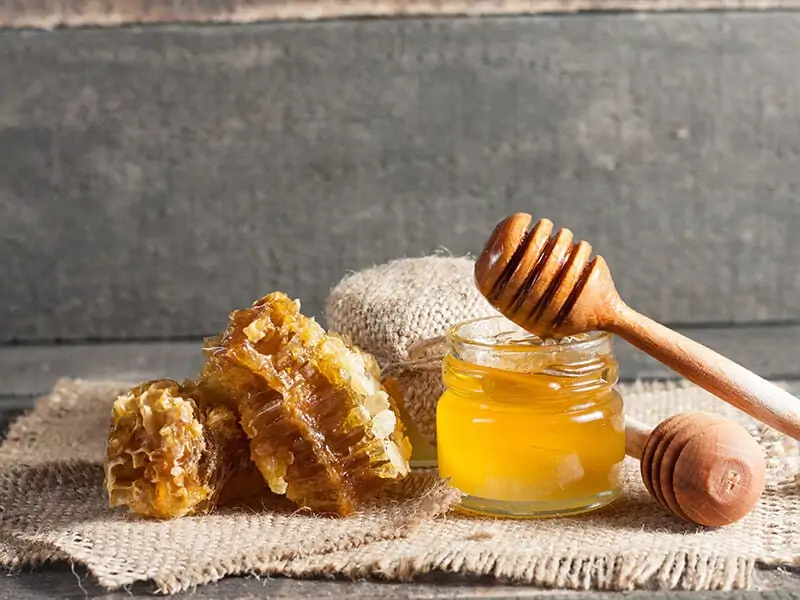 Honey is a naturally sweet food obtained from bees. To make honey, bees collect the nectar from the flower and keep it in the honeycomb. With the enzymes of the bees, it becomes a dense consistency and viscous-textured food with a sweet flavor.
Additionally, their color and texture also vary by honey variety. If you want to use them as a condiment for both sweet and savory recipes, for example, drizzle some honey on your breakfast, desserts, or salad, or use it as a dip for French fries, chicken wings, or fruits.
In this case, you should use thinner honey. Conversely, a super thick variety like Manuka honey is not an ideal condiment. Besides, honey is also a component in other honey-based condiments, like honey mustard.
26. Wasabi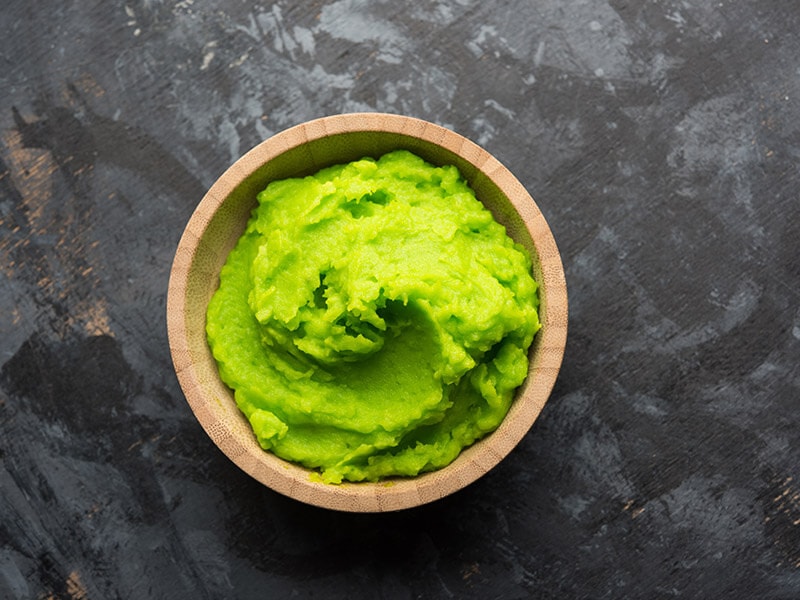 Wasabi is an intense Japanese condiment made of horseradish. People use it for their sushi and other dishes. The first interesting fact about wasabi is that it can stimulate your nose and tongue strongly. So be careful on your first time trying it.
I used to burst into tears when I first tried them. But unlike chili, a wasabi paste's heat will fade quickly. Overall, this condiment is an indispensable food in Japanese cuisine. Wasabi paste can reduce its flavor in 15 minutes if they are uncovered.
Wasabi paste has a vibrant green color that you can mix with mayo or cream cheese to add spiciness to the mixture. You can easily spot them in supermarkets, but if you have mustard, horseradish, starch, and green food coloring, you can prepare wasabi at home too!
Ironically, as the wasabi plant is hard to cultivate, those low-cost wasabi pastes that you get from the store might not be real.
If you want to know why real wasabi is expensive, do not skip this explanation.
27. Gochujang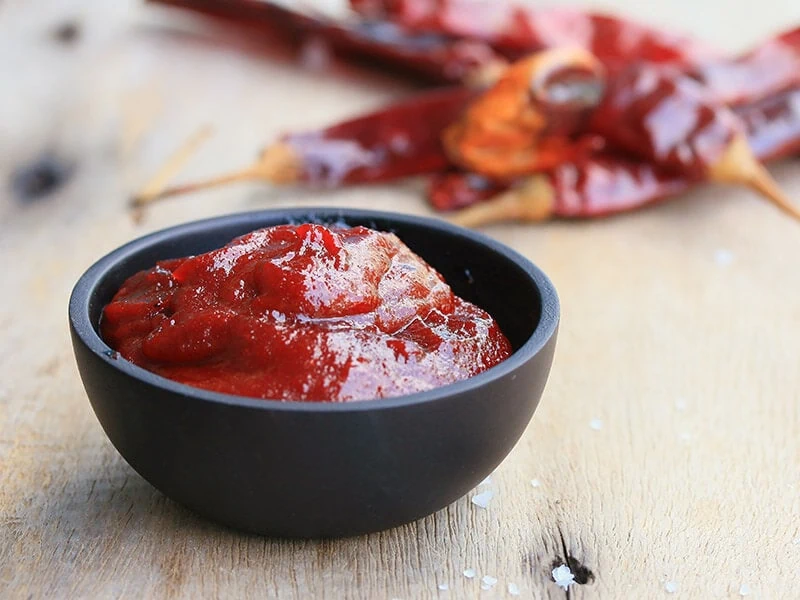 Now, follow me to Korea to see what they have for their condiment. Have you ever heard about Gochujang? This is a red chili paste in a fascinating Korean cuisine. The main ingredients in this paste are Gochu-garu (chili powder), meju-garu (powdered fermented soybean), and glutinous rice.
Gochujang features a balanced sweet and savory flavor with a bold note of spiciness. In this country, the locals use a traditional big jar to ferment this paste. Gochujang hot levels vary with 5 specific levels from mild to extremely hot.
Use this paste for several classic Korean recipes, like bibimbap (Korean rice dish) or tteokbokki (Korean rice cake), to upgrade the flavor. Other ways to use it are marinating meat, or adding it to stews, soups, and salad to increase the spiciness.
28. Cheeses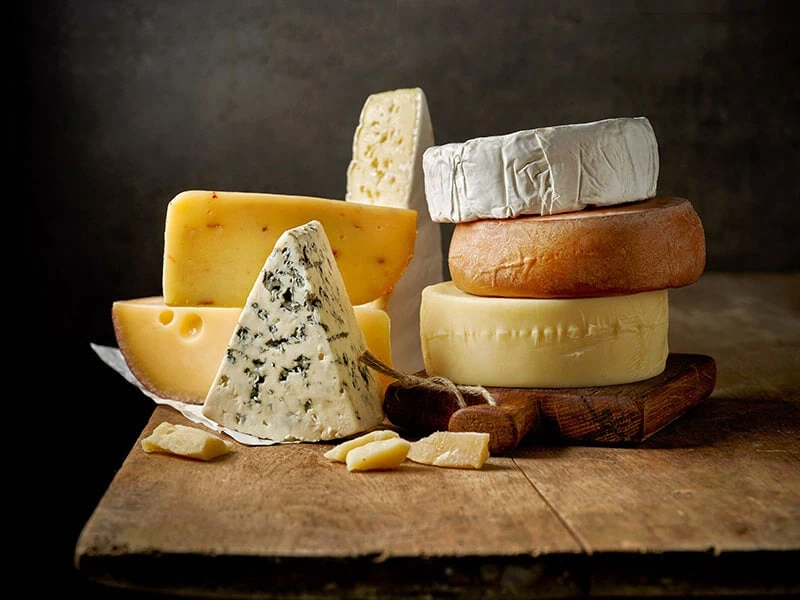 Cheese is an ancient dairy food made from dairy milk. And some cheese types are perfect condiments to enhance the flavor of your foods. They could be first-rate blue cheese, Feta cheese, Ricotta cheese, and Parmesan cheese.
You can spread them on your bread, or use cheeses to make a creamy and tasty salad dressing. Various sauces require cheeses to add flavor. Therefore, cheeses are totally fit as a condiment.
Different cheeses result in other textures, flavors, and colors. For example, Parmesan cheese can come in a solid or shredded form, and they are excellent for making your salad, pasta, and soup more flavorful.
Or you can transform your Ricotta cheese into a rich, cheesy dipping sauce for various foods.
How many cheeses have you tried? And what do they look like? This short introduction will show you more.
29. Butter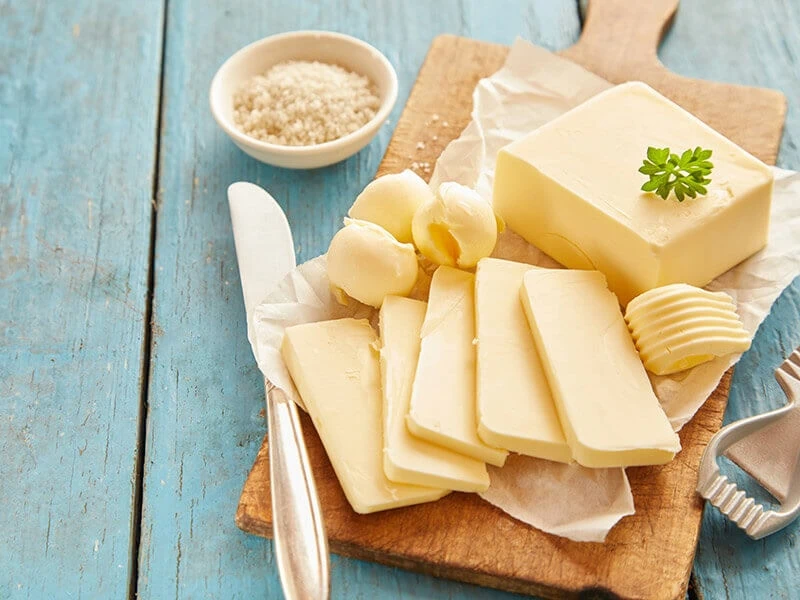 Besides cheeses, butter is a loved dairy food made from mammal milk or churning cream. But you should remember that different butter forms will have other ways to consume it.
If they are semi-solid at room temperature, they are better as a spread. But if you melt butter, they become a wonderful condiment to perk up the dishes' flavor.
Butter normally comes in a pale yellow appearance, but some types might be dark yellow, or nearly white.
The best way to store them is in the fridge with a quality butter keeper. But if you want to extend their shelf life, freezing butter is not a bad solution.
30. Almond Butter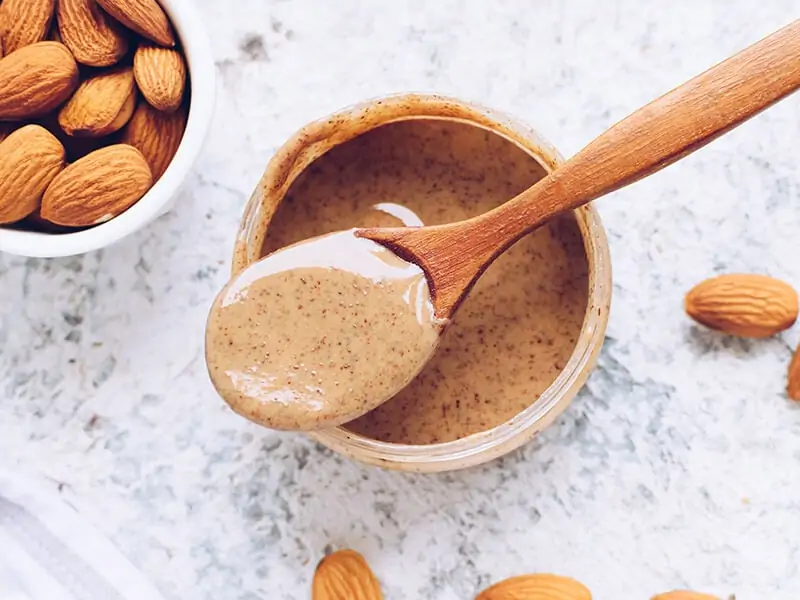 Almond butter is a typical butter among many kinds of nut butter. It is made from ground almonds, so they can be smooth or coarse. Moreover, people can use either raw or roasted for making this butter.
Compared to peanut butter, this one is nuttier and richer in flavor than peanut butter, but they share the same thickening level.
If you do not like the flavor of peanut butter, try this alternative. Almond is a tree nut, which is not a legume like peanuts. So if you are allergic to peanuts, this one is ideal for you.
The health benefits of almond butter are also amazing. They include more calcium, iron, potassium, manganese, and dietary fiber than peanut butter. However, its total fat amount is higher than peanut butter.
31. Peanut Butter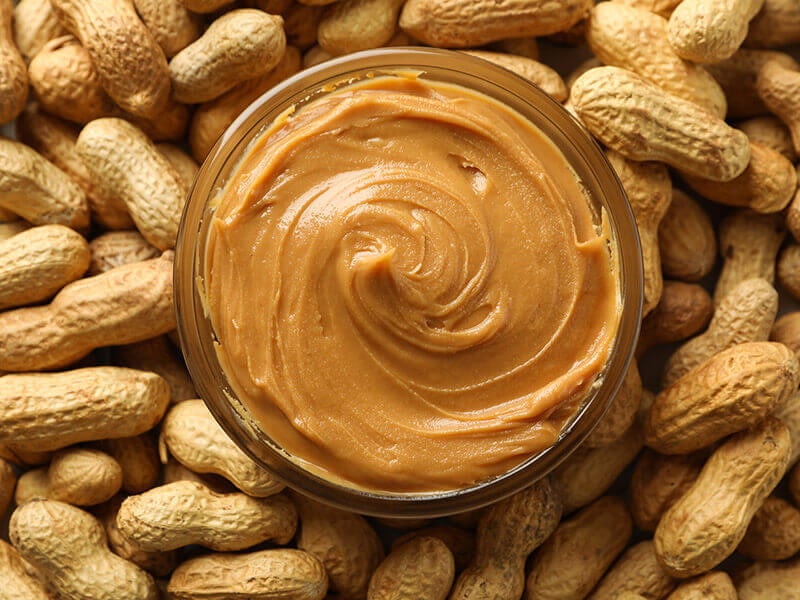 Peanut butter is another tasty paste or spread with a balanced sweet-and-salty flavor. They also have other uses as a condiment or dipping sauce for fruits, veggie sticks, or other baked goods like cookies, candies, or various dessert recipes.
This spread is available in many peanut butter styles in many countries, especially America – the top peanut butter exporter globally. And they use ground roasted peanuts with other sweeteners and salt to make peanut butter.
Moreover, butter producers classify them into 2 main groups: smooth and crunchy peanut butter with a little coarse texture. Regardless of their types, this butter contains many nutrients like minerals and vitamins.
But avoid using peanut butter if you are a peanut-allergic person. Some common symptoms to show you have this allergy are itching, shortness of breath, swelling, and even other life-threatening reactions.
32. Tomato Paste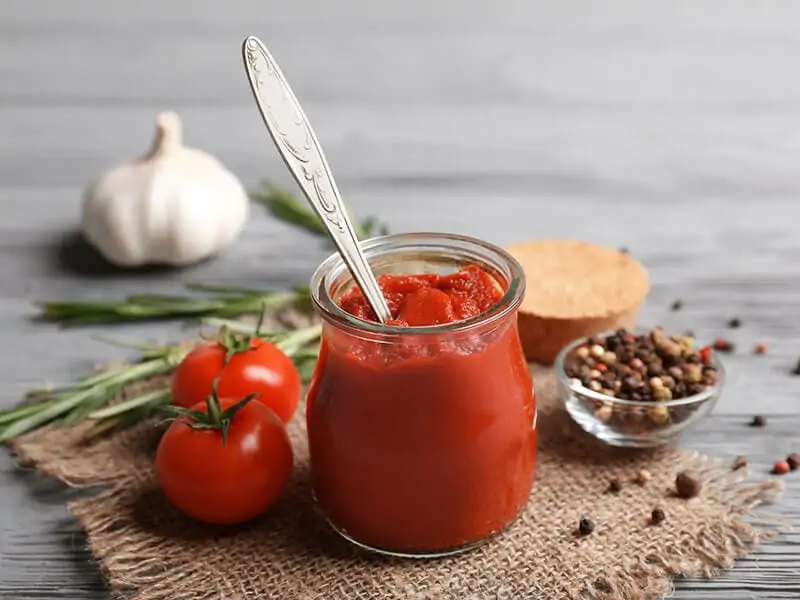 Tomato paste is a thick and rich condiment that increases the tomato taste in many recipes, including pasta, braised meat, stews, soups, etc.
Making this paste is time-consuming, starting from cooking tomatoes for hours to remove the water level, then straining and cooking the liquid again. They have a very thick consistency, resulting in the difference between tomato paste and tomato sauce or tomato puree with thinner textures.
Italians' traditional way to make tomato paste is to dry the tomato sauce outdoors (under the sun in August) to reach the desired thickness. But as the tomato paste industry is massive, you can quickly get them from stores for more convenience.
Tomato paste tastes richer than tomato puree (or sauce) with a natural umami flavor. People usually add them at the early cooking stage to saute for caramelization.
33. Cream Cheese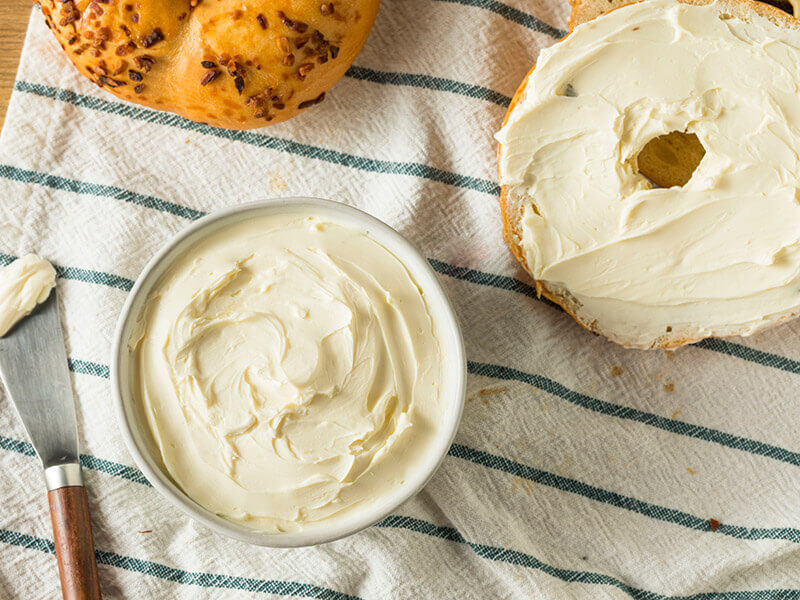 Cream cheese is a concoction of milk and cream with the milk taste of cheese. According to the American FDA, cream cheese must contain 33% milk fat at a minimum, but this regulation differs by country.
Unlike regular cheese, cream cheese cannot mature and should be eaten fresh. There are various cream cheese varieties on the market; however, please note that cream cheese is higher in fat than other cheese types.
In general, they are an ideal spread for many baked foods in America, Canada, and European countries. You can use cream cheese as a dip for your snack or salad. In case you want to mix them with other foods, try mixing pepper jelly or yogurt to create a more delicious spread.
Many people confuse Mascarpone cheese and cream cheese. So check the explanation here to untie this knot.
34. Sour Cream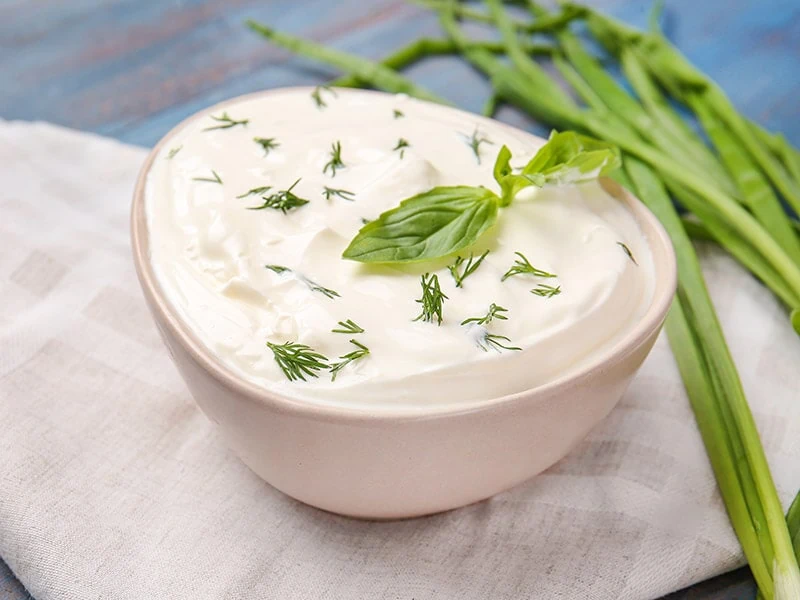 You can guess the key flavor profile of sour cream from its name. Since sour cream is a fermented cream, they have a tangy and slightly acidic flavor with a super thick and creamy texture. Lactic acid bacteria in this cream is why this cream has a certain thickness.
And thanks to its sour flavor, sour cream can incorporate well with many foods, like salad, bread, nachos, and more, as a condiment (mostly), dip, or spread. It can be a useful thickening agent for your soup and increase the creaminess in this dish.
Sour cream is available in many stores in various variants. However, similar to other dairy foods, you should store them in the refrigerator whether they are unopened or opened. But freezing sour cream in a freezer is acceptable? Actually, you will need some tricks to do that.
35. Harissa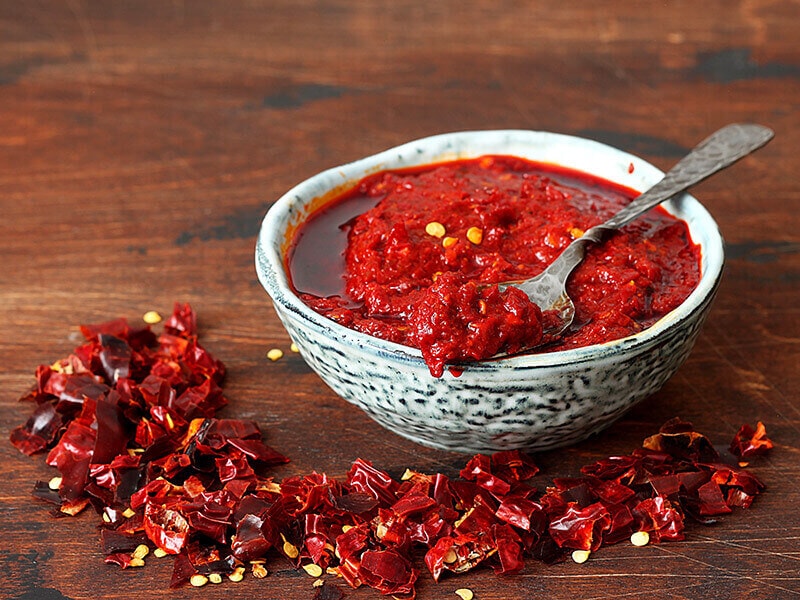 Harissa is a common hot chili pepper paste from Africa, specifically the Maghreb in Northwest Africa. It includes spices, herbs, olive oil, roasted red peppers, and Baklouti peppers (Maghreb's special pepper kind).
Harissa is especially well-loved in Moroccan cuisine, Israel, Algeria, and Tunisia. Thanks to their smoky and peppery flavor with a bold kick of garlic, citrus, and other herbs, Harissa can brighten up your dish wonderfully.
The spiciness of this paste varies depending on the chili's heat. Moreover, Harissa's texture is unique. They have the best texture of paste and sauce, which is not too thick but not too thin. If you want to make them at home, you should prepare a food processor to puree the ingredients.
Spices, Powders or Natural Herbs
The main purpose of condiments is to enhance the flavor, so spices, herbs, salt, and sugar totally fit this aim.
36. Salt and Sugar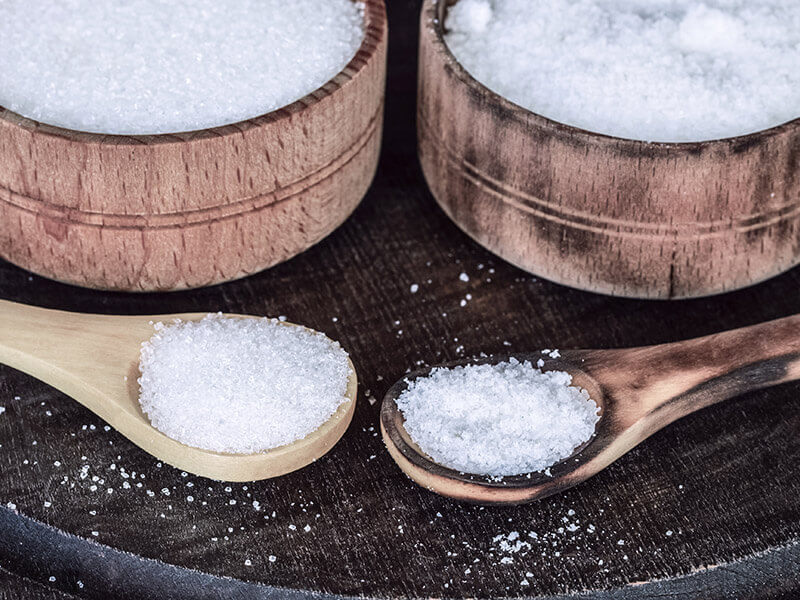 Salt and sugar are 2 basic cooking elements in any household. Salt is 1 of the oldest minerals humans have used to season and preserve food. You will find several kinds of salt in the market. Still, overall, they are the result of seawater evaporation with a typical salty taste.
In contrast, sugar is a sweetener made from sugarcane or sugar beet. There are numerous sugar kinds, but their 2 main types are white and brown sugar. The largest sugar producer in the world is Brazil, followed by India, China, and Thailand.
Both salt and sugar are important in human dishes. However, do not overuse them because excessive sugar will result in diabetes, obesity, tooth decay, or cardiovascular diseases if you use too much salt.
37. Za'atar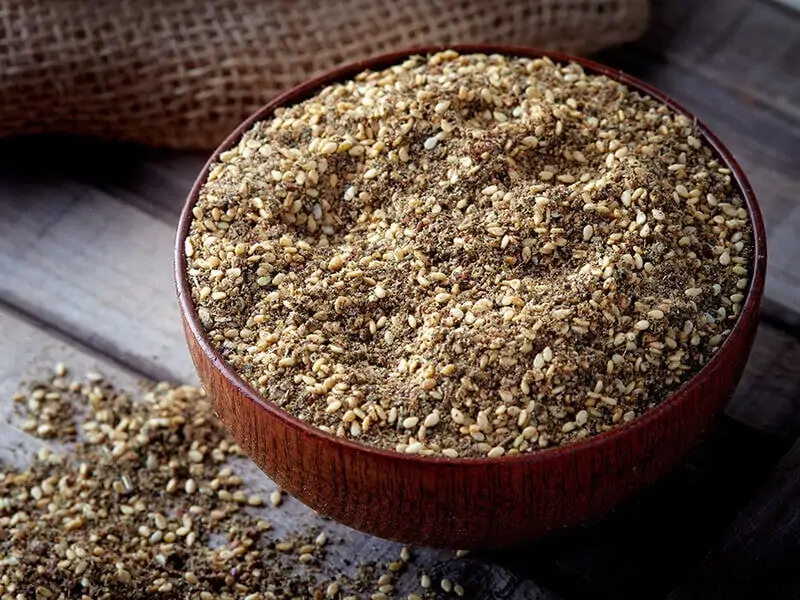 Za'atar is a spice mixture consisting of several herbs, sesame seeds, sumac, and other spices. Typical herbs in Za'atar are oregano, basil, thyme, and savory. Some versions also come with coriander, cumin, or fennel. Generally, its ingredients are different based on the country.
Humans use it as a condiment. Moreover, this is a staple condiment in Arab cuisine. For instance, they are extremely well-liked in a lot of Lebanese foods or Israel, Syria, Palestine, etc. You can create your own Za'atar at home since it is easy to prepare.
You can use it to season meat and vegetable dishes, or as a stand-in for Italian seasoning. Many places utilize this condiment in their hummus dip, bread, and olive oil for breakfast. On the other hand, adding Za'atar to tea is also a traditional drink in Oman.
38. Herbs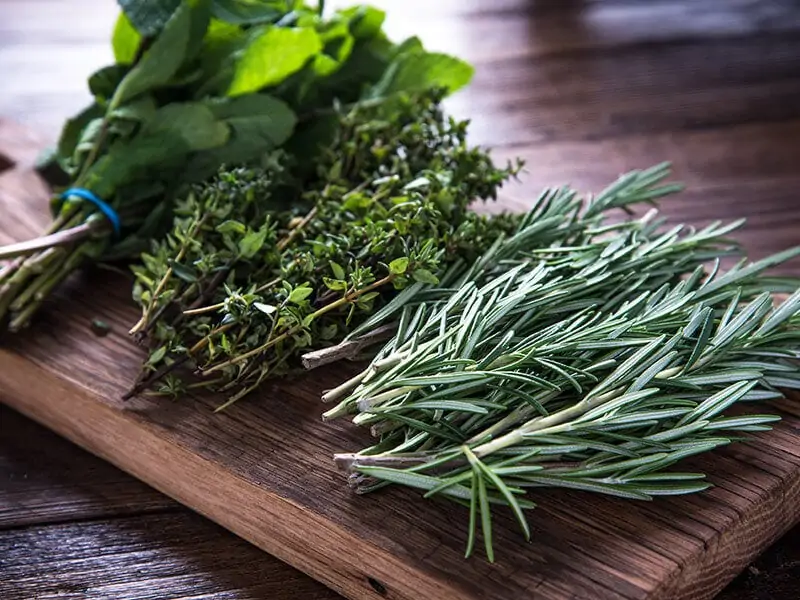 Herb is any plant that people use its seeds, leaves, or flowers to flavor and increase dishes' flavors. Herb varieties are abundant with many practical uses.
In culinary, people use a small amount of herb to provide flavor. They can be dried or fresh. Common herbs in cooking are parsley, basil, thyme, sage, rosemary, etc. Some seed-style herbs are dill or coriander.
Each type of herb has distinguishing flavor profiles. Some are pretty strong and can overpower other ingredients in your dishes, so use herbs in appropriate amounts.
Do not miss this brief guide about herbs from the famous chef – Gordon Ramsay.
39. Paprika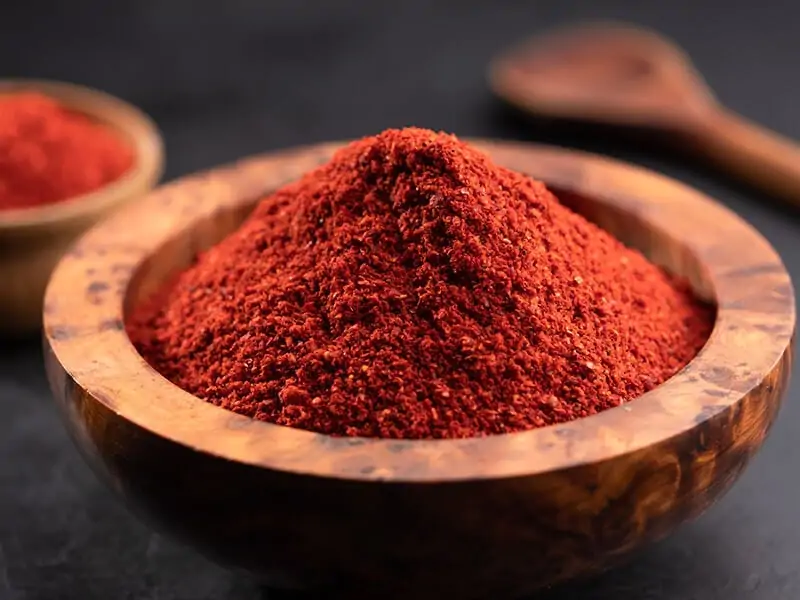 Paprika is a close friend of Mexican cuisine. It is a common spice derived from ground dried red peppers. Paprika heat ranges from mild to hot and varies by region. Moreover, their color might be red, yellow, or orange, based on the carotenoid level.
Today, Paprika is famous in various countries, including Spain, Argentina, China, and some areas in America. Add it to your soups, stews, or rice dishes are the best options. In the USA, people also use them as a garnish.
If you cannot find this spice at your local markets, there are other simple substitutions of Paprika (e.g., chili powder, hot sauce, bell Peppers). Another good thing about this spice is the capsaicin compound found in Paprika. It can reduce cancer risk, and promote your heart health and immunity.
Dipping Sauces
Some dipping sauces are also the greatest condiments. Here are the top 4 dipping variants that I believe you will love.
40. Guacamole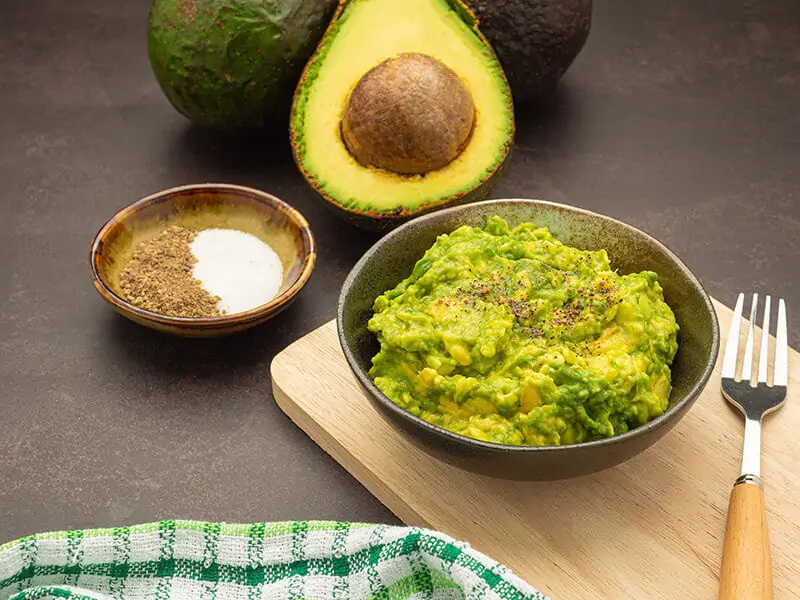 No one can refuse the universal popularity of Guacamole. This avocado-based dip is commonly used as a spread or salad ingredient, but some places also consider Guacamole as a condiment.
This green dip is native to Mexican cuisine since avocado was derived from Tehuacan valley (Mexico) from 9,000 to 10,000 years ago. In 1697, the first Guacamole recipe was introduced to the world with original components like sugar, lime juice, and mashed avocado.
Many recipes contain other ingredients like herbs, tomatoes, sour cream, peas, or peppers. However, they feature the nutty and buttery taste of avocado with a creamy and smooth texture, making them blend well into other dishes.
Serving Guacamole with other dishes is also a good way to maximize your satisfaction in eating. What's better, Guacamole is rich in dietary fiber, vitamins B, E, K, potassium, and other healthy fat (from avocado), which can improve your healthy diet.
The best recipe to make Guacamole is here. Check now, guys!
41. Baba Ghanoush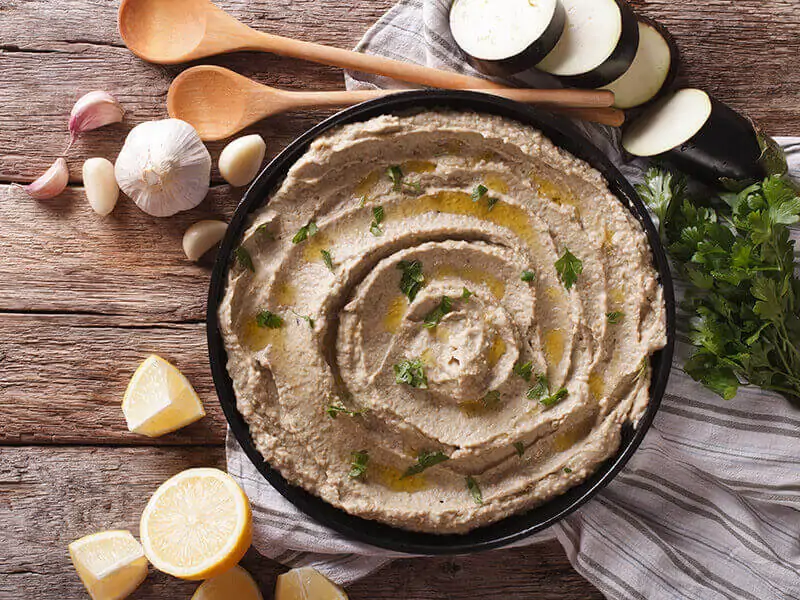 If you love eggplant flavor, you should not miss Baba Ghanoush. In reality, people mainly use it as a Lebanese-style recipe for appetizers; however, Baba Ghanoush can be considered a fantastic condiment to add flavor.
The main elements in this food are mashed cooked eggplants, olive oil, seasonings, and lemon juice. The traditional way to cook eggplant is by baking or broiling over an open fire. In some cuisines, Baba Ghanoush is a dipping sauce for pita bread.
Different nations result in various Baba Ghanoush versions. But regardless of their geographic location, this is a smooth, creamy, silky food with an irresistibly nutty taste.
42. Hummus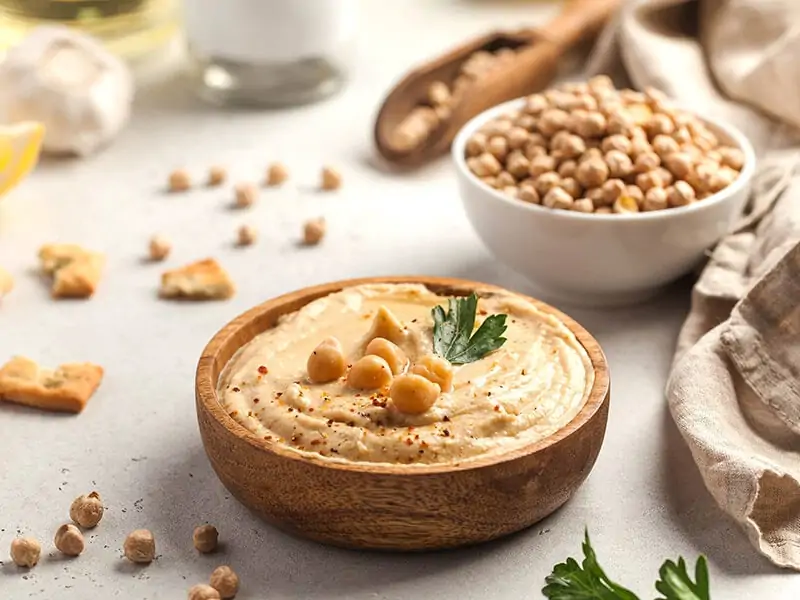 Similar to the above food, hummus is a specialty of Middle Eastern delicacies. Normally, people eat hummus as a dip or spread for various types of bread (particularly pita bread). But in some cuisine, they can be an appetizer or snack served with crackers.
What makes hummus can be a condiment is its tasty flavor to brighten up other foods. Traditionally made from mashed chickpeas, lemon juice, garlic, and tahini (toasted sesame seed paste), classic hummus flavors are creamy and umami that can literally melt in your mouth.
They have a similar texture to Baba Ghanoush, making hummus blend perfectly in many dishes. In the USA and Europe, hummus is available in stores in a ready-made form, but it will not be too challenging to create it yourself.
43. Salsa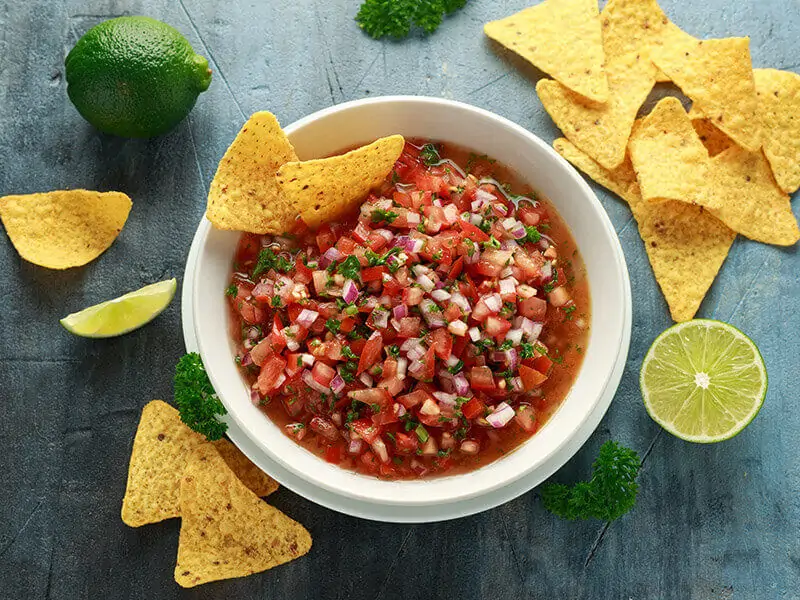 Mexico is home to many delicacies, like salsa. If your favorite Mexican recipe is the taco, you might know how important salsa is as a condiment to go with tacos. The natives also add salsa to their stews or soups or use it as an ingredient in tamale fillings.
Besides, salsa is also a dip served with tortilla chips for a Mexican-American-style appetizer. Salsa can come in 2 forms: raw or cooked. Numerous salsa styles come in various ingredients, but the classic ones must include tomato, onion, chili pepper, lime juice, spices, etc.
There are many decent store-bought salsas available in the supermarket. However, salsa preparation and storage require more attention since most salsa versions are raw-served, increasing the bacteria growth if you do not store them well.
So if you want to know whether freezing sala is suitable, just do it, as long as you know some tips to store them without compromising their texture and consistency.
Quick fact: In Spanish, "salsa" means "sauce" to indicate various Mexican table sauces.
Mustards
How many different kinds of mustard have you tried? And do you know that you can consume it as a perfect condiment? The 4 following types of mustard will tell you more about their versatility.
44. Yellow Mustard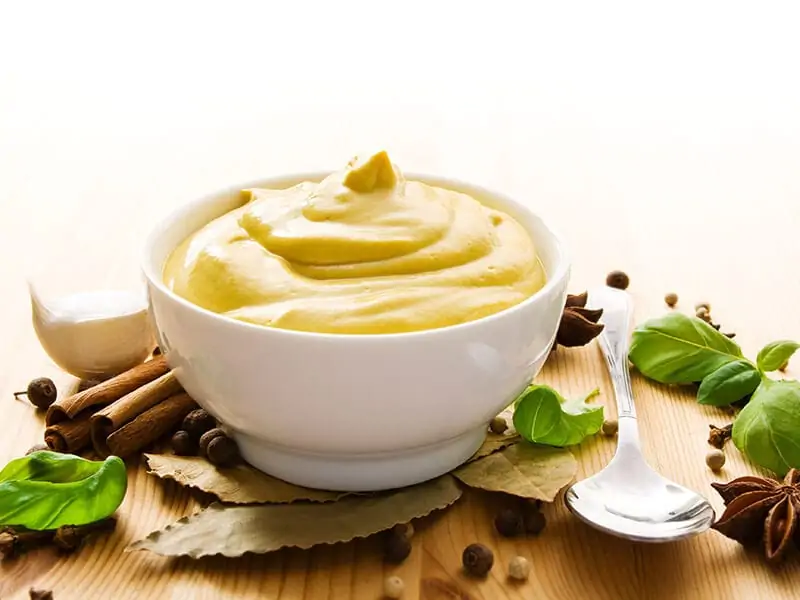 Yellow mustard is the most basic style made from mustard seeds (white, yellow, brown, or black species), vinegar, spices, lemon juice (or other liquid ingredients), and seasonings. And if you are unsure about whether mustard can be spoiled, yes, they are, eventually.
This table condiment's color varies from vibrant yellow to dark brown with a wide range of tastes (from sweet to spicy). Plus, you might sense a bit of bitterness in their flavor. It can go with both cold and hot meals in various styles such as meat, veggies, or cheeses.
They are especially good as a condiment for hot dogs, sandwiches, burgers, and more. Feel free to use them in sauces, marinades, dressing, or glazes. What's more, in Indian cuisine, particularly in the eastern regions, people also use it as a spice to impart their dishes' taste.
45. Dijon Mustard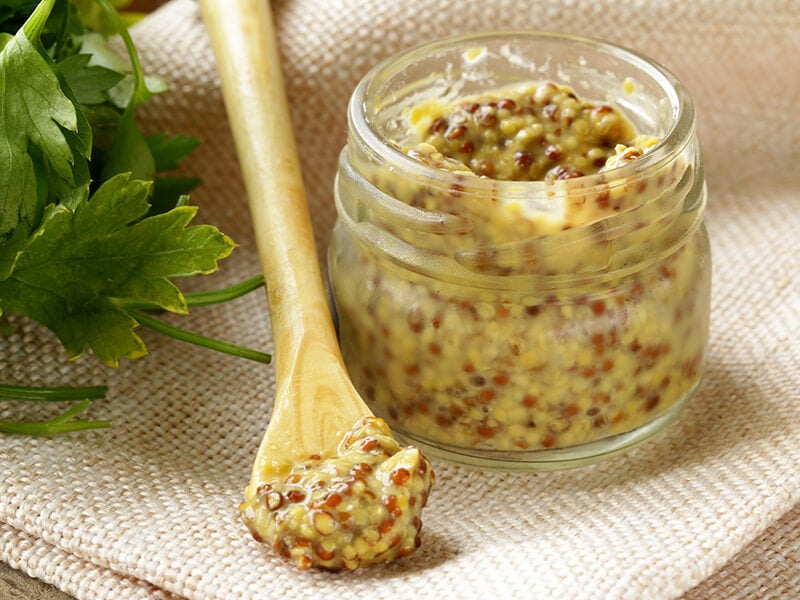 Speaking of French condiments, Dijon mustard is a must-have one. People name this condiment after Dijon town in this country, which is the true home of Dijon mustard.
However, since 2009, the locals in this town have stopped making this condiment, and the neighboring town – Chevigny-Saint-Sauveur, has taken over to become the main producer of Dijon mustard in the country.
The typical recipes for it include ground mustard seeds, white wine (or wine vinegar), salt, and water. Additionally, 80% of mustard seeds that the French use to make Dijon mustard are from Canada.
Dijon mustard is also an ideal replacement for dry mustard. Regarding its flavor, Dijon mustard tastes more complex than the yellow type. It is sharp, strong, and tangy, making it more distinctive.
Do you know about the rule of Dijon mustard? If not, this brief explanation might open your mind.
46. Honey Mustard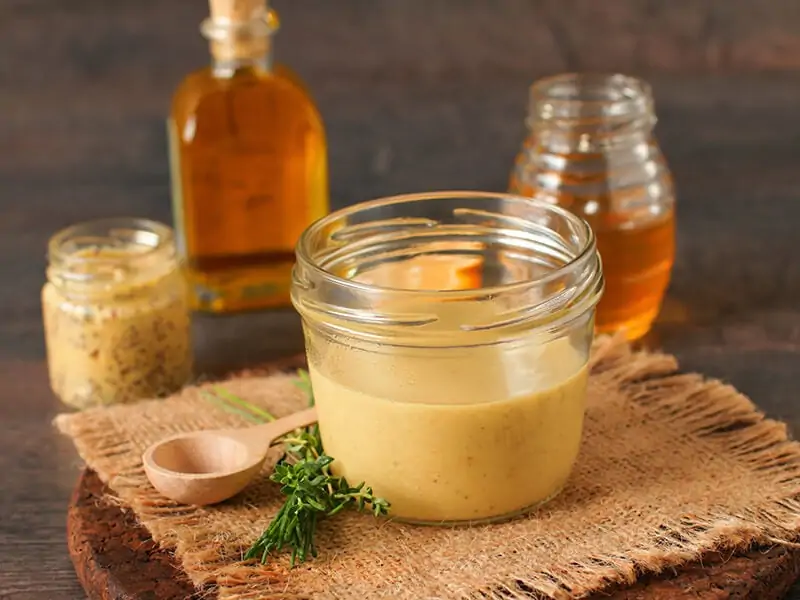 Honey mustard is simply a mixture of mustard and honey with a 1:1 ratio. Besides using it on sandwiches, this mustard is an ideal dip to pair with BLT sandwiches, finger foods, a meat marinade, salad dressing (if combined with olive oil or vinegar), or a glaze.
There are many varieties of honey mustard that also include other ingredients like spices, herbs, vinegar, or mayo. Therefore, their flavor is different depending on the elements, but the primary flavor profile is sweet.
The good thing about it is that you can effortlessly create them with a few ingredients at home. So if the sharpness of regular mustard is too much for you, try this one! I am sure you will like it.
47. Creole Mustard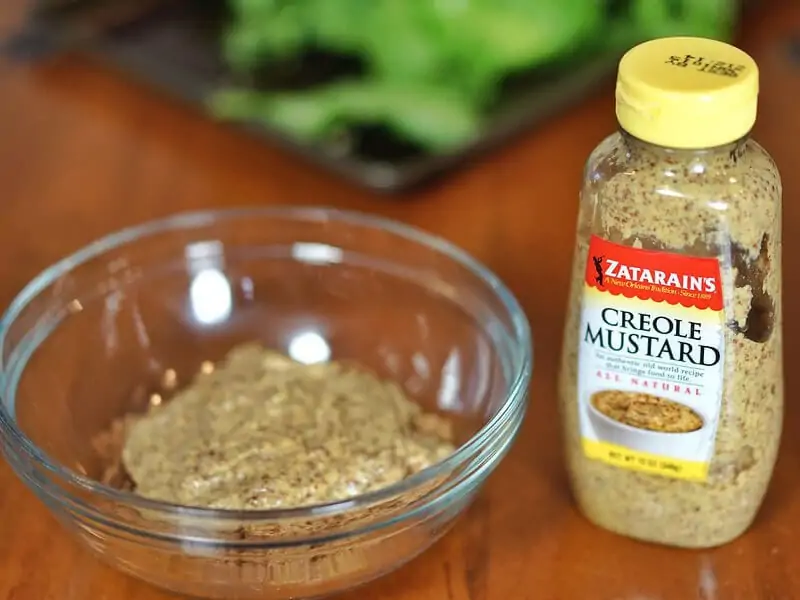 Another mustard that can be a superb condiment is Creole mustard. It is an important mustard in New Orleans cuisine that combines all the influences from Spanish, African, French, and German cuisine.
Compared to other mustard types, this version is similar to Dijon mustard. However, Creole mustard is spicier and coarser. Consume it with sandwiches or use this mustard to make dressings, dips, or sauces to go with vegetable dishes or snacks like chips and pretzels.
Or you can enjoy Creole mustard as a side dish of crab cakes, seafood delicacies, or other battered dishes.
The main ingredients to make this condiment are brown mustard seeds soaked in vinegar, spices, and horseradish. It is typically grainy since people use whole mustard seeds rather than ground ones.
Salad Dressings
Salad dressing is an essential part of increasing flavor in salad dishes. What is your favorite one? Mine are these 5 dressings, and I think many of you have the same thoughts.
48. Thousand Island Dressing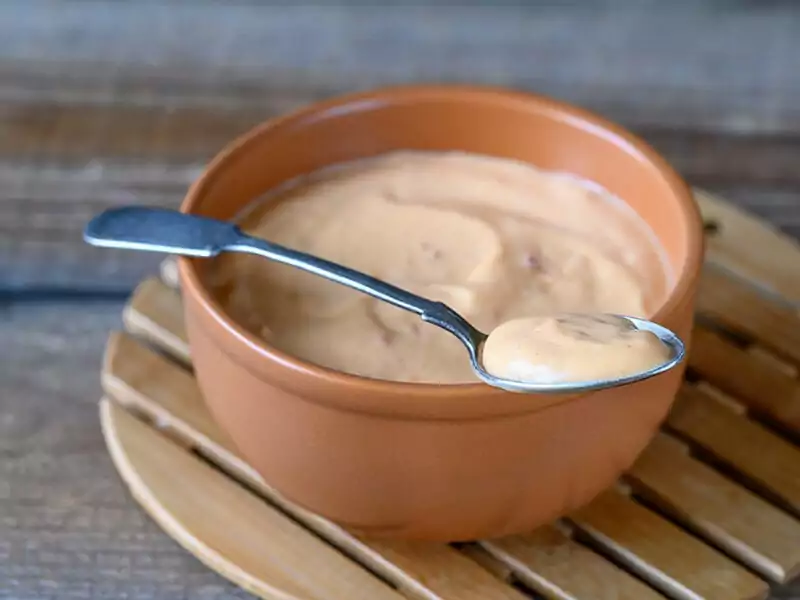 Thousand Island salad dressing is an ideal condiment made from mayo, lemon juice, Worcestershire sauce, vinegar, eggs, spices, ketchup, etc. Since they contain many elements, their flavor is very special and complex.
Moreover, there are many variations of this dressing, so it is hard to describe its exact taste, but generally, if you need a creamy and flavorful dressing to upgrade your salad to a new level of tastiness, Thousand Island dressing can surely do that.
Using this dressing is an excellent way to transform your leftover corned beef. Or slathering it on your burgers, serving it with wraps or sandwiches is also great.
But why do they have this name? Its name derives from the Thousand Islands region located between Canada and America, where people claim this is an invention of a fisherman's wife living in this region.
Want to know more about the origin of Thousand Islands dressing? Click here to find out now!
49. Caesar Dressing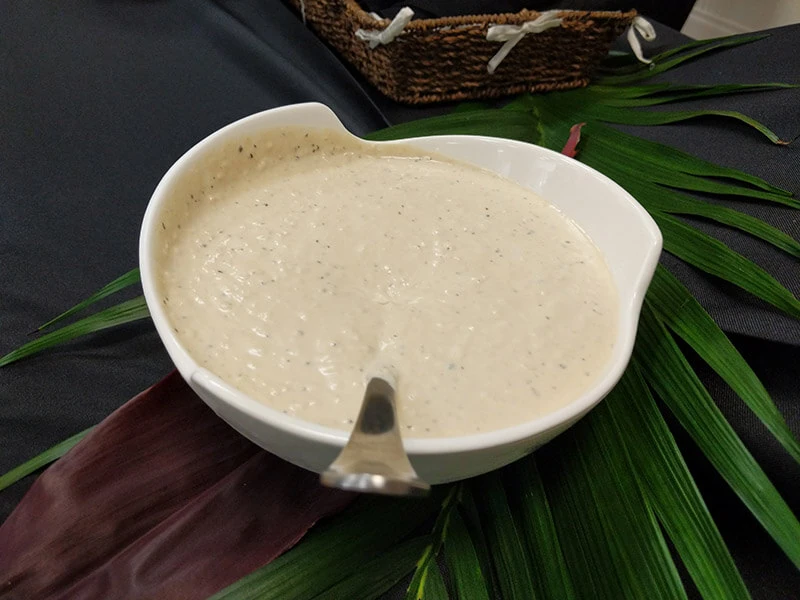 Caesar salad is a fresh green salad made with cheese, veggies, sauce, etc. And the ingredients in Caesar dressing are similar, excluding the veggies. The ideal way to use this dressing is for salad, but you can use it as a marinade or a dip.
You can easily make an authentic Caesar dressing with main elements like anchovies, egg yolk, mustard, lemon juice, garlic, olive oil, and Worcestershire sauce.
Nowadays, many companies produce bottled Caesar dressing, but no one can beat the homemade dressing. This one is a well-loved dressing thanks to its rich, garlicky, lemony taste; this one is a well-loved dressing.
50. French Dressing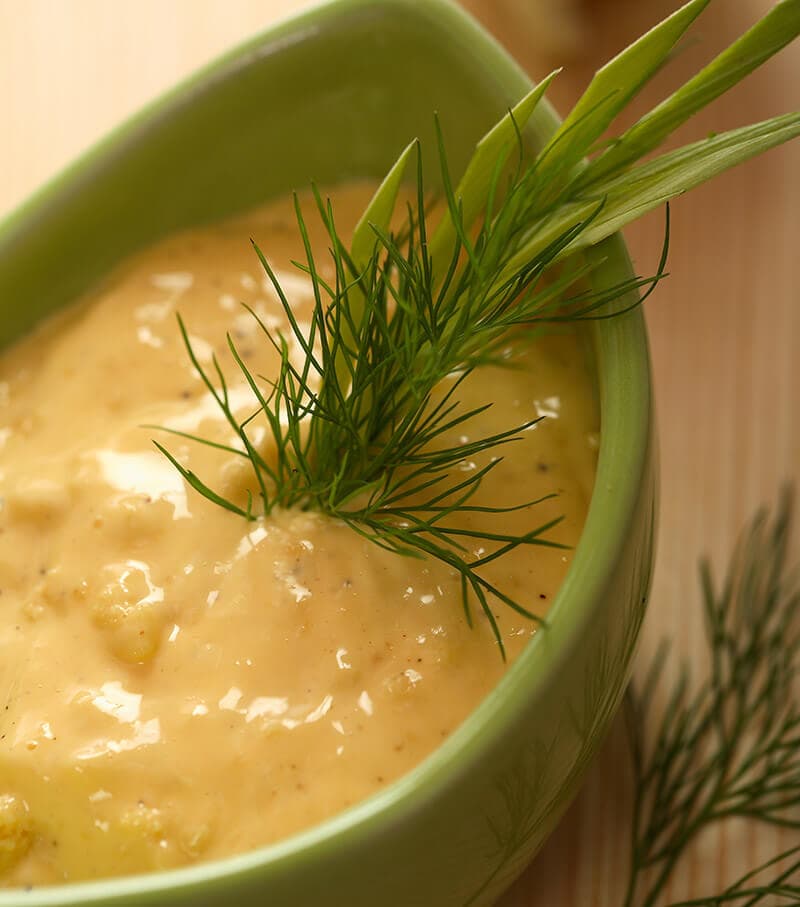 Another significant salad dressing in American cuisine is French dressing. The ingredients in French dressing are quite simple, such as vinegar, oil, tomatoes, sugar, and paprika.
There are other versions with different components, making them have several colors ranging from pale orange to bright red. To make them at home, you have to use a blender or a food processor to puree all ingredients until they have a smooth, thick, and creamy texture.
If you want to find it at stores, Heiz, Annie's, Kraft, Wish-Bone, Bernstein's, etc., are some ideal options. Overall, the primary flavors of French dressing are sweet and tangy with a slight spicy from spices.
51. Italian Dressing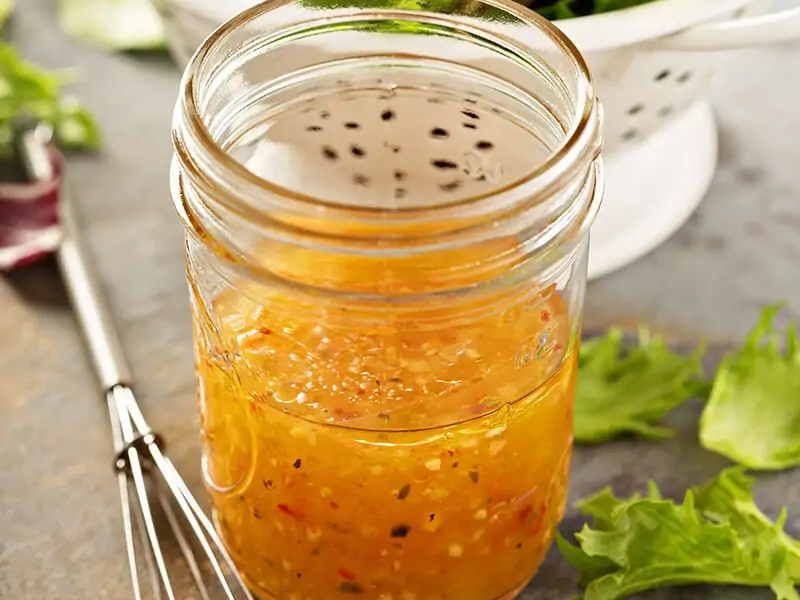 Like French dressing, Italian dressing is neither from Italy nor used in this country. This is a vinaigrette-based dressing native to America. It encompasses vinegar (or lemon juice), sugar (or corn syrup), oil, bell peppers, herbs, and spices.
But you can find the Italian variant of this one made with milk products. This dressing is very famous in North America, and people usually use it to marinate meat and veggies or for sandwiches, pasta salads, or stir-fried foods.
But is Italian dressing vegan-friendly? Check for the ingredient on the package first. FYI, Ken's and Wish-Bone are two well-known Italian dressing brands made from different elements. They are available in bottles to easily buy and add to your salad.
Do not like the taste of store-bought Italian dressing? No problem since this guide will teach you how to make it.
52. Ranch Dressing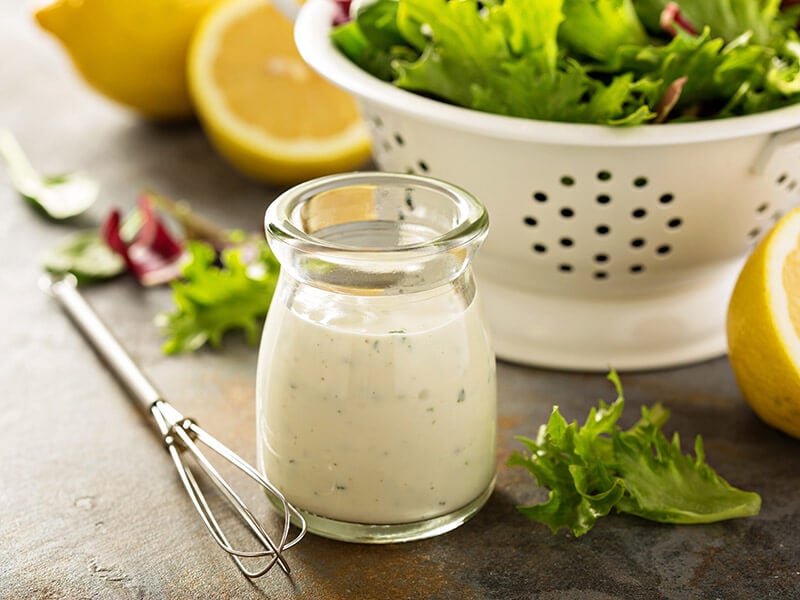 Ranch dressing is an American salad dressing consisting of buttermilk, mayonnaise, herbs, garlic, onion, and spices. Yogurt or sour cream is an ideal replacement for mayo and buttermilk as well.
Common herbs in Ranch dressing are dill, chives, and parsley. In addition, paprika, ground mustard seed, and pepper are the widely-used spices in this creamy dressing.
The most popular way to consume this dressing is as a dip or condiment for chips or other dishes. Ranch dressing is an invention of Steve Henson in the 1950s. And it has become one of the top-selling dressings in the USA since 1992.
Pickles and Preserves
Believe it or not, some types of pickles and preserves can be considered condiments. So keep reading to learn more about them.
53. Horseradish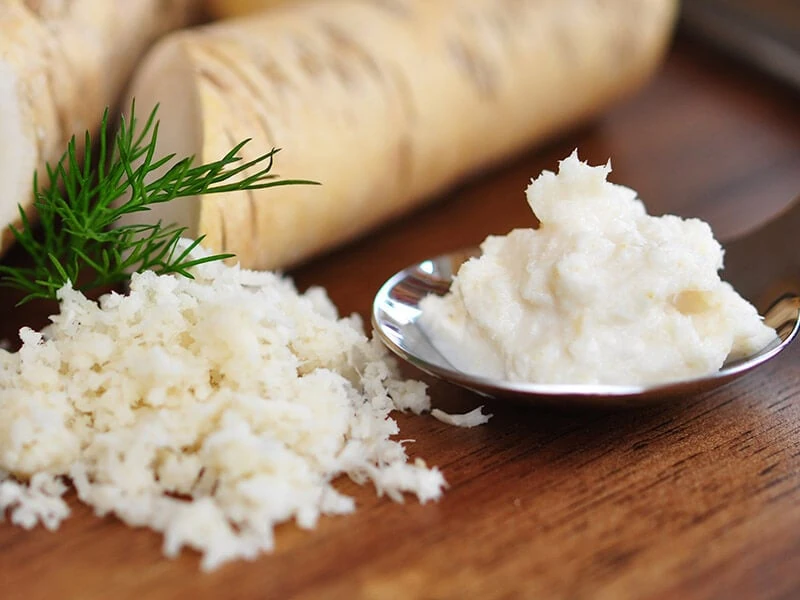 Horseradish is a root vegetable belonging to the same family as mustard, wasabi, radish, etc. This veggie has many names varying by country. And they probably come from Western Asia and southeastern Europe.
Horseradish can go bad or not? The answer is yes, similar to most types of food. But you can extend its shelf life with proper storage.
The main flavor of this plant is potently spicy, but it will not burn your tongue like chili peppers. The primary uses of horseradish are as a condiment and a spice. For example, in Britain, Germany, and Scandinavia, the locals use this root vegetable as a meat condiment.
Horseradish is also a main ingredient in making horseradish sauce – a well-liked condiment in Poland and the UK. But in America, horseradish sauce often means grated horseradish mixed with salad dressing or mayo.
54. Relish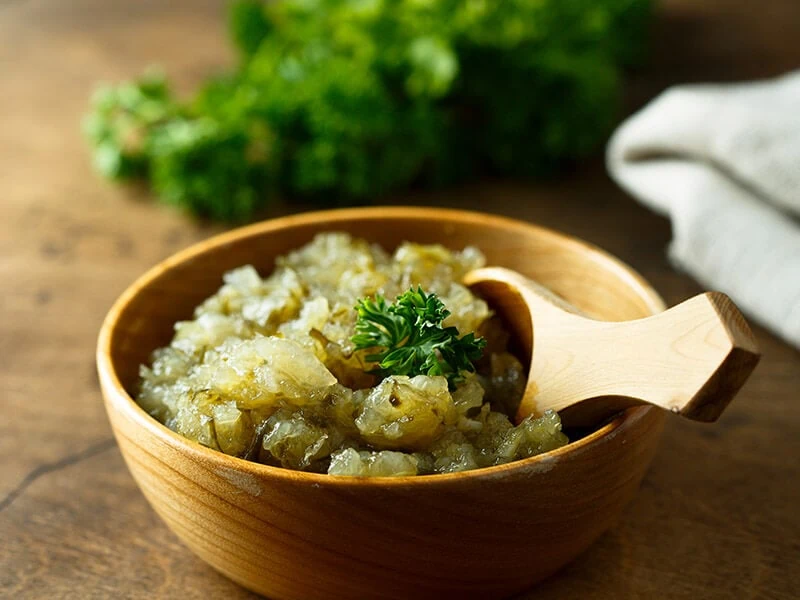 Relish is a group of pickled or cooked food containing finely (or coarsely) chopped veggies, fruits, herbs, or pickles in a sauce (or base). And they are typical condiments in many cuisines.
The best way to differentiate them from sauces is their texture. Relishes are not as smooth as sauces. Their flavor is strong enough to become a fantastic accompaniment or enhance the taste of the main dish.
In North America, people usually use "relish" to refer to pickled cucumber since it is the most common one here. Moreover, there are 2 types of pickle relish in the USA, including hot dog relish (relish with mustard sauce) and hamburger relish (pickle with ketchup sauce).
Plus, Americans also consume them as a spread to accompany their food. For example, if you need a good companion for your perogies, count on relish. You can buy them at stores, or prepare your favorite relish yourself.
55. Pepper Jelly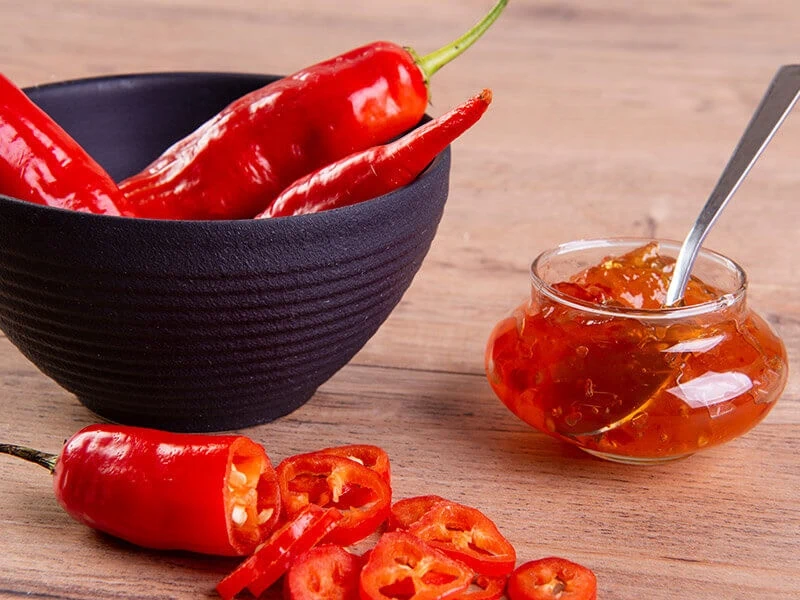 Pepper jelly is a special preserve to perk up the flavor of meat dishes or as a component in other recipes. It composes of peppers, salt, and sugar in pectin or vinegar.
Pepper jelly originated from Texas and was very famous from the 1980s to the mid-1990s in the USA. The original form of this condiment used jalapeño peppers as the main ingredient, but other variations might come with Habanero, Cayenne, Cheiro do Norte, Paprika, etc.
Depending on various types of chili pepper, pepper jelly's spiciness is different. Overall, it is a nice balance of sweet and spicy. Pair pepper jelly with sandwiches, cream cheese, or other foods, and enjoy its serious deliciousness.
56. Chutney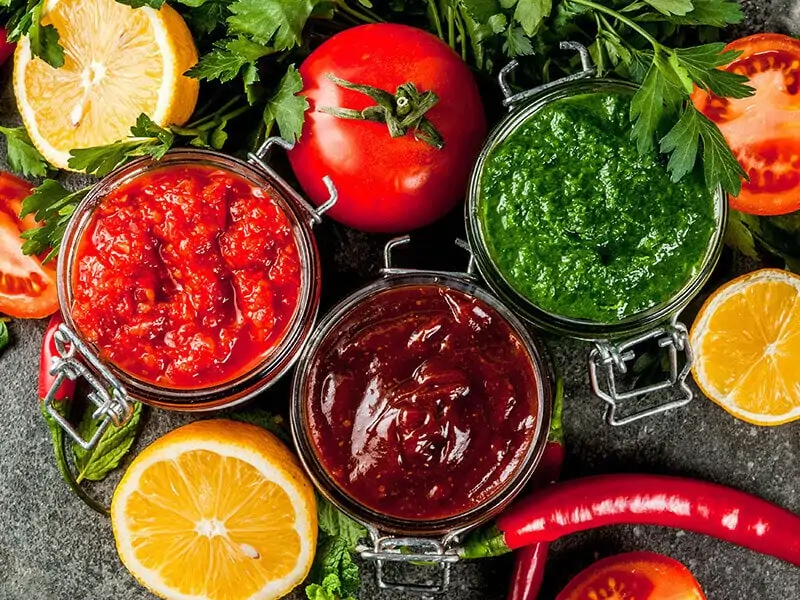 Indian condiments, once again, surprise humans with their creativity. And chutney is 1 of the best examples to prove it. This fruit-based preserve can be a condiment (for cheeses, curries, or meat dishes), an ingredient in delicious Indian sides, a spread, or a dipping sauce.
The ingredients are diverse based on Chutney varieties by region. But in short, they traditionally use fresh components (fruits or vegetables) with spices, sugar, or others, then preserve them to use throughout the year.
As a whole, they can be similar to relish or jam. Some chutney styles are cooked; some are served raw. In India, the locals use chutney in many ways. They can even be a breakfast (with bread) or side dishes.
What is the correct way to consume chutney as an Indian? Click here to see more.
Ketchup
Ketchup is not only about tomatoes that we usually know. They are even more with other ingredients. Typically, ketchup is a classic pair to burgers or fries, but you can extend your condiment list with the following styles.
57. Tomato Ketchup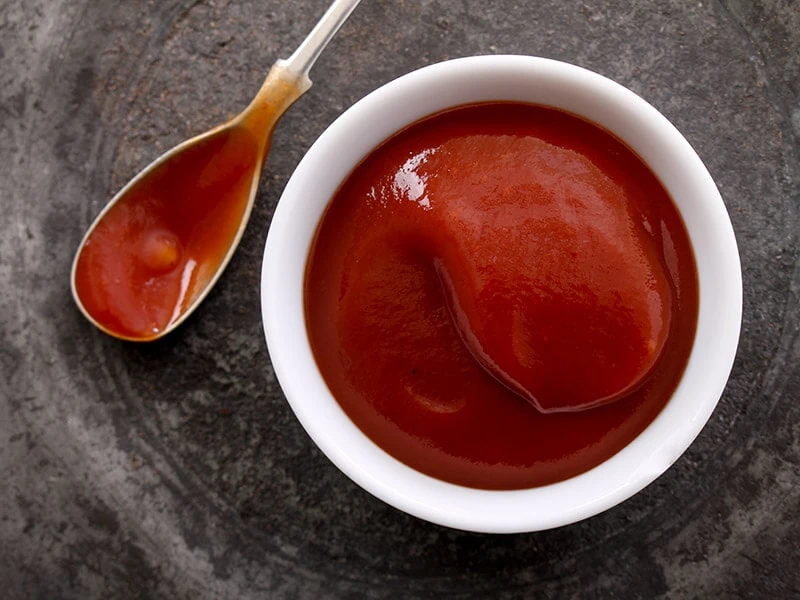 Alright, let's start with the most basic one – Tomato ketchup. It encompasses tomatoes, vinegar, sugar, spices, and other seasonings to create a thick red condiment with a sweet and tangy taste. But in the past, people used mushrooms, egg white, grapes, etc., to make it.
Tomato ketchup is 1 of the most common table condiments in many countries. They work well in pairing with grilled cheese, fries, hot dogs, hot sandwiches, burgers, or grilled meat. Plus, consuming it as a sauce or dressing is not a bad idea to make your snack more flavorful.
If you worry about whether ketchup is suitable for a vegan diet, this type is your safest bet. Commercial ketchup products are available anywhere. The 2 biggest market shares in this industry belong to the United States and the United Kingdom.
58. Mushroom Ketchup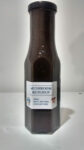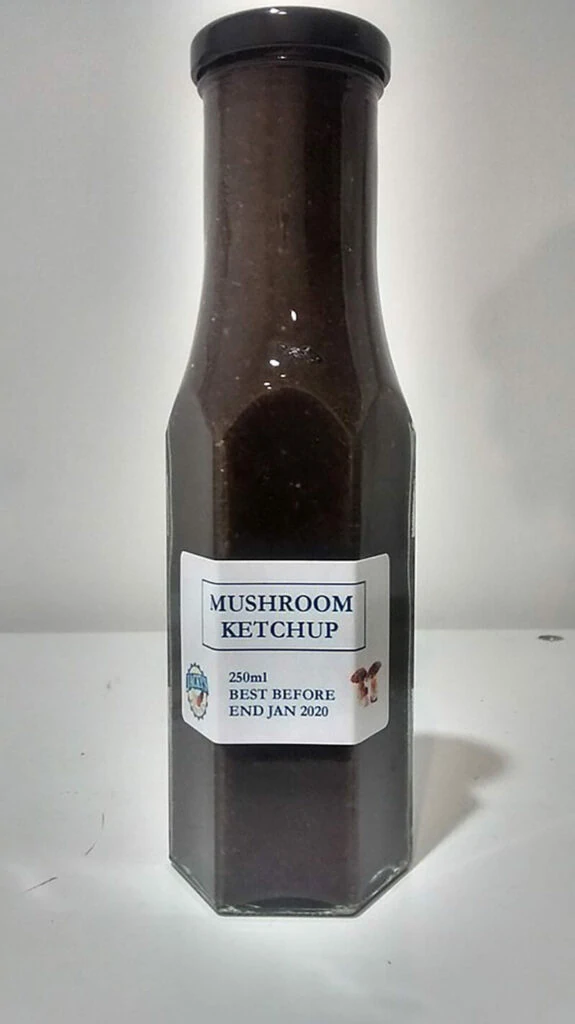 Originating in the UK, mushroom ketchup is the first type that people created with mushrooms instead of tomatoes. Today, people in this country still use it as a condiment or an ingredient to make other condiments or sauces.
It might not be easy to find this type of ketchup in America because they are only popular in the UK with many commercial mushroom ketchup brands. But if you have time, you can still make this condiment yourself.
The flavor of this ketchup is quite similar to Worcestershire sauce. Therefore, it is salty, tangy, and has an umami taste.
This is a quick review about the taste of mushroom ketchup.
59. Curry Ketchup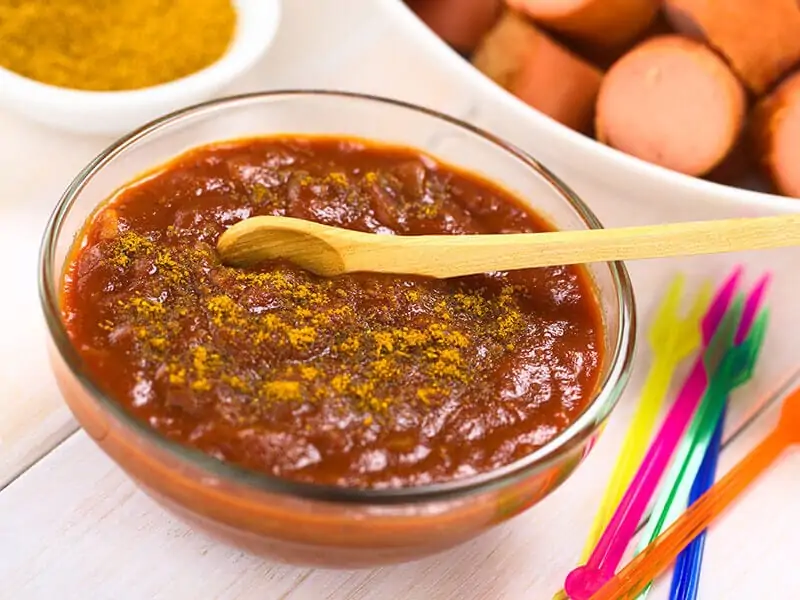 Despite curry being a familiar food in India, curry ketchup is not native to this country. Instead, it is a Germany-based condiment called Currygewürzketchup.
This ketchup usually goes with currywurst – a traditional German street food, French fries, or Friandel – a Dutch-style food which is a type of minced-meat hot dog. Or you can use it in place of tomato ketchup.
Curry ketchup is mildly spicy and flavorful. It is also simple to make but search for commercial curry ketchup brands like Heinz, Zeisner, Hela, and Knorr if you want to buy a ready-made product.
60. Banana Ketchup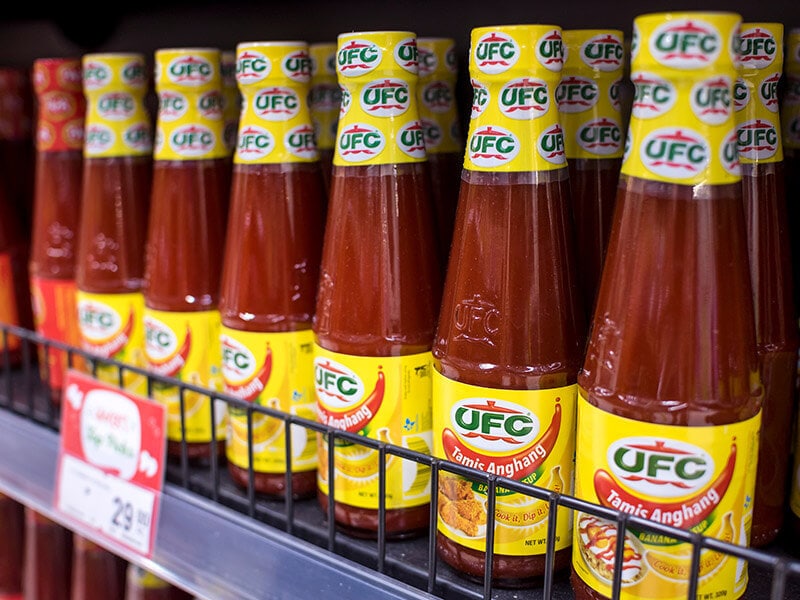 If you have traveled to the Philippines, you might have tasted this fruit ketchup before. This is a favorite condiment in many Filipino foods. Or you can add it to your omelettes, fries, hamburgers, or grille/fried meat dishes.
Bananas, vinegar, spices, and sugar are some main components of making banana ketchup. They are sweet and tangy that can balance various savory recipes. However, you will not sense any banana flavor in it. In fact, they taste like normal ketchup but with a sweet flavor.
So how was banana ketchup invented? During World War II, due to the shortage of tomatoes but abundant banana production, a Filipino food specialist – Maria Y. Orosa, created this unique ketchup.
Vinegar
Vinegar is a condiment produced from the fermentation process to convert sugar to acetic acid, resulting in a sour-tasted and strong aroma liquid. Vinegar has a certain part in the culinary world as a cooking ingredient or for pickling.
Several vinegar types are available worldwide, but some are better for acting as a condiment. Below are 3 specific examples under this circumstance.
This short demonstration will show you how people prepare vinegar.
61. Balsamic Vinegar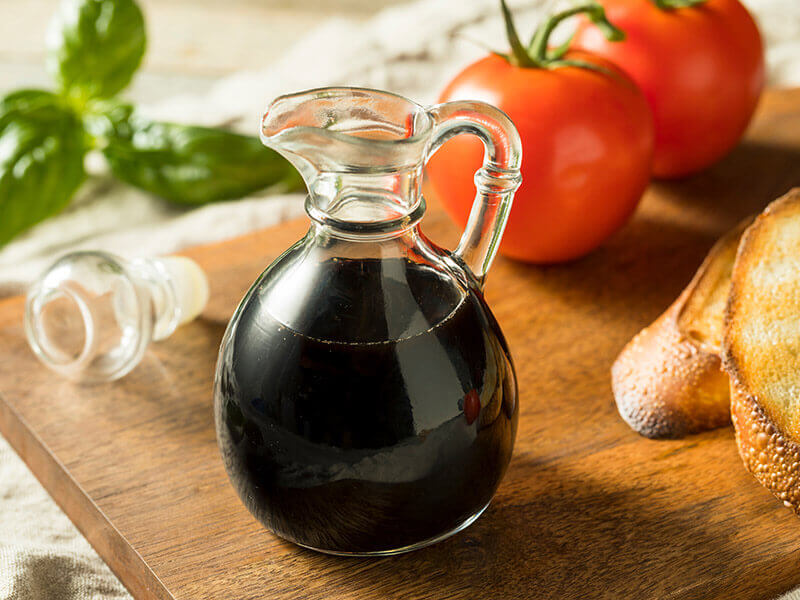 Balsamic vinegar is native to Italy. It is dark-colored vinegar with an intense and concentrated flavor made from fermented crushed grape juice (including skins, stems, and seeds).
Though grapes have many different varieties, the typical one to make balsamic vinegar is White Trebbiano grapes.
There are 3 main types of balsamic vinegar, and all of them are great ingredients or condiments in cooking. Plus, the best balsamic vinegar product is from Modena (in northern Italy).
Traditionally, producers will keep it in wooden casks for years to concentrate the flavor. The vinegar-making process is quite similar to making alcoholic drinks like bourbon whiskey, wine, or scotch whisky.
It is not easy to describe balsamic vinegar flavor, but overall, this condiment has a complex sweetness and sharpness with light hints of molasses, chocolate, or cherry. Balsamic vinegar can enhance the taste of dressing, sauces/marinades, pasta, or seafood dishes.
62. Malt Vinegar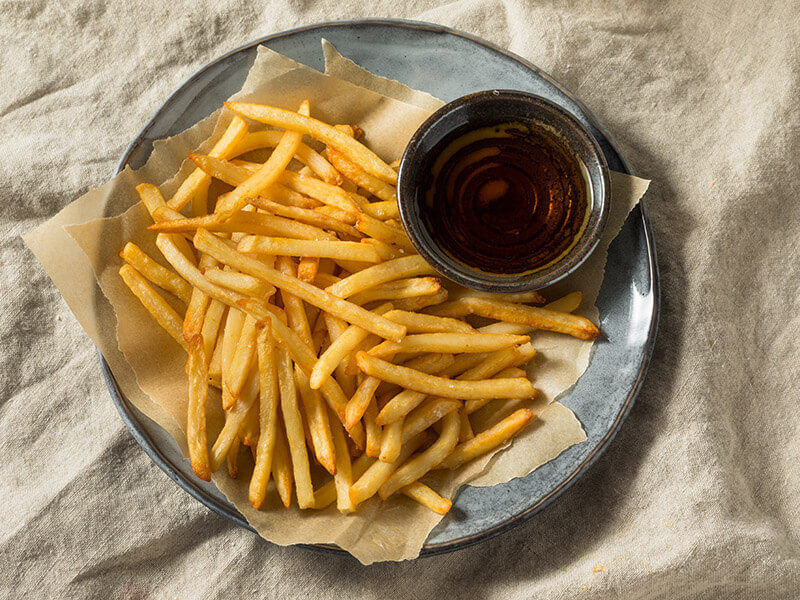 Malt vinegar is a grain-based vinegar made from malt (barley grains) – the same ingredient to make beer. Compared to regular white vinegar, this style is milder in flavor but also sweeter and less acidic.
Many people claim malt vinegar has a nutty and lemony flavor, making them 1 of the most flavorful vinegar compared to others. Plus, you can have a compatible Worcestershire Sauce replacement by mixing malt vinegar with tamarind paste and blackstrap molasses,
It normally has a light brown color that people often utilize as a condiment on French fries, fish and chips (in Canada and the UK) or pickling.
63. Black Vinegar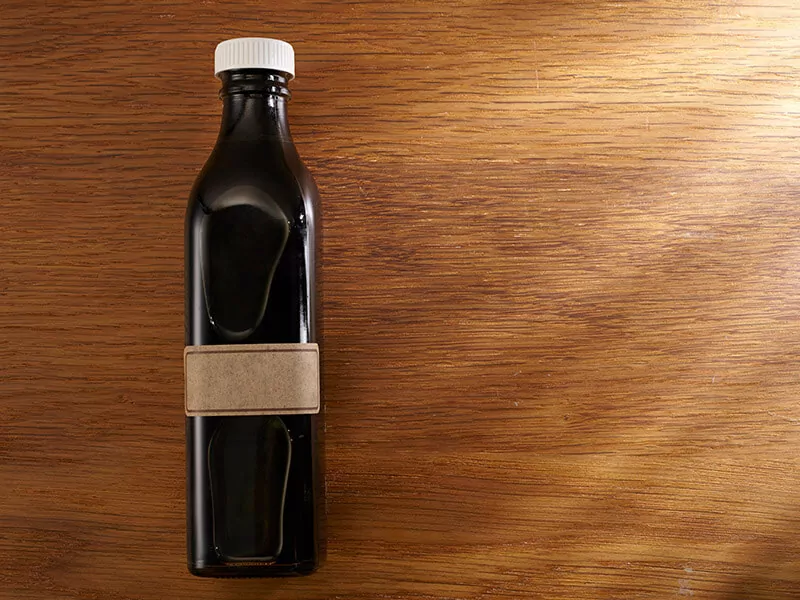 Like balsamic vinegar, black vinegar is a dark-colored condiment, but instead of making it from grape juice, the main component in this style is black rice (or glutinous rice). Moreover, this is a Chinese-origin condiment.
You can find many black vinegar types in different regions in China with other ingredients and flavors. For example, Zhenjiang black vinegar has a woody and smoky taste, while Shanxi mature vinegar is much stronger in a smoky flavor.
Moreover, there are similar versions of black vinegar in neighboring countries, like Kurozu in Japan or Korean black vinegar.
You can use it for cooking, braising meat or fish, or as a condiment for dumplings. And another good thing is that black vinegar can be a cost-effective alternative to balsamic vinegar.
If dumplings are your favorite food, you will love this sauce made with black vinegar.
The World Of Condiment Is So Diverse, Right?
In reality, the list of condiments is beyond your thinking. But here are 63 common and tasty ones that I believe most of you will love.
Before reading this post, you might think condiment is just a small part of the human food chain. Technically, it is not wrong, but your dishes taste bland and unpleasant without them.
Finally, please click like or share if you find my article helpful for your future reference. And do not hesitate to leave a comment if you still have further questions regarding these condiments. Thank you, and have a nice day!