The world is full of tasty dishes in different types of cuisine to capture the different cooking styles, traditions, and cultures. Therefore, they are multicolored pictures and have their distinguishing characteristics.
In this article, I will talk through 67 cuisines on different continents, including America, Asia, Africa, Europe, and Oceania. There are other specific regions and countries on each continent with various distinctions.
Some cuisines in this list might be too familiar to you; some might be not. But they all have the same thing that these cuisines are worth discovering. If you want to learn more about some countries, especially their food, this post will not fail you. So, sit tight and read on!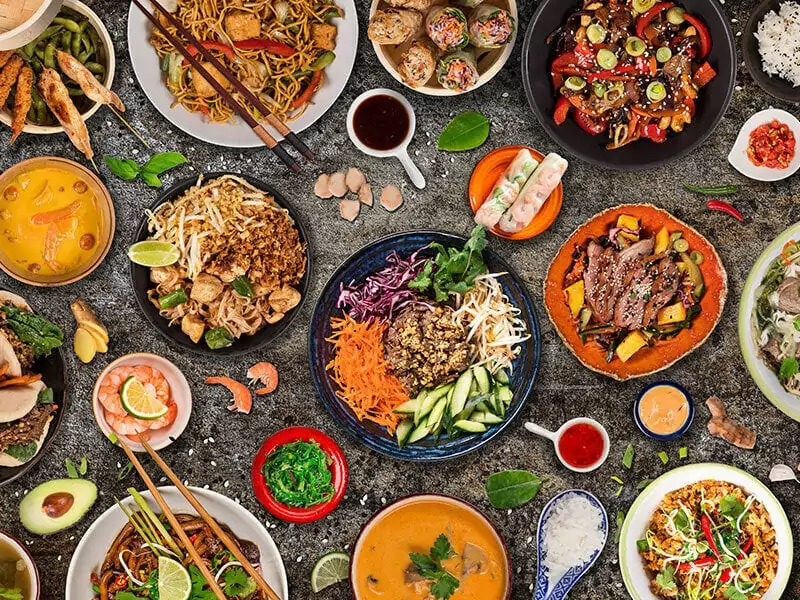 Cuisines of The Americas
Americas occupy 8% of the total surface area on earth, mainly in earth's Western Hemisphere. In this section, I have divided the Americas' cuisines into 4 separate regions: Caribbean, Central America, North, and South America, to have a clearer view of each country's cooking practices.
In Caribbean Region
Overall, the cuisine in the Caribbean region is impacted by different colonized groups. Some might have Western European countries' styles (France, the United Kingdom, Netherland) or Spanish.
They have a long list, from unique Caribbean appetizers to satisfying Caribbean desserts, so you can find for yourself various delicacies to impress others.
1. Haitian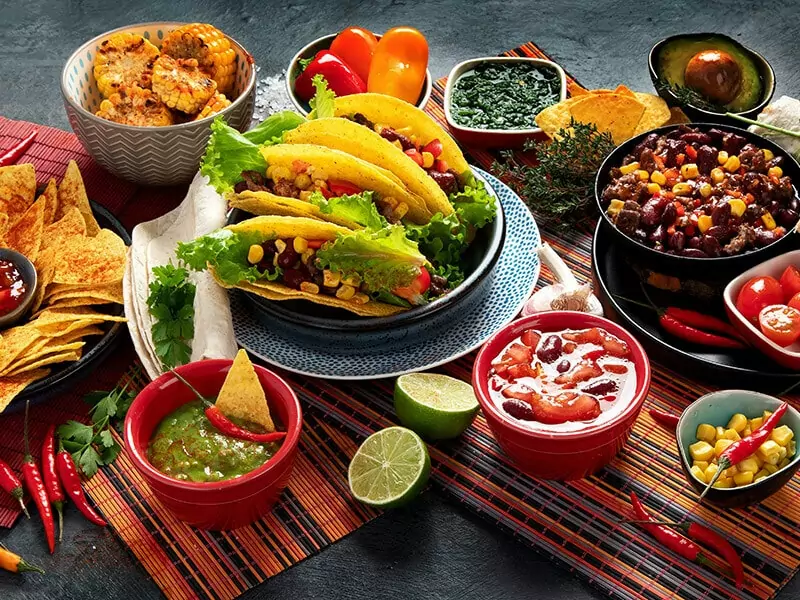 When talking about special Haitian foods, many people usually lump them with other regions in the group of Caribbean cuisine. Still, they have some distinctions in flavor to explore.
First, their dishes combine many cooking styles in the Western Hispaniola island and have hints of Spanish, French, African, Arab, and indigenous Taino culinary characteristics.
Their food flavors are spicy and bold in a unique way. The locals use various types of herbs and peppers to flavor their food. Rice is also one of their staple foods and normally goes with beans (especially black beans). Other favorite starches are yams, corn, millet, and beans.
Regarding Haitian drinks, rum must be the first clue since they produce the most renowned rum in the world. Besides, beer is also one of the most common beverages in Haiti.
But suppose you want to try a Haiti-authentic drink. In that case, Crémas (sweet alcoholic drink), and Clairin (a distilled alcoholic beverage made from cane sugar) are also ideal to try out! And thanks to the tropical climate, there are also various refreshing fruity beverages without alcohol.
Popular dishes: Soup Joumou (beef and pumpkin soup), Bouillon (beef soup), Griot (Haitian pork dish), etc.
Popular drinks: Rum, beer, Crémas, Clairin, and beverages made with fruits
How does Haitian cuisine reflect their culture? Watch and learn!
2. Cuban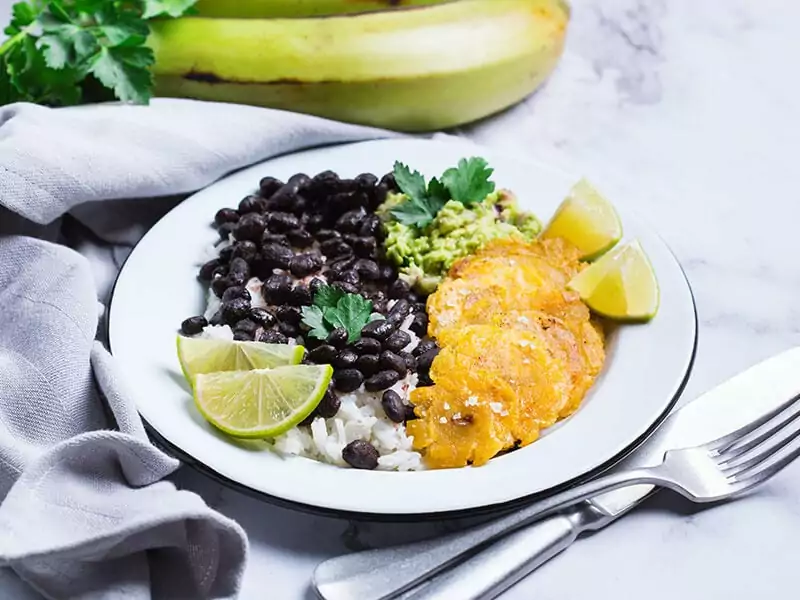 If you search for a mixture of cooking traditions of Africa, Spain, and some Caribbean areas, Cuban cuisine is the answer. Interestingly, they also have a minor note of Chinese impact in their foods, particularly in the Havana region.
The tropical climate in Cuba also offers them various tropical fruits and root veggies to create many Cuban tasty dishes. Moreover, you will find many seafood options on their menu as this is an island.
Like Haiti, rice and beans are their staple starches with a famous dish named Arroz con frijoles (rice with beans). Cuban sandwich (mixto) is another must-try dish in the country that includes ham, Swiss cheese, roasted pork, pickle, and Cuban bread.
Cuban desserts are wonderful too. They are also home to many refreshing cocktails, making wonderful Cuban drinks the renowned name on the world's beverage list.
Popular dishes: Arroz con Leche (rice pudding), Arroz con Frijoles (rice with beans), Yuca con mojo (Cassava with garlic sauce), and more.
Popular drinks: Malta (soft drink), Mojito, Carajillo (Cuban Espresso with Liquor 43), etc.
Check here to find out what delicacies Cubans normally eat for their diets.
3. Jamaican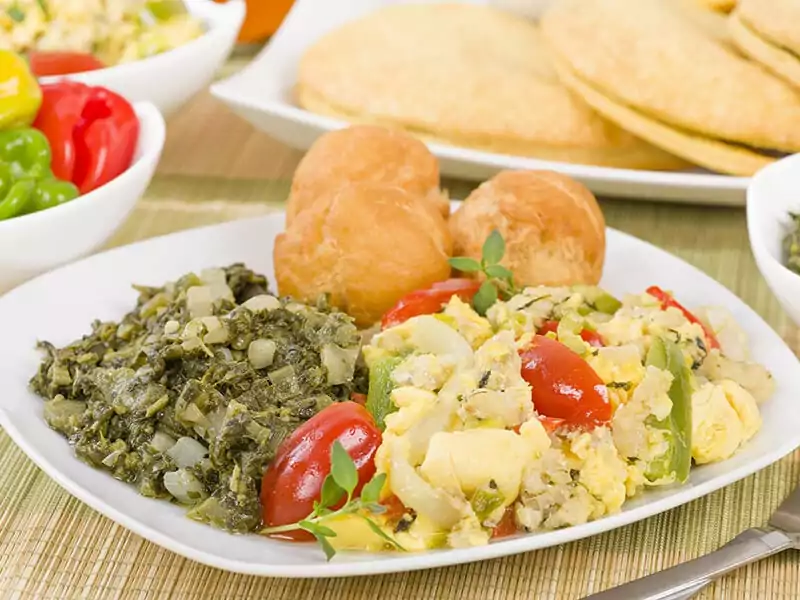 Tasty Jamaican cuisine is a blend of Irish, Chinese, African, French, Indian, Portuguese, Spanish, Middle Eastern, and English influences with various dishes made from meats, tropical fruits, or seafood.
The national dish – Ackee and salted fish is the perfect combination of seafood and unique ackee – an exotic Jamaican fruit. But I bet you will love their other dishes like Jamaican patties, curry goat, or various types of soup.
In general, Jamaican cuisine is full of flavor as they use various types of spices, herbs, and condiments to season their dishes. In many flavorful Jamaican sweets, you can sense some common spices like cinnamon, allspice, curry powder, ginger, garlic, etc.
The comprehensive array list of Jamaican beverages and desserts are worth exploring. Many of them are made with tropical fruits like mango, soursop, grapefruit, etc. Many natives love to enjoy hot drinks in the morning like herbal tea, Jamaican Blue Mountain coffee, and other popular beverages.
Popular dishes: Ackee and saltfish, Bammy (cassava bread), curry goat, Jamaican patty, etc.
Popular drinks: Jamaican Blue Mountain coffee, Hot chocolate, herbal tea, beer, rum, and more.
In Central America
The diversity in Central American cuisines is undoubted. And here are 3 iconic cuisines in this region that you need to try if you have a chance to visit there.
4. Salvadoran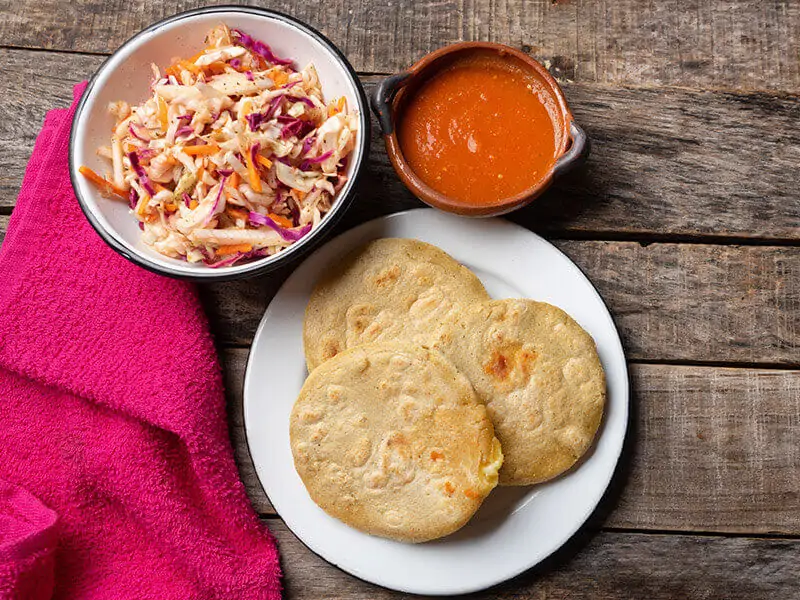 Salvadoran cooking style is mainly about corn, pork, and seafood. Their cuisine crosses between Native American cuisine strongly impacted by Lenca, Mixe, Maya Poqomam, and other indigenous people to create numerous unique dishes.
The most popular dish in Salvadoran cuisine is pupusa – a thick cake made with rice flour, then stuffed with other ingredients like cheese, meat, and beans. Yuva (cassava root) also plays an important role in Salvadoran cuisine.
In El Salvador, the locals consume a lot of seafood such as oysters, fish, snails, squid, clams, shrimps, octopus, and conchas (black clam). And they have been used in various Salvadoran-style soups.
Sweet treats in El Salvador are also varied. Pastries, cake, and pudding are made from different ingredients such as rice flour, cornstarch, and flavored with cinnamon, anise seed, vanilla, and sugar cane. Sugar cane is also a widely-used component in their beverages.
Popular dishes: Pupusa (rice flour cake), Pollo Encebollado (chicken simmer dish), Yuca Trita (deep-fried cassava root), and more delicious ideas
Popular drinks: Kolashanpan (soda with sugar cane), beer, Tic Tack – a sugar cane liquor
This demonstration will show you what to try in El Salvador.
5. Belizean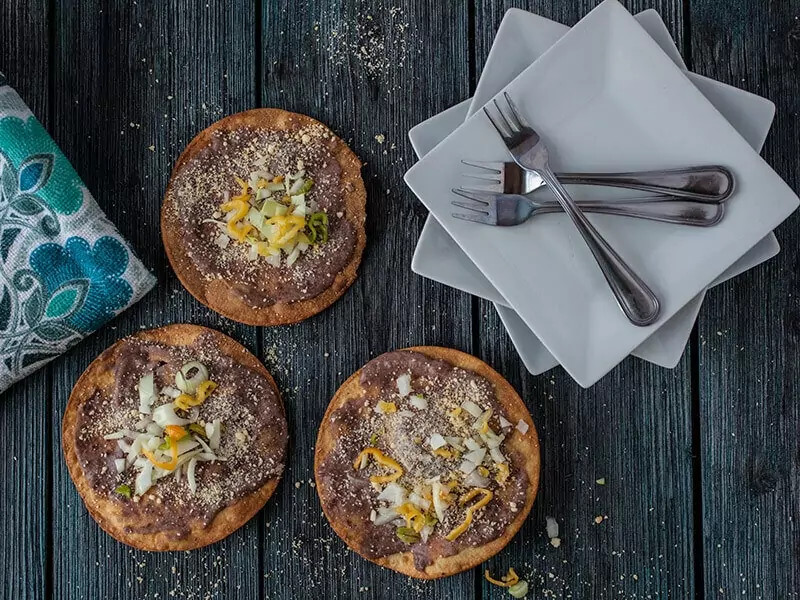 Belizean cuisine is associated with all the ethnicities in this country, thereby offering various dishes according to their races. Moreover, Belizeans prefer chicken and fish rather than pork and beef. And their chicken might taste oddly rich due to the difference in animal feeding food.
Other simple ingredients in popular Belizean foods are rice, beans, corn, cassava, and plantain with various types of tropical fruits like guava, coconut, pineapple, and more.
Specifically, the Mestizo and Maya love tortilla or tamales dishes cooked with other foods like meat and beans, while Kriols people prefer balanced diets. It means they prefer boiled foods like boiled eggs, pigtails, fish, and other veggies in their cultural dish – Bile up.
The typical drinks in Kriols are fresh juice or homemade alcoholic beverages made from fruits, rice, or nuts).
Popular dishes: Garnaches, Fry jack (deep-fried dough), Bile up (Kriols dish with various boiled ingredients), and more
Popular drinks: Fresh juices, soft drinks, and alcoholic beverages
6. Panamanian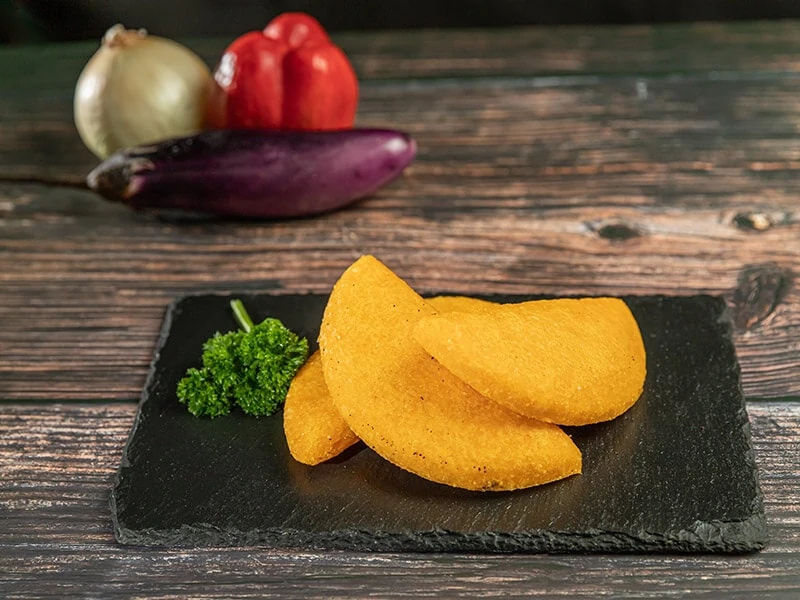 The cuisine of Panama is a combination of Native American, African, and Spanish cooking practices, techniques, and ingredients. As a transcontinental nation in South America and Central America, they can benefit from many types of tropical fruits, veggies, and herbs of these 2 regions.
Authentic Panamanian foods have many corn-based dishes as their cuisine is affected by Latin American and Caribbean countries. Empanadas, Almojábanos (corn fritter with an S shape), and Bollos (boiled corn dough) are some classic examples of corn-based treats that you can find in this country.
Besides, they also consume large amounts of rice, plantains, cassava, wheat flour, and meats like pork, chicken, beef, and seafood.
The local's well-loved drink menu in Panama includes non-alcoholic and alcoholic ones. They love coffee, beer, fresh juice made from tropical fruits, and various authentic alcohol.
Popular dishes: Bollos, Empanadas, fried fish, and more
Popular drinks: Coffee, beer, fresh juices, Seco Herrerano (sugar cane alcoholic drink)
In North America
North American dishes are generally based on the immigrants' cuisines, mostly from Europe. However, they also convey other cuisines like African, Jewish, Native American, and Asian culinary traditions.
7. American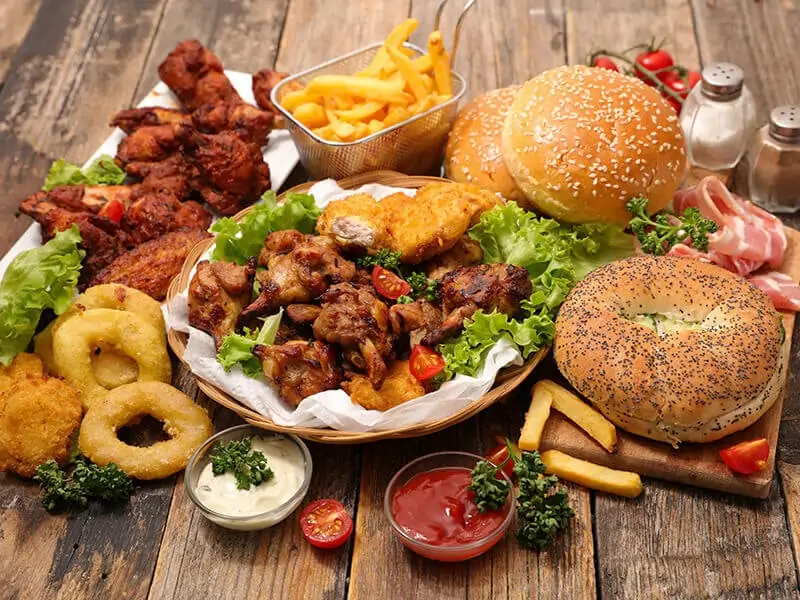 The significant cuisine in the North American region is in the United States. The rich American cuisine has a root in European cuisine that has been affected by Asian, African Americans, Native Americans, Pacific Islanders, and other cooking styles and traditions.
In American cuisine, there are other regional cuisines like Cajun, Native American, New Mexican, Texan (Tex-Mex), Soul Food, New England Algonquian, Southern, and Tlingit cuisine.
Cajun cuisine plays an essential part with plenty of appetizers in Cajon style, or Cajun sweets. In general, most Cajun dishes contain seafood, rice, and veggies cooked in pots.
Plus, Southern cooking includes main elements like corn, tomatoes, and squash. Or many Southern-style desserts vary in ingredients, styles, and appearance.
As Mexico is the neighbor of America, many traditional and modern American dishes have been influenced by Mexican cuisine since the 18th and 19th centuries. The obvious example of this is Tex-Mex foods with typical dishes like fajitas, tacos, and more.
On the other hand, you can also find spaghetti, pizza (Italian-origin dish), or hot dogs (German food) on many American menus.
Popular dishes: Hamburgers, pizza, apple pie, hot dogs, and other dishes
Popular drinks: Coffee, soft drinks, cocktails, beer, wine
Here is the food tour to show you many must-try American foods in 50 states.
8. Canadian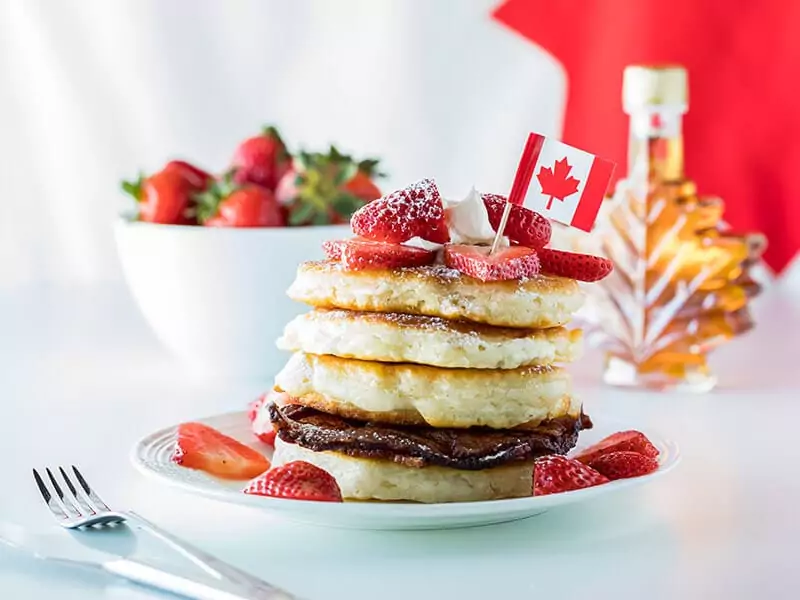 Canadian cuisine is different from region to region, but they are all impacted by French, English, Scottish, and indigenous dishes. Moreover, the traditional foods of English speakers in Canada are linked to British cuisine.
In reality, you can see many overlaps between other cuisines in North America and Canada. However, they still have some unique ingredients to define their cooking, like Saskatoon berry pie made from Saskatoon berries and flipper pie made with Harp seal.
On the other hand, the traditional cooking cultures in Canada include French Canada (Acadian and Québécois cuisines) and English Canada. Acadian dishes are Acadian people's foods, which share some significant common traits with Québécois foods in Quebec province.
The national dishes of Canada are Poutine (French fries topped with brown gravy) and butter tarts. Canadian-based sweets are also impressive with an elegant look and tasty flavor.
There are a wide array of commercial foods in Canada, like Canadian pizza, cereal, and classic Canadian beverages, including tea, milk, and alcoholic drinks. Also, Canadian street foods are something worthy to try across Canada.
Popular dishes: Butter tarts, Poutine, pizza, Calgary-style ginger beef, Oka cheese
Popular drinks: Milk, tea, coffee, and alcohol
9. Mexican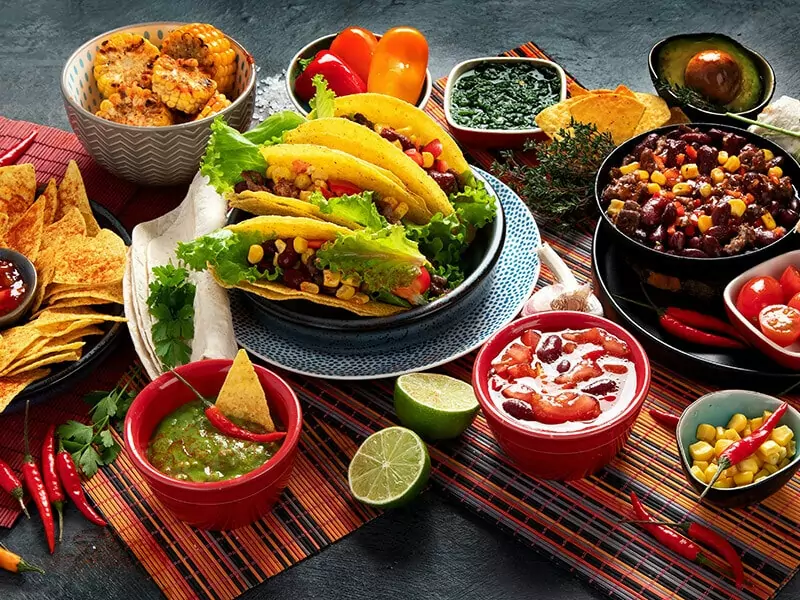 What do you normally answer when someone asks you about rich-in-flavor Mexican foods? Are they just about tacos, tortillas, enchiladas, and nachos? No, Mexican foods are beyond amazing, making them one of the most popular cuisines globally.
The initial root of Mexican cuisine is Mesoamerican cuisine with 4 staple foods like maize, chili, beans, and squash. Nowadays, the list of common Mexican ingredients is more than this, thanks to the appearance of avocado, chia, amaranth, tomatoes, and more.
Indeed, you can feel the complexity of cooking techniques and ingredients in many dishes, like Mexican starters. They are burst in flavor, spicy but also healthy.
More than that, some Mexican sweets are closely associated with many festivals that can reflect various aspects of their people's lives.
In regional areas, the locals prefer home cooking rather than going out. And many Mexican homecooked dishes are totally different from dishes you can order in restaurants outside Mexico, like those in Tex-Mex cuisine.
Street food in Mexico is another factor that will make you want to visit this country right away. And the most popular one is tacos.
Popular dishes: Tacos, quesadillas, chiapas, tamales, tostada, grilled goat
Popular drinks: Tejuino (made from fermented corn), soft drinks, Champurrado (Mexican chocolate drink), and other beverages with alcohol.
Let's explore more about Mexican cuisine through this documentary.
In South America
South American cuisine includes all Spanish, African, Native American, Portuguese, and Indian-South Asian cooking traits with some minor influences from North American and European cuisines.
With these 3 following cuisines from Chile, Venezuela, and Argentina, I hope you can grasp more useful information for your next vacation to these places.
10. Argentine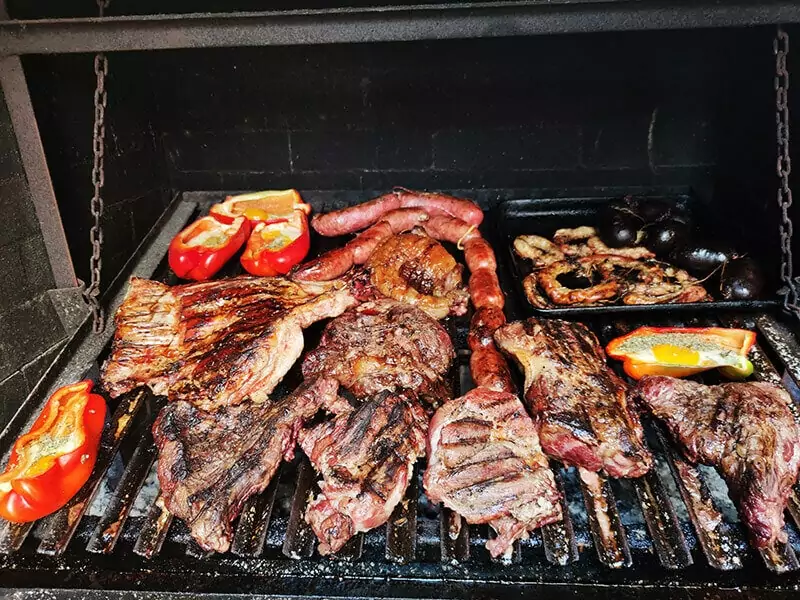 Argentine cuisine is the blending of Mediterranean cultures brought to this country by Spanish and Italian immigrants in the 19th and 20th centuries. They also have a bit of influence from Indigenous people, as well as European countries like Germany or Britain.
Argentine citizens usually use their local ingredients for cooking their foods, like oilseeds, cereals, grains, veggies, fruits, and meat (beef, pork, and poultry). Some places in Argentina also consume lamb, fish, and shellfish in some special activities.
You can find many grilled beef meat dishes in this country. They are Asado (made from beef ribs, and steak) and served with chimichurri (a sauce including garlic, herbs, and vinegar). Their snacks or appetizers list is wide with meat, veggies, cheese, and other ingredients.
Regarding Argentine sweet treats, people treasure Dulce de Leche – a sweet spread that can go well with many cakes, toast, or ice cream flavoring. In this country, people consume as much as Americans, and some liquors also contain dulce de leche.
Another interesting fact about Argentina's eating habits is that they consider lunch the biggest meal of the day. And they usually have a light snack with coffee and pastry in the evening.
Popular dishes: Asado, Chorizo, Chimichurri, Dulce de Leche, etc.
Popular drinks: Coffee, wine, Yerbiao (including mate and caña liquor), and more
The cuisine of Argentina is a delightful story with many delicious foods.
11. Chilean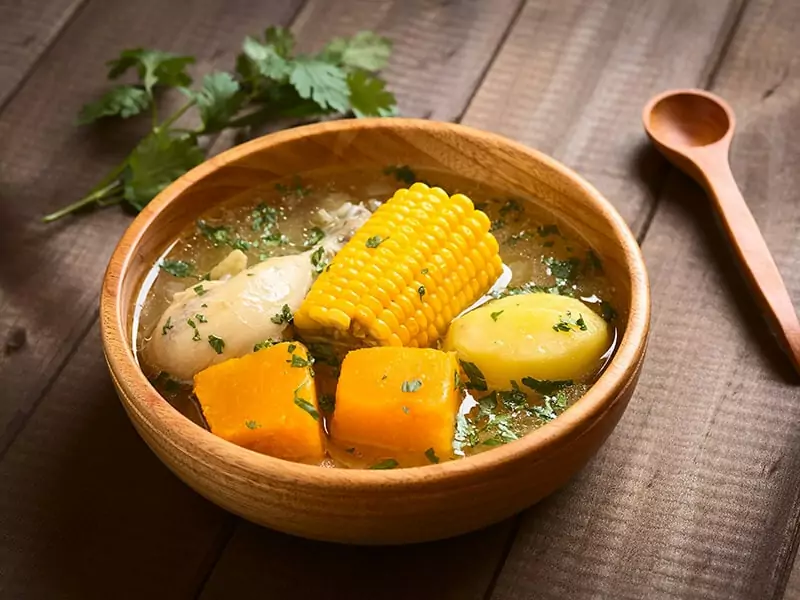 Basically, Chilean cuisine represents the mixture of Spanish culinary and Chilean Mapuche culture made from local-grown components. Plus, German, French, British, and Italian cuisines also affect this country's cuisine.
Some people also think Chilean and Mediterranean cuisines are pretty similar. Generally, the diversity in their foods is huge, with large varieties of ingredients and flavorings.
Thanks to their varied climate, Chilean food menus have more options for using fruits and vegetables to create delicacies. Athey have a long coastline with the Pacific Ocean; you can see many types of seafood in Chilean dishes.
But here is another thing to make this country more famous. It is a plentiful list of Chilean drinks, especially their wine product. Do you know Chile is one of the biggest wine producers in the world? Yes, they are.
Fun fact: Dulce de Leche is a Chilean-originated dessert that many Argentinians love.
Popular dishes: Cazuela de Ave, Empanadas, Sopa de Mariscos (seafood soup), bread, etc.
Popular drinks: Chicha (sweet fermented wine), various types of wine, Mote Con Huesillo (contain dried peach, water, sugar, and cinnamon), and other drinks
12. Venezuelan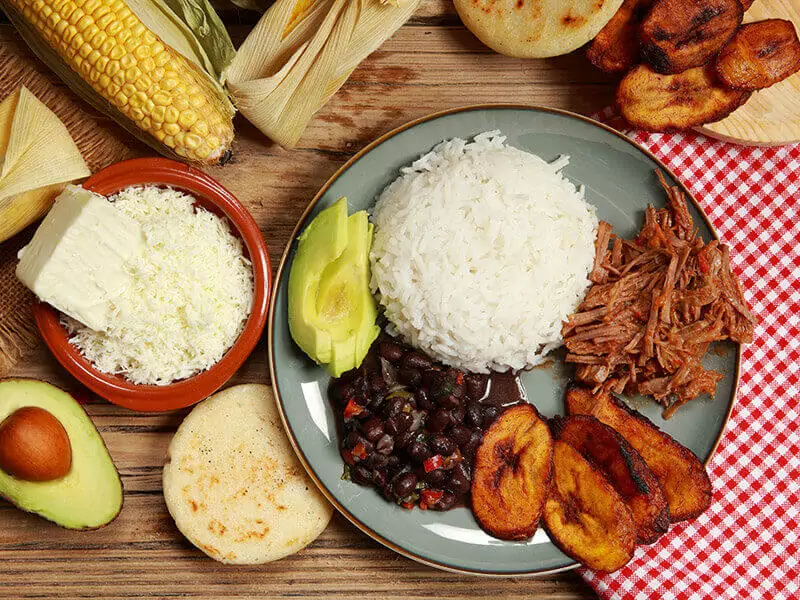 Overall, Venezuelan cooking techniques are influenced by European, West African, and other indigenous cultures and vary from region to region.
Significant foods in Venezuela are rice, yams, beans, corn, plantains, and different types of meat. On the other hand, Venezuelans also consume a lot of white cheese (Queso Blanco), and this cheese varies in flavors and texture across Venezuela.
Their favorite flavorings are Ají Dulce (a kind of sweet pepper), papelón (unrefined sugar cane), and Worcestershire sauce which can be found in many Venezuelan cooking ideas. They typically enjoy their meals with various veggies like onions, spinach, tomatoes, and potatoes.
Popular dishes: Arepa (cooked corn dough), Pabellón Criollo (Venezuelan national dish include rice, shredded beef, fried plantains, and beans), Tequeños (deep-fried cheese sticks), and so on
Popular drinks: Beer, Cocada (coconut milkshake), fruit juice, Papelón con Limón (contain water, lime juice, and rapadura)
Asian Cuisines
The next part includes your favorite Asian cuisines from the Central, East, West, South, and Southeast regions. After learning about 21 cooking cultures here, I am sure you will want to book a flight and visit some of these countries right away.
Central Asian
Persian, Turkish, Arab, Mongol, Russian, Chinese, Indian, and African culinary cultures create the finest Central Asian cuisine. Below are 3 typical examples of cuisines in Central Asia that I believe many of you are curious about. Check it out!
13. Kazakh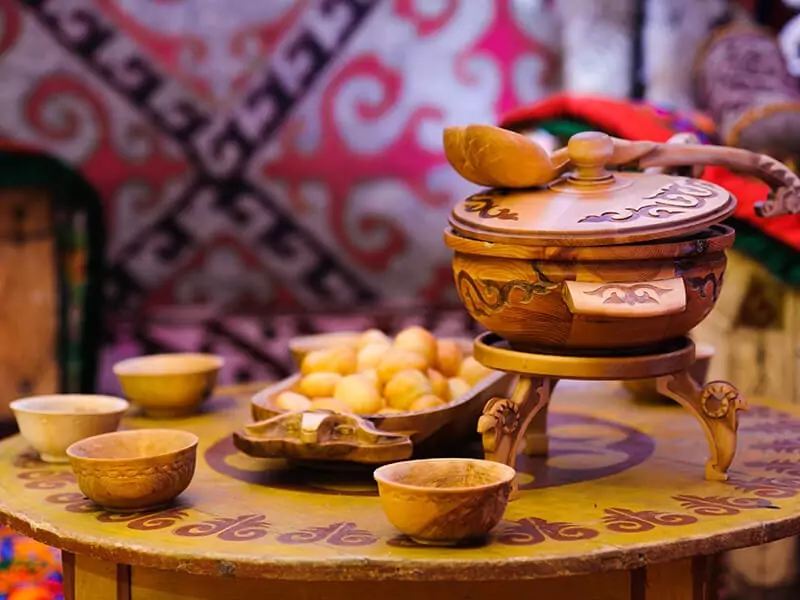 Unlike many places globally, mutton, horse meat, and other milk products used to be traditional ingredients in Kazakhstan's food lists. And their cooking techniques are heavily impacted by their nomadic lifestyle; that's why they have many tricks to preserve food for longer shelf life.
Nowadays, the locals mostly consume the primary meats: camels, cows, horses, and sheep; in which horses and camels are preferred for festive events while sheep and cows are more suitable for daily cooking.
Their cooking method in this country is mostly boiling with besbarmaq – a popular boiled meat dish that you have to use your fingers to eat. Overall, Kazakhstan foods mostly include meat, either in meaty form or sausage form.
Bread is another common kind of food in Kazakh cuisine with Bawyrsaq (frying dough ball) or Nan (traditional bread cooked in a tandyr oven). As they have various techniques to preserve food, their drinks are also made from the fermented milk of different animals.
Popular dishes: Besbarmaq, Quwyrdaq (stewed brown meat), Qazy (sausage made from horse meat)
Popular drinks: Qymyz (fermented milk from mare), Qaymaq (sour cream), tea, and more
14. Uzbek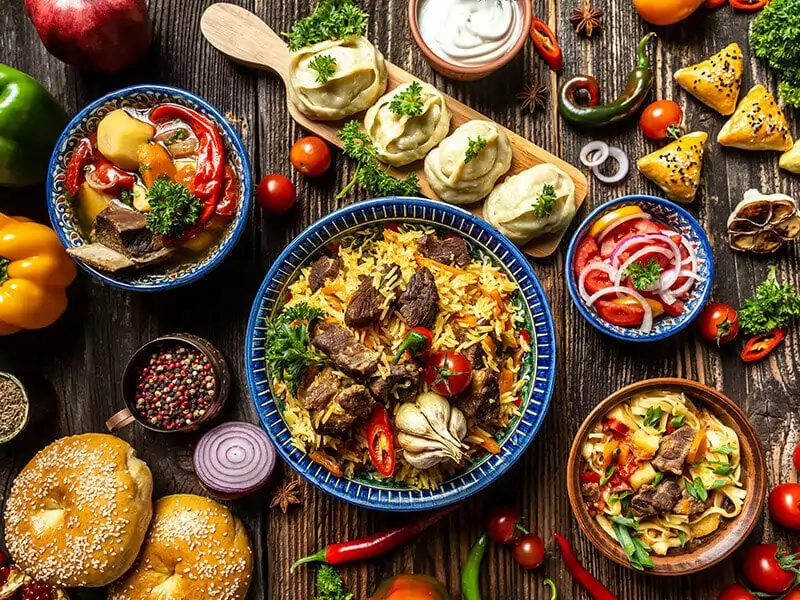 Uzbek cuisine emphasizes the importance of starchy ingredients like bread with various variants and noodles in their diets. That's why many people refer to them as "noodle-rich" cuisine. And the main meat that they use here is mutton.
Rice is another grain that the Uzbek people love. Palov is a famous food in Uzbekistan that consists of meat, rice, carrots, and onions. The meal is cooked over an open flame and sometimes served on special holidays or weddings.
In this country, tea is an essential part of locals' lives, and it always goes with a meal. You will see many tea houses across Uzbekistan. Besides, the whole country has 14 wineries that use different varieties of grapes to make their alcoholic products.
Popular dishes: Palov, Khalta Savo (a dish cooked in a bag), Fried fish, etc.
Popular drinks: Tea (green and black tea), wine, yogurt (especially in summer)
Street foods in Uzbekistan are full of interesting things.
15. Turkmen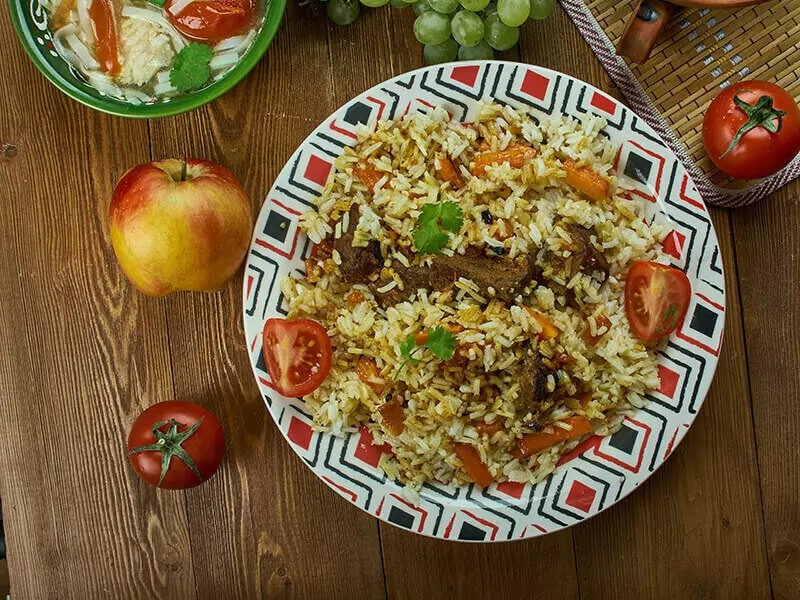 The last (but not least) cuisine in the Central Asia region that I want to introduce is Turkmen cuisine, where Plov (rice dish) is a significant food for daily cooking and celebrations. Plov includes mutton meat, fried rice, and carrot cooked in a big pan like a Dutch oven.
In this beautiful nation, you will have many options in filled pies or dumplings in plenty of restaurants, which are more popular among travelers due to their convenience in portability. Moreover, Turkmen's meals usually go with naan – a well-known flatbread in various countries.
And if you love melons, Turkmenistan might be your dream destination since they have many great melon varieties with up to 400 species.
There are several tea variants globally, but the primary beverage in this country is green tea. Surprisingly, vodka is the most consumed alcohol as they have a low price, even lower than beer or wine. You should try their thick drinking yogurt – Gatyk because they also taste so good.
Popular dishes: Plov, Manti (fried dumpling), Shurpa (veggies soup), bread, and more
Popular drinks: Green tea, Gatyk (drinkable yogurt), vodka, beer, wine, etc.
East Asian
The cuisines from many East Asian countries have a high ranking among various travelers and professional chefs since they require the best ingredients to make and a lot of cooking practices.
Each country has different distinguished ways of cooking with countless tasty recipes. So let's have a quick look at 4 East Asian countries to learn more about their cuisines.
16. Chinese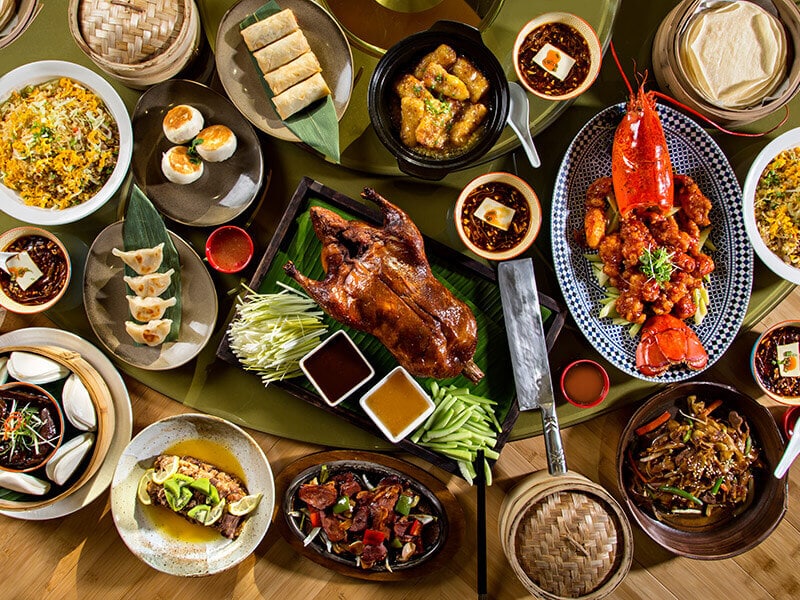 You can feel the diversity in Chinese cuisine right from many Chinese food pictures or documentaries on the internet. Indeed, they are one of the richest cooking cultures in the world with many cooking techniques.
There is no limit in ingredients in traditional Chinese dishes, as the locals have the best ways to turn them into unique delicacies. Besides, Sichuan, Fujian, Cantonese, Hunan, Tibetan, Hongkong, and Macanese cuisines are some special branches of the Chinese food system.
And here are some main insights about these culinary practices:
Sichuan: Derived from Sichuan province, these dishes are spicy and have a pungent flavor due to chili peppers and garlic.
Fujian (aka Min cuisine): Featuring the cooking style of Fujian people with soft, light, and flavorful umami taste. They are famous for their soup recipes or seafood dishes flavored with many spices.
Cantonese: Originating from Guangdong province, Cantonese cuisine is the main food of Cantonese emigrants. Their most favored cooking methods are steaming and stir-frying. And if you prefer less greasy Chinese food, Cantonese dishes are better.
Hunan: Suppose you are a big fan of hot-and-sour and deep-colored dishes, Hunan foods are perfect for you. This is a traditional cuisine in western Hunan province, Dongting Lake, and Xiang River regions. Stewing, roasting, braising, smoking, and frying are common methods here.
Tibetan: Affected by neighbors (e.g., India, China, and Nepal). The main elements in various Tibetan foods are goat, mutton, yak, dairy food (e.g., cheese, butter, yogurt), noddle, barley, and soup. Bamboo chopsticks are the primary eating utensils in this cuisine.
Hongkong: Cantonese, British, Japanese, Korean, and Southeast Asian are the influencers of Hong Kong cuisine, making them a "Gourmet Paradise" cuisine. Rice or noodles is a staple food for home meals. And dim sum is a big symbol of this cuisine.
And Macanese: Strongly affected by Chinese, Portuguese, and Southeast Asia culinary practices. Egg tarts, pork buns, and almond cakes are some specialties here. They also use various spices since they used to be a Portuguese colony.
Overall, there are countless authentic Chinese starters and Chinese sweets courses that you should give a try to understand why they are one of the most famous cuisines around the world. Who knows, after a few tries, you can become a pro-chef and your chopstick skill is perfect.
Popular dishes: Fried foods, Peking roast duck, dim sum, Chinese sausage, etc.
Popular drinks: Tea, herb tea, many types of milk, baijiu (white liquor)
This instruction will give you a comprehensive view of Chinese cuisine.
17. Japanese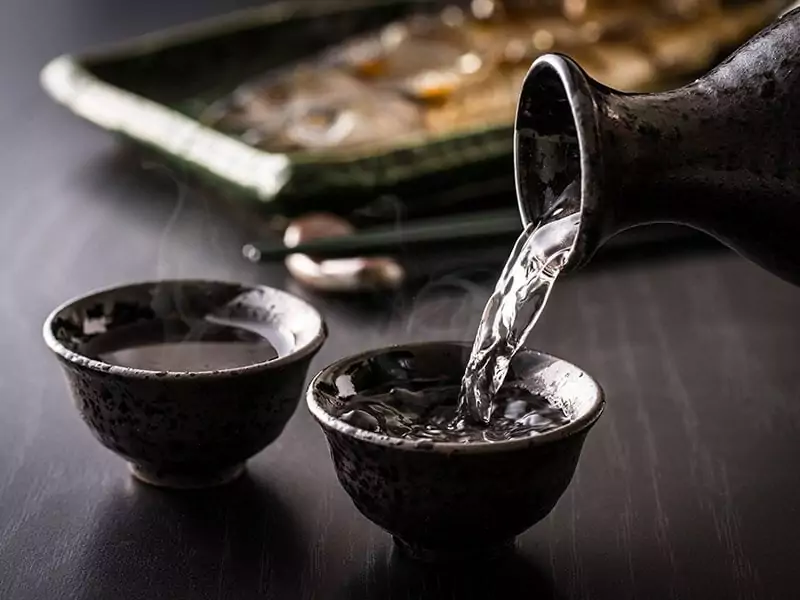 Japanese cooking traditions used to be influenced by the Chinese. But it has evolved with Western cuisine influences in the modern era. Their dishes also reflect economic, social, and political changes.
The most renowned Japanese foods are sushi (cooked rice rolled in seaweed sheet) and sashimi (raw fish). There are several Japanese-style side dishes to make the main meal taste better. Besides, rice or noodle dishes, like soba and udon, are many Japanese favorites.
Unlike Chinese cuisine, traditional Japanese cuisine requires a small amount of cooking oil, except for their tempura – deep-fried dishes. Moreover, the native Japanese usually season their dishes with soy sauce, dashi (Japanese stock), sake, vinegar, salt, and sugar.
Japanese drinking lists are abundant. Obviously, green tea (matcha) is the finest beverage that makes up the name of Japanese beverages. But their creation in producing a wide array of drinks is unlimited, from non-alcoholic to alcoholic beverages.
Popular dishes: Sushi, sashimi, tempura, udon, soba, and more
Popular drinks: Sake (brewed rice beverage), Shōchū (Japanese distilled spirit drink), beer, wine, soft drinks, and more
18. Korean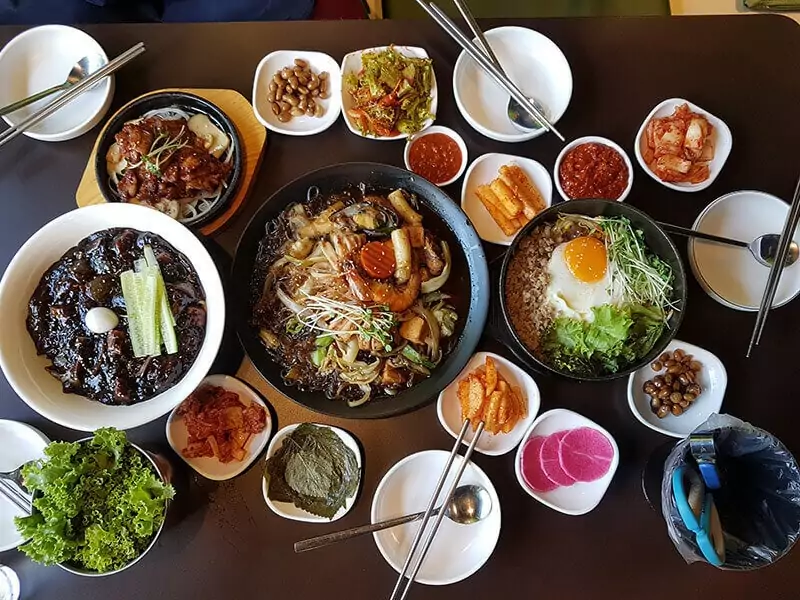 Korean cuisine is mainly based on social, environmental, cultural, and political impacts. Therefore, the richness in their foods is massive. Particularly their environmental factor, China and Japan are the 2 most influencers in Korean cuisine.
Classic Korean foods are mainly rice, meats, seafood, and vegetables. They have a huge number of side dishes (banchan) served along with their main meals, where kimchi is the most popular one. On the other hand, Korean recipes and ingredients are different based on region.
Korea has various charming types of noodles that you need to try. Jjajangmyeon (black bean noodles), Naengmyeon (cold noodle soup), and Japchae (stir-fried noodles) are some excellent examples.
When traveling to Korea, you can find many street vendors selling many inexpensive yet tasty Korean street foods. The most popular Korean street foods are Kimbap (cooked rice covered with seaweed) and Tteokbokki (simmered rice cake).
And similar to the Chinese, Korean people use chopsticks and spoons to enjoy their meals. However, these utensils are made of stainless steel. And speaking of drinks in Korea, the most famous one must be Soju (liquor made from rice). Besides enjoying it straight, the locals also use it to make many irresistible soju-based cocktails.
Popular dishes: Bibimbap (Korean rice dish), Soups, Kimchi, Onmyeon (noodle in hot clear broth)
Popular drinks: Soju, beer, wine, and other beverages made from rice and fruits
A full picture of Korean cuisine is here!
19. Taiwanese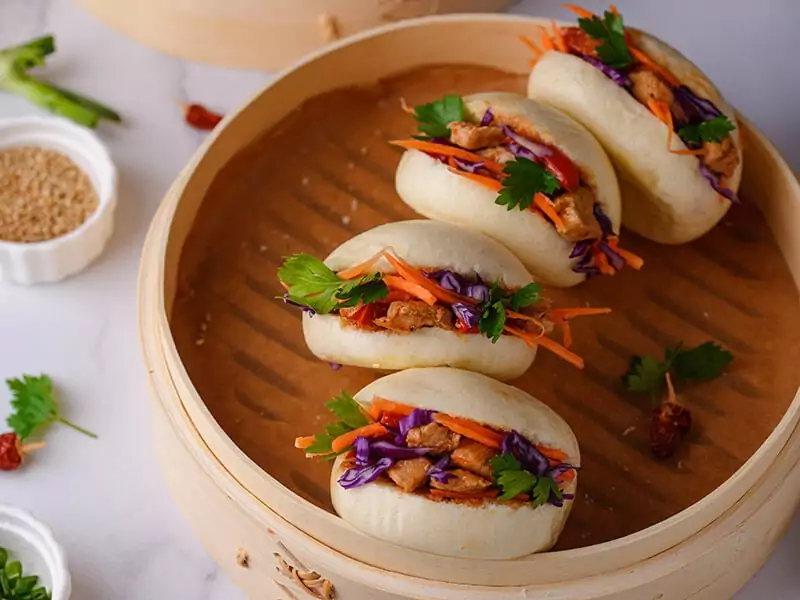 If you think Taiwanese cuisine is similar to Chinese cuisine, technically, this is not wrong, but not enough. This cuisine is influenced by Japanese, Hakka, and Waishengren people's cooking cultures.
Since Hakka people from Fujian (China) came to this nation, they brought their cuisine too! That's why people often refer to this cuisine as Southern Chinese cuisine. However, during the Japanese colonial period, basic Taiwanese foods also reflect some Japanese traditions.
There are differences in cooking from one region to another in Taiwan, but the most common components in their diets are chicken, pork, rice, seafood, and soy. There are many vegetarian restaurants in Taiwan due to a large number of Buddhists in this place.
Taiwanese street food culture is no less impressive than that of other Asian countries. Gua bao (Taiwanese sandwiches) and Ba-wan (stuffed doughs) are some must-try dishes.
Desserts in Taiwan are another paradise to explore. I bet many of you have heard (or tried) bubble tea before. This is a Taiwanese-origin drink made with milk tea and tapioca balls. Their night markets are impressive too, with a wide range of foods from dishes to beverages.
Popular dishes: Gua bao (Taiwanese sandwich), dishes made with oysters, Ba-wan (savory stuffed dough), and more
Popular drinks: Bubble tea, tea, coffee, beer, Taiwanese Kaoliang liquor
Southeast Asian
Southeast Asian cuisine portrays many dishes with strong aromas since they use plenty of flavorings in one dish.
While visiting these countries, you can try one of the unique ingredients named fish sauces. So follow me to explore Vietnamese, Thai, Malaysian, Indonesian, and Burmese cuisines to find out what they have on their dining tables.
20. Vietnamese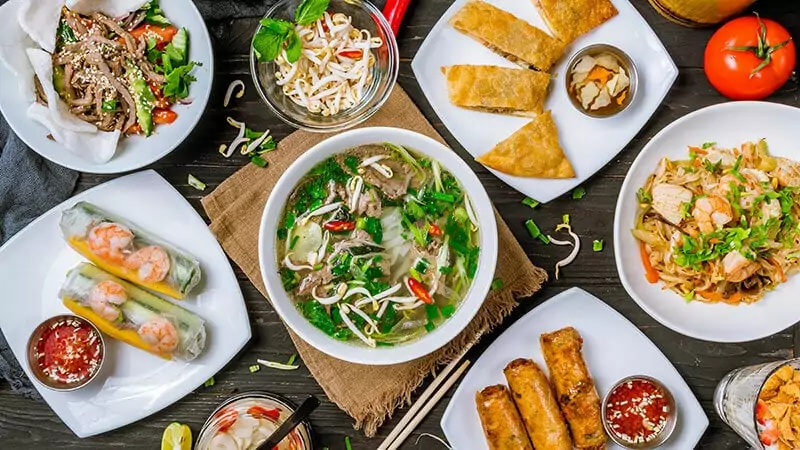 Vietnam is a tropical country that has countless yummy Vietnamese foods and drinks. Each dish has its own way of impressing you from the first bite. Overall, Vietnamese cuisine is pretty similar to Chinese cuisine. Due to the colonization period, they also have some French hints in their food.
Freshness is the primary criterion in Vietnamese-based dishes, including many fresh Vietnamese fruits and vegetables. Regarding cooking vegetables, briefly boiling or stir-frying is preferable. Vietnamese love herbs; that's why many recipes have mint, coriander, basil, and lemongrass.
A special ingredient in this country is fish sauce. Indeed, most Vietnamese households have a bottle of fish sauce at home. Like the Chinese, the Vietnamese are good at turning various ingredients into delicious dishes. And rice is their staple food that is included in daily meals.
The country also boasts a vast collection of tasty Vietnamese-originated noodle varieties. You've certainly known about phở – Vietnam's worldwide famous noodle dish, but mì Quảng (Quang-style noodle from central Vietnam) or bánh canh (red noodle) are delicious as well.
They also have various cooking techniques to practice. With one type of meat, Vietnamese can create many dishes differently. Lastly, if you travel to this country, do not miss out on diverse Vietnamese street foods. It is a heavenly place on earth.
Popular dishes: Phở (beef or chicken noodle), bánh mì (baguette with ham, pickles, pate, and other stuff), chả giò (Vietnamese spring rolls), or more
Popular drinks: Coffee, tea, milk, alcohol drinks
21. Thai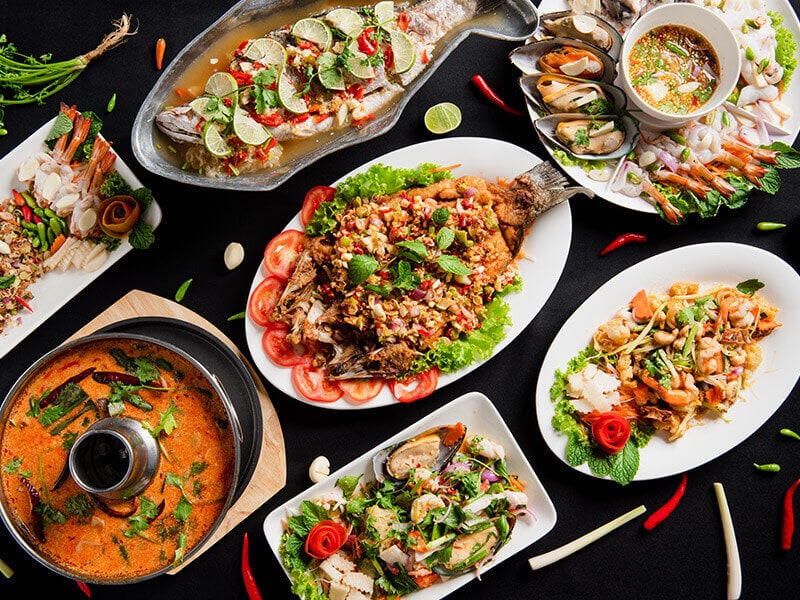 Thai cuisine is full of nice aromas and spicy dishes. Moreover, many of them have 3 flavors in the same dish: sweet, sour, and hot. So if you are about to try Thailand delicacies, ensure their heat is compatible with your taste bud.
Thai cuisine generally encompasses its neighbors' cooking cultures, like Malaysia, Indonesia, India, and Cambodia. Indeed, Thai dishes use various spices like Indians. And the key example of Indian influences is curry.
There are 4 main categories in numerous Thai foods: yam (hot salads), gaeng (curries), tom (boiled foods), and tam (pounded dishes). They also apply some Chinese cooking methods like deep frying, steaming, and stir-frying.
Most Thai dishes go with rice and noodles. Other factors that create a powerful aroma in Thai foods are herbs, spices, and sauces that the locals use in dishes. Chili, lemongrass, basil, and kaffir lime are popular ones.
Fruits in Thailand are also abundant with many tropical fruits. But what makes Thailand fruits different from others as many of them can pair well with many flavorful Thai desserts, or dip them in chilies, sugar, and salt mixture.
Popular dishes: Tom yum, many curry varieties, spicy salads, pad Thai, and so on
Popular drinks: Coconut juice, Thai iced tea, rice wine, and other types of alcohol
If you are interested in Thai cuisine, do not skip this introduction.
22. Malaysian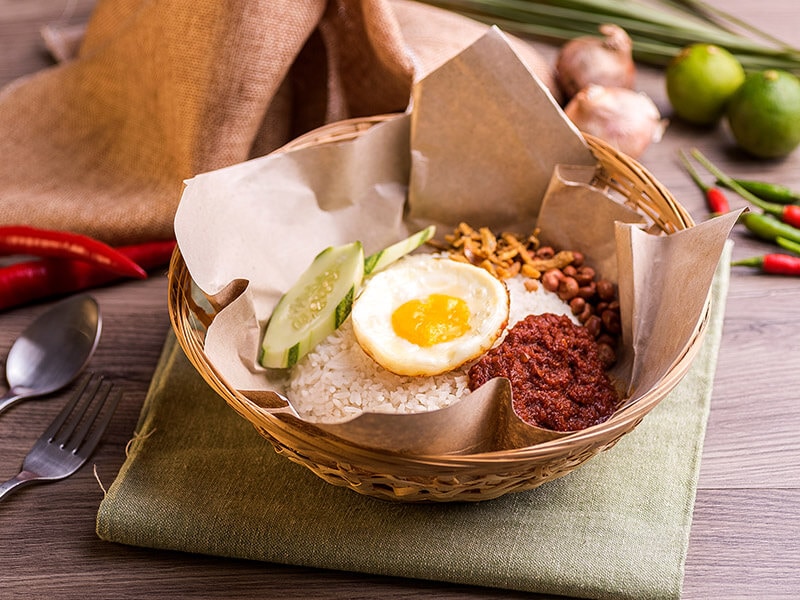 The diversity in Malaysia's multicultural and ethnic is shown through their cuisine. They combine Indian, Chinese, and Malays' cooking practices with several delectable Malaysian dishes across the country.
In the past, Malaysia and Singapore were in the same country. Thus, these 2 cuisines share many similar traits, particularly laksa (spicy noodles) and chicken rice. And various Malaysian foods adopt Thai, Indonesian, and Philippine dishes, like satay (grilled meat skewers).
Apparently, rice and noodles, once again, are the most important food in this country. Fruits in Malaysia are also well-liked for their wide varieties and tasty flavor. Have you ever tried durian in Malaysian markets? Is it the smelliest fruit that many people assume? I don't think so!
Fantastic Malaysian street foods are something you should explore. And these dishes are delicious and come at a very affordable price.
Popular dishes: Nasi Lemak (national rice dish in Malaysia), Nasi Kerabu (blue rice dish), Roti canai (flatbread served with curry), chicken rice, laksa, etc.
Popular drinks: Teh tarik (pulled tea), Ipoh white coffee, Lassi (yogurt-based drink), and alcoholic drinks made from rice
Check out these Malaysian street foods to see how awesome they are!
23. Indonesian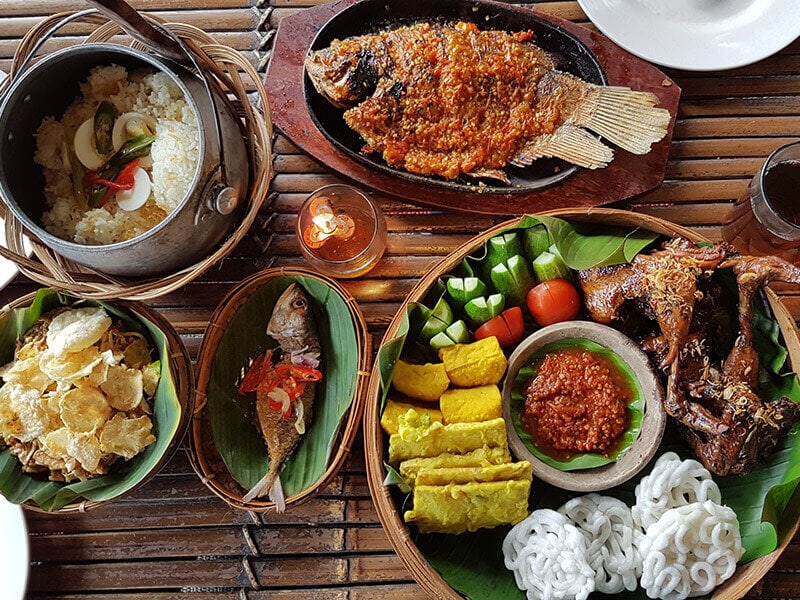 Another rich cuisine in Southeast Asia is Indonesia. This diversity derives from many regional cooking practices and traditions in the country. Some indigenous cultures have been impacted by other countries' cuisines, such as India, the Middle Eastern, and China.
They have complexity in flavor since they use a spice mixture. You can even taste sour, sweet, salty, and bitter in one dish. Like Thai foods, a lot of Indonesian foods are spicy since spicy flavoring (like Sambal ulek) is one of the common condiments in this country.
Other significant foods here are rice, noodles, and soup which can come in many different versions. Authentic Indonesian cooking recipes also contain many types of seafood, especially fish.
Indonesians usually use a spoon (in the right hand) and a fork (in the left hand) to eat their food, while some places in the country use bare hands. However, as most people in Indonesia are Muslim, Indonesian beverages with alcohol are not widely consumed here.
Popular dishes: Nasi Goreng (Indonesian fried rice), Mie Goreng (Indonesian fried noodle), Papeda (sago starch soup)
Popular drinks: Coconut juice, fruit juices, tea (teh), coffee (kopi)
24. Burmese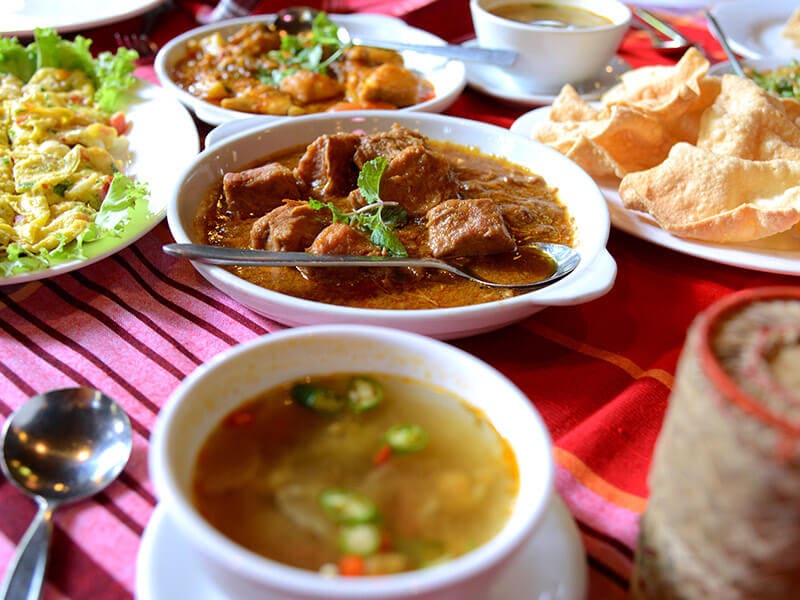 Burmese cuisine is the culinary style of Myanmar that has been developed by economic, cultural, and agricultural impacts. Like other Asian countries, rice and noodles are significant foods in this country.
However, their salads, soups, and curries are other fantastic dishes that you should try. In Burmese cuisine, you can feel the contrast in taste as they can combine 3 flavors: sour, spicy, and salty into 1 dish.
Stewing, boiling, frying, steaming, baking, roasting, or a combination of these techniques is what Myanmar people utilize to prepare meals. They also emphasize the importance of precise cooking timing.
The cuisine in Myanmar varies by geography. Upper Myanmar (inland and landlocked) food might differ from Lower Myanmar (areas near rivers or sea) dishes.
Popular dishes: Thizon chinyay (sour soup), pork sibyan (Burmese curry with pork), Samosa salad, Hsi htamin (seasoned rice dish), etc.
Popular drinks: Tea, fermented drinks (palm wine), juice
25. Filipino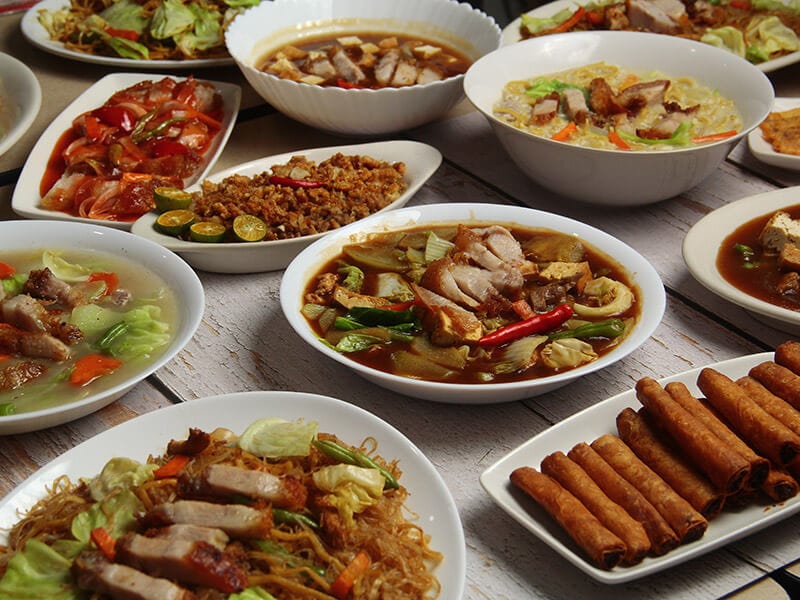 Mainstream Filipino foods derive from many ethnolinguistic groups' eating habits and have evolved over many decades. They also feature some characteristics of Chinese, American, Spanish, Malaysian, and Indonesian cuisines.
The simplicity in their delicacies is noteworthy, from savory dishes to traditional Filipino sweets with coconut milk. Popular Filipino dishes are fish (or chicken) curry, meat stews served with rice (staple food), or fried spring rolls (lumpia).
They also use various tropical fruits in their dishes, such as mangoes, pineapples, plantains, and papayas. In addition, the locals usually serve their dishes with dipping sauce or various kinds of condiments, like soy sauce, vinegar, fish sauce, etc.
Famous beverages in the Philippines are cold drinks and shakes since it is a tropical country with hot and humid weather. The elements in these drinks are diverse. Coffee, tea, and alcoholic drinks are also popular here.
Popular dishes: Lechon (roasted meat on a spit), Sisig (pork cooked with beer), lumpia, Bistek (Filipino-style beefsteak)
Popular drinks: Various chilled drinks, tea, coffee, Tuba (strong alcohol), beer, and more
South Asia
Culinary traditions in South Asia are about Indian subcontinent countries' cuisines. They all have a long history with many flavorful dishes. Below are 4 big stars in South Asian cuisines.
26. Indian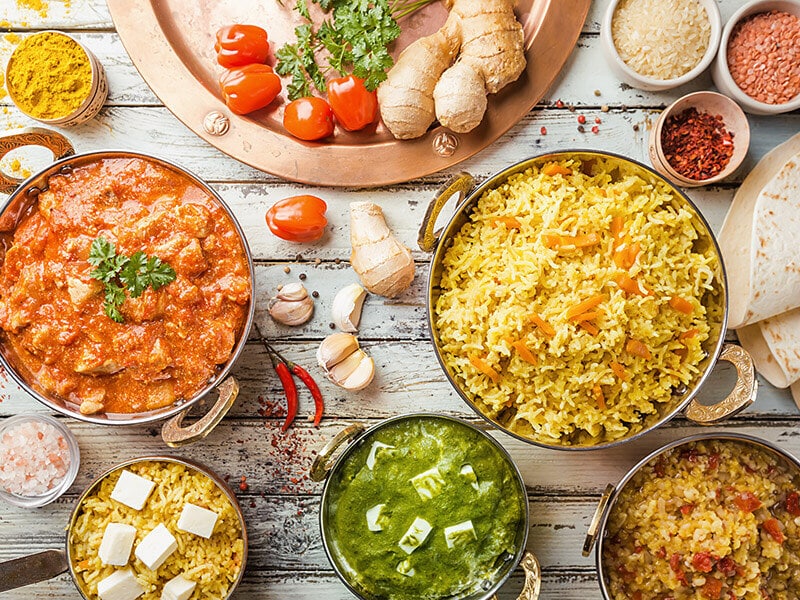 Indian foods are diverse pictures to convey different cultures, ethnic groups, traditions, climates, and even social classes. Therefore, it is hard to describe the exact characteristics of Indian cuisine.
In addition, Indian cuisine can be seen as the result of various international relations in the past as they have some hints of Asian, African, Caribbean, and European cuisines.
When mentioning exotic Indian foods, spices and herbs must be the first clue in your mind, right? But they are more than that as each region in India has different ways to create the best dishes.
Some famous dishes are curries, samosas (baked or fried pastry for Indian-based starters), pakoras (spiced fritters as simple Indian side food), Aloo Tikki (potato snack), and more. Street food in India also plays an important role in their culinary traditions.
When it comes to beverages, the country also has a lot to offer. Traditional drinks like Masala Chai (spiced milk tea) and Lassi (yogurt-based drink) are famous worldwide. In addition, there are various delectable Indian cocktails waiting for you to try.
Popular dishes: Samosa, Pakora, Chaat (Indian savory snack), kebabs, curries, soups
Popular drinks: Tea, coffee, Lassi (drinking yogurt), beer, and some traditional liquors
You should see the video below:
27. Pakistani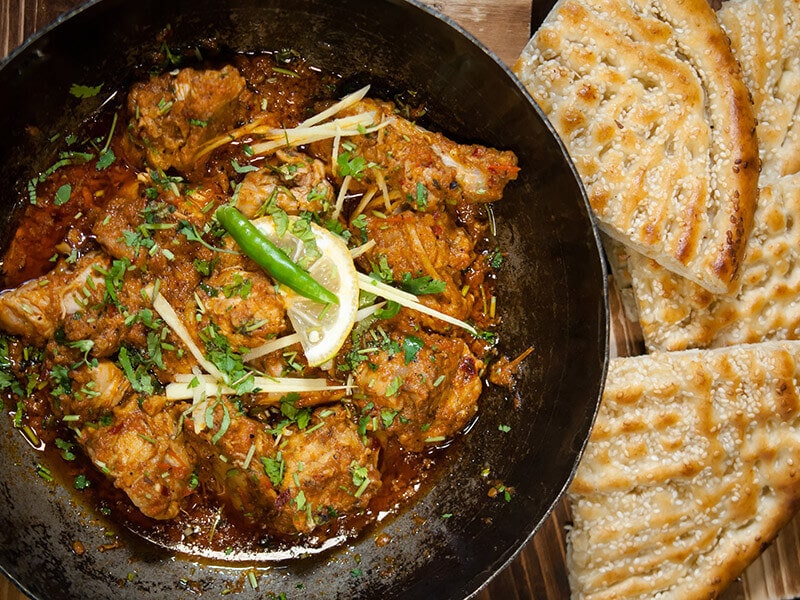 Pakistani cuisine is a mixture of many Indian subcontinents, Western and Central Asia's cooking practices. It also relies on the difference in cultures and ethnicities. As a whole, the key traits of their foods are spicy and strongly seasoned.
On the other hand, they follow the Halal rule in preparing foods, in which pork and alcohol are forbidden. Instead, authentic Pakistani foods normally contain beef, chicken, lamb, and fish, with many types of veggies, fruits, and dairy products.
Their foods' aromatic and spicy taste is from many kinds of spices, including nutmeg, cinnamon, cloves, cardamom, chili powder, turmeric, and more. They also have many rice dishes (mostly made with Basmati rice) and various types of bread.
Similar to many countries, tea is a major part of the Pakistani drink lists. During the 20th century, coffee and soft drinks have been commonly consumed too!
Popular dishes: Biryani (mixed rice dish), Qabeli Palaw (rice mix with beef, lamb, carrot, and raisins), Chapati bread, Naan bread
Popular drinks: Tea, coffee, soft drinks, lemonade, etc.
28. Sri Lankan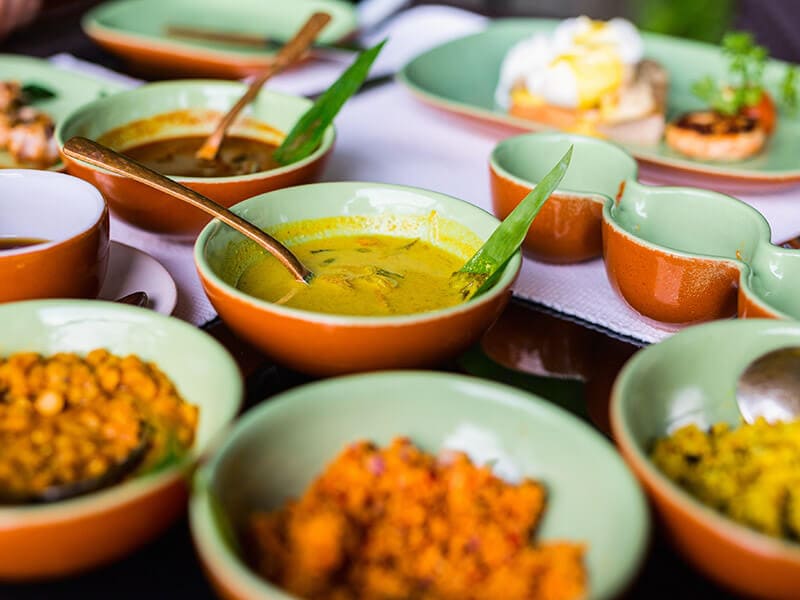 Like the 2 above cuisines, exceptional Sri Lankan cuisine bursts in flavor since it contains spices and herbs along with rice, veggies, fish, and fruits. If you are looking for a combination of Indian, Dutch, and Indonesian cuisine, Sri Lankan dishes are the one.
In this country, you will find diverse rice and coconut varieties. Seafood is also their main food source. But regardless of what kind of dishes, many Sri Lankan foods have strong hints of spices like cinnamon, black peppers, lemongrass, etc.
Another big hit in Sri Lanka recipes is the wide varieties of curry that normally go with steamed rice. Their sweet treats are also wonderful to try out, like Kevum (deep-fried cake made from rice flour), Kokis (deep-fried biscuit), or Watalappam (steamed pudding).
Beverages in Sri Lanka are tea, fruit juices, and some traditional alcoholic drinks. In reality, Sri Lanka is one of the best tea producers in the world.
Popular dishes: Curries, Kiribath (rice cooked in coconut milk), Godamba roti (Sri Lankan flatbread), etc.
Popular drinks: Juices, coconut water, tea, and alcoholic beverage made from palm tree sap (Toddy)
29. Bangladeshi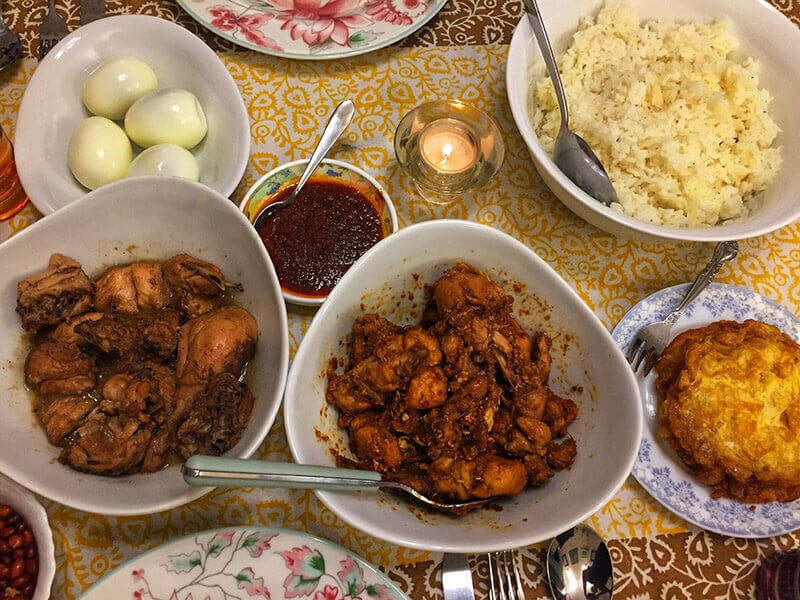 Bangladeshi cuisine conveys its historic and geographic diversity. However, they have certain etiquette in eating to follow, especially at weddings or dinners.
Indeed, the importance of serving, food and utensil presentation, and hospitality are the key to defining this cuisine.
In the past, the Mughlai cuisine of Indo-Persian people used to have a strong impact on basic Bangladeshi foods. They have created many aromatic cooking recipes that heavily use ghee (clarified butter).
But today, you can find other influences from South Asian, Turkish, Indian, or Arabic cuisine in Bangladesh foods. And fish and rice are 2 top favorite foods of the locals. Furthermore, their specialties vary by region.
Popular dishes: Bakarkhani (thick Bangladeshi flatbread), Panta Ilish (rice dish with other fried ingredients), Bharta (mashed food), and so on
Popular drinks: Tea (Seven Color Tea), Lassi, Borhani (yogurt-like drink), palm fruit juice
How do street foods look like in Bangladesh? Do not miss this review.
West Asian (or Middle Eastern)
West Asian (aka Middle Eastern) cuisine is the last part of the journey to explore the awesomeness of Asian foods. Of course, these 3 cuisines below will not let you down.
30. Iranian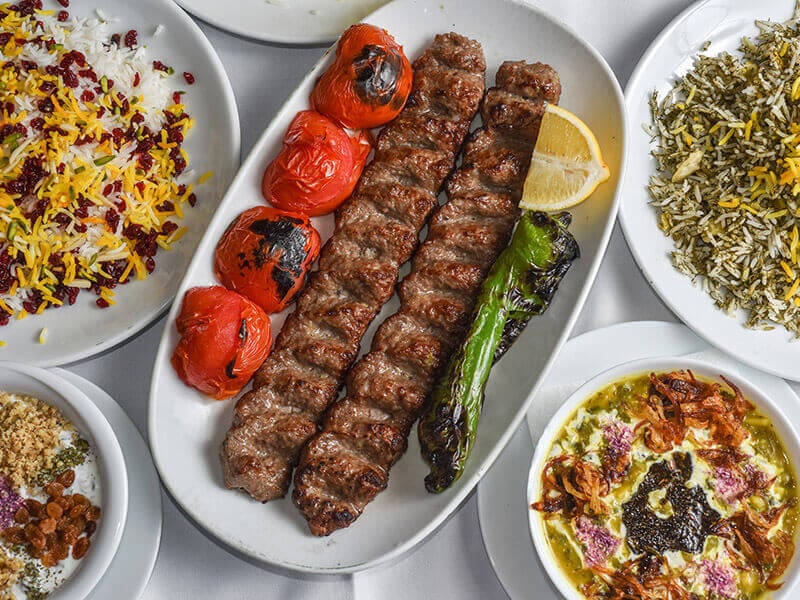 Iranian (or Persian in the Western world) cuisine is a group that mixes different cuisines from Central Asia, Greek, Turkey, Russia, Caucasia, Mesopotamia, and the Levant, creating uniqueness in their foods.
Recently, they have adopted Pakistani and Indian cuisines in their daily meals. The common components in typical Iranian foods are rice, meat, nuts, and vegetables. Herbs are also people's favorite ingredients, including saffron, cinnamon, parsley, etc.
Next to rice, they have many forms of flatbread or pastry bread that are good to enjoy on their own or with other dishes. Additionally, fresh fruits and vegetables are easy to buy in Iran. They are also known for their fruit dolma (stuffed dish with fruits, meat, sauces, and flavorings).
Like Sri Lanka, Iran is another country that produces the finest tea globally. That's why tea is an indispensable drink in the Iranian culture. They also have other juice or drinkable yogurt that you will surely love.
Popular dishes: Kebab, stew, soup, salads, pilaf (rice dish), etc.
Popular drinks: Coffee, tea, wine, Doogh (yogurt drink), fruit juice
31. Turkish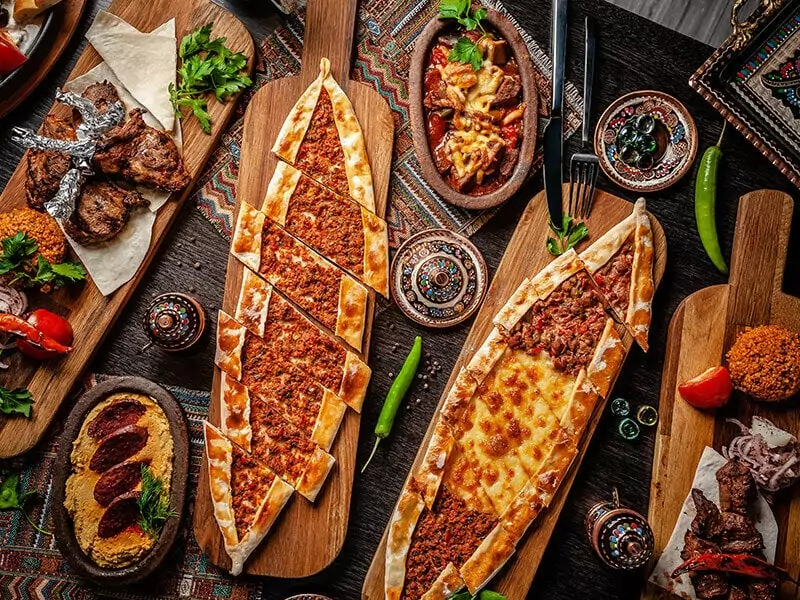 Turkish foods encompass the quintessence of Central Asian, Mediterranean, Middle Eastern, Armenian, Balkan, Georgian, and Eastern European culinary traditions and practices. And they vary by region in the country.
As a whole, rice, bread, and veggies are the 3 main food sources in popular Turkish foods. Plus, they have a wide array of delicacies, and these Turkish dishes are usually named for places to imply cooking styles and preparation in these areas.
Turkish people prefer to make meals at home rather than go out to eat. They normally use chicken, fish, lamb, and beef for cooking with veggies and legumes (or nuts) to create many specialties. Spice usage in their food is also common.
In Turkey, dairy products are their advantage. Thus, they have many yogurt varieties to pair with meaty dishes. Cheeses in Turkey are varied, with 193 different variations.
The country also boasts a vast collection of delicious Turkish beverages. Kurdish coffee, turnip water (Salgam Suyu), and Puerpera Sherbet (Lohusa Serbeti) are some prime examples.
Popular dishes: Kebap, Tantuni (spicy meat dish), Köfte (meatball), milk-based desserts
Popular drinks: Limonata (lemonade), black tea, Ayran (drinkable yogurt), Boza (a fermented drink)
A quick review of centuries-old Turkish cuisine.
32. Arab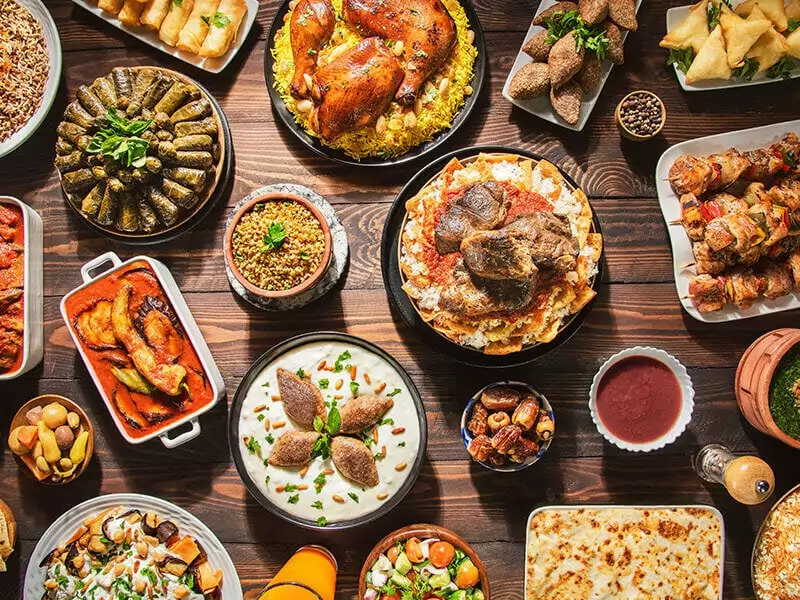 Arabic cuisine includes all the regional cuisines in the Arab world with a very long history. Like other West and South Asian cuisine, Arabic food captures the blending of herbs, spices, and meat.
Lamb and chicken are the most used meat in Arab cuisine, followed by goat meat, beef, poultry, and fish. They also have various types of sauces to enhance the overall flavor of dishes. Herbs and spices vary by region in terms of types and amounts.
Since most people in the Arab world are Muslim, there are 2 basic types of meals: one is regular meals, and another is for Ramadan – a month of fasting. Moreover, warm hospitality is also emphasized here.
One thing to note about Arab cuisine is drinks might not usually come with food. But they have a vast array of drink specialties.
Popular dishes: Couscous, Labneh (strained yogurt), lentil soup, etc.
Popular drinks: Herbal tea, fruit-based beverage, coffee
33. Levantine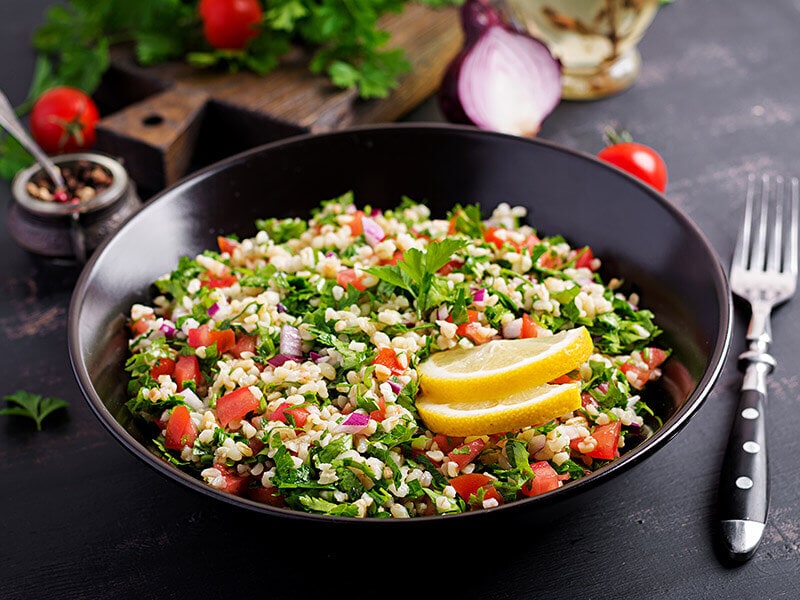 Levantine cuisine indicates the cooking practices in the Levant region. You can find this cuisine in various places like Lebanon, Israel, Syria, Cyprus, Palestine, northwestern areas in Iraq, and the southeastern part of Turkey.
Levantine food comprises many healthy and fresh dishes with a long history. Some of the most unique dishes are Baba Ghanoush (eggplant dip), Tabbouleh (Levantine salad), and Hummus (chickpea dip).
Apparently, the most famous cuisine in the Levantine food system is the one-and-only Lebanese cuisine. Their cooking culture is quite similar to some Mediterranean countries with the heavy use of olive oil.
Plus, seafood, lamb, goat, poultry, spices, garlic, and veggies, are some common components in Lebanese-style recipes. The dessert list in Lebanon is also varied with many distinctive treats like rice pudding, semolina cake (Nammoura), or Baklava (pastry dessert with nuts and syrup).
Popular dishes: Tabbouleh, Hummus, Labneh (yogurt-based spread), Kaak (purse-shaped bread), etc.
Popular drinks: Limonana (mint lemonade), Jallab (fruit syrup drink), Arak (Levantine spirit), and more
African Cuisines
African cuisine includes various cuisine styles that traditionally use plants and seeds to create dishes. In these countries, the locals also use many types of root tubers for their daily food.
In this part, I have divided African cuisine into 5 small groups representing 5 different African areas, namely Central Africa, North Africa, East Africa, West African, and Southern Africa.
Central African
Central African cuisine has influences from Portuguese cuisine and Swahili's culinary culture (Bantu group lives in East Africa). It also has other hints of Southern, East, and West African cooking practices.
But if you want to know more about it, keep scrolling down to check these 3 great cuisines in Central Africa.
34. Cameroonian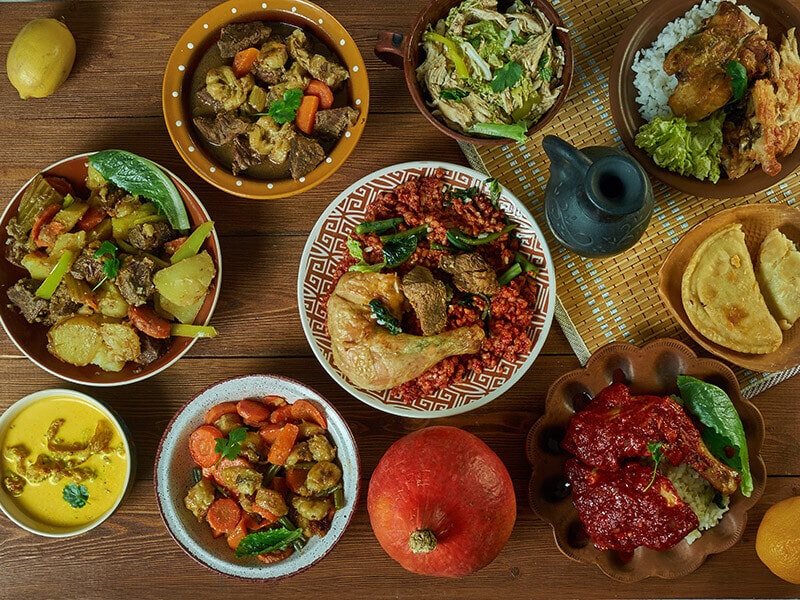 Cameroonian culinary culture is diverse because of its location. This country lies between the west, north, and center of the continent, thereby combining various ethnicities like Semi-Bantus, Bantus, and Shuwa Arabs.
There were other culinary influences from Germany, England, and France during their colonization. Cameroon can grow many fruits and veggies to consume internally or for importation, thanks to the fertile soil.
Therefore, the ingredients in famous Cameroonian foods are abundant, leading to a wide array of delicious dishes. Some famous ones are Brochettes (barbecued kebab), Sangah (made with palm nut juice, maize, and cassava leaf), or Achu soup (palm oil soup with cocoyam fufu).
Overall, this country is a heavenly place to enjoy soups, curries, meat skewers, or meals with fish. Or, if you are a foodie adventurer, you can try some Cameroonian specialties made with insects.
Popular dishes: Ndolé (a national dish made with fish (or beef), nuts, and ndoleh leaves), Brochettes, Eru (Cameroon soup with veggies), Sangah, Achu soup, and more
Popular drinks: Odontol (distilled drink from palm wine), palm wine, coffee, tea, Bil-bil (beer made from sorghum, corn, or millet), etc.
Here is the top 30 finest Cameroonian food to try out!
35. Angolan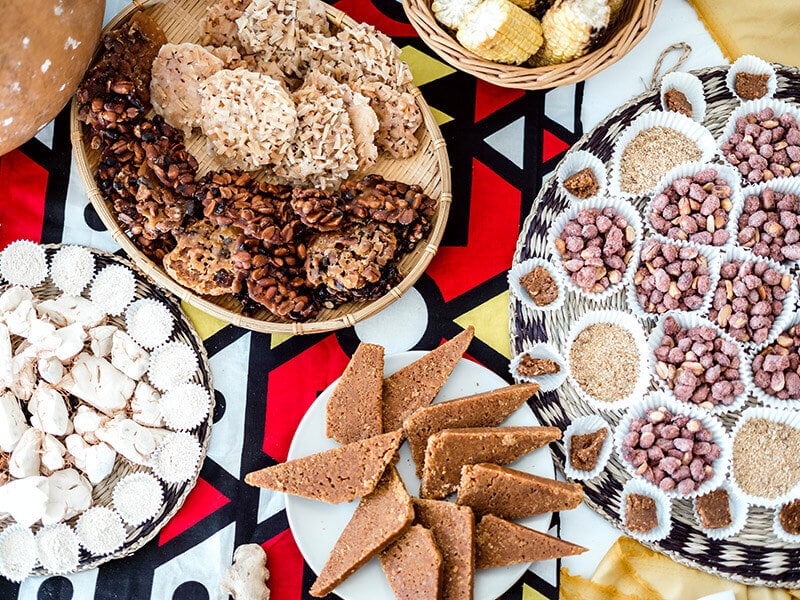 Have you ever tried Funge – a popular African dish worldwide that originates from Angola? If yes, let me tell you more about this interesting cuisine.
Angolan cuisine mostly uses rice, beans, veggies (like onions and tomatoes), pork, chicken, and sauce. Sounds similar to other African foods, right? But they still shine in their ways. And the biggest example is Funge – a dish that both locals and foreigners love.
In fact, this cuisine has influences from Portuguese cuisine with heavy use of olive oil. Angolan food also requires many spices (like garlic) to increase the overall flavor of their dishes.
There are several types of beverages in this country too! Their popular non-alcoholic drink is Kissangua (made from corn flour). They also have various homemade beers that contain palm nuts.
Popular dishes: Funge, Arroz da Ilha (rice with fish), fish stews, Frango (Angolan grilled chicken)
Popular drinks: Beer made from palm nuts, palm wine, sugarcane juice, Kissangua (corn flour drink), and soft drinks
36. Congolese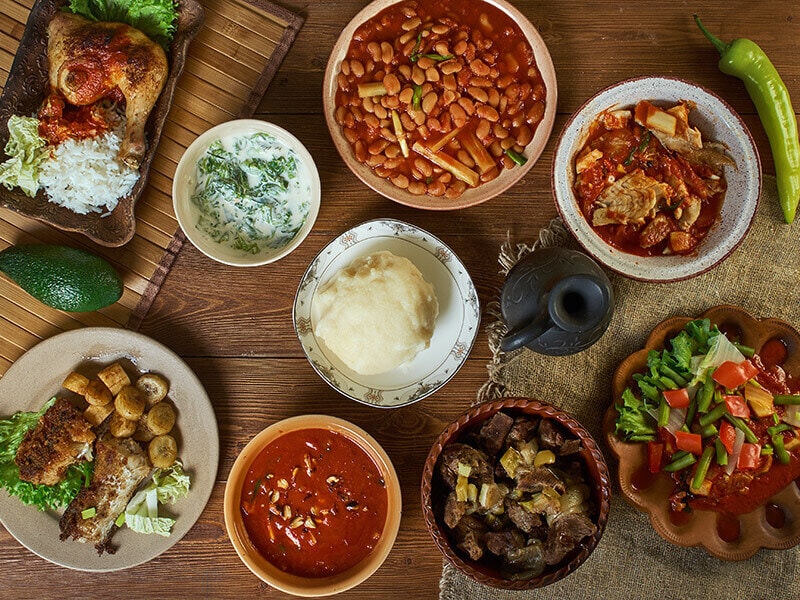 Congolese cuisine portrays how indigenous people normally prepare their meals. Therefore, these specialties (including food and drinks in the Congo) have a long history with different variations based on the region or ethnicity.
As a whole, fufu (dough-like food), potatoes, rice, and cassava are key Congolese foods. And thanks to the rich farmland source, the Congo people have more choices in ingredients like peas, nuts, tomatoes, yam, taro, pumpkin, or plantain.
They also use wild plants, wild animal meat, mushroom, fruits, etc., to make their meals more diverse. Regular Congolese meals normally include 3 types of food such as starchy items, green veggies, and meat in a stew (or soup).
In the Republic of the Congo, lakes and tributaries contribute a huge amount of fish varieties, so you can spot ready-made baked fish in banana leaves sold in outdoor markets. And interestingly, the goat is the most consumed meat here.
Popular dishes: Fufu (sticky dough-like dish), Mikate (deep-fried dough in ball shapes), Ntaba (grilled goat meat), Makayabu (salted fish)
Popular drinks: Palm wine, Lotoko (distilled alcohol made from maize), beer, soft drinks, etc.
East African
East Africa's cooking traditions vary by geography. There are 19 territories in East Africa with plenty of cuisines. Some places have the influence of Middle Eastern cuisine; some share some similar ingredients to Indian and British foods.
37. South Sudanese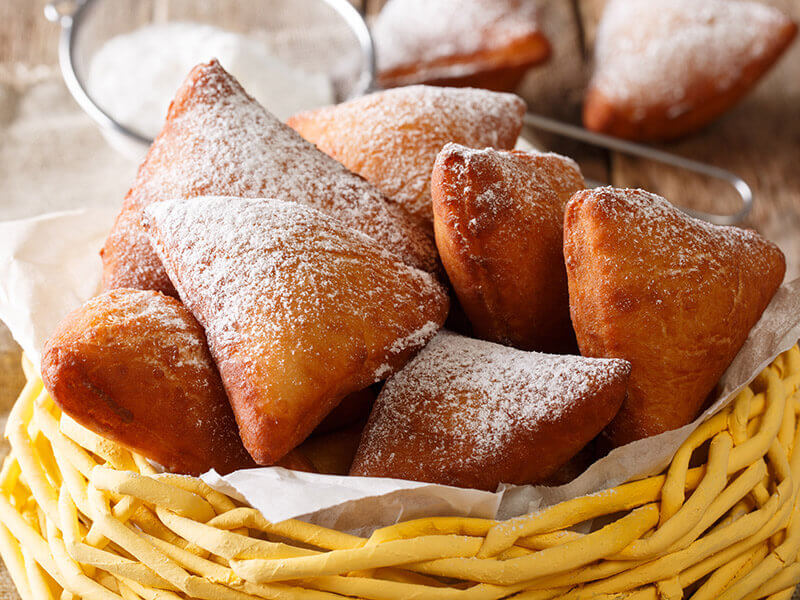 South Sudanese cuisine is quite complex and might require a certain time to prepare. They have hints of Arab cuisine; therefore, their foods are centuries old.
Their diets mainly use grains like sorghum, maize, potatoes, yams, and various types of legumes like beans, peanuts, and lentils.
Meat, especially goat, chicken, mutton, and fish) are regularly consumed. And people usually boil, dry, or grill these meats to prepare dishes.
Popular dishes: Dura (cooked millet and maize), Aseeda (sorghum porridge), Ful medames (fava bean stew), Kajaik (fish stew), Mandazi (fried bread)
Popular drinks: Sudanese tea, tamarind juice, Merisa (fermented beverages made from dates, millet, and sorghum), non-alcoholic beer
38. Ethiopian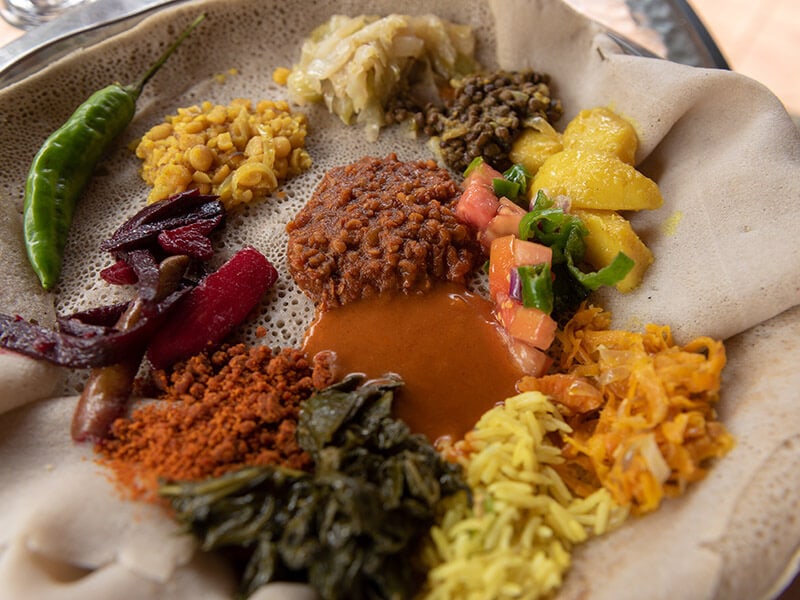 The notable characteristics in Ethiopian dishes are spicy meat treats and vegetables. In Ethiopia, you can see some thick stew served on top of injera (flatbread made with sourdough). This is Wat – a highly-seasoned stew made from chicken, lamb, or beef.
The locals mostly use their right hand to eat, or they can use a piece of injera to scoop up the other foods. Plus, this cuisine encompasses a wide range of vegan dishes since the Ethiopian Jews and Ethiopian Muslims do not eat shellfish or pork.
Amazing Ethiopian foods also include many types of cooking oils, like sesame or safflower, since animal fats are not suitable in the fasting period.
If you find any Ethiopian dishes with vibrant orange-red, it means they contain Mitmita – a seasoning mix made with chili peppers, salt, cloves, cardamom, etc.
Regarding the tasty Ethiopian beverage list, Tella (beer), Tei (honey wine), or other alcoholic-free drinks like Coke, and fermented cereal (Borde) are popular.
Popular dishes: Injera, Kitfo (Ethiopian beef tartare), Shiro be Kibbe (stew with legume)
Popular drinks: Tella (an alcoholic beverage made with barley), Kenetto (non-alcoholic drink in place of Tella), wine, coffee, Atmet (barley and oat flour-based drinks)
This instruction will guide you to eat injera correctly in Ethiopia.
39. Kenyan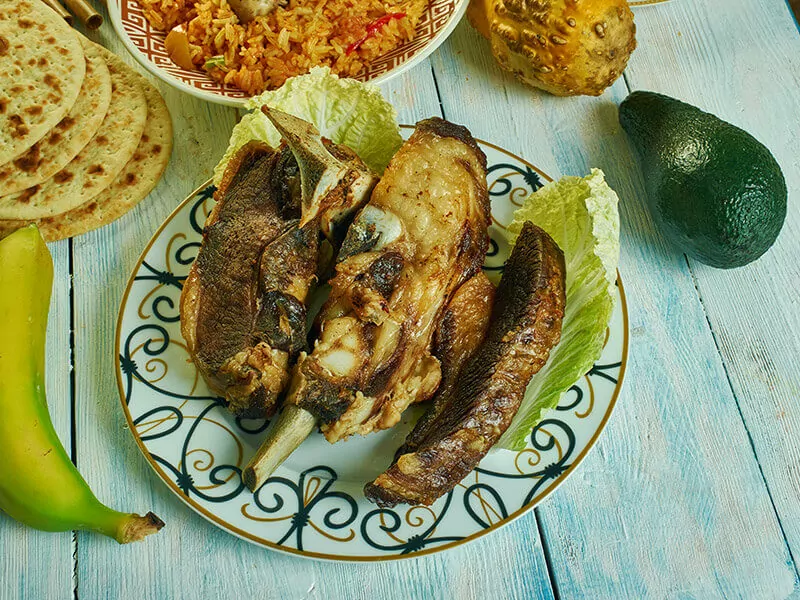 Different types of inhabiting in Kenya result in various cuisines in the country. That's why it is hard to choose the most iconic dish to represent the cuisine of Kenya.
Some well-liked dishes in this country are Nyama Choma (grilled meat), Sukuma Wiki (including collard greens, onions, and spices), and Ugali (porridge made from maize flour).
But if you have a chance to visit here, you can check some most delicious Kenyan foods in the coastal part of the country as they are high-rated for their uniqueness.
While some communities' staples are grains, others prefer fish and seafood in their daily diets. Besides, the foods in the city also reflect the differences in ethnicities.
Popular dishes: Nyama Choma, Ugali, Sukuma Wiki, Kachumbari (tomato and onion salad), Maharagwe (bean stew), and so on
Popular drinks: The Dawa (Kenya cocktails), beer, whisky, vodka, tea, fruit-based juice
North African
North African cuisine is a whole picture that captures the cooking cultures of the Mediterranean Sea and inland inhabitation. Their staples contain seafood, lamb, beef, goat, veggies, fruits, dates, olives, and almonds.
Now, let's look through 3 significant cuisines that increase the popularity of North African foods, such as Moroccan, Egyptian, and Tunisian cooking.
40. Moroccan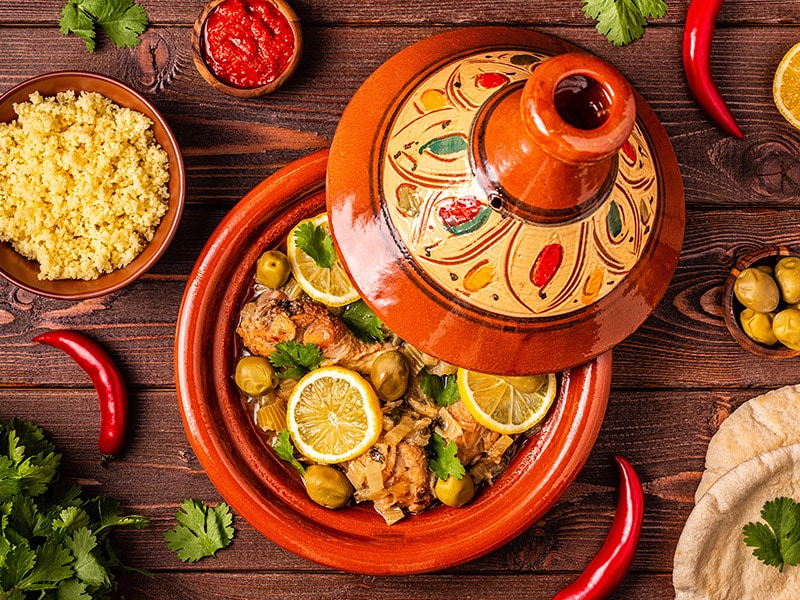 Moroccan cuisine has evolved through centuries to reflect their mixed cooking cultures with the Mediterranean, Amazigh, and Andalusian cuisines. Besides, real Moroccan foods also have influenced by European and sub-Saharan foods.
In Morocco, the locals use beef, mutton, lamb, goat, chicken, and seafood for cooking with olive oil, argan oil, lemon pickle, smen (salted butter), and dried fruits. Wheat is an important grain source here to make couscous and bread.
The spice list in this country is extensive, namely cinnamon, turmeric, paprika, saffron, cloves, and more, in both savories and sweets in Moroccan. To enhance the flavor, herbs are added too, such as parsley, oregano, mint, sage, etc.
Speaking of popular Moroccan drinks, mint tea is the most loved beverage. And as they can produce grapes, wine is another popular drink besides beer or Mahia (Moroccan Jewish alcohol).
Popular dishes: Couscous, pastilla (seafood pie), Tajine (vegetable stew), Rfissa (chicken and lentil)
Popular drinks: Orange juice, mint tea, Leben (fermented milk), wine, beer, Mahia (alcoholic drink)
Street foods in Morocco are other highlights of the trip to this country.
41. Egyptian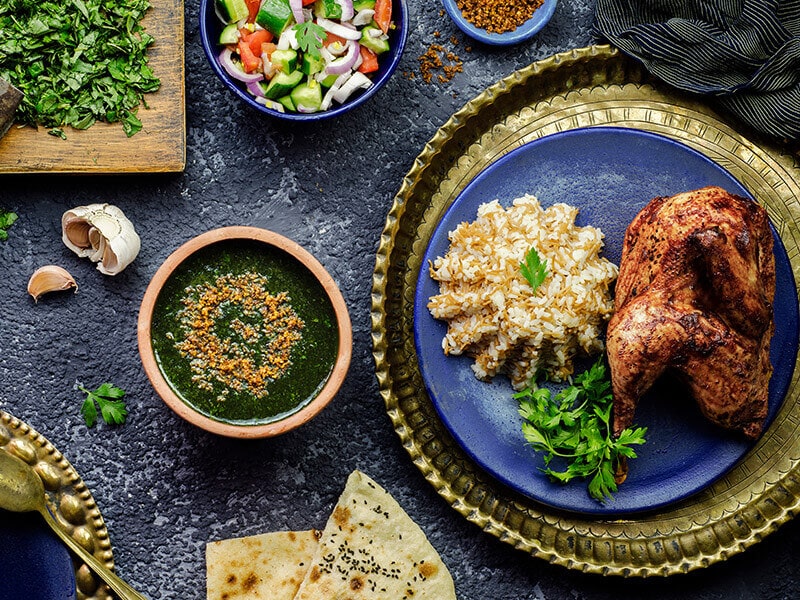 If your favorite foods are vegetables, legumes, and fruits, you can find this combination in Egyptian cuisine. Indeed, they have many ways to surprise consumers on the dining table with their distinctive delicacies.
Authentic Egyptian foods can show you many delicacies made from food grown out of the ground. And with the touch of spices like cumin (the most common one), cardamom, chili, bay leaves, and cinnamon, all the flavors in their dish can stimulate your taste bud immediately.
Unlike other African cuisines, classic Egyptian dishes also contain duck and pigeon to cook, next to other common meat like beef, lamb, or chicken. On the other hand, bread is indispensable in most Egyptian meals.
In Egypt's drinking menu, tea is essential in people's lives, making them a national drink here. The natives also love to drink coffee in a small coffee pot. Additionally, beer is the most widely-drink alcoholic beverage in the country.
Popular dishes: Kushari (Egypt's national dish made with macaroni, rice, and lentil), dolma (stuffed dish), kebab, and more
Popular drinks: Tea, coffee, fruit juices, and beer
42. Tunisian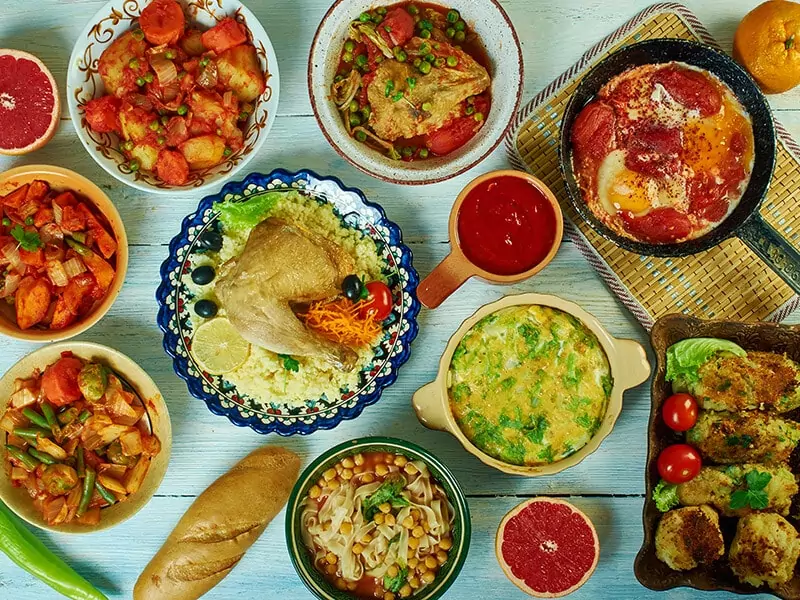 The last cuisine in this region is from Tunisia, where you can find the culinary blending of desert dwellers (particularly Punic-Berber cuisine) and the Mediterranean. Amazing Tunisian foods are also influenced by Arab, French, Italian, and Andalusian culinary styles.
In this country, you will see the wide usage of olive oil, seafood, meat, spices, and tomatoes due to the impact of Mediterranean foods. However, Tunisian delicacies are less spicy than other North African cuisines.
Moreover, thanks to the long coastline, fish and seafood are prominent here. And people normally bake, grill, fry, and flavor them with cumin. Some can be used to make salads or enjoy along with couscous.
Tunisian wine is an ideal choice since the locals can produce grapes here. They combine wheat, fruits, barley, and grapes, then ferment this mixture to make wine. The most famous one is Chateau Mornag wine.
Popular dishes: Couscous, Ojja (Shakshuka), Kafteji (made from fried veggies), Lablabi (chickpea soup), and more
Popular drinks: Mint tea, wine, coffee, Boukha (alcoholic drink)
Southern African
Many people describe Southern African cuisine as rainbow cuisine due to its plentiful array of cultural and indigenous lifestyle influences. With the 3 countries below, I hope I can offer you a clearer view of how colorful these cuisines are.
43. South African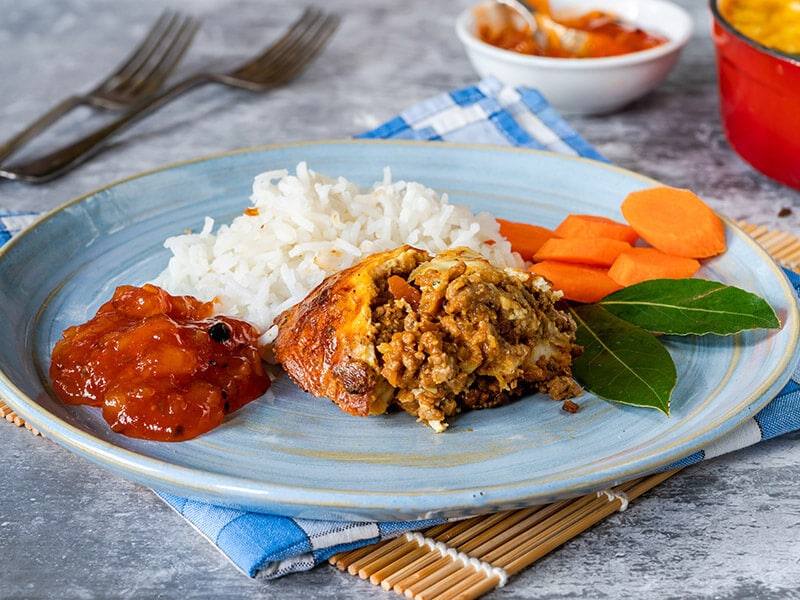 South Africa is located in the southernmost part of the African continent. This is a place with a great range of cooking traditions and cultures of various inhabiting. They have countless edible plants to create one-of-a-kind dishes.
Nowadays, delicious South African foods contain indigenous and non-indigenous cookery influenced by French, Indian, Cape Malay, and Cape Dutch styles. Therefore, the richness in their foods is unquestionable.
In this country, "eating out" culture is significant. You will find many restaurants or fast food outlets here serving many types of specialties of South Africa itself or other countries like China, Congo, Morocco, and Japan.
The list of South African beverages is abundant, where beer is the most important one. Their traditional beer is low in alcohol content with a cloudy texture. On the other hand, rooibos tea – South African native tea, is a favorite drink to enjoy during the day.
Popular dishes: Biltong (dried meat), Sosatie (grilled meat skewers), Mielie-meal (South African staple food), and more
Popular drinks: Beer, herbal tea, Amasi (fermented milk), wine, etc.
Let's check some traditional South African dishes with this food tour.
44. Zimbabwean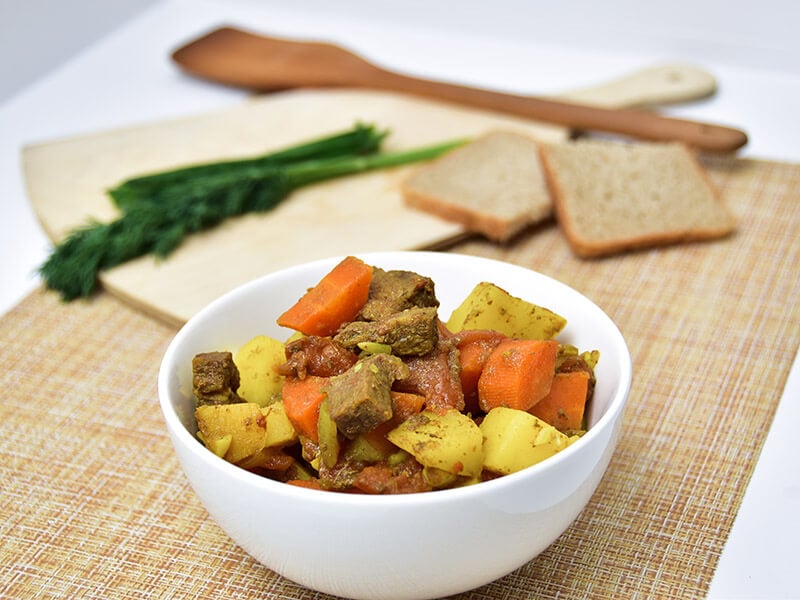 Besides other influences from other Southern African countries, Zimbabwe has adopted some English eating cultures because this country was a British colony.
So next to many dishes made with corn or maize, rice, pasta, or some potato-based dishes are common here. Like South African cuisine, Mealie-meal (coarse flour made from maize) is the staple food here, in which people create thick porridge, namely Sadza.
And as English eating habits impact them, Zimbabwe people normally consume porridge in the morning or have afternoon tea before dinner.
In special events, like weddings, graduations, or gatherings, the natives usually use beef or goat meat to barbecue or roast to enjoy.
Popular dishes: Sadza (porridge), Mupunga Unedovi (rice dish), Muboora (stew), Mutakura (Peanut and beans), and more
Popular drinks: Beer, wine, Minute maid juice, vodka
45. Botswana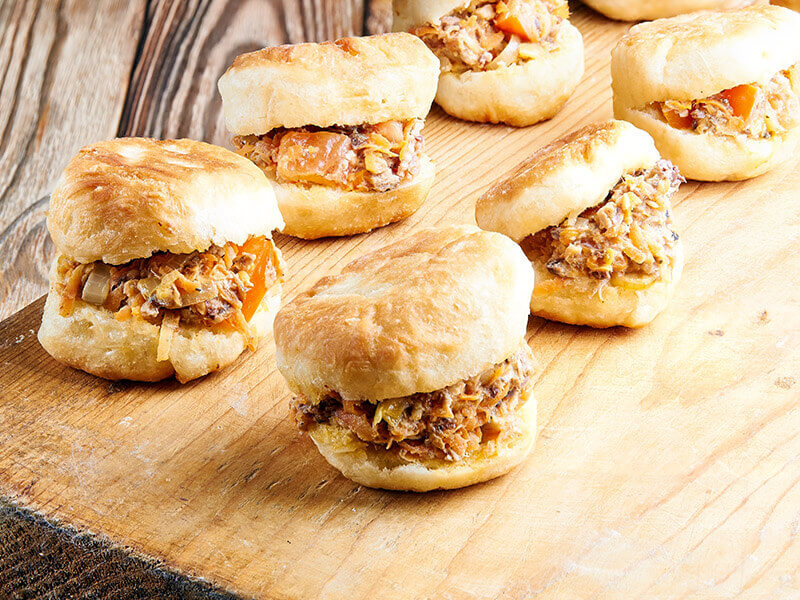 Botswana has many foods grown locally or imported from neighboring countries. Sorghum and maize are the main ingredients, like other Southern African cuisines. However, there are some notable dishes to create the reputation of Botswana cuisine.
Seswaa is the best example of this culinary uniqueness. Seswaa is a traditional food in Botswana made from the leftover cuts of goat or cow meat. On the other hand, people claim this country is the origin of watermelons.
The Batswana have created many refreshing beverages from watermelon with other ingredients like ginger powder and morula. The preserved food is another advantage of Batswana. They can dry both meat and vegetables in many different ways.
In Botswana, soft drinks and alcohol are widely consumed. Ginger beer is also a favorite non-alcoholic beverage here, and people usually serve it on big occasions. Their beer – Bojalwa ja Setswana, is a special beer made from fermented sorghum seeds.
Popular dishes: Ginger beer, Bojalwa ja Setswana, soft drinks, Madila (fermented milk), beverages made with watermelon
Popular drinks: Vetkoek (Stuffed bread), Pap (maize flour porridge), Seswaa (pounded beef), Bogobe (made from maize, sorghum, millet)
West African
There are 16 countries in West Africa, but here are the 3 most popular ones including Nigerian, Ghanaian, and Liberian cuisine.
46. Nigerian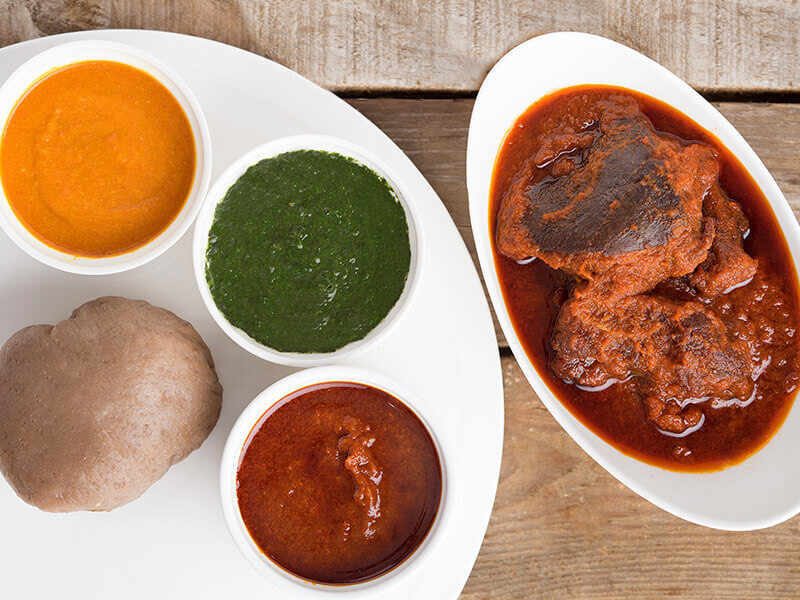 Nigerian cuisine features ethnic influences from hundreds of groups in the country. And what makes their food items more special are the spices, herbs, groundnut oil (or pam) that they add to their dishes.
When in Nigeria, you can sense the festive vibe on their street through the roadside hawkers or outdoor markets. They all capture the abundance and colorfulness of their culinary cultures.
Like other West African cuisines, many Nigerian foods are spicy too! Plus, bushmeat (wildlife animal meat) is famous in this country. So if you are brave enough, you can try cane rat or brush-tailed porcupine meat here.
Nigerians also have several types of tropical fruits like mango, coconut, pineapple, and banana, which can be used to make a lot of refreshing Nigerian drinks. Their sauces and soups are delicious as well.
Popular dishes: Suya (grilled meat in the North of Nigeria), Asun (spicy roasted goat), Banga (palm nut soup), Ewedu (jute leaf soup)
Popular drinks: Kunu (including sorghum (or maize) and millet, soya bean milk, palm wine, or Fura (made from cow's milk, millet, or sorghum)
47. Ghanaian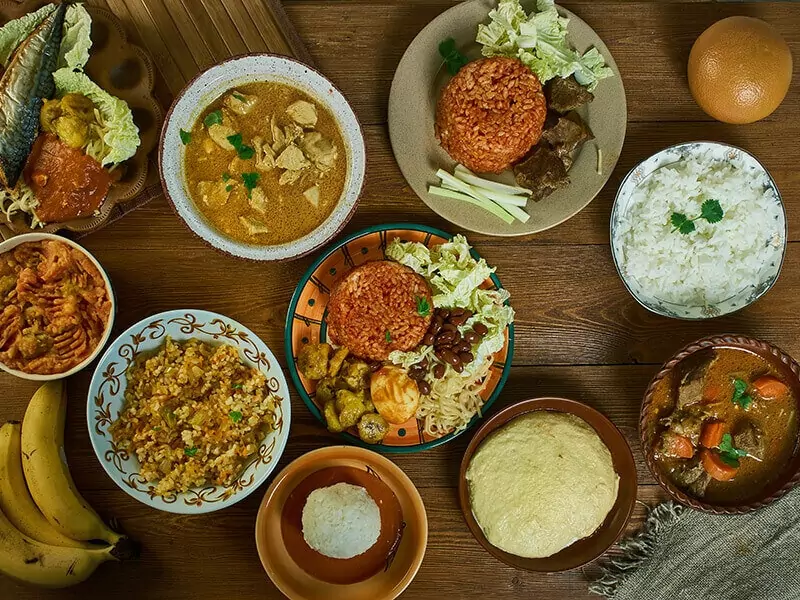 Ghanaian staple foods are a group of starchy ingredients like rice, cassava, beans, yam, sweet potatoes, and maize. Tomatoes, onions, and hot peppers are also best-liked ingredients in Ghana-style soups and stews, creating a beautiful red (or orange) color.
Particularly, in the Southern part of this country, the main elements to make dishes are plantain and cassava, whereas millet and sorghum are preferred in the Northern areas.
With various starchy foods, they create numerous foods made with these ingredients, for example, Waakye – a typical rice dish with beans, or Ampesie – a side dish made from boiled yam.
The ingredients in soups and stews are varied. They can mix palm nuts, spinach, mushroom, peanuts, etc., with meaty components like chicken, beef, pork, turkey, and more to increase the protein content in their treats.
Popular dishes: Akple (dumplings made from corn and cassava dough), Waakye (rice and beans), Attiéké (cassava side dish)
Popular drinks: Asaana (fermented maize drink), palm wine, fruit juice, soybean milk, liquor, or beer
Exploring street food in Ghana is a must.
48. Liberian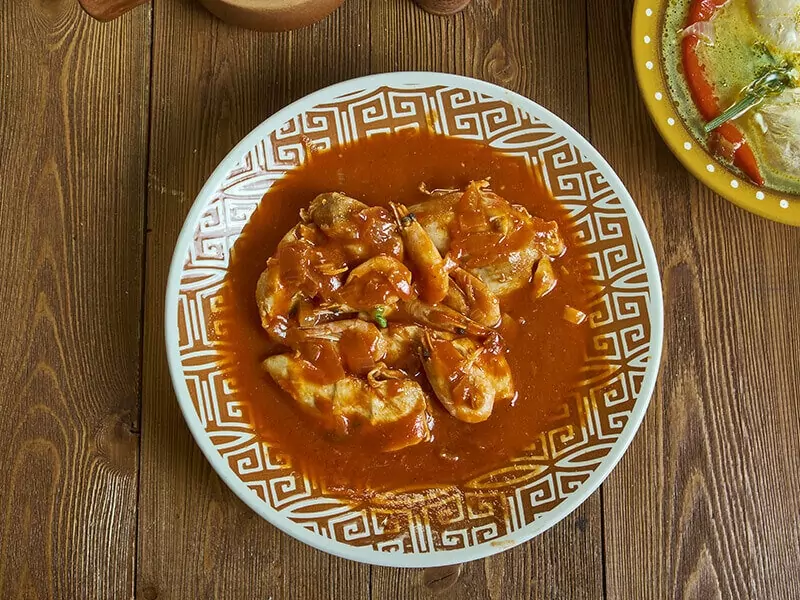 Speaking of Liberian cuisine, rice, yam, plantain, cassava, veggies, meat, fish, and fruits are significant food sources. In this country, they have various ways to enjoy rice. It can be served dry on its own, or with stew/soup. They can ground rice to create flour and make bread.
Indeed, baking is one of the most common cooking techniques in Liberia with a wide range of bread and cake. For example, cornbread, rice bread, sour bread, or banana bread.
Besides other common veggies, Liberians also use potato leaves or cassava leaves to prepare meals. And similar to Nigeria, unique Liberian cuisine prefers bushmeat, resulting in some species becoming endangered.
The traditional drinks in Liberia are made from fermented palm sap (like palm wine). The natives also love enjoying beer, liquors, and sugarcane juice.
Popular dishes: Jollof rice, fufu (sticky dough made from cassava), bushmeat, etc.
Popular drinks: Palm wine, cane juice, beer, liquors
European Cuisines
European cuisine (aka Western cuisine) captures various aspects of cooking characteristics in many European countries. Each place has its own way of making its foods distinctive and tasty. With the 16 following countries, I will show you the whole picture of the culinary world in Europe.
Central European
Central European cuisine strongly relies on the local climate. You might find some similarities in the same-climate countries, for example, Polish, German, or Austrian cuisine, while highland countries in this area are different.
But I will not cover all food customs in Central Europe. Instead, German, Polish, and Swiss cuisines are the 3 most popular ones to discuss. So ensure you will not miss these insights.
49. German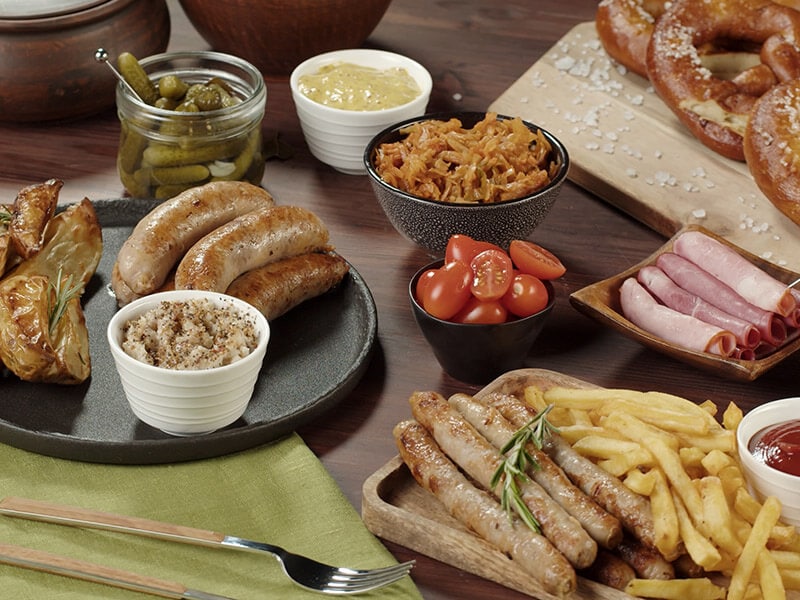 German foods are known for their vast array of sausage varieties (more than 1,500 types) with a long tradition in sausage making. The most popular is Bratwurst made from ground pork and spices.
But their cuisine is not just about sausage. As they share some cooking practices and traditions from their neighboring nations like Czech and Poland, Austria, Switzerland, Bavaria, and Swabia, German cuisine is a colorful story overall.
Most German recipes require potatoes, meat, bread, and veggies (common ones are kale and cabbage), creating healthy-balanced dishes. And they are rarely spicy (except some sausages contain mustard).
German people use spices and herbs to flavor too! The most common herbs and spices are thyme, chives, black peppers, nutmeg, cinnamon, and cardamom to make various delectable German sweets. Furthermore, mustard is an excellent accompaniment to sausages in Germany.
Popular dishes: Many types of sausage (the most common one is Bratwurst), Sauerbraten (sour roasted meat), Fischbrötchen (fish sandwich), etc.
Popular drinks: Beer, cider, wine, coffee, soft drink, etc.
What to do in Germany? How about trying some best German foods?
50. Polish Cuisine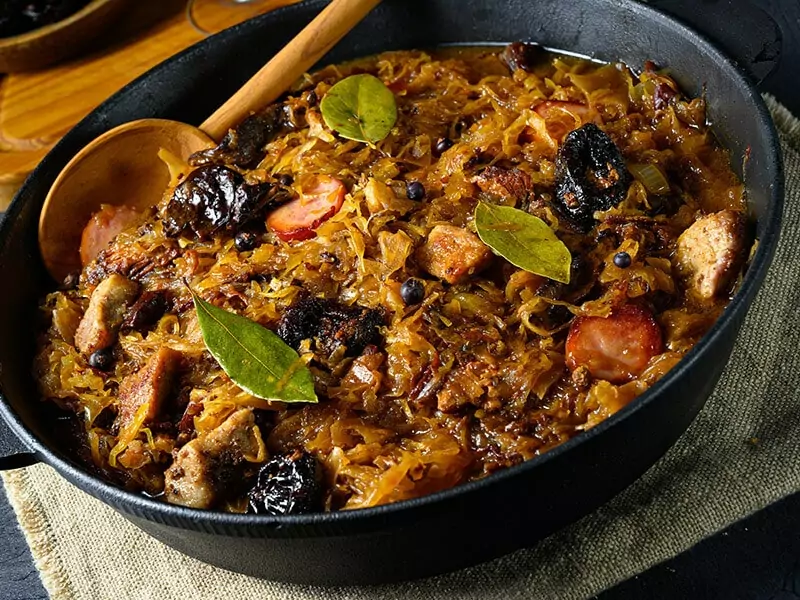 The creaminess in top-ranked traditional Polish dishes is rich since they use a lot of butter, eggs, cream, or some extensive seasoning to increase the overall flavor of their foods.
Moreover, chicken and pork are the 2 main types of meat that the Polish use to cook with veggies, mushrooms, herbs, and spices.
Like other European countries, Polish cuisine's influencers are German, Ashkenazi Jewish, and others. But this cuisine usually asks for good preparation like French dishes, even though they are Polish-style street food. Pretty and tasty, they are hard to resist.
Polish people have many impressive holiday meals, especially at Christmas and Easter. Plus, this cuisine would be incomplete without bread. Indeed, bread is one of the most significant in Polish meals across the country.
The Polish beverage list is not too different from other countries in Europe with wine, tea, and coffee being popular drinks. For more information, traditional Polish alcoholic drinks consist of beer, vodka, and mead (fermented honey).
Popular dishes: Czernina (soup made from duck blood), Bigos (including meat and cabbage), Bigos (potato dumpling), etc.
Popular drinks: Beer, coffee, cider, herbal tea, wine, and more
51. Swiss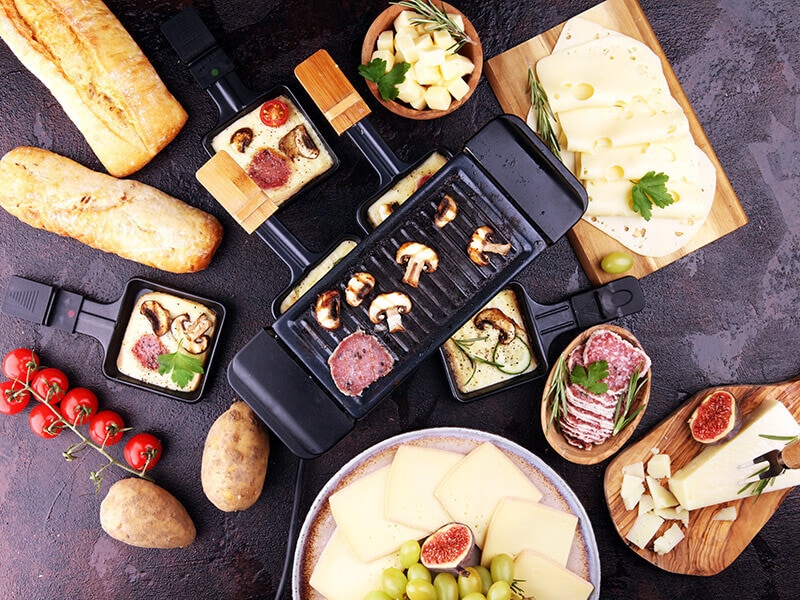 The impact of French, Northern Italian, and German cuisines create wonderful Swiss cuisine. The traditional Swiss foods mainly consist of cheese and potatoes. And some of the most famous foods from Switzerland are Raclette cheese and rösti (Swiss fried potatoes).
Obviously, Swiss is home to various finest cheeses in the world, namely Appenzeller, Emmental, Vacherin, and Gruyère. Their chocolate products are also impressive, and milk chocolate is closely associated with many Swiss ideas. Who does not love chocolate, right?
In this country, bread and cheese are people's favorite dinner with many bread roll options. For the sweet treats in Switzerland, tarts and quiches are typical ones.
The wine industry in this nation also develops with many high-ranking products produced from many regions in Switzerland. But if you can not drink alcoholic beverages, try Rivella – an authentic Swiss drink made from milk whey.
Popular dishes: Carac (Swiss shortcrust chocolate), Raclette (hot Swiss cheese wrap potatoes), Cheese fondue, Rösti (Swiss potato dish), etc.
Popular drinks: Rivella (carbonated Swiss drink), apple cider, apple juice, wine, coffee
Eastern European
Climate is one of the top impacts of Eastern European cuisines to create diversity in their food cultures. Furthermore, political, economic, and social factors also play important roles in altering these cuisines.
So let's find out their cuisine characteristics through these 3 cuisines from Russia, Romania, and The Caucasus.
52. Russian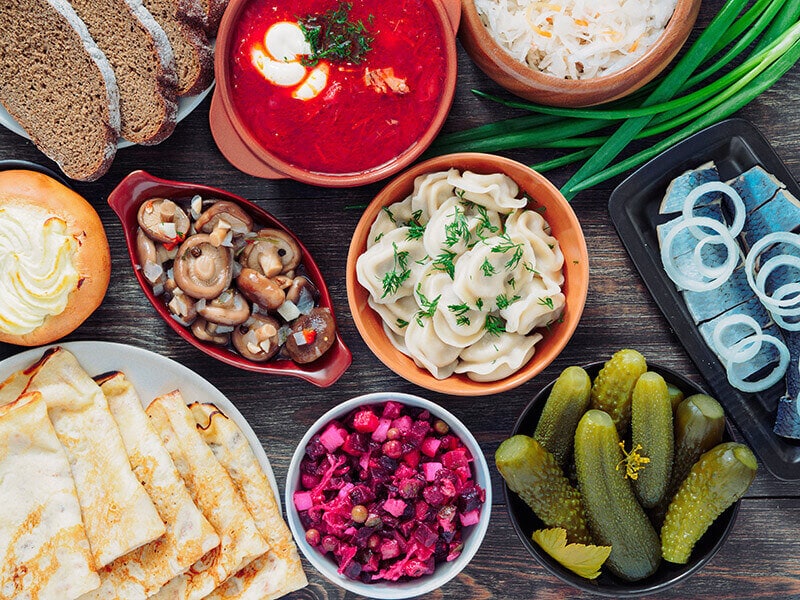 Russian cuisine includes 4 separate categories: Old Russian cuisine, Old Moscow Cuisine, the cuisine of the 18th century, and Peterburg cuisine. And all of the best from these cuisines create the best version of New Russian cooking customs.
Overall, this is another rich culinary tradition that has influences from Central Asian, East Asian, Northeast European, Middle Eastern, and Caucasian cuisines. The multicultural, multiethnic, and geography are also big factors affecting this cuisine.
In Russian food menus, soup is essential and was inspired by Central Asian and European soups. Besides hot-served soup, they also love cold soups made with sour milk (kefir), Kvass (fermented grain drink), meat (poultry or fish), and vegetables.
A special Russian drink is vodka, but what else do they have? In reality, there are many remarkable drinks such as Kvass, Mors (non-carbonated fruit drink), Sbiten (a hot winter beverage made from jam, water, spices, and honey), and Medovukha (honey-based alcoholic drink).
Popular dishes: Blini (Russian pancakes), Beef stroganoff, Kasha (porridge), Pelmeni (Russian dumplings)
Popular drinks: Vodka, kvass, Medovukha, tea, Sbiten, Mors, and coffee Raf
A short introduction to Russian cuisine that you need to know.
53. Romanian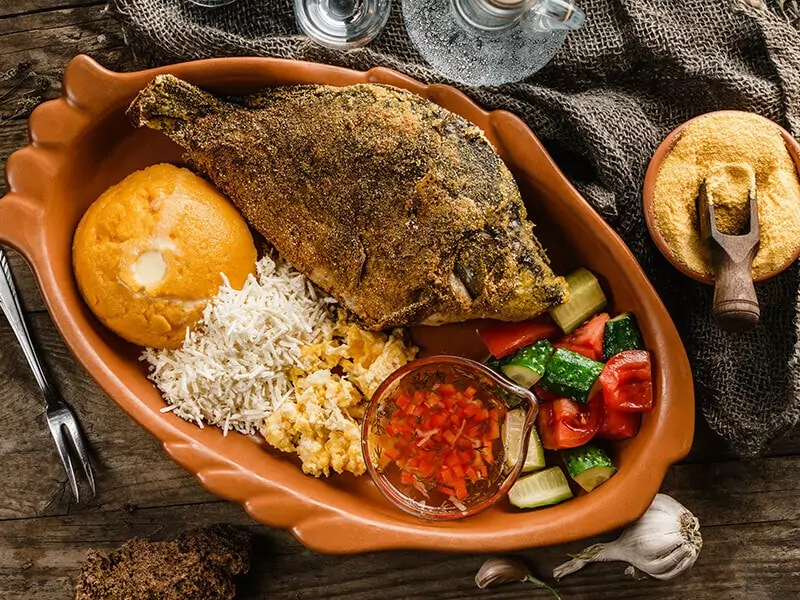 Traditions and cultures are the key base for creating the diversity blended in Romanian cuisine. What's more, Turkish, Hungarian, Central and Eastern European cuisines also affect this country's cooking practices and customs.
In regular Romanian foods, cereals, honey, meat, vegetables (garlic, lentil, pea, and spinach), fruits (apple, grape, and raspberry), milk, and other dairy foods are common elements in their meals, even some mouthwatering Romanian desserts. And I bet you will love them!
They have various holiday recipes as well. For example, pigs are the main food that locals use to prepare before Christmas. Maize and potatoes are Romanian staples for cooking different variations of meals. Another specialty of Romania is cheese (Brânză in Romanian).
Drinks in Romania, particularly wine, has a long tradition from over 3 millennia. And wine producers in the country are huge, making them become the 9th largest winemaker in the world.
Popular dishes: Sarmale (cabbage rolls), Mititei (grilled minced meat rolls), Cozonac (sweet bread), Ghiveci (veggies stew – Romania's national dish)
Popular drinks: Beer, tea, grape juice, Sana (drinkable yogurt), and other liquors
54. Caucasian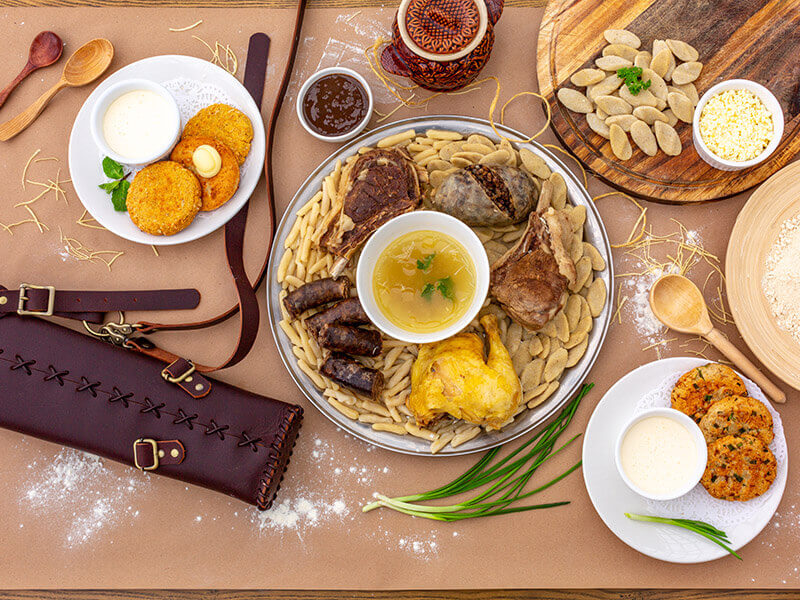 Caucasus cuisine is the generic term referring to different cuisines of North Caucasus, Georgia, Armenia, and Azerbaijan. This is a humble yet distinctive cuisine with old cultures, but their specialties are something the gastronomes cannot resist.
Their foods bring out the best flavors of the freshest ingredients to make soups, main dishes with meat, veggies, or some hearty bread with a fragrant smell. Caucasus cuisine shows the perfect blend of sweet and savory flavors in their dishes.
Besides, the secrets that make their food taste so good might lie in their sauces and condiments. These sauces combine spices, herbs, nuts, molasses, or fermented milk to ensure they can pair well with various meals on the Caucasus dining tables.
The specialness of Caucasus cuisine can be shown through their wines as well. Georgian wines and Armenian wines are two examples. Their non-alcoholic drinks are also varied with fruit-based or herb-based beverages.
Popular dishes: Khash (beef or lamb feed cooked in broth), Shashlyk (skewered meat in cubes), Circassian cheese, Ajapsandali (cold appetizer including spices, potatoes, and aubergines)
Popular drinks: Wine (from Georgia, Armenia), Boza (sweet and sour beer), Ayran (drinkable salty yogurt), tea
Northern European
The quintessence of Northern European cuisine is rich, substantial, and bursts in flavor. But different countries in Northern Europe have different influences to shape various food habits and customs. And here are 3 examples of this.
55. British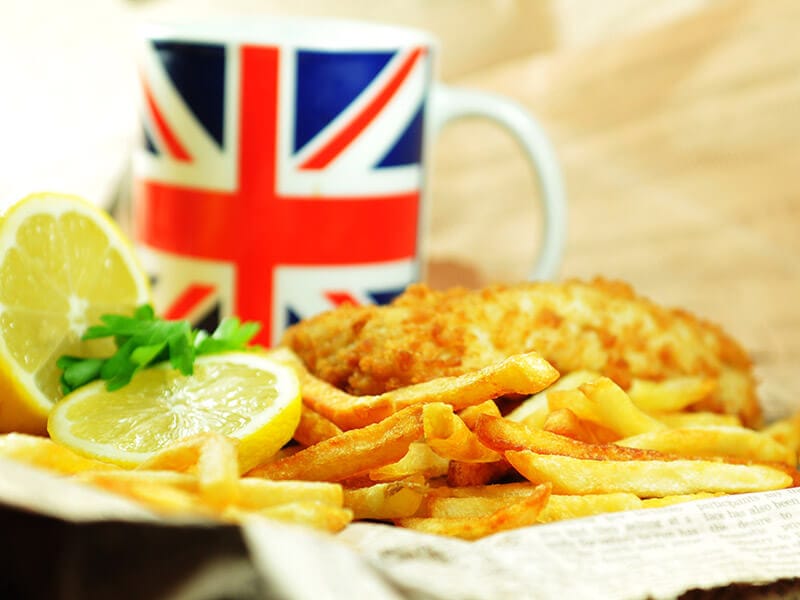 British cuisine manifests the United Kingdom's food culture and traditions, which are Northern Irish, English, Welsh, and Scottish cuisines. Contemporary British culinary custom has been affected by international cuisines, such as Indian foods.
People describe British cuisine as the portrayal of the simplicity in their dishes by simple yet quality ingredients, presentation, and ensuring they can match with simple sauce to enhance the flavor.
As the national British recipes in different cuisines are varied. English cuisine widely uses cheese, sausage, meat, boiled veggies, etc., to prepare meals. The traditional Scottish dishes contain haggis (savory pudding), porridge, cullen skink (thick soup), and more.
On the other hand, Welsh cuisine is famous for cawl (traditional Welsh dish made with lamb and vegetables), bara brith (Welsh tea bread), etc. Northern Irish cuisine emphasizes quality, quantity, and variety. Currently, they have 2 Michelin-star restaurants serving local delicacies.
Popular dishes: Fish and chips, full English breakfast, toad in the hole, shepherd's pie, steak and kidney pie
Popular drinks: Soft drinks, breakfast tea, ginger ale, English cider, ginger beer, and alcoholic cocktails
A food tour in England will open your mind to this wonderful cuisine.
56. Irish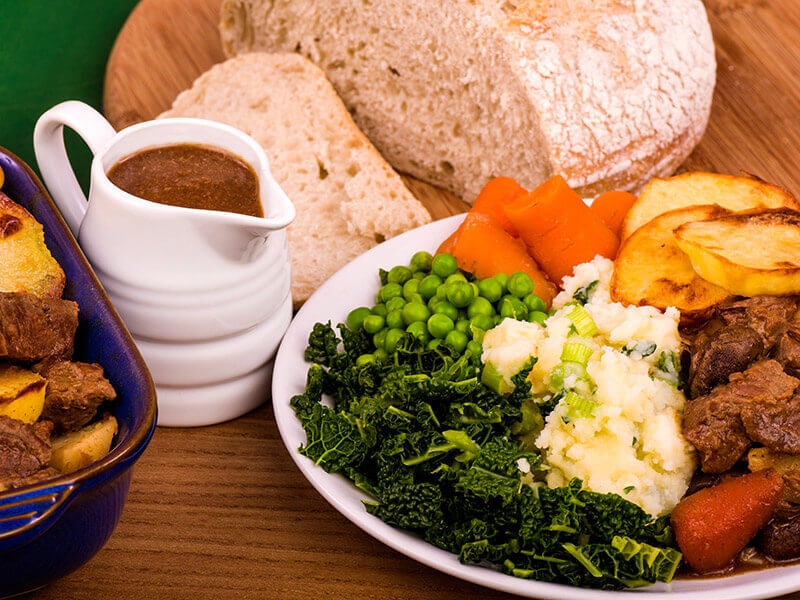 Irish cuisine has a close relation to British cuisine since Northern Ireland is a part of the United Kingdom. But of course, they still have other distinguishing characteristics to surprise the eaters.
In the 17th century, potatoes had been a staple food on the Irish dining table. Today, they are still a significant food source in the country along with other root vegetables like onion, carrots, and turnips.
Some famous Irish dishes that make up this cuisine are Irish stew, boxty, coddle, soda bread, bacon, and cabbage. Irish people also consume a huge amount of dairy products. Therefore, they have many recipes for wonderful Irish sweet treats. And they are not too hard to make!
Ironically, though Ireland has a long coastline, seafood is not locals' favorite food, except seaweed.
Popular dishes: Soda bread, Black pudding (made from pig blood), Coddle (including pork sausage, potato, and bacon), Irish stout stew, etc.
Popular drinks: Whiskey, Bailey, Irish red ale, brown lemonade, Irish breakfast tea, and more
57. Danish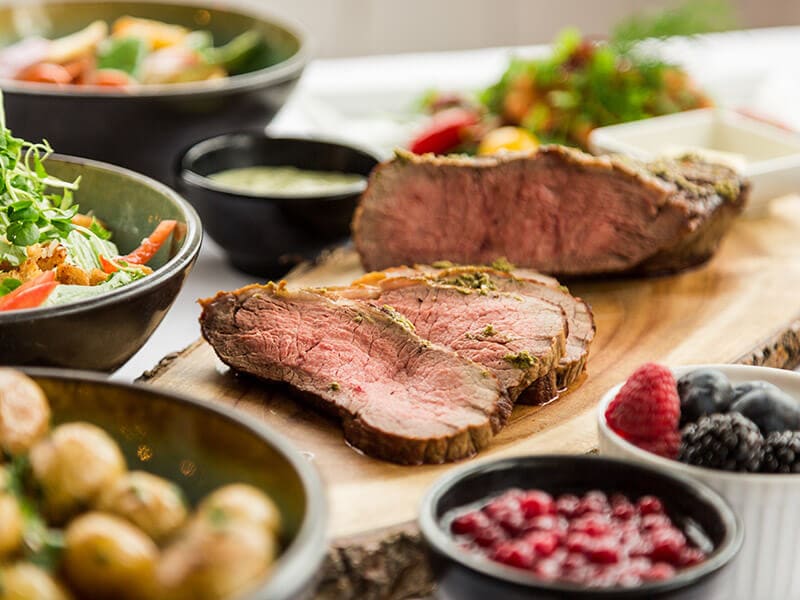 Traditionally, Danish cooking customs use local products, but after the Industrial Revolution, their culinary culture was upgraded. Smørrebrød – the open sandwiches, is their national Denish dish that can get into the heart of any gastronome.
Moreover, meat (especially pork) and fish are their key ingredients in preparing hot meals. They also use many spices like black pepper, nutmeg, cinnamon, and cardamom to ensure all Danish foods can come out not only delicious but also full of aromas.
Their meal structure is quite simple, with 3 meals in a day, including cold breakfast, cold lunch, and hot dinner. In Denmark, you can enjoy a cold buffet with bread (Det Kolde Bord) which is usually consumed at lunchtime.
Last but not least, if you are interested in distinctive Danish drinks, especially beer, Denmark has 2 big brands: Carlsberg and Tuborg with extensive reputations around the world.
Popular dishes: Smørrebrød, Karbonader (breaded pork patties), Frikadeller (meatballs), Hønsekødssuppe (Hens-meat-soup), and more
Popular drinks: Beer, coffee, chocolate milk, soft drinks (Sodavand), Akvavit (high-proof spirit), bitters
Southern European
What impressed you most about Southern European foods? Their extreme diversity in cooking practices, or their tastiness? The answer is both, but with more interesting information relating to the history of these cuisines. Keep reading to learn more!
58. Mediterranean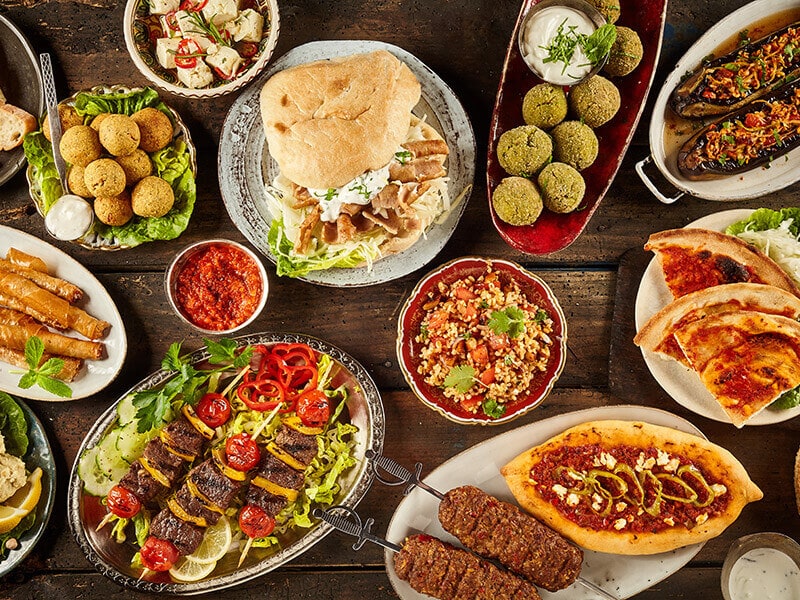 Mediterranean cuisine reflects many other cuisines like Italy, Turkey, Spain, Egypt, and Portugal. So it is quite hard to describe the exact features of Mediterranean cuisine.
In fact, some writers have described this cuisine through 3 main elements like wheat (bread or pasta), grape (wine), and olive (olive oil). Meat dishes like roast lamb, mutton, or stew with veggies also have close relations to Mediterranean cuisine.
There are many super delicious Mediterranean desserts as well. However, you should not mistake the Mediterranean diet with Mediterranean cuisine. The Mediterranean diet emphasizes the low amount of meat and dairy products.
Instead, these diets prefer healthier foods like fruits, veggies, grains, and olive oil, while Mediterranean cuisine includes various types of dishes despite their health benefits. So if you love vegetarian recipes in Mediterranean style, you can find various ideas on the internet.
Popular dishes: Moussaka (eggplant lasagna), Dolma (stuffed grape leaves), Baklava (layer pastry), Lentils with rice and pasta, and more
Popular drinks: Cocktails, fruit juice, smoothies, wine, etc.
59. Greek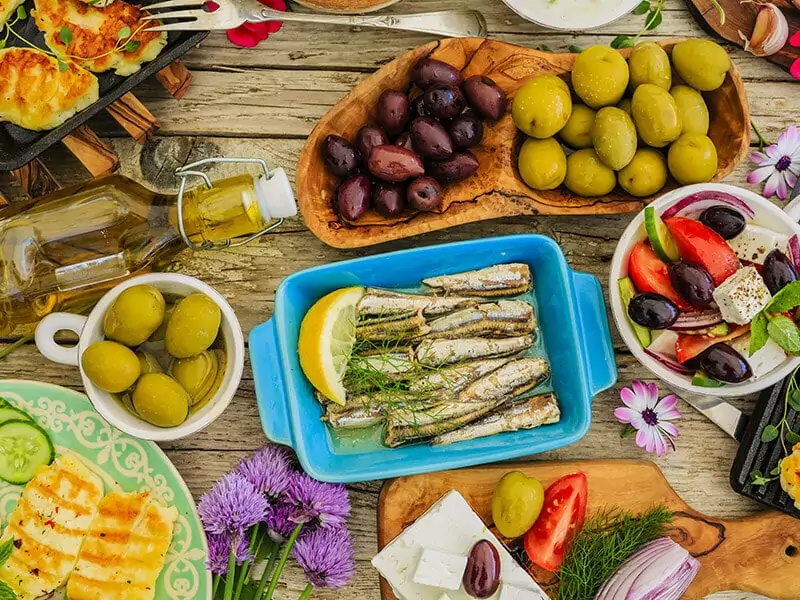 Greek cuisine is a small part of Mediterranean cuisines, therefore, they share some similar characteristics like common ingredients such as wheat, grape wine, and olive oil. Plus, fish, meat (pork, lamb, poultry, veal, beef, goat, and rabbit), fish, and veggies are the Greek's favorites too!
But do you know that Greek culinary culture is one of the oldest cuisines around the world? Yes, it is! In Greece, people also like to use many flavorings from herbs, such as basil, cumin, oregano, mint, etc., to make their meals taste more robust.
Besides olive oil, olives are an excellent food to enjoy alone in this country. Apparently, they are one of the most widely-used ingredients in many finest Greek recipes, from salad for Greek-based starter to pizza.
More than that, nuts and seeds are the other 2 elements that the natives love to add to their main meals and even some fascinating Greek desserts like pastries, pie, cookies, and cakes.
In addition, Greece also boasts many delicious drinks that you ought to experience at least once. Beverages like Greek frappé coffee or beer are among the reasons people love this country's cuisine. There are also numerous delectable Greek cocktails and alcoholic drinks for you to try.
Popular dishes: Greek salad, Lagana (Greek flatbread), Pita bread, Fasolada (bean soup)
Popular drinks: Beer, Greek frappé coffee, wine
What is the secret behind the tastiness of Greek cuisine? Click here to find out!
60. Spanish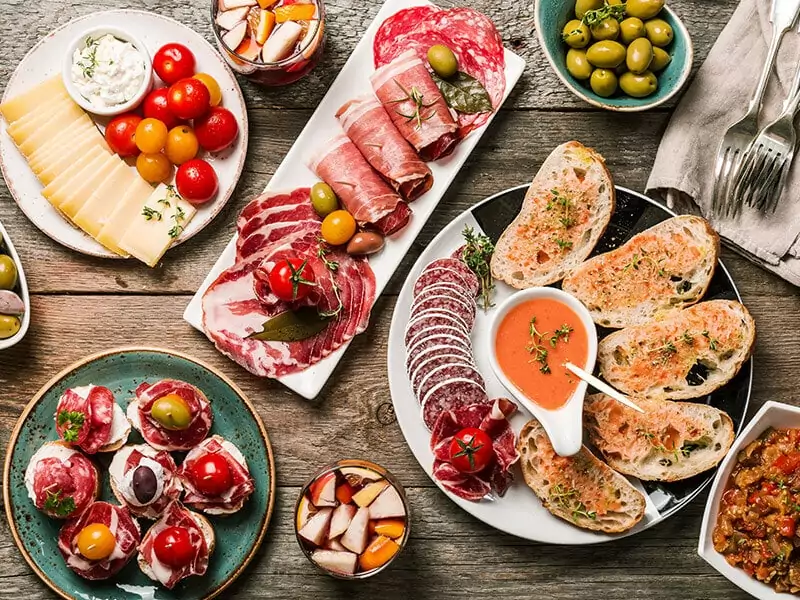 Spain is the number 1 producer of olive oil in the world; therefore, this ingredient must be included in their daily dishes. Overall, Spain cuisine varies based on its history, culture, and region. Different regions have their own ways of creating and enjoying Spanish meals.
Chicken, lamb, veal, and pork are their commonly-used meat. In addition, herbs like thyme, parsley, rosemary, and oregano are heavily consumed to create full-of-flavor Spanish treats. As Spain is surrounded by sea, people also have abundant choices for seafood and fish.
For example, Chorizo de Pamplona (sausage made from pork and beef) is Navarra's specialty. Or in Valencia, a popular dish is Arroz con Costra (a traditional Spanish rice dish). Besides, do not miss out on any irresistible Spanish sweets. They are also great mood boosters.
Spanish wine is another key factor that creates the reputation of the Spanish drinking list around the world. In reality, they are the second larger wine producer globally with 3 main categories: red, white, and sparkling wine.
Popular dishes: Paella (rice with seafood), Chorizo (high-seasoned pork sausage), tortilla Española (Spanish egg and potato omelette), Jamón Ibérico (pork ham), and more
Popular drinks: Mojito, beer, Horchata (a beverage made from rice), coffee, hot chocolate
61. Italian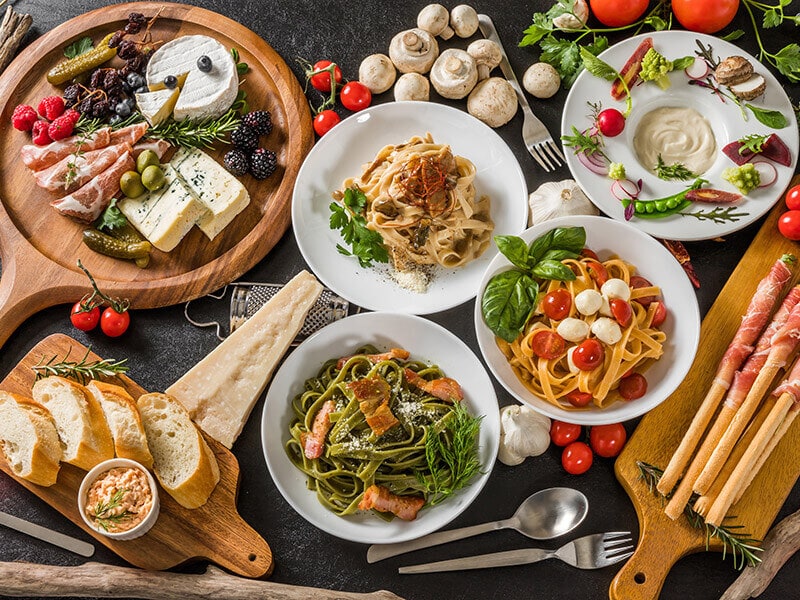 Italian cuisine is one of the best cuisines in the world. And there is no need to argue about it. Italian cooking techniques and ingredients are beyond amazing. And the most popular Italian foods are pasta and pizza, which have global popularity.
If you have been to Italy, you will see a lot of Italian dishes, including the regional name in their title to imply the origin of this dish. Why? Because Italian cuisine is different from region to region.
The simplicity in their delicacies is another key factor that makes them so famous globally. Many recipes, especially Italian dinner ideas, contain a few components, but ensuring the exact quantity for each ingredient is the most crucial thing to offer the best result.
Overall, the mainstream dishes here normally include rice, cheese, pasta, and tomatoes, like some in the Italian hors d'oeuvre menu. They are also flavored with fresh herbs.
Popular dishes: Pasta, pizza, pesto sauce, lasagne, Caesar Salad, etc.
Popular drinks: Espresso, wine, juice, beer, Aperitivo (alcoholic drink), and other cocktails
Italian street foods are amazing through this review.
Western European
Western European cuisine hails the diversity across Western Europe regions with many insights. Check the next 3 cuisines from France, Belgium, and Netherland to find out!
62. French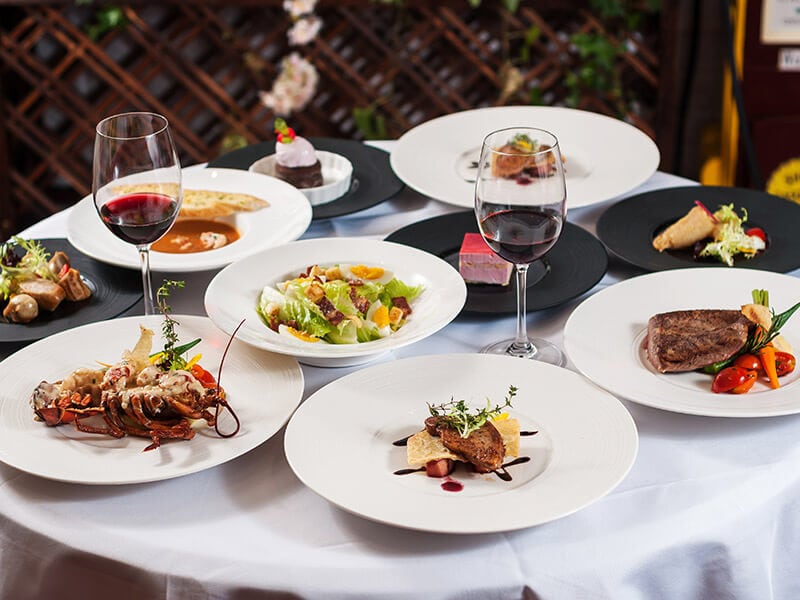 France is famous for its sensuality. And their foods are not exceptional. French cuisine is something that will make you say wow from the first bite. Their complexity, luxury, and deliciousness are all shown on plates or bowls, thanks to the mesmerizing presentation.
No doubt they are one of the best cuisines around the world! Their food culture has revolved for decades with other influencers from their neighbor like Italy, Germany, Belgium, Switzerland, and Spain.
Therefore, many famous French foods mostly contain cream, butter, herbs, vegetables, and wine. Bread and cheese are also popular here. Besides, the season is one of many factors that impact French cuisine.
There is no limitation in meat usage in multiple French dishes. They can create treats with chicken, duck, pigeon, goose, veal, quail, horse, and even snail and frog.
Moreover, the delectable drinks from France have taken the culinary world by storm. This country is truly a powerhouse in the alcoholic beverage department, with drinks like Champagne and Calvados now enjoyed in countless nations.
Popular dishes: Soupe à l'oignon (onion French soup), Boeuf Bourguignon (red wine beef stew), Ratatouille (stewed vegetable), etc.
Popular drinks: Hot chocolate, cafe, wine, and other alcoholic drinks
Let's discover why French cuisine is 1 of the top cuisine in the world with the interview of 5 Michelin-star chefs.
63. Belgian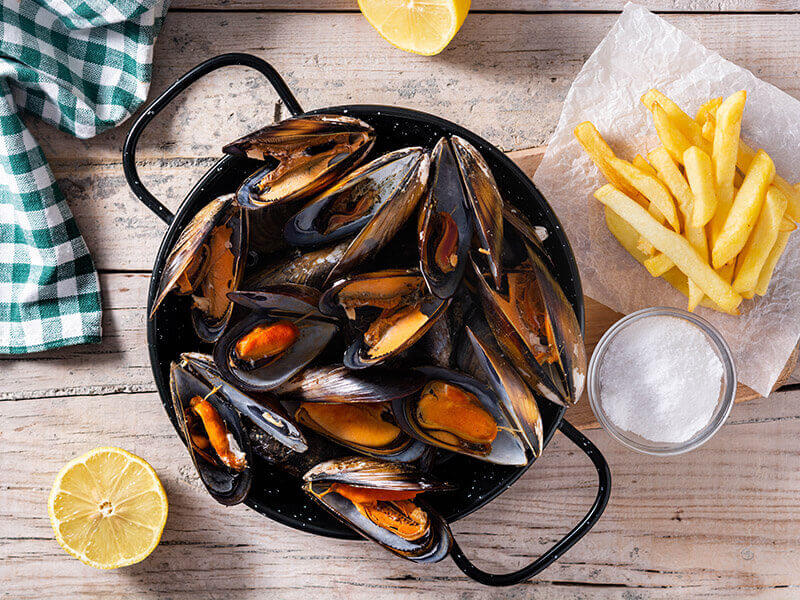 Belgian cuisine used to be heavily affected by the Roman Empire. But recently, German, Dutch, and French cuisines are the main impact on this cuisine. Some people especially claim this cuisine shares the quality of French dishes and the quantity of German cuisine.
The cuisine of Belgium varied from region to region. And all of them are full of delicious Belgian foods from Belgian sweet treats to savories.
When talking about Belgium, I bet many of you will think about their beer, chocolate, waffles, and fries. Though they have several unique dishes, hamburgers or spaghetti are also popular here.
Popular dishes: Moules-frites (cooked mussels with herbs and served with fries), Carbonade flamande (Belgian beef stew), Gaufres (Belgian waffles), etc.
Popular drinks: Beer, genièvre (alcoholic beverage), Jenever (malt wine)
64. Dutch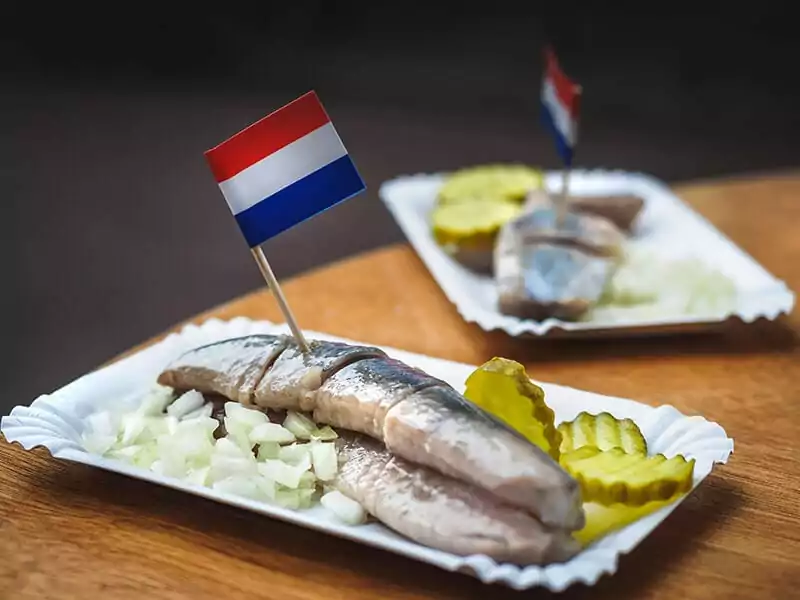 Dutch cuisine is shaped by its geography, where fishing and farming industries are extensive. The traditional Dutch foods are quite bland with veggies and a small amount of meat. But the colonization period has changed their diet habits.
In reality, Indonesian cuisine has influenced Dutch foods. That's why you can spot many Indonesian-Chinese restaurants here. Other international cuisines like Arab and Turkish are found in many Dutch street food sellers.
In the Netherlands, there are 3 distinctive cuisines based on the region, including Northeastern, Western, and Southern cuisines. Their agriculture contains 5 sectors to classify different types of planting and growing.
They are tillage crops, fruits, greenhouse crops, animal husbandry, and fishery. Thus, the food source in the Netherlands is abundant to ensure their dishes, including Ductch sweets and savory treats, can come out perfectly.
Popular dishes: Poffertjes (Dutch mini pancakes), Wentelteefjes (Dutch-style French toast), Huzarensalade (olive salad), Rookworst (smoked sausage), etc.
Popular drinks: Beer, Jenever (alcoholic spirit), Anijsmelk (consist of hot milk, sugar, and anise seed)
Oceanic Cuisines
Oceania cuisine consists of Australian, Fiji, New Zealand, and other island country cuisines with a rich source of seafood. But what's more about them? Check below 3 cuisines from 3 different countries to find the answer.
Australia
Australian cuisine is a diverse blend of indigenous traditions, British colonial influences, and flavors from its Asian and Middle Eastern immigrants, resulting in a unique and flavorful culinary landscape.
65. Australian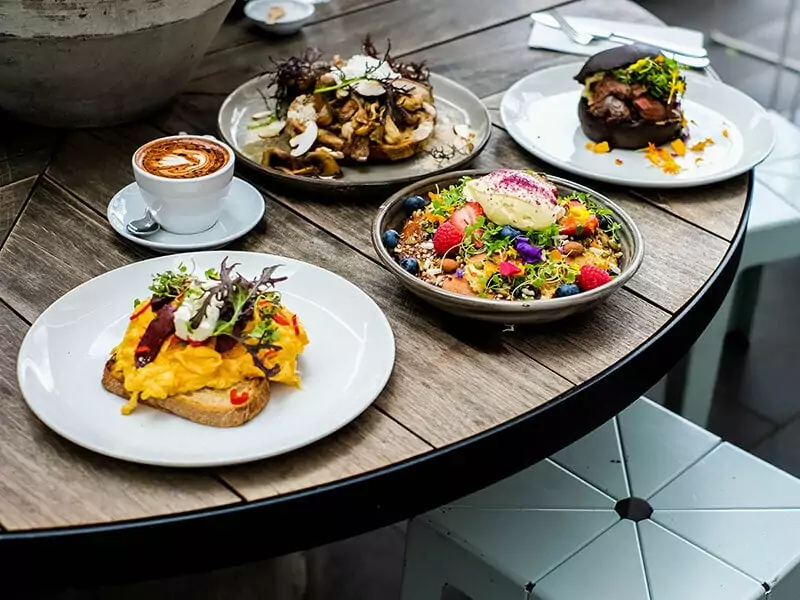 As a country with a large number of immigrants, toothsome Australian foods have adopted various types of cuisines, including Asian, Middle Eastern, and British. Currently, biodynamic and organic foods have become widely-used ingredients in their dishes.
They also have a wide variety of fruits and vegetables that consumers can easily buy in supermarkets or grocery stores. Regarding meat ingredients, chicken is the most consumed meat and they are also the most affordable type of meat in the country.
Also, you'll easily find kangaroo meat in several Australian regular dishes. In contrast, seafood is not a popular diet in this country.
However, there are a lot of places that sell fish and chips. And the common fish that can be found on many Australian dining tables is flathead, salmon, or tuna.
Australia is also famous for its dairy industry with wide varieties, such as butter, cheese, milk, cream, and yogurts. That's why traditional desserts in Australia are abundant and creamy.
Regarding simple Australian beverages, tea is the most consumed one. Australian coffee is also unique with a flat white made from espresso and microfoam.
Popular dishes: Chicken Parmigiana, sausage, meat pie, or more
Popular drinks: Tea, coffee, hot chocolate, beer, and wine
Polynesia
Polynesian cuisine, with its rich flavors from the islands, has distinct variations. Among them, New Zealand's Maori-inspired dishes highlight the region's unique blend of indigenous ingredients and traditional cooking techniques.
66. New Zealand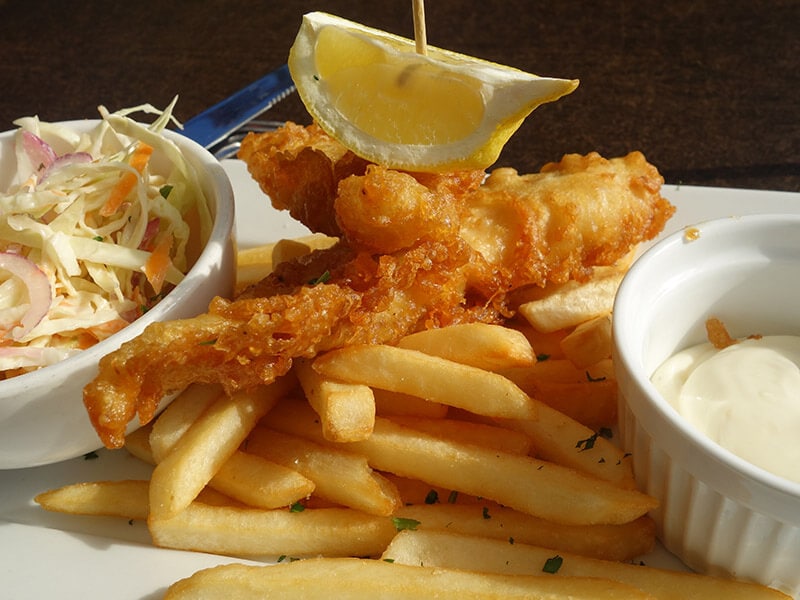 New Zealand cuisine shares some similar characteristics with Australian cuisine, being a mix of cooking cultures from Britain and the Mediterranean, as well as the Pacific Rim. Additionally, New Zealand foods are influenced by the Māori culture, the indigenous people of the country.
They mainly use local ingredients and seasonal variations to create delectable New Zealand foods. Until the late 18th century, Europeans moved to this country and brought the foods, including pork and potatoes, that the Māori had adopted into their diets.
Currently, the main meal in New Zealand is dinner. They also have a fast-food culture like Australia, the United States, and Britain. New Zealanders refer to gatherings with barbecue dishes or potluck treats in the summer.
Impressive drinks in New Zealand must be their wine. Indeed, this industry is another big plus with several top wine products like Pinot Gris and Pinot Noir. Besides that, beer is the most common drink here.
Popular dishes: Savory pies, fish and chips, seafood fritters, Hāngi (food cooked by heated rocks), and more
Popular drinks: Beer, wine, tea, coffee
Let's fly to Auckland – a big city in New Zealand and start your foodie tour.
Melanesia
Melanesian cuisine offers a flavorful scene of island foods, with Fijian dishes standing out as a testament to the region's rich blend of local produce, seafood, and time-honored cooking methods.
67. Fijian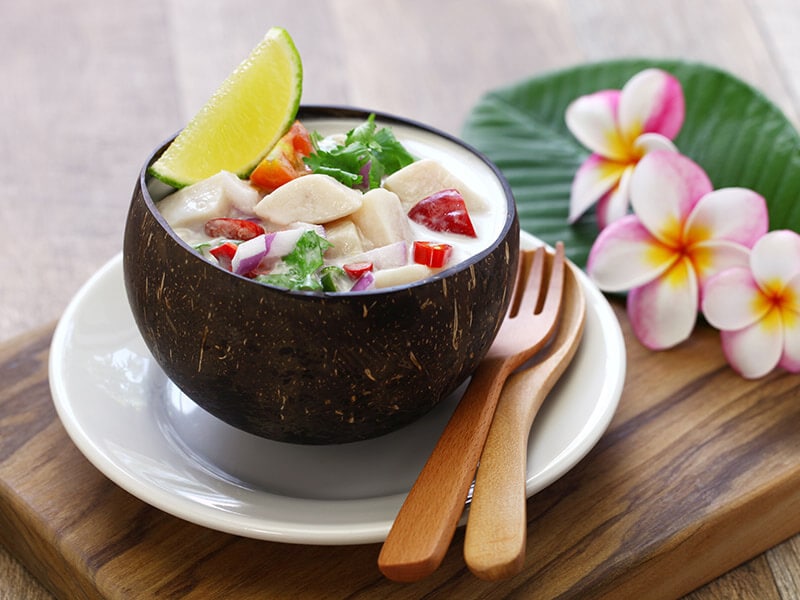 Fiji is an island country with wide choices of seafood and leafy veggies. Healthy and farm-based components drive their cuisine. Traditionally, coconut and tuber were popular ingredients, but rice, tea, and flour have become their staple foods after colonization.
Moreover, Fiji is a multicultural country. Classic Fijian foods are also influenced by other culinary cultures from India and China. Interestingly, you might find some British vibe in their breakfast with milk, bread, tea, coffee, cereal, etc.
In the noon, they prefer starchy ingredients like taro or cassava to create lunches, while some Info-Fijian households will go with rice to enjoy along with veggie curry. Dinner in Fiji is heavily based on meat like soups, stews, curries, and more.
Fijian cuisine is special thanks to their authentic drink, such as Kava (containing powdered yaqona plant's roots). This beverage is not only a tasty drink here; it is also a treatment for skin diseases and other medical purposes.
Popular dishes: Kokoda (raw fish in a coconut), fish Suruwa (fish curry in Fijian style), Rourou (a stew made with taro leaf)
Popular drinks: Tea, milk, coffee, Kava, etc.
Cuisine In Different Styles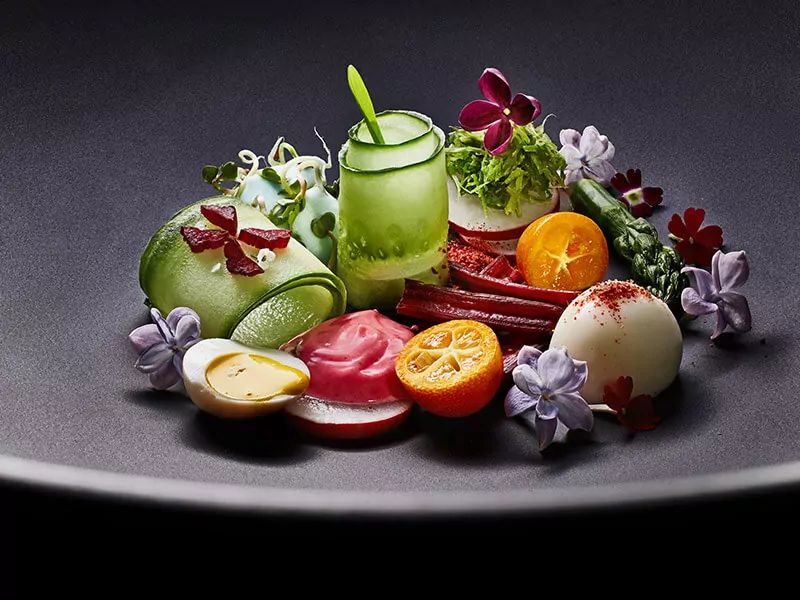 Above are cuisines based on regions and countries. For more details, here are 4 significant styles of cuisine globally, such as Fusion, Nouvelle, Vegan/Vegetarian, and Haute styles.
Fusion
Fusion cuisine means the combination of various cooking practices and traditions from different countries, cultures, or regions. They can be larger regions, like European or East Asian cuisine, or some specific ones like Chinese, Frech, Italian cuisines, etc.
American cuisine can be seen as fusion cuisine – a culinary style that includes various traditions from different countries, cultures, or ethnicities to convey its diversity. Other examples are Chinese American, Greek-American, Italian-American, Mexican-American, and more.
In fact, a smaller branch of the American food system – California cuisine, is also a fusion cuisine as they are affected by Mexican, French, Italian, or some East Asian cooking styles. Moreover, some Asian fusion restaurants can serve various foods from different Asian countries.
Nouvelle
Nouvelle cuisine emphasizes the food approach and presentation in French cuisine. Compared to the old version, which uses rich and heavy ingredients, Nouvelle is a modern style that features lighter, fresher, and more delicate dishes.
The origin of this cuisine style can be traced back to the 1960s by Henri Gault – a food critic and his co-workers. They believe fat, sugar, salt, and starches are too heavy, leading to unhealthy diets.
Plus, these delicacies are strongly influenced by Japanese food presentation, which is also simple and elegant. So now you can understand more about why French dishes are too pretty to eat.
Vegan/Vegetarian
These 2 cuisines have become mainstream foods around the world since people want to eat healthier. Why? Because both vegan and vegetarian dishes highlight the lack of animal meat in these delicacies.
However, the main difference between them is vegan diets are made from 100% plant-based components and do not contain animal (seafood) meat and products (e.g., dairy foods, eggs), while vegetarian dishes only exclude meat, fish, seafood, and poultry.
So, vegetarian diets might have some advantages as they have more protein from eggs and dairy products. Vegan diets are also popular among Buddhists, Hindus, and some Christians.
Haute
The last style is haute cuisine (aka grande cuisine), which implies the luxurious dishes in luxury restaurants and hotels. They also focus on the presentation, quality of ingredients, and skills of the chefs, making their prices much higher than other cuisine styles.
French foods, once again, are haute cuisine. The flavor of these dishes is also fascinating, which emphasizes the natural flavor and a perfectly balanced flavor from sauces and seasoning.
They are not too spicy or too sweet and are usually served in small to moderate portions. In fact, the word "haute" means superior in French, so if you are going to a fine-dining restaurant to enjoy some elegant and aesthetic dishes, they are haute foods.
What Is Your Favorite Cuisine?
How many cuisines have you tried? And what is the most impressive one to you? To me, the shortest way to learn about a country's culture and lifestyle is through its cuisine.
And these cuisines all show various aspects of social, economic, cultural, ethnic, and even climate. Finally, please tell me your opinion about these culinary customs, what you like (even not like) and what dishes are the best ones to enjoy there.
And if you like this post, your likes and shares are highly appreciated. Thank you for your support!