Mediterranean desserts have always been a sweet spot in world cuisine, featuring tantalizing flavors and traditions. If you've been craving some typical Mediterranean dishes that are exotic yet familiar, this is just for you.
By delving into this article, you will explore the richness of Mediterranean sweet courses, uncover the history of Mediterranean cuisine behind their iconic taste, and learn how to recreate these delights in your kitchen.
With this knowledge, you'll not only satisfy your sweet tooth but also elevate your baking skills. Read on to transform your cooking perspectives!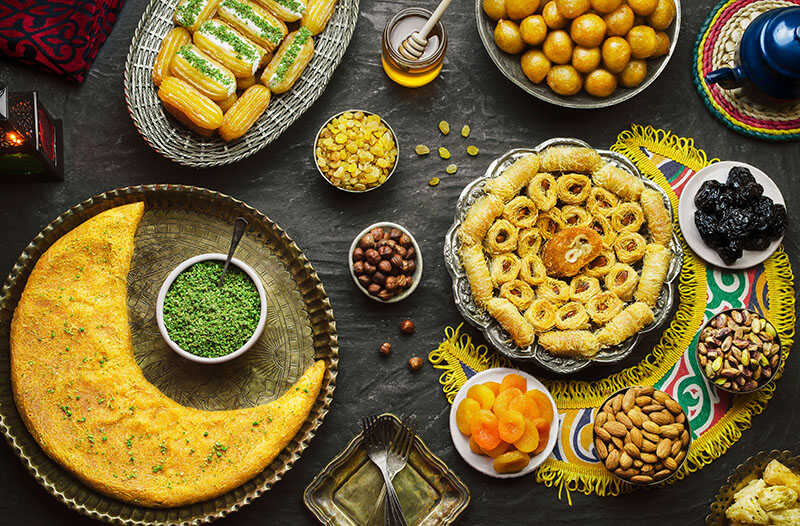 In Greek
1. Galaktoboureko (Custard Pie)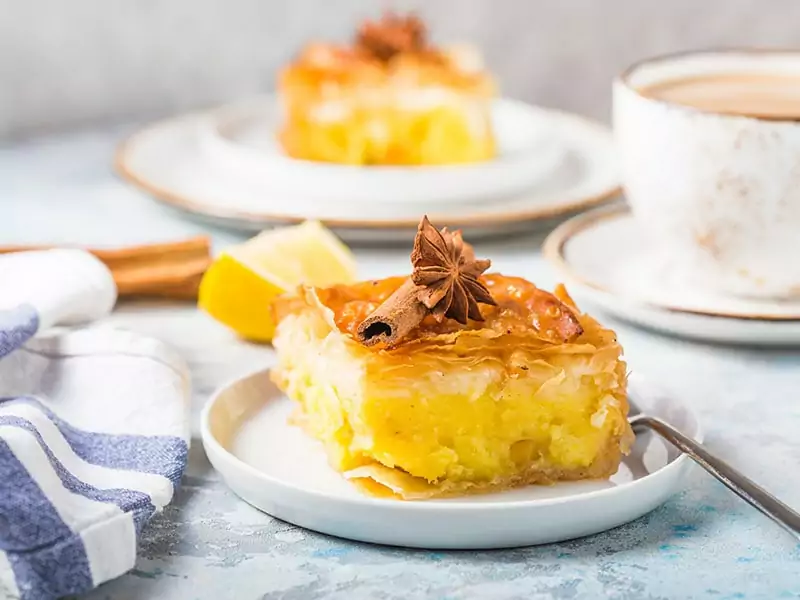 Galaktoboureko is a traditional Greek dessert. This pie is a real mix of flavors and textures, merging crispy filo pastry with a creamy custard filling.
This gastronomic masterpiece finds itself at Orthodox Easter celebrations in Albania, while similar variations of it, smaller in size, become a favorite dessert for those in Turkey and Syria.
Plus, this Greek-style pie swaps out semolina custard for a pudding known as muhallebi. Each slice of this pastry goodness is a flavorful journey, with a sugar syrup infused with lemon peel and cinnamon.
Locals typically prepare it as a large pie, which is then divided into neat squares, or sometimes, it's conveniently rolled into individual servings. Its tastiness is undeniable, making it a staple in numerous restaurants and pastry shops across Greece.
2. Baklava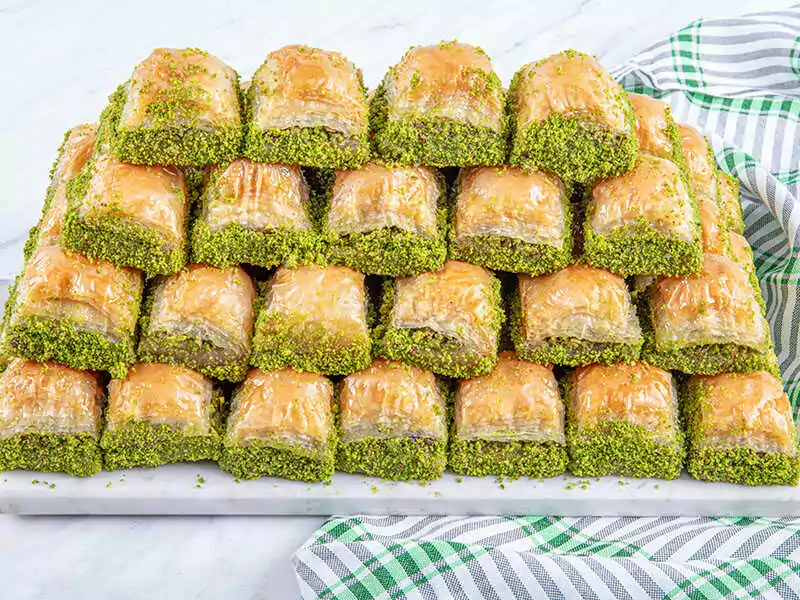 Baklava is a dessert renowned throughout the Balkans, various Caucasian and Central Asian nations, and particularly in Greece.
Its origin can be traced back to the Ottoman Empire, with many believing that this sweet sensation was first created in the city of Constantinople, now known as Istanbul.
This traditional Mediterranean treat combines buttery phyllo pastry layers, chopped nuts, and honey or syrup, often complemented by a hint of lemon juice. The ideal nuts used in this dessert are walnuts, pistachios, or almonds.
Different regions also add their unique spin to this classic dessert. In the Black Sea region of Turkey, the crunch in baklava comes from the rich hazelnuts, while Gaziantep City prefers to stuff its baklava with green pistachios.
And if you find yourself in the Aegean region, don't be surprised if the Baklava includes almonds.
3. Sari Burma (Baklava Rolls)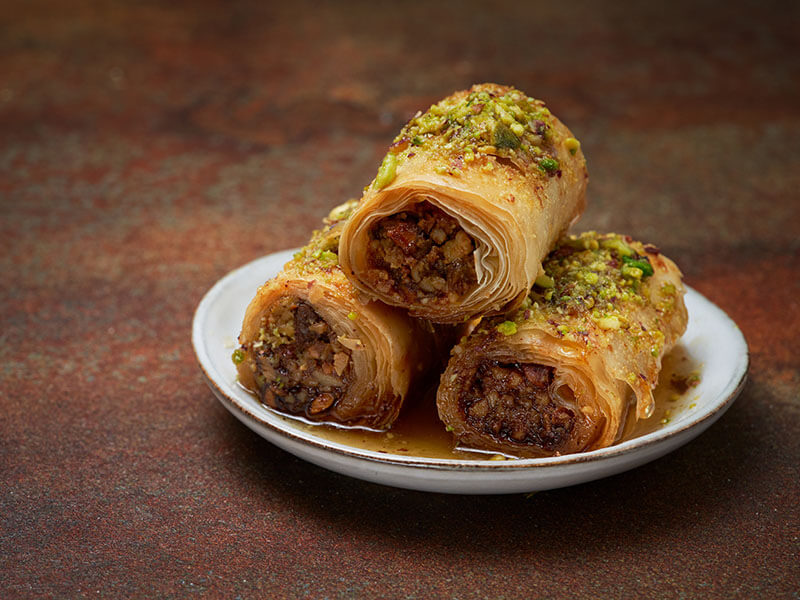 Sari Burma, also known as Burma Baklava, brings a twist to the classic Baklava. Originating in Sivas (central Turkey), its name means "yellow twist" in Turkish.
What sets Sari Burma apart is its simplicity. Its assembly process is less complicated than traditional baklava. They are simple rolls with fillings wrapped in phyllo dough.
Despite its distinctive form, it shares the same cherished flavors and ingredients as the conventional baklava, including the sweetness of the syrup and the delightful crunch of walnut fillings.
4. Baklava Cheesecake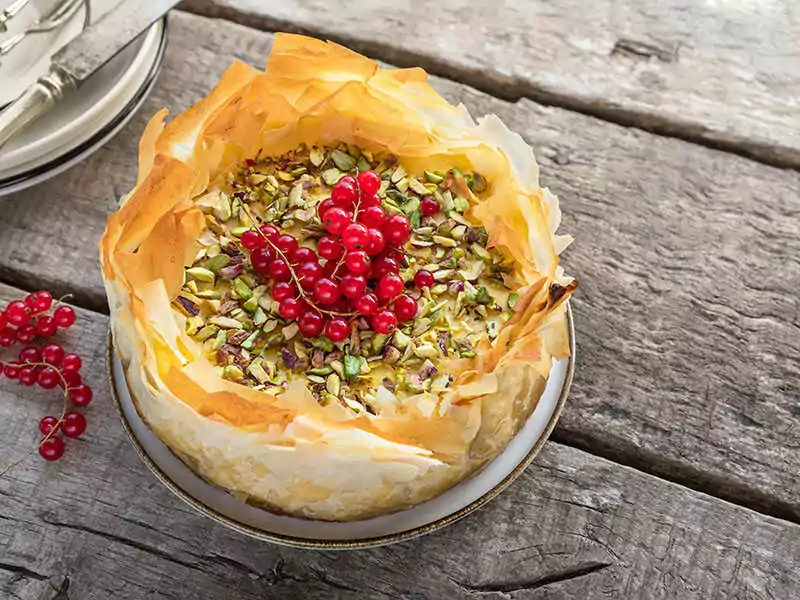 Baklava Cheesecake combines the best of both worlds of classic Baklava with the smooth richness of cheesecake. This version of Baklava promises an indulgence richer than any traditional cheesecake you've ever tried.
It showcases a luscious filling of orange-scented ricotta cheesecake nestled within the flaky layers of phyllo. To increase the dessert's overall deliciousness, a drizzle of honey and a scattering of pistachios make perfect toppings.
Also, it's essential to drain the cheese properly, ensuring a firm, non-watery cheesecake. After baking, let the dessert cool down for 1 to 2 hours before its final chill in the refrigerator. By doing it, you can solidify its velvety texture and enhance its flavors.
5. Ravani / Revani (Semolina Cake)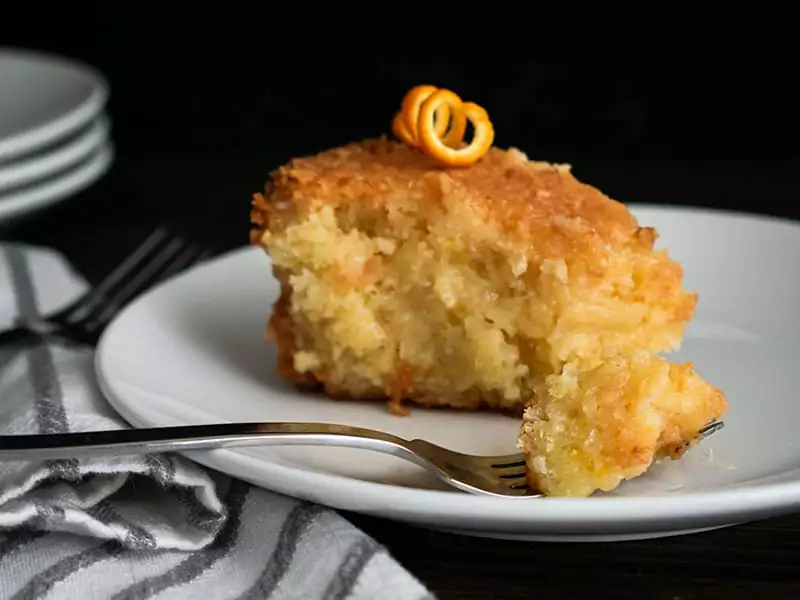 Ravani is a sponge cake made primarily with semolina. It sports a beautiful golden hue and a wonderfully nutty flavor. Its texture is a dream – tender and delicate, just begging to be soaked in a sweet, citrusy simple syrup.
And it gets better. Ravani has different toppings, so it's a sponge cake with an adventurous streak. Its moisture levels are off the charts, achieving a blend of fluffiness and moistness that will leave you reaching for a second slice.
Pro-tip: Preparing it a day ahead is better to make unmolding easier.
6. Portokalopita (Orange Cake)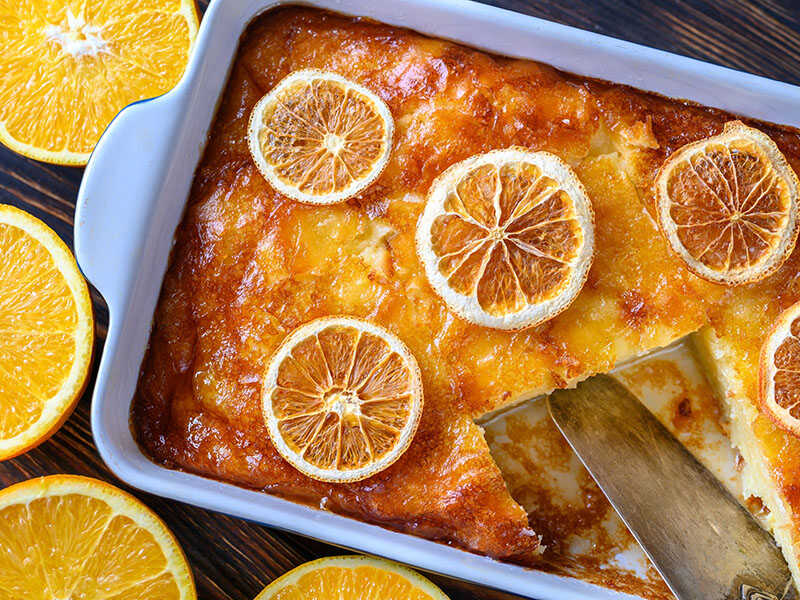 Rooted in the Greek tradition, Portokalopita is a tasty cake made from phyllo pastry sheets instead of standard flour. This clever method was originally designed to make the most out of leftover phyllo flakes.
The name Portokalopita, essentially 'orange pie' in English, beautifully echoes the mixture of juicy oranges and aromatic cinnamon.
While enjoying this dessert, you'll appreciate the delicate balance achieved by incorporating 2% yogurt, resulting in an indulgent dessert but not too rich.
7. Greek Yogurt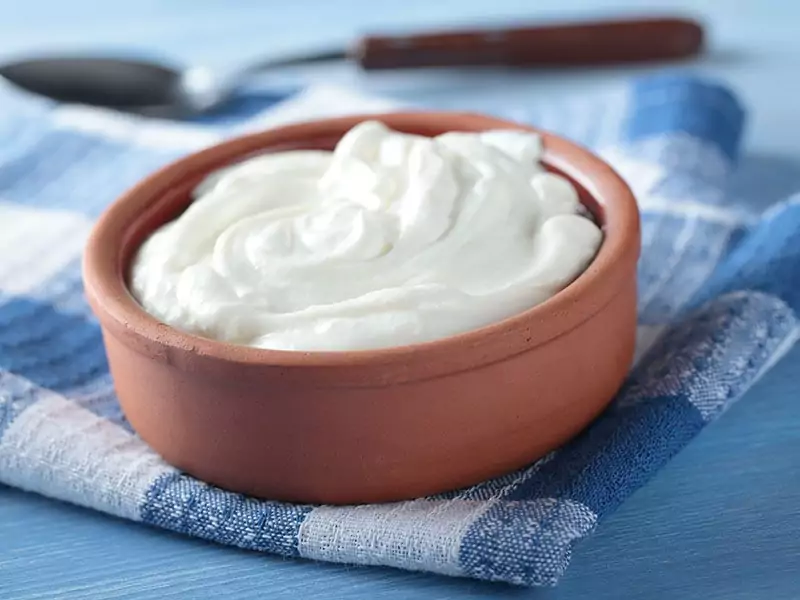 Strained yogurt, or as it's known in North America, 'Greek yogurt', distinguishes itself from its unstrained cousins through a special preparation process. The signature thickness of this yogurt results from straining it to remove most of the whey.
A labor-intensive process, making Greek yogurt requires more milk and sometimes entails boiling off water content or adding extra butterfat and powdered milk, resulting in its slightly higher price. But it is relatively easy to make it yourself with a good quality Greek yogurt maker.
Overall, it has a distinct sour taste and luxurious texture. And if you ever wonder about the possibility of freezing Greek yogurt, it is a yes, as freezing is a good way to preserve this creamy treat.
Beyond its culinary merits, Greek yogurt is a powerhouse with essential nutrients like calcium, potassium, and protein. And it doesn't stop there. Greek yogurt is packed with probiotics, the good bacteria your gut appreciates.
With potential benefits like improving bone health, lowering blood pressure, and decreasing the risk of type 2 diabetes (1), it's no wonder Greek yogurt holds such a high status in the world of healthy foods.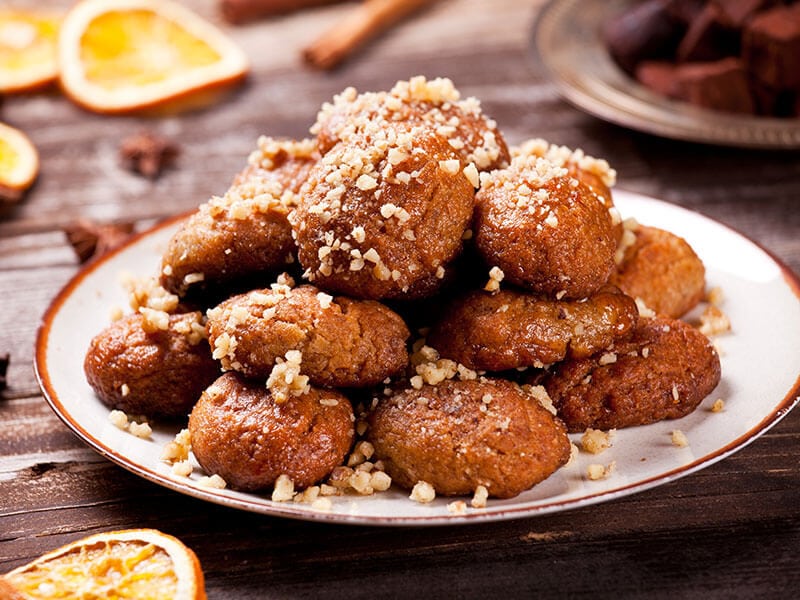 Melomakarona, charmingly egg-shaped and also known as Finikia, is a typical Greek food and dessert during the Christmas holiday season. It's a sweet dessert with roots from ancient and medieval times when it was known as Makaria, consumed during funerals.
The modern-day transformation brings a cheerful spin. Composed primarily of flour, olive oil, and honey, these festive treats are baked to perfection and then get a brief dunk in a cold syrup of honey and sugar dissolved in water.
This syrup bath lends them an irresistible sweetness. These syrup-soaked sweets are garnished with ground and chunky walnut pieces as a crowning touch.
9. Halvah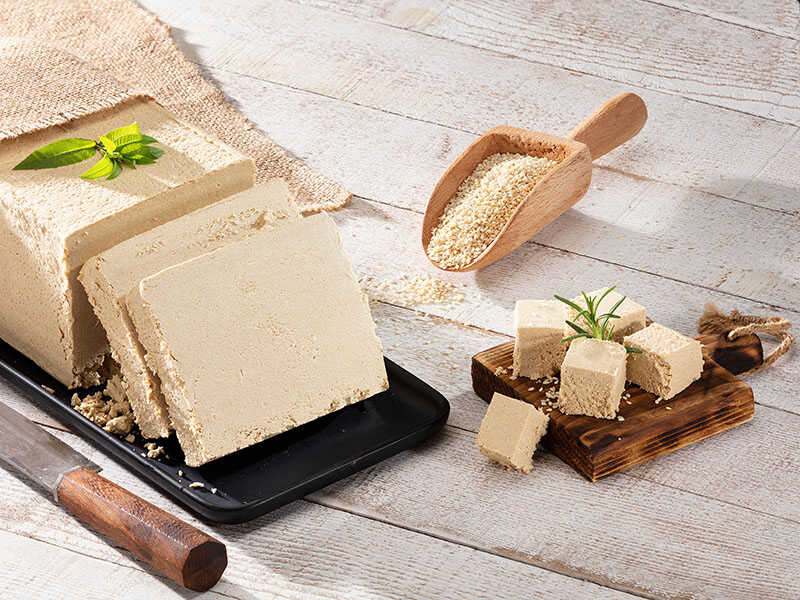 Halvah is a sweet treat from Persia. This dense, sweet confection, now widely savored in Greece, Turkey, and the Middle East, is a masterstroke of taste and texture, all thanks to its main ingredients – sesame seed paste and sugar.
Now, just when you think you've figured Halvah out, it tosses in a twist – the incorporation of nuts, dried fruits, or even spices. I've seen Halvah traditionally prepared in large cylinders, as they're sold by weight. Halvah is also pressed into a loaf or cut into squares.
On the subject of its texture, most Halvahs I've tasted are pleasantly dense, but the adventure lies in its variations.
It could have a characteristically gritty and crisp texture, or even transform into something very buttery if it's semolina-based. The sesame-based ones lean towards a drier and more crumbly texture.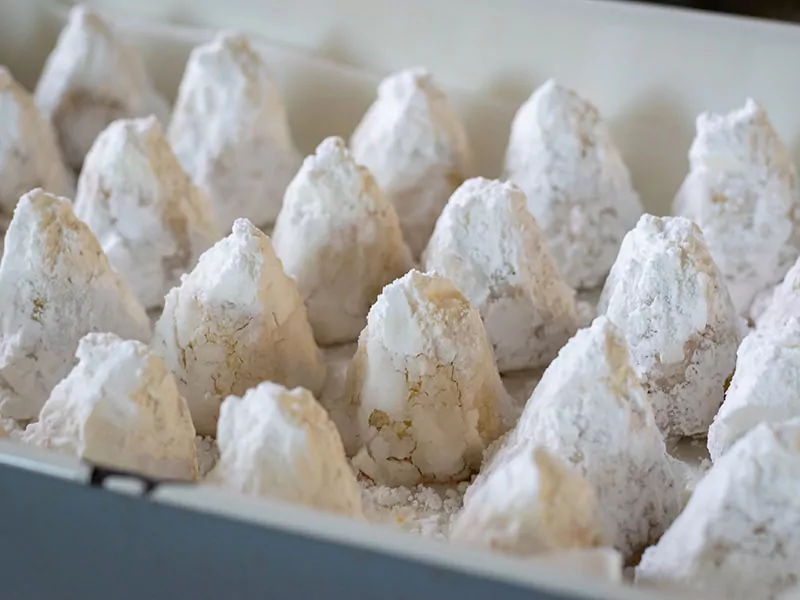 Amygdalota, derived from the Greek word for almond, is essentially an almond cookie. In a subtle nod to macaroons, it swaps coconut for ground almonds, taking on a distinctly Mediterranean flavor profile.
The key ingredients include almonds, egg whites, sugar, and the choice of rosewater or orange essence. What's special about Amygdalota is its beautiful texture – chewy on the inside and satisfyingly crisp on the outside.
And there's no single way to make Amygdalota. It can show up in many guises. Sometimes it's unbaked, pear-shaped, and wearing a delicate dusting of powdered sugar; other times, it takes different forms.
11. Loukoumades (Donuts With Honey)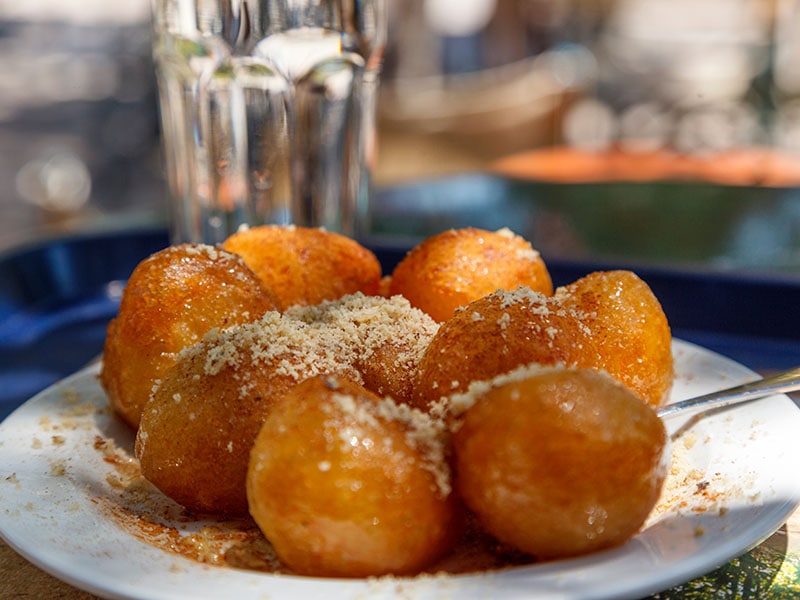 If you're familiar with Turkish Lokmas, Loukoumades should ring a bell. This Greek delicacy is a version of its Middle Eastern counterpart, presented as tiny, fluffy balls saturated with sweetness.
Before these bites reach their final form, the dough rises for a solid hour; then, it's shaped into donut-like rounds. These morsels are then introduced to a well-regulated hot oil bath, ensuring a golden, crispy exterior.
Moderation is key here, as overloading the pan can compromise their delightful crunch. After their fry, these donut balls bask in a bath of hot honey syrup, absorbing its sticky, sweet essence.
Each Loukoumade is finally topped with a sprinkling of cinnamon and a garnish of chopped walnuts or toasted sesame seeds.
Quick tips: Let the dough rise for at least 1 hour before rolling it into donut balls.
12. Kataifi (Shredded Phyllo Dough)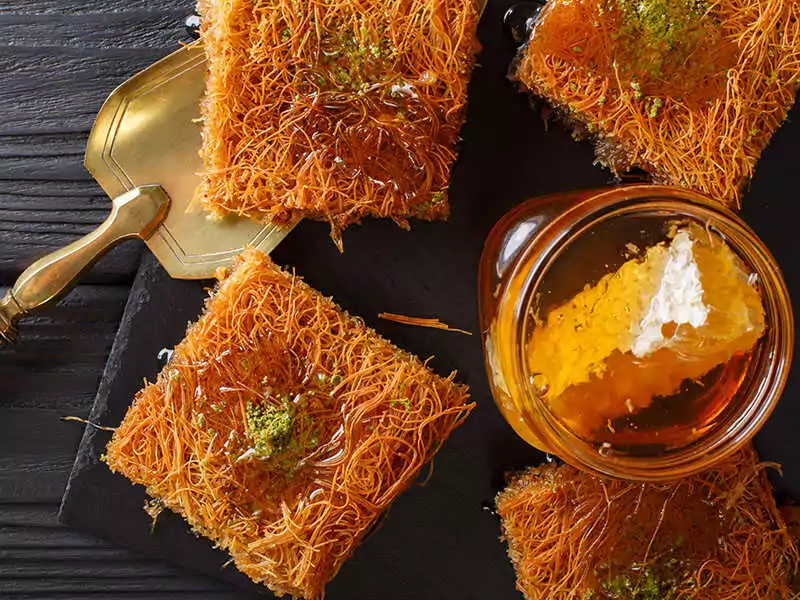 Kataifi is a beloved pastry in Greece, Turkey, and the Middle East. It starts with shredded phyllo dough, assembled into nests and stuffed with sweet fillings, from honey to cream and chopped walnuts.
Once the rolls are secured, they're set for baking. A drizzle of simple syrup infuses the baked pastry with a finishing sweet touch. This sweet delight, easy to make at home, is a regular feature at Greek-Orthodox holidays (e.g., Christmas and Kathara Deftera, the first day of fasting).
You can procure the dough from any Turkish or Middle Eastern supermarket. Whether for a coffee break or an elegant teatime, Kataifi surely offers a comforting sweetness.
In Italy
13. Affogato / Affogato Al Caffe (Ice Cream And Coffee)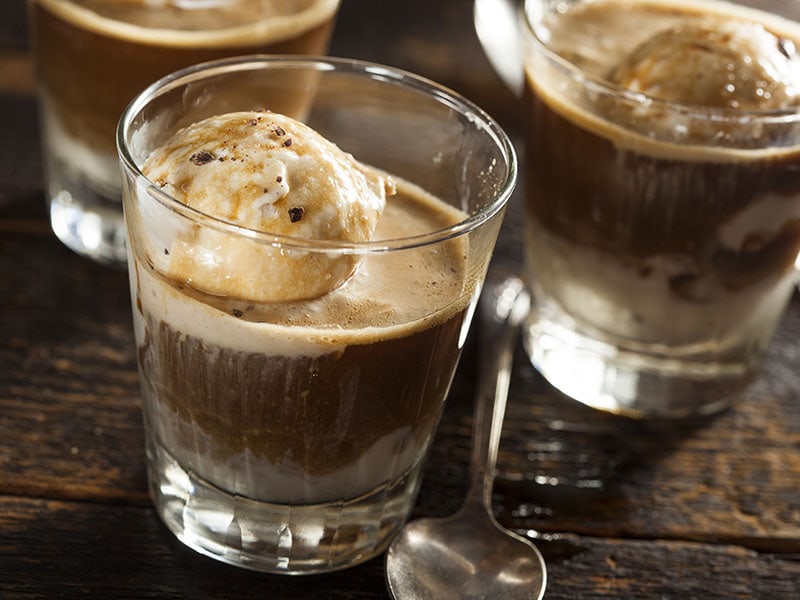 Affogato is a classic Italian dessert with a name meaning "drowned in coffee". This delight first won hearts in Italy during the 1950s. This is an espresso shot that meets a scoop of ice cream or gelato, resulting in a delicious mix of bitter warmth and sweet coldness.
Fior di latte, vanilla gelato, or a scoop of ice cream are placed in a tall narrowing glass, ready for espresso to create a tempting treat when it melts away the ice cream to the bottom of the glass. And Italian cafes categorize Affogato as a dessert, not merely a beverage.
There are diverse ice cream flavors, such as coconut, berries, honeycomb, etc., to explore. Others might choose a biscotto or cookie to accompany this dessert.
14. Tiramisu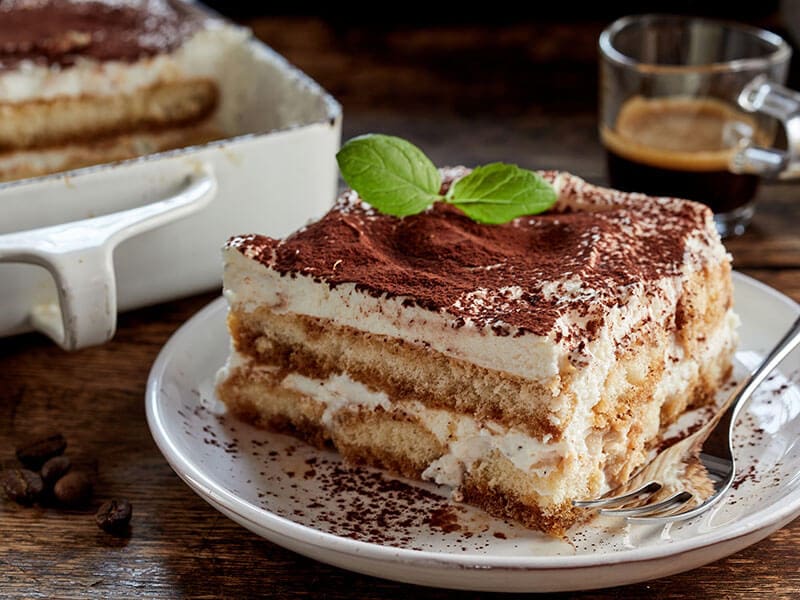 Tiramisu, a famous coffee-infused pie and cake in Italy, has always made me smile. Its name, fittingly translating to "lift me up", does just that after every bite.
It features a wonderful blend of mascarpone and Italian custard layered with coffee-soaked ladyfingers; all topped off with a dusting of cocoa. The bold espresso taste paired with the sharpness of cocoa created a taste sensation that was, and still is, hard to forget.
I also have encountered some variations of this classic dessert, including the Limoncello tiramisu, where the liqueur gives an interesting twist to the traditional recipe, and the triple chocolate tiramisu that dials up the tastiness for chocolate lovers.
There is also the fruit tiramisu for fruit lovers, which packs a refreshing burst of natural sweetness.
What's impressive is that this no-bake dessert, most likely originating from the Veneto or Friuli Venezia Giulia regions, is served cold, letting the coffee-soaked ladyfingers really absorb and meld all the flavors together.
15. Cannoli (Deep-Fried Pastry Tubes Filled With Ricotta)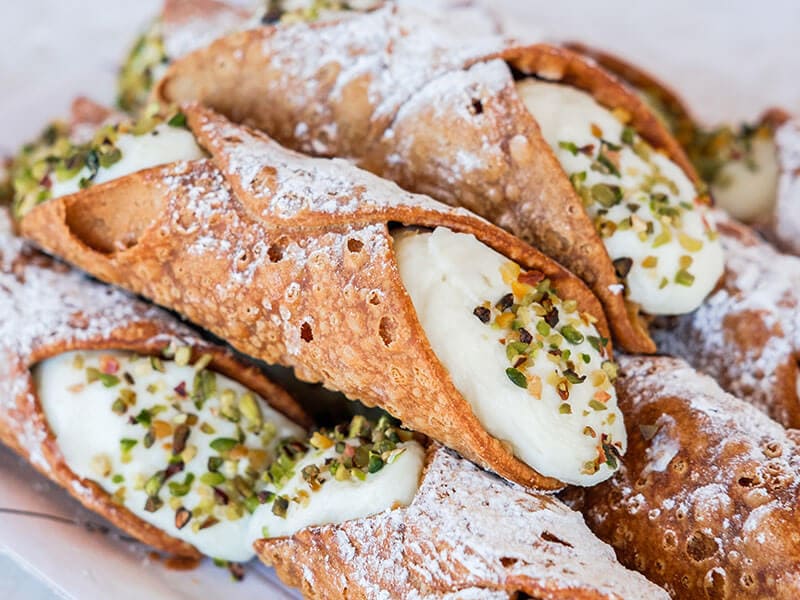 Cannoli, or as locals in Italy would say, Cannoli Siciliani, originated from Caltanissetta in Sicily in 827–1091. These iconic Sicilian pastries have a tube shape, formed by frying pastry dough until it's just the right level of crunchy.
Inside these enticing shells, there's a luxurious, creamy filling, typically featuring ricotta or mascarpone. A bite of this pastry reveals a rich and smooth filling with a subtle cheesy flavor.
Ranging in size from 'just a bite' at 3.5 inches to 'quite a treat' at 8 inches, Cannoli offers a pleasingly sweet but not overwhelmingly so.
16. Macedonia / Macédoine (Fruit Salad)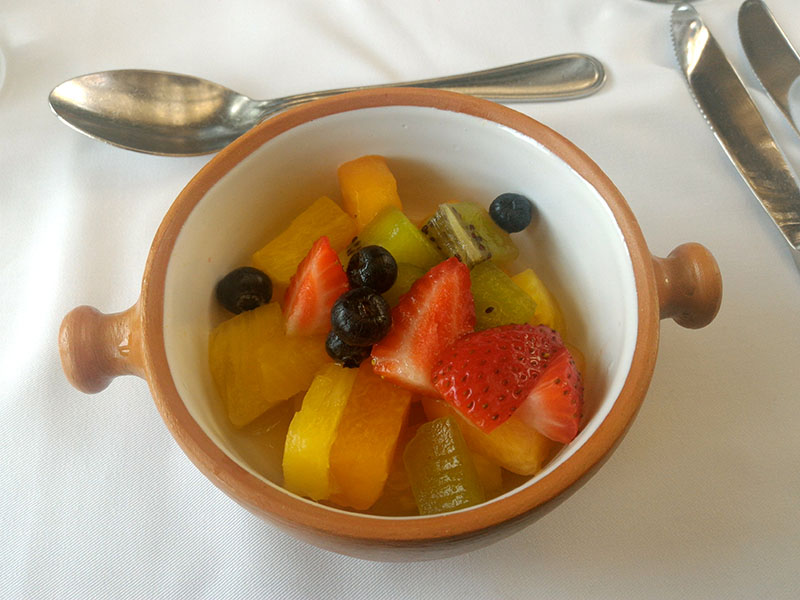 Macedonia is popular in Greece, Romania, Spain, France, Italy, and South America. And this embodies the essence of simplicity.
It's all about a blend of wholesome Italian fruits and vegetables that are seasonal collected, ensuring fresh, homegrown appeal. Immersed in their natural juices or light syrup, these pieces of fruit offer a splash of sweetness and tang.
Macedonia's adaptability is remarkable, transforming from an appetizer called a fruit cocktail, to a side salad, and a dessert. In a French twist, red beans are included, adding a unique layer to the mix.
More surprises await as Macedonia also turns into a hot vegetable dish known as Macédoine de Légumes. Sometimes, mayonnaise is added, and the dish is combined with aspic stock, taking its flavorful complexity up a notch.
17. La Torta Tenerina (Italian Flourless Chocolate Cake)
In Ferrara, a city steeped in history, the traditional dessert "La Torta Tenerina" brings joy at any hour. Its alias, "Torta Taclenta", translates to "sticky cake", which speaks to its moist interior, a sensation that melts in your mouth as you partake.
Prepared with a touch of flour, butter, milk, and plenty of dark chocolate, this dessert does without yeast, giving it a distinct density. Moreover, a crunchy, thin crust covers this delectable indulgence.
Paired with gentle mascarpone cream, the chocolate flavor sings, turning this cake into a must-try treat, whether it is for breakfast, a midday snack, or an after-dinner dessert.
18. Italian Almond Cake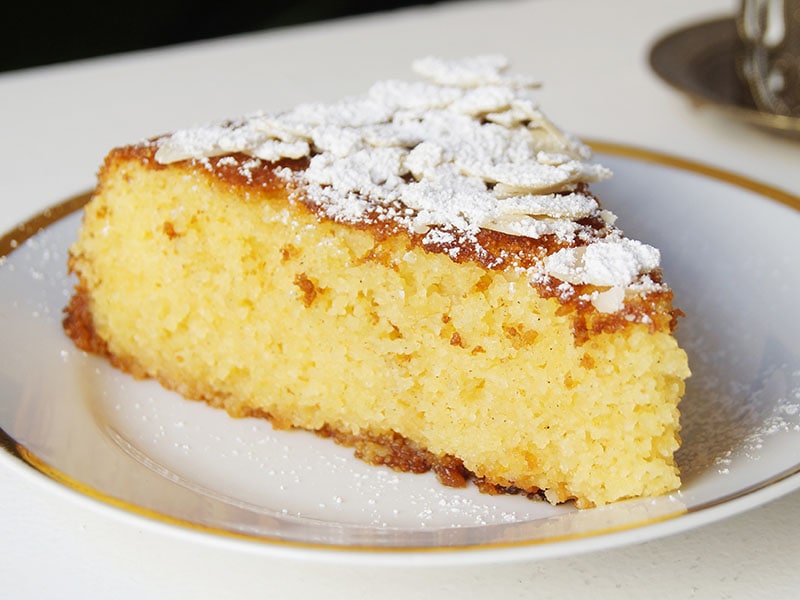 In Mantuan, a charming city nestled in the Lombardy region of Italy, one culinary delight awaits your palate – the Italian Almond Cake.
A bite into this light cake reveals a universe of flavor, where ground almonds blend seamlessly with the aroma of lemon zest. Think of a morning routine that starts with the taste of this moist, dense delight, its nuttiness harmonizing with your strong coffee.
Moreover, this humble cake is even better with a dusting of powdered sugar that subtly enhances the taste.
19. Zeppole (Italian Doughnuts)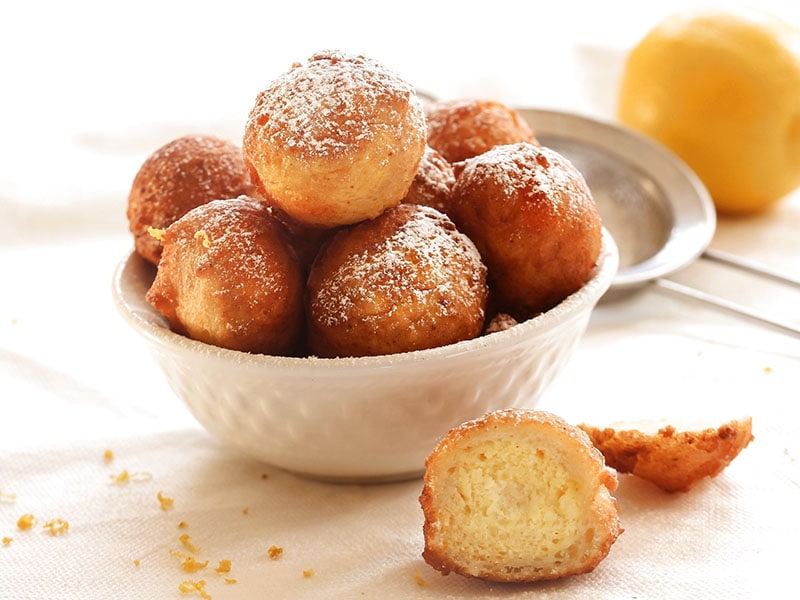 Zeppole, a delightful pastry hailing from Ancient Rome, has journeyed through the centuries to the modern tables of Italy. Redefined in the 18th century, its versatile nature allows it to take on many forms based on the region and season.
The traditional recipe conjures up deep-fried dough balls, roughly 4 inches, filled with tempting choices such as custard, jelly, cannoli-style pastry cream, or a sweet blend of butter and honey.
Each Zeppole, lightly dusted with powdered sugar, flaunts a texture that can be as airy as a cloud or puffy as bread or pasta.
Served hot, they are a celebration on a plate, making appearances on joyous occasions like Festa di San Giuseppe (Saint Joseph's Day). Sometimes, they even serve as heartwarming gifts.
20. Pangiallo (Roman Christmas Cake)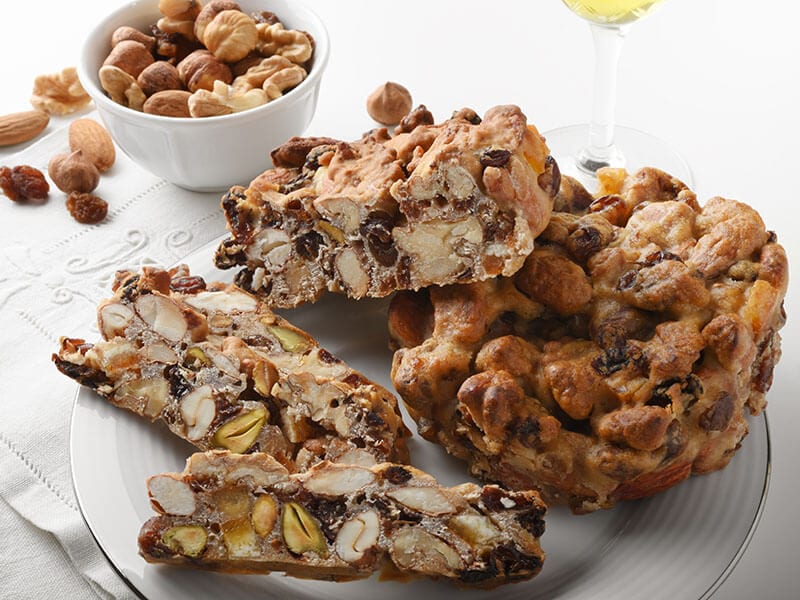 From the heart of Rome comes Pangiallo, a distinctive Christmas cake hailing from Lazio. Its creation aligns with the winter solstice, carrying a hopeful message of sunnier days returning.
Pangiallo wears its richness proudly, with ingredients such as flour, candied fruit, a medley of pine nuts, hazelnuts, almonds, walnuts, raisins, honey, chocolate, and orange and lemon peels.
For those seeking a touch more decadence, dried figs and pistachios can be sprinkled into the mix for a richer profile. Furthermore, the crowning glory is an egg batter layer, applied and baked to perfection.
21. Budino (Italian Pudding)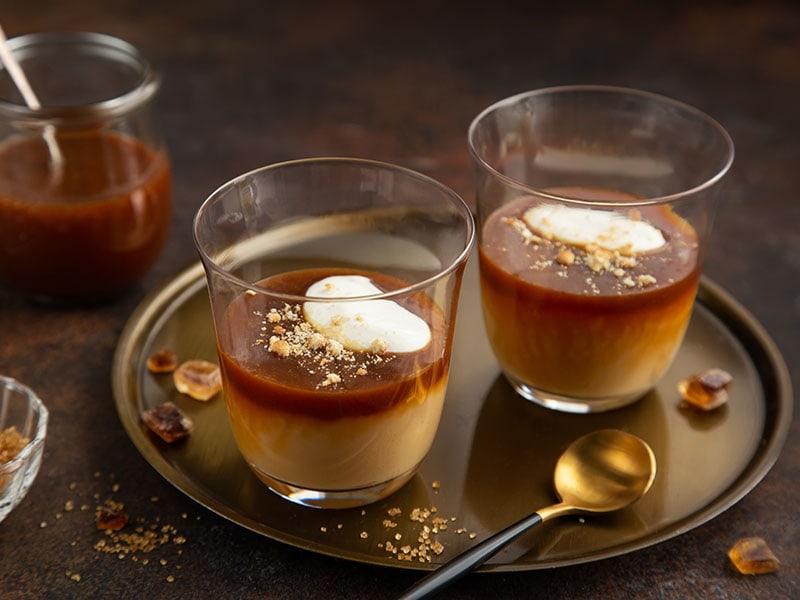 Budino, now a classic Italian dish, has a fascinating evolutionary story. Its origins trace back to medieval times when the term 'budino' was associated with a type of sausage. Time reshaped this definition; today, it's a sweet dish akin to a custard or pudding.
The Budino of the present consists of milk and egg custard and is thickened with cornstarch or cookies. Therefore, it's like a delicate dance between a soufflé and a ganache. For the sauce, coffee, caramel, vanilla, or honey are common ideas.
In the summer, a vibrant fruit compote accompanies the Budino, while a sprinkle of pistachios often completes this luxurious dessert.
22. Torta Di Carote (Carrot Cake)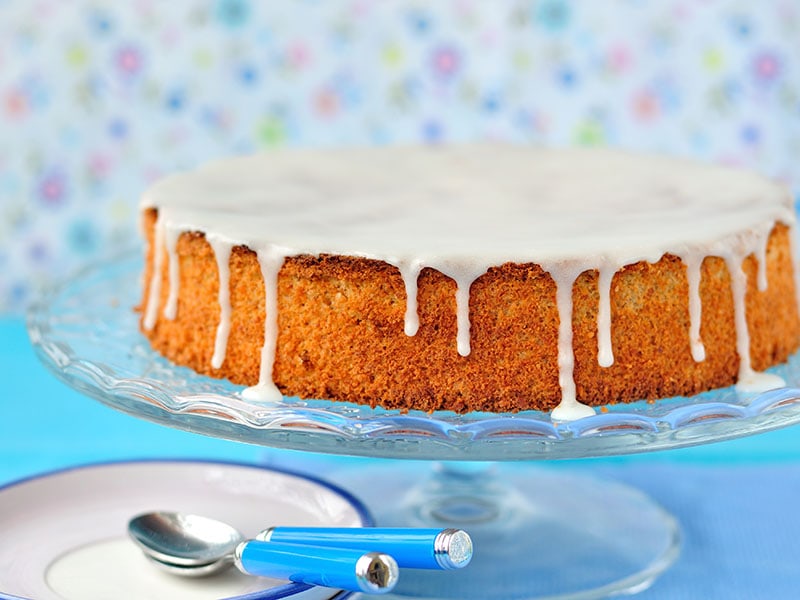 Torta Di Carote is a culinary gem from Northern Italy. It's a cake made with carrots mixed into the batter. Overall, it is a light, airy cake, remarkable for the absence of butter, oil, or dairy.
The sweetness is subtle, the flavor delicate, and beautifully enhanced by the aroma of orange zest. The finishing touch comes in the form of a gentle drizzle of warm honey.
Nothing beats the comforting warmth of a slice of Torta Di Carote served with a steaming cup of tea when the weather outside is cold and crisp.
23. Cioccolato Caldo (Italian Hot Chocolate)
Cioccolato Caldo, Italy's take on hot cocoa, is a warm beverage that centers around chocolate. The preparation involves either melted chocolate or cocoa powder, combined with heated milk or water and sweetened to taste.
Unlike the American-style hot cocoa, this Italian version has an exceptional thickness, credited to using a thickening agent such as cornstarch. Biscotti or a cookie often accompany it, complementing the rich, chocolatey flavor.
Rather than large mugs, Cioccolato Caldo served smaller quantities as is the norm in Italy. The flavor can be enhanced by adding some spices or other flavorings. To ensure it stays warm longer, locals typically serve it in a heat-proof mug.
Biscotti a Fiocco, or bow tie cookies, are a great element of Italian confectionery. They are dainty shortbread cookies with a filling, offering just the right sweet touch.
The construction of these cookies is artistic, pinching the dough at both ends to attain that charming bow tie shape. Their light texture and delicate sweetness add a lovely nuance to your coffee or hot tea time, particularly after meals.
At the dawn of a new day, these adorable treats are also wonderful alongside a glass of milk or a hot cup of tea, giving your breakfast a pleasant sweet start.
25. Clementine Cake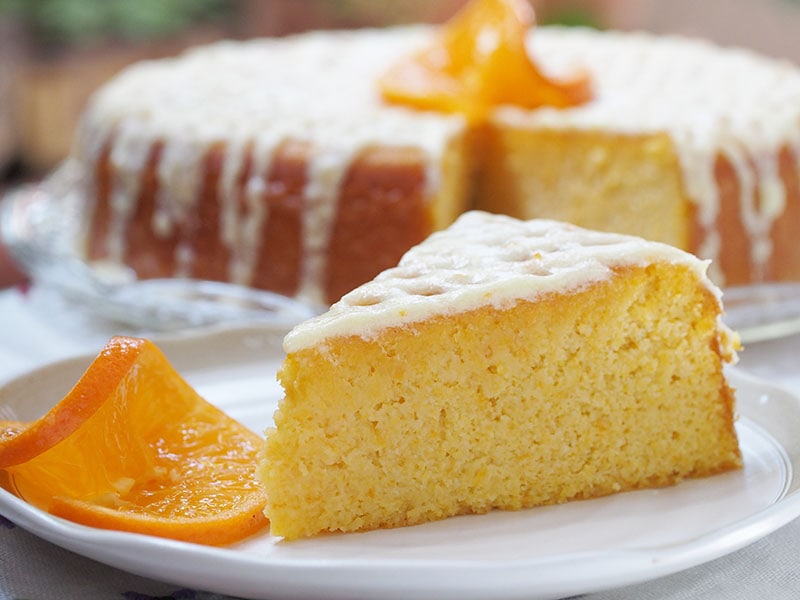 Clementine cake, as its name implies, is a cake that harnesses the zesty taste of clementines. With a lineage that might be traced back to a Sephardic orange cake, this cake is a testament to enduring culinary traditions.
The cake itself might even be flourless, a variation that adds to its uniqueness. And the texture? Expect a dense yet moist cake, a perfect backdrop for the zesty, citrus-filled flavor.
Dressing up the cake is also a part of the fun, with possibilities ranging from a sugar or chocolate glaze to a fudge or chocolate sauce, or even powdered sugar or honey.
26. Neapolitan Ricotta And Pasta Pie (Pastiera Napoletana)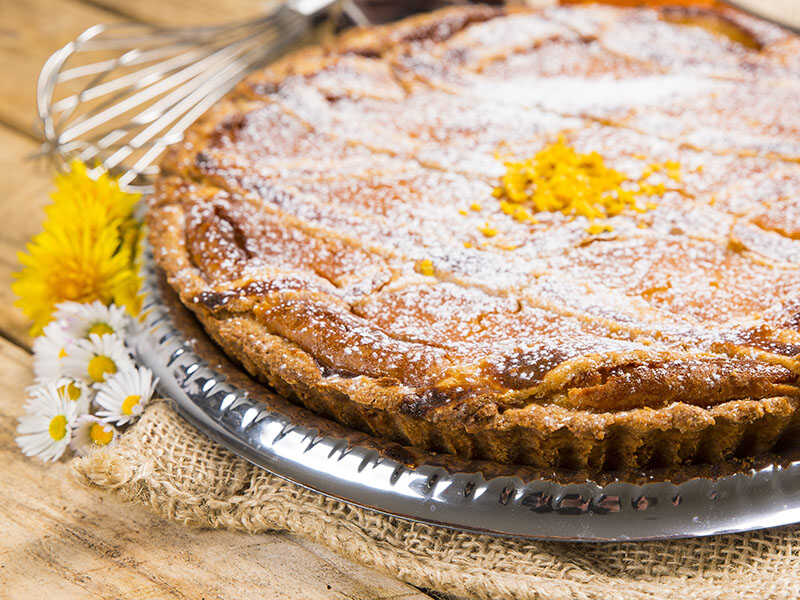 Easter in Italy is incomplete without this Neapolitan-based dessert. Known locally as Pastiera Napoletana, this popular ricotta pie has diverse regional variations.
The most recognized version comprises cooked wheat berries, ricotta, and candied fruit in a tender pie crust. But in Naples and Campania, the locals have twisted tradition and used rice or pasta instead.
Speaking of tradition, the original pastiera recipe can be traced back to the convent of San Gregorio Armeno, situated in the historic heart of Naples. It combines cooked wheat, eggs, ricotta cheese, and pasta to create a luscious pie with a tender crust.
In France
27. Tarte Tatin (French Apple Tart)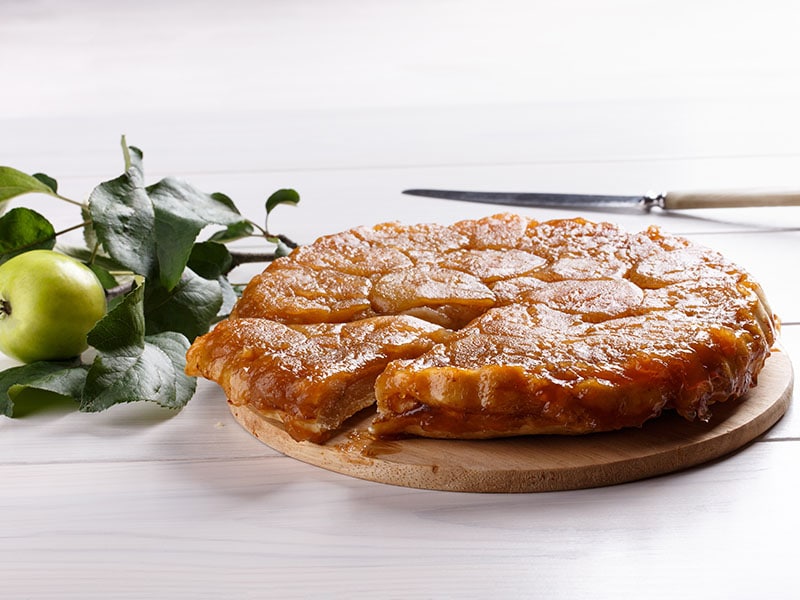 My favorite French dessert is the tarte tatin, an exquisite pastry that emerged from the Hôtel Tatin in Lamotte-Beuvron, Loir-et-Cher. This dish owes its name to the inventive Tatin sisters, who breathed life into the treat.
Like an apple tart turned on its head, apples are a common choice for caramelization in a delightful fusion of butter and sugar before the pastry enters the oven.
Regarding the flavor, the interplay between sweet and acidic notes sets this dessert apart. The pastry also has a buttery taste with a faint hint of saltiness, which I find particularly captivating.
To enjoy it at its best, serve your cake straight from the oven when it's still warm. But if it cools down to room temperature, don't worry, Tarte Tatin still retains its charm.
28. Les Crepes (French Crepes)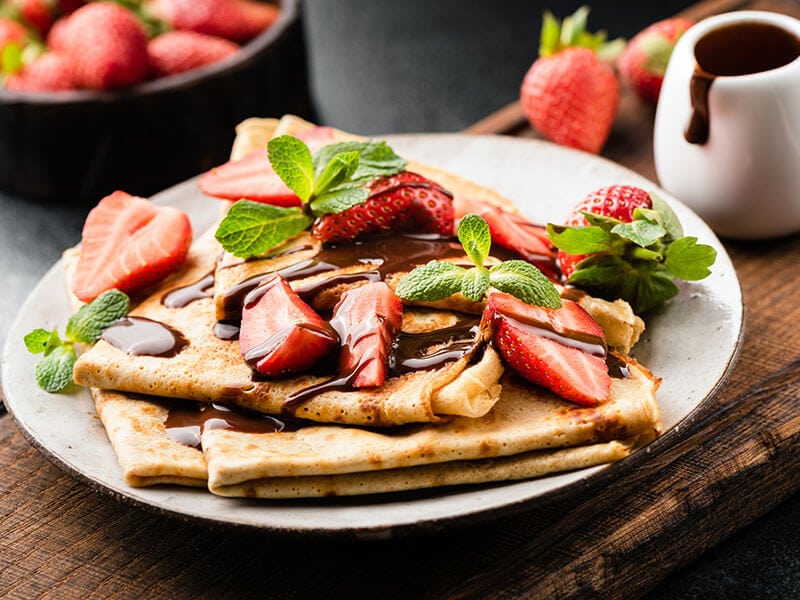 Crêpes are a type of very thin pancake that hails from France. From my experience, it is easy to make.
It is a mixture of flour, eggs, milk, salt, and butter – the base of every crêpe recipe. In the old days, people would even use beer or wine instead of milk to create the crepe batter.
There are two mouth-watering varieties, sweet crêpes (crêpes sucrées) and savory galettes (crêpes salées), and the filling options are endless, from cheese, fruits, and vegetables to meats and all sorts of spreads.
The Crêpes Suzette, flambéed to perfection, always gives me a warm, fuzzy feeling. When I was in France, I learned that these delightful pancakes are traditionally served on Candlemas (La Chandeleur), a Christian holiday celebrated on February 2.
In addition, Crêpes are fast to cook, just 20-30 seconds each side for that beautiful golden brown color. Therefore, they are perfect for a quick meal or snack.
29. Souffle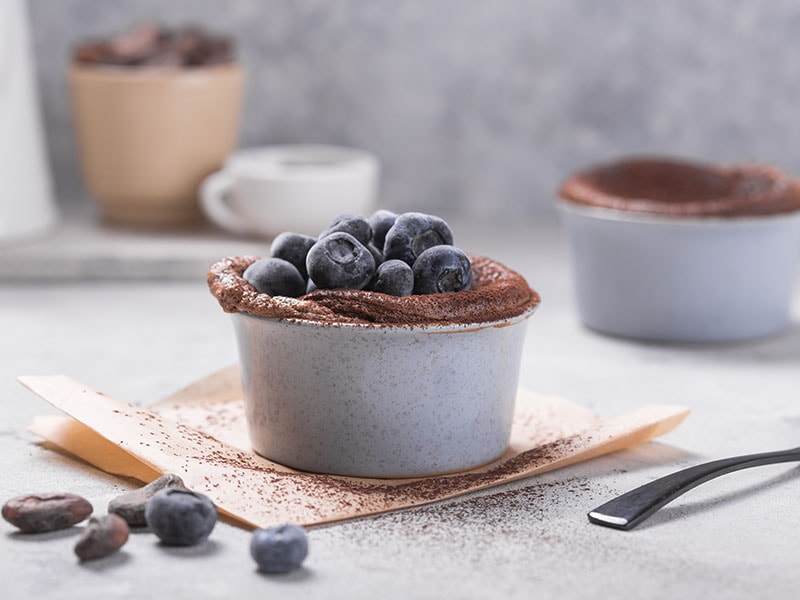 Soufflé is an exquisite cake from France dating back to the 18th century. This egg-based marvel can be either a savory centerpiece or a sweet dessert.
To bake it, I use ramekins and coat them with a thin film of butter to prevent the cake from sticking. A perfect soufflé is brown, puffed-up, and fluffy.
By serving it with a divine sauce on top, accompanied by the side of sorbet or ice cream, you will upgrade this treat to a high level. And those savory soufflés – with cheese and vegetables – are an experience in and of themselves.
30. Chocolate Ganache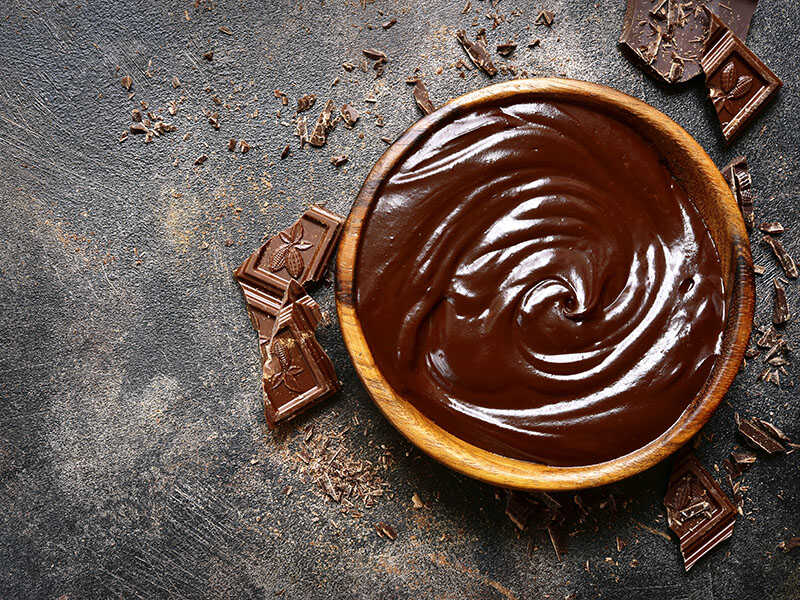 In 1869, Parisian playwright and confectioner Paul Siraudin brought into existence a true marvel – chocolate ganache. Its creation is a simple process of whisking cream and chocolate together until they reach your desired consistency.
This versatile mixture serves multiple purposes – from glazing cakes to creating a fluffy frosting or filling delicious truffles.
Made with dark chocolate, it carries a rich, deep flavor that's absolutely intoxicating. On the other hand, using milk chocolate renders it creamier and a bit sweeter.
31. Poire à La Beaujolaise (Poached Pears)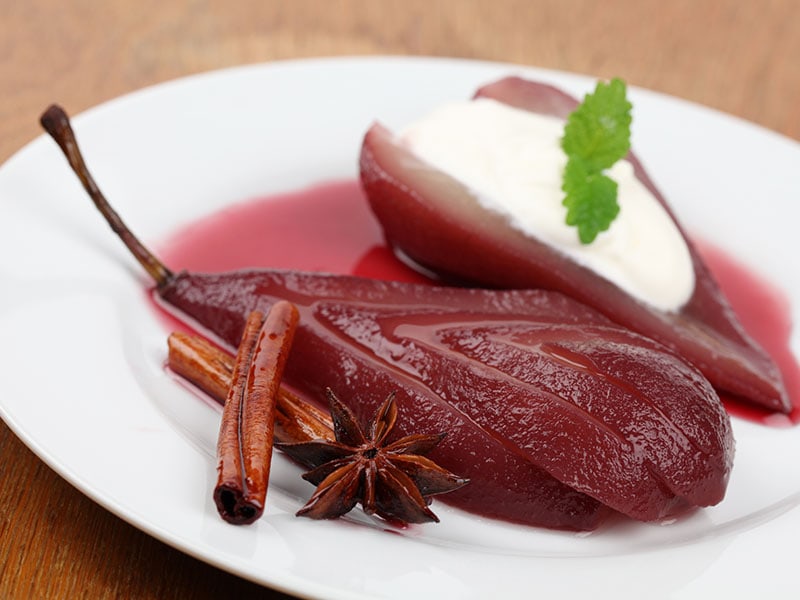 Poire à La Beaujolaise, a classic dessert from the wine-rich region of Beaujolais, embodies the culinary spirit of Burgundy and Lyon. It's an elegant sweet course that marries simple pears with robust flavors.
The dish begins with a pan filled with red wine and sugar, cinnamon, and cloves. As the mixture bubbles away, the pears lose their firmness, turning tender and wrinkled. Simultaneously, they take on a radiant, almost translucent, ruby hue from the wine.
The concoction is gently boiled and drained, reducing the wine to a concentrated, intensely flavored syrup. An undercurrent of sweetness from added sugar or honey, spice from peppercorn and cinnamon, and a hint of citrus from orange zest.
Once cooled, the dish reveals its silky, buttery texture, ready to be savored cold or slightly warm.
32. Parfaits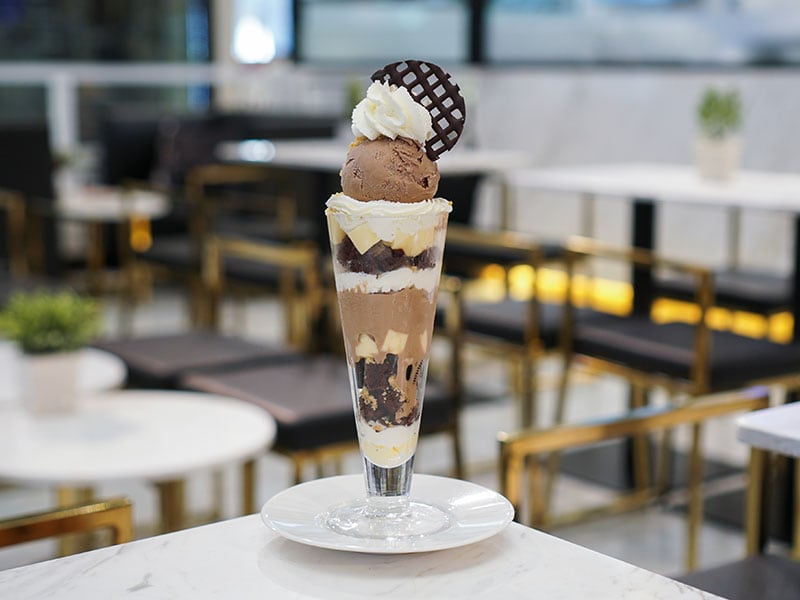 Parfaits, hailing from France, are a dessert traditionally crafted from sugar syrup, egg, and cream, This blend results in a puree reminiscent of custard or meringue.
The richness of the dessert – a balance of fat, sugar, and a touch of alcohol – facilitates its formation, requiring only occasional stirring while freezing.
While they're commonly swirled with various additions, like fruits, nuts, or coffee, these elegant concoctions aren't limited to sweet treats. With savory ingredients, Parfaits also comes with seafood, vegetables, and foie gras variants.
Initially presented on decorative plates, modern Parfaits are typically assembled in tall, slender flute glasses, showcasing their delightful layers.
This dessert is so popular that it even has its dedicated holiday in the United States, which is National Parfait Day, celebrated annually on November 25.
33. Macarons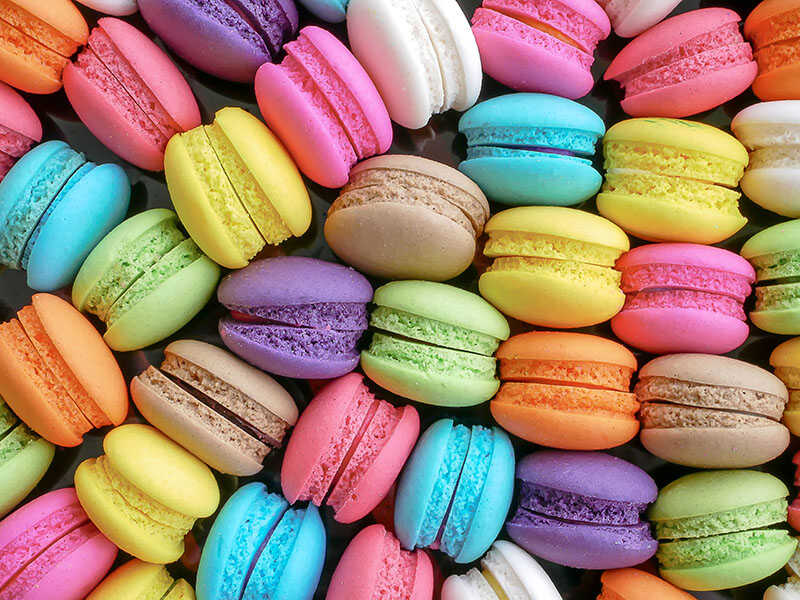 Macarons have quite a history, beginning in Italy and journeying to France via Catherine de' Medici's marriage to King Henry II. They found fame during the French Revolution thanks to the Macaron Sisters of Nancy.
I adore these yummy sandwich cookies because of their crispy shells encasing a smooth ganache or buttercream filling. The filling is made from egg white, sugars, almond meal, and food coloring.
Upon the first bite, a slightly chewy, light crust welcomes you before revealing a soft center. The blend of textures is a joy to the palate, as is the variety of flavors. From fruity to caramel, chocolate, pistachios, and jams, each macaron introduces a new taste experience.
34. Fougasse Bread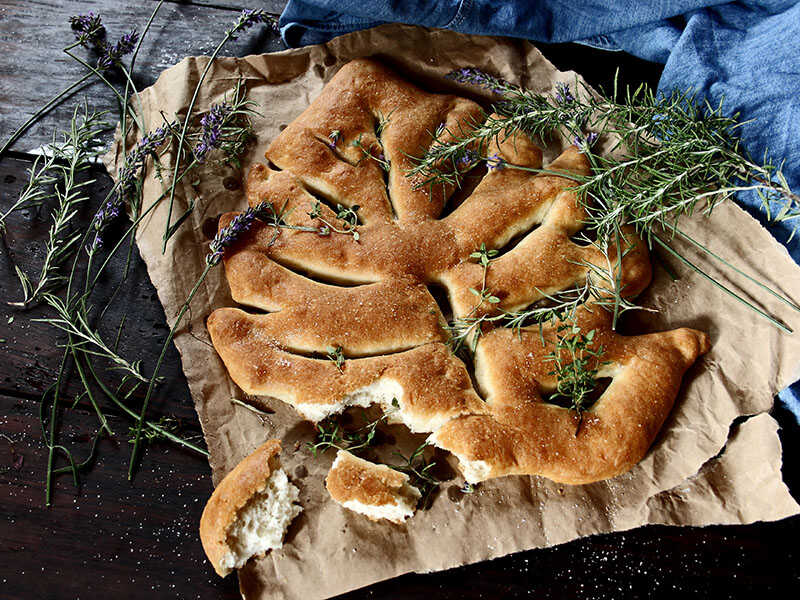 Fougasse bread is like the French cousin of Italian Focaccia. Originating from Provence, this beautiful delight is more than just a piece of bread. It's a blend of fresh herbs and quality olive oil, with added extras like chopped olives, lardons, and cheese.
It has a crisp crust yielding a soft interior. The top is lightly salted, highlighting the fragrant herbs baked within. Visually, Fougasse can be a piece of edible art, too, often slashed into a pattern that mimics a wheat head.
Historically, bakers used this dough to gauge a wood-fired oven's temperature, proving its utility and taste. It even serves as the French take on Calzone.
35. Fruit Compote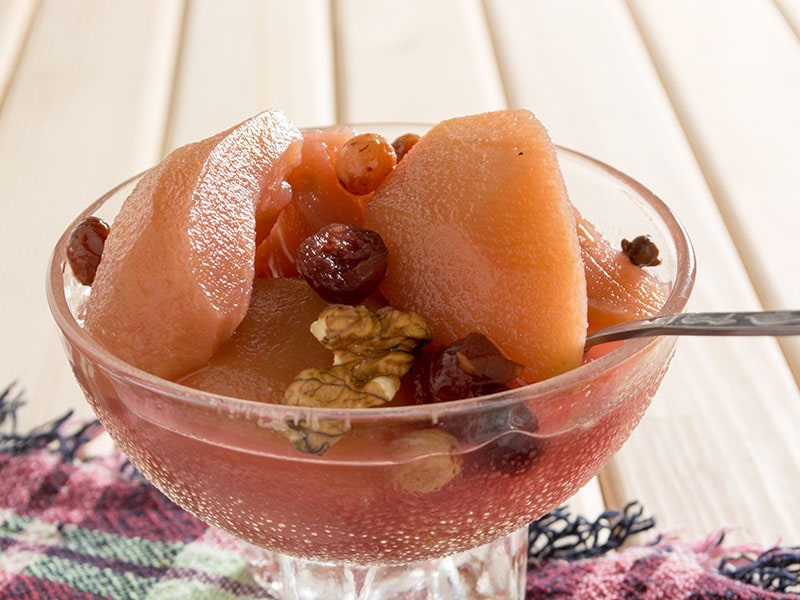 Fruit compote, rooted in medieval Europe, is a delicious assembly of diverse French fruits. The name stems from the Latin 'compositus', signifying a mix, which perfectly sums up this dish.
In modern French, it refers to unsweetened fruit purée without chunks. It contains whole or pieced fruits, simmered gently in a bath of sugar syrup and spices along the way.
Its flexibility is a bonus, as it can incorporate a range of seasonings, from citrus peels, cinnamon, cloves, to exotic additions like ground almonds or candied fruit.
In some Eastern European traditions, dried ones are ideal additions. Enjoy it warm or chilled; it's a dessert that comforts all senses.
Bonus tip: the remaining syrup isn't to be wasted – it makes for a delightful drink!
In Turkey
36. Kadaif / Kadayif (Thin Turkish Noodles)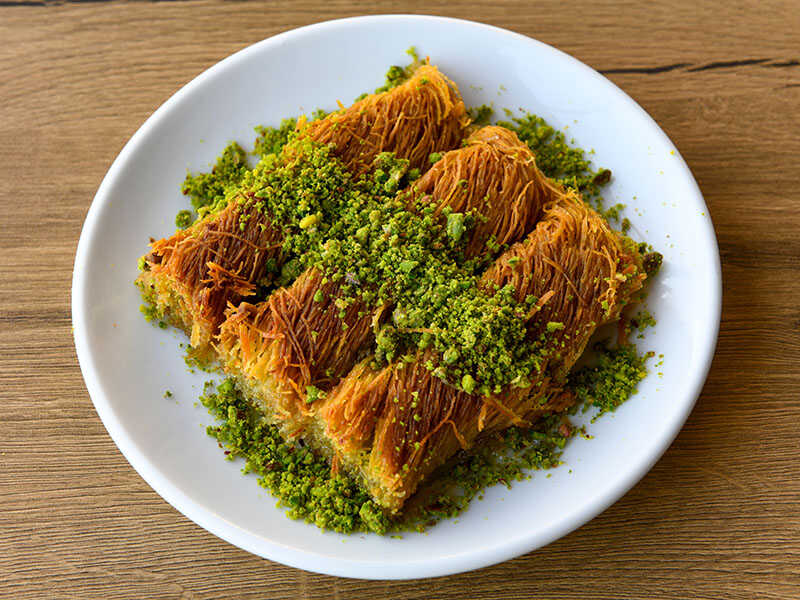 Kadaif is a treasure in the list of Turkish desserts and takes center stage during Ramadan. Its popularity spreads beyond Turkey, finding a place in various Mediterranean and Middle Eastern desserts.
Picture finely shredded filo dough, comparable to angel hair pasta in thinness, housing a rich filling of chopped nuts. Regarding the nuts, they could be pistachios, almonds, or walnuts.
Once filled and baked, this pastry turns a pleasing shade of golden brown, announcing its delicious crispiness. And then, it meets a sweet syrup, soaking up moisture and flavor, making it even more appealing.
Paired with a warm cup of tea or coffee, it's a dessert that can surprise your taste bud.
37. Kazandibi (Turkish Burned Milk Pudding)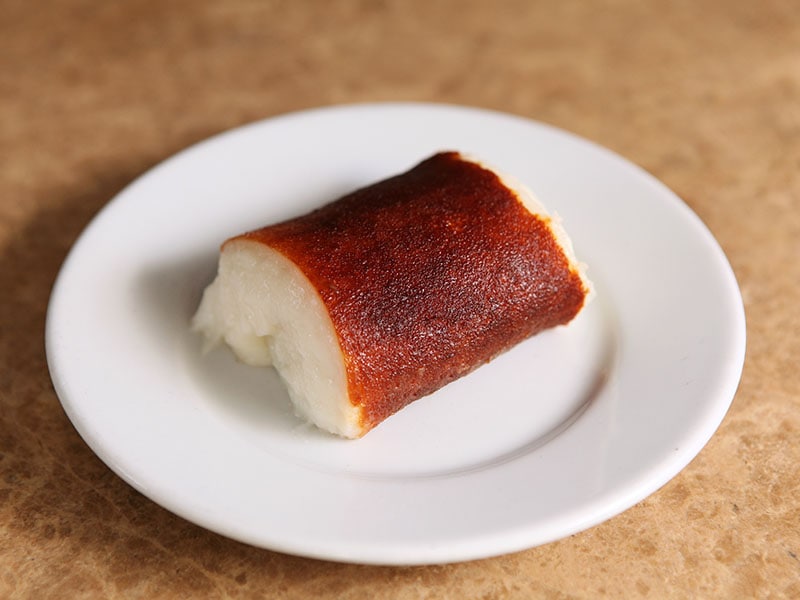 Kazandibi, a charmingly caramelized milk pudding, is a culinary gift from the Ottoman Palace's kitchens. Akin to Crème Brûlée, this pudding is a go-to dessert in Turkish cuisine today.
The recipe blends butter, milk, cream, sugar, and starch together, adding a dash of flavor with vanilla or ground mastic gum.
A special characteristic of Kazandibi is its origin from Tavuk göğsü, a milk pudding. But the twist is in the caramelization of the bottom, giving it that much-loved burnt sugar taste.
There's also an alternative version that uses Muhallebi (milk pudding). The dessert leaves a hint of burnt sugar and cinnamon lingering in your mouth, blending with the soft, creamy milk texture.
38. Cezerye (Turkish Carrot And Walnut Bars)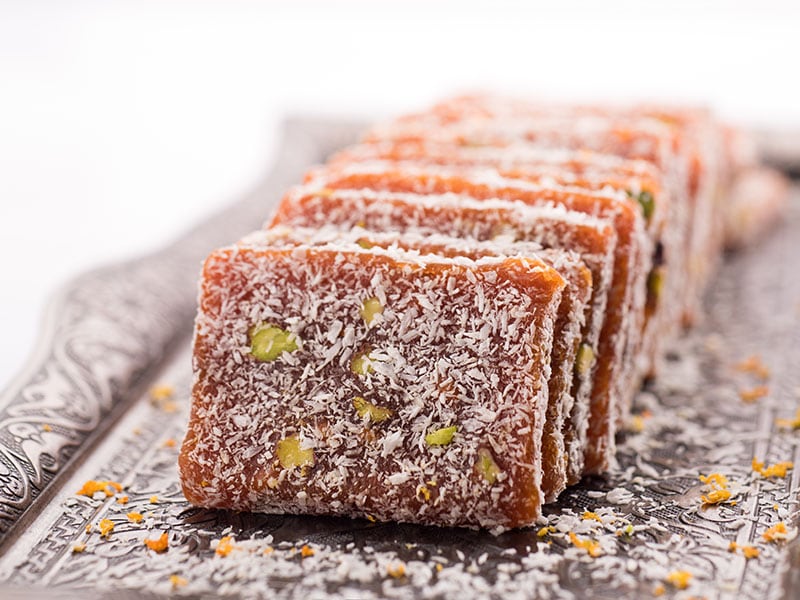 Mersin, a Turkish province, is the birthplace of Cezerye. This is a semi-gelatinous dessert that plays a central role in Turkish tradition. It starts with caramelized carrots paired with shredded coconut and a choice of roasted walnuts, hazelnuts, or pistachios.
It's fascinating that this dessert takes its shape into matchbox-sized rectangular chips. Special occasions get a bit more special with Cezerye on the dessert table.
In the creation process, grated carrots cozy up with sugar for roasting and then join forces with coconut powder. The dessert comes alive when shaped into balls or flattened into rectangular disks.
Finally, a covering of shredded coconut gives it that final touch, ready for joyful consumption.
39. Lokum (Turkish Delight)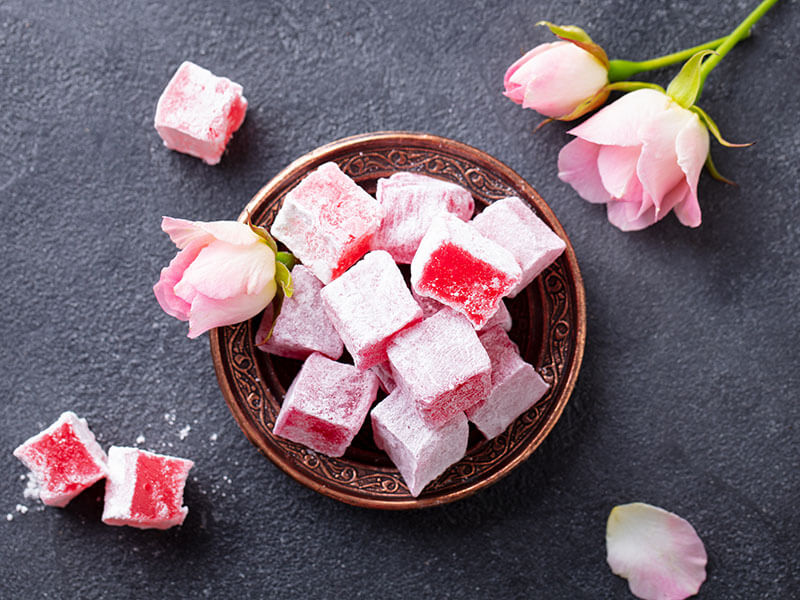 Lokum, known as 'morsel' or 'mouthful', traces its history back to the late 18th century. This family of confections has a distinct story that begins with Bekir Affendi's arrival in Istanbul from Anatolia in 1777. The tale then intertwines with the culinary cultures of Turkey and Iran (Persia).
Lokum is a gel of starch and sugar that heartily embraces chopped dates, pistachios, hazelnuts, or walnuts. This confectionery can wear various flavors, with rosewater, mastic gum, bergamot orange, or lemon being some of the beloved choices.
The final product is a bite-sized cube neatly packaged for effortless consumption. An enchanting dusting of icing sugar, copra, or powdered cream of tartar ensures that no piece sticks to another.
How about its texture? Think of a dreamy cross between a homemade marshmallow and soft jelly.
In Egypt
40. Om Ali (Egyptian Bread Pudding)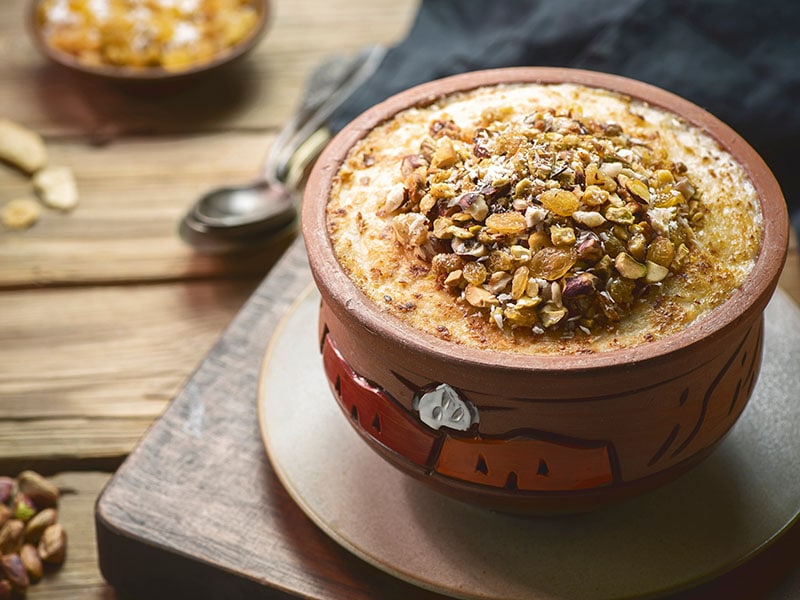 Om Ali, or Umm Ali, is a national dessert in Egypt whose history dates back to medieval times. The name, translating to "Mother of Ali," honors the Sultan's wife.
The pastry blend with pistachios, coconut flakes, sugar, and raisins creates an intricate dance of textures and flavors. Plus, it has a very attractive color with a baked golden-brown crust.
On the other hand, a sprinkle of cinnamon adds a dash of spice, enhancing the dessert's overall flavor. What makes Om Ali special is its egg-free recipe, making it distinct from bread and butter pudding. You can relish it hot or cold, as per your preference.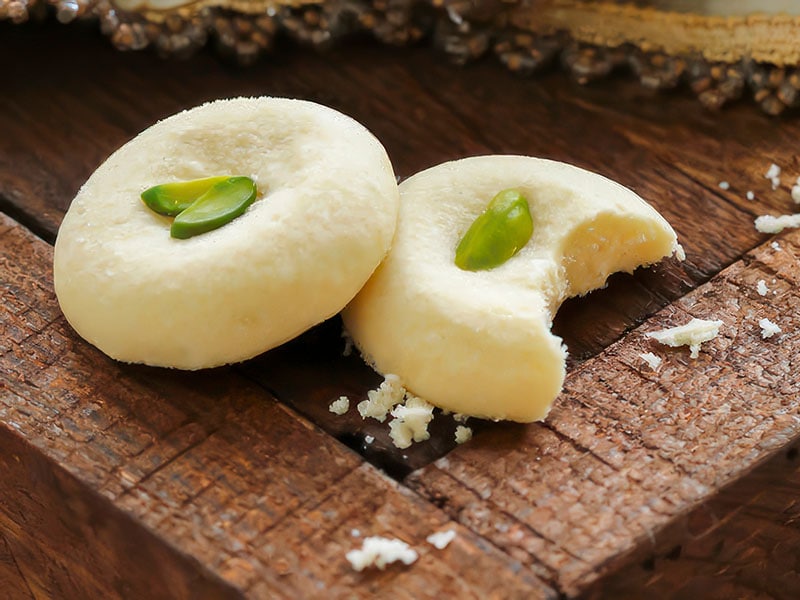 In the Middle East, Ghraybeh or Ghorayeba is a shortbread cookie. These sweet delights are crafted using just three ingredients: flour, ghee (or clarified butter), and powdered sugar.
The simplicity of the recipe belies the rich, buttery flavor they bring. Each cookie bears a nut at its center, offering a delightful crunch. The exterior of these cookies has a subtle crispness, but the moment it meets your lips, it simply melts away.
These cookies take center stage around special occasions like Ramadan and Eid, ready to charm guests. What's better, their freshness lingers so you can savor them for an extended period.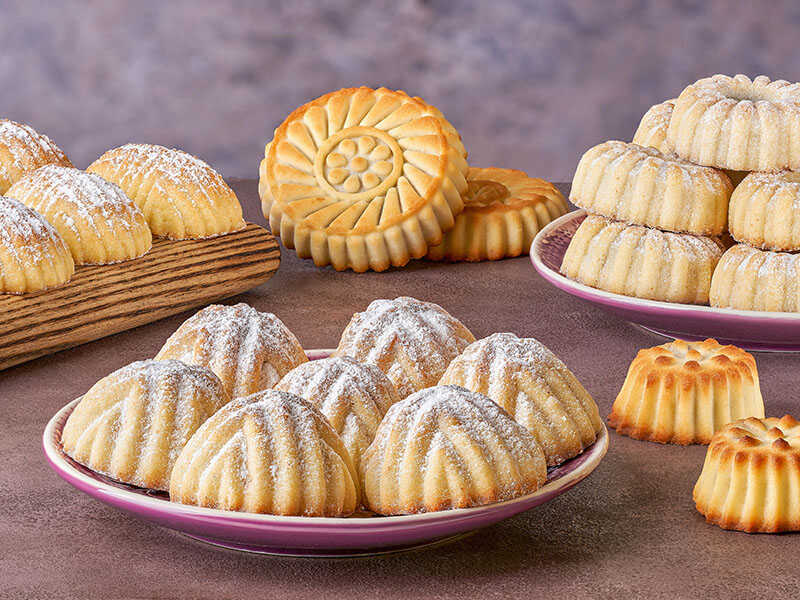 Maamoul is the filled butter cookie that holds popularity across the Arab world. The dough, made with semolina flour, is a sweetness-free canvas ready for the rich filling.
This filing is a medley of dried fruits, like dates or figs, or nuts, such as pistachios, walnuts, and sometimes almonds. These cookies' shapes are as diverse as their fillings – from balls to domes or flattened forms.
During festive occasions like Easter, Purim, and Eid, Maamoul is always ready to serve and please. It's particularly linked with Eid Al-Fitr and iftar celebrations (2). Dusted lightly with icing sugar, they pair well with Arabic coffee or chocolate drinks.
In Other Mediterranean Countries
43. M'Hanncha (Moroccan Snake Cake)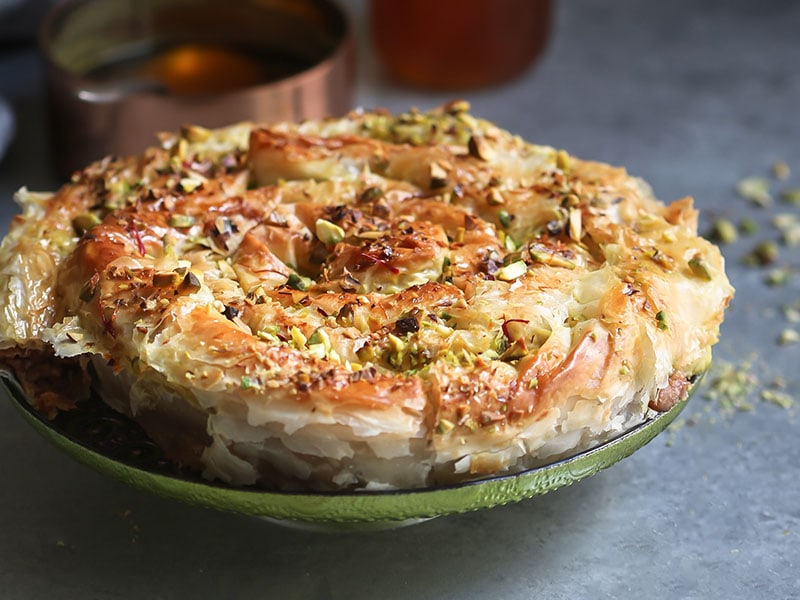 M'Hanncha is a whimsical Moroccan sweet treat called Snake cake. It earns the serpentine moniker from rolled warqa (a specific type of phyllo pastry), which is more resilient and sticky than its standard counterpart, fashioned into a mesmerizing spiral.
The resulting texture of the pastry is a captivating balance of moisture and crunch. To cater to the sweet cravings, a rich filling is incorporated, mostly comprising almond paste. Still, it doesn't shy away from alternative fillings like cinnamon, butter, sugar, and orange flower water.
You might notice a dusting of ground almonds or powdered sugar on top, giving it a bit of decorative flair while enhancing its sweetness. With its distinctive sweet and aromatic character, M'Hanncha is a perfect companion for a relaxing break with a cup of tea or coffee.
44. Pastel de Nata (Portuguese Egg Custard Tart)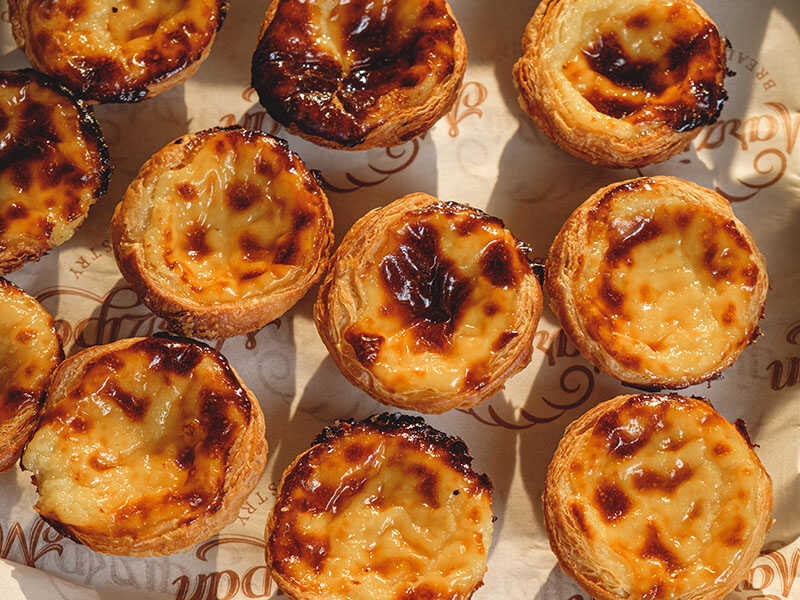 Pastel de Nata, or Portuguese egg custard tart, is nothing short of a national treasure. Singularly standing out as Portugal's most adored sweet delight, it embodies doçaria conventual, or conventual sweets – a signature aspect of Portuguese desserts.
The creation of these golden, creamy treats goes back to the 18th century, born in the confines of the Jerónimos Monastery in Lisbon. A surplus of egg yolks, leftover from using egg whites to starch vestments, was ingeniously put to use by monks and nuns.
Today, these custard tarts combine a caramelized top and a golden-brown crust, housing the star – an egg-yolk-rich custard center.
Among the many places to savor this sweet marvel, the pastry shop Pastéis de Belém in Lisbon is one of the most popular spots for enjoying Pastel de Nata.
45. Imqaret (Maltese Date-Filled Pastry)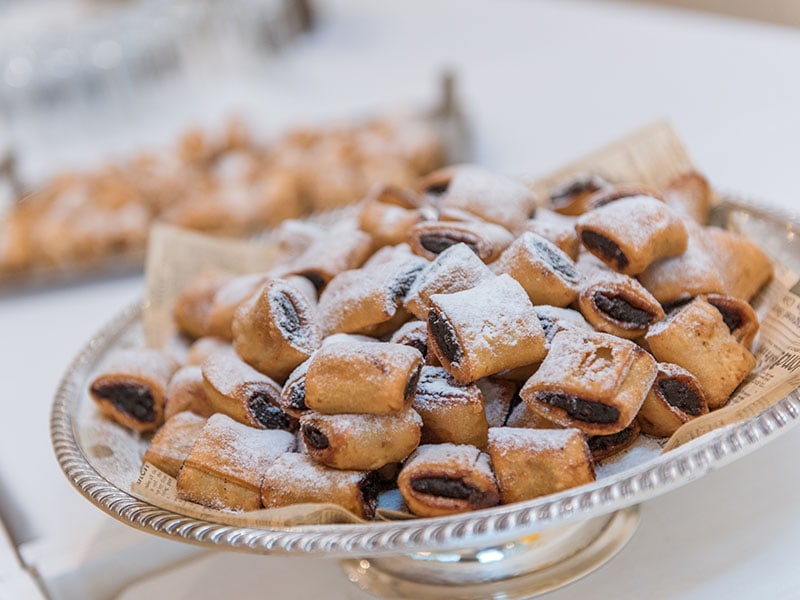 Imqaret is a Maltese date-filled pastry with its roots in Arabic culinary tradition. That's why it shares similarities with the Middle Eastern dessert Makroudh.
You'll easily come across this enticing offering in Malta, where locals know it as 'im-ar-et'. This dessert's goodness lies in its thin pastry, which is generously filled with a concoction of dates, spices such as bay leaves and aniseeds, and a hint of citrus.
Once this is done, the pastry takes a dive into hot oil for deep frying. Available in diamond or rectangular forms, this sweet sensation can sometimes be served alongside ice cream or tea, elevating the overall gastronomic experience.
Quick fact: The name Imqaret literally translates to 'diamond.'
46. Kremna Rezina (Slovenian Cream Cake)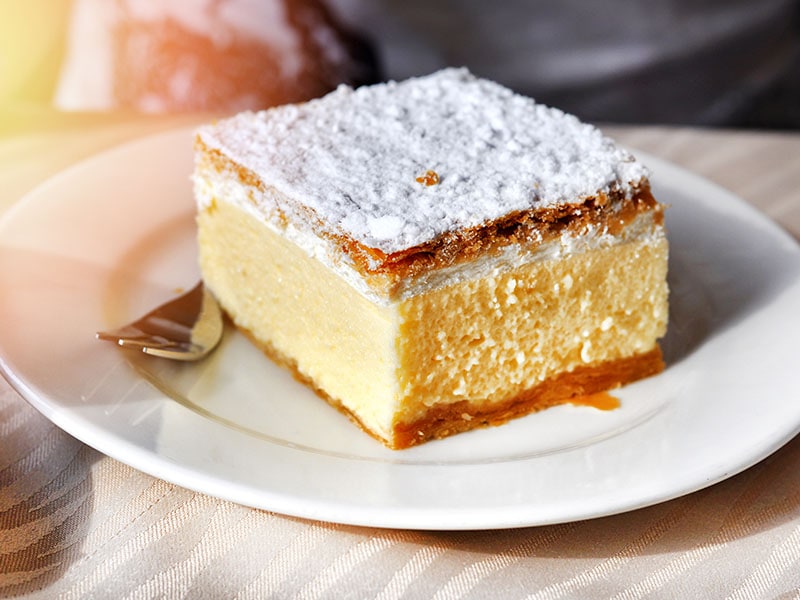 Bled, a famous Slovenian resort town, is not just loved for its stunning lake; it's also the birthplace of Kremna Rezina (or Kremšnita). This dessert debuted in 1953 when a talented pastry chef at Sava Hoteli Bled crafted it, possibly channeling inspiration from age-old pastry recipes.
Now, this cake has proudly held its position as an iconic Slovenian creation for decades. Its construction is quite the sight: a crispy, buttery puff pastry base that acts as a bed for two lush layers – one of vanilla custard, another of whipped cream, all topped off with a delicate layer of dough.
This masterpiece is usually cut into neat squares and adheres strictly to a golden rule: it's always served fresh, ideally within 16 hours of its making.
47. Madjarica (Croatian Layer Cake)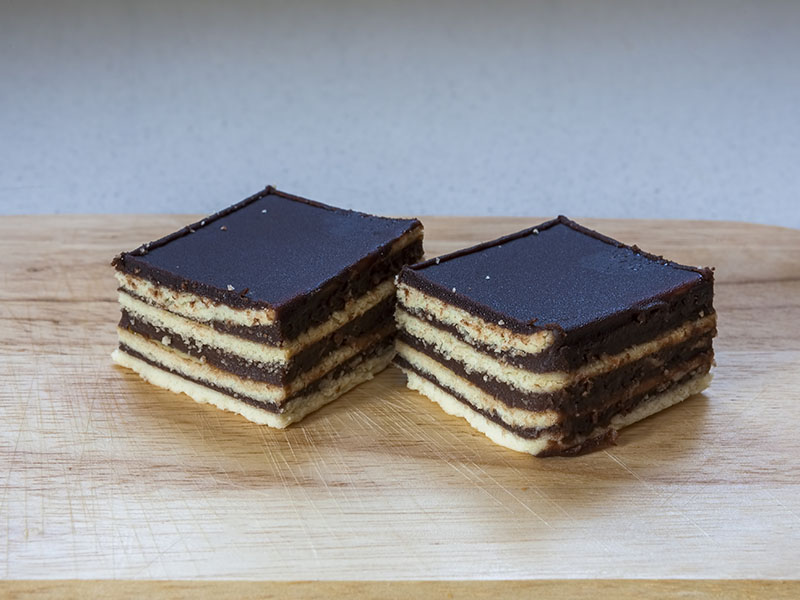 Madjarica (aka Mađarica) has roots likely tracing back to Hungary. This Croatian sweet course is a layer cake behold at special celebrations, particularly Christmas. The name itself, meaning 'Hungarian girl,' hints at its cross-border cultural heritage.
Madjarica has distinct layers, creating a visual treat with a delightful interplay of light and dark hues. The darker layers owe their rich color to the generous infusion of dark chocolate cream.
48. Shendetlie (Albanian Walnut Cake)
Shendetlie is a dessert gem in Mediterranean cuisine, especially in Albania. Its popularity surges during Christmas, when it adorns festive tables across Albania. FYI, the name Shendetlie translates to "health."
Overall, this lovely sweet course stands out as a cross between a cake and a biscuit. It is crafted from flour, butter, honey, and walnuts. It's soaked in sugar syrup, yielding a delectably sweet flavor.
In addition, it is fairly similar to Greek Ravani. For the best experience, just pair Shendetlie with a cool glass of white wine. It also goes nicely with orange juice or citrus juice, elevating its intricate taste profile even further
49. Soutzoukos (Grape Juice-Based Sweet)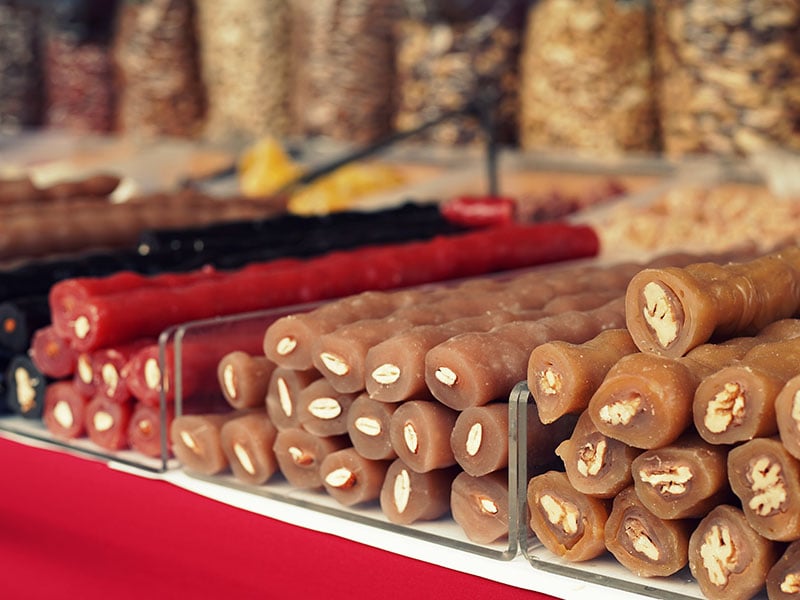 Soutzoukos are popular in Cyprus, Greece, and even as far as Georgia, where it takes the name Churchkhela.
Created with grape must, a mix of freshly crushed fruit juice and other fruit components, flour, and a selection of nuts, it is a sweet delight without a single grain of sugar.
Walnuts, hazelnuts, almonds, and occasionally raisins make the nutty core, artfully threaded together with a cotton thread. The masterpiece comes to life as these nut strands are repeatedly bathed in grape must and flour mixture and then left to dry.
The outcome is a vegan dessert with a chewy texture, brimming with natural sweetness without using sugar. And the elongated appearance is similar to a candle or sausage.
50. Namoura (Semolina Cake)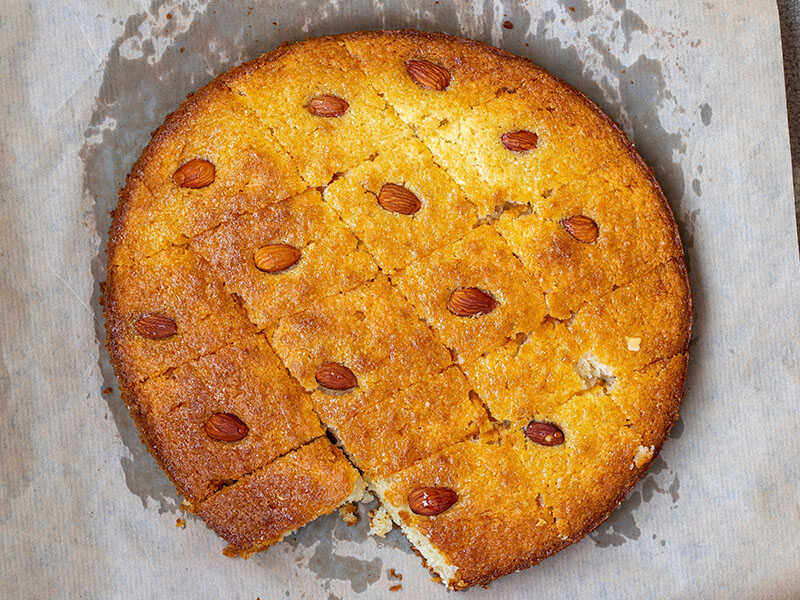 Namoura, recognized by various names like Basbousa, Revani, and Shamali, originates from Egypt. Its popularity is widespread, found from Greece to Lebanon, North Macedonia to Turkey. Notably, this sweet temptation often marks its presence during Ramadan.
It's an eggless dessert with a sandy yet moist texture while filling your senses with a pleasantly sweet flavor.
This is a blend of semolina, butter, and sometimes yogurt. This dessert is also loved with aromatic orange flower water or rose water, adding a subtle floral note. After baking, each diamond or square piece is lavished with simple syrup, and a single almond embellishes the top.
51. Tamriyeh (Palestinian Semolina Pudding)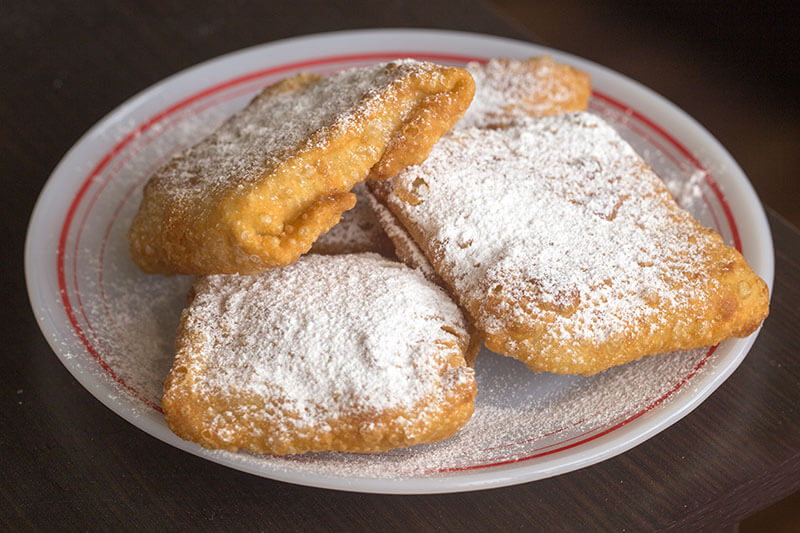 From the historic Palestinian city of Nablus in the West Bank, Tamriyeh is an appealing dessert feast for the senses. The exterior is crafted from phyllo dough, fried to golden, that offers a contrast of stringy crispiness.
The interior is made from semolina, cleverly flavored with mastic gum, and infused with the floral tones of orange blossom and rose water.
Tamriyeh gets a final touch with a garnishing of pistachio powder and powdered sugar for that extra bit of elegance. Despite the richness, it's a dessert that isn't overly sweet. Best served hot, this dessert combines an amazing play of textures and flavors.
52. Bjawia (Tunisian Pastry Filled With Pistachios)
Bjawia is a delicacy from Sfax, a Tunisian city famed for its olive and nut production. This is a distinctive pastry brimming with crushed almonds, walnuts, pine nuts, hazelnuts, and the star ingredient – pistachios.
This extraordinary combination of roasted dried fruits and nuts gives it a rich flavor profile. The preparation is meticulous, too! All these elements are held together by a delightful syrup, skillfully made from rose water, sugar, lemon juice, and vegetable oil.
The final touch is a generous coating of crushed pistachios, adding a beautiful green hue to Bjawia. Due to these ingredients' appearance, Bjawia was considered a luxury. However, today it's a special dessert available across Tunisia.
53. Griwech (Algerian Deep-fried Pastry)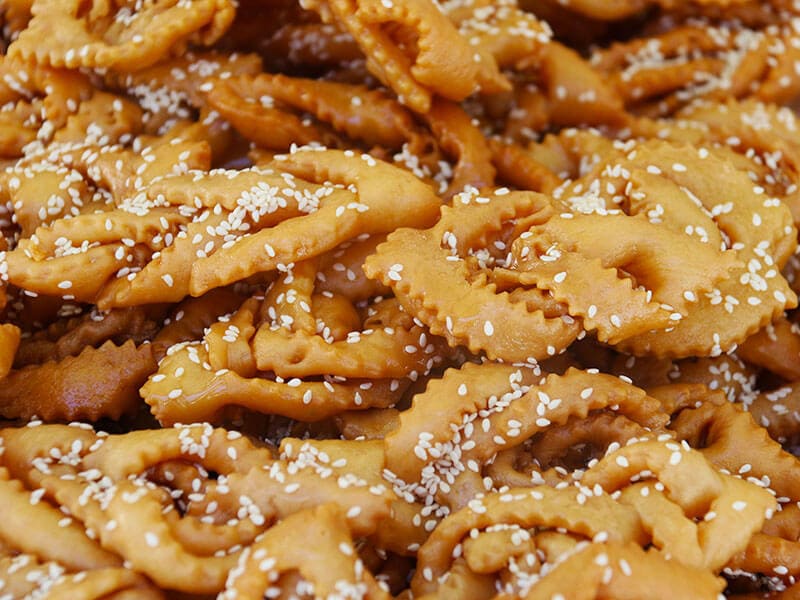 Griwech, a pastry with roots in Ottoman cuisine, has grown in popularity across North Africa, particularly in Algerian cities like Oran and Tlemcen.
Known by other names such as Chebakia or Shebakia, Griwech has a special place in culinary celebrations and occasions like weddings, Ramadan, and other Muslim festivities.
The making involves deep-frying dough in oil before bathing it in a syrup of honey and aromatic orange blossom water. The final masterpiece is sometimes adorned with a coat of sesame seeds, adding an extra crunch to each bite.
Moreover, it is light, fluffy, and pleasantly crispy. The creative part is the variety of shapes that Griwech takes on, from intricate roses, braids, and bows to windmills and cobs.
54. Burbara (Wheat Berry Pudding)
Burbara, a vegan Middle Eastern dessert, carries the richness of tradition, culture, and storytelling within its humble ingredients. This porridge-like delicacy blends boiled wheat berries with sugar, spices like anise, cinnamon, fennel seeds, and various dried nuts.
A sprinkle of pomegranate seeds adds an unexpected tartness and beautiful color contrast. The story behind Burbara pays tribute to Saint Barbara, who, legend has it, eluded her Roman pursuers in a wheat field.
As the story goes, the wheat grew tall behind her, masking her path and saving her life. To honor this tale and Saint Barbara's resilience, Middle Eastern Christians, especially in Lebanon, Turkey, and Jordan, celebrate Eid il-Burbara, or Saint Barbara's Day, on 4th December (3).
In addition, a bowl of Burbara serves as a sweet to imply the arrival of the Christmas season.
55. Bourekas (Israeli Baked Pastry)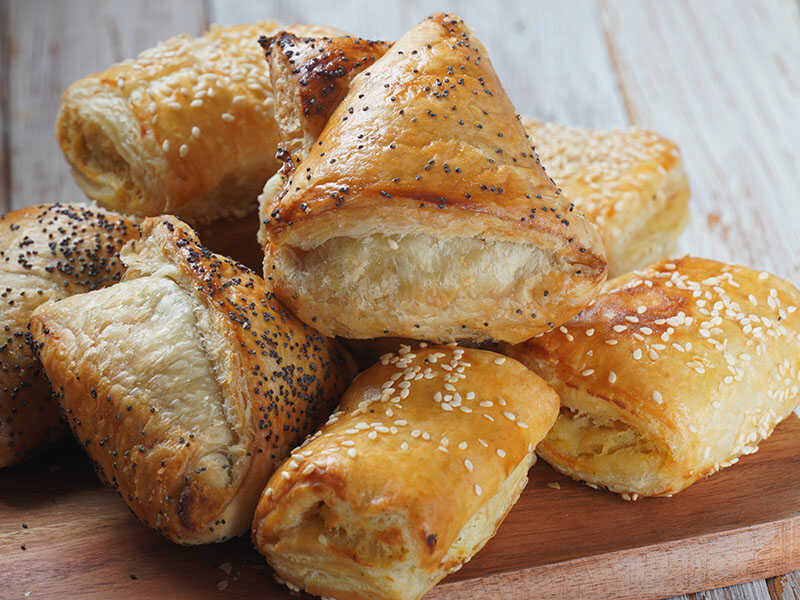 Sweet Bourekas pastries are often filled with Muhallebi (mild pudding) or sweetened fruits, are a highlight of my breakfast, or a perfect companion for afternoon tea. A well-crafted Boureka boasts a flaky puff pastry exterior, which encloses the filling in a comforting embrace.
The sweetness of the fillings contrasts beautifully with the slight saltiness of the pastry. For better taste, drizzle it with orange blossom-scented syrup before serving.
Moreover, Bourekas are also available with savory fillings. Regardless of what you choose, they all deserve a try.
56. Crema Catalana (Catalan Cream)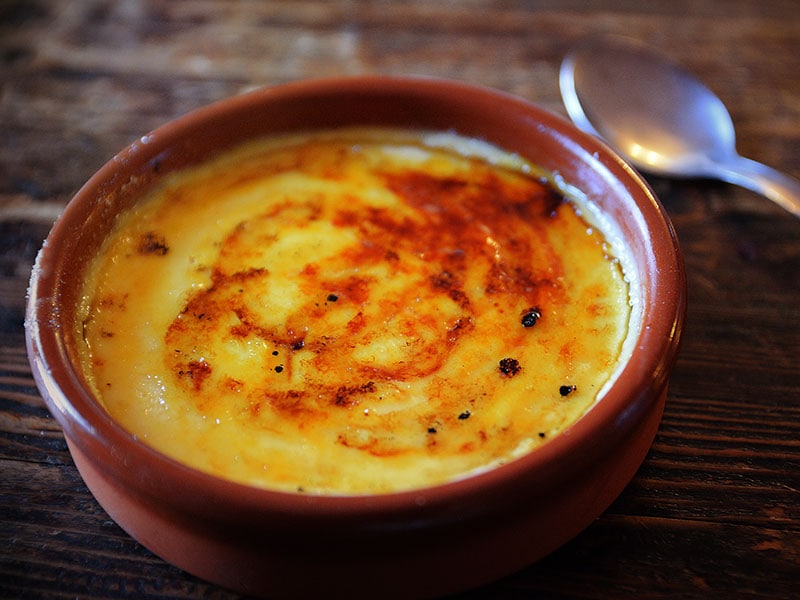 Crema Catalana, also known as Crema Cremada or "burned cream," is a great delight to the culinary prowess of Catalonia, Spain. On the surface, it resembles Crème Brûlée with its creamy texture and signature caramelized sugar topping.
Yet, a closer look reveals its distinctions. Crema Catalana boasts a more aromatic flavor profile, courtesy of sugar, egg yolks, cornflour, vanilla, cinnamon, and lemon zest.
Plus, its recipe calls only for milk, not cream, like its French cousin. The simplicity of its preparation process – no water bath necessary – is another bonus.
57. Churros (Fried Dough Pastry)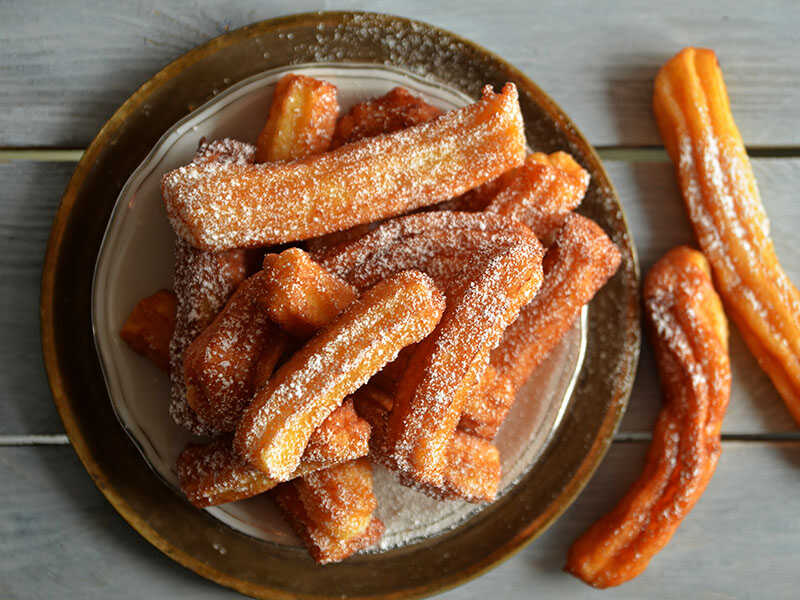 Churros embody a sweet, irresistible snack from Spanish and Portuguese cuisine. Don't be fooled by their origin; they've traveled far and wide, becoming a hit in Latin America and the US.
In fact, they're so prevalent in places like Mexico and Brazil that some folks mistakenly attribute their birthplace there.
These tube-shaped wonders are made from choux pastry dough, fried to a golden brown, and given a generous dusting of cinnamon. As a result, you will have a perfect contrast of fluffy insides and crispy exteriors.
A churro has a range of sweet toppings. Picture this: churros sprinkled with sugar, lavished in ice cream, coated in crunchy cereal, or even dunked in a comforting cup of coffee, Café con Leche, or rich, decadent chocolate.
As a popular choice for breakfast, they've made morning hours a little bit brighter and sweeter.
58. Tufahije (Poached Stuffed Apples)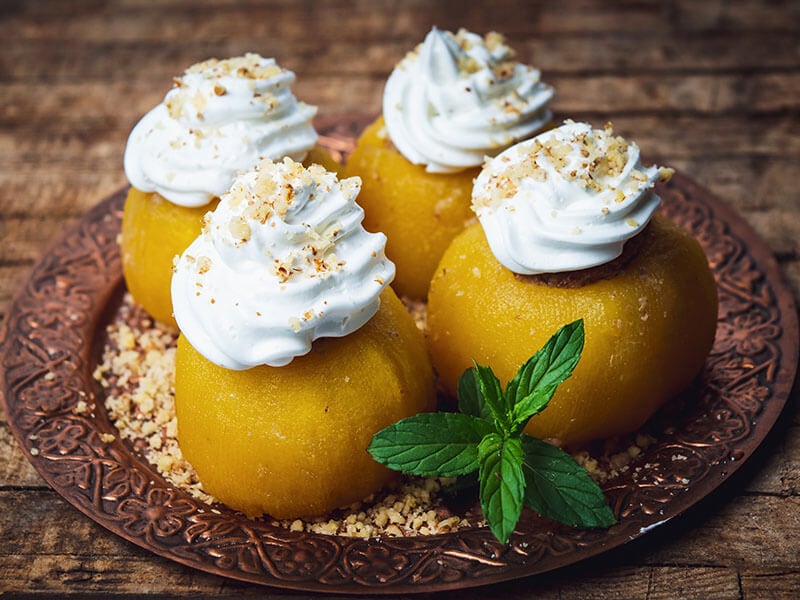 Meet Tufahije, a poached, stuffed apple dessert with Ottoman roots, now embraced in the Balkans!
These apples undergo a magical transformation where they're peeled, cored, and either poached or baked in sugar syrup, resulting in a beautiful, caramel-like outer layer.
What makes them unique? Each apple hosts a tantalizing stuffing made from walnuts, spices, and butter. Not all apples are equal in this process, though, with sour apples holding their shape better than their sweet counterparts.
Once prepared, they're served in large glasses akin to ice cream, proudly wearing a dollop of whipped cream on top. Their sweetness might take you by surprise, as it did for me. Here is a tip from me: relish it with a cup of coffee for a balanced taste exploration.
59. Šampita (Whipped Meringue Dessert)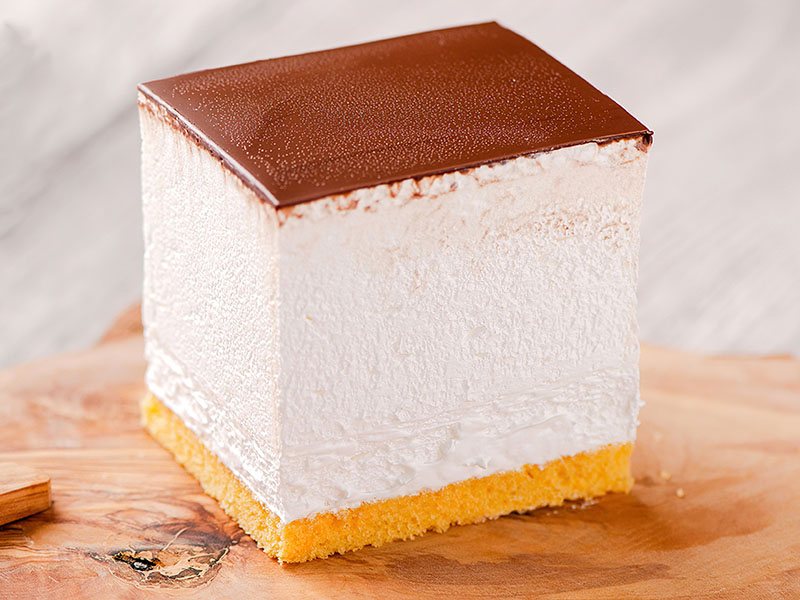 Šampita is a sweet delicacy in Balkan cuisine, from the sun-drenched regions of the Mediterranean, like North Macedonia and Serbia.
Šampita is like a great open-faced sandwich. At the bottom, there's a crust formed of egg yolk dough, while a fluffy layer of whipped meringue occupies the top. This dessert celebrates sweetness and richness to satiate even the most insatiable sugar cravings.
However, if you find its sweetness quite overwhelming, a hot cup of coffee or tea provides a perfect counterbalance.
60. Olive Oil Cake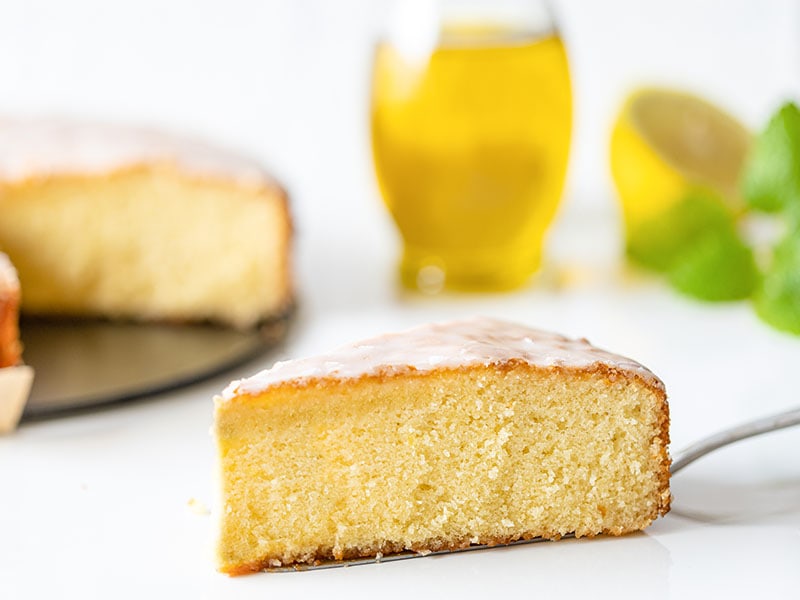 Olive oil cake swaps the traditional butter in cake recipes for olive oil, or use the blend of olive oil and yogurt to prepare this yummy cake.
The usual suspects – flour, baking powder, eggs, sugar – all get added too. But a secret I discovered was the inclusion of citrus ingredients. The zest of an orange or a splash of orange liqueur beautifully balances the fruity flavors of the olive oil.
One striking thing I've noticed is that these cakes have a knack for staying moist and tender far longer than their butter-based counterparts.
A word of advice, always reach for extra virgin olive oil. And for getting high-quality olive oil, Spain and Italy are two big producers.
61. Dried Fruits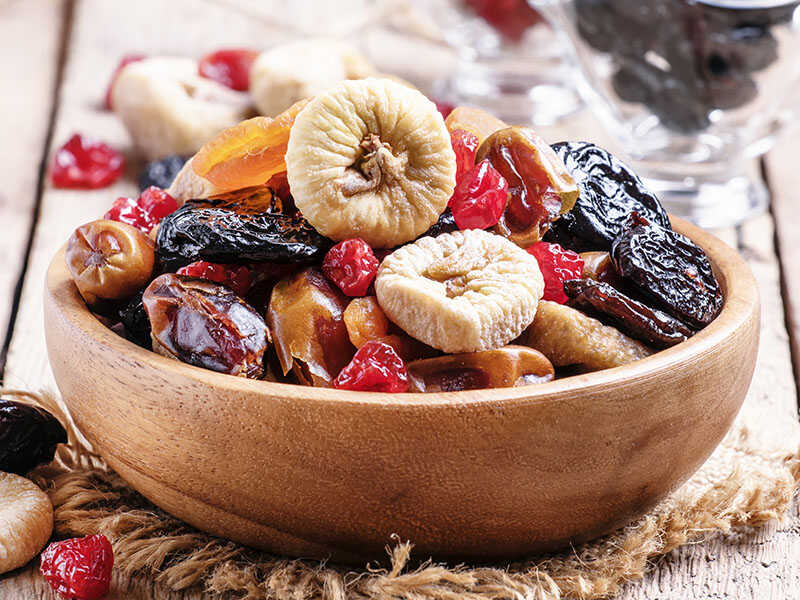 Dried fruits are an integral part of the Mediterranean diet. They first gained popularity in the Fertile Crescent and the Middle East and then spread to the rest of the Mediterranean.
With a history of thousands of years, their significance in the old diets is apparent from records dating back to Roman times.
Fruits like apples, raisins, figs, and dates are traditional favorites, while dried apricots, plums, and peaches, originally from Asia, joined the ranks later. Decadence is associated with dried fruits due to their past status as a luxury.
Despite containing no added sugar, they carry a pronounced sweetness. Their role isn't limited to being a quick snack, as they serve as delightful additions to baked goods, desserts, and even savory dishes.
Key Ingredients In These Sweet Courses
Fruits And Nuts
Many desserts in this region highlight its bountiful Mediterranean ingredients, particularly fruits and nuts. Fruits such as lemons, oranges, and figs are commonly used to add a tangy flavor, often seen in Greek Portokalopita (Orange Cake) or Italian Torta di Carote (Carrot Cake).
As for the nuts, almonds, pistachios, and walnuts are the real stars, featuring in various desserts like Greek Amygdalota (Almond Cookies), Tunisian Bjawia (Pistachio-filled Pastry), and Turkish Baklava.
Honey And Sugar
Honey and sugar are the sweet souls of Mediterranean desserts. Honey, particularly, is widely used in Greek cuisine, glazing their traditional Melomakarona (Christmas Honey Cookies).
Sugar, on the other hand, forms the basis of most dessert recipes, whether it's the Italian Cannoli's sweet ricotta filling or the caramelized top of the Spanish Crema Catalana.
Grains And Flour
Mediterranean desserts showcase a variety of grains and flours. Semolina, a coarse flour made from durum wheat, is a staple, especially in Middle Eastern desserts like Lebanese Namoura (Semolina cake).
Phyllo dough, made with wheat flour, is another key ingredient used in many desserts, such as Baklava and Greek Galaktoboureko (Custard Pie).
Dairy And Eggs
Cream, milk, butter, cheese, and eggs are indispensable in these desserts. Ricotta cheese, for example, is the highlight of Italian desserts such as Cannoli and Neapolitan ricotta and pasta pie.
Cream and milk are also fundamental in making luscious custards. On the other hand, eggs provide structure and richness to many desserts, including French Souffle and Portuguese Pastéis de Nata (Custard tarts).
Spice and Herbs
These desserts often add different Mediterranean spices and herbs to enhance flavor.
They may vary based on the country or region within the Mediterranean, but a few commonly used ones include cinnamon, cardamom, anise, mint, and beyond.
Common Techniques In Making Mediterranean-Style Desserts
Baking
Baking is one of the most frequently used techniques in the Mediterranean dessert-making process. It's all about the transformative power of the oven!
Desserts like Baklava, Italian Cannoli, and Greek Portokalopita (Orange Cake) are all baked until golden and delicious. Pastries are often filled with sweetened nuts or custard, then baked until crisp.
Cakes, on the other hand, rely on the oven's consistent heat to rise and set. Baking is also a healthier choice as it doesn't involve a lot of oil or fat.
Frying
Frying is another technique cherished in the Mediterranean kitchen. It's the secret behind the delectable crunch of the Italian Zeppole (Doughnuts) or the golden crust of the Greek Loukoumades (Honey Donuts).
In frying, desserts are typically immersed in hot oil, resulting in a crispy, golden exterior, and a soft, moist interior.
Poaching
Lastly, let's not forget about poaching – a gentle and slow cooking method, often in a flavorful liquid. Mediterranean desserts often utilize this method to infuse fruits with delicate flavors.
Take Tufahije, for instance, where apples are poached in sweet syrup, or Poached Pears, a dessert found across the Mediterranean region. Poaching helps to keep the fruits' shape while infusing them with sweetness, spices, or wine.
FAQs
Treat Yourself To The Irresistible Charm of Mediterranean Sweets!
I believe that the exotic deliciousness of Mediterranean desserts makes them a must-try for every sweet course enthusiast. Their perfect blend of tradition, creativity, and tantalizing flavors transport you directly to a sunny Mediterranean shore.
If this article has piqued your curiosity, I encourage you to taste these delightful desserts yourself and share your experiences in the comments. Your 'like' and 'share' also bring the Mediterranean a little closer to someone else's kitchen. So go ahead, spread the sweetness!
Nutrition Facts
4 servings per container
---
Amount Per ServingCalories265
% Daily Value *
Total Fat 22.2g

34

%
Cholesterol 82mg

28

%
Sodium 26mg

2

%
Potassium 47mg

2

%
Total Carbohydrate 14.3g

5

%

Dietary Fiber 0g

0

%
Sugars 12.7g

Protein 3.3g

6

%
---
* The % Daily Value tells you how much a nutrient in a serving of food contributes to a daily diet. 2,000 calories a day is used for general nutrition advice.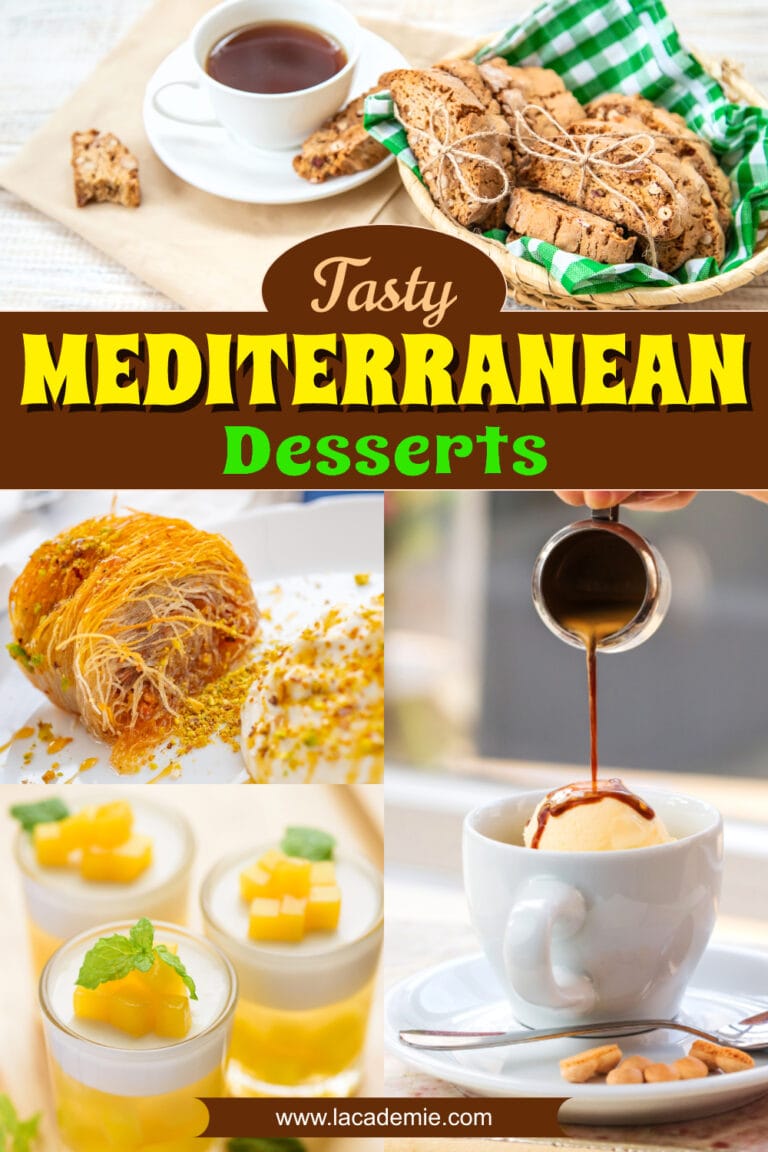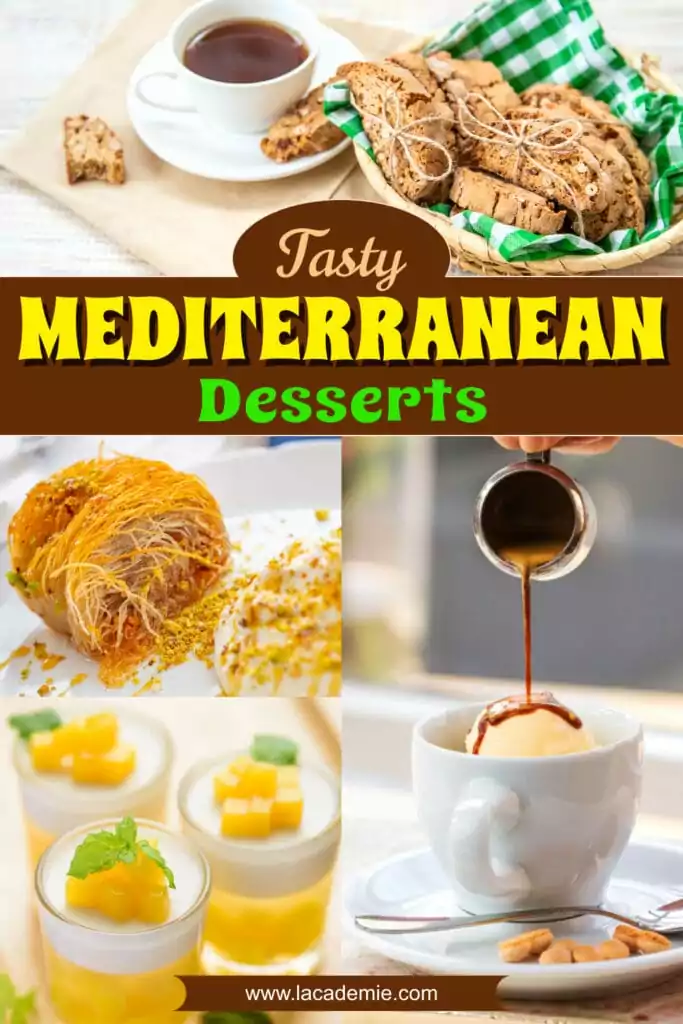 References
Is Greek yogurt good for you? (2018). medicalnewstoday.com.
Fox, T. (2022) Maamoul: A sweet celebration for Christians and Muslims, BBC Travel.
Georgia celebrates Saint Barbara's day why do Georgians bake bean pies today? (no date) Agenda.ge.