French cakes are crystal clear evidence that the French take desserts quite seriously! The category is not limited to cake and buttercream but features layers of meringue, pastry cream, mousse, jam, and pâte à choux as well.
Anyone who has visited France has undoubtedly entered a French Boulangerie or Patisserie and is bedazzled by its vitrine filled with a vibrant and magnificent assortment of delectable cakes, pastries, and treats.
Besides such a strong impression, it might be confusing for first-time tourists to France to get around these delicious cake types. Therefore, my compilation of the most prevalent French cakes here can offer a lending hand.
With a wide range of coverage, from simple and exquisite recipes to elaborate and indulgent treats, this list will eliminate the linguistic barrier and help you choose your favorite French cake.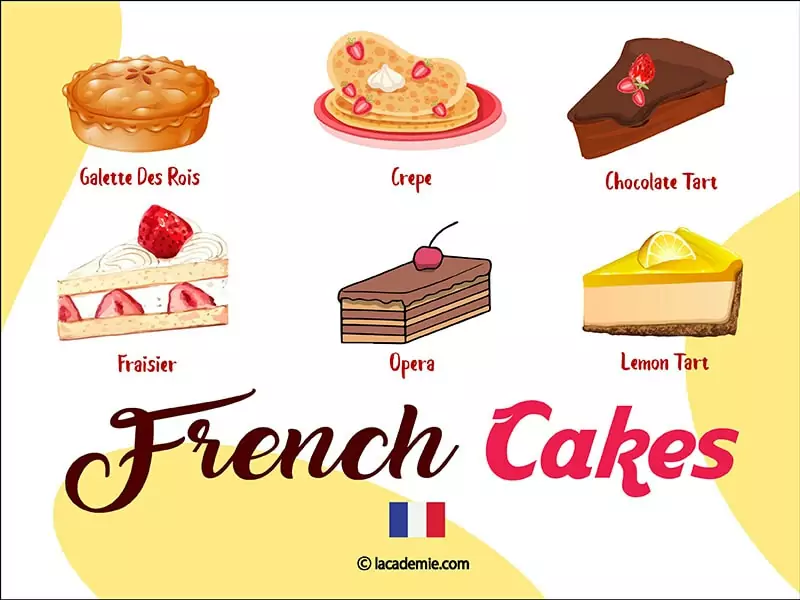 Yummy And Decadent Guide For 28 French Cake Options
Nothing gets yummier and more decadent than the following decadent French dessert options. The nicest thing about them is that you can bring their French aromas to your kitchen with effortless recipes. Without further ado, let's jump right into it!
TOTAL TIME: 1 hour and 15 minutes (Preparation: 15 minutes + Cooking time: 1 hour)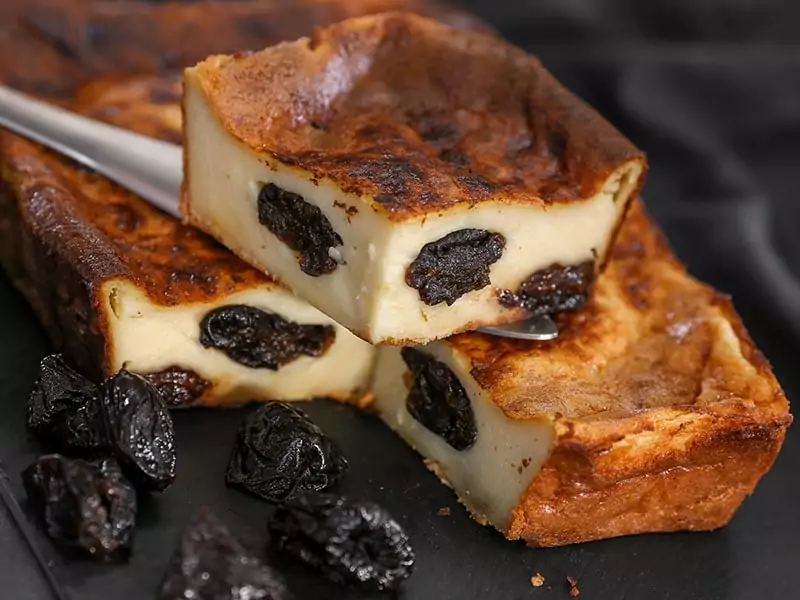 As the name implies, Far Breton is a classic Brittany cake relatively similar to Clafoutis (which I will get to later on). It is a custard flan cake made with eggs, butter, milk, prunes, and rum.
Dating back to the 18th century, Far Breton was originally prepared in a savory variant and served with meat meals. Today, with the addition of butter and eggs, this French cake has become a luxurious dessert popular among local families.
The treat is not only wonderful and simple to prepare, but it is also portable, allowing your loved ones to take it to work and share it with colleagues. It is a Brittany tradition to enjoy Far Breton with a local cider.
Far Breton is a must-try French cake during your vacation in the region.
TOTAL TIME: 30 minutes (Preparation: 18 minutes + Cooking time: 12 minutes)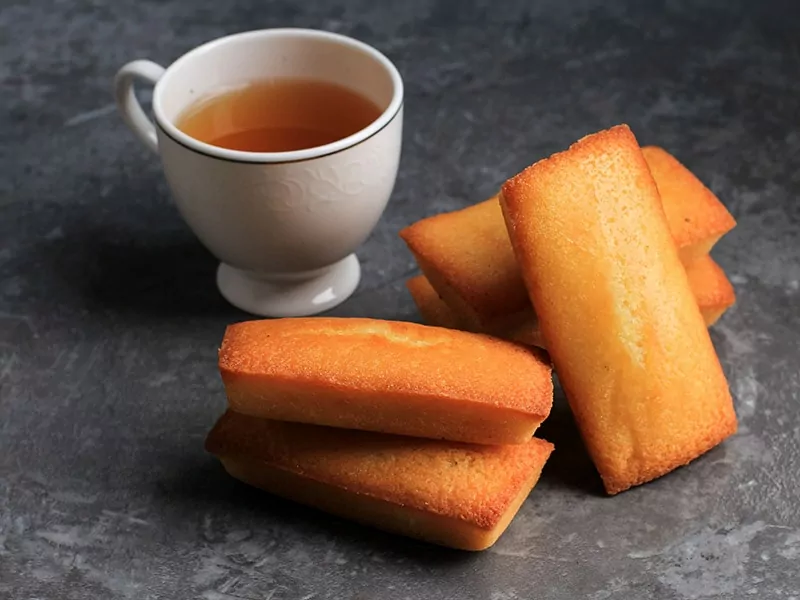 Financiers are another simple French cake prepared with egg whites, butter, almond flour, and all-purpose flour. Their texture is incredible, and their flavor is out of this world. These Financiers are ideal for a mid-afternoon teatime.
This yellowish cake was invented in the 19th century by a pastry chef named Lasne. As most of his clientele were brokers who did not want their fingers stained, he devised this moist sponge cake, shaped it to resemble a golden brick, and Financier was born.
Financiers are widely available in supermarkets and bakeries across France. In Normandy, they are sometimes referred to as a Friand or Visitandine. However, since its preparation is super simple, you can pull off this French staple at home in half an hour.
TOTAL TIME: 1 hour (Preparation: 20 minutes + Cooking time: 40 minutes)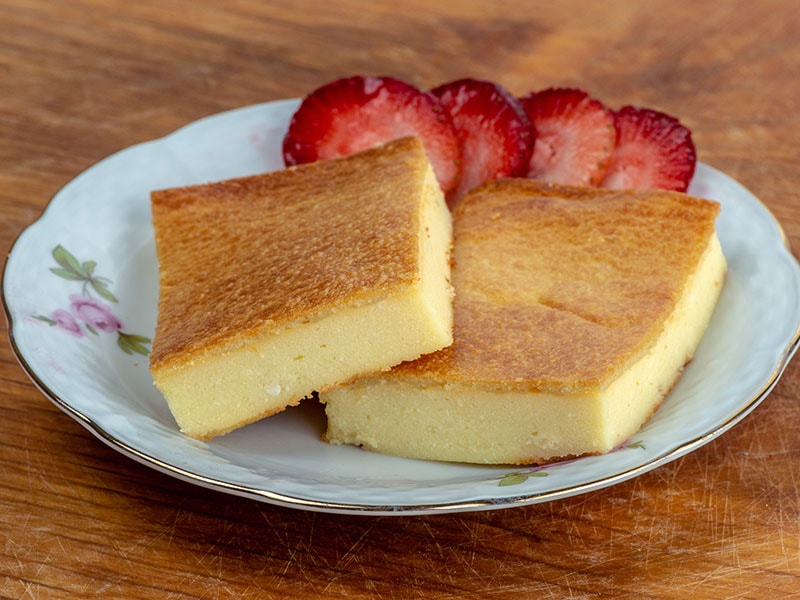 Corsica, a castle in the Mediterranean sea, provides a wealth of history and natural beauty via its scenery, paradisiacal beaches, and Mediterranean gastronomic ideas, particularly the Fiadone. This Corsican staple comprises Brocciu – a Corsican fresh cheese, eggs, sugar, lemon zest, and lemon juice.
Fiadone descends from the Italian Fiadoni (flans), which have been documented in cookbooks from the 16th century. Despite the absence of flour in its composition, Fiadone is considered a close cousin of the Polish dish Sernik.
Originally, Fiadone was the quintessential Corsican family cake, particularly in the district of Corte, Haute Corse. It was made specifically for the end-of-the-year or Easter celebrations, as well as for baptisms, communions, and marriages.
Today, people enjoy it on all occasions, and it is available in all of the island's pastry stores. It is called "Imbrucciata" in the Ajaccio area. No matter what you call it, you can prepare it at home easily, drizzle it with honey, fruit preserves, or fresh fruit and enjoy!
TOTAL TIME: 6 hours and 45 minutes (Preparation: 6 hours + Cooking time: 45 minutes)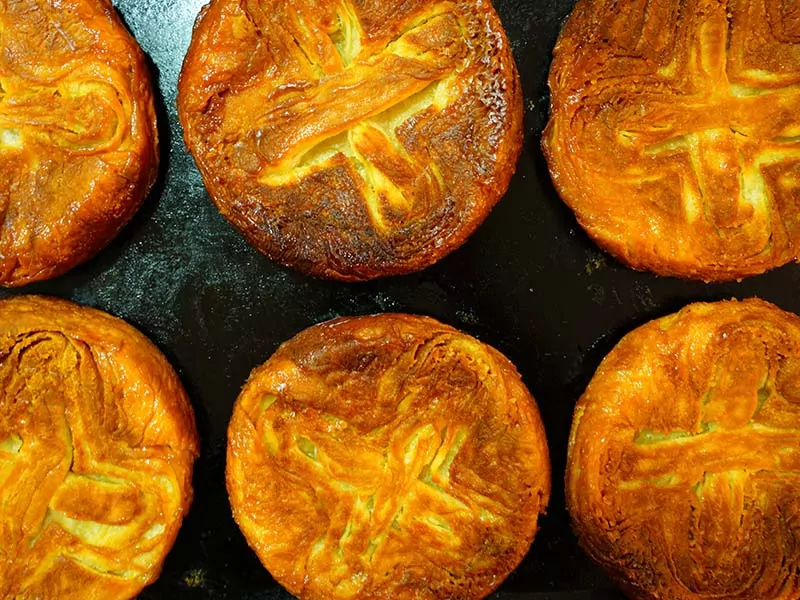 Developed in the French province of Bretagne in the 1800s, Kouign-Amann (pronounced as "queen-a-mahn") is a cross between a sticky bun and a sugared croissant.
This delectable treat originates in France's Brittany area, and its moniker derives from the Breton language terms for "cake" (Kouign) and "butter" (Amann).
Bretons refer to Kouign-Amann as the world's fattest pastry due to its flaky golden dough made with copious quantities of sugar and butter.
According to local legends, the cake was accidentally developed when a 19th-century baker in Douarnenez attempted to salvage a poor batch of dough by adding butter and sugar to the mix, resulting in the delicacy everyone knows today.
Enjoy this cake as a French breakfast idea or an afternoon tea snack to truly feel its enticing blend of sweet, salty, sticky, buttery, and flaky flavors!
TOTAL TIME: 2 hours and 3 minutes (Preparation: 55 minutes + Cooking time: 1 hour and 8 minutes)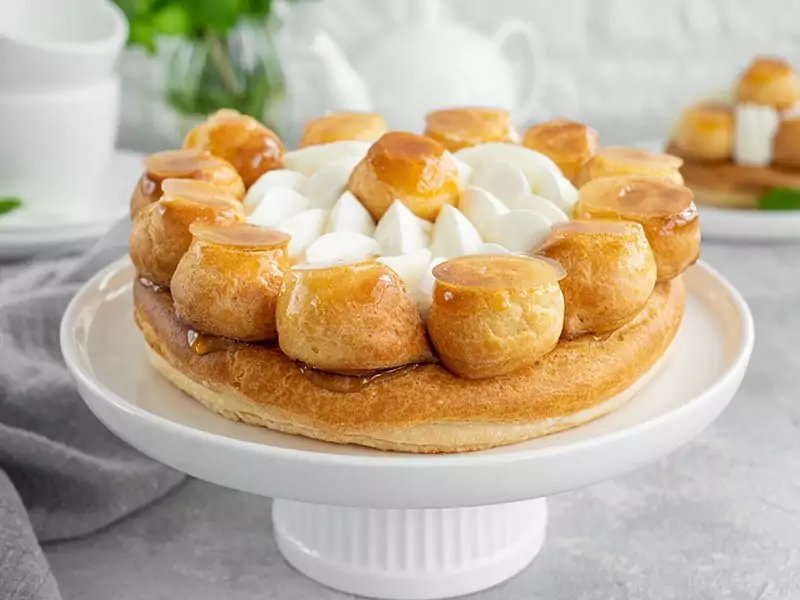 Named after Saint Honoré (600 A.D.), the French patron saint of bakers, this treat cake is a genuine showcase of French confectionery craftsmanship. However, do not be deceived as the cake was developed in the 19th century at Chiboust bakery in Paris.
Gateau Saint Honoré combines all essential ingredients of French pastry: puff pastry, pâte a choux, crème patisserie, whipped cream, and salted caramel.
This magnificent French dessert demands a bit of work and talent to make it correctly. You will need to pipe a considerable amount of custard over a puff pastry foundation and top it with delicate cream puffs coated in caramelized sugar.
For that reason, Gateau Saint Honoré is reserved exclusively for festivities and rare events only. Also, the cake is used as a test for pastry school students since it requires some sort of baking talent.
The cake's textural variation is extremely attractive. If you have some spare time on the weekend and are prepared for the endeavor, I strongly advise you to give Gateau Saint Honoré a try!
TOTAL TIME: 2 hours and 15 minutes (Preparation: 1 hour + Cooking time: 1 hour and 15 minutes)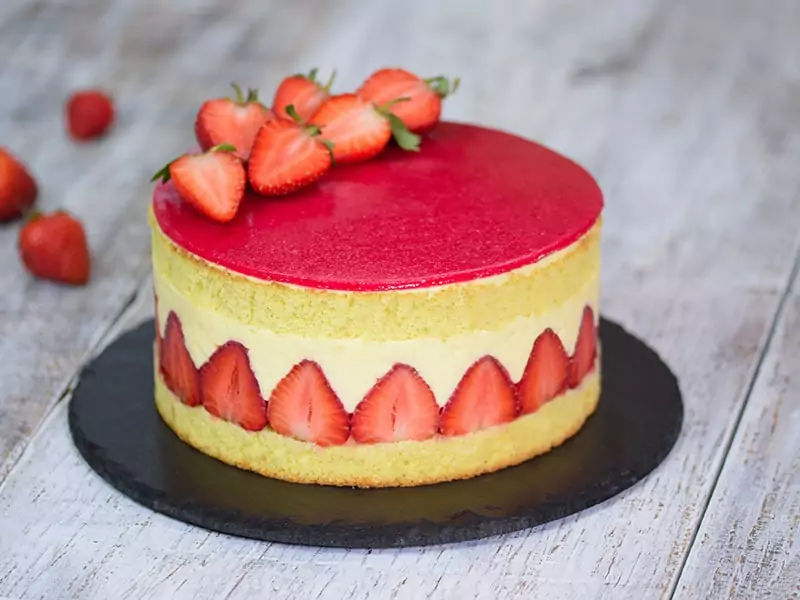 Nothing quite captures the essence of summertime like a traditional French Fraisier. The name derives from the French word "fraise", which means strawberry. This French food idea is a creamy strawberry delicacy you could eat every night.
Fraisier comprises layers of genoise cake, crème mousseline, and marzipan (almond paste) finished with a distinctive row of cut strawberries surrounding the bottom border. Then, top the cake with whipped cream by using an equipment called spatula.
Initially, Fraisier Cake was created as a homage to strawberries since the only strawberries accessible in France before the 19th century were small wild ones comparable to blueberries in size.
In the 1930s, new strawberry varieties were available for use in sweets across France and the rest of Europe, and a new cake was produced.
This traditional French Fraisier is the perfect way to kick off the strawberry season. You may find a similar cake named Framboisier, which uses raspberries instead of strawberries to form a rind around the cake's foundation.
Let's kick off the strawberry season with this tutorial on Fraisier Cake.
TOTAL TIME: 30 minutes (Preparation: 20 minutes + Cooking time: 10 minutes)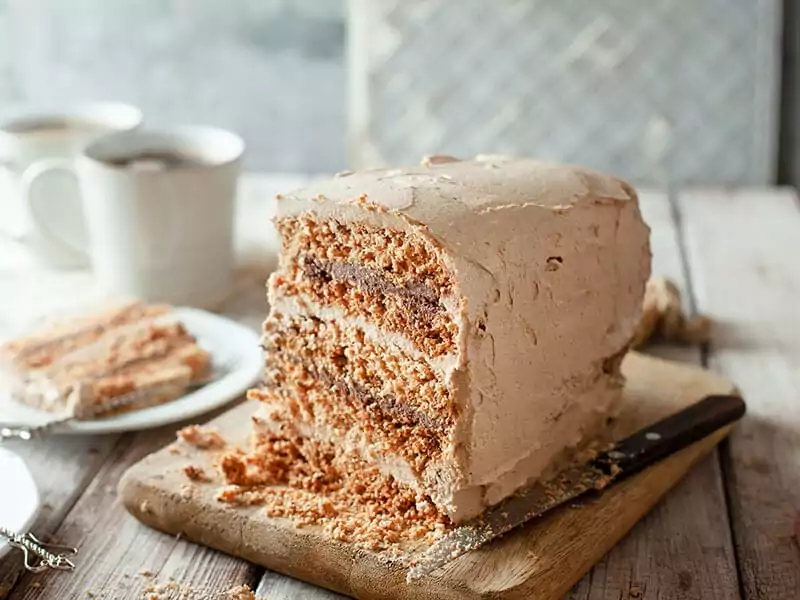 Almond flour, icing sugar, egg whites, and vanilla pulps come together to make up this brilliant French cake.
Dacquoise derives from the French word "dacquois", which means "from Dax", a town in southwest France. Yet, the term has evolved to apply to any dessert containing layers of nut meringue sponge cake.
The basic recipe for Dacquoise is quite adaptable and may be altered by substituting several types of nut flours, such as pistachio or coconut, and by adding various dried fruits or even chocolate. Feel free to experiment with your preferred taste combinations.
Dacquoise is said to have developed in the 17th century as an opulent treat for the French court. The cake gained popularity in England in 1789, when a large number of French cooks relocated to the country to serve the upper classes.
To ensure a successful Dacquoise, I recommend paying special attention to the cooking time, which should be brief and at a high temperature to keep the product's humidity.
You may enjoy the cake on its own with various dried fruits or use it as an insert in contemporary cakes in lieu of sponge cakes.
TOTAL TIME: 45 minutes (Preparation: 20 minutes + Cooking time: 25 minutes)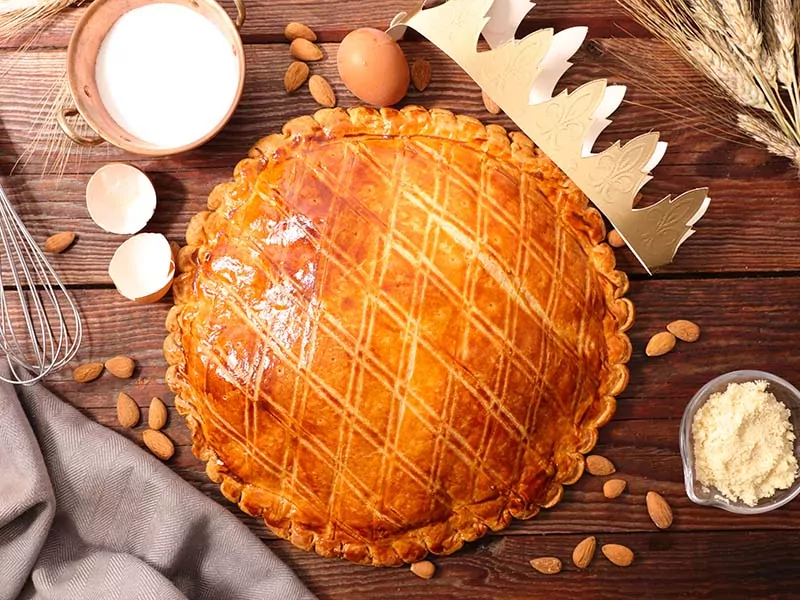 If you know Epiphany, a Christain celebration on January 6th to honor the entrance of the Three Wise Men in Bethlehem, you are likely to encounter Galette Des Rois before. This traditional French delicacy is mostly associated with northern and central France.
Basically, you have a thick layer of frangipane (an almond-based pastry cream) sandwiched between two layers of butter puff pastry to form the cake.
Nowadays, the cake is available throughout December and January to commemorate the holiday season and the new year.
Don't be surprised when I say there is a whole process for serving this King Cake. The group's youngest member sits under the table and informs the cake cutter who will get each slice.
Whoever discovers the lucky charm (fève) hidden inside the frangipane will wear the cake's crown and proclaim themselves king or queen.
In certain families, the person receiving the fève is responsible for delivering Galette Des Rois to the festivities the following year.
You should serve this delicacy with tea or Café Au Lait, a famous French beverage to balance the cakes' richness.
TOTAL TIME: 2 hours and 30 minutes (Preparation: 2 hours + Cooking time: 30 minutes)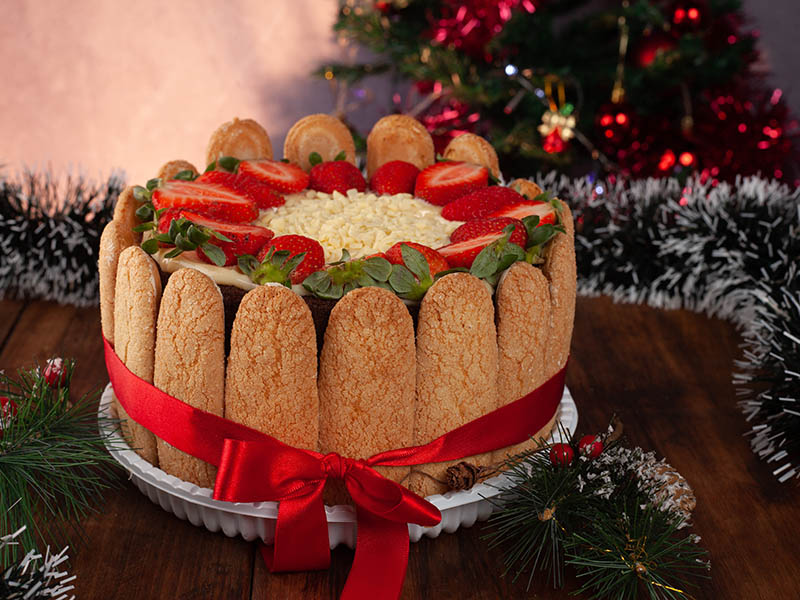 Originated in the 18th century, this classic European dessert is similar to a sponge cake pressed into a beautiful mold.
According to legend, the cake was made by a great French chef named Marie-Antoine Carême, who is widely regarded as the "founder of French cuisine".
He called his cake Russe in honor of his Russian employer, Czar Alexander I, and included the recipe in his 1815 cookbook "The Royal Parisian Pastry Cook and Confectioner".
You can instantly identify the cake by the little bits of delicious ladyfingers lining at the bottom and over the sides. It is light, delectable, and brimming with textures and tastes. It certainly deserves a spot in your culinary collection.
TOTAL TIME: 10 hours and 20 minutes (Preparation: 8 hours + Cooking time: 2 hours and 20 minutes)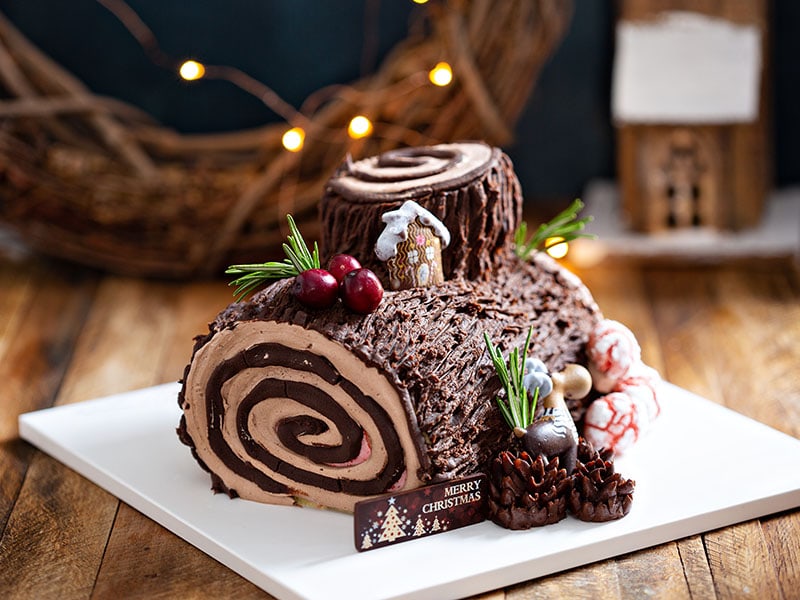 In the United States, this holiday tradition is referred to as a Yule Log; while in France, it is called a Bûche De Noël. This extravagantly adorned, rolled, and filled sponge cake is covered with chocolate ganache in the shape of tree bark.
When it comes to decoration, there is a limitless amount of choices. Shaped marzipan, snowflake sugar, and meringue mushrooms are all possible options.
The cake's roots may be traced back to an ancient Celtic ritual of commemorating the Winter Solstice, the year's shortest day. The Celts would burn wood to thank the Sun for bringing them back to Earth.
With the advent of home stoves, the massive log was replaced by a little branch, which was usually placed in the center of the dinner table, surrounded by delicacies and sweets presented as gifts to visitors.
While no one is certain how such a branch became a cake, people believe it is a deletable ritual no one wants to discontinue. It is breathtakingly beautiful and intricate, perfect to create in your home kitchen.
Bûche De Noël is a breathtakingly beautiful and intricate Christmas treat.
TOTAL TIME: 2 hours and 20 minutes (Preparation: 30 minutes + Rising time: 1 hour and 30 minutes + Cooking time: 20 minutes)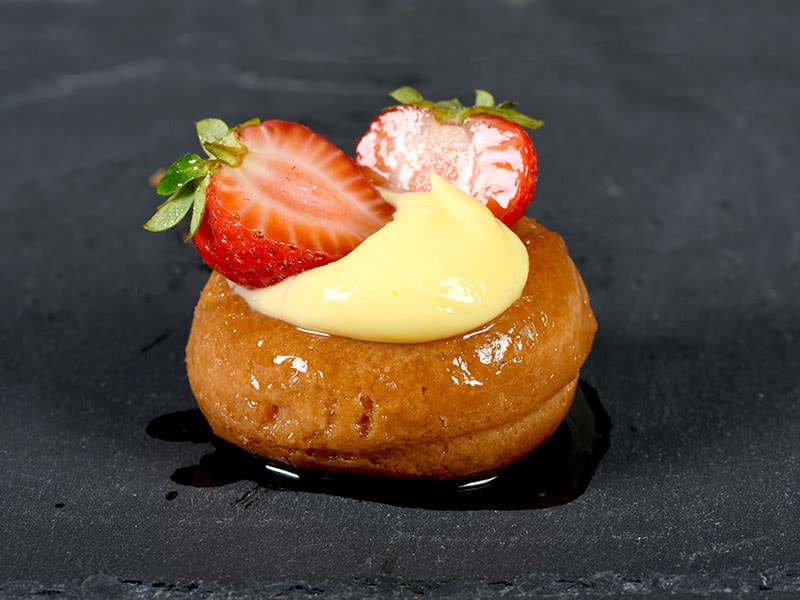 Baba Au Rhum, or Rum Baba, is yeast-leavened little cakes. The French baked them in little cylinder molds or bigger bundt pans. After that, the cakes are soaked in rum syrup, hence the name.
The cake's texture is special. It should be flexible yet robust enough structurally to resist the liquid. Also, it should be damp but not dripping with moisture.
This alcoholic dessert is sumptuous on its own but may be elevated to a new level of decadence by adding whipped cream. It is also studded with dried and candied fruit (cranberries, currants, golden raisins), making it an ideal dessert or part of a brunch buffet.
TOTAL TIME: 1 hour and 25 minutes (Preparation: 1 hour and 10 minutes + Cooking time: 15 minutes)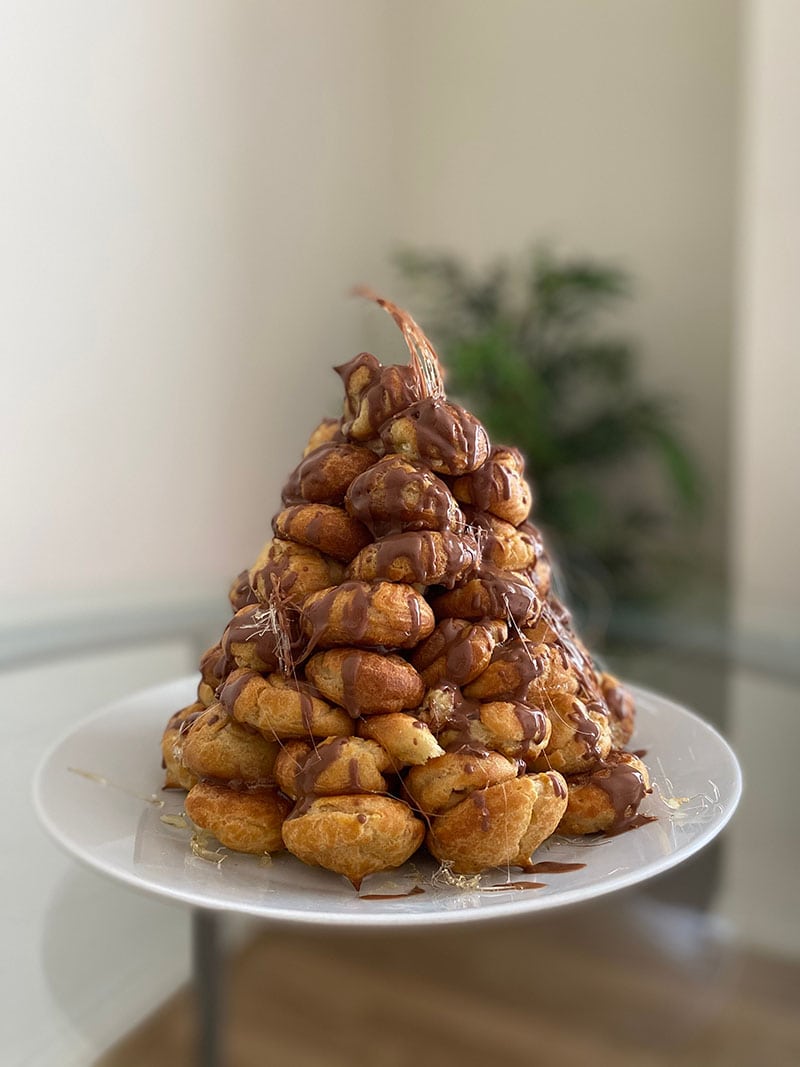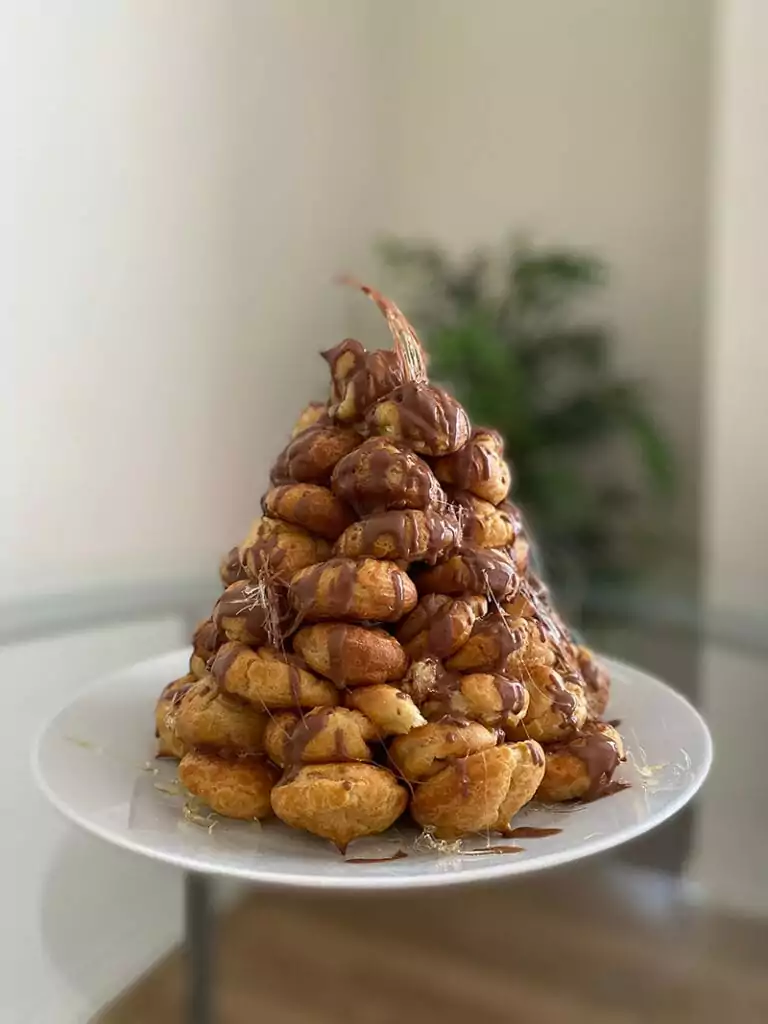 This doughy pastry pyramid is France's traditional wedding cake. It is a visual and sensory delight, consisting of pastry puffs coated in caramel, and pastry cream, and decorated with spun sugar.
Also known as Montée, those Croquembouche's miniature cream puffs are stacked high on top of one another in a pyramid form. The name translates literally as "crunch in the mouth".
Despite its stunning look, this Croquembouche tower is much simpler to make than some other holiday cakes and confectioneries you may have encountered at special events. Things get more straightforward with the use of a steel croquembouche cone.
Since the delicate sugar cage's twists and turns are unique, each Croquembouche is a one-of-a-kind food that is just as much an art form. Historically, it was reserved for French royalty and nobility's medieval banquets.
Hone your pastry abilities and amaze your guests at your next special event with this show-stopping delicacy. You may prepare the puffs and pastry cream ahead of time and then focus on the caramel and assembling on a special day.
TOTAL TIME: 1 hour and 45 minutes (Preparation: 1 hour + Cooking time: 45 minutes)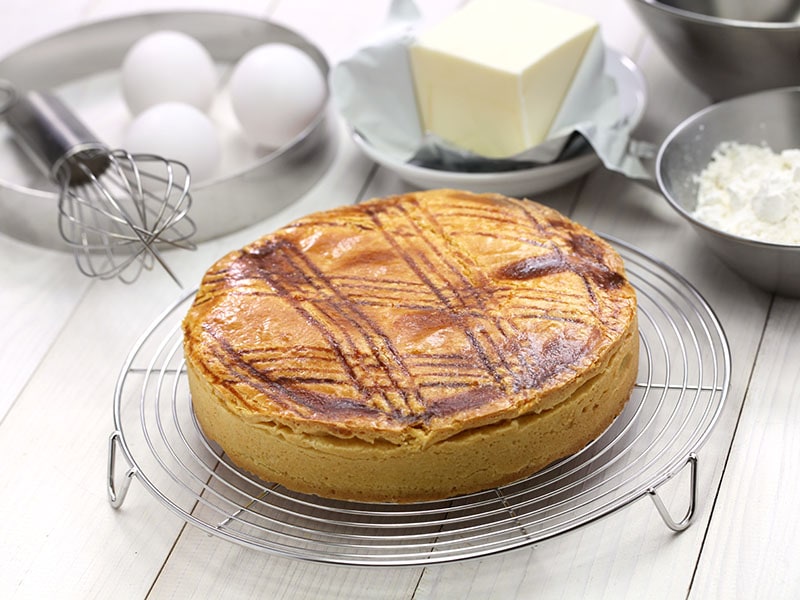 If Bretons have delectable Far Bretons, the Basque take pride in their Gateau Gasque. This classic Basque cake recipe was created in the 18th century by a pastry chef called Marianne Hirigoyen and passed down to her children.
Locals offer Gateau Basque with coffee and tea and serve this beautiful dessert exclusively on Sundays and public holidays in the Basque area, specifically Nouvelle Aquitaine, near the French-Spanish border.
There is even an annual Gateau Basque festival in October hosted by the village of Cambo-les-Bains in the area. Its buttery, crunchy crust and smooth pastry cream inside will definitely have you swooning.
TOTAL TIME: 2 hours and 40 minutes (Preparation: 2 hours and 30 minutes + Cooking time: 10 minutes)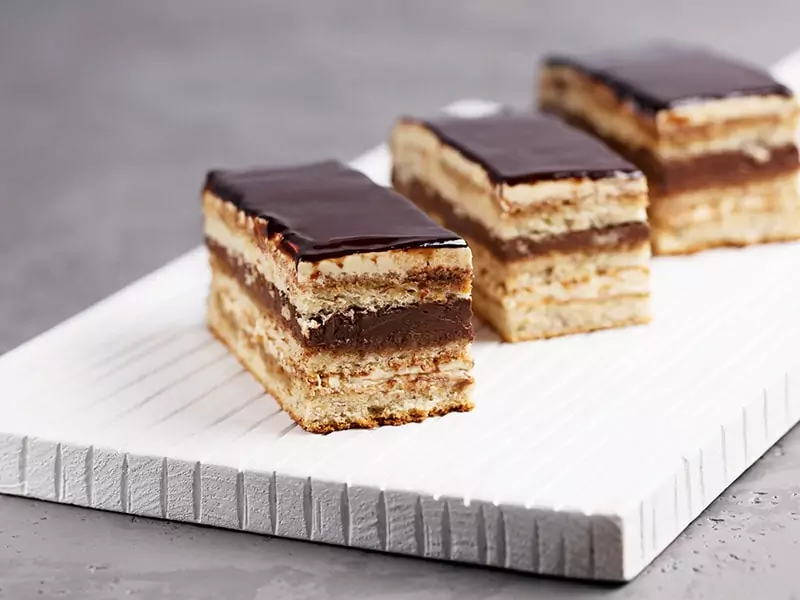 What happens when coffee and chocolate come together? You will have the Opera, a coffee-infused almond sponge cake covered with chocolate ganache and coffee syrup, alongside buttercream and almond sponge. Opera Cake is a true dream for chocolate and coffee connoisseurs.
The Opera's beginnings are unknown. Some people believe the cake was the invention of a Paris bakery named Dalloyau around 1955, named after the Palais Garnier opera house, with the intention of attracting the Bourgeoisie.
Other sources claim that Opera Cake's history goes all the way back to 1903 when pastry chef Louis Clichy introduced it at a Paris culinary show that year. He simply tilted it "Clichy Cake" and scribbled his surname over the top of the ganache.
Whichever camp you belong to, this cake is worth every minute spent creating it. Its architecture is so well-thought that its tastes work in perfect harmony. This homemade recipe is just as excellent as anything you would get at a post patisserie or boutique bakery.
A single bite of Opera Cake can transport you to Champs Elisse in Paris.
TOTAL TIME: 2 hours and 40 minutes (Preparation: 1 hour + Cooking time: 40 minutes + Waiting time: 1 hour)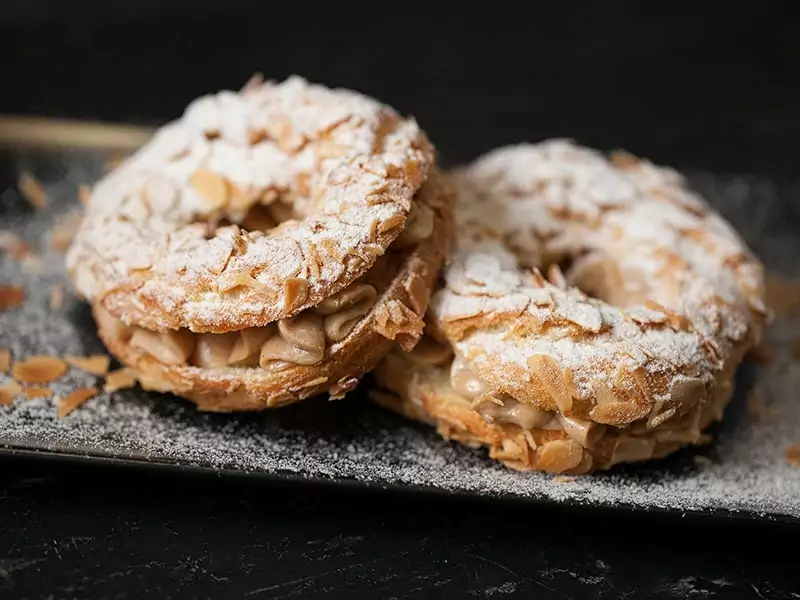 Apart from the Tour De France, France hosts a 1,200-kilometer cycling race every four years from Paris to Brest and back (commonly known as "PBP"). This race started in 1891 and is the world's oldest continuously held cycling event.
According to legend, the year this race began, a pastry chef named Louis Durand created a cake called Paris-Brest in honor of the event. Its round shape resembles that of a bicycle wheel.
It gained popularity among cyclists competing in the PBP cycling race thanks to its invigorating high calorific content, fascinating name, and irresistibly wonderful taste!
Besides the choux pastry, this French tiered cake is brimming with praline cream and toasted, sliced almonds, making this Paris-Brest one of the most spectacular desserts of all time!
TOTAL TIME: 2 hours and 28 minutes (Preparation: 1 hour + Cooking time: 28 minutes + Freezing time: 1 hour)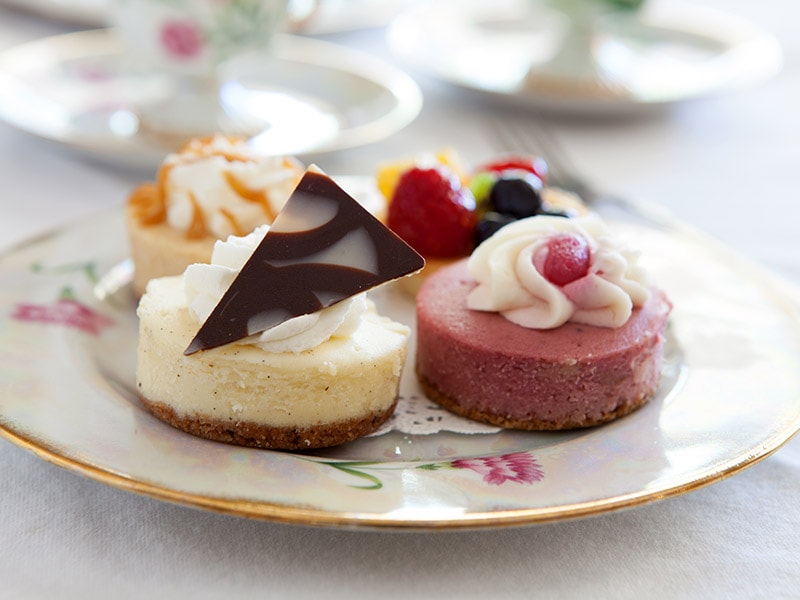 Petit Fours are teeny-tiny cake jewels that every tea party must have! Traditionally, they are 1-inch cubes of cake, yet there are various versions coming in almost all sorts of imaginable forms (hearts, domes, triangles, rounds).
These bite-sized desserts are so delectable with their soft cake, raspberry jam, and vanilla buttercream stacked in between, then capped with a white chocolate coating.
Originated from France, these treats' moniker translates as "little oven" in English since they were typically baked in the residual heat of brick ovens used for bread making. The use of lower heat to create these pastries is also a reason for their name.
Petit Fours are flexible desserts appropriate for a plethora of occasions, from baby showers to birthday celebrations. They also pair well with afternoon tea sandwiches.
Prepare to dazzle your visitors after making a batch of these delectable Petit Fours. They are so simple to make that you can still generate immaculate results even if you are a novice baker.
TOTAL TIME: 1 hour and 5 minutes (Preparation: 20 minutes + Cooking time: 45 minutes)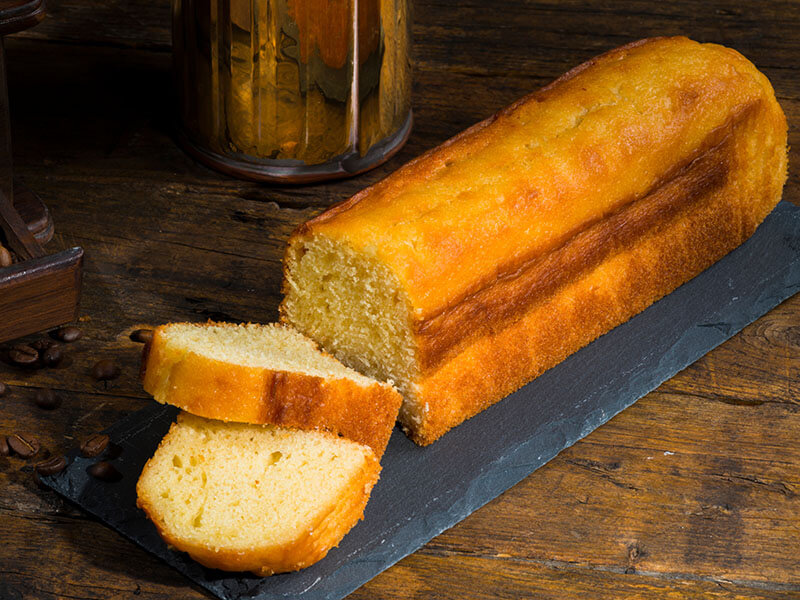 Quatre Quarts is France's answer to the traditional pound cake. This recipe calls for a dense, buttery loaf, best served sliced with tea or coffee. Although its name means "four quarters", it is commonly referred to as a French Pound Cake.
This straightforward explanation states that the cake is made with four primary components, all of which are identical in proportion: eggs, sugar, flour, and butter.
This simple rectangular cake is a show-stopper at informal gatherings or as a quick after-school snack. In fact, it is the only cake permitted at the majority of French preschools for children's birthdays in order to prevent allergies and messy eaters.
TOTAL TIME: 50 minutes (Preparation: 10 minutes + Cooking time: 40 minutes)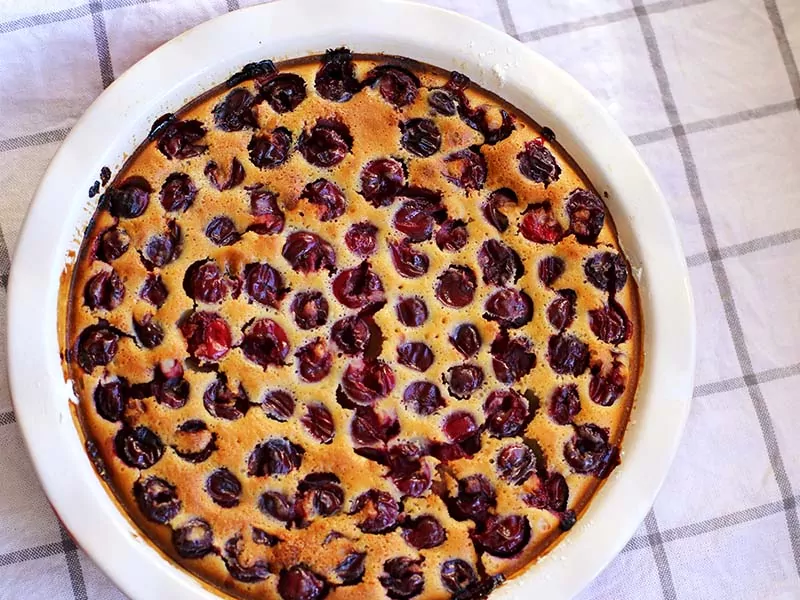 Did I mention how similar Clafoutis and Far Breton are? Clafoutis is a rustic baked custard cooked with cherries or berries, one of the simplest French cakes to prepare and a wonderful way to highlight just-ripe summer fruits.
Unlike other French confectioneries and cakes, Clafoutis does not require elaborate embellishment. All you need for the recipe is a dusting of powdered sugar.
Speaking of preparation, Clafoutis is too simple not to attempt. All there is to do is combine the ingredients in a bowl and bake the batter with the fruit. Clafoutis will bubble up and become golden on top but remain soft and creamy on the inside.
Serve soon after baking while the cake is still warm. Since it is cooked in a big dish, it is ideal as a sweet treat for a weekend breakfast with the family.
TOTAL TIME: 2 hours and 41 minutes (Preparation: 30 minutes + Cooking time: 11 minutes + Chilling time: 2 hours)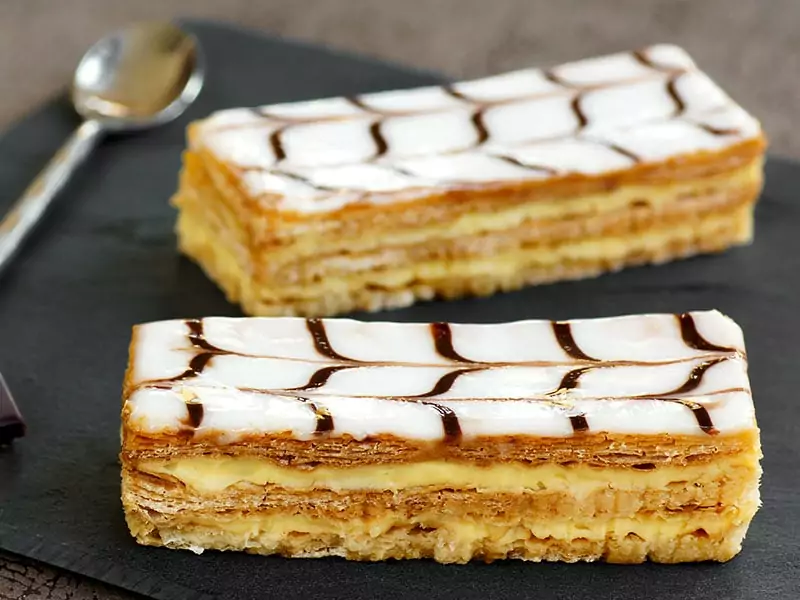 Translated simply as "thousand sheets", Mille-Feuille is the embodiment of a stacked dish made with puff pastry, a topping of vanilla icing and chocolate. Its name refers to the cake's numerous puffed-up, buttery dough layers.
Most people often mistake this French delicacy with Napoleons, whose appearance is very much alike Mille-Feuille. However, there is a subtle difference between the two. Mille-Feuille uses vanilla pastry cream, while Napoleons utilize almond cream.
Also known as Millfoglie in Italy, this three-layered cake is rich and light, flaky and creamy at the same time. While it is not too sweet, it will satiate your sweet desire at tea or coffee time.
Like other French pastries and cakes, it is best to enjoy Mille-Feuille right away. Although you can store the treat for two days in the refrigerator, it will lose its crispness along the way!
TOTAL TIME: 13 hours and 15 minutes (Preparation: 45 minutes + Cooking time: 30 minutes + Inactive time: 12 hours)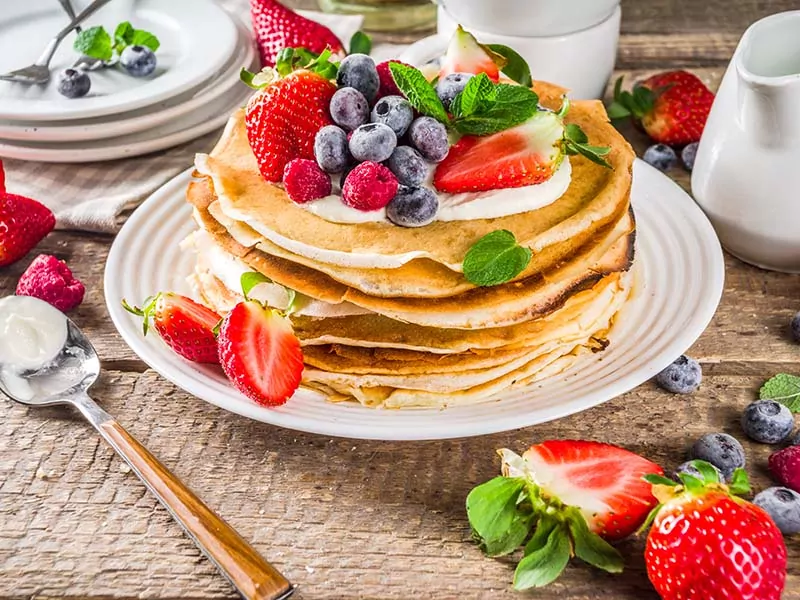 If you are a fan of crepes, you will adore this Crepe Cake dessert. Featuring multiple layers of crepes and vanilla cream filling, Gateau De Crepes are ideal for every meal, thanks to their versatility.
This spectacular cake is simple to make and will make a more memorable treat to offer at a wedding shower, baby shower, birthday, or Valentine's Day!
While this cake is a bit more time-consuming to build than other French delicacies, it is definitely a crowd favorite. Your guests will be blown away by its elegance when you offer these delights to them!
TOTAL TIME: 2 hours (Preparation: 30 minutes + Cooking time: 30 minutes + Chilling time: 1 hour)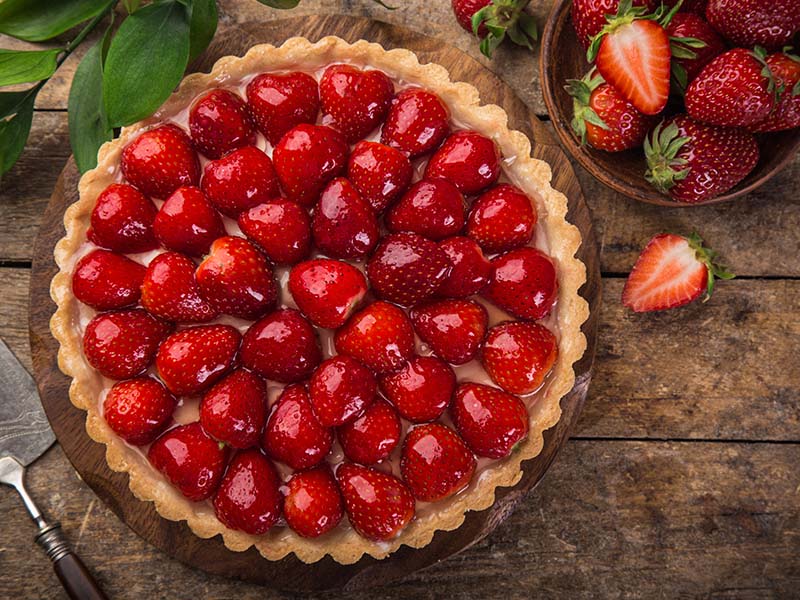 These magnificent Tarte Aux Fraises, or strawberry tarts, are among the most vibrantly colored tarts you can make. The recipe features a soft shortcrust pastry stuffed with a generous amount of crème pátissière, topped with strawberries.
When strawberries are in season (early May to August), it is one of the most popular French cakes available in bakeries (boulangeries) in the country. All French families also cook this dessert to serve at birthday celebrations and garden parties on a hot summer day.
There is no other French cake that is fitter for holidays and get-togethers than Tarte Aux Fraises. These treats exemplify fresh, sweet, and delicious flavors while still displaying a lovely appearance to their eaters. A cake that is too beautiful to eat!
TOTAL TIME: 1 hour and 10 minutes (Preparation: 30 minutes + Cooking time: 40 minutes)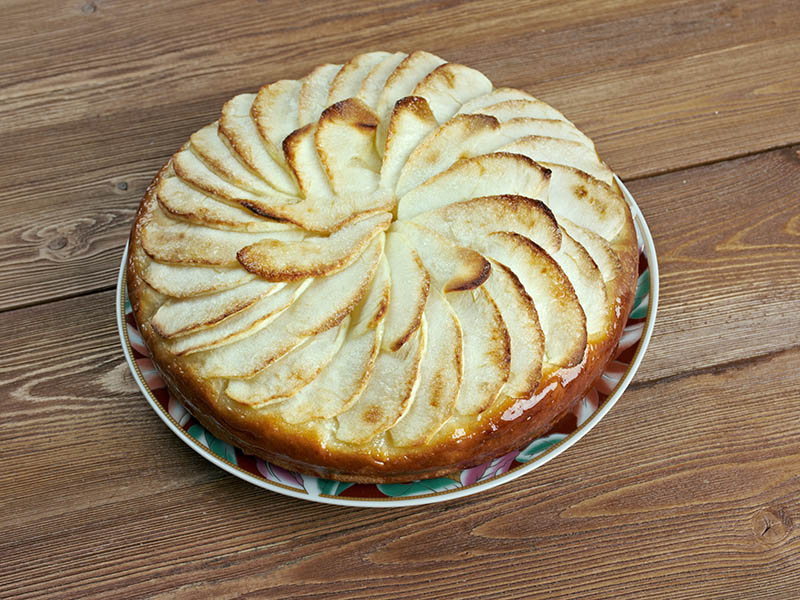 This Normandy-originating dish is France's most popular apple pie variation. Like strawberry tart, this French apple tart comprises a shortcrust pastry but is topped with apples and other ingredients like cream and egg custard.
A single slice of Tarte Normande will treat your tastebuds with a caramelized top and a delicious combination of apple and egg inside.
The tart is termed "Normande" because it contains heavy cream and Calvados, two ingredients that are cornerstones of Normandy's robust cuisine.
Also known as "Tarte Normande Aux Pommes", this French cake becomes better with the use of crispy but not excessively sweet apple varieties. These apples can maintain their form when cooked. You can consider Pink Lady, Braeburn, or Jonagold apples.
TOTAL TIME: 25 minutes (Preparation: 10 minutes + Cooking time: 15 minutes)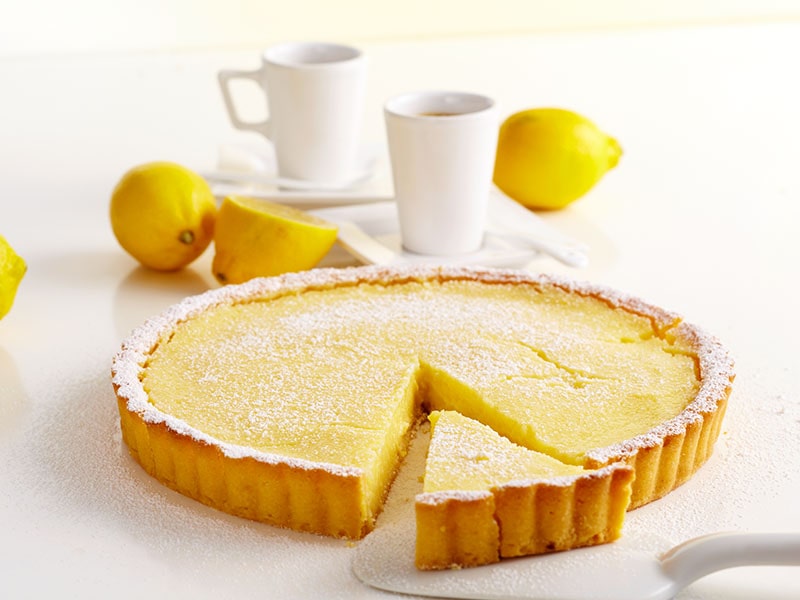 After discovering strawberry tart and apple tart, you must ask what it is about this lemon tart that makes it so perfect.
The answer lies in its lemony curd filling. It hits the Goldilocks mark by being not overly sweet but also not too sour. Plus, it is so custardy that it can instantly melt in your mouth yet firm enough to maintain the cake form.
Don't be afraid if you think such a filling is too tough to handle. In contrast, generating the filling from simply eggs, white sugar, unsalted butter, and lemon juice is fairly simple. The result is a traditional French cake that is exquisite and picture-perfect.
Like its counterparts, you can find endlessly popular Tarte Au Citron on the shelves of patisseries across France. Bistros and fine dining establishments alike also serve this Lemon Tart as a favorite dessert.
TOTAL TIME: 1 hour and 35 minutes (Preparation: 1 hour and 35 minutes)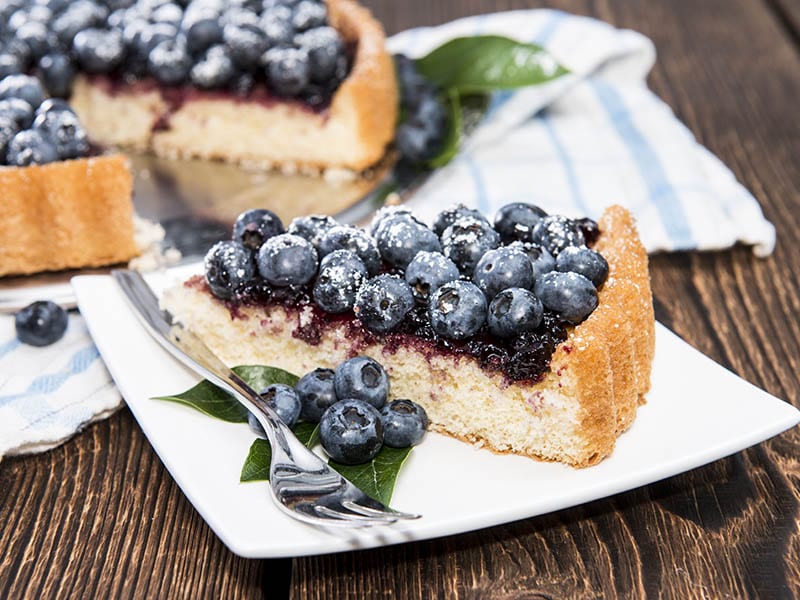 Traditionally a seasonal pie from the Alps area, Tarte Aux Myrtilles is available across the nation in patisseries and many French families' home kitchens. Simply speaking, it features wild blueberries (myrtilles) baked with flour, sugar, and unsalted butter.
Myrtilles, which grow wild in the French Alps, are akin to wild blueberries and often appear in the delicious berry tarts distinctive of Savoyard delicacies.
This French cake possesses numerous health advantages besides its delectable flavor and beautiful blue hue. Many medical investigations have shown that myrtilles contain minerals that significantly enhance eye function.
TOTAL TIME: 2 hours and 35 minutes (Preparation: 2 hours and 5 minutes + Cooking time: 30 minutes)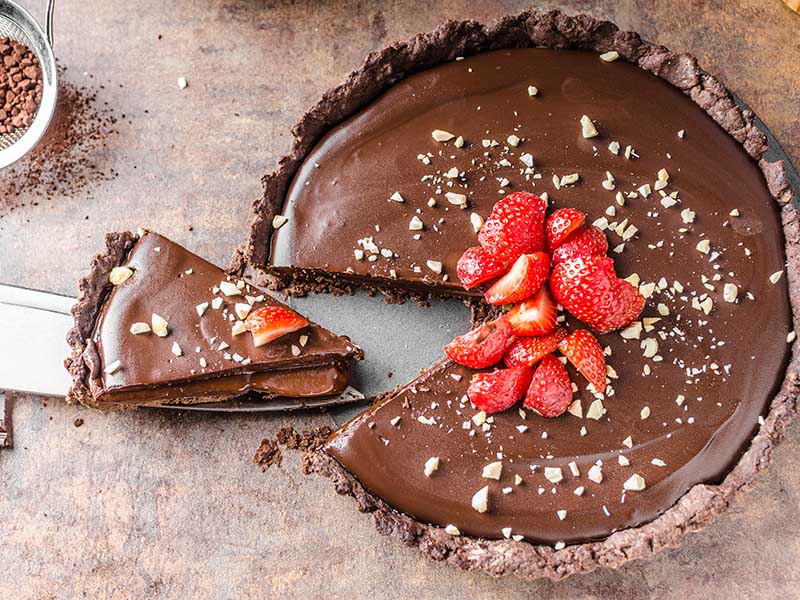 Compared to its other fruit pie counterparts, Tarte Au Chocolat is a bit more decadent, featuring semisweet chocolate, heavy cream, vanilla, and egg filling baked and settled inside a shortcrust pastry. Even a tiny portion of it can fulfill any chocolate craving.
Since this French cake features an egg-based filling, it is considered a sort of custard tart. From the appearance, you may think it is similar to chocolate mousse. Yet, being baked gives Chocolate Tart a stronger structure than its counterpart.
You can experience French cuisine at its finest when pairing this Chocolate Tart with a mellow Café Au Lait. You can also serve this lavish cake with a dollop of lemon pastry cream as a garnish for a delectably cold contrast.
Even a little portion of Tarte Au Chocolat can fulfill any chocolate craving.
TOTAL TIME: 1 hour and 15 minutes (Preparation: 45 minutes + Cooking time: 30 minutes)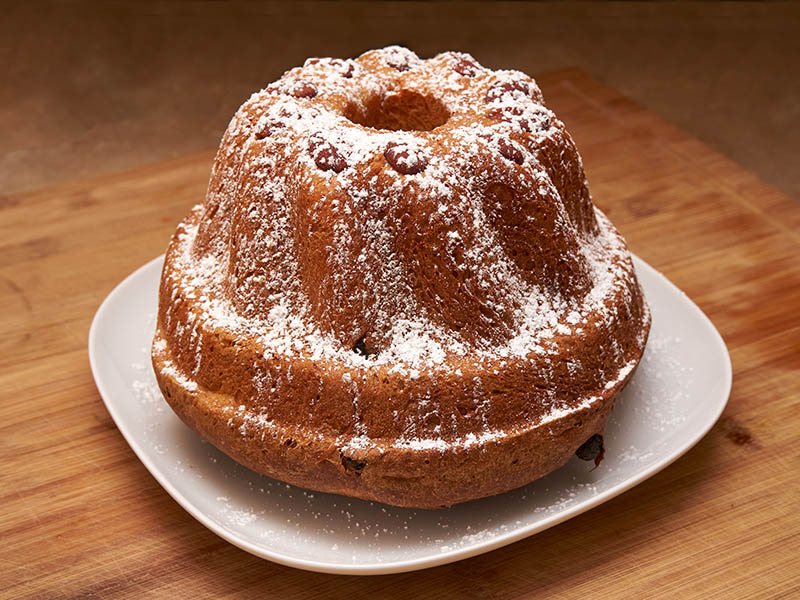 If you are in Alsace, a northeastern France region bordering Switzerland and Germany, and searching for a treat, try Kugelhopf (or Gugelhupf in German).
It is a typical yeasted cake prepared in a bundt form in Alsace. Indeed, Kugelhopf is a cross between bread and cake, resembling a Brioche but not too rich.
The terms gugel ("hood" or "bonnet") and hupf ("hop" or "jump") derive from ancient German. Together, they indicate the cake form and the yeast's rising (or jumping) movement.
Although there is no butter in this dough's recipe, you won't miss its flavor since the cake is drenched in melted butter and coated with sugar after baking to form a lovely crust.
Combining with the delectable flavors of plump raisins, eggs, and whole milk, you can achieve a traditional Kugelhopf that has captured the heart and spirit of many people throughout Germany, France, Austria, and Switzerland for centuries.
Kugelhopf is not a typical dessert eaten after dinner. Instead, it is a tea cake savored during teatime. It is good to enjoy it as a breakfast or afternoon snack since it is not too sweet. Slice it thickly and serve it with your favorite hot beverage.
TOTAL TIME: 1 day, 1 hour, and 30 minutes (Preparation: 30 minutes + Cooking time: 1 hour + Refrigerator time: 1 day)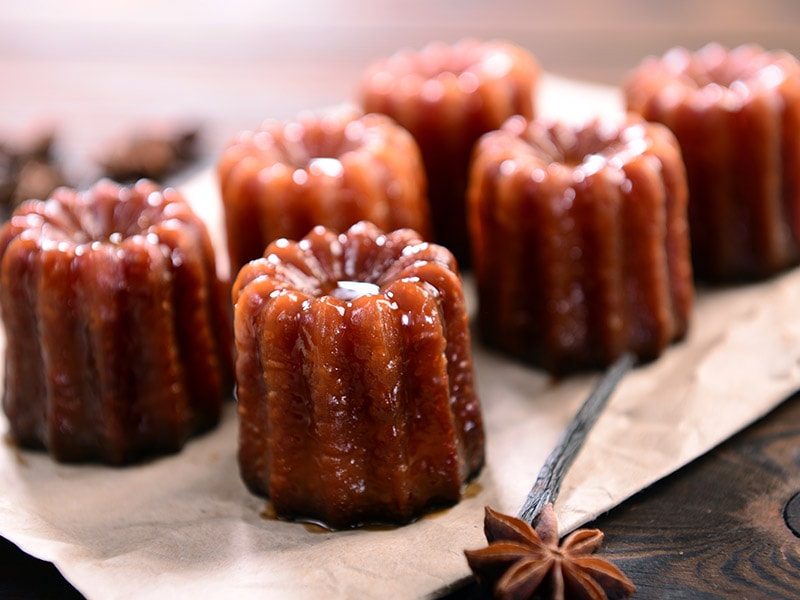 These little morsels are unlike anything you have ever encountered. Originated in Bordeaux, Canelés are bite-sized French cakes flavored with dark rum and vanilla beans. They are often filled with soft custard and resemble a small cupcake.
Their filling is rich, moist, and custardy, encased in a thin, crispy, and caramelized crust. When you bite into them, a distinctive cracking sound occurs, followed by your teeth sinking into soft sweet bliss.
The only challenge in obtaining nice Canelés is that they would emerge from the molds, develop a large mushroom head, and never sink back in, creating an unattractive and hideous scene. However, if you follow the recipe correctly, that issue will cease to exist.
You can top this opulent cake with cream, then enjoy its crispy exterior and pudding-like filling right at home. There is a tradition to make and gift these cakes to your guests!
TOTAL TIME: 1 day, 1 hour, and 45 minutes (Preparation: 20 minutes + Cooking time: 1 hour and 25 minutes + Refrigerator time: 1 day)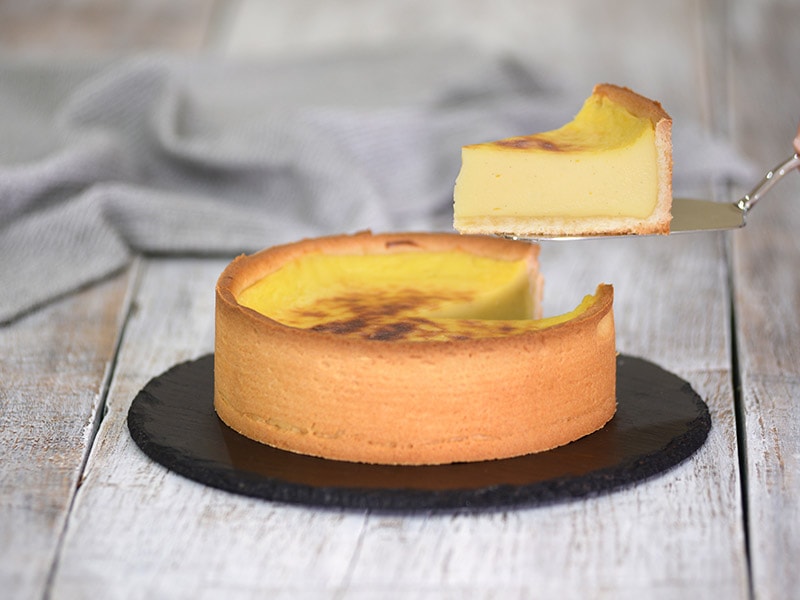 While the name flan is French, the one you are thinking of is really a créme caramel. Unfortunately, it has nothing to do with this Flan Pâtissier I am talking about. Not to say that a créme caramel is not delicious as well.
Instead, this fantastic French pastry is reminiscent of a massive Portuguese Tart. It has a flaky crust brimming with an abundance of creamy vanilla custard that bakes to a beautiful bronze shine.
Nobody knows the recipe's origins, yet this French cake dates all the way back to Roman times. The term "flan" derives from the ancient French word "flaon", which translates as "flat cake".
The contrast between the delicate, flaky, buttery crust and the luscious, creamy custard elevates this pie to new heights. Not too sweet, with a hint of sweetness and a hint of contour, this French flan recipe is a simple meal that turns out to be the ideal dessert.
Parisian Custard Tart is the ideal dessert to enjoy in France.
Which Is Your Favorite French Cake?
My French cakes collection ends here! However, it opens up a new section for your discussion, from which I would love to hear your sharings and experiences relating to these decadent treats.
Which French cake recipe do you adore the most? Drop a comment below to showcase your answer and enjoy other people's thoughts. If there are recipes out of this article's coverage, let me know in there as well! Thank you for reading!
Nutrition Facts
12 servings per container
---
Amount Per ServingCalories560
% Daily Value *
Total Fat 13.6g

20

%
Cholesterol 112mg

38

%
Sodium 167mg

7

%
Potassium 956mg

28

%
Total Carbohydrate 104g

35

%

Dietary Fiber 8g

32

%
Sugars 60.8g

Protein 10.1g

20

%
---
Calcium

168

%
Iron

2

%
Vitamin D

16

%
* The % Daily Value tells you how much a nutrient in a serving of food contributes to a daily diet. 2,000 calories a day is used for general nutrition advice.