Cake seems like the king in the dessert world. There are several different types of cakes with various appearances. Some might look simple; some are so stunning. But no matter how they look, cakes undoubtedly satisfy everyone's sweet tooth.
Generally, the main components to make up a cake are flour, sugar, salt, eggs, and butter (oil); however, it also depends on the recipe you use. Besides learning the differences between various cake varieties, I also introduce some best ideas for making cakes in this post.
Overall, cakes are excellent foods to celebrate special occasions, but it does not mean that you cannot have them on regular days. The recipes I suggest here vary in style, and some of them are not complicated to try at home.
Want to know more? Keep scrolling down the page and get ready to be surprised with how amazing cakes are.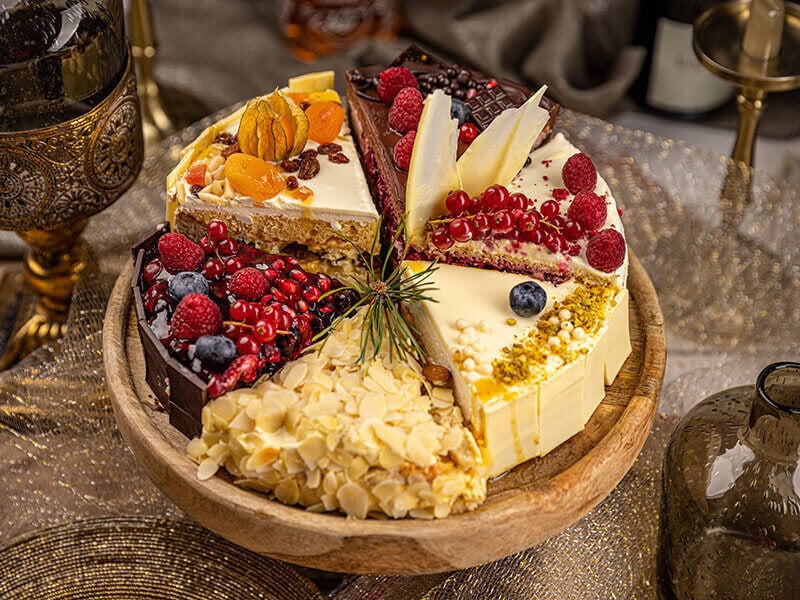 Several Classic Yet Special Cake Classification In The World
There are many ways to classify cakes because their styles, ingredients, or method of preparation are diverse. But I will not cover all of them, except some famous and scrumptious ones. Some cakes might sound strange to you, but some are familiar.
In this section, you will learn more about 17 critical types through their characteristics, pictures, and recipes if you want to prepare them yourself. Of course, if you want to make them correctly and perfectly, you need to buy some crucial tools for baking besides the ingredients.
In fact, there are some overlapping traits between these types regarding components or making methods. But I will help you differentiate them in the briefest yet most precise way. Alright! Let's dig into the world of cakes, starting with the most common type – Butter cakes.
1. Butter Cakes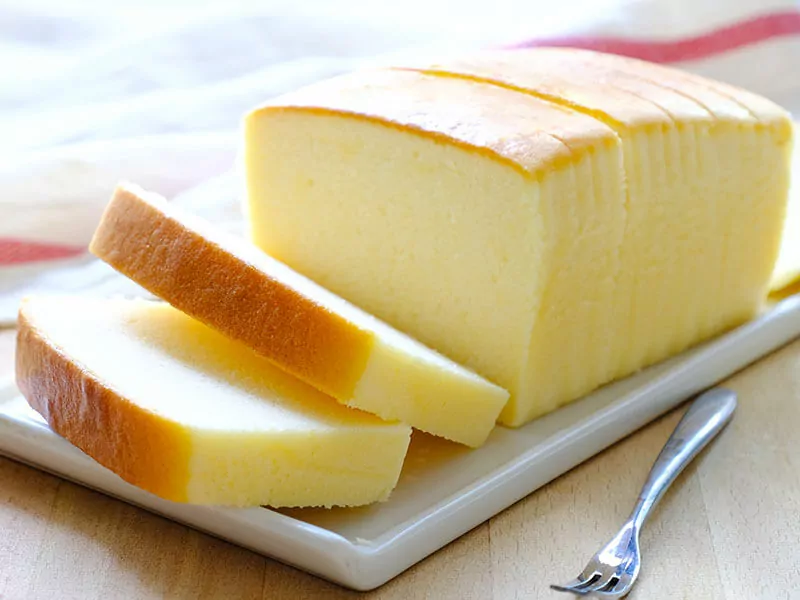 Butter cake is one of the most significant varieties since they refer to those made with butter as the main ingredients. Moreover, eggs, flour, sugar, and leavening substances (e.g., baking soda or baking powder) are other standard components to make butter cakes.
The origin of butter cake has a close relation to Enligh pound cake as it has similar ingredients. Plus, there are several cakes in this class, like yellow cakes (including egg yolks), white cakes (only use egg whites), or chocolate cakes (which I will discuss more in the next part).
In general, they have a heavy and rich texture due to the creaming method, in which people beat the butter and sugar until fluffy, then add eggs and leavening agents to make them sturdy. Some cake recipes are sugar-free, but they are still tasty.
Butter cakes are also moist if you store them at room temperature. However, they tend to harden or dry in the fridge. Therefore, they are not ideal for filling or frosting with cool refrigerated ingredients (e.g., cream cheese or pastry cream) beforehand.
Total time: 55 minutes
Are you looking for a perfect pound cake for vegans? This classic recipe might become your new favorite. The original pound cake contains sugar, butter, flour, and eggs, but here is an indulgent treat with no-dairy, non-egg, and even gluten-free. Sounds good, right?
What I use here are vegan butter, applesauce (to replace eggs), sugar, flour, and a touch of aromatic vanilla. You will need a hand mixer (or a stand mixer) to cream the butter and make a batter mixture.
Pound cake is typically baked in a loaf pan or a Bundt mold. In this case, I go with my loaf pan to form a long cake loaf. Bake them for around 50 minutes. You can use a toothpick and insert it into your cake to check the doneness. If it comes out clean, your pound cake is ready to go.
A flawless pound cake is not too complicated to make.
Total time: 1 hour 45 minutes (including time for rising the dough)
Butterkuchen is an authentic German cake with the primary component being butter. This sweet is a well-liked food on the coffee table. The locals also serve it at weddings and funerals; thus, its moniker is also a "joy and sorrow cake".
Besides conventional cake components, Butter kuchen asks for yeast to rise the dough, which should be for at least 1 hour. If your dough is crumbly, you should add a bit of milk or add more flour if it is sticky.
The ingredient amount should be accurate as well. This recipe is designed for a 13.5 x 9.5-inch pan, so you should adjust the measurement if your tool is bigger or smaller. The final step is to sprinkle sliced almonds and sugar on top. And now you have a tasty and delicate cake to enjoy.
2. Chocolate Cakes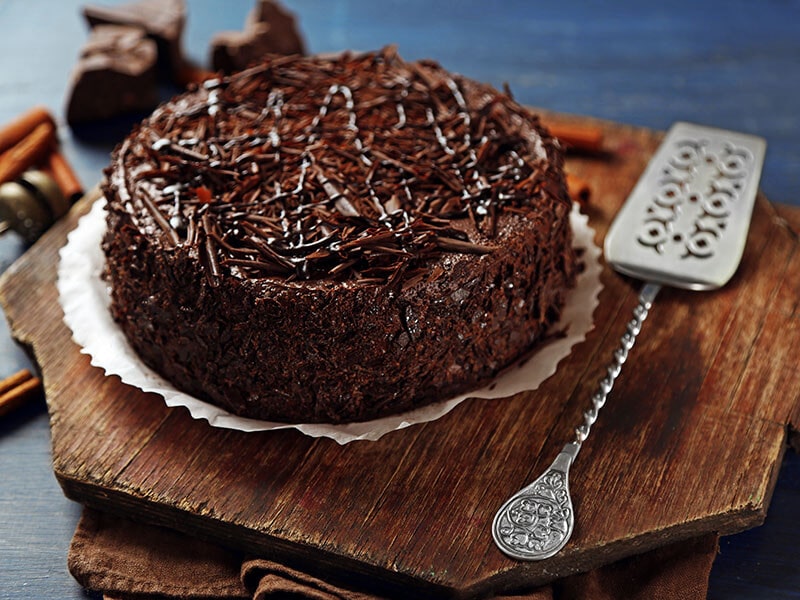 As the name suggests, the critical element in these sweet desserts is cocoa powder or melted chocolate (or both) as a flavoring. Chocolate cakes also contain vanilla creme, fudge (sugar candy made with sugar, milk, and butter), or sweetener.
Chocolate cakes can be butter, sponge, layer cakes, or more, as long as these cakes are flavored with chocolate. They feature a perfect balance of sweetness and the rich scent of chocolate, making them one of the best cake flavors around the world.
Chocolate cakes can trace back to the 17th century when Americans started to know about cocoa powder. For more specific, the first chocolate in the country was in 1886, when the baker mixed chocolate into the cake batter.
Total time: Around 15 minutes
This dessert is a French specialty with perfect tenderness and moisture. It is also famous for its oozing molten chocolate in the center. That's why the general rule in making this cake is not over-baking it as the liquidy center is not runny anymore.
Molten chocolate lava cake is a cross of a chocolate cake and a souffle. It was the invention of Michel Bras (a French chef) in 1981. Overall, this is a small cake for individual portions. Today, you can also spot them prepared in a coffee (or tea) mug or cooked in a microwave oven.
In this recipe, the best part is the simplicity. With a few ingredients, an oven, and ramekins, you can whip it up in just around 15 minutes.
Total time: About 1 hour
Now, let's travel to another European country to learn how they prepare chocolate-based sweets. Torta Caprese is one of the finest cakes and pies in Italy, thanks to its deliciousness made with a few components.
Made with chocolate and almonds (sometimes hazelnuts), this treat does not use flour either. Generally, Torta Caprese owns a hard yet thin shell with icing sugar (or cocoa powder) on the top. Its interior is extra moist and dense with a nice balance of bitterness and sweetness.
Find out the best ways to make Torta Caprese here.
3. Sponge Cakes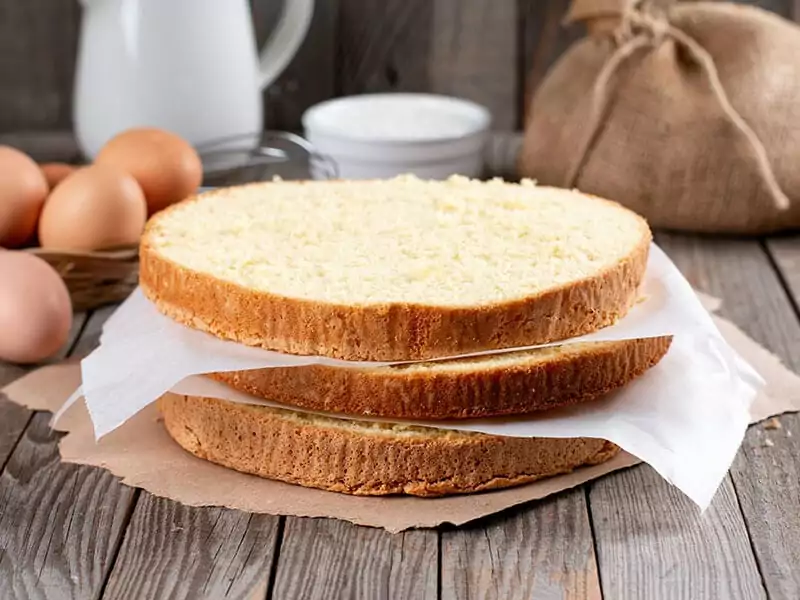 Another well-known variant is sponge cake (aka foam cake), which has an airy and light texture. Sponge cake comprises sugar, flour, and eggs, in which the eggs are beaten (or whipped) to create an airy foam.
Eggs are also the rising agent in these sweets. The air bubble trapped in beaten eggs can expand when you heat them, making the cakes rise. On the other hand, some recipes also use baking powder as a leavening agent.
Many American sponge cakes do not have butter. The creamy taste you feel in them might be from pastry cream, buttercream, or frosting/fillings. Some recipes include custard sauces or fresh fruits as well.
However, a classic European sponge cake – Genoise, is quite different as it contains clarified butter. So keep reading for more information about Genoise and other popular sponge cake ideas.
Total time: Approximately 1 hour
Genoise is a classic example of the sponge cake category. It is also a familiar treat from Italy and is named after a city in the country – Genoa. Enriching with egg and butter, this basic form of Genoise own a subtle flavor with an airy and moist texture.
Thanks to its sturdy form, Genoise is also a common cake base for other cakes. Another good thing about it is this cake can soak up the flavor of syrup without compromising its texture.
What is the secret behind a perfect Genoise? This video answers what you are looking for.
Total time: 1 hour 20 minutes
This is an American-origin cake created by Harry Baker – a Californian caterer. Like other sponge cakes, Chiffon is very moist, light, and airy and can melt in your mouth.
What you can remember to differentiate from other cakes in the same group is the addition of oil in Chiffon cake batter to enrich the flavor.
In addition, due to the high level of oil and egg in the ingredient list, they can hardly dry out like other butter cakes. So if you want to add refrigerated frosting or filling, you should opt for Chiffon cakes rather than butter cakes.
Total time: 1 hour 15 minutes
Gluten is a protein in grains, and it is easy to find in many cakes using standard flours. And this protein is a big no-no for people with celiac disease. Luckily, it is easy to search for thousands of gluten-free cake ideas (internal link gluten-free cake recipes) when you crave a sweet treat.
This Angel Food cake is a good option in this case that you cannot even recognize that it is gluten-free. People can consume them alone or add whipped cream with various options for Angel Food cake topping.
Overall, the ingredients are similar to other sponge cakes. However, please note that Angel Food cake does not ask for butter. This one also shares the same textures as other cakes in the same classification, which means it is still a light, fluffy, and soft cake.
4. Cheesecakes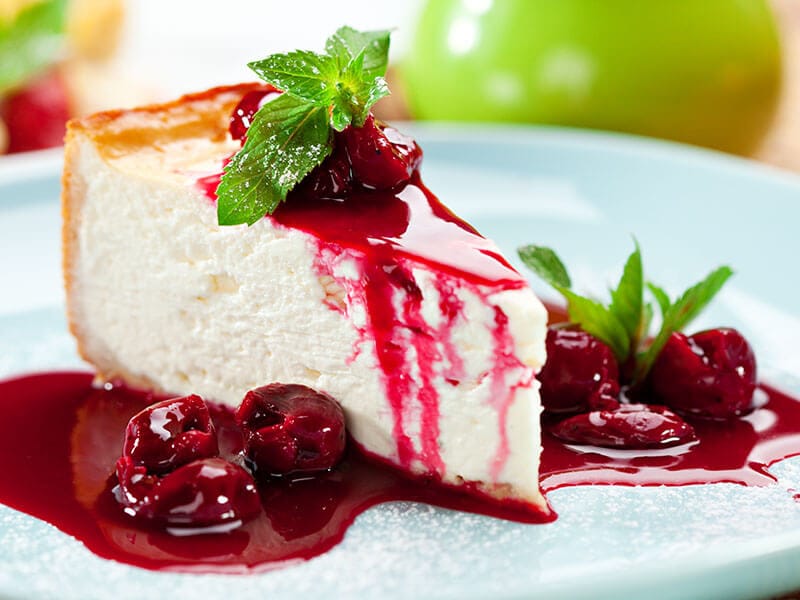 The next type is an extra gooey cake primarily including cheese, hence the name "cheesecake". Nevertheless, there is an argument that cheesecake is not an actual cake. Still, it is hard not to mention cheesecakes in this topic because of their enormous popularity in the dessert world.
Generally, they are baked or unbaked cakes with many cheesecake ideas based on their components. Many cheesecake styles have a thick layer of fresh and soft cheese (like cream cheese, cottage, or ricotta) mixed with sugar and eggs.
Their thin base comprises a crumb crust made from crushed graham crackers, cookies, or even sponge cake. Some cheesecakes include topping as well, such as chocolate, nuts, fruits, or cream.
You can also spot some versions that come without a base or crust. Their styles are various based on regions as well. But in brief, cheesecakes are famous for their delicate and creamy texture.
If you are not sure whether your cheesecake is done or not, here is a chef's advice to check the doneness.
Total time: 1 hour 30 minutes
The list of Philippines desserts is diverse with many mouthwatering treats, including this ube cheesecake. The first thing to notice about this cake is its bright purple color from ube extract. And it is also vegan-friendly with a rich flavor.
If you have not known about this unique component, ube is a starchy yam that plays an important role in the Philippines' culinary treasure.
Similar to American cheesecake, this Asian specialty has a thin base layer of crust (which I use Oreos and butter to make) and a thick cheesecake layer.
Total time: 1 hour 35 minutes
First, this exotic Japanese dessert is a baked cheesecake with the addition of cream cheese. And it is totally different from the American style as Japanese cheesecake is crustless.
In short, if you need a cheesecake with an ultra-fluffy and airy texture that assembles sponge cake, this style is what you are looking for.
5. Nut Cakes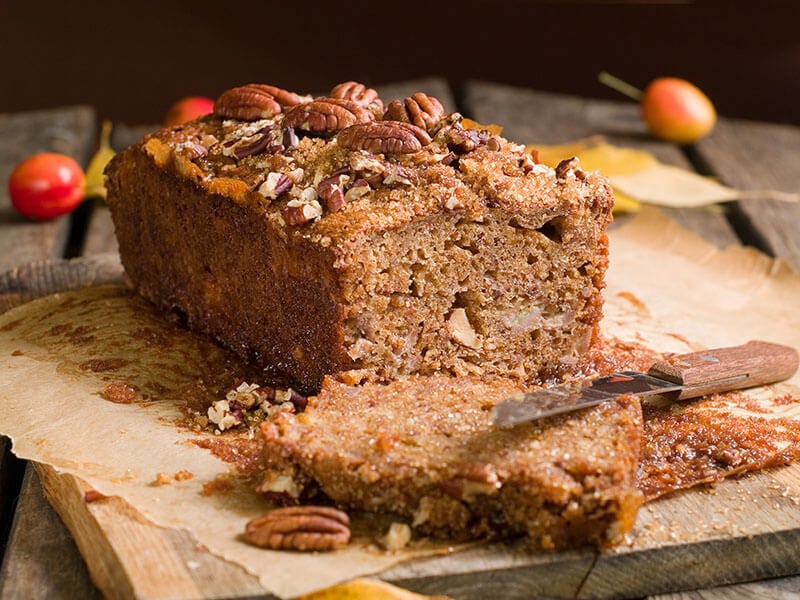 There are various nut varieties that you can use to prepare cakes. They are a perfect source of fiber, protein, antioxidants, and healthy fat, so adding them to desserts is an excellent way to improve your health.
Fantastic nut varieties to go with cake are walnuts, almonds, cashews, pecans, or chestnuts. You can ground them into powder or add these nuts throughout the batter.
They will surely add nutrients, flavors, and textures to your cake so you can enhance the pleasantness when consuming it.
Additionally, nut cakes are in various styles, sizes, and shapes. Some are perfect Christmas desserts or tasty accompanied food for your tea time. Below are 2 basic examples of nut cakes.
Total time: 30 minutes
Here is a quick sweet course for trying at home, especially if you are a big fan of French cuisine. Financier (or French-style almond cakes) are small treats with strong hints of brown butter and almonds, resembling an exquisite sweetness and butteriness.
Egg whites, almond flour, and powdered sugar are 3 things that must be included in these specialties. And by mixing the ingredients into a bowl, you can bake them in small molds for around 10 minutes until they turn golden with slightly crispy edges.
Let's grasp some ideas to make some yummy Financiers.
Total time: 45 minutes
Italian desserts, especially cakes, seem endless. Speaking of nut cake, Castagnaccio is a high-reputation cake throughout Italy. With simple preparation, it can be a good start if you are new at baking.
There are not too many things you need to prepare for making this delicious sugarless cake, but the indispensable one is chestnut flour. In short, this one can fit your vegan diet with numerous health benefits.
6. Layer Cakes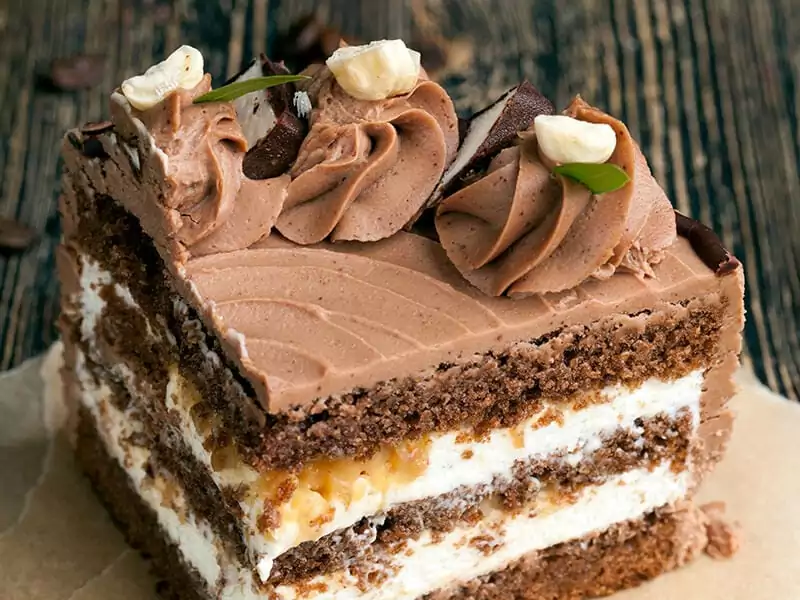 Layer cakes (or sandwich cakes) feature several layers that bind by fillings (jam or cream) or frostings between them. Moreover, people normally cover these treats with icing or leave one side uncovered so they can show beautiful, thin layers and fillings.
The thickness of the layers is different, depending on the frosting or filling's ingredients. For example, the buttercream filling should be ½-inch thick for 1-inch cake layers. However, this ratio might be different if you use jam. Jam filling should be thinner to avoid oversweet cakes.
Layer cakes can also be sponge or butter cakes with multiple sheets. Some classic layer cakes worldwide are carrot cake, red velvet cake, or Devil's food cake, which I will explain in detail later.
In short, a perfect layer cake must be soft and moist. They are also bigger than some types of cakes as people regularly serve them to a big group. If you want to serve a cake for about 16 people, you should bake them in a 9-inch round cake pan.
Here is a comprehensive overview of the layer cake that you need to know.
Total time: 65 minutes
Apparently, what's in this 2-layer carrot cake must be carrots, let alone other traditional baking ingredients. Also, vanilla, mixed spices, and buttermilk make them taste more flavorful.
The cream cheese frosting also adds a light note of sweetness and a perfect melt-in-your-mouth texture that can make you go crazy with every bite. If you need more texture in your cake, chopped walnuts or toasted coconut on the top are ideal solutions.
Total time: 2 hours 40 minutes (including inactive time)
Humans have created Angel Food cakes, but have you heard about the Devil's Food cake? The main difference between them is that the former is a kind of sponge cake, while the latter is a chocolate-based layer cake.
It is heavy, dense, and extremely rich, making Devil's Food cake a favorite cake among consumers around the world. This cake's root was from America and has gained popularity since the 1900s.
The main elements comprising Devil's Food cake are cocoa powder, flour, butter, and leaving agents. In this recipe, the frosting also has a certain part of making them more stunning on your dining table. You can make the frosting ahead of time if desired.
Total time: 1 hour
Red Velvet cake is a variation of Devil's Food cake which also uses cocoa powder to make. However, it features a red (or crimson) color derived from non-Dutched cocoa. Some versions use red food coloring, like this recipe.
Thanks to its mesmerizing appearance, Red Velvet cake is a fancy dessert that is so buttery and fluffy. Do not skip the frosting part. The best ingredient for it is cream cheese. If you prefer thick frosting, you can add more sugar. And please let the cake cool down before coating the frosting.
7. Yeast Cakes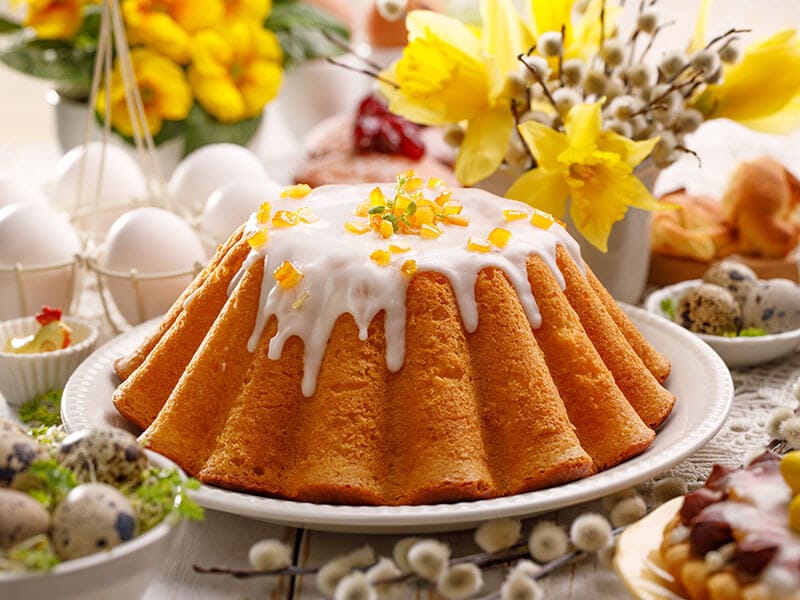 Yeast cakes refer to any cake that compresses yeast – a living organism as a leavening agent. For your information, yeast is also used to ferment whiskey or beer (called brewer's yeast).
In baker's yeast, there are 2 main types of yeast, including wet and dry ones. People also know wet yeast under other names like compressed yeast, cake yeast, or fresh yeast, while instant yeast or active dry fall under the dry yeast category.
So do you know how yeast works in a cake? That's right! This agent will make the dough rise. For more specific, yeast can transform sugar into carbon dioxide, and this gas can create many tiny air bubbles in the dough, making them expand or stretch during baking.
Yeast-leavened cakes require time to raise the dough. Plus, yeast also offers flavor to your cakes. And the capacity to hold moisture in yeast cakes is a little bit better than in regular cakes. If you want to know more about these cakes, here are 2 special recipes that you can check.
Total time: 3 hours 30 minutes
In fact, Cozonac has a visual look of a bread loaf, but its ingredients are similar to normal cakes, such as flour, eggs, sugar, butter, instant yeast, and more. This is a Romanian-style dessert that brings a lot of joy on special holidays, like Easter or Christmas.
Another trait that makes this specialty unique is the nutty filling made with cocoa powder, walnuts, and egg whites. After baking, Cozonc has an appealing golden brown on the outside. It also has a distinctive look when you cut them into slices.
Total time: 1 hour 20 minutes (without chilling time).
When it comes to finding an idea for a Christmas cake, it is hard not to mention this signature cake from Verona (Italy) called Pandoro. Similar to Cozonac, it is a sweet bread and almost cake-like.
The cake is easy to recognize with its eight-pointed look baked in a star-shaped pan. Moreover, the aroma and fluffy soft texture of Pandoro mesmerize you from the first try. There is no need for any fussy decoration. Pandoro is typically served with powdered sugar dusting.
Let's celebrate Christmas with this Italian-style cake – Pandoro.
8. Fruitcakes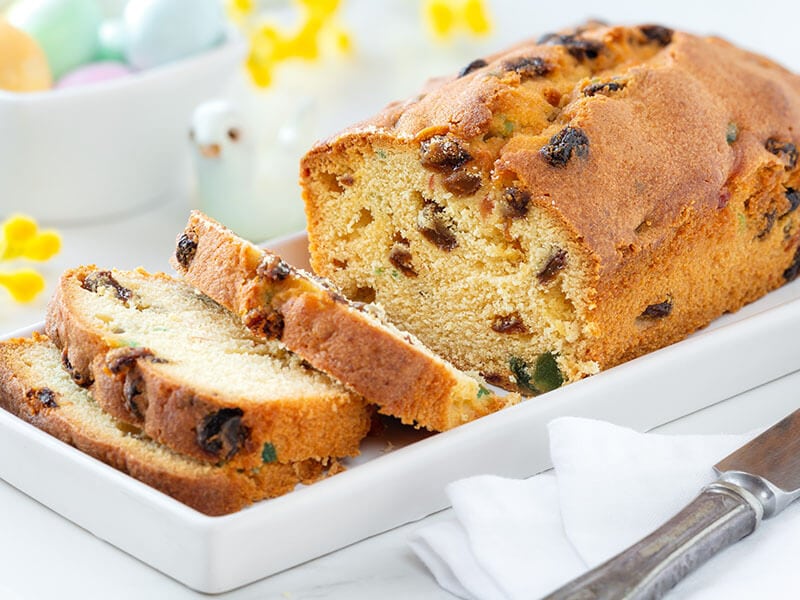 Fruitcakes are an age-old type that originated from ancient Rome, then soonly became popular throughout Europe. Different countries have distinguishing ways to prepare fruitcakes in terms of ingredients.
In general, fruitcakes are a heavy amalgam of dried (or/and candied) fruit, nuts with flour, and sugar. Some versions include alcohol (such as brandy or liqueurs) to make them tastier and have a longer shelf life.
Interestingly, you can reserve these cakes for months by wrapping them with alcohol-soaked linen. By doing this, the overall flavor of your sweets can be richer over time.
Thanks to their moist texture and rich taste, people commonly enjoy fruitcakes at Christmas (like in Canada) or at weddings. In America, many fruitcakes are available as commercial ones, but most of them are non-alcohol sweets.
What is fruitcake? And how has it become a part of humans' lives? Let's find out here!
Total time: 2 hours 30 minutes
Dundee cake is a true fruit cake from Scotland containing almonds, currants, and raisins. Aromatic, flavorful, and extremely moist, it is the Queen's favorite cake for tea time.
It is a no-fuss cake as well by making the cake batter, then decorating it with several blanched almonds. Keep in mind that you do not have to push the almonds into the batter; just simply and lightly place them on the batter surface. And finally, bake it for around 1.5 to 2 hours.
Total time: 50 minutes
Another instance of fruit cake is this sweet course made with rum-soaked raisins. So if you like something with a boozy note, here is the hassle-free treat to try at home.
In general, this cake carries a Caribbean vibe, thanks to the appearance of dark rum. Plus, the caramel filling and rum buttercream frosting will surely upgrade this treasure to a new level of tastiness.
9. Special-Occasion Cakes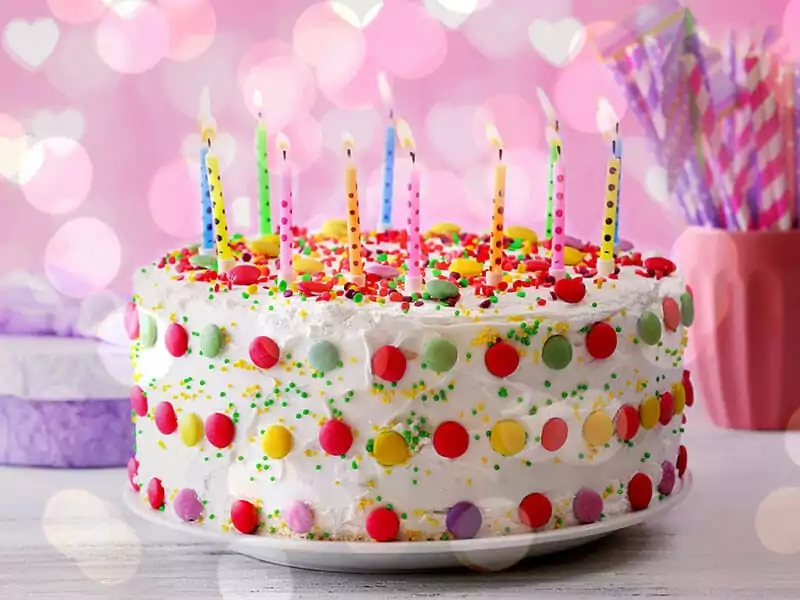 Obviously, cakes are a must-have delicacy in any celebration. But as they have to bring joy and excitement to these events, these cakes should have creative designs or vivid appearances to impress all the guests from the first sight.
Cake for special occasions can be any cake classification, as long as it can light up the party. Whether weddings, birthdays, Christmas parties, etc., these cakes should be memorable and beautiful.
Many people prefer ordering them at bakeries because they can be prepared and decorated well by professional bakers. But if you love baking, there are several homemade recipes that even a beginner can give a shot, like the below recipe for birthday cake.
Amateur, home cook, or expert which level are you going to try for making a birthday cake? Check this clip to know more.
Total time: 45 minutes
If you are looking for a simple cake recipe for a birthday, you should check this one. It is a perfect balance of something delicate yet colorful. So let's see what is in this birthday cake.
The main thing to bring the fun look is rainbow sprinkles, and the rest of it are familiar ingredients of baking cake. This one is also a layer cake with a cream cheese buttercream coat to give you a bit of tangy taste.
Total time: 3 hours 40 minutes
Another cake for Christmas is this Irish-style sweet. The essential element to highlight its goodness at the Christmas party is the fruit mix soaked overnight (at least 12 hours). Chopped currants, sultanas, raisins, and candied cherries are the main items here.
This is the most time-consuming part, and the rest – baking the cake, is very straightforward. However, ensure you well-prep the baking tin before baking the cake. Otherwise, it might take hours to be cooked.
10. Spit Cakes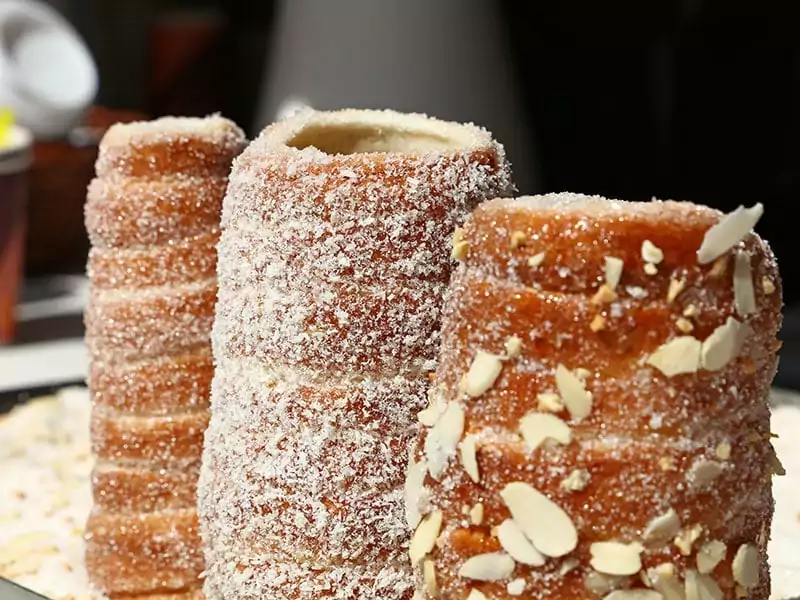 When it comes to indulgent European-based cake, spit cake is one of the greatest examples. The most distinctive characteristic of these cakes is their preparation method.
Spit cake includes several layers of dough (or better) that people need to apply on a spinning spit and cook on an open fire. As spit cakes have many layers, they will show a lot of rings when you cut them. That's why they have another name, "tree cake".
Spit cake appearances are diverse depending on the consistency of the dough or how speedy the spinning speed is. For instance, if the dough is runny, the cake might come out with many spikes that resemble coral.
The texture of spit cakes is different as well. Some might be chewy and firm with various spikes like Sękacz or dense and springy with a smooth surface like Baumkuchen.
Total time: 1 hour 20 minutes (plus chilling time)
German cakes never fail to surprise me, like this Baumkuchen. In the basic form, it appears with several even layers of batter (typically 15 to 20 layers) cooked on a spit over an open fire.
The recipe I use here is a more convenient one that you can utilize your grill to make. Of course, it still has many batter layers made with egg yolks, butter, and flour as the main ingredients. To enhance the overall flavor, the chocolate sauce is an excellent addition.
How to prepare a nice Baumkuchen? Check this tutorial for more information.
11. Cupcakes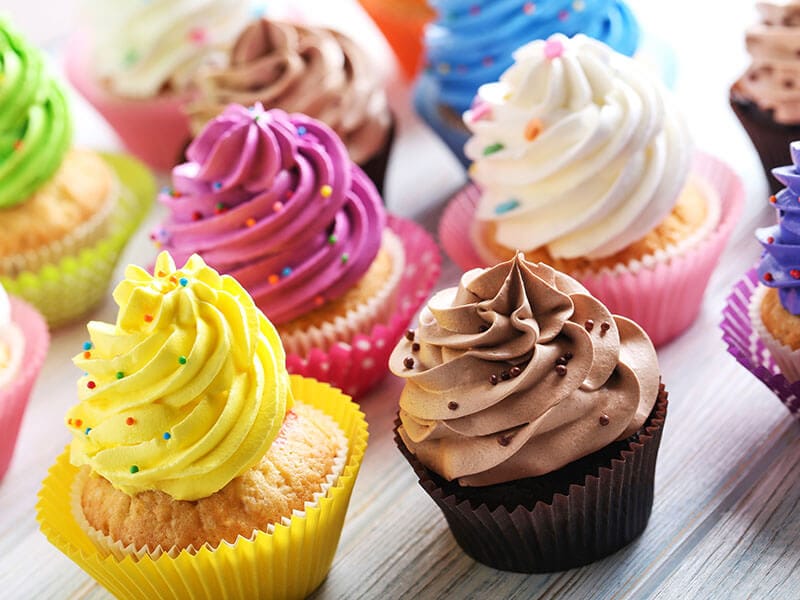 Cupcakes (or patty cake, fairy cake) are small-portion cakes to serve individually. They are also baked goods that have similar ingredients as conventional cakes. Also, they might (or might not) come with frosting or decorations. These decorated cupcakes are better for special events.
Cupcakes are also faster to bake than bigger cakes, making them more convenient. With the ultimate creativity of humans, it is also not too hard to find many great sugarless cupcake recipes on the internet that you can make at home.
The first thing you need to make cupcakes is a non-stick cupcake tray (or liner) with several cupcake cups. Cupcakes usually go with a thin paper liner that varies in size or aluminum foil. Furthermore, other styles come in a mug or jar.
Quick fact: The first reference to cupcakes was in Amelia Simmons' cookbook named American Cookery in 1796.
A short explanation of common mistakes in baking cupcakes.
Total time: 1 hour 20 minutes (including cooling time)
Craving something sweet with a touch of vanilla? Give this vanilla cupcake recipe a shot to prepare some cute and tender treats. What's better. This idea is suitable for 1 to 2 people if they do not want to make a big batch of cookies.
A normal cookie tray has room for 12 cups. Actually, it is not easy to decrease the ingredients in half or double them, but this baking recipe is designed for a small batch of cookies with 6 cups for more convenience.
12. Pancakes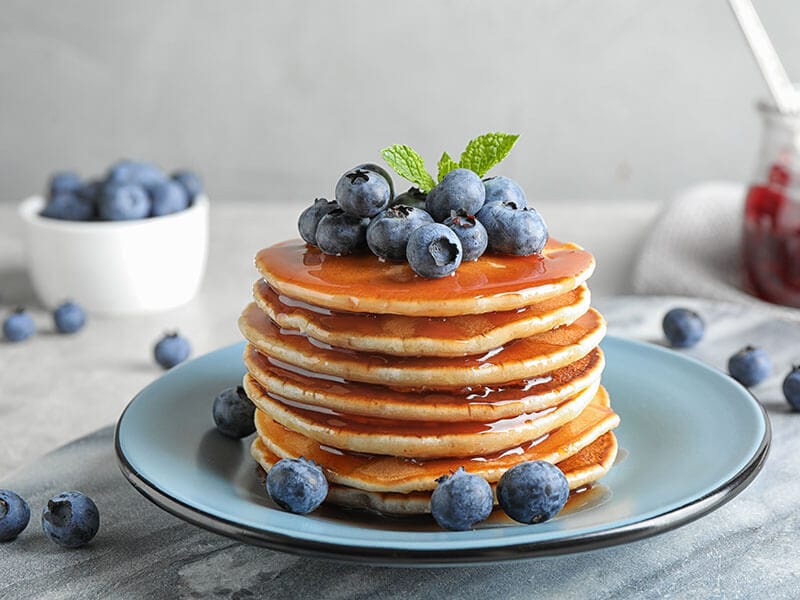 Speaking of cakes for breakfast, various healthy pancakes are good choices for you.
The ingredients, shapes, or texture of pancakes are different, depending on where they are made. However, unlike other cakes, pancakes in Canada and the United States are typically small with a flat and round appearance.
Common ingredients to make pancakes are eggs, butter, and milk. To cook them, people usually use a high-quality pancake griddle, frying pan, or you can bake them in the oven.
Are you curious about the history of pancakes? If yes, you should click here and gain more knowledge.
Total time: 20 minutes
Here is a quick option for adding more protein to your body. Indeed, cottage cheese pancakes are not only a healthy breakfast; they are also gooey and pleasant foods with a fluffy interior and slightly crunchy exterior.
If you need a meal-prep idea, these pancakes can satisfy you as well because they can store well in the fridge. Before serving, remember to drizzle a bit of maple syrup over the top for a tastier breakfast.
13. Ice Cream Cakes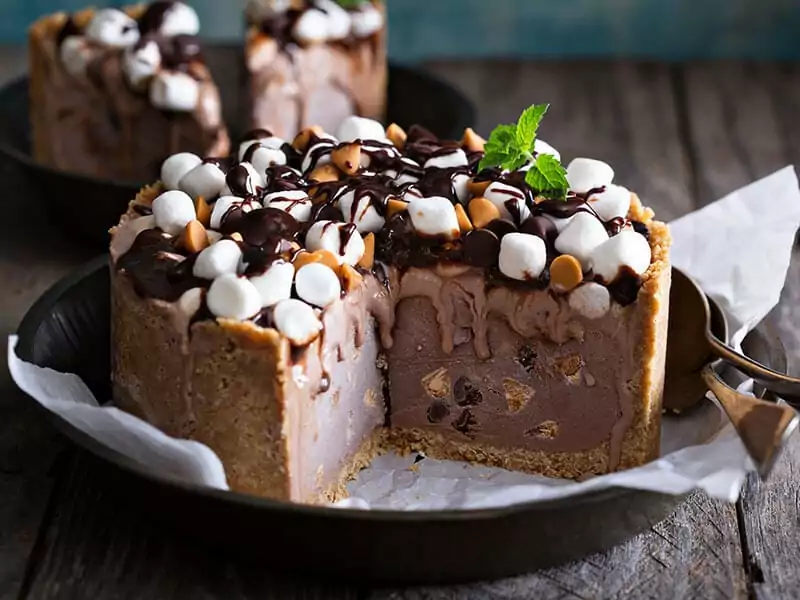 Ice cream cakes are a well-loved style in America (particularly North America) and Australia that usually appear at parties or significant events (weddings or birthdays). In contrast, they are not so popular in European countries.
Ice cream cakes, basically, are those containing an ice cream filling. Common recipes in this cake group can be layer cake or swiss roll. If you want to buy them at stores, many worldwide or local brands sell these cakes like Dairy Queen, Baskin-Robbins, Fudgie the Whale, etc.
The preparation of ice cream cakes is easy to understand. You need to bake the cake in an ordinary way, then freeze them. The ice cream should be formed based on the shape of the cake components as well.
After assembling a whole cake, put it in a freezer as all components need to be completely frozen. When serving, you should allow your cake a little bit of time to thaw so you can cut it into slices easier. Do not spend too much time to thaw the cake as the ice cream melts, resulting in soggy cakes.
Total time: 6 hours 55 minutes (including 6-hour freezing)
This is a 3-layer cake with 2 chocolate cake layers and one for cookies and cream ice cream. For the chocolate cakes, you can bake them like conventional recipes with flour, cocoa powder, salt, and leavening agents.
Regarding the ice cream layer, use a cake pan covered with aluminum foil to shape it. You will need 6 hours to freeze this part.
Finally, you can coat them with a thin layer of whipped cream for a better visual. As they are a frozen sweet, you can dip a knife in a bowl of hot water to cut the cake easier.
Let's expand the idea for ice cream cake with these 3 incredible options.
Other Popular Cake Varieties That Can Lure You In
The final section is about the other 3 cake styles that I think you might be interested in because it is quite convenient. There are also 3 attached recipes to show you how simple they are. Let's find out!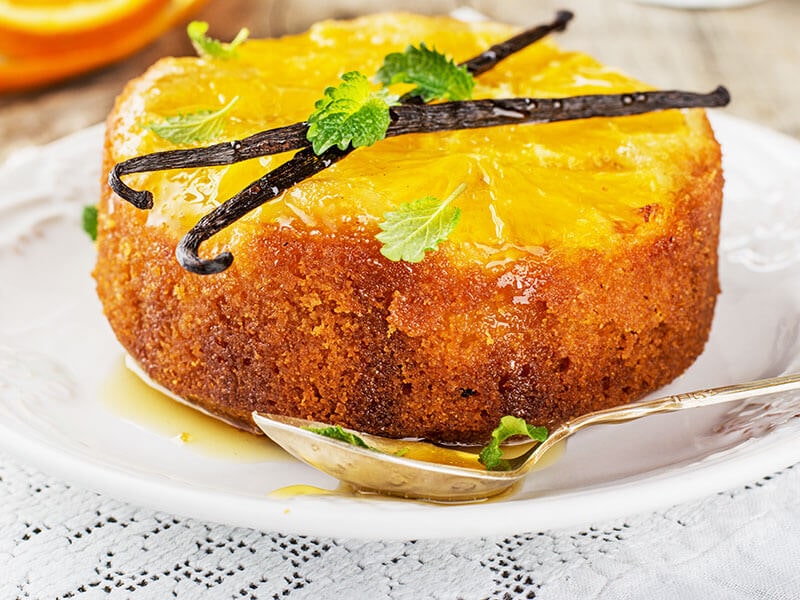 14. Upside-down Cake
Another ultimate dessert choice is stunning upside-down cakes.It has this name because these sweets are baked in a pan in an upside-down style. It simply means that the topping of this cake is on the pan's bottom.
The ingredients in upside-down cakes are batter and fruits, which can be pineapples, apples, or cherries. In America, pineapple upside-down cake must be the most famous one. Or Tarte Tatin is also another twist of this type of cake in France.
Total time: About 1 hour
As explained above, the topping of this cake, which includes pineapple and cherry and a mixture of sugar and butter, is baked in the pan's bottom. Following is the batter made from flour, butter, baking powder, eggs, and seasonings.
That's it! That is all you need to do before transferring the baking pan into the oven. The pan I use here is a 9-inch round one, and it would take about 45 minutes to bake.
If your tool has a different size, the baking time is not the same. But you can check the doneness with a cake tester or a toothpick.
Here is a simplified version of pineapple upside-down cake that you can pull off in 1 hour.
15. Flourless Cakes
It is not too challenging to find non-flour cake recipes on the internet because there are many flour alternatives that you can use in baking cakes. They can be baked or unbaked sweet and have a silky or creamy texture.
Plenty of chocolate cakes do not contain flour because cocoa powder can be a flavorful replacement. Below is an easy yet decadent cake to try!
Flourless Fallen Chocolate Cakes
Total time: 1 hour
If you have a huge crush on chocolate, this is an iconic one to make your weekend more fun. As chocolate is the main star, you need to buy high-quality ones.
Furthermore, do not over mix the batter because it can deflate the beaten egg white, and your cake might not come out as you expect.
And remember to spread butter and cocoa powder on the pan at the beginning. Otherwise, the dessert cannot rise (when baked) and fall down (when cooling down) properly.
16. Eggless Cakes
Eggs in baking act as a binding agent, so what is an eggless cake's texture? Normally, most recipes of non-egg cakes turn out denser than those with eggs, but the texture of egg-free cakes also depends on other factors, such as ingredients.
Other egg substitutes in these sweets vary; for example, mashed ripe bananas, yogurt, applesauce, etc. If you use dairy-free yogurt, it can become an ideal vegan cake as well. So do not assume that egg-free cakes are 100% for vegans.
Total time: 1 hour
You might think coffee cakes are cakes with coffee flavoring, but it also refers to those sweets that people can enjoy with their coffee or tea. This recipe falls under the latter type.
So there is no coffee-flavored ingredient here. Instead, this is a flavorful and buttery cake with a strong hint of warm cinnamon that will surely be a hit in your coffee or tea time. The fluffiness and softness in every bite of this coffee cake is another big plus. And it is also easy to make.
17. Shortcake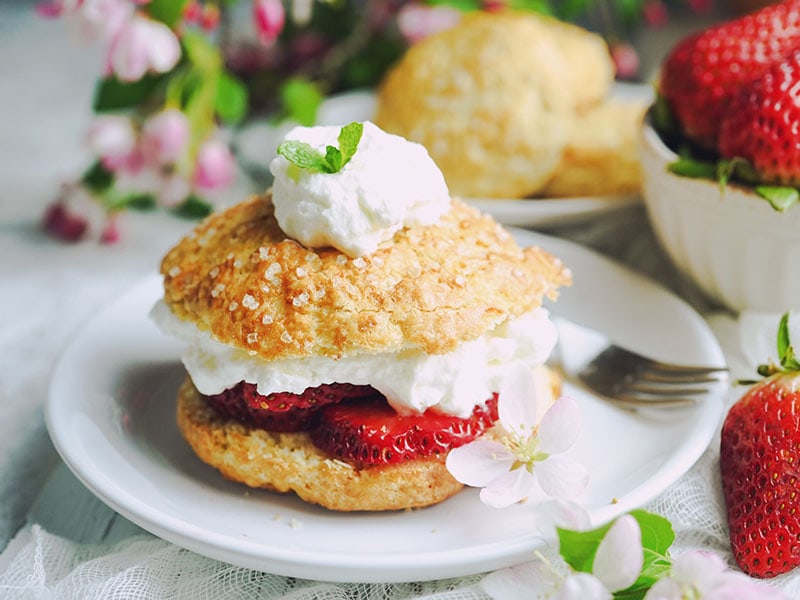 Shortcake is an American-origin sweet cake or crumbly biscuit. The texture of shortcake is totally different from sponge cakes' texture, which are rich, airy, and light.
In fact, the "short" in the name refers to something crispy or crumbly. It is the result of adding the addition of fat (e.g. butter or lard) in making the cake. And shortcakes do not use too much butter.
At first sight, this American dessert includes fresh fruits (strawberry is the most popular fruit in this case), whipped cream, and biscuit-like cake. Shortcakes are easy to make as well.
Total time: 37 minutes
Nothing that can challenge you in making this shortcake. With around 40 minutes, it can have a big batch of crispy biscuit paired with whipped cream and strawberries.
To make uniform biscuits, it would be better if you use an ice cream scoop to form the dough into smaller biscuits. Strawberries should be fresh ones and diced into bite-size pieces. You can mix the fruit with granulated sugar before adding it to your shortcake.
Cakes Classifications Are Abundant, And So Are Their Recipes!
Cakes come in various styles and flavors. Regardless of their types, cakes are fun and tasty desserts to boost your mood and make your meal more pleasant. So, who does not love cakes, am I right?
After reading this post, I hope you have gained enough information about cake varieties as well as their most popular recipes. Many of them are simple to make, so please do not hesitate to try some in your leisure time.
Finally, if you like what I have shared here, your likes and shares are my big motivation to compose new valuable articles about the culinary world. Please do not be shy to share your thoughts or opinions in the comment section.
Thank you for your support, and have a nice day!