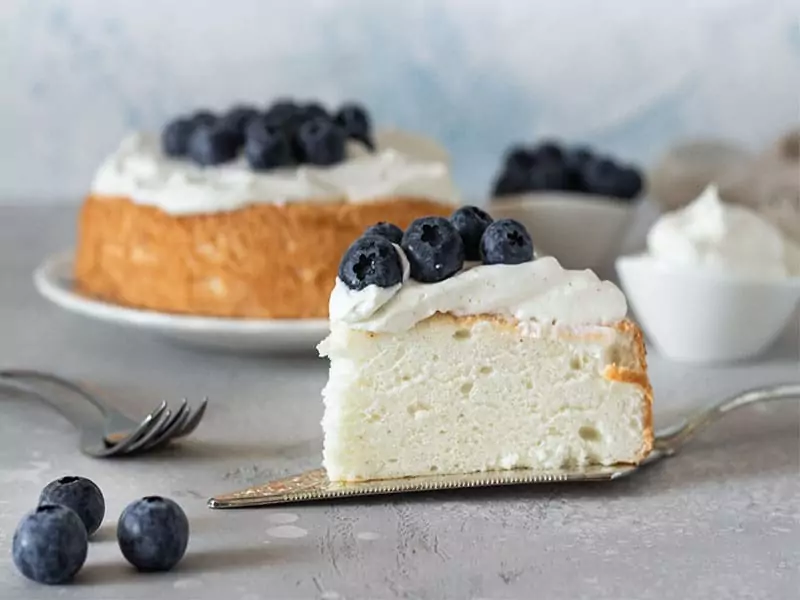 Can you freeze the angel food cake? The answer is, of course, yes, but the actual concern about it is how!
I made too much food to eat at a certain point and felt a bit guilty for wasting it while others didn't. It's the same as if you've got the leftover cake sitting in the fridge within a few days!
There's nothing more significant than having such a fluffy sponge cake from your last baking session. But now you wonder whether your fussy kids can eat it more or not. Try freezing some portions of it so that they can have it later.
Doing so retains the consistency and flavor of the cake. Besides, freezing a cake doesn't require complex steps, but you merely need to do it properly. While daily foods are easy to store, how to do it with angel food cake?
Before learning how to freeze it, you should know how to remove it from the pan.
Successful Steps To Freeze Angel Food Cake
You've learned the best tips for making angel food cake from the top comprehensive cooking classes. Let's focus on your work and find out how to freeze this delicious food from Britain suitably. It's time to make them freeze beautifully!
Slice your angel food cake into individual portions at your desired size
Label each portion with "Use-By-Date" mark
Double wrap each piece of cake with plastic or aluminum foil
Store each portion in freezer-safe containers
2 Tips On Remove Angel Food Cake From Its Pan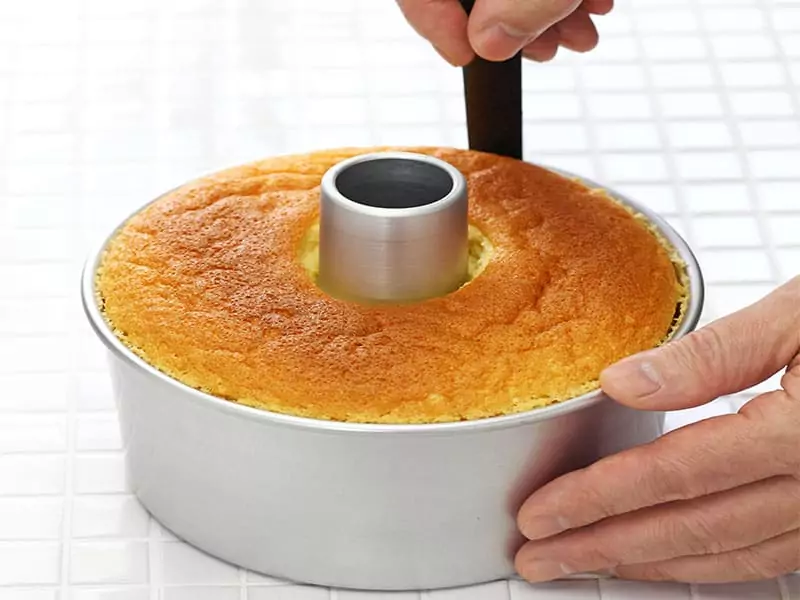 Do you have to wait through the night to remove the cake from the pan? Worries soon disappear once you know how to do it properly.
Cool It Before Flipping It Out Of The Pan
After removing your sweet cake from the oven:
Don't try to get it out of the pan at once.
Leave it cool there within 15-20 minutes in the pan.
Next, place the wire rack at the bottom of the pan before turning it upside down.
By cooling it upside down, you can maintain the volume and texture of the cake. After waiting for a while, look under the rack to see whether the cake has come out or not.
If it has, you've made it! Then, only remove the tube pan and let the entire cake cool gradually before serving.
Use A Knife To Run Around The Pan
Unlike the majority of decent springform pan, which makes removing the cake quite easy, angel food cake pan might make this process a bit complicated. Not to mention that the fruits on the cake might stick to the pan, so you might need to use a bit of force to get the cake out.
Loosening up your dessert from all sides of the pan is a task suitable for utility knives or other small, thin knives. A filleting knife with a blade of 15-28 cm in length is also ideal. Run it around the edge of the pan to make it easier for your cake to release.
Though it takes a bit of practice, it's still better to do it instead of getting each piece of cake out of the pan. Now keep reading on how to freeze an angel food cake as a whole or slices.
How To Freeze Angel Food Cake
If you want to save a few slices of cake, it's best to freeze it in smaller portions so that it would be easier to put the whole cake in the fridge. Do not forget about doubling wrap to prevent it from receiving any foul odors from your freezer. Here's how:
Step 1: Slice the Sponge Cake into Different Pieces or Your Desired Size Portions.
After baking a cake, you're recommended to cool the whole of it or each cake layer. Next, divide it into different pieces. It's better to slice your cake into suitable portions instead of storing the whole of it.
What you gain from doing this is that you can freeze the cake effectively and safely for a long period.
Step 2: Label Each Portion With "Use-By-Date"
Before wrapping, remember to write the kind of cake and "Use-By-Date" on each portion of the wraps. If you want it to retain the original flavor and consistency, do not leave the cake frozen for over three months.
Step 3: Double Wrap Each Slice With Plastic or Aluminum Foil.
Thus, there's a time when you find it necessary to double wrap the cake for more protection. With aluminum foil's standard thickness, double the wrapping layers will ensure that there's no chance your cake will get damaged from oxidation.
Another option that you should consider is heavy-duty aluminum foil. The clear differences between regular and heavy-duty aluminum foil will also yield vastly different results when it comes to storing your angel food cake.
When you have to extend it to 5 months, then eat it as soon as possible. Instead of a pencil, it's better to label the wrapping bags with a fountain pen. Next, go to wrap each piece of cake in aluminum foil or plastic bags.
And doing this works well, especially when some high-quality wraps can maintain the cake fresher.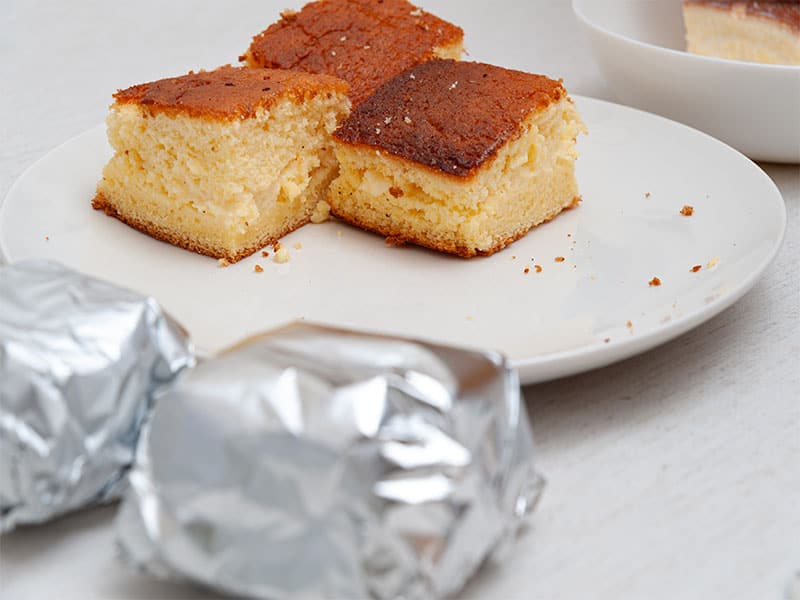 You should wait till it cools down already, wrap the cake layers in aluminum foil or plastic of Press & Seal.
It's considered the first choice among several products for wrapping cakes. But while choosing the wraps, avoid getting thin ones because they feel clingy and troublesome from time to time.
As you know, most cakes with garnishes suffering condensation never look good. As the process occurs due to the air, it's a clever idea to seal your cake with plastic wrap. Doing it helps guard it off getting wet on the outside.
In other words, the condensation will show up on the wrap instead of being left on the top of your angel food cake. The first layer brings a tight cover to the cake and keeps it fresh. Meanwhile, the second layer guarantees no condensation to penetrate.
Step 4: Put Your Wrapped Cake Portions In Freezer-Safe Containers
Ensure to put your cakes in freezer-friendly containers. If you don't have a spacious container to use at hand, try another layer of oil instead. Again, don't forget to leave the date on the foil wraps.
Put your wrapped cakes in each airtight bag or a plastic container like Tupperware. Doing so helps the cake avoid getting crushed by other stuff. Remember to remove the excess air carefully before sealing them all.
Note that this method isn't only effective for homemade cakes but also store-bought ones. In reality, most cakes bought in-store get frozen before the shipment. Therefore, most of them are okay for you to freeze again.
If you want to do it with freshly-baked ones, freeze it without the icing. Icing and toppings are what make your lovely cake hard to move while it's freezing.
All in all, freezing cakes is an excellent way of saving it for later use. Whether you decide to freeze it whole or in layers, try to thaw it the same way.
Watch this video to know more:
How To Defrost A Frozen Cake Safely?
As it's time for serving, you can thaw a frozen angel food cake even in the fridge. It's better to leave it for up to two days before serving. If you want to defrost a whole cake rather than its sliced portions, it will take longer for sure.
When thawing an angel food cake, place a wide rack under the cake and let it sit there at room temperature. Does it get sealed in an airtight bag? If so, then I recommend you separate it from the bags to avoid condensation buildup.
What if the cake gets covered in cling film or foil? It's not compulsory to remove the wrap before the defrosting process.
Thawing A Cake In Its Wrapping
It's better to leave the cake wrapped while thawing it. It's because the cake quickly becomes stale when sitting unwrapped for too long! The sliced cake often defrosts within two or three hours while larger cakes always take slightly longer.
Defrosting An Unwrapped Cake
Allow your frozen angel food cake to stand around at room temperature in the wrapping for two hours. If it's unfrosted, let it sit there for one hour only. Besides, any cake with whipped cream toppings needs to thaw in the fridge for four hours.
After leaving your savory cake for a desired period, separate it from containers and other wrappings.
How Long Does An Angel Food Cake Last?
You probably know that angel food cake is a unique cake made of whipped egg whites, flour, and sugar (1). Also, the cake remains fresh at room temperature for the day or within two days, according to its box.
Based on the dairy-free ingredients of the cake, there won't be any issues keeping it fresh for that long.
Like I said above, cover it with plastic wrap or foil before placing it in a cool place out of direct sunlight. If not, then it's Ok to refrigerate its remaining slices and help them last longer as desired. So how long does a cake stay fresh when you freeze it?
With the suitable preparation, your heavenly cake finds no difficulty maintaining its peak flavor for over six months after you freeze it. Interestingly, those made with egg whites tend to last longer than others made with egg yolks.
Bonus Tips On Storing Angel Food Cake Properly
It doesn't matter how you choose to store this super yummy angel food cake; you must refrigerate it.
Doing this enables your cake to survive longer when storing it at room temperature. It can last for more than one week, and remains in its peak quality!
To keep its sponge texture, pause refrigeration for a short time to get it back to room temperature.
Do not freeze the whole decorated cakes as they easily expand and contract, which ends up ruining your work.
Do not top it with whipped cream or other fillings till you finally eat it. For example, using flavored icing or fruits on the cake only causes it to go bad quickly. This tip goes well with all types of cakes.
But if the cake has one filling or something like that, it's advisable to place it into the fridge. Refrigerate it until you're serving or eating it.
Angel food cake is an ideal dessert to freeze and save for later use.
Depending on your taste, sprinkle fresh berries, or cover it with chocolate ganache after freezing to make it insanely good.
FAQs
Angel food cake is a popular dessert in the United States, with the name meaning "it's the food for angels!" Keep reading on if you want more exciting insights into this heavenly dessert:
In Closing
As you see, with proper knowledge about freezing your angel food cake, it can save you a lot of time and effort that you put to make it look good and taste amazing for the guests!
Try to follow my advice above carefully although the defrosting step might cause you to feel a bit impatient. And do not forget to check for moldy signs and discoloration to avoid unwanted consequences.
When you find this article very useful in providing what you desire, then click and share it now!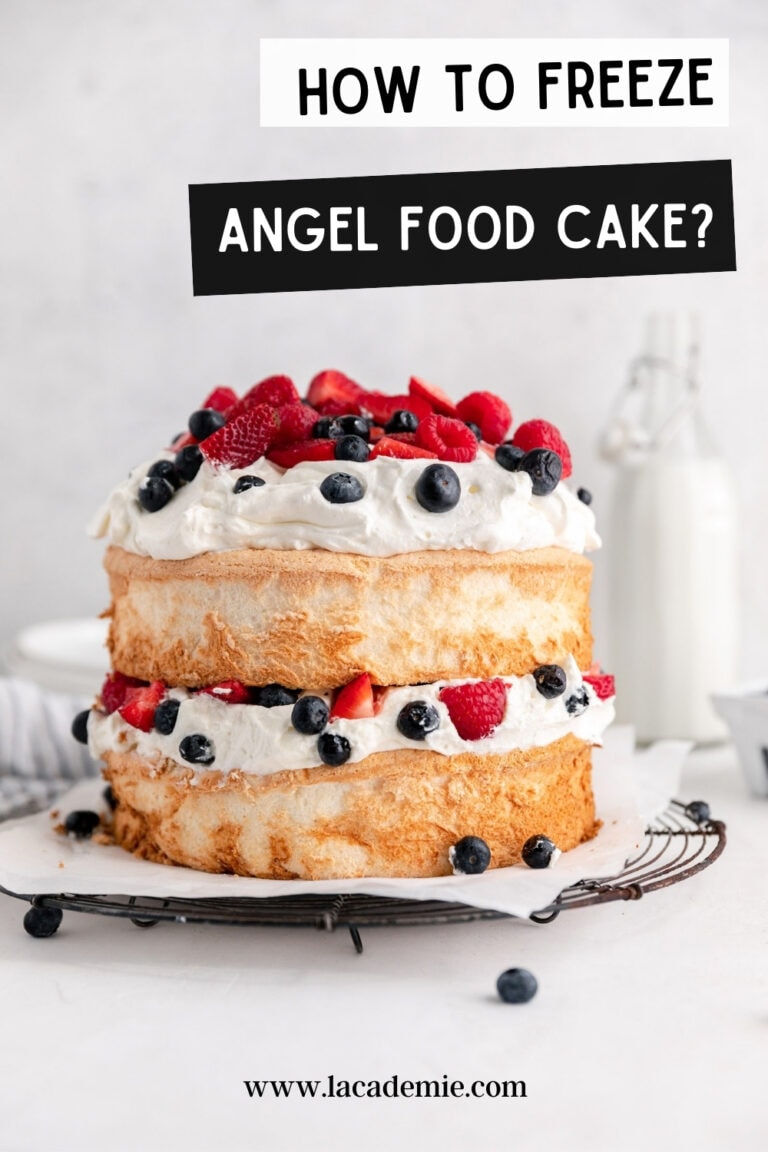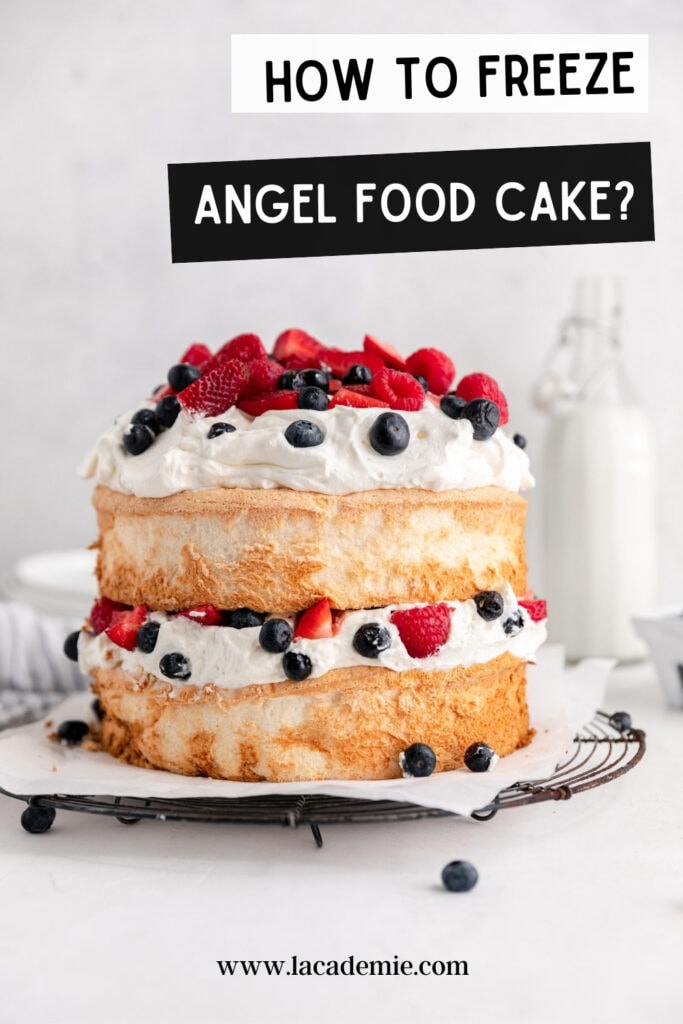 References
(1) Celebrating the 'Unique' Angel Food Cake • AnswerLine • Iowa State University Extension and Outreach. (2021). Retrieved 1 June 2021, from https://blogs.extension.iastate.edu/answerline/2020/10/06/celebrating-the-unique-angel-food-cake/
(2) Baking Cakes. (2021). Retrieved 1 June 2021, from https://www.four-h.purdue.edu/foods/Baking%20cakes.htm