Suppose you want to know about traditional culture, lifestyle, or just featuring dishes from Jamaica. In that case, these Jamaican desserts are what you shouldn't miss because they partially reflect the history and progress in Jamaica.
Jamaican desserts will remind you of unforgettable memories with simple and easy but tasty and irresistible cakes, snacks, and pudding. Let's go with me to know how amazing they are!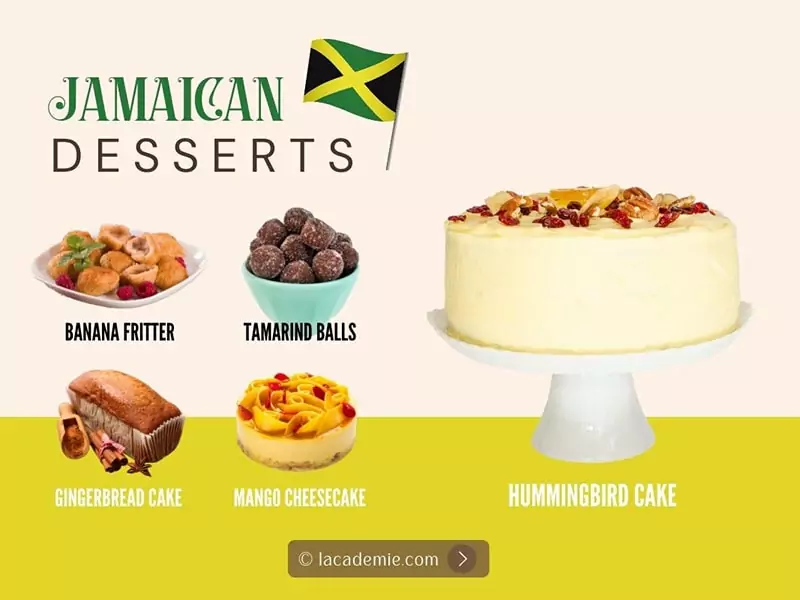 Do Jamaican Desserts Sound Strange To You?
Some of you find it weird to see Jamaican desserts listed here because they are distinctive and traditional desserts that can reflect Jamaican identities. Some recipes are innovated to fit the current circumstances but also keep their essential flavors.
Cakes To Serve As Desserts
Jamaican Rum Cake
Hummingbird Cake
Gingerbread Cake
Jamaican Toto Cake (Caribbean Coconut Cake)
Mango Cheesecake
Jamaican Sweets And Snacks For Desserts
Tamarind Balls
Coconut Drops
Peanut Drops
Banana Fritters
Jamaican Bulla Cake
Other Fabulous Jamaican Desserts
Sweet Potato Pudding
Jamaican Cornmeal Pudding
Jamaican Gizzada Tarts
Fried Plantains
Jamaican Rum Cream
Jamaican Banana Bread
16 Stunning Ideas For Getting Irresistible Jamaican Desserts
If you've got the idea of what to cook for your following desserts from the list, scroll down to get the detailed information and make it. But if you haven't got any ideas, going through the overall description below will help you much.
Cakes To Serve As Desserts
Almost Jamaican desserts are cakes made in various ways. They are the most common desserts in many countries, but they are remade to be a particular version with distinctive flavors in Jamaica.
Jamaican rum cake is considered the best cake you can't miss when it comes to Jamaican desserts. The soft, moist, and tender Jamaican rum cake by the side of a cup of tea is the best dessert idea for you and your family members.
The cake is delightful with perfect texture, light or dark in color, and beautiful, making it one of the most lovely Jamaican cakes to enjoy.
The Jamaican rum cakes are also known as Christmas cake, Jamaican fruit cake, and black cake, as you can serve them with fresh fruits to get a more flavorful taste.
Hummingbird cake is covered with a beautiful look by the topping of delicious Jamaican fruits, spice, and light-colored and cute things to make it really appealing.
Aside from basic baking ingredients, this dessert can't lack bananas as they provide natural light sweetness and a tangy taste to this cake. Hummingbird cake also combines pineapple, pecans, and cream cheese in a suitable ratio to get the unique flavor.
Making a delightful hummingbird cake is easier than ever with this video!
I know some of you feel weird with the idea of putting ginger into sweet treats. But, with just one time eating the ginger cake, you have no prejudice with ginger anymore. Besides, ginger is useful to aid the digestive system; eating gingerbread cake is a healthy Jamaican dessert.
The finished cake can be served with whipped cream or ice cream, dome banana slices, or some vanilla sauce to get a tangy flavor and an appealing look.
Jamaican Toto cake or Caribbean coconut cake is fluffy in texture, heavenly in taste, and beautiful in appearance. You can serve the cake right after finishing or store it in the fridge or freezer for longevity.
Hence, if you plan to treat your guests with desserts, make the cake in advance to save cooking time.
This cheesecake is a good idea when you crave for some sweets made from mangoes. With layers of mango pulp and made with chocolate, oranges, and many other variations, the mango cheesecake offers you an unforgettable aroma and flavor.
You can serve the cheesecake with fresh fruits like strawberries and raspberries or chocolate to get the best flavor.
Jamaican Sweets And Snacks For Desserts
Besides cakes, sweets, and snacks with Jamaican style also play an essential role in making your wonderful desserts. Finishing a meal with sweets and snacks no longer sounds strange in Caribbean countries like Jamaica. Let's discover what they are!
Tamarind balls are a typical dessert in Jamaica and tropical countries across the world because tamarind is a distinctive fruit. Taking the use of sour tamarind to create tamarind balls is the easiest and most economical way to get a decent dessert.
The sourness, sweetness, spiciness, and slight saltiness will make your tamarind balls special and irresistible to consume. These flavors will finish your meal with perfection.
You can see this video to know more:
Coconut drops greatly contribute to diversifying traditional bite-sized desserts when they are considered tasteful, chewy, satisfying, but very simple and easy to make. The coconut drops are made with a blend of coconut chunks and sugar.
Additionally, the addition of ginger adds an excellent taste to this crispy dessert and turns them into a healthy and nutritious dessert.
Another candy to serve as Jamaican desserts is peanut drops. The crunchiness and sweetness of peanut drops make you non-stop eating the candy. Just some pieces of peanut drops, you get an incredibly good but so simple dessert.
In another aspect, the peanut drops are a healthy Jamaican dessert as they contain good fats for your health, helping lower the cholesterol level. Thus, if you're not into sweet Jamaican desserts, peanut drops are for you.
If you love eating bananas, you shouldn't skip the banana fritters as a good dessert. Taking the mixture of ripe bananas, flour, vanilla extract, and some brown sugar to fry is what you need to get the banana fritters finished.
Crispy edges together with a naturally sweet, tender, and aromatic interior make your banana fritters special and impressive when enjoying.
Banana fritters are really easy and cheap to make! If you have available bananas, just make banana fritters to serve as a dessert for your family's next meal.
Let's make your dessert light with banana fritters! You can see this video to know more:
Let's discover an easy and delicious Jamaican bulla cake for your desserts right now! Usually, the bulla cake is served with sliced pear and avocado, making it the most favorite dessert in the Jamaican countryside.
The most common bulla cake is Jamaican ginger bulla cake; however, you can change to suit your preferences by adding other flavors like vanilla to make your cake tangier and more delightful.
Other Easy But Distinctive Jamaican Desserts
Continue reading to know what else you can serve as mouth-watering desserts. These mentioned ideas will give you many choices for Jamaican desserts. And I think that they'll satisfy your expectation with new and special items.
Sweet potato pudding is elegant but irresistible when it is filled with flavors of the natural sweetness of sweet potatoes, coconut milk, and essential spices to taste the pudding.
The addition of raisins makes the sweet potato pudding delightful, tangy, and a decent dessert.
You had better let the pudding chill in the fridge for a few hours before serving to get the best flavor or store the pudding in the fridge to enjoy for longer.
Follow the chef to make the best sweet potato pudding with ease!
The Jamaican cornmeal pudding together with potato pudding are two of the most stunning Jamaican desserts and throughout other Caribbean countries. This cornmeal pudding has a firm and yellow texture and tangy flavors.
Just a piece of Jamaican cornmeal pudding can greatly contribute to the meal's deliciousness. And your children will be super into eating these desserts, thus if you have time, don't hesitate to make it for your family.
Jamaican gizzada tarts contain the crust and full-flavored coconut filling. The tarts are juicy, sweet, tender, and flavorful inside and crunchy outside, making them a very common Jamaican dessert.
Like many other desserts, the Jamaican gizza tarts must be stored in the fridge to let the best flavor. Moreover, my mother loves eating cakes with hot tea after enjoying meals. You can consult to serve the tarts like her.
Plantains have always appeared in numerous long-established dishes in Jamaica. And now you'll use it to make another yummy dessert. When fried, this banana-like fruit is naturally sweet, aromatic, and delightful.
You need to peel and slice the plantains and fry them with butter until they get a tender and tangy texture with a golden brown exterior.
However, plantains need cooking to eat and have higher starch content. Try them if you have a chance. They won't let you down!
Jamaican rum cream will let your hair down after eating too many hot and warm main savories from your meals. Cold cream can keep scent and good flavor for longer in your mouth.
Being loaded with milk and coconut extract, the cream is a fantastic dessert for your family members. Also, the cream is easy and quick to get ready for your meals, making it the number one choice of Jamaican dessert.
If you think that bread goes plain, just add bananas to it to raise its tastiness level. Jamaican banana bread is an easy and convenient dessert, especially the addition of mashed ripe banana creates a healthy and nutritious dessert recipe.
Banana is considered one of the healthiest fruits on the Earth when it contains a great source of vitamin B6, C, A, and iron.
Can You Know Something Else As Jamaican Desserts?
These 16 items, as mentioned above, are about the easiest and the most wonderful Jamaican desserts you can take into consideration for putting them in your meals. They are cakes, candies, snacks, pudding, or other things.
After reading, do you get the favorite ideas for your desserts in the next meal? Just follow the recommended recipes to finish the dish.
If you know other wonderful Jamaican desserts, don't hesitate to share with me in the comment section because I'm always looking for new things from you. I will add them to my list as soon as possible.
In case you find my post useful to you, please share the post with your relatives as they might need it one day.
Nutrition Facts
10 servings per container
---
Amount Per ServingCalories444
% Daily Value *
Total Fat 17.2g

27

%
Cholesterol 100mg

34

%
Sodium 218mg

10

%
Potassium 216mg

7

%
Total Carbohydrate 58.5g

20

%

Dietary Fiber 0.7g

0

%
Sugars 35.8g

Protein 5.6g

10

%
---
Calcium

97

%
Iron

2

%
Vitamin D

13

%
* The % Daily Value tells you how much a nutrient in a serving of food contributes to a daily diet. 2,000 calories a day is used for general nutrition advice.