Mango desserts are the star of every meal, and there will be times when people skip the main course just because they can't wait to get their hands on those delicious treats. Mango has a tropical floral taste when ripe, and many gourmets worldwide appreciate its distinctive sweetness.
Mango's fanbase is growing bigger day by day, and it's completely understandable. Contrary to people's belief, mango is available all year round; thus, your sweet craving does not have to wait.
So, if you aren't used to all mango storing ways, you can just buy a few at a time to make desserts with them. In addition, you can find thousands of mango varieties with different colors and tastes to serve your preference. Whatever you choose, it won't disappoint.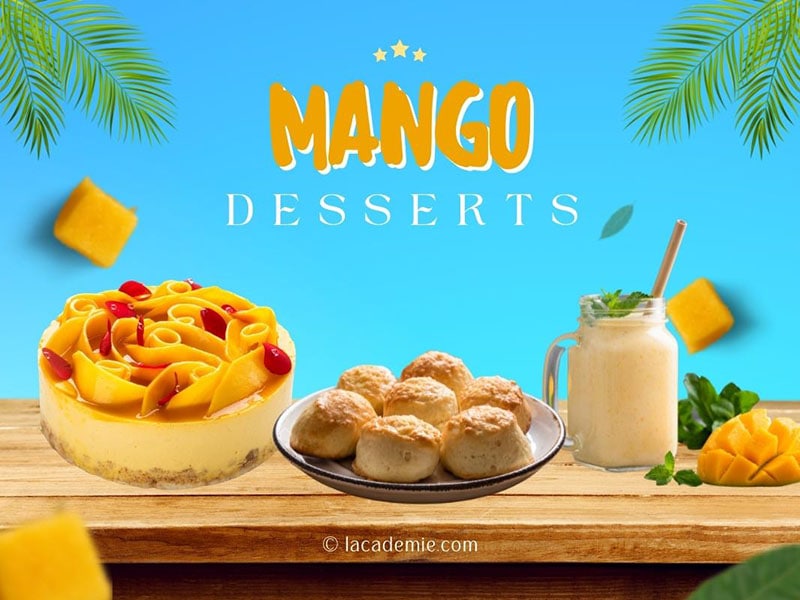 30 Heavenly Mango Desserts To Whet Your Appetite
If you ever ask someone to name a fruit or vegetable beginning with "M", the first answer most would come up with is probably "mangoes". Considering this fruit's amazing taste, you wouldn't be surprised how it got so popular. Here's a list of 30 desserts you can make with mango.
Mango Dessert Pastries
Mango cream tart
Mango cheesecake
Mangomisu
Mango coconut scones
Mango crepe cake
No-bake mango pie
Frozen Mango Desserts
Mango macadamia ice-cream cake
Mango almond icebox cake
Mango sorbet
Mango, coconut, and mint popsicles
Strawberry mango sorbet
Mango fro-yo bark
Indian Mango Desserts
Mango phirni
Mango kulfi
Mango shrikhand
Mango peda
Mango lassi
Aamras
Mango falooda
Mango raita
Other Mango Desserts
Low-fat mango fool
Sticky rice with mango-coconut sauce
Eggless mango mousse
Ginger mango grunt
Mango marshmallows
Mango lemon bars
Mango souffle
Mango sago
Mango with yoghurt and almond praline
Mango chia seed pudding
Hungry yet? If so, it's time to indulge!
Superior Mango Dessert Pastries That You Cannot Resist
One fun fact before I go into the main section, in Vietnam, the word for mango is "Xoai". That's why you can also categorize mangoes "fruits/vegetables that begin with X". Isn't that fascinating? Now, let's start finding out what pastries you can make with "Xoai".
What's a better way to start the list with everyone's all-time favorite, a cream tart? In this recipe, mango slices are meticulously arranged on the top to attract your attention. The filling beneath the mango is sweet and lovely, and the golden-brown crust adds an eye-catching finish to the tart.
Save all your excuses; this decadent cheesecake is too hard to resist. In this recipe, mangoes have lent a distinctive sweetness to the creamy filling that guarantees to leave a lingering mouthfeel. A layer of mango jelly is added to the top for a decorative touch, along with a generous dollop of cream and juicy mango chunks. Yummy!
Let's see this video to collect more understandings:
Add a pop of tropical flavor to the classic Italian dessert to impress your guests. Coffee-flavored tiramisu used to be all the rage, but many pastry chefs are on the lookout for something fresh for the summer – which is mango, indeed.
The fruit makes a perfect candidate for its fruity scent and sweet flavor, and the accompanying berry sauce is an absolute divine.
Bring the summer vibes into your kitchen with these lovely mango coconut scones. They make a delicious light snack between meals or perfect to serve with a cup of coffee for breakfast.
In a single bite, you get to enjoy the creamy mouthfeel of coconut, while the sweet tropical fruit lends the finished product a lovely taste of pure happiness.
Mango enthusiasts, there's something you would fight for. It is one of the delectable crepe recipes from Japan: a mango crepe cake with countless layers! You don't need a deft pair of hands to arrange the layers.
The whole cake will be coated with a layer of whipped cream and toasted almonds. The filling inside is just too gorgeous to eat, with yellow-tinted streaks packed with robust flavors.
No-bake recipes are my favorite. It's frustrating to see your food spending hours in the oven, so this mango pie is truly a savior for those running thin on patience like me.
The crust base can be done in just a few minutes with a multi-functional food processor blender combo. You can even use this machine for the smooth, creamy filling. With that vibrant golden color, it's too hard not to give in to temptation, right?
Refreshing Frozen Mango Desserts To Beat The Heat
Nothing can beat chilled desserts, especially during the heatstroke. It's time to turn down the heat with these frozen desserts made with succulent mangoes. Let's go!
I scream, you scream, we all scream for this ice-cream cake! It is a cake of many summer flavors, from mangoes, desiccated coconut, dry-roasted macadamia nuts to passionfruit sorbet. The result is a crowd-pleasing dessert with sweet, nutty flavors that disperse the searing heat.
Icebox cake is criminally underrated – to some people, the cake loses some of its flavors when refrigerated. If you share the same opinion, this dessert will prove the opposite with layers of frozen mango chunks, cream mixture, meringue cookies, and sweet almonds. The refreshing taste of mangoes is on point when combined with nutty flavors of almonds.
This sorbet promises to be the next sensation that cools you off during the sunny days with a tropical flair from mangoes. Sorbet is relatively straightforward to make, but that does not mean it isn't delicious. It has a sweet, somewhat stringy taste, and you can subtly sense tangy citrus notes from the lime, which add to the overall quality of your sorbet.
Mango, coconut, and mint – the holy trinity that represents summer in the best way, don't you agree? The creamy, exotic scent of coconuts is redolent of stretchy sands, while the fresh mint boasts a sharp flavor that reminds you of the big sea. Sweet mangoes join the fun to create a thirst-quenching treat that you can't stop licking till your brain freezes.
If you have successfully pulled off the mango sorbet recipe above, you may want to give this one a try as well. Mango is already delicious on its own, but how about playing with other flavors for a more refined sorbet? Here I use strawberries to give the sorbet a lovely red radish color, and the fruity taste is enhanced to a great extent. It's worth a try!
Mango and coconut are inseparable, and they prove that they make a good team in various dessert recipes, including this frozen yogurt bark. Made with Greek yogurt, juicy mango, and toasted coconut flakes, these barks look amazing with that bright yellow color, and the blissful taste will leave you wanting more.
Tasty Indian Mango Desserts That You Would Love To Try
Indian is the land of mangoes, and it is astonishing to know that there are roughly 1,500 varieties in this Asian country. Given that many mango desserts were born here, the following section will provide you with the most notable dishes that have become popular in and out of India.
It's no exaggeration to say that mango phirni is an Indian legacy that goes down to dessert history. It's a rice pudding blended with milk for a rich texture, and mangoes grace the dish's flavor with a sweet, fruity flavor.
For an authentic Indian dining experience, serve mango phirni chilled and garnish with some dry rose petals for an inviting look.
Is the heat bothering you? Grab a mango kulfi to release the tension! Kulfi can be found in every corner of Indian streets during summer, but you can make it at home as well. With the infusion of two different types of mango, cardamom, and saffron, kulfi gently melts down in your mouth and leaves an extraordinary taste.
Let's see this video to collect more understandings:
Shrikhand is a popular dessert widely enjoyed in many regions of India. With yogurt as one of the main ingredients, shrikhand is undoubtedly a healthy treat packed with many nutrients. The tartness of mango is perfectly balanced with the sweet flavor of mango puree, while the aromatic saffron and cardamom lift your tasting experience to the extremes.
Mango peda, or aam peda, is another lip-smacking way to finish a hearty meal for many Indians. Starring rich and sweet mango pulp, different seasoning powder, and leathery saffron, mango peda brings out a mellow flavor that hits the right spot. The only regret you have is not knowing about it sooner!
Lassi is a yogurt-based drink coming from the Punjab region. While regular lassi is a mixture of yogurt, water, and spices, mango lassi is somewhat similar to a healthy milkshake. It starts with the yogurt base, followed by mango chunks or mango pulp, and some milk, all blended well before served in a glass with a pinch of cardamom on top.
No one knows for sure when aamras was born, but this mango puree dish has long been a staple of celebration and festivities in many parts of India. It's quick and simple to make, and the Indians love to have it with phulka roti, curry, or dal in their meals. Aamras has many variations, but you can bet your life that the Indian version is second to none.
The Indians have every right to be proud of their culinary tradition. They have come up with so many addictive foodstuffs, and this mango falooda is a typical example. The final result is a blend of simple ingredients with sophisticated flavors thanks to intricate layers of sweet basil seeds, falooda sev, rose syrup, and mango puree.
End your meal with this superb dessert from India, mango raita. This curd-based dessert features luscious mango pieces as the main star, along with curd (yogurt), mellow-tasting mustard seeds, spicy dry red chilies, and a unique Indian spice called methi dana with a nutty aroma. The flavor combo is unreal!
Other Creative Mango Desserts That Take You Aback
When it comes to making desserts using mangoes, the possibilities are endless. Below are some mind-blowing combinations between mangoes and other surprising ingredients that make your jaw drop to the floor!
Are you on a low-fat diet? I have a perfect recommendation for you! This mango fool does more than just helping with weight loss; this sweet, creamy treat is packed with rich flavors of mangoes, ricotta cheese, vanilla custard, and some pieces of almond bread. The delectable taste will send you to heaven, leaving all your concerns about your waistline behind.
It's not difficult to spot many street vendors selling this dessert in Thailand. The tantalizing smell of coconut will tempt you into giving it a try – and it's worth it!
The warm sticky rice base is served with fresh slices of mango and shredded coconut before topped off with a light blanket of creamy coconut sauce. Another serving, please!
This vegan-friendly mousse is very straightforward to make, and it looks exceptionally appetizing with bright yellow color and a velvety texture that will make you drool over for sure. If you wish to lend your mousse an extra touch of flavor, you can add some strawberries or a dash of vanilla extract or add-ons like fresh fruit, nuts, or whipped cream.
Grunt has every potential to become your new favorite dessert, no cap. If you haven't heard of it, grunt is a dish consisting of cooked fruit topped with a thick mixture. In this recipe, mango is that lucky fruit, imparting a rich taste that pleases your taste buds, while ginger spices things up with a tad spicy aroma to work up your appetite.
What's better than marshmallows? I must choose this creative spin on regular marshmallows. Mango marshmallows deserve all the praise, to be honest.
With mango nectar, corn syrup, almond extract, sugar, and gelatin, the final product is a huge batch of stretchy marshmallows with bold mango flavors. Dress them up in beautiful coconut flakes for a final touch.
Everyone loves to munch on lemon bars for a quick snack, but this updated version with mango promises to be something more than that. Once you bite into the shortbread crust, it gives way to a sweet custard with subtle tangy notes of lemon, which leaves a refreshing mouthfeel.
This souffle may take at least 2 hours to chill, but the preparation time is only 5 minutes, so it's a win-win. Souffle is a French dessert with a moist, fluffy texture that entices you into giving it a try. And once you do, it captivates your taste buds with the sublime taste of mangoes. It's simply incredible!
Sago is quite similar to tapioca pearls for its chewy texture, and it is usually added to many beverages for a satisfying drinking experience. In this tasteful mango coconut drink, sago sits at the bottom of the glass, waiting to be sucked through the straw with the creamy coconut milk and the luscious mango – your glass will become empty in just minutes!
This praline will take you on a trip to the tropics with its intricate flavor; plus, you don't need to waste much of your valuable time to make this delicacy.
You start with placing mango chunks and passionfruit and the bottom, stack yogurt atop, and finish with pieces of almond praline. It's a quintessential summer treat that brings everyone to the table right away.
Chia seeds have a very mild taste, but trust me when I say they will grow on you. They bring several health benefits to your body, so it's a good idea to include them in your desserts – this mango pudding, for example.
It is a sweet summer delight made with mango puree, dulcet maple syrup, and a wafting creamy scent of coconut milk that you can't get out of your head.
Take Your Mango Desserts To The Next Level!
Briefly speaking, mango desserts are pretty easy to make, but here's a tip to turn it into a scrumptious success. It's the variety of mango you go for – as I have mentioned, there are thousands of sorts, and they are all very dissimilar regarding the taste and flavor. Here's the list of some popular types of mango with their signature taste for you to consider:
Tommy Atkins: mild and sweet
Kent: rich and sweet
Keitt: fruity and sweet
Haden: rich with aromatic overtones
Francis: rich, spicy, and sweet
Ataulfo: sweet and creamy
And, of course, most unripe mangoes are tangy, perfect for those who don't have a sweet tooth.
With this list, I'm sure that you won't skip dessert from now on – these mango desserts are the best you ever had! What else can you make with mangoes? Share your secret recipes or tips and tricks with me and other mango lovers in the comment section below. Long live the mango maniac!
Nutrition Facts
12 servings per container
---
Amount Per ServingCalories284
% Daily Value *
Total Fat 17.4g

27

%
Cholesterol 35mg

12

%
Sodium 624mg

26

%
Potassium 77mg

3

%
Total Carbohydrate 27g

9

%

Dietary Fiber 1.5g

4

%
Sugars 20.1g

Protein 7.3g

15

%
---
Calcium

10

%
Iron

1

%
Vitamin D

23

%
* The % Daily Value tells you how much a nutrient in a serving of food contributes to a daily diet. 2,000 calories a day is used for general nutrition advice.