Mango is a tasty stone fruit that satiates your sweet tooth at the very first bite. You may know how to make some delicious dessert with mangoes. But do you know the right way to preserve your mangoes?
Keeping your mangoes fresh can be difficult, especially if you are not an expert. But, don't worry; this article will provide anything you need to know about mangoes, how to keep them fresh, and how to store them properly.
What are you waiting for? Go unveil the secret now!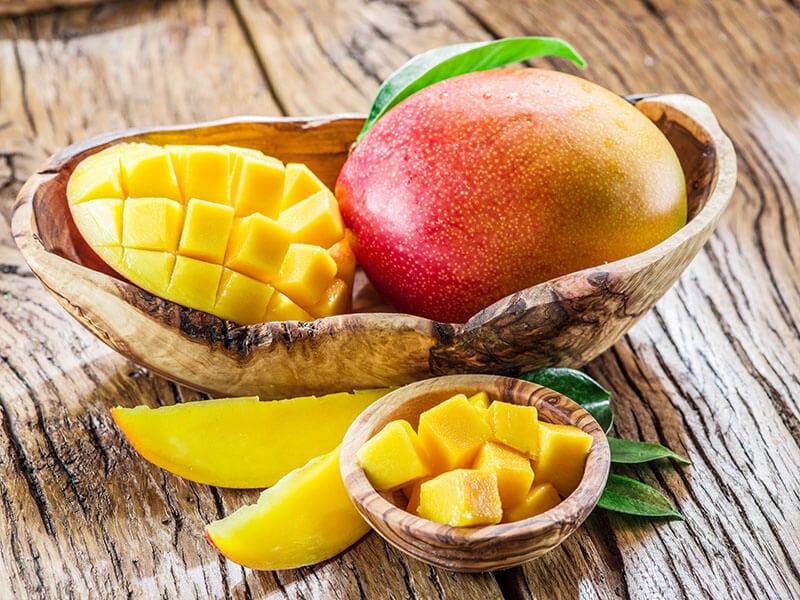 So, What Is The Correct Way To Store Mangoes?
Mango is a delicate fruit, and at different stages, they need to be stored in different ways. Storing these members of fruits and vegetables starting with "M" group correctly will prevent them from becoming overripe, which ruins the taste and the flavor.
For unripe mangoes, place them in a bag at room temperature, or near fruits like bananas and apples.
For ripe mangoes, refrigerate. If left whole, they can last for 1-2 week. If sliced, they last for 4-7 days.
Freezing mangoes is the best way to extend their shelf life. They last about 10-12 months.
Some Insights About Mango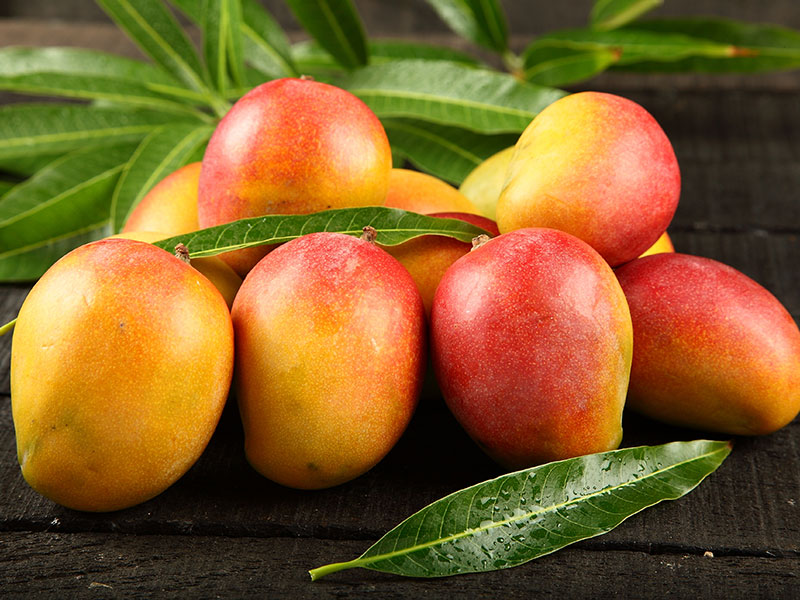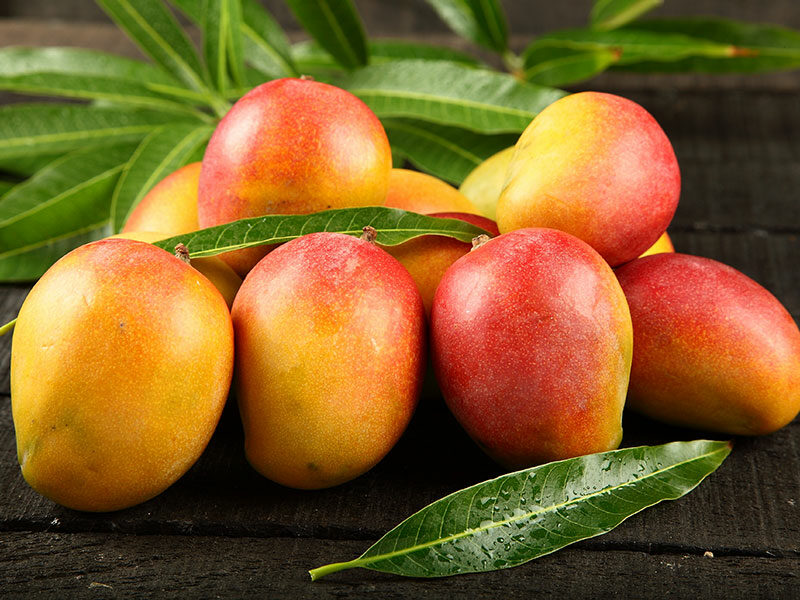 Mango is a tropical delight originating from South Asia, and it is available throughout the year. To your surprise, the mango family has somewhat 500 to 1000 members, and they are very different in taste, color, and shelf life.
There is no doubt that Tommy Atkins mangoes rank first in popularity, as they are present in every local supermarket in America. They are cultivated in massive quantities and enjoyed in different regions of the world. The Ataulfo variety comes close in the second position, followed by Keitt, Kenn, Haden, or Francis.
The Guide To Mango Ripeness
Before you get down to business, it's essential to know about the ripeness of mango. This can be a little tricky, so let me give you some handy tips to cherry-pick the mangoes that suit your needs. (1)
The Appearance
It's easiest to judge the ripeness of the mangoes based on how it looks. So what particular parts of the mangoes will you need to pay attention to?
Check The Shape
The shape is the most visible indicator to tell whether mangoes are ripe. You may want to skip the flat ones and go for those with oval or round shapes. However, this is only the general rule, as the appearance of the mangoes varies slightly between the variants.
Notice The Speckles
The speckles, those tiny little brown dots on the skin, are another visual cue to indicate mangoes' ripeness. It can sometimes be misleading, as some varieties turn ripe without producing these speckles. Another exemption is the Kent variety, which has yellow speckles instead of brown ones.
See The Colors
This can be a little tricky for you, especially if you don't know much about mangoes and their varieties. Mangoes, ripe or unripe, display different green, pink, orange, or yellow hues on the shelves. However, in most cases, ripe mangoes attract your attention with shades of orange and bright yellow.
The Smell
Do you have a good nose? If so, make use of your acute sense of smell to pick the right mangoes. Sniff the area around the stem; this is the part where the mangoes give off most of the smell.
A fully matured mango will give off a sweet, fruity scent, while a mango passing its prime produces a strong, unpleasantly bitter scent. You should know which one to put in your cart.
The Touch
If you are still in confusion, touching the mangoes is the last resort. You may want to consider the following factors: the skin, the softness, and the weight.
Feel The Skin
The outer part of the mangoes reveals how much your mango has ripened. Here's how you do it: use your index finger to rub the surface. If it's smooth, the chances are that the mango has become ripe. If it's full of wrinkles, the mango is not ready to be consumed.
If you are not a mango connoisseur, you should know that the wrinkles appearing on the skin depends on the types of mango you are looking at. To illustrate, the Ataulfo develops wrinkles even when they are ripe.
(Gently) Squeeze The Fruit
No, I am not telling you to squeeze the mango utterly right in the middle of the supermarket. Most fruits soften as they are ripe, and mango is not an exception. To feel the inside of a mango, slightly squeeze it from both sides by using your palms. If it's nice and tender, it's fully grown; if it's hardened and firm, it's not yet mature.
Note: Avoid using the fingers; if it's overripe, your fingers will poke the flesh!
Measure The Weight
This is also an excellent way to tell if a mango is ready to eat. So, how heavy should a ripe mango be? A fully developed mango is slightly heavier than an unripe one. A regular-size mango usually weighs around 150 grams, more or less. This is just an estimation, and you don't need a scale to help you – trust your instincts!
The bottom line is that using your sense of smell and touch are the most effective ways to choose the mangoes that cater to your needs. When it comes to mangoes, don't judge the book by its cover.
How To Store Your Mangoes Properly
Should you forget any of the tips or accidentally stock up on the mangoes, don't panic. Here I will provide you with some suggestions on how to keep your mangoes fresh, juicy mangoes, whether they are still green or ready to eat.
Short-Term Palliatives
If you are planning to eat your mangoes within the next few days, read this part. Overall, storing mangoes in a short time is not a complicated task.
Unripe Mangoes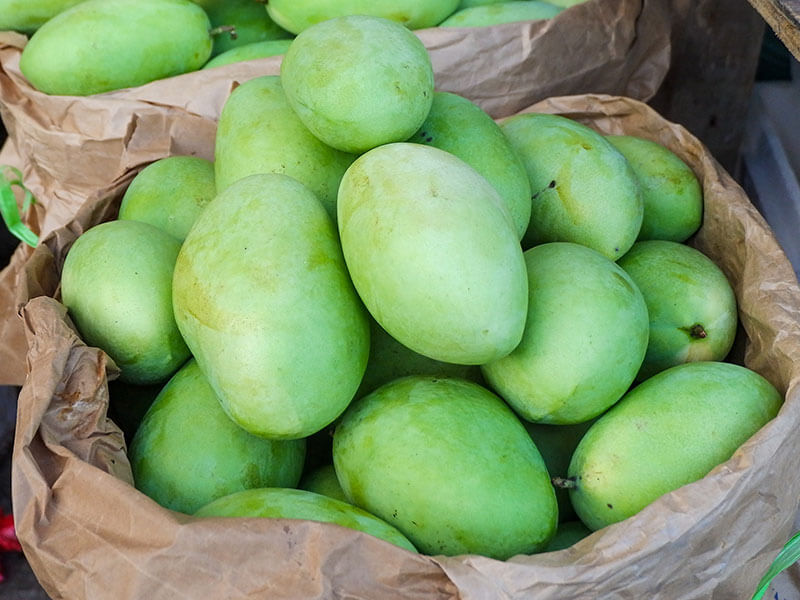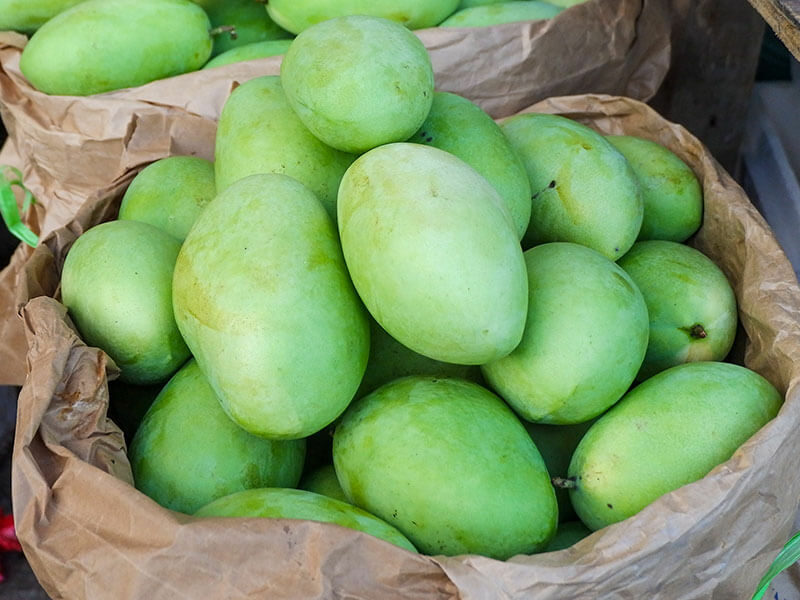 Once you get the unripe mangoes from the store, don't put them into the fridge. Instead, leave them in a dim place at room temperature to retain the flavor. If not stored in a conducive environment, your mangoes will likely go rotten for the next few days.
Check your mangoes regularly to see whether they have ripened by slightly pressing or smelling them. Mangoes at the peak of ripeness should have tender flesh and exude a potent sweet scent that keeps you drooling.
Suppose they ripen much longer than you thought, no need to be patient and wait. All you have to do is place your mangoes in a paper bag and keep it on the kitchen counter. You will notice that they will become ripe after 2-4 days, or even overnight – the ripening process speeds up if the temperature is high.
Another method with a similar effect is keeping your unripe mangoes next to other fruits, such as apples or bananas. Those fruits emit a substantial amount of ethylene gas, which helps speed up the ripening process of mangoes. Be careful, though – if you drop a mango by chance, it will release more ethylene gas than usual, causing it to become overripe.
Ripe Mangoes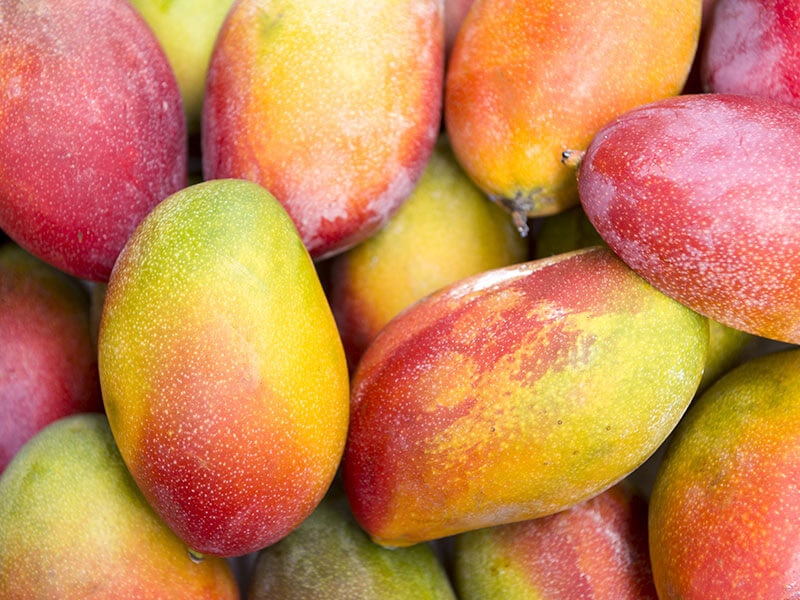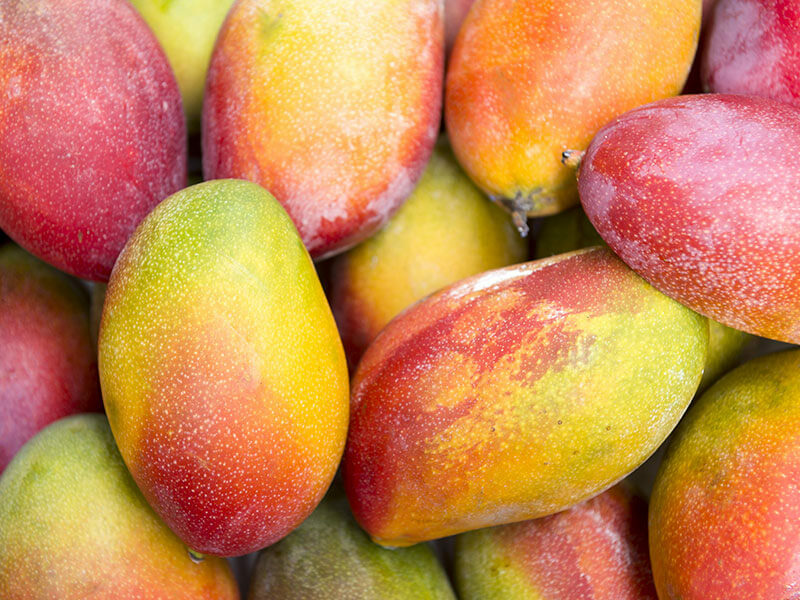 You may want your mangoes to stick around for a while if you buy them when they have already reached maximum ripeness. To prevent or slow down the spoilage process, put your freshly-bought mangoes in the refrigerator as soon as you return home.
You can choose a fridge with either side-by-side or French door based on your preferences. Ripe mangoes can be kept fresh in cold temperatures for about 6 days; after this period, they will show signs of decay.
If your mangoes are all sliced up, store them in an airtight container to limit exposure to oxygen. The container also shields the mango from being affected by the smell of other strong-flavored food in your fridge.
Note: If your mangoes are harvested when they are still green, they cannot fully ripen. They are still edible, though; half-ripe mangoes are sweet with a dash of tartness.
Long-Term Solutions
In case you don't feel like eating them right away, here's a solution – store your mangoes in the freezer. But first, you need to do a few things.
Chop your mango into small blocks so that the contact surface increases, keeping them stay fresh for a bit longer. You can either leave the skin on or peel it away.
Line a baking sheet with parchment paper and place the mango blocks on it. Don't let the blocks touch each other. Flash freeze them for 2 hours or leave them in the freezer overnight.
Place the frozen cubes of mango into a sealed bag and push as much air out as possible. Label with the dates and put them in the freezer. Don't stack these bags up – you don't want your mango to become all mushy. Your mango will last for 10-12 months if you use this method.
When you are ready to eat, let the chilled mangoes thaw on a tray made with high thermal conductivity material or in your fridge for a few hours. They can become quite mushy after defrosting, but I assure you that it won't ruin your culinary experience.
The Shelf Life Of Different Types Of Mangoes
The shelf life of mangoes depends on various factors, including the time when they are picked, how they are stored at the point of purchase, and how they are preserved in your home.(2) In general, mangoes can maintain their freshness as per the chart below (note that this is only an estimation):
| Types | Counter | Refrigerator | Freezer |
| --- | --- | --- | --- |
| Mango (whole) lasts for | 5-8 days | 7-14 days | 10-12 months |
| Mango (cut) lasts for | 2-4 hours | 4-7 days | 10-12 months |
Signs Of Rotten Mangoes
It's unfortunate to see your mangoes go rotten, and it's much worse if you accidentally eat some. To avoid such mishaps, it's essential to know the red flags of rotten mangoes.
Putrid smell or taste: this is an obvious warning that your mangoes have gone bad.
Soft to mushy flesh: when overripe, your mangoes soften but still able to maintain structure. If they have become mushy, you may want to get rid of them.
Discoloration: mangoes should no longer be consumed as the large dark areas on the flesh start to appear. If there are only small dots, your mangoes are still fine.
Mold: I think I don't need to say much about this. Any food with mold emerging on its surface should immediately be discarded for safety reasons.
FAQs
Questions about mangoes are endless, and I bet that you still have some even when you have read the article. Check out this section for the answers you need.
Further Information
Mangoes, whether ripe or unripe, are a great source of nutrition. (3) Plentiful vitamins are found in mangoes, namely vitamin A, B6, and C. Mangoes also give you an ample amount of copper and folate. Together, they help facilitate the formation of blood red cells. A serving of mangoes will definitely do more than just satisfy your hunger.
Now that you have learned more about mangoes and the proper ways to store them, I'm sure that you will no longer have to think long and hard about keeping them around for a while. Do you know any other useful tips and tricks to store mangoes? If you do, leave a comment below for me and other mango lovers to see. Thank you for your contribution!
Nutrition Facts
4 servings per container
---
Amount Per ServingCalories202
% Daily Value *
Total Fat 1.3g

2

%
Sodium 3.4mg

1

%
Potassium 564mg

17

%
Total Carbohydrate 50g

17

%

Dietary Fiber 5.4g

20

%
Sugars 46g

Protein 2.8g

4

%
---
Vitamin A

73

%
Vitamin C

204

%
Calcium

2.8

%
Iron

3

%
* The % Daily Value tells you how much a nutrient in a serving of food contributes to a daily diet. 2,000 calories a day is used for general nutrition advice.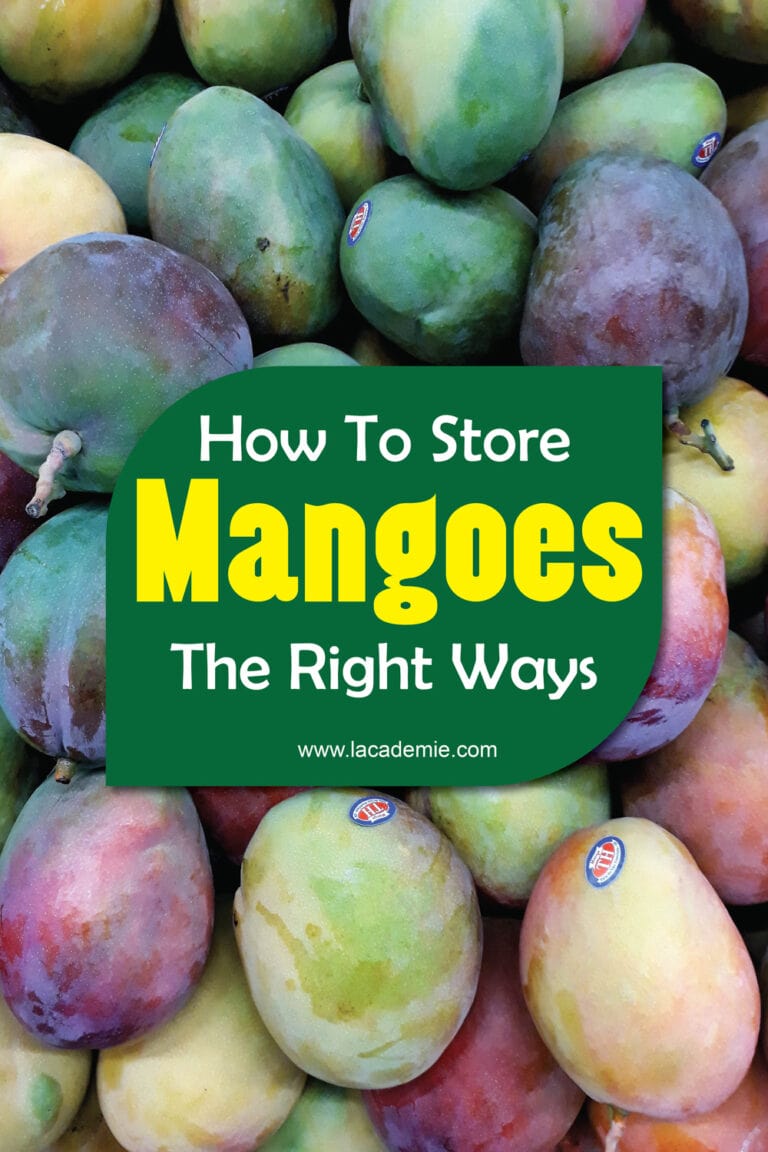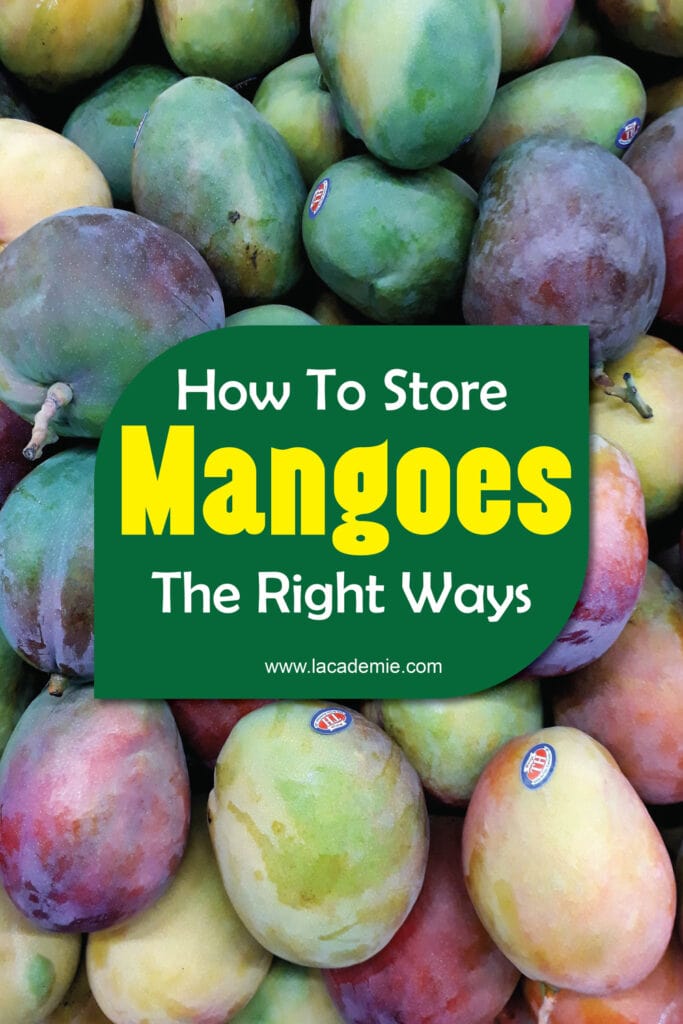 References
Eatbydate.com. 2021. Mangoes.
Mango.org. 2021. How to Choose a Mango – Ripe Mango | National Mango Board.
Kramer Chiropractic – Livonia Spine & Injury. 2021. The Surprising Health Benefits of Unripe Banana, Papaya and Mango.