Lately, Vietnamese yogurt ("Sữa Chua") has become many people's go-to choice for breakfast or mid-day snacks, thanks to its delightful flavor. Step into a random Vietnamese shop in Little Saigon, and you're very likely to find this treat sold in small plastic jars.
With a creamy consistency and a balanced sweet-tart taste, Sua Chua is also an immaculate choice whenever you crave a health-giving dessert. More importantly, you can easily make this Vietnamese at home! Scroll down to learn an effortless and cheap Sua Chua recipe!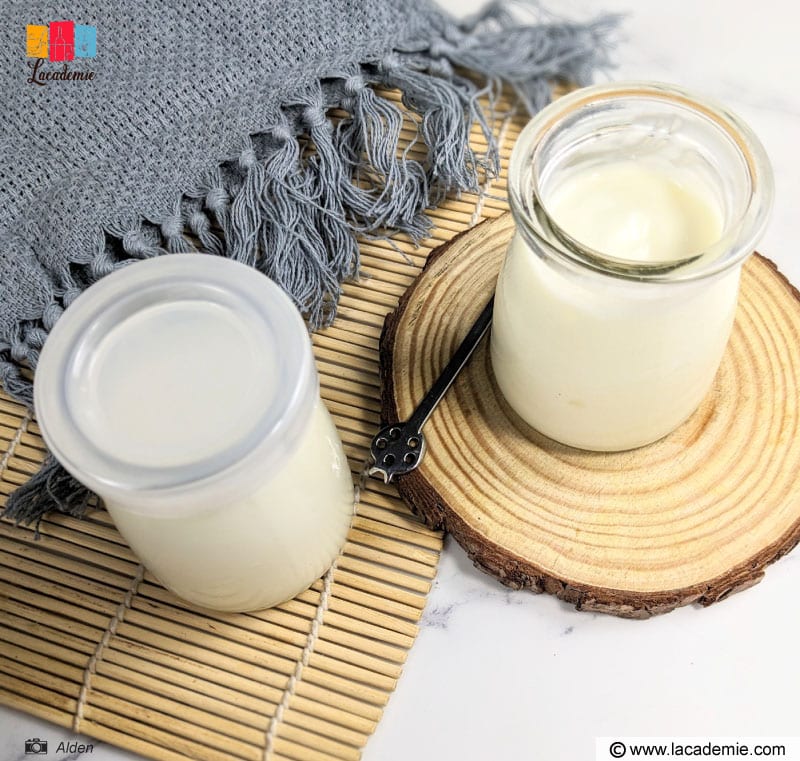 Vietnamese Yogurt – A Yummy Source Of Probiotics
The yogurt first came to Vietnam during the French colonization, which explains why the Vietnamese call this treat "Da Ua" – a derivative of French "yaourt". Vietnamese-style yogurt consists mainly of fresh milk, condensed milk, and a sort of starter culture.
It usually doesn't contain a thickening agent, such as agar agar or gelatin, resulting in a more liquidy texture than the typical yogurt found in the States. As for the taste, Sua Chua is tangy yet sweet, making it a great choice for serving with a plethora of fruits, nuts, and cereals.
One unique thing about Sua Chua in Vietnam is that people usually enjoy it as a healthy after-meal treat. You can also combine it with the famous Vietnamese coffee to make Sua Chua Ca Phe. If you haven't thought of having yogurt for dessert before, I highly recommend giving it a try!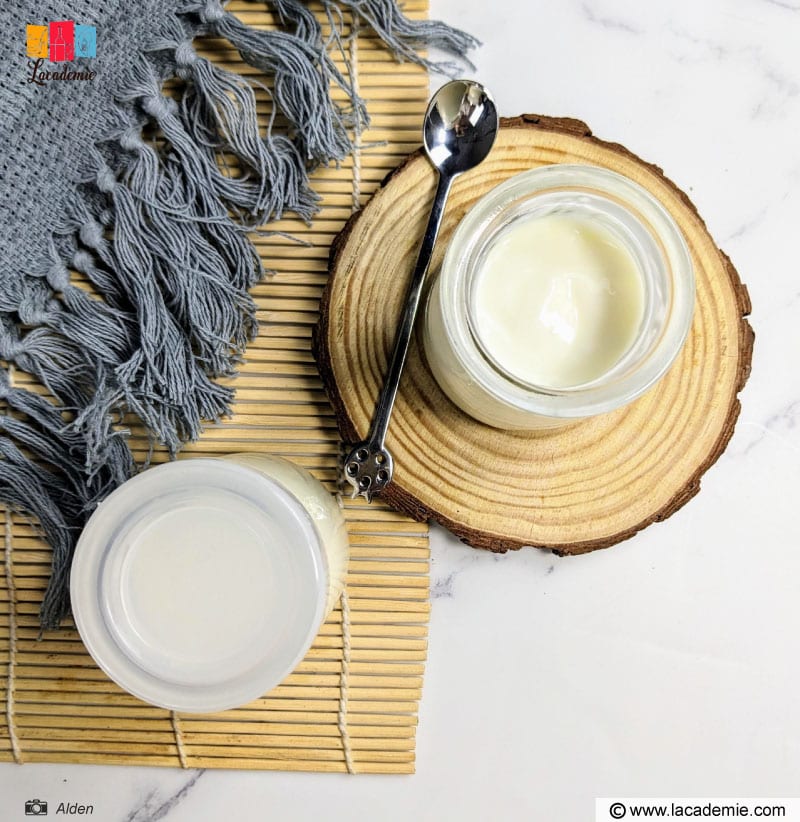 Tools
When it comes to homemade yogurt, a yogurt maker is often necessary. However, you don't need one for whipping up Sua Chua! A large pot, some yogurt jars, and a few other basic kitchen tools will do the trick.
Sieve: For straining the milk and starter yogurt mixture.
Pot with lid and towel: For incubating the yogurt.
Spatula: For stirring the ingredients.
Measuring cup: To make sure that everything is at the right amount and ratio.
Kettle: For keeping the water warm.
Yogurt jars: For storing the yogurt. I use 3.5-oz jars, but you can use smaller or bigger ones.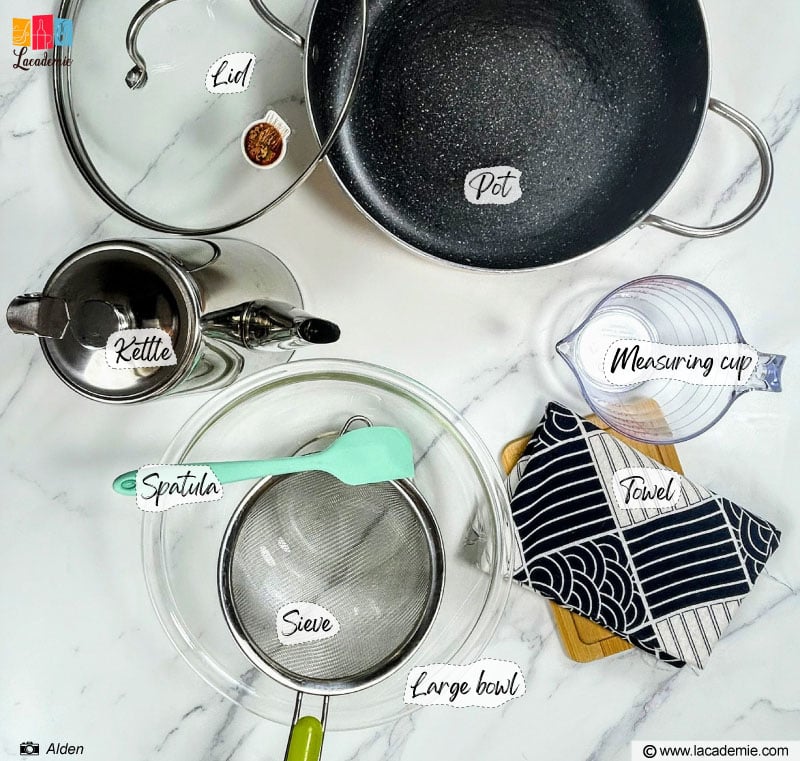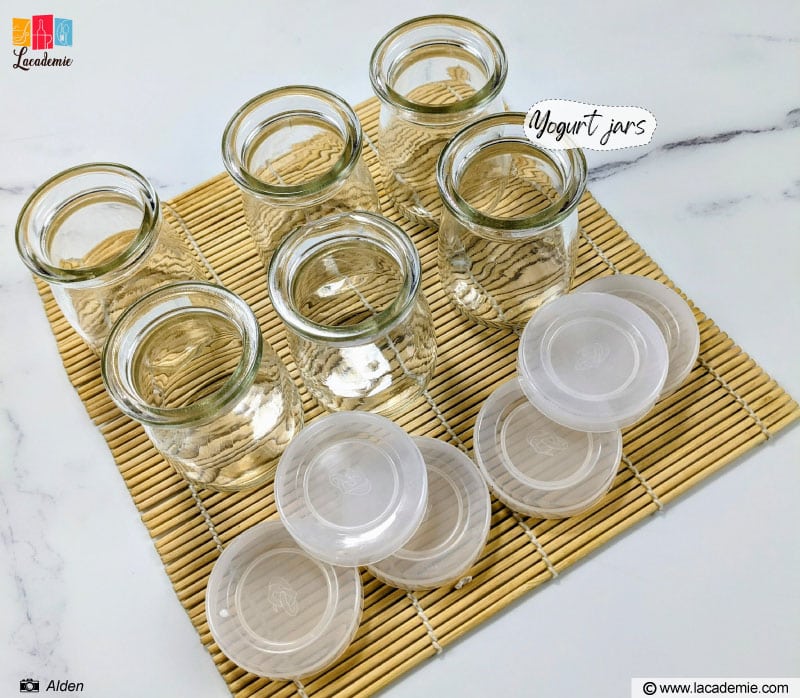 Ingredients
Here are the only 4 ingredients you'll need to make a large batch of Sua Chua.
Fresh milk: Preferably whole milk with no added sugar.
Sweetened condensed milk: You can use any brand you want, but I like the taste of Sua Ong Tho (Longevity brand) the most.
Plain yogurt: You need some form of live and active culture to start the fermentation process, and plain yogurt is an ideal choice. Opt for Vietnamese brands if possible.
Warm water: For creating a warm water bath used in the incubation step.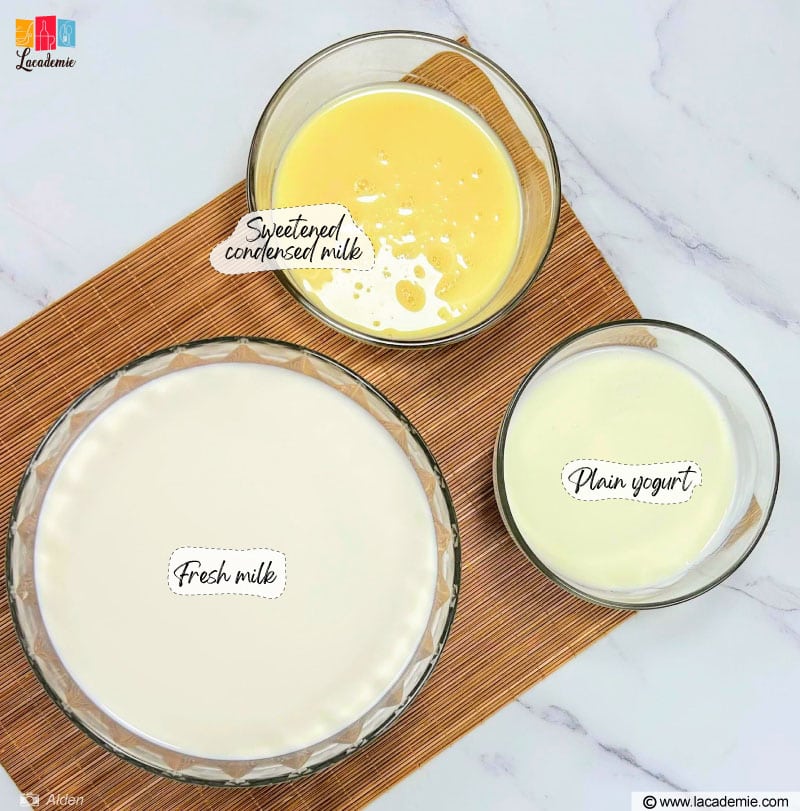 Directions
First and foremost, all the tools used for making yogurt must be cleaned and sterilized with boiling water in advance to ensure food safety. Once everything is ready, follow these steps.
Step 1: Make The Yogurt Mixture
If your milk, yogurt, and condensed milk have been sitting in the fridge, take them out and let them come to room temperature.
Pour the condensed milk into a large mixing bowl. Then, add ¼ cup of warm water (about 160 – 170 degrees F) and stir well.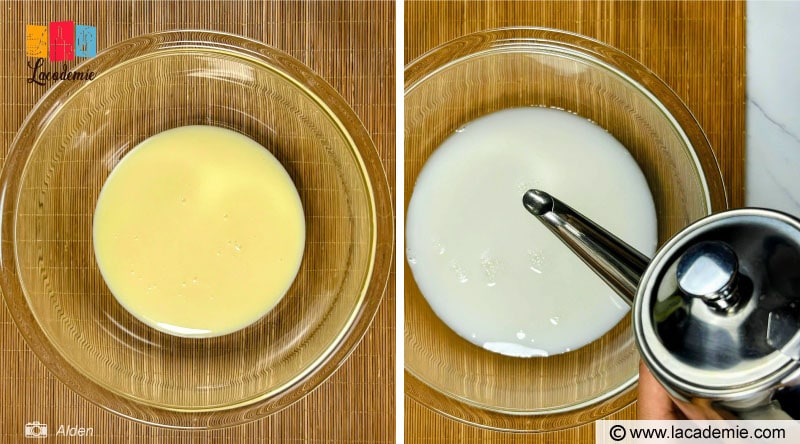 Add the milk and plain yogurt to the bowl and continue to stir. Note that you should stir gently in one direction so that the ingredients combine better, thus leading to a smoother fermentation process.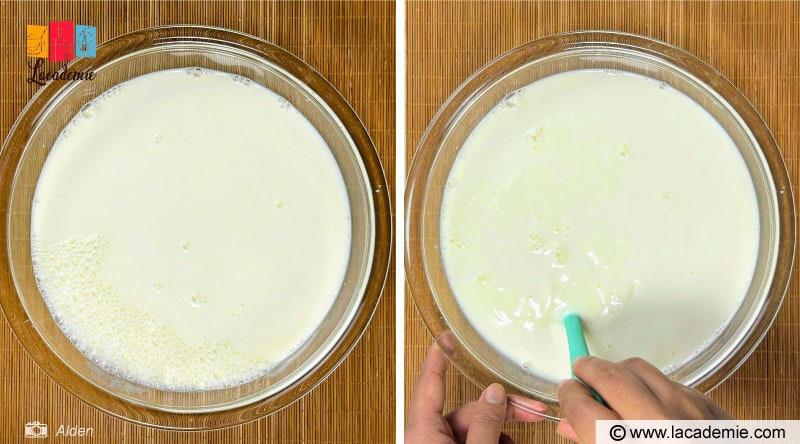 Pass the yogurt mixture through a sieve. Doing this will result in smoother and tastier yogurt after incubating. You can skip this step if you use drinking yogurt as the culture.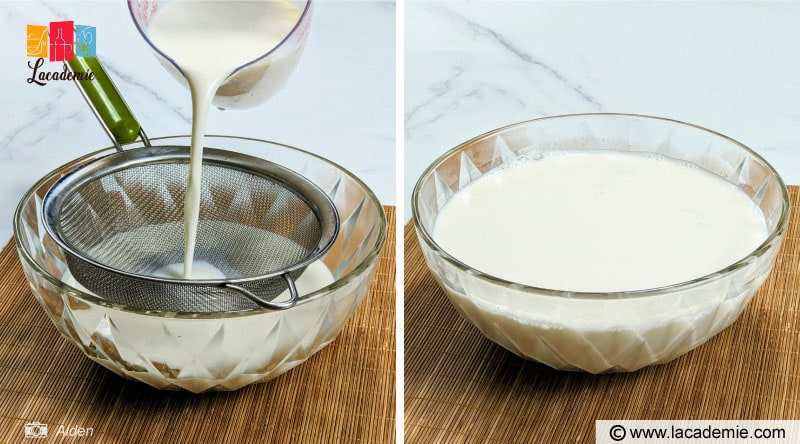 Step 2: Pour The Yogurt Into Jars
After straining, pour the mixture into the prepared yogurt jars. Close the lids securely to prepare for the incubation step.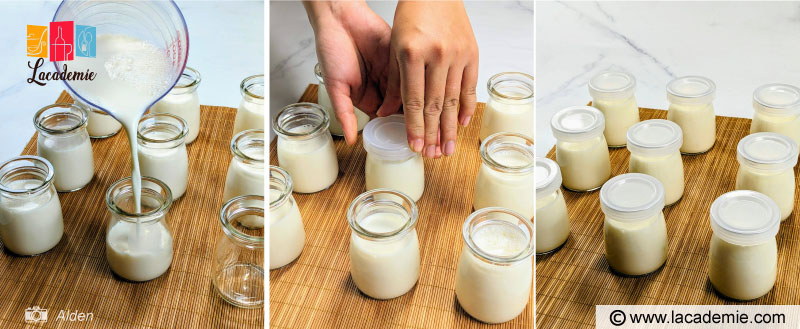 Step 3: Incubate The Yogurt
Put the yogurt jars into a pot.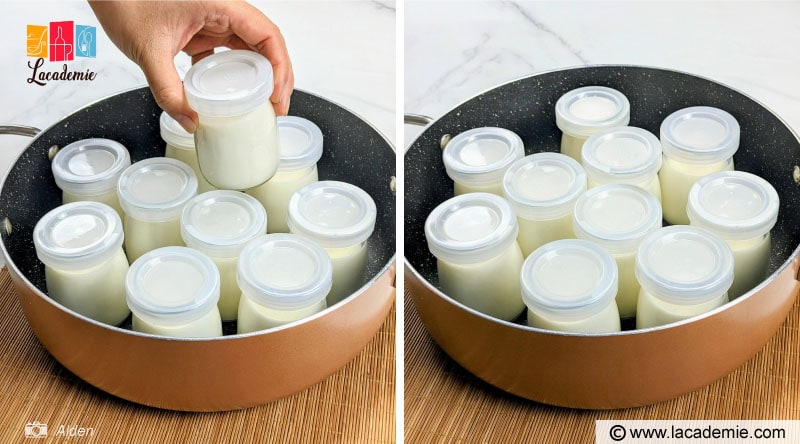 Pour warm water (about 100-120 degrees F) into the pot to create a water bath for the yogurt. The water should touch no higher than the jar necks to prevent it from entering the jars.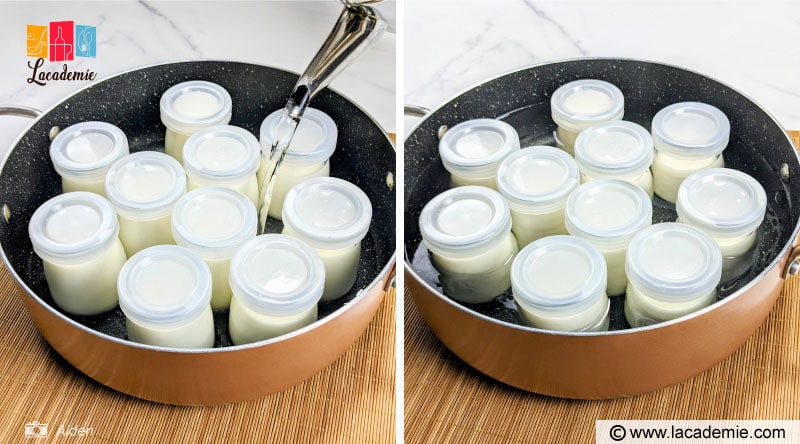 Put the pot's lid on and cover it with a towel. Incubate the yogurt for 6 to 8 hours.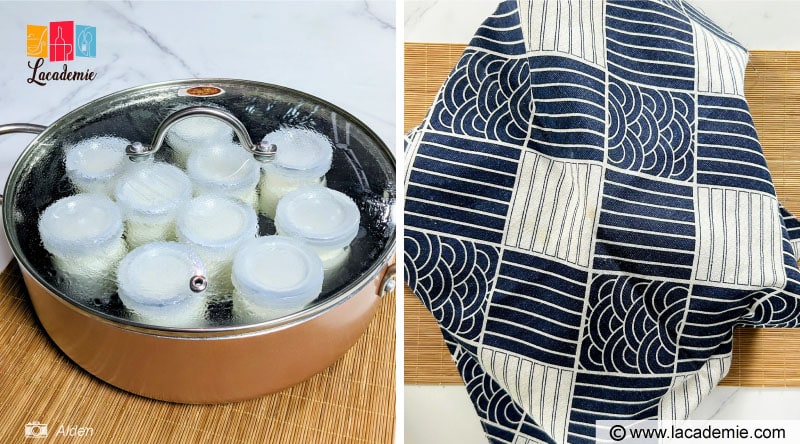 After incubating, take the yogurt jars out of the pot and wipe them dry. Then, refrigerate the yogurt for 1 to 2 hours and enjoy!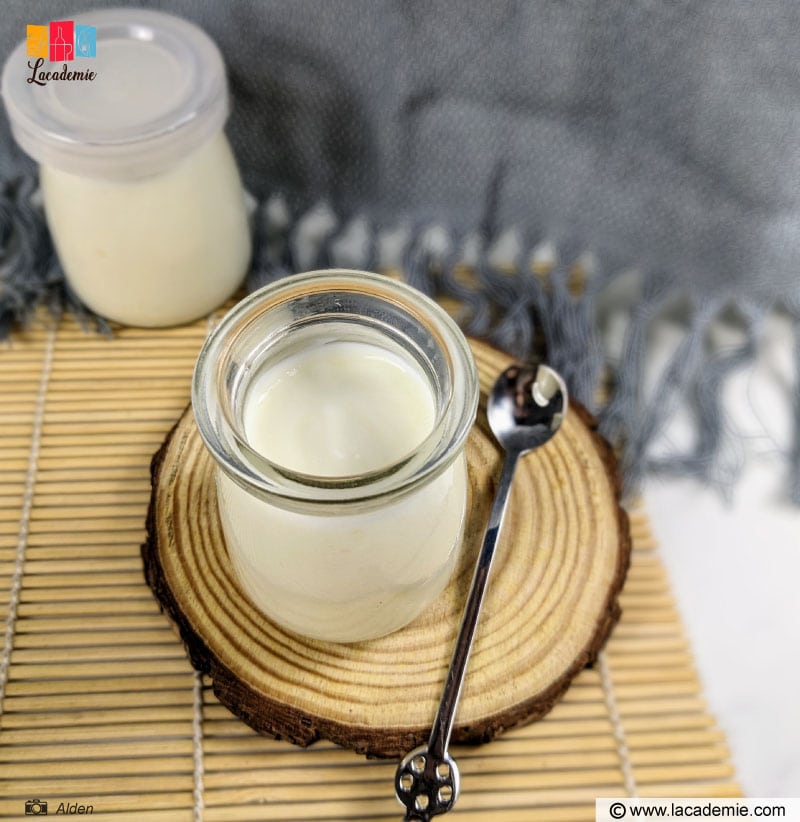 Important Notes To Remember
Making Vietnamese Sua Chua is super easy, right? That said, there are a few notes that you shouldn't miss.
You should keep the water bath at about 100 to 120 degrees F. Higher than that, and the heat will kill all fermenting bacteria. On the other hand, low temperatures are also not ideal for the fermentation process.
If you run out of plain yogurt, drinking yogurt is a viable alternative.
In addition to the above method, you can also use a yogurt maker or a rice cooker to incubate the yogurt.
I use a 3:1 fresh milk to condensed milk ratio. Feel free to add more condensed milk if you prefer a sweeter flavor.
Remember to adjust the amount of condensed milk if the milk or yogurt starter contains added sugar.
You can store homemade Vietnamese yogurt for up to 2 weeks in the fridge. Note that it'll taste best in the first week and get tangier over time.
Stay Healthy And Happy With Vietnamese Yogurt
Vietnamese yogurt is an excellent choice for a quick morning meal, snack, and dessert. Not only does it have an addictive taste, but it's also incredibly healthy and a rich probiotic source. With today's recipe, I believe that making your own Sua Chua will no longer be a challenge.
To enjoy Sua Chua to the fullest, you can pair it with fruits (my favorite is apples), cereal, and nuts. If your first batch of Vietnamese yogurt came out delicious, don't forget to leave a comment and share this recipe with others. Thank you so much for reading!
Nutrition Facts
20 servings per container
---
Amount Per ServingCalories113
% Daily Value *
Total Fat 3.8g

5

%
Cholesterol 16mg

6

%
Sodium 63mg

3

%
Potassium 113mg

4

%
Total Carbohydrate 15.7g

5

%
Protein 4.2g

8

%
---
Calcium

149

%
Vitamin D

21

%
* The % Daily Value tells you how much a nutrient in a serving of food contributes to a daily diet. 2,000 calories a day is used for general nutrition advice.