I know Korean stew recipes are rather a new concept for any newcomer to Asian cooking techniques. However Korean cuisine offers numerous ways you can experiment with ingredients and condiments to personalize your stew.
The only limit is in your creativity, as Korean stews have many variations to adapt to the availability of ingredients. That's why you only have to keep scrolling and prepare some notes to write down your favorite stew for your next meal.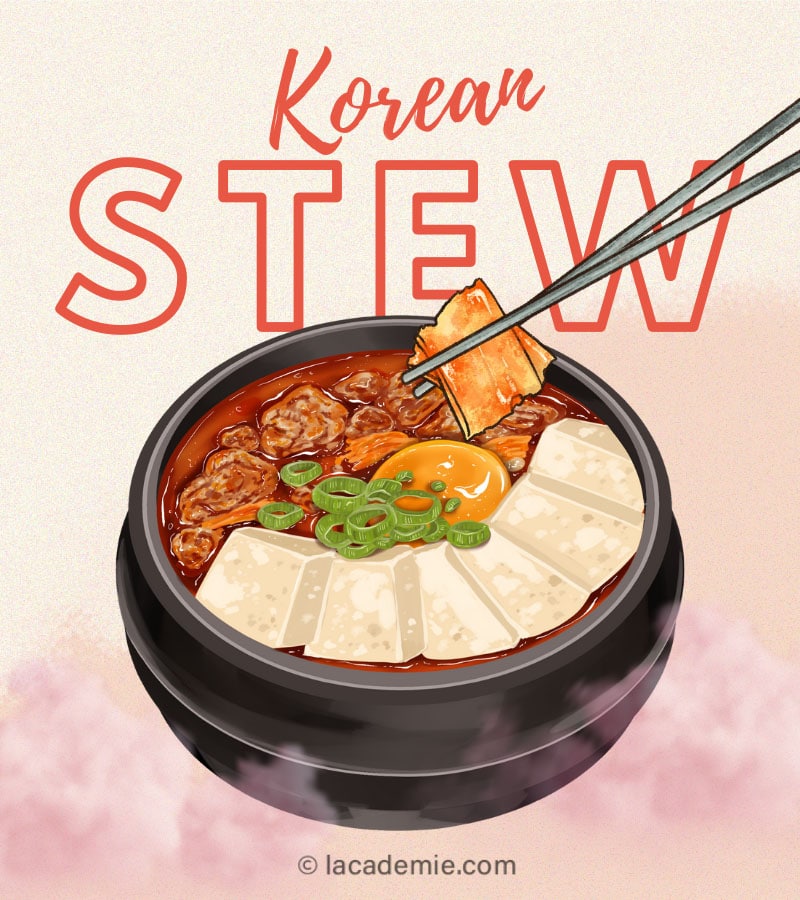 Incredible Korean Stew Recipes For You To Experiment
While many tasty Korean meals are popular because of their unique ingredients, Jjjigae, or Korean stew, will blow your mind away with its spiciness. In many cases, Korean locals usually name a stew based on its main ingredients, followed by the word Jjjigae.
Without further ado, let's jump into this tasty adventure of Korean stew!
Total time: 10 minutes.
Let's start with Bulgogi Jeongol, a hearty meal for your family on cold days. In Korea, locals often serve the dish on special occasions that call for a celebration with the family members. The hot pot is served hot with a stove to maintain the heat.
Traditionally, the thin slices of beef are the main highlight of any Bulgogi Jeongol. To get the best from the hot pot, I suggest using ribeyes cut. Thanks to the high-fat content, this cut of beef tends to have a smooth texture.
However, you can always use skirt steak if the ribeye is difficult to lay your hands on. As for the vegetable mixture, my advice is to add your preferred mushrooms with crown daisy, sesame seeds, and onion.
Don't forget the sauce concoction to adjust the flavor of your Bulgogi Jeongol. My secret sauce recipe combines soy sauce with sugar, fish sauce, and red wine. You should serve Bulgogi Jeongol with Konnyaku (Konjac plant) noodles.
The warm and flavorful broth with the various vegetable textures and wonderful beef taste will surely give you a pleasant meal. In addition, the savory sauce is a fine choice to personalize the broth of Bulgogi Jeongol to your taste.
Total time: 35 minutes.
In Korean, Budae Jjigae is directly translated to "army base stew", a dish that appeared after the Korean War when food was scarce. In the past, people created the dish by making use of leftover foods from the US military bases.
Many believe the Uijeongbu city is the birthplace of Budae Jjigae. In today's cuisine, the dish is a popular bar snack accompanied by a popular Korean beverage: Soju (Korean rice wine). The most outstanding feature of Budae Jjigae lies in all the ingredients being served in one big pot.
The broth Budae Jjigae is a combination of savory anchovy with spicy Gochujang (Korean chili paste). In addition, locals usually spice up the stock base by mixing Gochugaru (Korean chili flakes), rice wine, and soy sauce.
For the protein of the stew, my best picks are Vienna sausage, spam, and eggs. However, you can diversify the stew flavor with extra ingredients like enoki mushroom, tofu, and kimchi. Most often, people will have instant noodles with the broth and ingredients of Budae Jjigae
As a side note: You should only add in the egg and instant noodles after lowering the heat to a simmer. If you want a traditional experience with the stew, I recommend serving it directly on a stove, so your Budae Jjigae is always piping hot and ready to serve.
Learn the techniques to create a delicious Budae Jjigae right at home.
Total time: 30 minutes.
Kimchi is a staple dish that represents the entire Korean cuisine. So it's understandable that Korean locals adapted this iconic dish into a stew as well. If you have leftover Kimchi laying around in your house, this is the recipe you have to give a try.
A little fact about Kimchi: the dish originally was a way for locals to preserve numerous types of vegetables, until chili powder was introduced to create today's Kimchi recipe. In addition, the flavor of Kimchi will improve over time if you keep aging it.
Back to the Kimchi stew, people often utilize pork belly thanks to the soft texture and high-fat content. Commonly, locals will use rice wine with some peppercorns to cure the pork belly chunk.
You should chop the Kimchi into bite-size pieces to mix with other ingredients like tofu, shiitake mushroom, and onions. For the spicy broth, you should combine Gochugaru, Gochujang, and soy sauce for the best result.
Kimchi Jjigae is perfect for cold nights or when you want to have a hearty meal with your family members. The spicy broth with umami kimchi is a hard-to-forget experience for anyone when they first taste this stew.
Total time: 15 minutes.
Did you know that Korean soybean paste is a by-product of the soy sauce-making process? The Doenjang, as locals often refer to it, has a history that dates to the Three Kingdoms period (57 BC – 668 AD) in Korea. The paste is characterized by savory and umami-packed flavors.
The Doenjang is made by boiling the soybean in a brine solution. Then, people will pound and age the mixture until it develops umami and rich flavor.
Next, you need to sautée the garlic and vegetables to stimulate the fragrance of the broth. Then, you can add the stock of your choice to the pot with Doenjang, tofu, and zucchini. Remember, you need to stir the concoction well until all the Doenjang paste dissolves.
If you want to adjust the flavor of Doenjang Jjigae, you can do so by putting extra Doenjang for the umami flavor or soy sauce for the saltiness. Normally, people serve the stew hot for the best flavors.
Total time: 50 minutes
Many people usually know about Gochujang as a renowned Korean condiment more than a dish. However, Gochujang Jjigae will impress everyone with its bold flavor and insane spiciness. If spicy foods are your thing, then Gochujang stew deserves a place on your bucket list.
Most often, this recipe starts by browning the minced pork in a large pan. Make sure to press on the ground pork well so you can cook the meat evenly. Your spicy concoction should include Gochujang with fish sauce, soy sauce, and Gochugaru. Add your blend to the vegetable stock.
Aside from ground pork for protein, I suggest using diced shiitake mushrooms to provide a meat texture to your Gochujang Jjigae. In addition, Korean rice cake will help bring an extra chewing experience to the dish.
The thick broth is perfect to accompany some hot rice recipes from Korea as a side dish. The Gochujang chili paste brings a sweet and umami flavor to this spicy stew recipe. I do have to warn you guys to go easy on your chili if you can't handle spicy foods.
Don't let the spiciness stop you from enjoying a delicious pot of Gochujang Jjigae with your family.
Total time: 45 minutes.
Don't miss out on this amazing Kkotgetang if you're a huge fan of seafood dishes from Korea. Like many people, I prefer getting close and personal with the crab by deshelling them with my hands. The natural sweet crab meat with flavorful broth is what keeps me coming back for more.
For this recipe of Kkotgetang, you either want to get blue crab or flower crab because the meat is much more flavorful than other types of crab. Don't forget that you need to clean the crab well before cooking them to avoid any unwanted gunk or debris.
The broth mixture is a combination of anchovies with kelps to complement the salty ocean flavor that the crabs possess. In addition, people tend to use a spice blend of Gochujang, chili flakes, and Doenjang for the additional umami flavor and spiciness.
The crab should have a beautiful orange on its shell when all the cooking is done. As a helpful tip: I advise you to keep the liquid of the crab's shell to cook the Kkogetang broth to deepen its flavor even more.
Total time: 50 minutes.
Dakdoritang is a traditional Korean recipe that requires boiling chicken chunks with a variety of chili condiments and vegetables. It's one of the easiest recipes, but the flavor will blow your mind away.
Ideally, you want your marinating mixture to have chili oil, chili paste, and soy sauce. While you're cooking the chicken, it's best to pour in the seasoning concoction at this stage. That way, you can coat the chicken evenly with your seasoning mix.
Despite a huge load of chili condiments, Dakdoritang is relatively mild in terms of spiciness. The addition of potatoes is a perfect companion to the sweet and spicy sauce. In addition, the dish is freezer friendly in a container and can be reheated for later consumption.
Total time: Around 50 minutes.
The Jeolla province of present-day South Korea is the first place to invent Gamjatang. Commonly, locals use the neck bone to set the tone of the broth. People usually have the dish at lunch or dinner, but Gamjatang is sometimes consumed as a late-night snack.
If you can't get access to the neck bone, then pork rib is also a fine replacement. Make sure you wash the neck bone carefully to remove all the blood clods. However, do not remove the excess meat on the bones or the bone will become unappetizing.
Your flavorful Gamjatang broth mixture is a blend of Gochujang, chili powder, and sake. Normally, the pork neck bone is accompanied by some greens from the cabbage. The result you get is a piping hot Gamjatang with savory and juicy meat, perfect to go with a warm rice bowl.
Making Gamjatang is the perfect solution to keep your family warm and full through the night.
Total time: 25 minutes.
You're missing out on a lot of Korean cuisine experiences if you've never tried Sundubu Jjigae before. The dish was recorded to take form during the Joseon dynasty. In Korean, people refer to the incredibly soft tofu as Sundubu, which is the highlight of this dish.
Since the soft tofu is fragile by nature, I recommend excluding it from the cooking process for as long as possible. This will help protect the integrity of the tofu when you serve it. Ideally, you should break up the tofu and add it to the final phase of your cooking process.
Besides the tofu, pork belly is also an essential part of setting the flavor for your Sundubu Jjigae. To get the best broth, anchovies stock is your go-to option. If you want a meatier texture, then using shiitake mushroom will give you that effect.
Although it's an optional choice, I highly recommend you crack an egg yolk in the dish at the end of the cooking process. It helps deepen the flavor of the dish even more. The soft tofu will instantly melt in your mouth, while the bold sauce flavor will keep you craving for more.
Total time: 35 minutes.
This spicy and hearty Al Tang bursts with the tasty flavors of the ocean. This recipe utilizes cod egg sacks as the main star for the flavor and texture of the dish. Most often, Al Tang has a rich flavor thanks to the cod egg sacks.
Most of the time, you need to go to Korean markets as they usually sell fresh pollock roe. To set an ocean theme to your Al tang, you need an anchovy broth with kelps for an extra layer of flavor. To accompany the pollock roe, you will want to use radish, zucchini, and tofu.
No Al Tang recipe is perfect without featuring the seasoning mixture of Gochujang, sake, and Guk Ganjang (Korean soup soy sauce). Frequently, Al Tang has a distinct orange color that is mesmerizing to look at.
The taste of Al Tang is mesmerizing when you can make it by yourself.
Total time: 30 minutes.
Chilled weather is always a perfect occasion to enjoy a steaming pot of food with your family members. This spicy pork zucchini recipe is so easy to recreate right in the comfort of your home with available ingredients.
To get that unique spiciness, Gochujang is a must-have Korean seasoning to combine with anchovy stock, Gochugaru, and Guk Ganjang. As for the zucchini, you should cook those slices until they're tender but still retain a slightly crunchy texture.
For the pork, either pork shoulder or pork belly is a decent choice, but you need to pay attention not to overcook the pork. Otherwise, the pork will get all chewy and tough. When the pork starts to turn pale, you need to follow up with the condiment blend and stock.
It is recommended that you should serve this stew hot to keep your body warm on cold days. The stew is a perfect balance between spicy condiments and other refreshing ingredients.
Total time: 45 minutes.
Maeuntang is a traditional Korean spicy fish stew that takes advantage of any kind of fish to make. For this recipe, you should use fish that has a firm meat texture and white flesh.
My best choice is the red snapper for a mildly sweet and nutty meat flavor. If you don't know about red snapper, it's a saltwater fish that has a unique deep rosy red color. Remember, you will want to use the entire fish, including the head and bones, to extract all the essence from it.
To complement the red snapper, people tend to cook some radish, chili, and Ssukgat (Korean edible Chrysanthemum greens). Since Domi Maeuntang is a fish stew, it's understandable to have the broth made from anchovy to enhance the overall fish flavor.
In terms of seasoning, my choice is a combination of Korean chili paste, Doenjang, and fish sauce. The resulting broth has a savory flavor and a beautiful red stock.
Korean Stew Is Never This Easy To Make
I hope you've enjoyed the journey through Korea's amazing stew recipes. Not only are these dishes easy to make, but they also take less than an hour to make. So next you're in the kitchen, you already have a plan for your dinnertime.
If you have any more recipes or interesting experiences that you want to share with everyone, please let me know by leaving a comment. If you think this article is helpful then share it with everyone so they can uncover some of Korean finest stews.
Nutrition Facts
4 servings per container
---
Amount Per ServingCalories640
% Daily Value *
Total Fat 23.9g

36

%
Cholesterol 91mg

31

%
Sodium 2002mg

84

%
Potassium 199mg

6

%
Total Carbohydrate 99.5g

33

%

Dietary Fiber 4.8g

16

%
Sugars 13.9g

Protein 25.3g

50

%
---
Calcium

42

%
Iron

2

%
Vitamin D

4

%
* The % Daily Value tells you how much a nutrient in a serving of food contributes to a daily diet. 2,000 calories a day is used for general nutrition advice.