Heavy-duty aluminum foil vs regular – when and where to use them? Though aluminum foil is a handy kitchen tool nowadays and has a wide range of uses, people are still confused between the regular foil and the heavy-duty version.
However, it's best not to use them in the wrong place. The difference between these types of aluminum foil is not just the thickness. Allow me to walk you through this article for a better understanding!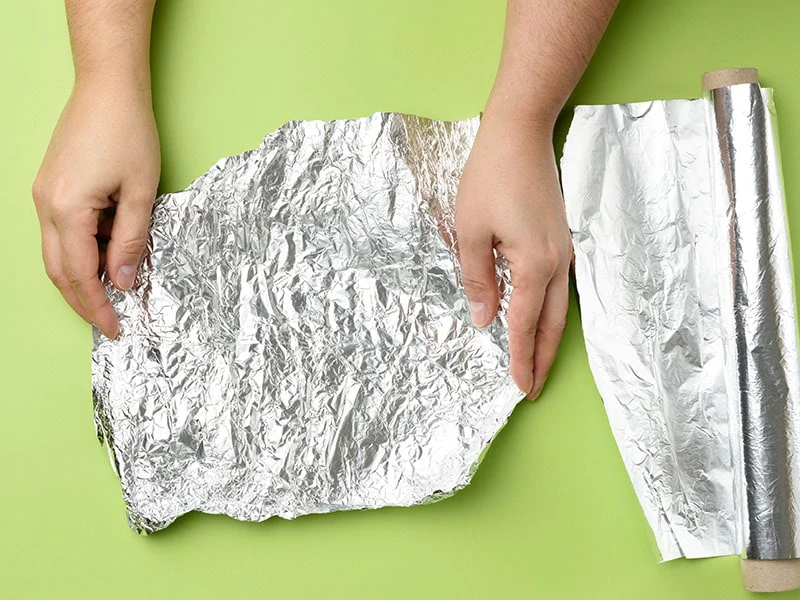 Let's Make Clear About Aluminum Foil!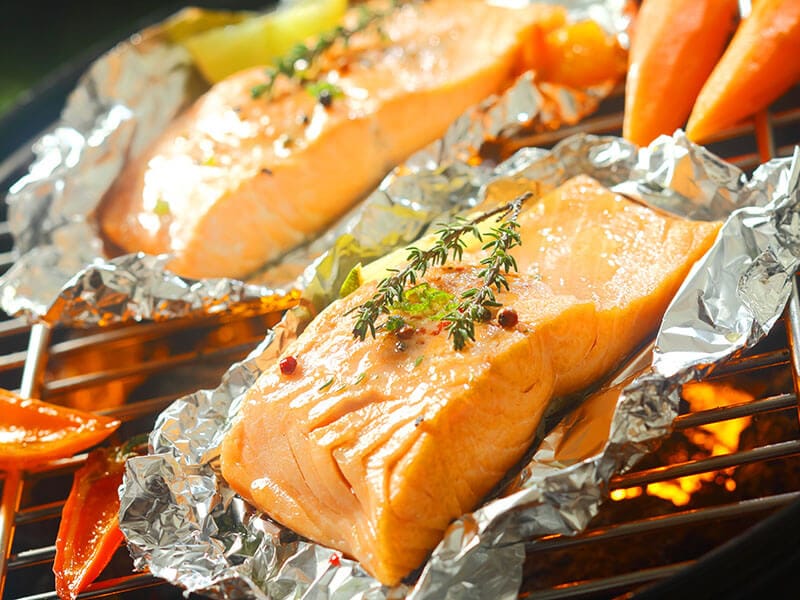 Aluminum foil is a thin sheet that is made of an aluminum alloy, and it's among the must-have utensils in every kitchen nowadays. There are multiple types of aluminum foil with different purposes of use.
Due to the difference in standard thickness of regular aluminum foil and heavy-duty version, they are not the same. You wouldn't want to struggle wrapping soft foods with heavy-duty aluminum foil nor collect the thin stuck pieces in the oven.
Before getting to the detailed answer, you should know this: tin foil and aluminum foil can be assumed the same thing without any problem. Tin foil was an actual product before it went obsolete and was replaced by aluminum foil during the late 20th century (1).
Many people can't tell tin foil apart from aluminum foil and constantly mix up the two. However, since you wouldn't be able to find any foil made of tin in your local grocery store, you can call it whatever you want.
In contrast, mistaking heavy-duty aluminum foil with the regular one is a whole different story. Let's skip the chatting and get right into the answer!
Heavy-Duty And Regular Aluminum Foil In Comparison
First of all, whether it's heavy-duty or regular, they're all foil which is made of an alloy of aluminum, so that there's no difference in their construction at all.
Any rolls labeled "aluminum foil" can be assumed as regular versions. However, due to the purpose of use, heavy-duty aluminum foil has been invented; let's take a deep look into the differences between it and the regular version.
Features
Heavy-duty
Regular
Thickness
Around 0.63 mils
Around 0.95 mils
Heat Resistance
Higher
Lower
Durability

More sturdy
Higher tear resistance

Not as strong
It can be torn easily

Variety
Less variety
Variety in length and width
Cost
It tends to be higher
More affordable
Thickness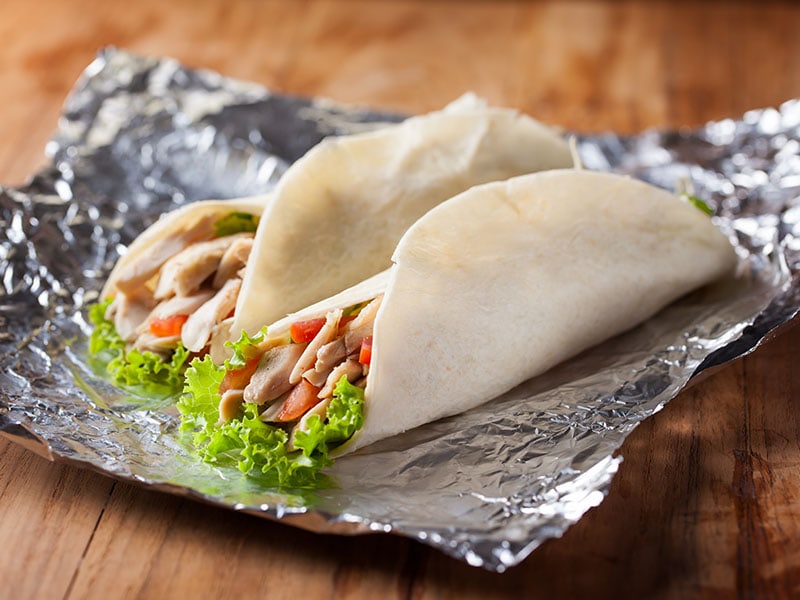 Thickness is the key difference between heavy-duty aluminum foil and the regular version. As the names have suggested, regular aluminum foil can tolerate some daily uses in the kitchen, while heavy-duty one can withstand heavier purposes of use.
In most cases, you'll find regular aluminum foils have a thickness of around 0.063 mils (0,016mm); these are also known as standard foils. On the other hand, heavy-duty ones often appear at 0,95 mils (0,024mm) in thickness.
Heat Resistance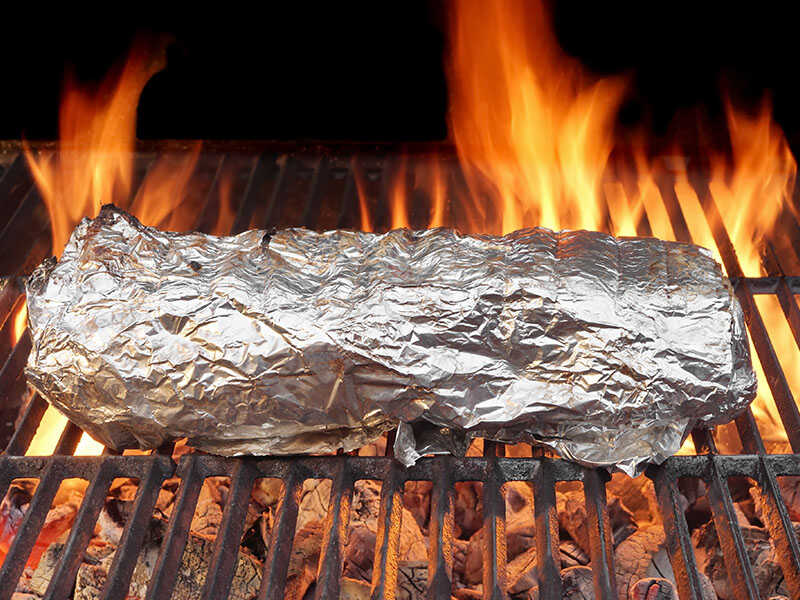 Though aluminum foil is famous for its heat resistance, the thicker the foil is, the better resistant it will be. Therefore, the heavy-duty one is always recommended in cooking, while the standard version should only be used in preparing foods or decorations.
Especially in grilling or baking, aluminum foil is often used for multiple purposes such as crutching, wrapping, or lining; however, the regular version can sometimes be melted and stuck on the rack or tray.
Durability
Like the above feature, the thicker aluminum foil is, the harder it is to tear. While the heavy-duty foil is better in crutching foods on the griller, it's harder to wrap foods with due to its sturdiness.
On the other hand, standard aluminum foil is easier to wrap soft foods such as vegetables or raw fileted fish; the heavy-duty version may crumple these foods accidentally.
However, since the regular is thinner, it's best to avoid using this type of foil for heavy items. Otherwise, the thin foil will be tattered and all you get is a bunch of messy aluminum sheets stuck on your food.
Check out the tear-resistant test of aluminum foil in different thicknesses.
Variety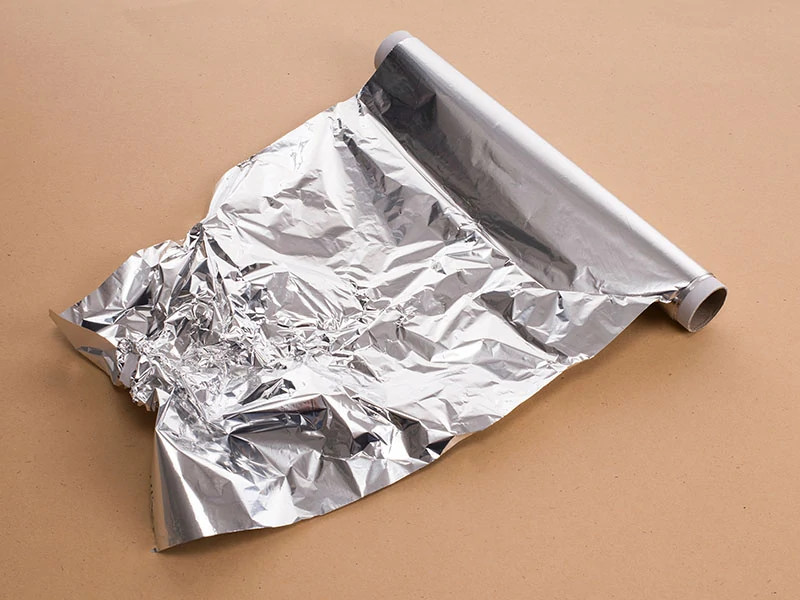 The standard version of aluminum foil offered a variety of widths and lengths. Since they're thinner, the manufacturers can add a longer sheet of foil in the same box size as the heavy-duty version; you can choose the appropriate lengths between 75 feet up to 250 feet.
In contrast, the most common length of heavy-duty aluminum foil is 75 feet, longer sheets are harder to find, and I wouldn't recommend them as well since they also acquire more space in the cabinet.
Though both can easily be found 8 inches in width, you can find other widths or lengths of standard aluminum foil in your local grocery store, while different sizes of heavy-duty versions often require customer orders.
Cost
Consider heavy-duty aluminum as a premium version of household foil, its price is obviously higher than the regular foil in most cases.
Take Reynold's Wrap – the top brand of household foil – as an example; you'll only have 130 square feet of heavy duty aluminum foil instead of 200 square feet of the standard version with the same price.
When And Where To Use Regular Aluminum Foil?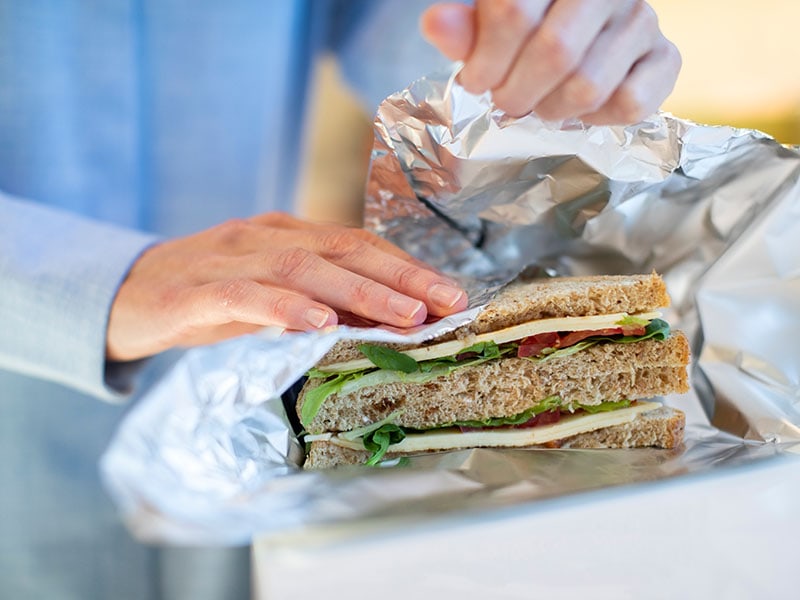 Though the regular aluminum foil has many disadvantages compared to the heavy-duty version, its uses should not be underrated. It is still a significant utensil that you can use for many purposes.
The most use of household foil is wrapping in order to prepare, store, or cook foods. Thanks to its magnificent density and waterproofness, you can use aluminum foil to cover your foods during preparation or serving.
Wrapping is also a short-term method to store your foods since aluminum foil will lock the moisture inside them. In cooking, wrapped foods would also maintain their tenderness and juice in the best way with aluminum foil.
Another way to utilize aluminum foil is to wrap your bakeware; since it's a great heat conductor, you will bake your baked goods more evenly and faster by this method.
Many people use aluminum foil to line below foods as a drip tray for grilling or baking dishes. However, this could bring many harmful consequences, especially when you use the regular version in the oven.
When And Where To Use Heavy Duty Aluminum Foil?
Once again, heavy-duty aluminum foil can be considered a premium version of household foil. It can handle any duty of the regular one and give a better result in most cases.
For grilling meals, heavy-duty aluminum foil can withstand higher temperatures without being melted or sticky like the regular. It can crutch your foods better as well due to the foil sturdiness.
For wet foods, such as Nigerian signature Moi Moi, you should use heavy-duty foil to make a packet. This type of aluminum foil would also better prevent tear ability during the cooking or preparing process
Therefore, either for better locking the moisture in your food or protecting it from the surrounding elements, consider using heavy-duty than regular aluminum foil.
However, the sturdiness of heavy-duty aluminum foil could be a drawback if you use it to wrap soft foods like mushy vegetables or fish; these foods tend to be crumpled during the wrapping.
And it would be unnecessary to use heavy-duty aluminum foil to wrap meals for serving, such as sandwiches. It can accidentally cut your hands when you're enjoying your meal, so let the regular foil handle this case.
In fact, a double layer of regular aluminum foil is even 23% stronger than the heavy-duty version. Therefore, if you're not in hand with the heavy-duty foil, you can fold the regular in twice and use it with the same purpose. (2)
Check out how to wrap heavy-duty aluminum foil for a delicious-looking Moi Moi.
Other Types Of Aluminum Foil
Regular and heavy-duty aluminum foil are the two most common types; however, they both have some disadvantages. If you want to avoid those drawbacks, there are other types of aluminum foil for you to choose from.
Non-Stick Aluminum Foil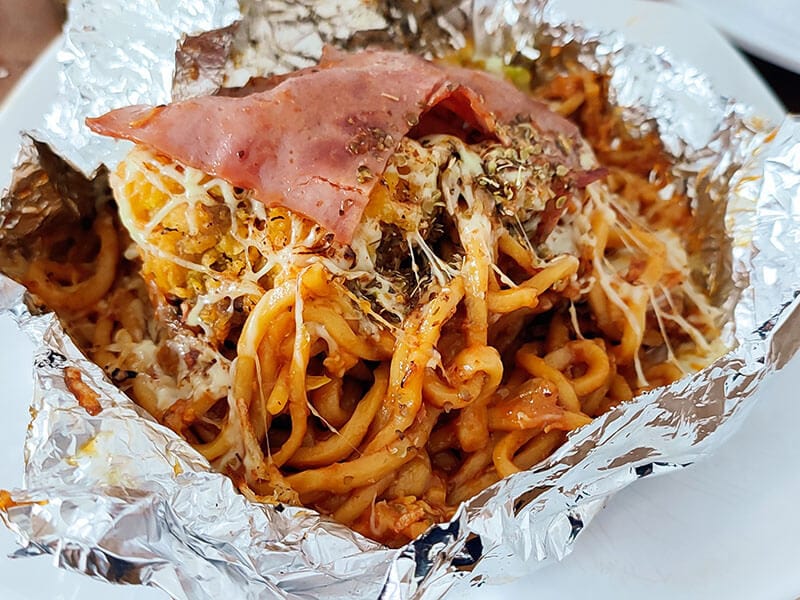 Many people use cooking spray or olive oil to prevent the regular aluminum foil from sticking. However, I recommend finding a nonstick household foil to put less effort into cooking.
This type of foil offers a silicone coating on one side to avoid getting stuck on your food. This coating would also prevent your food from being contaminated by aluminum – which is not good either for your meals or your health, and I'll cover this further down.
Extra Heavy Duty Aluminum Foil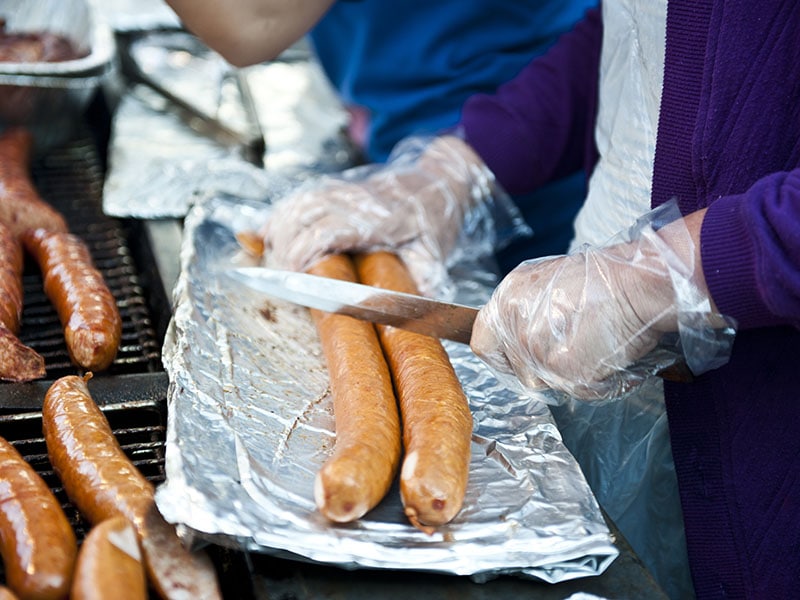 As the name has said, this is the strongest and thickest type of aluminum foil. It can handle beyond all the uses that the regular and heavy-duty foil can withstand. The thickness of this foil is between 1.1 mils (0,028mm) and 1.6 mils (0,04mm).
If you plan to cook large-sized food such as a whole turkey or bring it with you on your trip as a campfire patch, the extra heavy-duty aluminum foil is the best option. Due to its significant thickness and sturdiness, it can be a replica of a cutting board or even a pan for cooking.
The Drawbacks Of Overusing Aluminum Foil
Though aluminum foil is widely varied in uses, you should not use it too much in your daily life since aluminum is not so friendly to either your health or the environment.
Accidentally Consuming Aluminum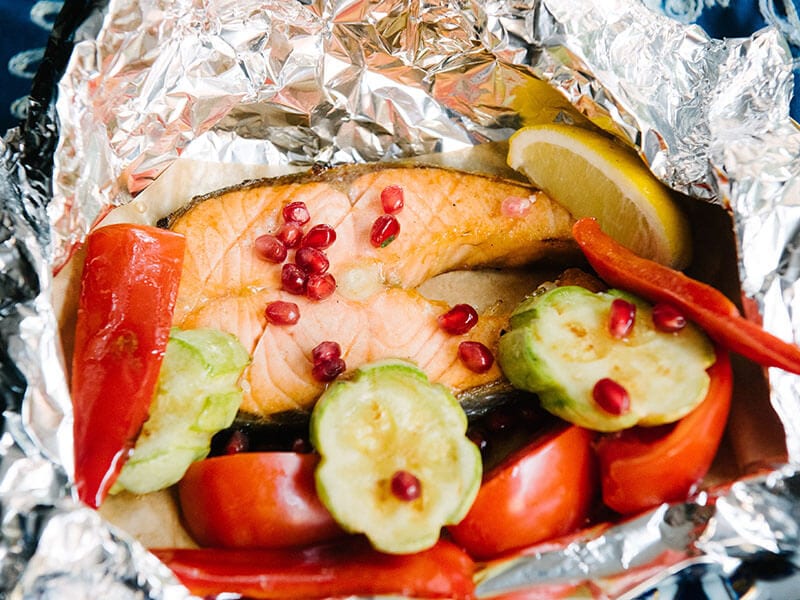 Aluminum is a metal that is already present in the human body so that you can consume a small amount of it without any problem. However, if a 60-kilogram person has a rate of aluminum higher than 24g in their body, they'd experience some symptoms (3).
First, they'll feel some muscle or bone aches. Then, if the overload of aluminum continues for the long term, their kidney functions will be decreased. In the worst case, the brain tissues could also be contaminated which leads to Alzheimer's.
Due to its thin sheet form, aluminum foil takes a higher possibility to contaminate your food than other utensils. In fact, meat wrapped in aluminum foil can increase up to 375% aluminum rate after cooking (4).
And the aluminum will leach into your food much more if you use aluminum foil with acidic foods, such as vinegar, tomato, and lemon.
While contacting with aluminum, these foods create a chemical reaction that not only increases the contaminations but also alternate their taste – which is the reason you'll feel some metal taste in your food.
Contaminating Environment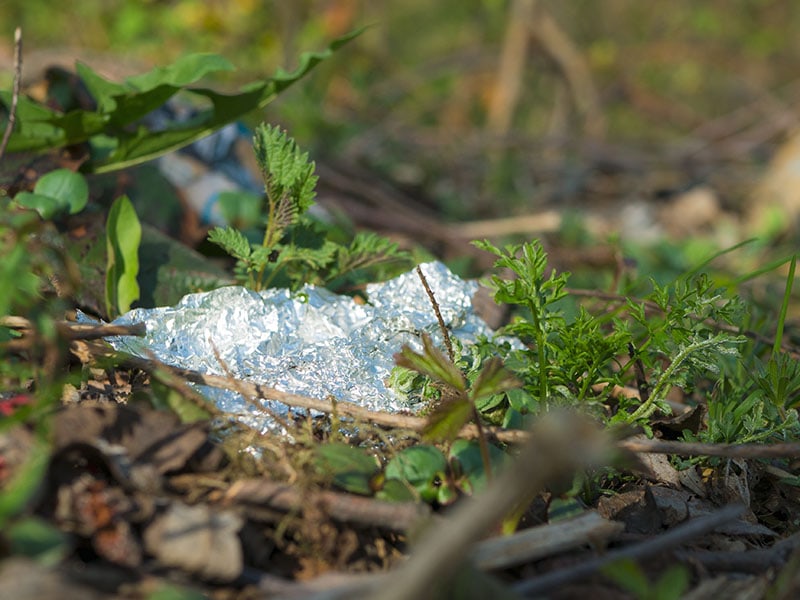 When it comes to the matter of whether aluminum foil is suitable for recycling process, the answer can get quite complicated. However, I'll try to make the explanation as simple as possible.
Though aluminum is among the most valuable metals that can be recycled, used household foil is often rejected by recycling services since it is easily contaminated by food and gives more challenges in the recycling process.
You would be surprised to know that the wasted amount of aluminum each year in the U.S can build an aircraft. And with the products that don't go to recycle, they'll last up to 400 years before being degraded (5).
Many people may think plastic is harmful to the environment; however, the mining and manufacturing process of aluminum is even way more contaminating. Therefore, using less aluminum foil is not only safe for your health but also for the environment.
What To Use In Place Of Aluminum Foil?
Aluminum is present a lot in the kitchen, not just foil but other utensils as well so that it's impossible and unnecessary to cut all the aluminum products from your daily uses. Instead, you can consider slightly cutting them from your routine.
In case you want to avoid using aluminum foil completely, you can use other cooking tools instead. When you're unsure if aluminum foil is compatible with microwaves, you can pick the following alternatives according to your needs and get an even better result.
Butcher Paper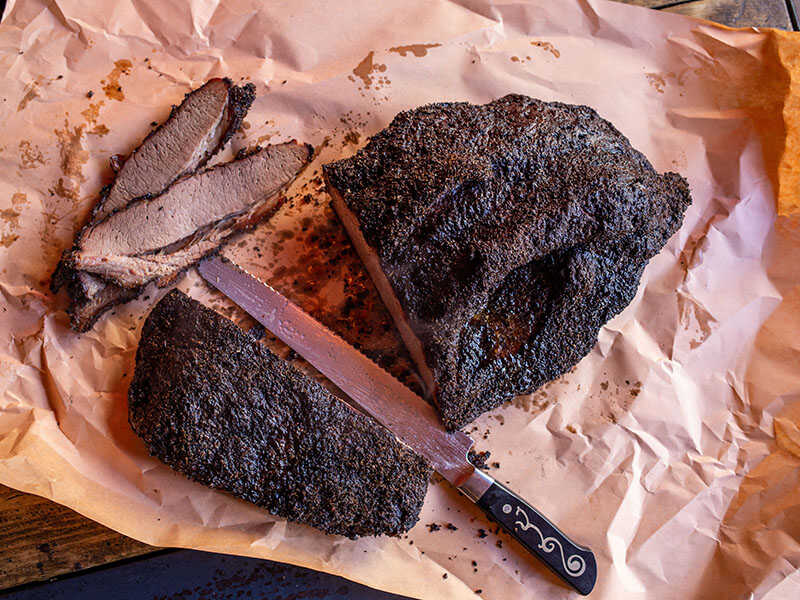 For grilling meals, especially smoking meats, you can reach out to butcher paper instead of sticking with aluminum foil. This is also the most recommended utensil for wrapping by the pitmasters. Like foil, butcher paper is varied, and there are heavy-duty ones too.
Using them in grilling will help maintain the tenderness and juice of foods while creating a great crispy bark. On the other hand, aluminum foil locks to moisture so well that the outcome sometimes turns out to be mushy.
Parchment Paper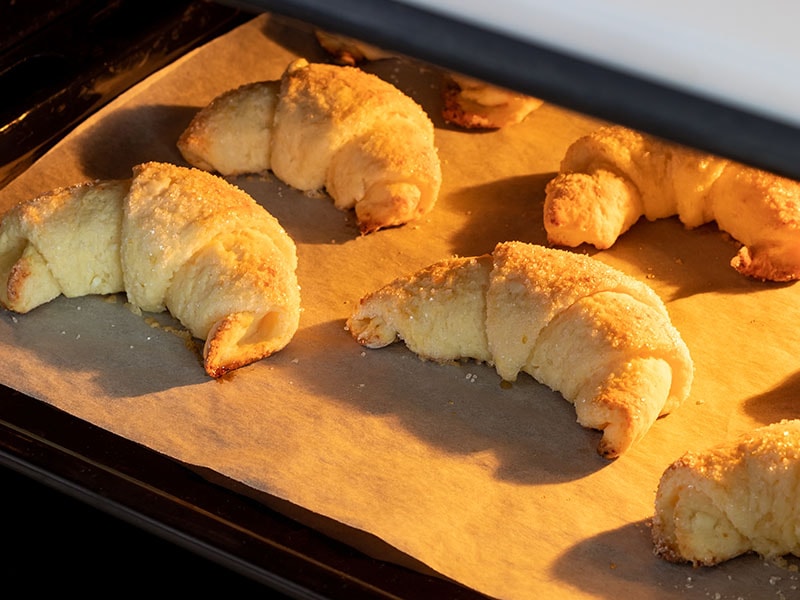 Despite the many differences between parchment paper and butcher paper, these two are both ideals substitutes for aluminum foil. To prevent food from sticking, opt for parchment paper. This has a coating side that not only offers a non-stick surface but also increases waterproofness.
For baking in the oven, especially cookies or pizza, using aluminum foil won't give you the crispiness that the crust demands. Therefore, it's best to stick with parchment paper for the best-baked goods.
Silicone Bakewares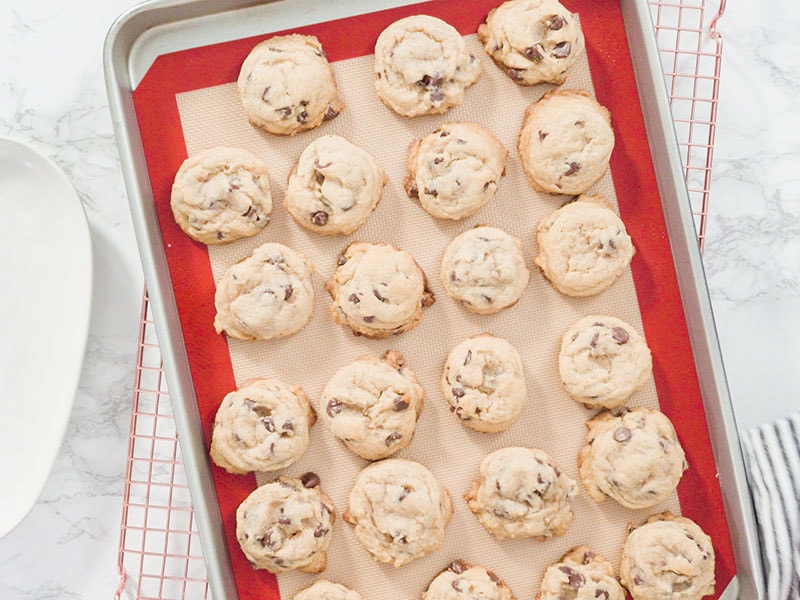 To reduce the use of aluminum foil, you can use silicone bakeware with the same result. Silicone has been widely produced in many products nowadays, such as liner, mat, mold, or tray.
Some of you might be wondering if it's ok to leave silicone bakeware on oven racks; and I'd say that for this specific purpose, you can do so. Of course, the answer can get more complex for other purposes, but rest assured if you intend to use silicone bakeware as an aluminum foil swap-in.
Many people use foil to catch spillage in the oven; however, these bakewares can be cleaned easily after being used. So it can be a more affordable solution than aluminum foil.
FAQs
At this point in the article, I'm positive that you now know which one is for you. If there's anything still blurring in your mind, I'm positive that it will be eliminated with some of the most asked questions here.
It's Best To Have Both In Your Kitchen
After reading this article, you can now tell the differences between regular aluminum foil and heavy-duty one as well as their uses. Therefore, why shouldn't you have both of them in your kitchen for multiple purposes?
However, due to the drawback of aluminum, consider using less foil to have better health and to save the environment.
Share this delightful information with your beloved people so that they can choose the right roll of aluminum foil for their needs.
Let me know what you think about aluminum foil or your experiences with it in the comment section! I'm positive that you and other readers would have some useful tips with aluminum foil to share!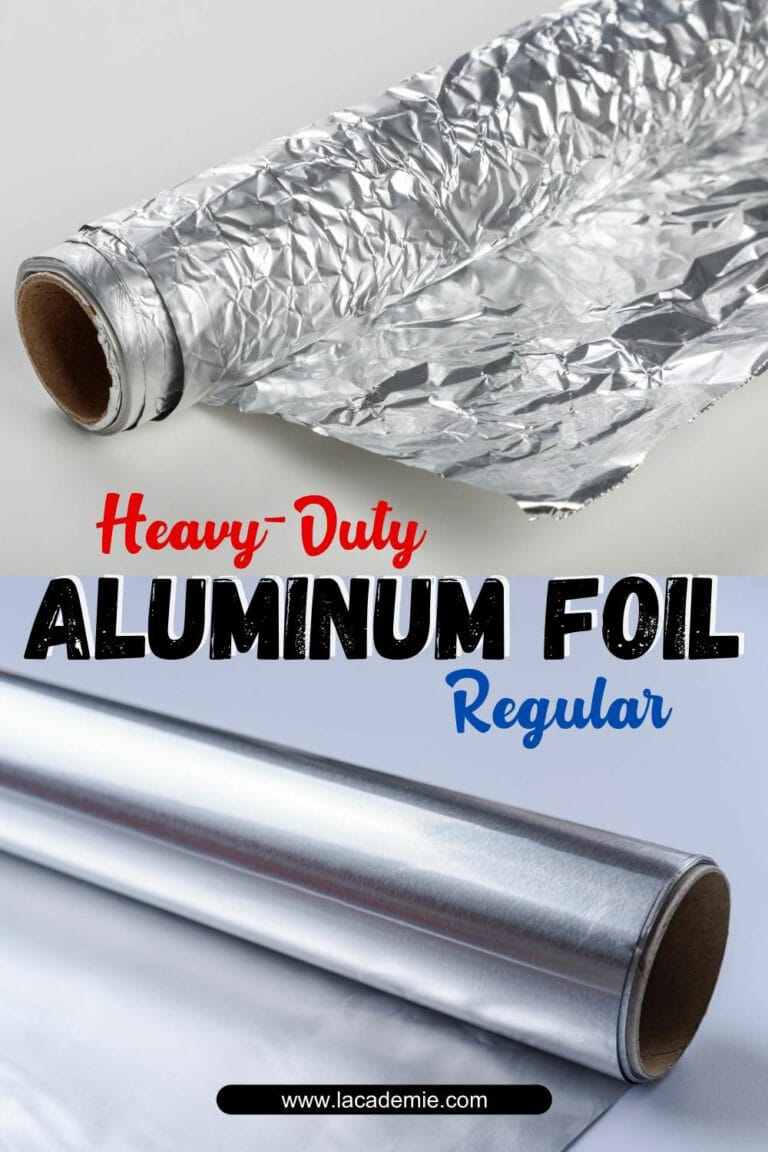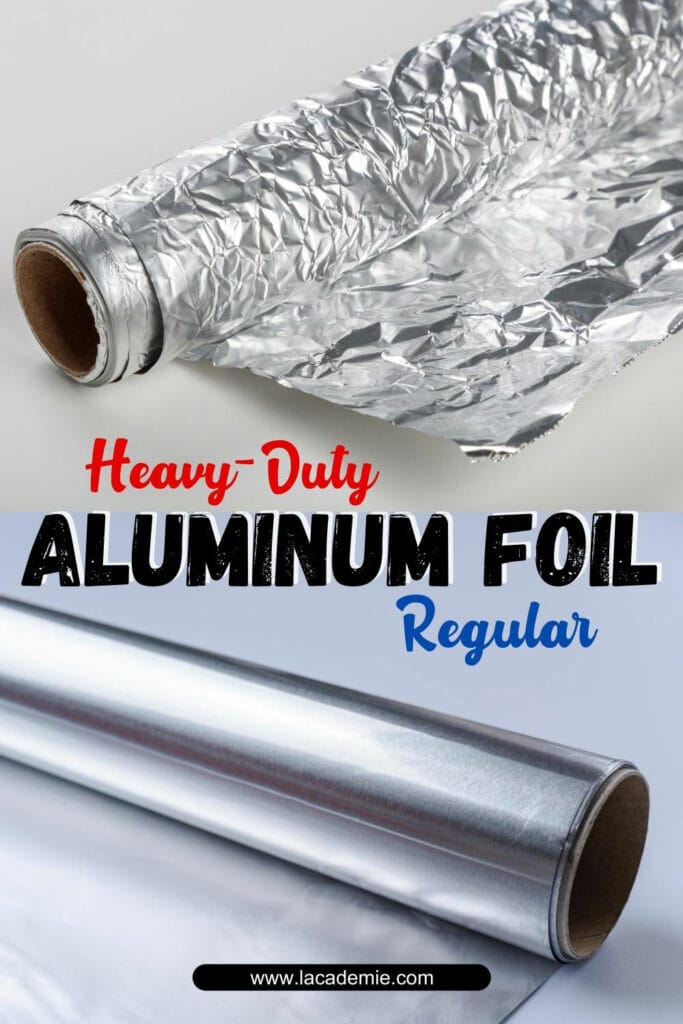 References
Haomei Aluminum CO., L., 2022. Are Tin Foil and Aluminum Foil the Same.
Cooksillustrated.com. 2022. Do You Need Heavy-Duty Foil? | Cook's Illustrated.
Inchem.org. 2021.
PMC, E., 2021. Europe PMC. [online] Europepmc.org.
Zone, T., Guide, R., Service, H., Recycling, C., and Trash, W., 2021. Quick Guide: How to Recycle Aluminum Foil.