Butcher paper vs. parchment paper; are you wondering which is the best option for your meals? Though they might be similar in appearance, don't use them in the wrong place and ruin your meals!
Depending on the cooking method and the food you're cooking, it's important to choose the right type of paper. So, let's skip the chat and walk through this article for a better understanding!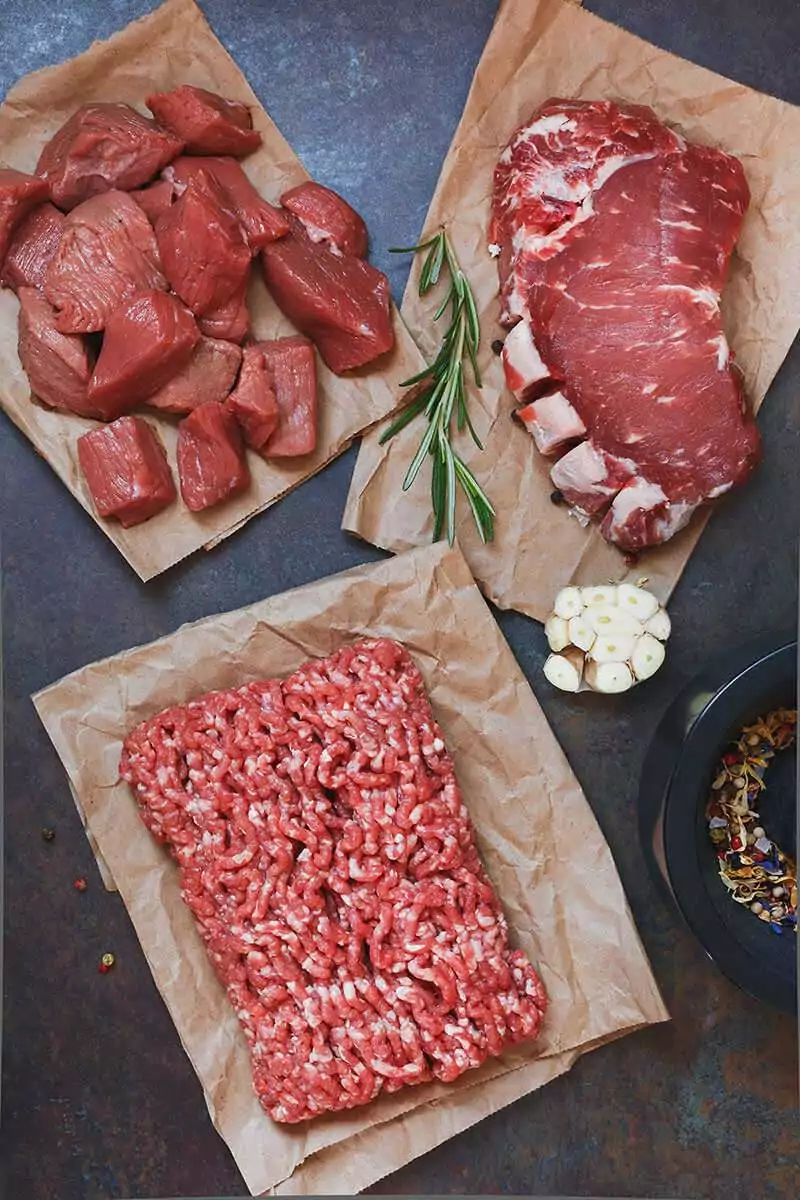 Don't Mistake These Papers!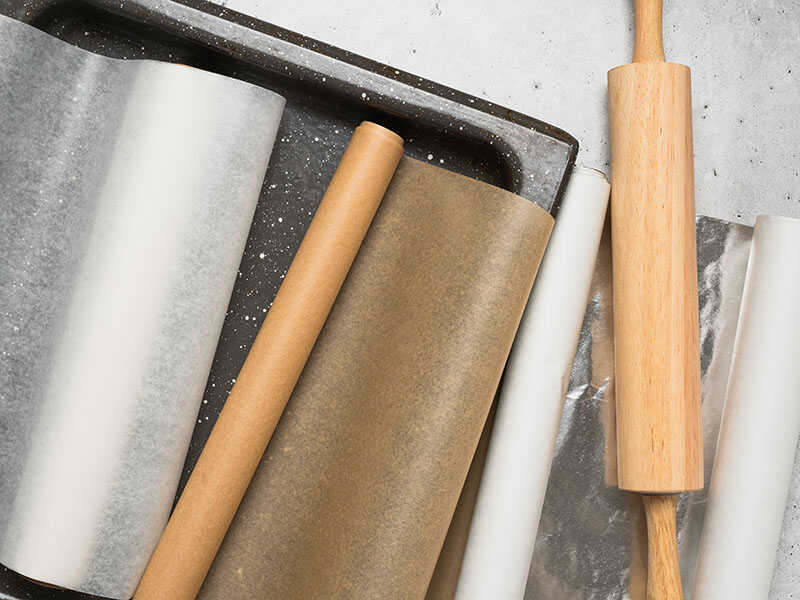 Many people still mistake butcher paper with parchment paper, not to mention that there are multiple types of other papers that look like them. But for the best BBQ foods, identifying these two is a must.
Since both of them can be used in BBQ and grilled dishes, people usually take the nearest roll for their meals. However, due to their construction and chemicals, they should be used for different foods and cooking methods.
You may notice wrapping meat with parchment paper will make them a bit soggy in the outcome of cooking. On the other hand, using butcher paper to wrap soft vegetables would bring you a mess due to the stickiness of paper.
Now, before comparing butcher paper and parchment paper, you may want to understand better what you're in hand with.
What Is Butcher Paper Exactly?
As the name has told everything, butcher paper is made initially for butchers to wrap their meat. But technically, they are a type of kraft paper, which is heavier-duty and usually made from FDA-approved food-grade wood pulp (1).
Butcher paper appears in various colors, and there are multiple types of them for you to choose from.
Colored Or Bleached Butcher Paper
One of the most common butcher paper, the dyed ones, is usually used as decoration or wrapping finished foods, such as sandwiches or french fries. The white butcher paper would also take part in this group since they're the bleached ones.
Pink Butcher Paper
The other varieties got their color using dyes, while the ones in white use bleach, which may not be so safe for cooking. The pink or pinkish-brown butcher paper, also known as peach paper, has the original color of food-grade wood pulp.
Pink Treated Butcher Paper
As an advanced version of pink butcher paper, the treated ones have a certain resistance to moisture, thanks to the sizing agent that has been added within the production process. Using this type of butcher paper can retain the juice of meats better than other types.
Gardenia Paper
Appearing in a greenish shade of color, gardenia paper is less common than other types of butcher paper, yet it gives the best treatment to the moisture of your foods. Gardenia paper provides a balanced level of water resistance and breathability.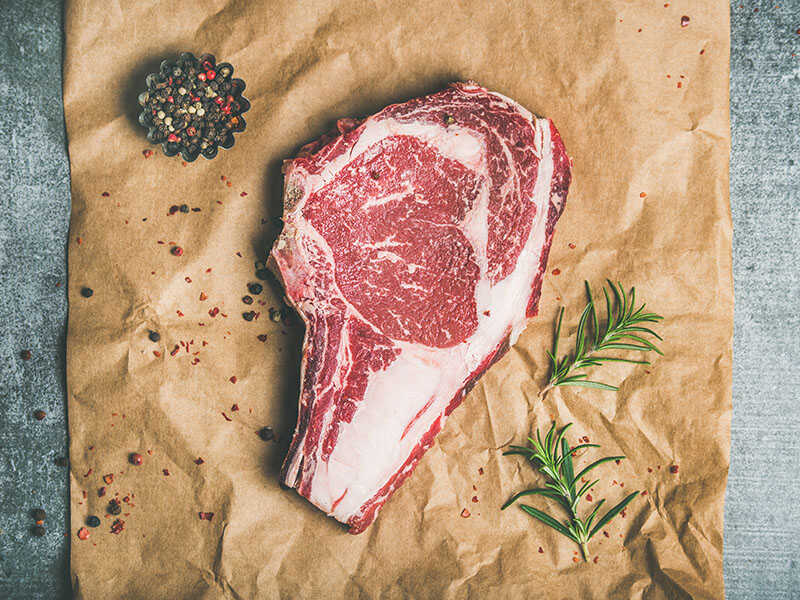 The Most Notable Advantages Of Butcher Paper
Butcher paper is a well-known material among pitmasters, so what makes them stand out? Have a deep look into the advantages:
High Density
Since butcher paper is heavy-duty, you can find that it has a certain strength and tear resistance, allowing it to stay on heat for a particularly long time.
Safe For Health
As mentioned before, pink butcher paper is made from FDA-approved food-grade wood pulp without any dyes, so it is safe to use for multiple purposes of cooking.
Allow The Meat To "Breathe"
Usually uncoated, butcher paper allows the meat to evaporate on heat while grilling, making them a perfect option for smoking methods. If you ever intend to have a go at some simple smoker recipes for novice chefs, you should consider getting butcher papers.
Highly Affordable
It is an inexpensive and easy-to-find paper; thereby, you can do anything you want with it, such as decoration, storing meats, or even as a fire starter.
Easy To Use
As a heavy-duty type of paper, butcher paper is extremely easy to use since you don't have to worry about accidentally tearing or ruining it. This advantage makes it an ideal tool for wrapping meats.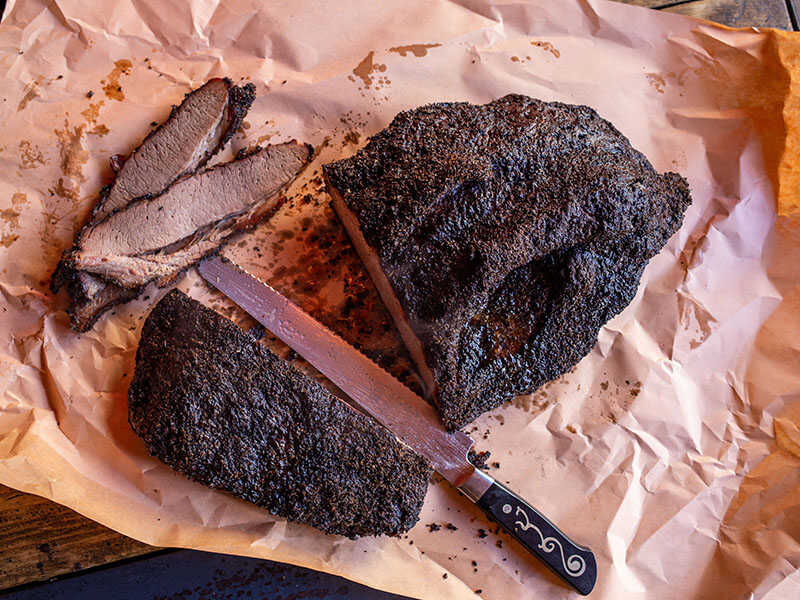 Some Facts About Parchment Paper You May Not Know
Also known as baking sheets, parchment paper is made from cellulose fibers and coated with silicone. Though this kind of paper is more familiar to bakers since it's a must-have item for ovens, you may be surprised knowing its usage in BBQ.
Bleached Parchment Paper
Parchment paper usually appears in white color, but as any white paper, it got its color by bleaching. Thereby you should make sure you're using the coated side of the paper to prevent chlorines from attaching to your foods.
Brown Parchment Paper
White parchment paper will turn brown after cooking, but I'm talking about the unbleached one – originally light brown – the natural color of cellulose fiber. To permanently eliminate chlorines from your meals, consider using this one.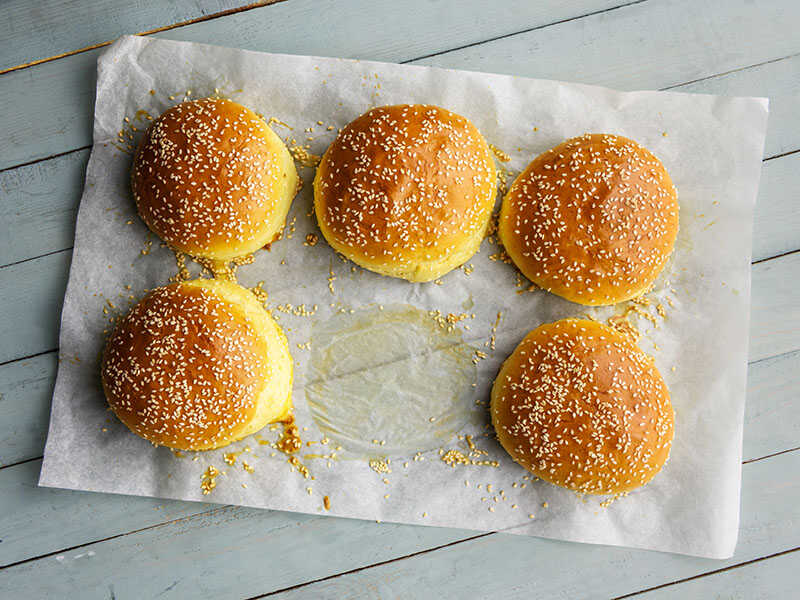 The Advantages That Made The Fame Of Parchment Paper
Well-known for its variety of usage, parchment paper must have some advantages among other cooking paper. Keep scrolling to see what makes them famous.
Waterproof
Thanks to the construction and waxy coating, parchment paper has a certain level of waterproofness, making it a perfect choice for wet foods.
Grease Resistance
Many people use parchment paper to layer the oven tray before grilling greasy foods for easier cleaning afterward.
Prevent Foods From Sticking
Usually appearing with waxy or silicone coating, parchment paper is perfect for wrapping or lining wet foods.
Recyclable
As a conclusion of the points above, parchment paper can easily be recycled several times. After cooking, simply wipe it with a wet paper towel to remove the left-over pieces or liquid, let dry, then you can reuse it.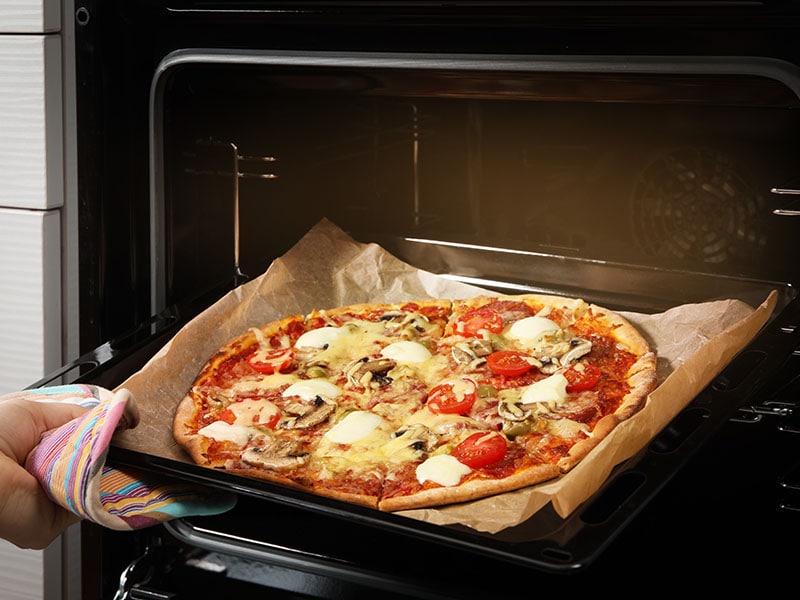 Parchment Paper Vs. Butcher Paper – Similarities And Differences
To erase your confusion between butcher paper and parchment paper, and to better understand what makes them different, let's keep walking through this article! After this, you'll know if butcher paper can be the best-matched alternative for parchment paper, or vice versa.
Similar Features Between Butcher Paper And Parchment Paper
Have you ever wondered if butcher paper and parchment paper are the same things? Many people do. Thereby, they must share some similarities that confuse people in defining them.
Heat Resistance
Thanks to the high density of construction, butcher paper gets the high heat resistance, which makes it able to be used for griller or oven. And though parchment paper has a lower density, the cellulose material saves it from the heat.
.Parchment paper and butcher paper can withstand over 400oF heat. But if you cook them over 450oF for more than 15 minutes, they both tend to burn before your food is cooked.
However, since the wet paper is notable for can't be burned, you can still go over their heat limit if you're cooking juicy or greasy foods.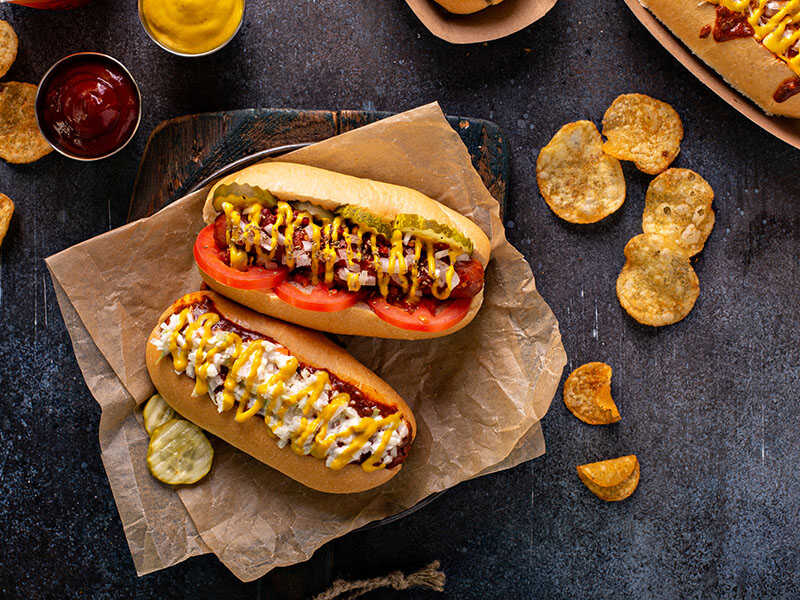 Extremely Versatile
With high density and high heat resistance, you can use both parchment paper and butcher paper for multiple purposes.
Besides cooking methods such as baking, grilling, or smoking, you can also use these papers as decorative items. They can absorb some of the excess oil while being a liner for deep-fried dishes, thanks to their porousness.
And by their tear-resistance, you can also use them to store food, which will be discussed later in this article.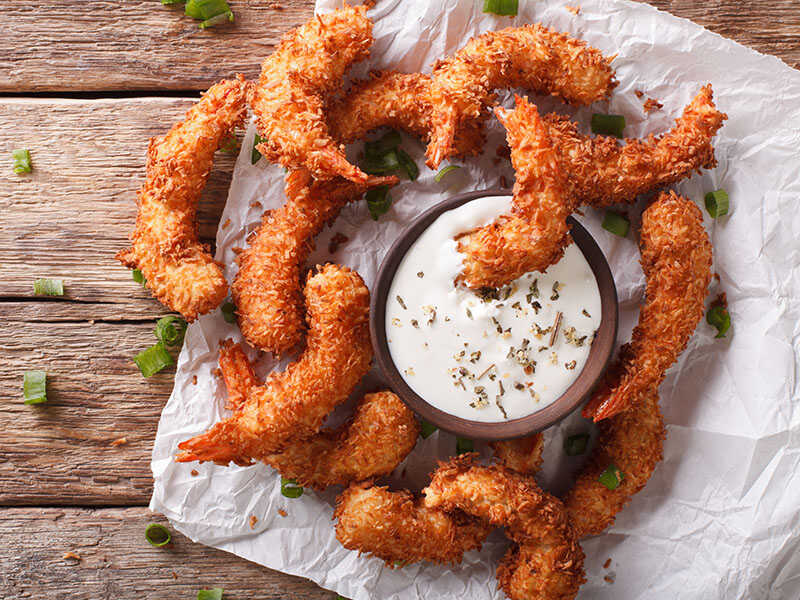 Some Striking Differences Between Butcher Paper And Parchment Paper
Through the previous section, I'm positive that you may recognize the differences between parchment paper and butcher paper by their appearances. Thereby, I will skip that and take a more detailed look into the differences in their features.
Features
Butcher Paper
Parchment Paper
Material
Wood pulp
Cellulose fiber
Type
Colored, bleached, pink, treated pink, and gardenia
Bleached and unbleached
Thickness
Thicker
Thinner
Production Process
Sizing agent
Silicone
Tear Resistance
Higher tear resistance
Heavy-duty
Less dense but yet tear resistance
Moisture Resistance
Less effective
Highly effective
Grease Resistance
Non-greaseproof
Greaseproof
Stickiness
Sticky, especially with wet foods
Non-stick
Recommended For
Dry foods
Almost any food
Flammability
Will burn if the temperature is over 420 degrees
Easier to catch on fire
Will burn if the temperature is over 450 degrees
Can handle indirect heat
Cost
Highly affordable
Tend to be more expensive
Recyclability
Limited
Several times
Now that you've got all the similarities and differences between butcher paper and parchment paper. But to choose the right roll of paper for your foods, keep scrolling for a better understanding.
Material
As mentioned above, butcher paper is often made from FDA-approved food-grade wood pulp, while parchment paper is produced by cellulose fiber; this feature is the leading cause of other differences between these two papers.
Types
Depending on your needs, there are many options of butcher paper for you to choose from – with different colors and qualities. Parchment paper is less in variety since they only have bleached and unbleached types.
Thickness
Thickness is one of the most visible differences to identify between these papers. Butcher paper tends to be thicker since they're a heavy-duty kind of paper.
Parchment paper is also less porous than butcher paper due to the cellulose construction. Therefore, parchment paper tends to be thinner.
Tear Resistance
Though both of them are tear-resistant, butcher paper is denser and can withstand heavy-duty work better than parchment paper. Even with the porose construction, wet butcher paper is not easy to be tattered.
Production Process
Due to the different materials of the paper, they're produced with different additives. However, both sizing agents in butcher paper and silicone in parchment paper are proved to be edible (2). So it's unnecessary to compare them in this case.
Moisture Resistance
Butcher paper tends to be absorbable, especially the non-treated rolls. In contrast, parchment paper is notable for moisture resistance.
Grease Resistance
While grease can't find its way to stay on parchment paper, the absorbance of butcher paper makes it easily accumulated with grease.
Stickiness
This is an obvious difference between these papers since parchment paper is famous for its non-stick feature. However, you can also find less sticky butcher paper these days.
Recommended For
Due to their construction, butcher paper is quite sticky and is non-waterproof. You're supposed to use them for dry food such as brisket, pulled pork, back ribs, and fish dishes.
Parchment paper is more versatile since it can be used for almost all food types. Besides the baked goods, some foods are preferred to cooking with parchment paper, such as thigh meats, belly meats, and soft vegetables.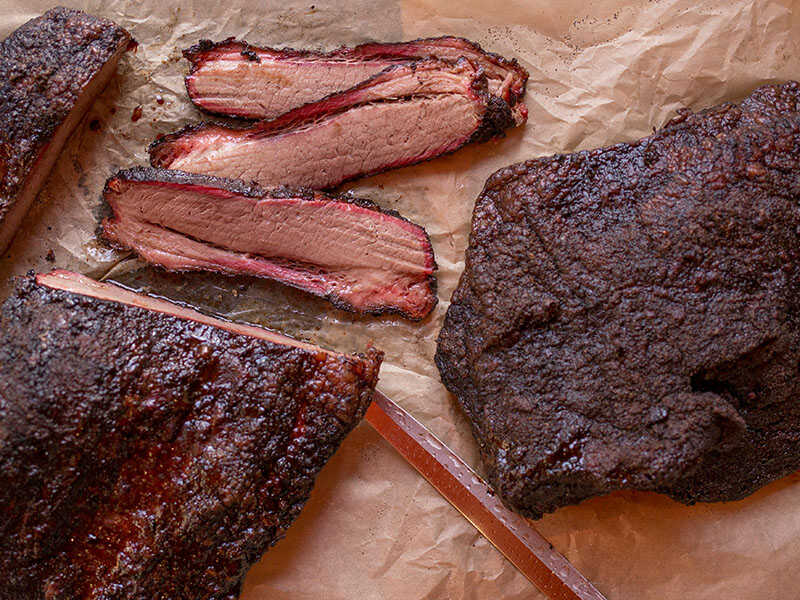 Flammability
Butcher paper has a chance to burn if the heat is over 420oF, while the heat limit of parchment paper is 450oF (3).
After all, they're still paper and tend to be flammable. However, due to the construction material, parchment paper can easier withstand indirect fire, while butcher paper sometimes can be used as a fire starter.
Cost
Though the price of both papers is reasonable, butcher paper tends to be cheaper than parchment paper in general.
Recyclability
As mentioned before, you can easily clean your parchment paper since they're water-resistant, while butcher paper is barely recyclable.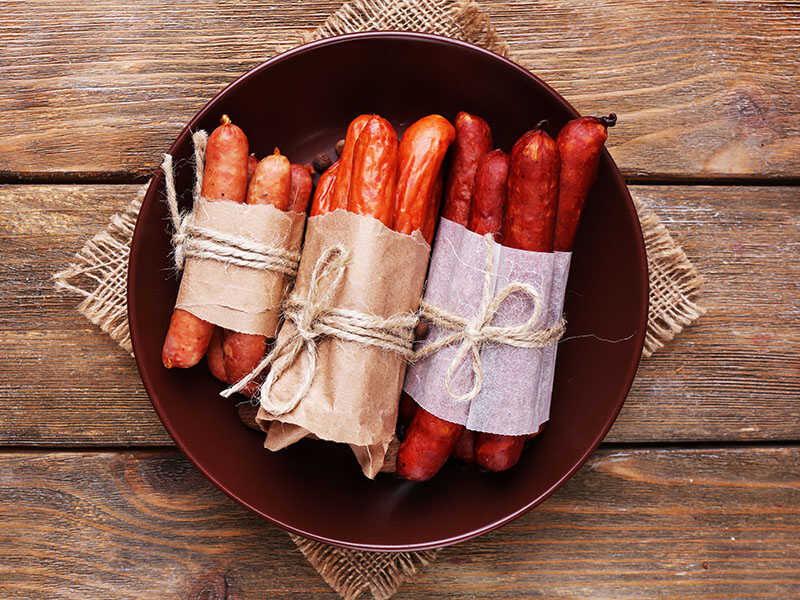 Choose The Right Roll For Each Specific Uses And Needs
Butcher paper is more familiar to the pitmasters, while parchment paper is a handy kitchen tool for the baker. So depending on the cooking methods and what you're planning to cook, let's see the suggestions for the best meals.
For Baking
Parchment paper is more preferred in the oven over butcher paper. Actually, these two types of papers are both oven-safe thanks to their high heat resistance. However, in most cases, butcher paper is the least favorite choice compared to foil or parchment paper.
First, it's easier to clean after cooking with parchment paper rather than butcher paper. Since it's inconvenient to clean the oven, many people layer their oven tray with a parchment sheet before cooking to make the work less time-consuming.
In wrapping, you will also not need that many sheets if you're using the parchment paper to trap the moisture and juice inside the foods. In contrast, butcher paper is more breathable and sticky to wet foods.
Parchment paper is oven-safe; see how to use it for baking!
For Grilling
You can't tell much difference between these two paper types in grilling. However, the waterproofness of parchment paper turns out to be a massive disadvantage for grilling methods.
Since wrapping food with this paper will over-trap the juice and moisture, your meals will end up more like steamed food rather than grilled; hence they often contain a certain amount of bleach, which can leach dioxin when cooking with an open flame or high heat.
Therefore, if you insist on using parchment paper for grilling, make sure to use the unbleached ones to avoid health issues. I'm certain you don't want your scrumptious grilled delicacies to end up being too dangerous to consume.
I would recommend using pink butcher paper for the best-grilled dishes. However, you may want to ensure that the roll of paper you're having is made from grade-food wood pulp and doesn't coat with wax; there are types of butcher paper that are not meant to be used for food.
After all, you also shouldn't forget that these tools are still paper, so make sure just to keep them on the side of the flame; otherwise, they'll catch on fire before your food is cooked. Notorious for the flammability, butcher paper can be used as a fire starter as well.
You can wrap potatoes with pink butcher paper during the grilling for a mouthwatering meal.
For Smoking
Butcher paper is one of the handiest items to the pitmasters, and they especially use it for smoked meals. Thanks to their construction, butcher paper can crutch your meats on the griller and allow them to "breathe" rather than parchment paper.
If you're a fan of BBQ dishes, you may have heard of the Texas Crutch. For this method, wrap your meat with pink butcher paper after it has reached the desired temperature. The paper will keep the moisture and juice while continuing to make a wonderful bark.
While smoking may take you 8 – 12 hours, some pitmasters comment that this is an excellent solution to reduce the time of this process.
But you can also use parchment paper in the same method if you want less smoky flavor and trap even more juice. So due to the taste that you want, you'll just have to pick the right one to become the pitmaster of your family.
Watch this video to know more:
For Storing
The answer for these storing methods might be trickier since you can use both parchment paper and butcher paper to wrap your foods and put them in the freezer for long-term storage.
Once again, the name tells everything; butcher paper is meant to be storing meats, whether raw or cooked. In the old days, butchers used this paper to keep meat fresh for the short term.
If you plan to store bread, cookies, or whatever foods that need to maintain moisture, use parchment paper. If your paper is only one side coated, make sure to wrap them with the coated-side in so that your food won't stick to the paper, and you can label your packages.
In other words, the best methods to store brownies, bread, cookies, etc. will usually include parchment paper. That's why I've pointed out several times before that parchment paper is truly a baker's best friend.
However, for the best storage method in the long term, I recommend you to use freezer paper, which is a lookalike of parchment paper but made specifically for the freezer and coated with wax or polyethylene.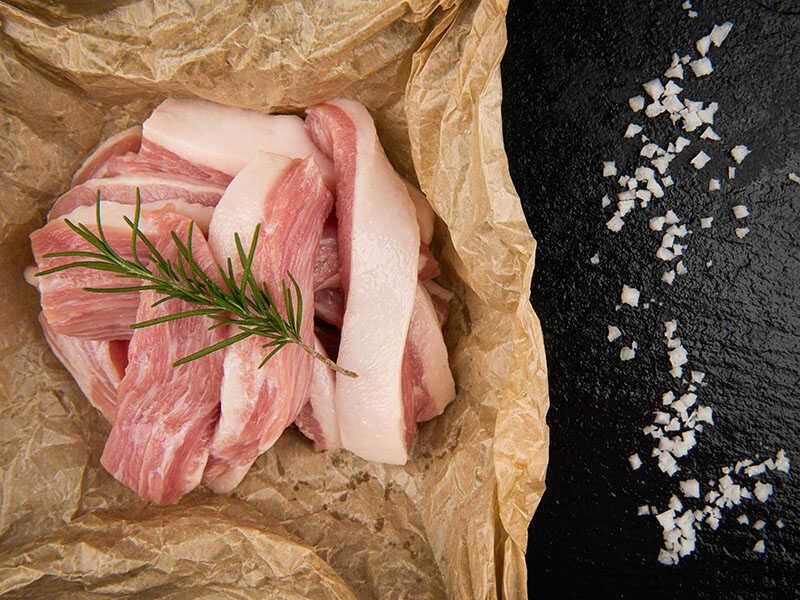 Other Things You Can Do With Parchment Paper And Butcher Paper
Besides cooking, both parchment paper and butcher paper are significantly various in uses such as preparing food or decoration.
For decoration, butcher paper is preferred since it's denser and has many colors. Another common use of butcher paper is a substitute for wrapping gifts. You can also draw on it as an actual artwork, thanks to its absorption.
For other uses with food, such as wrapping or serving, I recommend using parchment paper instead. Many fast-food chains use parchment paper to wrap their burgers so that the oil won't attach to your hands while eating.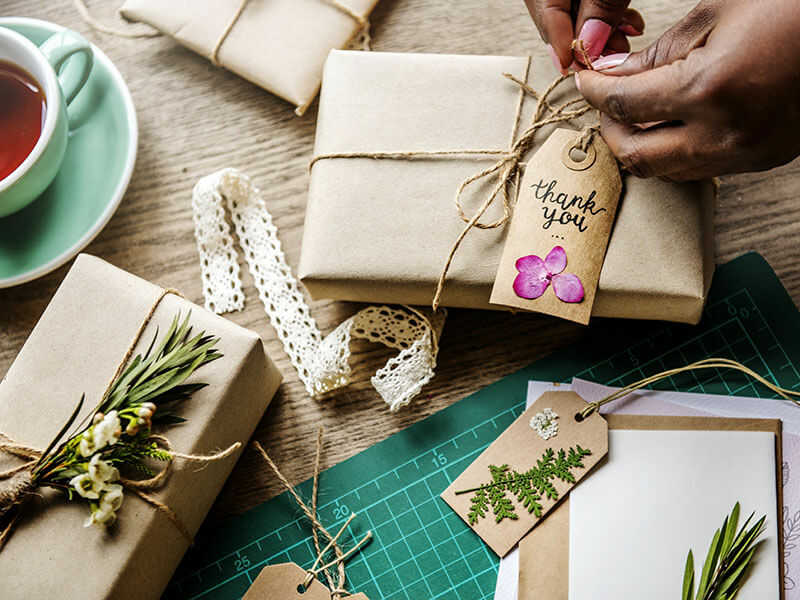 FAQs
If there's anything still bothering you about the differences and usages, erase it with some of the most asked questions about parchment paper and butcher paper.
Did You Found The Winner For Your Dishes?
Well, it's hard to define the winner between butcher paper and parchment paper. But I'm positive that you have got all the needed information to pick the right rolls for your meals.
Many people choose to purchase expensive tools with different purposes for their kitchen. However, you can use such affordable things as these papers for multiple usages. Share this information with your beloved people so they can truly know what they're in hand with!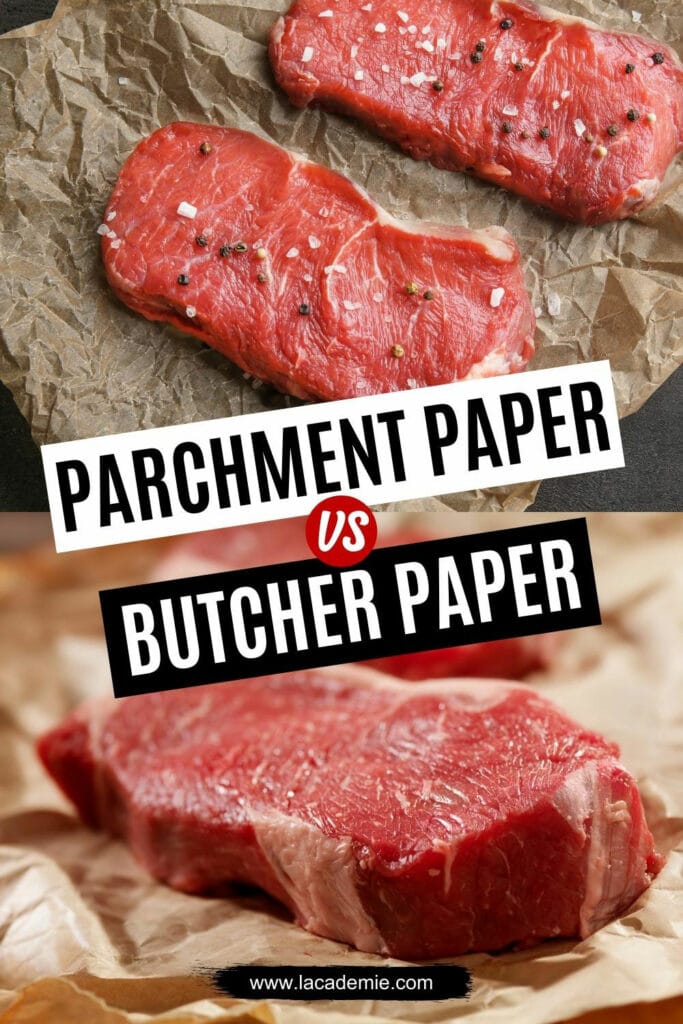 References
National Archives. 2021. Differences between Parchment, Vellum and Paper.
Bioresources.cnr.ncsu.edu. 2021. Edible additives & cellulosic paper :: BioResources.
Fireproof Depot. 2021. What Temperature Does Paper Burn/Ignite/Combust? (Explained).