Have you ever struggled with the question "how to store brownies?", if that's the case, then you are not alone. Although for chocolate lovers, which is almost everyone, a brownie is a perfect treat, not everyone knows the most effective way to store theirs.
Keeping brownies in the wrong way may lead to unintentionally ruining your brownies way sooner than they could normally last and sometimes even cause you and your family a bad case of food poisoning.
Does this mean that you should avoid storing your leftover brownies completely? Of course not! Because you and I both love brownies, I am here today to show you the easy and best methods to make this flavorful treat last longer.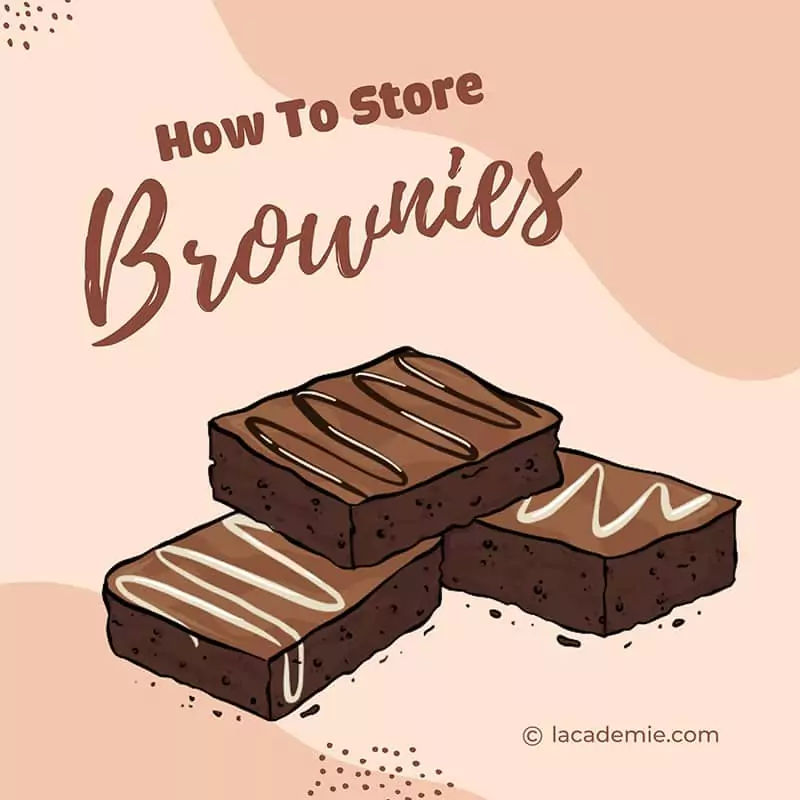 The Best Ways To Store Brownies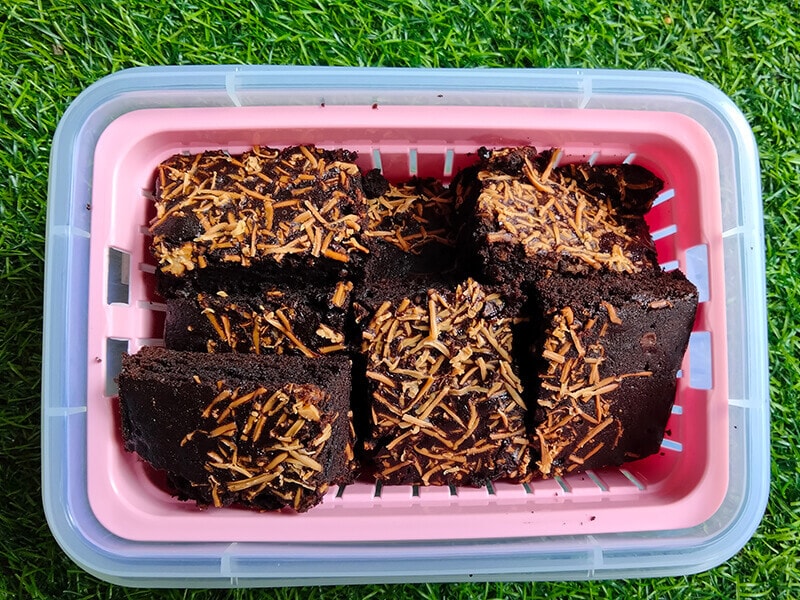 Fortunately, there are several ways to keep your brownies yummy for a long time. However, you have to decide first and foremost how long you wish to store your brownies as this will affect your method of storing them (some methods can keep brownies for up to 3 months!).
Here are the quick answers for the best methods to store your brownies:
Prepare Your Brownies For Storage
Step 1: Wait For Your Brownies To Cool
Step 2: Decide If You Need To Cut Your Brownies Or Not
Step 3: Protect Them From Air
3 Easy Methods To Store Brownies
Method 1: Storing At Room Temperature
Method 2: Storing In The Fridge
Step 1: Prepare Your Brownies
Step 2: Reheat And Enjoy
Step 3: Remember To Rewrap Or Close The Lid Securely
Method 3: Storing In The Freezer
Step 1: Prepare Your Brownies
Step 2: Thaw, Reheat And Enjoy
Step 3: Rewrap And Close Lid Properly
What Are Brownies And Why People Love Them So Much?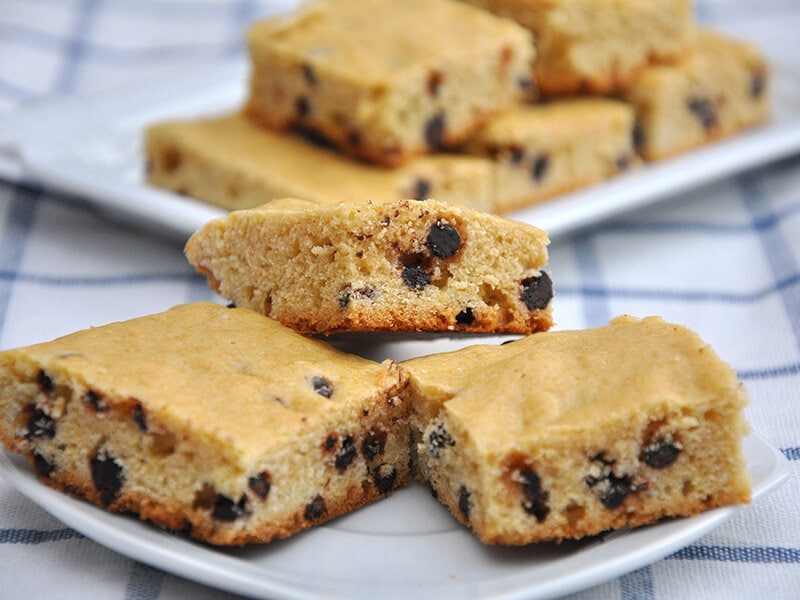 A brownie is a baked chocolate confection that often comes in rectangular or square shape. It has the bittersweet taste of chocolate and, typically, a crispy outer layer with a soft, gooey interior. (1)
Although it might be mistaken for a chocolate cake sometimes, a brownie is not considered a cake, but rather a bar cookie and typically eaten by hand. However, you can make cakes from brownie mix with simple procedures if you happen to prefer fudgy, gooey cakes.
Brownies can come in many shapes and forms. Some have walnuts mixed in, and some include peanut butter or Nutella. If you ever feel like eating some decadent sweet treats rich with Nutella flavors, do consider making Nutella brownie – it's a treat to die for.
For people who are trying to lose weight, there is a variation called blondie brownie, which is made from brown sugar and vanilla instead of chocolate. Although they are not as flavorful as other versions, they are lower in calories.
No matter what the variation is, the brownie is one of the most popular comfort foods that can be enjoyed any time of the day. Apart from tasting good, sweet food works great as a mood booster or stress reliever, and brownies are no exception – which is why they are loved by many.
Are Brownies Good Or Bad For Health?
As delicious as brownies are, they can be quite addictive and, similar to many other confectionery dishes, fairly high in sugar and calories. That is why it is better to consume brownies in moderation and switch to low-calorie variations if you aim to lose weight.
However, when eaten in moderation, brownies can be beneficial for your health, such as lowering blood pressure and reducing bad cholesterol. They are also a source of antioxidants – a substance that helps neutralize free radicals in your body, thus boosting overall health.(2)
So don't feel bad about having a slice of brownie (or two!); as long as you take the number of brownies you eat into consideration, there is nothing harmful about enjoying this yummy delicacy.
Learn more detailed information about the health benefits of brownies and chocolate. Watch this video to know:
A Complete Guide On How To Store Your Brownies
Without further ado, let's get into the step-by-step guide on how you should preserve this sweet treat.
Prepare Your Brownies For Storage
Whatever method you choose for storing your brownies, these 3 small preparation steps are essential and must be done first.
Step 1: Wait For Your Brownies To Cool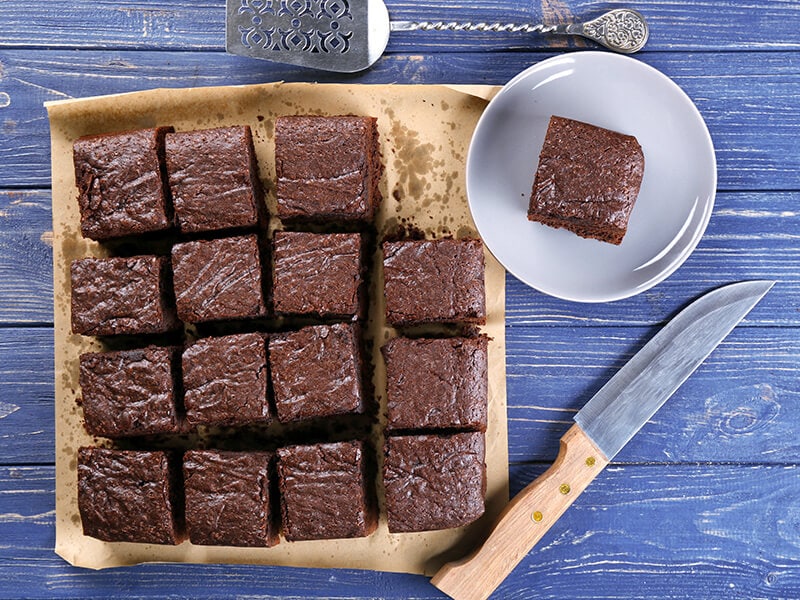 If you buy your brownies from a bakery shop, then there is a high chance that they have already cooled by the time you take them home. However, if you are dealing with freshly-baked brownies, the wiser choice is to wait for them to completely cool before you wrap or store them.
The reason for this is because the steam from hot brownies could ruin the texture of the outer layer, making them soggy. Moreover, because hot brownies are so soft and chewy, cutting them right after baking is tricky, and you are more likely to make a mess out of your delicious dessert.
Typically, a brownie should be able to completely cool after at least 30 minutes if left at room temperature. However, it might take up to an hour, depending on how hot your room is. While cooling, putting a clean dish towel on top can reduce the amount of air that touches the brownie.
Step 2: Decide If You Need To Cut Your Brownies Or Not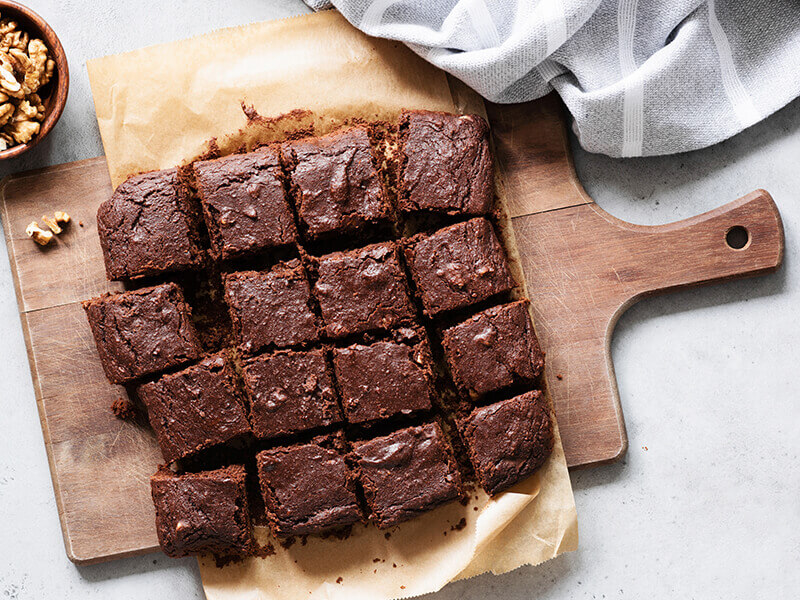 When dealing with a brand new batch of brownies, it is indeed tempting to dig your knife right into the middle, sometimes just to feel the satisfying texture. With that being said, you might want to consider not cutting them before storing them for more longevity.
When cut into smaller squares, brownies are unavoidably exposed to more air, thus causing them to become dry and stale more quickly. So unless you want your gooey, fudgy brownie to turn into a crunchy and dry-out one, you should store them as a whole.
This is especially true if your brownies don't contain eggs. While there's several ways to make box brownies with no eggs, they can be tricky to master for amateurs. In other words, without eggs or other ingredients with high moisture content, your brownies might dry out even quicker.
One compromise that you could make is to cut them into big proportions. Though not as good as avoiding cutting entirely, this method can still minimize the number of parts that touch the air.
Step 3: Protect Them From Air
As mentioned above, air will cause your brownie to become dry and brittle, so it is best to keep the air away from your brownie. This is the last but also the most important step when preparing brownies for keeping.
The easiest way to airproof brownies is to put a lid on them. Although this will not completely block air from harming your brownie, it is still better than leaving the brownie exposed totally.
However, if you want a more effective method, then using plastic wrap or foil to wrap the brownie is the better choice. The tighter and closer to the brownie's surface that you wrap, the harder it will be for air to get inside.
How To Wrap Brownies Using Plastic Wrap Like A Professional. Let's see this video to know:
You can also use an air-free container with an unlockable lid or a glass jar to store brownies for other options. In case you don't have these things lying around, putting them in a Ziploc or resealable bag is just as good.
3 Easy Ways To Store Brownies
Now that your brownies are perfectly air-protected, time to get into more details on the storing methods.
Ideal Storing Time For Each Method
There are 3 main ways to store brownies:
Method 1: Storing At Room Temperature Or In The Pantry
Method 2: Storing In The Fridge
Method 3: Storing In The Freezer
Each of these methods is more fitting for a different period of time. The ideal storing time for each of them are:
| Storage Method | Ideal Storage Time |
| --- | --- |
| At Room Temperature / In The Pantry | 3-4 days |
| In The Fridge | 1-2 weeks |
| In The Freezer | 3 months |
Feel free to choose the most suitable method for you!
Method 1: Storing At Room Temperature Or In The Pantry
If you only need your brownies to stay fresh for about 3-4 days, leaving them at room temperature or in the pantry is absolutely fine. This method will allow brownies to stay fresh and fudgy right after getting out of all the wrapping, even without using the microwave.
However, if you live in hot climate areas or your room doesn't have an air conditioner, it might be best to avoid this method. It's because this will make estimating the overall shelf-life of your brownies much harder.
In that case, keep reading to find a more suitable way of keeping your brownies.
Method 2: Storing In The Fridge
Yes, the classic "putting food in the refrigerator" method works very well for brownies too. Using a fridge allows you to store your brownie for up to 2 weeks before going stale!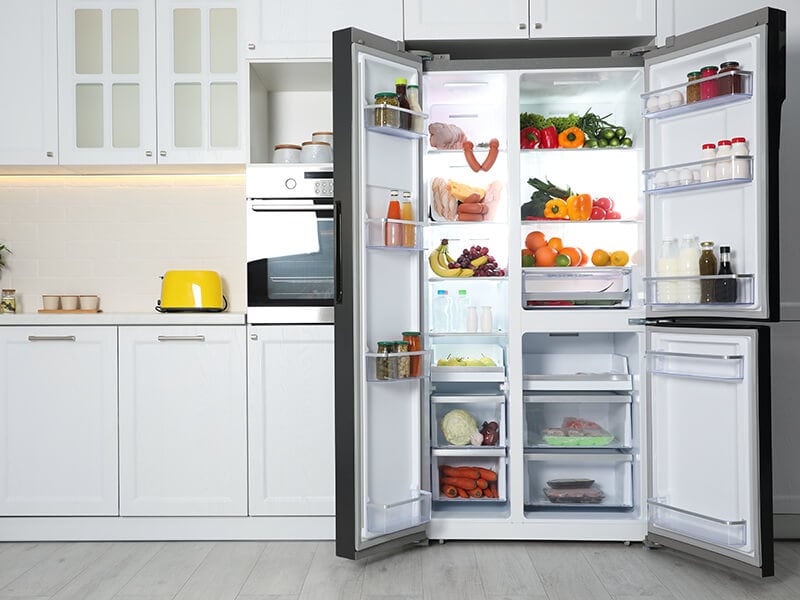 Step 1: Prepare Your Brownies As Mentioned Above
After finishing all the preparation steps, you might want to add an extra layer or two of wrapping around your brownies to further protect them from the dry and cold air of the refrigerator before putting them in.
Step 2: Reheat And Enjoy
Simply take your brownie out of the fridge when you are eager for a bite, wait for it to reach room temperature (ideally about 45-60 minutes), or heat it up in the microwave for a few seconds before eating.
Step 3: Remember To Rewrap Or Close The Container Lid Securely
One thing to remember is to wrap the brownie back again or put the storage lid on before throwing them back in the fridge, as the air inside the refrigerator is dehydrating and can easily affect your brownies.
Method 3: Storing In The Freezer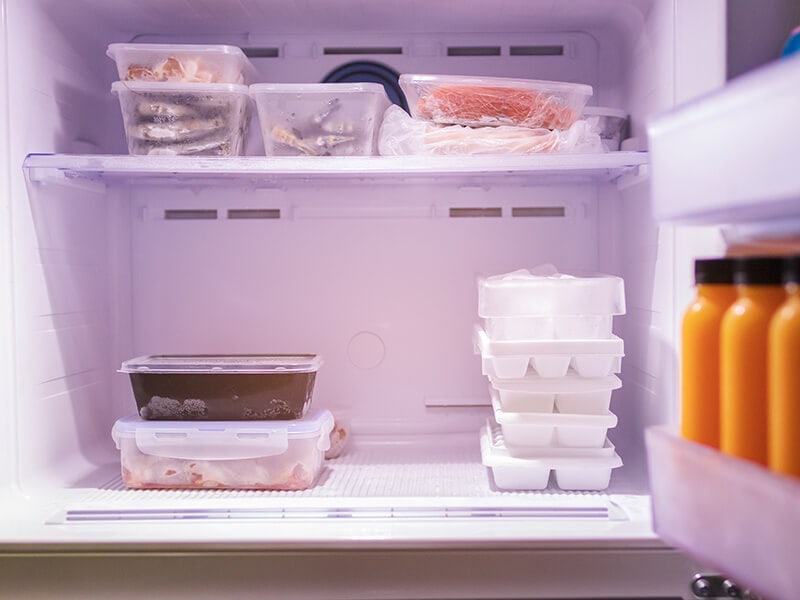 What if two weeks is not enough for you because you simply have too many brownies to store. I get it! Who doesn't want more brownies, right? Well, in that case, the freezer is your best solution. This way, you can keep your brownies for as long as 3 months!
Step 1: Prepare Your Brownies For Freezing
For a whole uncut tray of brownies, carefully take them out of the non-stick brownie baking tray, securely wrap them in plastic wrap, and then continue to cover them with foil. It's better to double or triple wrap the brownie to protect them from the frozen air better.
For individual slices of brownies, put one piece after another in an airtight container with a layer of parchment paper between each of them. You can also put some paper towels inside the container to further preserve the moisture of your brownies.
Step 2: Thaw, Reheat And Enjoy
After taking them out of the freezer, while keeping the brownies wrapped, patiently wait for them to thaw, then unwrap and put them in a microwave for a little bit if you feel like it. Alternatively, you can just take out the wrap and microwave them if you are short on time.
Step 3: Rewrap And Close Lid Properly
If there are leftovers and you want to store them for a little longer, whether in the freezer or the fridge, don't forget to rewrap the brownies or secure the container's lid.
Got Some Frosted Brownies? Here's How To Store Them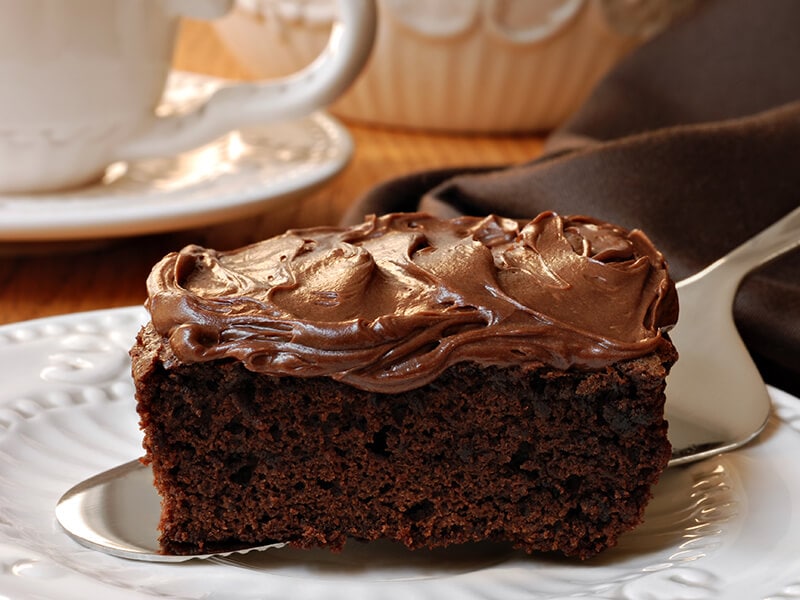 Combining frosting with brownies is one way to make this mouth-watering delicacy even more flavorful. For keeping, you can store either the already frosted brownies or keep the brownies and frosting separately.
Store Brownies With Frosting
Because most frosting includes dairy ingredients, I recommend putting them in the fridge as room temperature might be too hot for them.
Step 1: Put The Brownies In Containers
When storing with frosting, it is best to put the brownies in glass jars or plastic containers while separating each piece with wax paper.
Step 2: Store In Fridge Or Freezer
When stored correctly in the refrigerator, frosted brownies can easily last up to 3-4 days. You can also store them in the freezer by following the methods mentioned above for about 3 months.
Store Brownies And Frosting Separately
Separating your brownies and frosting will allow for longer storage. For the brownies, freely choose the method that best fits your needs. For the frosting, follow these steps:
Step 1: Keep The Frosting Air-protected
When storing the frosting, you should put them in glass or plastic containers as they provide better protection from the air (or close the container's lid for store-bought frosting). Also, don't put your frosting too near food with a strong smell like meat, fish, or onion.
Step 2: Choose Between The Fridge And The Freezer
After safely placing them in a container, you can choose between the fridge and the freezer for storage. Homemade and store-bought frosting have different storage times, so keep that in mind when deciding your method.
Typical storage time for frosting:
| Type of frosting | Method of Storage | Time period |
| --- | --- | --- |
| Homemade frosting | In the fridge | 1 week |
| Homemade frosting | In the freezer | 1 month |
| Store-bought frosting | In the fridge | 3-4 weeks |
| Store-bought frosting | In the freezer | 2-3 months |
Step 3: Thaw And Stir
If stored in the freezer, remember to transfer your frosting to the fridge a night in advance to let them thaw slowly. You should also wait for the frosting to reach room temperature and give them a little stir if necessary before using.
The Best Method For Long-Lasting Cream Cheese Brownies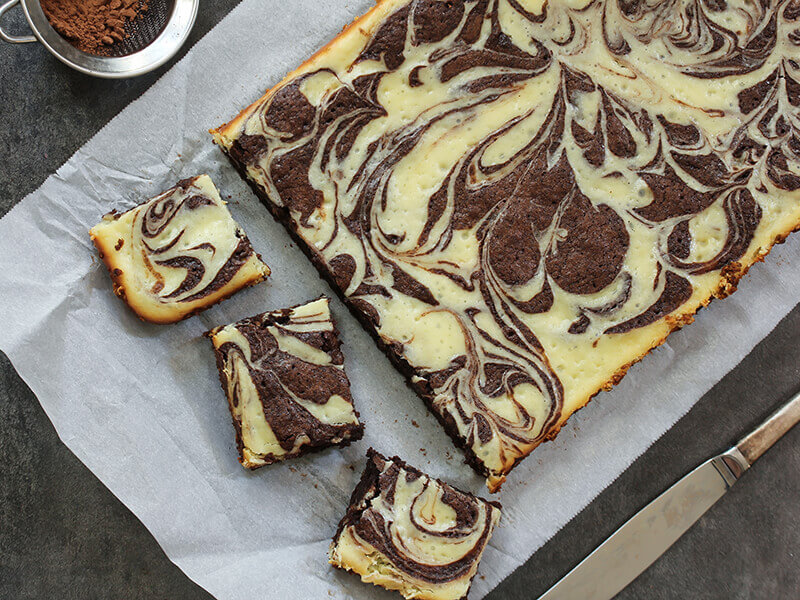 Cream cheese brownie is one of the more popular variations of the traditional brownies. There are 2 types of cream cheese brownies, one with a layer of cream cheese and one with the cream cheese mixed in.
For Cream Cheese Frosting Brownies
When safe-keeping this type of brownies, you might want to avoid placing them in the kitchen for too long since they don't last as long as classic brownies at room temperature.
I recommend no more than a day at room temperature for cream cheese frosting brownies. Any time longer than that, it will be better to put them in the fridge or the freezer. Typically, they would last about 3-4 days in the fridge and 3 months in the freezer.
For Cream Cheese Swirl Brownies
This version is more similar to the old-school brownies, so feel free to use the same techniques and methods as you normally would with the traditional ones. These will stay fresh for 2-3 days in the pantry, or up to 1 week and up to 6 months for the fridge and the freezer.
Keep Brownies Longer With These Amazing Tips!
Now that you have learned all the basics about storing brownies, here are some more things that you should keep in mind.
Take Notice Of The Texture
The texture of brownies can be quite different from each other. Some of them are cakey and fluffy; others might be more gooey and dense. In order to choose the best way to store them, pay attention to their texture:
For light, airy and cake-like brownies, storing in the kitchen at room temperature is sufficient.
For gooey, denser, and moist brownies with a fudgy texture, it is better to store them in the fridge.
For brownies that include dairy or heat-sensitive ingredients, keep them in the refrigerator.
Signs That Your Brownies Has Gone Bad
Although brownies can last for a fairly long time, sometimes it is best to let them go. Here are some signs that your brownies have passed their glory day.
Smell: Before taking a bite from an old brownie, try smelling it first. If the sweet aroma has turned into a strange or musty smell, throw it away.
Texture: Dry and brittle texture is a no-go when it comes to brownies, so don't risk a stomach ache over this kind of brownie.
Taste: Sweet and heart-warming is how a brownie should taste, not sour or stale. If that is how your brownie tastes, you know what to do!
Extra Tips For Keeping Brownies Fresh
These extra tips will not only help your brownies to stay fresh longer but also enhance their flavor!
A Little More Chocolate Comes A Long Way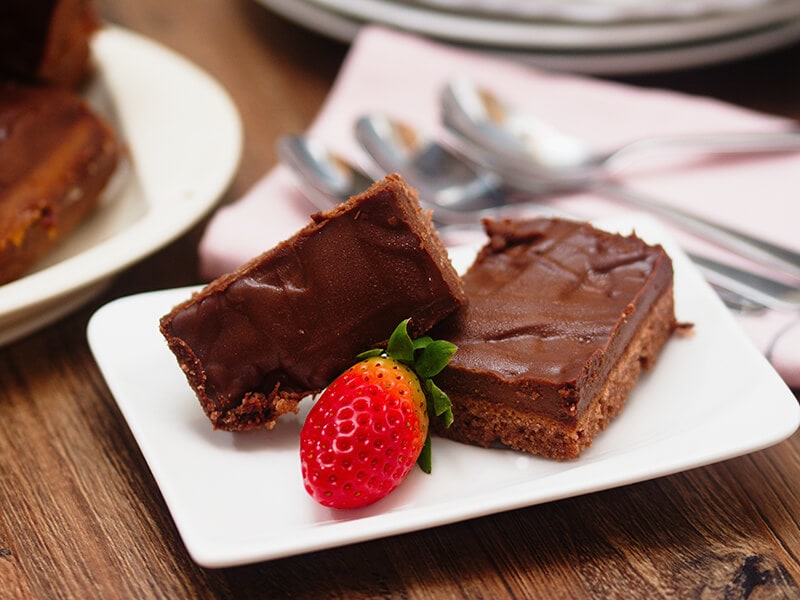 This might sound a little odd, but one of the more effective ways to make brownies last longer (and more delicious!) is to dip them in melted chocolate.
Covering your brownies in bittersweet melted chocolate not only enhances the flavor drastically but also creates a top layer that helps keep the air away. Thus making them fresh and yummy for a longer time.
However, this method will make your brownie higher in calories, so it is best to avoid doing so if you aim to lose some weight.
Bread Is Your Friend
If you think that the chocolate trick is absurd, then here comes another one: placing a slice of bread in your brownie's container, whether it is a jar or a plastic container, can actually make them last longer.
Now, why is that? The answer is that the moisture from the bread will keep the brownie fresh and soft, which is every brownie lover's sweet dream. When you notice that the sliced bread has gone dry, simply replace it with another one for the same effect.
The Freezer Is The Key For Storing Brownies Batter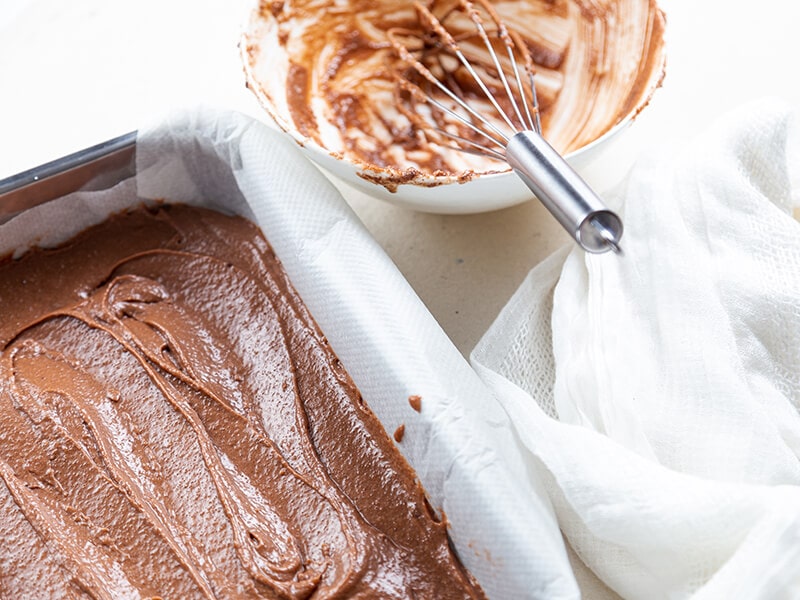 For home-bakers, storing brownies batter instead of cooked brownies may be a better choice as they will result in fresher brownies after thawing and baking. In addition, they can last up to 18 months if stored properly!
Step 1: Prepare For Freezing And Storage
With unbaked brownies batter, you can either freeze the whole pack or divide them into smaller proportions. For the container, you can use a plastic freezer bag or a disposable brownie pan. When using a disposable pan, remember to wrap it in aluminum foil to prevent freezer burn.
Because the frozen batter can be stored for up to 18 months, consider adding a label with the freezing date on the freezer pack.
Step 2: Thaw The Mix
It is preferable to let the batter thaw slowly in the refrigerator for a few hours overnight before baking. After that, while preheating your oven, let the unbaked mix rest for 15-20 minutes. However, if you store the batter using a disposable pan, you can skip this step.
Step 3: Bake The Goods
For the thawed batter, you can bake them at the usual baking time and temperature. This will result in a brownie with a more dense and fudgier texture.
If you store the batter using a disposable pan, it is possible to bake directly out of the freezer. Simply add about 5 minutes to the normal baking time, and you should be fine.
The Best Container For Brownies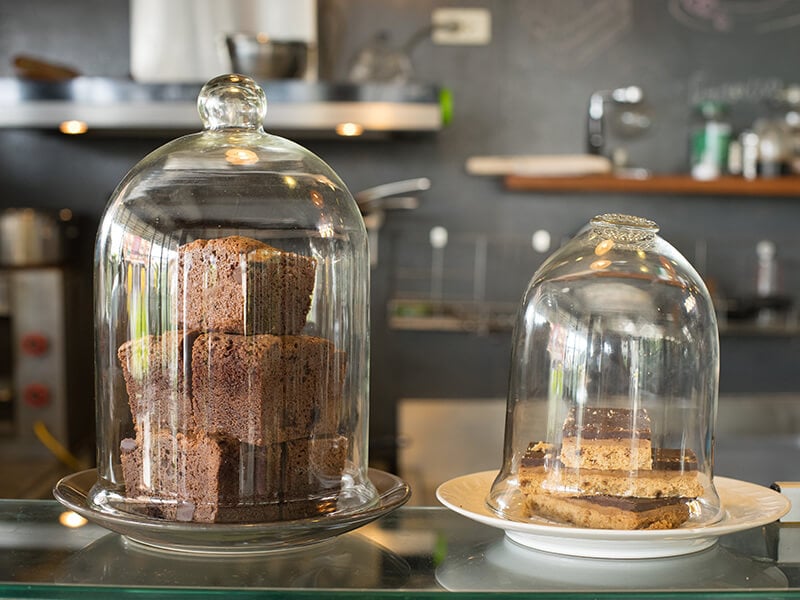 The main factor to consider when picking a container for brownies is whether or not it will be able to keep the air away from your brownies. And because not all brownie containers are created equal, let's go through the best choices for brownie containers.
Plastic Wrap
Cling film is the most basic means to wrap and store brownies. It is the easiest way to keep the brownies air-sealed and will be most effective when keeping brownies at room temperature. For the fridge, I recommend using other more secure containers, such as jars or plastic containers.
Aluminum Foil
One alternative to plastic wrap is aluminum foil, which is also easily found in most kitchens. However, remember to unwrap your brownies from the aluminum cover before heating, as high heat can cause the aluminum particles to transfer to your food.
Glass Jars
Glass jars or first-tier cookie jars are effective as a container for brownies simply because they are airtight and can be easily found around your house. It is not necessary to go out of your way to buy brand-new glass jars as they often come in the form of jam or peanut butter containers.
Plastic Containers
Similar to glass jars, plastic containers are reliably airproof, easy to find, versatile, and cheap. When storing with plastic containers, try putting a layer of parchment paper on top of the brownies as this can further help with keeping them fresh.
Stainless Steel Containers
Stainless steel containers are also practical when it comes to brownies storage. Remember, the key is to keep your tasty brownie air sealed, which is something these containers happen to be very good at.
Ziploc Bags / Resealable Bags
Compared to the above-mentioned containers, Ziploc or resealable bags provide a cheaper but just as good solution. In addition, these bags can also help you save some space in your kitchen or refrigerator as they don't take as much space as other containers.
Vacuum Sealer Bag
Speaking of bags, another choice of bag for brownies storage is the vacuum sealer bag. By ensuring that there is no oxygen inside, this type of bag is the perfect container to protect brownies from the air and minimize the chance of freezer burn happening.
How To Reheat Your Brownies?
For many of us, brownies are best served warm (though cool brownies can be absolutely wonderful too if that is your cup of tea). So in order to enjoy your brownies to the fullest, you will need to reheat them after taking them out of the freezer or refrigerator.
The best choice for reheating brownies is either an oven or a microwave. However, you will need to be careful not to overdo the reheating process, as brownies can get hard or too chewy if reheated for too long.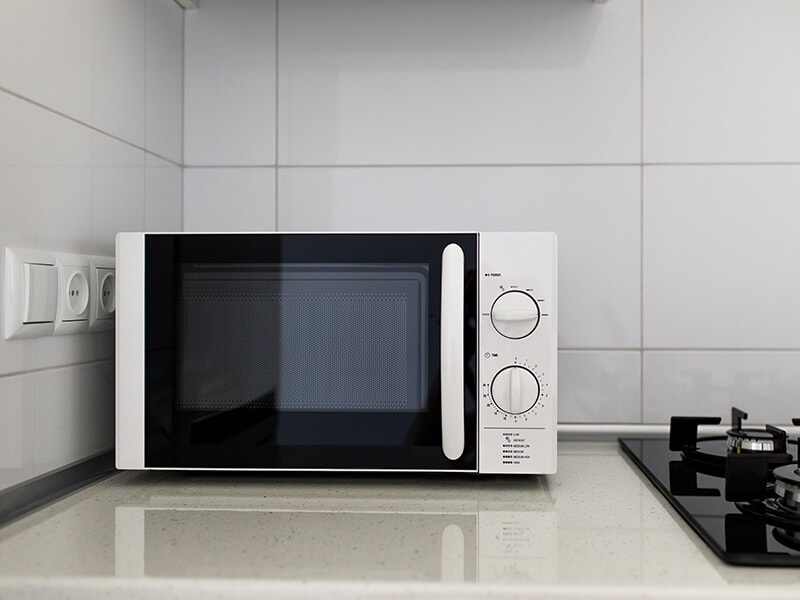 The ideal reheating time would be:
For The Oven
Prepare the oven first by preheating it to about 350°F (about 177°C), then heat your brownies on a baking tray for 10 minutes (fresh brownies) or 20 minutes (frozen brownies). The result will be a brownie with crispy outer layers and gooey middle.
For The Microwave
First, don't forget to place your brownies on a microwave-safe plate/ microwavable container. Depending on the power, you will need to microwave the brownie for 20 seconds to 1 minute. Check the brownie at 20-second intervals to see if it has warmed up to your liking or not.
Bonus Ideas For Hardened Brownies
As much as you want to keep your brownies fresh for a long time, sometimes, things just don't go as you expected. Maybe your brownie is just too old, or perhaps someone in the family forgot to close the container's lid properly after taking a bite.
Whatever it might be, here are some ideas to make good use of your stale and hardened brownies:
Add Ice Cream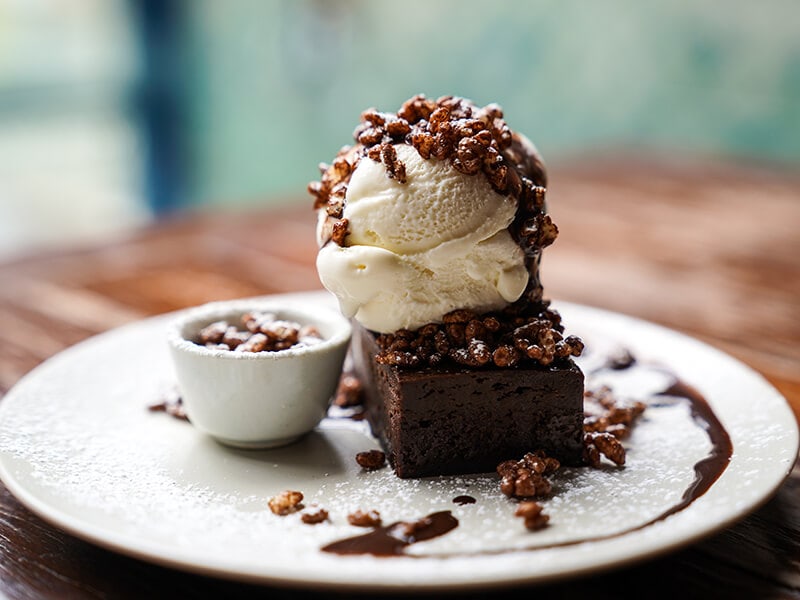 Whether you choose to add some ice cream on top of your brownies or cut the brownie into small cubes and use them as topping for ice cream, it is undeniable that ice cream can breathe new life into an old, hard brownie!
Top It Up With Some Whipped Cream
Give your brownie a good spray of whipped cream on top, and the fluffy, creamy texture will soon make you forget how stale your brownie is.
FAQs
Got some more questions regarding brownies? You're probably going to find your answers in this section.
The Best Way To Enjoy Brownies Revealed
With all the information given, I hope that this post has helped you answer the question of how to keep your brownies fresh and tasty. With that out of the way, I will now reveal to you the secret to best enjoy brownies!
Cheesy as it might sound, the best way to enjoy brownies is to share them with your loved ones! No matter the occasion, brownies' sweet, heart-warming taste will always help bring people closer and pave the way for fond memories!
Do you have any more tips for keeping brownies? Feel free to share your thoughts in the comment section below, and don't forget to like and share this article with your friends and family.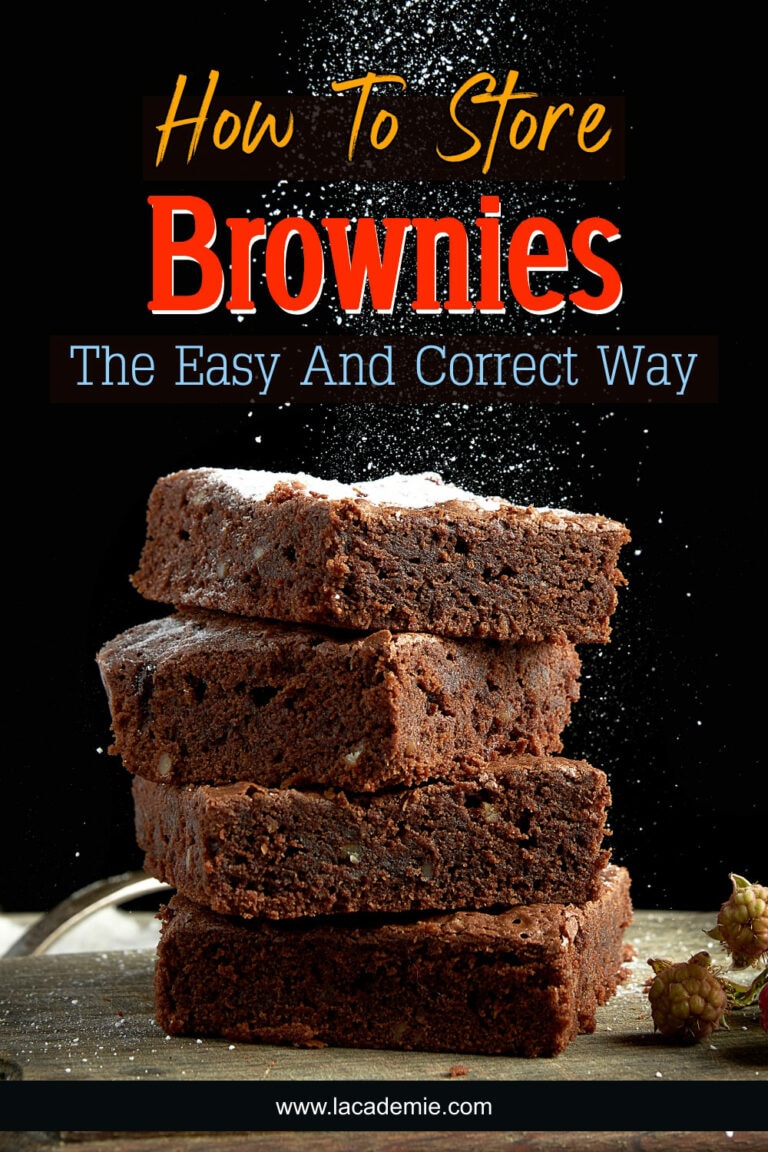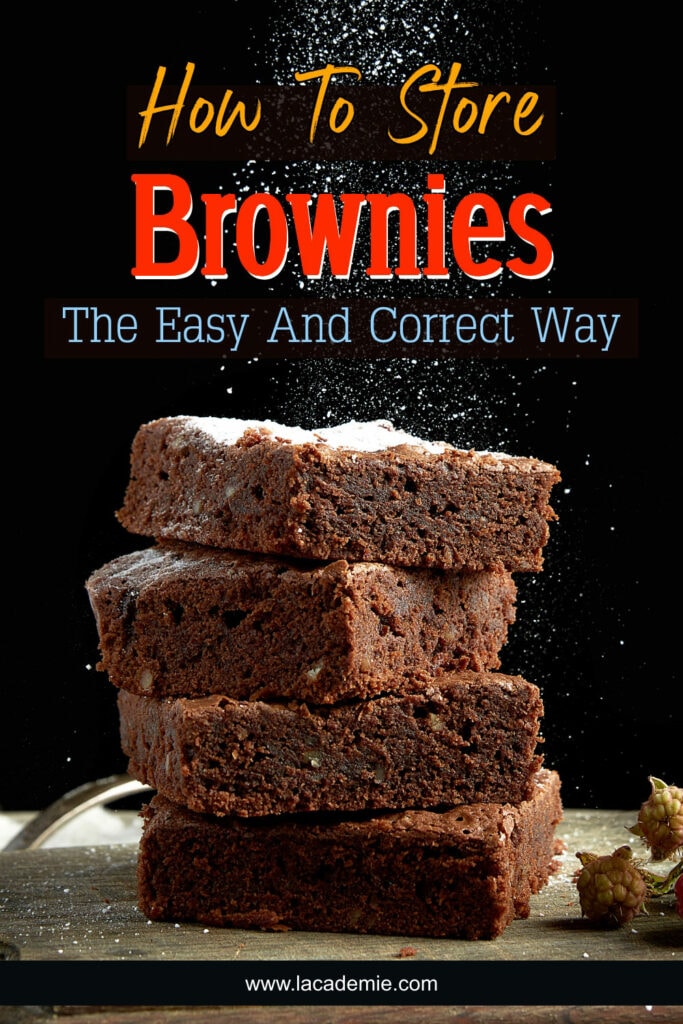 Reference
1. En.wikipedia.org 2021. Chocolate brownie – Wikipedia.
2. Medical News Today 2021. Health benefits and risks of chocolate.