The first question that will pop into your head is: "Does maple syrup go bad?" if you accidentally left a jar in the pantry and forgot about it for several months. Most people believe that maple syrup will never go bad, but the reality depends on many complicated factors.
So, today, let's talk a bit about the maple syrup's shelf life, how to store it, and how to tell if maple syrup has gone bad. Those are the most important facts that every maple syrup lover should know!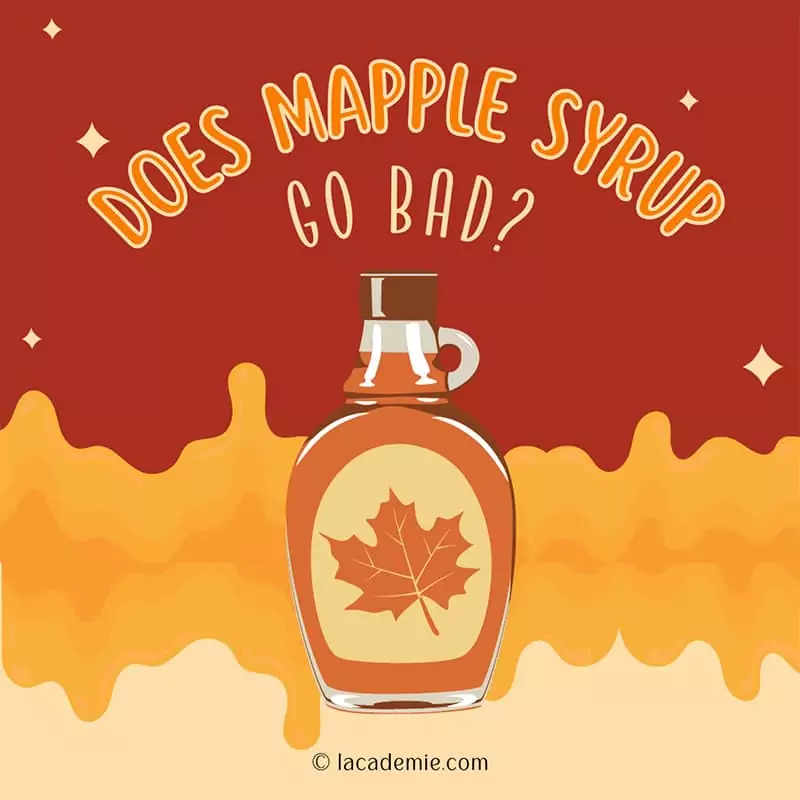 Does Maple Syrup Go Bad?
In brief, maple syrup will never go bad if the bottle is unopened. In case you have opened the lid, you can also keep it for several years in the refrigerator. Overall, proper storage is important!
What Is Maple Syrup?
First, let's learn more about the origin and benefits of maple syrup! Maple syrup is produced from the resin of the sugar, red or black maple tree, which is endemic to temperate climates (1). This resin has a sweet taste because it contains mainly sucrose (66%).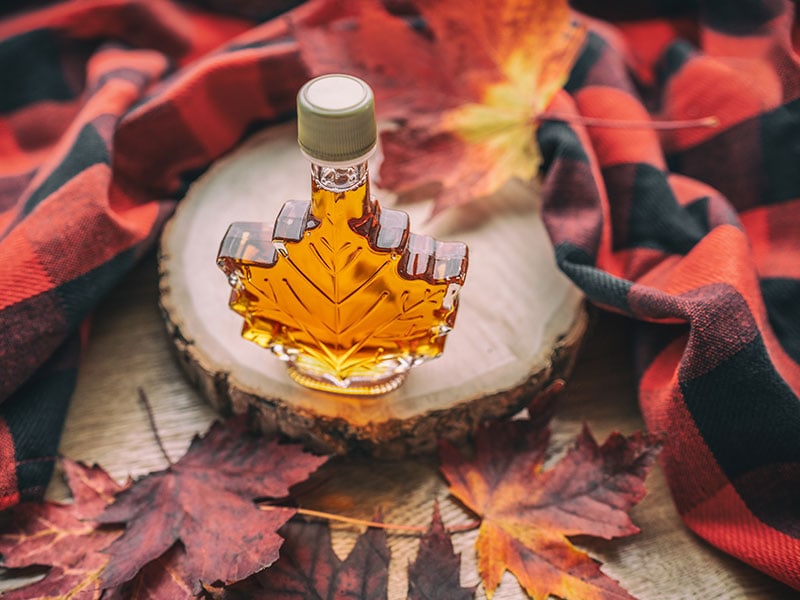 This kind of syrup was first made by the indigenous people of North America. Time after time, it was improved and popularized along the way of European migration to America. This technological improvement process has improved the quality of syrup many times over.
Did you know that 85% of the world's maple syrup comes from Canada? This explains why this sweet substance is closely associated with Canadian cuisine. If anything, I'd say this is probably the first thing that most people will think of if asked to name a Canadian food.
Besides, maple syrup is a popular natural sweetener claimed to be healthier and more nutritious than sugar. Additionally, this syrup will be an excellent alternative for molasses in several dishes. It's also a great substitute for vanilla extract and sugar in your recipes.
Types Of Maple Syrup
Today, maple syrup is divided into three main grades, A, B, and C. The characteristics of the types are specified in the table below:
| Grade | Type | Color | Flavor | Light transmittance |
| --- | --- | --- | --- | --- |
| Grade A | Extra Light Color | Light amber (lightest color) | Exquisite taste | More than 75% |
| Grade A | Light color | Medium amber | Light | From 60.5% to 74% |
| Grade A | Medium color | Dark amber | Light and sweet | 44% to 60.4% |
| Grade B | Amber color | Dark amber | Rich and strong | From 27% to 43.9% |
| Grade C | Very dark color | Very dark amber | Very strong (like caramel) | Less than 26.9% |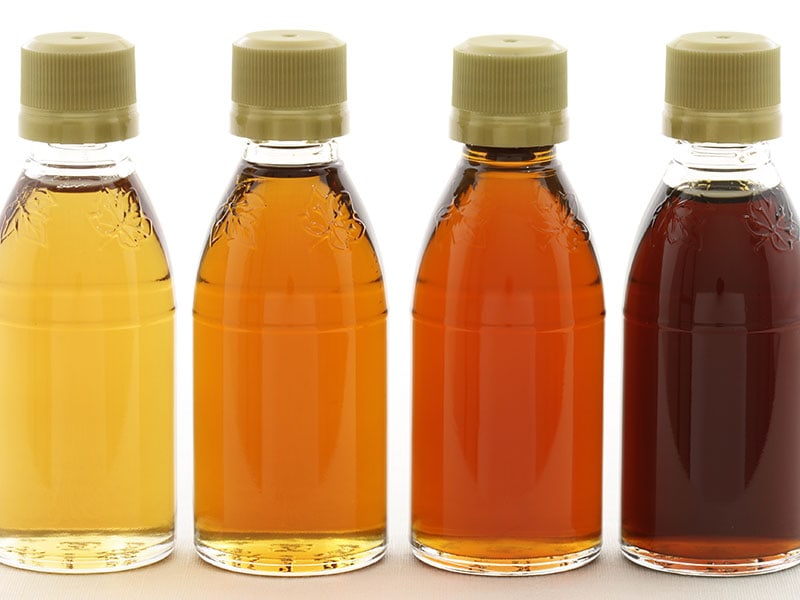 Grade A is often mixed with some other ingredients, so it has a bright color and a mild sweet taste. Particularly, the medium color is often used for used as a replacement ingredient for balsamic vinegar. It's also for cooking or directly at the table for crepes, or waffles.
Grade B is usually dark in color and has a strong maple flavor because it is extracted and concentrated from pure maple sap. This type is often used as a marinade in baked dishes, stews, grilled, etc. Grade C is often used as a commercial ingredient because of its strong taste.
How Is Maple Syrup Produced?
Harvest time for maple sap usually occurs in late winter and early spring. At this point, the starch stored in the stem and roots before winter will be converted into sugar and then into the resin.
The process of collecting or sapling maple is not too complicated, but it takes a lot of time. To get the standard drops of syrup, people need to plant and take care of the trees carefully to grow for a long time and produce resin.
It usually takes about 30 – 50 liters of raw resin to get 1 liter of pure syrup. However, in each harvest, an average mature maple tree only gives about 1 to 1.5 liters of resin/time. Therefore, the harvesting period will usually last for 4-6 weeks to reach the desired target.
This video will show you the procedure of making maple syrup:
Nutritional Composition Of Maple Syrup
In addition to vegetable sugar, maple syrup also contains a lot of trace and macro minerals. According to the USDA, every 1/4 cup serving (83g) of maple syrup contains the following nutrients:
Calories: 216
Fat: 0.05g
Sodium:10mg
Carbohydrates: 55.6g
Fiber: 0g
Sugars: 50.2g
Protein: 0.03g
In addition, maple syrup (especially type B) also provides more than 24 types of antioxidants that are extremely beneficial for your body.
However, the sugar content in maple syrup is still quite high (2/3 by volume), excessive consumption can be the leading cause of a number of health problems (2).
What Is Maple Syrup Used For?
Here are the most common uses of maple syrup:
Maple syrup with a mild sweetness can be substituted for honey to drizzly on donuts, delicious Japanese crepe dishes, waffles, crunchy toast, etc. It can also be used to flavor up oats and vegan cereals from leading brands, especially when combined with cumin.
And let's not forget the classic combination with syrup: pancakes. When it comes to dishes to serve alongside pancakes, maple syrup is probably what you'll think of first. This goes to show how popular and widely beloved maple syrup is in the culinary world.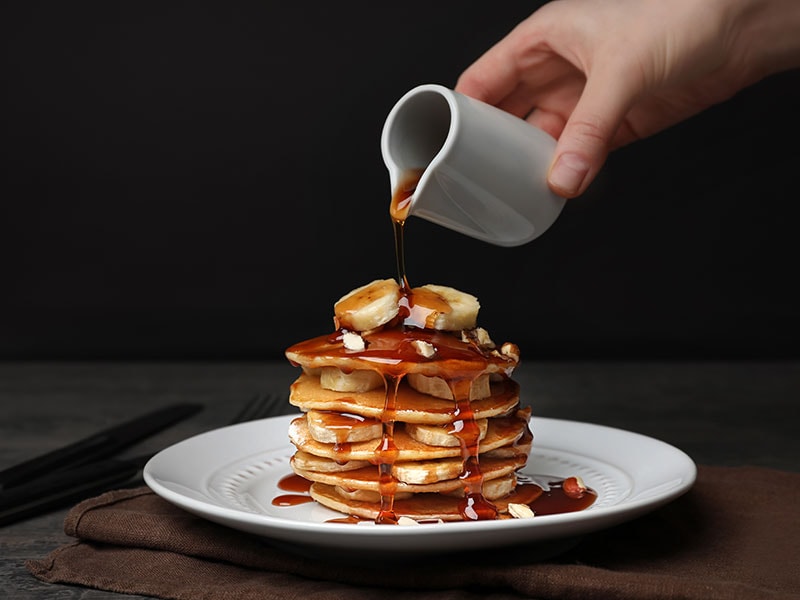 The stronger flavors are often preferred as a seasoning for baked goods, spread on the surface of baked goods before placing in the oven. After baking, the maple syrup layer on the outside will form an extremely delicious coating and increase the attractiveness of dishes.
You can add maple syrup to any dish that requires sugar, coconut sugar, or alternatives for coconut sugar. You get a taste different from the sweetness of sugar or honey, such as granola, baked beans, cakes, and bread.
You can also use it when you want to sweeten your drinks like the nutritious ginger tea, coffee, or if you need some sweetness in a veggie or juice smoothie.
Now, Does Maple Syrup Go Bad?
Before affirming whether maple syrup is bad or not, I would like to note that all information in this article is about 100% pure and unadulterated maple syrup. For adulterated products, you need to read the label carefully to determine its shelf life.
For now, I will talk about the shelf life of pure maple syrup in two cases:
Unopened
When a bottle of maple syrup has never been opened, it never goes bad. That's thanks to the high sugar content in the ingredients, which keeps maple syrup safe for a long time.
In case the lid has not been opened, you may want to store maple syrup in the refrigerator for extra protection, as the cold temperature will prevent mold from growing in your syrup bottles.
However, an unopened bottle of maple syrup can also be stored indefinitely at room temperature, as long as you make sure to store it in a cool, dry place, out of direct sunlight, with the lid tightly closed, and the packaging is not damaged.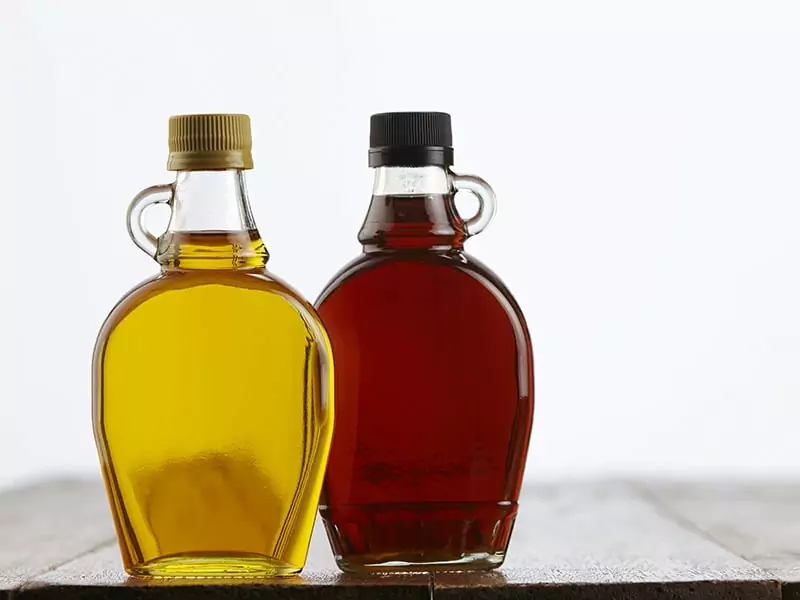 Once Opened
For a bottle of maple syrup that has been opened and used, it will last well for one to several years if kept refrigerated continuously.
If you want the syrup to last longer, divide it into portions and store some in the freezer. At that time, its shelf life is indefinite.
Shelf Life Of Maple Syrup
Each bottle of maple syrup will provide you a certain shelf life. However, the general shelf life of maple syrup can be considered as below table:
| | | |
| --- | --- | --- |
| Maple Syrup Status | In Fridge | In Pantry |
| Opened | 1+ year | – |
| Unopened | Indefinitely | Indefinitely |
Signs That Maple Syrup Goes Bad
However, that doesn't mean maple syrup can't lose quality. Check out some of the signs below to get rid of them when necessary:
There is mold appearing on the surface.
It has a strange smell: it may be sour, yeasty, or no smell at all.
The taste doesn't match, it's not sweet, and it's not good
But don't make a mistake!
If you see residue (or crystals) on the bottom of the syrup bottle, it is not a sign of spoilage, and the residue is not harmful. If you leave maple syrup in the fridge for a long time or boil it, those crystals can form independently.
Or even, sometimes, you can spot a few crystals in an unopened bottle of syrup. However, maple syrup with residue is not spoiled and is completely safe. You can filter it out if it bothers you.
Also, maple syrup can darken a bit if it's been around for a long time. It's normal, and its taste is still good. If maple syrup still looks good and smells good, it's definitely safe for you to consume.
Tips For Storing Maple Syrup
Maple syrup will never spoil if you store it properly. To keep maple syrup safe for a long time, you can store it in a few ways:
Do not store in places with high temperature and humidity
Avoid direct sunlight on the bottle
Make sure the lid stays tight, and the packaging is not damaged
Do not use the same tool to get maple syrup with other foods
Keep in a glass jar with an airtight lid Don't be afraid to seal as tightly as you can, there are plenty of innovative jar openers to help you pry the jar open. Your maple syrup's purity should be the first priority.
Do not let anything dirty get into the bottle
Keep at room temperature when unopened
Immediately transfer to the refrigerator after opening
Store in freezer to keep longer
Note: If freezing maple syrup in the freezer, you should place the syrup in an airtight container and leave room for the solution to expand as it freezes.
FAQs:
The question and answer below will bring you more knowledge about maple syrup and how to keep it by your side as long as possible:
Let's Keep Your Maple Syrup Indefinite!
Your question has been answered! Broken maple syrup is extremely rare, and unless you store it the wrong way or accidentally let some contaminants into the container.
With an indefinite shelf life, you can stock up on as much maple syrup as you want! Just make sure to store it properly. If you have any questions, do not hesitate to leave the information below the article!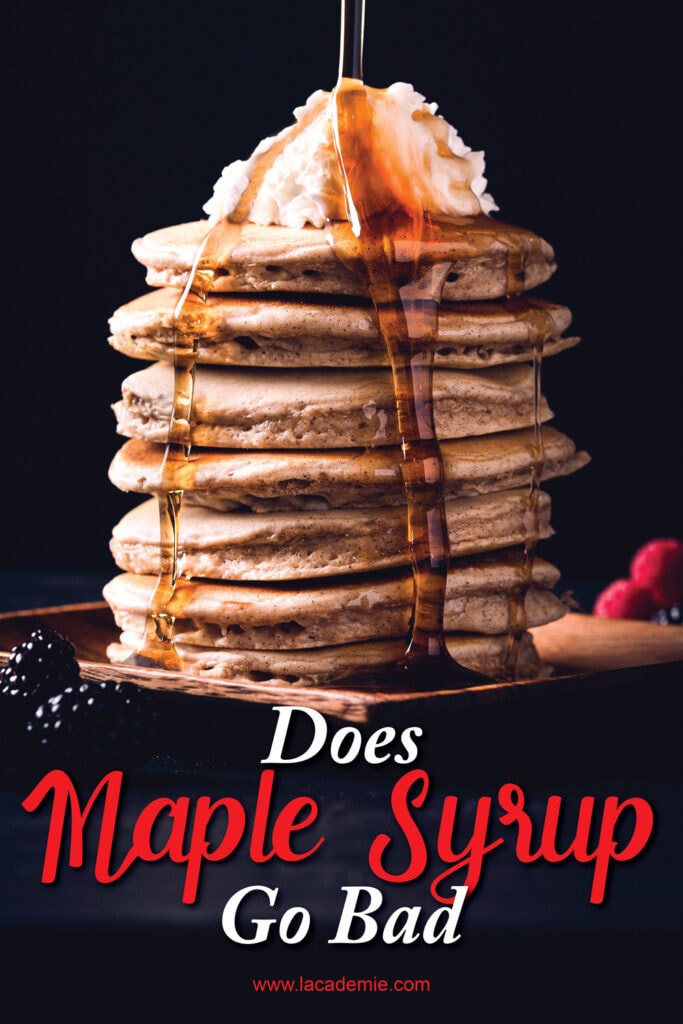 References
1. En.wikipedia.org. 2021. Maple syrup – Wikipedia. [online] Available at: <https://en.wikipedia.org/wiki/Maple_syrup>
2. Healthline. 2021. Maple Syrup: Healthy or Unhealthy?. [online] Available at: <https://www.healthline.com/nutrition/maple-syrup>