As it's a high-quality and high-priced product, numerous homemakers are concerned about how long balsamic vinegar lasts in their kitchen. Letting it turn bad would be a waste of money and, sometimes, cause unwanted results.
So, How Long Does Balsamic Vinegar Last?
Regular store-bought balsamic vinegar can last up to 3-5 years after the "Best-by" date with proper storage method. Whereas, the traditional kind lasts much longer, typically 20 years, and some special types can even be preserved for more than 100 years.
Now, that's the basic information about balsamic vinegar's shelf life, and you will find the detailed version in the article below. And there are also tons of different knowledge about balsamic vinegar waiting for you: Its health benefits, how to store it properly, and many more.
Let's scroll down for more!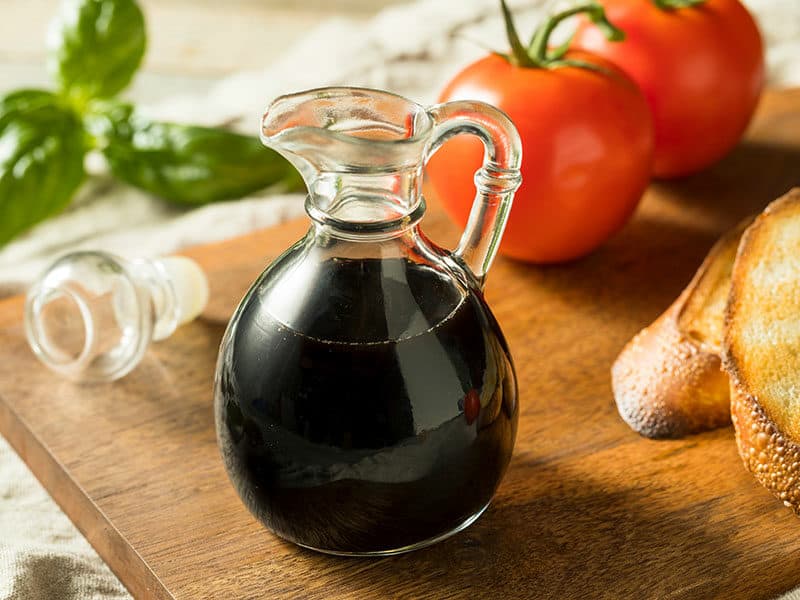 What Is Balsamic Vinegar?
Balsamic vinegar originates from North Italy, in a region called Emilia-Romagna. Even now, this historic area's the only place producing traditional balsamic vinegar. It takes at least 12 years, sometimes more than 25 years, to create a true traditional one.
You can see this video to know more:
Another type of balsamic vinegar is the modern commercial one. Compared to the traditional kind, this vinegar takes less time to produce, only 2 or 3 months. And it contains both grape must and white vinegar, while conventional balsamic vinegar is made of only the former.
Because of that, the traditional one is much richer, sweeter, darker, and of course, more expensive. In contrast, modern commercial vinegar has a wide range of flavors and textures based on the ratio of the ingredients.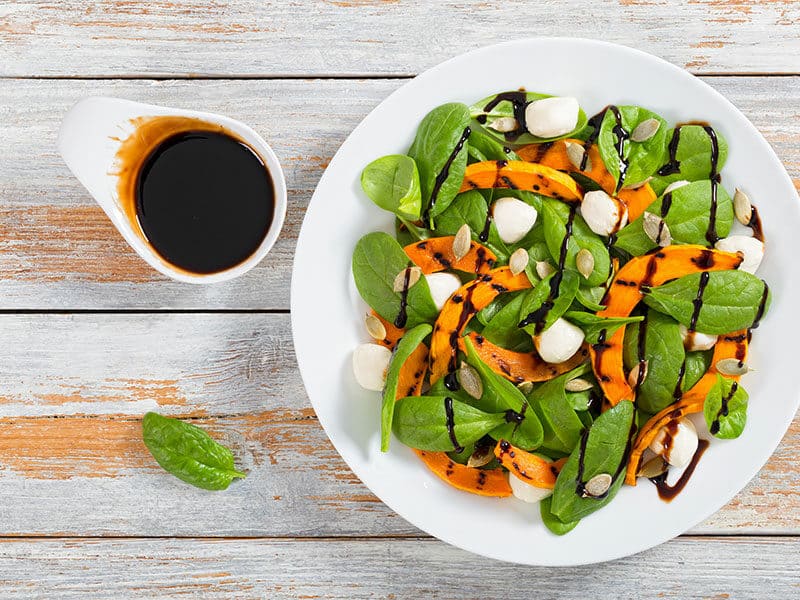 Balsamic vinegar is commonly used in various dishes as a flavor enhancer. You can sprinkle it over savory dishes like eggs, steaks, roasted meats, or desserts such as fruits and ice cream. Just a few drops and your plate will get the distinct sweet and sour flavor of it.
However, you should only use traditional balsamic vinegar at the end of the cooking process to preserve its distinct flavor.
Balsamic Vinegar's Health Benefits
Apart from its unique deliciousness, balsamic vinegar's popularity also comes from its health benefits. Let me list them all for you:
Control Cholesterol
Balsamic vinegar is most well-known for its control over your cholesterol level. It contains some antioxidants targeting LDL cholesterol, also known as the bad one. This cholesterol causes clogged arteries and heart disease. Consuming balsamic vinegar will protect your body from it.
Improve Your Skin
Acetic acid, antimicrobial compounds, and antioxidants – all the chemicals enhancing your skin quality – are found in balsamic vinegar. However, it's best to receive them by digesting vinegar instead of applying it to your face.
Reduce Blood Sugar
Besides these chemicals, anti-glycemic properties are also in balsamic vinegar. When consumed, these compounds can lower blood sugar spikes after meals.
Adding balsamic vinegar can create a blood sugar plateau lasting up to 5 hours after consumption for people with insulin sensitivity. Anti-glycemia also works with diabetic patients but not as effective.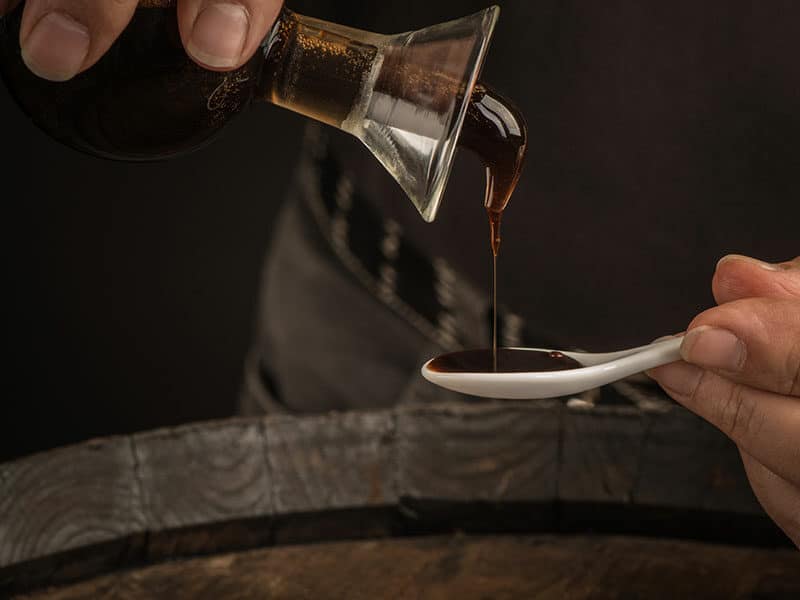 Promote Healthy Digestion
Not only improves your skin, but acetic acid also enhances your digestion as it possesses probiotic bacteria. This bacteria will support your digestion and gut health, boosting your immune system.
Balsamic vinegar also makes consumers feel satisfied for a long time, reducing the hunger desire.(1)
Lower Hypertension
Besides cutting down the amount of fatty foods intake, adding balsamic vinegar to your daily diet can lower your blood pressure. Just 1 or 2 teaspoons as a dressing or marinade are enough to help you avoid a heart attack.
Some Suggestions to Use Your Balsamic Vinegar.
How Long Does Balsamic Vinegar Last?
Because of various health benefits, anyone should store a bottle of balsamic vinegar in their kitchen. However, since there are different ingredients in two balsamic vinegar kinds, their shelf life also varies significantly. Let's dive into each type for details.
Traditional Balsamic Vinegar
Traditional balsamic vinegar is a grape must fermented and acidified in wooden barrels from 12 to 25 years. This procedure is no different from making aged wine or whiskey. And the fact that traditional vinegar contains nothing but grape must makes it have similar features to these liquors.
This means you can preserve traditional balsamic vinegar for as long as possible under proper conditions. Its flavor even gets richer and deeper over time. Some of the most refined conventional balsamic vinegar can last more than 100 years.
Because balsamic vinegar is produced in such a similar fashion to wine, it can also be used as a replacement ingredient for red wine vinegar, which is produced from red wine. You can use this substitute in various dishes such as marinade, dipping sauce, and salad dressing.
Another application for balsamic vinegar is as a stand-in ingredient for mirin, a condiment from Japan that is often confused with vinegar, despite the clear dissimilarities between mirin and rice vinegar. Balsamic vinegar best replaces mirin in baked goods, stir-fried dishes, and salads.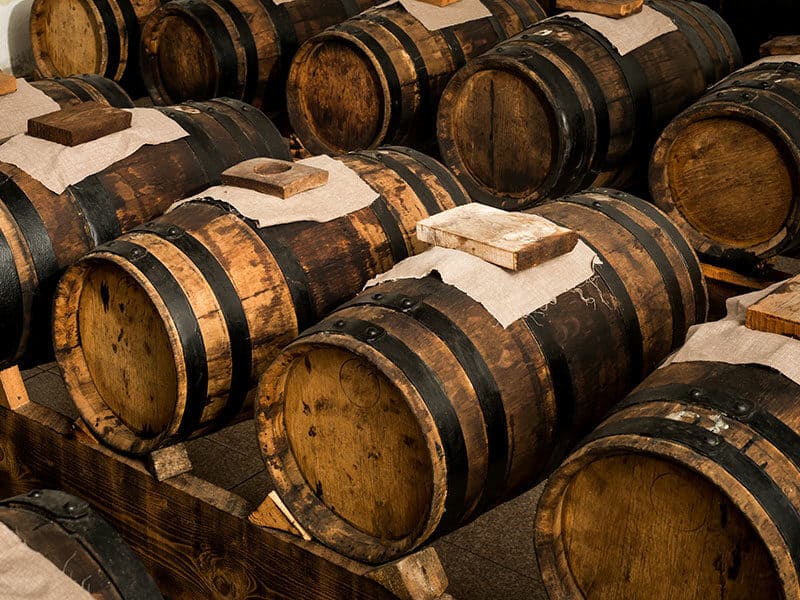 Modern Commercial Balsamic Vinegar
Unlike traditional balsamic vinegar, commercial one has some additional ingredients to shorten the producing process, from around 20 years down to only a few months. These components are the reasons why this modern type can't last as long as the original.
Though it's still safe to consume commercial balsamic vinegar that's way past its expiry date, its quality doesn't remain the same. Check every modern balsamic vinegar bottle for its "Best-by" date. This is usually three years after the production date, which is the golden time to use it.
This vinegar type doesn't turn wrong right after the "Best-by" date. However, bit by bit, its quality will go downhill. You can't detect this in a day or two. But leave it for another year; the difference will become more transparent.
That's why after every five years, you should replace your balsamic vinegar with another for the best flavor. If you can't immediately get a new one, there are plenty of alternatives to use in place of balsamic vinegar, the best of which is probably red wine vinegar mixed with sugar.
Below is a table to summarize the shelf life of two different balsamic vinegar kinds.
| | |
| --- | --- |
| Types of Balsamic Vinegar | Pantry |
| Traditional Balsamic Vinegar | 20+ Years |
| Commercially Prepared Balsamic Vinegar | "Best by" + 3 years |
4 Ways To Properly Preserve Balsamic Vinegar
Like every food, appropriate preservation will prolong balsamic vinegar's shelf life and maintain its quality and flavor. These are some suggestions for you to protect your balsamic vinegar, whether it's traditionally made or commercially produced.
Avoid The Light
Light, including sunlight, can break down vinegar's chemical composition, dragging its quality. That's why you should store balsamic vinegar in a dark, non-transparent bottle to avoid light exposure.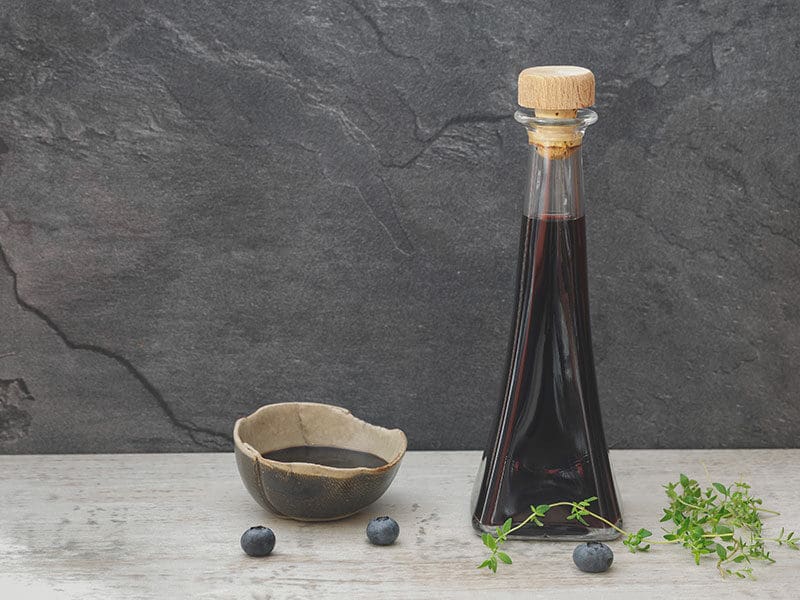 Search For A Cool And Dry Place
Aside from light, heat also has adverse effects on balsamic vinegar. The ideal temperature to store vinegar is from 59°F to 78°F. So, put your balsamic vinegar in cool and dry places like a kitchen pantry or a cupboard.
However, make sure they are not above the cooker, oven, or other heat sources. They shouldn't be humid, either, because moisture makes a perfect environment for mold growth.
Tightly Seal The Bottle
No matter where you store balsamic vinegar, if you forget to seal the bottle after using it, all your effort will go to waste. If the bottle's left opened, multiple contaminants can sneak in and mature inside, ruining the vinegar quality.
Moreover, air and moisture from outside can damage the refined flavor, too. Securing the lid each time is the best way to avoid bacteria and other microorganisms from multiplying.
Avoid The Refrigerate
It's acceptable to put the balsamic vinegar in the fridge for a while for your salad. However, this vinegar tastes much better at room temperature.
The fridge environment can water down your vinegar by liquefying the water inside the bottle. Or worse, this moisture is perfect for molds to increase. Also, other aromas from different foods inside the fridge can mess with the elegant flavor of balsamic vinegar.
Different Symptoms Of Spoiled Balsamic Vinegar
If stored correctly, balsamic vinegar hardly goes stale or rotting. However, just like everything else, balsamic vinegar can't last forever. Let's go through some signs indicating ruined balsamic vinegar.
The Bottle's Appearance
Before checking the vinegar inside, let's take a look around the bottle. To preserve vinegar the best, you should seal the bottle tightly after using it every time. If the seal's loose or the bottle's left open, air, moisture from outside may have already damaged the liquid inside.
Moreover, check the area around the seal closely for any signs of mold. Though molds hardly exist in a high-acidic environment like vinegar, the moisture outside can support their growth. If you do find some, it's time to discard your balsamic vinegar.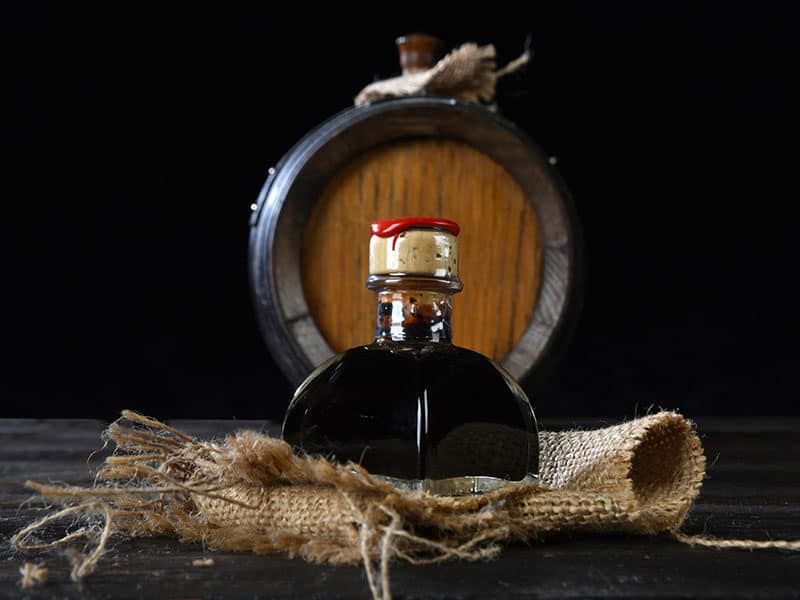 The Liquid
The most distinctive liquid symptom of spoiled balsamic vinegar is the appearance of mold. If you spot any molds inside the bottle, get rid of your vinegar immediately. However, don't misunderstanding molds with the jelly-like slimes called vinegar mothers.
They are just bacterias feeding on alcoholic liquids, proposing no harm to both your vinegar and your health. The same applies to when the vinegar turns cloudy and hazy.
The Flavor
No matter how the vinegar looks, always taste it before using it. Fine balsamic vinegar is quite acidic and sharp, with a faint sweetness. If the flavor is too harsh, you should leave it as the acid can ruin your dish.
FAQs About Balsamic Vinegar
All the information above has covered almost everything you need to know about balsamic vinegar. However, some questions need an answer. And here, I will solve some of the most common ones.
Additional Information
Since balsamic vinegar is a high-quality product, it's expected to have some imitates on the market, especially the traditional type. Therefore, I will show you some indicators on how to pick the right one.
First, look at the label. Traditional balsamic vinegar is produced only at Modena and Reggio Emilia, earning a specialized design of DOP (Protected Designation of Origin) from European Union, confirming its quality, production, and origin. (3)
Moreover, traditional balsamic vinegar bottles are often wax-sealed. And Modena 100ml bottles look like a bulb, whereas Reggio Emilia ones have an upside-down tulip shape.
If you have any further knowledge regarding balsamic vinegar and how to store it, please share it with other readers via comment. And don't forget to share this article with those needing some advice!
References
myfooddata. 2021. Nutrition Facts for Balsamic Vinegar. [online] Available at: <https://tools.myfooddata.com/nutrition-facts/2069/wt1/1>
Enzymedica. 2021. What is the "Mother" in Apple Cider Vinegar?. [online] Available at: <https://enzymedica.com/blogs/ingredient-science/what-is-the-mother-in-apple-cider-vinegar>
European Commission – European Commission. 2021. Quality schemes explained. [online] Available at: <https://ec.europa.eu/info/food-farming-fisheries/food-safety-and-quality/certification/quality-labels/quality-schemes-explained_en>