Sometimes you don't have everything from the recipe, so it might be useful to discover a balsamic vinegar substitute you can use instead. To help you with that, I am offering you seven great alternatives to balsamic vinegar when you are out of it.
Balsamic vinegar is a must-have in all home-cook supplies, as it compliments plenty of different ingredient combinations so well. Moreover, it isn't just good for salads, some people use it for marinades, with spicy dishes, poultry, pork, and fish. I am one of those people; I use it too often, and sometimes, I run out of it with hands deep in the pot and just before serving.
Before I share my practical recipe hacks, let's talk more about the precious balsamic vinegar.
What Is Balsamic Vinegar?
Balsamic vinegar has its roots in Italy, the city of Modena city, and a thousand-year-long history. The Merriam-Webster dictionary clearly explains it as aged vinegar, coming from Italy and produced from white grapes musts. (1)
The making of balsamic vinegar hasn't changed so much from the past, the tools just more modern now. Balsamic vinegar comes from white and unfermented grapes juice, red grape must. After slow cooking of the juice, the texture thickens and the syrup is kept in barrels to undergo a slow fermentation. In the alcohol-making process, the acetic bacteria turn it into what we call today – balsamic vinegar.
However, balsamic vinegar needs to age in wooden barrels, which add more flavors and aromas. Usually, the aging process is 12 or more years, and the wooden barrels are made from chestnut, mulberry, juniper ash, or Cherrywood.
Of course, the industrial production of balsamic vinegar slightly speeds up the procedure. The final result is dark, thick, and sweet vinegar that pairs so well with a variety of dishes.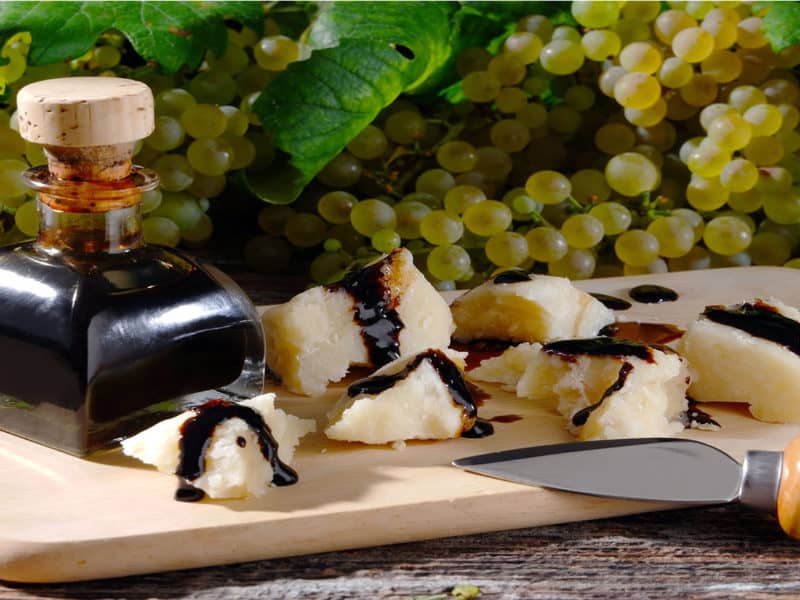 Watch this video to know more:
What Does Balsamic Vinegar Taste Like?
The taste is soft but rich with sweet notes and moderate acidity. The traditional balsamic vinegar includes the aromas of wooden barrels the vinegar has been kept in. Cheap varieties are milder in taste and include aroma enhancers.
What Is Balsamic Vinegar Used For In Cooking?
Balsamic vinegar is such a versatile element in the kitchen. No wonder it is in so many recipes, from meat to fruits and herbs.
Whenever I make chicken, I sprinkle balsamic vinegar on top, but here are just several ways you can cook with balsamic vinegar. You can even use it for delicious treats and specialties of aromatic baked beans, even when you have modest ingredients, such as nutritious canned baked beans.
Glazing Pork
Glaze the pork tenderloin with balsamic vinegar, first on the stovetop and then in the oven. The vinegar will give it a tangy glaze and a perfect taste!
Improve Your Polenta
Polenta is such a modest side dish, but you can spice it up with balsamic vinegar and add it for a unique kick of flavors.
Balsamic Pepper Salad
For a pepper salad, most people would choose lemon and olive oil as a dressing. But balsamic vinegar makes such a difference. Cherry tomatoes and garlic are also irreplaceable!
Watch this video to know more:
For Salmon
Who doesn't love seared salmon? But, it gets even better when you marinate it in balsamic vinegar with a mildly sweet taste.
Roasted Poultry
Roast your chicken or turkey with a mix of rosemary, balsamic vinegar, and wine and get the most delicious Sunday specialty.
As a true chicken lover, balsamic vinegar marinade and the use of poultry shears for cutting the meat were my best discoveries.
For Desserts
You can try to grill fruits glazed with balsamic vinegar and honey mixture. Apples and peaches are my favorites, but you can experiment with other fruits as well. Add some ice cream on the side and enjoy a perfect summer dessert.
Is Balsamic Vinegar Bad For The People?
Never drink raw balsamic vinegar. It can damage your throat, cause stomach pain and digestive issues.
A few drops or tablespoons in a salad or any other dish are perfectly safe.
Does Balsamic Vinegar Have Health Benefits?
Balsamic vinegar, when implemented properly in your nutrition, can make a significant difference in health. People consider it a low-fat additive and heart-healthy ingredient safe for all types of diet.
According to Medscape General Medicine journal, different types of vinegar, including balsamic vinegar, are beneficial for treating infections. (2)
Medical News Today includes more important balsamic vinegar health benefits: (3)
Lowers the Cholesterol
Improves digestion
Has anti-obesity properties
Suitable for people with Diabetes
Has good effects on the skin
Improves hypertension
Balsamic Vinegar Substitutes – Seven Amazing Alternatives
What to do when you run out of balsamic vinegar, or when you notice that the standard shelf life of your balsamic vinegar has long passed? Fortunately, all alternatives are quick and easy to make, and can give a notable aroma to your dish. In some cases, no one will notice the switch.
Mixing up the balsamic vinegar alternative might be an additional step. But it solves what to do when you run out of balsamic vinegar.
Trying different mixtures as balsamic vinegar substitutes is fun and relatively easy, and not as complex as looking for turmeric spice substitutes. Check my ideas and let me know which one you will try first!
#1 Apple Cider Vinegar and Sugar
Surprise, surprise! This ingredient is not used for beverages featuring apple cider vinegar with grape juice only. But it can also be mixed with sugar for the best and easiest alternative for balsamic vinegar in most salad dressings.
If you have apple cider vinegar with sediment, mix it well and then combine it with sugar.
Here is the ratio. You can substitute one tablespoon of balsamic vinegar with one tablespoon of apple cider vinegar and half a tablespoon of sugar.
However, for the best result, I recommend mixing cider and sugar before adding to the dressing. That way, the sugar will completely dilute in apple cider vinegar and resemble the texture and the taste of balsamic vinegar.
While this solution might be great for salads, you might want to choose something else for marinades and use with meat and fish.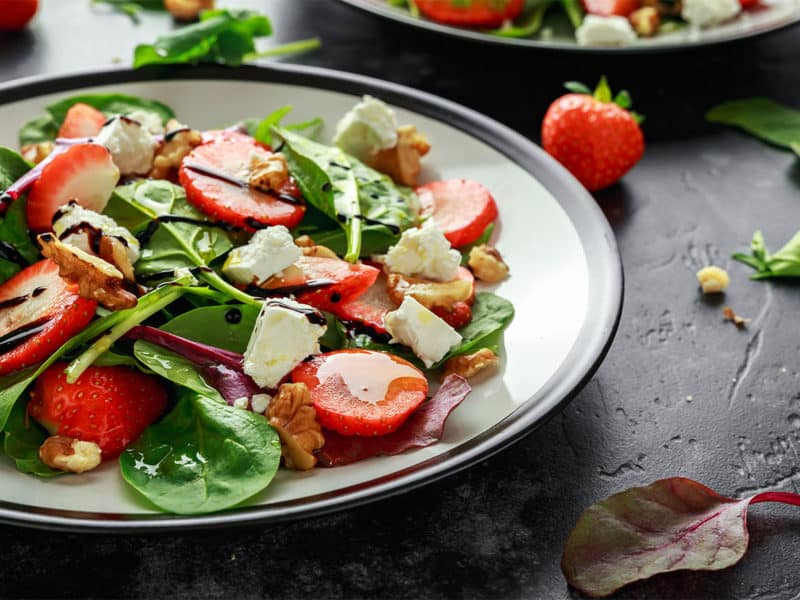 Watch this video to know more:
#2 Red Wine Vinegar And Sugar
If it's not a bad idea to use balsamic vinegar as something to replace red wine vinegar, I don't see why the opposite is not possible. Indeed, these two seem so similar that some people might wonder if balsamic vinegar is the same as red wine vinegar.
Red wine is more acidic and less sweet than balsamic vinegar. The creating procedure is also different. Red wine vinegar is bottled after the grape juice turns acidic and doesn't have to sit in wooden barrels.
Still, it makes a perfect alternative to balsamic vinegar when you add a bit of sugar. You can use the mixture for marinades, meat, and every other recipe that includes balsamic vinegar.
I would suggest using brown sugar instead of white. It will add almost an oak note to the mixture, which will resemble the taste of balsamic vinegar aged in an oak barrel.
The ratio is similar to the previous alternative. One tablespoon of balsamic vinegar equals one tablespoon of red wine vinegar mixed with half a tablespoon of brown sugar.
Try it, and let me know how it turned out!
#3 Fruity Vinegar And Sugar
Maybe you are noticing the pattern here – vinegar plus sugar is an effective alternative for balsamic vinegar.
I am talking about specific, homemade or store-bought fruit kinds of vinegar, such as plum, raspberry, and strawberry vinegar. The taste of most fruit vinegar is tart, but sweet and holds the distinctive note of the fruit used for fermentation.
For this purpose, I recommend plum vinegar, but any other fruit vinegar will work great as well. For example, strawberry vinegar is great for salad dressing, plum for meat, and raspberry for condiments.
Again, I recommend using brown sugar instead of white sugar for the best effect.
Mix one tablespoon of fruit vinegar with half a spoon of brown sugar to replace one tablespoon of balsamic vinegar in your recipes.
If you need balsamic vinegar for the fish marinade, you can use fruit vinegar and honey to create almost the exact effect as if you used balsamic vinegar.
#4 Soy Sauce Mixture
Even if added in small amounts, balsamic vinegar makes a huge impact on the dish flavors. The great thing is that you don't have to toss everything in the garbage if you have run out of it.
Here is my recipe for more special recipes that required balsamic vinegar. I sometimes use this for pork, even if I have balsamic vinegar on hand. It makes more sense to me, especially, when I am cooking pork ribs.
Mix grape jelly, soy sauce, and red wine vinegar to get the amount that equals to 1 1/2 tablespoon of balsamic vinegar at this ratio:
Red wine vinegar – 1 tablespoon
Grape jelly – 1 teaspoon
Soy sauce – 1/2 teaspoon
I usually add all the ingredients into a jar with a tightly closing lid and shake it well until all ingredients combine. I use a jar because the amounts I use are usually larger than one and a half tablespoon to marinate large meat chunks. You can whisk the ingredients and use the mixture instead of balsamic vinegar.
It will improve the texture of the meat and make it smell beautiful. Impressed with soy sauce's flexibility in the kitchen? Even better, most don't have to worry about the likelihood of soy sauce going bad, as soy sauce is incredibly easy to store and boasts a very impressive shelf life.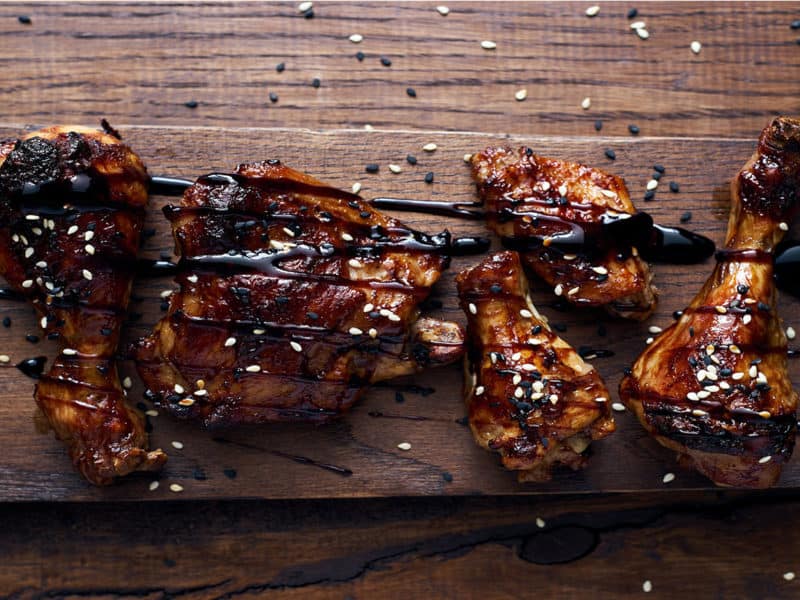 #5 Another Red Wine Vinegar-Based Alternative
If you don't have grape jelly, you can use maple syrup instead of grape jelly and soy sauce. I use red wine vinegar mixtures instead of balsamic vinegar because these two kinds of vinegar have similar flavors.
Balsamic vinegar is sweeter and thicker in texture, so I had to add something to red wine vinegar to thicken the texture.
The alternative with sugar is good, but the one with maple syrup is exceptional. Some people suggest honey, but I personally prefer maple syrup. Like honey, the likelihood of maple syrup going bad is quite low. And it's a great choice for fancy dishes or for when you have important guests.
The ratio is like this: 1 part maple syrup, 4 parts red wine vinegar.
If you need a thicker consistency, for example, to drizzle on top of the desert, you can use 1 part maple syrup and 2 parts red wine vinegar. The texture will be thicker, and the taste will be sweeter to compliment your dessert.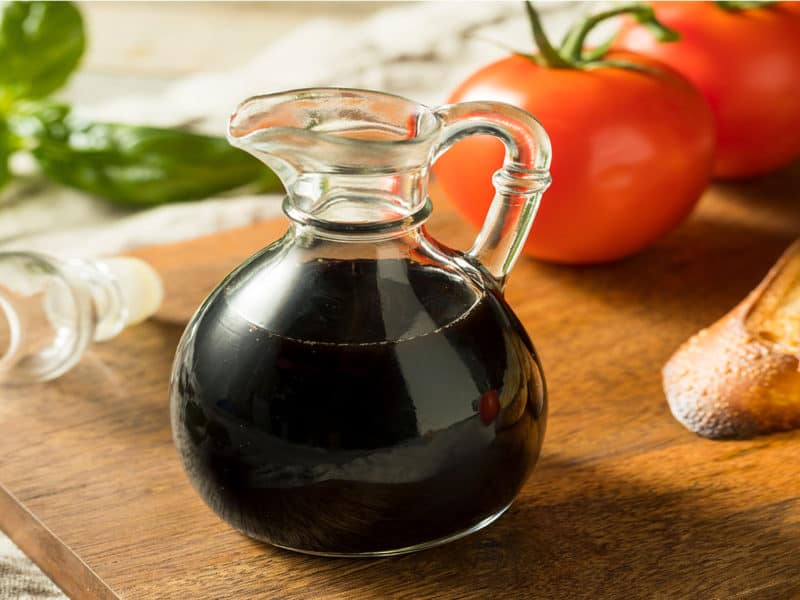 #6 Soy Sauce-Based Substitute
The next one is really great and versatile. Most people won't even notice that you switch the balsamic vinegar with the following mixture.
Although it might not be obvious at first, soy sauce and its substitutes all boast an alluring flavor that, when combined with lemon and molasses, can have flavor closely akin to balsamic vinegar. So, let's see what you need to do to replicate the taste of balsamic vinegar.
Even though there are several ingredients for this substitute, the recipe is easy to memorize because it makes sense.
Here is the ratio of how to replace two tablespoons of balsamic vinegar with the substitute:
Soy sauce – one tablespoon
Fresh lemon juice – one tablespoon
Molasses – one tablespoon
If it seems too sweet, add less molasses. Also, if you don't have molasses, you can use brown sugar syrup or brown rice syrup. I wouldn't use sugar, because it won't give the perfect texture. If you lack syrup or molasses, you can use any other alternative from the list.
#7 Vinaigrette
My last substitute for balsamic vinegar is vinaigrette. Whether you have the one you made yourself or you bought in the store, it can be the perfect replacement.
Balsamic vinegar mixed with olive oil is a basic recipe for balsamic vinaigrette.
What is great about this one is that you make vinaigrette from the leftovers on the bottom of your balsamic vinegar bottle. Add more olive oil and shake the bottle vigorously to make the olive oil soak the flavors of balsamic vinegar.
In general, balsamic vinaigrette saves you time for salad dressings, so it makes perfect sense to use balsamic vinaigrette in salad recipes.
If you prefer your salads more acidic, it is safe to add lemon or lime juice even if it wasn't included in the recipe.
Vinaigrette is also the simplest balsamic vinegar replacement. The substitution goes in a 1:1 ratio. So whatever amount the recipe requires for balsamic vinegar, add that amount of vinaigrette.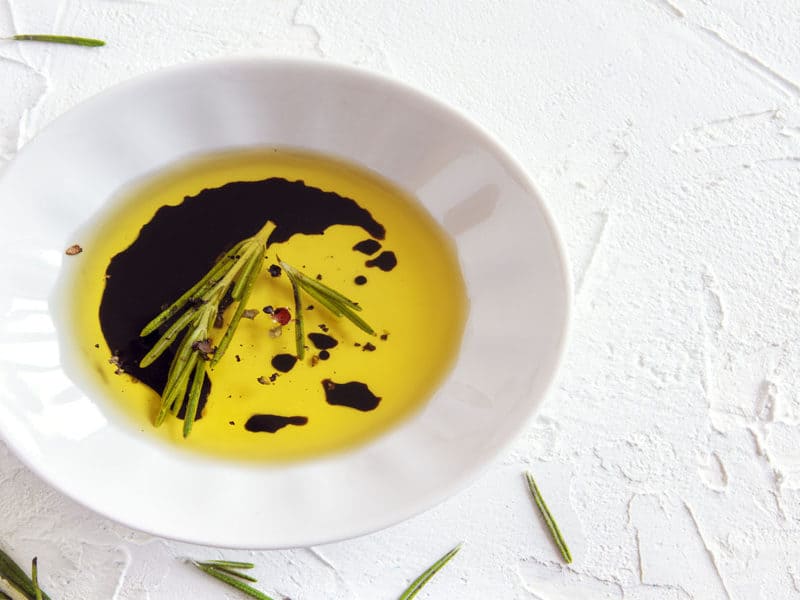 Watch this video to know more:
Don't Follow Recipes Blindly…
I always like to say that cooking is one of the most creative processes around us. Even the smallest amount of spice can make a huge impact on the dish – to improve the taste or to ruin it. When it comes to balsamic vinegar, it is safe to play with alternatives.
Some of the substitutes from my list I recommend using instead of balsamic vinegar even if you have vinegar on hand. You can experiment and see if you notice the difference and which version of the dish suits you more – the one with a substitute or with real balsamic vinegar.
Please try some of the alternatives and let me know how it worked out!
If you find this article useful, don't forget to like and share it with your friends and family to boost their cooking creativity!
Nutrition Facts
1 servings per container
---
Amount Per ServingCalories29
% Daily Value *
Sodium 2mg

1

%
Potassium 31mg

1

%
Total Carbohydrate 6.9g

3

%
---
* The % Daily Value tells you how much a nutrient in a serving of food contributes to a daily diet. 2,000 calories a day is used for general nutrition advice.