Many people fall in love with ricotta cheese, no matter whether it's for their lasagna or other creamy treats.
But what if your lousy luck comes: Cheese's out! What are you going to do without the staple of an Italian-styled dish? Expel all those unnecessary worries after knowing you can try for lasagna or a ricotta Salata with the following alternatives.:
What Do You Know About Ricotta?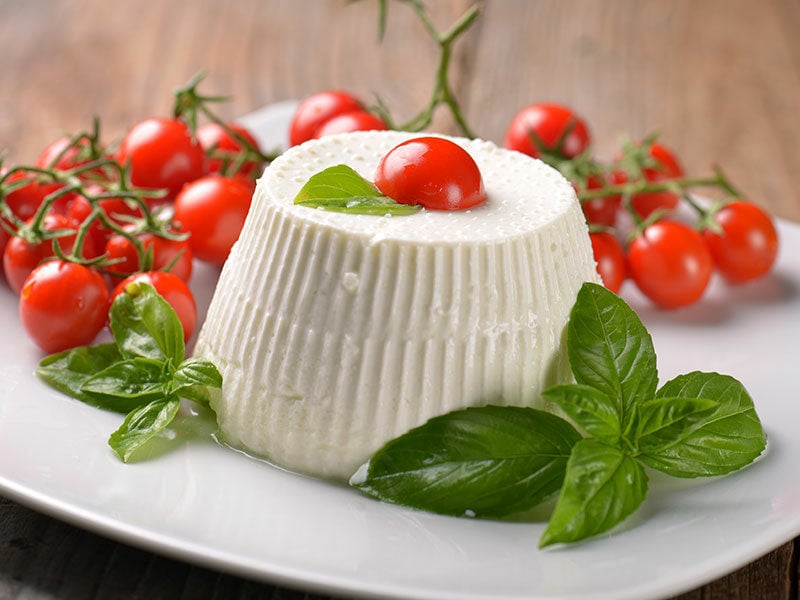 Delicate, moist, and velvety are the best words to describe this type of cheese. In Latin, "ricotta" means "recooked".
It's known for producing a fluffy and creamy filling for Italian pastries. Also, you can add it as a beautiful and aromatic topping for pizzas. Feel free to do it at home.
Because ricotta cheese is known for its signature velvety texture, it's hard to come to a general consensus whether ricotta cheese is freezable. That's why pretty much all cheese brands recommend finishing the ricotta cheese once it's out of the package, rather than freezing it.
After ricotta cheese had gained more popularity, the talented Italian makers started creating this type of cheese with whole milk. It's all for meeting every taste that has changed nowadays.
In recent years, the main ingredient used to make ricotta is whey. Its use is to increase the fat content and then delivers a creamier texture at last.
What you need to make ricotta are the milk of cows, sheep to goats, and even water buffaloes. These are not too hard to buy in a grocery store, so don't worry!
Recooking is always the first method in the whole process. That depicts how the cheese is created as whey gets "recooked".
Besides, ricotta itself is not indeed a cheese though people always mention it as cheese. The reason behind this is because it comes from a cheese by-product.
The milk needs thickening with the support of an enzyme. It would alter most of the proteins before separating them from whey completely.
Get a quick recipe on making ricotta like a pro!
However, there are some of them still sticking to the whey. And once heating the mixture, these proteins become more unstable than usual. Wait for them to get out of solution, scoop them out, and then you have ricotta cheese.
Nutrition Facts Of Ricotta Cheese
The following table informs you how much a nutrient should be in one serving of ricotta cheese (100 grams) for your daily diet reference (1).
| | |
| --- | --- |
| Nutrients | Value |
| Carbohydrate | 6.86 g |
| Total fat | 10.3 g |
| Calcium | 224 mg |
| Sodium | 105 mg |
| Vitamin A | 127 µg |
| Vitamin B-12 | 0.78 µg |
| Vitamin K | 0.6 µg |
Keep in mind that an adult needs about 2,000 calories per day on average. However, this recommendation is based on different elements, such as your gender, workout level, weight goals, and health.
Criteria For Ricotta Replacement
Is there any requirement for a promising ricotta substitute? Look at the typical texture of ricotta since it's an essential factor to base. It tends to be velvety, fluffy, and creamy.
Such a texture feature will help you determine what type of alternative is the closest to ricotta.
For example, following its texture, it's possible to replace ricotta with cottage cheese. It has the same content of moisture as ricotta. If you want to shed some pounds, cottage cheese is a perfect low-fat alternative to replace ricotta.
Another necessary element to consider is the flavor. It feels light, smooth, and mildly sweet, making it best for use in any forgiving dish. In this case, the suitable ricotta cheese substitutes are cheeses made from goat milk.
The final element to look for is color. Luckily, not many people feel irritated about the cheese shade. But if you love it to get white, opt for the whitish one.
In detail, availing cheddar cheese can make the sauce yellowish. For white colors, think about mozzarella.
What Are Exotic Ricotta Cheese Substitutes For Any Dish?
I bet that you get to know what makes ricotta so unique. It's time to scroll down and check more appropriate options. Here comes a list of the top 17 ricotta cheese substitutes for the dishes you might love to give a try:
1. Goat Cheese
2. Cottage Cheese
3. Buttermilk Cheese
4. Parmesan Cheese
5. Fromage Blanc Cheese
6. Queso Fresco Cheese
7. Pot Cheese
8. Requeson Cheese
9. Clabber Cream
10. Sour Cream
11. Mascarpone
12. Greek Yogurt
13. Bechamel Sauce
14. Paneer
15. Tofu Ricotta
16. Coconut Cream
17. Mozzarella
17 Flavorful Ricotta Cheese Alternatives You'll Ever Need
Picture that you plan to make a smoked lasagna tonight, but ricotta cheese is just out of stock at a local store near your place.
At this time, think of another better solution to handle that unexpected happening! To save that aromatic dish, try to use a few of the following cheeses as the best ricotta substitutes.
Best Melting Cheese Substitutes For Ricotta
You can test the taste, flavor, moisture, and texture to determine the best replacement. The cheeses below are the most promising ricotta alternatives you can use to make any dish.
Goat Cheese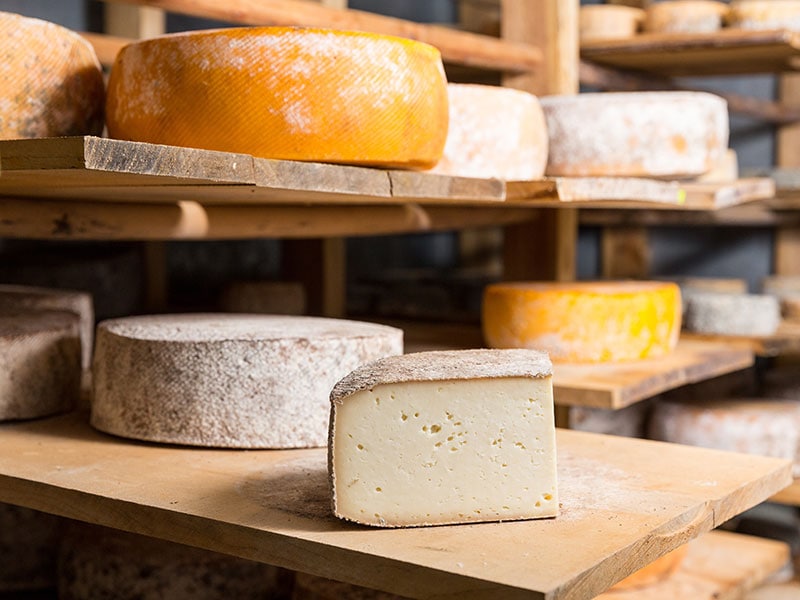 For anybody who loves the mildness of ricotta, it's clever to have goat cheese as your top alternative priority for the dish. It's mild, creamy, and rich in texture for sure.
Though some people claim that the flavor of goat cheese seems heavier, it should get used in the same way as ricotta. Better than thought, it tops this list today when fitting people who are sensitive to cow milk.
Speaking of the way to make this cheese, it resembles the process of producing soft creamy cheeses. You need to pour a suitable amount of citric acid into the milk before heating it. Later, cool it down and get it strained.
As a result, you end up gaining an easily spread type of cheese. More importantly, only get fresh goat cheese! If it's for your lasagna, this cheese works the best. Since aged cheeses own a firmer texture, it fits as a ricotta alternative.
Cottage Cheese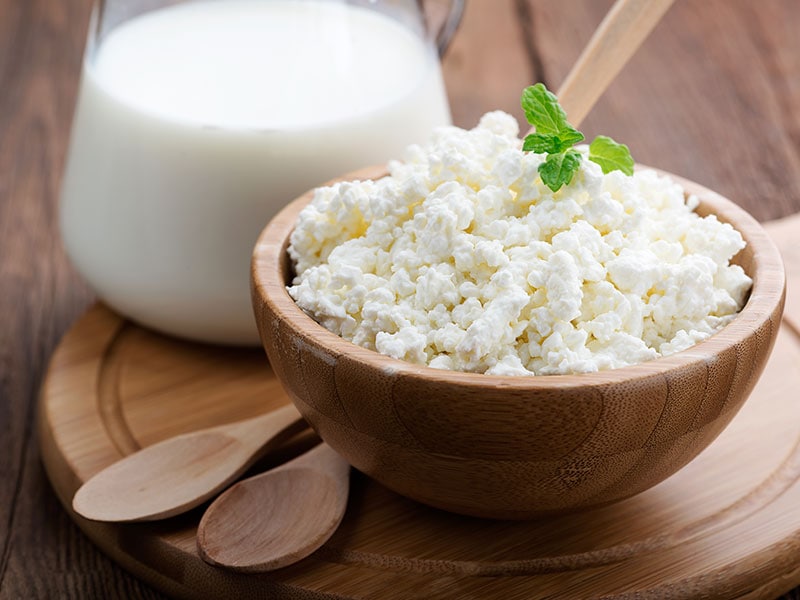 Resembling yogurt, this delectable flavor of cottage cheese partly stems from its high calorie and sugar content. Maybe due to this reason, some advertisements keep talking about cottage cheese when mentioning its probiotic bacteria.
It gains the same digestive health benefits as yogurt. For stuffed and filled recipes, cottage cheese is a superb choice for you.
Keep in mind that its consistency cannot be 100% similar to that of ricotta. If you still want it to share the same profiles, just strain it. Prepare multiple layers of cheesecloth and line them with a mesh strainer to do it.
Later, scoop it up in the strainer and start washing out with cold water.
Buttermilk Cheese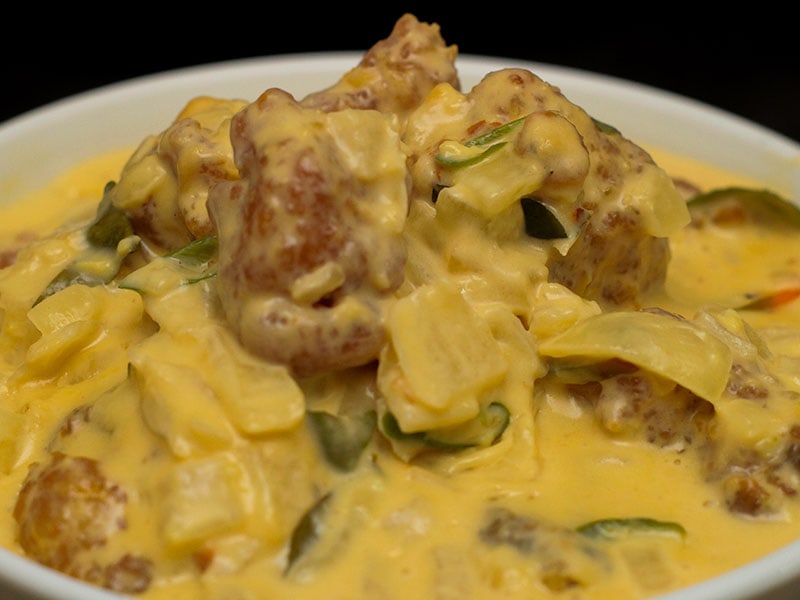 If you don't have ricotta at hand, let's make buttermilk cheese as a way to replace it. Aside from being the key ingredient in dishes starring buttermilk, this cheese is an outstanding candidate used to fill your creamy lemon-ricotta pasta among several options available in this list.
You can go to prepare it at home instead of finding them in corner shops. So how to create the cheese?
You need 15 minutes for preparation and 45 minutes for cooking it.
Step 1: Firstly, let's pour whole milk plus some buttermilk into a pot over medium heat.
Step 2: Get a spoon to blend the mixture evenly and gently so that the bottom of your pot can't get burned. Do it within the first five minutes.
Step 3: As it comes to 100°F, finish stirring and leave it warm on the pot. Around this time, your mixture starts getting firmer in texture. Turn off the stove and allow the milk to cool down for 5 minutes.
It comes in handy if you've got a thermometer. It displays the accurate milk temperature while you're cooking.
Step 5: Scoop the thickened mixture into a colander and line it with different layers of cheesecloth.
Parmesan Cheese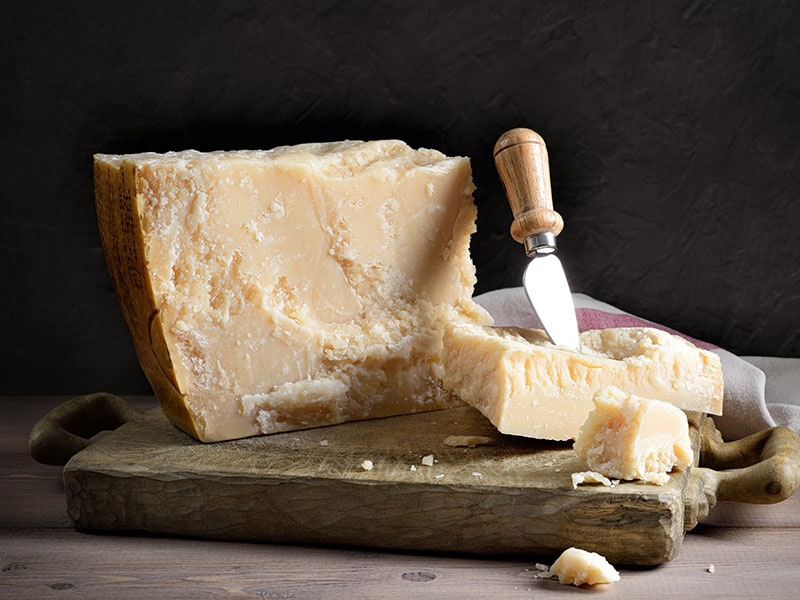 Parmesan is not strange to most people as a ricotta substitute. Another name of it is the Parmigiano Reggiano, which means one of the most decent cheeses by gourmets. It's an incredible addition when shredded and topped over pasta or soups.
For natural Parmesan texture, you can feel it nutty and gritty after tasting it once. Some people love to have it as a quick snack.
Moreover, this cheese is a functional food thanks to some nutritional values it owns. Out of several kinds of cheeses, Parmesan delivers a rich source of essential nutrients that are good for human bone health. These include minerals, vitamins, and proteins.
Calcium and high-quality protein in the cheese make it a marvelous way to prevent osteoporosis (2).
Fromage Blanc Cheese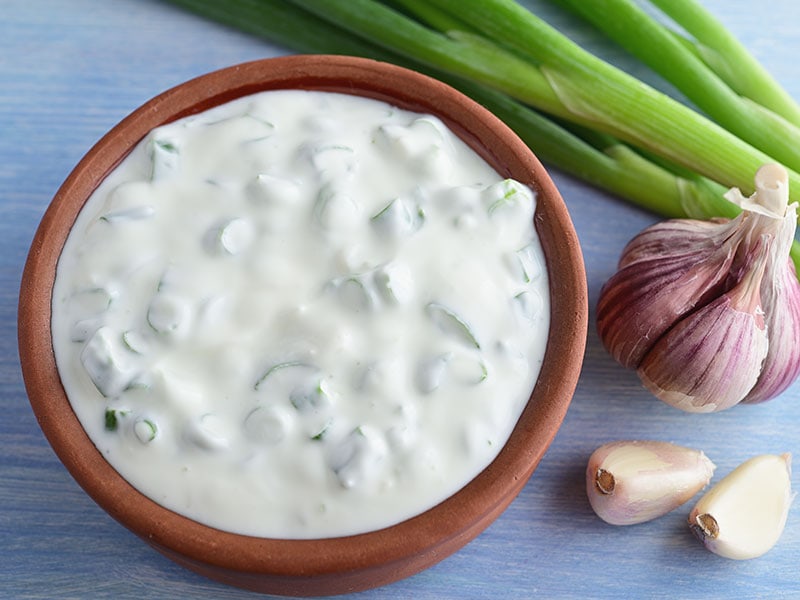 Like Parmesan, fromage blanc often gets served as a dessert on its own. At first sight, many people thought it's yogurt, but it's, in fact, thicker and more velvety. It was initially produced as a fat-free food, but cream was added later.
For texture, fromage blanc is similar to Greek yogurt but coming with low fat content. If you adore French-styled dishes, then try your recipe today by using this cheese!
As a great addition to Italian dishes, it's common to mix it instead of ricotta cheese with seasonings and herbs as you want it to be aromatic and savory. Feel free to use it as flavorful spreads and fillings if you like.
Queso Fresco Cheese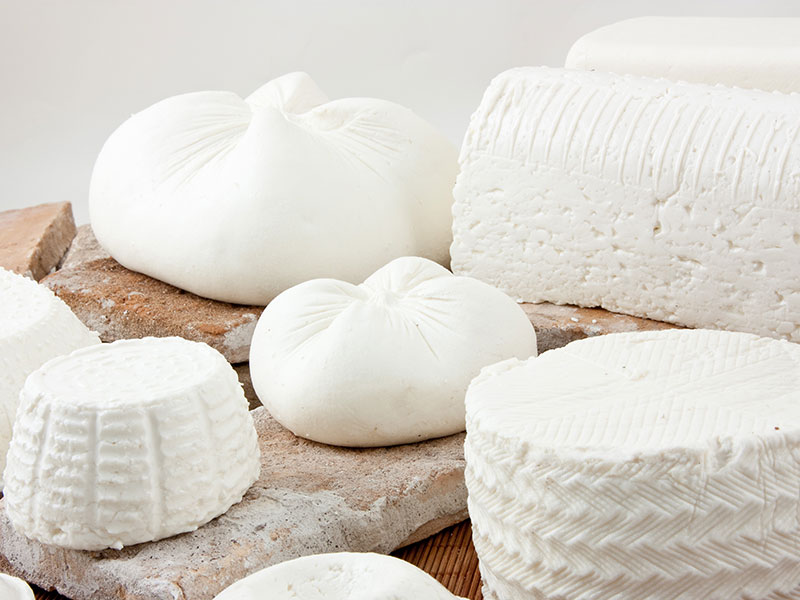 The term "queso fresco" cheese refers to fresh cheese here. For the classic taste, it's renowned for being tender, fresh, and a bit tangy to use in Mexican cuisine.
And whenever speaking of queso fresco, cow milk and goat milk are the common words you've heard about. Once trying it for the first time, you'd feel like "it's mildly salty, but very fresh indeed.
For queso fresco recipes, it's unnecessary to purchase any particular tool or ingredient. What you should have are salt, milk, vinegar, and cheesecloth. Prepare a thermometer for an accurate temperature display, too.
So is this cheese healthy or not? Sure enough, it makes an ideal choice for anyone who maintains a healthy diet. Unlike its peers, queso fresco cheese owns a lower fat and sodium volume. In other words, it's a phenomenal addition you can add to vegan diets in place of ricotta cheese.
Pot Cheese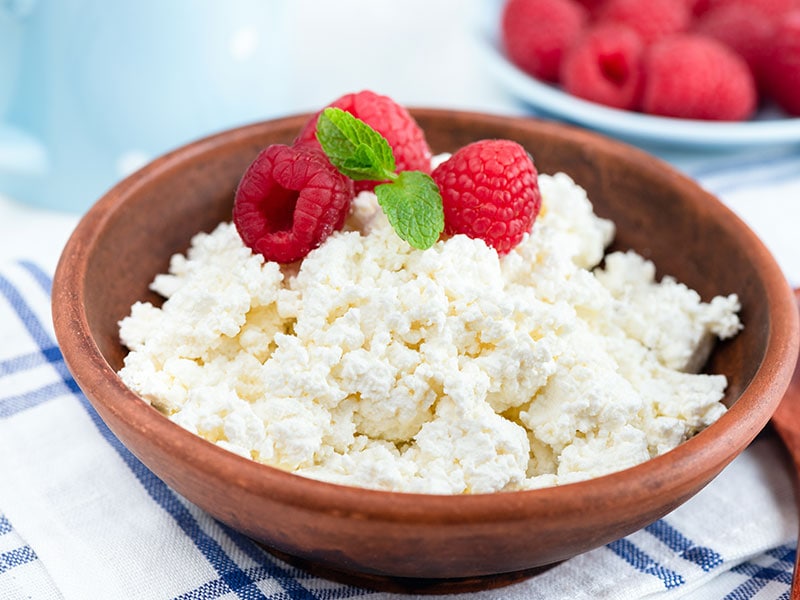 As its name says, "pot cheese" gets made in a giant pot on the stove. It's a lovely merger of the dry farmer cheese and the moisture cottage cheese. After preparing it by yourself, ensure to consume it within a few days to avoid its spoilage.
Though applying a similar making process as ricotta cheese, pot cheese's curds appear bigger. And when you drain more whey, it becomes drier in texture.
What can you do with pot cheese? It depends on your favorite recipes set up recently.
Some famous ones are tacos eaten with cheese, pasta, salads, and casserole for breakfast.
Requeson Cheese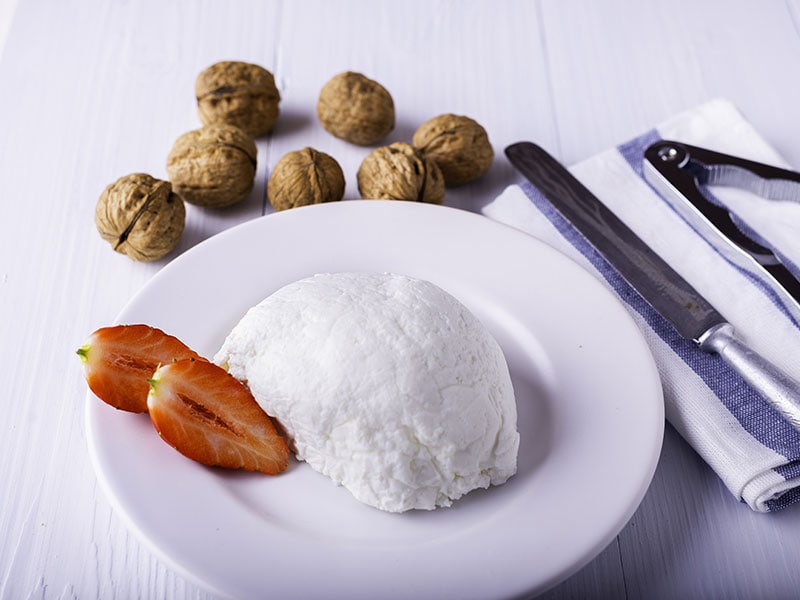 It's not weird to see requeson cheese white in color and spreadable in texture. Devouring it gives you a moderately sweet flavor, which reminds you of fresh milk. Like other cheeses, requeson receives a lot of love when being served in a bowl of salads.
Like ricotta, this one gets made from whey. It's also packed with milk proteins, which usually become thickened by heat.
Besides, the cheese possesses a low profile of fat yet a high amount of protein. Thus, people who are genuinely concerned about their health would choose Requeson over some other cheese.
Now it's your turn. Try your recipe now! Would you use requeson cheese for salads, pasta, or desserts?
Other Popular Alternatives For Ricotta Cheese
Have you just decided to make nutritional cheesecakes on a relaxing night at home? In case you don't even have any of the cheeses mentioned above, scroll down for more options.
Clabber Cream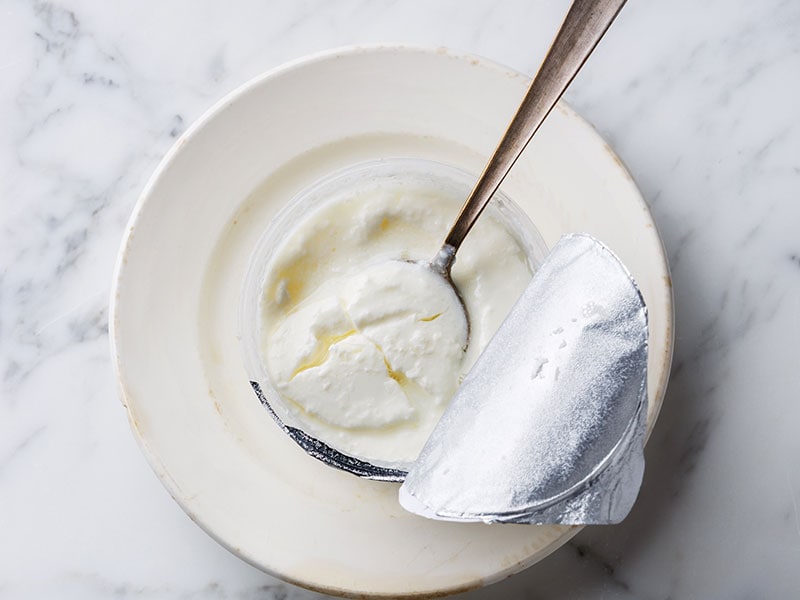 People also name it a spooning cream as it's contrary to pouring cream (3). Some people go for this among different ricotta cheese substitutes for their coffee cakes. So how to make clabber cream yourself?
Basically, pour four cups of milk into half of your glass jar. Close the lid and leave it there at room temperature. Wait for the milk to get clabbered. Next, put it in a strainer, cheesecloth, and start draining the whey for about 2-8 hours.
Sour Cream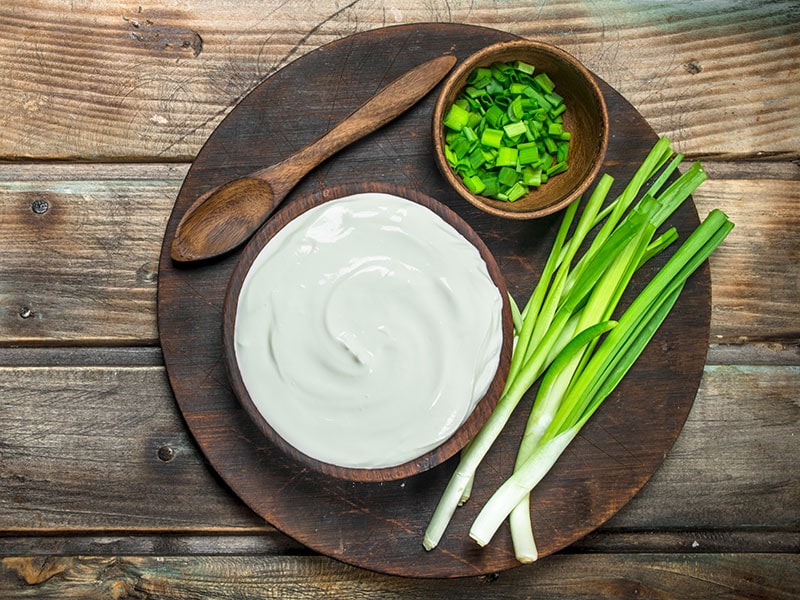 Once you find less ricotta in the kitchen, you should relax because there's another fabulous alternative for it that saves you without a doubt! It's sour cream.
It cannot be 100% similar to ricotta in terms of texture and consistency, but it still works in some recipes which do not require cheese to be the star of the stage. For example, you can use sour cream in sandwiches and salads as dips or dressings.
Mascarpone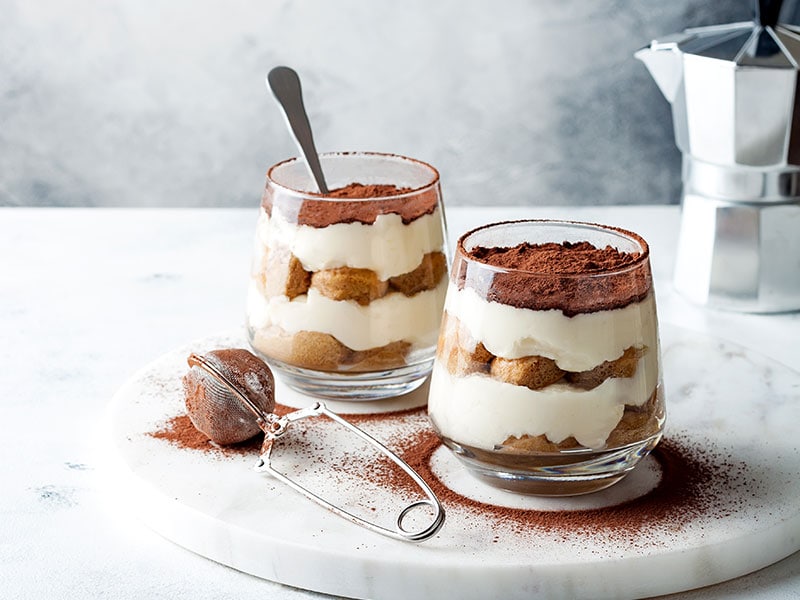 It resembles ricotta in terms of sweetness, richness, and mildness. Despite not having an acidic taste, mascarpone still succeeds in enhancing the taste of any dish. In texture, this cream seems fattier, heavier, and creamier than ricotta.
Therefore, whenever you want to make your food lighter in flavor, go to thin it out.
In addition to adding more aromas to the dish, mascarpone serves as a must-have in making tiramisu and other desserts.
Italian coffee is a trendy drink using this cream. In this recipe, it's compulsory to whisk the egg whites to turn them into a firmer form. Later, put some biscuits into your glass before pouring mascarpone cream on top.
Greek Yogurt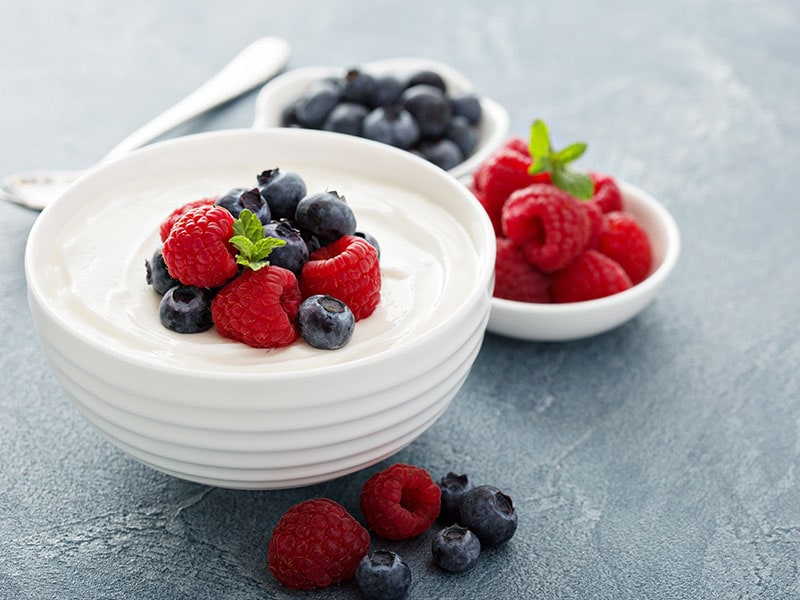 Among different ricotta cheese substitutes, Greek yogurt is a plentiful source of calcium. So no wonder why it has no trouble promoting bone health and lowering the possible risk of osteoporosis.
Consuming this type of yogurt is a fantastic solution to maintain a good bacterial balance in your gut.
Even when a person is lactose intolerant and finds it hard to digest milk, feel free to slurp Greek yogurt without stressing out.
Greek yogurt is very easy to make at home. With only a suitable Greek yogurt maker and some basic ingredients, and you're good to go. No more worrying about whether it's ideal to freeze Greek yogurt, or how to store the treat if you can always have fresh Greek yogurt at home.
Bechamel Sauce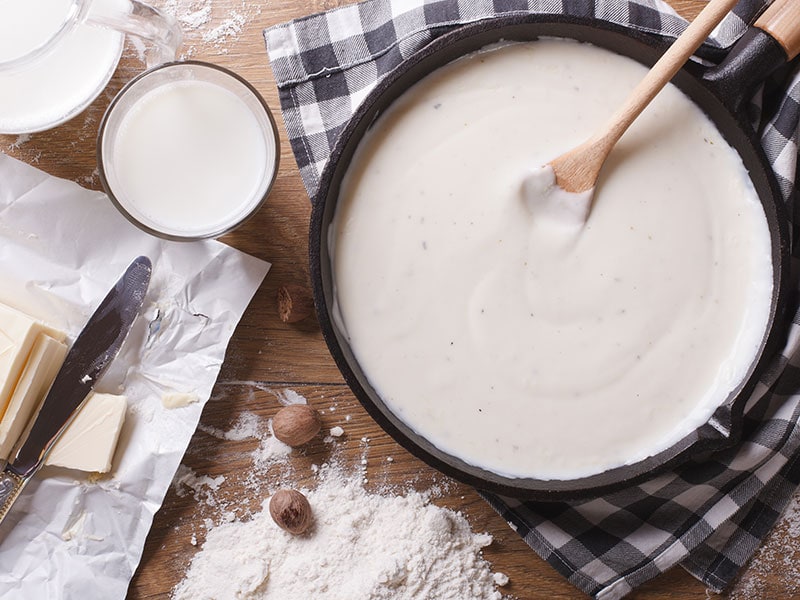 How to create such a thick goop yourself? As you know, béchamel sauce plays a vital role in keeping casseroles together. People usually use it to make the sauce for pasta and combine it with more ingredients.
In lasagna, bechamel sauce often takes the place of Ricotta cheese, or they both combine for a great flavor.
The white sauce here can be seen in every Midwestern kitchen. It's common in classic Egyptian dishes as well. It's pretty much a dairy sauce made from butter, flour, and milk. Chefs and home cooks tend to use it to add richness and complexity to their culinary masterpieces.
Paneer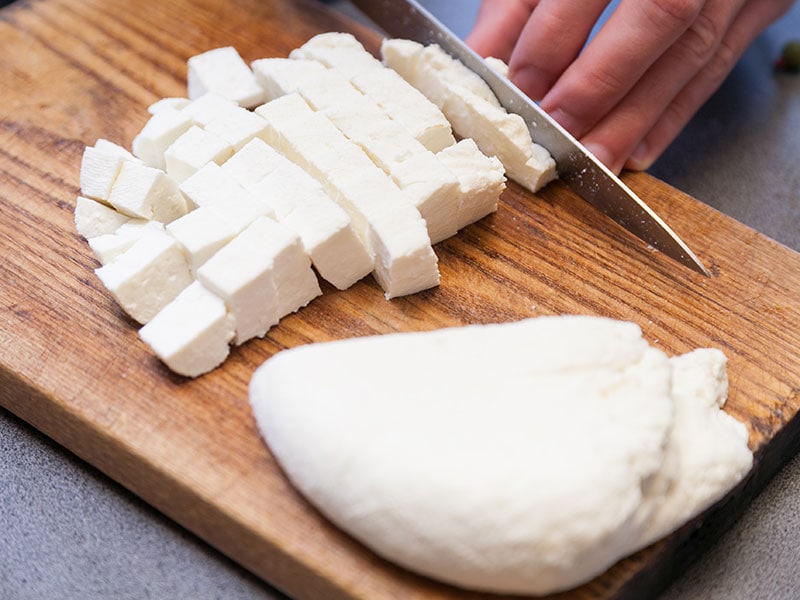 You will see this non-melting cheese in Indian cuisine and its side dishes. It's the most popular one used in main courses, desserts, and light snacks. People love to wrap paneer in the dough before deep-frying it and serving it with spinach (4).
As compared to ricotta cheese, you can feel that it gets firmer and less salty.
Aside from these, the cheese keeps a low focus on calories and fats. It means being healthy for people who suffer from heart disorders.
Tofu Ricotta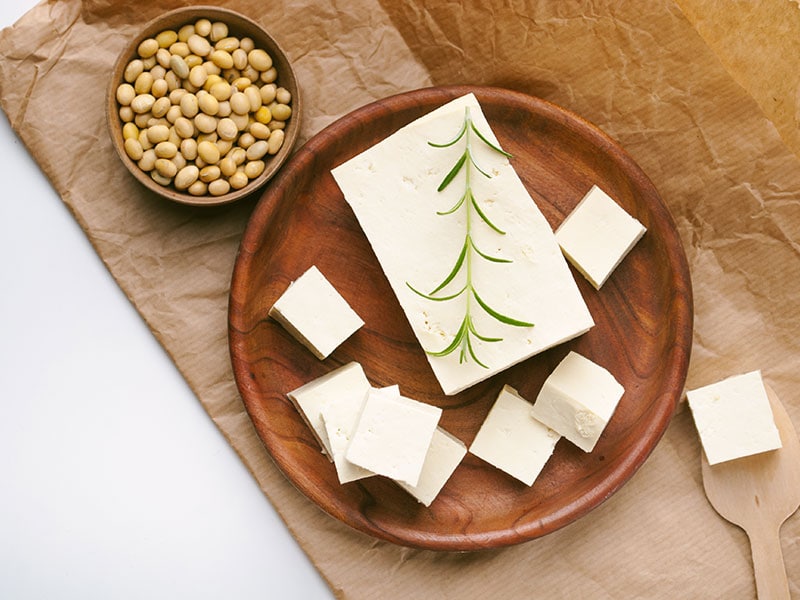 It's vegan ricotta for those who permanently remove meat from their diet. Not just that, but "cheesy" and "savory" are also beautiful words to describe this cheese.
With an astounding texture like ricotta, the cheese has its name on this list today smoothly. But what makes it unique from the original ricotta is that it tastes so good that you don't think it's for vegan eaters.
And, of course, it's made with the presence of tofu. That's why the cheese can be proud of itself for having lots of protein.
Coconut Cream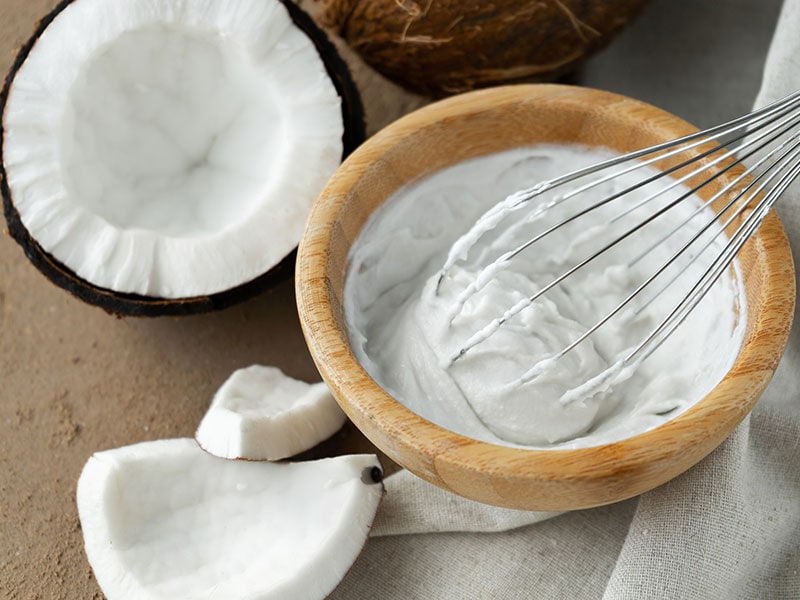 Two significant ingredients building up coconut cream are coconuts and water. Coconut cream is often considered a good substitute for ricotta cheese, despite its different smoothness, thanks to its taste and liquidness.
It's not hard to get coconut cream as it's available in every grocery store. Depending on your chosen recipe, choose a full-sized or a mini can.
If not, use shredded or grated coconuts to make your own at home. Some people believe that shredding cheese manually from cheese blocks tastes much better than getting it grated beforehand.
Mozzarella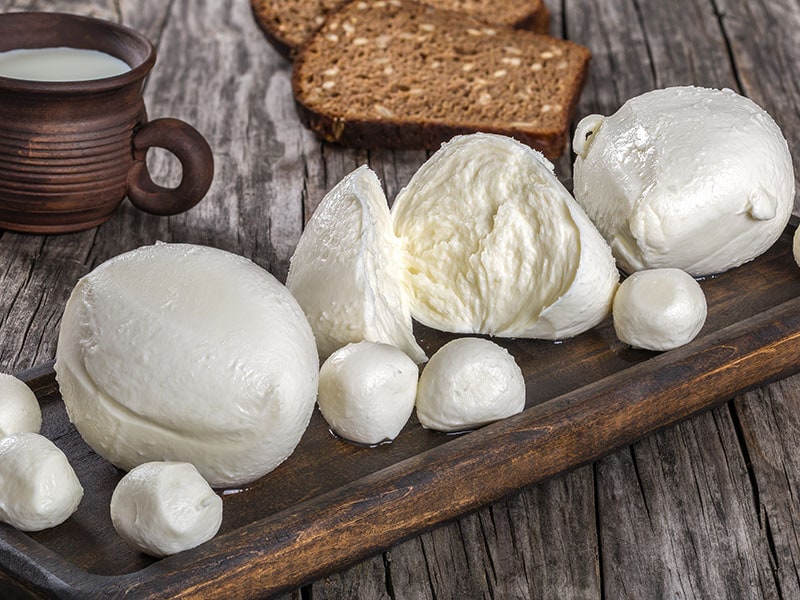 Cheese fanatics always go crazy over melting and fragrant cheese. It also explains why mozzarella often tops their wish list and can replace ricotta without a problem.
As ricotta is created from mozzarella's whey, you can tell that these are like siblings. For the taste, ricotta is famous for being refreshing and slightly sweet. Meanwhile, mozzarella gives you another vibe in terms of texture and consistency.
Does mozzarella have any health benefits? It's not only a abundant source of calcium but also a great source of Biotin. Pregnant women who are likely to suffer biotin deficiency should consume this sort of cheese.
FAQs
Expectation Vs. Reality
As you see, ricotta itself gets favored by its palatable taste and light sweetness. Thus, people love to add it to every dessert to satisfy their sweet tooth. Some berries and fruits will pair well with the cheese, so don't waste any of them!
Besides, having no ricotta in the kitchen is not a problem! Out of so many ricotta cheese substitutes out there, you can choose the one fitting your recipes.
I suggest you can use mascarpone or tofu ricotta if you're following a keto diet. These twos are probably the most similar to ricotta in both texture and flavor.
References
(2021). https://fdc.nal.usda.gov/fdc-app.html#/food-details/746766/nutrients
Summer, A., Formaggioni, P., Franceschi, P., Di Frangia, F., Righi, F., & Malacarne, M. (2017).
GOONS WITH SPOONS – Clabber cream. (2021). https://www.goonswithspoons.com/Clabber_cream
Paneer – Wikipedia. (2021). https://en.wikipedia.org/wiki/Paneer