Much like the country itself, Egyptian recipes are also very remarkable and wonderfully diverse. From the versatile spins on familiar ingredients to creative food-making methods, their cuisine is truly something to be admired.
Step out of your kitchen comfort zone for a bit and give these foods a try. Egyptian dishes center mostly around various vegetables and beans with bread as a companion. If you like meat, don't worry though, there are also some meat dishes that will surely blow you away.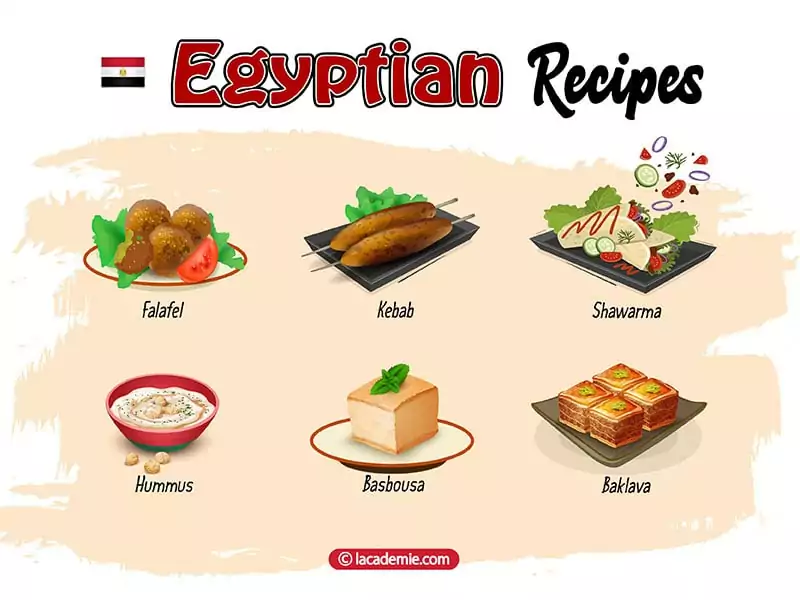 30 Egyptian Recipes You Can Make At Home
Whatever it is you are looking for, appetizers, main or side dishes, even desserts, here are 30 Egyptian recipes you will have no problem making for yourself and all your loved ones.
Egyptian Appetizer Recipes
Ful Medames
Falafel
Hawawshi
Labneh
Kebab
Kofta
Egyptian Main Dish Recipes
Koshari
Shawarma
Sayadiyah
Macaroni Bechamel
Moussaka
Baba Ganoush
Kousa Mahshi
Bamia
Fatteh
Phyllo Meat Pie
Feteer
Egyptian Side Dish Recipes
Egyptian Lentil Soup
Baladi Bread
Hummus
Molokhia
Bissara
Salatet Zabady
Egyptian Desserts Recipes
Kanafeh
Baklava
Om Ali
Baked Sweet Potato
Mahalabiya
Basbousa
Ghorayebah
Top 6 Most Popular Egyptian Appetizer Recipes
The dishes on this list are actually more familiar than you think. They have often been eaten as street food in many places in the world. Take a look and see if you recognize any.
This is one of Egyptian cuisine's most well-known foods. It is a stew made of fava beans that are cooked after being soaked for several hours. It is then flavored with cumin, olive oil, and garlic, which brings about a savory taste to the dish.
In addition to Egypt, Ful medames is also an extremely popular dish in Syria, and other Arab, North African, and Middle Eastern countries.
This dish is so easy to create and delightful to enjoy, which is why it is amongst Egypt's most popular breakfast foods. You can have it with eggs, vegetables, cheese, pita bread, or some other flavorful herbs to really complete the meal.
Also known as Tamiya, or Ta'meya, falafel is another famous Egyptian dish that many have for breakfast. The main ingredient is also fava beans, or sometimes chickpeas, mixed with various herbs and spices that are then rolled into small balls to be deep-fried.
If you are looking for new vegan dishes, have a go at this hearty and flavorful dish. It is packed with proteins that will leave you energized for the rest of the day. Falafels are often served as sandwiches or alongside other vegetable-based dishes like salad and fried eggplant.
If you love meat pies, you will surely love this traditional Egyptian dish. It is baked bread that is filled with minced meat, onion, pepper, and parsley. This dish is a familiar street delicacy in Egypt. Local people frequently maken it at home as a meal to start the day.
Seasoned with so many different ingredients, this dish is sure to give you a savory and heart-warming meal. It can get quite spicy because of the pepper, so make sure to have a glass of water nearby when you are eating this.
This dish is quite reminiscent of meat pie, a beloved dish in New Zealand and Australia alike. A perfect takeaway snack, meat pies come in palm-sized, allowing you to hold it with one hand.
For those who prefer to have a light meal for breakfast, try this yogurt that is both delicious and healthy. Labneh is basically yogurt that has been strained to remove the whey, giving it a thick cheese-like consistency while still retaining the same complex and tangy flavor.
Labneh truly is a dream come true for those who love both yogurt and cheese. There are multiple ways to eat this, from spreading it on sandwiches, making breakfast bowls with various toppings, mixing it in with salad, to dolloping it onto a pizza. The possibilities are endless.
If you want to try making this yogurt at home, check out this video.
Kebabs' popularity has certainly reached beyond its Middle Eastern origin. You can find these as street food almost anywhere. They consist of meat, chopped tomatoes, cucumber, cabbages, and various other vegetables that are drenched in dressing, all wrapped in a flatbread.
It's hard not to fall in love with these kebabs once you have tasted them. They are irresistibly delicious and unbelievably complex, with so many different ways to cook and eat. No matter what you like in your meal, there's always a combination out there for you to try when it comes to kebab.
Kofta is part of a type of meatball family. It's one of the dishes commonly found in Middle Eastern and Central Asian cuisines. It is usually seasoned lamb or beef that is shaped into balls and grilled to perfection.
Simple as it may sound, this dish will take your taste buds on an exotic journey thanks to its incredible mixture of spices and fragrant herbs. You can have these delicious meatballs with salads, toasted pita bread, dips, or various types of sauces for a fulfilling breakfast.
11 Delicious Egyptian Main Dishes You Cannot Miss
Some of Egypt's most signature dishes are the ones I'm about to mention. They are truly the best choices for when you want a warm meal with loads of goodness. Don't hesitate to try making some of these.
Known as one of Egypt's national dishes, it is a must-try for those who are interested in Egyptian cuisine. This hearty recipe consists of lentils, pasta, rice, fried onions, and tomato sauce. Such an interesting and exciting mix of ingredients, don't you think?
This mouth-watering dish is not only fulfilling and delicious but also incredibly easy to make. The ingredients are things you can find casually sitting in your pantry. Toss it all into a slow-cooker and make yourself a hot meal any time you want.
Shawarma is well-marinated meat cut into thin slices and layered on a vertical rotisserie. It is then roasted until the meat is tender and flavorful. It is often made using beef or chicken, served with tahini sauce, and wrapped in a flatbread.
Apart from Egypt, it's also a well-known dish in Saudi Arabia.
This is for those who are searching for an easy, healthy, and delicious meal. When making this at home, you can cook it on a stovetop instead. Don't worry, with the correct ingredients and toppings, it can still taste just as authentic as the ones you would find on the streets of Cairo.
For those looking for a fish recipe, try making this delicious combination of pan-grilled fish, seasoned rice, warm spices, and caramelized onions. With this recipe, while the infused fish fillet is obviously the highlight, the fragrant rice and onions will also take your breath away.
This dish is most commonly eaten with some tahini sauce. Squeeze some lemon juice into the sauce for an extra layer of flavor if you like. If you have some leftover ingredients, you can also make a simple salad to accompany this dish.
Known as the Egyptian version of lasagne, this dish can become your next favorite family meal. A comfort dish through and through, it is filled with pasta, ground beef, onions, tomatoes and covered in a thick milky sauce called bechamel.
There's nothing quite like a combination between melted cheese and well-seasoned beef. The burst of flavors that it creates is something you will find yourself wanting to try again and again. Similar to lasagne, Macaroni Bechamel is also made in large pans, so you really can come back to it over and over again.
This is a traditional Egyptian bake that includes luscious layers of ground meat mixed with well-seasoned eggplants and potatoes, all drenched in creamy bechamel sauce. Yet another popular family dish in Egypt for you to treat your loved ones with.
Moussaka tastes quite similar to the Macaroni Bechamel I recommended earlier, only a lot thicker in texture thanks to the eggplants and potatoes. As this dish is quite a handful on its own, a simple salad will suffice as a side dish if you want something extra.
If eggplants are normally not your thing, let this dish change your mind. Baba Ganoush is a delicious dip made from roasted or grilled eggplant, seasoned with tahini, garlic, olive oil, and lemon.
The high cooking temperature really enhances the savory taste of the eggplant while also making it extra smoky and strong. You can enjoy it best by eating it with pita bread or have it with any raw and crunch vegetables that you like.
This dish is basically stuffed zucchini cooked in tomato broth. The stuffing choice varies depending on your personal preference, but it almost always includes rice, ground meat, herbs, tomatoes and some other vegetables.
Heart-warming and savory, this dish is the perfect comfort food for cold days, or just any day really. You can have it with something tangy to really compliment the ingredients, such as plain yogurt or some types of herby salad.
Bamia is a savory dish that originates from Lebanese cuisine. Its main ingredient is okra, a warm-season vegetable in the mallow family with a similar texture to eggplants. The stew is usually cooked with lamb, tomatoes, and other spices.
The okra's slimy texture and strong flavor might seem off-putting at first, but once slow-cooked, it becomes tender and melts right into all the other ingredients. Since this dish is so rich and intense in flavor, you only need to eat it with some rice, salad, bread, or chopped vegetables.
This traditional Egyptian dish is a century-old staple at any large Egyptian feasts or celebrations. It is a meat soup seasoned with garlic and vinegar, served with some crispy bread, a bowl of rice, and tomato sauce.
Besides Egypt, the dish also appears in the gastronomy of UAE, Lebanon, and other Levant countries.
While it may take a little bit of effort and patience, this dish is something you can easily put together, considering how familiar all the ingredients are. Not only so, it is also incredibly versatile as you can have it any time during the day, not just as the main course.
Want to try making some Egyptian lamb fatteh? Follow this step-by-step instruction.
Phyllo meat pie, otherwise known as Egypt Goulash, is a phyllo-based pastry with layers of seasoned ground beef and onion filling. Complicated as the end result may look, this is actually a very simple and easy-to-make dish.
With its golden crispy phyllo exterior and toasty rich meat insides, this pie is quite a vision. One bite into this warm dish, and you can feel all the incredible flavors coming together. Serve it with some yogurt or various salads, and you will have a great meal!
This delicacy is a symbol of hospitality and friendliness amongst Egyptians. You can find it at almost any special social occasion. It consists of thin dough layers and fillings that are either sweet or savory.
There are so many different variations of this dish since its fillings can include almost anything, from sweets like cheese, coconut, chocolate to ground beef or sausage. If you are feeling ambitious, try making this delectable dish to share with your friends and family.
Top 6 Quick And Easy Egyptian Side Dish Recipes
Make yourself some homemade side dishes with these recipes. They are low-effort, easy to make and taste so incredibly good. Have a look to see what you can make to complete all your meals.
When winter comes knocking, get yourself warmed up with this delicious, vegan-friendly, and easy-to-make lentil soup. This soup is a staple in Egyptian cuisine because of its familiar and soul-warming flavor.
This soup is a mixture of various vegetables like red lentils, potatoes, carrots, celery, etc., seasoned with cumin, paprika, cayenne, and turmeric for an added spicy kick. I can't imagine a better comfort food choice for your chilly nights.
You can find this bread anywhere in the bustling markets of Egypt, as it is one of their most common foods. While it may look quite similar to pita, this bread is much more distinct in taste. It is also made entirely from whole wheat flour, which is great for your dietary needs.
When freshly baked, it can be eaten on its own because it is so tasty. The whole wheat coat brings a very rustic and familiar scent to the bread. It can be served as a side dish to almost anything or simply great as a vessel to stuff other dishes in as well.
You may have heard of this dish once or twice before. It is a blend of mashed chickpeas, tahini, lemon juice, garlic, and other seasonings. For the most part, it is used as a dip or spread to bread, sandwiches, and even as a sauce to some pasta.
Hummus is so well-loved because of its lusciously creamy and light texture, which pairs wonderfully with the nutty and tangy taste of the chickpeas. Whatever meal you decide to eat it with, you really can't go wrong with this sensational dish.
In fact, I'd go so far as saying that once you get a taste of this dish, you'll start to wonder whether hummus can last forever. That's how delicious the recipe is. Its flavors are just so captivating that you'll wish it could last forever.
Here is a vegan and healthy side dish for you to try out. Molokhia is a soup made mainly from the leaves of the molokhia plant and seasoned with lemon juice, garlic as well as coriander. If you wish to make this at home, try finding the plant in Middle Eastern or Asian food stores.
At first glance, this soup might be a bit unappetizing because of its slimy texture. However, I can assure you it tastes a whole lot better than it looks. The best way to eat this is with some bread, rice, or roasted veggie, and if you are not vegetarian, some chicken would be great.
I guess you could call this the healthier version of Ful Medames. It is a soup made mainly of puréed broad beans and seasoned with garlic, olive oil, cumin, red pepper, lemon juice, and salt. If you are looking for a way to bring protein and vitamins into your meal, try this soup.
The best way I can think of to describe the taste of this soup is homey and comforting. It is the ideal side dish to enjoy on cold nights or share with family during gatherings. You can have it as a dip for bread or even as a sauce for grilled meat.
Looking for new ways to eat salad? If so, give this Egyptian yogurt and cucumber dip a try. I know it may sound bland at first, but you will be surprised by how refreshing and tasteful it is.
With only a few ingredients and some spicy seasonings, you can have the perfect sauce to accompany all your dishes, from grilled meat, sandwich to roasted vegetables. This is also great on its own as a delectable summer appetizer.
7 Egyptian Desserts Recipes To Make Your Meals Better
Egyptian dessert is incredibly diverse, with so many different variants for you to try, from pudding to multiple types of pastries. Anything that you normally like, you can probably find an Egyptian version that is just as good, if not better.
This mouth-watering dessert is a must-try when it comes to Egyptian cuisine. It is made of shredded phyllo pastry and filled with layers of cheese, cream, or nuts. Everything is then grilled together to create a fluffy and pudding-like filling.
I can't honestly decide what the best part about this exquisite dessert is, the addictingly luscious creamy insides or the crunchy, slightly tart exterior that captures your attention instantly. Trust me when I say this isn't something you want to miss out on.
A step-by-step guide on making Knafeh, a simple but delicious dessert.
Looking for a toasty dessert to share with your loved ones this holiday season? Why not give this show-stopping dish a try? Much like a few other dishes on this list, it is also made of layers of phyllo dough, but this time with a cinnamon walnut filling and drenched in honey syrup.
Baklava is a dish with multiple variations across many regions. For example, it's a famous dessert in Armenia, where the locals prefer to call it Paklava. You can also find it in Greece, Turkey, Iran, and many more countries.
This dessert is insanely sweet and rich, thanks to the honey-soaked top. Combined with the crunchy phyllo exterior and heart-warming insides, it gives you all the incredible tastes you could possibly crave in a dessert.
If you are impressed by its peculiar name, wait until you taste this incredible dessert. Om Ali is a traditional bread pudding made of puff pastry, soaked in milk and mixed with nuts, raisins, sugar, and coconut flakes.
Simple as it may sound, there's a reason Om Ali is considered a national dessert of Egypt. It can take you on a rollercoaster of flavors once you try it. It gives you a marvelous combination of sweet caramel, buttery-rich pudding, and delightfully crunchy nuts.
You can find this healthy dessert everywhere when you come to Egypt. It is one of their most classic comfort foods. Exactly as the name suggests, it is just sweet potatoes cut in half, baked in the oven, and sprinkled with some seasonings.
If you ever want to whip up something quick but also healthy and irresistible, this dish is the perfect choice. It is as simple as can be, but you can always jazz it up a little with some extra toppings or combine it with other recipes.
While it may be relatively unknown to the rest of the world, this dessert is very popular in Egypt and the Middle East. Mahalabiya is a sweet milk pudding that is usually flavored with rosewater and garnished with some toasted nuts.
In just under 20 minutes and with a few simple ingredients, you can easily make this lovely Egyptian pudding to wrap up your meal. Not only that, with its beautiful creamy exterior and soft colors, there's no doubt it will bring some elegance to your meal.
A lip-smacking delicacy no one can dislike, basbousa is a decadent dessert treasured throughout the Middle East. This sweet cake is made from semolina, a type of flour, and soaked in rose syrup. Once fully baked, it's then topped with coconut flakes, almonds, or other nuts.
This sweet cake is anything if not heavenly. The earthy aroma from the semolina combined with the sticky syrup will overload you with sweetness in the best way possible. Add some yogurt or cream cheese to give some extra moisture if you think it's too dry.
This may sound strange but if you like your cookies crumbly and soft, give these babies a go. The best thing about them is their buttery texture and how they immediately melt in your mouth the moment you eat them.
As you can imagine, they also taste very rich and creamy, thanks to melted ghee being the main ingredient. Other things include powdered sugar, flour, and some almonds. That's it. That's everything you need to make this delightful and unforgettable treat.
Try Some New Dishes Today!
Take yourself on a culinary journey and try these amazing Egyptian dishes. Don't let the strange ingredients or unfamiliar cooking methods scare you. Who knows, you just might discover something you really like.
Are you familiar with Egyptian cuisine? What dish from this list captured your attention? If you have tried making some of these recipes, please let me know how everything turned out. See you soon!
Nutrition Facts
4 servings per container
---
Amount Per ServingCalories377
% Daily Value *
Total Fat 5.7g

9

%
Sodium 742mg

31

%
Potassium 554mg

16

%
Total Carbohydrate 64.9g

22

%

Dietary Fiber 12.1g

49

%
Sugars 7.6g

Protein 18.8g

38

%
---
* The % Daily Value tells you how much a nutrient in a serving of food contributes to a daily diet. 2,000 calories a day is used for general nutrition advice.