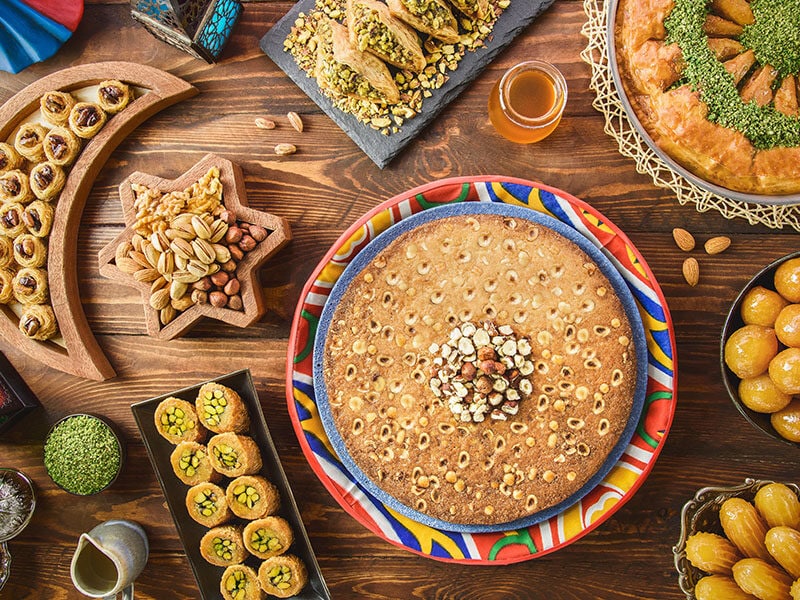 These best Middle Eastern desserts will breathe new life into your mealtime with their exotic and exciting flavors and textures. If you've grown bored with the treats you usually have on a daily basis, this is a good opportunity to explore new territories.
Once you start learning more about Middle Eastern exotic dishes, you'll notice that they are as diverse, enticing, and scrumptious as other desserts you're familiar with. There's no need to worry that these won't suit your taste, as Middle Eastern desserts are for everyone.
So, what are you waiting for? Let's start discovering the best Middle Eastern desserts you can make at home right now.
Top 20+ Middle Eastern Desserts To Try In 2023
These best Middle Eastern desserts will surely earn you a fine reputation among your friends and family. Why? Because the 20+ recipes listed below are not only enticing and delicious, but they're also easy to make.
Cakes And Pies
Atayef (Middle Eastern Pancakes)
Kanafeh (Middle Eastern Cheesecake)
Basbousa (Semolina Cake)
Mesh Om Ali (Phyllo Milk Pie)
Puddings
Zabadee El Mishmish (Egyptian Apricot Pudding)
Aish El Saraya (Lebanese Bread Pudding)
Sahlab (Middle Easter Milk Pudding)
Middle Eastern Rice Pudding
Pastries
Baklava
Kataifi (Almond And Walnut Pastry)
Balah El Sham (Egyptian Choux Pastry)
Answer El Sit (Chocolate Baklava Bracelets)
Halawet El Jibn (Sweet Cheese Rolls)
Shaabiyat (Sweet Pastry)
Maamoul (Date Filled Cookies)
Ghraybeh (Middle Eastern Butter Cookies)
Kahk Cookies
Chickpea Cookies (Nan-e nokhodchi)
Halva
Creamy Desserts And Candy
Stuffed Dates
Bastani (Persian Ice Cream)
Turkish Delight
Best 20+ Middle Eastern Desserts You Can Make In 2023
Luscious and mouth-watering, the best Middle Eastern desserts listed below will help you bring more delicious and exotic dishes to the family's table. With more than 20 recipes for you to try your hand at, you can make dessert time more exciting than ever.
4 Delicious Cakes And Pies As Middle Eastern Desserts
To start off my list of the best Middle Eastern desserts, allow me to introduce you to the most delicious cakes and pies this cuisine has to offer.
Also referred to as Qatayef or Katayef, Atayef are essentially a sweet treat from Lebanon filled with ricotta cream and pistachios. A unique thing about Atayef is that they're only fried on one side.
The uncooked side will have a velvety surface, and it can stick together if you pinch it slightly.
Because Atayef is a widely popular dish, there are quite a few variations to it. However, the principle and key ingredients behind these varieties remain more or less the same. When served, Atayef can be drizzled with rosewater syrup or orange blossom water.
Kanafeh is the Middle Eastern equivalent of cheesecake; it's an enticing and robust dessert. This iconic Iraqi dish is made from a distinctive type of dough – shredded phyllo dough and filled with creamy cheese. This Middle Eastern dessert is soft, fluffy, slightly sweet, and somewhat tart.
When served, kanafeh can be flavored with rose water, sweet syrup, or orange blossom water. Because the shredded phyllo is very absorbent, kanafeh can instantly soak up anything you drizzle on it.
This famous Middle Eastern dessert is also known as Harissa or Namoura. Outside the Middle East, it's a beloved sweet treat in Libya as well as other North African countries.
Whatever name you use to call it, the fact remains the same; this semolina cake is a delicious dessert that you can't miss. It's dense, moist, and incredibly flavorful – a perfect treat for a sweet tooth.
One thing I like about Basbousa is that I can basically throw all the ingredients into one bowl and mix everything together. There are no complicated, elaborate steps to go through to prepare Basbousa, and I can get everything done in less than 15 minutes.
Made from phyllo dough, mesh om ali is slated with whipping cream and condensed milk. This fantastic Middle Eastern dessert is crunchy on the surface with a creamy, milky, and rich inside. Serve this with a scoop of ice cream or a splash of maple syrup, and you'll have a divine treat.
The best thing about mesh om ali is that they're ridiculously easy to make. Even if you're not experienced with baking, you'll find that virtually all recipes for mesh om ali are completely foolproof. This means that there's no need to worry that you'll mess up this heavenly dessert.
This is an easy and fool-proof way to prepare phyllo milk pie. Watch this video to know more:
4 Middle Eastern Desserts That Are Puddings
These Middle Eastern desserts are not your typical puddings. Sweet, creamy, and decadent, these puddings will sate your inner sweet tooth.
Whenever I introduce Zabadee el Mishmish to my friends and family, I always butcher the name. Fortunately, they're all too busy gorging on the dessert to pay attention to my poor pronunciation. I'm not exaggerating; this dish is that delicious.
Coming from Egypt, Zabadee el Mishmish features yogurt, cottage cheese, and apricots. If you're a sweet tooth, you can drizzle some honey on the pudding. Zabadee el Mishmish tastes best when it's refrigerated.
Aish El Saraya is one of my top favorite Middle Eastern desserts; it's a scrumptious bread pudding that I can't seem to get enough of. Aish El Saraya may look like a sophisticated and extravagant dish, but it's surprisingly easy to put together.
So basically, you'll need to prepare toasted white bread as the base. Next, layer it with a generous amount of Ashta cream (Arabic-styled clotted cream). Add some pistachios and rosebuds on the top, and you're done. If you want to sweeten it further, serve it with syrup.
Sahlab is a sweet, creamy dessert that can warm you up when cold winter comes. If you're growing tired of hot chocolate, you can opt for this delicious drink to keep you warm. Like hot chocolate, sahlab is very easy to make.
You can start making sahlab right now by heating a mixture of cream, milk, sugar, and sahlab powder, which will turn your milk into a thick pudding. Rosewater is then added to give the drink a nice fragrance and a rich, complex flavor.
This video will help you prepare a delicious cup of sahlab for cold winter nights.
There's something irresistible about the combination of pudding and creamy rice, and Middle Eastern rice pudding is the perfect example of this. Once you've tried this fantastic dessert, there's a high chance that you'll come back for more.
One way I like to prepare my rice pudding is to half cook the rice in freshwater first. Then, I'll add the milk mixture (milk, cinnamon sticks, and vanilla extract) to finish cooking the rice. Of course, this is not the sole way to prepare this dessert; it's simply my favorite way.
6 Tasty Pastries To Serve As Middle Eastern Desserts
Pastries are a popular treat in Middle Eastern desserts. Slated with cream, butter, or sweet syrup, these crispy pastries will please even the most dainty appetite.
I've never seen anyone complain about baklava when I serve this Middle Eastern dessert to them. After all, what's not to love about baklava? Several crispy phyllo pastry layers slathered with honey, butter, and nuts – baklava is the embodiment of a dessert no one can hate.
Baklava is familiar in many countries. Indeed, it is not too hard to find this food in Albania, Morocco, Egypt, Greece, and more.
Crisp, tender, and flaky, baklava isn't overly sweet. The sweet honey lemon syrup used to serve with baklava will also give this Middle Eastern a mellow lemony flavor to compliment the cinnamon and offset the sweetness.
When it comes to popularity, kataifi rivals even the widely beloved baklava. It might not be instantly obvious why such a simple-looking dish can be so popular, but you'll surely understand it as soon as you try out kataifi.
Explicitly speaking, kataifi is a pastry made with kataifi dough, which resembles angel hair pasta, and walnut stuffing. Kataifi can be scented with cinnamon, ground clove, and butter. For a sweet finish, don't forget to pour sweet syrup onto the kataifi.
Making kataifi can't get any easier than this with this video.
If I have to make a comparison for balah el sham, I'd say that this Middle Eastern dessert is more or less like churros. They're deliciously crunchy on the outside while incredibly fluffy and soft on the inside.
Looking at balah el sham, you can see that there's a shiny glaze to this dessert. This is because this decadent sweet is doused in vanilla sugar syrup. So don't be surprised at how irresistibly sweet and delicious balah el sham tastes.
Asawer el sit is referred to as "chocolate baklava bracelets," and in my opinion, any dessert with the word "chocolate" in its name is a delicious one. Taste tests of asawer el sit prove that this Middle Eastern dessert does not disappoint – it's truly a dessert that all can love.
Asawer el sits features thin, crispy phyllo dough. When preparing the dessert, you'll need to roll and fold the pastry into a ring shape. Then, the folded phyllo dough is brushed with melted ghee and baked until crispy.
Because asawer el sit is supposed to be a sweet, crunchy treat, the baked phyllo bracelets required to be brushed with another layer of sweet syrup. Then comes my favorite part, placing chocolate and pistachios in the middle of the bracelets. Yum!
In English, halawet el jibn can be referred to as "sweet cheese rolls." As the name implies, halawet el jibn is a cheese-based dessert The dough used for this dessert is made from semolina and mozzarella cheese, while the filling is a rich cream.
If I have to describe halawet el jibn in only a few words, I'd call them "fluffy, creamy with a melt-in-your-mouth feel." I'm not kidding; this Middle Eastern dessert can literally dissolve in your mouth, leaving a luscious and creamy smoothness aftertaste behind.
Proceed with caution; shaabiyat will set the bars so high for desserts that it might be impossible for you to enjoy anything else. After all, what's not to love about a dessert with several crunchy outer layers and an oozing, creamy filling?
Shaabiyat strikes a delicate balance between sweet and not-too-sweet. As a result, this luscious Middle Eastern dessert is perfect for both sweet-tooths and those who aren't fond of sweets. Be sure to make a large batch of shaabiyat, especially if you don't want everyone to fight over it.
Among the various Middle Eastern desserts, you'll be able to find crumbly cookies with such an enticing taste that will keep you coming back for more.
Who needs a date when you can have these scrumptious date-filled cookies all for yourself? With a tender inside and a crunchy exterior, maamoul cookies will please even the most discerning palates.
Maamoul cookies are the perfect companions for tea or coffee time. Their scrumptious, butter taste will give your drink a punchy flavor explosion. As they can last up to 3 weeks in an airtight container, maamoul cookies should always be made in bulk.
It's impossible to stop after eating just one buttery Ghraybeh cookie. I'm not joking; these crispy, delicate, melt-in-your-mouth cookies are super addicting. Ghraybeh is an especially famous dessert in Syria, Egypt, and Lebanon.
Considering that Ghraybeh cookies require only a few simple ingredients, I can't believe that they're so irresistibly delicious.
While Ghraybeh cookies might not require complex or extravagant ingredients, they need to be made with care. Don't overmix the dough, or it will result in hard cookies
In this case, you may need some quick ways to make your rock-hard cookies soft again. You also should refrain from moving them when they're hot as they're likely to break.
Due to its delicate texture, buttery luscious flavor, and fabulous crumbs, this dessert is an Egypt favorite that melts in your mouth. As these cookies are usually served during the holiday season, they're always topped with a large amount of powdered sugar.
The fillings for kahk cookies can vary, depending on the region and personal preferences. If you're a simple person, you can even make kahk cookies with no filling.
It's slightly frustrating to see so many people stay off this dish just because they hear that chickpea flour is the main ingredient for this. The dessert might be made from chickpea flour, but it doesn't taste any remotely like chickpea.
Chickpea cookies are soft, fluffy, and buttery. They have a sweet, pleasant flavor that can fool unsuspecting souls that the cookies are made with regular flour. Vegan and gluten-free, chickpea cookies are ideal for those on a low-fat diet.
Flavor up your chickpea cookies with chocolate chips like in this video.
You might hear some people call halva "hallaw." In either case, you should be thinking of a sweet, crumbly dessert made with honey, tahini, and pistachios. Some people might even add heavy cream and powdered milk to halva to achieve a sweeter, more complex taste.
Halva is not only a tasty treat in Middle Eastern countries, their popularity in the amazing Somali cuisine is also huge. Or you can find Halva in Azerbaijan, Egypt, Uzbekistan, and more.
When making halva, it's important to keep in mind that overmixing the ingredients can result in a grainy, bitty dessert. Once you succeed in making pistachio halva, you can move on to other halva flavors such as chocolate hazelnut, pecan cinnamon, or peanut butter. They're all tasty.
3 Creamy Middle Esastern Desserts Or Candies
If you want a Middle Eastern dessert loaded with decadent cream, this is the perfect place for you. As a bonus, I also include a delightful Middle Eastern candy that can be served along these desserts.
There are so many ways to prepare stuffed dates that I fear it will take forever to list them all out. However, it's safe to say that the key idea behind the treat remains the same: you'll need to slice the dates open and stuff them with fillings of your choice.
Alright, so stuffed dates sound simple enough, right? Wrong! Even though stuffed dates can go with many ingredients, not any ingredients can go with stuffed dates. Also, I suspect that it can take you forever to settle on the fillings you want to opt for.
To help you out, I'd suggest a common filling for stuffed dates: cream cheese and nuts. I've found that nut butter works well as a filling for this Middle Eastern dessert too. Another fantastic filling for stuffed dates is creamy coconut manna.
If you think that the Middle East doesn't have their signature ice cream, it's time to reconsider your opinion. You can't talk about Middle Eastern desserts without mentioning this famous rosewater ice cream.
Characterized by its golden yellow color, bastani ice cream boasts a thick, creamy texture flavored with saffron and rosewater. This cold dessert is usually topped with pistachios, which give a crunchy feel and a nutty flavor to the dish.
The first thing I always hear about this Turkish sweet treat is how beautiful and captivating it looks. The next thing I'd hear is how delicious they are. I've seen people who can't stop gushing about this gorgeous, chewy, and luscious treat.
The most common flavor you'll find in these soft, gel-like treats is rose water, which gives the treat a subtle, delicate, and unique floral flavor. Some other varieties of this signature Turkish food include bergamot orange, mastic, or lemon.
Best Middle Eastern Desserts Make The Best Dessert Time
Trust me when I say that Middle Eastern desserts are too delicious to pass up on them. Whenever I make these scrumptious desserts, I always feel like I'm bringing something new and refreshing to the table. Suffice to say, all my friends and family love these decadent sweets.
With their deliciousness and simplicity taken into consideration, I feel that there's no reason why you shouldn't start making Middle Eastern desserts right today. Don't let the unfamiliarity or your hesitance stop you. You'll definitely be thankful that you've started.
With all of that being said, I wish you the best of luck in replicating these Middle Eastern desserts. Don't forget to let me know how the desserts turn out!
Nutrition Facts
30 servings per container
---
Amount Per ServingCalories106
% Daily Value *
Total Fat 4.2g

7

%
Cholesterol 1mg

1

%
Sodium 52mg

3

%
Potassium 65mg

2

%
Total Carbohydrate 15.2g

6

%

Dietary Fiber 0.7g

3

%
Sugars 9.3g

Protein 3g

6

%
---
* The % Daily Value tells you how much a nutrient in a serving of food contributes to a daily diet. 2,000 calories a day is used for general nutrition advice.