I am a huge fan of Syrian desserts. Their tastes are always very distinguishing and delectable, perfect for featuring in any meal. Therefore, I want to share with you the most classics so that you can make them on your own.
A fascinating thing about these recipes is that the instructions are pretty simple, and the ingredients are also easy to find. On top of that, you can enjoy the heavenly tasty flavor that is typical of Syrian cuisine. I won't let you wait anymore. Let's get straight into it!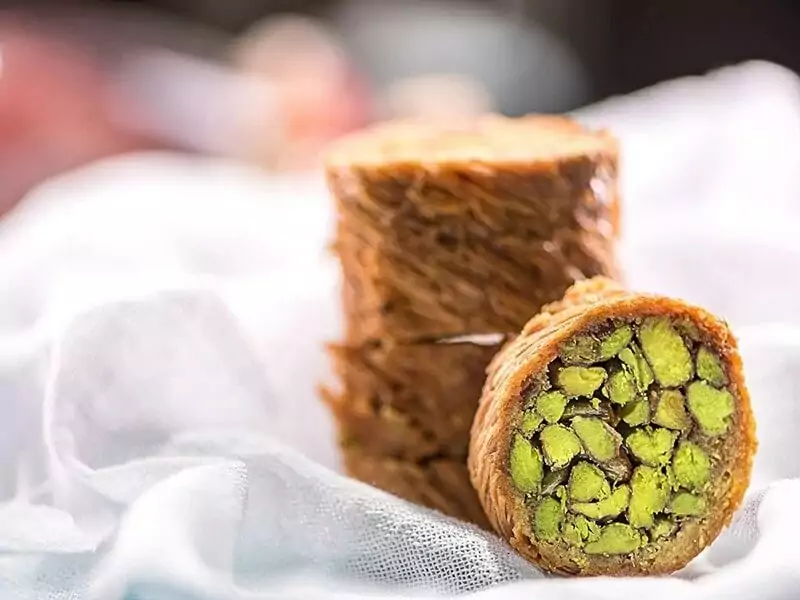 Unique Flavors And Textures Of Syrian Desserts
Syrian desserts delight the senses, transporting you to Middle Eastern flavors and aromas. These irresistible treats boast an exquisite combination of sweet, fragrant, and nutty notes, making them a must-try for anyone with a sweet tooth.
One of the unique aspects of Syrian desserts is their textures. From the delicate, flaky layers of baklava to the tender crumbliness of Maamoul cookies, each dessert offers a truly memorable experience. The ever-popular Knafeh captivates the palate with its contrast of crispy shredded phyllo and creamy rolls.
The flavors of Syrian desserts are equally enchanting. Rich, aromatic spices such as cinnamon, cardamom, and cloves often enhance the taste, while floral essences like rose and orange blossom water lend a subtle, fragrant touch.
The generous use of high-quality nuts like pistachios, almonds, and walnuts provides a delectable crunch and contributes to the desserts' distinct, nutty flavors.
Soft And Creamy Syrian Desserts
If you are craving something that has a creamy texture, these Syrian recipes are what you need. These pudding and ice cream recipes will surely make your day.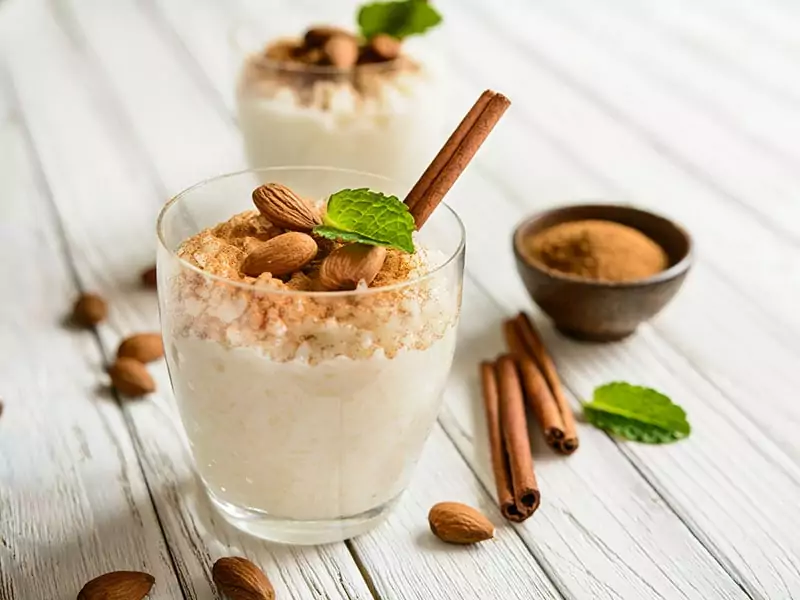 Ruz Bi Haleeb is an Arabic version of rice pudding, celebrated for its delicate flavor and smooth texture. This traditional dessert combines rice and milk, infused with rose water's fragrant essence and mastic's unique flavor. Sometimes, you may replace the rose water with other floral essences to switch up the flavor.
The main star of this yummy pudding dessert is rice with short-grained rice, such as Arborio rice, being the best choice. It is cooked with sugar and milk until a creamy consistency is achieved, then topped with chopped pistachios. Locals often serve it cold or at room temperature.
Mamounia is known for its smooth and velvety texture, reminiscent of porridge in consistency. Each Syrian household prepares Mamounia differently, resulting in varying consistencies. Traditionally served warm, Mamounia is a comforting dish that invites a sense of coziness.
The dessert is often garnished with cheese and nuts, enhancing its visual appeal and adding a contrasting texture and flavor to the dish. Mamounia features prominently in Syrian breakfasts, as well as in weddings and special events, signifying its importance in the region's cultural fabric.
To make Mamounia, you just need semolina powder, ghee, cinnamon, sugar, and nuts. Simply stir semolina powder with ghee, sugar and water until creamy. Then top the mixture with cheese and some nuts.
You will get a delicious dish of Mamounia in no time with this simple guide.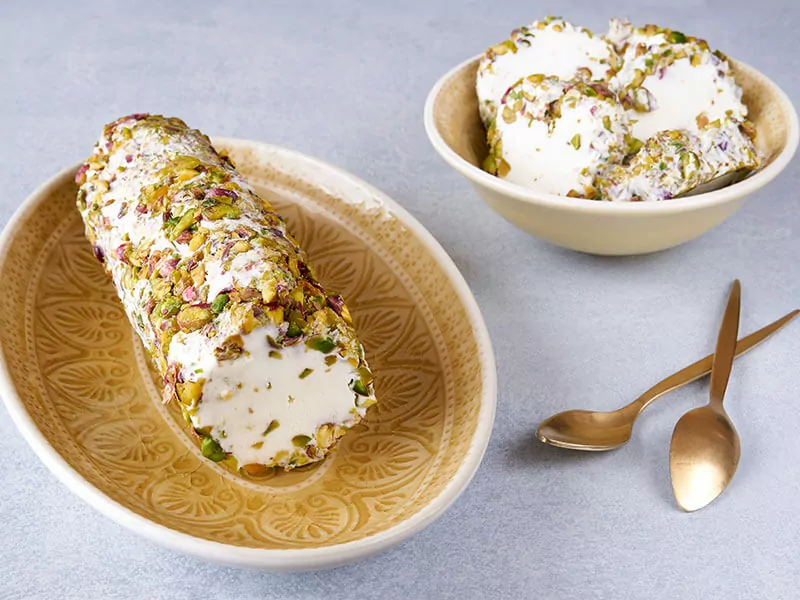 Despite the terrible summer heat, this crazy-delicious ice cream type from Syria will cool you down right away. Éma'a or Booza is an exceptional ice cream originating in a quaint shop in the vibrant Souk Al Hamidiyah in Damascus.
Creating this unique dessert involves locals pounding the ice cream with a mallet, then pulling and stretching the mixture to achieve its distinctive consistency. Adding mastic gum imparts a taffy-like texture to Éma'a, making it a delightful sensory experience.
Two standout ingredients set Éma'a apart from other frozen treats: mastic gum, responsible for its chewy consistency, and sahlab, a Middle Eastern sweetened milk that provides the creamy profile. The final product boasts a pristine snow-white color and may appear somewhat slushy.
When you finish making Éma'a, just place it in the freezer and feel free to keep it for weeks. Once you crave it, just top it with chopped pistachios and enjoy the lovely and refreshing flavor!
Mrabba Al-Yaqtin is a jam recipe from the city of Hama in Syria. This delightful preserve is traditionally enjoyed during breakfast, served alongside bread and cheese, offering a harmonious blend of sweetness.
The star ingredient of Mrabba Al-Yaqtin is pumpkin, which is carefully cut into pieces and cooked in a sugar mixture until they reach the desired texture.
Remarkably, the pumpkin pieces retain their shape after cooking and become transparent, adding a visually appealing element to the jam. Normally, Syrian people will make this jam in Fall and store it to consume for the whole year.
Unlike ordinary jam, Syrian pumpkin jam has a distinctive sweetness provided by pumpkin slides and a crunchy texture that is incredibly yummy.
Such a stunning texture is achieved thanks to pickling lime or slaked lime, which contain Calcium Hydroxide, so make sure that you don't substitute it with anything.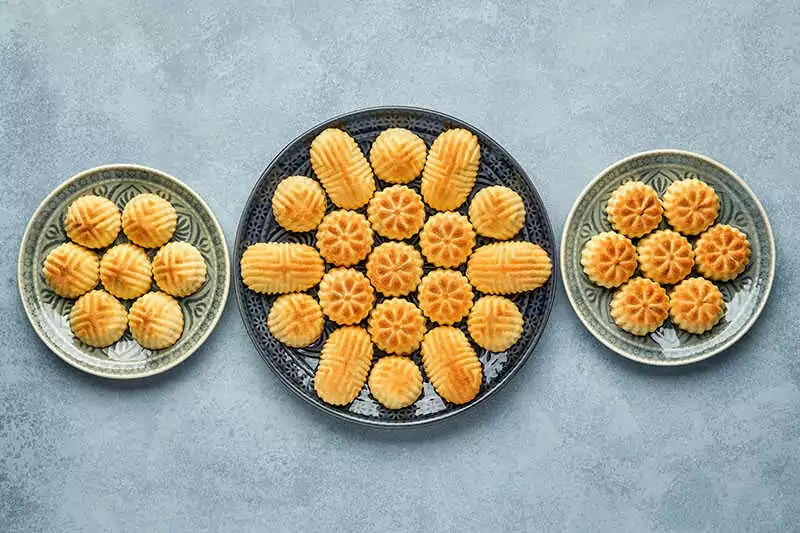 Maamoul are date cookies crafted with semolina flour that boasts a blend of a gentle crunch and a soft filling. You'll find the natural sweetness of dried dates or fruits at the heart of this delectable treat, creating an unforgettable culinary experience.
These scrumptious cookies play a special role in various celebrations, including Easter, Purim (a Jewish holiday), and the days leading up to Eid. You'll often find them served with aromatic Arabic coffee, adding a touch of warmth and comfort.
Maamoul cookies come in various shapes, such as balls, domes, or flattened discs. Although they're available throughout the year, they are particularly cherished after Ramadan.
The texture of Maamoul cookies is truly noteworthy, as it combines a slightly crunchy exterior with soft and luscious fillings. A light dusting of powdered sugar is sprinkled on top to elevate their presentation and taste even further.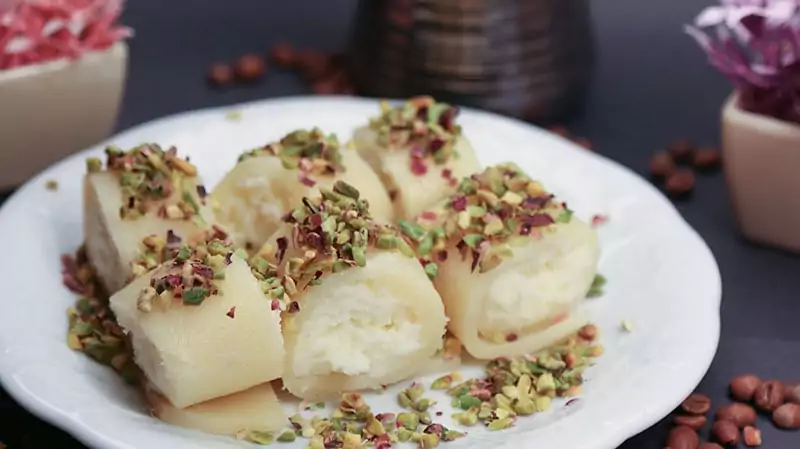 Halawet El-Jebn was a delectable Syrian dessert born from a friendly competition between Homs and Hama, each vying to create the most exquisite creamy treat. Today, both cities are celebrated for their exceptional Halawet El-Jebn. Furthermore, Syrian immigrants have helped to spread their popularity throughout the Middle East.
This delightful dessert comprises a layer of sweet cheese rolled around a delicate semolina dough, creating a perfect harmony of flavors and textures. It is typically garnished with toppings such as pistachios, rose petal jam, or grated coconut to further elevate the dish.
During the summer, a refreshing variation of Halawet El-Jebn is often served alongside Arabic ice cream, offering a cool and indulgent respite from the heat.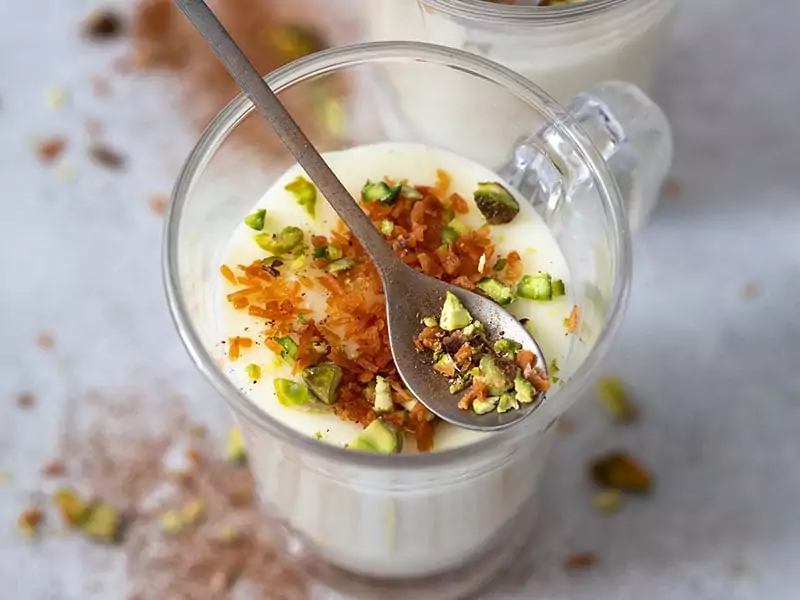 Al Sahlab (Salep or ßalaip) is a cherished beverage or dessert with Arabic origins. The drink's name is derived from the word "salab," which refers to a particular type of orchid.
Typically, the traditional recipe calls for orchid root flour or tuber, although contemporary versions are often prepared using whole milk combined with cornstarch and a small amount of orchid flour.
Due to the over-harvesting process of obtaining authentic orchid flour, which requires between 1,000 to 4,000 tubers to yield a kilogram, it has become a precious ingredient.
Characterized by its snow-white color and thick consistency, Al Sahlab is enjoyed as a beverage or dessert. It is especially popular in Levantine cuisine, consumed as a warm, sweet breakfast in the winter.
The luxurious texture and delightful flavor of Al Sahlab make it a comforting and cherished treat, perfect for warding off the chill of cold mornings.
Syrian Dry Sweets
Have you found what Syrian sweets to enjoy at tea time? I highly recommend dry sweets since it is best complemented by tea. Check out these delicate recipes! You will regret it if you don't try them at least once in your life.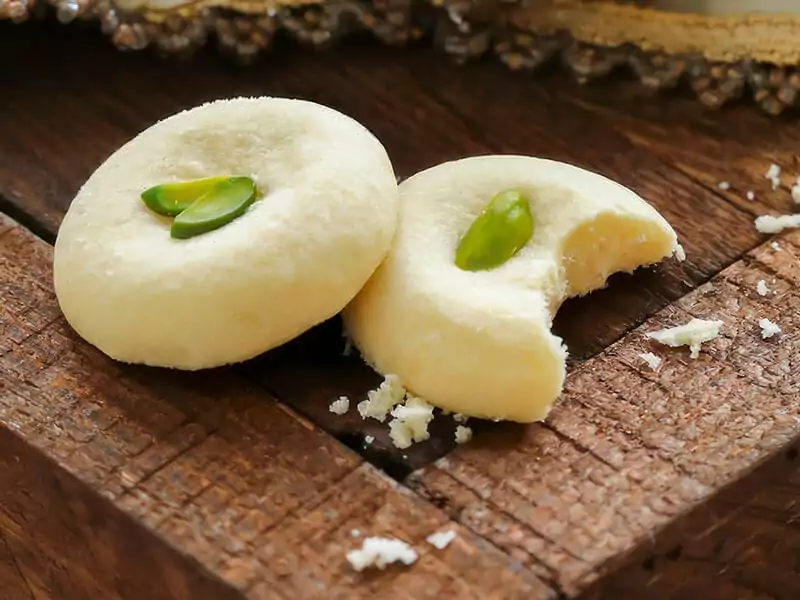 Ghraybeh is a soft and mouth-melting tasty Mediterranean dessert that will please even the pickiest eater. Ghraybeh is a delightful shortbread-style cookie that has become a beloved treat in many Arab and Ottoman cuisines.
With roots dating back to as early as the 10th century, this scrumptious cookie has a long-standing history and has been cherished by generations of dessert lovers.
The simple yet delicious Ghraybeh features a delicate buttery texture that melts in the mouth, perfect for pairing with Qamar El-Din, a refreshing apricot refreshment.
This recipe just requires some basic baking ingredients. You need nothing more than butter, flour, sugar, and some nuts. You can add some rose water and orange blossom to add more aroma.
With this excellent recipe, you only need 3 ingredients to make Ghraybeh.
Mshabak, known as Jalebi in Indian cuisine, is a widely enjoyed dessert that has earned a reputation as a treat for everyone.
Often considered a dessert for the poor, Mshabak is easily accessible and can be found at food stalls and the bustling Al-Midan market in Syria, making it a popular choice for people from all walks of life.
The dessert is characterized by its distinctive spiral shape (or sometimes just a simple dough ball like Zalabia in Egypt), achieved by skillfully pumping the dough through a piping bag and frying it until it reaches the desired crispiness.
After frying, Mshabak is soaked in sugar syrup, which imparts a delightful sweetness that balances the crispy texture.
Interestingly, people from the Levant region are believed to have introduced the art of making this dessert to Egyptian cuisine. The practice showcases the cultural exchange and culinary heritage between these regions.
All you need to do is prepare a creamy mixture of semolina and other baking ingredients, shape it, and deep-fry it. Then make a simple sugar syrup to serve alongside it.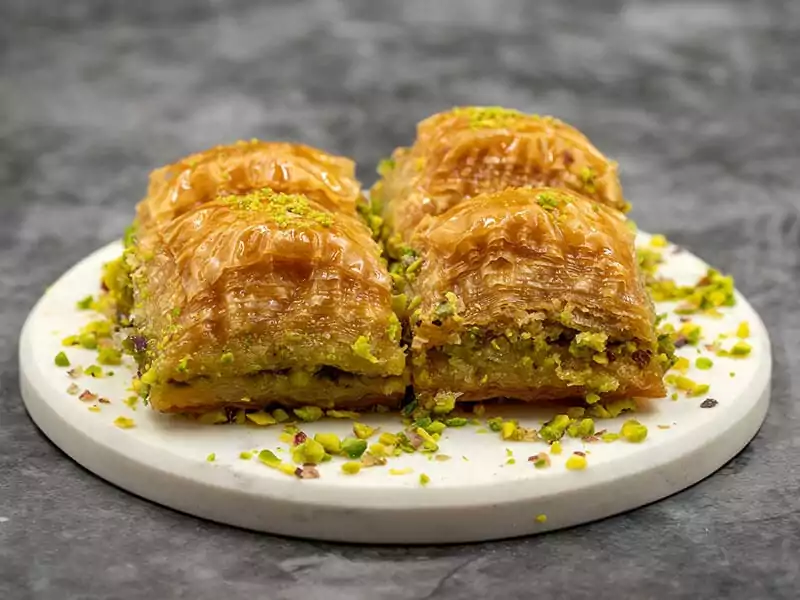 Besides Syria, this layered pastry is also a famous dessert in Libya, Iran, Turkey, and other Arab countries. Baklava, also known as Baklawa, is a deliciously indulgent treat that is believed to have originated in Turkey, although its exact origin remains a topic of debate.
Baklava's defining characteristic is its crispy texture, achieved through thin, flaky pastry layers, typically topped with crunchy caramelized pistachios. The choice of filling can vary, as numerous nut options, such as walnuts and almonds, can also be used for a delightful range of flavors and textures.
Making this famous dessert is quite a challenging task. You will have to fill the phyllo dough with the filling and cover it with syrup. You will get beautiful pastries filled with walnuts and syrup and topped with pistachios.
Baklava may have a complicated look, but making it is easier than you think.
Ekmak is a scrumptious Syrian food from Raqqa in Syria that few can resist. It comes in the form of a boat-shaped pastry filled with fresh and preserved blackberries and topped with honey. The name, Ekmak, can refer to the meaning "sweet bread with cheese" in Assyrian.
Commonly, the dough of Ekmak is rather fluffy on the inside after being baked. The hardest part of the instruction is the shaping stage. Although it looks complicated, it is not difficult at all. This excellent recipe will teach you how to shape it beautifully.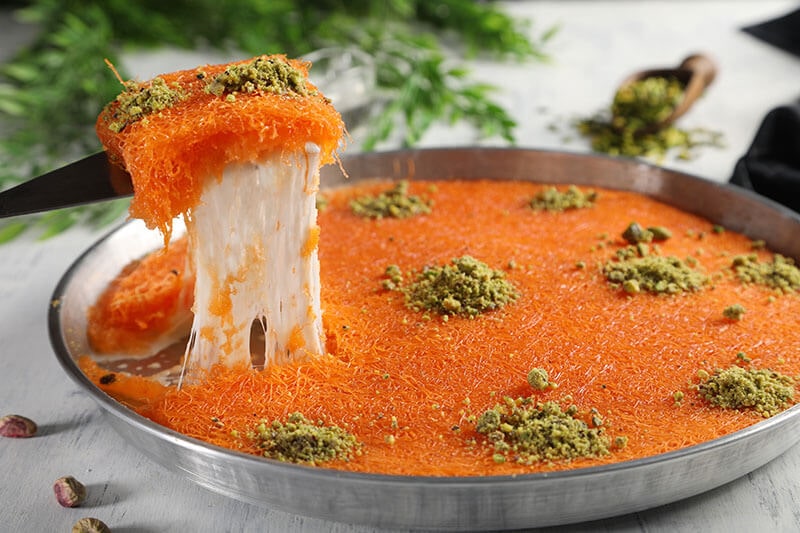 Kunāfah is a very prevalent dessert in many Middle Eastern countries, including Syria. It features cheesy, nutty, and aromatic pastry that is heavenly tasty. Nowadays, it is one of the most common Syrian dinner recipes for family gatherings and special occasions.
Like other Syrian desserts, Kunāfah is accompanied by pistachios and rose water, providing a beautiful aroma and lovely flavor. Commonly, Kanafeh has 2 varieties, one being soft while the other is rough. Interestingly, the only difference lies in the dough's components, usually spun pastry.
The texture of Kunāfah is also amazing. It has a crispy exterior, while the filling in the middle is rich and delicious melting cheese. Mouth-watering!
Why not make the classic Kunāfah following a famous chef's direction?
H'risseh is a delightful semolina cake, similar to what you can find in Namoura, a Lebanese delight involving soaking the treat in sugar syrup.
People make it from semolina flour and top it with walnuts, almonds, pistachios, and cashews. You can serve it with a delicate and aromatic syrup made of rosewater, orange blossom water, and lemon juice.
When you taste H'risseh, every bite is both fluffy and crunchy, sweet and salty. This cake includes all of the essences of Syrian cuisine, especially when paired with a cup of coffee for a traditional Syrian meal.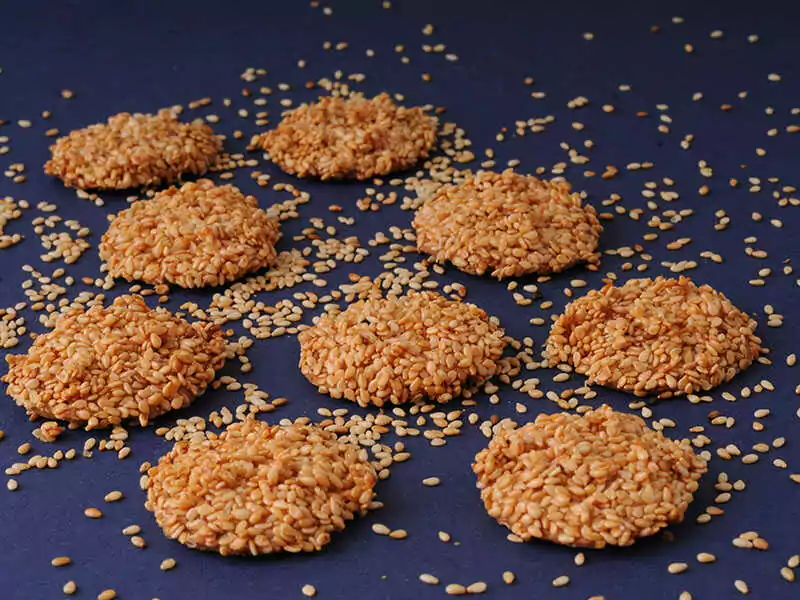 Barazek features crispy dough covered with sesame seeds on one side and pistachio chips on the other. While the outside is crispy, the inside is soft and chewy. The treat is a popular option in Syrian and Palestine alike, originating during Ottoman rule in Syria.
These cookies are just moderately sweet, so even those who don't have a taste for sweet treats will also be addicted to them.
Apart from sesame seeds and pistachios, you just need more basic baking ingredients such as vanilla, flour, salt, and butter. To add some sweetness, you can serve it with honey syrup.
This Barazek recipe is everything you need for a delicious tea-time dessert.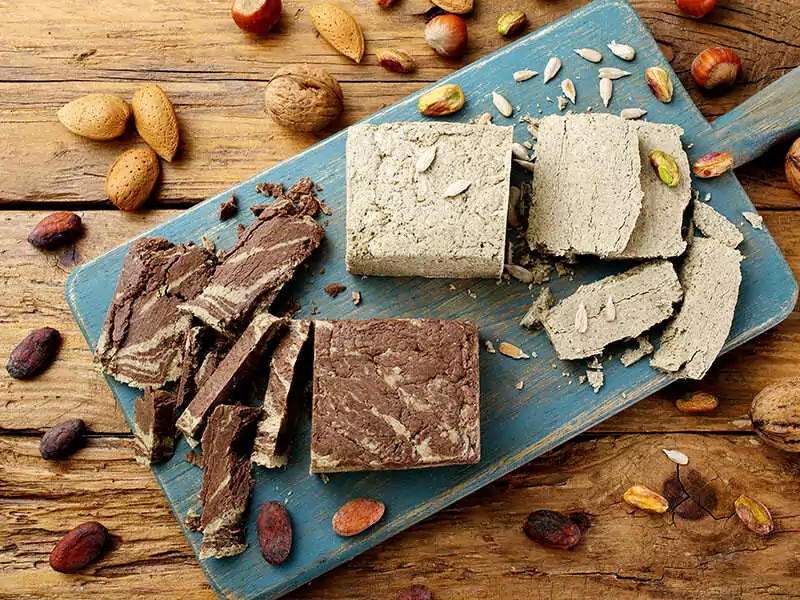 Halva, also known as Halwa, is a delectable dessert that traces its origins back to Persia. Over time, it has gained popularity across the Middle East and India, becoming a beloved treat in various regional cuisines.
The dessert is characterized by its thick paste consistency and is typically served cold, making it an ideal choice for warm climates. Though there are numerous recipes for Halvah, they all share a common theme of sweetness, often achieved through sugar or honey.
Halvah boasts a distinctive bright brown color, adding to its visual appeal. The texture and flavor of Halvah can vary greatly depending on the ingredients used. For instance, if semolina flour is utilized, the resulting Halva will be moist and buttery, whereas sesame-based Halvah tends to be drier and more crumbly.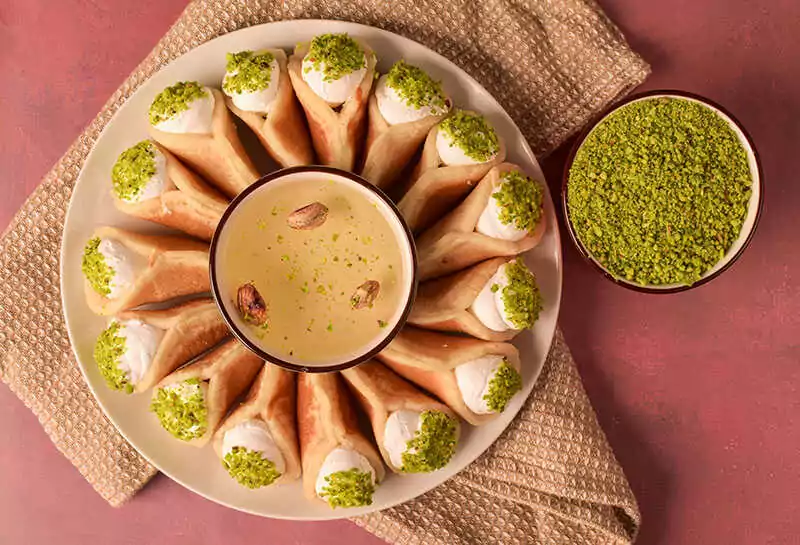 Qatayef, Katayef, or Qata'if, is an Arab dessert that becomes a popular treat during the month of Ramadan. This delicious creation is a sweet dumpling filled with rich cream or a mixture of nuts, providing a delightful contrast of flavors and textures.
The dessert's history is believed to go back to the Fatimid dynasty, which existed between the 10th and 12th centuries. When cooked, the batter has a color and texture similar to pancakes but with a distinctive twist – it is only cooked on one side.
To prepare Qatayef, the cooked batter is first stuffed with the chosen filling. It is then deep-fried to achieve a crispy exterior and served drizzled with sweet honey or syrup. For those who prefer a lighter version, Qatayef can also be folded in half and filled with whipped cream to serve with syrup without frying.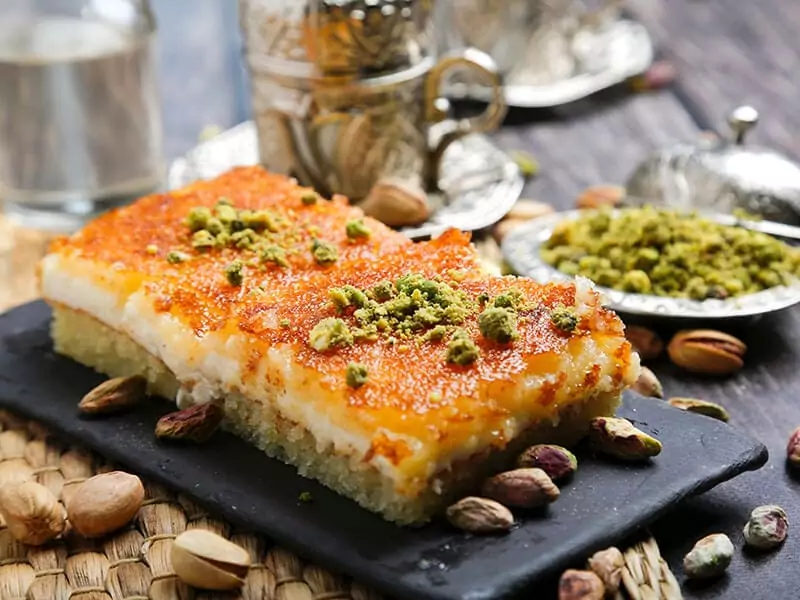 Basbousa is a sweet and syrup-soaked cake that traces its roots back to the Ottoman Empire. Crafted with semolina, this dessert offers a distinctive taste. The batter is meticulously baked in a sheet pan, achieving a light brown hue that is both visually appealing.
Once ready, the Basbousa is typically cut into elegant diamond or square shapes. This mouthwatering treat can be savored warm, allowing the floral or fruit syrup to permeate every morsel, or enjoyed cold for a more harmonious mingling of flavors.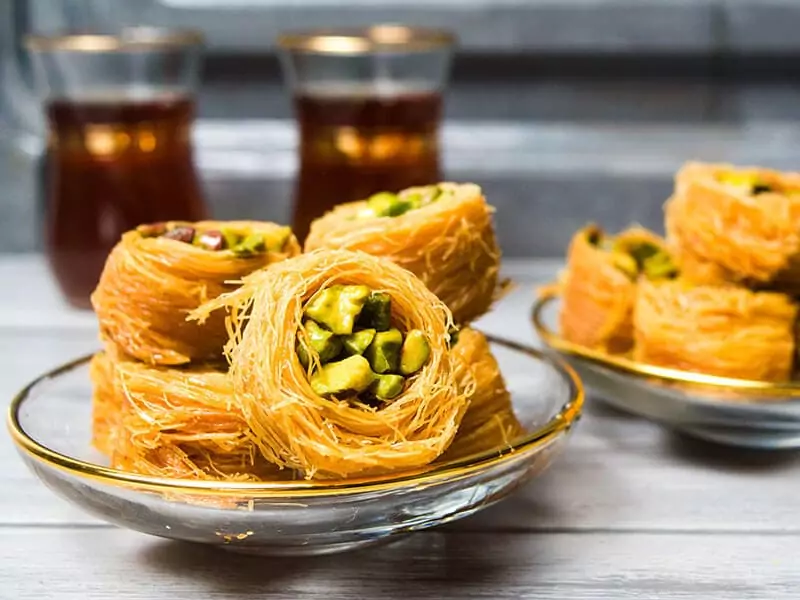 Borma, occasionally pronounced as Burma and called Mabrouma in Syria, is a crunchy dessert made with knafeh dough strings wrapped around an assortment of chopped nuts. Its enticing brown color hints at the rich flavor and sweetness of the sugar syrup.
The nut fillings can vary, including options like pistachios, pine kernels, or cashews. Borma is commonly an integral part of the Baklava arrangement, adding to the overall experience of the delectable dessert platter.
Other Syrian Treats
Here are some Syrian treats you shouldn't miss next time hitting the kitchen. They are simple to make, using simple ingredients to achieve a delectable feel after every meal.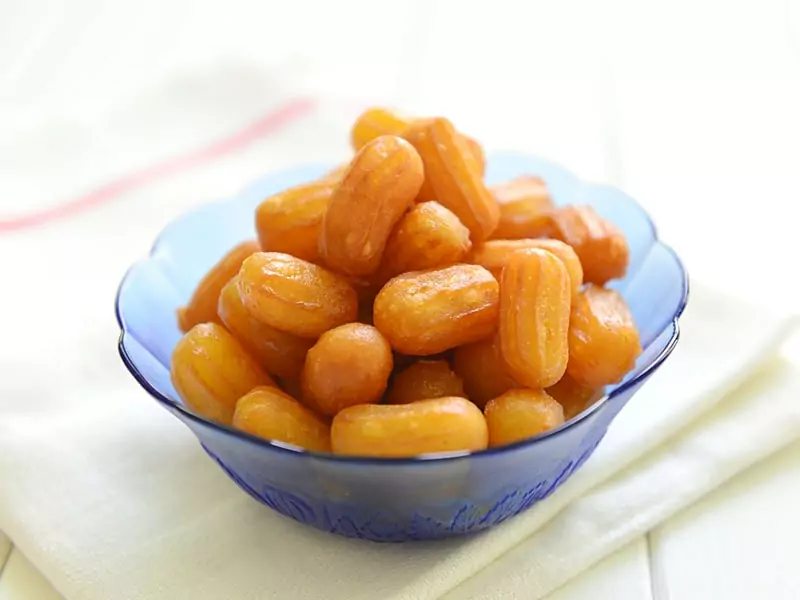 Balah Al-Sham is a captivating and iconic treat from the historic city of Damascus. Its name, Balah, is inspired by its striking resemblance to a date, called "balah" in Arabic.
The delectable treat has earned a special place in the hearts of many, especially during the holy month of Ramadan. Muslims often indulge in Balah Al-Sham after Iftar, a meal consumed after the sun sets, to break their fast.
People usually have these fried fritters cold for a refreshing and satisfying taste. Commonly, Balah Al-Sham consists of basic choux pastry and eggs to create a unique crispy and tender texture.
Locals coat Balah Al-Sham with sweet, aromatic syrup or sprinkle it with crunchy, vibrant green pistachios to elevate its taste and appearance. Some variations of this mouthwatering treat include a velvety cream filling, adding an extra layer of richness and indulgence.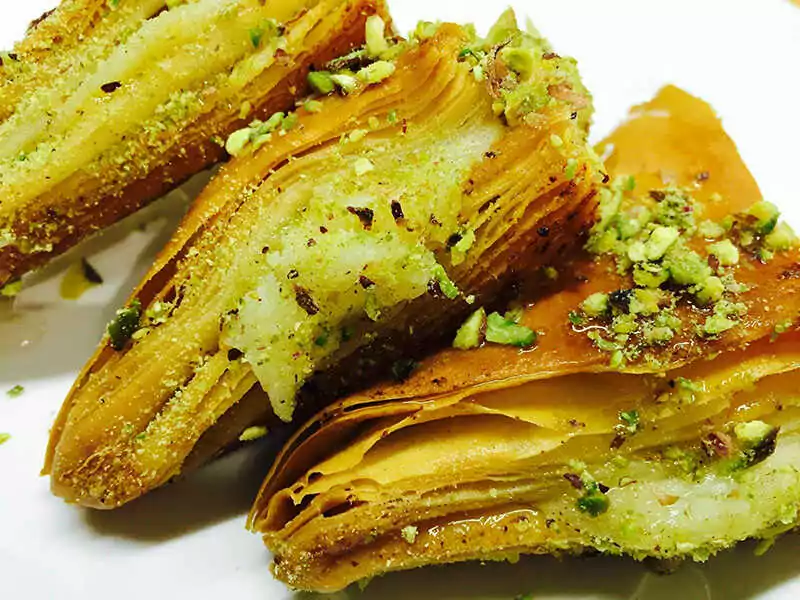 Al-Shuaibiyat is a sweet coming from the cities of Hama and Idlib in Syria, with its popularity extending across the Middle East. The dessert is characterized by a distinctive flaky and crunchy texture, which is achieved by thoroughly soaking the dough in ghee prior to baking.
The shape of Al-Shuaibiyat can be round or vary based on the baking trays. Between the layers of this exquisite dessert, you can find delectable fillings such as crushed walnuts or smooth vanilla cream, offering a delightful contrast to the crisp dough.
Once baked, locals submerge Al-Shuaibiyat in a sweet syrup in a short time to sweeten it up while retaining the crispy texture of the treat.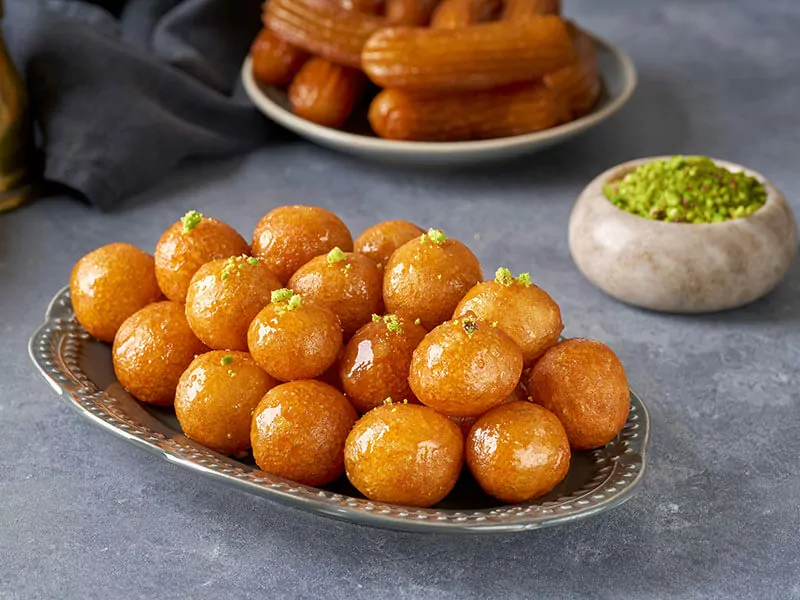 A cherished Middle Eastern dessert, Awameh, alternatively known as Luqaimat, features small, golden fried dough balls. Drenched in sugar syrup or honey and sprinkled with cinnamon, these captivating treats have become popular during the holy month of Ramadan.
The name Awameh, which means "floater," is inspired by the dough balls' tendency to rise to the surface when fried. The treat is a delightful contrast between the fluffy and light interior along with the crispy, crunchy exterior. Usually, it's best to enjoy Awameh immediately after frying and soaking in cold syrup.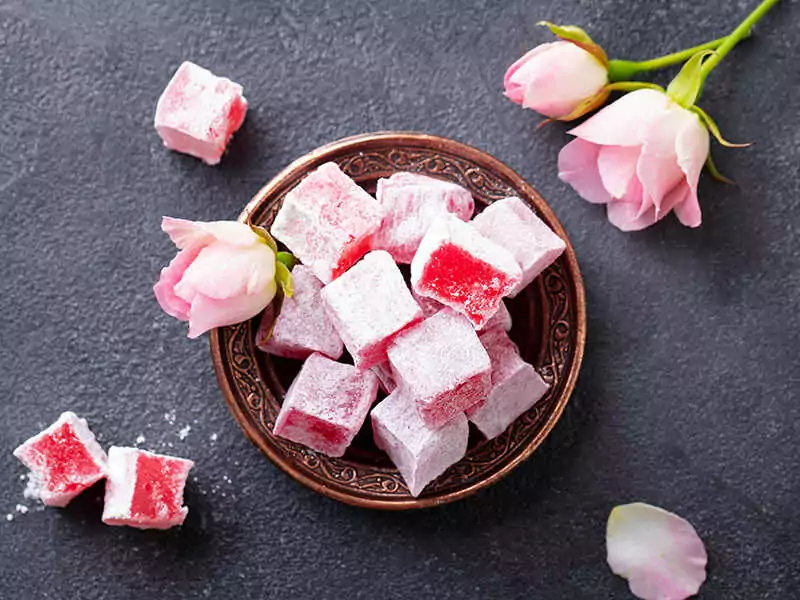 When it comes to candy, Lokum is an exquisite Turkish sweet treat, captivating the hearts and taste buds of countless individuals throughout the Middle East, including Syria. With its rich history from the 18th century, this alluring sweet treat offers a sensational soft and chewy experience.
Served in delicate, bite-sized cubes and generously dusted with a fine layer of icing sugar, Lokum is a truly versatile indulgence. In addition, the gel filling may incorporate a medley of ingredients, such as crunchy walnuts, luscious dates, vibrant pistachios, or earthy hazelnuts.
For a more adventurous taste adventure, mint or cinnamon can be added to the mix, further enchanting your palate. The visual appeal of Lokum is backed up by its mesmerizing colors, making it a more captivating feast for the eyes.
Originating from the bustling neighborhoods of Damascus, Tamari Kaak is a mouthwatering treat usually limited to the Al-Fahama region and Al-Hamidiyah market. Often prepared by street vendors on bicycles, this delicious delicacy is freshly made on the spot.
This cherished treat is usually best for consumption during the winter. Tamari Kaak is built on a base similar to a pancake or Arabic bread, then carefully rolled and filled with a tempting medley of fruits, sesame sauce, or nuts.
The final flourish is a lavish drizzle of date syrup, masterfully balancing the dish's other components. Some variations of Tamari Kaak feature condensed milk or chocolate drizzled on top for a slightly different taste.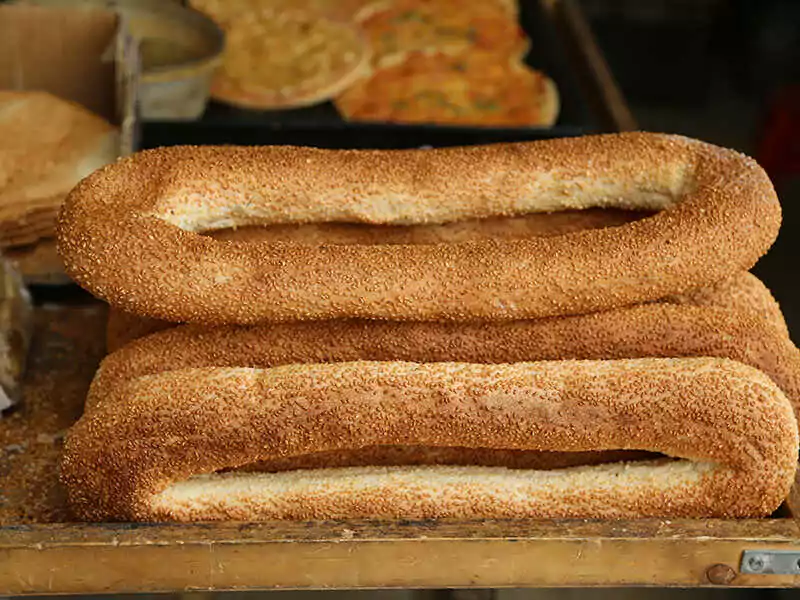 From the Arabic-speaking world, Ka'ak represents a diverse assortment of baked goods enjoyed for centuries. The term "Ka'ak" refers to biscuits and can be traced back to the 13th century, with the Kitab al Wusla il al Habib detailing three distinct recipes.
Characterized by its ring shape and hardened texture, Ka'ak is typically made using semolina flour. The biscuit offers a variety of flavors, catering to different tastes. For dessert lovers, the sweet version of Ka'ak is filled with delicious, succulent dates.
Alternatively, a bread version coated with sesame seeds provides a more savory option. Also, Ka'ak holds cultural significance, often served during special occasions such as Eid al-Fitr and Easter.
FAQs
If you still want to look deeper into Syrian desserts, this section will provide some of the most popular questions. Knowing Syrian desserts will make you a pro in nailing these dessert recipes.
Get Started With These Delectable Syrian Desserts
Have you decided which recipe to make today? If you want a fulfilling sweet breakfast, go straight for Mamounia or rice pudding. Syrian ice cream is perfect for summer. For a mid-day treat, feel free to choose from the rest.
When you finish making the dessert, post a picture of it here to demonstrate your baking skill. I would be very happy to see it. Also, share this article with anyone who is also a fan of Syrian desserts so that they also have some wonderful recipes to make.
Nutrition Facts
6 servings per container
---
Amount Per ServingCalories172
% Daily Value *
Total Fat 3.5g

5

%
Cholesterol 10mg

4

%
Sodium 69mg

3

%
Potassium 103mg

3

%
Total Carbohydrate 30.5g

10

%

Dietary Fiber 0.7g

0

%
Sugars 14g

Protein 5.5g

10

%
---
Calcium

149

%
Iron

1

%
Vitamin D

1

%
* The % Daily Value tells you how much a nutrient in a serving of food contributes to a daily diet. 2,000 calories a day is used for general nutrition advice.