G'day mates, are you ready to satisfy your sweet tooth with delicious traditional Australian desserts? From the iconic Pavlova to the lesser-known golden syrup dumplings, the Land Down Under offers a lot of delights to make your eyes shine and your mouth water.
Overall, desserts from this country are a wonderful mix of the old and new, of Western cooking and indigenous influence. You will instantly fall in love with some dishes, while others are more like an acquired taste. But try them all, and you won't go back to mainstream sweet treats!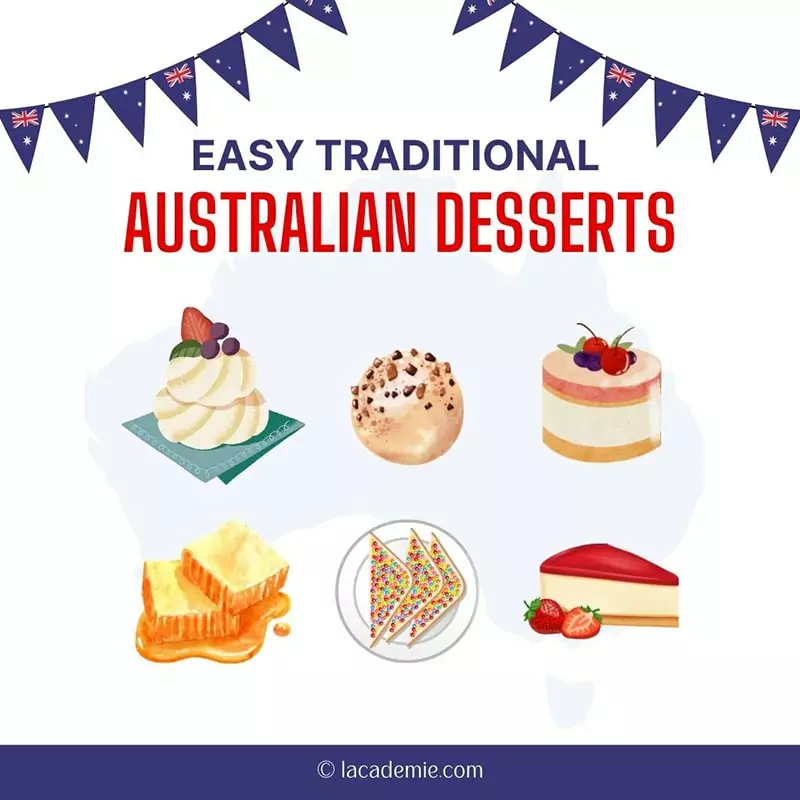 Overview Of Traditional Australian Desserts
Modern-day Australia has a relatively young history, which began in the late 18th century with the arrival of European settlers. But that doesn't stop it from having unforgettable food.
Main Characteristics
European culinary traditions have shaped Australian cooking since the first days. Among them, British cuisine exercised the most considerable influence, filling the continent with such treats as fig rolls and apple crumbles.
American treats, like banana bread and pineapple upside-down cakes, also enriched Australia's dessert repertoire. Over time, Western-style desserts incorporated local ingredients, resulting in a unique fusion of flavors and techniques.
In addition, the input of immigrant communities, especially from Asian countries, also contributed to the Outback's diverse dessert landscape. The large number of regional dessert variations has the same effect, with each region putting its unique spin on classic recipes.
Key ingredients in traditional Australian desserts include dairy products and native fruits and spices. Wattleseeds (edible seeds of Australian acacia trees), finger limes, and quandong (a type of native peach) impart a unique charm to various sweet treats from this country.
These things have been used by Australian Aboriginal peoples and Torres Strait Islander peoples for thousands of years. With the rise of healthy eating, new ingredients, such as natural sweeteners (like honey and agave) and whole-grain flour, now contribute more to Australian desserts.
Interesting Australian Words For Sweet Treats
A good-to-know term to navigate the world of desserts in Down Under is "slice," a large category for any sweet treats in a square shape, like cookie bars or sheet cakes. Another one is "bikkie," a clipped slang for biscuits. "To cost big bikkies" means "to be very expensive" in Australian.
Speaking of which, "biscuits" are the term for what Americans would call "cookies," while a potato cake may go by the name of a "potato scallop" or "potato fritter."
"Lollies" apply to any soft candies, whether they come on a stick or not, and "candies" are for hard sweets. Meanwhile, "sweets" can mean desserts in general. Interestingly, lollipops are still "lollies" in Australia, though "icy poles" may be occasionally used.
Cakes And Slices
While getting inspiration from European classics, the people of Australia (and New Zealand) manage to leave an indelible mark on their cakes, creating unique treats you won't find elsewhere.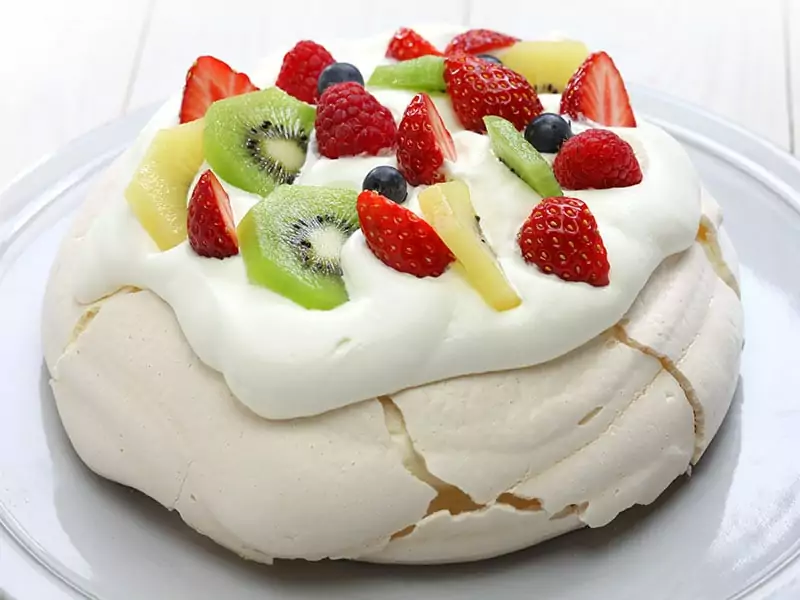 Pavlova is a famous dish in Australia that everyone loves madly. It was created in honor of the famed Russian ballerina Anna Pavlova when she toured Australia and New Zealand in the 1920s.
That practice was no stranger to Australians. A few decades later, the Australian soprano Nellie Melba received the privilege when a French chef invented peach Melba (a dessert featuring peaches in ice cream and raspberry sauce) to show his admiration for her.
While both Oceanic countries claim the dessert as their own, Australia seems to have the upper hand. But this meringue-based dessert may have come from a different country: many people believe a similar Austrian cake called Spanische Windtorte was the inspiration for Pavlova.
Called "Pav" by its many fans, this airy dessert is traditionally served at festive occasions, especially family gatherings and Christmas dinners. Its unique flavor and texture come from the combination of a crispy meringue shell with a soft, marshmallow-like center.
The meringue base is typically topped with a generous layer of whipped cream and fresh fruits such as strawberries, kiwifruits, and passion fruits. The fruits should have a tangy taste to complement the sweet meringue. Meanwhile, the crust can include cocoa powder for a different flavor.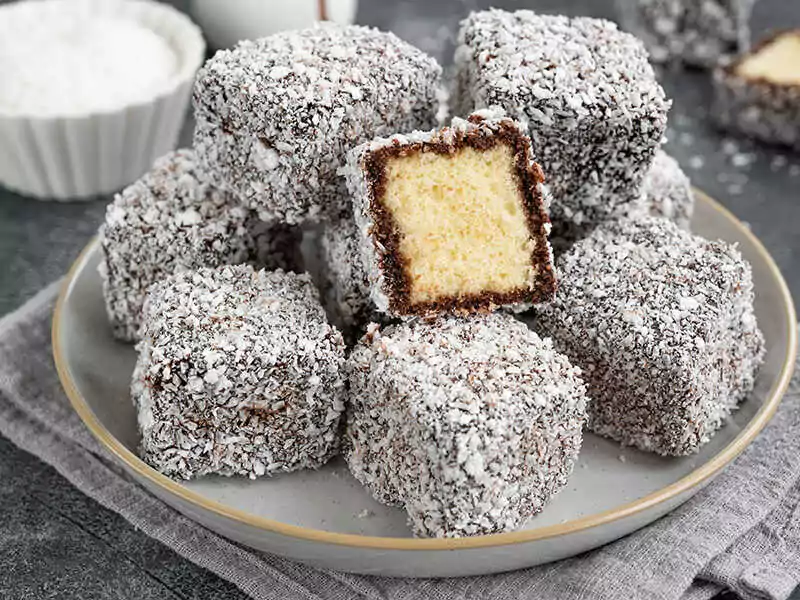 Few European-style desserts include desiccated coconut, but Australian treats are exceptions. The Lamington cake, whose plural forms can be Lamington cakes or Lamingtons, is a symbol of Australian cuisine. It is a square sponge cake dipped in chocolate and covered with desiccated coconut.
Its meteoric rise to stardom was spectacular: the first recipe appeared in 1900, and only a decade later, almost all local baking competitions used Lamington cake as the standard dish. Nowadays, you can find this cake everywhere throughout Australia, like cafes and bakeries.
Nobody knows for sure who created Lamington cake, but it is almost certain that the dessert originated in Queensland. In fact, the cake was probably named after Lord Lamington, the Governor of Queensland around the time of the cake's invention.
While the original recipe doesn't contain jam, putting strawberry or raspberry jam and cream between layers of the cake is a modern twist many Aussies like.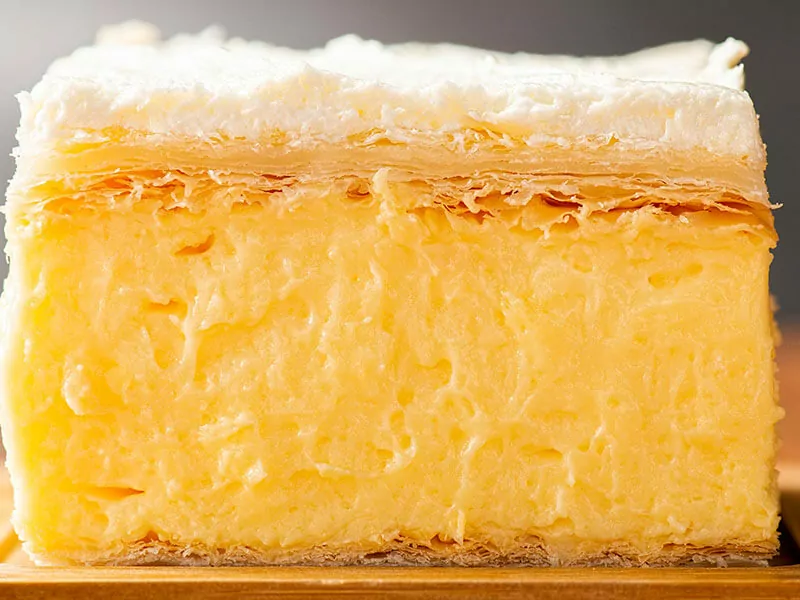 Hailing from the state of Victoria, the vanilla slice is a must-try Australian sweet treat. But if you wish to find a vanilla slice in this country, especially in the rural region, don't use that name; instead, say that you want to buy a "snot block"!
This creation was modeled after the French pastry mille-feuille but underwent major changes in the 20th century. It features buttery puff pastry layers covering a rich, smooth vanilla custard filling (hence the "snot" part in its local name), plus the powdered vanilla icing on top.
Fruit fillings or different types of icing, like chocolate or lemon, are other options to improve a vanilla slice. I personally prefer the latter since it gives the impression of enjoying a luscious lemon meringue pie.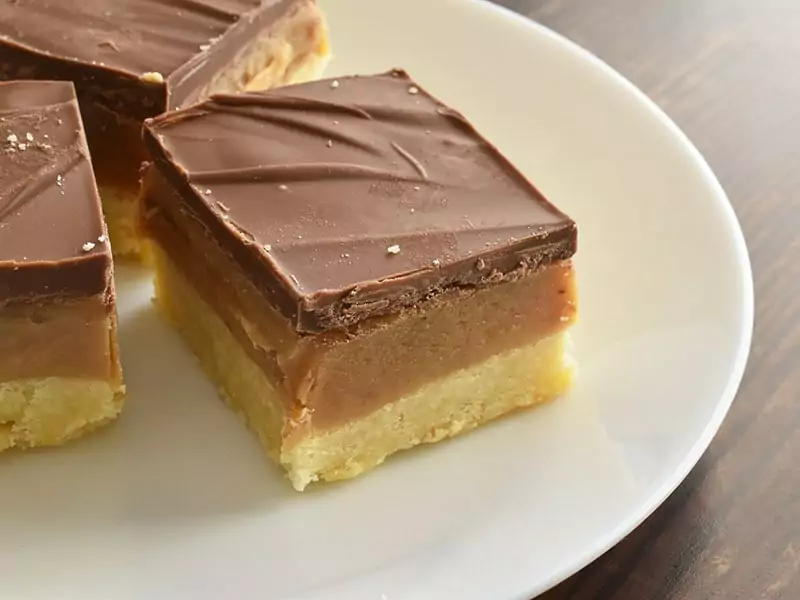 Also known as caramel shortbread or millionaire's shortbread, this multi-layered treat has been an Australian staple in local cafes and bakeries since the 1970s.
Basically, it is a Scottish-style shortbread biscuit topped with two layers of caramel (made with butter and condensed milk) and chocolate of roughly the same width.
Interestingly, the first recipe of the caramel slice, which came out in a 1970 issue of The Australian Women's Weekly, didn't feature the chocolate topping. This ingredient only appeared from the 1980s onward.
A classic caramel slice can get very sweet and high in fat, so modern variations tend to incorporate healthier ingredients, such as oatmeal for the biscuit base, nuts, and dried fruits.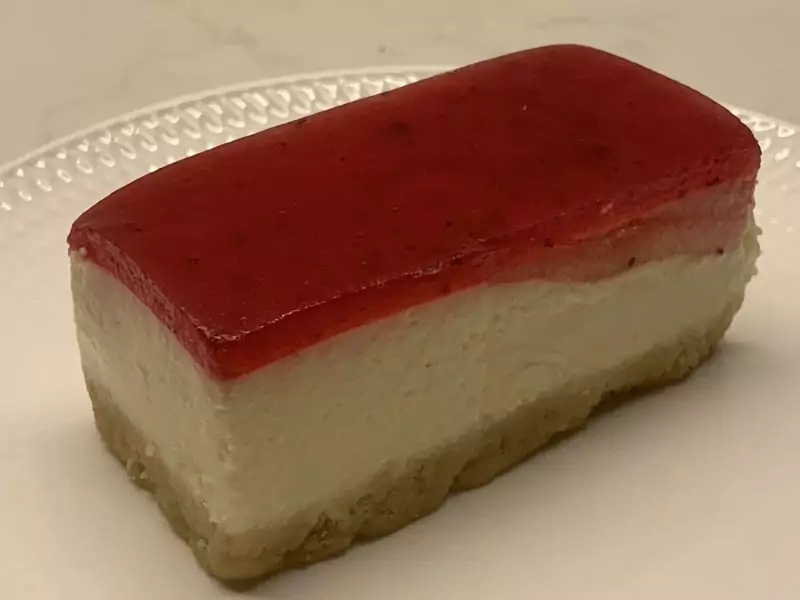 Similar to plum puddings (Christmas puddings), this no-bake delight is a common sight at Australian family meals on Christmas. Easter is also a great time for enjoying a jelly slice.
It features three layers: a crumbly biscuit base, a milky filling (usually derived from condensed milk and gelatin), and a brightly red, wobbly jelly topping. The slice is a wonderful New Zealand dish, too.
Crushed biscuits of Arnott's and products from the Australian jelly brand Aeroplane Jelly are usually employed to prepare the first and third layers, respectively. You can substitute them with normal cookies and strawberry jelly for a homemade recipe. Green jelly is also a fun idea.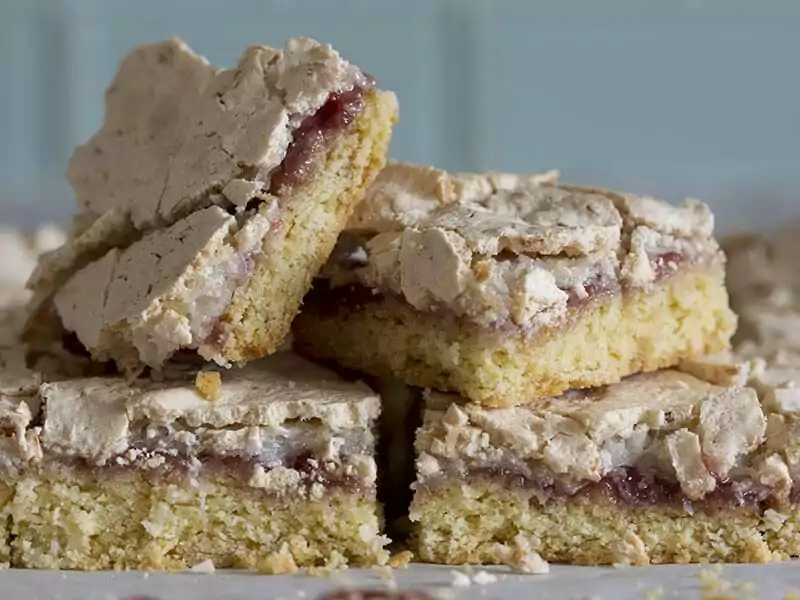 Though originating in New Zealand, this decadent layered cake is hugely popular in Australia. In terms of origin, people believe that this tea-time treat was named after Princess Louise, Queen Victoria's fourth daughter.
A delicious Louise cake encompasses three layers. The crumbly shortbread base provides a satisfying contrast to the sweet raspberry jam layer on it, while the light, airy coconut meringue topping adds a unique touch.
Some variants of the Louise Cake include swapping out the traditional raspberry jam for other fruit jams or even lemon curd. A few slices of seasonal stone fruits, like cherries or peaches, also make a beautiful topping.
This sweet treat was inspired by the iconic Wagon Wheel biscuit, which first became available to the public in 1948 and is now made by Arnott's. Australians prepare a Wagon Wheel slice by sandwiching a fluffy filling (made of marshmallows, jam, and chocolate) with layers of biscuit.
While it doesn't have a lively history or cultural significance, Wagon Wheel slices are an easy and versatile treat that you can enjoy for casual gatherings, picnics, or as a lunchbox snack.
Check this helpful walkthrough for the best way to prepare an Australian wagon wheel slice!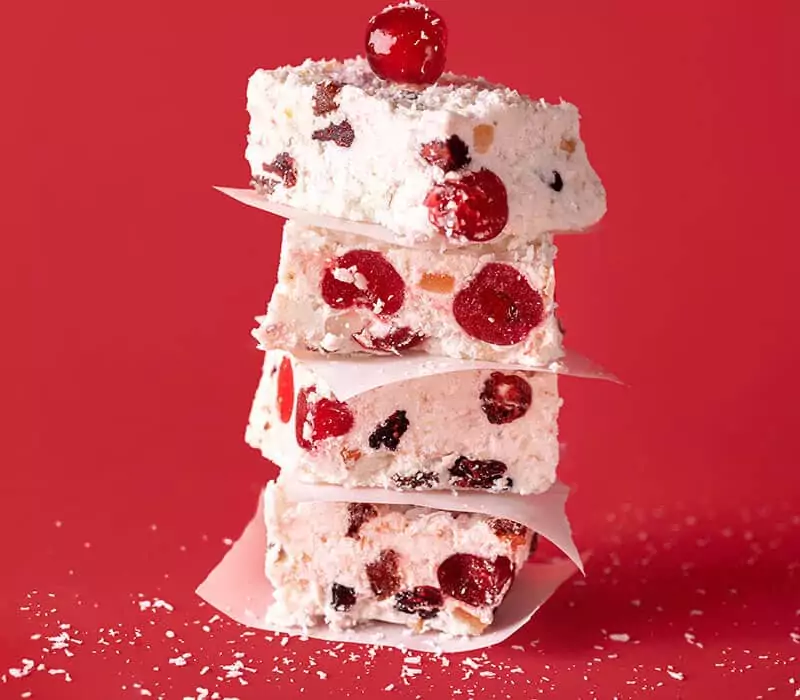 While Christmas falls in summer in Australia with almost non-existent chances of snow, locals still manage to enjoy a White Christmas. Rather than a snow-covered holiday season, it is a festive dessert suitable for savoring with families and friends.
The traditional version consists of crisped rice, glacé fruits, desiccated coconut, and icing sugar, plus Copha or coconut oil as the binding ingredients. Nowadays, many people often opt for white chocolate to reduce cooking time.
Along with engaging in outdoor activities, eating seafood, or telling stories about "Swaggy" or "Sandy Claus" (the Australian equivalent of Santa Claus), having a bite of White Christmas is one of the unique customs Aussies indulge in during the holiday.
9. Frog Cake
First made in 1922, this playful-looking South Australian dessert has long been a massive hit with the young and old alike. Its creator was the legendary baker John Gordon Balfour, who may have picked up the idea on a trip to Paris.
To local people, it is more than just a cake. In fact, the National Trust of South Australia declared it a South Australian Heritage Icon in 2001.
The frog cake's biggest highlight is its exotic design: a frog-shaped cream sponge cake base filled with some sweet jam. A layer of fondant icing forms the "skin" of the frog, which is usually green but can represent other colors, while piped icing creates the eyes and mouth.
A "frog" can have its mouth opened by using a hot knife. The dessert's alluring appearance is matched only by its delicious taste, which combines the sweet richness of all the ingredients into a soothing sensation.
Australians have their own names for many popular treats. For example, an icebox cake, a sweet dessert of American origin that became popular in the early 20th century during the advent of the refrigerator, is known simply as a log or chocolate ripple cake in the country.
That's because locals use Chocolate Ripple biscuits (from Arnott's) to make the cake, though fruit-flavored biscuits or even graham crackers are other alternatives. They arrange the biscuits and whipped cream in alternating layers, then refrigerate the cake overnight like the rest of the world.
If you suddenly crave a Black Forest cake, feel free to add fresh cherries or black cherries in syrup to the recipe for a toothsome imitation.
Tarts And Pastries
What you're going to find may differ significantly from your favorite treats, but stick around, and you will find them quite addictive.
One of the most delectable cookies from Australia, Iced VoVo biscuits have charmed many generations of Aussies since 1906. These teatime treats made of pink fondants, raspberry jam, and desiccated coconut are produced by the famous biscuit company Arnott's.
In 2007, Australia's former prime minister Kevin Rudd affectionately mentioned the biscuit brand in an election victory speech, which underscores how popular this snack is to Aussies. But do you know that you can easily turn it into an easy Australian dessert?
The easiest option is to make a tart with them. You can grind the biscuits finely to form the pastry base, then prepare marshmallow and raspberry jam for the filling. Finally, top the tart with whipped cream, and you're good to go!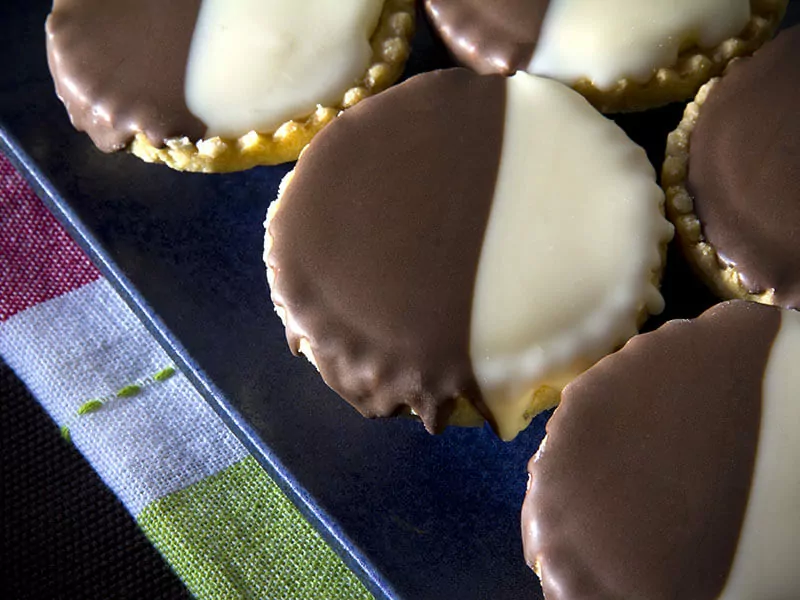 Dating back to the late 1890s, this exquisite Australian dessert has charmed countless Aussies with its eye-catching appearance and equally intriguing name.
An article once claimed that it was named after a baker called Ruby Neenish, but the story was later disproved, and the mystery continues.
These small, round pastries are typically made with a shortcrust pastry shell and filled with a sweet mixture of sweetened condensed milk/ mock cream, lemon juice, and gelatin (optional). The top is adorned with half chocolate and half white or pink icing.
Besides Australia and New Zealand, people in the Falkland Islands also love it dearly. The sweet filling ingredients can change from place to place, with raspberry jam and pineapple as other popular choices. In fact, pineapple tarts are a widely-known variation of neenish tarts.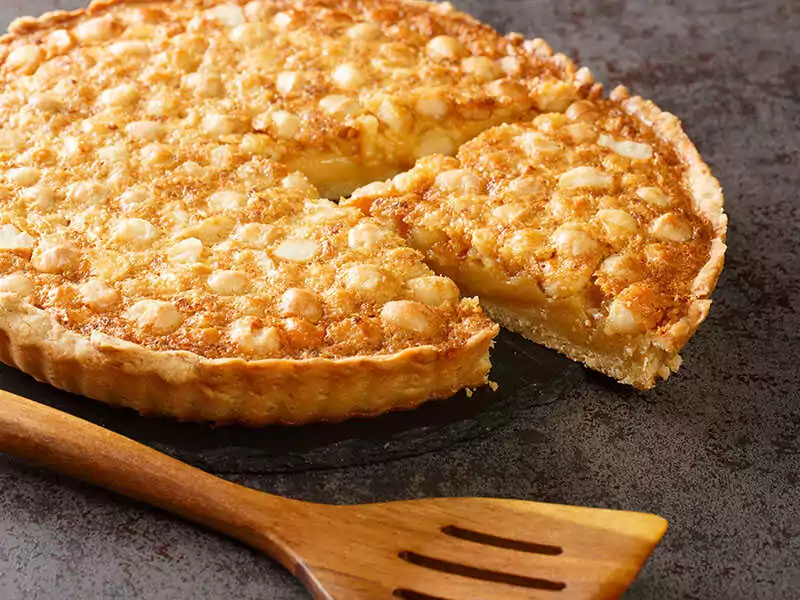 If you want to add an Outback vibe to your baked goods, simply cook with some macadamia nuts! They come from the macadamia tree, a native plant to Australia, and had been used by the Aboriginal people long before the arrival of European colonists.
Also known as bush nuts or Queensland nuts, this nut variety boasts a rich, buttery flavor that will become sweeter and creamier when salted or roasted. While low on carbohydrates, macadamia nuts contain plenty of fiber and health-boosting antioxidants.
Since vendors usually sell pre-shelled macadamia nuts, cooking a tart with them is easy. You can also add various seeds, such as poppy seeds or caraway seeds, to improve the flavor and texture.
After preparing a shortbread pastry shell (or buying one), make the filling by mixing the nuts with cornstarch, lemon juice, fresh cream, etc. Then, pour the filling into the shell, and bake as usual.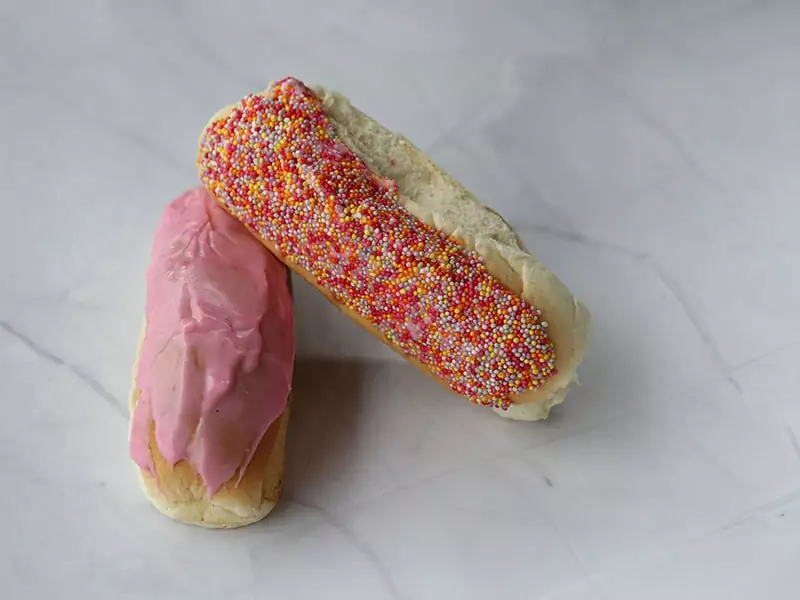 Known as iced buns in other parts of the world, finger buns are a pillowy dessert Australians prepare by topping small yeasty rolls with icing, colorful confectionery sprinkles, and coconut shavings. They are highly convenient as an after-school snack for kids or a pick-me-up treat for adults.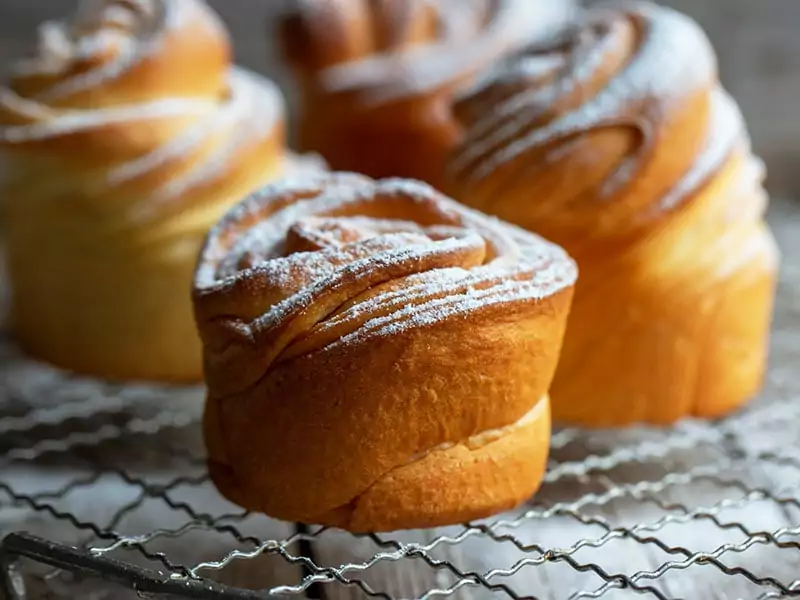 From the name, can you guess what pastry items inspired this Australian culinary delight? That's right; a cruffin is the hybrid of a croissant and a muffin. A baker Kate Reid created it for her Melbourne-based croissant shop in 2013, and it lost no time in becoming a sensation.
Consisting of laminated croissant dough baked in a muffin tin, the cruffin boasts a soft, tender interior behind a flaky, buttery exterior. While it regularly serves as a breakfast and brunch item, concluding a hearty meal with a sweet or savory cruffin isn't a bad idea at all.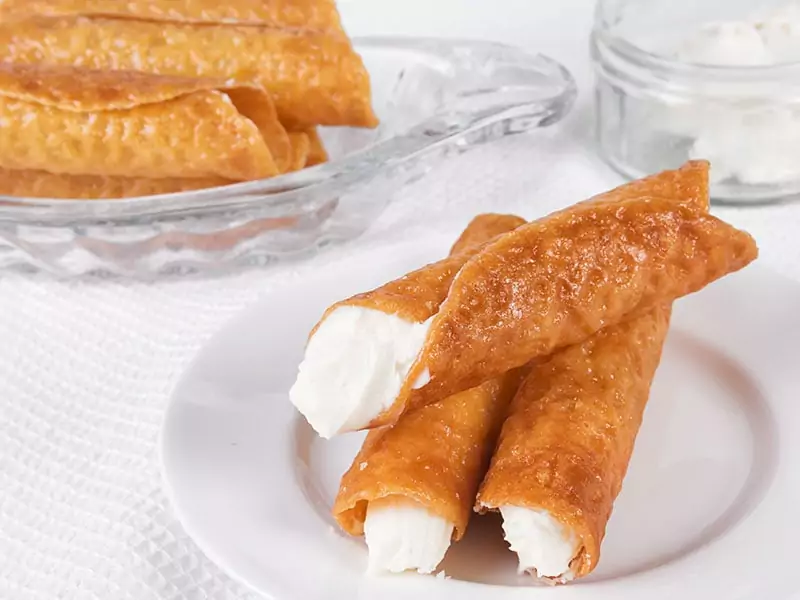 Imagine biting into a crispy golden tube-shaped shell filled with rich whipped cream, and you've got a good idea of a brandy snap. Feel how the irresistibly crunchy exterior gives way to a delightful burst of flavor and creaminess within, and you will see why many Australians embrace it.
While "brandy" is in the name of this originally British dessert, and some recipes use the liquor to sweeten the whipped cream, it has no connection with the name. Instead, that word was derived from the word "branded," which means "burned" and refers to the baked shell.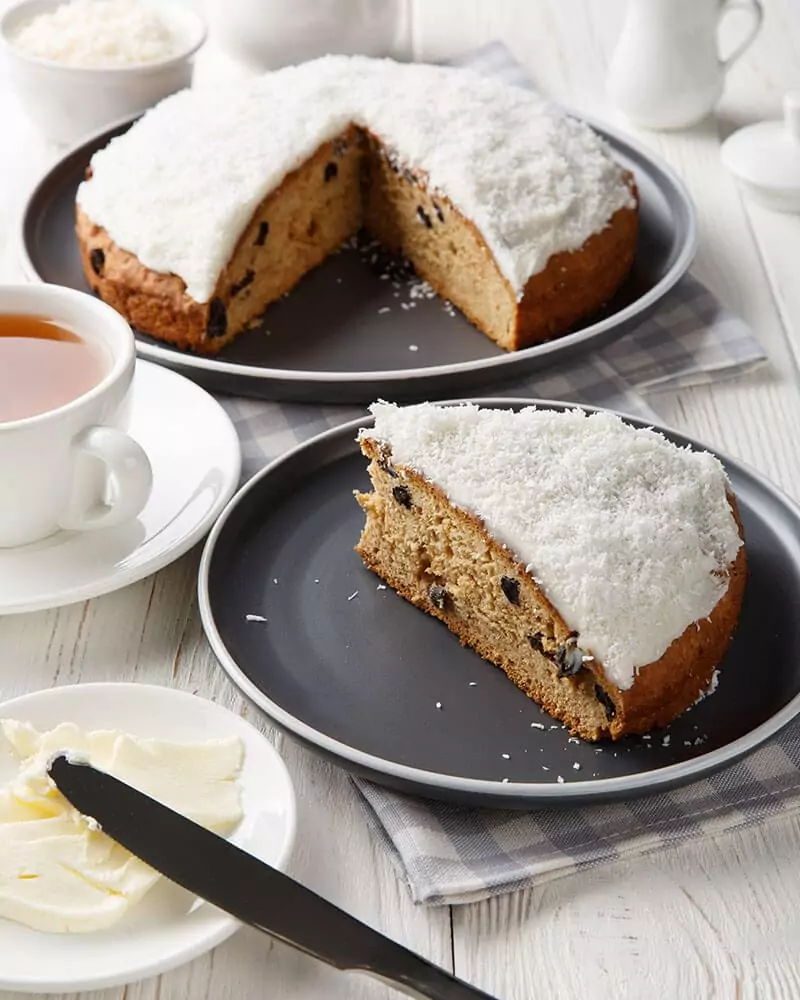 The Boston bun is a large yeasted bun filled with spices (such as cinnamon and nutmeg), mashed potatoes, and dried fruit (like raisins, dates, or sultanas). This fluffy and tender interior is typically topped with a generous layer of sweet icing and desiccated coconut.
While a few stories claim that the recipe for this hearty treat came from the American city of Boston, hence the name, not everybody buys it. But countless Aussies happily buy pre-cooked Boston buns from bakeries or supermarkets for daily light snacks or tea parties.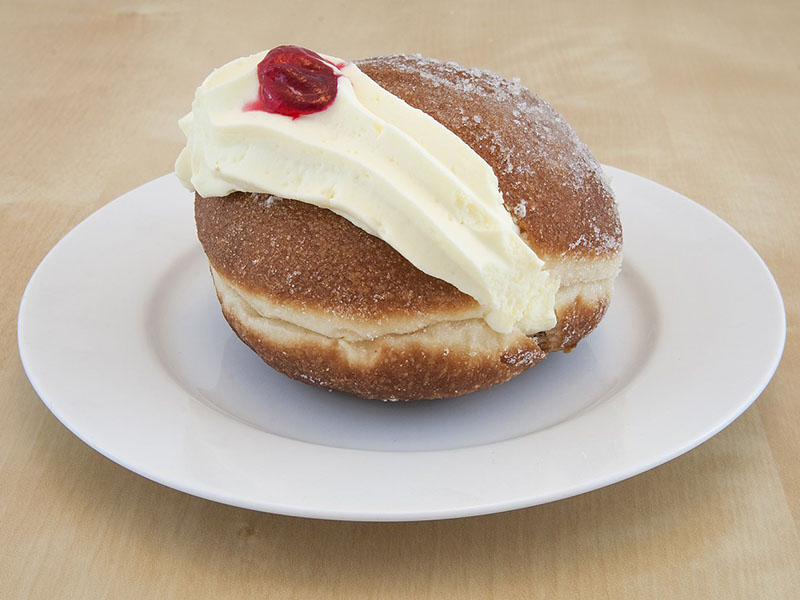 Inspired by the German jelly doughnut Berliner, Kitchener buns have been a staple in South Australian cuisine since the mid-1910s. At that time, World War I was raging, and anti-German sentiments were running high, leading them to be named after Lord Kitchener, Britain's field marshal.
While its namesake died in action in 1916 (part of the reason for the naming), the dessert lived on and remains enormously popular to this date.
It's not difficult to see why: this combo of baked/ deep-fried yeasted bun with jam/ cream filling and a generous dusting of confectioner's sugar on top is undoubtedly alluring.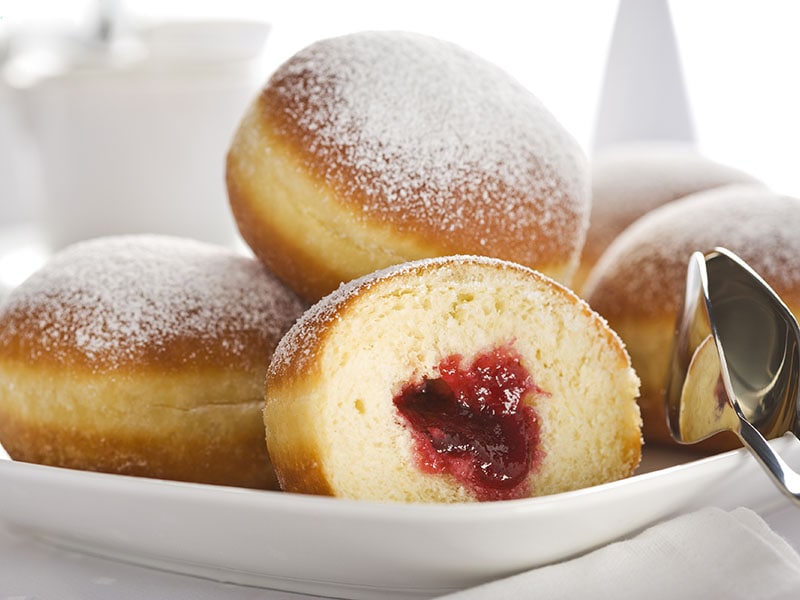 At first look, a jam doughnut (the Australian preferred name for jelly doughnuts) doesn't differ much from a Kitchener bun. It is similarly inspired by the Berliner and filled with a luscious, sweet jam, which is typically made from raspberries, strawberries, or other fruits.
But jam doughnuts also use more yeast in the dough, resulting in a more pillowy texture. In addition, they are always served piping hot. You can't find this type of doughnut everywhere in Australia; it is more popular in the state of Victoria, especially in Melbourne.
Other Australian Desserts
From the pretty appearance of fairy bread to the emotional story behind Anzac cookies, sweet treats from Australia mean more than just something to please your taste buds.
Tim Tam is probably the most famous chocolate biscuit brand in Australia. Each biscuit is a toothsome combo of two chocolate-covered malted biscuits with a chocolate cream filling in between. Locals love to dip it in a warm drink (like tea or coffee) to melt the chocolate before eating.
Similar to IIced VoVos, Tim Tam biscuits can be easily turned into a finger-licking dish for the sweet course. All you have to do is to blend the biscuits to a fine crumb, mix it with your favorite ingredient, scoop the mixture into small balls, and, finally, freeze them.
While a medley of cream cheese and black chocolate will produce a decadent treat, plain chocolate or grated coconut can do just as well. You can also use Tim Tam biscuits to make Milo balls, a treat full of malty and chocolatey goodness from the Nestlé product.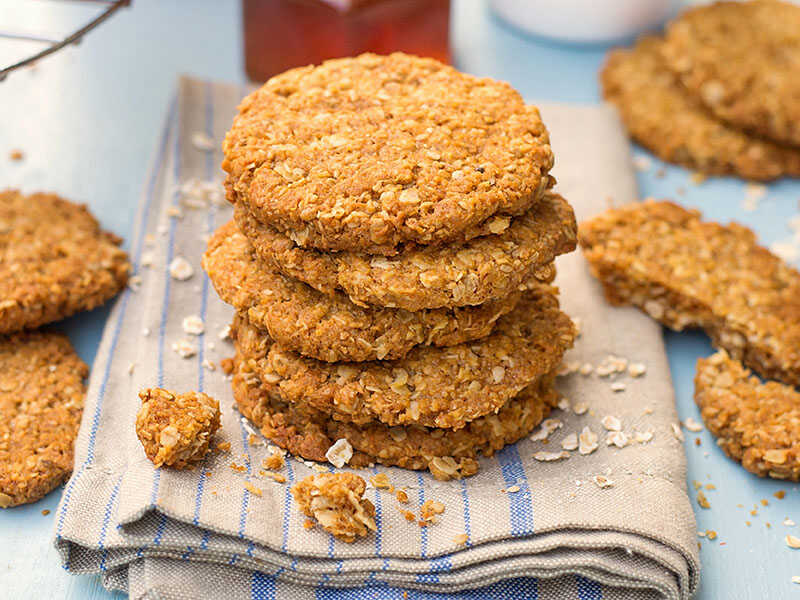 To be clear, Anzac biscuits are usually counted as a snack rather than a dessert. But they are so important to Australian cuisine that it doesn't seem right to leave them out.
Besides, serving them with a tasty Australian beverage or breaking them apart to mix with ice cream or fruits after a meal is a terrific idea.
These sweet and chewy treats were first made during World War I by the wives, mothers, and girlfriends of Australian and New Zealand Army Corps (ANZAC) soldiers. The treat provided the men with a taste of home and eventually became a symbol of national pride.
While Pavlova has been a source of contention between the two neighboring countries, this type of cookie, along with their shared history, is the bond that unites them.
These cookies consist of rolled oats, flour, golden syrup (made from cane sugar), butter, and desiccated coconut (optional). They don't spoil easily, which explains how they could survive the long journey between Australia and the European battlefield in the 1910s.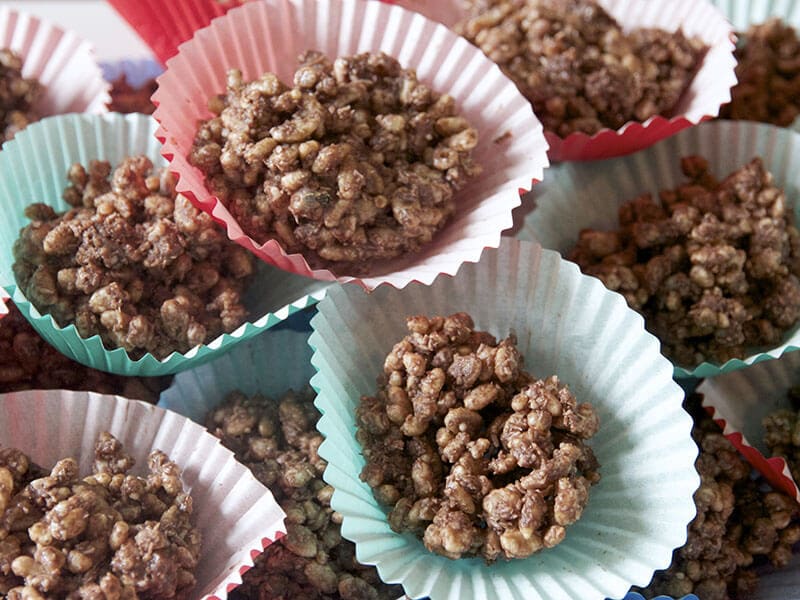 The caramel slice isn't the only renowned Australian dessert that debuted in The Australian Women's Weekly. Chocolate crackles, a festive and kid-friendly confection, appeared in the magazine back in 1938.
Since then, they have been part of just about birthday parties due to the delicious and crunchy taste of chocolate, rice cereals, and coconut. Interestingly, they were among the first recipes to use Copha (hydrogenated coconut oil) as a binding agent.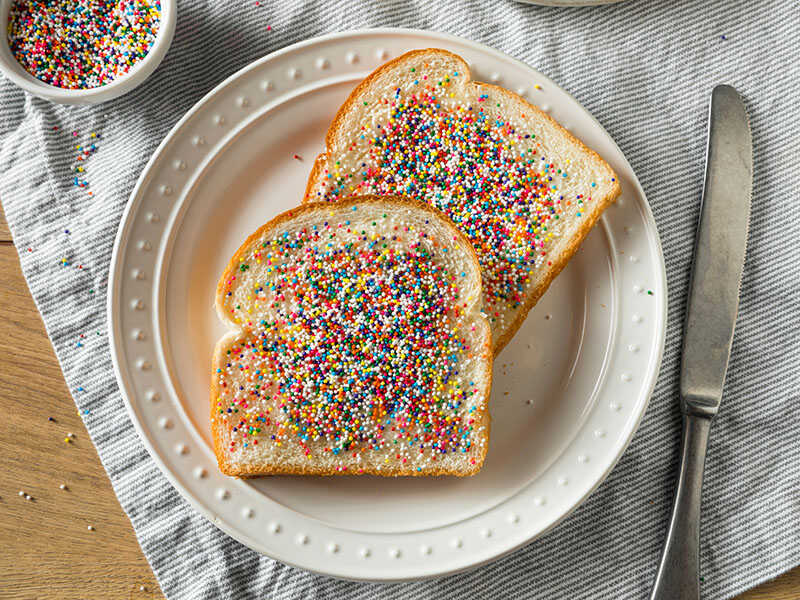 No birthday party for children in Australia and New Zealand can be complete without fairy bread, a whimsically colorful and affordable snack that even adults love to sneak a bite. Far from a commercial product, it is a homemade treat that doting parents prepare for their little angels.
Fairy bread is a simple dish consisting of merely a sliced white bread spread with butter or margarine and decorated with "hundreds and thousands," the Australian term for Sprinkles (small beads of confectionery).
Whereas the name "fairy bread" appeared in a 1913 poem by Robert Louis Stevenson, who penned classics like Treasure Island or Strange Case of Dr. Jekyll and Mr. Hyde, the recipe first surfaced in Australia in the late 1920s.
You can't fully comprehend Australian cuisine without trying Vegemite, a thick food spread made from leftover brewers' yeast, malt, vegetables (especially onions), and spices (like celery). It is extremely rich in B vitamins and other essential nutrients. Vegemite on toast is a classic Aussie combo.
However, its unforgettably bold, rich, and earthly flavor may be a little off-putting for some who taste the spread for the first time. In fact, it's no coincidence that Australian children are exposed to Vegemite from a young age (kids above one year old can safely enjoy it in small amounts).
So adults who prefer a more enjoyable way of enjoying Vegemite can try incorporating it into brownies. These fudgy and gooey treats still look like your typical chocolate cakes, but they now feature an unexpected depth of flavor that nicely complements the sweetness of the chocolate.
Some variations may incorporate additional ingredients, such as nuts or chocolate chips. A dollop of whipped cream or ice cream on the side is also a brilliant idea.
This guide will show you how to make the best vegemite brownies.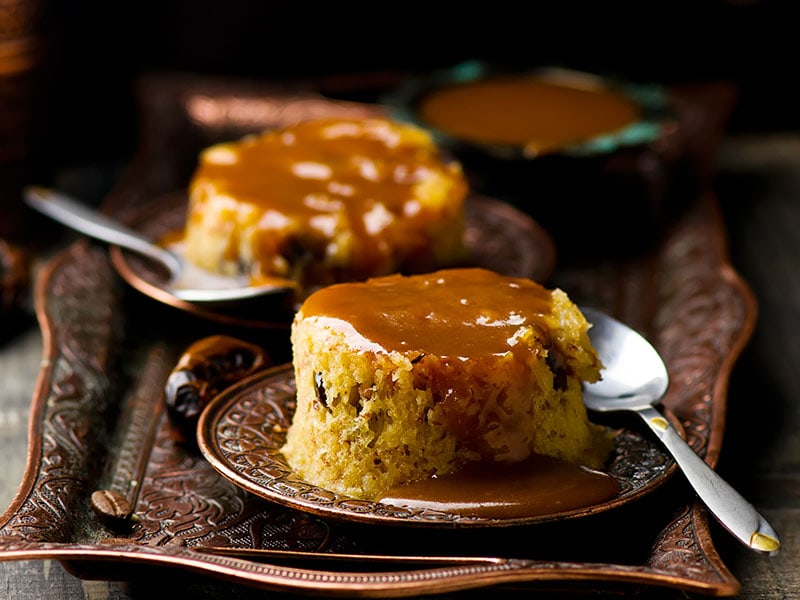 Everybody knows that Elegant British desserts have a powerful influence on the sweet treats from Australia and New Zealand, with sticky date puddings as a fine example. It is so familiar to the classic sticky toffee pudding that the only difference is probably the name.
A sticky date pudding revolves around a moist sponge cake infused with chopped dates and covered in a rich toffee sauce. It is a more tempting alternative to date slices, a generic Australian sweet with dates.
Some recipes opt for local produce (such as dates from Central and South Australia) to mark the difference from typical toffee puddings.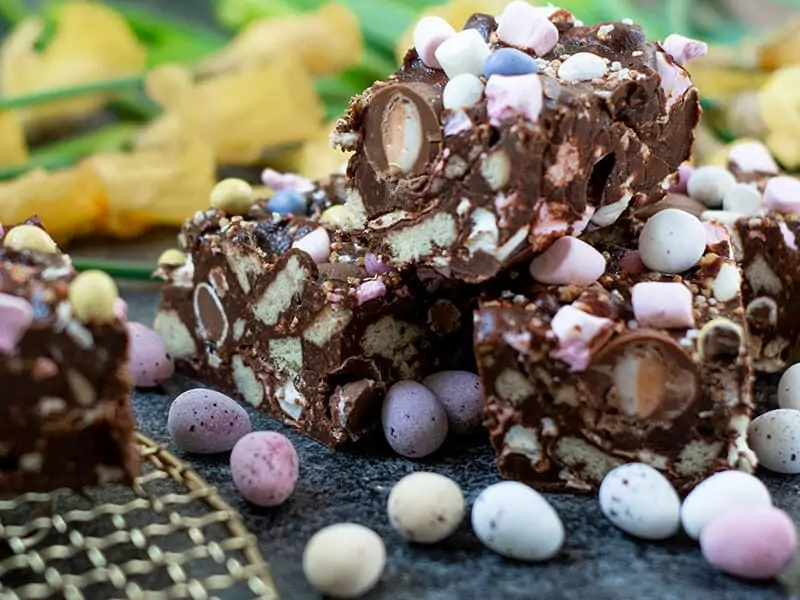 While many people argue that this no-bake dessert was an American creation, there are stories suggesting that Australians have made and enjoyed rocky road since the mid-19th-century.
Apparently, this melange of marshmallows, chocolate, nuts, and dried fruits was created to last a long trip over treacherous terrains, hence the name.
Like other Australian slices, rocky road is always available in square, bite-sized pieces. While the American version features almonds and an ice cream-like flavor, its Australian cousin goes with peanuts and, why not, desiccated coconuts.
If you're familiar with flummery in Britain, be careful when ordering the treat in Australia and New Zealand. It isn't the same soft pudding that the Brits serve, but rather a mousse-like delight with a lot of airiness.
Made with sugar, evaporated milk, gelatine, and flavored jelly crystals, Australian flummery is an easy and affordable treat suitable for all seasons. You can adjust the ingredients to create a treat that tastes like a mango mousse or a chocolate mousse.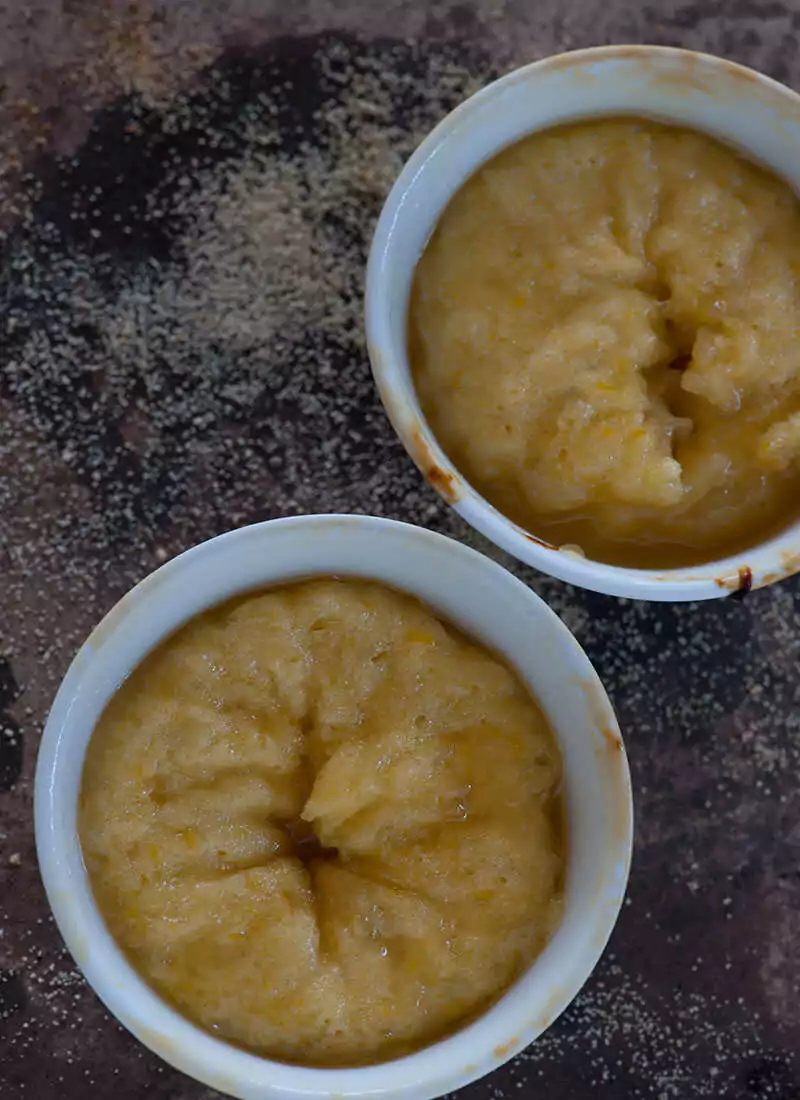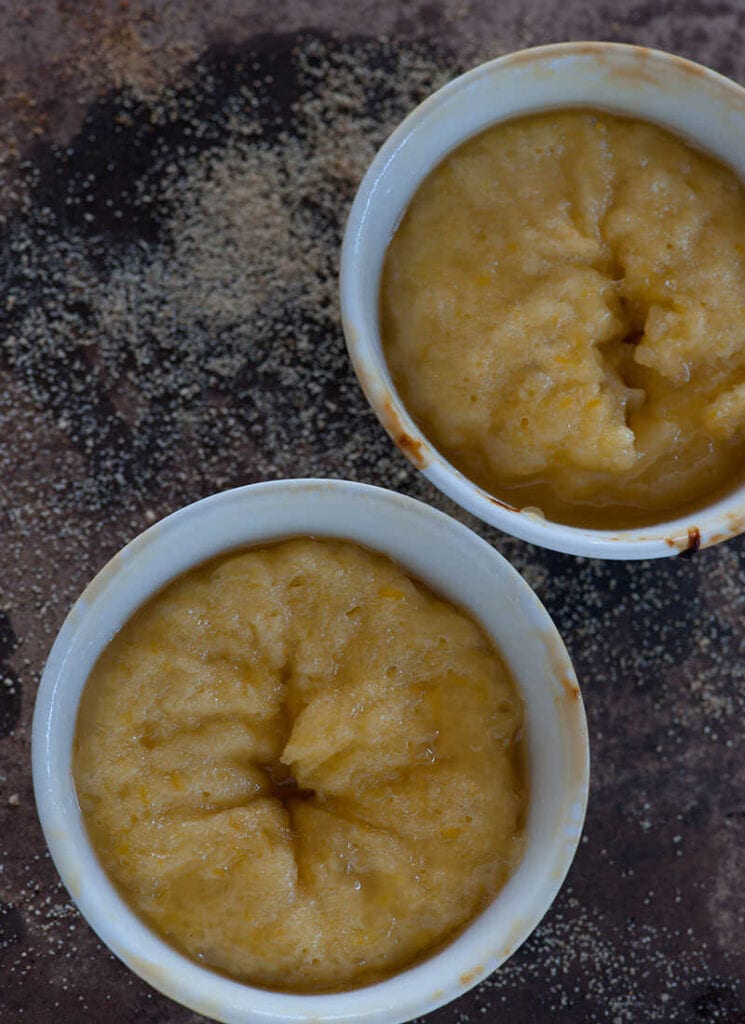 This dessert is exactly what it sounds like – a tasty sweet treat bursting with zesty citrus flavor and a silky, melt-in-your-mouth texture. It has been around for almost as long as Australia itself. You should serve it warm, preferably with vanilla ice cream or whipped cream, for the best experience.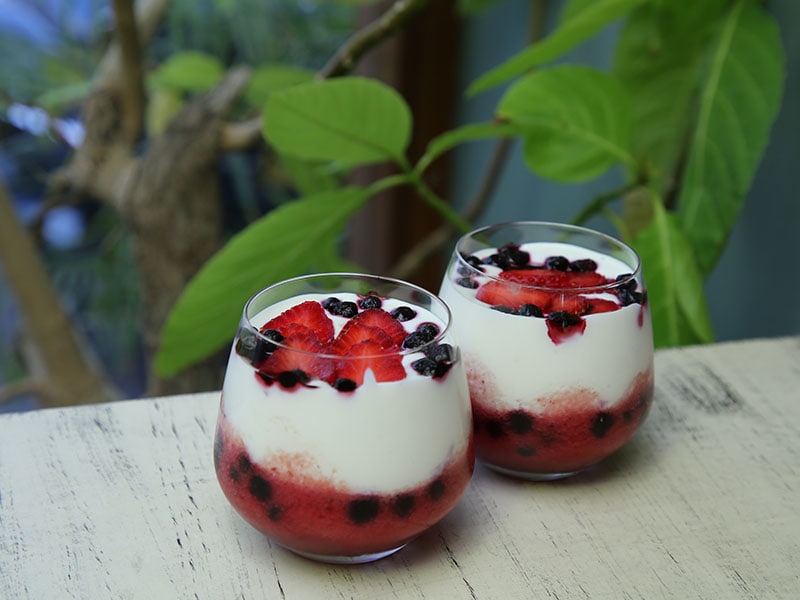 Given the powerful influence of British culture on Australia (Queen Elizabeth II's birthday used to be an official holiday), it's no wonder that the classic British treat is a beloved dessert in the kangaroo country.
The Australian version often consists of three layers: ruby-red jelly at the bottom, sponge cakes or Swiss rolls in the middle, and custard and whipped cream at the top. Seasonal fruits (strawberries, raspberries, or peaches) or canned ones provide the final touch to the trifle.
To showcase the beauty of this elegant treat, it is often contained in a large, transparent glass bowl. In the scorching heat of Australian summer, a cup of cooling trifle is just the correct remedy.
This sugary confection of British origin made its way to Australia in the early 20th century. It's a nostalgic treat for many Aussies and is commonly found at school fetes, markets, and in lolly shops.
Locals often prepare it with shredded coconut, sugar, condensed milk, and Copha. The last ingredient distinguishes the Australian version from other varieties. The final result is a chewy yet creamy treat. Some people also add a touch of vanilla or almond extract to the mix.
Coconut ice is usually half white, half pink. To achieve this look, you need to prepare two layers of the dough: a plain one, and a layer added with a few drops of red food coloring.
FAQs
To enlarge your knowledge of what the world's smallest continent has to offer, take a look at this section.
Sweet As Desserts Down Under!
The world of traditional Australian desserts is just as breathtaking as the natural scenery of the country. It is an ever-evolving landscape of deliciousness mixing indigenous flavors with the influence of European inspiration and contributions from waves of immigration.
All those factors contribute to a large assortment of exciting sweet treats that this relatively young country possesses. There may be exotic Australian dishes missing from this list, so feel free to let me know your suggestions in the comments below.
Don't forget to share this post with your mates! Many thanks, and hooroo!
Nutrition Facts
8 servings per container
---
Amount Per ServingCalories217
% Daily Value *
Total Fat 7.4g

11

%

Saturated Fat 4.4g

20

%
Trans Fat g

Cholesterol 25mg

9

%
Sodium 26mg

2

%
Potassium 203mg

6

%
Total Carbohydrate 37.4g

13

%

Dietary Fiber 2.3g

8

%
Sugars 32.6g

Protein 3.1g

6

%
---
* The % Daily Value tells you how much a nutrient in a serving of food contributes to a daily diet. 2,000 calories a day is used for general nutrition advice.