When it comes to Central Europe, it's hard not to mention Hungarian desserts. There are so many exquisite flavors and textures waiting for you to relish in the Hungarian sweet world, from fluffy to crumbled, zesty to fruity.
Hungary is the nation of cottage cheese, poppy seed, and plum; you will be overwhelmed by the multilayered treats at any time here. They're not only charming but also warm up your heart. With so much diversity and invention, it's challenging to decide which Hungarian desserts to sample.
Right here, you can find my list of best Hungarian sweets and famous eating places in Budapest and recipes for making your own. Just go ahead!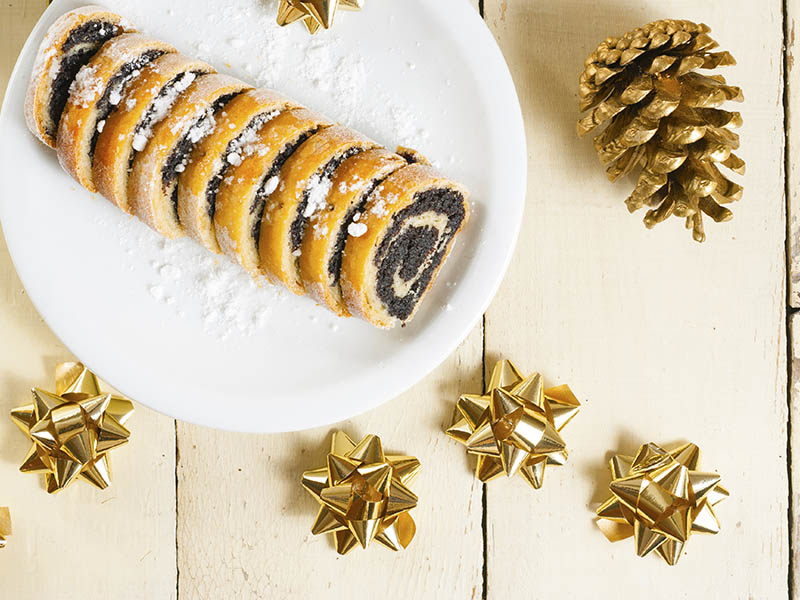 Top 12 Hungarian Cakes Through Local's Fisheye Lens
Cakes of all kinds are famous in Hungary, and they are rich and luxurious. Classic cakes are vital to local cuisine, from the john cake Rigó Jancsi to the skilfully layered Flódni slice. It's a lot more.
Hungarian delicacies are well-known for their colorful, beautiful baked goods, influenced by French and Austrian flair. Never forget to try the creamy taste of the goodies around the center or famous pastry stores that locals guide you. Stay tuned!
In the past, Esterházy Torte was loaded with the cognac vanilla buttercream inside layers of almond meringue, but nowadays, the almonds are frequently replaced with hazelnuts or walnuts. It is titled after Prince Paul III Anton Esterházy de Galántha from the Esterházy dynasty. He was a famous diplomat, nobleman, and a gourmand too.
You can substitute kirsch – an iconic German beverage, with rum. However, when kirsch is available in your place, I suggest using kirsch for adding a particular richness to the custard buttercream.
Esterházy cake is rich in flavor but not scum. Surprisingly, there is no flour on the cake. Following the original recipe, let's use vegetable oil, or sometimes, I swap corn syrup. Your glaze indeed becomes shiny and softer, you can see.
The final layer of your Esterházy Torte will display the art spirit. It's not just holding a toothpick and going across; it's almost like dressing up a latte goodie!
Confectioner József C. Dobos created this famous sponge cake with chocolate buttercream in 1884. The shiny, brittle caramel coating is identifying. Plus, the perfect crispy caramel coating on the Dobos torte is its identifying feature.
To protect the cake from drying out, you can coat the sides with ground walnuts and top with thick caramel. It can stay up to 4 days at room temperature; however, be careful with the humidity since the caramel outer may turn out not to be good.
The spotlight of the filling is not just chocolate and melted butter. Beating the eggs above the boiling water makes the buttercream fluffier. It works if you try, my dear!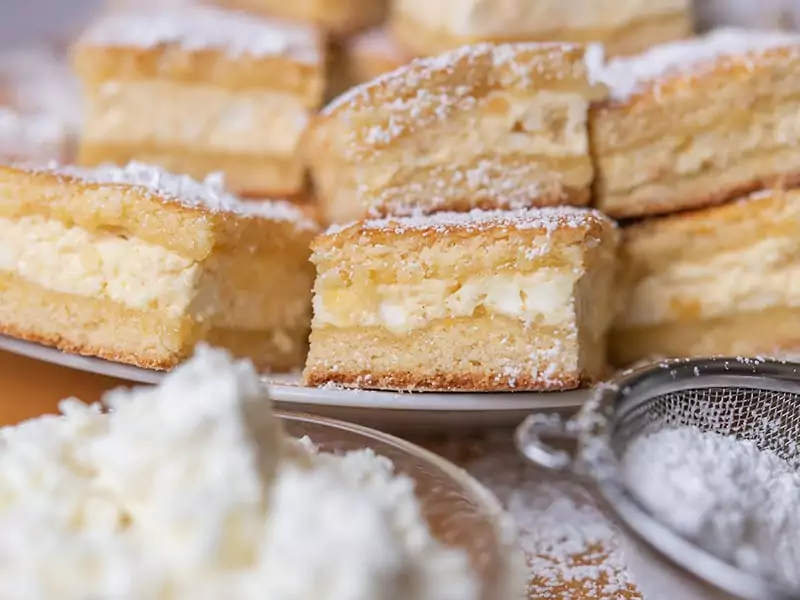 Well, most Hungarians mistook that this apricot jam and meringue topped túrós cake is named after Ferenc II Rákóczi, the country's revolutionary hero and legendary prince. As you think, baker János Rákóczi created the cake in the 1930s and named it after his nickname.
Even skilled bakers struggle to get the ideal smoothness of their caramel covering. It should not be too thin, too crispy, or too soft. Right away, the cottage cheese melts when you put it into the mouth.
It's unique since you coat it with meringue instead of pastry. Besides the classic items, you can serve this sweet as a tarte, muffin, galette, or even as mousses in cups. When trying new types, keep the ratios in mind since every component has a purpose.
Talking about the name of this cubed sponge cake, it's hard to leave out the Europe 19th century's scandals about a Hungarian Gypsy violinist. Rigó attracted Princess Chimay, a Belgian-American socialite, left behind two children and her husband.
The cake batter contains a small amount of baking soda. Additionally, the air in the egg whites helps the cake rise wonderfully, so remember to beat the eggs sufficiently, stiff and not dry.
It's just like other cakes, shaped in the round but traditionally Magyars cut into cubes. Feel free to bake in any size, round or square, using a springform or a tube pan.
Stay tuned since you're so close to chocolate heaven. Do you know the right way to fold the melted choco into the mixture?
The beautiful pink icing surrounding this cake is crucial for pastry stores across Vienna and Budapest. You can sandwich the rum-flavored punch cake with layers of raisins and apricot preserves.
One particular thing about the Punch Torte is that the tasty cubes are dipped in sugar-rum syrup instead of cream. Do you enjoy tangy flair?
So you're looking for a fondant icing that is thick but flowing. Just stir until the icing seems broken and streaky but settles smoothly when left alone; it must be alright. If it does not have much for the sides, you can decorate your dessert with slivered almonds.
Whenever I hear "Gerbeaud," I think about Easter and Christmas right away. My mom and I have been making this cake since I was a kid. Once you try this dish, you would wish to come to Hungary and hug Emil Gerbeaud, a Swiss-born French confectioner, for creating this spotlight.
This cake with bite sizes, created at the renowned Café Gerbeaud, is famous at all pastry shops in Hungary. Layers of sweet homemade dough mix with a filling of apricot jam and ground walnuts beneath a chocolate coating.
One more thing is that you wait for the filling and the chocolate to set up; if not, they're easy to crush while cutting. When the chocolate is fully set, cut it into 2 or 1 ½ inch square pieces. Are you ready?
Are you ready to bake the best sweet after every meal? Follow this guide and master your kneading dough skills today!
I go for a tiny bit of icing sugar, vanilla extract, and whipping cream in this recipe. When I first left the cream cheese out, soon the filling amazed me with its light and delicate texture. The purpose of cream cheese is to hold the filling's structure in place.
You can use any basic Hungarian sponge cake as the base for this whipped cream sweet delight; just call it a Swiss roll or roulade. Be creative with any types of the whole berry you love, blueberries, boysenberries, blackberries, raspberries, or small wild strawberries.
Any berry will do, but when you use peaches, I suggest slicing them. Wait about 30 minutes to an hour for the peaches to release the water; I usually add some lemon to prevent browning. When you miss this step, you may face the risk of making the cake get wet. Focus on it!
This tasty item resembles a chimney: the wooden cylinder covers the soft dough then slowly baked above embers. When finished, you will have an unfilled cylinder about 8 to 9 inches, crunchy and sticky outside, while the inside is soft.
The Kürtőskalács "filled" version has recently gained popularity; you can opt between whipping cream and ice cream filling. Never mind, since this caloric hit can cover your whole meal!
Look at this cake from a long distance; it's like you are seeing a smoking chimney. There are various tastes to pick from coconut to cinnamon, chocolate to Nutella, and vanilla.
When using the soda cans with or without the foil to bake these goodies, it's up to you. The foils keep them from breaking up, making it easier to remove the Kürtőskalács.
You can slip the cans out by opening one foil's end and then pushing the other end. And then fold the foil to have the coiled bread intact. Just make it yourself.
Two unique layers of soft bread cover a nutty walnut filling. It's a basic concept, but the fragrance is out of this world! Is there anything better than the sweet, crunchy walnuts?
People believe that walnuts sweep away troubles, and the poppy seeds enhance prosperity. That's why you usually see them serving side by side on a plate. Bejgli is a popular snack in Central European countries.
In Hungary, homemakers prefer vanilla sugar, but vanilla extract is also acceptable. I have a routine to replace sugar in the filling with apricot jam, one of my favorite jams of all time.
When rolling, do not cover the surface with flour; a floured roll will prevent the egg wash from sticking well; later, the fantastic marbled look soon disappears. When the dough comes sticky, you should add very little flour to make sure it can be rolled.
You can call Palacsinta the Hungarian-style crepe, a mixture of eggs, milk, and flour cooked over the hot surface served with a savory or sweet filling. Hungarians tend to load them with meat and serve as the main course.
Gundel Palacsinta is famously offered by the legendary Gundel family, topped with chocolate sauce and filled with walnut rum cream. When you see the dough is drying at the edges, quickly flip the crêpes with a spatula. Don't be concerned if it doesn't land flat.
If you use 1/3 cup batter per cake, my recipe yields 21 Palacsintas. Jams, such as cinnamon sugar, homemade apricot, strawberries, whipped cream, and Nutella, are other filling alternatives.
This famous cake, also known as Mille Foglie, vanilla slice, or mille-feuille, is a stunning puff pastry dessert with pastry cream. Soon you find that cutting the vanilla slide with a spoon is difficult; you can bite since it's light yet crispy.
Aside from traditional krémes, vanilla custard wrapped in puff pastry is also being chased in Hungary. Francia Krémes also has one more layer with whipped cream and a caramel glaze.
It's a good supporter since you can buy it after lunch at the bakery store and save time baking rétes. It goes perfectly with hot coffee and the most well-known and delectable Hungarian pastries.
Modern chocolate versions call for custard sandwiches, whipped cream, and the top dough. The basic krémes are undoubtedly the most popular, in the center you can see another puff pastry.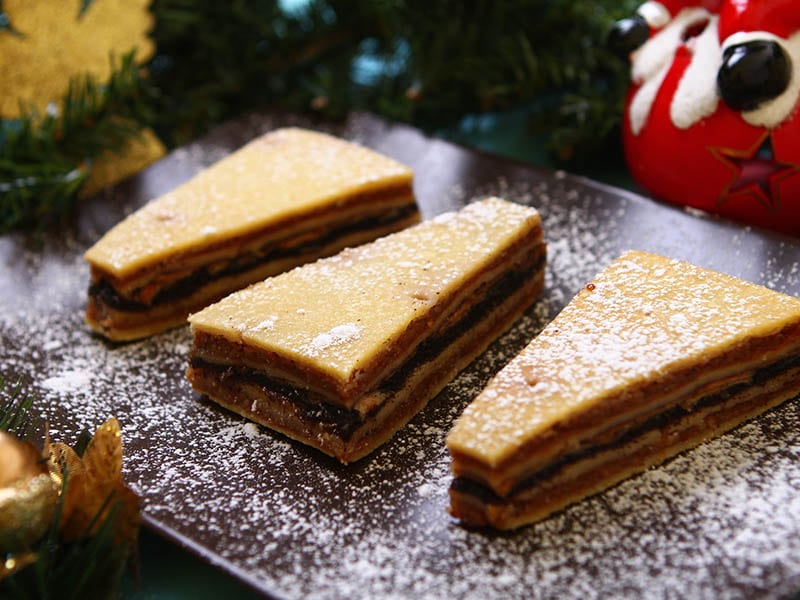 Last August, I found Flódni, a classic Jewish Budapest sweet. The Jewish community has retained the Flódni heritage to define Hungarian society's diversity.
Originating from the Jewish community, I'm impressed with apple, plum jam, ground poppy seeds, ground walnuts topping. Traditionally eaten on the Jewish occasion of Purim, Flódni is now a beloved treat commonly available in Budapest bakery stores.
Traditionally, it is prepared in rectangle slices; I have tried to bake it as a round B-day cake. It does take time, but it is not overly complex. The outcome is well worth it: 4 layers of filling, five layers of pastry. Everything melts perfectly.
Preview 6 Hungarian Pastries & Breads Via Generations
Today, Hungarian pastries reflect various effects; some are of Ottoman Turkish heritage while others go back to medieval Hungary. Furthermore, several recipes show French techniques that expanded to nearby Austria.
There is an invisible connection between the old and the young in Hungary. Do you know what that is? I'm not kidding when I say the Hungarian sweets are spectacular. Let's follow me to find out if it's true or not!
It's no surprise that this delicacy quickly becomes "in style" in Nagykunság's capital. The cake first appeared in public in 1929, Mr. Kálmán Szentesi Tóth's study of Wedding Customs in Nagykunság. Karcag's image has been the Ferdinánd Tekercs.
It is critical to brush the surface with hot, rich cream while baking. What makes me like it the most? It's the buns full of vanilla flavor, soft inside and crunchy outside. Plus, the pastry is spongy and smooth since it is filled up with cream. Grab a cup of coffee or milk and dive in now!
The medium-thick caramel's bottom is builts when the filling rises during the baking process. It's beautiful, you must see.
Sure, you love to bake the Ferdinánd Tekercs; it looks like a wasp nest, but the buns are packed with vanilla butter rather than walnuts.
The apple mix is velvety rather than lumpy, and the crust is light and airy. You won't need to make the flaky pastry yourself. Puff pastry from the store will give you a hand!
Born in Hungary, Rétes, this strudel differs from the ones found in Austrian gastronomy. Compared to the apple cubes and slices in Austria, the dough is noticeably flakier and thinner, and the center is more creamy.
Restaurants create unique rétes with savory fillings such as vegetables, chicken, and salmon. A great, all-inclusive meal is waiting for you.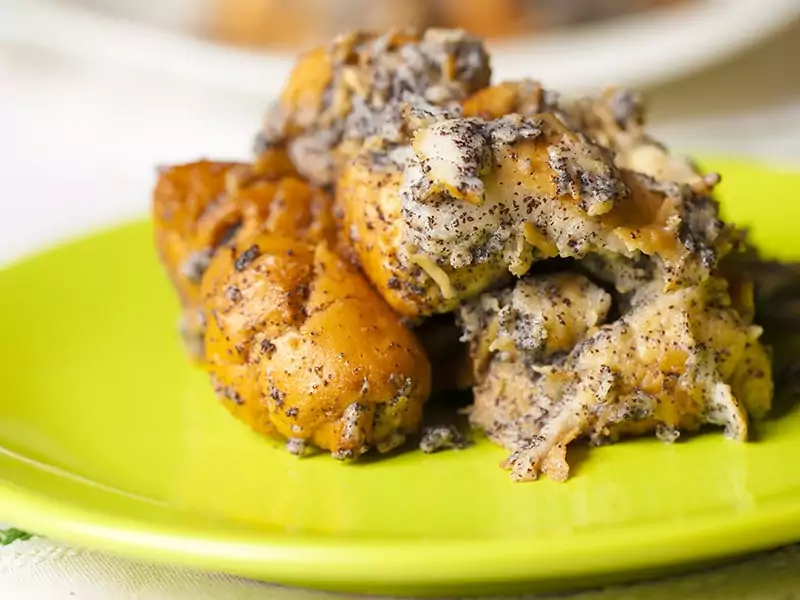 When fresh fruit is uncommon, there are several store-bought ingredients to pick from. Walnuts and poppy seeds are common fillings and toppings in Hungarian sweets. You can ground them up and mix with icing sugar to sprinkle on baked goods or cook with spices, sugar, and milk for a delicious paste.
Spelling it is fantastic "MAH-kosh GOO-bah," here I will please you up with large quantities of poppy seeds, a no-fuss Christmas treat. The sweetness and lightness of honey and milk balance out the strong flavor of these tiny seeds.
It is easiest to grind poppy seeds with a spice or coffee grinder. If a recipe calls for either, I combine it with powdered sugar and rub it that way.
Túrós Batyu translates as "bag with turo cheese" and refers to a puff pastry crust like croissants. Túrós Batyu, on the other hand, is wrapped like a box full of sweet turo cheese, sometimes paired with raisins.
When finished baking, the egg coating turns greasy to attract you but still soft enough to open and enjoy in seconds. The mixture is usually made of the cow's curd cheese found in many Hungarian delicacies.
This recipe yields around 25 parcels. It freezes nicely and stays well in the refrigerator for several days. Before serving, warm it in the oven and garnish it with a bit of icing sugar.
Let's name this "cow's curd" pastry is one of the world's most trending foods. I must say that I've adored my entire life. They're healthy, and they look gorgeous.
A proper Kakaós Csiga should be soft inside yet crispy on the outside and not dry. Focus on the butter amount you add to the yeast, milk, eggs, flour, and sugar dough.
Originally baked with laminated Blundell dough, these Hungarian choco rolls have delicate, airy centers and firm edges. It's hard to get out of the chocolate rotation when you're surrounded by buttery, flaky dough.
They're similar to cinnamon rolls but aren't prepared in a round pan. You should play them loosely on a baking sheet one by one. Leave a small dough around the border to make the "snail" pattern.
I like to start outside and make my way toward the super-choco center. It tastes great with milk or cappuccino.
I love looking at Almás Pite on my yearly fall dining table. You won't need any plate, any folk for these incredible pastry monsters.
Inside, you blend cinnamon, apples, and sugar, as simple as pie dough. The juicy, gooey middle of the sweet apple placed between the pastry pillows gives the most delightful and wholesome taste, sprinkled on top of icing sugar.
You can either press the apple down on the filter or simply squeeze it with your hand. Just ensure you squeeze as much juice as you can, or your pie will become soggy.
Use a fork to poke the cake from the top until you feel the tip of the fork touch the sheet pan's bottom. I always try to put the holes so that each square will have one.
I bet that the cookies and biscuits will get excellent ratings for their buttery aroma no matter what. Do you want to make fantastic crunchy items? These Hungarian treats are enticing!
It is an excellent option if you're hosting a party and want to make something sweet and unique. Good luck!!!
Pork cracklings and prune jam? Have they ever appeared in the same pastry? It seems like an odd mix turns out to be a delectable savory-sweet snack; both of the two ingredients are famous in Hungary. You can make it at home, follow my guide.
Also, there are various fillings you can pick. Here are the most essentials: apricot, quince or plum jam, dried prune or crushed walnuts, quince jelly, or even fresh apricot.
I make a twist by mixing the salty crisp dough with sweet plum jam, but trust me one of the best combinations you can find on the planet. The base is often yeast dough, but I've had biscuit puff before.
Comfortable is the first word that pops into my mind when seeing these jam cookies. How are you? Which type of jam will you fill?
This half-moon cookie was said to be a delight of Lajos Kossuth, a leader and national hero of Hungary's 1848 revolution over Habsburg, Austria. Some locals make it every year on March 15th, in honor of Kossuth and the first revolution day.
You can substitute chopped almonds for the lemon and walnuts. Instead of vanilla, almond essence could be used. So, which flavor are you planning for the Kossuth Kifli?
You can either freeze the whole cake sheet after cooling or cut the cookies first and freeze them. It's your choice. The half-moon cookies can stay in the freezer for about three months.
These soft nibbles are ancient, back to medieval Hungary, and spreading widely. Pogácsa has a variety of flavors and sizes, including melted cheese on top of the biscuits, filled with túrós (cottage cheese) and sprinkled with pork cracklings (töpörtys).
This cheese-based dessert has a salty taste, which you usually find on wine tours. You can create bigger or smaller cheese biscuits that are great when you have no time to cook breakfast.
There are two main kinds of Hungarian biscuits 'Pogácsa': sweet and salty. You can simply cut the recipe in half, but I advise making the entire batch and freezing the remainings to bake whenever you want. Enjoy yourself!
Imagine these Hokifli are cookies with the yeasted dough shaped in crescent. When digging in, you will find a filling of meringue-walnut inside and outside covering powdered sugar. And the hidden secret is that it goes well with coffee!
Mainly like the pie crust, these butter horn cookies have buttery dough enhanced with sour cream. Use your fingers to rub the meringue; it's ready if you don't feel any gritty grains.
These cookies take effort to bake, but they will repay you well-worth, soft, and flaky perfection. Place them in a single layer or on a platter to defrost and let them stand for one to two hours. Are you ready to make these goodies?
Ischler (also Ishler, Isler) is a small cookie from the Austro-Hungarian Empire. The small Ischlers have quickly become the Emperor's famous dessert and hugely popular throughout Hungarian-Austro borders.
It's tough for you to forget the chewy cookie's texture, full of tangy jam and a glaze of bitter-sweet chocolate. I will never forget a tea time in Hungary with the choco-filled jam pieces.
In a bain-marie, melt butter and chocolate together to get the perfect sauce. Dip the sandwiches, then lay them on the cookie tray and set them aside to cool.
You can dip the cookies with jam right away, but I usually wait until they've cooled. Let's try my breakthrough first; I still stick the Isler with jam, then I wait for them to get softer in about a day. If you're storing them in the fridge, remove the cookies about two hours ahead of serving.
Kolaches remind me of danishes. The dough for Hungarian apricot cookies is created with cream cheese, while the danishes are frequently topped with berries or fruit and filled with cream cheese.
They are wonderful! Sweet, snappy, and addictive! The apricot filling is sweet enough to compliment the buttery, flakey dough. The granulated sugar coating makes these apricot kolaches stand out from the crowd! The bottom is caramelized with sugars, and a cool flavor touch is new to me.
When you fold over the top layer, gently but firmly press it down the bottom layer. Just make sure you don't push all of the jam!
Let's Quench Your Sugar Cravings With 11 Other Hungarian Sweets
Once again, here's a complete list of other Hungarian delights you've not yet known before. My overall reaction is a somewhat strange dessert that defines all ingredients and textures.
This is strange, isn't it? Let's dive in and find your answers!
The Hungarian word "arany-galuska" correctly translates as "glorified noodles" or "golden nuggets," however they are best matched to "dumplings" in English. My family named it "happy pull-apart." Don't be shy when you munch a whole luscious ball after another!
First, you make the Galuska. Thoroughly mix sugar and walnuts into the yeast dough. Then you bake it for thirty minutes in the oven. Aranygaluska is a truly Hungarian delicacy when served with hot vanilla pudding.
I make the sauce as one part wine with four parts vanilla custard. Remember to begin with a small amount of wine, little by little; just be careful not to over dilute the custard and retain the thickness.
You can replace the nut topping with 3/4 cup sugar and 1/4 unsweetened cocoa. After dipping the butter pieces, drop in the sugar chocolate mixture, and repeat the process. Feel free to swap the jam with chocolate spread or Nutella.
Cover the golden Aranygaluska with vanilla pudding or custards and serve warm as the old Magyars do. Best sweet dough ever!!!
Even if you've never known Somlói Galuska, that's one of the Magyars' most fabulous treats. While the word "Galuska" means dumplings in Hungary, it is confusing. This delicacy is made from sponge cake flavors, scooped into three balls, and eaten with whipped cream.
The combos are pretty basic; you will find raisins, walnuts, and chocolate. Somlói dumplings have been remade and modified, and some regions even craft their distinctive versions.
After baking the sponge cakes, cut them into smaller bits and mix them. The layers are as follows: cocoa powder, macerated raisins, plain sponge, pastry cream, walnut sponge, pastry cream, boozy choc sponge (from top to bottom). How's yours?
What a regret if you have never combined coconut and chocolate in a sweet dish. Make these coconut chocolate balls to satisfy your palate. It's a chocolate lover's dream!
Traditionally, Kókuszgolyó is eaten at Easter or Christmas. You can use rum for the sour cherry juice and rum extract if you like. If you're serving your babies the choco coconut balls, just alter alcohol liquid with imitation rum extract.
The Hungarian's all-purpose crackers (Háztartási Keksz) are crunchy and slightly sweet biscuits, the best match for the base. The taste of the crackers is not very unique but essential, so you can flavor it any way you want.
That's Hungarian cocoa balls, prepared from plain cookies, coconut, and chocolate. Are you hungry?
The previous form was later modified into an amazing French dessert known as Mont Blanc, while Hungarians contributed their variety in the 18th century. You might feel that the Gesztenyepüré looks modest in size, but it's complete.
This famous dessert is effortless; you whip a bowl of whipped cream then grate chunks of chestnuts over it. Today, the chestnut purée is often enhanced with cocoa powder, rum, and chocolate. I wished that gesztenyepüré would be on the menu every night once I tried it.
Chestnuts are extremely popular throughout Japan and Europe. While it is available all year, the flavors of chestnuts are most prominent in fall. Keep in mind!
I love these Madártej a lot because they are much easier to create than they appear. The floating islands are velvety, delicious, and airy. Also, the smooth, soft-poached meringues are a delight to nibble into!
You should filter the milk since there are many particles of cooked egg whites inside. You can add turmeric or food coloring to reach the golden shade of the vanilla custard. The American version has sponge cake steeped in cherry brandy and topped with peach puree.
You can do a custom by using baked meringues but not poached ones and vanilla pudding rather than vanilla custard. The standouts are the vanilla fragrance, the silky texture, and the puffy meringues. Am I missing anything?
When I think of dumplings, I usually imagine tasty soft balls made of biscuit dough. After cooking, the mouth-watering plum sweet treats are dusted with cinnamon sugar and breadcrumbs for extra flavor and crunch.
Hungarian plum dumplings resemble Italian gnocchi and are created with mashed potatoes. They are made with simple elements and can be served as a meatless main dish, a side dish, or a dessert.
Sugar is the only factor that makes them delicious. You can either place some sugar inside the plum sprinkle some sugar on top when you slice. Last but not least, top the dumplings with cinnamon. So tasty!
It's plum season once more. Be patient while crushing the potatoes; remember to fry the breadcrumbs until golden following this clip. Good luck!
I adore pasta; in truth, I don't believe I've ever met a pasta that I can't appreciate. Rakott Teszta translates to the layered dough, while some call it Rakott Metelt, which refers to layered noodles.
A smooth mixture of sour cream, cottage cheese, sugar, raisins, and eggs is mixed with cooked egg noodles and melted butter before being baked until firm. You can serve it at your family brunch or brekkie.
I usually chop the whole grain almonds into slices and sprinkle them as toppings. However, never do it from the beginning since it's easy to sink the mixture. Once you've tried serving this goodie with beef stew, you will be happy speechless!
Like Spain, Italy, and Germany, Hungary has a robust marzipan tradition, with many Budapest bakery stores selling multicolored models of all sizes and shapes. The marzipan is prepared from a sugar and almond paste combo. In the region of Szentendre, there is even a Marzipan Museum.
Szaloncukor resembles UK Christmas crackers, but it's a lot better. Instead of poppers and other "jokes," this one contains chocolate of various types.
There are many fillings, but I chose my particular type- the marzipan-covered dark choco. It's pretty simple to make fantastic gifts, individually packaged, and if you want some surprises, get some ribbons to hang them up on the trees.
There is no Christmas in Hungary without Szaloncukor. That's why you need this guide for making the best chocolate-coated dessert.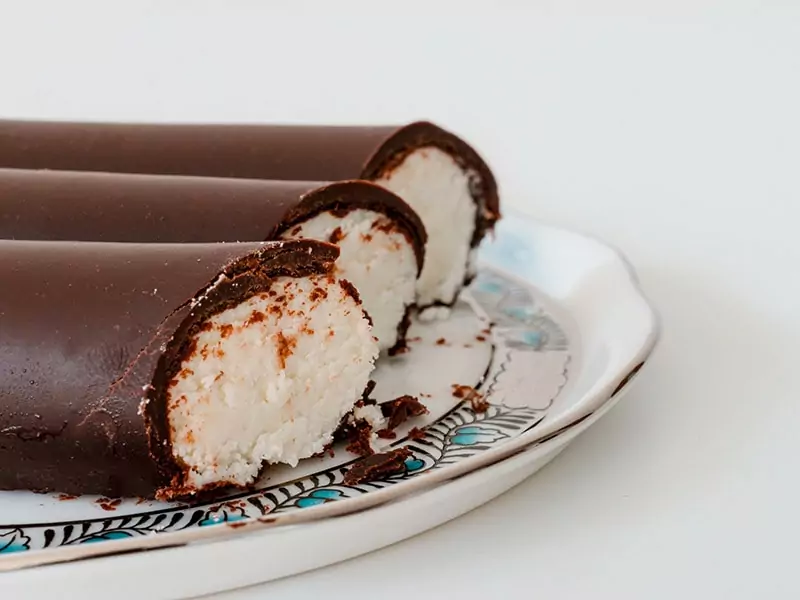 Fresh Túró cheese wrapped in bitter chocolate is every Hungarian treasure's childhood flavor. Yes, Central European citizens are crazy about Túró Rudi!
Túró Rudi is known for its unique red and polka dot wrapper, which originated from the USSR. This Hungarian treat was inspired after the citizens visited the Soviet Union and were attracted by a túró filled sweet.
In a nutshell, it's a choco bar packed with other sweets and curd with lemon curd and honey or sugar to enhance its taste. It's rich in protein and yummy as one of the healthy snacks that perfectly pairs with my cottage cheese list.
This cold soup is perhaps Hungary's most renowned summer dish. Sour cherries have a short harvest season, so nearly every house and restaurant cooks this soup during that period, and the children's task is to pit cherries.
Decrease 10 to 15 minutes of cooking time if using canned cherries. This creamy and tangy soup is usually eaten before the main course, as it provides a fresh twist to the starch fare and meat.
I sometimes replace the sweet with sour cream; I skip the cornstarch slurry and add two tablespoons of flour into 3/4 cup of sour cream. Add a bit of simmering soup to the sour cream, then mix the sour cream back into the soup. Then, you simmer for more than 5 minutes, then chill. It's ready to go now!
Máglyarakás is a satisfying bread pudding that is widespread throughout Europe. Hungarians like to soak the dried bread in custard to make this pudding. The Máglyarakás is then topped with some meringue after baking with apricot jam and apple slices.
What an ideal way to convert leftover bread into a delectable dessert! The bottom of apple filling and the golden-brown color on top explain why it seems like a burning bonfire when you watch the whole cake.
The gorgeous meringue is eye candy, while the warming vanilla sauce is practical; trust me, it's a treat worth the effort! Have you ever tried this one?
A Tasty Hungary Party For Dessert Lovers
Hungary is filled with some incredibly exquisite delicacies. In Hungarian desserts, both cheese and nuts play a crucial role. They balance out the richness with savory flavors.
Hungarian sweets are a wonderful delight for your nose, eyes, and stomach. Rich, sugary, and appealing! When you visit this humble country, make sure to bring my list by your side.
More than that, perhaps these traditional and delicious foods are quite strange with your friends and family members. Kindly press the share button and let them know. Everybody loves sweet treats, right?
Nutrition Facts
12 servings per container
---
Amount Per ServingCalories523
% Daily Value *
Total Fat 27.4g

42

%
Cholesterol 156mg

52

%
Sodium 205mg

9

%
Potassium 216mg

7

%
Total Carbohydrate 57.7g

19

%

Dietary Fiber 1g

4

%
Sugars 24.3g

Protein 12g

24

%
---
Calcium

125

%
Iron

2

%
Vitamin D

45

%
* The % Daily Value tells you how much a nutrient in a serving of food contributes to a daily diet. 2,000 calories a day is used for general nutrition advice.