When you get bored of repeating the same dessert menu every day, and you want to step out of your comfort zone, here is the land of traditional Cuban desserts waiting for you.
Cuba is a country lying on the glittering water of the Caribbean Sea. Even though you may find a tense relationship between Cuba and America, the attraction of this mysterious country is irresistible.
Just like the country itself, Cuban cuisine is a mixture of both vintage and modern. You may crush on some ingredients or cooking processes that seem strange to you.
Suppose you want to blow a half tradition and half modern air to your menu. Let's try the traditional Cuban dessert, and you will be mesmerized by its taste.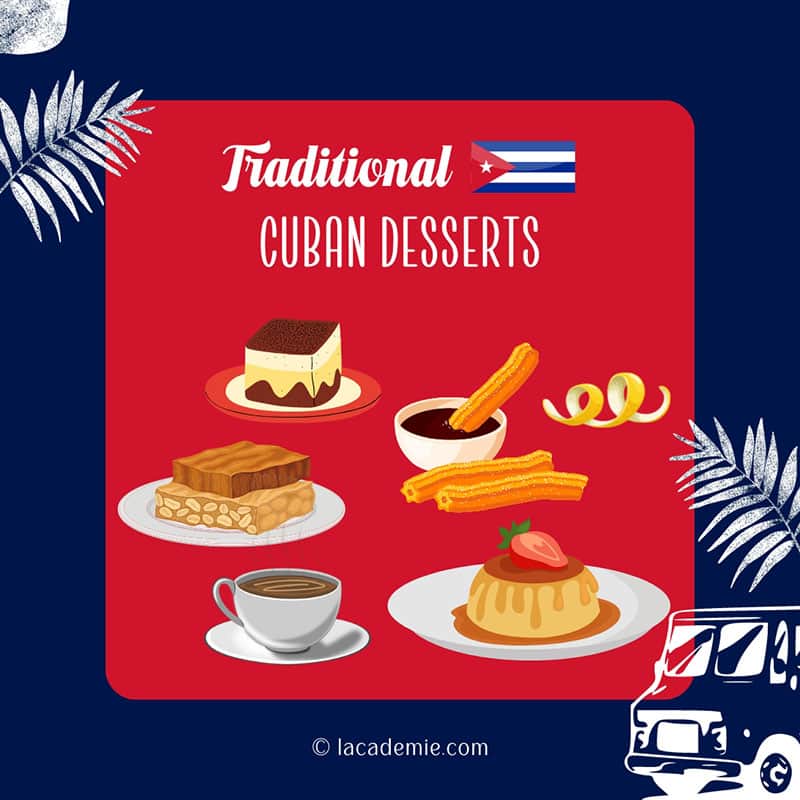 List Of Traditional Cuban Desserts
In the field of food, or especially in the field of pastry, there are lots of delicious desserts, and they are varied to go well with each taste. When mentioning traditional Cuban desserts, those are the first things that jump out of my mind.
Flan
Empanadas
Pastelitos
Capuchinos
Arroz con Leche
Turrón
Churros
Cazuela de Plátano
Pina Asada
Merenguitos
Botaniatillo
Cuban Coffee
Torticas de Moron
Pastel de Tres Leche
Casco de Guabaya
Mojitos
Guava Bars
Bonitas de Tamarindo
Guava Cheesecake
Candied Grapefruit Peel
Traditional Cuban Desserts
Most of the Cuban desserts are prone to the sweet taste, which is a wonderful note to end up your meal. If you want to know which ingredients bring that sweet taste, just keep reading.
Hey! Can you guess how many Cuban desserts in this video?
Flan
This golden jiggly dessert wins the heart of food lovers around the world by its melted luscious taste. A little addition of cinnamon and vanilla brings up a notch for the authentic taste.
A Cuba flan ingredient will surprise you with the appearance of condensed milk or, somehow, evaporated milk. Did you see how creaminess it is?
Even though each culture has played their strength in the flavor of Flan as Mexico or Central America, the uniqueness of traditional Cuban recipe throws their hat in the game taste.
The top of the flan has a darker shade than the bottom, with a glaze of caramelizing. Sugar is heated until it becomes a golden syrup.
Empanadas
When you search for Empanadas on the internet, you will assume that it is a starter from Cuba. However, the exact Cuban version of Empanadas is a folded dough with apple filling inside. It sounds similar to the Apple pie you buy at the drive-thru of McDonald's , right?
Trust me; you are going to come back to each after one bite.
You can find the Empanadas with different kinds of fillings such as cheese, ground beef, chicken, and banana, but apples are famous.
The dough is folded in the shape of a half-moon, and the edge is pinched to seal for the inside filling. There are a variety of ways you bake Empanadas. You can bake them in an oven, air-fried, or dip fried with oil to make a crispy, crunchy cover.
Pastelitos
Have you ever combined guava and cheese? How does it taste?
I guess that it would not be comparable to the Pastelitos de Guabaya. This is a Cuban dessert made with dough, cheese, and guava, of course.
The buttery, crunchy dough resembles the Danish Pastry by the multilayered.
Besides guava and cheese, many things can make up Pastelitos, such as pineapple, coconut, custard.
This Cuban Pastry has no particular shape like a triangle or square, sometimes a rectangle.
Capuchinos
Capuchinos in the Cuban Pastry is a cone-shaped cake but not the aroma of cappuccino coffee. Even those originated from the headgear hat of the Roman monks.
A particular cone-shaped pan makes the unique cone shape of cappuccinos of the Cuban chef. For its widespread use , the baked paper cups are used for baking cappuccino cakes.
The cake, after baking, is soaked into the syrup mixed with anise seed, cinnamon, and orange peel or lemon peel is optional.
The syrup will make Capuchinos become soft and melted just after one bite.
Arroz Con Leche
One of the variations of rice, Arroz con Leche, is a traditional Cuban rice pudding. In addition, it's also an important sweet treat in El Salvador, Chile, Spain, and other countries in Latin America and the Caribbean.
This magnificent pastry is made by mixing rice with different milk, evaporated milk, condensed milk, and whole milk.
A bowl of rice cooked in the usual way is a perfect base meal to make you feel full. A cup of rice in the Arroz con Leche will be a delicious dessert because of the mild taste of rice rich in the fat taste of milk.
It is easy for you to make this pastry at home. Rice is cooked with water and cinnamon until tender, then added three kinds of milk and simmered till it has the porridge texture.
Turrón
Turrón is a traditional Cuban dessert, but it resembles the Christmast nougat of Spanish. It is because those two sweet treats don't include flour in their ingredient list, but mostly nuts, egg white, chocolate, honey, and sugar. However, what kinds of nuts to use is up to your taste.
Commonly used nuts such as almonds, hazelnuts, pistachio, glued together by chocolate, or a mix of sugar.
Turrón is a crunchy snack bar with a nutty flavor of nuts for you to have on the go.
Churros
Do you want some snacks within 10 minutes? With that amount of time, you can make fried churros.
This is a Cuban pastry made up of all-purpose flour, cinnamon, butter, and milk. The dough then goes frying and coating with sugar powder.
There are different ways to taste the churros as you go with fried churros, churros dipped in chocolate, or churros coated with cinnamon sugar.
The best time to enjoy it? Churros will become a fantastic snack when you have a little blue or need some sugaring for a tired brain.
Cazuela de plátano
This is a Banana Casserole in traditional Cuban dessert. The main and the first ingredient you can notice is the banana.
The peeled banana is soaked with syrup and sprinkled with some nuts such as pecan and raisins.
Some recipes called for brown sugar to have a thick, sweet flavor. This is a perfect match for your sweet tooth.
When you want some exciting experience with Cazuela de plátano, use it with ice cream. You will be surprised by how they taste.
Pina Asada
What makes Pina Asada become a profound dessert of Cuban is not only in its tropical taste but in its simplicity.
Pineapple is sliced and soaked in the syrup of brown sugar, lemon, cinnamon, and butter. You also can make the syrup of your choice to please you and your guests' palate.
The tropical sour taste of pineapple is balanced with a bit of sweet and sour sugar and lemon. The nice kick of cinnamon will enhance your flavor to a new level.
The simplicity of a Pina Asada lies in how easy it is to make it. You can air fry this dessert or go with the traditional way, which is baking in the oven. Or if you are holding a BBQ meal outdoors, why not grill it?
Merenguitos
The traditional merenguitos of Cuban are similar to the usual meringue of French or Italian cuisine.
Merenguitos are made by whipping to foam the white egg and sugar. A little spin of cream of tartar is used to stabilize the foam under high temperatures.
This fusion dessert has a plain sweet taste, but a few drops of lime juice, vanilla extract, or food color can make the pastry more luscious and colorful.
A merenguitos served with shredded coconut is a beautiful side dish for your afternoon tea or a perfect end pitch for your main course.
Boniatillo
Sweet and maybe super sweet are two adjectives used to describe this Cuban dessert.
Boniato is a special Cuban sweet potato. You cannot find any substitute for it due to the unique sweet taste it brings.
The sweet taste of botanito is mixed with brown sugar, cinnamon powder to make a velvety pudding.
You can add some lime juice, heavy cream to your taste.
To pair boniatillo, foods which have a strong taste such as garlicky, astringent or peppery are ideal. Or you can take a spoon of boniatillo with a cup of espresso. You will thoroughly enjoy the bitter taste of this strong cup.
Cuban Coffee
A coffee machine may hide how a magnificent cup of coffee is made. If you are curious to know, welcome you to the land of Cuban Coffee.
A cup of Cuban coffee is made by brewing coffee through the coffee filter. You can see each drop falling from the filter and observe the reddish-brown color. But things are not done yet.
To make a perfect Cuban coffee, it needs to have a cream layer of brown whipping foam by stirring the filter coffee with a tablespoon of sugar.
Since Cuban coffee has a foam on top, you may need to use a cappuccino cup wide enough to hold it. If you just use a normal glass, your coffee may overflow and make a mess.
For more enjoyment, Cuban coffee is used for different coffee recipes. It brings the birth of Cuban Cortadito, Cafe con Leche, Cuban Layered Coffee.
you can not fulfill any Cuban meal without a cup of Cuban coffee.
Torticas de Moron
These sweet round cookies will remind you of the peanut butter blossom cookies by their similarity.
The crunchy, crispy dough is made with sugar, shortening, and flour. If you need something special, lime zest will tease the taste buds.
This cookie is named after the city Moron in the Central of Cuban. The filling, which is optional for you to add in or not, could be guava, kinds of marmalade, dulce de leche, or caramel.
You can enjoy it with a shot of espresso in the morning for a beautiful day.
Pastel de Tres Leche
Do you still remember the Cuban rice pudding cooked with three kinds of milk? This succulent dessert is made by a sponge cake soaked in three types of milk too.
A toothpick pokes the fluffy soft texture of the sponge cake after baking. Then it is soaked in the amalgamate of milk, which is whole milk, condensed milk, and evaporated milk.
The mild taste of the cake will be milky, and top it with a layer of foamy whipping cream.
You can have this dessert with nibble meringue, flaked coconut, or fresh fruits such as strawberry, pineapple, orange, or grape.
Casco de Guabaya
Do you feel familiar with the word guayaba? It is guava, one of the special fruits of Cuba.
To make this dessert, you need to peel off the green rinds and cut them in half. You should relieve the stubborn guava seeds before cooking them in the mixture of sugar, water, and lime zest.
The tangy taste of lime zest will endow the dessert with light. It balances the sweetness of both sugar and natural fruit.
To raise the aroma of the whole dessert, cinnamon sticks and anise are also added to the syrup.
Many varieties of guava are soft and sodden after cooking. This makes it a delectable and flavorful dessert to eat alone, or you can serve them with whipping cream or cheesecake as a guava marmalade.
Mojitos
You might drink mojitos several times, but do you know that it's also a Cuban dessert?
The original recipe of mojitos includes rum, sugar-free soda, mint leaves, sugar, and lemon. However, the change and adaptations of many countries and cultures regarding mojitos have varied this classic Cuban drink.
You can make this drink with vodka and grape juice or other fruits like strawberry, blueberry, or orange besides rum and lemon. Mojito is a perfect pair of desserts for your summer party, while the bubbles on soda will cut through the fatty taste of meat or oily main course.
The version of mojitos without rum could help your kids stay away from soft drinks when they have fried chicken too.
Guava Bars
It is another recipe with the presence of guava, but it doesn't include guava only.
This Cuban dessert combines the fruity taste of guava jam with the nutty, mild flavor of coconut and the crunchy cream taste of shortbread.
These ingredients are layered together. The crispy shortbread is the stable ground for a glaze of guava then the sprinkle of coconut on the top. If you don't like coconut, you can alter it by any crust nuts you have, such as walnuts, peanuts, pecans, almonds, and so on.
If you have guava, don't forget its soul mate friend, lime zest. The sharp, tangy taste of lime zest will make it become a sinful dessert.
Bonitas de Tamarindo
Tamarind is used to replace the sour taste of lemon in many dishes. Moreover, the pulps themselves are a mouth-watering dessert in many Latin countries. Cuba is one of them.
Bonitas de Tamarindo or just easy Tamarind Balls are made by separating the pulped flesh and coated them with sugar to reduce their sour taste.
Some little add of pepper will turn the tamarind balls to heaven with its spicy taste. You can choose to have pepper or not or adjust the spice taste of pepper by adding more or less.
This luscious brown ball is the natural candy that you can make for your child or use as a snack to have on the go.
Guava Cheesecake
Cheesecake is famous for its creamy greasy cheese layer, which is the thickest layer of the whole cake. In the traditional Cuban dessert, this delicious cheesecake is melted in your mouth with the fruity of guava jam.
You may try some other cheesecake such as passion fruit cheesecake, strawberry cheesecake, lemon cheesecake, but guava cheesecake is worth more than those kinds. It is rich in tropical taste.
The delightful fusion of Cuban guava and cheesiness fabulous cheesecake makes it become an exquisite dessert you must try.
Candied Grapefruit Peel
This natural candy is made of grapefruit peel with sugar. It is an excellent replacement for your kids' commercial sweets by its nature and also the medical benefits it brings.
Making candies from grapefruit peel can reuse the throwing rind peel when you usually use the watery insider.
You will cut the pinky-white peel after getting off the green rind into strips. Prepare boiling water to simmer them for a few minutes. Repeat twice to reduce the tangy bitter taste of peel.
Drain them and toss to the sugar. You will have a savory candied grapefruit peel, which is crunchy and sweet outside, while the inside is still moist and a bit harsh.
You can dip it with chocolate or use it as a finger snack for a little blue.
Which Cuban Dessert Are You Going To Taste First?
The cuisine culture of Cuban is profoundly affected by its specialty food and the flavor of its people. In those traditional Cuban desserts, you may notice that guava is the most famous one with the addition of lime zest and cinnamon.
The prominent taste of Cuban dessert is sweet. If your sweet tooth is craving sweetness, you should not miss these savory desserts.
This is my list of Cuban pastries. If you know some others or tried some of them, please share your food experience with me through the comment section.
Nutrition Facts
12 servings per container
---
Amount Per ServingCalories239
% Daily Value *
Total Fat 7.4g

12

%
Cholesterol 118mg

40

%
Sodium 92mg

4

%
Potassium 230mg

7

%
Total Carbohydrate 37.8g

13

%
Protein 6.8g

14

%
---
* The % Daily Value tells you how much a nutrient in a serving of food contributes to a daily diet. 2,000 calories a day is used for general nutrition advice.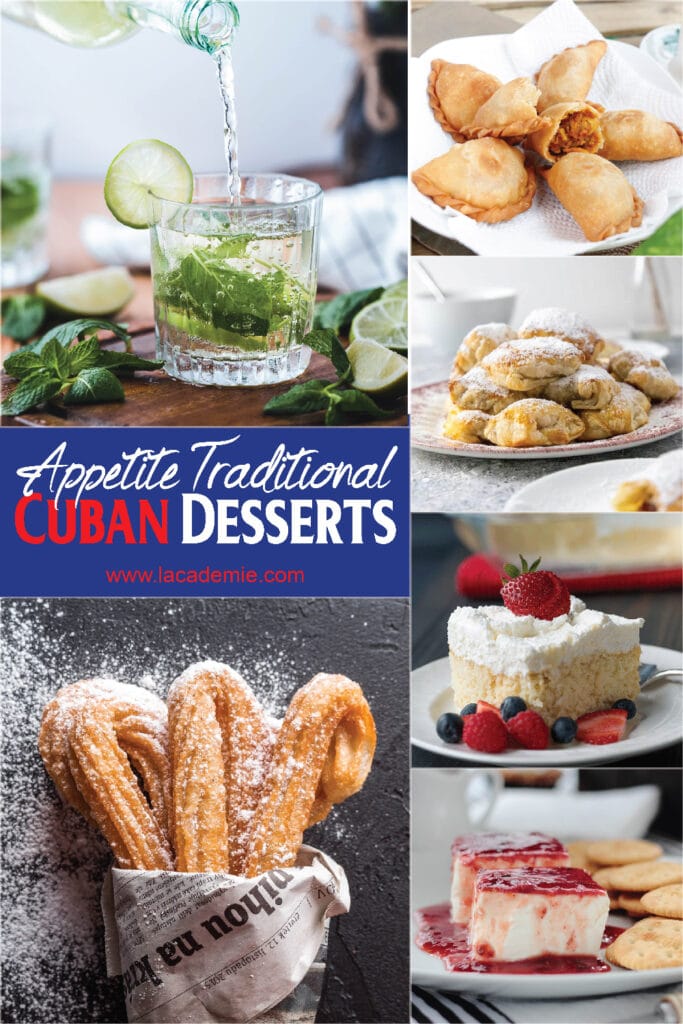 Reference
Benke, A., and Valens, V.M., 2004. Cooking The Cuban Way. Minneapolis: Lerner Publications Company.