Do you want to know some of the best vodka and grape juice recipes? The combination is perfect for refreshing cocktails and sweet party drinks. Luckily, there are so many combinations of ingredients you can add to the mix to boost the flavors further.
Vodka is a common and versatile element found in many famous cocktails. Aside from grape juice, you can also mix apple juice with vodka to make cocktails. For now, let's learn how to turn vodka into delicious drinks with grape juice.
Moreover, you will find out what grape juice to use for your drinks. From this, you'll probably see why you can turn apple cider vinegar into tasty drinks with grape juice. After all, grape juice is an incredibly lip-smacking drink, and it's also highly versatile as well.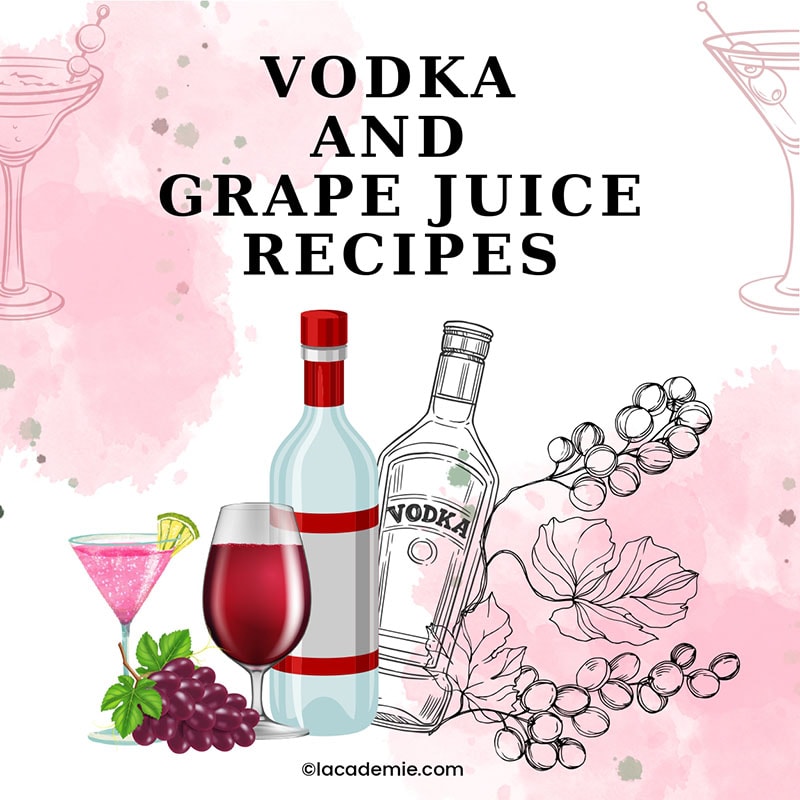 Why Mix Vodka With Grape Juice?
There are so many alcoholic drinks and juices, and you might wonder why this combination is special. Vodka is an alcoholic drink without odor and with a neutral flavor. Vodka doesn't taste good, and mixing it with other liquids can make the taste bearable and even delicious.
However, grape juice isn't much utilized in the cocktail industry, despite its flavor and versatility. But do you know most grape varieties are good packages of nutrients?
On its own, grape juice is very good for your health. Freshly made grape juice can reduce the blood clots risks and improve your cholesterol. Moreover, it helps maintain blood pressure in a healthy range and keeps your blood vessels in good condition.
It loses some of the beneficial properties when mixed with alcohol, but it is still better to use grape juice than soda juices.
Also, when you mix grape juice with vodka instead of sugary drinks, you get a delicious drink with fewer calories. I won't go that far to say that vodka and grape juice combo is good for weight loss, but it certainly is better than soda-based cocktails.
Vodka And Grape Juice Calories
In fact, vodka is one of the alcoholic drinks with the lowest calories. It also doesn't contain carbs, which means that people on LCHF or Paleo diet may enjoy a glass or two occasionally. The number of calories in one shot of vodka depends on the proof rating or the concentration of vodka.
Therefore, the stronger or more concentrated the vodka is, the more calories it will have. Vodka is free of sugar, minerals, and fats.
For example, one shot of vodka, which is approximately 1.5 ounces contains 85 calories for a 70-proof vodka. The strongest, 100-proof vodka shot has 124 calories.
A half a cup of grape juice, without added sugar, also doesn't contain too many calories. It does have carbs, and natural sugar, as well as proteins, minerals, and vitamins. Half a cup, approximately 4 ounces, has only 76 calories. But, canned juice or sweetened versions of juice have more calories.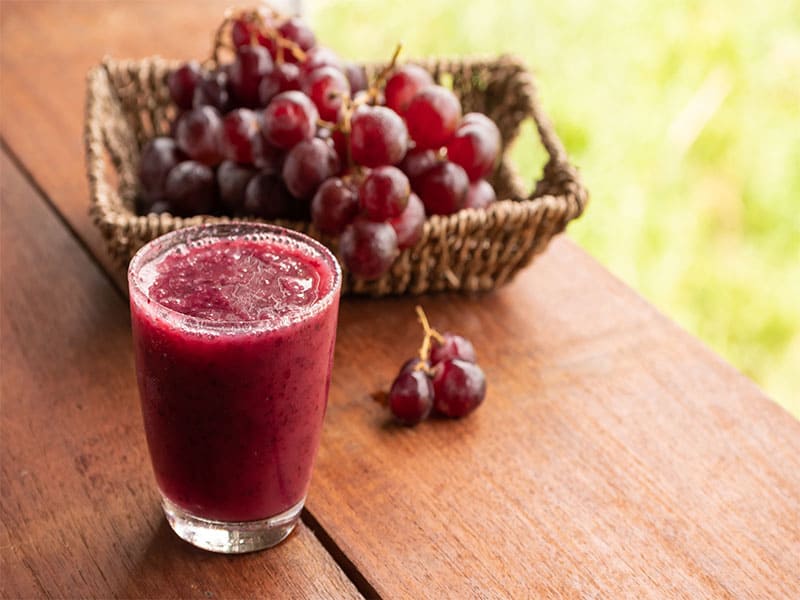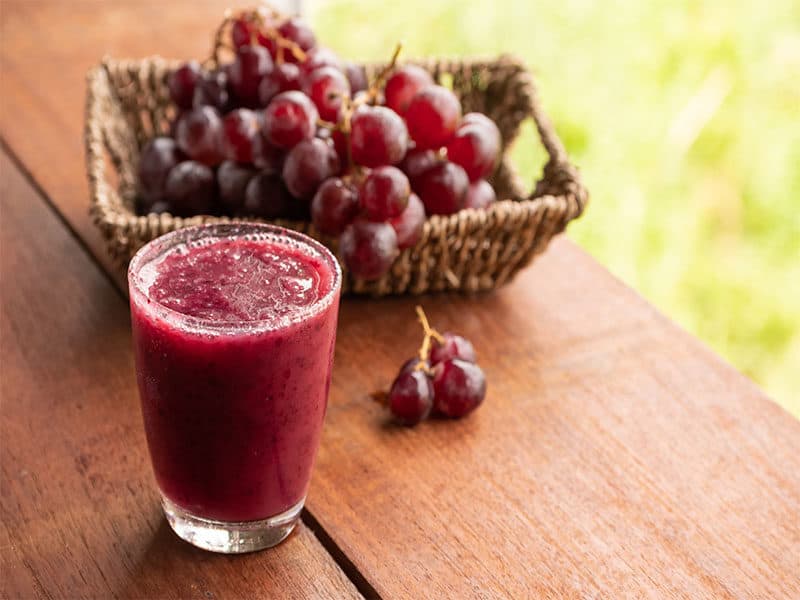 Perfect red grape juice recipe to try at home. Watch this video to know more:
Top 10 Vodka And Grape Juice Recipes
Here are the best recipes for a drink containing vodka and grape juice. Some are easy to mix at home as occasional refreshment during hot summer days, while others are fancier and can count as acknowledged cocktails.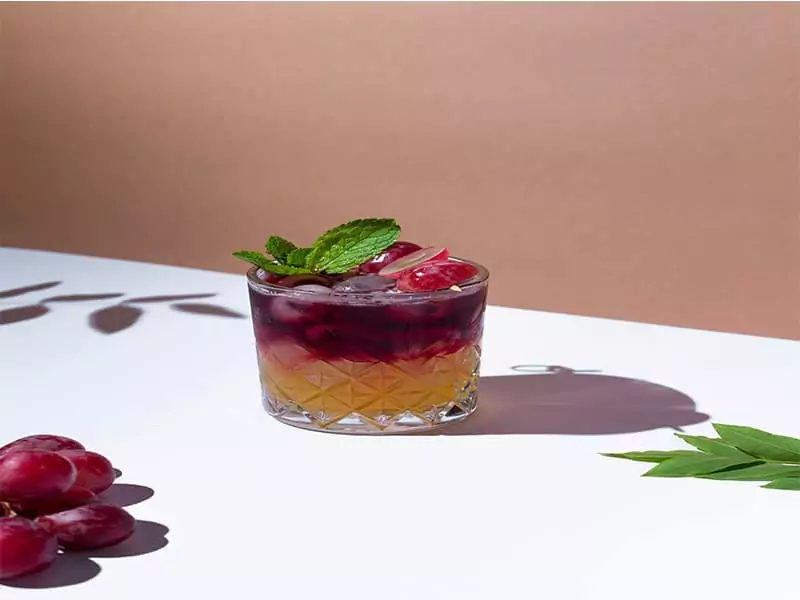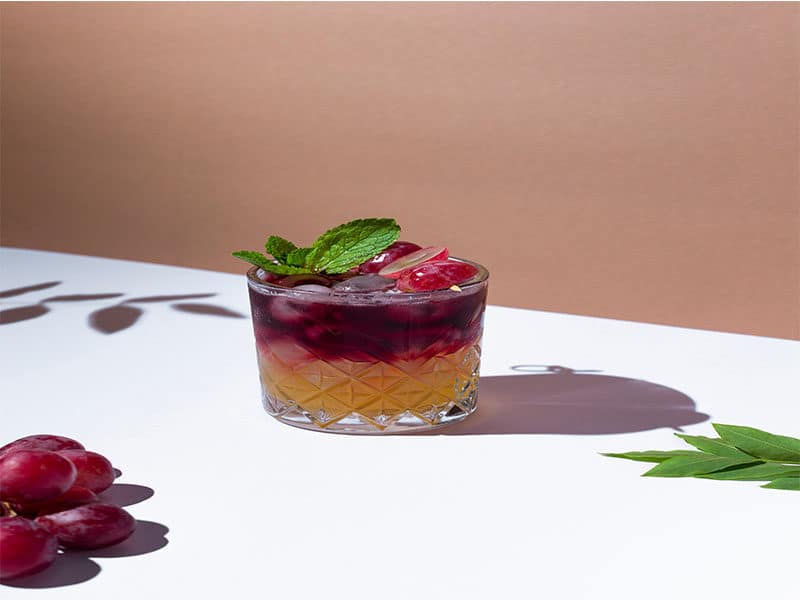 1. Grape Martini
Let's start with something easy to make, but with great taste. Grape martini is an inexpensive yet delicious frozen cocktail, suitable for home parties.
And before you, no it won't taste like a standard martini or wine.
Here is a list of things you'll need for a grape martini. The ingredients are suitable for one serving. It is best when served in a cocktail glass.
You will need:
Vodka – 1 fluid ounce
White grape juice – 3 fluid ounces
For garnish:
Lemon wheel
Grape
Cocktail umbrella
Crushed ice – one cup
Sugar – one tablespoon
I recommend placing the glass in the fridge to cool down before serving. Additionally, you can dip the glass in sugar before you put it in the freezer, as the sugar will stick better to the glass. You can use a shaker to achieve better consistency. But if you don't have one, you can pour vodka and juice directly onto crushed ice in the chilled glass and stir it with a spoon.
For garnish, attach lemon wheel and grape to the cocktail umbrella and serve it cold!
2. Sparkly Cocktail For A Garden Party
My next recommendation is perfect for outdoor summer parties. You can prepare it one or two hours before guests arrive to get the best taste.
You can use fresh seedless red grapes or unsweetened grape juice for an effortless version of the recipe. Keep in mind that you will need around two pounds of fresh grapes to make five cups of juice. If you want to make your grape juice, having a comprehensive and easy-to-follow juice book might help you more than searching online.
These ingredients are suitable for approximately five servings, and you can use red wine goblets for this one.
Things you need:
Red grape juice – 5 cups
Vodka 3/4 cup
Rose sparkling wine – 1 bottle
Lemon juice – 1/2 cup
Honey – 1/2 cup
Sliced grapes – 1 cup
For best results, keep all ingredients in the fridge for at least one day.
If you are using fresh grapes, mix them with lemon juice and honey in a blender until you get a smooth texture. If not, mix lemon juice, grape juice, and honey in a large jug and stir with a welder. You can use clover honey as an easy option, but I recommend using healthy manuka honey as a superfood force.
Add vodka and sliced grapes into the jug and let it sit for at least one hour in the fridge. Add sparkling wine before serving and stir it well.
Pour the drink into your goblets and serve cold!
3. Grape Ape
Here is a simple yet delicious and refreshing drink. The original recipe for grape ape includes red grape juice, but you can experiment with the white grape as well. Grape ape is best when served in highball glasses with a straw.
Here is what you need to prepare for one serving:
Vodka – 2 ounces
Red grape juice – 3 ounces
Lemon or lime soda – 3 ounces
Ice
Fill the glass with ice and pour all ingredients, gently stir and serve. It is that easy. However, if you want to make your drink fancier, you can use round ice cubes instead of crushed ice instead of standard ice cubes.
Add a straw to the glass and enjoy your freshly made grape ape.
4. Transfusion Drink
Transfusion cocktail is a famous golf drink, which you can easily make at home using a specially chosen list of ingredients. The Transfusion cocktail has a light to neutral taste with a pinch of grape taste, and delightful color.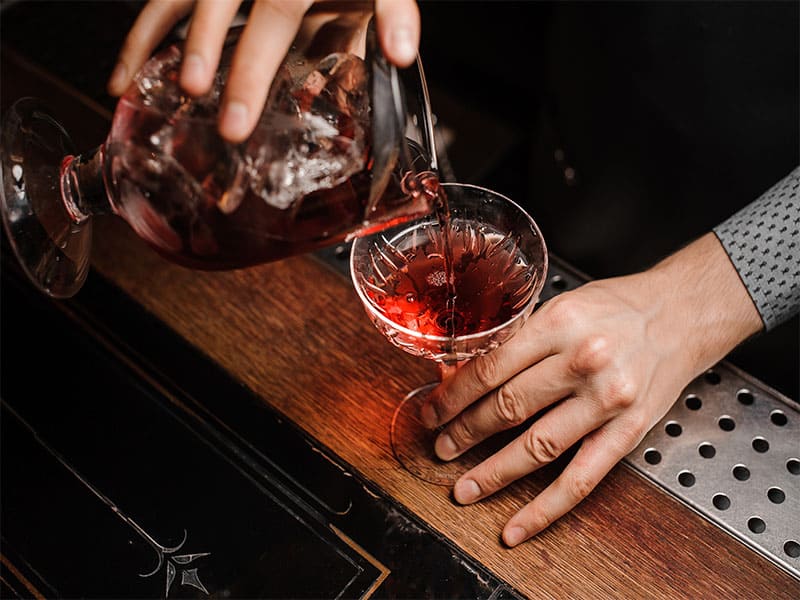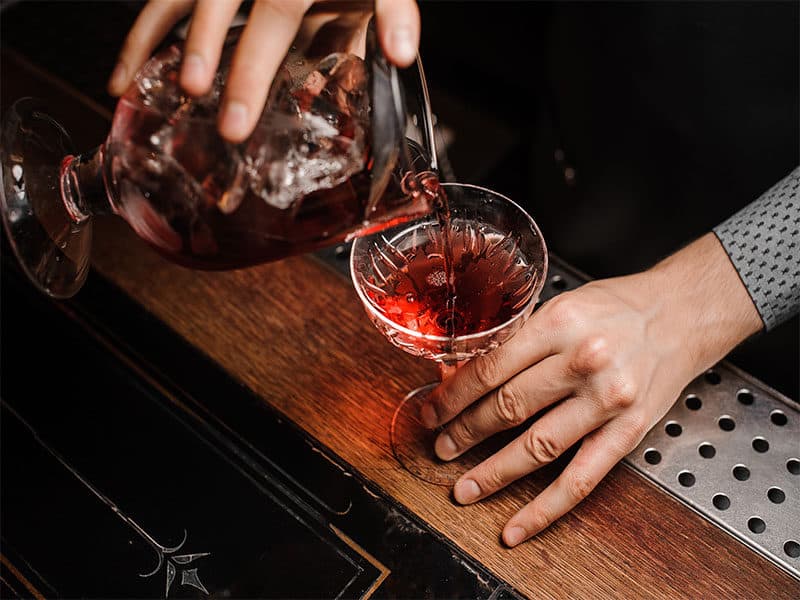 You can serve it in rock glasses.
Here is what you'll need:
Red grape ice cubes, made from Concord grape
Vodka – 2 ounces
Club soda – 2 ounces
Lime or lemon juice – 1/2 ounce
Ginger syrup – 1/2 ounce
For garnish:
If making your Concord grape ice cubes seems like a lot of work, you can skip the step and use the grape juice instead of the cubes as your version of the drink.
The cubes are easy to make. All you have to do is fill your ice tray with juice the day before and put it in the freezer. That is all!
However, make sure the ice tray is clean and free of unpleasant freezer smells, as they can ruin your drink.
You can use a shaker if you own one. Put the ice cubes (or red grape juice) in a shaker with vodka, lemon juice, and ginger syrup. Shake it well and pour it into the glasses. Add club soda on top and a few red grapes for garnish. Serve cold.
Watch this video to know more:
5. Toffee Cocktail
If you like sweet drinks, you will love this caramel cocktail. The list of ingredients might surprise you, but the elements actually compliment themselves and create a harmonic cocktail drink.
It is also one of the drinks you can prepare year-round and can be used as a winter cocktail.
Because of the caramel, the drink contains a lot of calories but doesn't take much time to prepare. It is one of those heart-warming cocktails you will enjoy preparing. You can serve it in a rock glass with no garnish.
Things you need:
Vodka – 3 ounces
White grape juice – 6 ounces
Salted caramel sauce – 1 tablespoon
Toffees
Salt and sugar
The first thing to do is to prepare your toffee vodka. Toffee vodka is sweet and tasty, and you can drink it alone, but when mixed with grape juice, it is even better.
To make your toffee vodka, crush toffees and mix them with fine vodka into a jar with a lid. Add a pinch of salt and sugar, and let the mixture stay for two days. It will be enough for toffees to fully dissolve in water.
Then, add salted caramel sauce on the bottom of the glass, and pour white grape juice and your homemade toffee vodka on top. Stir lightly and serve at room temperature with some sweet desserts from caramels for the ultimate indulgence experience.
6. Purple Rhapsody For Special Occasions
We are moving on to my favorite cocktail for special occasions. It is a version of the popular Purple Passion Potion cocktail which is quite pricey in most cocktail bars.
If you have all ingredients at home, you can make your cocktail.
Here is what you need for one serving:
Vodka – 1.5 ounces
Grape juice – 4 ounces
Triple sec -1.5 ounces
Blue Curacao – 1.5 ounces
Sprite – 2 ounces
1 cup of ice
For garnish:
Blackberries
Raspberries
Strawberries
Chopped Mint
For the original recipe, bartenders use Covington vodka, but you can use whatever vodka you have. Mix ice, liqueurs, grape juice, sprite, and vodka in a blender and process until you get a smooth texture. If you don't own a blender, you can get the same results even if you use powerful, but compact juicers.
Add a bit of blackberry, raspberries, and strawberries to the bottom of the glass and pour the mixture on top. Finish with some chopped mint and serve cold!
7. Royal Refreshment
If you are looking for something quick and easy to prepare, but with a sophisticated effect, here what I had in mind – add champagne to the mixture of vodka and white grape juice.
Here is what you need:
Vodka – 1 ounce
White grape juice – 1 ounce
Champagne – 1 ounce
For garnish:
Put crushed ice in the glass, preferably champagne flute. And pour vodka and juice on top of it. Add a splash of champagne to and white grape.
For this recipe, I recommend freezing white grapes, as they will add a wow effect.
Watch this video to know more:
8. Drink For The Whole Family
Before you start thinking that I recommend vodka to children, I will give an additional kid-friendly option to make this cocktail. You can serve both versions in cocktail glasses and enjoy a lovely afternoon with your family.
The drink is very easy to make and has only three ingredients.
Things you need for four drinks:
Vodka – 4 ounces
Grape juice – 4 cups
Cotton candy – 4 cups
The kid-friendly version consists of grape juice and cotton candy, while the adult version has vodka in it. Be mind that this drink is highly caloric, and if you are on a calorie count diet, you should drink only one glass of it.
Put equal amounts of cotton candy into each glass. Add the rest of the ingredients and enjoy the sweet taste of dissolved candy. It will also change the color ever so slightly.
The candy dissolves when it comes into contact with vodka so it is also fun to make! You can prepare it for Halloween, children's birthdays, or anniversaries!
Watch this video to know more:
9. Sangria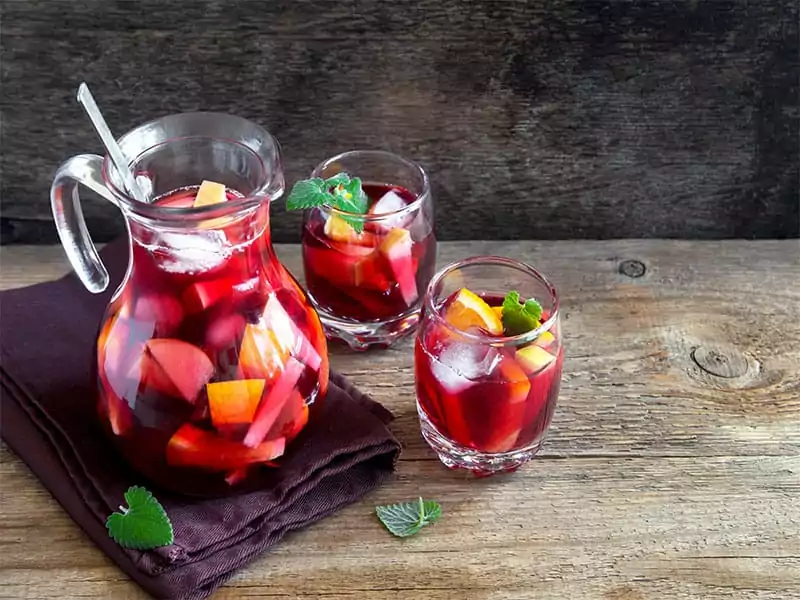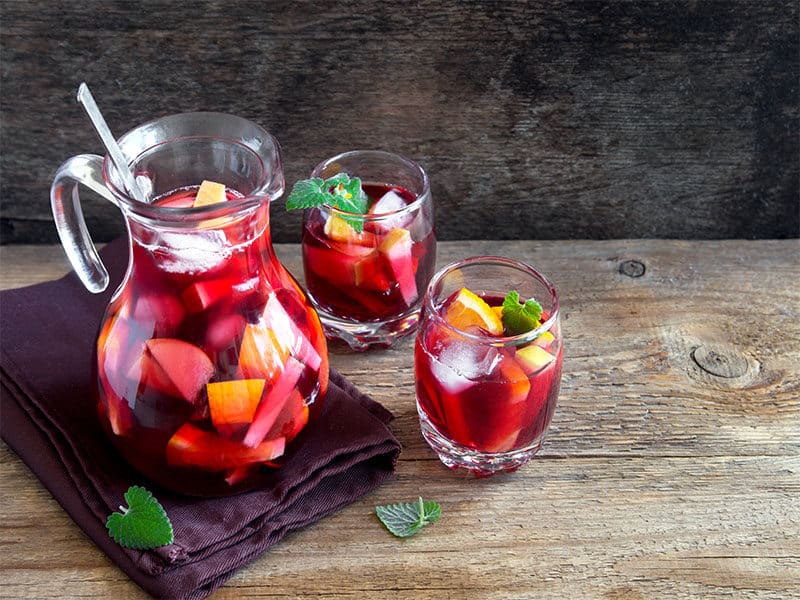 Here is the ultimate recipe for the most delicious sangria you will ever make. With this, you won't have to think about how long sangria can remain fresh, as the drink will be gone within seconds. Seriously, it's that delicious.
The ingredients list might seem like a lot. But when you mix everything, the fine flavors will blend, and you will end up with a delectable Spanish beverage with a summer taste like no other.
The recipe is for eight people, which makes it perfect for parties! Prepare a large bowl for mixing ingredients, and freeze grapes before you start making your sangria.
Things you need:
Green grapes – 1.5 pound
Red grape juice – 1 cup
Vodka – 1 cup
Red wine – 2 bottles
Apple -1
Ice – 4 cups
Lemon – 1
Sugar – 1/2 cup
Cut lemon apple into wheels, put them in a bowl and add frozen grapes. If you want to add a wow effect to your sangria, you can use a simple, but effective apple corer to get all parts of the apple cut in equal sizes. Pour liquid ingredients and stir well. Let the mixture sit in the refrigerator for a couple of hours, so all fruits can soak well. Freeze glasses before serving, fill them up to half with ice and use a ladle to sip sangria into glasses.
Make sure to add fruits into every cup!
Watch this video to know more:
10. Paleo Cocktail
Here is another easy-to-make, refreshing drink for hot summer days. What is good about this drink is that even people on the Paleo diet can drink it. Add this to your reservoir of recipes for Paleo and vegetarian dishes so that you can indulge yourself every once in a while.
All ingredients mix in the same ratio, so the drink is easy to customize for many people. One ounce of every element is per person, so if you have more people coming, just raise the amounts.
Things you need:
Red grape juice
Vodka
Blueberry juice
Pomegranate juice
Triple sec
Garnish:
Fresh berries
Chopped mint
If you cannot find decent pomegranate juice, you can use first-class cranberry juice for its health benefits and vivid color. Just mix all ingredients in the shaker, add ice to the glass and pour in. The drink will get a beautiful color, and you can garnish it with fresh berries or chopped mint.
Vodka And Grape Juice – Perfect Combo For Everyone
As you can see, a combination of vodka and grape juice is versatile and can be used for multiple drinks. You can experiment with ingredients; add less or more vodka to get your perfect taste.
My favorite drink is the one with cotton candy, as it is so fun to make, delicious, and great as a whole family treat.
What recipe will you try first?
If you enjoyed the article, please consider liking and sharing it to help me promote healthy grape juice in drinks!
Nutrition Facts
1 servings per container
---
Amount Per ServingCalories145
% Daily Value *
Total Fat 0.1g

0

%
Sodium 1mg

1

%
Potassium 143mg

5

%
Total Carbohydrate 20.2g

7

%

Dietary Fiber 0.1g

0

%
Sugars 20.1g

Protein 0.5g

0

%
---
* The % Daily Value tells you how much a nutrient in a serving of food contributes to a daily diet. 2,000 calories a day is used for general nutrition advice.