You may be familiar with orange juice mixing with vodka or grape juice and vodka recipes, but do you know that apple juice and vodka is also a tremendous combination? Many people prefer vodka over other alcoholic beverages, and vodka can go along very well with any fruit juice.
Combining apple juice with vodka creates a pleasant flavor since apple juice adds a sweet, sour flavor that complements the liquor's flavor of vodka. With a few ingredients and some simples steps, you can quickly enjoy something sweet after meals.
Apple Juice And Vodka Recipe – Quick And Simple Drink To Mix Up Tonight!
Apple juice and vodka cocktail is a refreshing and thirst-quenching beverage that is perfect for a hot summer day. You can also add some fresh herbs or cinnamon as a garnish for delightful notes.
This recipe is just simple, with only apple juice and vodka. Go on and try this recipe for an amazing drink that won't disappoint you!
| | |
| --- | --- |
| Time | 3-5 minutes |
| Calories | 177 kcal |
| Servings | 1 |
| Course | Cocktail |
| Cuisine | American |
| Difficulty | Easy/Beginner |
| Flavor Profile | Sweet, Sour |
What You Need:
1- 1.5 ounces of 80-proof vodka
5 ounces of apple juice
Fresh herbs
A high ball glass
Bar spoon/ normal spoon
Instruction:
Step 1: Add ice cubes to the high ball glass
Step 2: Pour 1-1.5 oz of vodka into the glass
Step 3: Pour about 5 oz of apple juice (or simply fill the rest of the high ball glass with apple juice)
Step 4: Stir quickly with a bar spoon (you can use the normal spoon if you do not have the bar spoon)
Step 5: Top with some fresh herbs
Recipe Tips:
When adding fresh herbs, it's best to clap the herbs between your hands a couple of times. Doing this will gently bruise the leaves, releasing the pleasant aroma and oils.
In case you do not have enough time to get fresh apple juice, you can seek the help of top-tier store-bought apple juice or cold-pressed apple juice. Whatever you choose, just make sure that it's of high quality.
Serving Suggestions:
If you don't like fresh herbs, you can top this beverage with ground cinnamon to complement the taste of apple juice.
Nutrition/Serving:
Carbohydrates: 19g, Protein: 1g, Sodium: 8mg, Fiber: 1g, Sugar: 15g, Vitamin C: 4%, Calcium: 1% , Iron: 6%
Is Apple Juice And Vodka Worth Trying?
Apple juice and vodka boast a light, sweet, and tart flavor that can quickly quench your thirst. However, many people may worry whether this beverage is suitable for their diet or not. Go on, and you will find the answer!
Fewer Calories
One good news for dieters is that Vodka is one of the alcoholic drinks that has the lowest calorie and zero carbs (1). That's why it can be an ideal option for people who follow a low-carb diet.
As you know, vodka on its own only brings the burning alcohol taste. Therefore, it is ideal for mixing vodka with sweet juices to make it taste better. Vodka can be mixed with apple juice or other fruit juices, and the sugar content of these fruit juices may contribute to higher calorie content.
Calorie Comparison Chart: Apple Juice And Vodka With Other Combinations
Look through the chart below to compare apple juice and vodka with other vodka mixed beverages!
Serving size:
Vodka 80-proof, 40% alcohol: 25ml/0.83 fluid ounces
Juice/other drinks: 150ml(5 fluid ounces)
| | |
| --- | --- |
| Vodka Mixed Beverage | Calories/Serving |
| Vodka And Apple Juice | 125 kcal |
| Vodka And Orange Juice | 126 kcal |
| Vodka And Pineapple Juice | 379 kcal |
| Vodka And Cranberry Juice | 130 kcal |
| Vodka And Lemonade | 386 kcal |
As you can see, vodka and apple juice have fewer calories than other combinations. Therefore, mixing apple juice and vodka can be a great option if you need to watch your calorie intake but still want to enjoy a refreshing taste!
Less Sugar
In this recipe, I do not add any sugar since apple juice itself boasts a sweet taste. However, you can add about 1 tbsp of sugar if you want a sweeter taste.
Nutritional Value
Vodka is made up of only ethanol and water, which means that vodka does not bring any nutritional value. When combining with apple juice, you have a good chance to take pleasure from the beverage with a few amounts of Vitamin C, Calcium, and Iron (2)
Refreshing Taste
Another reason that makes many people fancy this drink is that it features exceptional taste. The combination of sweet, tart, and the rich apple flavor is awesome. Don't forget to garnish with some fresh herbs or ground cinnamon for an extra twist! You are going to love this beverage!
Other Recipes For Drinks With Apple Juice, Vodka, And More
Apart from the simple recipe with only apple juice and vodka, you can add some exciting recipes to your collection.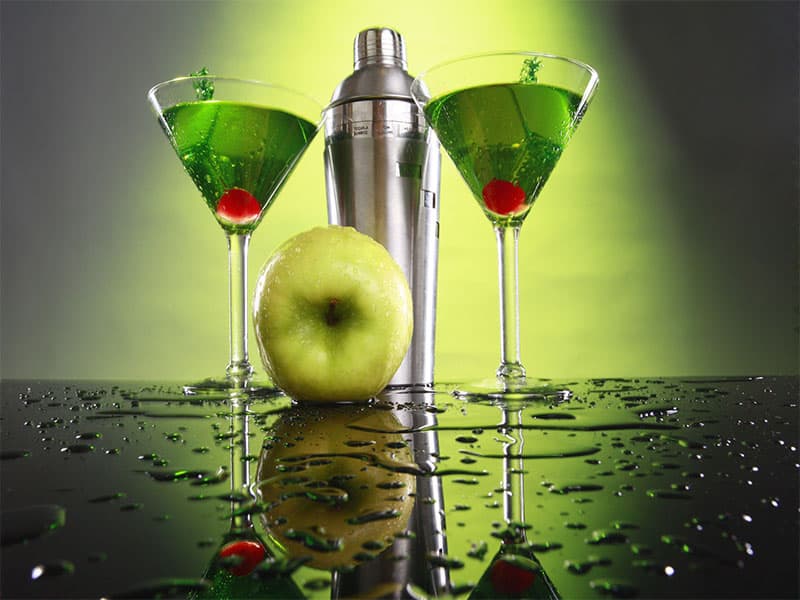 List of 20 Apple Juice Vodka Mixed Recipes To Try
Are you bored of the simple recipe with just vodka and apple juice? Here is a quick list of some recipes that come with apple juice, vodka, and other juices or herbs. The only limitation is your imagination, try out these recipes to make awesome beverages for all occasions!
Appletini/Apple Martini
Apple And Thyme Martini
Apple Rosemary Collins
Double Apple Mojito
Spring Garden
Apple Blossom Moscow Mule
Lavender Infused Apple Juice Vodka Cocktail
Honey Roasted Pear Sparkling Cocktail/Mocktail
Green Halloween Sangria
Szarlotka Cocktail
Fig Vodka Martini
Thanksgiving Sparkling Cocktail
Patriotic Passion American Cocktail
Aperol Apple Cocktail
Apples and Persimmons Kicker
Apple Pie Moonshine Jell-O Shots
Sparkling Shamrock Cocktail
Caramel Apple Cocktail
Caramel Apple Moonshine
Fall Long Island Iced Tea
It's time to go into details to see the characteristic of each beverage!
1. Appletini/ Apple Martini
Main Ingredients: Apple Juice, Vodka, And Lemon Juice
An Apple martini (or Appletini) is a drink made with vodka and apple juice. You can also replace the apple juice with apple liqueur, apple cider, or apple brandy. This cocktail, initially known as an Adam's Apple Martini( named after the bartender who invented it).
This Appletini recipe requires a cocktail shaker. Begin by adding apple juice and lemon juice to the cocktail shaker. Shake vigorously. After that, add vodka, green apple schnapps, ice, and shake thoroughly another time.
The refreshing and a hint of sour mask the alcohol taste of vodka. It's best to serve in a martini glass and garnish with some apple slices, cherry, or lemon twist.
2. Apple and Thyme Martini
Main Ingredients: Apple Juice, Vodka, And Thyme Syrup
Carrying this beverage is quite more tricky than the normal apple martini since you have to make the Thyme Syrup first. Here is the quick instruction for making Thyme Syrup as well as Apple and Thyme Martini!
Thyme Syrup Instruction: Add thyme, water, and sugar into a saucepan and cook at medium heat. Wait until the mixture boils, reduce to low heat and continue to cook for 5 minutes to dissolve the sugar. Remove the saucepan and allow the Thyme Syrup to cool. As we do not need too much Thyme Syrup, you can store the leftover in an airtight bottle in the fridge.
Apple And Thyme Martini Instruction: Add apple juice, apple syrup, lemon juices, thyme syrup, vodka, and ice cubes into the cocktail shaker. Shake! Pour into martini glasses and garnish with apple slices and thyme sprig.
Follow the recipe, and you can effortlessly make fresh, homemade beverages to serve your family!
3. Apple Rosemary Collins
Main Ingredients: Vodka, Apple Juice (Or Apple Cider), Lime Juice, Apple Liqueur, Rosemary Simple Syrup
Apple Rosemary Collins is the newer version of the Classic Vodka Collins. It is perfect for trying this recipe at holiday parties. Whether it's summer or winter, this cooling cocktail should not be missed.
Making Rosemary Syrup is quite similar to making Thyme Syrup. Get an equivalent amount of sugar and water to a boil. Take the pan off the heat. Steep for 10 minutes with a rosemary sprig. Take out the rosemary and wait for the pan to cool.
This beverage is so easy to make! Just shake all the ingredients in the cocktail shaker for 10 seconds. Then strain the mixture. I love to enjoy this beverage in a highball glass with crushed ice and green apple slices on top. Additionally, you can garnish this drink with fresh blackberry, raspberry, or even lemon slices. And don't forget to add a sprig of rosemary on top!
4. Double Apple Mojito
Main Ingredients: Vodka, Apple Juice, And Fresh Mint
I know you want something refreshing for this summer holiday. So, ta-da! Let me introduce you to the new mojito recipe: Double Apple Mojito. This beverage tastes like a fizzy mint lime cocktail with a hint of sweetness. It's delicious and peculiarly refreshing!
This recipe requires simple syrup, and you can quickly make it in case you haven't had one yet. Add sugar and water in equal portions to a saucepan and heat until the sugar dissolve. Then let it cool!
Double Apple Mojito is best served in a tall glass. The muddler is helpful for crushing the mint leaves. Then simply add ice cubes, the simple syrup you have prepared, apple juice, and vodka. Finally, slice some green or red apple to garnish and enjoy!
5. Spring Garden
Main Ingredients: Vodka, Apple Juice, Lemon Juice
A scrumptious drink for summertime, Spring Garden has become such a hit among enthusiasts for ages that with this recipe, the thought "Will apple juice get spoiled" will never cross your mind. Why? Because within a blink of an eye, you'd use all your apple juice for this recipe.
Shake all the ingredients in the cocktail shaker and strain into an ice-filled Collins glass. A sprig of mint or raspberry is the perfect option for garnishing this beverage. Cheers!
6. Apple Blossom Moscow Mule
Main Ingredients: Apple Vodka, Apple Juice, Lemon Juice, Ginger Beer
A traditional Moscow Mule consists of vodka, ginger beer, and lemon juice. It is usually served in a copper mug to keep it cool. These days, the multitude of Moscow mule varieties arose, and Apple Blossom Moscow Mule is a must-try.
With the combination of sweet apple juice, zesty vodka, citrusy lemon juice, and spicy, warm ginger beer, this delicious cocktail is really worth trying. When poured over ice and served in lovely mugs with lime slices, apple slices, and mint on top, it's a complete bonus!
7. Lavender Infused Apple Juice Vodka Cocktail
Main Ingredients: Apple Vodka, Apple Juice, Food-grade Dried Lavender
With just 3 ingredients, you can quickly make a floral cocktail that suits any season. Lavender has a unique taste that distinguishes it from other mint plants. When combining with apple juice and vodka, lavender complements the fresh apple flavor perfectly.
It is not kind of difficult to infuse floral notes into every cocktail. With this beverage, add apple and dried lavender into a jar. Then refrigerate overnight to infuse. Pour apple juice, vodka, and ice cubes and shake them together in a cocktail shaker for about 20 seconds. Strain into an ice-filled glass and enjoy.
You should take note that Lavender will be freshest in June, and do not go overboard with lavender for the best taste. I usually garnish this drink with a lavender sprig and apple slices.
8. Honey Roasted Pear Sparkling Cocktail/Mocktail
Main Ingredients: Apple Juice, Vodka, Sparkling Wine, Balsamic Vinegar, Honey, Pear
Do you want to try something sparkly and cozy? Let's try the Honey Roasted Pear Sparkling Cocktail/Mocktail tonight! You will be shocked by this recipe, and there is no need for simple syrup or liquor. Just use the simple ingredients that available in your pantry!
It takes about half an hour to prepare this beverage, as preparing the roasted pear takes nearly 20 minutes. The roasted pear is blended with apple juice until puree, then mixes together with honey, sparkling wine, and vodka to make the drink less sweet and boast a stronger liquor taste.
You can add more honey if you prefer a sweeter taste. Moreover, apple juice and sparkling white grape juice is a perfect choice if you plan to make the mocktail. It will be best to serve this drink with thyme, sage, or rosemary sprig on top.
9. Green Halloween Sangria
Main Ingredients: Vodka, Apple Juice, Wine, Limoncello, Lychee, Blueberries, Lemon, Apple
Are you looking for a cocktail recipe for next Halloween? This fun Green Sangria is worth considering. This colorful mix is great for a crowd, and it is super fast to make! One good news is that you can prepare it ahead of time for a festive Halloween drink everybody can enjoy!
To ensure you get the beverage with the best flavor, you will need to refrigerate the mixture for about 2 hours up to 24 hours. Just pick up your favorite vodka brand and choose a wine with lemon or apple undertones to complement limoncello and fruits.
Moreover, you also need green food coloring to achieve the perfect color for this drink. Let's give it a chance! Dice your favorite apple cultivar and mix it with the drink. The fun green color with lychee eyeballs is interesting, while the combination of various beverages is refreshing and pleasant.
10. Szarlotka Cocktail
Main Ingredients: Bion Grass Vodka, Unfilter Apple Juice, Cinnamon
The Szarlotka cocktail, named after a classic Polish recipe for apple pie, is a vodka drink made with Polish apples and bison grass. Although you can keep things easy using only apple juice and bison grass vodka, adding cinnamon makes this cocktail doubtless fragrant and savory.
In Polish, bison grass vodka is known as ubrówka, what distinguishes it is the bison grass leaf in the bottle and the light yellow color. I recommend you use the Polish version to get the best taste for this drink.
1 part of ubrówka and 2 parts of apple juice give you the awesome Szarlotka cocktail. Serve your beverage cold, and remember to add a pinch of cinnamon. For a more elegant display, you can also use the cinnamon stick instead.
11. Fig Vodka Martini
Main Ingredients: Vodka, Apple Juice, Triple Sec/ Cointreau, Fresh Lime Juice, Fig Jam Or Marmalade
Have you ever tried a fig cocktail? If yes, you should try this recipe right away. Featuring a very famous ingredient from the group of fruits and vegetables starting with "F", this Fig Vodka Martini deserves to be given a chance from those who haven't tried it.
Why is this cocktail so praise-worthy? Well, Fig Vodka Martini is a delectable, one-of-a-kind concoction of vodka, apple juice, fresh lime juices, and triple section. And with the addition of this F-something food, this Martini has transformed into something no one can resist.
In a shaker, mix fig jam and lime juice thoroughly to dissolve the fig jam. Add other ingredients and shake well. Chill your cocktail glass and strain the mixture into the glass. Top with a fig salami slice or a fresh fig for a gorgeous look.
12. Thanksgiving Sparkling Cocktail
Main Ingredients: Vodka, Apple Juice, Cranberry Juice, Champagne
This is one of the best Thanksgiving recipes that you should consider. With just the appropriate balance of sweet and spicy flavor, this beverage goes perfectly with other Thanksgiving dishes.
Quick and simple to prepare, this drink is a great idea to mark your memorable moments. I love to enjoy this drink in a highball glass. You can also use a champagne glass if you want to. Combine vodka, apple juice, and cranberry juice in the glass. Stir well and add champagne. Cheers to a great Thanksgiving with your loved ones!
13. Patriotic Passion American Cocktail
Main Ingredients: Vodka, Apple Juice, Lime Juice, Blue Curacao, Raspberries, Star Jamaica
This Patriotic Passion American cocktail is a joy to drink blue. Curacao, like Triple Sec, is a citrus-based liqueur that is an amazing alternative for Cointreau. Apple juice and lime juices bring still more fruity flavor to this scrumptious classic vodka cocktail.
In addition, Jicama brings a slightly sweet, juicy flavor, and it is crispy, just like an apple. This beverage will make you pleased. You can prepare ahead of time by precutting Jamaica into star shapes and store them in the fridge.
It seems to be easy, and it is. Fill the tall glass halfway with ice, top with raspberries and jicama stars. After mixing vodka, apple juice, lime juice, and Blue Curacao, add the mixture into the glass.
14. Aperol Apple Cocktail
Main Ingredients: Vodka, Cloudy Apple Juice, Aperol, Lemon
Aperol is an aperitif alcohol from Italy. Aperitifs are usually dried alcoholic beverages that are combined to create cocktails for a pre-dinner. Aperol features a rich orange flavor that is both tart and bitter with an orange scent and a touch of rhubarb.
My top trick for making this cocktail is to combine the Aperol, vodka, and lemon juice in a glass filled with ice. Allow the flavors to blend before adding the cloudy apple juice. The sweet, pleasant apple juice flavor really complements the sharp Aperol flavor, while the lemon notes bring a delightful, wholesome taste.
15. Apples and Persimmons Kicker
Main Ingredients: Apple-Flavored Vodka, Apple Juice, Apple Liqueur, Simple Persimmon Syrup
Try the Apples and Persimmons Kicker to enjoy some of the quintessential fall fruit tastes this weekend! I love to enjoy this drink during the cool days of Fall or every time of the year. This drink is also an excellent holiday cocktail that should go along with Thanksgiving, Christmas, Hanukkah, and New Year Eve.
This cocktail, when prepared correctly and with care, can be both stunning and tasty. Mix vodka, apple juice, apple liqueur, and simple persimmon syrup with a Martini shaker. Fill a glass with ice cubes and strains the mixture into the glass. Add some apple slices or apple wedges on top, and cheers!
16. Apple Pie Moonshine Jell-O Shots
Main Ingredients: Vodka, Apple Juice, 100 Proof Moonshine, Gelatin
Jell-O shots are incredibly easy to make and can be a fantastic idea for parties or gatherings. This apple pie moonshine Jell-O shot is sure to be crowd-pleasing. This recipe calls for 100-proof moonshine and vodka. If you don't have either moonshine or vodka, you should substitute one for the other.
This apple pie moonshine Jell-O shot is perfect for serving this fall treat. Feel free to boost your creativity by adding whipping cream and cinnamon for garnish. With these shots, I usually prepare them the previous day I plan to serve them. By doing this, all things are ready!
17. Sparkling Shamrock Cocktail
Main Ingredients: Vodka, Apple Juice, Lemon Soda (Sprite Or 7Up), Elder Flower Syrup
Sparkling Shamrock Cocktail is the combination of both sweetness, tartness, and the extra pleasure of sparkling bubbles. You will never go wrong with this beverage on any spring day. To make this cool and sparkling cocktail, you will need to prepare the Elder Flower Syrup.
Stir together all of the ingredients in a jug and refrigerate it in the fridge. Remember that you should not leave the mixture in the fridge for more than 2 hours to prevent the bubbles from fizzing out.
18. Caramel Apple Cocktail
Main Ingredients: Caramel-Infused Vodka, Apple Juice, Apple Slices Or Cinnamon Sticks
I've discovered a new alcoholic beverage for chilling in the Fall! With a sweet, smooth, and crisp taste, this caramel apple cocktail is perfect for enjoying when the first chills of autumn arrive. All you need to make this cocktail is just caramel-infused vodka, apple juice, and some apple slices for garnish.
In case you do not have apple juice, you can use apple cider instead. It is refreshing when serving with ice. However, you can also serve the drink hot by combining all of the ingredients in a coffee mug and microwaving for 45 seconds. Then add whipped cream on top and enjoy!
19. Caramel Apple Moonshine
Main Ingredients: Caramel Vodka, Apple Juice, Apple Cider, Caramel Candies, Moonshine
I love everything with caramel, so the next beverage I'd like to introduce you is the Caramel Apple Moonshine. The caramel apple moonshine recipe just screams autumn to me. This drink can be served cold or hot, and it is fantastic in any case.
If you want to mask the strong flavor of vodka, you can add some fruits such as apple slices, raspberry, lime, or lemon. You should apply your preferred fruit while creating the moonshine to prevent lowering the alcohol level.
20. Fall Long Island Iced Tea
Main Ingredients: Apple Vodka, Apple Juice, Cranberry Juice, Triple Sec, Spiced Rum
Iced tea is also a great idea if you are fed up with a cocktail or mocktail. Fall Long Island Iced Tea calls for just simple ingredients, and that's why it becomes a yearly favorite. In case you do not have Apple Vodka, normal vodka will be a great substitute. Regular Vodka will not make a significant impact on the final result.
By combining apple juice, cranberry juice, triple sec, vodka, and spiced rum, this autumn drink is amazing with a unique flavor. It's entirely up to you when choosing the garnish, and you can add mint, cherries, or orange and apple slices on top.
Try Now To Get The Next Level Of Mixology!
Whether you love to enjoy an apple juice vodka cocktail or you prefer the blend of vodka, apple juice, and other juices, read the recipes carefully, grab all the ingredients and let's start!
If you are a beginner, you can try the simple apple juice and vodka recipe first. After that, why don't you try Appletini, Apple Blossom Moscow Mule, or make the fascinating Fall Long Island Iced Tea!
Do you know other apple juice and vodka recipes? Have you tried any recipes above? Does it taste good? Please share your experience with me! If you have something to ask, don't hesitate to send me a comment! Thanks for reading, and stay safe!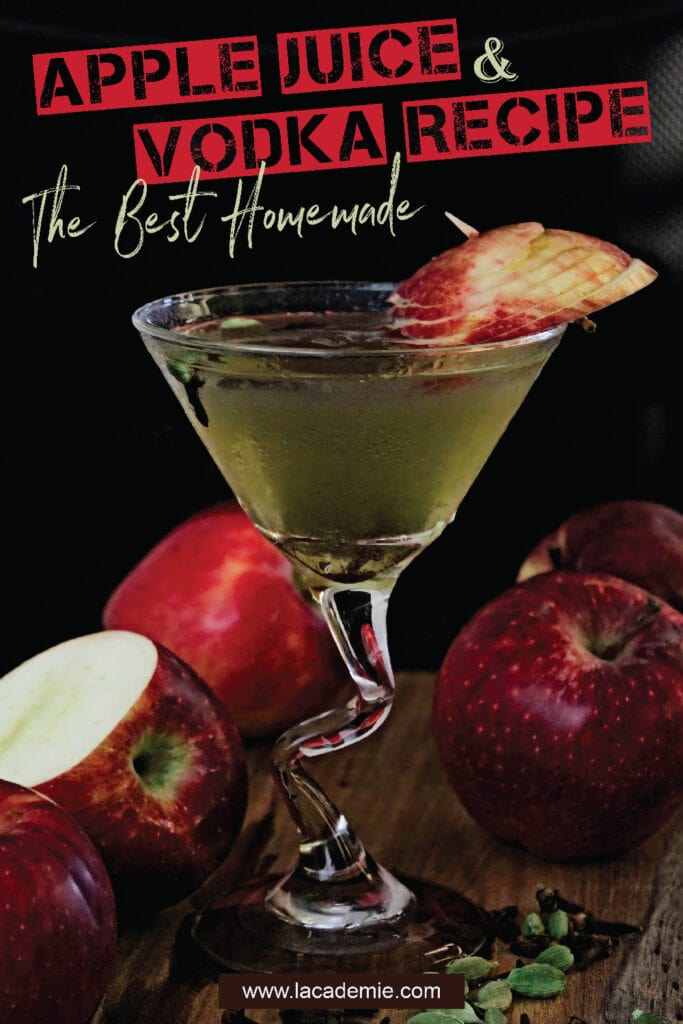 Nutrition Facts
1 servings per container
---
Amount Per ServingCalories177
% Daily Value *
Sodium 8mg

1

%
Total Carbohydrate 19g

7

%

Dietary Fiber 1g

4

%
Sugars 15g

Protein 1g

2

%
---
Vitamin C

4

%
Calcium

1

%
Iron

6

%
* The % Daily Value tells you how much a nutrient in a serving of food contributes to a daily diet. 2,000 calories a day is used for general nutrition advice.
References:
(1) Butler, N. Calories in Vodka: Calories, Carbs, and Nutrition Facts. Healthline, 2021. [Online]
(2) KOMENTARZ, D. The Nutrition of Apple Juice. Primaapples.pl, 2021. [Online]