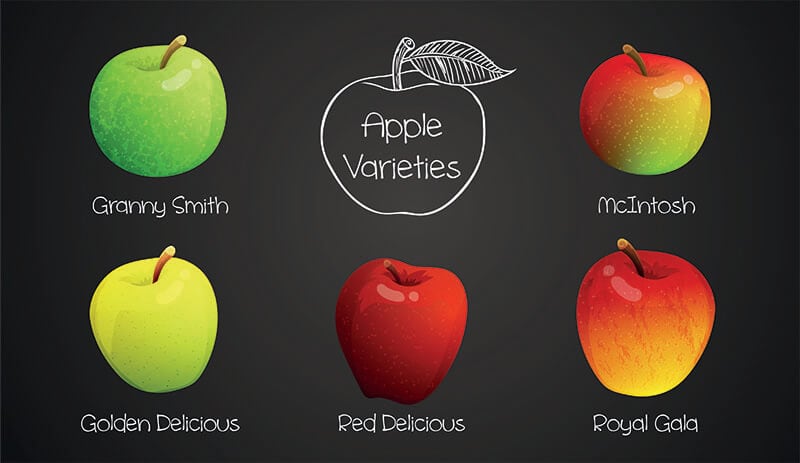 "An apple a day keeps the doctor away," how about eating different types of apples every day? These delicious fruits whose name begins with A are not only a delicious snack for everyone but also a great source of nutrients that are really good for your health!
If you cannot live without eating an apple a day, read this ultimate apple list to change the type of apples you taste! I'm pretty sure that there are more apple species than you've ever imagined, so it's time to get through this post!
6 Traditional Heritage Types Of Apples You Should Know About
There are other types of apples that have a long history behind them. Their purest forms have been preserved and passed over the centuries! Heritage apples may be less desirable than other modern commercial types, but they also have their own attractiveness!
| Types of Heirloom Apples | Characteristics | Culinary Uses |
| --- | --- | --- |
| Cox's Orange Pippin | Orange-red color with a medium size, fragrant, fine-grained, juicy, and super crunchy; sharp with a note of anise and cherry | Apple juice or apple cider blends; baking items |
| Baldwin | Pinkish to reddish shade with complex taste; with small to medium size; sweeter, crunchier with a note of spice when ripe enough | Baked goods like apple pie, applesauce, or cider |
| Gravenstein | perfectly balanced sweet-tart taste | Applesauce, apple cider |
| Northern Spy | Juicy, crunchy texture; rich and sour with an undernote of sweetness and pear-like flavor | Desserts and pies or cider and juice |
| Esopus Spitzenburg | Sharp, buttery flesh, red skin, and floral aroma | Making pies, apple cobbler, apple cider |
| Twenty Ounce | Pale yellow with a tender, juicy, and tart taste; dense flesh | Pies, applesauce |
1. Cox's Orange Pippin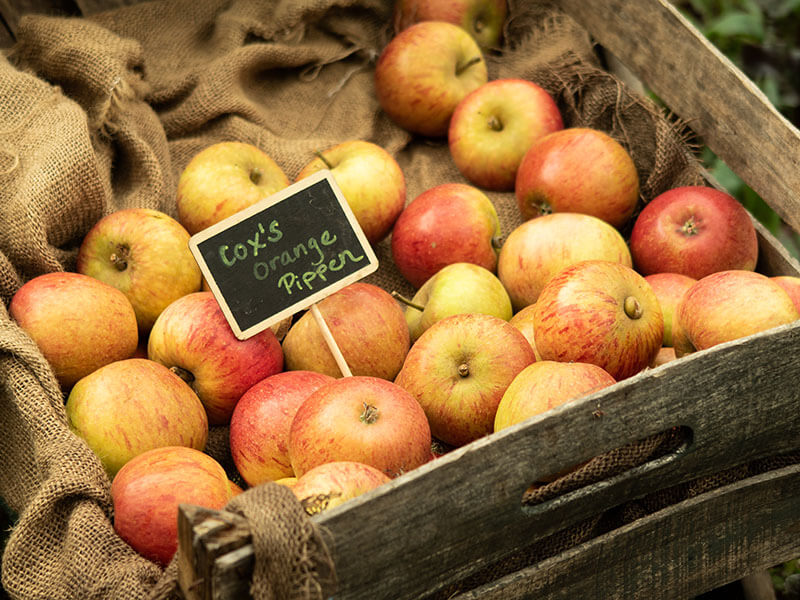 Cox's Orange Pippin, also called Cox in Britain, dives in attractive orange-red color with a medium size. Its flesh is fragrant, fine-grained, juicy, and super crunchy. It tastes sharp with a note of anise and cherry. When it ages, it will get softer and milder.
You can always use Cox's Orange Pippin to make the most delicious apple juice ever or apple cider blends! It also has a distinctive sweetness when baked, so chefs prefer it for baking items.
Here's a brief introduction to Cox's Orange Pippin!
2. Baldwin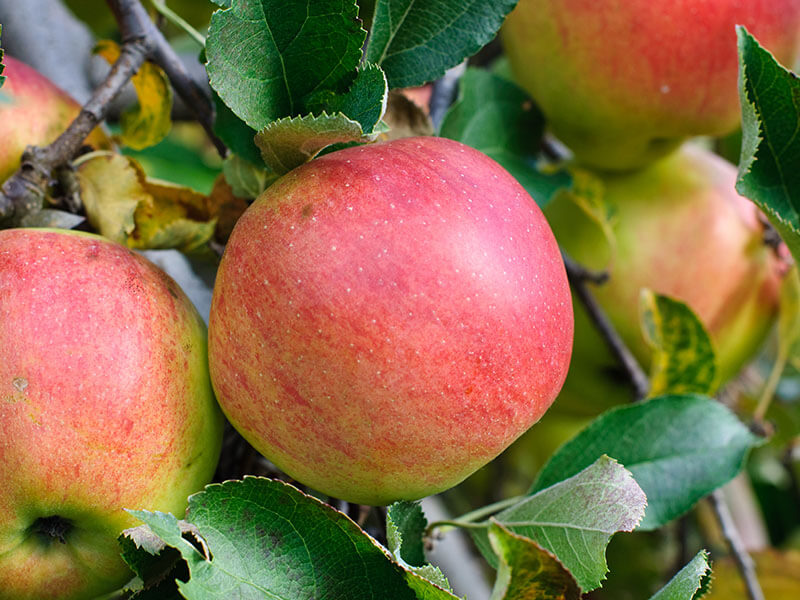 Baldwin apples originate from Massachusetts, America. It looks gorgeous in pinkish to reddish shade with small to medium size and has a pretty complex taste to tell. People consider Baldwin apples winter apples for their characteristics.
If they are ripe enough right on the tree, they will become sweeter and crunchier with a note of spice. You may use Baldwin Apples in baked goods like apple pie for a crisp feeling. You can also make it into applesauce or cider to top on many other dishes.
Because Baldwin is a winter apple type, you can add it into some scrumptious dessert dishes in winter. I'm sure they will be super stunning and may surprise your family members with their tastiness!
3. Gravenstein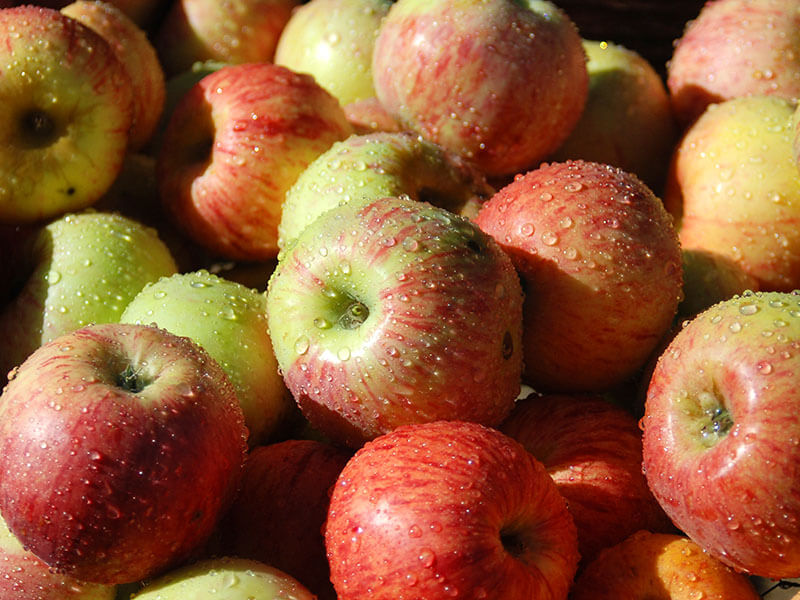 Gravenstein apples are summer apples that include a perfectly balanced sweet-tart taste. In America, they are grown exclusively in Sonoma County. When the harvest season of this tasty G-something fruit starts, it signals the other apples' season in different parts of the world.
Like Baldwin, you can turn Gravenstein into mouth-watering apple cider and energy bites by chopping it. It can also be an essential ingredient to join in a cooking recipe calling for applesauce. Let's make the best applesauce with Gravenstein!
4. Northern Spy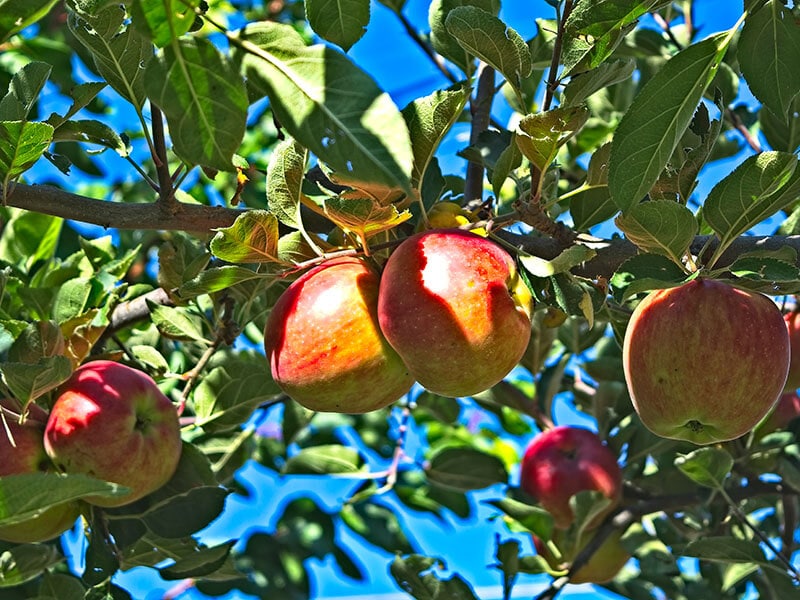 Northern Spy Apples are pretty large ones with red thin peel and yellow or pale green streaks. Its juicy, crunchy flesh is creamy white to yellow. It tastes rich and sour with a high vitamin C content. You may feel an undernote of sweetness and pear-like flavor.
Northern Spy is the ideal apple type for desserts and pies or cider and juice. These apples can last pretty long because of the late maturation, so you can store them for a long time.
Learn a little bit more about Northern Spy apples!
5. Esopus Spitzenburg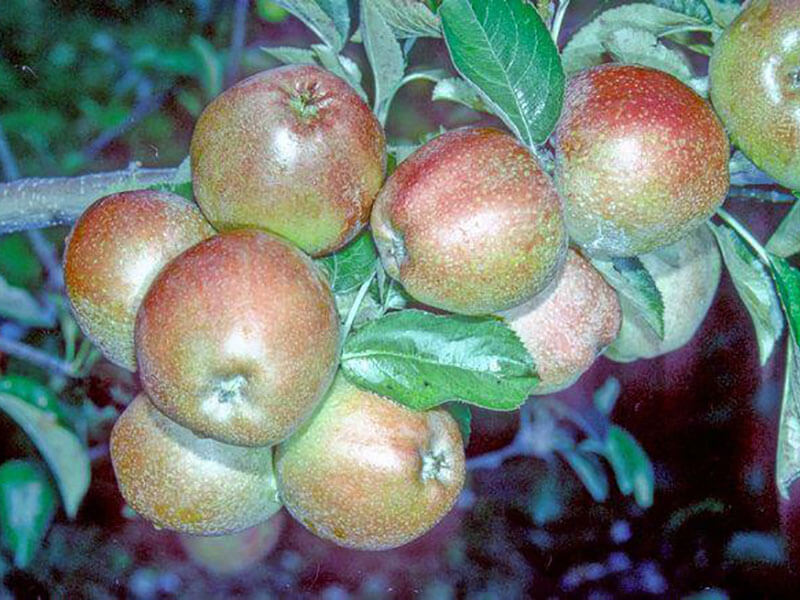 Esopus Spitzenburg apples are named after their origin in Esopus, Ulster County, New York, from the early 1800s. People still grow them widely nowadays at Monticello. These apples contain a sharp, buttery flesh, red skin, and floral aroma.
Esopus Spitzenburg is pretty large and has an oblong shape that is perfect for making wonderful American dessert dishes like apple pies, cobbler, and drinks like cider.
In late apple seasons, Esopus Spitzenburg apples can taste better with super rich and full flavor by cool storing for a few weeks.
6. Twenty Ounce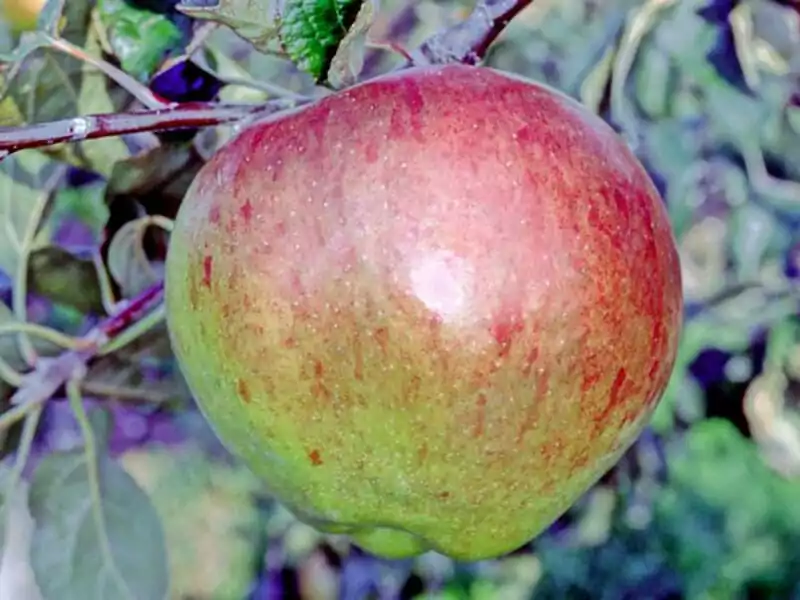 Twenty Ounce, also called Cayuga Red Streak or Eighteen Ounce, has a yellowish-green, blemish-free skin with orange to reddish streaks. Its flesh dives in pale yellow with a tender, juicy, and tart taste.
The dense flesh and small to medium size make Twenty Ounce heavier, harder than many other types. It is also a great baking apple that is best to use for pies, cakes, muffins, scones, and tarts. You may also use it for making applesauce.
Moreover, you can follow the easy recipes to make the best winter salads with some slices of Twenty Ounce! They can also be a great component of sandwiches and toast. For sweet treats, you can pair them with butter, cheese, and purees.
21 Modern Types Of Apples You Will Not Want To Miss
These modern apple types below may be more familiar to most of you since they are sold in almost every grocery store or supermarket! Let's learn deeply about their characteristics and how you can use them in cooking!
7. Gala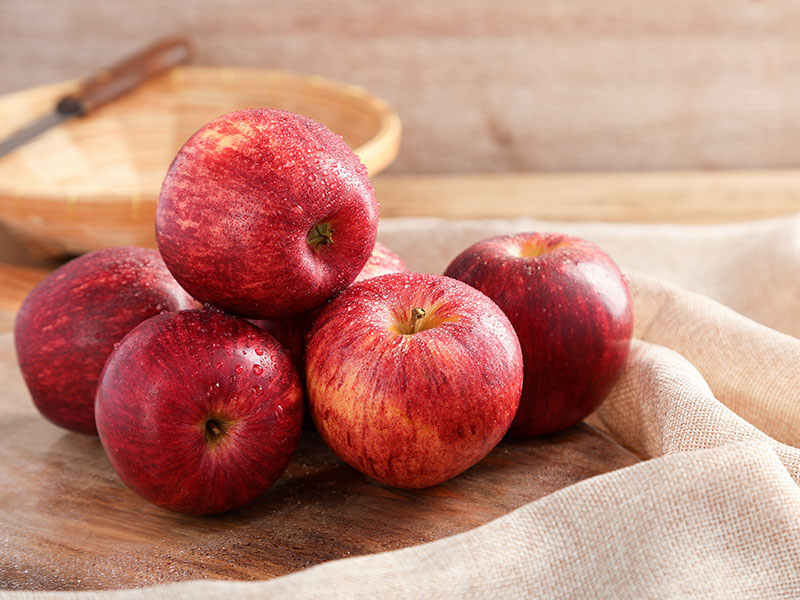 If you buy apples from any grocery store, there is a high chance that they are Gala apples! They're the most popular type of apples worldwide, especially in America! Their color varies from bright cream to red with yellow stripes.
Galas taste super sweet with a crunchy, fine, and juicy texture and a pleasant aroma. They may be one of the sweetest types of apples in this list! The farmers often harvest them in July, and they are available all the time.
You may find Galas suitable for slicing and adding to salads, making sauces, compote or juicing, and snacking. You should note that these apples are not great for baking, but they're always best to eat raw as a crisp and sweet lunch box staple with pear-like quality.
Gala apples are the common and tasting apple type to eat everyday!
8. Pink Lady (Cripps Pink)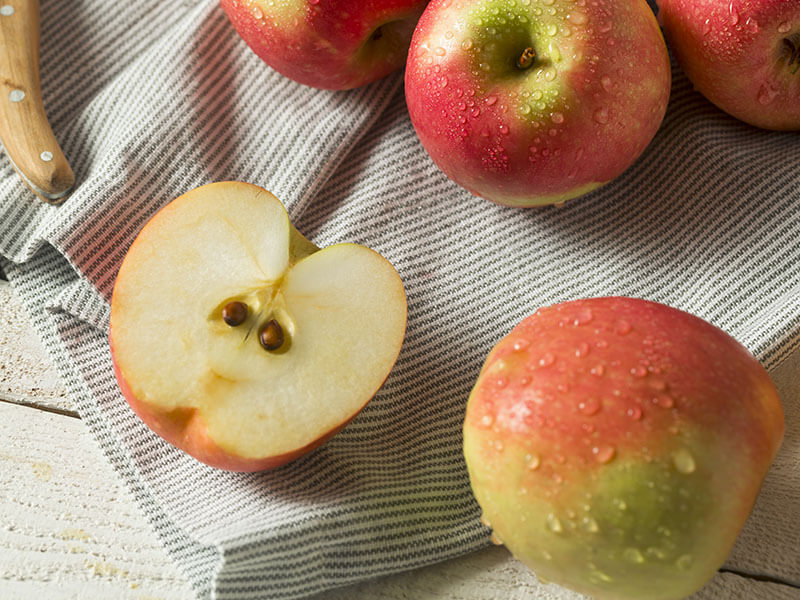 Pink Lady is actually the retail name of the Cripps Pink variety. It is a combination between Lady Williams and Golden Delicious with a beautiful red-pink color with some golden marks. You may find these apples taste a bit plain yet pleasant with a crisp texture.
Pink Lady is great for eating raw or mixing salads to add a crunchy texture. These apples are slow to brown and keep their form after being cooked. Therefore, they are perfect for joining apple pie or baked items.
9. Envy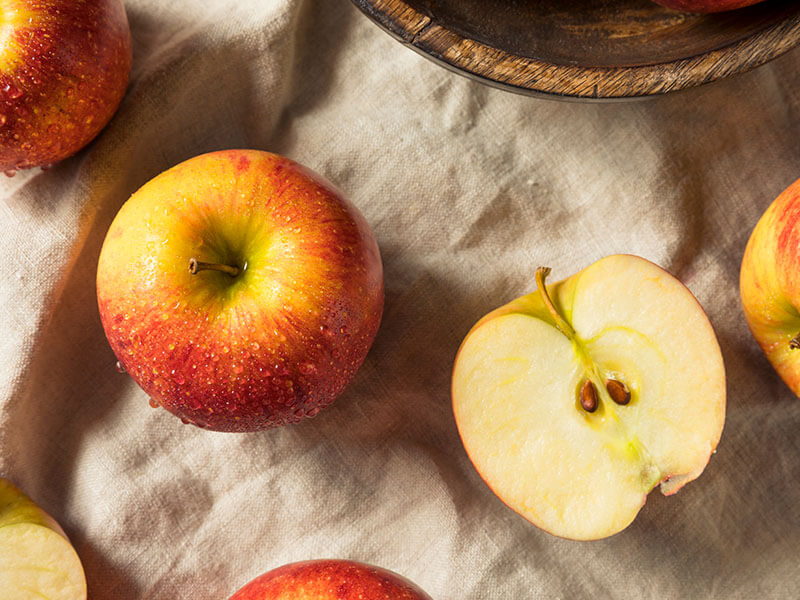 Envy is a blend between Braeburn and Royal Gala. Its peel is thick, tough, smooth, and shiny with a reddish color and yellow spots. The pale yellow flesh tastes pleasant with a sweet-tart and light flowery flavor.
You can always eat Envy apples fresh or make them an ingredient of your salads and many baked items. They are really slow to brown, making them a delectable fresh sliced snack. These slices can be a spectacular addition to classic Waldorf or chicken salads!
Also, you may want to try serving Envy apples with sharp cheeses or mixing them with goat cheese and stuff in pork or chicken for a filling dinner!
10. Jazz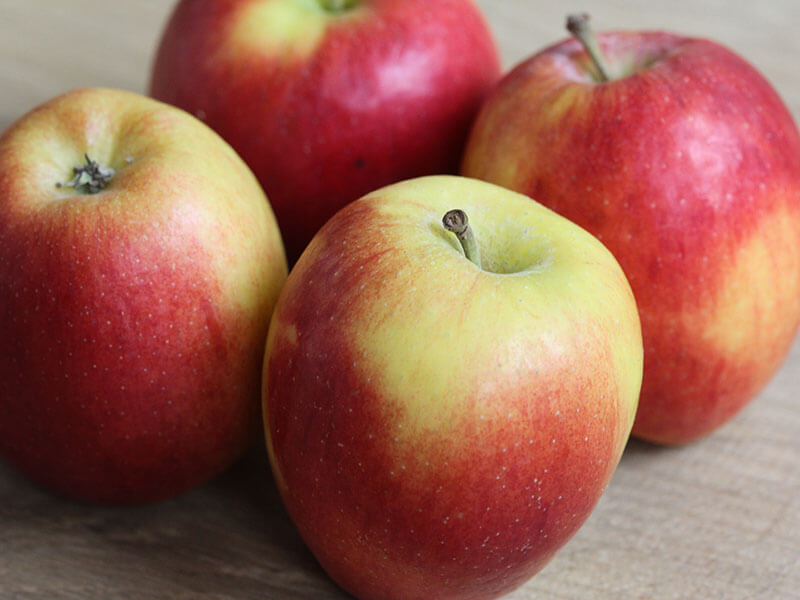 Jazz is a popular apple variety with a sweet-sharp flavor. It has a distinctive floral pear-drop note. You may want to use a high-quality apple corer to cut it first since its butter-yellow flesh is very solid and hard to bite! But it is also really juicy and crisp.
The taste of Jazz apple can get along well with cinnamon, caramel, pear, ginger, and fennel. You can totally serve it with cheese such as cheddar, gouda, or goat cheese.
You can find this fruit that begins with the letter "J" in muffins, bread, galettes, tarts, or cakes. You may want to add slices of Jazz to savory dishes as well. Chopping it for your salads is also a great idea! Or you can just eat it fresh with some dipping sauce.
11. Honeycrisp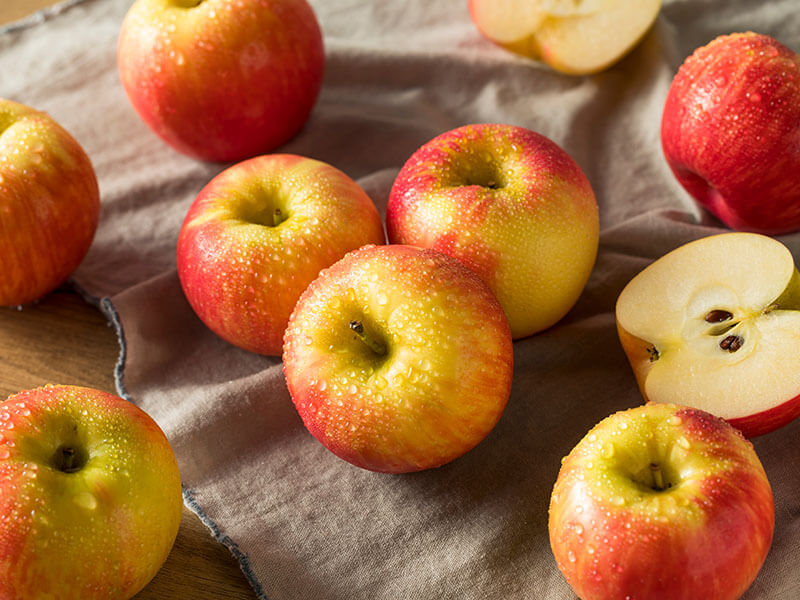 Honeycrisp apples have an iconic texture that is crunchy and juicy. They are pretty large with a yellow-green hue and bright yellow streaks. They taste incredibly good with a sweet-tart flavor.
People usually eat this fruit with H as the starter of its name fresh and use it in apple dishes for holidays. You may also want to cook Honeycrisp apples into soups or oatmeal or wrap them in pie dough with some brown sugar for a delectable dessert dish.
12. McIntosh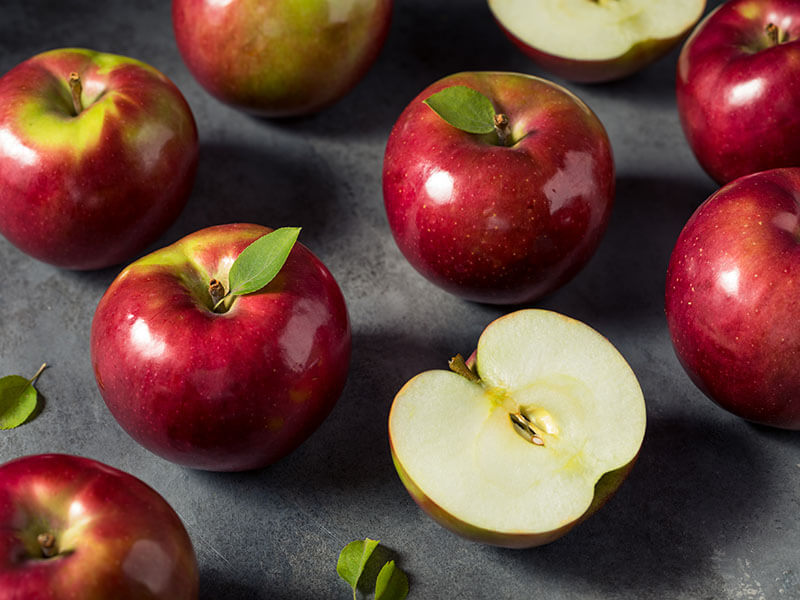 McIntosh apples are famous for their flavor in the making of apple cider and applesauce. They are heirloom apples from Canada. They have a beautiful appearance with bright green or red skin and white flesh with sweet-tart and old-school apple cider taste.
They are super fragrant with a fruity, honey-like, spice-filled smell. Their shape and skin surface can be unusual and misshapen because of the delicate nature and careless transportation. Therefore, you should be super careful while bring these apples home!
The taste of McIntosh may vary due to their harvest season. If the apples are harvested in the early stages, they will taste more citrus-like and tangier with high acidic content. The ones harvested late will have a sweeter and mellow flavor.
You should eat these apples right after picking since they might get softer quickly over time. Also, combine McIntosh apples with many other apples to get a perfect filling for your apple pie.
This is how you can use McIntosh apple to make the best apple crisp!
13. Pazazz
Pazazz apples have a unique skin color that looks like a tie-dyed T-shirt with red and yellow. They taste sweet and slightly tart, which may remind you of Honeycrisp apples, but they have more starch, sugar, and acid. This flavor can be better with proper storage.
Raw slices of Pazazz can be a great addition to your salads. They are ideal to get along with pork, chicken, sharp cheeses, warm spices.
And it's possible to make stuffed apple dishes for their large size. You can also use them for turkey burgers, crumbles, onion bruschetta, and skillet pancakes.
14. Cameo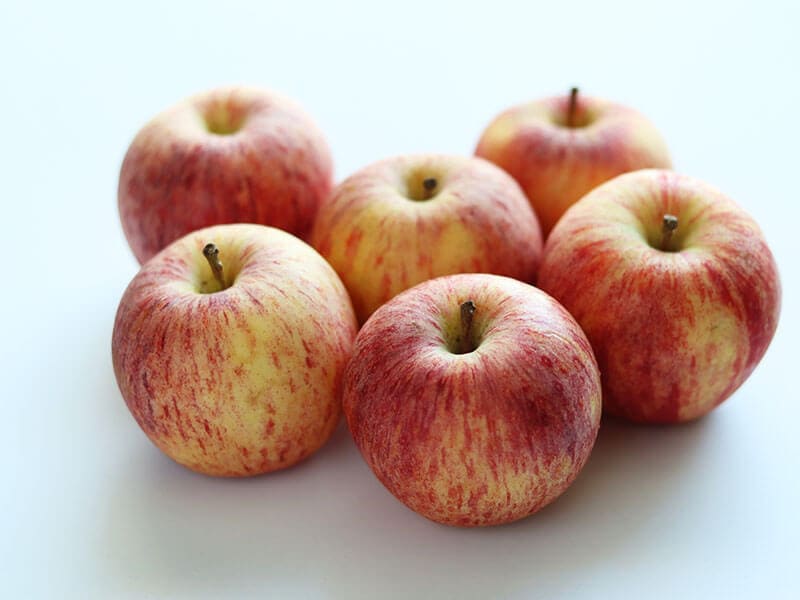 Cameo apples are a chance seedling type of apple with a mildly sweet flavor and a hint of pear. They have reddish outer skin with orange or red stripes. They're ideal for cheese boards and salads.
Cameo can appear in applesauce as a sweetener for their natural sweetness. You can also stuff them and make them into quiche, polenta, or sautee some slices and serve with savory meat types. Having these apples as a pizza topping is also a great idea!
The consistent texture of Cameo can also be suitable for cobblers, cakes, tarts, doughnuts, crisps, and pies. You may want to caramel them and make them into ice cream topping. Stuff them with nuts and bake them into a delectable sweet and savory dessert!
15. Fuji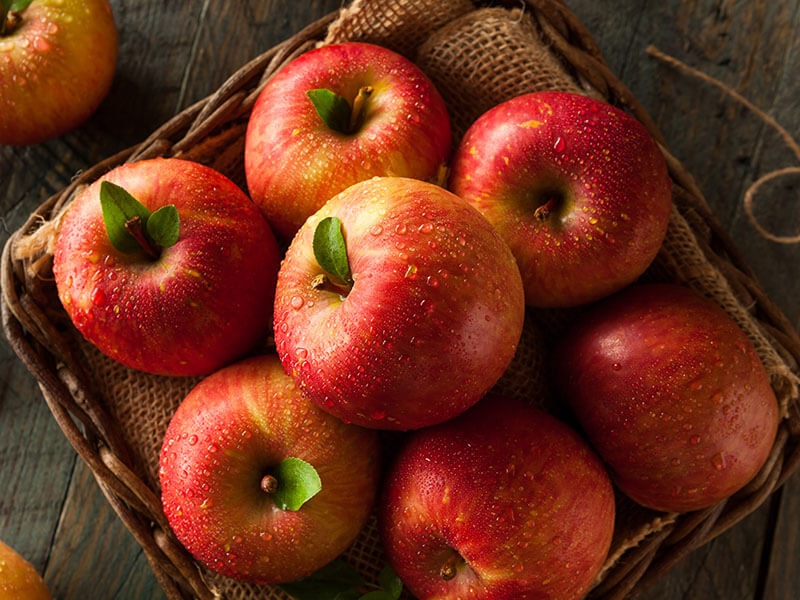 Fuji apples are named after Fujisaki, Japan, where the Japanese developed them. They are a delicious type of apple that is denser, sweeter, and crunchier than most other types. They also have an incredibly long shelf life, which can last up to a year!
For their delectable flavor, Fuji apples are the favorite apple type of many cooking lovers. You can use them to make apple bread, pie, applesauce, or fried apples.
16. Macoun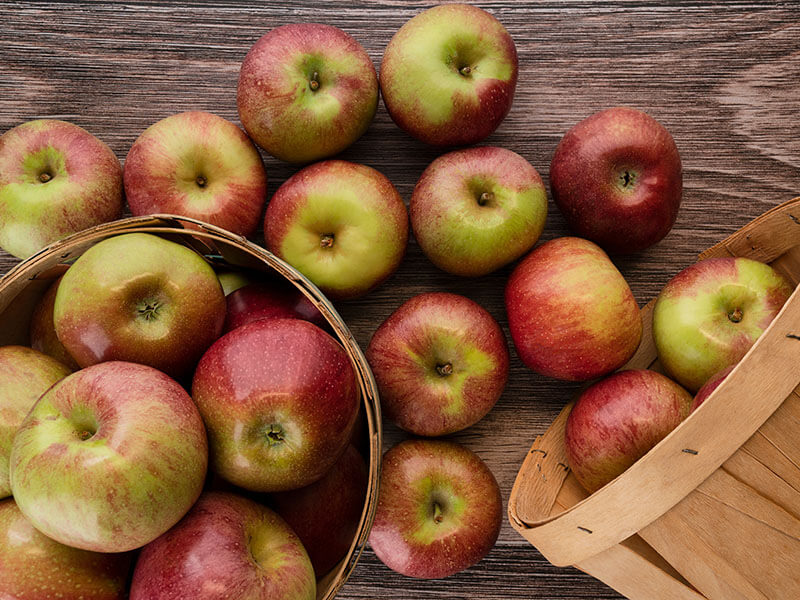 Macoun is an apple hybrid between Jersey Black and McIntosh apples. It is famous for its delicate and tender texture in bright white. Macoun apple flesh is ultra-sweet, juicy, and aromatic with a berry note. It's best to use in making sauces and salads for a crunch addition.
Macoun apples are in dark red with a flash of purple. Eating these apples raw as a daily snack is always an awesome idea! You can make famous holiday pies for their crisp flesh and exceptionally sweet flavor!
17. Red Delicious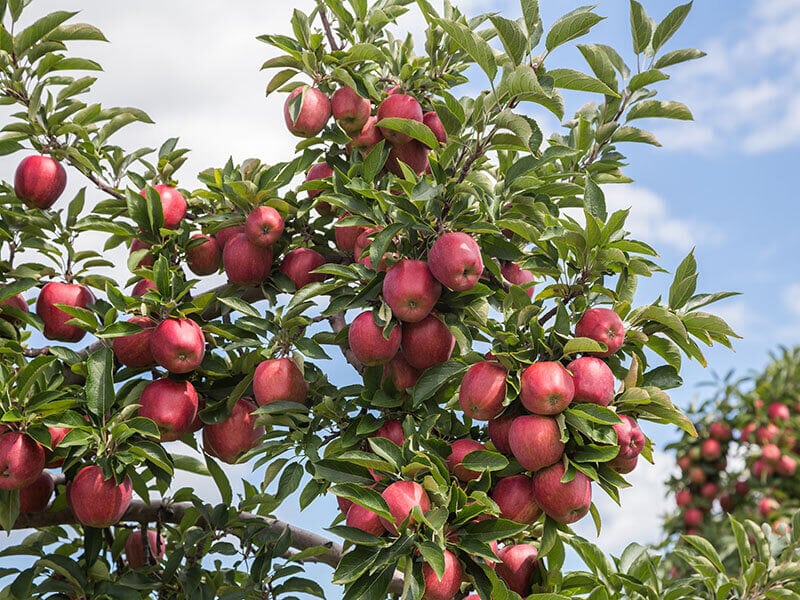 You must have known about Red Delicious apples before, since they are a classic type of red apple around the world, especially in America. Their gorgeous iconic deep red outer skin may remind you of the apple that the Snow White takes a bite of.
However, Red Delicious flesh is a bit dry and tends to fall apart while cooking; therefore, this type of apple is not highly recommended for cooking or baking. It tastes very mild, even bland for some people.
If you still want to taste Red Delicious, you may add some slices of it in a fruit bowl, including many types of different fruits. It can also be a pretty decorative item on a festive wreath.
18. Granny Smith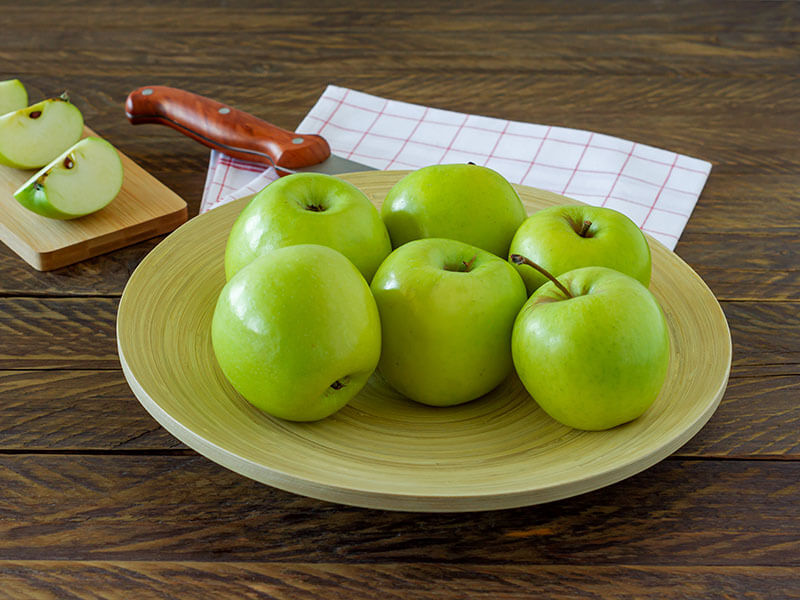 Granny Smith apples are famous for their bright green, shiny skin. They taste acidic and tart with crunchy and juicy flesh. They hold their form well while baking; therefore, people love to use them to make pies, cobblers, crumble, and many baked goods.
You can eat Granny Smith fresh as table apples or turn them into applesauce or cider. Also, you may want to serve slices of them with sharp cheeses, meats (poultry, beef, pork), vegetables (spinach, potatoes, beets), or even fruits!
Let's make some scrumptious apple fritters with Granny Smith apples!
19. Cortland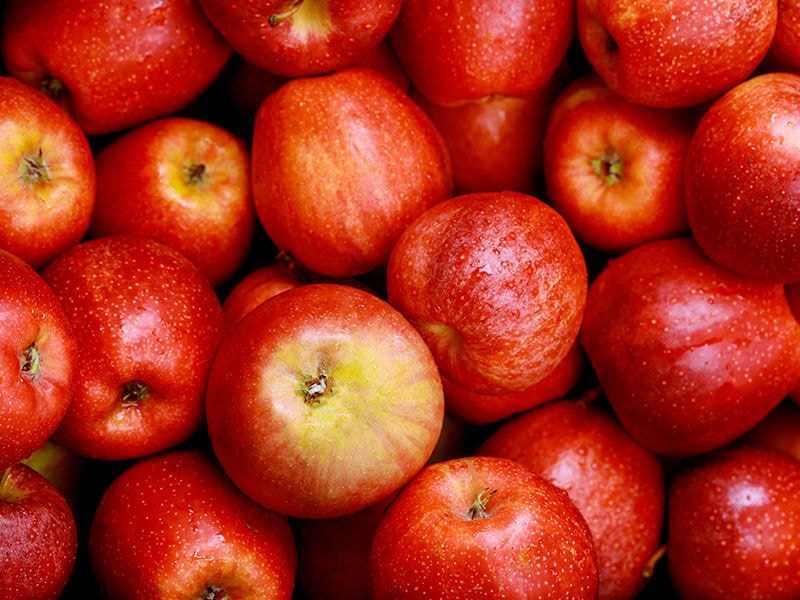 Cortland is one of the very first artificial cross apple types in America. Its parents are Ben Davis and McIntosh. You will love how it looks with bright red color and dark red streaks. Its bright white flesh is super juicy with a sweet-tart flavor.
Cortland apples usually appear in making apple liquids, such as applesauce or apple juice. You can also eat them fresh right after picking for the best texture and flavor or use them to make apple butter.
20. Empire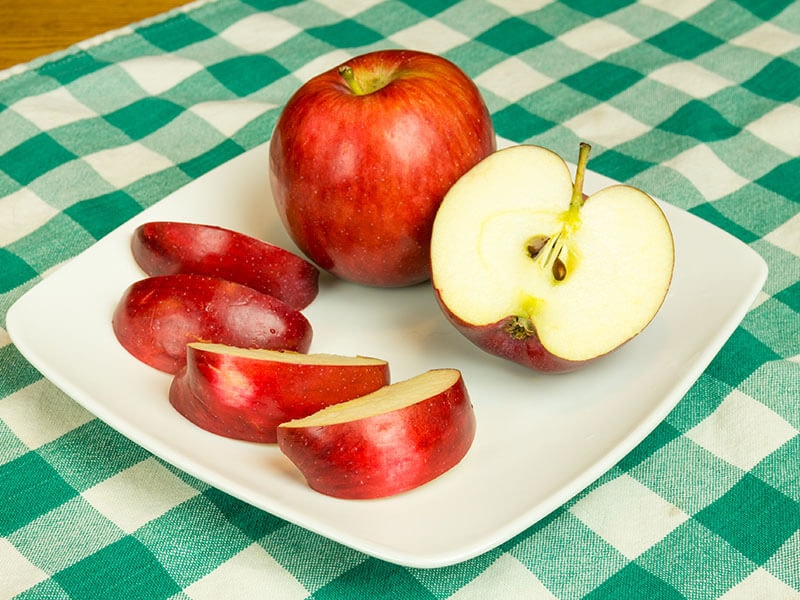 Empire Apples are a famous cross between Red Delicious and McIntosh apple varieties, thereby consisting of both shiny red skin and pleasant light sweet taste with firm, crunchy flesh.
Empire Apples are best when eating raw or making sauces, salads, pies, baking, and freezing. They can also be perfect lunch-box apples.
21. Ginger Gold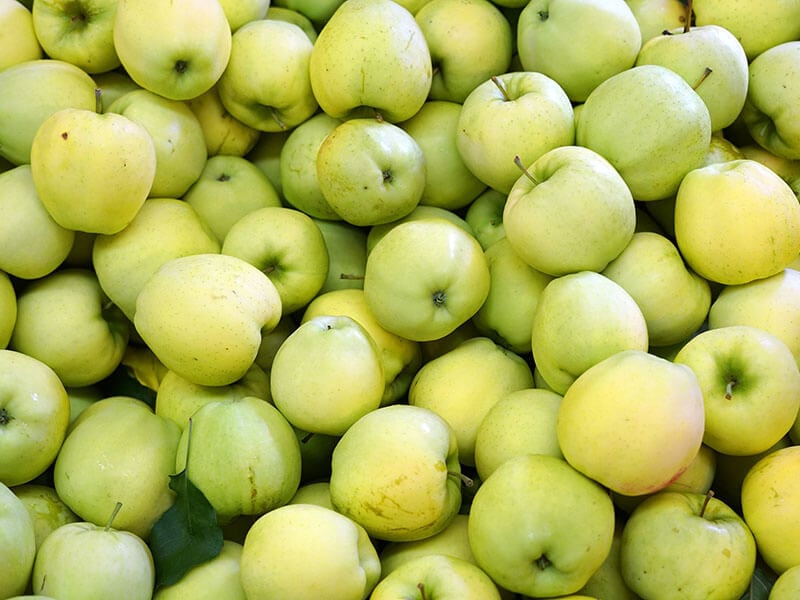 Ginger Gold is a combination of Albemarle Pippin and Golden Delicious. It usually appears in late summer. Its flesh bathes in cream-white with a fine texture and slight tart overtones. It is perfect to use in making salads, apple pies, or tarts.
These large Ginger Gold apples' skin begins with a pale green color and turns to a light yellow when they are ripe on the tree. They may also look a bit waxy on the outside.
You should know that Ginger Gold turns brown really slow, so it is ideal for cutting and eating fresh. It goes well with white cheddar cheese for the sharp taste and a hint of spiciness. You can also add it to dishes having brown sugar and cinnamon.
22. Liberty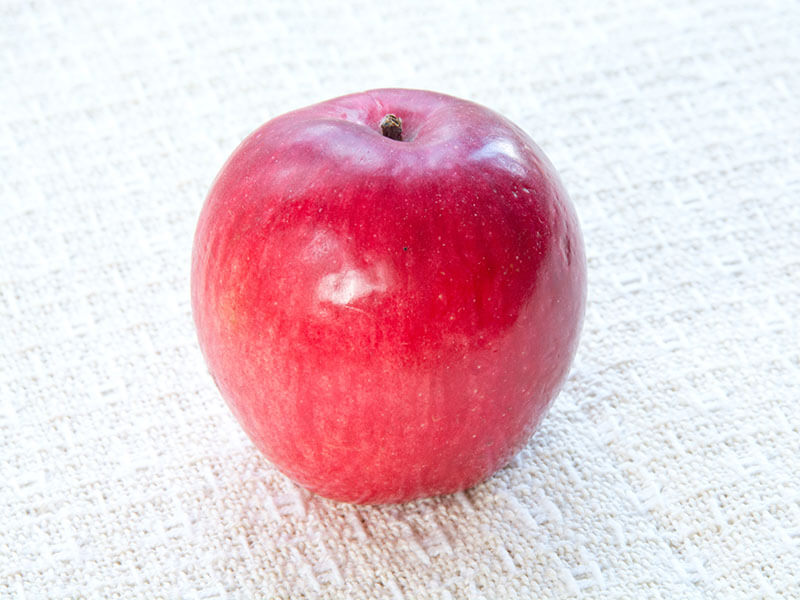 Liberty was one of the earliest apple breeds to survive a disease named apple scab and hence was named after that event. It consists of dark red skin with some tiny yellow lenticels. The yellow-colored flesh is juicy and crisp, with a hint of melon and citrus.
These beloved L-something fruit have a really fine texture, which is perfect for dessert dishes. You can use them in muffins, apple pies, or tarts.
23. Braeburn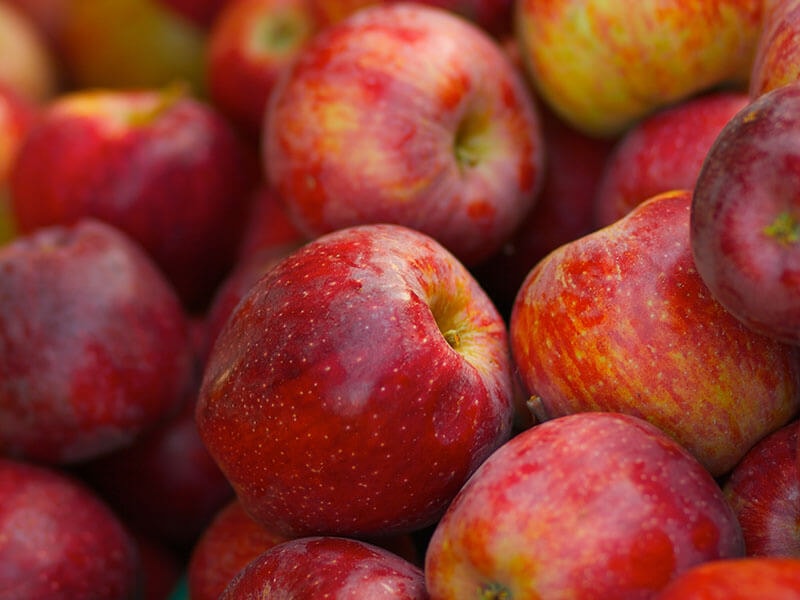 Braeburn includes delicious taste and a nice appearance with bright yellow-red stripes. It is definitely one of the best-tasting apples around the world! The texture of its flesh is dense, firm, and super crisp. It has a really balanced sweetness.
Braeburn apples consist of citrus-like, sharp, and refreshing flavors with spiced notes of nutmeg and cinnamon. They will taste best when freshly picked with honey-like, pear-like flavor and when they are cooled under room temperature.
You may find that Braeburn apples are best to eat raw or join in juicing and baking. They can maintain the form really well in baking without turning so dry.
24. Golden Delicious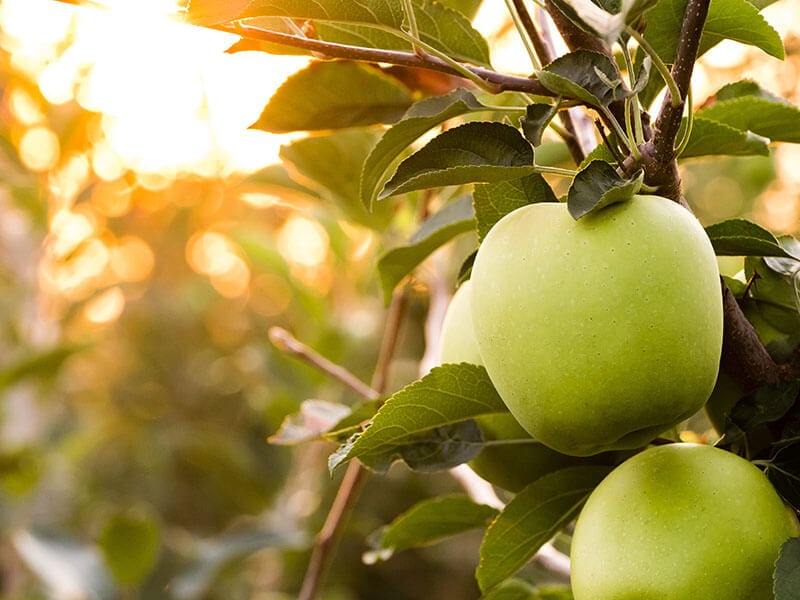 Golden Delicious is one of the standard apple types in America. They have a bright yellow appearance. These apples also have a sweet, slightly tart flavor with a crisp texture like most other apple types. They may taste somehow like spicy apple cider, too.
You can use Golden Delicious apples in almost everything, especially making applesauce, apple juice, salads, and baked desserts. They will add flavors and crunch texture to your refreshing salad dish!
Some slices of Golden Delicious can appear in savory dishes like sandwiches or burgers. You may also pair them with pork, cabbages, cheese, and some aromatic herbs. Dry some of them to make a delicious snack food!
25. Opal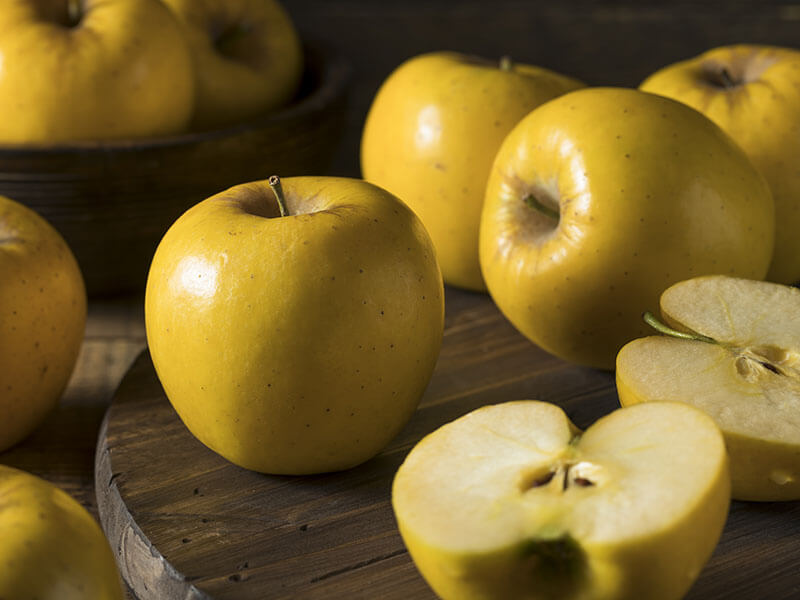 Opal apples are an apple bred from the Czech Republic. They consist of a bright appearance like their Topaz parent with sweet and juicy, crisp flesh like Golden Delicious. This yummy fruit starting with O also tastes like Honey Crisp with notes of coconut, banana, and pear.
They oxidize slowly when exposed to the air, so you can always serve them fresh or add them to salads and appetizers. They can maintain their shape really well while baking; therefore, it can be a wonderful ingredient of muffins, cakes, pies, or tarts.
Opal apples are stunning apples with many culinary uses that you all may fall into!
26. Piñata (Pinova Apples)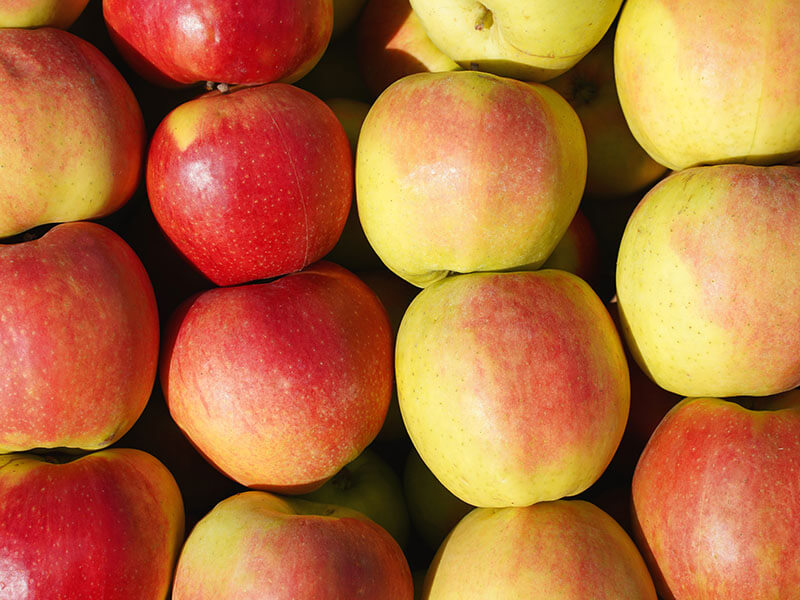 Piñata apples is another apple hybrid between Cox's Orange Pippin and Golden Delicious. Therefore, they have both sweetness and remarkably well-balanced, tart flavor from their parents. They contain notes of banana, coconut, honey, and pineapple.
The skin colors of Piñata apples range from mainly bright yellow to red with some orange-red stripes. You can eat them as a snack with a crisp and juicy texture every single day. They can also appear in cooking, baking apple pie, and many salad dishes.
You should note that Piñata apples can go incredibly well with dishes calling for pork, such as stuffed pork tenderloin. You may also roast the apples and serve along with pork dishes.
27. Goldrush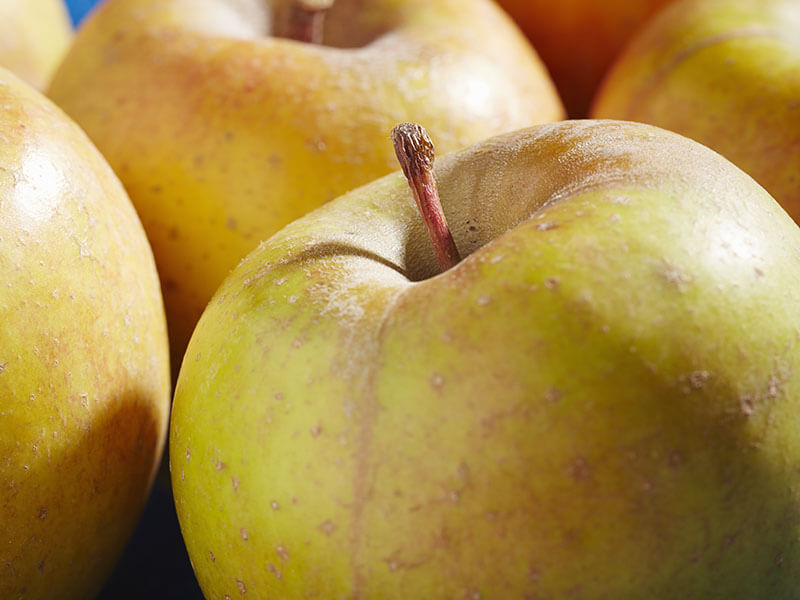 Goldrush apples were developed from Golden Delicious seeds in Indiana. They have a hard, dense texture and an acidic yet tasting flavor! They are also slow to brown, so you just have to slice them and eat raw.
Compared with their parent, which are Golden Delicious apples, they also get a sweet but sharp taste with a touch of spice. But they may have a higher acidic content than Golden Delicious.
You can use Goldrush apples in many cooked or baked recipes. People also make these apples into a dry cider with a hint of honey, ginger, and citrus.
How Can You Store Apples Properly?
If you are going to buy apples, you should note down these tips to pick the best apples! The ones with a nice appearance may be a great sign for the best taste! So, learn these great tips right now!
Look for firm, dense, solid, and heavy apples with smooth, clean, shiny skin. Their colors are usually beautiful and even. Heavy apples may be juicier than other light and soft ones.
Avoid the apples having blemishes or soft, dark spots because they may imply that the apples are past their primes and about to turn bad really soon.
Consider different types of apples for your taste preference! Search for Fuji, Honeycrisp, and Gala if you want to eat sweet varieties; and Braeburn, Empire, or Granny Smith for a tart and acidic flavor.
Some Helpful Tips To Store Your Apples
How about storing the apples? There are also some great tips and tricks to keep your apples fresh as long as possible and for culinary purposes. Let's dive in!
Sort out the apples having bad blemishes and dark or soft areas before storing them, since one bad apple will affect the whole bunch of apples! And try to avoid storing these bad apples in any method.
Put your apples in the refrigerator whenever you can. The most ideal temperature will be 30 to 32 degrees. They can last for up to one month! Only take them out when you want to eat or use them in cooking.
There are many apple varieties that are slow to brown, but some of them oxidize quickly when sliced. You may want to dip these apple slices in lemon or lime juice to slow the oxidizing process.
Amazing Apple Recipes You Are Looking For!
If you want to cook something with the available apples at home, here are some of my suggestions for the most tasting apple-included dishes! Learn how to make them with these mouth-watering recipes!
This is the most classic recipe to work with apples! Grab some of your fresh apples and make them into the best apple pie ever! This traditional American dessert will surely be a great treat to your family members from young to old!
Apple fritters are always a favorite deep-fried snack food of the children! They are packed with a lot of apple pieces and covered with flour batter. These fritters will be the best lunch snack for your kids to bring to school! I'm sure they will love them a lot!
How about a refreshing salad dish for the summer? I'm sure you will love these Spinach Apple Salad recipes with super simple ingredients and a few quick steps! You don't have to cook or boil anything, just simply put all of them together to create the best salad dish!
So, Which Types Of Apples Will Be Your Daily Eating Apples?
After getting through this article, I hope that you have somehow learned about the different types of apples and have more apple options for your everyday snack! I'm sure that they are all delicious and remarkably good for your health with tons of vitamins and minerals!
Don't forget to hit the like, share buttons, and subscribe to the newsletter to get the latest articles! If you have anything to share with me on this topic, don't be shy to leave me some comments below this post! Hope to see you soon, pal!