In my opinion, apples and avocado are the first fruits that start with the letter A to come to your mind. However, the two fruits you listed are only a very small part of my answer. So keep reading, more than 40 A-fruits are waiting for you.
I strongly believe you can win any A-fruits listing games with your friends and your family after reading my post. Moreover, this is a great chance for you to broaden your knowledge horizon about numerous kinds of fruits.
Don't waste your time anymore. Are you ready to widen your A-fruits list? Let's dive into my topic and enjoy more than 40 fruits waiting for you.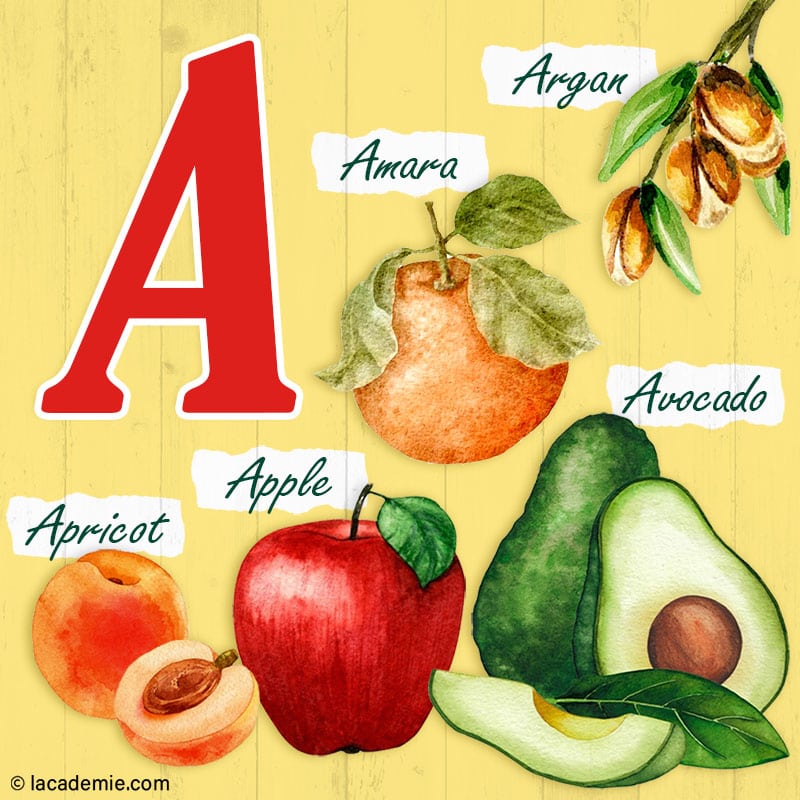 13 Red Fruits With A At The Beginning Of Their Name!
Can you list more than ten A-fruits that become red when ripe? Do you feel it is difficult to complete the challenge? Keep reading, I will immediately solve your problem.
1. Apple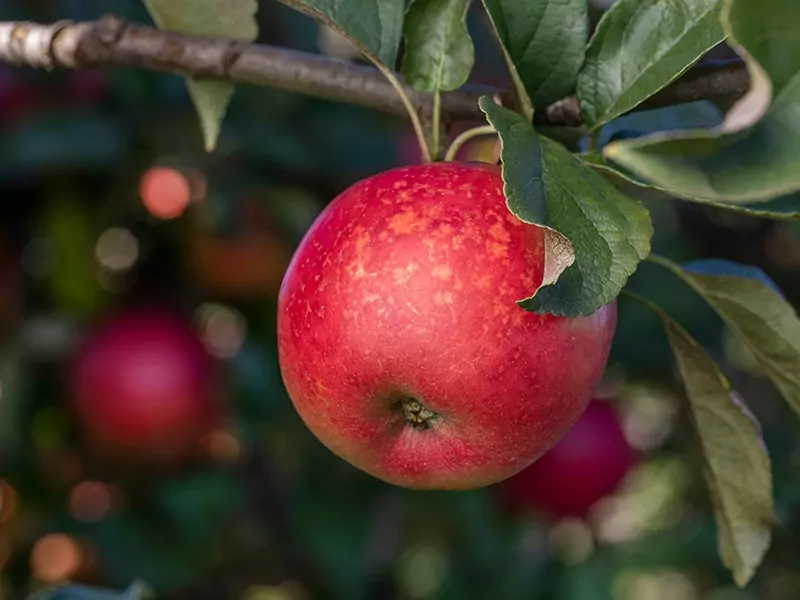 Apple is one of the most cultivated trees in the world. You can harvest apples when they reach 2-4 inches in diameter. Apple can also have different types with various red, green, or yellow skin colors, sizes, and shapes.
Apple brings many positive influences on our health since it contains a great amount of vitamin A. You can directly eat this red fruit or cook it with many dishes such as apple crisp, apple pie, tart, etc.
You should enjoy a delicious apple while watching this informative video.
2. Apple Berry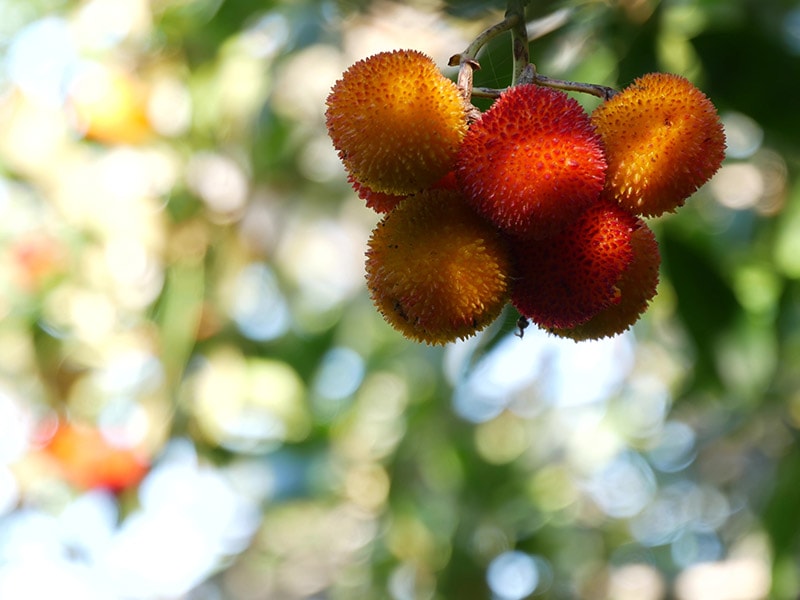 Initially, Apple Berry's appearance looks like a tiny kiwi fruit. It features a green color and is covered in fine hair. However, when ripe, its skin becomes red. Apple Berry's taste is delightsome, and it can also attract many birds around the trees.
People often cultivate these Apple Berries in Australian gardens. In addition, you can grow them in gardens around the world since they can adapt to a wide range of conditions.
3. African Star Apple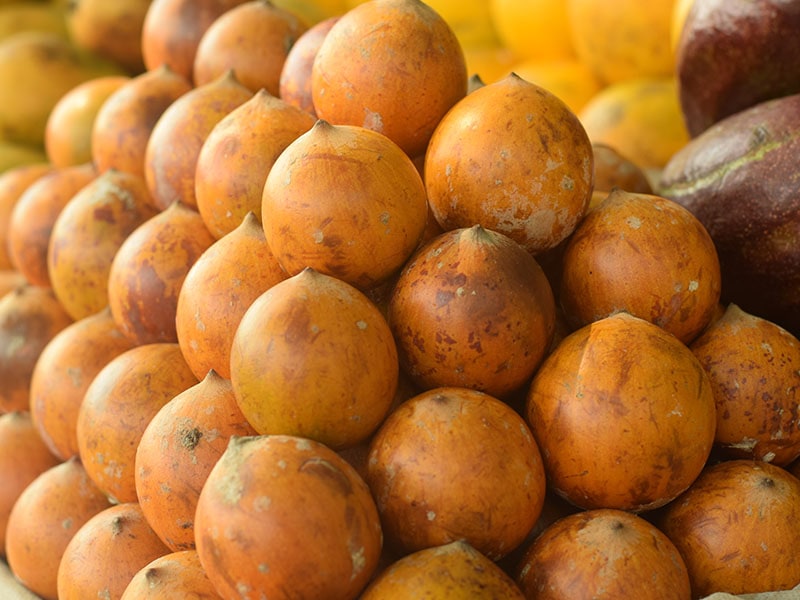 The African Star Apple has bright orange skin and 4-6 seeds inside it. When cut across the fruit, you can see its seeds look like a star formation. Therefore, it results in the name of this fruit.
African Star Apple has many health benefits that can support your daily needs. It contains an enormous amount of vitamin C, which may improve your immune system and the healthiness of your eyes.
4. Acerola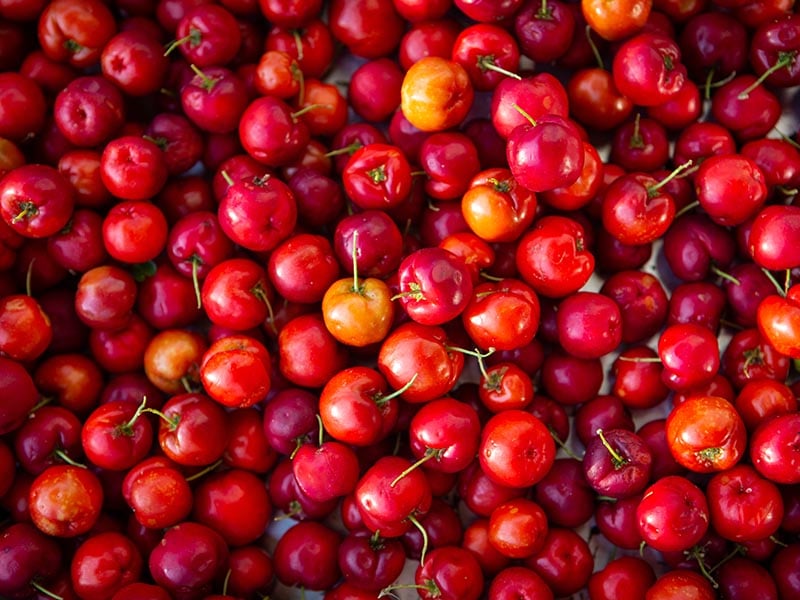 People usually grow Acerola in Central America, South America, Southern Mexico, and the Caribbean. Its fruit is quite similar to a cherry; the skin will become red when ripe. You can directly use this red A-fruit to enjoy the juicy, sweet, and astringent taste.
There are also many uses of this exceptional fruit such as skin astringent, antidepressant, antifungal,… Acerola can also prevent vitamin C deficiency.
5. Alpine Strawberry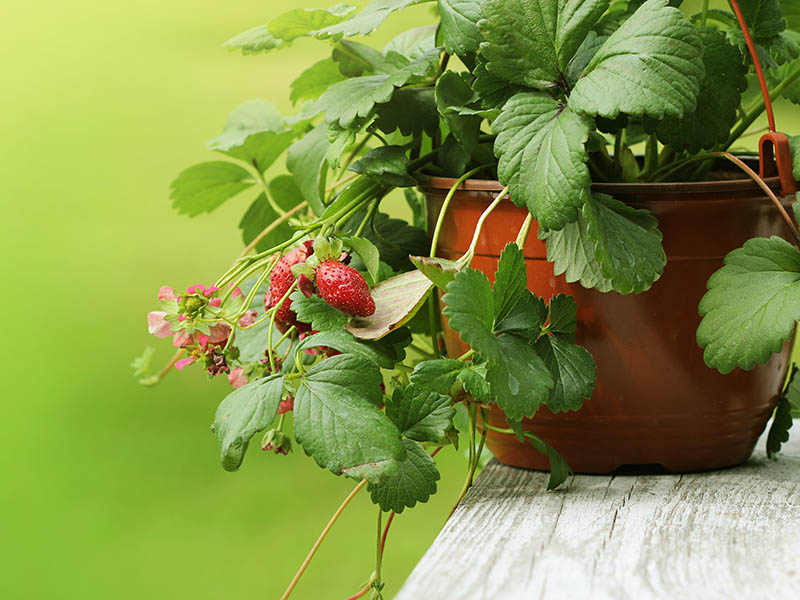 Originally, Alpine Strawberry wildly grew along the border of many perimeters in Europe and Asia. However, it is easy to start growing this fruit from seed. You can cultivate them with compost, straw, and pine needles around so that their roots can rapidly develop.
This fruit is small, very light, and quite dry. You can use your alpine strawberry to make some tasty juice for your children.
Here are some useful tips for planting Alpine Strawberries in your own garden!
6. Alupag
Alupag fruits come from Indochina and Malaysia. This fruit is native to Southeast Asia and can rapidly grow in many tropical areas. Its tree can reach up to 80 feet.
Alupag has a bumpier skin than longan. You can eat them fresh to enjoy the number of vitamins in them. Moreover, people often use Alupag woods to make lumber and furniture.
7. Annatto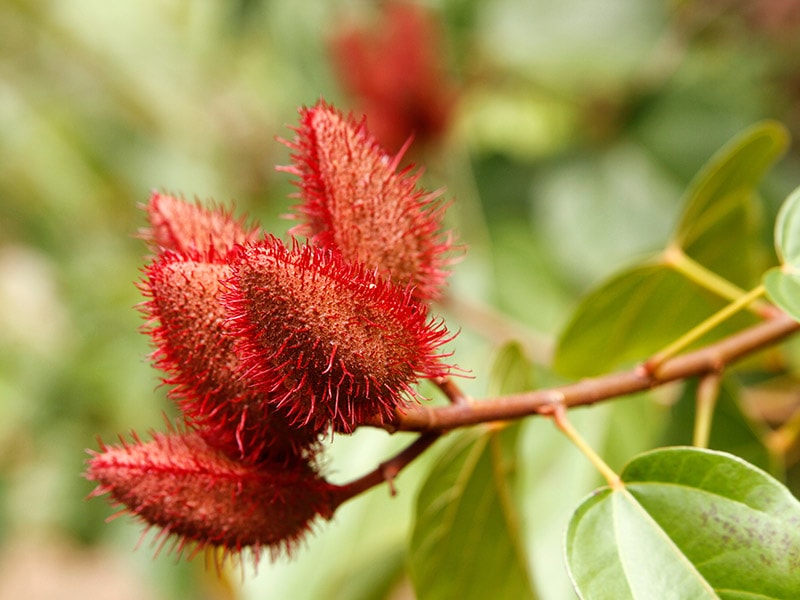 With its attractive appearance and a savory flavor, you can use this orange-red fruit to add more colors to many dishes. Sometimes, you can use this A-fruit to improve your food with a slightly nutty, sweet flavor.
In addition, you can find Annatto from Mexico to Brazil since it is native to many tropical regions. Traditionally, Brazilians used this fruit for many purposes, such as body painting, sunscreen, and insect resistance. Moreover, they also use Annatto for medical purposes.
8. Atherton Raspberry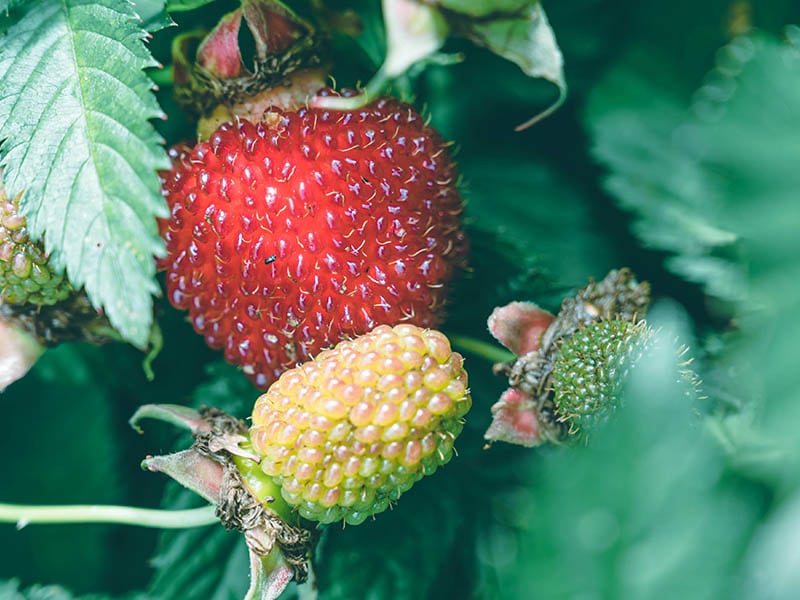 This fruit grows well in many subtropical areas with warm climates. Atherton Raspberry also needs frequent rain for its growth. It can rapidly grow in part shade. However, it will give you more fruits in full sun.
I recommend you to use Atherton Raspberry to combine with other fruits in many salad dishes. In addition, you can use this juicy fruit with ice cream, syrup, or even jams.
9. Ausubo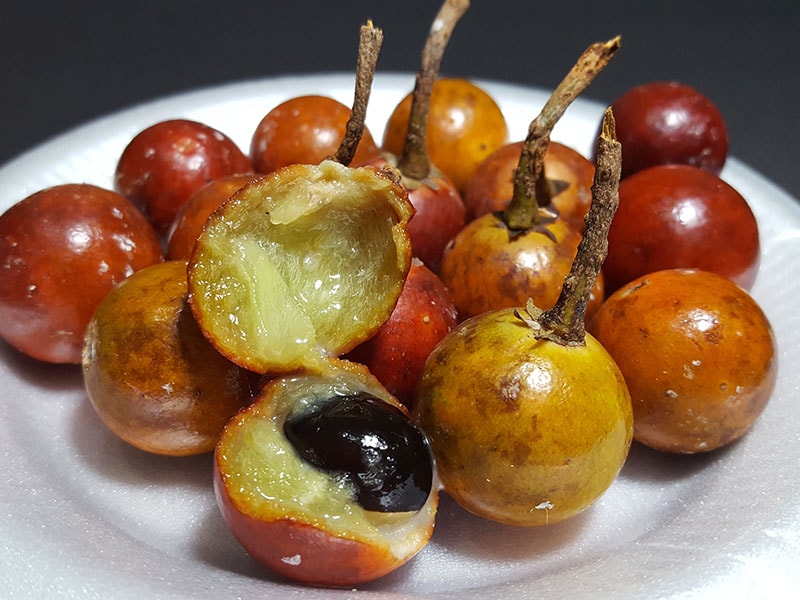 Ausubo is the name of the fruit on the balata trees. Nowadays, people widely use the benefits of these fruits in many aspects of our daily life. For example, you use Ausubo as a nutrient source, while you can use its latex to make chewing gums and many other products.
Besides, you can use its trees to manufacture many high-quality golf balls and outdoor furniture to provide for the people's needs.
10. Azarole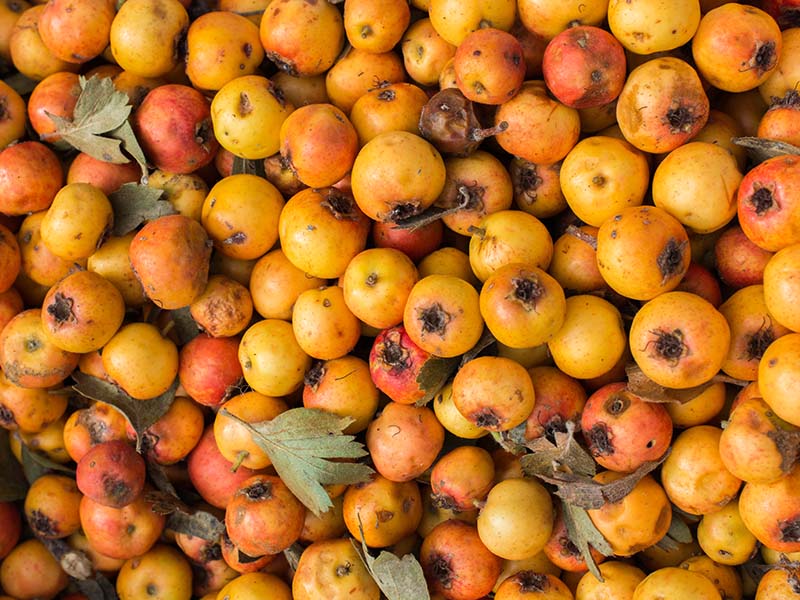 Azarole is a fruit of a shrub of Southern Europe. Farmers often cultivate them in rows along the roads in the countryside or on many farms. Azarole flowers bloom between April and May. In September, you can harvest this savory fruit.
Its fruits are white-red. You can use them fresh since Azarole is succulent, fresh, and rich in vitamin A. Therefore, this fruit is also healthy for many sick bodies.
11. Amaou Strawberry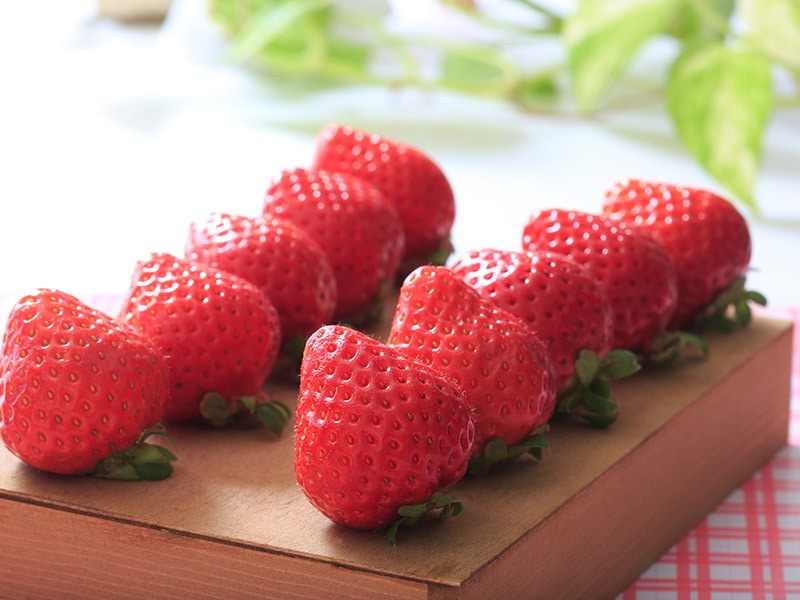 The appearance of the Amaou Strawberry is big and round with a bright red color. In addition, it features a great, tasty, sweet flavor when you try it. Do you know that you can use Amaou Strawberry as a gift in Japan?
You can use these special red fruits in many snacks and dishes. For example, Ichigo Daifuku and Japanese Christmas Cake are two well-known snacks with Amaou Strawberry in their recipe.
Let's see what people feel about the Amaou Strawberry – king of Strawberries in Japan.
12. Ashwagandha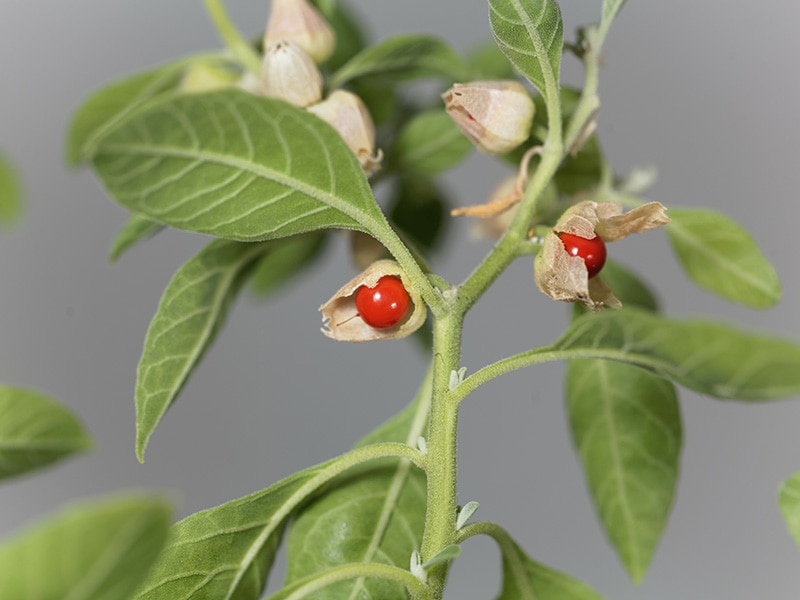 Ashwagandha is native to India and Southeast Asia; it also has many other names, such as Indian Ginseng or Winter Cherry. Traditionally, people use Ashwagandha as a vital herb in Ayurveda.
Ashwagandha's extracts from roots and leaves can reduce your stress and anxiety. In addition, it can facilitate the athlete's performance in many contests, lower blood sugar levels, and reduce inflammation,…
13. Ackee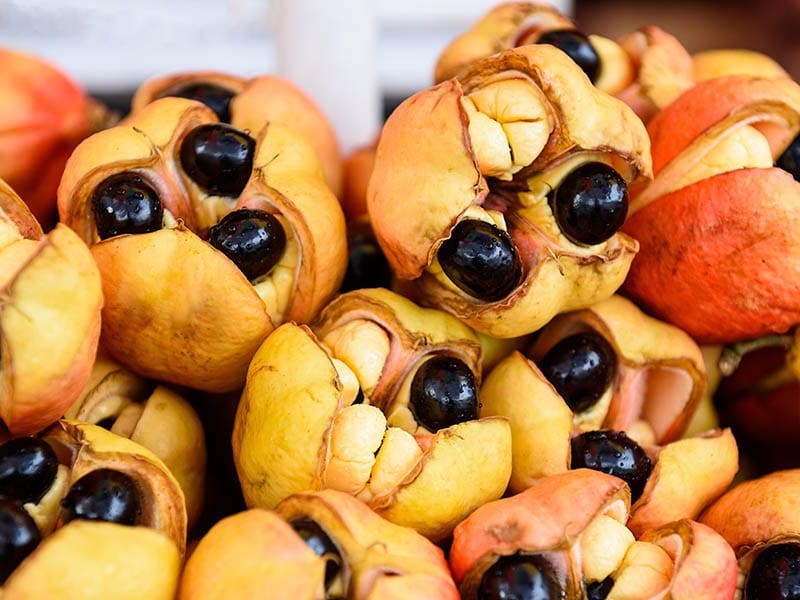 The Ackee fruits grow on many evergreen trees, and they can be available during the year. Ackee is native to West Africa, and it also has many names, including achee, akee, and ackee apple.
People use this fruit for cooking when its pods feature a bright red color, and they can easily split Ackee to take the fruit inside. You should remove its black seeds and the redlining. After that, clean the pulp in water and drain it before use in cooking.
Can You Name More Than 2 Purple Fruits That Start With Letter A?
In addition to many red A-fruits, I challenge you to list more than 2 purple fruits that start with the letter A. That's very difficult, right? Now stop wondering about the answers. Be ready. Follow me, and I will show you these attractive fruits.
14. Acai Palm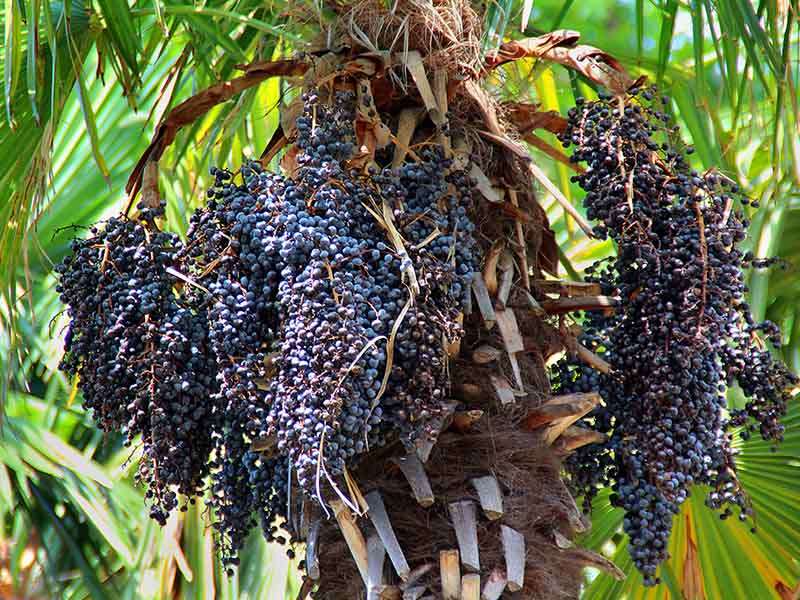 Acai Palm is native to Eastern Amazonia, and this tree mainly lives in many swamps and floodplains. People cultivated these trees due to their healthy fruits. Surprisingly, the Acai Palms trees reach more than 82 feet tall, with the pinnate leaves up to 10 feet.
You can use these healthy fruits in your fresh juice or wine. Moreover, you can use them as a dietary supplement when you dry these fruits.
15. Akebia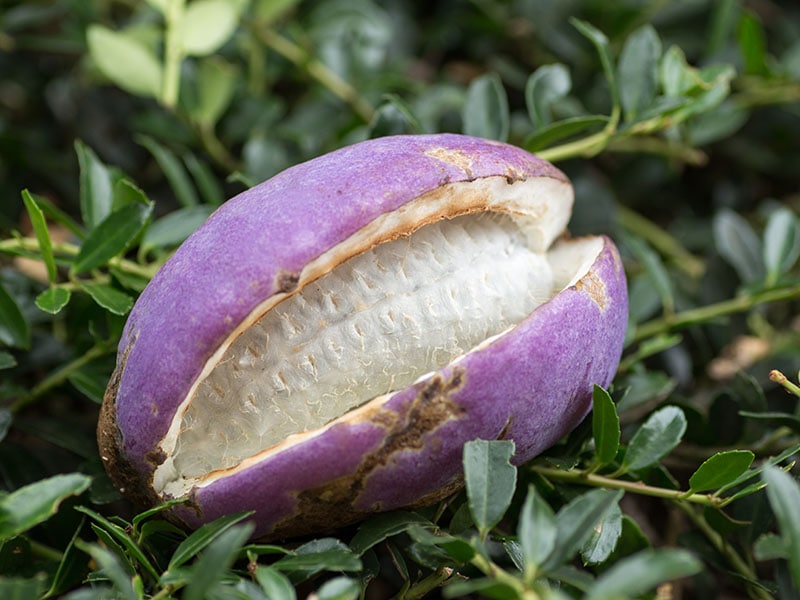 Akebia grows rapidly, and its stem is thick and tangled so that it usually covers other nearby plants. Akebia's purplish leaves become blue-green when growing up.
However, there are some serious disadvantages due to the rapid development of its stem system. You should remove the roots or cut them at the ground level to prevent this problem. Moreover, you can use glyphosate or triclopyr to get rid of them.
16. Aubergines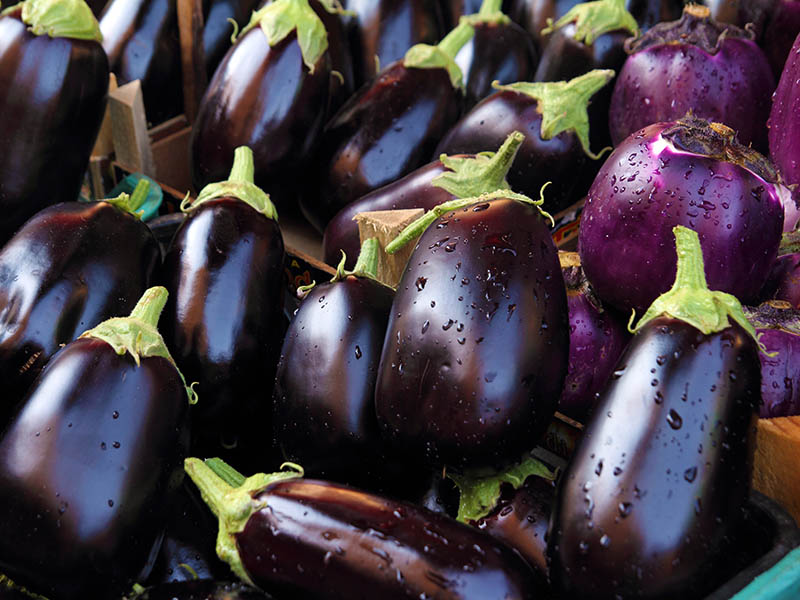 Aubergines are one of the most economically vital for many countries in Asia and Africa. People started planting aubergines thousands of years ago since they can use these fruits to make many dishes, clothing, medicine, and construction.
Aubergines' texture is creamy and dreamy. They can soak up the flavor. There are also various aubergine dishes, such as fried aubergines, baked aubergines, and marinated aubergines,… to make your daily meal more diverse.
6 reasons why you should eat Aubergines.
17. Andean Blackberry
Andean BlackBerry has another name called Mora. The taste of this Blackberry is quite amazing, like the combination of raspberries, blackberries, and cranberries. It is tangy and sweet.
You can use this sweet fruit to make many dishes and desserts, such as baking pastries, ice cream, gelato, sorbet, yogurt, etc. I believe the children in your home will love it very much.
18. Arrayan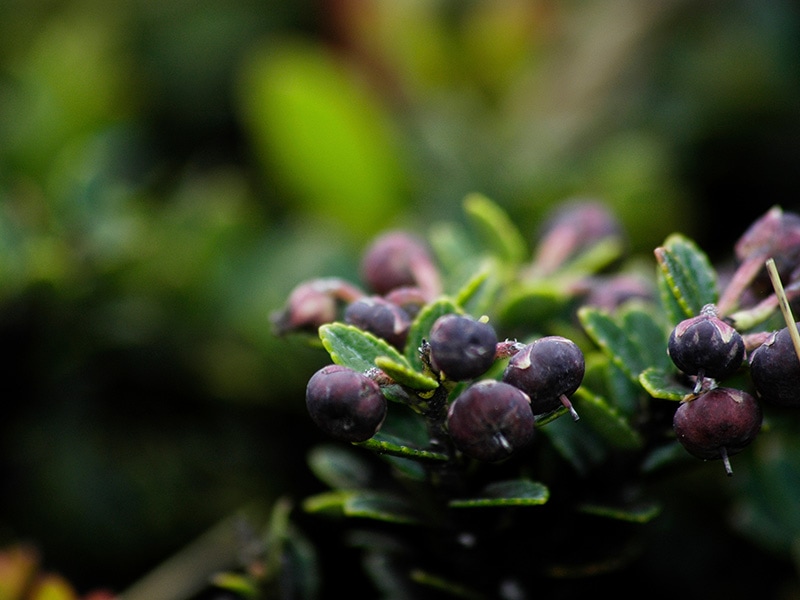 The Arrayan fruit is small and round, about 1 inch in diameter. When fully ripe, Arrayan skin becomes yellow. Each fruit can contain from 1 to 5 small yellow seeds.
Arrayan has potential health benefits when you frequently use them. Its extract can help you to prevent vascular damage. In addition, it is also a great source of antioxidant compounds for your daily needs.
19. Amazon Tree Grape
Amazon Tree Grapes are native to South America. Local people cultivate this fruit in the Western Amazon Basin in Northern Bolivia, Western Brazil, and Southeastern Colombia,…
The fruit is about an inch long, similar to other grape kinds, with exceptional taste. The color is green initially and turns to purple and dark purple when they are ripe. You can consume fresh Amazon Tree Grapefruits or use them to make your own wine.
Expand Your Knowledge With 10 Green A-Fruits
Do you want to try some new green A-fruits with me? Stay focused since I have more than 10 other fruits for you to choose from. The more you read, the more useful information you will get from this list.
20. Almond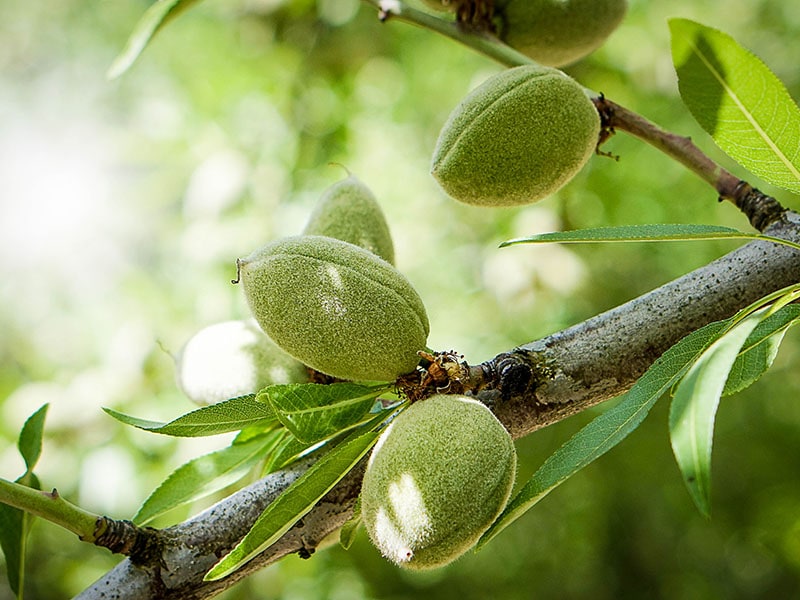 Helping to lose weight, reducing heart disease, managing blood sugar, and supporting the brain and gut health are the 5 most significant benefits of this green A-fruit. In addition, there is a variety of Almonds to make your choices more diverse.
This fruit comes from the Western part of Asia and China. The people here frequently plant Almonds here, though the exact areas of domestication are unknown.
Have you ever enjoyed green Almonds straight off the trees?
21. Apple Guava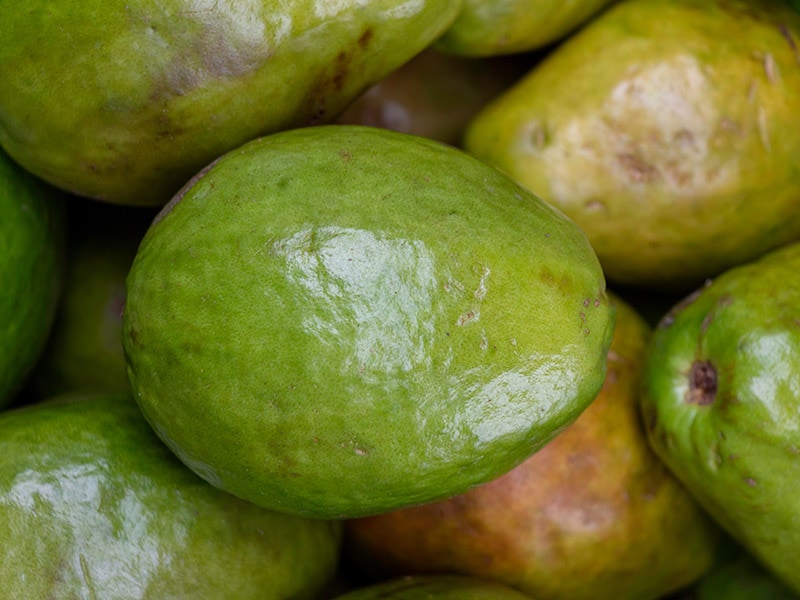 The Green Apple Guava fruit is oval, round, or sometimes pear-shaped with about 2 inches in diameter. The fruit's taste is quite varied. Some can be sour, and some can be sweet, depending on their cultivar.
A glass of Guava juice can provide your needs with an enormous vitamin A and C source. In addition, it can be an energy source for your daily activities, making you more refreshed and active.
22. Alligator Apple / Annona Apple
Alligator Apple is a common name for Annona glabra, tropical fruit in the family Annonaceae. This fruit has other names, such as pond apple, swamp apple, corkwood, monkey apple, etc.
The tree can reach up to 4.5 inches, and it has narrow, gray trunks. Its leaves are ovate and feature a distinct smell like green apples. The fruit can contain up to 100 light brown seeds, about 0.4 inches.
Do you want to know more about Alligator Apple?
23. Avocado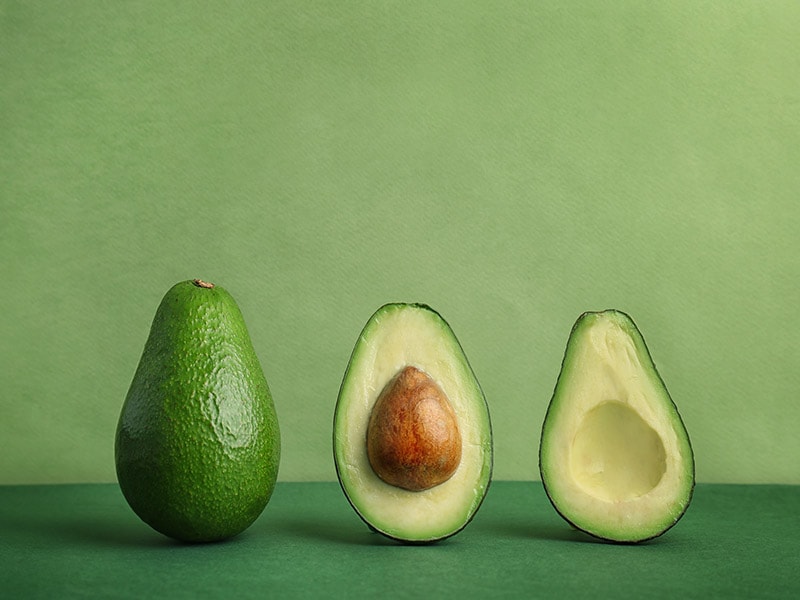 Avocados are native to Western Hemisphere, from Mexico south to the Andean regions. Farmers tend to plant these fruits in many warm climate areas.
Avocado has greenish flesh with a rich nutty flavor, so you can use this tasty fruit to make salads or serve it in many desserts. Avocados also provide many nutrients, such as vitamin A, thiamin, and riboflavin, which are all necessary for your daily needs.
24. Australian Finger Lime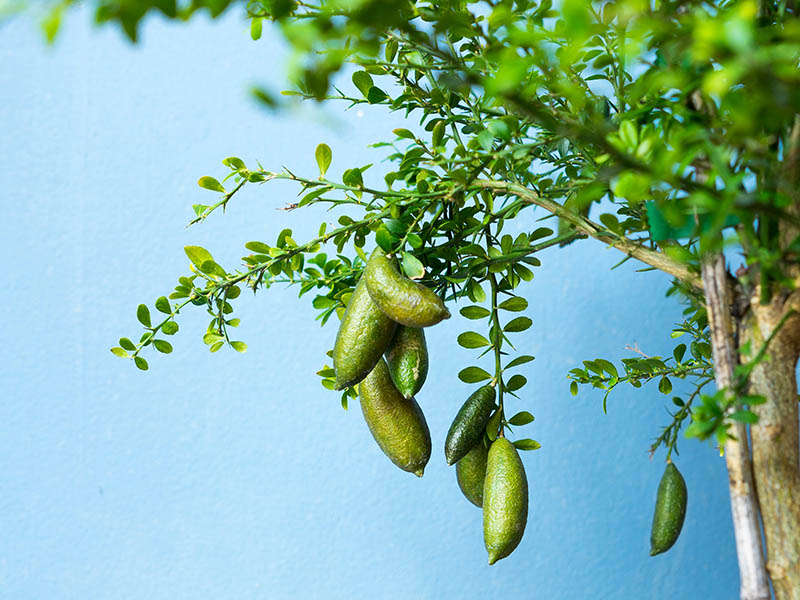 Australian finger lime is another name for Citrus Australasia. Naturally, they grow on Australia's east coast, and they are native to the rain forests of the border ranges of Southeast Queensland.
The Australian Finger Lime is small and has a wide range of colors such as red, yellow, brown, red, and black. There are many tiny bubbles separate from each other inside the fruits. When you bite them, you can enjoy the juicy splash of flavor in your mouth.
Learn more about how to grow and harvest Australian Finger Lime.
25. Australian Round Lime
Australian Round Lime, also known as Dooja or Gympielime, is round and usually reaches 1.5 inches in diameter. It has an appetizing citrus flavor, somewhat similar to other varieties of lime.
In the summer, you are looking for cool, tangy, and refreshing dishes for your family. I recommend you use this special fruit as an ingredient. Here are some dishes made with lime for you: refrigerator lime cheesecake, lime chicken with blackberry salsa, etc.
26. African Breadfruit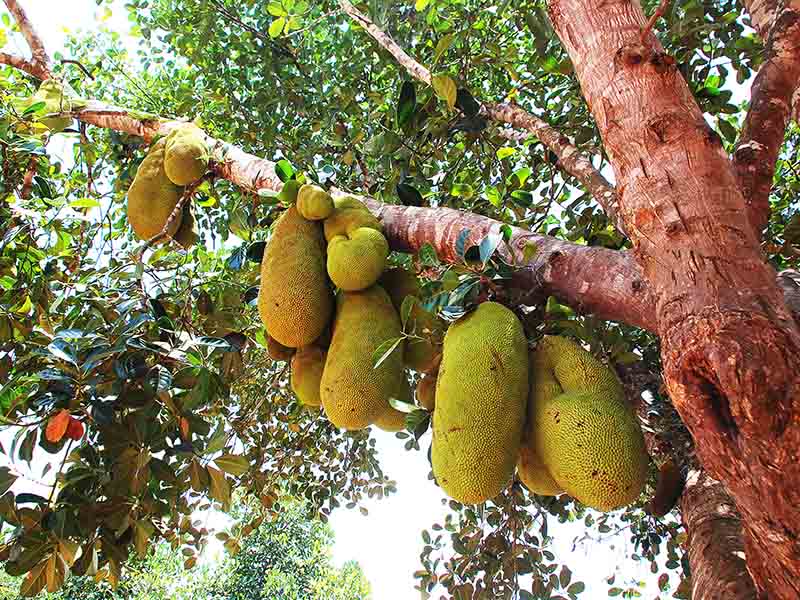 An evergreen tropical tree – African Breadfruit (Treculia Africana Decne) – naturally grows in tropical and sub-tropical forests in West and Central Africa. It is very famous in Southern Nigeria since it brings significant socio-economic benefits to the inhabitants.
This fruit is nutritious and healthy for many vegetarians. It contains several nutrients such as vitamins, minerals, folic acid, and dietary fiber.
There are also many dishes made with African Breadfruit you can consult: African Breadfruit ottage (Ukwa eletu ete) and African Breadfruit soup (Ukwa soup).
27. Araza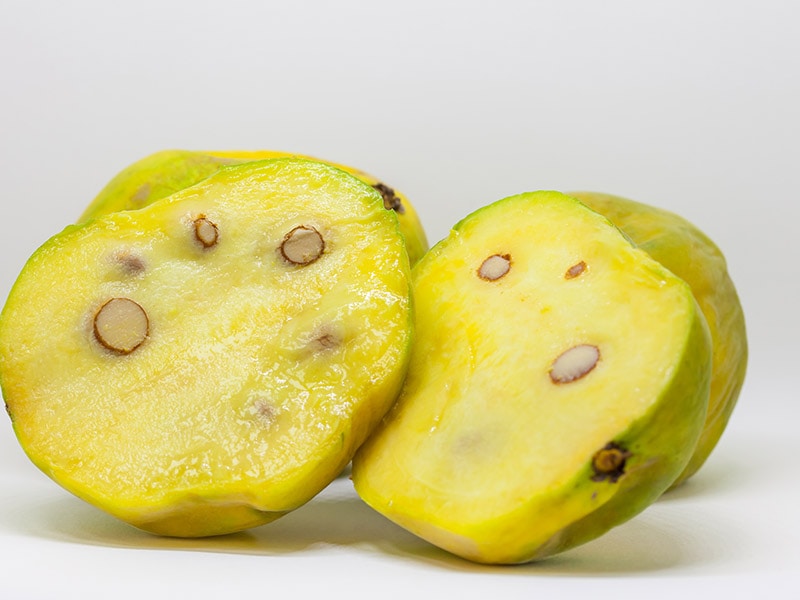 This green fruit is native to subtropical regions of South America. You can find these Azara fruits on woodlands margins and lakesides. It is also a member of the Myrtaceae family.
The tree is about 10-15 feet tall, while the fruit is small, about 0.1 inches in diameter. Besides, people often grow these impressive trees due to their petalless flowers, which make an attractive display in gardens.
28. Atemoya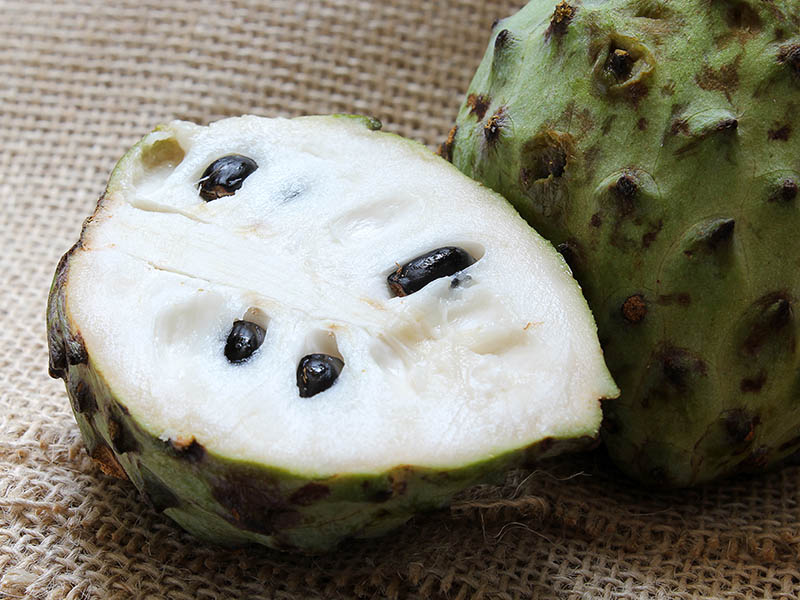 You can use these delicious fruits in many dessert recipes or slice their pulp to add to your fruit glasses or your savory salads. You can also mix these fruits with orange juice, lemon juice, and ice cream.
Atemoya also brings many benefits to your health, including weight loss, lowering blood pressure, and increasing energy.
29. Amla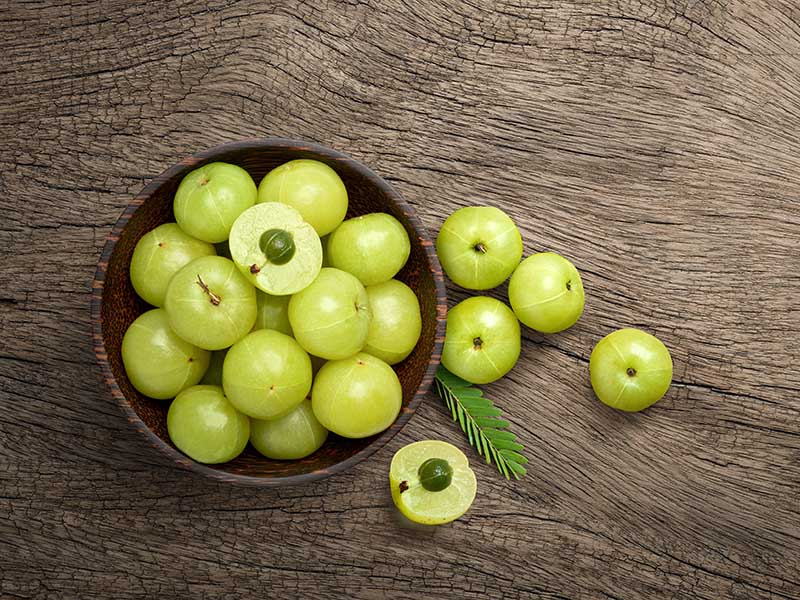 Amla (India gooseberry) is native to many parts of Asia. The trees are small with yellow-green flowers. Their fruits are pit and thin peel, sour, bitter, and astringent.
India used these special fruits to prevent many illnesses, including heartburn, cellular damage, cancer, and heart diseases. However, by overusing this fruit, you can bear some diseases, such as upset stomach, diarrhea, blood thinning, etc.
Check out the advantages that Amla brings to you here.
Other Colorful Fruits That Start With The Letter A
In addition to the special fruits above, I will show you the next 10+ colorful A-fruits for you to taste. So do not go anywhere. Let's continue my part and get more informative knowledge.
30. Ambarella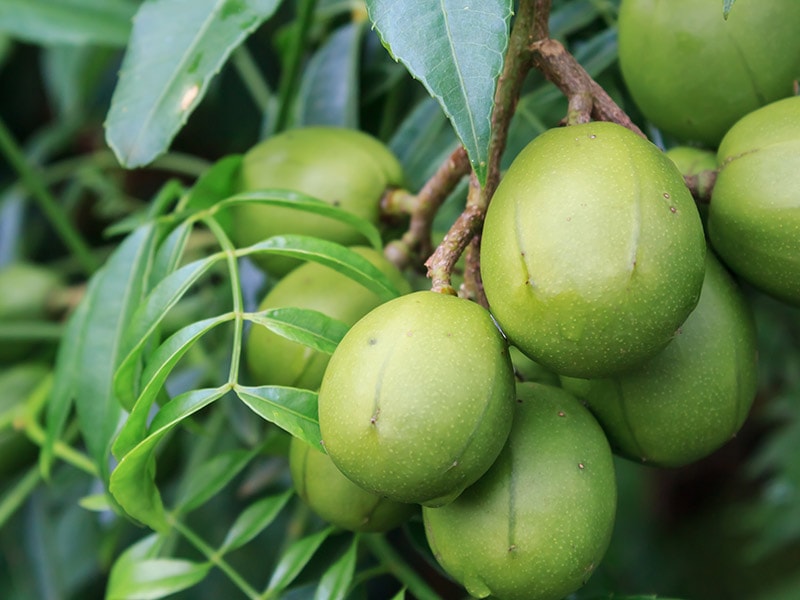 The Ambarella texture is crisp and semi juicy with a mildly acidic taste. Ambarella is a rich source of vitamin C which can improve your immune system and collagen formation. Ambarella also facilitates your wound healing process and helps treat itchy skin.
You can use this fruit to make jams, jellies, and preserves. You can also add to your soup, sauce, and stew flavors. In some areas, people use Ambarella in many salad dishes or proceed into many juicy drinks.
31. Abiurana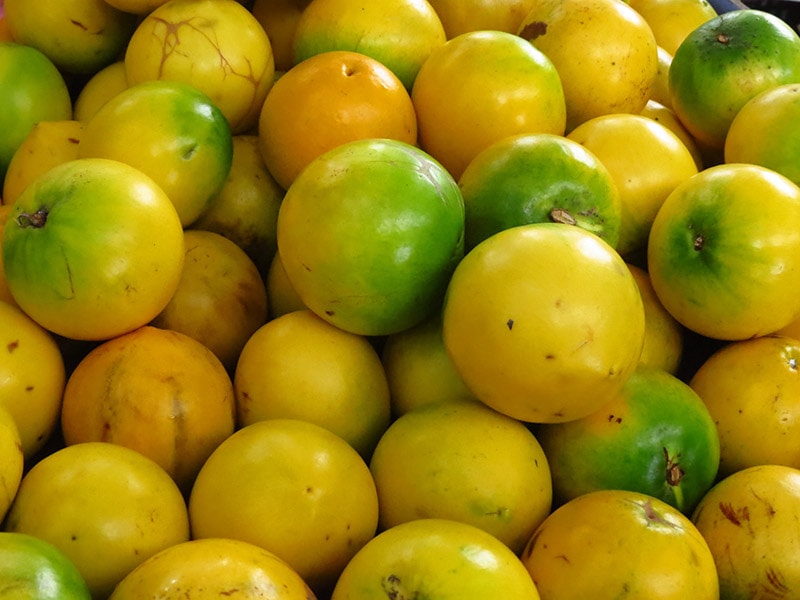 The Abiurana tree can reach up to 20-40 feet with many long leaves which can grow up to 8-10 inches. Its fruit is quite similar to the Abiu, and it is more likely to be round.
People frequently plant these trees in moist and relatively warm climates to maintain Abiurana's development.
You can use this fruit to make your own juices, fruit salads, jams, or ice cream for children, while you can use the timber for decking, foundations, and fence posts.
32. Abiu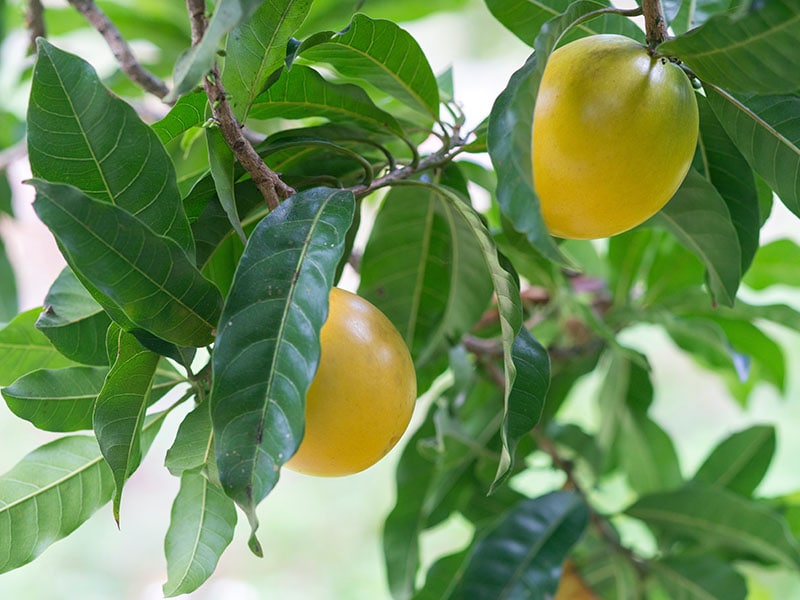 You can easily find many other names for this fruit on the Internet since Abiu is only a scientific name. People often call this fruit caimito Amarillo, caido, madura verde, and luma. Abiu is a member of the Sapotaceae family and has relatives to mamey sapote and green sapote.
Abiu fruit is round and oval. It is about 1.5-4 inches in diameter. The skin is smooth, tough, and features bright yellow when ripe. Abiu's pulp is white and jelly-like. When you taste it, you can enjoy the sweetness of this A-fruit.
What does Abiu taste like? Discover here.
33. Arava Melon
Arava melon is about 4.7-7.8 inches in diameter. The fruits are covered in beige netting, and under the beige is the rind which changes from green to yellow with maturity.
Arava Melon's pulp is soft, aqueous, and tender. The taste is aromatic, delicious, and sweet with tropical and nectar-like flavors. Due to its flavor, you can use Arava Melon in salads, blend it with soup, juice into cocktails, etc.
34. Adam Pearmain Apple
Adam Pearmain Apple features an appealing 'Pearmain' shape. It is one of the most well-known varieties in Victorian England. This fruit is medium-size, about 2.3 inches in diameter. The skin has a yellow-green color, flush with a dark red hue.
This fruit is available in late fall through winter. During this time, you can enjoy the sweet, tangy flavor of Pearmain Apple to receive a source of vitamin C which supports your immune system.
35. Amanatsu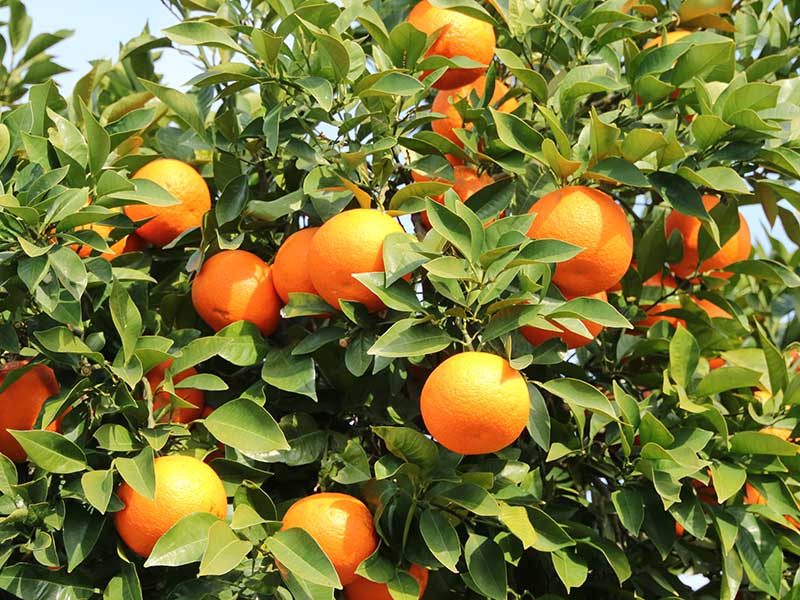 One of the most favorable oranges in Japan, Amanatsu, is frequently available from late spring through summer. The Amanatsu have been grown in Yamaguchi from 1740 to these days. In the modern days, people do not commercially plant this fruit outside of Japan.
Eating fresh is the most appropriate way to enjoy Amanatsu. However, you can also use it to make delicious juice, refreshing beverages, and mouthwatering cocktails,… You should use Amanatsu when you are eating many traditional dishes in Japan.
36. Amara
Amara fruits are native to the tropical Americas and the West Indies. At the beginning of the 17th century, Amara first appeared in South Asia.
You can use not only the fruit pulp but also the seeds to benefit from the very high oil content from them. In Thailand, they use the young leaves combined with some chili powder to make their own flavorings. Sometimes, they brew the leaves in tea.
37. Anchovy Pear
A member of the Lecythidaceae family, the anchovy pear (Grias cauliflora) has an appearance up to 50 feet in height with 35 inches of glossy leaves. Anchovy Pear has only one seed, and its fruit features pear-shaped, about 2-3 inches long.
The fruit tastes like the mango with a great source of vitamin C which may strongly facilitate your immune system and eye health.
38. Apricot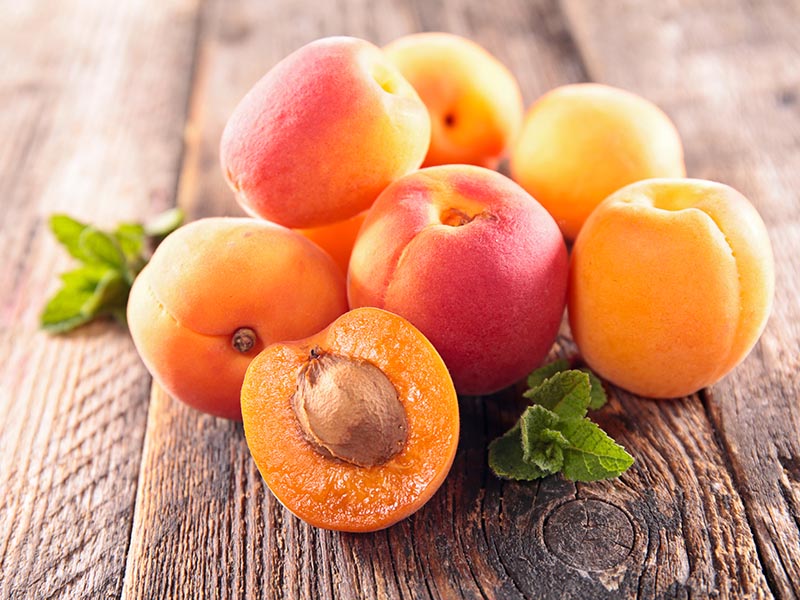 The Apricot is a small, round, soft fruit with pale orange and furry skin. Originally, the Chinese domesticated this delicious fruit. However, people can now grow Apricots on every continent except Antarctica. Apricots also make for a delicious sort of canned fruit.
Due to the number of flavonoids, an antioxidant in this useful fruit, you can use Apricot to treat many diseases such as asthma, cough, constipation, eye inflammation, spasm, etc. The main flavonoids in apricots are catechin, quercetin, and chlorogenic acids.
Maybe you don't know these health benefits of dried Apricots.
39. Argan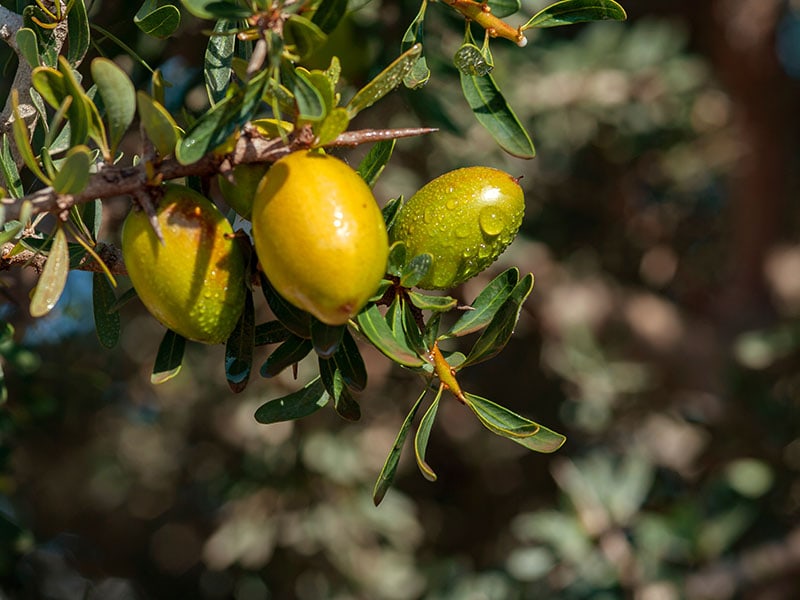 Argan is about 1-1.5 inches long and 0.4-1.2 inches broad. People also use Argan oil in many hair and skin products. In many dishes, Argan can add a sweet and nutty flavor to improve the taste of your meal.
In addition, you can use the smooth and delicious oil to help prevent chronic illnesses such as heart disease, diabetes, and cancer.
Argan oil can help protect from sun damage, treat some skin conditions, treat acne, and heal skin infections. Do not worry, Argan oil is safe for most people to use.
40. Ambrosia Melon
Ambrosia Melon is native to Persia and Western Asia. People have cultivated this plant since ancient times. The fruit's pulp has a soft, tender, and succulent consistency. When ripe, the Ambrosia Melon features a honeyed, fruity aroma.
There is an enormous amount of vitamin A and vitamin C in Ambrosia Melon. They help protect the shell from free radical damage and maintain your healthy organ functioning.
41. African Cherry Orange
African Cherry Orange is a fruit that belongs to the citrus family. It has the same size as the tangerine, about 0.8-1.2 inches long.
Traditionally, people use African Cherry Orange as herbal medicine. Besides vitamin A and vitamin C, this delicious fruit is also a source of iron and minerals.
In addition to the fruits' benefit, you can also use African cherry orange root to treat impotence. In Uganda, the locals use the African Cherry Orange's root in the form of infusions as aphrodisiacs.
42. Asian Pear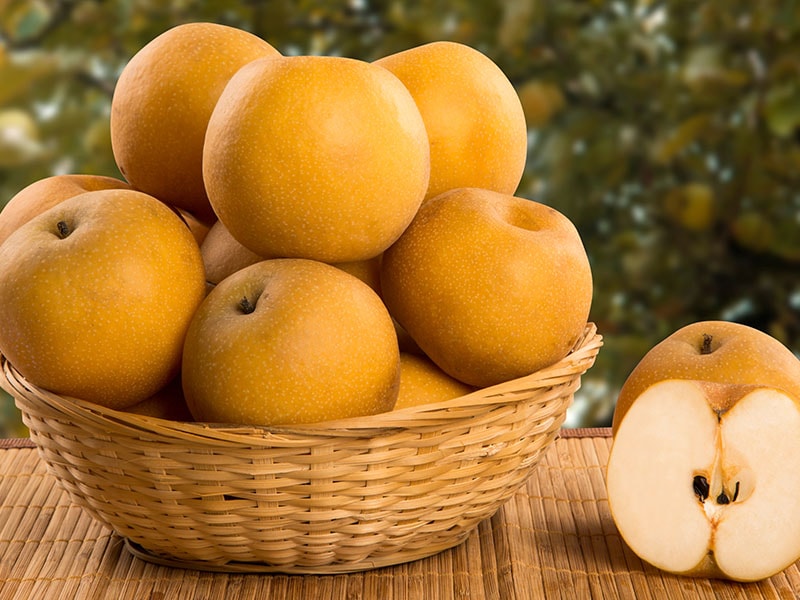 Asian Pear (Chinese Pear or Nashi Pear) is round with brown and yellow skin. The fruit has a firm, crisp texture and refreshing taste. Try it once, and it can satisfy most fruit lovers, especially your family members.
You can use Asian Pear for many purposes, including juices, garnish, and soups,… You may be surprised by the potential benefits of this fruit.
Do you want to know what an Asian Pear tastes like?
Let's Broaden Your Knowledge Horizon With A-Fruits!
You have read about 4000 words and come through 40+ fruits that start with the letter A! With the appealing colors and potential health benefits, I believe some of these fruits will become your favorite soon.
Do you find my writing interesting and informative? How about sharing with your friends, your family, and every fruit lover? I will appreciate it.
Moreover, if you have some more fruits that start with the letter A, do not hesitate to let me and other readers know via comments. I will read all the comments and add them to my list. Many thanks!