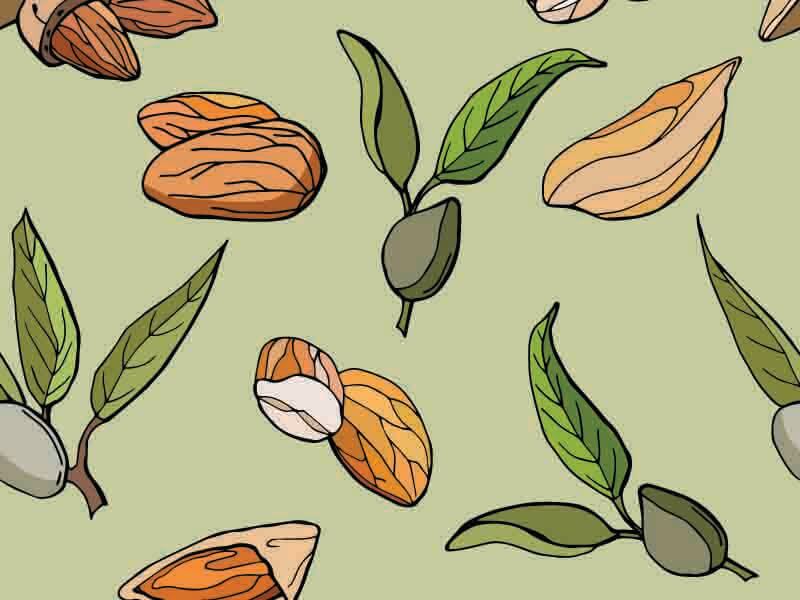 With so many different types of almonds on the market, how do you choose the best one for your recipe? Well, you can do that by looking at the main features and uses of the types and deciding which one can enhance the flavor of your dish.
All of the necessary information is included in this article. After reading it, you will learn a lot of amazing facts about almonds. Some types may be familiar to you, but some may not. Even if you know that variety, you may not know something about it.
Almonds Are Most Popular Type Of Nuts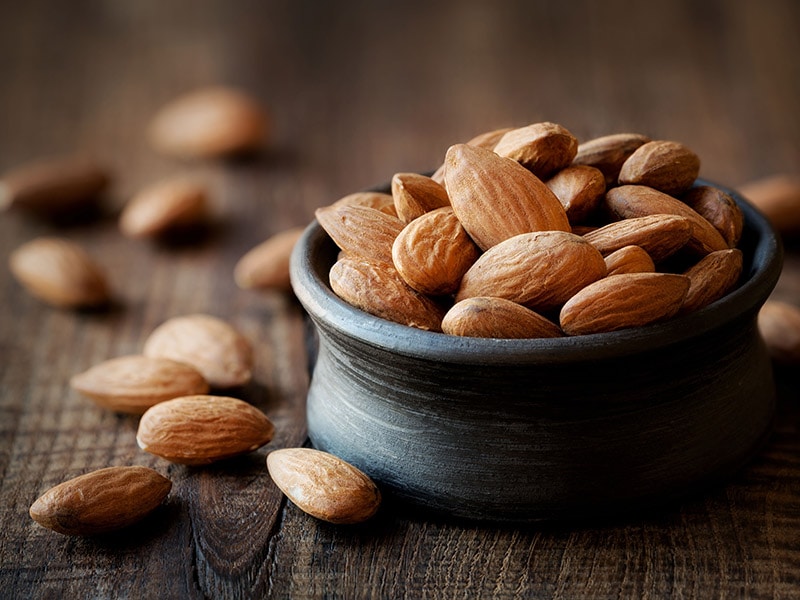 Among the nuts that I have ever tasted, almonds impress me the most. Its crunchy and nutty flavor is so addictive.
As you know, almonds are a very popular ingredient in both sweet and savory dishes. They are most often used as topping to add more flavors and textures. You can use them in grain and bean dishes, vegetable dishes, and of course, fruit dishes.
One of the most common foods made from almonds is almond flour. It is versatile and incredibly healthy. You can enjoy it as long as you start to wonder whether your almond flour has expired. Make sure you are careful about that!
Almonds are not only delicate, but they also have a great nutrition profile. They contain plenty of antioxidants, which can prevent cancers and slow down the aging process.
In addition, they are rich in vitamin E. Should I say more about how beneficial vitamin E is? It can reduce the chance of getting heart diseases, Alzheimer's disease, and cancers.
Let's learn more about the impressive health benefits of almonds.
California Almonds And Mission Almonds
Before I start talking about the variety, I want to inform you about the classification of almonds. They are divided into 2 subtypes, namely California almonds and Mission almonds. Let me give you some information about them so that you can understand them better.
| Type of almonds | California | Mission | Nonpareil |
| --- | --- | --- | --- |
| Shell | Semi-hard | Hard | Thin |
| Taste | Sweet, nutty | Strong, nutty | Nutty |
| Blachability | Blanchable | Cannot be blanched | Blanchable |
California almonds are more popular. They are produced for commercial purposes. All of them are blanchable and versatile. You and use them in plenty of ways, such as manufacturing. They often have a dark color and semi-hard shells.
People also utilize this type of almonds in manufacturing the high-quality types of almond flour. Choose the best one for your dishes!
Mission almonds, however, cannot be blanched. The skin often has a brownish-red color, while the nuts inside are small and wrinkled. Their flavors are also stronger than other varieties. The wrinkles on the nut take on the flavorings pretty well, making the nut taste more fulfilling.
People often use Mission almonds in ice cream and snack mixes. They also roast the nuts to get their best taste.
Nonpareil almonds are also blanchable, thanks to their thin skin and smooth nuts. They often have a light color and a flat shape. They have a beautiful look and a typical nutty flavor.
15 Varieties Of Almonds Whose Tastes Will Blow Your Mind
This is enough for background information. Let's get to the main part. I cannot wait to show you 15 varieties of almonds. First, take a look at the table below to get some brief information about them.
| Types of almonds | Appearance | Taste | Application |
| --- | --- | --- | --- |
| Neplus | Flat, long | Sweet, nutty | Culinary and medical purposes |
| Butte | Short, small | Nutty | Blanching |
| Bitter almonds | Long, wrinkled | Nutty | Eating after cooking |
| Nonpareil | Flat, thin | Sweet, nutty | Eating raw, blanching, commercial production |
| Carmel | Flat, long | Sweet, nutty | Blanching, roasting, and baking |
| Sweet | Flat, wrinkled | Sweet | Eating raw, cooking, baking |
| Peerless | Long, thin | Strong, nutty | Decorative treats |
| Green | Green, velvety | Nutty | Eating raw |
| Fritz | Plump, short | Sweet, nutty | Eating raw and cooking |
| Chinese | Flat, wrinkled | Nutty | Cooking |
| Monterey | Long, flat | Meaty, rich | Baking, roasting, and snacking |
| Sonora | Large, long, narrow | Strong, nutty | Cereal topping |
| Marcona | Round and flat | Sweet, rich | Hors d'oeuvres platter, vegetable dishes |
| Molar | Plump | Nutty | Eating raw |
| Ferraduel | Large | Nutty | Eating raw, baking |
1. Neplus Almonds
Originated in France, Neplus is a California variety that has an incredibly sweet taste. People also call it "Ne Plus Ultra almonds." This variety is popularly cultivated for commercial purposes since the trees are so productive that they can produce a large number of nuts at a time.
Neplus has a flat, long shape and attractive light brown skin with some wrinkles. It is considerably longer than other varieties. You can use Neplus almonds for culinary and medical purposes.
2. Butte Almonds
Butte almonds come in small and short nuts with a slightly hard shell and some wrinkles on them. They are plumped, round, and have a light brown color. The nut inside also has a lot of wrinkles. They will help to absorb the seasonings.
This variety can be classified as a California and a Mission variety. It is also one of the most productive ones. The shells are soft enough for blanching.
3. Bitter Almonds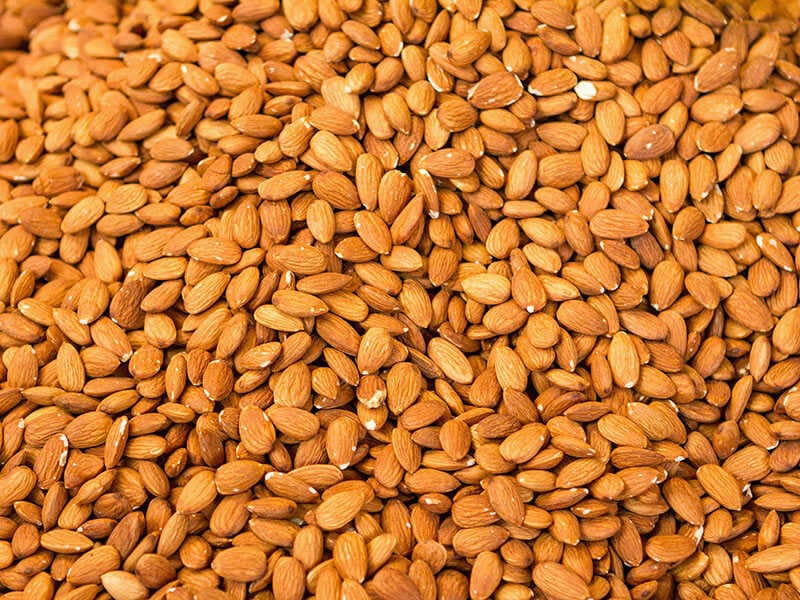 Bitter almonds are a toxic variety. Their cyanide content makes them inedible. However, the oil extracted from them is used to make extracts and liqueurs. They are not sold for commercial purposes.
People often remove the toxic substance from bitter almonds using heat. After that process, they are edible.
You should learn about the cyanide, the toxic substance in bitter almonds.
4. Nonpareil Almonds
Nonpareil is one of the most common California varieties of almonds. Some people classify them as an individual variety. It has a flat, elongated, and thin shape.
Its thick, pale, and smooth shell makes blanching much easier. Therefore, it is perfect for eating raw. It is also used in commercial food products.
The sweet and nutty flavor of Nonpareil almonds will fascinate you. You can serve them as a topping for your salad, pasta, and ice cream. Feel free to add them to your desserts and any other dish that calls for almonds.
5. Carmel Almonds
This California variety was first found in 1966 in Le Grand, California. It has the appearance of common almonds. Its shell is long, flat, semi-hard, and smooth, while the nut inside is short, small, and wrinkled.
People most often blanch and roast them, but they are used in a lot of other applications thanks to their adaptability. You can make candy and baked dishes from them.
Notably, with its sweet and nutty taste, it can be a replacement for Nonpareil almonds and other types of California almonds.
6. Sweet Almonds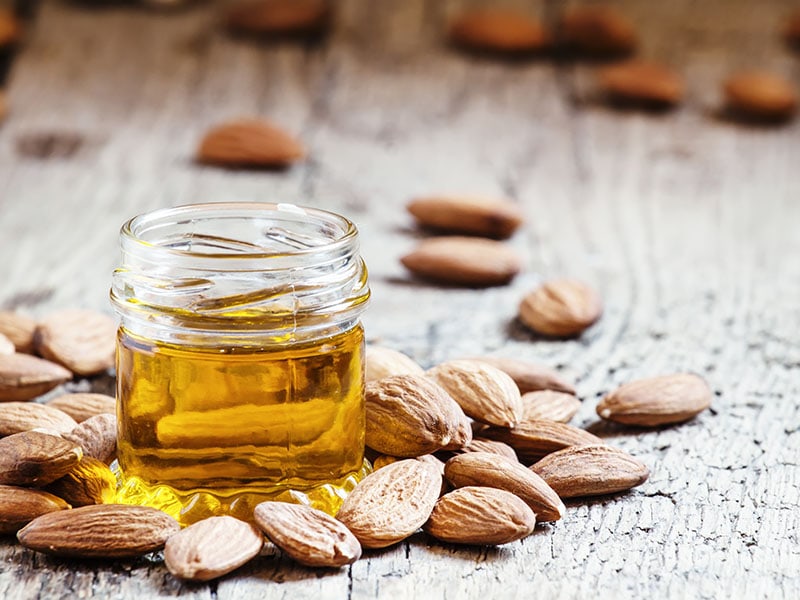 Sweet almonds are very commonly used in making sweet and savory dishes, thanks to their delightful sweet taste.
This type of almonds have a flat shape with wrinkled skin. People extract oil from them, eat them raw, and use them as an ingredient in cooking and baking. They are also used in the production of cosmetics and hair care products.
7. Peerless Almonds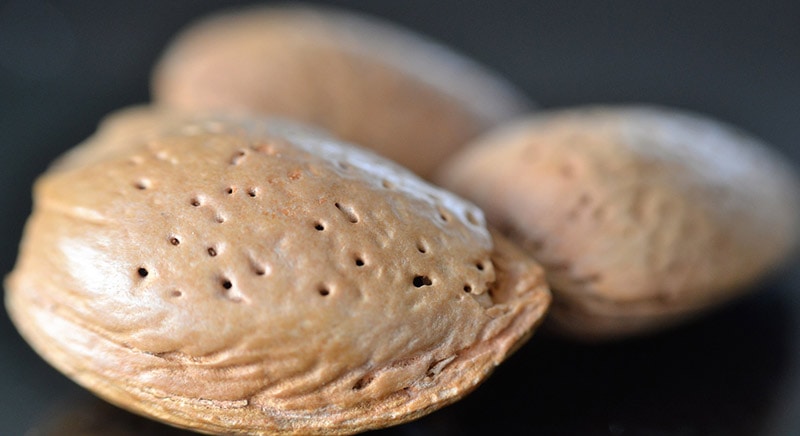 Peerless almonds have a stunning appearance with gorgeous light color skin. In addition, the outer shell is long, hard, thin, and smooth, while the inner nut is dark brown with wrinkles. They are long and flat in shape. It has a strong nutty taste.
Given this attractive appearance, peerless almonds are great for decoration. Because the shell is hard, they are often sold in whole forms.
Another great thing about this variety is that it lasts longer than other varieties, approximately 2 years.
8. Green Almonds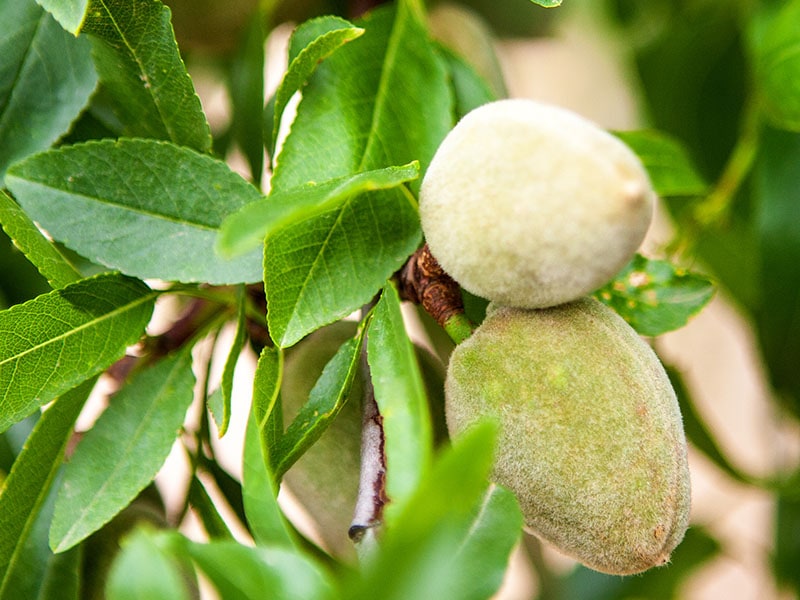 Green almonds are not actually a variety. They are just unripe almonds which have a green color and crunchy texture. The exterior has a velvety texture, while the seeds inside are very soft. They will become more solid as they ripen.
People often say that they taste like unripe peaches. Yet it still has the typical nutty flavor of almonds. You can enjoy them raw as a snack.
9. Fritz Almonds
If you are looking for a perfect almond variety to make almond milk, Fritz almonds are the best choice. While enjoying almond milk, make sure you test it frequently to check the possibility that almond milk has gone bad.
It can be both a Mission variety and a California variety. The shell is plump and short. It has a light brown color and semi-hard texture. The kernels are darker and medium in size.
Fritz almonds are harvested 40-60 days after Nonpareil almonds. They produce high yields. Regarding taste, they have the typical nutty and sweet taste of almonds, yet they are less sweet than Nonpareil and Monterey. You can eat them raw or cook them with other ingredients.
10. Chinese Almonds
Perhaps this is the only variety of almonds that is not almonds at all. Chinese almonds are actually the kernels of apricots. Although they belong to a completely different plant, their taste is very similar to common almonds, which are nutty.
If you are curious about the flavor of Chinese almonds and want to try them out, you should remember this thing. Never eat them raw! They are slightly toxic because of the amygdalin content. You can try them after they are cooked.
There are 2 varieties of Chinese almonds, namely the sweet and bitter ones. While the bitter variety is toxic, the sweet one is not. They have a flat shape and wrinkled shell.
Check out this delicious Chinese almonds tofu recipe and make it today!
11. Monterey Almonds
Monterey almonds are also a very productive variety. Originated in 1945, this California variety features hard, smooth shells with long, wrinkled nuts. Its shape is long and flat. Compared to Nonpareil almonds, it is darker in color and more wrinkled.
You will love the excellent rich and meaty taste of Monterey almonds. You can bake them, roast them or eat them raw as a midday snack.
12. Sonora Almonds
Compared to other varieties, Sonora almonds have a more impressive nutritious profile. They are packed with vitamin E, calcium, potassium, and magnesium, which benefit your health a lot.
Sonora almonds are a California variety with a unique appearance. It has a thin, dark brown shell but is rough rather than smooth. When you open them, you will see long and narrow nuts that are heavenly tasty. They have a light color.
The nuts of this variety are relatively larger than others. They have a strong nutty taste and crunchy texture, which is perfect for topping your breakfast cereal.
13. Marcona Almonds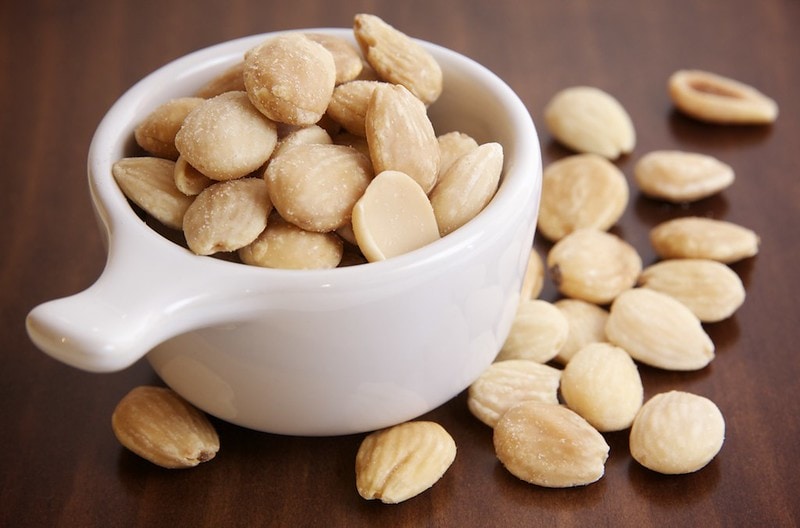 Marcona almonds have an elegant appearance with bright skin. They are often referred to as "the queen of almonds".
With the sweet and rich taste and a crunchy, soft, moist, and buttery texture, they are suitable for enjoying raw or making roasted and fried dishes. Fry them with olive oil or sunflower oil, then add some salt. And you will get a super delicious snack.
You can also use them to flavor your hors d'oeuvres platter or top vegetable dishes.
This variety originated in Spain. Nowadays, it is popular in Mediterranean countries and India. Compared to other varieties, Marcona is sweeter.
Get to the kitchen and make this delicious roasted Marcona almonds recipe!
14. Molar Almonds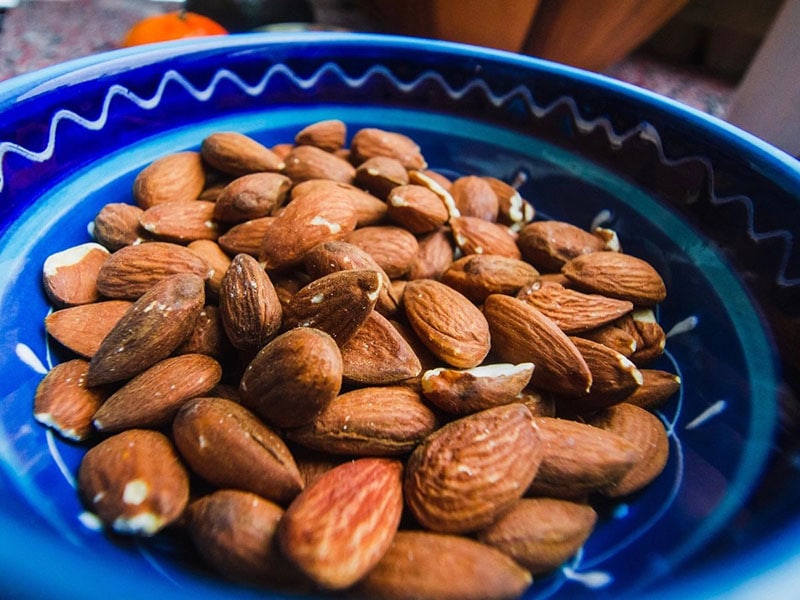 Molar almonds came from Spain. Their name came from the Spanish word for "soft-shell." The plumped almonds have a delicious nutty taste that will stay in your mouth for a long time. Due to their soft shells, people love to eat them raw. They are often available in whole forms.
This type of almonds consists of several varieties. Molar Tarragona almonds are the most well-known ones.
15. Ferraduel Almonds
This is a French variety. It was invented by the French Institute for Invertebrate Enhancement INRA. It is one of the most common varieties in French that often produce crops in September. The brown shells are hard, and the light brown nuts are pretty large.
Ferraduel almonds have a delicious nutty taste. The plants are also very productive. Once you buy them, you can eat them raw or use them in baked recipes. They contain vitamin E, calcium, magnesium, which are very good nutrition for your body.
5 Best Almond Recipes You Must Try
This is my favorite part. I love almonds so much that I always look for a lot of recipes to make. Below are the best almond recipes that I have ever tried, and I am very delighted to share them with you. Let's check them out!
Roasted almonds are a classic almond recipe. It is super tasty and easy to make. Only some basic ingredients are needed. But the result will always be more than satisfactory.
Besides almonds, kosher salt is the main star of this dish. The almonds absorb it well, making them salty on the outside and sweet, nutty, and crunchy on the inside. With all of these wonderful flavors, who doesn't love this dish?
Roasted almonds are a perfect snack for everyone.
With this excellent candied almond recipe, you will get flavorful almonds to top your favorite dishes, such as salad and ice cream. It also makes a perfect midday snack.
These almonds are flavored with salt, cinnamon, sugar, and vanilla extract. In every bite, you will get an impressive salty, sweet, and crunchy flavor that is incredibly mouth-watering. Compared to roasted almonds, candied almonds are sweeter, thanks to the sugar content.
Instead of buying almond butter, why not try making it at home? You can spread it on toast, add to your breakfast cereal or serve it as a dipping sauce. It is creamy, rich, sweet, and, of course, nutty.
I believe that anyone should store some almond butter in the fridge. But the homemade version is undoubtedly tastier and more affordable.
Want an easy yet tasty almond butter recipe? Look no further than this one!
The best way to please your sweet tooth with almonds is to try this caramelized almond recipe. The intense sweetness and crunchiness from almonds and sugar are heaven-sent. If you let your kid try it, they will certainly ask for more.
Since the almonds are caramelized, they have an attractive brown color that will seduce everyone. Place it on the table for a snack, and it will soon disappear.
Speaking of almonds, the first thing that comes to my mind is almond milk. It is probably the most famous almond recipe. For me, I even love it more than cow milk since it is less rich but still very sweet, creamy, and nutty.
You can store almond milk for 4-5 days in the fridge. But you should also look for whether almond milk can be frozen. Never miss the chance to keep them longer.
For the most basic recipe, you need no more than almonds, water, and salt. It is dairy-free and sugar-free. Is there anything better than that? If you are looking for ways to enhance the flavor of almond milk, add some vanilla extract and berries.
This delicate almond milk recipe will win your heart.
Almonds Will Win Your Heart After The First Try
I am glad that you have read until the end of this article. You probably get a lot of knowledge about almonds. Now it's time to try them. To help you further, I also collected some delicious recipes. I hope that you will have a great culinary experience.
If you have any idea or comment, feel free to type it in the comment box. You can support me by liking and sharing this article. Then it can reach more people who also love almonds as much as you and I do.