Greek-originated cooking recipes are exceptional but not everyone has tried before, especially their dessert. In reality, each Greek dessert has an unmistakable distinct flavor. This ancient country is fascinating with so many novelty desserts that bring you back to the nostalgic taste of the old times.
Therefore, let's learn how to make your own and enjoy the flavorsome and eye-catching Greek desserts to feel the full savor of this land. These desserts will surely surprise you with their luscious taste!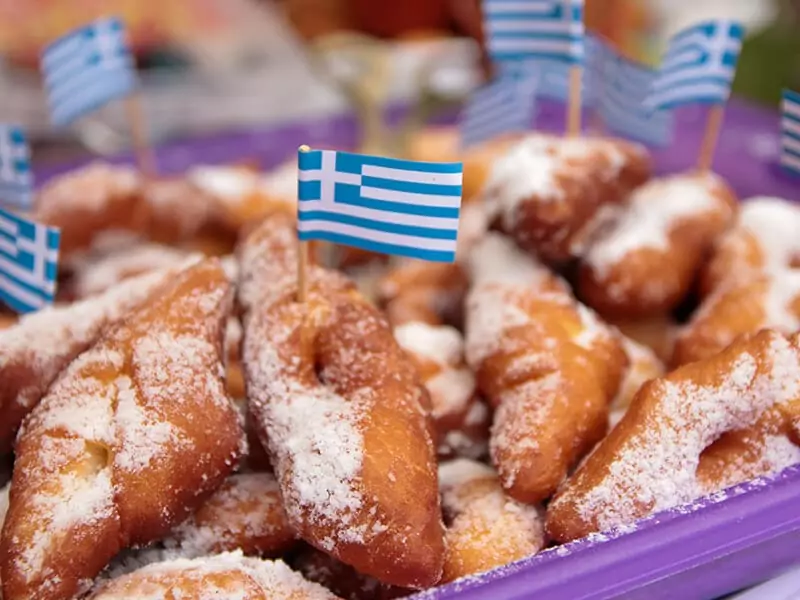 20 Most Mouth-Watering Greek Desserts To Try Now!
Make a note of the list of these iconic Greek delicacies! The Greek culinary experience will be more complete and attractive than ever with these pastries!
Greek Desserts with Soft Texture
Revani (Greek Semolina Cake)
Vasilopita
Tsoureki (Greek Easter Bread)
Bougatsa (Phyllo Custard Pie)
Galaktoboureko
Milopita (Greek Apple Pie)
Portokalopita (Greek Orange Cake)
Galatopita (Greek Milk Pie)
Kataifi
Kalo Prama (Greek Semolina Cake)
Yiaourtopita (Yogurt Cake with Lemon)
Baklava
Greek Desserts with Crunchy Texture
Koulourakia (Greek Easter Cookies)
Melomakarona (Greek Honey Cookies)
Kourabiedes (Greek Butter Cookies)
Diples
Loukoumades (Greek Donuts)
Fanouropita (Cake For Lost Things)
Amygdalota (Greek Almond Cookies)
Other Greek Desserts
Glyko tis Koutalias (Greek Spoon Sweets)
Luxuriate Your Party With 20 Astonishing Greek Desserts
Greece has a lot of scrummy dishes waiting for you to enjoy. Your daily meal will surely be more interesting with the following famous Greek desserts that I am about to suggest.
11 Mouth-Watering Greek Desserts with Soft Texture to Satisfy Your Taste Buds
The Greek desserts below are mostly simple to make with just a few basic ingredients. Their soft and moist texture will leave you satisfied.
Revani is a traditional Greek dessert. It comes with different names and is also popular in many places such as the Middle East, the Balkans, and Africa, etc. This Greek dessert is made with semolina and sugar.
After baking, you should dip the cake in sugar syrup. Therefore, this type of cake has a characteristic sugary taste. The distinctive aroma of semolina plus the soft spongy texture makes you irresistible.
The Greeks usually prepare this dessert for celebrations and festivals. For more fun, you can decorate it with different nuts or delicious Greek fruits on top. Depending on the different processing methods, you can add some other flavors.
Let's enrich your knowledge about food starting with the letter V. So have you heard the term "Vasilopita" before?
Vasilopita is a classic Greek baked dessert eaten on Saint Basil's Day – also New Year's Day in Greece. It is very popular in several Eastern European countries. This cake means to pray for good luck in the new year.
This special cake has a soft texture but is also quite thick. It's somewhere in between, and you'll love this! The mild sweetness and aroma that spreads throughout the room as you bake will make you swoon!
The special thing is that a small coin will be placed inside the cake during the baking process. When eating, if a family member sees a coin in their cake, it is said that they will have good luck throughout the new year. Such a fun thing to try with your family!
Follow this recipe to make the best vasilopita you ever know!
This is a customary Greek Easter bread that's also a famous treat in Armenia. This is my favorite dessert for my Easter dinner. Moreover, this bread is very soft and tastes excellent with unique spices. When you tear it, it pulls apart in interesting-looking strands.
The taste of this exquisite bread from Greece is super delectable that you cannot ignore. Eggs usually accompany the bread. You can also eat Tsoureki with cheese or jelly, or honey.
The French have croissants, and the Greeks have bougatsa – an energy-rich custard-filled pie for an ideal Greek-style breakfast. Bougatsa originates from Thessaloniki, northern Greece.
This delicious Mediterranean dessert stands out with its light crumbly crust, while the inside is soft and buttery. It perfectly combines with the strong cinnamon flavor that makes the taste extremely special.
You can fill this irresistible pie from Greece with custard cream or cheese according to your favorite. Take a bite and feel and feel it all explode in your mouth. Scrumptious!
This will be your go-to phyllo custard pie recipe you are looking for! Watch this video:
This Greek recipe is my favorite (and it could be yours) dessert with custard. It consists of many phyllo layers sprinkled with melted butter. When baking, all will create an eye-catching golden color on the top. At that time, the cake smells like gentle semolina.
Galaktoboureko is soft, moist, and sweetened due to the caramel layer. Each small piece is chopped and added with the aroma of cinnamon powder, especially when it has just been baked.
Besides, the small and square cake is lying on a tray with a fragrant scent, making it difficult for you to refuse, particularly when the freshly baked cakes are still warm in your hand.
Try to make this smooth and creamy custard with layers of brittle phyllo! Watch this video:
Greek-style apple pie is a popular dessert all along with this country, with different ways of preparing. Milopita is elaborately processed with layers of apples and cinnamon spice with soft butter dough shaped into a beautiful rose.
Depending on your favorites, you can add walnuts, different flavorings, and even dried fruit. Either way, the distinctive apple pie flavor is unmistakable. Milopita is often paired with coffee and enjoyed as an afternoon dessert.
This traditional Greek dessert consists of phyllo dough layers mixed with orange and Greek yogurt. You can make your own yogurt with a great-quality Greek yogurt maker at ease so you can use it for this dessert or enjoy the yogurt alone.
Portokalopita also has many different ingredients and methods of preparation, most commonly combined with orange juice, semolina, cinnamon, vanilla, and dried fruit or candy.
The perfect blend of aromatic semolina and refreshing orange balances the fat of yogurt. After baking, the cake is dipped in orange sugar syrup. How saccharine and tempting it sounds! This dessert is best enjoyed chilled and topped with whipped cream.
You must try to make this juicy and tasty Greek orange cake! Watch this video:
This cake is also made with layers of the classic Greek Galatopita phyllo dough that combines semolina, milk, eggs, butter, and sugar with a custard-like cream filling. Usually made with tangerine peels.
Galatopita is baked until golden brown and gives off a cloying scent. It is often garnished with a sprinkle of sugar or cinnamon powder before serving. With its light texture and delicate flavor, you can enjoy this dessert on any occasion. Chill!
This is one of the most famous Greek desserts. In fact, this dish has various versions in the dessert world of Middle Eastern cuisine. But let's see how Greek people create it.
Kataifi has a characteristic sugared scent that blends butter, nuts, sugar, and cinnamon. To make this, people will bring phyllo dough and cut it into thin strands. After that, all are rolled up and placed on a tray.
It can be said that this is the most interesting dessert because of the perfect combination of many different texture layers – from the base layer to the medium-sweet cream. Everything is in perfect harmony!
You can sprinkle each layer with nuts, cinnamon powder, sugar, or butter as you like, and then bake. This Greek dessert is served with lots of honey or syrup.
Kalo prama means "good thing", and indeed as the name suggests, its taste is excellent. This dessert is a dedicated combination of semolina and yogurt, then cut into bite-sized pieces. This dish is somewhat similar to ravani.
Again, the familiar seductive scent of semolina will make you ecstatic. The rich taste of fat yogurt plus the delicious crunchy sweetness of almonds makes you want to keep eating it!
This is one of the easiest dessert recipes you can try now. It is great to enjoy this stunning semolina cake on a cold winter day with hot coffee or tea.
Lemon fans will love this dessert. Yiaourtopita, or lemon pound cake with yogurt, contains every part of the lemon with many layers of different interesting flavors. Using this dish after dinner would be a great choice.
Because this recipe contains sour cream, the cake's moisture is kept very well, giving a spongy texture when eating. The great thing is that you can pair this lemon cake with your favorite fruits because they go so well together.
This is a traditional Greek dessert inspired by the cake of the ancient Assyrians living in the Middle East. Baklava is made from a thin layer of flour. Inside is a mixture of fruits and seeds mixed with sugar, honey, and cinnamon flavor.
The dish is also famous in numerous other countries with many regional variations. For example, in the Armenian dessert world, it's known as Paklava and is often flavored with cloves and cinnamon.
Baklava is usually cut into small pieces, then put in the oven. After baking, all the ingredients create a fascinating flavor and crispy texture. Baklava is characterized by a sugary taste and is rich in nutrition thanks to the honey and interesting nuts mixed in it.
Create Your Happiness with 8 Crunchy Greek Desserts and Their Incredibly Texture
If you love crunchy treats like cookies or crackers, the Greek recipes below will be excellent suggestions for you. The combination of crunchy nuts as well as the texture of the cake will make you satisfied.
This Greek dessert is also an accustomed Easter cookie. The cake is made with vanilla, butter, and sugar, etc. And there are many different fillings for you to try, such as cheese, chocolate, etc.
This traditional cookie from Greece can be made into many different shapes. Some people even make animals, especially snakes, because they believe that these animals have healing powers. However, it is usually twisted in the traditional way.
Usually, koulourakia cookies are served with coffee or tea as a dessert or a snack. Before eating, remember to sprinkle a little more sesame on top to create a unique and beautiful aroma.
Originating in ancient Phoenicia, melomakarona is now a popular Christmas food and dessert in Greece. These delicious honey cookies have an undeniable honeyed taste with a specific sweetened flavor and crunchy texture.
This cookie is baked with rich olive oil and chopped nuts. Immediately after baking, the melomakarona cookies are dipped in honey syrup, then sprinkled with ground nuts. The Greeks often eat the dish during the holidays, and this may inspire you!
Let's create these classic Greek honey cookies covered in crushed walnuts! Watch this video:
Butter cookies are popular food around the world, for example, sweet desserts in Sweden. Greek sweet courses are no exception. This old-fashioned dessert has a delicate buttery taste, such as its name – a buttery cookie.
This dessert is traditionally associated with festive occasions such as Christmas, Easter, and many other special occasions.
Various powders are mixed with ground almonds, butter, nuts, and different flavors like vanilla or brandy to create a specific crumbly texture. This cookie is usually made into a crescent or circle shape and topped with a layer of white flour.
This traditional dessert originated in the Peloponnese region but can now be found all over Greece. You will often find these deep-fried desserts served on special occasions like weddings, religious holidays, or during Christmas.
The dough is rolled into thin strips, then fried in hot oil, and then topped with syrup and walnuts. You will make the appetizing brittle pieces fragrant with cinnamon and orange. It's easy to follow the instructions in this recipe.
Loukoumades is one of the most famous Greek sweet treats that has become an adored dish in Cyprus and other Arab countries.
Not only children but even adults love this funny donut. The Greek donuts are made into small circles, spread with a layer of saccharine honey, and baked.
They are crunchy, delightful, and the filling melts in the mouth. It would be best if you ate loukoumades as soon as they were fried. In addition, people also sprinkle some cinnamon powder or crushed walnuts to look extremely attractive.
You can also enjoy them with caramel sauce, or if you add chocolate sauce, even better. If you have the opportunity to enjoy this cake, you will certainly never forget its wonderful taste. These adorable round donuts are sure to make you satisfied!
These loukoumades will be the most incredible thing you have ever eaten! Watch this video:
This is the traditional Fanouropita recipe used by the Greeks every year to honor the anniversary of Saint Fanourios. Fanouropita has a blended flavor of sour orange, fatty olive oil, fragrant cinnamon, and a little brandy.
The flavorsome taste of the cake makes you feel refreshed. This "cake for lost thing" is also suitable for a hearty breakfast. The recipes I have prepared are simple to make so that you can give them a try.
Similar to kourabiedes, amygdalota cookies are made with flour and eggs but without powdered sugar. In the middle of the cake is usually an almond. The Greeks eat them all year round.
The outside of these almond cookies is crunchy, and the inside is chewy. The sour orange zest flavor will make you feel refreshed and balance with the sweet taste of sugar. These Greek cookies are completely luscious for everyday eating.
One More Distinctive Greek Desserts To Entertain Your Guests!
Different from all of the above, refresh your Greek dessert recipe with these special sweets! Your guests will find them delightful!
Greek spoon sweets are not only a dessert but also a traditional Greek custom of hospitality. Nuts and vegetables are soaked in sugar syrup but still retain the original color, flavor, and aroma. Enjoying this candy makes the fantastic flavor spread and melt in the mouth!
Although this is a Greek dessert with characteristic sugariness, do not worry since it is not fat at all. On the contrary, this is also rated as one of the most healthy desserts in the Mediterranean. You can also use it as a topping for yogurt, ice cream, and various cakes.
Learn To Make The Beloved Greek Desserts That You Love!
Above are the most famous Greek desserts that I think you should not miss. Do not forget to learn how to make these unique traditional dishes to fully discover the interesting features of the mythical land's cuisine.
Quickly note these dessert recipes in your cooking experience notebook to prepare for a hearty Greek feast! And don't forget to share this post with other Greek dessert lovers!
Nutrition Facts
20 servings per container
---
Amount Per ServingCalories300
% Daily Value *
Total Fat 10.2g

16

%
Cholesterol 35mg

12

%
Sodium 67mg

3

%
Potassium 14mg

1

%
Total Carbohydrate 19.5g

7

%

Dietary Fiber 0.4g

0

%
Sugars 11.8g

Protein 1.5g

2

%
---
* The % Daily Value tells you how much a nutrient in a serving of food contributes to a daily diet. 2,000 calories a day is used for general nutrition advice.