Besides the attractive taste, Greek foods also contain many exciting historical stories associated with the development of this ancient civilization. Therefore, they always stimulate tourists' desire to explore and experience when coming here.
A list of incredible Greek dishes that I will reveal in this article is intended to provide valuable information about them and ideal suggestions that you should try. Do not miss any fantastic food.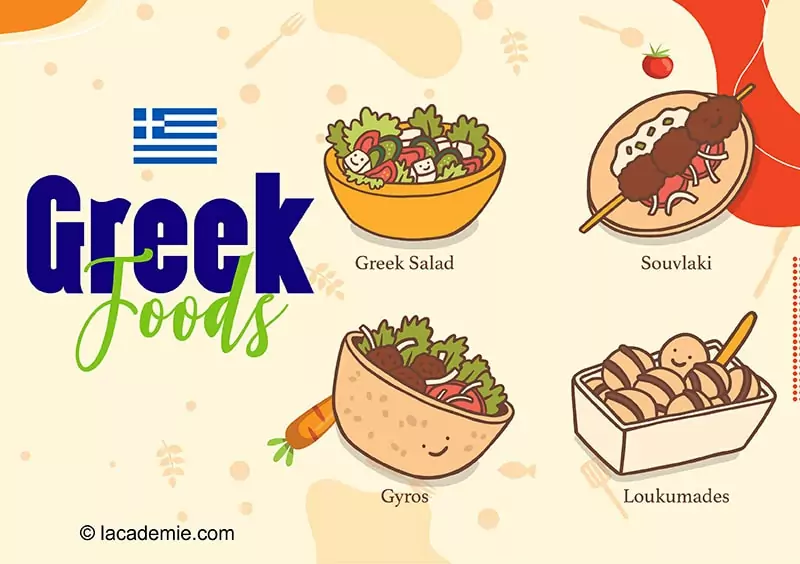 Traditional Greek Meat Dishes
Greece has many attractive dishes made from meat that you should not ignore. The dishes below will help you fuel up and replenish your nutrients. Let's enjoy the quintessence of Greek cuisine right now.
1. Giouvetsi – Beef Stew with Orzo Pasta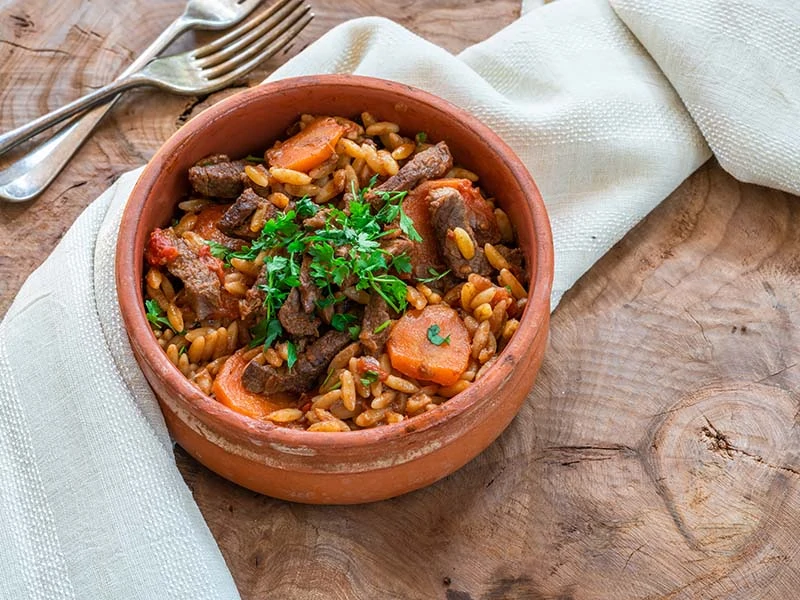 Mouthwatering Giouvetsi (or Youvetsi) must be included in your Greek dinner menu. It is an iconic dish and has a long history of its cuisine. Initially, the chef cooked it in clay pots and one-pot meal was its other name.
Today, the Greeks prepare this fantastic food in glazed Terracotta vessels. When you go to Greece, you should pronounce it Yoo-vet si if you want to order it for a meal. Soft stewed beef served with Orzo pasta will make a perfect whole.
2. Moussaka – Beef and Eggplant Lasagna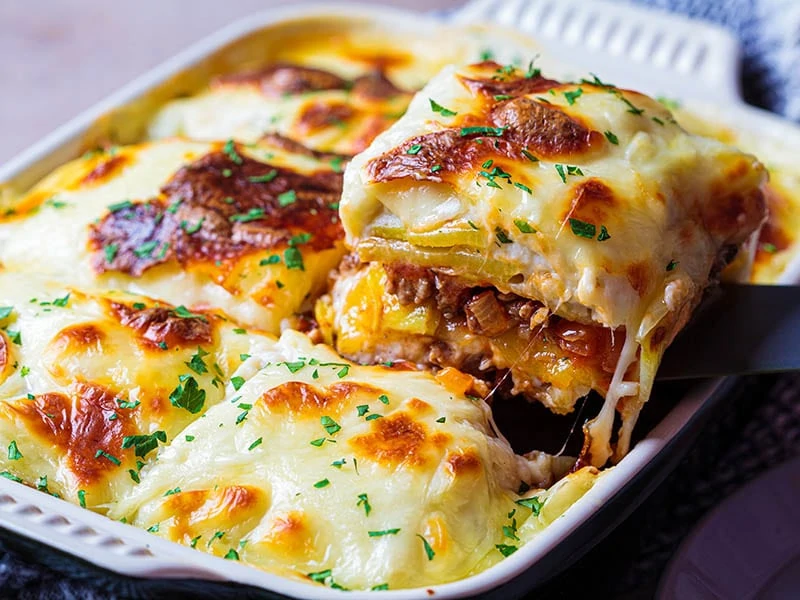 Moussaka is a favorite dish in Greece. There are many different variations of this unique dish, and the Greeks created their dish with their signature touches. You will immerse yourself in the rich flavors of tomato sauce, meat, and vegetables. 
According to the Greek people, Arabs made this beautiful recipe first. Until the 13th century, a recipe believed to be the origin of this dish appeared in the Arabic cookbook. Greek chef Nikolas Tselements created the favorite version of moussaka in 1910.
3. Gemista – Stuffed Veggies with Rice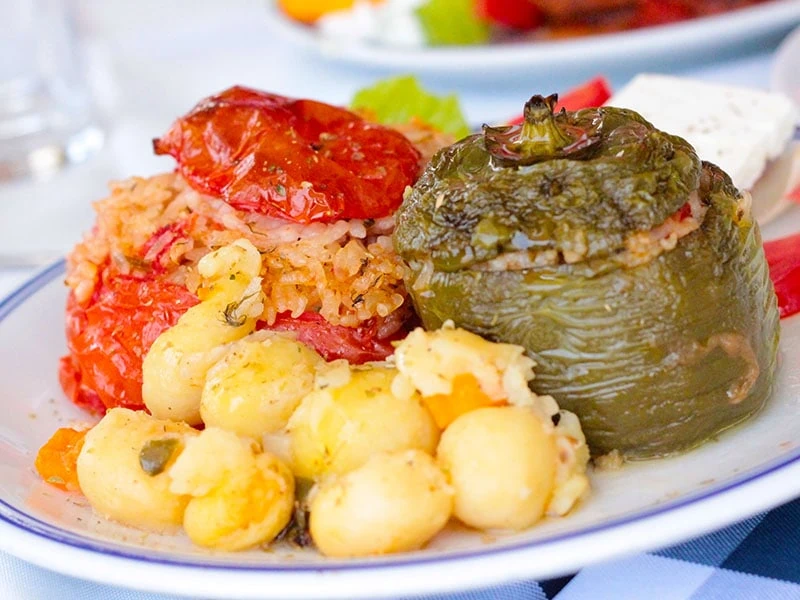 Gemista will be a great Greek lunch dish for you. This traditional dish is a combination of vegetables, meat, and rice, so you will be well-nourished with nutrients to enjoy exploring this mystical country.
Many theories suggest that it first appeared in Greece after World War I. At that time, a Greek brought it to Greece after escaping from Turkey during the Greco-Turkish war. Its name is inspired by the word "gemizo", which means stuffed.
4. Souvlaki – Grilled Meat Skewers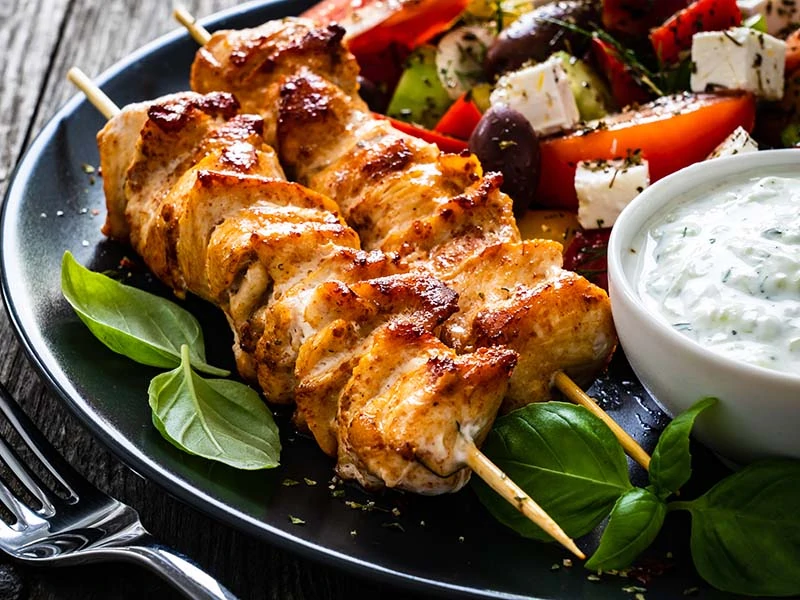 Souvlaki is one of the most iconic European dishes originating from the land of myths. Its name "Souvlaki" comes from the Greek word "souvla", which means "skewer" or "spit". The ancient Greeks were the first to make this amazing food, and they called it "Obeliskos".
It was not popular until 1951 that the first Souvlaki shop was established in Livadia. The meat in Souvlaki is well-marinated. They can be chicken, beef, pork, or lamb
Do not forget to enjoy these delicious and flavorful meat skewers with tomatoes, fries, and a unique sauce.
5. Stifado – Tender Beef Stew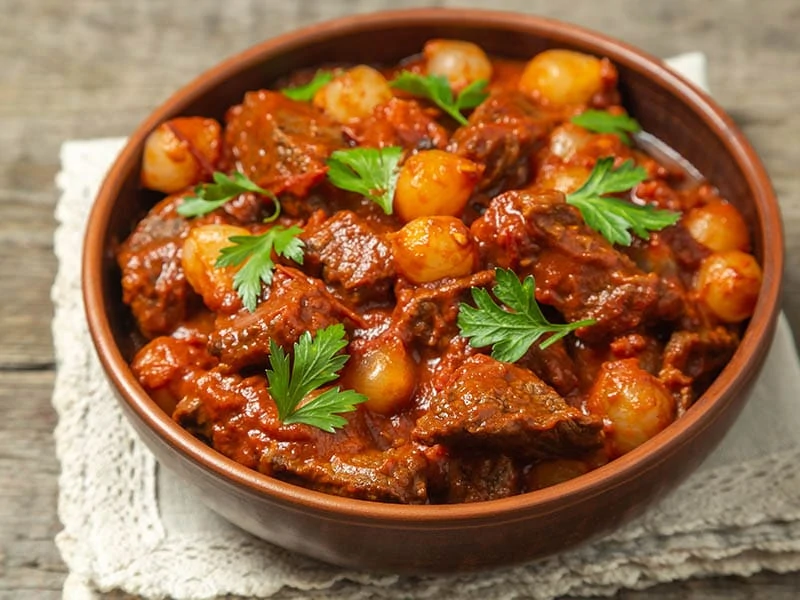 Stifado is a famous stew of Greek cuisine. Its name is derived from "stufado". After Constantinople perished in the 13th century because of the Ottoman invasion, the Venetians brought this unique dish to Greece.
The Greeks brought their characteristics to the food when turning it into a warm and flavorful dish. You will never forget the softness of the beef stewed with vegetables and various spices. It is excellent to have rice, egg pasta, or potato chips with this food.
6. Soutzoukakia – Baked Meatballs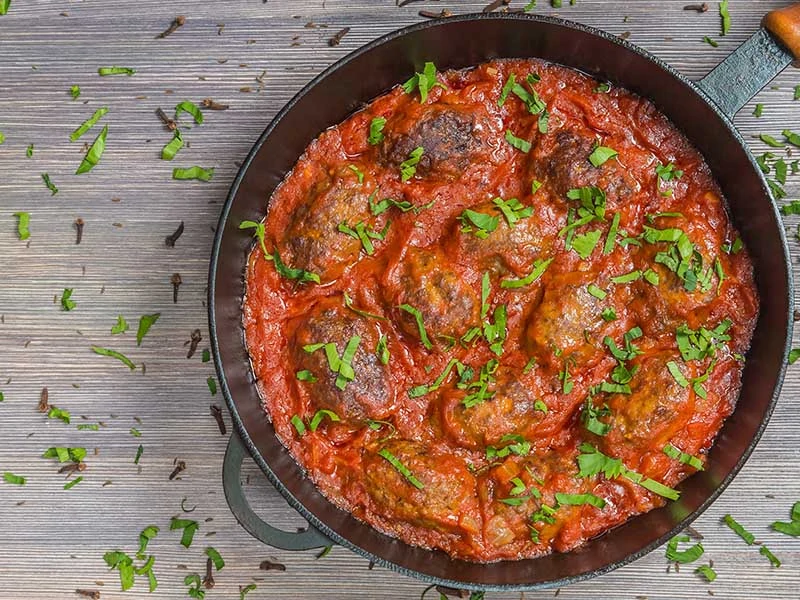 If you have the opportunity to come to Greece, you should not miss this wonderful Soutzoukakia. The Greeks living in the Asian Minor region created this recipe. Soutzoukakia Smyrneika was its original name.
These scrumptious meatballs are covered in rich tomato sauce. You can serve them as main dish or for a mezze platter. They are also ideal dish to celebrate special occasion.
7. Kleftiko – Slow Cooked Lamb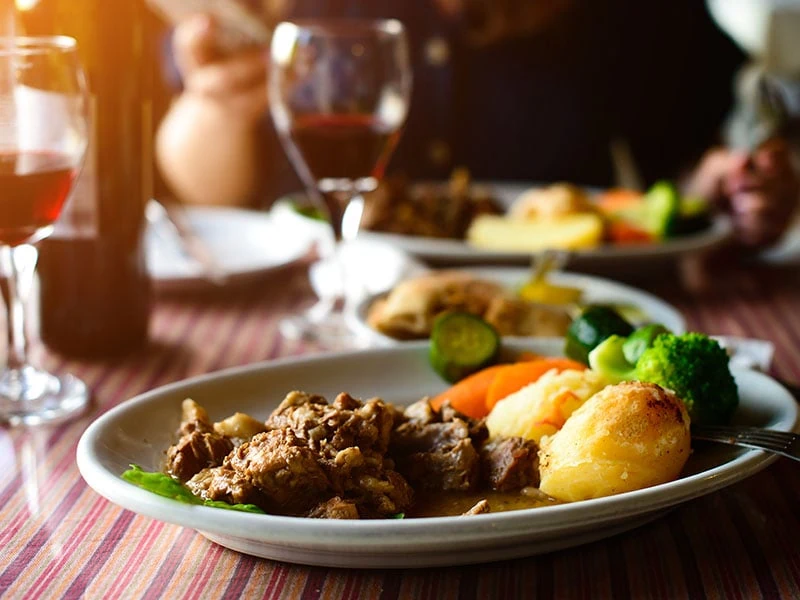 If you are craving lamb, Kleftiko is a perfect suggestion for you. This food steeped in the history of Greece when it was associated with the war against the Ottomans of the Klepths. And its name also comes from here.
These people cooked lamb and goat they had stolen in an underground furnace to avoid detection by the enemy because the aroma would not escape. The delicious and attractive lamb meat will make you unable to take your eyes off.
Learn all fantastic information about the Kleftiko.
Greek Snacks
If you are looking for snack dishes for a mid-afternoon meal, this list of fantastic foods will come in handy. Please purchase all of them to enjoy right away.
8. Tomatokeftedes – Santorini Tomato Fritters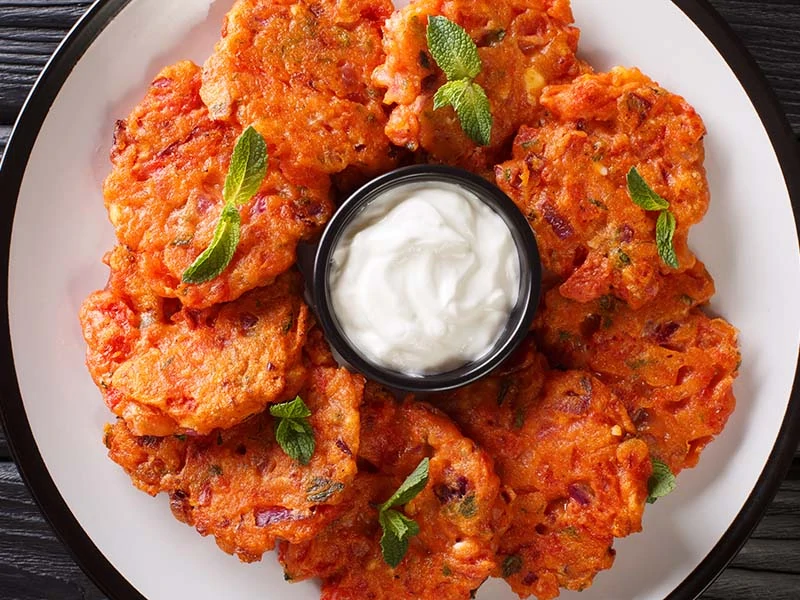 Tomatokeftedes is an immensely popular Greek appetizer and snack. Tomatoes appeared in this country in the early 19th century when Capuchin monks brought them from Egypt in 1818. The inhabitants of Santorini have been cultivating it for a century to eat.
Slice of tomato fritters with an eye-catching golden brown color will captivate you at first sight. Their crispness and softness will leave you hooked after the first bite. You will feel a bit of feta cheese in this food.
9. Kolokithokeftedes – Fried Zucchini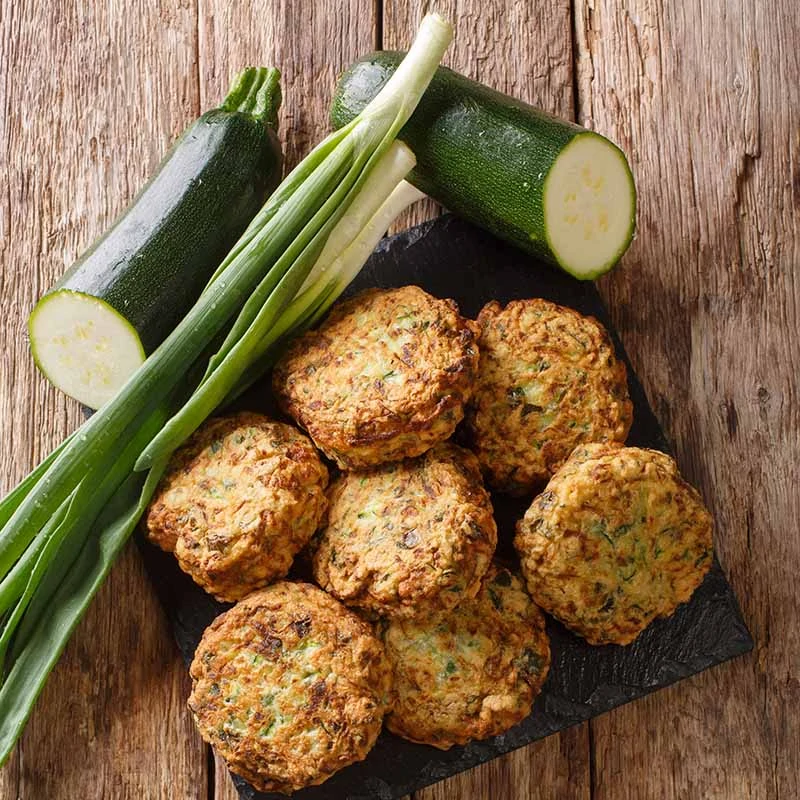 The advent of feta cheese has resulted in countless beautiful dishes, and Kolokithokeftedes is one of them. This food is a combination of zucchini, herbs, and feta cheese. Kolokitho is translated as pumpkin or zucchini, and Keftedes means fritters.
Kolokithokeftedes is a well-loved Greek side dish. The attractive aroma of the food will make you unable to refuse to enjoy it. The crispiness of the fritters will never let you down. In particular, this is a top favorite dish in Greece in the summer.
10. Tiropita – Cheese Pie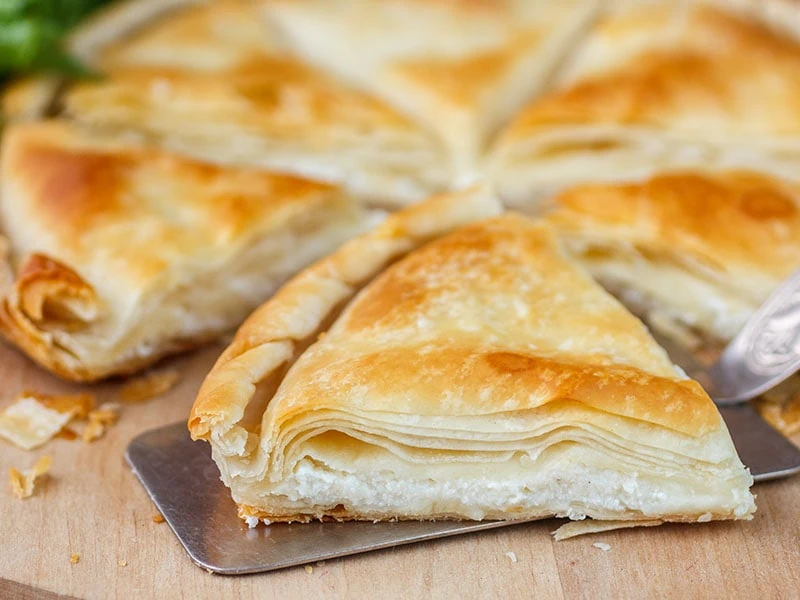 Dishes containing feta cheese often come in different shapes and sizes, and when rolled triangular shapes appear, you will have a delicious treat called Tiropita.
Tiropita, also called Greek cheese pie, is a fantastic dish that you should not miss. It deserves to appear on your list of Greek breakfast dishes to try. Moreover, it is suitable to be a perfect snack in the middle of the day.
You will immerse in the crunchiness of the outside and the softness of the inside. Furthermore, the rich taste of cheeses will make you flutter. The pan-fried bread of the Turks who migrated from Central Asia to Anatolia in the Middle Ages inspired this food.
11. Saganaki – Crispy Fried Cheese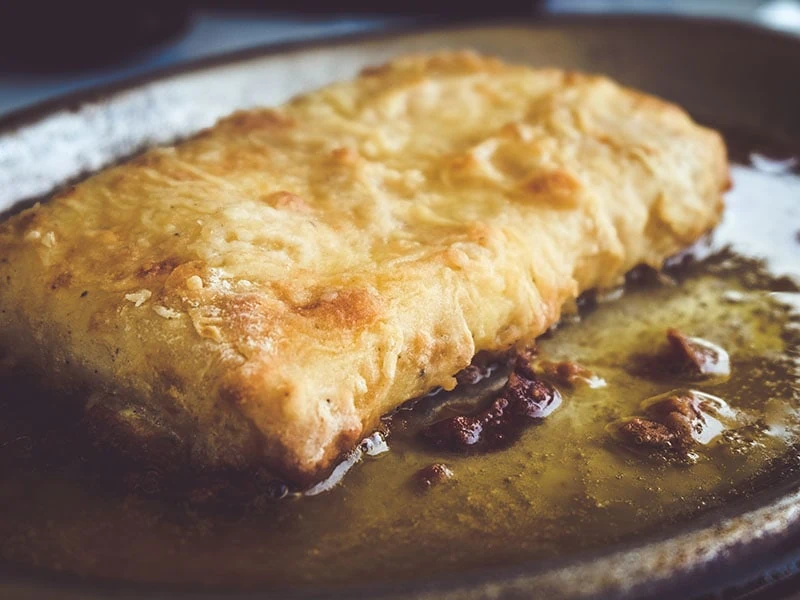 In Greek cuisine, cheese and flour are cooked in a small pan. The name of this traditional food is named after a type of pan with two handles used to prepare it called Saganaki.
The eye-catching appearance of fried cheese will make you unable to stop salivating when you see it. The cheese will be dipped in flour and fried until the desired crispiness is achieved.
12. Gyros – Meat and Vegetable Sandwich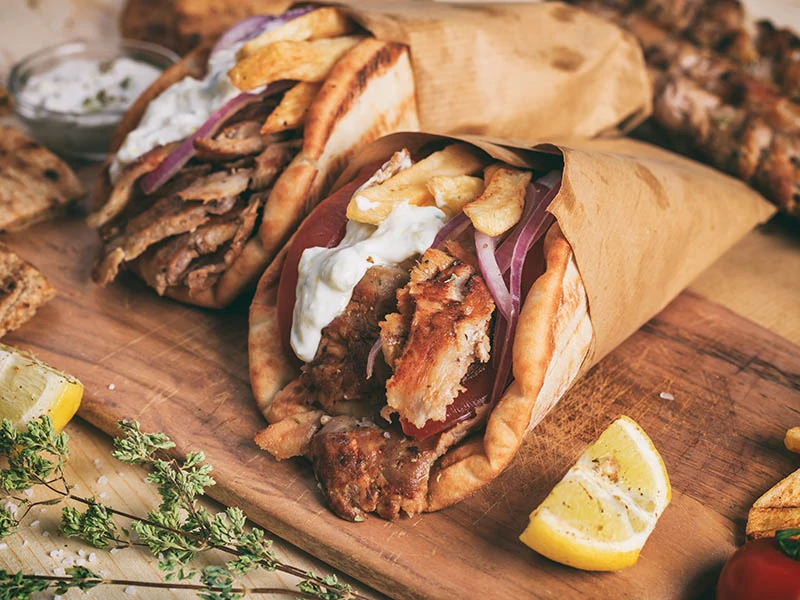 Gyros is a convenient and delicious Greek street food for you. The Gyros pieces are grilled vertically and turned upside down. When you order a portion of Gyros, you will be served with a pita filled with sauce, tomatoes, lettuce, and onions for extra flavor.
The kebab invented during the Ottoman Empire inspired this food. The immigrants from the Middle East and Anatolia brought it to Greece after World War II. The Greeks combined pork with tzatziki to create Gyros.
If you want a Gyros for the fasting season, you can choose its vegetarian version.
13. Koulouri – Ancient Greek Sesame Bread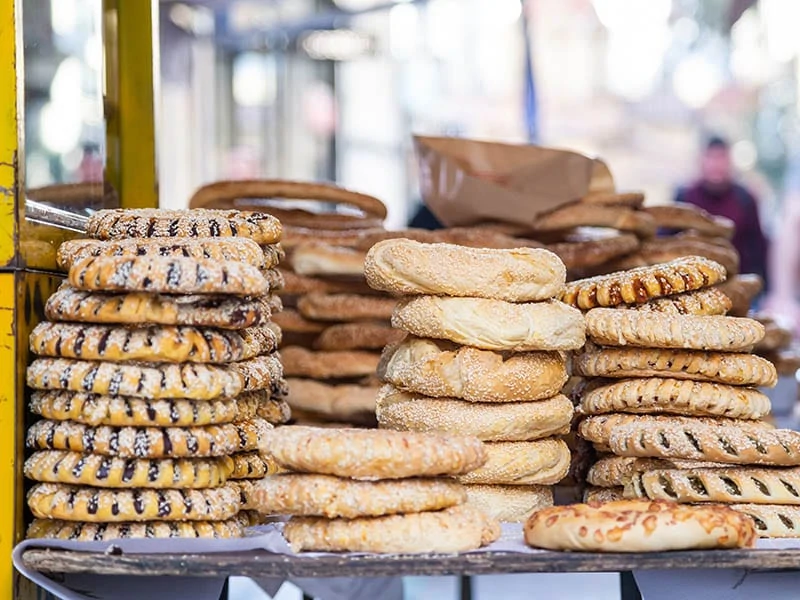 When wandering the streets of Athens, you can see stalls selling Koulouri. Do not forget to buy them to make your evening snack. The round cakes covered with sesame will be suitable for sipping with a cup of coffee.
This amazing Greek bread was first found in the time of ancient kollyra. This was a favorite dish of the slaves because it was inexpensive. Nowadays, it is famous not only in Greece but also in Turkey.
Traditional Greek Desserts
Desserts always play an essential role in every meal because they will leave a good impression on you. Therefore, try these delicious Greek desserts below immediately.
14. Loukoumades – Greek Donuts with Honey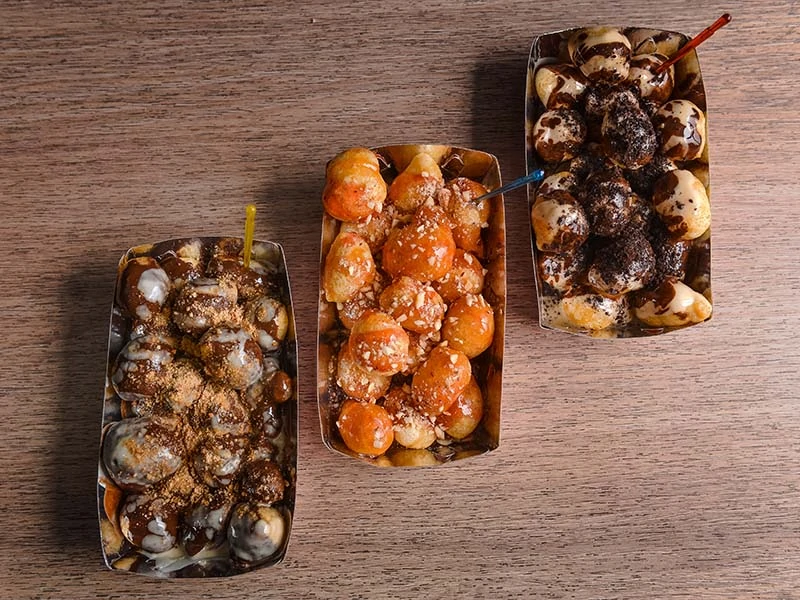 The famous Greek dessert that you should not ignore is Loukoumades. The golden balls with the serving size will attract you right away. Biting Loukoumades with a crispy outside covered in sweet syrup and spongy flesh will leave you hooked.
Greece, Egypt, Persia, and Turkey are the homeland of this famous food. It was the oldest Greek dessert when these deep-fried balls were eaten by the victors of the first Olympic Game in 776 BC.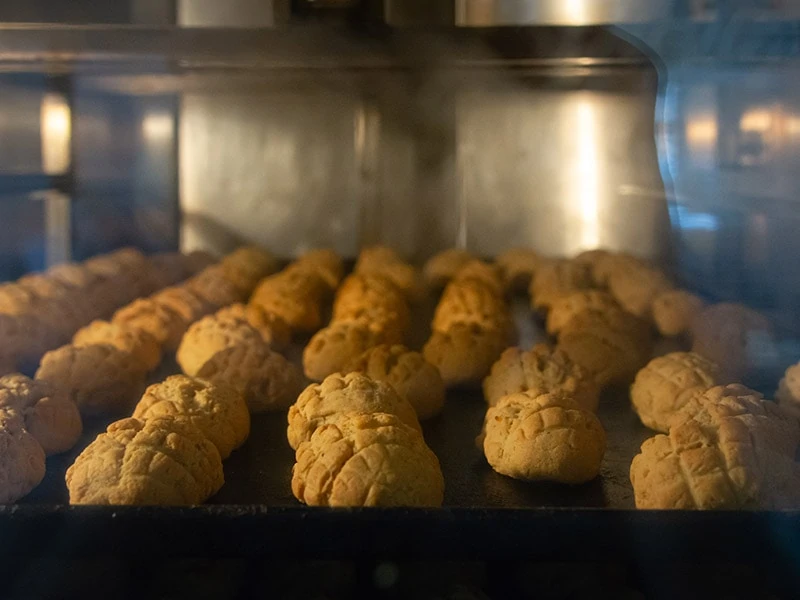 When families begin to prepare Melomakarona in Greece, it is a sign that an incredible Christmas season is coming. The intense flavors of cinnamon, cloves, and orange will tickle your taste buds. The sweetness of the cake comes from the syrup coating on the outside.
This fabulous Greek cookie dates back to ancient and medieval Makaria. At that time, it was an indispensable dish at funerals. Its modern version is fortified with honey for an appealing sweetness. In Greek, its name means honey.
16. Baklava – Sweet Phyllo Dough Pastry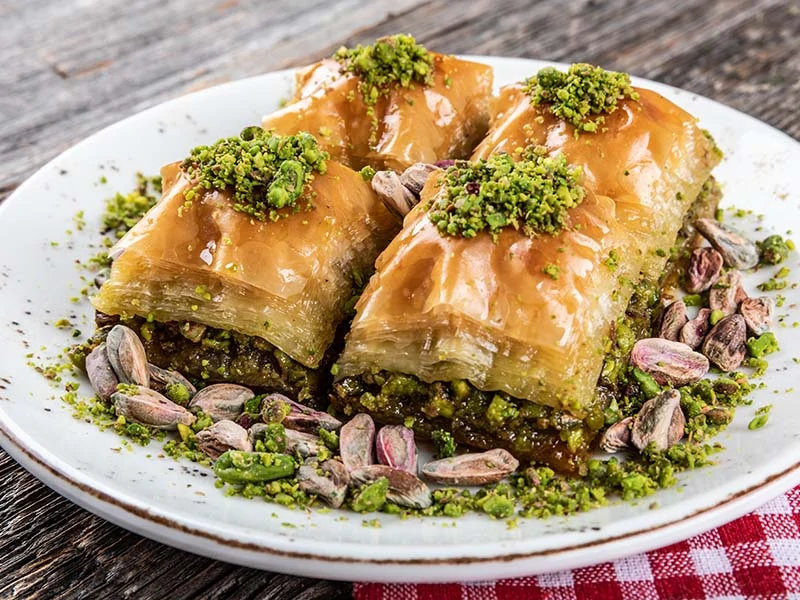 Referring to impressive Greek desserts, I think of Baklava immediately. Since ancient times, this food has been around and was popular in Turkey and the Ottoman Empire. Many argue that Persia is its original place.
In the 13th century, the first record of Baklava appeared in a Persian cookbook. It is a quintessence of Greek cuisine. The enticing sweetness and crispiness of the phyllo layers will not let you down.
The mixture of about 40 sheets of phyllo pastry makes this scrumptious dish. The ingredients used for this food will vary by region. In the Central, the almond is the key element. However, it was replaced by walnuts and pistachios in the East and North.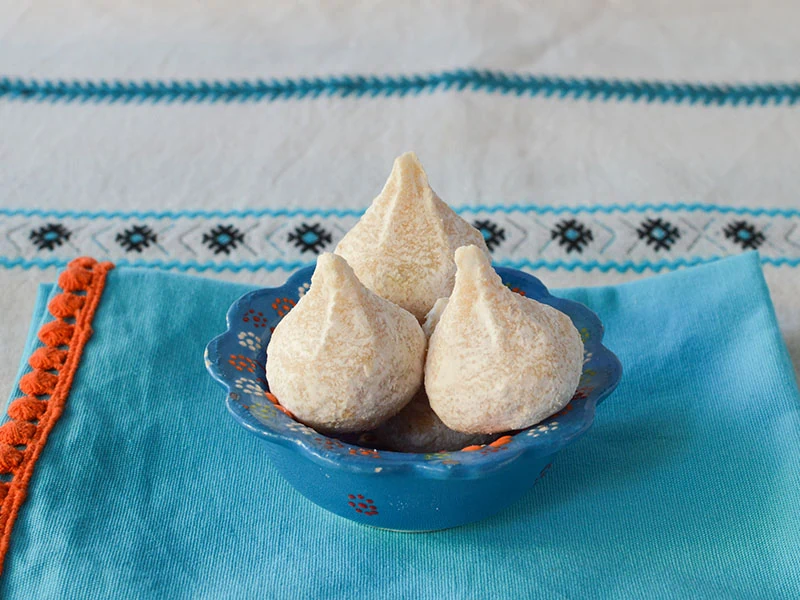 Greece is a country with many almond trees, and they are a key component in many Greek dishes. In Greece, almonds represent prosperity and happiness. The Amygdalota made from almonds is a suitable choice for weddings and baptisms in Greece.
The popular cookies are a perfect choice to enjoy with a warm cup of coffee when gathering with friends. There are different versions of the amygdalota around this country, but almonds are still indispensable.
18. Revani – Semolina Flour Cake With Syrup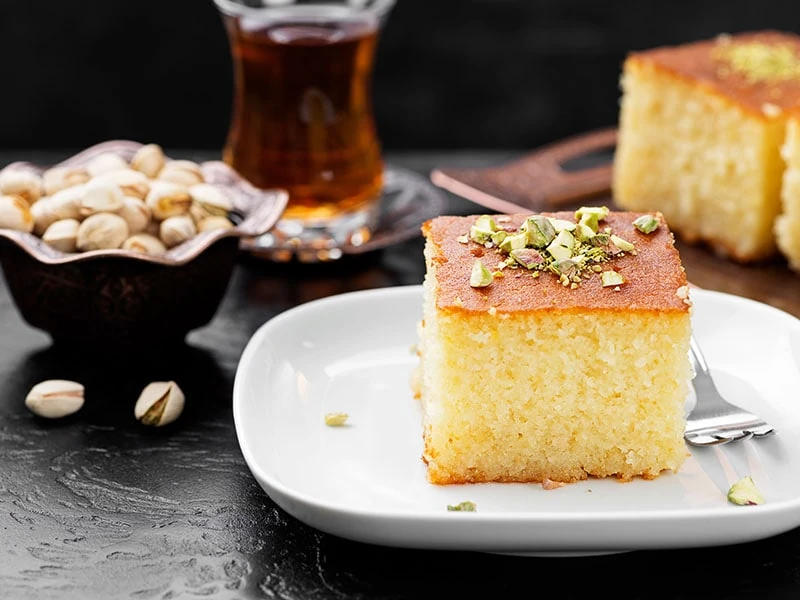 If you need a reliable dessert to refresh your taste after each meal, Revani is an option you should consider. It is hard to get rid of its lemony flavor and alluring sweetness. It has a sweet taste that is not too harsh, so I am sure you will be satisfied with it.
This dessert appeared and became common in Turkey and Greece from the Ottoman era. It appeared during the period when the Ottomans occupied the city of Yerevan.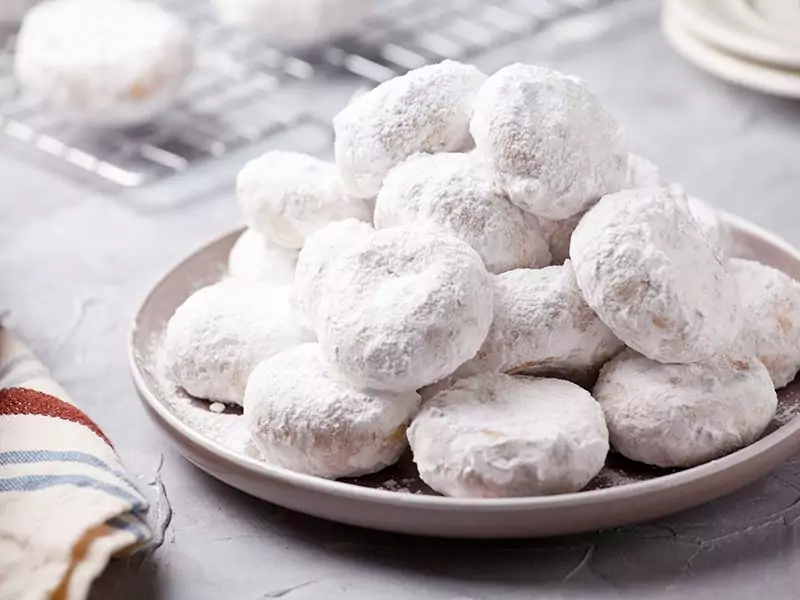 When you travel to Greece around Christmas, this is the time when Kourabiedes are in vogue. Most local households prepare this lovely Greek Christmas delight and dessert to treat loved ones. The distinctive flavor of orange leaf juice and almonds will make you remember forever.
According to records, Kourabiedes were first made in the 7th century in Persia, and this is also the homeland of sugar. Over time, it became widely known in Turkey and Greece. Its name comes from the Turkish word "kurabuye", which means "double-baked".
20. Diples – Sweet Fried Pastries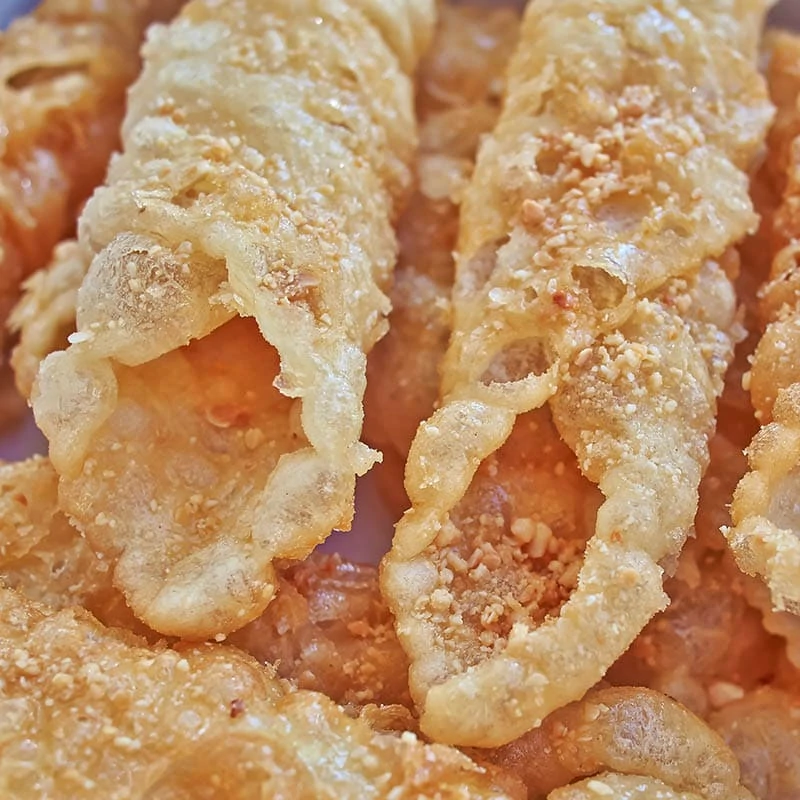 It is incomplete if you do not try the Diples when visiting Greece. The Peloponnese region is the homeland of this unique dessert. Their appearance looks like angel wings. This excellent food tastes better when served with syrup.
The process of creating Diples is pretty elaborate when the dough is rolled into long and thin strips. You will enjoy crispy and mouth watering Diples after frying with hot oil.
Its name is taken from the word "diplono" which means folding. Initially, this food often appeared in wedding parties because it would bring good luck to married life. Today, it is an essential part of Christmas.
21. Rizogalo – Rice Pudding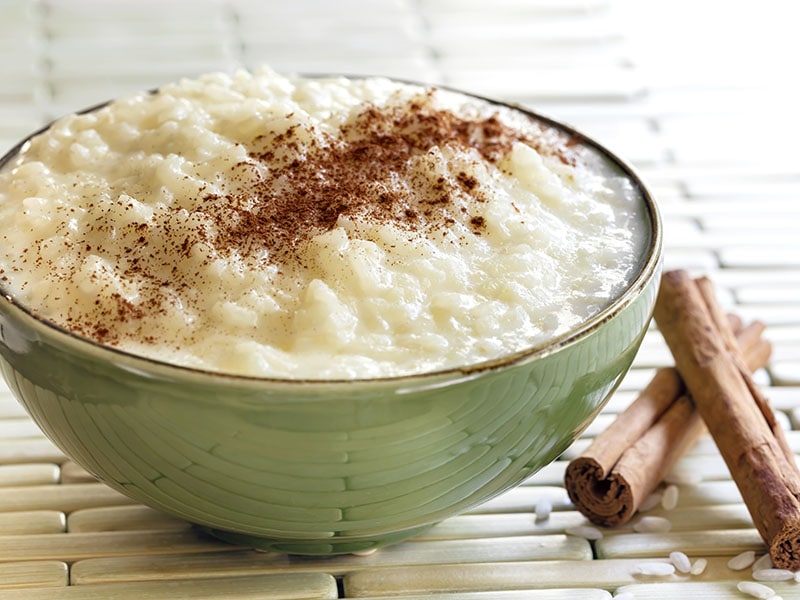 Greek-style rice pudding is a versatile dish as it can be a light dessert, a sweet breakfast, or a great afternoon snack. The rice and milk are cooked for the right amount of time to create a thick and silky texture.
The appearance of vanilla and citrus also upgraded the taste of the food. In particular, you should order a portion of rice pudding with cinnamon sprinkled on top to feel the warm flavor of the food. This fantastic dish appeared in 1390.
Greek Drinks
Drinks play an essential role in the cuisine. They will help you purify and calm your body. Moreover, you will quench your thirst quickly with these divine-tasting Greek drinks.
22. Frappe – Greek Ice Coffee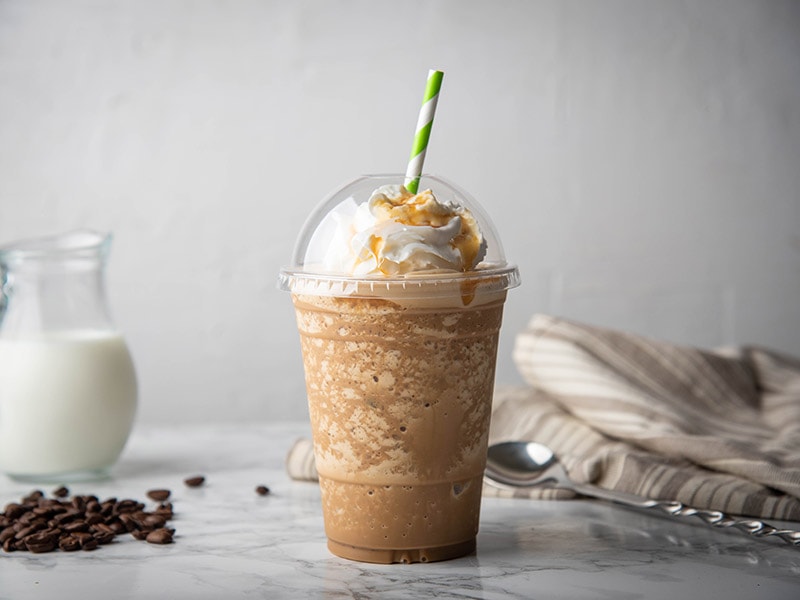 Coffee is a popular drink in Greece. Here, you can enjoy the outstanding Frappe version of this country's cuisine. It first appeared in 1957 at Thessaloniki International Fair. It is a product of the company Nestle.
This coffee dish is a combination of water, coffee, and ice. To make a delicious Frappe, bartenders must mix by hand or use a shaker. The feature that I like most about this food is the foam on the top.
23. Ouzo – Dry Anise-Flavored Aperitif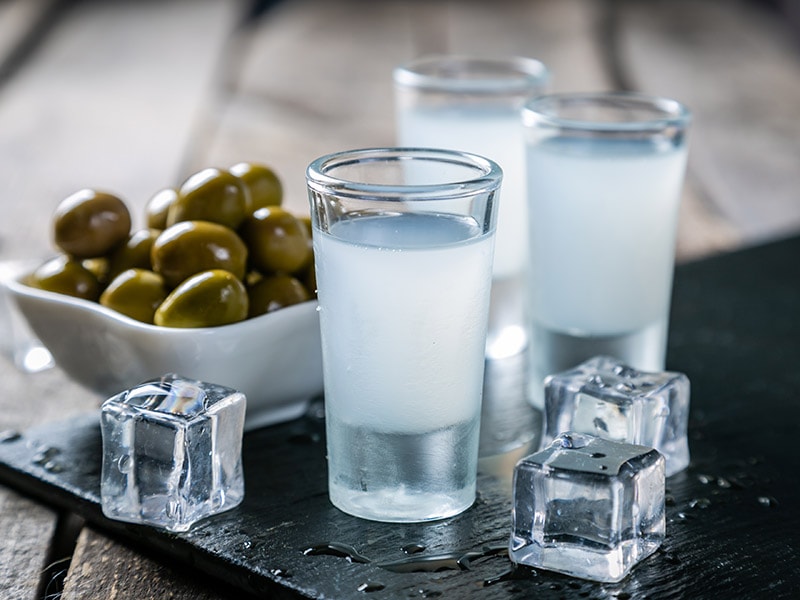 In the 14th century, a group of monks in Mount Athos created this drink. It was only when Greece gained independence in the 19th century that modern Ouzo distillation officially began.
There are many ingredients that appear in this drink, such as anise, fennel seeds, cardamom, cinnamon, and many other botanicals. Thanks to its complex flavor, Ouzo makes for exquisite Greek-originated cocktails. When enjoying this drink, it is best to drink it with water when a cloudy appearance will appear.
24. Vinsanto Wine – Holy Wine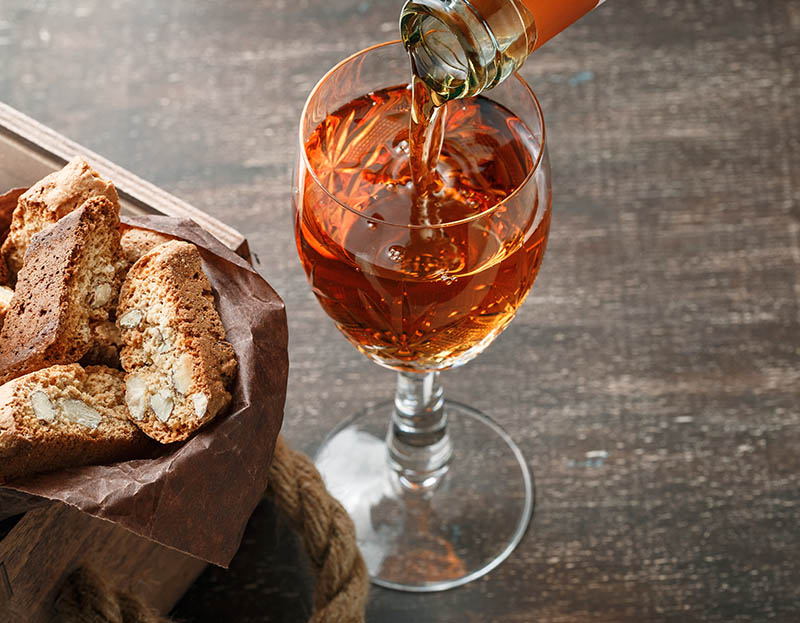 Vinsanto wind is a dessert drink with the characteristic sweetness of Italian cuisine. This wine is of Italian origin and is produced a lot in Tuscany. When it began to spread to Greece, the Greeks received it warmly and loved it.
The main ingredient that makes up this wine is grapes. Viticulture has been around since the 12th century, but it only really became widely recognized after 1783. It is the dessert wine that received the gold medal in the Challenge International du Vin 2019.
Other Greek Dishes
There are still many other delicious dishes of Greek cuisine that you need to discover. I will introduce you to some other famous and unique foods you should not miss when coming to Greece.
25. Avgolemono – Lemon Chicken Soup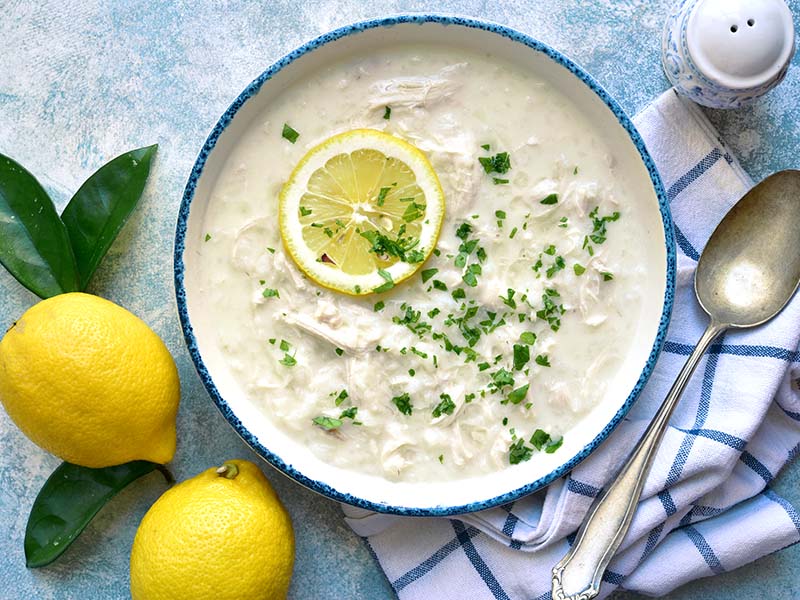 Avgolemono is the perfect Greek breakfast recipe to start your day in Greece. This yummy and nutritious stewed chicken soup contains various ingredients, such as rice, eggs, and lemon juice.
Many historians believe that Avgolemono first appeared in the South of Europe and brought to Greece by the Jews. They cooked this soup with lemon juice, pomegranate juice, and verjuice.
26. Papoutsakia – Stuffed Eggplants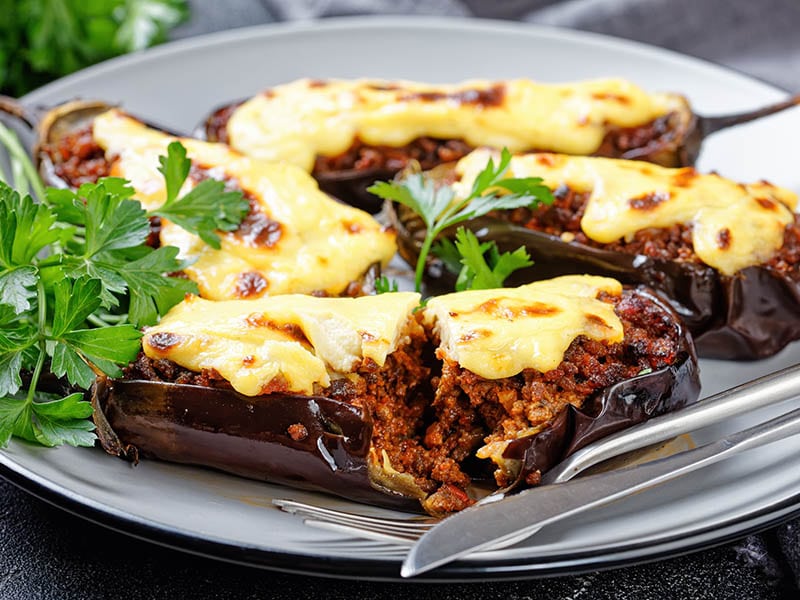 It is a pity that you miss the delicious stuffed eggplant of Greek cuisine. It is not only famous in Greece but also a proud dish of Turkish cuisine. You can also find a similar version, which is a mouthwatering specialty of Albanian cuisine named Patëllxhan Të Mbushu.
Its name has its origin from the Persian word "paposh", which means "little shoes". Actually, when you look at these stuffed eggplants with meat and tomatoes, you will think of baby shoes because of their shape. You will love the beautiful golden of the eggplants after baking carefully.
27. Tzatziki – Famous Greek Sauce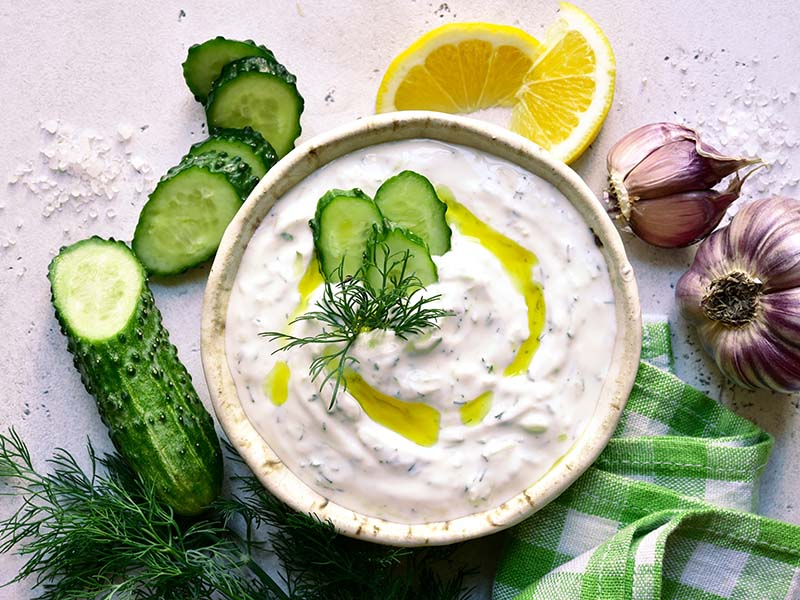 Tzatziki is a traditional sauce and is used in many Greek meals. In particular, people usually choose it as a unique appetizer in Greek restaurants. Its dense texture and white color will remind you of yogurt.
This is a dish with a long history as it dates back to ancient times. The Greeks made it form an element in the production of yogurt. The name "Tzatziki" comes from the Persian word "Zhaza", which means "herb mixture".
28. Pastitsio – Greek Lasagna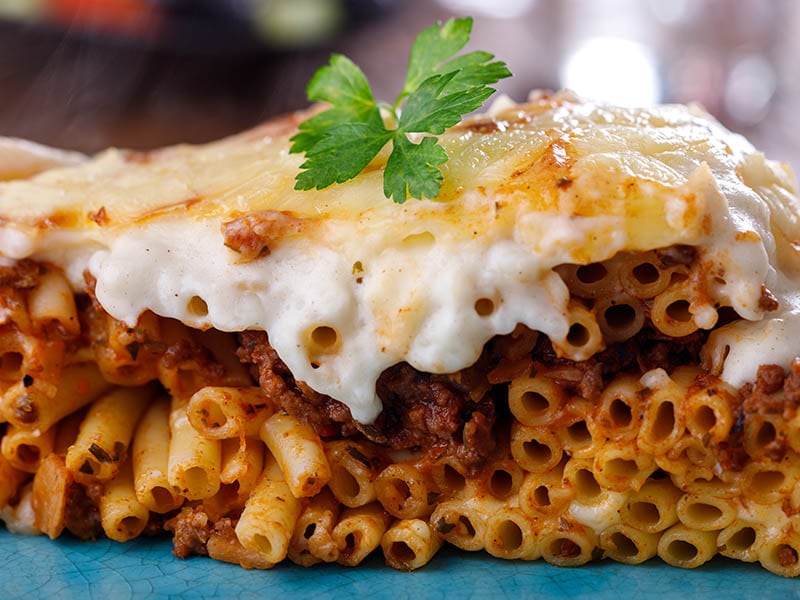 You will easily come across Pastitsio on the menu of most restaurants in Greece. It is a Greek version of lasagna. This wonderful dish originated in Italy and became widely known as Pasticcio di Maccheroni in the 16th century.
Originally, the pastry shell usually had Pastitsio, and you could not enjoy the taste of the bechamel sauce in the early Pastitsio either. It was not until the 20th century that a Greek chef named NiKolas Tselementes made the first modern version of Greek Pastitsio.
29. Choriatiki – Salad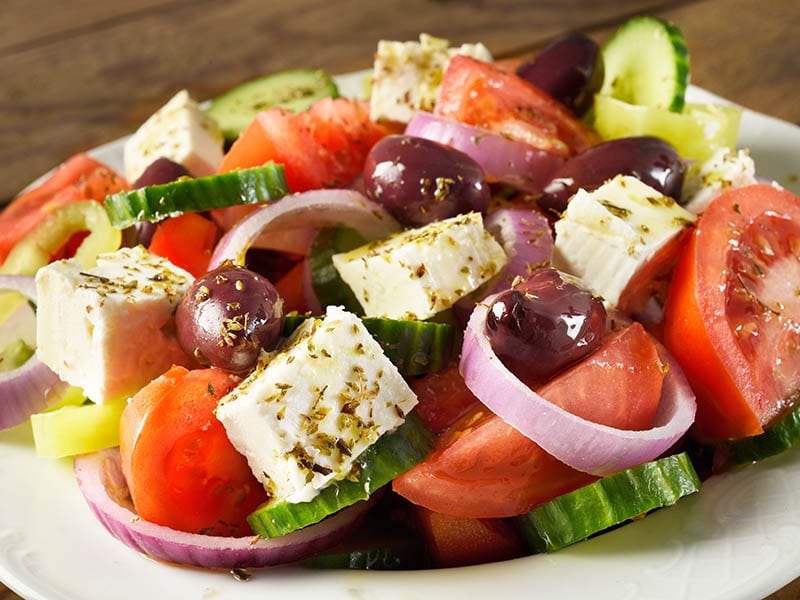 If you go to Greece, you will hear the name Choriatiki salad. It is a national salad widely known in the world of Greece. Therefore, you should take the time to enjoy the fresh and distinctive flavor of this salad with vegetables and feta cheese.
This wonderful salad is also known as "village salad" or "peasant salad". There are many different variations of Greek salad around the world. For example, the Greek salad in Detroit contains beets, and Americans will use the dressing with various herbs.
30. Spanakopita – Spinach Pie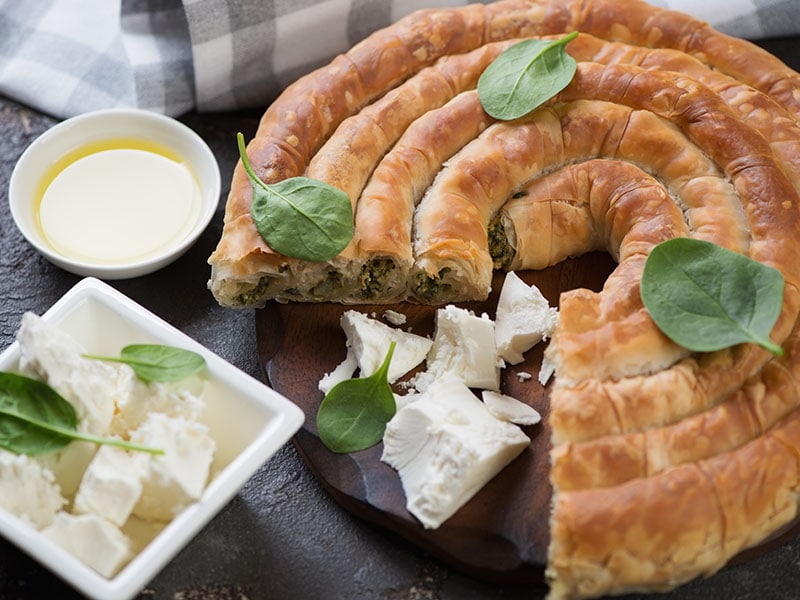 Spanakopita is one of the most famous pies in Greece. The word "pita" means pie. This wonderful cake has a crust made up of multiple layers of phyllo. You can choose from a version of spanakopita with sweet or savory fillings according to your preference.
Since it doesn't include meat, Spanakopita is a common food choice during religious celebrations. Apart from Greece, this is also a favorite delight in Cyprus during Lent.
This yummy cake has been around since the time of the ancient Greeks. The first record of this pie is found in a poem by Pholoxenos in the 5th century BC. The poet described a cheesecake made with milk and honey served by the host as similar to today's Spanakopita.
31. Fasolada – Bean Soup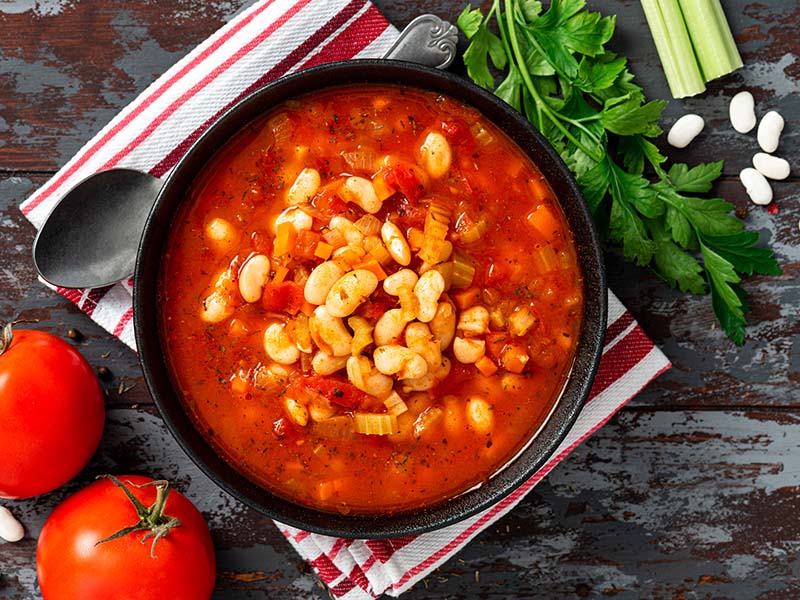 It is time to warm up with Fasolada – a signature Greek soup dish. This vegetarian stew recipe dates back to ancient Greece when Theseus's shipmates stewed the vegetables and beans they gathered to make a dish sacrificed to Apollo during the Pyanopsia festival.
There is nothing to complain about the flavor of this food. Vegetables and beans are tender when carefully stewed. In particular, the aroma from herbs will immediately awaken your sense of smell.
32. Briam – Mixed Roasted Veggies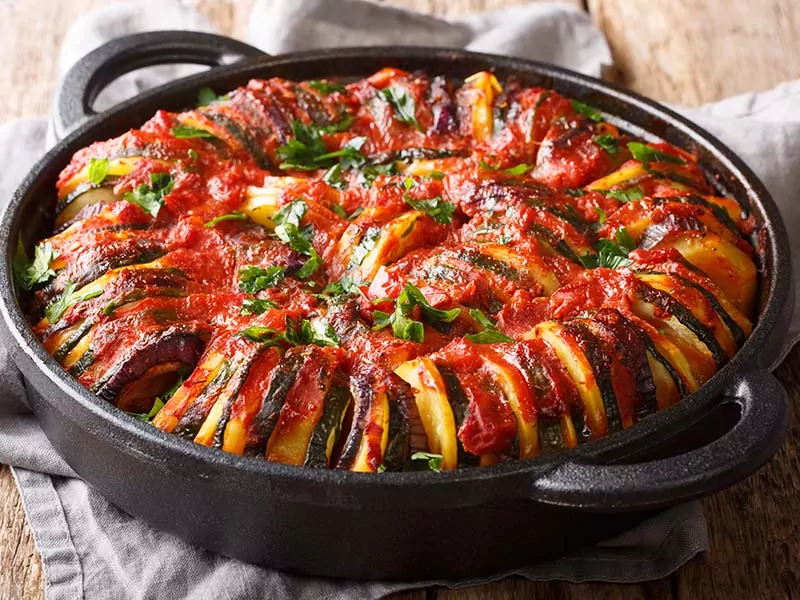 If you are looking for a vegan Greek dish, Briam is a great dish you must try. The combination of different vegetables with tomato sauce brings out an irresistible taste. The aroma of garlic, onions, and herbs will awaken your taste buds.
The Mediterranean is considered the homeland of this attractive food. When you come to Greece in the summer, you will easily come across Greeks eating this food as an accompaniment to Gyros. It will taste better if you enjoy it while it is still hot.
33. Dolmadakia – Stuffed Grape Leaves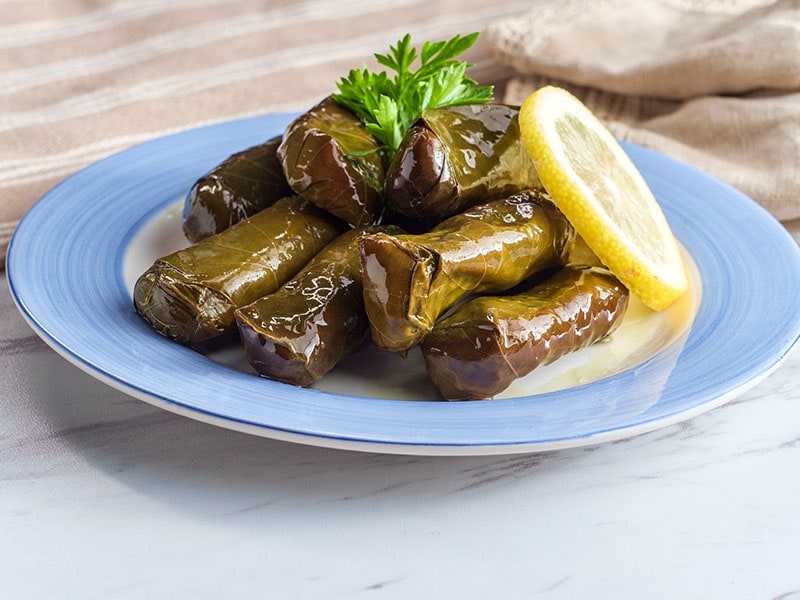 You will regret not enjoying the incredible taste of the typically stuffed leaves of Greece. It is a combination of many different ingredients, so its flavor is pretty diverse. This excellent food is a good option to start Greek parties.
The ancient Persians and Greek created it when they stuffed meat, rice, nuts, and various Greek fruits into grape leaves. Dolmadakia was a favorite dish of the Ottomans in the 15th century.
34. Feta Cheese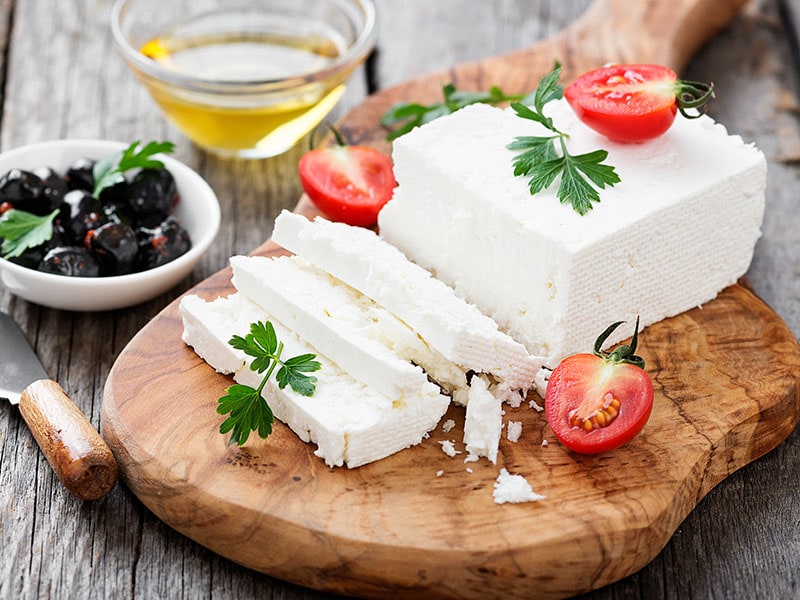 Feta cheese is a soft Greek cheese. This popular cheese from Greece is made from sheep's milk and goat's milk. You will be impressed with the smooth texture of feta cheese. Different countries will have various versions of feta cheese.
The five most common varieties are Bulgarian feta, Israeli feta, Australian feta, French feta, and Danish feta. According to science, feta will add a large amount of calcium to your body to help strengthen and protect bone health.
---
Sharing Is Caring!
Have you tried any of the foods on this list? If not, I hope you will have a chance to taste all the quintessence of this Greek cuisine. Let me know how you feel about them and other fantastic Greek foods in the comments.
Please help your friends struggling with meal planning for their trip to Greece by sharing this article with them. Motivate me by liking the post if you find it interesting and valuable. Thanks for reading.