Greek cookies are always good ideas for holidays and special occasions. Have you ever tried these examples of luscious Greek culinary delights before? Don't skip this post because these cookies are even more delicious than what you have imagined.
This article will show you a list of Greek cookies. Moreover, it also gives you the suggested ways to make them and the special points in their taste and aroma making you irresistible. Check this out!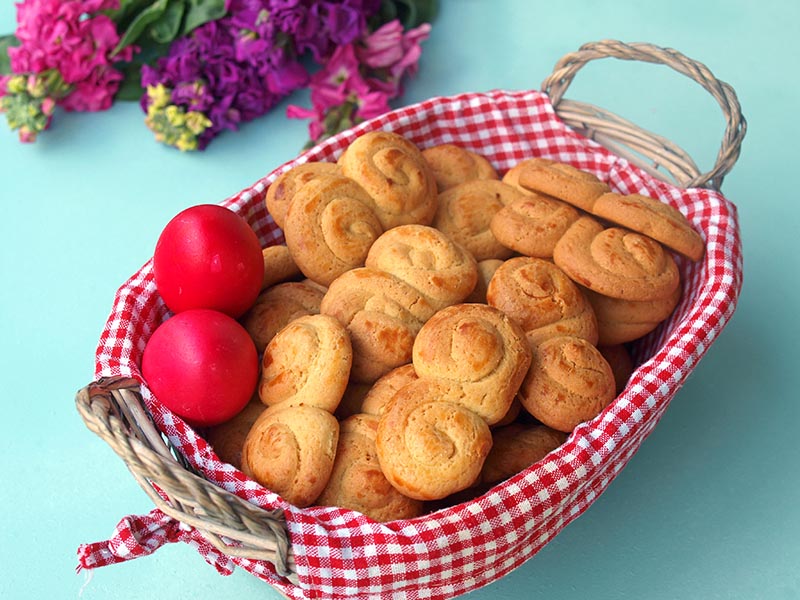 Greek cuisine is always something mysterious and interesting. But Greek cookies, among the tastiest European sweet treats, can provide you with a delicious way to uncover that mystery. Don't skip this section if you are a truly avid foodie.
Total time: 30 minutes.
Have you ever heard "the wedding cookies" or "the Christmas cookies" before? Yes, they are all the names used to call these delicious Kourabiedes. Kourabiedes are the traditional Greek-style delicacy that are very popular on holidays.
This holiday treat uses some simple ingredients, including butter, almonds, baking powder, flour, etc. This mixture results in sweet, buttery, and crumbly cookies. A touch of almonds also adds a depth of flavor to this recipe.
Coated in icing sugar, these wonderful Greek Christmas treats and desserts will stick to the roof of your mouth. Therefore, a cup of coffee or a nice glass of milk is an ideal option to accompany these cookies.
Learn how to make Greek butter cookies like a Greek here.
Total time: 3 hours 20 minutes (including 3 hours of chilling time).
If you are a chocolate lover, missing this recipe will make you regret it. Kariokes are small-sized chocolates that originated from the north of Greece. They are also one of the beloved Greece-made desserts of this country.
This delight appears to contain a variety of ingredients such as walnuts, leftover cakes or cookies, cinnamon, brandy, and other necessary ingredients. It doesn't require much to make.
You just need to mix all the above ingredients in a large bowl and shape them into a log. After that, place them in the refrigerator until they are firm and nice. The final step is to slice the log into slices, which you then dip into melted chocolates.
Your perfect results are soft and sweet cookies that are packed with rich, chocolaty flavor. Believe me: you will love this wonderful delicacy.
Total time: 35 minutes.
A delicious recipe without butter, eggs, and milk is what you can describe Moustokouloura. The whole recipe is very straightforward to prepare, and it just requires some easy-to-find ingredients like baking soda, brandy, flour, grape molasses, etc.
For those not in the know, grape molasses, also called Petimezi or grape syrup, is a Cretan specialty. Thanks to the inclusion of grape molasses, Moustokouloura will taste a little sweeter and fruitier.
Moustokouloura also acquires the rich aroma of clove and cinnamon, making it more fragrant than ever. You can serve these delicious cookies with Greek-style beverages such as coffee or tea. That will be a memorable experience.
What are you waiting for without trying Moustouloura right away? This guide will help you make it.
Total time: 1 hour 10 minutes.
If you are looking for a tasty cookie that is suitable for a vegan diet, Roxakia is an ideal option for you. This is a nice combination of fresh yeast, flour, orange juice, syrup, and other ingredients.
These cookies are pleasantly syrupy. Moreover, their soft texture will impress you at the first bite. Hints of cinnamon and orange are the perfect flavor boosters for this recipe. They will make your baked goods more delicious and attractive than ever.
These vegan orange dough cookies go perfectly with Greek coffee. You can store them in the refrigerator for later use, but I advise you to enjoy them at room temperature because they taste best in this condition.
Total time: 1 hour 10 minutes.
A good option to serve at weddings and baptisms, these delicate Greek almond cookies won't disappoint your taste. This recipe appears to contain almond flour, egg whites, blanched almonds, and necessary spices.
This will create delicious cookies with a brittle texture and aromatic flavor. They are also a little soft and fluffy on the inside. You can decorate your pastries by spreading some melted dark or semi-sweet chocolate on their bottom to enhance your appetite.
You can enjoy your Amygdalota with a cup of coffee or tea; that is a match made in heaven. They are also a perfect choice for serving at a party or boxing up as a gift.
Make Amygdalota to please your taste buds right now. The instruction is here.
Total time: 1 hour 10 minutes.
Paximadia is a double-baked cookie that originated in Greece. Paximadia is made with some simple ingredients of flour, orange juice, olive oil, etc.
This is a Greek-style vegetarian treat that is very easy to prepare. First of all, you need to mix flour and baking powder with the fruit juices. After that, add your pistachios or almonds to the mixture and shape them.
The next step is to cut your mixture into slices. An interesting thing in the process of making these cookies is you have to bake them twice. In the second baking, you should adjust the temperature lower and shorten the cooking time to have the best result.
Paximadia is a crispy cookie with a naturally sweet taste. It's not too difficult to be served on its own but I recommend you savor it with hot tea or coffee for a better taste.
Total time: 4 hours 40 minutes (including 4 hours of chilling time).
Another great chocolate dipping cookie that you shouldn't miss is Kokakia. Kokakia is a perfect delight for any celebration. It is a Greek variation of profiterole, which is a filled French choux pastry with a moist and sweet filling.
Kokakia appears to contain a variety of ingredients. Some typical ones include eggs, cream, chocolate glaze, etc. This nice combination creates luscious cookies filled with pastry cream and topped with chocolate glaze.
Its charming exterior will attract you at first glance. Kakakia is fairly sweet and soft-textured. You should eat Kakakia on the day it is made for the best taste, but you can also store it in the freezer for use for a few days.
Total time: 40 minutes.
Let's continue with another festive cookie, Koulourakia. This is a perfect combination of creamy butter, vanilla with an aromatic flavor, sweet orange juice with a slightly sour taste, and other simple yet flavorful ingredients.
These yummy Easter cookies have a crunchy exterior and tender fluffy on the inside. Moreover, they come with a twisty, eye-catching shape and shiny egg glaze, which make them one of the best options for holidays.
The best way to enjoy these wonderful cookies is to dip them in Greek coffee, tea, or milk. This blend will be one of the most memorable experiences with Greek culinary cuisine.
Make scrumptious Koulourakia cookies in just a few minutes with this tutorial.
Total time: 35 minutes.
Christmas is coming! Enjoying Melomakarona will make you feel like you are spending a merry Christmas. Melomakarona used to be served during Christmas time in the old days. However, they are getting more and more popular throughout the year.
You need to prepare some simple ingredients such as olive oil, honey, orange juice, semolina, etc for this recipe. It's very easy to make. You just need to make the syrup by combining cloves, cinnamon, and nutmeg. After that, shape the cookies and bake them.
The final step is to dip these cookies containing no butter into the syrup and wait until they are absorbed enough syrup. A touch of honey and walnuts on the top will make your cookies more attractive.
With the intense homely smell full of the ingredients in syrup, these honey cookies are sweet, soft, and amazingly crumbly. Don't miss this recipe because it's truly delicious and addictive.
I promise you will receive the best Melomakarona following this instruction.
Total time: 40 minutes.
A delicious meal cannot be perfect without this wonderful dessert. That's right! It is Greek Yogurt Chocolate Chunk Cookie. This recipe only uses basic ingredients such as flour, baking soda, butter, chocolate chunks, etc., but its deliciousness is quite magical.
In addition, your cookies can't get the best taste if it doesn't include the tasty Greece-themed yogurt goodness. Greek yogurt plays an important role in boosting the flavor of this type of cookie.
These cookies are thick and creamy with a tangy flavor thanks to the inclusion of yogurt. You can serve them for your dessert or even an ideal Greek choice for appetizers. They're worth being present at your parties and picnics.
Total time: 40 minutes.
Ladoukoulara refers to classic Greek cookies that are very popular among the Greek Orthodox because it's a good option for a vegan diet. Cognac is a type of brandy used in most traditional cookies, so Ladoukoulara is not an exception.
If you like a stronger flavor, you can use the combination of orange juice and cognac or Metaxa, which is a Greek amber spirit. Your cookies will be more delicious than ever with those additions.
These cookies boast an attractive appearance. They are of a round shape and topped with sesame seeds. Ladoukoulara is crunchy-textured and sweet but not overly sweet. It's a good match with coffee and tea. Let's enjoy it right away.
Do you want to enjoy Ladoukoulara? If yes, click here to try it right now.
Total time: 1 hour 5 minutes.
Patouda is a traditional Cretan cookie that is dusted with powdered sugar. It is not too difficult to make Patouda. First of all, you need to make the pastry with the bicarbonate of soda, which plays an important role in giving your cookies a light, fluffy texture.
You should combine it with some other ingredients like milk, eggs, and sugar and mix them until your dough is smooth and soft.
The next step is to make the filling with dates, walnuts, and almonds that you have prepared. After that, form the cookies into your desired shape and add the fillings. These cookies have a sweet taste and crispy texture.
They will be a perfect option for your dessert. If you want to enhance your cooking experience, you can accompany them with a cup of strong coffee. This nice blend is amazingly addictive.
There is no exaggeration to say that Greek cuisine is always an inspiration for the culinary industry around the world. In any way, it will surprise you with its uniqueness and diversity.
In today's article, I have introduced to you some addictive Greek cookies. They are not only suitable for holidays and special occasions but also ideal options to refresh your boring dessert menu.
If this list is really meaningful to your culinary discovery, please like this post and share it with the people around you. Good things should be spread, right? I hope you enjoy these delicacies, and please let me know what you think in the comment box. Thank you!
Nutrition Facts
16 servings per container
---
Amount Per ServingCalories354
% Daily Value *
Total Fat 25.8g

40

%
Cholesterol 18mg

6

%
Sodium 187mg

8

%
Potassium 134mg

4

%
Total Carbohydrate 33.2g

12

%

Dietary Fiber 4.9g

20

%
Sugars 21.2g

Protein 6.2g

13

%
---
Calcium

50

%
Iron

6

%
Vitamin D

4

%
* The % Daily Value tells you how much a nutrient in a serving of food contributes to a daily diet. 2,000 calories a day is used for general nutrition advice.