How to cook frozen lasagna properly to retain its goodness like freshly made entirely? This delicacy is usually kept cold, and the questions on how to process the frozen batch of lasagna also vary.
Fortunately, the methods to bring your beloved treat back to the table are not that challenging. You will never regret spending your time learning about that here, then let's move to the next section!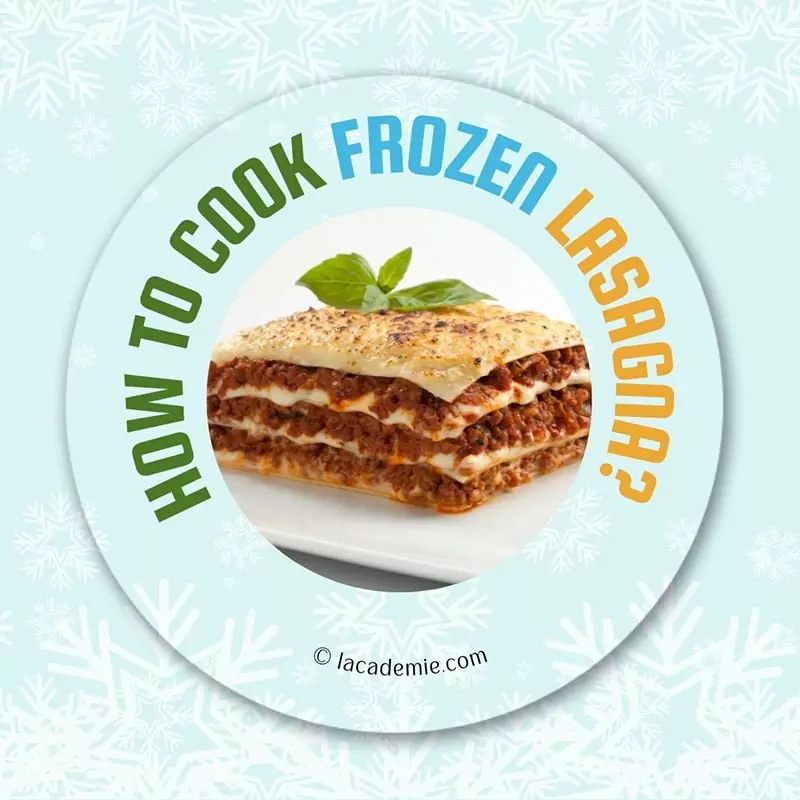 Although it is not very difficult to cook frozen lasagna, it is not as straightforward as tossing it into the oven and just letting it be. You need to follow some rules and guidelines below about the temperature, time, and so on. It is time to take out your pen and make a note!
Bake In The Oven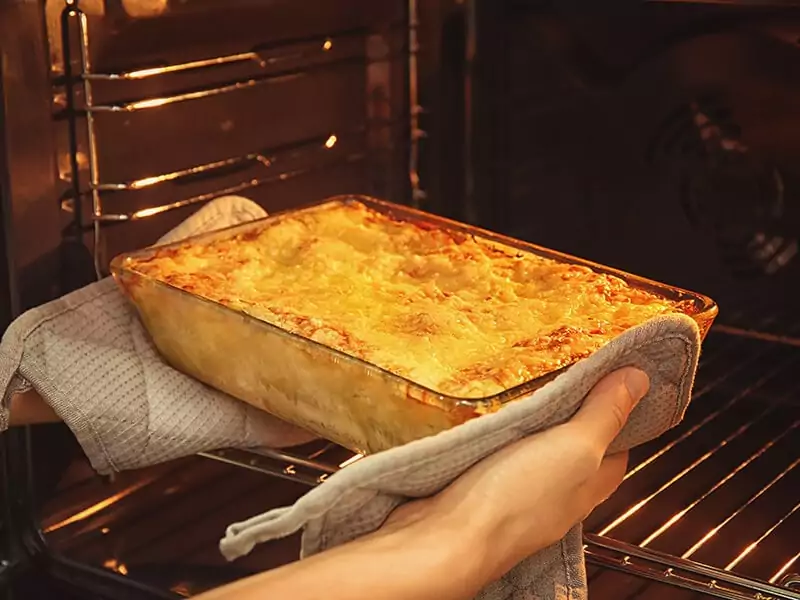 Baking your lasagna inside the oven is the traditional way to cook your freezing lasagna. If you don't know the exact steps to do that, here is my instruction!
Kitchen thermometer
Aluminum foil
Oven-safe pan/skillet
An oven
Preparation: Don't forget to thaw your lasagna inside the fridge overnight before cooking!
Are you curious about how things are done? It will be shown right here!
Step 1: Preheat the regular oven you have at home to 375 degrees F (or 350 degrees F).
Step 2: Ensure to move your lasagna into an oven-safe pan/skillet. You can ignore this step if your food is already in it (from the freezing process).
Step 3: Cover your lasagna batch with aluminum foil for the heat to ventilate evenly through the frozen batch without burning the topped cheese.
Step 4: Toss your treat onto the middle shelf of your oven so that the heat can be less direct, and burn the first layer under the foil.
If your oven only has 2 shelves, then the bottom one will be better.
Step 5: Wait for about 60 minutes and take the lasagna pan out. Check the heat inside your treat with a thermometer. If it reaches 165 degrees F, your food has finished cooking.
If the portion of your lasagna is quite big, you might need to leave it in the oven for 15 minutes more (or less than 15) to cook it thoroughly.
Step 6: Unwrap the aluminum foil out of your pan and put your treat back in the oven for 10 more minutes.
This step will caramelize the top layer and offer a lovely dark amber, seared cheese. You should be careful and monitor this step, or your cheese might be overcooked and burnt.
In case your cheese topping is accidentally burnt, simply top your lasagna batch with another layer of cheeses and rebake.This way, it'll turn to the beautiful dark amber color on the surface.
Let's take a closer look at how to cook frozen lasagna in an oven!
Toaster Oven
A toaster oven is much smaller than a regular-sized oven, and it can easily take place inside your kitchen. And now, I will show you how this small, lovely machine can help you cook your frozen lasagna.
An oven toaster
Aluminum foil
Kitchen thermometer
Note: You should prepare your frozen lasagna the same way you bake it in the oven (thaw overnight and wrap it up with aluminum foil).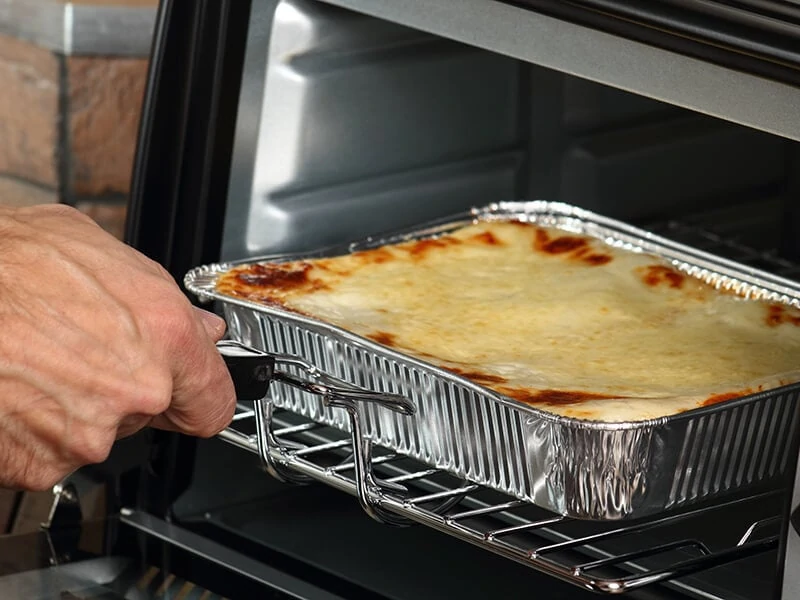 Here is what you should do to cook your lasagna successfully in a toaster oven.
Step 1: Preheat your toaster oven to 350 degrees F.
Step 2: When the temperature inside the toaster oven reaches 350, decrease the heat down to 325 degrees F and toss your lasagna (which has been prepared nicely) into the machine.
Step 3: Leave your treat inside the toaster oven for around 30 to 45 minutes or until the internal of your lasagna reaches 165 degrees F (check by the thermometer).
Notes:

If you don't have the kitchen thermometer, you can check if your food has been cooked or not by looking at the seared cheese on top of the browning edges.
The convection oven, with its advantages in concentrating and distributing heat, can even help to cook your lasagna at a similar speed as a normal toaster oven (only around 45 minutes).
The detailed guide you might need to cook your frozen lasagna in a convection oven. Watch this video:
On The Stovetop
The simplest way to cook your frozen lasagna might be cooking it directly on the stove. Let's do some steps below to have a perfect plate of lasagna on the table.
Non-stick skillet/pan
Skillet/pan's lit
Water
Aluminum foil (optional)
Preparation: Take your lasagna out of the freezer and thaw it in the fridge overnight.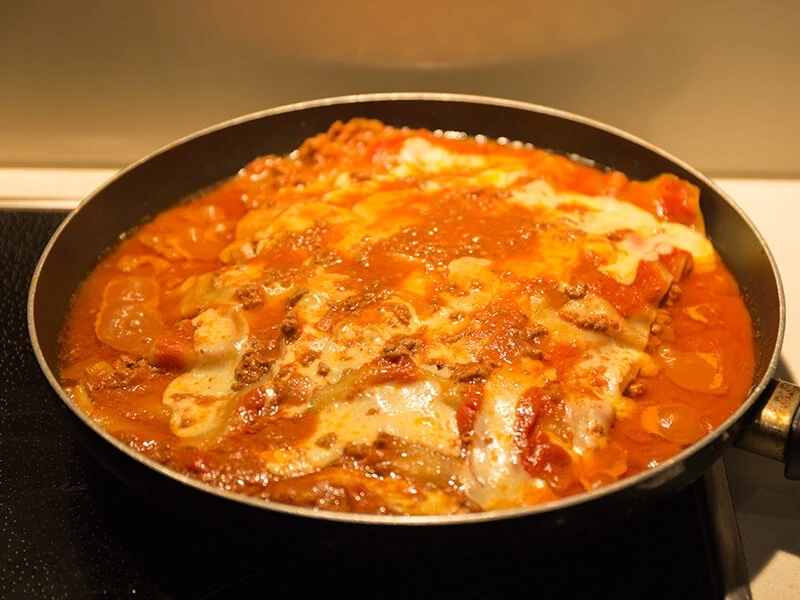 This way can help you to deal with your frozen food faster than baking in the oven. Here are the steps you should follow.
Step 1: Put some lasagna slices on the skillet/pan. 2 or 3 square pieces at a time will be good. Don't turn on the stove yet!
Step 2: Spray/pour/drizzle ¼ cup of water onto each lasagna slice.
Step 3: Now turn on your stove, start with medium-high heat. Let the water heat up completely before moving on to the next step.
Step 4: Put on the skillet/pan's lid or wrap the surface up with aluminum foil. Do it carefully because the skillet is extremely hot at this time.
Step 5: Simmer the lasagna for around 20 minutes. Gently tilt the skillet/pan several times during the process so that the moisture can creep deeper inside your food.
Step 6: If you like a bit crispier bottom, take the lit/foil out and leave the skillet on the stove for 5 or 7 minutes more.
Step 7: After the time, turn off the stove and let the batch cool down for 10 minutes before eating.
Notes: The total cooking time for this stovetop method will be around 30 minutes.
Undefrosted Lasagna and How To Cook Them
As I have mentioned above, although I would not recommend doing this with homemade lasagna, it is wonderful working on store-bought packages. Therefore, it will be a mistake if I neglect this method.
Bake Unthawed Lasagna In The Oven
The first method to process the unthawed frozen lasagna is to put them into the oven. You can somehow treat it the same as the thawed batch, but there are some notes that you still need to take a look at.
An oven
Aluminum foil
Frozen lasagna (have just taken out of the freezer)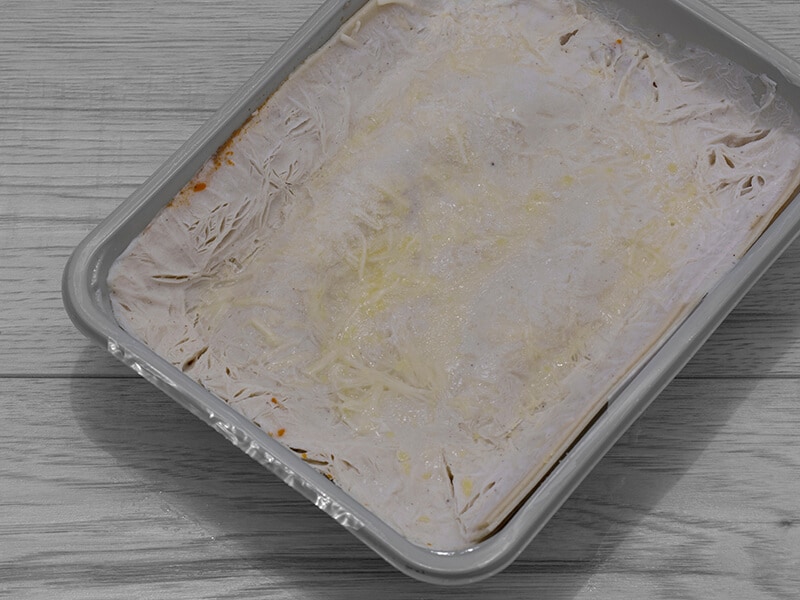 Have you done with the preparation? Let's get to work!
Step 1: Preheat the oven to the temperature of 375 or 400 degrees F. If there is another temperature suggestion on your manufactured lasagna package, you can also refer to that.
Step 2: Wrap your lasagna pan with foil to prevent burnt cheese toppings and help your hearty treat cook inside out.
Step 3: Put the tray into the oven and on the last or middle shelf.
Step 4: After 60 to 75 minutes, take off the foil. Toss the food back to the oven.
Step 5: Wait for another 30 minutes to have nice, melted, seared cheese.
Step 6: After the time, take your delicacy out of the oven. Let it sit to cool down a bit, and you can have your beloved lasagna now! Think of some sweet treats to serve after lasagna if you want your meal to end on a high note.
Notes:

It takes around 90 minutes to cook your unthawed lasagna (average size) in the oven. And you might need 20 more minutes to cook thoroughly at a larger size.
If your lasagna is stored in a glass utensil, you should follow the safety rules and let it cool down a bit before tossing the whole batch into the oven.
This is a perfect guide to cook a manufactured lasagna in a toaster oven!
Extra Convenient With Air Fryer
If you are a huge fan of seared cheese topping, this air fryer application can excellently offer you that. It will offer a lovely amber layer, no matter what cheese you use for your lasagna.
Nonetheless, when your lasagna contains ricotta cheese, it's best that you add some eggs into the dish as well. There's a reason ricotta cheese in lasagna requires eggs, and without the presence of eggs in the dish, there's a chance your lasagna might end up ruined.
Compared to the oven, one advantage of this utensil is the automatic shutdown mechanism at the scheduled time (similar to the microwave). Thanks to that, the air fryer will help you not forget your food leading to the case of scorching more than necessary.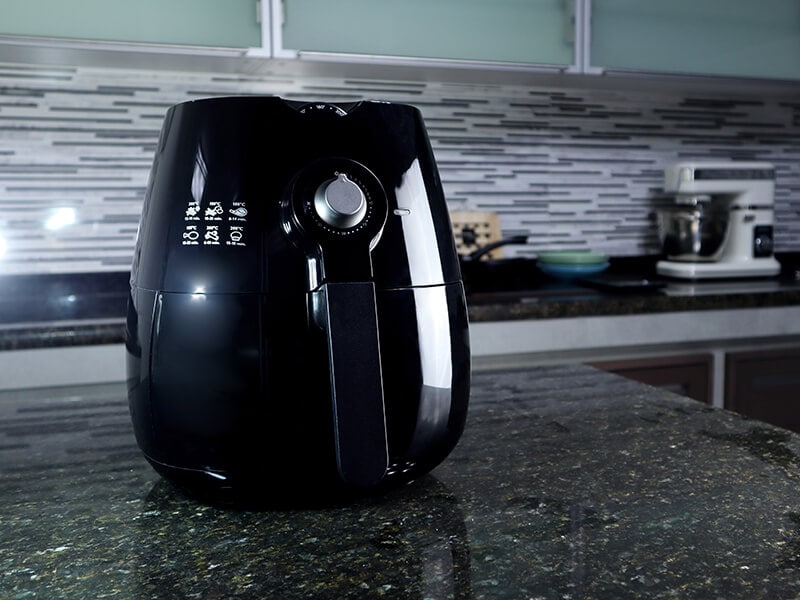 Aluminum foil
An air fryer
Thermometer
Unthawed frozen lasagna
Let's turn to the detailed instructions on how to cook your out-of-the-freezer lasagna!
Step 1: First of all, set the temperature of 375 degrees F and wait until the temperature inside reaches that number (check with the thermometer).
Step 2: While waiting for the preheating process, wrap your lasagna tray with aluminum foil.
Step 3: Put your food into the frying basket.
Step 4: Air fry the food at 375 degrees F for 20 minutes.
Step 5: Lower the temperature after 10 minutes of baking, then continue to reduce the heat every 5 minutes following.
Notes:

This method fits the store-bought lasagna well.
The pulling cooking tray is hot after the processing period; you should be careful if you don't want to burn yourself.
Why Should You Have Frozen Lasagna?
Although homemade is always preferable, you may not always have the time to make a hearty and time-consuming dish like lasagna. Having a readymade, frozen package/portions of lasagna in your freezer appears to be a more convenient option.
If you're looking for a quick, hearty dinner idea, frozen lasagna is a wonderful choice, as long as you remember the maximum time lasagna can last! The taste of the treatment won't change much after it's been frozen, so you may consume tasty and nutritious food whenever you like.
Besides freezing homemade lasagna, busy people can also find some top-tier frozen lasagna brands in the market. It will be completely fine to store some of those packages in your freezer and follow my instructions to create a nice treat yourself.
To enhance the taste of the whole meal, you can also have many options for side dishes to pair with lasagna. Some things like salads, breadsticks, or roasted veggies would be awesome.
When you don't feel like eating lasagna with heavy side dishes, at least consider pairing the lasagna with some suitable wine varieties. Of course, you can't just pair the lasagna with any wine willy-nilly; you need to choose one with a compatible taste with your dish.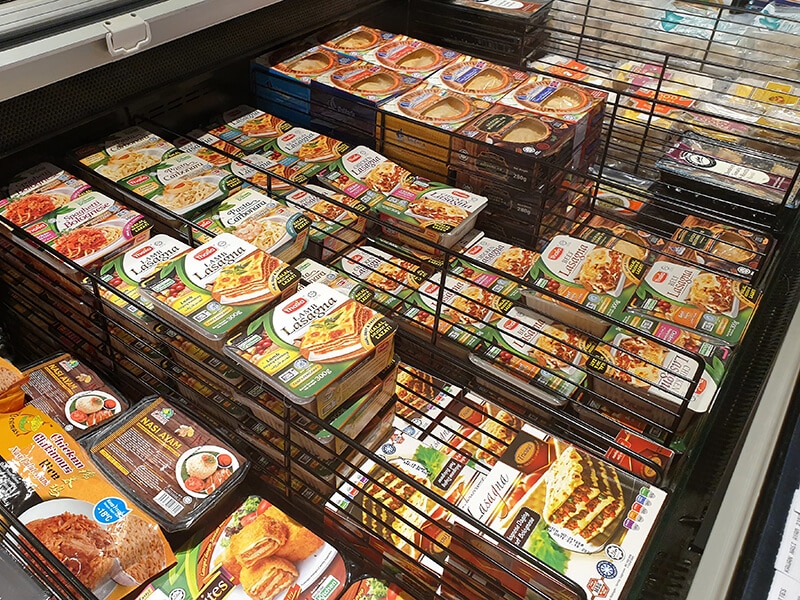 Defrost Your Frozen Delicacy Properly
Apart from using the proper techniques to make frozen lasagna, the first-ever tip to preserve the deliciousness of your frozen delicacy is to defrost it thoroughly before cooking it.
Although you absolutely can cook your dish right away and skip the defrosting process, you'd better only do that with manufactured frozen lasagna. You should follow the traditional trait of "thaw first, then bake" for a homemade one.
Because of that, I will suggest some best ways to thaw your treat efficiently.
In The Cool Compartment
It is extremely simple to apply this method and defrost your lasagna. You only need to take your frozen treat out of the freezer and toss it into the cooler compartment. Leave it there overnight.
Note: If you freeze your lasagna inside a glass utensil, you should opt for this thawing method to avoid cracking your gadget. The severe temperature fluctuation can harm your glass products in general.(1)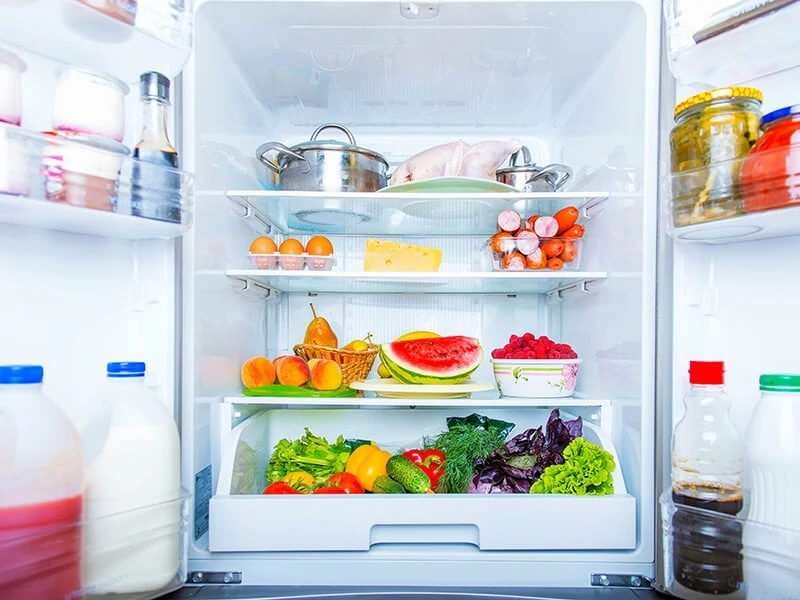 In The Microwave
Safety first, never use metal utensils or foil wrap inside the microwave! Those things can harm both your machine and yourself.(2)
Come back to the main point, this method is much faster, and you can use it if you coincidentally forget to take the food out of your freezer the night before.
All you should do is toss the whole portion into the microwave, turn on the defrosting mode, and set the timer for 5 to 10 minutes.
You should monitor the whole process if you want to thaw only a small batch (or a bigger batch) to avoid letting the machine cook your food.
Easy-peasy way to defrost your lasagna in the microwave! Watch this video:
How To Reheat Cooked Lasagna
But sometimes, you don't need to cook frozen lasagna since your treat has been cooked before freezing. All you want is some interesting methods to make your lasagna sizzling again.
I can tell you that there are many ways to do so, but I suggest you use the most easy-to-accomplish equipment, the microwave and in five ways!
In The Oven
In the Toaster Oven
In the Microwave
In a Skillet
In an Air Fryer
Tips To Prevent or Fix Fault Frozen Lasagna After Cooking
Don't be surprised if things don't go as you think! Sometimes, you will encounter some situations out of your control, and here are several tips that can help you fix them.
Watery Lasagna And Tips To Prevent
This watery lasagna problem happens when excess moisture is left after the freezing or defrosting process, and starts to melt when you cook your dish. The significant sign is the abnormal texture with a bit more water than usual.
Tip 1: Deal With Your Sauce Properly
One crucial component for this lip-smacking Italian dish is its sauce, normally made of tomatoes, veggies, and ricotta cheese. And if you don't deal with the sauce nicely, it will lead to a watery issue.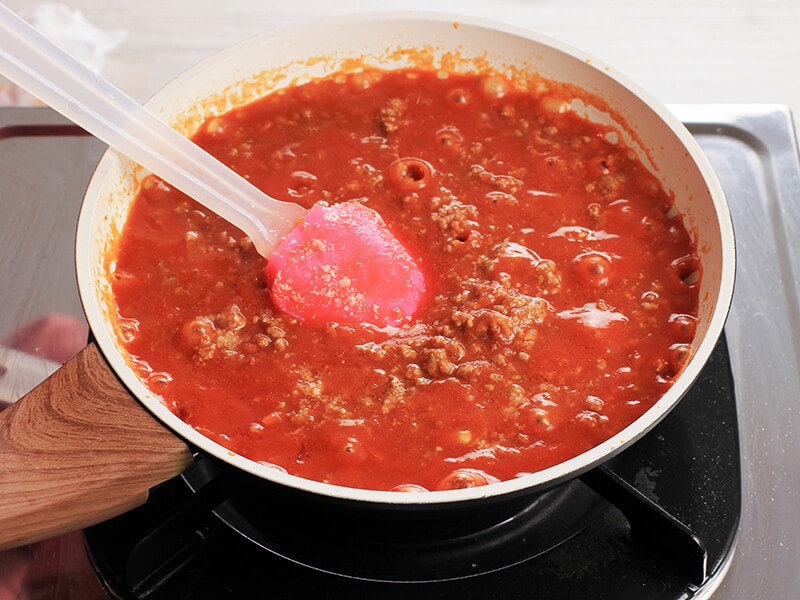 What you will need:
Cheesecloth/sieve
Ricotta cheese
Veggies and tomatoes
A pot of sauce
Salt
What to do:
Here are the steps you might ask for.
Step 1: Use the cheesecloth/sieve to strain out the unwanted liquid inside the ricotta cheese.
Step 2: Add some salt to the vegetable mix.
Step 3: Wait until they emit the excess moisture out; also strain those off.
Step 4: Put all the needed ingredients into your saucepot. Make sure you simmer it longer than usual.
Tip 2: Only Use The Lean Part Of Beef
The excess liquid might be from the meat's fat. To avoid this situation, you can choose the leaner part of the meat or do pan-searing to take out as much fat as possible. Drain the running fat out before using the protein into your lasagna.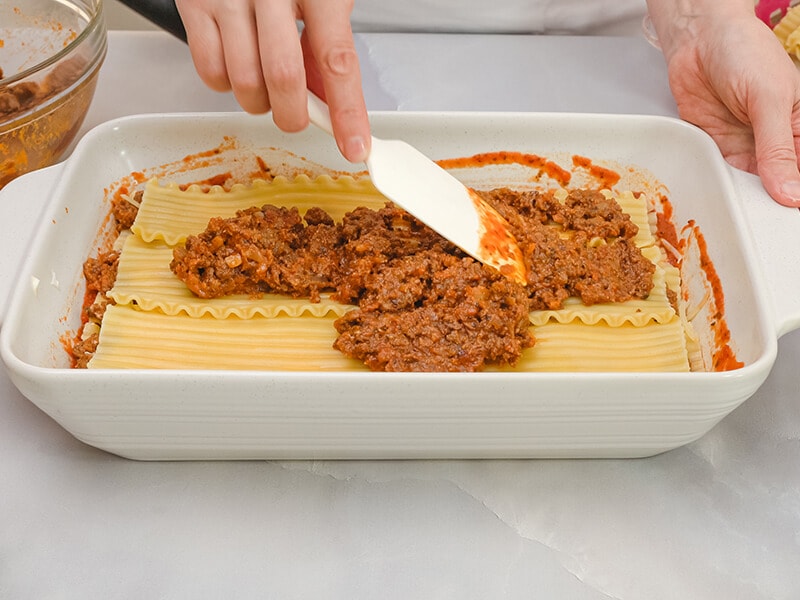 Tip 3: Always Measure The Right Amount Of Ingredients And Do Strictly What The Recipes Call For
Making changes to the recipes and the amount of ingredients eyeballing can lead to unwanted results. One example here is the soggy dish.
Tip 4: Do Not Add Too Much Meat Filling
Meat has juice inside, and overloading it inside your baking delicacy can lead to the same problem. Although the meat juice tastes great, it looks not very attractive as a whole and might ruin your appetite.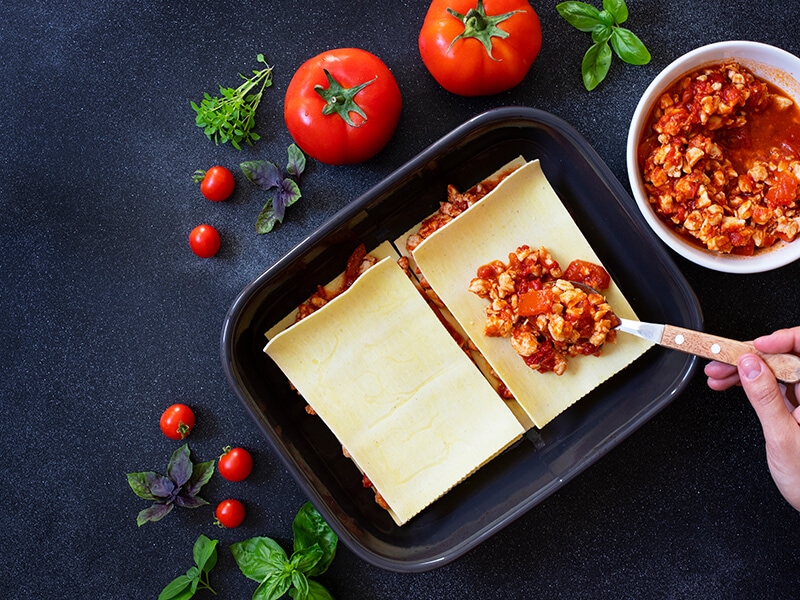 Tip 5: Thaw Your Frozen Veggies First Before Cooking
When putting your raw veggies into the oven, they can absorb more moisture. Thawing them before cooking and taking out the excess water can help to prevent soggy lasagna.
Tip 6: Cook Your Veggies Before Freezing
Or you can also try to cook your vegetable ingredients ahead of time; this way can also help decrease moisture.
You should half-cook your meat and veggies fillings, drain out any fat and juice before layering your lasagna and freeze it.
Tip 7: Use Oven Thermometer To Know Exactly The Temperature
You should use the kitchen thermometer to measure the temperature when it comes to cooking with the oven. The gadget can help you to know precisely the heat inside the oven and whether your food is cooked evenly or not.
Tip 8: Bake In A Glass Dishes/Trays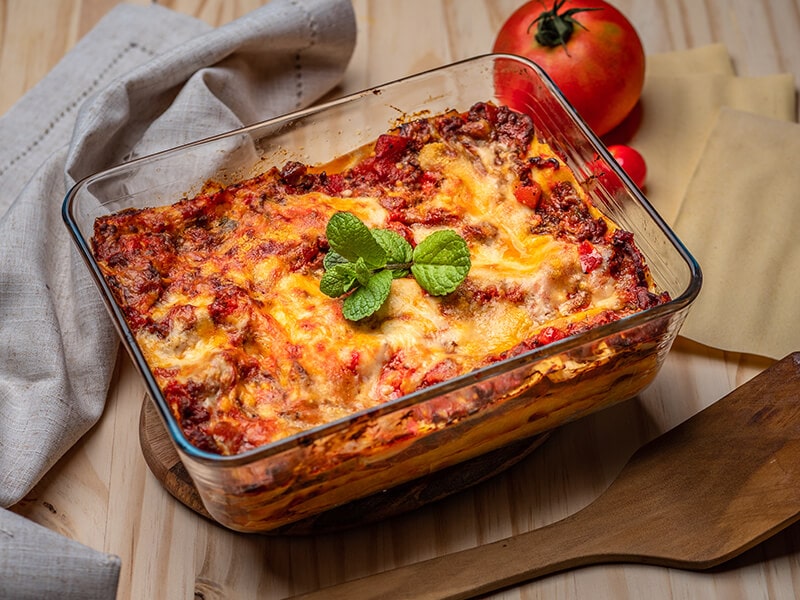 One significant advantage of glass dishes/trays compared to the other types of oven-friendly baking utensils is they are transparent. Thanks to that, you can watch the level of liquid inside your lasagna trays.
One more benefit of using glass-made trays/dishes is that they have a remarkable ability to maintain and distribute heat around the container so that the food can be kept lukewarm longer.
Alternative: Average-sized metallic/ceramic pans (about 9×13 inches) can also help you to reduce excess juice in lasagna.
Tip 9: Avoid Overlayering Your Lasagna
There are specific instructions to layer your lasagna, and you should follow them strictly. Or, when freezing, the layers can trap the layers inside your dish and might lead to the over-watery (as the excess moisture vapor) lasagna batch when cooking.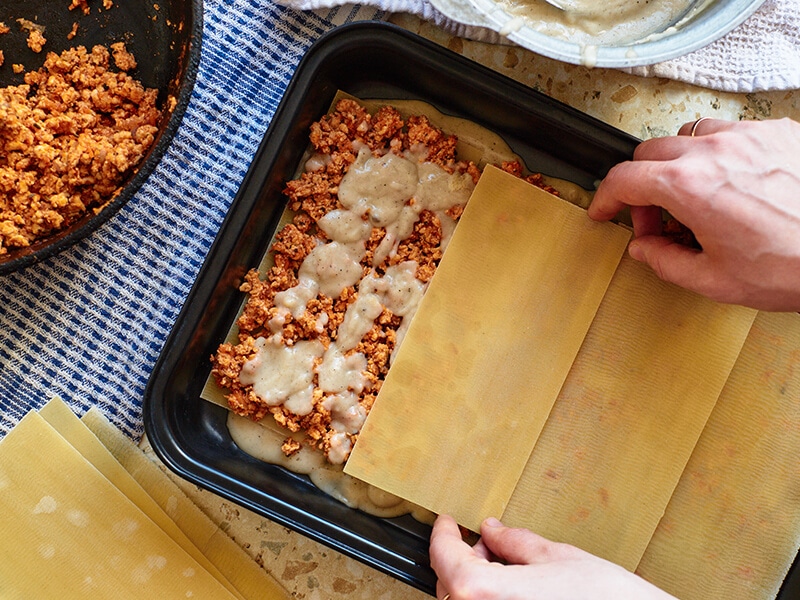 Tip 10: Do Not Cut Your Lasagna Immediately After Baking
Let your steaming hot lasagna tray cool down for around 20 minutes (uncovered/unwrapped) so the layers are settled, juice and liquid will come back to where they came from.
After that time, feel free to cut and enjoy your treat.
You can also make your lasagna a day before, toss it into the cool compartment and eat it the next day (after reheating).
Tip 11: Use Uncooked Flat Noodles (Lasagna Noodles) To Make Frozen Lasagna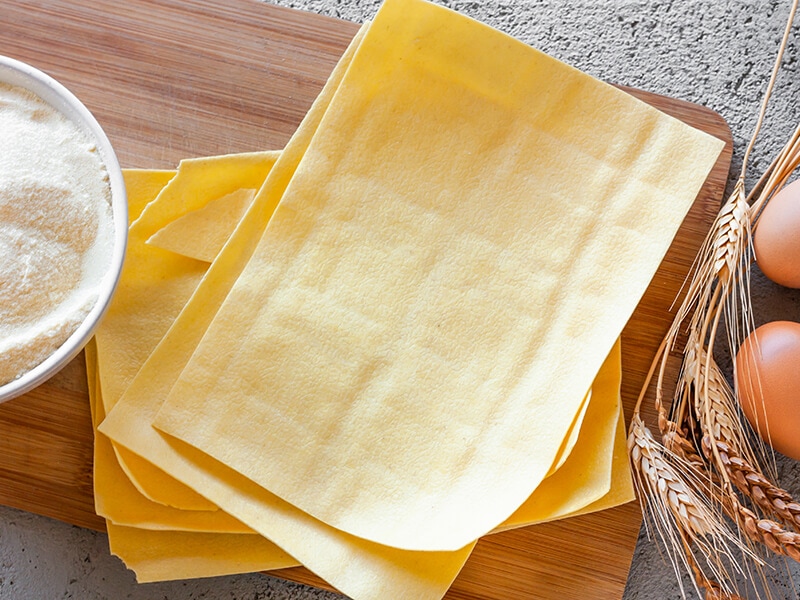 This is one of the reasons why it is suggested to freeze unbaked lasagna rather than the baked one.
Those raw/uncooked flat noodles can absorb the moisture from sauce and juice quite well, which can both help it taste better and reduce the runny sauce in your tray after cooking.
Just leave your food and wait 30 minutes after baking; the noodles can do all the magic.
But if you insist on cooking the noodles beforehand, you should learn how to make them not sticking together and turn your lasagna into a soggy mess.
Dry Lasagna? Not Your Concern Now!
If your lasagna comes out of the oven with a crunchy texture, it probably gets wrong somewhere. Here are what you should do and never do to prevent or fix the dry lasagna issue.
Tip 1: Soak The Dry Lasagna Sheets (Flat Noodles)
The manufacturer usually advises you not to cook the flat noodles before layering to freeze them, but soaking them in boiling water for only 5 minutes cannot cook them thoroughly.
Just remember to submerge each sheet at a time and ensure not to leave any excess moisture on it to avoid the soggy lasagna.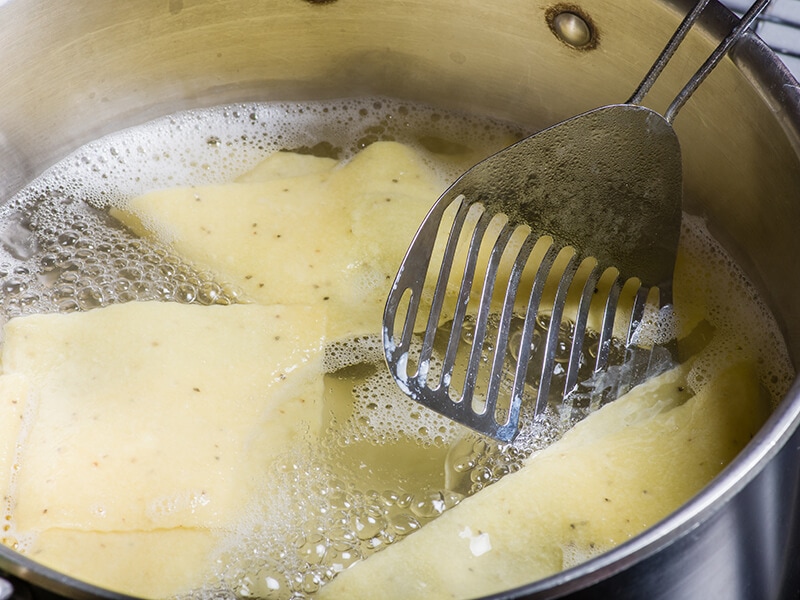 Tip 2: Don't Layer The Noodles First Or Last
When you bake your lasagna in an oven, the heat will be distributed around the tray/pan (where you put them in). If the noodles are the first layer when you layer your treat, it will be directly affected by the high temperature and become crunchy.
Therefore, it is suggested to have the sauce as the first layer. Same to that, the top layer/last layer should be bechamel or sauce and cheese (brush some oil if you accidentally cut out all the sauces and wrap the pan up with foil).
Tip 3: Always Cover The Lasagna Batch With Foil When Baking
There is no need to keep it there during the whole process; follow my guide above to see when to cover and when to take it out.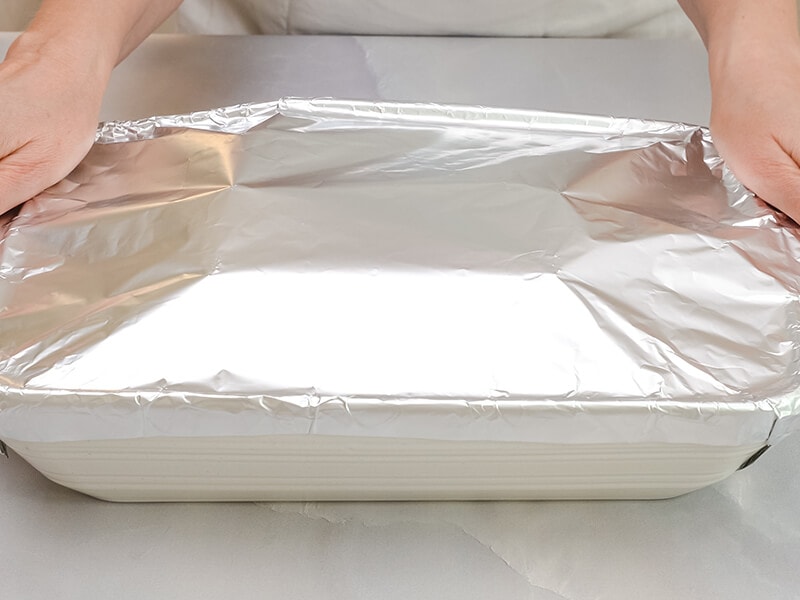 Tip 4: Add Some Water In Before Reheating The Cooked Lasagna
Putting 2 tablespoons of water onto your lasagna's surface then wrapping them up with foil can help prevent drying it. After that, leave your treat reheated until it is ready to be served.
Tip 5: Add Some Sauces Or Broth To Your Lasagna And Transform Your Dish
It will not be too late if your beloved food turns dry and crispy after cooking. Simply put on some sauces (tomato sauce/bechamel sauce) or some kinds of broth you like and transform it into another hearty dish (lasagna dip or lasagna grilled cheese sandwiches).
Once you rebake the dry lasagna, don't forget to wrap them with foil so that the additional liquid can be absorbed faster.
FAQs
Moving on to the questions-and-answers section! If you still have any other questions about the topics of cooking frozen lasagna, you can probably find your wanted responses to your problem here!
Nutrition Facts
1 servings per container
Serving Size100 grams
---
Amount Per ServingCalories130
% Daily Value *
Total Fat 5.3g

8

%
Cholesterol 13mg

5

%
Sodium 284mg

12

%
Potassium 182mg

6

%
Total Carbohydrate 14g

5

%

Dietary Fiber 1.7g

4

%
Sugars 4.2g

Protein 6.5g

12

%
---
* The % Daily Value tells you how much a nutrient in a serving of food contributes to a daily diet. 2,000 calories a day is used for general nutrition advice.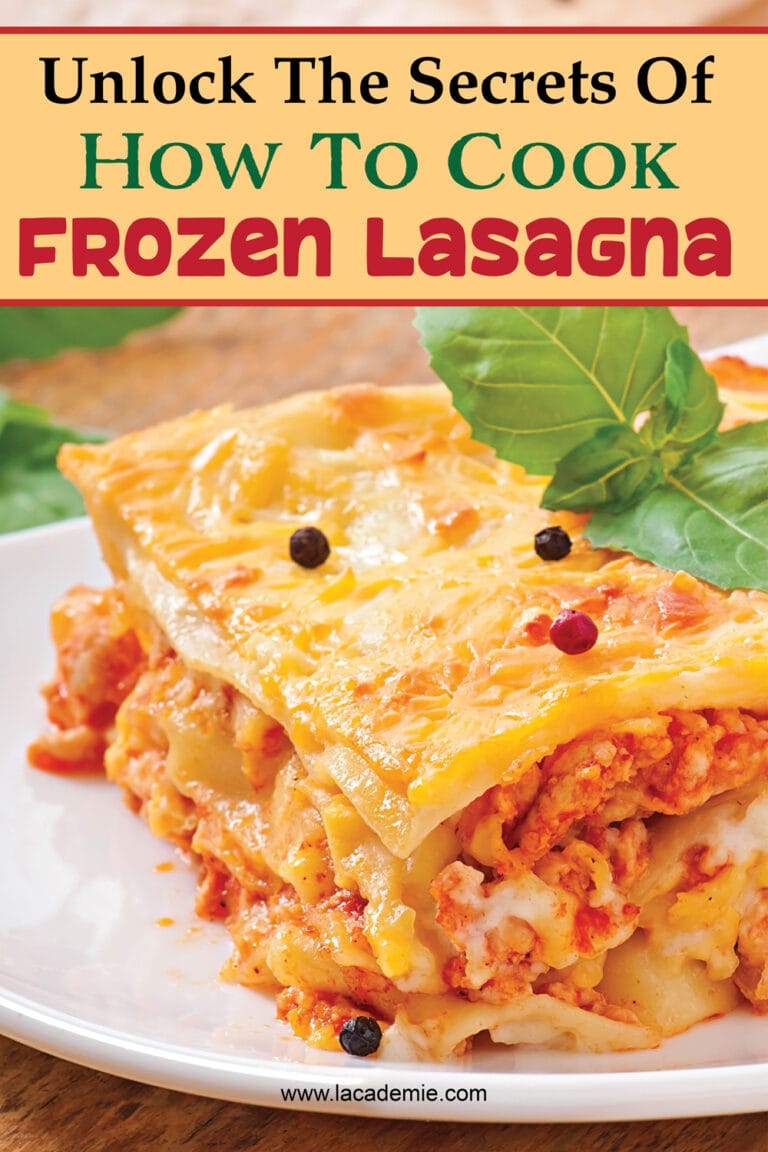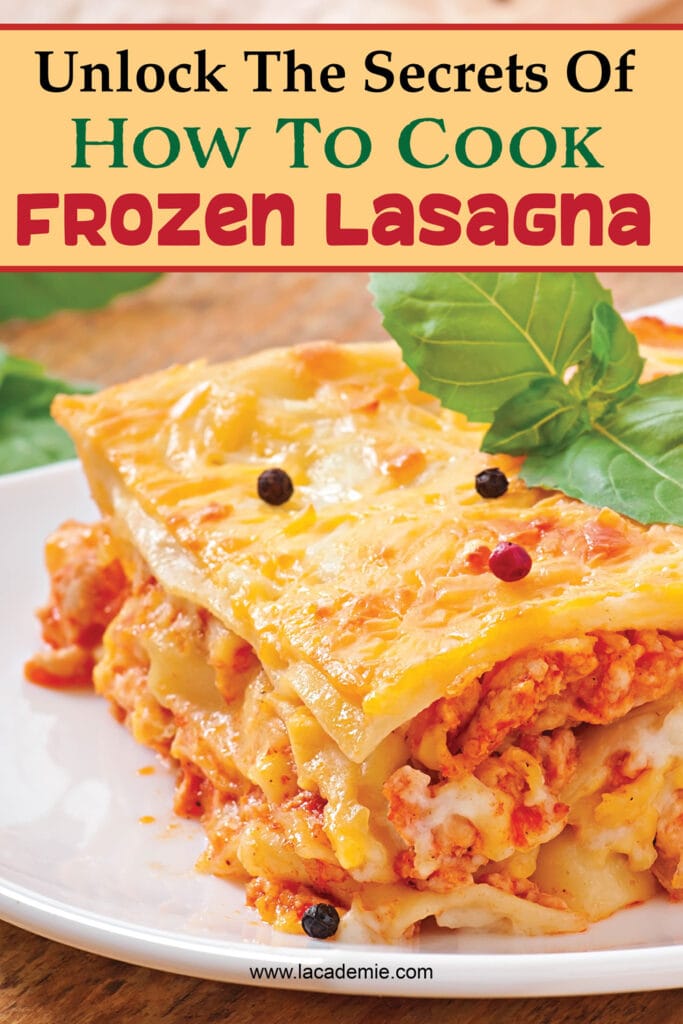 Let's Recreate Your Frozen Lasagna
Have you chosen the best way to cook your frozen lasagna? If you have tried one of the suggested methods above, leave comments below to share your precious experience with me.
In case you have some other interesting tips for cooking your out-of-the-freezer lasagna, feel free to share in the comment section, too. It will be even better if your friends and family can also benefit from the helpful information in this article. Loving is sharing!
References
Berlinpackaging.com. 2021. Answers to Questions about Glass Breakage.
TODAY.com. 2021. What can and can't go in a microwave? An expert reveals the answers.
MSU Extension. 2021. Safe microwave defrosting.