If you don't know "How long does lasagna last?" it will increase the chance that you consume bad food or unexpectedly ruin your treat. To receive the best answer, you can refer to this humble article. I will provide you with any information you might need about this topic.
From keeping lasagna in the fridge or outside to the perfect places to put lasagna so you can save it for later, you can get all of that information here. No more wasting your delicacy because of lacking tips; let's scroll down and learn more!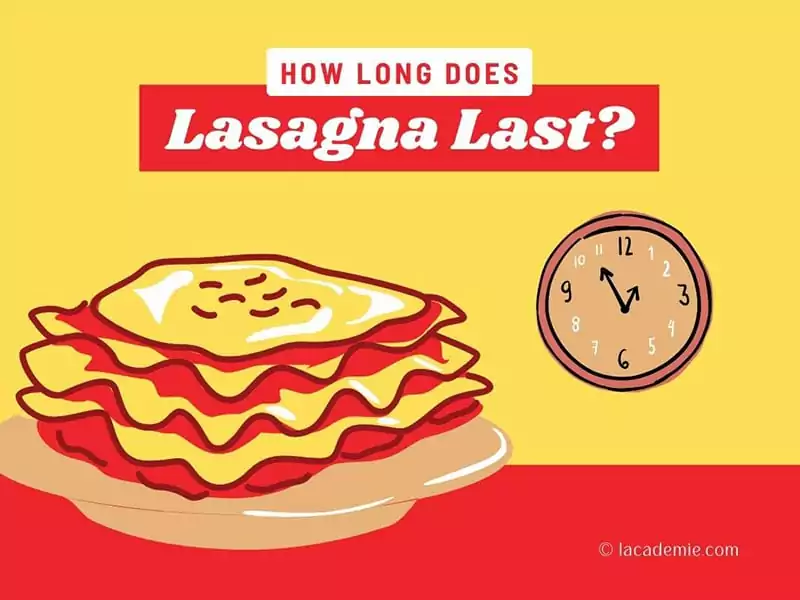 Lasagna 101 – The Story Around A Good Treat
Lasagna or lasagne is a variety of pasta dishes, originated in Italy(1) . It is also served with tomato sauces with ground beef like spaghetti, added with some veggies.
Cheese is also an essential ingredient in lasagna, yet not all can offer a great taste enhancement for the dish. Only a few cheese varieties that can be served in lasagna. Adding the wrong one might inadvertently ruin your dish.
Thanks to the variety in components (herbs, cheese, veggies, flat noodles, and tomato sauce), the dish offers a slight sourness, a mild, meaty taste, with the highlighted touch from herbs. All the flavors can be balanced with the mild starchy taste of lasagne.
You can use different techniques to layer your lasagna. The most familiar is by placing the ingredients according to the order: meat sauce (ragu) – flat noodles (lasagne sheets) – white sauce (bechamel). Repeat, and make sure the last one is bechamel and cheese.
For those who cook lasagna with ricotta cheese, they'll also need to add eggs in the cheese. There's a specific reason why lasagna's ricotta cheese should have egg, but the explanation is rather lengthy, so I'll leave that for another time.
A detailed guide on how to layer a perfect lasagna pan. Watch this video to know:
The great harmony between all the ingredients making this dish is loved worldwide. This scrumptious dish is also versatile. There are many side dishes that can match with lasagna to become a huge feast.
The Suggested Shelf Life Of Lasagna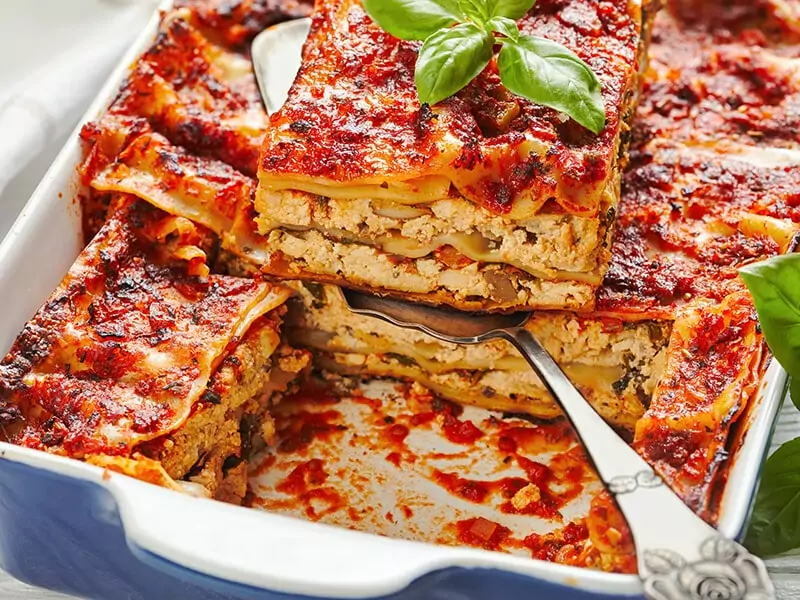 Lasagna is one of Italy's most favorite dishes for potluck occasions, and can be served at any hearty dinner. Lasagna goes well with many wine types, making it suitable for formal occasions as well.
However, it's not an easy task to prepare and cook lasagna. It took me many trials and errors to master the technique to cook lasagna noodles without sticking. And while storing and gauging lasagna's shelf-life is much easier, they can still prove challenging to some people.
To assist you with that, I will provide you with the below section, which shows more information about the shelf life of your lasagna.
Types Of Lasagna
At room Temperature
In The Fridge
In The Freezer
Cooked Lasagna (deli/homemade)
Less than 2 hours
3 to 5 days (up to a week)
About 3-4 months or up to 6-8 months
Uncooked Lasagna
Less than 2 hours
No more than 3 days (best under 24 hours)
Around 3 months
Thawed Frozen Lasagna
Under 90 degrees F: 2 hours
Above 90 degrees F: 1 hour
3 to 4 days
Depending on your chosen thawing methods
Manufactured Frozen Lasagna
Not suggested
Not suggested
Best before 18 months
It's not recommended to leave lasagna at room temperature for longer than 2 hours (same to other types of food)(2).
Long exposure to room temperature (40 to 140 degrees F) might provide an ideal environment for bacteria to thrive, making your cooked lasagna no longer safe to eat.
When you keep your leftovers or cooked lasagna in an airtight container and refrigerate it, you can consume your beloved food within 3 or 5 days (or even a week if you are lucky).
Otherwise, if you prefer freshly baked lasagna and want to store a make-ahead patch in the fridge, I suggest you eat it within the first day after making it. The time after 3 days might still be fine, yet, it is risky for your health or the expected flavor of your treat.
You might have many ways to thaw your lasagna, yet the most recommendable way is to put it in the cooler compartment. Once you try to defrost the frozen dish there, it might last 3 or 4 days.
At a temperature under 90 degrees F, your defrosted lasagna is safe to eat after 2 hours. But when the temperature reaches 90 degrees F, the usable period is reduced to 1 hour.(3)
But if you thaw your frozen lasagna (including premium store-bought frozen lasagna and tasty homemade ones) in the microwave or submerge it in a bucket of cold water, you should cook and eat your food immediately after that.
From that point, one advantage of defrosting your food inside the fridge (compared to other ways) is you can refreeze the unused/uncooked portion.
What Should You Do To Extend Lasagna's Shelf Life?
As I have mentioned, there are two preferable ways to lengthen the shelf life of your beloved treat, lasagna. If you don't have any idea how to do it yet, let's see the proper ways to accomplish the tasks below.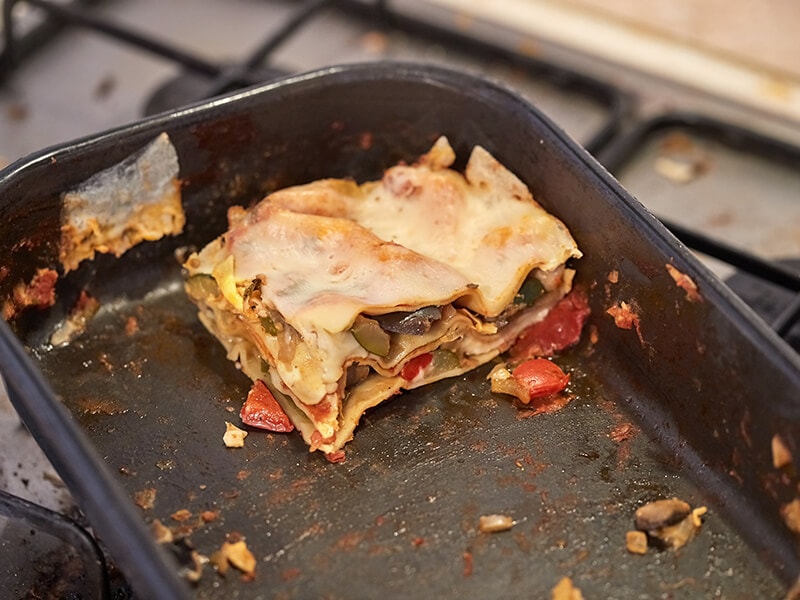 Storing Your Lasagna In The Cool Compartment
If you want to eat your leftover lasagna in a day or two after that, storing your food in the fridge seems to be a better option than freezing it up. Yet, you should do it quickly; leaving food at room temperature for around 2 hours makes the bacteria grow faster on it.
Separating the whole batch of lasagna into smaller portions can also help store them more conveniently (following the below guide).
You Should Prepare:
Airtight container
Cooked lasagna (Deli/leftovers)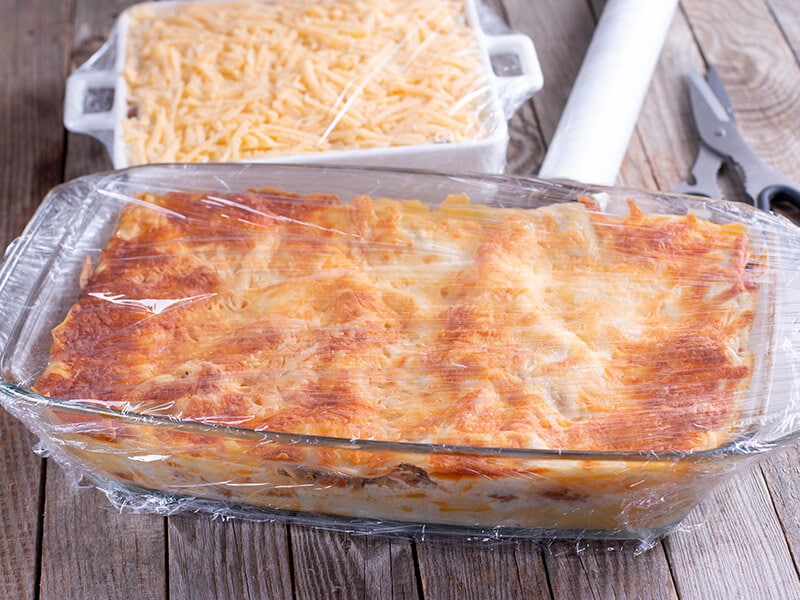 How To Do:
Some things you should refer to and successfully store your hearty treat for later.
Step 1: Put your lasagna into the airtight container you have prepared. If you cannot find its lid, you should use plastic wrap or aluminum foil to cover the container.
To a single portion, just using a plastic bag might be enough.
Step 2: Put the container inside the cool compartment, ensure the temperature is maintained at under 40 degrees F.
Note: If you want to store your unbaked lasagna in the fridge, you can wrap the whole patch with a plastic covering. But remember, you should eat it after 1 day.
Proper Ways To Freeze Lasagna
This method below is one of the various ways to store lasagna in the freezer.
Notes: I suggest doing this way of storing after you have finished with layering and before you cook the dish to prevent cheese and noodles from turning mushy and soggy afterward.
You can also do this with the leftovers, but you need to accept that the taste and texture might change.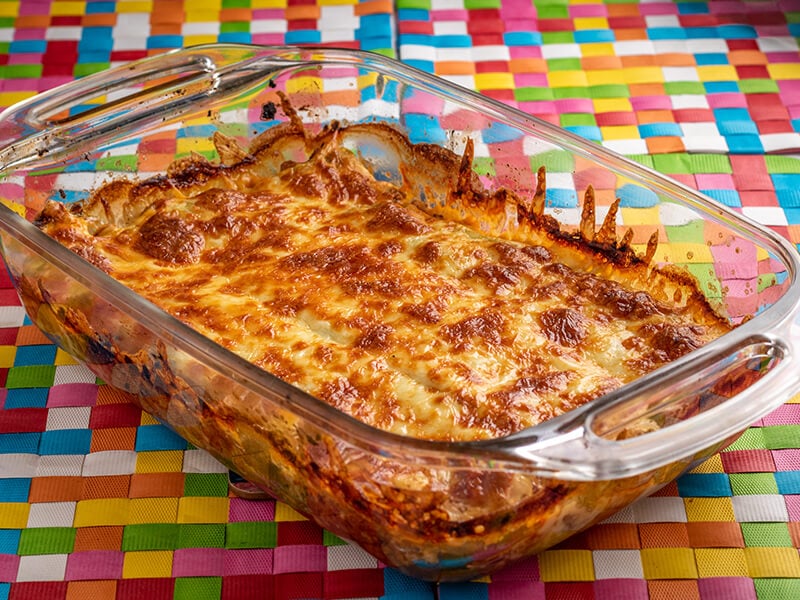 What You Need:
Disposable pan (glass/ceramic dish)
Your prepared lasagna (uncooked)
Plastic wrap
Aluminum foil
Storage bag/Ziplock bags
Sticky tag/label
You should ensure that you have chosen the correct type of pan/dish compatible with extreme heat in the freezer.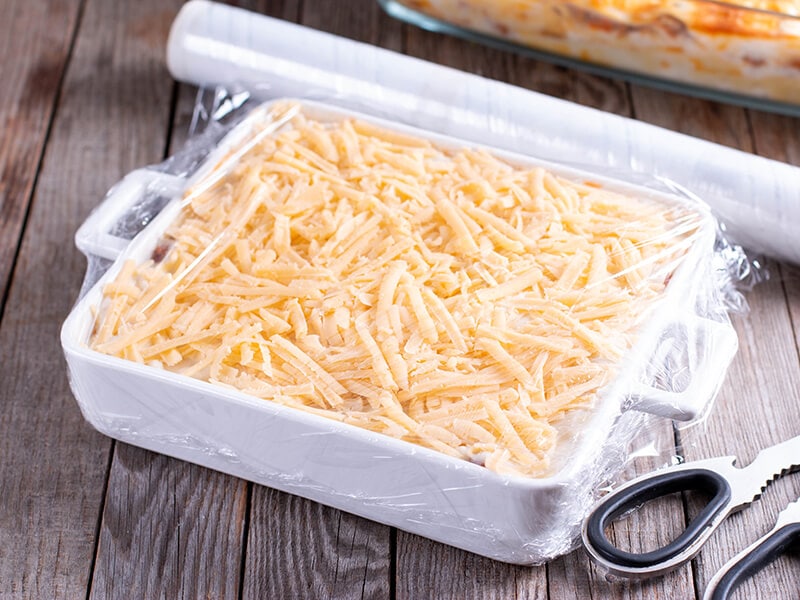 How To Do:
Here are the steps you should follow.
Step 1: Wait until all the components are cooled entirely.
When layering the lasagna into the ceramic bowl, several components might be hot (sauces). You should wait until those are colder to prevent adversely affecting the other things inside the freezer or ruining your fridge.
Step 2: Seal/ Wrap the lasagna pan with plastic wrap and one more layer of foil.
This step helps your dish avoid direct contact with the cold inside the freezer, which can cause severe freezer burn or form water crystals. One first covering with plastic wrap and another additional layer with foil is essential to block/seal your dish completely.
Step 3: Put the wrapped pan/dish of lasagna into a storage or Ziplock bag.
Another protection layer will never be redundant.
Step 4: Put on the sticky tag/label and write the date and name you start to store your dish.
It will help you to trạck the expiration date later, reducing the chance of wasting your food or eating rotten lasagna.
Step 5: Toss your sealed lasagna pan into the freezer.
Set the temperature inside it at 0 degrees F, so your food is frozen correctly.
Additional tips: The temperature fluctuation can crack your ceramic dish; therefore, I suggest putting the dish (at room temperature) into the cool compartment until its temperature has gone down less than 40 degrees F.
After that, toss the dish into your freezer.
The A to Z instruction on how to freeze your pre-make lasagna in the freezer. Watch this video:
Freezing Leftovers Lasagna In A Snap
How to deal with the leftovers? It is actually simple as well. Use the things I have suggested you prepare previously: a disposable/glass pan, plastic wrap, and aluminum foil with some labels are enough.
How To Do:
There is a way you should work on.
Step 1: Take the leftovers out of the aluminum tray (if it is in it), and put the food into a disposable pan you have.
Step 2: Make sure your lasagna has cooled down (to room temperature will be the best) before doing the preparation before tossing it into the freezer.
Step 3: Wrap the food with plastic wrap (that is compatible with the freezer) tightly first and continue to wrap the pan with aluminum foil. They will be a helpful protection layer.
Step 4: Stick on a label and also write the day you make it.
Notes:

Don't leave your lasagna as-is in the aluminum tray! Under extreme temperature inside the freezer, your delicacy will end up tasting like metal afterward.
Divide your treat into an individual/couple portion. It will help you to take the right amount that you can consume, decrease the cooking time and also prevent wasting your food.
Then, How To Make Frozen Lasagna Hot And Ready To Serve?
First, if you only want to heat your leftover frozen lasagna, there are two main ways to do that: in the oven or the microwave.
Both ways are quick, but one of them is a little faster. It will take you only around 90 seconds to reheat your lasagna in the microwave, while it might need about 5 minutes for your oven to make your food sizzling again.
Although reheated lasagna is undoubtedly still delicious, I think they would taste far much better if you remember to prepare some desserts to eat after lasagna. It's preferable that you opt for something light to contrast lasagna's rich flavors.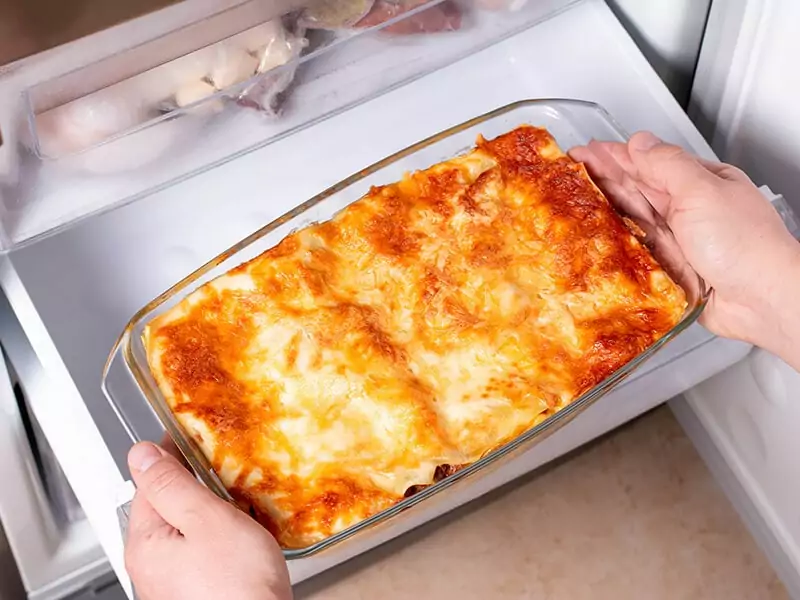 The steps and methods to process your frozen lasagna take almost no time.
The fastest way I suggest to you here is to thaw your delicacy properly, peel off the pan wrappings, seal it again with a new foil and bake under 165 degrees F (in the middle spot of the oven) for around 1 hour or a bit more.
Note: Remember to preheat the oven before you try to bake/reheat your lasagna to make sure your dish is cooked thoroughly.
Everything you might want to know about baking your frozen lasagna in an oven! Watch this video:
Signs That Your Lasagna Goes Bad
Even when you follow all the rules of storing, your delicacy can still go wrong. Therefore, noticing these signs to early detect lasagna spoilage can help you prevent consuming bad food.
Smell: If you smell something weird, funky, and sour (from tomato sauce/cheese), maybe it's time to toss your food away.
Look/Texture of the noodles: The noodles look drier than before (with the uncooked). With the cooked one, it will have a gooey and mushy texture.
Color: Discoloration happens, and the dark (or whitish) spots on your lasagna surface start to appear on the dish's surface.
Mold: This sign is quite significant since the mold looks distinctive. Once mold has appeared, there is no way else to save your dish but discard it.
FAQs
This topic about shelf life is exceptionally prevalent since it is a favorite dish around the world. Because of that, there are a lot of frequently asked questions around it. If you still have some questions in mind, read this section and find your wanted answers below.
Hope You Can Free To Enjoy Your Lasagna Now!
With all the information I have provided to you above, I hope that you now know if your delicacy is still edible or not. You can also refer to the different shelf life of lasagna in other storing utensils and choose the desired method to preserve it.
I would be very grateful if you find this article helpful and share it with your friends and family. If you have any other questions that I might have missed, leave a comment below so that I can answer you later. Your contribution will become a great motivation for me!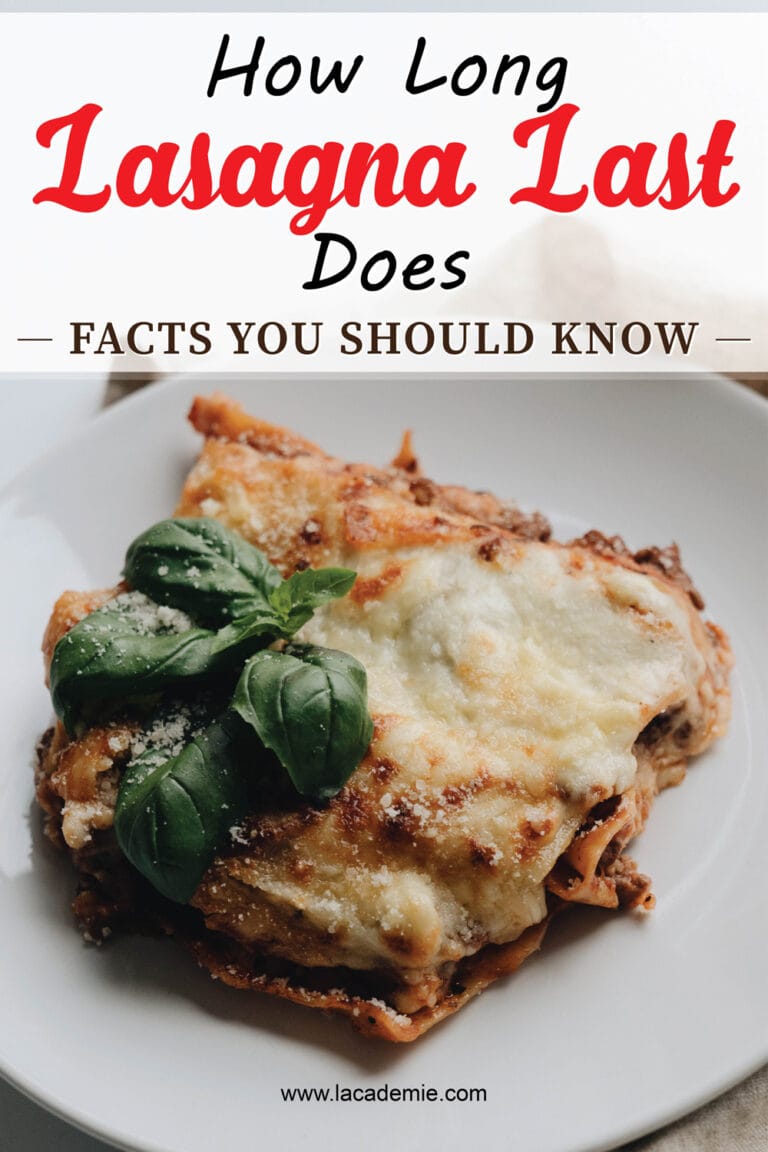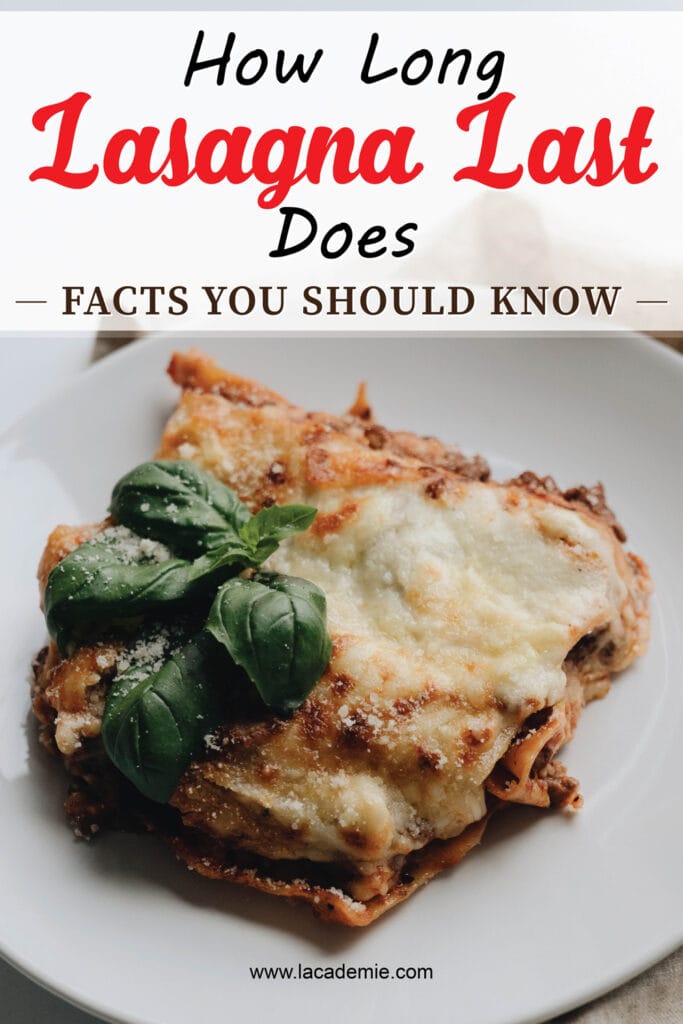 References
En.wikipedia.org. 2021. Lasagne – Wikipedia.
Ask.usda.gov. 2021. AskUSDA.
UNL Food. 2021. Is It Safe to Refreeze Raw Meat and Poultry that Has Thawed?.
Eat This Not That. 2021. Side Effects of Eating Expired Foods — Eat This Not That.