How to layer lasagna properly so that it won't fall apart is genuinely an art. The truth is it might be quite challenging to find appropriate instruction online, but don't worry because you have reached the right article, and I will show you everything you might need here.
From the type of container to use and distinguished ways to layer lasagna that call for the different sauces, I will cover all of that in this humble article.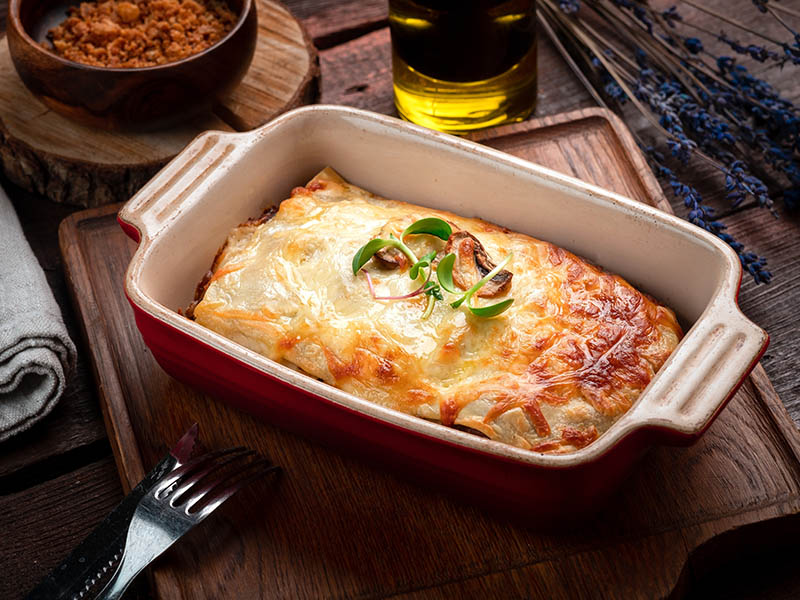 What Are The Basic Components For A Standard Lasagna?
Lasagne is an Italian term to describe one of their oldest types of pasta, which is now also a name of a dish using those flat noodles as the main ingredients.(1)
Before learning how to gather a lasagna tray, let's start listing all the ingredients you might need for that food first! Basically, this delicacy will call for these components:
Lasagne: They are the flat noodles that I have mentioned. Sometimes, they will change this part with thinly sliced zucchini or eggplant.
Ragu: This is a typical Italian meat-based sauce paired with various pasta/lasagnas.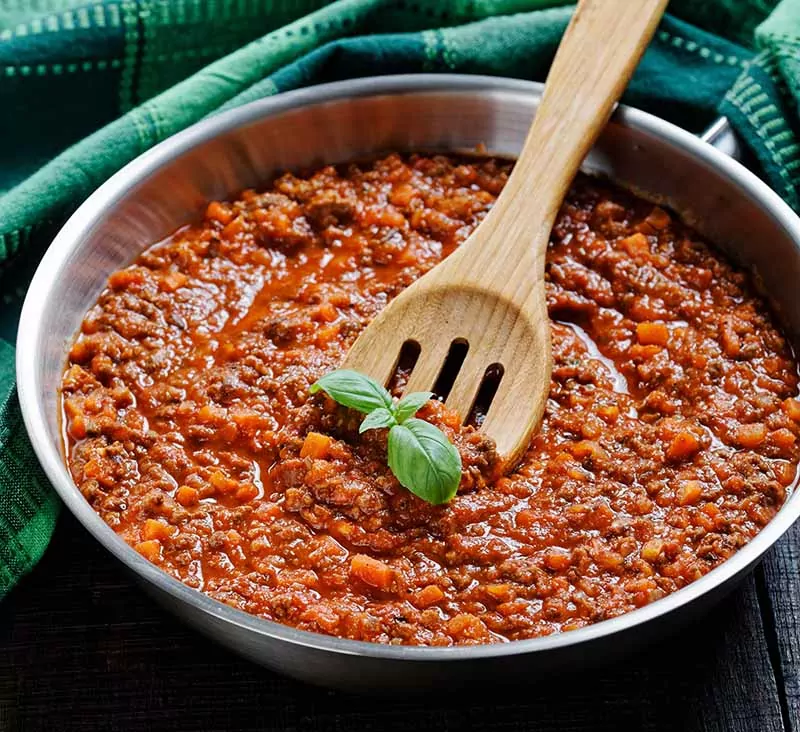 Bechamel sauce: Generally includes white roux and milk. The sauce usually has a white shade, a rich and creamy taste, and typically goes in the cheese or white pasta/lasagnas.
Cheeses: Choosing the best cheese to match with lasagna might require a bit of skill. But don't worry, in the below sections, I'll give you some excellent suggestions depending on your lasagnas.
Proteins: You can add various kinds of meat to a lasagna tray, from chicken beef to seafood. You can opt for them based on your preference or as the recipe you chose calls for it.
Vegetables: This part might be an optional part of a meaty lasagna or a vital part of a veggie one. Yet, you should add some veggies into your special casseroles as the refreshing taste from these ingredients will be phenomenal.
How Many Layers Would Be Good For A Lasagna Batch?
If you have a question about how many layers a lasagna should have, my answer is at least 3 to 4 layers.
The first layer will usually be the sauce, the next one is the lasagna noodles, and then you can come back to the sauce again. But it will be so thin and make the food look sloppy.
Furthermore, you should also notice the lasagna layers' limitations. The recommended maximum layers for a perfect lasagna batch shouldn't be more than 6. Over 6 layers will make your food harder to be cooked through.
To prevent all the risks mentioned, let's see my instructions below.
Let's Learn How To Make Your Lasagna
Making a lasagna requires a lot of steps (making sauces, sauteéd meats, or boiling the noodles), so it might be quite hard on the first try. My detailed guide will help you out!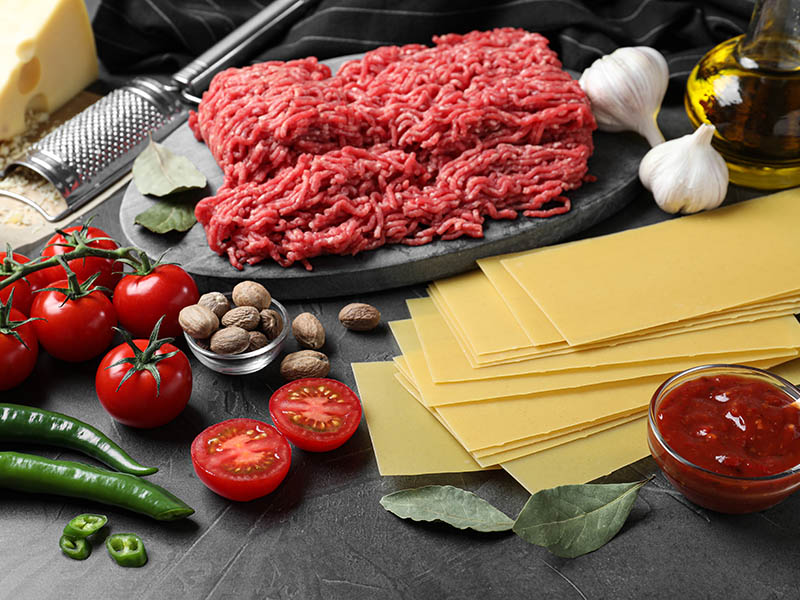 What To Prepare:
Before coming to the steps-to-do section, you should prepare all the ingredients you need for a standard meat and tomato sauce lasagna. This classic recipe will usually call for:
For The Noodles
350 grams of dried lasagne sheets (these flat noodles from Barilla Pasta are pretty famous and also easy to prepare, opt for them if you don't know what to use yet).
Alternative: Fresh flat noodles can also be utilized.
For Homemade Meat Sauce
For Homemade Bechamel Sauce
40 grams of butter
40 grams of flour
500ml of fresh milk
50 grams of onion
20 grams of parmesan
1 clove
1 bay leaves
Nutmeg powder
3 grams of salt
Those are everything you might need for the most straightforward recipe; here are what you should do to match them together.
How To Do
After preparing all the ingredients you need on the table, it is time to get to work!
Make The Meat Sauce
Although there are various kinds of sauce to go in your lasagna, meat sauce is the basic, and here is how to make it!
Step 1: Processing Carrots, Onions, And Minced Meat
Heat the oil in a pan and pour all the carrots and onions into the pan first, then add the bacon and stir-fry all of them together.
After 3 minutes, continue to add ground pork and ground beef to the pan and keep stirring.
Notes:
The beef part should be added after the veggies or the nearly final steps.
Don't try to toss all the ingredients into the pan at once as it will make the food difficult to stir, and the meat will not be cooked thoroughly.
Step 2: Put The Tomato Into The Pan
Wait until the meat is cooked evenly (so as the carrots and onions).
Add the diced tomatoes and stir them in the pan until the sauce thickens.
Put in some condiments and oregano, gently stir, then turn off the heat.
If the sauce takes time to thicken, you can consider using tomato paste to reduce the cooking time.
If the sauce is relatively thick, you can add some water (but not too much that it can become watery later).
Sneak peek: A recommendation to create great meat sauce/ bolognese sauce for you!
Bechamel Sauce Guidance
Turn to the part of preparing some Bechamel sauce now! You might need to follow these steps.
Step 1: Melt Butter And Prepare Roux
Put on the stove a pan and then put about 40 grams of butter in and melt the butter.
Add 40 grams of flour and stir well until the mixture turns light yellow.
Step 2: Use Fresh Milk With Spices
Add 500ml of fresh milk, 50 grams of onion, 1 clove bud, 1 bay leaf, 1 little nutmeg powder to the pan and stir well.
Continue cooking until the mixture boils; then add 3 grams of salt and 20 grams of parmesan.
Turn off the heat and let it cool a bit before moving on to the next step.
This is a quick trick to make a perfect batch of bechamel sauce.
Make The Noodles Sheets
Flat noodles are considered the soul of your lasagna tray, so you should be more careful with this part.
Step 1: Prepare The Boiling Water
Choose a large pot, pour an amount of water that takes about ⅔ of the pot or ensure that the water covers all the noodles.
Add a little salt into the pot when the water is boiled.
Step 2: Boil Your Noodles In Boiling Water
Put the noodle sheets into the pot. Leave the sheets to cook following the recommended time on the box (usually about 10-12 minutes).
Do a gentle stirring every 1-2 minutes.
Step 3: Strain The Noodles Out And Let It Cool
After boiling time, check the noodle sheets if they are supple and soft or not. Strain out the water and wait for the noodles to cool.
Ensure the noodle sheets don't tear or break. Damaged noodle sheets will affect the lasagna's quality.
Don't let your noodle soak in hot water for too long. The heat will make it overcooked and become mushy.
Always carefully check the information on the noodle box. The "Oven ready" tag means that lasagna sheets don't need to be cooked before baking.
How To Layer Your Meat Lasagna With Bechamel Sauce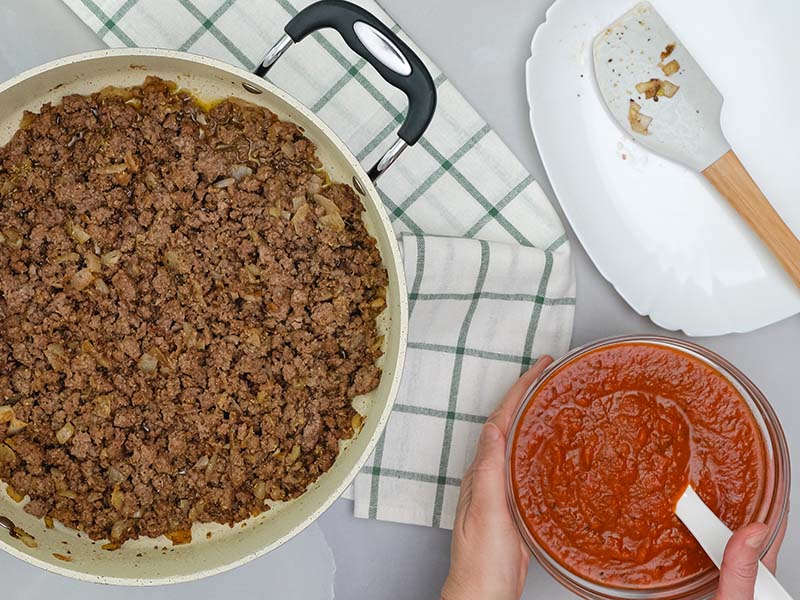 It is time to know how to layer lasagna detailedly. You won't want to miss any from this category, so check it out carefully.
Notes
Mix the cooked meat part with the tomato sauce before the next steps.
The lasagna sheets should be cooked to al-dente.
It would be better to use a spatula rather than utilize a ladle only.
How To Do
Let's follow these steps, and your lasagna gathering work will be done in a snap!
Step 1: Put On Meat Sauce Filling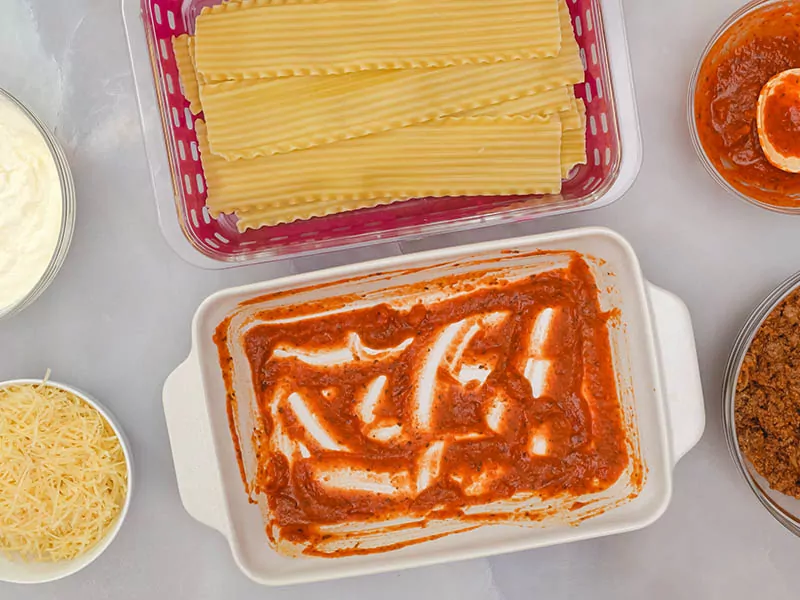 Spread a moderate amount of meat sauce evenly on the bottom of the tray. Make sure it's a thin layer and not too lumpy (or watery).
The spatula will assist in spreading the sauce thoroughly on the flat surface.
Step 2: Place Some Flat Noodles / Lasagna Sheets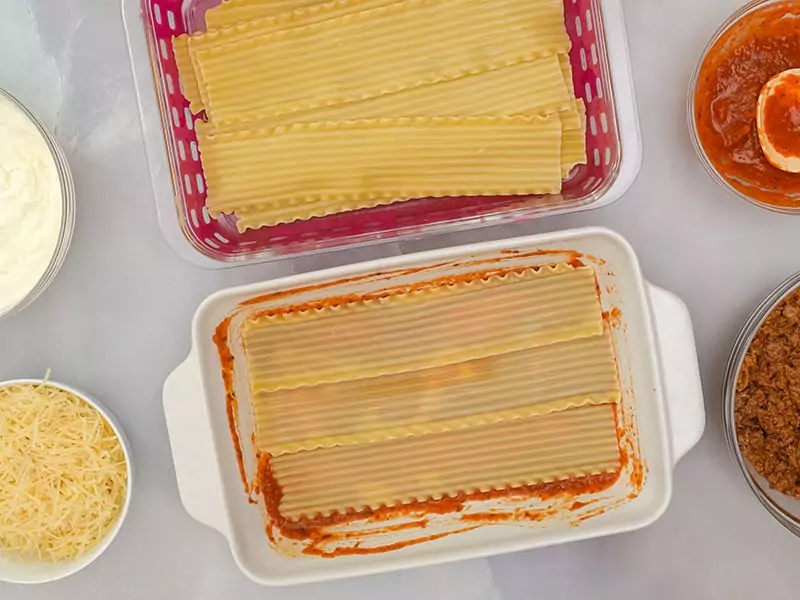 Measure your tray and use the appropriate amount of lasagna sheets to put directly on the meat sauce. Make sure to cover all the bottom of the tray.
Remember, don't overlap them too much (just a little will be fine).
Step 3: Repeat The Two Previous Steps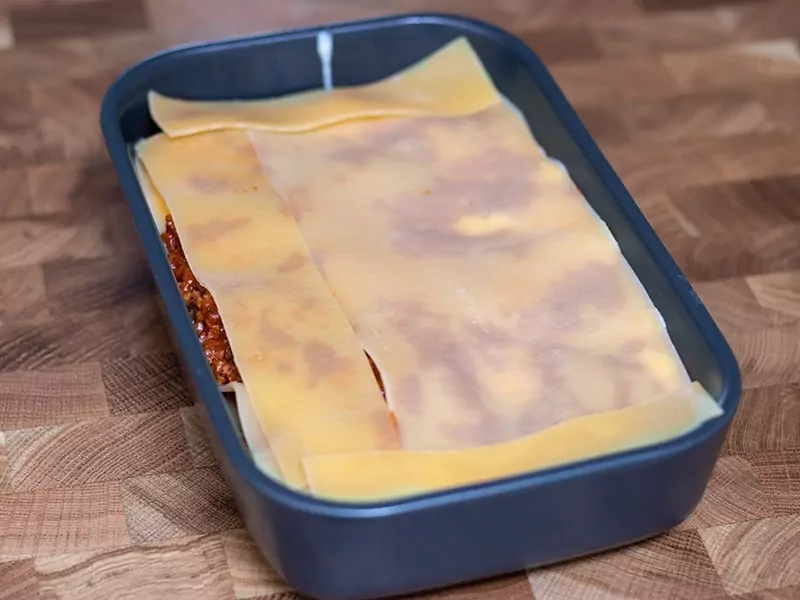 Keep putting a layer of meat sauce and noodles into the tray until using up all the materials.
The last/top layer should be the meat sauce, not the lasagna sheets.
Step 4: Put On Bechamel/White Sauce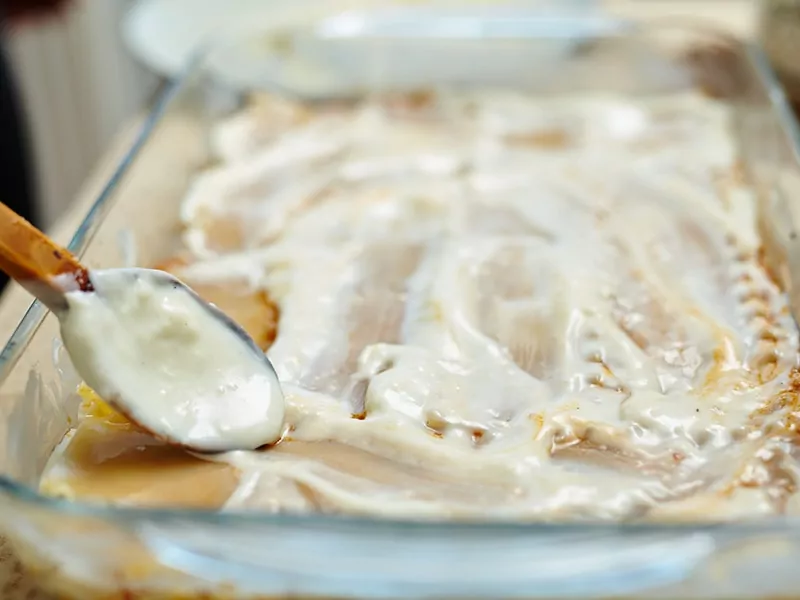 Use the ladle and spatula to spread all the bechamel sauce on the top layer (directly onto the meat sauce).
Step 5: (Optional) Put On Some Sprinkled Parmesan Onto The Top Layer
After layering the last layer of white sauce, you can put additional parmesan cheese on it to create a more attractive golden brown top for your lasagna batch.
Look at this guide as the illustration for the steps above now!
Some Tips You Should Know Now
Besides the above steps, you should also refer to these tips to ensure you can successfully compose your lasagna the first time.
It will be a bit different between gathering lasagna from cooked and uncooked sheets. Therefore, if you want to use cooked noodles, you should refer to these tips.
Al-dente (half-cooked) will be the best. Remember not to make your lasagna sheets mushy.
Always let the noodle sheets cool down for a few minutes after boiling, but not for too long. If not, the sheets will stick together.
Don't overlap your half-cooked noodles before composing. The starch will make them stick together.
Measure and cut the noodles to fit the size of the baking pan/tray before composing and baking.
Moving back to using no-boiled noodle sheets tips, here are something you should notice.
Measure, break, cut the sheets to fit the size of the baking pan/tray.
Apply thicker layers of meat sauce or some water (in the last step) so that the excess water will help to cook the lasagna sheets.
Don't add in water if you premake lasagna for freezing. It is because the water will destroy the layer/structure and quality of your food in the freezer.
Useful Guidance To Bake Your Lasagna
After all the preparation and gathering steps, now is the time for baking!
Step 1: Preheat Your Oven To 200 Degrees C
Turn on your oven and preheat it until it reaches 200 degrees C.
Step 2: Wrap Your Baking Tray With Aluminum Foil
Cover the baking tray tightly with a layer of aluminum foil.
Place the lasagna tray in the oven at 200 degrees Celcius for 30 minutes.
Then remove the aluminum foil and bake for another 5-10 minutes until the cheese topping is slightly golden brown.
The No-Fuss Way To Create A Cheesier Lasagna
If you love cheesy lasagna but don't know the proper steps to layer cheese on your treat, this section is the one for you.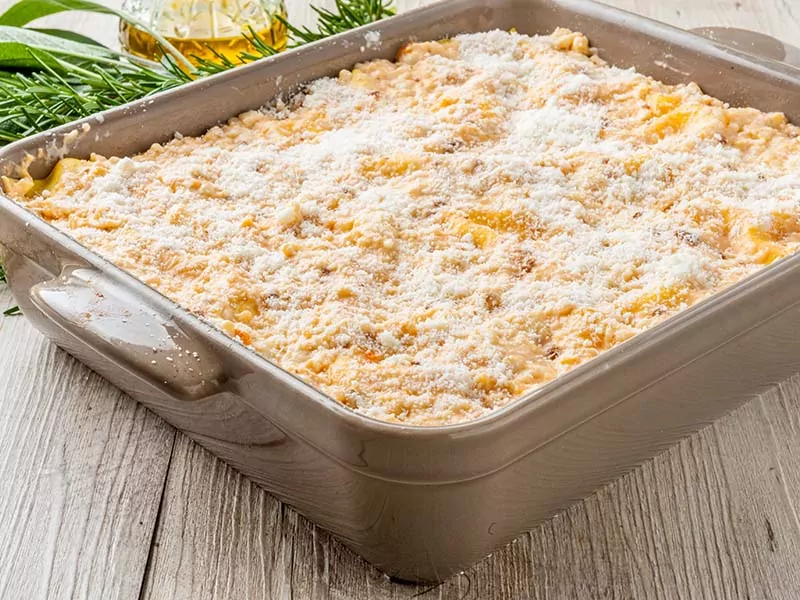 What To Prepare
There are a lot of cheeses that can go into your lasagna, yet, for the general instruction, let's start with the most basic combination of ricotta and mozzarella. Then, you need:
Make sure to take out all the excess liquid from your ricotta before using it. Wet cheese can lead to soupy lasagna.
Before composing your lasagna, always season ricotta cheese with anything you want (herbs/spices).
How To Do
Here are the steps you should follow to layer the cheeses onto your lasagna batch.
Step 1: Layer Ricotta Cheese On The Noodle Sheets
After all the steps of putting meat and noodles for the first 2 layers (mentioned previously), put on the first cheese layer with ricotta onto the noodles sheets.
Also, use the spatula to spread the cheese evenly.
Step 2: Sprinkle Mozzarella Cheese Onto The Batch
Sparingly sprinkle shredded mozzarella to cover the surface of the previous ricotta layer.
Leave some spare mozzarella for later use.
Step 3: Repeat All The Steps Following Lasagna Gathering Instruction Previously
After the mozzarella layer, come back to the step of putting meat sauce and lasagna sheets.
Continue to layer cheeses on the noodle sheets until no more ingredients are left.
Note: The spare mozzarella can become a topping above bechamel sauce.
The best instruction to create a ricotta and mozzarella cheese lasagna.
Step 4: Bake The Lasagna As Instructed Above
Some Additional Baking Tips You Should Notice
To be short, after all the instructions above, there are some general tips you can note down to make a successful batch of lasagna.
Tip 1: Always Season Your Ricotta Mixture
Although ricotta is full of richness and creaminess, it might be too bland and greasy if used alone. Therefore, you should mix the cheese with several herbs and condiments (salt, pepper, freshly chopped oregano, and parsley) for more flavors.
Tip 2: Start With A Small Number Of Layers
If it is your first time making lasagna, you should start with a few layers. When a batch of lasagna reaches the number of 12 layers, it will be harder for you to control the quality of your own dish.
Tip 3: Never Forget To Preheat Your Oven
Even if you are trying to reheat the premade lasagna, you should preheat the oven properly. It will help the temperature inside the oven distribute nicely, which allows your food to be cooked/reheated thoroughly after that.
Tip 4: Use Aluminum Foil, If Needed
The aluminum foil will help protect the top layer of your lasagna so that it won't be burnt. The foil will also help capture the moisture/heat inside the lasagna tray and make the food cook faster.
Only take the foil out in the last few minutes so that your lasagna can have a beautiful dark amber cheese layer on top.
Tip 5: Utilize The Broiler
If your lasagna isn't covered with a layer of amber color after cooking, turn on the broiler and put your whole tray into the oven for a few more minutes.
Tip 6: Don't Leave Your Lasagna Alone In The Oven For Too Long
Lasagna needs your attention, so don't leave it alone in the oven without your observation for a long time.
When you put in the effort to recheck or watch it, you can quickly see the problems and fix them from the start. Doing so will help to reduce the chance of having a failed batch.
A Brief Way To Store Your Premade Lasagna
It will totally be fine if you want to follow my instruction above to create your premade lasagna at home, but you need to know the right way to keep it inside your freezer. Here are my tips for you about that:
Tip 1: Cooked Lasagna Need To Be Cooled Down Before Freezing.
Hot lasagna can ruin your freezer, and the steam from hot food can also harm your treat.
Tip 2: Don't Skip The Wrapping Steps.
Always wrap your lasagna batch with at least two layers, the first layer should be the plastic wrap and the second one is aluminum foil.
Tip 3: Uncooked Lasagna Should Be Layeredbuilt Completely Before Freezing.
You don't want to defrost each component after taking them out of the freezer then build them again. It might take a lot of time, therefore, pre-built your comfort food ahead of time is the best option.
In the ideal condition, your uncooked or cooked lasagna can last in the freezer for up to 3 months. You just need to defrost by putting it into the cool compartment for several hours or overnight and bake/microwave it later.
Several Side Dishes To Match With You Favorable Lasagna
Lasagna is hearty, but it will be even better if something supports it on the side. My suggestions for the most beloved lasagna side dishes right here will be great.
It will never go wrong when matching a refreshing salad with a hearty baking treat. This feta salad can be the best option for a lasagna matching dish for you since it is relatively versatile, light, and quick to prepare.
The combination of mild sourness from tomato, freshness from leafy greens, and creaminess from feta will never let you down.
The best tomato feta salad instruction you might ask for is right here.
Roasted vegetables can also be a great choice besides the fresh salad. You will have various options for what kinds of vegetables you want to pair together, and they will still taste amazing.
Root veggies or Brussel sprouts will be the most promising nominee for this treat. Just give them a go and see how they work.
How about some chicken wings? Believe me, they will be reasonable and won't disappoint you with their mouth-watering flavor. Since they are chicken wings, you can apply various sauce recipes or processing methods, and your food will still taste heavenly.
So, don't hesitate to try it.
Here is an easy way to make a baked chicken wings portion on the first try for you!
FAQs
In case you have a few more questions about this topic, my answers to these frequently asked questions below might help you out!
Nutrition Facts
8 servings per container
---
Amount Per ServingCalories696
% Daily Value *
Total Fat 43.8g

67

%
Cholesterol 71mg

24

%
Sodium 647mg

27

%
Potassium 569mg

17

%
Total Carbohydrate 39.5g

13

%

Dietary Fiber 12.4g

48

%
Sugars 8.1g

Protein 44g

88

%
---
Calcium

256

%
Iron

6

%
Vitamin D

3

%
* The % Daily Value tells you how much a nutrient in a serving of food contributes to a daily diet. 2,000 calories a day is used for general nutrition advice.
Are You Ready For Your First Ever Lasagna Batch?
By now, you probably know almost everything about layering an appropriate lasagna, so don't wait anymore and get started right away! Creating a delicious dish with your own hands will always bring a more satisfying feeling.
If you have any difficulties in the process or still have any questions, please leave me a question in the comment section. I am here to answer your questions.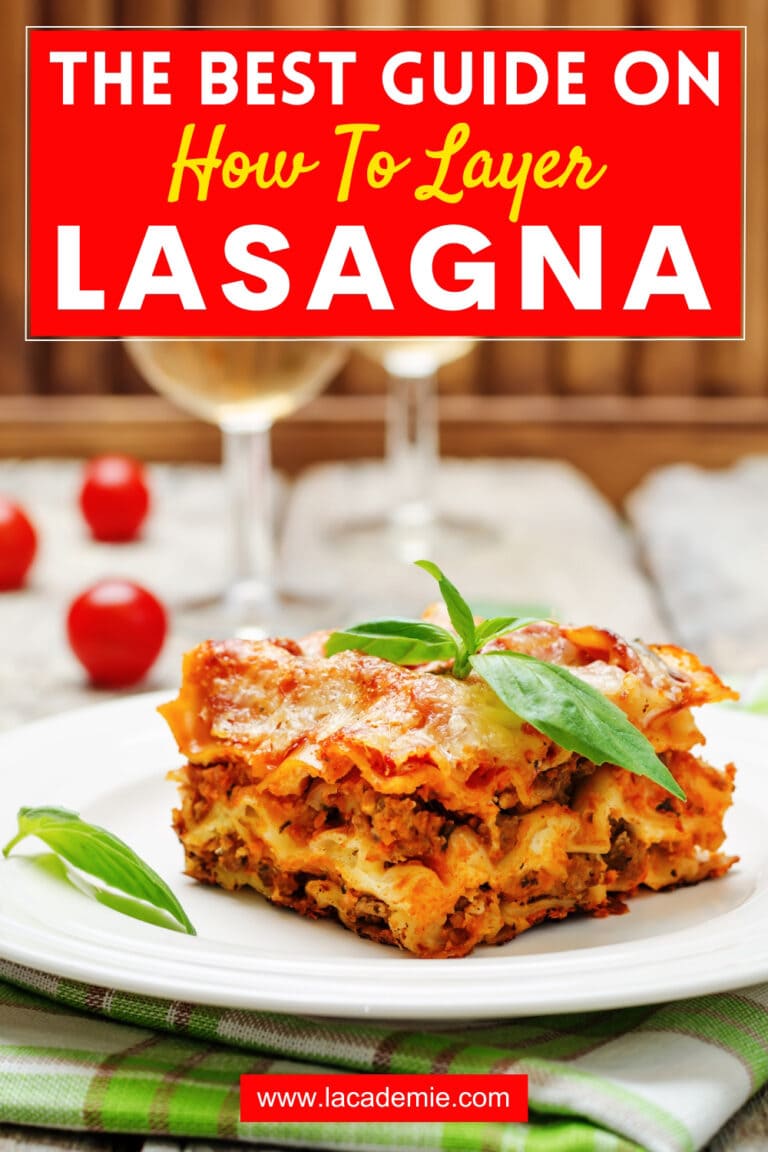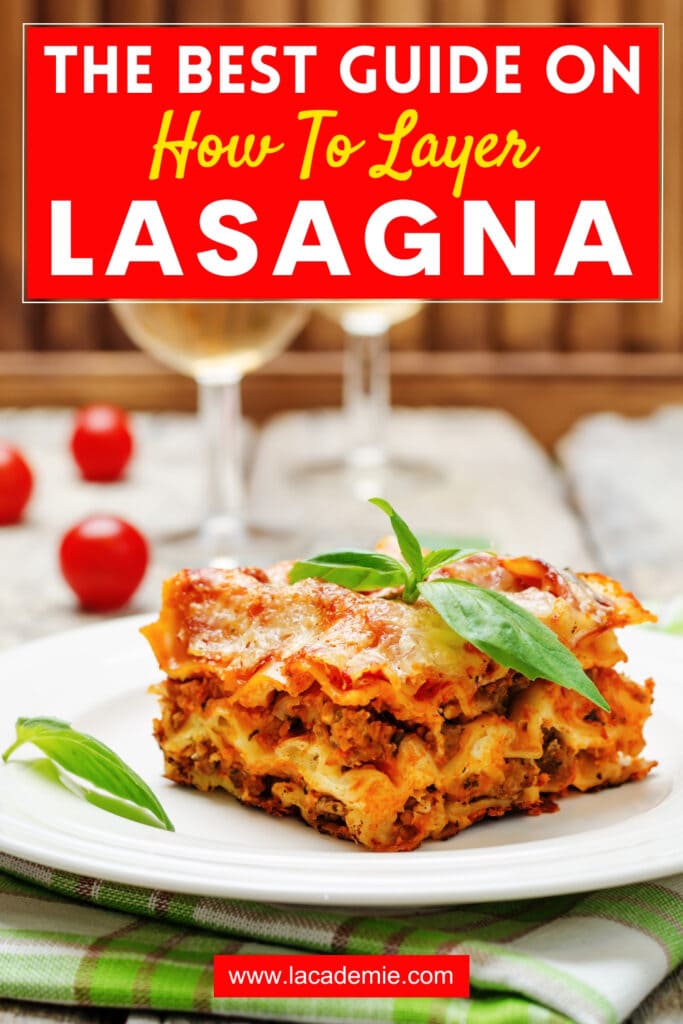 References
En.wikipedia.org. 2022. Lasagne – Wikipedia.