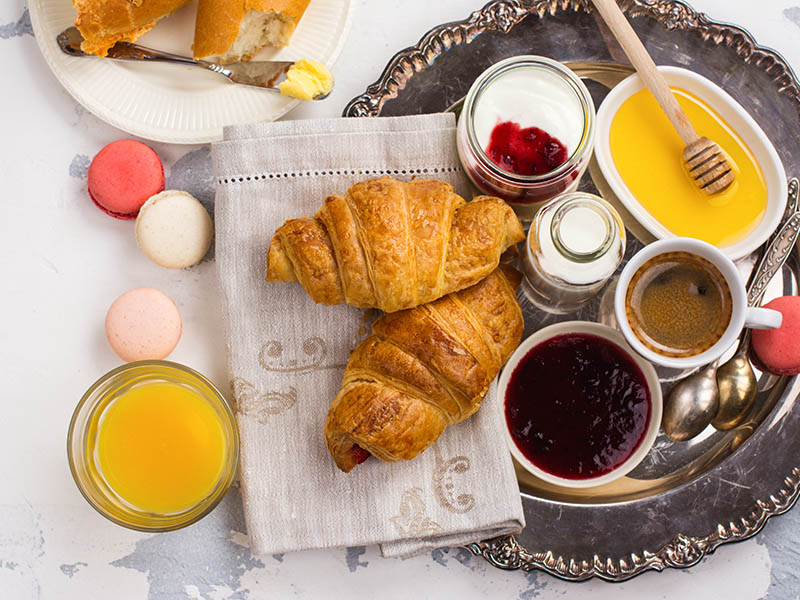 French breakfast recipes cover a wide variety of sweet and savory dishes. These exquisite dishes not only inspire your morning but are also a delight to prepare. Even the most inexperienced culinary trainee will succeed.
When people think of French breakfast, they often envision beautiful, refined, and even pricey meals. However, a genuine French breakfast is light, sweet, and straightforward. You can wake up like a Parisian without leaving the comfort of your own home!
From Café Au Lait to Croissants and other satisfying foods, these recipes are the epitome of simple and delectable French morning sumptuous treats. You don't have to be a four-star chef to prepare these meals.
Whether hosting a Sunday morning with guests or searching for an elegant meal for two, you will always find French breakfast recipes that are sure to please!
With so many selections, you will feel like you are opening your own French breakfast cafe where your children may enjoy anything they want!
Therefore, if you like what I say, sit back and learn the following fantastic French breakfast dishes. After reading, consider adding one of them to your daily routine right away!
Uncover Amazing French Breakfast Ideas To Spice Up Your Morning Routine
With French cuisine, there are endless food options to kick-start your day. From delectable pastries to decadent drinks, you can even plan your morning meal for up to a month. Let me uncover some amazing French breakfast ideas right here!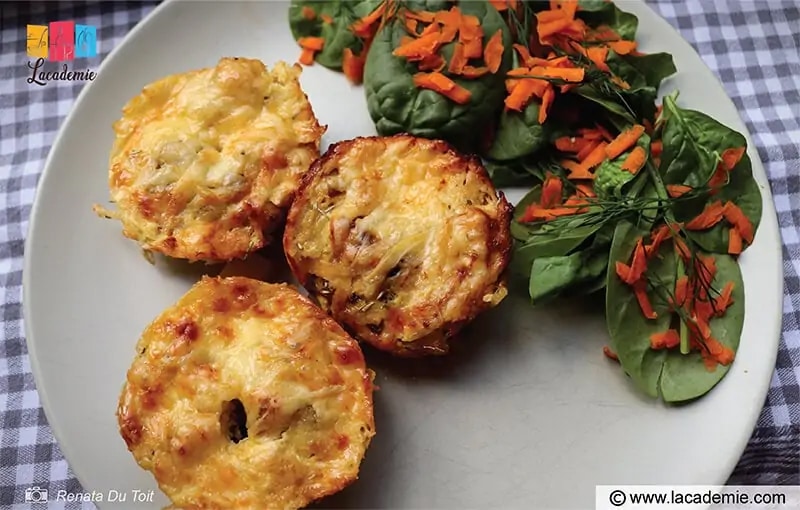 Some may think it's strange, but quiche is actually a great choice for breakfast, especially this recipe. It'll provide you with all the necessary energy to work until lunch.
And although the ingredients are quite simple, when combined, they're tastier than you thought. For the potatoes, I suggest the waxy variety as it doesn't have much moisture. Thus, your potatoes will keep their shape after baking.
Cheese lovers will love this quiche since it has two kinds. The first is Grana Padano for a creamy texture and savory flavor. Meanwhile, cheddar will provide a crunchy crust above after baking.
TOTAL TIME: 45 minutes (Preparation completes in: 20 minutes + Cooking finishes in: 25 minutes)
Croque Madame is a classic French breakfast prepared with country-style bread and traditional ingredients like cheese, ham, fried egg, and Bechamel – a famous French sauce. It is brimming with delectable tastes sandwiched between toasted bread, making it irresistible!
This hearty dish is your ideal partner if you need a substantial breakfast! This recipe elevates the ordinary ham-and-cheese sandwich with two generous layers of creamy Bechamel sauce, broiled until golden, then topped with a nicely fried egg.
The egg is sunny-side up, meaning that the yolk will flow out when you slice this yummy French sandwich. Since the egg resembles a woman's hat, its addition gives rise to the term "Madame" (which means woman) in the dish's name.
Like a standard grilled ham-and-cheese sandwich, the cheese you choose will dictate Croque Madame's character. To achieve that gooey, crispy perfection, it is better to go with a cheese that melts easily. Gruyère is an excellent choice in this case.
While you can enjoy Croque Madame at any time of day, this meal is perfect for breakfast and brunch. Serve this crunchy, buttery, and cheesy dish directly from the pan over a simple salad and a glass or two of nice Rosé. You won't regret it!
Croque Madame is the most amazing ham-and-cheese sandwich in the pork-eating world.
TOTAL TIME: 30 minutes (Preparation completes in: 15 minutes + Cooking finishes in: 15 minutes)
Let's meet Croque Monsieur, the cousin of Croque Madame in my list of French breakfast recipes. If the latter features a fried egg on top, the former is precisely like a ham-and-cheese toastie in the British language.
The recipe features white sandwich breads with tiny slices of ham, shredded Gruyère cheese, and a drizzle of creamy Bechamel sauce.
It originated in French cafés more than a century ago and rapidly became a bistro classic thanks to its ease in preparing and eating with your hands.
Some well-known legends say that the creation of Croque Monsieur is due to French employees' mistake when placing their sandwiches too close to a radiator, making the cheese melted and the bread toasted.
Croque Monsieur translates as "Crunch Mister", referring to the last minutes of preparation. After taking the oven-baked sandwich and sprinkling it with cheese, crisp it up under a broiler to provide the crunchiest sandwich experience you have ever had!
Since this sandwich is intended for quick consumption, serve it on its own. Croque Monsieur is the sort of meal that needs simply a fork, a knife, and a napkin or serviette.
However, you can certainly enjoy the dish with a green salad and a tiny cup of French Onion Soup!
TOTAL TIME: 35 minutes (Preparation completes in: 15 minutes + Cooking finishes in: 20 minutes)
If you are a fan of chocolate, you can relate to my hobby of always looking out for ways to include this luscious ingredient in my day. Pain Au Chocolat is the ideal way to achieve my target, especially in starting out my day!
Pain Au Chocolat, a flaky, soft pastry with a silky chocolate core, is indeed the most adored of all French morning treats! Like other brilliant French desserts, you must sample this pastry at least once to feel its decadent taste melting on your tongue.
Enjoying chocolate goodies like these Chocolate Croissants in the morning is a typical French habit – perhaps to provide time for walking off calories later in the day. They are effortless to create, despite their sophisticated appearance. You can even include your children in the making process.
Feel free to create these delectable morning goodies at any time of the day since your family will not be pleased with just one. The warm and buttery taste, plus the chocolate melting, will make you shut your eyes and sigh as it melts in your mouth.
TOTAL TIME: 5 minutes (Preparation completes in: 5 minutes)
Fancy something savory but lack time? Spend 5 minutes to prepare this easy French morning delight: Radishes On Buttered And Salted Toast. All you need is a nice French bread type, butter, and radishes that have been sliced and salted.
While this dish's appearance may not be excellent and memorable, its flavor is the actual limelight of the recipe. Radishes are not only the ideal zesty accompaniment to the sumptuous butter and salt toast, but they also provide vibrant color to the breakfast.
If you need a convincing argument to book a flight to France, trying out this meal will help you land the final decision! You will fall in love with both the breakfast and the French radishes because of their stunning pink exteriors and airy cores!
TOTAL TIME: 15 minutes (Preparation completes in: 5 minutes + Cooking finishes in: 10 minutes)
Everyone is certain to have a flavor of French toast that they like. From maple syrup and powdered sugar to blueberries and whipped cream, French toast is incredibly adaptable with an infinite number of topping combinations.
This iconic French toast has found its way onto menus worldwide with good cause. It is flavorful, filling, and will never leave you hungry! It is also a time-efficient breakfast meal that won't break your bank. What a brilliant choice, right?
You can produce a batch of French toast right at home simply by dipping bread in butter, eggs, and milk, then heating it on a griddle. After that, pick your favorite spread and topping to place on top of the toast. Literally, you cannot go wrong with this recipe!
Interestingly, stale bread is preferred for making this French classic. The dish's name means "wasted bread" in French, implying the usage of stale bread. The earliest recipe of Pain Perdu was discovered in an ancient English cookbook from about 1430.
Besides, you can utilize other bread types, such as Texas toast, Challah bread, or whole wheat bread. Although the heated debate on the best bread type for French toast will continue, always remember to pick the one best suited to your flavor!
TOTAL TIME: 23 minutes (Preparation completes in: 15 minutes + Cooking finishes in: 8 minutes)
Upgrade your classic French toast with this delectable roll-up version! One roll-up will never be enough, and your whole family will be unable to put this finger food down!
This luscious French breakfast roll-up is stuffed with typical French toast, apples, and cinnamon sugar. You can use any delicious French fruit in the center of your roll-ups, allowing you to switch things up without having to create something entirely new.
The making process is almost the same as that of French toast. The only additional task is to cut the pastry into strips and fold them up.
These roll-ups are finest when paired with sweet dipping sauces such as chocolate, strawberry jam, or wrapped around sausage for a savory delight. No matter how you enjoy them, I promise that there will be no leftovers!
TOTAL TIME: 23 minutes (Preparation completes in: 5 minutes + Cooking finishes in: 18 minutes)
Oeufs means "eggs" in French, while Brouillés translates as "scrambled". Together, you have a delicious French breakfast named scrambled eggs. The dish is no longer an on-the-go meal but has become an exquisitely prepared breakfast to wow your family.
Besides the main ingredient of eggs, you will use butter and cream to enable flavors of other components to come through. The final texture should be far smoother and creamier than the ordinary scrambled eggs.
Accompany your egg plate with tender Baguette slices and aromatic chives to round off this substantial morning treat! Feel free to add as many vegetables as desired to make the breakfast a bit healthier.
TOTAL TIME: 30 minutes (Preparation completes in: 10 minutes + Cooking finishes in: 20 minutes)
If you hate the idea of settling for a gas station doughnut, this French food idea is exactly what you need. After one mouthful of these French Cruller Donuts, you will be shocked at what you have been missing your entire life!
These delicacies feature deep-fried Choux dough glazed with a light powdered sugar glaze. They have a delicate and airy texture that is irresistible from the first taste. The crispy light dough hollows out on the interior, producing a lovely pastry!
What's good about this pastry recipe is that there is no restriction in adding additional toppings to your donuts, such as fruit or chocolate. No matter how you prepare the pastry, it always tastes terrific!
French Cruller Donuts are a popular item at many bakeries and pastry shops since they offer the lowest calories and fat of any donut type. Plus, they have a fluffy, egg-like texture reminiscent of various French bread that will melt easily in your mouth.
TOTAL TIME: 5 minutes (Preparation completes in: 5 minutes)
Let's swirl in some warm milk to give your morning caffeine a kick and transform your morning commute into a tour around Paris with Cafe Au Lait. This amazing French beverage is ideal for a new day, and it tastes as if it came from a French café.
The dish's name translates as "coffee with milk", but not any milk is applicable. For this French recipe, you must utilize steamed milk to give your coffee that frothy, foamy finish. Therefore, the most practical approach here is to invest in a tiny steamer for yourself.
You will be shocked at how simple it is to make this famous French coffee beverage. All you need to do is combine steamed milk and hot brewed coffee in equal portions. You can consume straight thereon or add honey, sugar to balance off the bitterness.
Although hundreds, if not thousands, of beverage versions have appeared in recent years, Cafe Au Lait does not seem to be going away anytime soon! It remains the mainstay with its iconic taste and simplicity: just two basic ingredients and five minutes.
You may find similar versions of Cafe Au Lait in Spain (Leche) and Germany (Milchkaffee). Serve this beverage with flaky croissants for a typical French breakfast. Your visitors will believe they have been transported to a Paris sidewalk café.
Cafe Au Lait remains the mainstay thanks to its unique flavor.
TOTAL TIME: 45 minutes (Preparation completes in: 30 minutes + Cooking finishes in: 15 minutes)
Simple to prepare yet bursting with delicious taste, Beignets are a beloved French breakfast delicacy that you can enjoy at any time of day. These buns dusted with powdered sugar are also a global childhood favorite.
French beignets are filled with pastry cream, chocolate (i.e. nutella), or served plain, as I have done here. While the dough is delicious and enticing on its own, the additional sprinkling of powdered sugar transforms them into a true delight.
Also known as Boules De Berlin, which means "Berlin balls", this morning pastry is available at various French restaurants and street vendors. Unlike Beignets in the US, these French treats are round and cake-like rather than square and hollow-like.
Not only delectable, but these treats are also simple to prepare. For that reason, I strongly recommend cooking them with a bunch of friends to help you devour them.
A good tip is to pair these tiny pillowy delicacies with steaming coffee or cocoa. I guarantee they will be delectable to the last mouthful!
TOTAL TIME: 8 minutes (Preparation completes in: 5 minutes + Cooking finishes in: 3 minutes)
If you ask the French about the value of chocolate, they will tell you that the ideal way to enjoy it is by sipping. There comes the sublime Chocolat Chaud!
This French hot chocolate is more than just pouring the chocolate syrup into your cup. Thick and decadent, this treat will brighten even the darkest winter days and put store-bought varieties to shame!
The secret to making this Chocolat Chaud as rich and delicious as possible is to boil it in a medium saucepan to prevent the ingredients from burning. Also, adding crucial elements such as vanilla extract will elevate your hot chocolate to new heights.
This opulent beverage is a must-have for anybody with a sweet craving. It is not only flavorful but also beneficial in boosting your health. Dark chocolate contains antioxidants that aid in preventing heart disease, premature aging, and cancer.
From now on, let's replace your ordinary chocolate powders with this authentic French hot chocolate. Serve it in mugs garnished with whipped cream or in bowls with Baguette or Brioche toasts for dipping.
Be alert that this French beverage is not for inexperienced chocolate drinkers or anybody sensitive to heavy cream. The decadent European dark chocolate used in this drink is for serious chocolate lovers only, promising to take you to a French café.
TOTAL TIME: 17 hours and 20 minutes (Preparation completes in: 14 hours + Cooking finishes in: 20 minutes + Resting time takes: 3 hours)
Croissants are one of the most popular pastries worldwide, instantly identifiable by their crescent form. These flaky, golden-hued Croissants are ideal when baked with pure butter and sweet yeast dough.
Inspired by Austrian Kipfels, Croissants was created in 1683 to commemorate Austria's triumph over the Ottoman Empire. Its distinct crescent form is said to resemble the crescent moon on the Turkish flag.
For many French, small Croissants and a cup of coffee or a dollop of butter constitute a daily breakfast. For larger Croissants, it is great to top them with an egg, cheese, ham, bacon, or various kinds of French sausage.
While you can certainly purchase these pastries at stores, they are easier to create than you may imagine. Its recipe prioritizes simplicity and quickness without compromising quality. All you need is patience to achieve flaky, buttery perfection.
Creating the classic Croissants is a delightful undertaking for home bakers who can plan ahead for two days. The majority of the time is spent resting the dough in between brief periods of hands-on activity.
Your patience will be ripe with many freshly-made Croissants similar to those found at the neighborhood bakery. Expect to receive some wow responses from your family and friends when you present them with your fluffy results!
TOTAL TIME: 30 minutes (Preparation completes in: 12 minutes + Cooking finishes in: 18 minutes)
If you visit a traditional French bakery, you will likely encounter these French Almond Croissants hidden behind a gleaming glass that says "Croissants Aux Amandes".
French Almond Croissants are a delectable twist on the classic pastry. With the filling of a thick ribbon of Frangipane (sweet almond cream) and the topping of crunchy, roasted almonds, these delicacies are perfect for breakfast or brunch.
The first mouthful instantly transports you to the iconic scenes of all French cafés, patisseries, and boulangeries. Go for this recipe to reward yourself with a delicious start to the day!
TOTAL TIME: 1 hour and 5 minutes (Preparation completes in: 5 minutes + Cooking finishes in: 1 hour)
With a few basic ingredients and a quick cook time, these flavorful Buckwheat Crepes are certain to quench your appetite! The recipe utilizes buckwheat flour, a common element in French cuisine.
Galettes belong to the crepe family, the epitome of breakfast in Brittany, France's Northwest Atlantic coast region. A lovely buckwheat crepe is moist, somewhat chewy in the middle, and has a few tiny holes throughout.
You can load them with your preferred sweet or savory contents, such as your favorite cheese and veggies for a full but nutritious breakfast or meats for a substantial brunch.
The most famous variety is the "Crêpe Complète", which contains ham, tasty French cheese (often Gruyère), and an egg (sunny-side up or scrambled).
Another popular variety in Brittany is the "Galette Saucisse" (a Rennes specialty), a crepe wrapped around a grilled sausage and eaten with your hands like a hot dog.
These delicacies need little cooking time, so you can prepare a batch before everyone awakens, and they will be ready to eat as soon as they get out of bed. Serve them with maple syrup for breakfast.
TOTAL TIME: 1 hour and 30 minutes (Preparation completes in: 1 hour + Cooking finishes in: 30 minutes)
Here comes another brilliant French breakfast choice to impress your visitors: Chaussons Aux Pommes. This French equivalent of apple pie includes crispy, tangy apples encased in a croissant-like dough to produce a sweet and buttery turnover.
These delectable pastries are wonderful to prepare for the family, but they also work well when looking for a sweet treat to bring to a gathering. The greatest accompaniment to Chaussons Aux Pommes is a big glass of juice or hot coffee.
Generating them from the oven is fairly straightforward if you have puff pastry and a couple of apples on hand. You may prepare them in advance since they can be frozen before baking, requiring just a quick pop in the oven when you wake up!
These delectable French Apple Turnovers are a wonderful treat to bring to a gathering.
TOTAL TIME: 2 hours and 40 minutes (Preparation completes in: 15 minutes + Cooking finishes in: 25 minutes + Refrigerator time takes: 2 hours)
Add these French toast muffin cups to your ideal on-the-go breakfast list, especially for your finicky toddlers! These make-ahead treats are so delicious and simple to prepare that it is always a smart idea to keep them on hand.
With a soft, fluffy inside and a crispy outside, they will disappear quickly when placed on the table. A good practice is to prepare the night before and divide them into muffin tins with the streusel topping. The next morning, all you have to do is bake.
These French toast muffin cups include all of the tastes of the popular breakfast staple but in a bite-sized format! You get all of the cinnamon-sugar flavors of traditional French Toast without dipping or flipping the bread!
My tip for you is to enjoy these delicacies with fresh fruit and either sausage or bacon as an authentic French side dish. The whole combo is sure to be a tremendous success!
TOTAL TIME: 15 minutes (Preparation completes in: 5 minutes + Cooking finishes in: 10 minutes)
If you believe breakfast is incomplete without eggs, this French Omelette is a no-brainer. With 15 minutes, you can generate this flavorful dish easily. Instead of milk, all you need for this recipe is eggs, butter, ground black pepper, and fresh chives.
Use whatever filling you desire for this French Omelette, including ham and cheese. Together, you have a solid yet sensitive and unbrowned exterior to protect the soft, butter curds inside.
It takes some skills to get the texture right, but it is worth the effort. A great Omelette should not be overdone or undercooked. This obsession with getting the Omelette precisely right inspires terror in even the most accomplished chefs.
Serve this yummy plate with fresh fruit for a nutritious breakfast or a side salad and crusty bread for a light lunch.
TOTAL TIME: 1 hour and 10 minutes (Preparation completes in: 50 minutes + Cooking finishes in: 20 minutes)
Baguette is one of the genuine culinary emblems of French cuisine. This crusty, chewy, and oh-so-French pastry is an indispensable component of your morning menu. It is at its finest when served fresh from the oven and covered in butter.
To me, nothing beats a freshly baked Baguette. Making this long, thin loaf of bread is as relatively straightforward as how you enjoy it. Simply tear off chunks of bread and dip them into your morning French coffee.
Or, you can do what Parisians do by topping these toasted pieces with thinly sliced radishes, butter, and Fleur De Sel (pyramid-shaped salt crystals). Even if it is the first time you produce Baguette, you can easily surprise your family with how good it tastes.
Discover how to make authentic Baguette slices at home.
TOTAL TIME: 1 hour and 10 minutes (Preparation completes in: 10 minutes + Cooking finishes in: 1 hour)
If you find yourself with an abundance of figs but have no clue what to do with them beyond eating them fresh, converting them to jam is one of my suggestions.
Figs are an excellent source of fiber, vitamins, and minerals such as calcium, magnesium, and potassium. Their exquisite sweetness is similar to that of honey and berries.
When converted into jam, their natural and aromatic properties are enhanced, making them an excellent accompaniment to savory foods such as hog, lamb, and cheese plates.
This decadent handmade jam requires just fresh jigs, sugar, and lemon juice. The result is a spreadable sweet and richly textured jam that you can either enjoy immediately or preserve for later usage. The nice thing is that it contains no artificial pectin.
If produced and canned properly, you can keep this fig jam in your cupboard for years! You might even offer it as a Christmas present to your pals!
Fresh Fig Jam is a must-have on any Parisian breakfast table. People often accompany this recipe with Baguette slices or Crostini drizzled with goat cheese. Feel free to dust the recipe with coarse salt and rosemary for an exquisite party starter.
TOTAL TIME: 5 hours and 20 minutes (Preparation completes in: 45 minutes + Cooking finishes in: 35 minutes + Rising time takes: 4 hours)
Belong to the Viennoiseries family, Brioche is undoubtedly a local favorite in France! Nothing compares to this buttery, soft, and slightly sweet morning toast, especially when topped with butter or fruit preserves the French way.
Highly enriched with eggs and butter, this traditional breakfast bread features a rich golden flaky crust and light, tender texture that makes you drool just thinking about it!
Brioche is a perfect choice to offer your special visitors at a weekend gathering with your family! It also makes excellent toast or sandwich bread for brown bag lunches and picnics.
TOTAL TIME: 22 minutes (Preparation completes in: 10 minutes + Cooking finishes in: 12 minutes)
Turn your Baguette into a delectable morning pizza with shredded cheese, scrambled eggs, bacon pieces, and scallions sprinkled on top! This effortless recipe only takes a few minutes to whip up, ideal for those who want a light morning schedule.
After baking, cut and serve your French pizza with salsa or sour cream. It is perfect for passing out to children on their way to the door or enjoying on the field. You can never go wrong with this recipe, as it is both fulfilling and enjoyable!
TOTAL TIME: 55 minutes (Preparation completes in: 15 minutes + Cooking finishes in: 40 minutes)
Breakfast Strata is an easy-to-make baked eggs (casserole) dish that will impress everyone who samples it. By utilizing gluten-free ingredients, this recipe becomes an incredibly nutritious breakfast.
With 40 minutes on hand, you can effortlessly generate multiple layers of breakfast staples like eggs, ham, gluten-free Baguette, and veggies (celery and onions). Presenting it to visitors is how you welcome them to your cozy house.
Typically, French people make this Strata dish after Christmas to use up all the holiday leftovers. Not to mention, the recipe is a cinch to prepare!
TOTAL TIME: 20 minutes (Preparation completes in: 5 minutes + Cooking finishes in: 15 minutes)
Can you imagine your morning fantasies without any fancy French cheese? Let me introduce to you this French Baked Toast And Eggs In Cream! In French, this decadent breakfast delicacy features runny eggs cooked with cream-soaked bread.
The addition of cream takes these toasts to a new delectable level. Plus, the poached eggs will make your mouth drop.
It is an excellent recipe to prepare for a gathering since you can scale it up easily. You may prepare most of the ingredients ahead of time and then just crack the eggs and bake shortly before serving.
TOTAL TIME: 12 minutes (Preparation completes in: 5 minutes + Cooking finishes in: 7 minutes)
The French have an uncanny ability to convert modest ingredients into some of the most ethereal, delectable cuisine imaginable. This Avocado Toast With Radish is a prime example.
It is love at first taste and an excellent method for the children to consume radish sprouts. Plus, the avocado's smoothness counterbalances the radish's sharpness nicely.
Together, fresh avocado and radish slices enhance the freshness of your gluten-free bread, making it a nutritious and delectable start to your lovely day. Take things to the next level by adding a soft-boiled egg and sunflower seeds for crunchiness.
TOTAL TIME: 10 minutes (Preparation completes in: 5 minutes + Cooking finishes in: 5 minutes)
Who says salads can't be an excellent morning item? This Kale, Radish, Egg, And Prosciutto Breakfast is the ideal way to begin your day. The recipe has everything you need in a balanced meal: veggies, eggs, and a little amount of lean protein.
This breakfast delicacy begins with a bed of young greens. Baby kale provides delicate and nice earthiness to the dish, while salty prosciutto, mild radishes, and other ingredients give a vibrant topping.
Finally, the pièce de résistance (the most important feature) of this recipe is an over-easy egg.
When sliced, the runny, brilliant yellow yolk will cover the salad in a warm, rich creaminess that is just delectable. It is the perfect balance of tastes and textures, and a perfect way to start your morning!
TOTAL TIME: 45 minutes (Preparation completes in: 20 minutes + Cooking finishes in: 25 minutes)
Spiced Pear French Toast is one way to spice up your bread with taste. The simple recipe turns out to be a healthier option to enjoy than regular French Toast. Cinnamon, brown sugar, nutmeg, and a pinch of salt provide a warm, homey autumn flavor.
Serving the roasted pear on top of baked toast slices is a perfect way to enjoy your cold winter mornings. You can further sweeten your pears with maple syrup and spice them with cloves and star anise.
Enjoy it as a breakfast or make it before your next intense fitness class or weekend trek for some much-needed nourishment.
TOTAL TIME: 45 minutes (Preparation completes in: 10 minutes + Cooking finishes in: 35 minutes)
Disney fans are no longer strangers to the iconic Ratatouille plate. It is a classic French vegetable stew that you can serve with a fried egg on top. When consumed with toasted bread, this duo makes a full meal for breakfast!
There is no better way to include vegetables into your first meal of the day than Ratatouille Toasts With Fried Eggs. Each veggie type is individually cooked to preserve its authentic aroma.
Don't worry if you have leftovers! The meal tastes even better the next day, making it a brilliant choice for later usage as well. Shop the market on Saturday and serve the plate on Sunday morning!
Serve the Ratatouille recipe for breakfast over a cup of hot cocoa or as a quick midweek meal alongside a glass of Cantaloupe Pomegranate and Mint Juice.
TOTAL TIME: 55 minutes (Preparation completes in: 30 minutes + Cooking finishes in: 25 minutes)
Picture Cinnamon Sugar Muffins in your head! Now, raise your expectations higher. That is just how good these French Breakfast Puffs are. Each bite is infused with cinnamon and nutmeg crumble that guarantees to steal your family's hearts.
These straightforward muffin-shaped pastries are brimming with conventional croissant flavor and are ideal for sweet breakfast eaters. One is never enough! After sampling this extra-delicious treat, you won't be able to stop eating!
What's the greatest part? The recipe only requires simple ingredients, and you can prepare the batter the night before to ensure a delectable morning pastry that bakes in a flash!
When you prepare these delectable French breakfast dishes at home, your family will no longer have excuses to skip breakfast. Pair these cute puffs with milk, coffee, or tea.
TOTAL TIME: 1 hour and 10 minutes (Preparation completes in: 20 minutes + Cooking finishes in: 50 minutes)
Besides a typical morning dish, quiche is also suitable for special events such as birthdays, holidays, and brunch gatherings. If you want something simpler, try this quiche with potatoes, ham, and cheese.
Similarly, this bacon, cheddar, and onion quiche can simplify your morning routine and generate this amazing treat more often. This morning quiche dish is delicious when eaten fresh from the oven or cold the following day.
This adaptable recipe includes a creamy custard and a flaky crust, making it an ideal carrier for a wide range of fillings. For this version, feel free to stuff pastry crust with caramelized onions, cheddar cheese, and copious amounts of bacon.
TOTAL TIME: 1 hour and 10 minutes (Preparation completes in: 40 minutes + Cooking finishes in: 30 minutes)
Have you ever attempted to make these classic French Crepes before? They are a mainstay of French cuisine, similar to thin Pancakes but unsweetened. The pastry staple is well-known for its flexibility with savory or sweet toppings.
These handcrafted Crepes are very thin and delicate, with buttery, crunchy edges. For breakfast, you can serve them with fruits such as bananas or strawberries and cover them with Nutella or chocolate spread.
Despite being more popular at restaurants and catered events, generating these delicacies at home is not so tough. Without the leavening chemical, the pastry may not be as fluffy as Pancakes but taste quite similar.
Create this French classic at home for delectably improved breakfasts and even quick, enjoyable meals. I guarantee your family and friends will like this kitchen chameleon.
Classic French Crepes are incredibly thin and delicate, with buttery and crunchy edges.
TOTAL TIME: 25 minutes (Preparation completes in: 10 minutes + Cooking finishes in: 15 minutes)
Oeufs Cocotte (or Eggs In Pots) is a classic French dish that provides a beautiful and hearty breakfast. The recipe is a French technique for baking eggs in a water bath in the oven.
The mixture of eggs and flavorings is cooked in a hot water bath until the whites are set, but the yolks remain runny. After that, you can place all kinds of possible toppings on the dish, including fresh herbs, pesto, bacon, cheese, or cream.
To me, Oeufs Cocotte is the absolute favorite dish to serve your overnight visitors. Impressing them with a premium hotel-style breakfast or brunch is how I usually do.
Enjoying the dish warm with crusty toast or bread strips is the best way to dip the egg yolks. Consider talking over a cup of coffee while savoring this plate with a gooey runny yolk. I simply run out of better ideas than that!
TOTAL TIME: 15 hours and 55 minutes (Preparation completes in: 12 hours and 10 minutes + Cooking finishes in: 15 minutes + Resting time takes: 3 hours and 30 minutes)
Any traveler having been to France will never forget the experience of enjoying freshly baked morning pastries when visiting Boulangerie. Pain Aux Raisins recipe is surely one part of that memorable recollection.
Typically, this bread is a soft, warm pastry filled with custard and plump raisins. My best advice is to enjoy it warm from the oven.
You may have also heard people calling this pastry "Pain Aux Raisin Escargot" (snail-shaped raisin bread) due to the snail-like appearance of each individual bread. Like Croissants, the dough rises and undergoes the lamination process to generate those flaky layers.
Traditionally, the French prefer consuming Pain Aux Raisins as breakfast and pair them with café latte or black coffee.
TOTAL TIME: 50 minutes (Preparation completes in: 20 minutes + Cooking finishes in: 30 minutes)
Chouquettes are small Choux pastries dusted with pearl sugar (Sucre Perlé). Choux pastry is one of the most fundamental recipes in all French baking, but it is a necessary component of a large number of other recipes.
Coarse sugar crystals are the secret to retaining the pastry's form and crunchiness when baked. Altogether, these French Chouquettes are deliciously sweet, crunchy, and light.
These pastries still belong to the Viennoiseries family, paving their way into various bakeries and patisseries around the nation. Like other family members, French people love having it for breakfast or as an afternoon snack known as "Le Goûter".
While creating a Chouquette dish may seem overwhelming, it is one of the most straightforward pastry recipes a baker can create.
Generating Chouquette at home is the easiest pastry recipe a baker can create.
TOTAL TIME: 40 minutes (Preparation completes in: 15 minutes + Cooking finishes in: 25 minutes)
While Blueberry and Raspberry Friands are more prevalent and popular, Passionfruit Friands are out of this world. Missing out on this recipe will make you regret it! Friand in French means "delicate", which aptly refers to this recipe's airy and light status.
The passionfruit's tartness perfectly complements the sweetness of almonds in this meal. Relish these rich treats alone or with a cup of citrus tea!
What Is Your Pick On The Most Enticing French Breakfast Idea?
French breakfast recipes are so vast that a single article simply cannot cover them. Fortunately, all presented dishes here are simple enough to make at home and so substantial as a breakfast treat.
You don't need to fly to France in order to sample a genuine French breakfast. Preparing these treats at home is possible to refuel your body at the beginning of a new day.
Now that you are familiar with some of the greatest French breakfast delicacies, share your favorites with us in the comments area below! Pick a breakfast idea that you think is the most enticing and discuss with others the reason why!
Nutrition Facts
4 servings per container
---
Amount Per ServingCalories770
% Daily Value *
Total Fat 48.5g

74

%
Cholesterol 106mg

36

%
Sodium 1363mg

57

%
Potassium 1126mg

33

%
Total Carbohydrate 54.3g

18

%

Dietary Fiber 3.6g

12

%
Sugars 12.7g

Protein 32.6g

64

%
---
Calcium

773

%
Iron

3

%
Vitamin D

8

%
* The % Daily Value tells you how much a nutrient in a serving of food contributes to a daily diet. 2,000 calories a day is used for general nutrition advice.