Greek vegetarian recipes are always worth being your expectation. Have you ever wondered what is about these dishes that make them luscious but still healthy? Although they don't contain meat or fish, their flavors never disappoint you.
If you think they are only suitable for vegetarians, this will be your big mistake. Don't underestimate the vegetarian dishes of one of the best countries for food. You will be interested in these delicacies.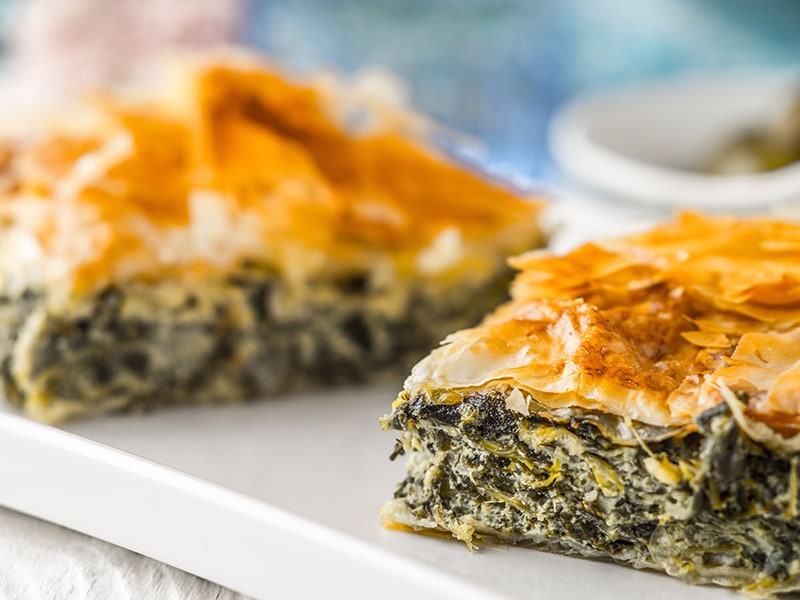 Challenge Yourself With These Greek Vegetarian Delicacies
If you don't have any new ideas for your vegetarian diet, stay tuned because this list is everything you need right now. They are not only tasty but also diverse in application. Let's check it out!
Total time: 1 hour 40 minutes.
This delicious and vegetarian-friendly Dolmadakia recipe is a signature food from Greece. It is also called Dolma, Dolmathes, or Dolmades.
This dish is very easy to make. You need to prepare grape leaves and the filling. The filling consists of rice, mint, scallions, dill, etc. The blend of these ingredients makes this recipe have a distinct herbal flavor.
Moreover, Dolma is like a tiny battleground of flavors, where different flavors fight each other for the spotlight in this recipe.
However, it is this struggle that brings them together to create a truly amazing result. Although it is a stuffed dish, it only takes you a short time to cook. Let's try this right now.
Thanks to this guide, you can make Dolmadakia at home right away.
Total time: 2 hours 15 minutes.
Baklava is a classic Greece-themed dessert made from the three main ingredients, including walnuts, honey, and phyllo dough. Although they are made with just some simple ingredients, the taste will surprise you.
This Greek Baklava will bring you a sweet, crispy, and nutty flavor. This dish will stimulate your taste buds with the harmonious combination of chopped walnuts and honey syrup, creating a dish that is not only delicious but also visually beautiful.
Many people say that Baklava originated from Turkey during the Ottoman Empire. It was later modified in Greece. Therefore, this dish is a wonderful accompanying dessert to eat with Turkish black tea or fresh lemonade. This is truly desirable.
Total time: 35 minutes.
Skordalia, also known as Skorthalia or Skordhalia, is a Greek garlic dip. At the first look, Skordalia will attract you with the beauty it can bring. The dip is smooth-textured and gives off a strong garlic flavor.
You need to prepare mashed potatoes, garlic cloves, and other spices. Olive oil plays a key role in the success of this dish. It helps all of the above ingredients blend together to form a smooth and attractive dip. The dish is creamy and possesses a bit of tang from garlic.
Skordalia is always an ideal choice to accompany with toasts, pita, or roasted veggies. Moreover, you also can eat it with lemony cod, grilled chicken, fried salted cod, etc. if you want to follow a non-vegetarian diet. Don't be surprised at its wonderful flavor!
Total time: 1 hour 5 minutes.
Jackfruit is one of the most popular ingredients for vegetarian people. Its firm texture and nutritional value make it one of the best alternatives for other meat products in a vegetarian diet.
Therefore, it is not surprising that this nutritional plant is used to replace cooked meat in traditional gyro recipes. For those not in the know, gyro is a Greek dish made from roasted meat stuffed in pita bread. Jackfruit Gyro is not only easy to make but also comforting and filling.
Fortunately, this vegetarian dish is good for a dairy-free diet, gluten-free diet, or even a nut-free diet. Let's add jackfruit to your menu right away to refresh your daily meal.
Total time: 1 hour 10 minutes.
Fasolakia, also known as the "national food of the Greeks" is a perfect example of the simple but delicious cooking style of Greek cuisine.
It is a mixture of green beans, tomatoes, and a variety of aromatic herbs. Sometimes, you can boost this dish's nutritious value by adding zucchini, potatoes, etc.
Fasolakia is a traditional summer staple of Greece. However, you can make this appetizing dish at home right now without waiting to travel to Greece, right?
Greek green beans are an ideal Greek appetizer for you if you want an appetizer. You can also enjoy Fasolakia with fresh and vibrant flavors and colors as the main course or a side dish.
You can enlarge your experience by serving this recipe with Greek chickpea salad and sourdough bread or topping it with crumbled feta cheese.
If you are interested in Fasolakia, follow this simple guide.
Total time: 30 minutes.
Gyro is a classic Greek dish that has a long history. This chickpea gyro is inspired by the combination of Mediterranean flavor and chickpea. It is considered a new version of the traditional gyro.
Chickpea is not strange if you are practicing a vegetarian diet. This kind of veggie is nutritious seeds packed with a large amount of protein and fiber. This chickpea gyro promises to ensure your good health. This dish has a nutty and earthy flavor from chickpeas.
If you are an avid foodie, you should serve this dish with a refreshing Mediterranean salad such as Mediterranean bean salad, Greek salad, etc. This is a memorable experience.
Total time: 50 minutes.
Tiropita is a Greek pastry with feta cheese as the main ingredient. Dairy products are allowed in some vegetarian diets, so this dish can be considered a vegetarian dish. However, it isn't suitable for a vegan diet.
The mixture of some typical Greece-made cheeses, especially cottage cheese and feta cheese, will help you increase the flavor of this wonderful dish.
You can make these pastries individually or cook them in a large pan. This doesn't affect the quality of this recipe.
The resulting pie is light, fluffy on the outside, and smooth and creamy on the inside. This kind of pastry is versatile. You can eat them at any time and serve them as a main dish, a side dish, or even a midday snack.
Total time: 1 hour 50 minutes.
Spanakopita is a savory Greece-style pie consisting of leeks, spinach, feta cheese, olive oil, etc. Although created with very simple ingredients, its taste will amaze you.
The flaky pastry and the comforting filling of spinach and feta cheese give this kind of cake the flavor of herbs and aromatics. It's a little crispy and its filling will satisfy you.
Spanakopita always fulfills its role well whether it is the main dish or a side dish. It will go well with chickpea salad, a big green salad, and rice.
Total time: 1 hour 5 minutes.
If you are looking for an inexpensive yet healthy dish, let's try Greek chickpea soup immediately. Chickpea is not a strange ingredient for a vegetarian diet. So, you have reasons to believe that this recipe will be one of the best choices on lazy days.
Lemon juice added to this tasty Greek soup brings it a mild and tasty flavor, making it one of the ideal choices for winter days.
One of the wonderful advantages of this soup is that you can store it for use. Just put them in a freezer-safe container; you can freeze them for use for up to 3 months. Amazing! Right? Remember to reheat this soup after thawing to enjoy its full flavor.
Follow these instructions to make a bowl of Greek chickpea soup to enjoy right now.
Total time: 2 hours.
Briam is an ancient dish that originated in Greece. The secret to making this nutrient-packed dish is the right combination of herbs. The subtlety in seasoning helps these flavors not be mixed but still retain their distinct flavors.
This plant-based dish offers you a variety of vitamins, minerals, and fiber. If you have never tried a roasted veggie, Briam is worth being one of the first options. Crispy and fluffy potatoes combined with juicy zucchini make Briam's flavor a delicious recipe.
You can serve this wonderful recipe as a main course when pairing it with a hearty block of feta cheese, rice, grain, crusty, or whole wheat pita bread. This experience will greatly delight you.
Total time: 1 hour 45 minutes.
This is a great Moussaka recipe with the perfect combination of roasted eggplants, zucchini, potatoes, and a great lentil-tomato sauce. This recipe doesn't contain meat like the traditional Moussaka, which includes ground beef, but its taste will satisfy you.
Its flavor is very great, thanks to the nice blend of a variety of green veggies. In this recipe, the lentil is an ideal substitute for the meat. Its taste is also very delicious. That's how vegetarian Moussaka will give you an unforgettable experience.
You can serve vegetarian Moussaka as a complete meal because you don't need to find any dish to pair with it. However, you can savor it with a salad or tzatziki.
Total time: 1 hour.
Melitzanosalata is a familiar name on the menus of Greek tavernas. For those not in the know, tavernas are small restaurants in Greece that serve savory Greek dishes.
Its main ingredient is eggplants. They have their roots in East Asia. This kind of vegetable has grown in popularity in Greek cuisine since Ottoman rule.
The secret to making a delicious Melitzanosalata depends on roasting the eggplant. You have to bake them until their skins are charred. The smoky flavor of roasted eggplants is a special characteristic of this dish.
You will love this vegetarian recipe when eating it with baked pita bread or some crisps.
Total time: 15 minutes.
A refreshing and delicious Greek salad is an ideal choice on hot summer days. With just a few ingredients like cucumbers, tomatoes, red onions, feta cheese, etc., you will have a healthy vegetarian salad.
Greek salad stimulates your taste buds with its colorful color and fragrant flavor. Moreover, its taste is a nice combination of sweetness, sourness, and saltiness, which makes the salad addictive.
This culinary delight is especially good for your health. It contains high monounsaturated fat content, which is considered "healthy fat" helping protect your cardiovascular health.
Make the classic Greek salad in just a few minutes with this tutorial.
Total time: 2 hours 20 minutes.
Gigantes Plaki, or Greek baked Gigantes, is a traditional Greek dish. The giant beans are baked in tomato sauce, flavored with a variety of herbs. Although it takes a long time to cook plain beans, the unique flavor it offers will be worth your effort.
This dish is thick in the sauce. Its mild sweet taste also makes you want to try this again and again. You can enhance your experience by combining this dish with crusted bread or feta cheese.
Total time: 1 hour.
Firm and nice okra stewed in a tangy tomato sauce are what you can imagine about this recipe. I'm not exaggerating: They are amazing.
Bamies come with a colorful and interesting appearance inducing you to try them right away. Moreover, their flavor is also wonderful.
It's a perfect blend of sweetness, saltiness, and a little bit of sourness. If you are fed up with your boring menu items, Bamies is a good decision.
You can drizzle a little olive oil on top or sprinkle some fresh dill to pair with Bamies. Your vegetarian dish will be more attractive than ever. You can use baked okra and tomatoes as a main course or a side dish.
Total time: 2 hours 15 minutes (including 2 hours waiting for the flour to rise).
Greek Tomato Fritters are a specialty of Santorini, an island about 200 km southeast of Greece's mainland. The chopped vegetables are combined with the herbs to create a spectacular flavor.
All you need to do to get this wonderful delight is to mix all the prepared ingredients with the flour and fry them. Remember to fry one side at a time to make sure your results are crispy.
Tomatoes play a key role in the success of this recipe. Therefore, the juicer and fresher the potatoes are, the more delicious your dish will be.
These Greek tomato fritters are crispy on the outside and juicy on the inside. You can enjoy the best flavor of this dish when eating them with Greek cucumber yogurt dip. This perfect combination won't disappoint you.
Total time: 10 minutes.
The word "Tzatziki" means herb mixture is a term originating from Persian zhazh. You can call it a sauce, dip, or even a soup.
Tzatziki plays a very important role in this ancient country. They are present not only in the big cities but also on the smallest islands of Greece.
There are two important things creating the difference between this recipe and other dishes. Firstly, you have to make sure the cucumber is utterly dry. That will improve the texture of the sauce.
Secondly, add the cucumber and dill after the other ingredients to make sure that the sauce's flavor will not be overpowered by the dill's flavor.
Traditionally, this sauce is served with Pita, Souvlaki, roasted vegetables, etc. However, with this dish's versatility, you can accompany it with lentil salad and chickpea salad for a more luscious taste.
Discover the easy and simple way to cook Tzatziki!
Total time: 1 hour 30 minutes.
Chickpea is the main ingredient of this recipe. Thanks to chickpeas, this dish is packed with a lot of nutrients good for your health. You don't need to worry that a vegetarian diet comes with poor nutrition anymore.
Chickpea fritters are crispy outside but still soft enough inside. They have a mild flavor which is worth being one of the ideal options for your appetizers.
These chickpea fritters are very versatile, so you can eat them with vegan tzatziki, pita bread, or warm crusty bread to increase their flavor.
Total time: 1 hour 30 minutes.
Greek Revani is a nice combination of flour, eggs, butter, and other seasonings. This kind of dessert stands up with a moist and fluffy texture.
Although the appearance is not too outstanding, its taste is extremely mouthwatering. The aroma of flaked coconut will make you unable to resist these pieces of cake.
This cake goes perfectly with some whipped cream or Greek ice cream Kaimaki. I recommend you store it overnight to create a favorable condition for the sugar soaking. Your cake will taste better that way.
Do you want to know how to make Revani cake? The easiest way is here.
Total time: 1 hour 35 minutes.
If you are struggling to know what to prepare for breakfast, Milopita is an ideal Greek breakfast recipe for you.
This cake is a perfect blend of warm cinnamon, cloves, walnuts, sweet apples, and other ingredients. This treat can also charm you with its fluffy and soft texture combined with its delicious and juicy taste.
Your experience will be better and more memorable if you can enjoy them with a tasty Greek yogurt or vanilla ice cream. If you are a lover of Greek cuisine, you should try this recipe immediately.
Total time: 45 minutes.
Melomakarona is an authentic Greek cookie. This kind of cookie is the ideal mixture of flour, orange juice, walnuts, honey, and some other spices.
The sweetness of a little cinnamon and orange juice mixed with honey syrup results in aromatic and scrumptious butterless cookies.
Traditionally, these cookies are made during the Christmas holidays. However, they are more and more popular, and with only 45 minutes, you will have nice crunchy cookies to enjoy.
Total time: 50 minutes.
Known as Christmas cookies or wedding cookies, Kourabiedes is a traditional Greek cookie. It consists of butter, eggs, almond extract, baking soda, etc.
You can make them into a crescent or ball shape, depending on your preference. Next, you should bake them until they are slightly golden. Then, they are dusted with powdered sugar while they are still hot. That will form a rich and perfect butter-sugar coating for your cookies.
These cookies cover themselves with white color like snowflakes on cold winter days. Although they don't appear with vibrant and colorful colors like other cookies, they will lure you in with their crunchy, buttery, and rich flavor.
Total time: 25 minutes.
If you are a fan of authentic Greek cuisine, you can't miss this simple but scrumptious dish. Although it is made with only a few simple ingredients like zucchini, flour, olive oil, and some other seasonings, Kolokythakia Tiganita is one of the most loved dishes in this country.
This recipe is also very straightforward to make. However, the delicious flavor and crunchiness of the zucchini make this simple recipe addictive and more and more popular.
You can serve this dish as an appetizer or a side dish with a cucumber yogurt sauce, batter-fried eggplant, or a meze platter. This combination will amaze you.
Total time: 40 minutes.
Greek Lentil Salad is one of the ideal choices for a vegetarian diet. This is a combination of lentils, tomatoes, cucumber, and other spices. You can also use feta cheese to increase the flavor of this recipe, but remember to choose vegetarian feta cheese.
There are a variety of textures blended in this dish with delicious and balanced flavors. This special flavor will delight you.
It doesn't take a lot of time as described above because you can save your cooking time by whisking up the dressing and chopping the vegetables while simmering the lentils.
Total time: 25 minutes.
The ingredients to make this Greek pasta are very simple. You just need to prepare tomatoes, beans, pasta, spinach, and a few other seasonings. You will have Greek-style pasta to enjoy.
This recipe will delight you when the different flavors are combined and melted together. This dish derives its fluffy texture and nutty taste from cannellini beans.
Not only having a delicious taste, but this dish is also very beneficial for your health. The mixing of protein-rich white beans and antioxidant-rich spinach makes this vegetarian dish more nutritious than ever.
Total time: 30 minutes.
You are a lover of traditional Greek fava but you can't travel to Greece; it's not a problem when you are here. Now, you can make this wonderful dish at home. An interesting thing about this dish is that the beans used are not fava beans but yellow split peas.
All you need to do in this recipe is to cook yellow split peas with some other ingredients such as onions, scallions, and garlic in a pan until the peas are tender. After that, puree the mixture in a blender and add some of your favorite spices.
The inclusion of yellow split peas will help your dip become smoother in texture. Moreover, this dish will score with you for the first time by the rich and creamy taste it can bring. Bread or fresh vegetables such as carrots will be a good idea to serve with your favorite dip.
Total time: 29 minutes.
Greek Orzo Salad is a specialty on hot summer days. In only 29 minutes, you will have a healthy Greek side dish to enjoy.
The appearance of feta cheese makes this salad healthier with its protein and some nutrients good for your health. Its creamy texture also brings a refreshing flavor to this recipe.
With just a few simple steps, you will have good options for an appetizer, a lunch meal, or even a side dish. Its taste will be better when you can savor it with chickpea cevapcici, crispy tofu nuggets, grilled bean burger, etc.
Enjoy A More Extensive Vegetarian Diet With Greek Foods
Now you can add these meat-free Greek recipes to your menu. Choosing a suitable vegetarian dish that is both delicious and healthy is no longer a big problem for you, right? These delicacies are the perfect options to help you solve this problem.
Finally, if you love Greek cuisine like me, please share this post with your beloved ones to spread this useful knowledge. If you have any questions or sharings, please feel free to leave a comment below. I always appreciate your contributions. Thank you so much!
Nutrition Facts
4 servings per container
---
Amount Per ServingCalories253
% Daily Value *
Total Fat 17.2g

27

%
Sodium 308mg

13

%
Potassium 741mg

22

%
Total Carbohydrate 24.8g

9

%

Dietary Fiber 6.9g

28

%
Sugars 6.6g

Protein 4.4g

9

%
---
* The % Daily Value tells you how much a nutrient in a serving of food contributes to a daily diet. 2,000 calories a day is used for general nutrition advice.