There are many types of Greek pies that work well as breakfast, lunch, or even snacks. If you are struggling to find a new option to refresh your boring meals, you have come to the right place. Interesting and unique ideas are waiting for you to discover right below.
Famous for their uniqueness and deliciousness, Greek pies are gradually becoming more and more popular all over the world. As a food lover, these are some delicacies that you shouldn't overlook.
This post will show you some easy-to-make pies and how to enjoy them properly. Keep reading to satisfy your passion for Greek cuisine.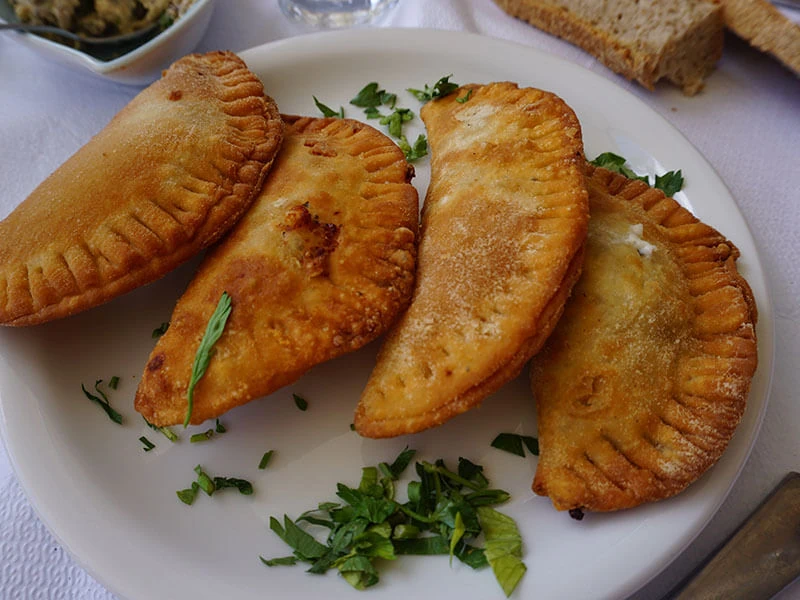 Be A Professional Cook With Different Types Of Greek Pies
To prepare excellent homemade pies, you don't need to be a master in cooking. These Greek pies are not only simple to make but also very mouthwatering. Don't skip this list because you will be impressed by their wonderful taste.
Total time: 1 hour.
Let's start the interesting list today with one of the most delicious Greek culinary delights, Galatopita, also called Greek milk pie. This type of pie originated in the north of Greece.
Galatopita appears to contain a variety of ingredients, including phyllo, milk, butter, and semolina. Although they sound so complicated, it's not as hard to make this pie as you imagine.
This nice combination brings you the crispy milk pies with an amazingly cinnamony and buttery flavor. They are not only visually satisfying but also will satisfy your taste buds with their sweetness and creaminess.
You can make these pies ahead and store them in the refrigerator for later use. That won't negatively affect their taste. Remember to make a cup of coffee or tea as an accompaniment for this delicacy. The combo will delight you magnificently.
Making Galatopia is easier than you think through this tutorial.
Total time: 4 hours 30 minutes.
Coming with a nice brown appearance, Kreotopita is another recipe based on phyllo but made with meat. Some other necessary ingredients you should prepare are butter, olive oil, flour, and other spices. This recipe isn't difficult at all.
You should prepare the phyllo beforehand. After that, make the meat filling by combining meat with some veggies and spices. You can wrap out your favorite veggies and herbs to make your pies more creative.
The final step is to place the filling between the two layers of phyllo and bake them. Your result should appear in a flaky phyllo crust with a cheesy and peppery taste. The inclusion of meat makes it more filling and a good option to be the main course when paired with a salad.
Total time: 30 minutes.
Sfakianopita is a classic Cretan food to try. For those not in the know, Crete is the largest island in Greece. People say that Sfakianopita is a specialty created by Cretan shepherds.
This recipe not only requires a short time but also is very easy to make. First of all, you just need to combine flour, orange juice, brandy, etc., and mix them well.
Next, shape the mixture and cook them in the pan. You can decorate your results with honey, cinnamon, and some of your favorite chopped nuts to enhance their appeal.
Sfakianopita is the perfect blend of sweetness and tanginess. It is worth being a good choice for an appetizer or dessert. Served with cold Tsikoudia, a fragrant Cretan alcoholic beverage will make it more addictive.
Total time: 1 hour.
Bougatsa always holdsan important position in Greek cuisine. They not only come with an attractive exterior but also have a wonderful taste that makes you want to try them more and more.
Who can control your craving for pies covered with golden brown phyllo sheets filled with a creamy custard layer? Ground cinnamon and powdered sugar are the necessary flavor boosters for this recipe.
Bougatsa is an ideal option for an authentic Greek breakfast. A cup of coffee and tea will make it one of the most memorable experiences for you.
You can also serve it with Sahlab (Mediterranean milk pudding), a signature pudding from the Mediterranean, or a mango smoothie to enhance your appetite.
You will get the best way to prepare Bougatsa, thanks to these instructions.
Total time: 1 hour.
Can be seen as "a garden full of healthy greens and herbs", this pie is not only nutritious yet so delicious.
It is also covered with a crispy crust. Take a bite, and you will be attracted by its aromatic flavor from the rich combination of veggies immediately. The inclusion of feta cheese creates a creamy filling, which makes you want to try it more and more.
You can serve these tasty pies hot or warm, but I recommend you eat them on the next day after they're baked as their taste can be even better. Lemon potatoes, a Greek salad, or grilled chicken will be the ideal accompaniment for Hortopita.
Total time: 1 hour 40 minutes.
If you are looking for a vegetarian-friendly Greek dish to enjoy, Melitzanopita is an ideal option. This is a classic eggplant pie that is very popular in Greece.
The main components for Melitzanopita are eggplants, phyllo dough, butter, feta cheese, etc. This delight boasts a sweet flavor with a slightly vegetal bitterness of eggplants. Moreover, it comes out with a chunky center and crispy crust which will amaze you.
A touch of sesame seeds adds a sweet and nutty taste to this delicacy. You can serve Melitzanopita as a delicious Greek-themed appetizer for breakfast or lunch. It's up to you because it's suitable at any time of the day.
Total time: 1 hour 30 minutes.
There is nothing better than the lovely smell of fresh veggies and herbs enveloping your meals! Prasopita is everything you are looking for. As indicated in the name, leeks are the main ingredient in this recipe.
Imagine the perfect blend of these leeks with melted cheese wrapped in a crispy and flaky phyllo layer. Is it addictive enough? This sweet and velvety delight is a good idea for your main dish.
Moreover, if you need a midday snack, don't ignore this recipe. These golden and round-shaped pies won't disappoint you. That is my promise.
Total time: 1 hour 50 minutes.
It's not exaggerating to say that phyllo is one of the most important culinary inventions in the world. Spanakopita is the perfect example of how to use that ingredient. It is a nice combination of crispy layers of phyllo dough and a luscious filling made of spinach and feta cheese.
Spanakopita is one of the most loved street foods in Greece. These savory Greek pies are crunchy on the outside but soft and tender on the inside. The cheesy and herby flavor of Spanakopita will score a big win with you from the first bite.
You can serve this wonderful dish as a side dish for a classic Greek meal or as the main course. Don't hesitate to accompany Spanakopita with lamb, lemon chicken, or Greek salad. It will undoubtedly amaze you.
You will love making homemade Spanakopita. Find out why here.
Total time: 1 hour 20 minutes.
If you have a big passion for yummy Greece-originated cheese, Tyropitakia is a must-have treat on your menu. Everything you need to prepare for this recipe is butter, Greek yogurt, flour, and feta cheese. It's much more simple than what you thought, right?
However, the savory taste of Tyropitakia can surprise you. It's creamy and wholesome. This pastry is often available in triangular or semicircular shapes with an enchanting glossy golden crispy crust.
You can serve it as a healthy breakfast or a midday snack. These pies are so popular that you'll find them on any occasion. It's ok if you want to make them ahead, but remember to let them cool completely before storing them in the refrigerator for the best taste.
Total time: 1 hour.
The next delicacy you have to try at least once in your lifetime is Karidopita, also known as Greek walnut cake. For the pie itself, all you need is eggs, walnuts, baking powder, and a lot of spices as well as herbs.
These resulting pies are soft, fluffy, and moist. The perfect blend of cinnamon and cloves give Karidopita a slight citrusy note and an aromatic flavor. With those spices, the pies become more fragrant than you can imagine.
You can prepare Greek yogurt, vanilla ice cream, chocolate syrup, or even a cup of coffee to serve this golden brown cake on the side to enhance your experience. It's really good!
Follow this guide, and you will have delicious Karidopita to enjoy right away.
Total time: 1 hour 20 minutes.
Karpouzopita is a specialty of Milos, an island of Greece that is located in the northwest part of the Cyclades island group. It consists of creamy butter with a hint of sweetness, refreshing watermelon, sesame seeds with a nutty note, and other necessary ingredients.
The inclusion of watermelon makes Karpouzopita one of the healthiest types of pie for your health. It helps you stay hydrated, improves your heart health, and maintains a good immune system.
Karpouzopita is not only healthy but also very scrumptious. The sweet taste, together with the intense aroma of butter and cinnamon, makes it a great choice for hot summer days. It has a crispy exterior but is still soft enough on the inside. Don't miss this wonderful recipe!
Total time: 55 minutes.
Once mentioning the excellent delicacies belonging to Byzantine cuisine, you should never miss out on Melopita. This is a traditional pie of Sifnos, a Greek island famous for food and drinks.
The Greek style of making Melopita involves mixing ricotta cheese, eggs, honey, and cornstarch until this mixture is smooth. The next step is to bake it for about 45-50 minutes. You will have a match made in heaven between honey and eggs to enjoy.
Melopita is light and soft with the right amount of sweetness, making it the perfect idea for your desserts. What are you waiting for without trying this pie right away?
Total time: 40 minutes.
This delicacy originated from Epirus, a coastal region in northwest Greece. They are thin and crispy on the outside. Moreover, Alevropita is wonderfully creamy thanks to the inclusion of feta cheese, making it an ideal choice to satiate your hunger.
If you are looking for a quick meal, give Alevropita a chance as it only takes you a short time. All you need to do is mix all the ingredients including flour, eggs, yogurt, etc., sprinkle the feta crumbles on the top, and bake the mixture. Easy as a piece of cake, or, in this situation, pie!
This type of pie is not only mouthwatering but also very versatile. You can enjoy it as a light meal. Alevropita is also a good option for lunch or dinner. You can utilize a salad like Maroulosalata (Greek lettuce salad), or Horiatiki (Greek village salad) for better taste.
Why does Alevropita taste so good? Check out here for the answer.
Total time: From 1 hour 10 minutes to 1 hour 20 minutes.
Kolokithopita, or Greek zucchini pie, is the last delight (but not least) treat before ending this interesting list today.
It is a traditional Greek pie made of zucchini, feta cheese, phyllo dough, eggs, and other necessary ingredients, making it suitable for a midday snack, a starter, or even a main course.
This nice combination results in sumptuous Greek zucchini pies with a flaky and crispy crust. The filling is creamy and scented with the aromas of herbs and cheese. It is one of the most elegant and seductive Greek pies that you should try.
Kolokithopita is packed with a lot of health benefits, thanks to the inclusion of zucchini. It helps to maintain healthy digestion and strengthen your vision. This ingredient is also a good choice if you want to lose weight.
Let Greek Pies Take You On An Interesting Culinary Journey
Whether you are a food lover or an amateur cook who is looking for new ideas for your meals, I believe these yummy Greek pies are totally worth a try.
As I promised, they are not only visually satisfying but also delicious enough to please your stomach. Greek cuisine is not something so mysterious; it is a treasure that you will regret if you miss them.
Finally, if you love this post, please give it a "like" and share it with the people around you. Please spread these delectable delights widely. If you want to share something with me, feel free to leave a comment. Thank you for reading!