Making these Greek soups will help you bring the ancient world to your home. Uniqueness, tradition, and rich taste are everything that impresses you when it comes to Greek culinary delights, right?
This post not only provides you with some popular soups but also shows you their characteristics. Moreover, these soup delicacies will be your first and most memorable experience with this country's cuisine. Here's the deal!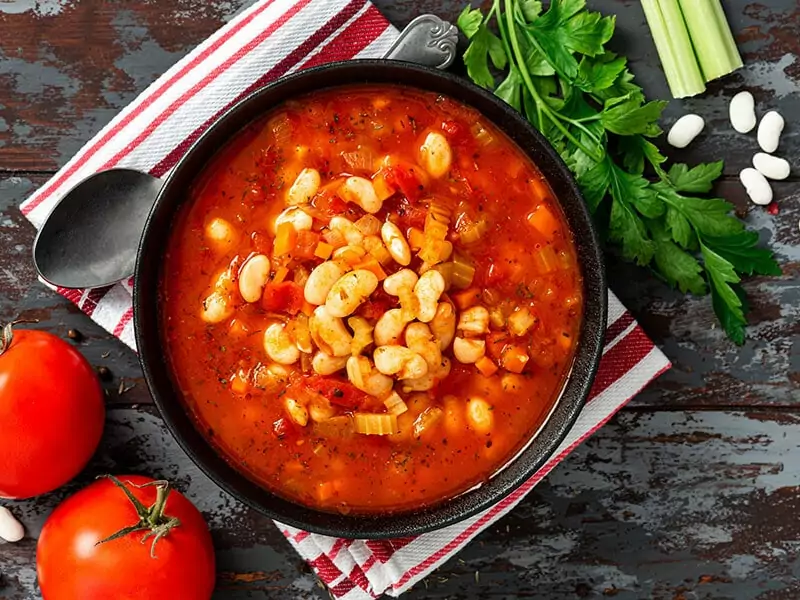 Let's get rid of the thought that soups should be just breakfast. These Greek soups will provide you with the main course, an appetizer, or even a side dish. Your task is to enjoy their wonderful flavors.
Total time: Approximately 2 hours 5 minutes.
Kreatosoupa or Greek beef soup is one of the most luscious soups from Greece. On cold days, there is no better choice than this kind of soup.
This soup is a combination of beef and other various garden veggies such as potatoes, carrots, celery, etc. You can use mutton or goat meat to replace beef without any worry about the change of taste.
The flavor of celery blended with beef creates a wonderful Greek-style recipe. Moreover, this dish is extremely rich in nutrients thanks to the appearance of beef, carrots, and potatoes. It is worthy of being the main dish in family meals.
Although this recipe takes you a lot of time to prepare, it won't disappoint you. Let's enjoy Kreatosoupa with crusty bread for the best flavor.
Simple and easy way to cook Kreatosoupa is here!
Total time: Around 25 minutes.
You can use Avgolemono as a soup or a sauce. This is a dish of Greek origin, but it's very familiar to North Americans. This recipe is a blend of chicken broth, lemon juice, eggs, and rice.
Avgolemono is special because it uses a higher egg-to-liquid ratio than other dishes made from eggs. It is a simple and nourishing soup that tastes like a silky, lemony, creamy soup.
The luxurious deliciousness of this dish will make you remember it forever. Moreover, the inclusion of chicken and rice makes Avgolemono a more filling and comforting soup.
It will be better if you enjoy Avgolemono with Lahanodolmades (cabbage rolls) or Dolmades (meat-stuffed grape leaves).
Total time: About 4 hours 5 minutes (including 3 hours of soaking the lentils).
Fakes is one of the most popular soups in Greek. This dish doesn't require a long time to cook, but the process of soaking lentils takes almost 3 hours.
Fakes are not only easy to cook but also packed with nutritious and healthy ingredients. The main ingredient is lentils, which make this recipe a great choice for adding fiber and protein to the body.
Fakes derive their mushy texture and mild earth, nutty, and peppery flavor from lentils. Although this dish is not too attractive, it is really addictive.
If you are looking for a tasty Greek dish for your vegetarian diet, it's a good idea for you.
Follow this guide to make Greek lentils soup at home right away.
Total time: About 1 hour 15 minutes.
What can be a more luscious Greek appetizer than the combination of succulent tomatoes and some other healthy herbs? Manestra originating from Greece is a perfect option to help you remove the feeling of loss of appetite.
Delicious tomato sauce plays an important role in creating the success of this recipe. You can have it as a main course or treat it as a savory Greek side dish.
This soup is easy to cook, but its taste will satisfy you. It is not only rich but also fresh. The combinations of spices create a harmony of flavor to this recipe.
Total time: About 1 hour 5 minutes.
Revithia, or Greek chickpea soup, is one of the best choices for winter days. It's very easy to prepare and cook. This recipe consists of chickpea, bay leaves, olive oil, flour, and some other spices.
Moreover, Revithia is also an ideal option for vegetarians. Its main ingredient is chickpeas, also known as garbanzo beans, which bring you a variety of nutrients such as proteins, minerals, fiber, and vitamins.
Although Revithia is a vegetarian dish, it boasts impressive health benefits. It helps you promote brain health, manage your weight, maintain your feeling full, etc. This is a traditional Greek dish you should try at least once in your lifetime.
Total time: About 1 hour 30 minutes.
You always think that the main dish cannot be cooked without meat, right? Greek vegetable stew will change your mind. When served with a little red wine, feta cheese, etc, it will become a good choice to replace the meat-containing recipes.
Sauté some garlic and onions in olive oil to improve the flavor of this stew. Add the green beans for about 3 minutes, then add other ingredients.
It takes only 45 minutes or an hour to cook everything until tender. You will have a delicious and flavorsome soup to enjoy with your family.
Total time: About 40 minutes.
Patates Yahni is a typical example of the classic Mediterranean flavors. If you are a fan of potatoes, you should try this dish.
The softness of potatoes combined with the succulent tomatoes will make the taste of this dish more delicious than ever.
If you want to fully enjoy the great taste of this Greek dish, you should prepare some feta cheese flakes and sprinkle them on top, or a few pieces of crispy bread dipped in the soup to savor every drop of this wonderful stew.
If you are wondering whether you can serve it as a Mediterranean vegetarian dish, the answer is yes. What are you waiting for without preparing the ingredients to cook this dish?
Let's learn how to make this attractive Patates Yahni at home.
Total time: Approximately 40 minutes.
Youvarlakia Avgolemono is a savory soup made from meatballs. However, these meatballs are not simply made from meat, but they also have the presence of rice.
This is a hearty main course, but you can also use it as an irresistible appetizer at any time. They are full of protein and healthy nutrients.
The blend of olive oil, lemon, and dill creates a special flavor that will attract you from the very first moment. This dish goes perfectly with a green salad, crusty bread, or feta cheese.
Total time: About 11 hours 10 minutes (including 10 hours of soaking the white beans).
Fasolada is a simple and very nutritious Greek soup. There is an interesting myth behind this recipe. According to a myth, on the way back after Theseus went to kill Minotaur, he and his companions had nothing left to eat.
They had to gather all they had on the boat to cook into an edible stew. This savory stew is Fasolada. Although made in a hurry with only a few simple ingredients such as white beans, carrots, tomatoes, etc., its taste is amazing.
Falsolada has a mild and rich flavor thanks to the presence of white beans. This cheap and delicious soup will taste better if you can pair it with olive, feta cheese, and crusty bread.
Learn how to make a bowl of Greek White Bean Soup like a Greek.
Total time: Around 50 minutes.
Spanakorizo, or Greek spinach and rice, is an easy and healthy rice recipe you should consider for your lunch. It is a simple mixture of spinach, rice, and some other herbs.
If you want to find a suitable Greek recipe for vegetarians, Spanakorizo can be one of the best ideas for you. You can enjoy this dish hot or cold and pair it with white wine to enhance your experience.
Although this Greek rice dish is not attractive outside, the magic combination of lemon, olive oil, and parsley will give you an indescribable taste. You can serve Spanakorizo as a main dish or a side dish.
Total time: About 1 hour 25 minutes.
The special feature of Psarosoupa is its main ingredient: Fish will be varied according to each season. Each time of the year, local inhabitants use different types of fish to ensure freshness. Psarosoupa is also an all-year-round dish in Athens.
Besides fish, this recipe also includes carrots, potatoes, parsley, and bay leaves to help you easily scoop out the bowl without crushing the fish.
After scaling the fish, you should add it to the soup made with other ingredients. Puree the veggies and add rice to the pot.
After that, prepare the Avgolemono (in this case, a sauce consisting of beaten eggs and lemon juice) and the lemon-olive oil dressing. Now, combine everything together, and you can enjoy this wonderful soup.
Total time: About 1 hour 5 minutes.
An easy-to-make recipe tastes delicious. There's no reason to skip this dish, right? Just like its name, fish is the main ingredient of this recipe, but crustaceans are also popular.
In addition, this soup is very nutritious because it includes a lot of veggies such as carrots, tomatoes, potatoes, zucchini, etc.
The Greek fishermen were the inventor of this wonderful recipe. Life on boats made it difficult for them to eat and drink. That's why they created and developed this kind of soup.
When you savor Kakavia, you can confuse it with a French Bouillabaisse, which is a classic Provencal fish stew, because their taste is almost similar. If you are craving a hearty soup with a real taste of the sea, make Kakavia at home right now.
Wines that are clean-cut but slightly acidic will be the perfect companion with Kakavia. I know that you don't want to waste this wonderful combination.
It will be a pity if you don't try to make Kakavia!
Total time: About 2 hours 2 minutes.
Mayititsa, or Greek Easter soup, is a unique and controversial dish in Greece because it is made of animal organs.
If you are a fan of Greek food, you have to go there on Holy Saturday to enjoy this dish as it is traditionally served once a year. However, why don't you make it at home now but wait until then, right?
This recipe includes lamb offal such as lungs, liver, heart, and other herbs and spices. The Greeks believe that using the remains of lamb to prepare this dish would prevent them from going to waste.
One thing about this soup that you should be aware of is that they are very hard to digest, so eat just a small bowl.
Try New Things, Try Greek Soups
Greek culinary cuisine is always the secret that you want to discover, right? The dishes from this country are unique and delicious. They will also attract you by the stories behind them and a variety of choices.
I hope that this article will bring you a new look at Greek foods. You can make these delicious soups at home to enjoy right now. These simple and easy-to-make soups will be your fondest impression when talking about the cuisine of this country.
If this post is informative, please share it with others to spread this useful knowledge. Don't forget to leave a comment to let me know your experience with these soup delicacies. Thank you very much!
Nutrition Facts
8 servings per container
---
Amount Per ServingCalories359
% Daily Value *
Total Fat 13.3g

20

%
Cholesterol 112mg

38

%
Sodium 194mg

9

%
Potassium 996mg

29

%
Total Carbohydrate 18.4g

6

%

Dietary Fiber 3.5g

12

%
Sugars 3.7g

Protein 40g

80

%
---
* The % Daily Value tells you how much a nutrient in a serving of food contributes to a daily diet. 2,000 calories a day is used for general nutrition advice.