Greek appetizer recipes will offer you a lot of good ideas to start your meals with delight and perfection because they're more vibrant and lighter than many other recipes across the world. Moreover, these tasty Greek dishes will make it easy to get the best choice to amaze everyone.
The given information about the food will let you know which one is suitable to serve for yourself and which one is good to serve for a crowd with ease and convenience.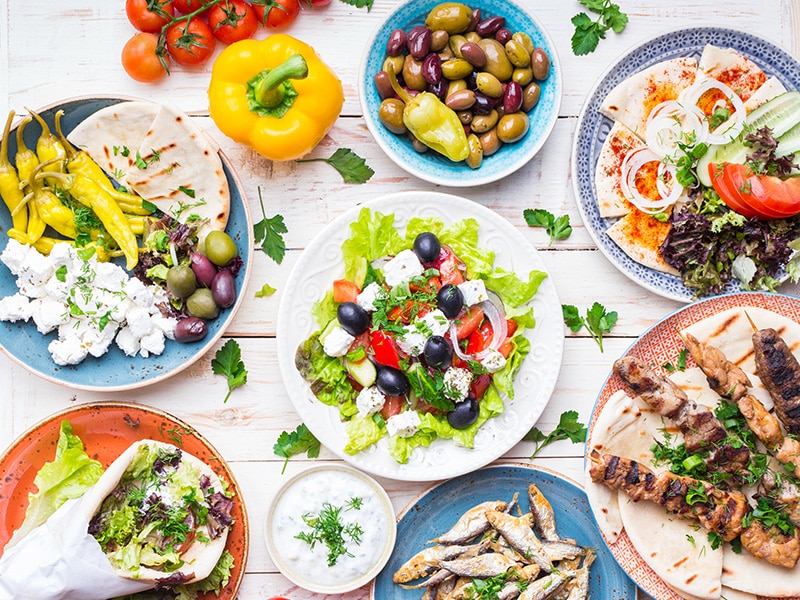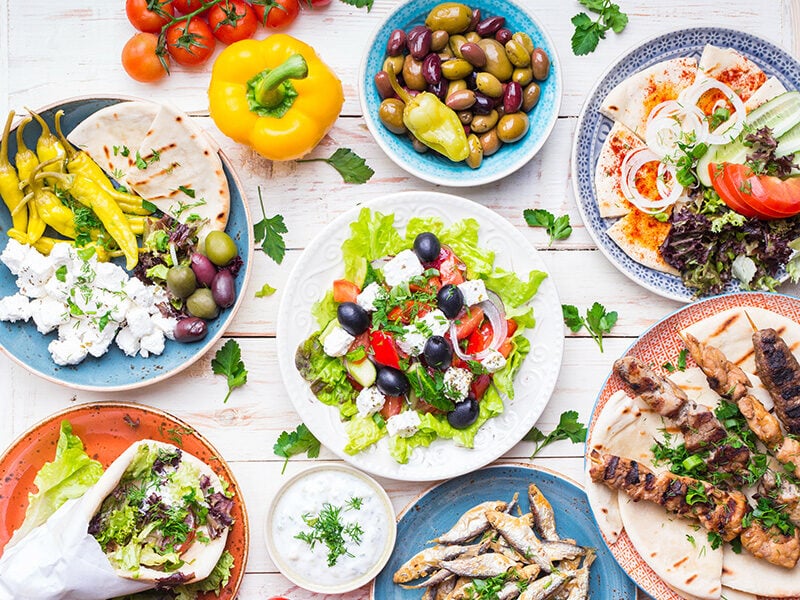 Which Greek Appetizers Will Perfect Your Meals?
Three groups of Greek appetizers will offer you many wonderful ideas for your meals. Check the list, decide what to make, and jump up to the detailed recipes below!
Greek Appetizer With Cheese
Greek Feta Dip
Fried Greek Cheese (Saganaki)
Greek Stuffed Pepper With Feta Cheese Recipe
Phyllo Wrapped Feta Cheese With Honey And Sesame Seeds
Greek Nachos
Greek Salad Skewers
Greek Bruschetta (Dakos)
Greek Spinach Pie With Feta Cheese (Spanakopita)
Spinach And Feta Filo Parcels
Greek Salad Pinwheels
Greek Quesadillas
Appetizer With Healthy Vegetables
Greek Roasted Eggplant Dip (Melitzanosalata)
Olive Tapenade
Greek Salad
Easy Zucchini Fries
Fried Olives
Crispy Greek Fried Eggplant (Melitzanes Tiganites)
Fluffiest Potato Balls (Patatokeftedes)
Other Greek Appetizers
Traditional Greek Tahini Dip
Tzatziki Greek Garlic Yogurt Dip
Greek Layer Dip
21 Fantastic Greek Appetizers You Must Know!
If you're looking for the way to make the mentioned Greek appetizers and how they taste, just read this section for deeper information that will help you to opt for the best idea.
Famous Greek Appetizers With Feta Cheese As An Iconic Ingredient
When it comes to Greek appetizers, feta cheese can be considered a symbolic ingredient. If you haven't known the taste of feta cheese before, it's time to try it in Greek foods.
They can add light colors, wonderful texture, and aromatic flavors to your meals. Go with me now to know how amazing feta cheese is.
Making dip is one of the easiest recipes globally, even if you're not skillful at cooking. However, that doesn't mean the dishes are not as delicious as complicated recipes.
The Greek feta dip brings you a sense of heaven and freshness. Top the feta dip over bread slices; you can get one of the most fabulous recipes in the universe.
If you are a fan of famous Greek cheese, you must not miss this recipe. The dish has a crispy exterior but a cheesy and soft-core, making it one of the favorite appetizers for kids. When you come to a Greek restaurant, you have surely started your meals with this recipe.
What makes the dish light is from choosing the right cheese to make. You had better choose hard cheese to finish the recipe with ease and perfection.
Stuffed pepper with feta cheese is another good dish to start your meals. This Greek vegetarian delight is so hearty and heavenly to eat.
The feta cheese stuffing adds tanginess and sweetness to the peppers, creating a fabulous flavor combo to serve as an appetizer.
Starting your meals with Greek stuffed peppers is simple and quick now! You can see this video to know more:
Feta cheese originated from Greece and is a fresh, white, and soft cheese from goats or sheep. The appearance of feta cheese raises the aroma of the appetizer.
This appetizer is suitable for a crowd for holiday parties; thus, you can also make them in advance and take them to go for a picnic.
Nacho is a food symbol among plenty of Mexican appetizers. But what do they look like in the Greek version?
In reality, you might get addicted to these Greek chicken nachos the first time eating them because of their deliciousness and appeal. The nachos are loaded with many crunchy and nutritious veggies together with chicken and sauce, creating fabulous flavors in your mouth.
You can serve it as an appetizer and a good side dish for baked chicken wings and dip to get a better taste.
Your kids won't refuse to eat these Greek salad skewers at the beginning of the meals. Moreover, the salad also makes them excited to eat other main courses of the meals.
A perfect beginning is very important for your guests or your family to continue enjoying the following dishes. Try making it for your family now!
Let me tell you about a wonderful appetizer for your summer party. And it is the bruschetta in Greek style.
You often see the appearance of Greek bruschetta in Greek meals as an excellent appetizer. The Greek bruschetta is basically Cretan barley Dakos topped with tomato mixture, feta cheese, and fresh herbs to get the tangy flavor.
Appetizers with Dakos are also easy and quick to make; thus, you can make it for your family meals to enjoy weekend time together.
This wonderful Greek pie with spinach and feta cheese is a healthy and flavorful appetizer for your family, especially your kids, as the spinach is a good veggie for the mental development of kids.
Moreover, this famous Greek street food is crispy on the outside but yummy and full-flavored on the inside. These words cannot describe what the pie tastes like; you can make it and enjoy its delight in the next meal.
You can bring your meal with a simple but tasty starter dish of spinach and feta filo parcels. This palatable dish from Greek cuisine is especially suitable for any meal, even if you're vegetarian. The fillings of feta cheese and spinach offer you a good and healthy recipe.
Moreover, you can also serve the dish as a fantastic snack with a golden brown outer and cheesy and juicy core.
With 10 minutes before eating time, what can you do to make an appetizer? This tortilla pinwheels recipe will be ready on your meal table for around 10 minutes and satisfy you thanks to its flavors and colorful appearance.
These delicious pinwheels are a wonderful and nutritious appetizer, lunch, or snack for your meals with the addition of hummus and feta cheese.
11. Greek Quesadillas
Quesadillas are also a common Greek appetizer containing a meatless salad filling; thus, if you're a vegetarian, this recipe is an ideal idea.
You had better serve the dish with dipping sauce to raise the deliciousness of the dish and they'll be a hit to your meals.
Mouth-Watering Greek Appetizers With Healthy Vegetables
Do you love eating healthy vegetable-based recipes? This section will show you brilliant Greek recipes made with veggies as a starter of your family's meals.
The dip is good from its flavor to its appearance, but it is an easy dip made with some simple and inexpensive ingredients. The dip will give you spicy, pungent, and creamy flavors, making it an excellent choice to pair with pita, crackers, and sandwiches.
Making the dish doesn't take you as much time as other dishes, so if you are busy with working, this appetizer recipe will be a good idea for your family meals.
One more dip to go well with your bread slices is olive tapenade that is made with a mixture of crushed olives and many other fresh herbs to form a dense, healthy, and delicious texture.
Olives are good for your health as they are an excellent source of vitamin E, low carb, and monounsaturated fats, making them a great ingredient to improve circulation and inflammation.
What makes this Greek salad more special than any other salad in the world is the appearance of tangy olives and feta cheese. Besides, the other veggies and refreshing Greek fruits also make it a healthy and nutritious salad for your family members.
Another factor that makes the dish comforting is the Greek Mediterranean dressing that plays an important role in raising the flavor of veggies and fruits.
Zucchini is a healthy ingredient as it can aid digestion, reduce blood sugar levels, strengthen vision, and support weight loss process. And it would be much healthier if you enjoy them as a starter cooked by air fryers. So if you have this tool at home, do not miss this idea.
You need to finish the dish by baking the zucchini sticks after dipping them with the panko mixture. With an oven, your recipe becomes easier than ever. Like many other fries, these zucchini fries have a crispy outer but tender core.
You should enjoy the recipe with a dip to raise the flavor; let's try it!
Do your meals become amazing with this recipe? You can see this video to know more:
Fried olives are also listed in the list of famous traditional Greek appetizers because of their good reputation from flavors. In Greece, this appetizer is often served during the Thanksgiving holiday when all family members get together and enjoy cooking and dishes.
The olives coated with bread crumbs are fried until they get golden brown. You can get this dish to pair with garlic aioli sauce to create a wonderful appetizer.
Whenever you're in doubt about whether olives can last forever, make these crispy fried olives. While this can't answer your question, it's still a fantastic way to change how you enjoy olives, making it easier for you to finish your surplus of olives.
This recipe will offer you one more idea for vegan meals; crispy fried eggplant goes well with tomato dipping sauce.
Frying this fruit whose name begins with "E" is the easiest and best way you can do with healthy and nutritious eggplants. So, just give them a try!
Potatoes seem to be the most common ingredient in cooking because they give you many fabulous cooking ideas to make with and also offer many health benefits.
Just with some potatoes and normal seasonings, you can get one of the most attractive recipes for your kids now – the fluffiest potato balls. Together with wonderful dips, this recipe will create an excellent appetizer for your meals.
You'll be successful in making potato balls fluffy and delicious! You can see this video to know more:
Other Greek Dishes For Satisfying Appetizers
These Greek appetizers will offer you more wonderful ideas to perfect your meals. Check them; you might get the ideas to save for later.
In Greece, the tahini dip is a versatile sauce and is a famous dip to serve as a good appetizer by the side of Lagana bread. Besides, if you like, you can serve the dip as a topping for meat and vegetables to raise the flavor and trigger your taste.
Thus, you can make this appetizer and keep the remaining for the main dishes. Don't worry about the possibility of tahini going bad, this delicacy has a very impressive shelf-life.
Another nutritious and heavenly appetizer is the tzatziki garlic yogurt dip made in Greek style.
The dip contains Greek yogurt and cucumbers as the two main ingredients, making them a good dip for your health. The tasty Greek yogurt recipe can aid the digestive system, provide your body with many vitamins, especially stimulate the main dishes' delight.
Just pair it with toasted pita wedges, crispy raw vegetables, cheese, and crackers to serve it as appetizers.
Making Greek yogurt dip is not difficult for you anymore! You can see this video to know more:
Another ideal dip to serve as a simple-yet-healthy cold appetizer is this Greek layer dip. It is the combination of sliced veggies, pita chips, and crackers to create wonderful appetizers, which is very nutritious and good for health because it is made with various fresh and hearty veggies.
You should let the dip chill in the fridge about 30 minutes before serving to get the best flavor. Besides, you also can store the dip for up to 2 days in the refrigerator.
Are Greek Appetizers Similar To Other Countries' Recipes?
21 insane Greek recipes are presented to help you get the best idea for your family meals. You can take them as references and adapt the recipe to fit your interest.
However, Greek recipes can be different based on many reasons related to region, taste, and distinctive ingredients. Thus, if you know how to make Greek recipes in another way, please share them with me in this comment section. Your suggestions are my honor!
Nutrition Facts
6 servings per container
---
Amount Per ServingCalories153
% Daily Value *
Total Fat 12.8g

19

%
Cholesterol 34mg

12

%
Sodium 478mg

20

%
Potassium 154mg

5

%
Total Carbohydrate 4.2g

2

%

Dietary Fiber 0.7g

0

%
Sugars 2.9g

Protein 5.9g

10

%
---
* The % Daily Value tells you how much a nutrient in a serving of food contributes to a daily diet. 2,000 calories a day is used for general nutrition advice.