You should not ignore Greek fruits if you want to try excellent and traditional Greek recipes. They are perfect options to make your meal more amazing. Many delicious dishes are made from these fruits.
Until now, I cannot forget the incredible feeling when trying these excellent fruits in Greece on my last trip. Everything is perfect, and it is time for you to taste these fruits. Let's learn some essential things before trying them.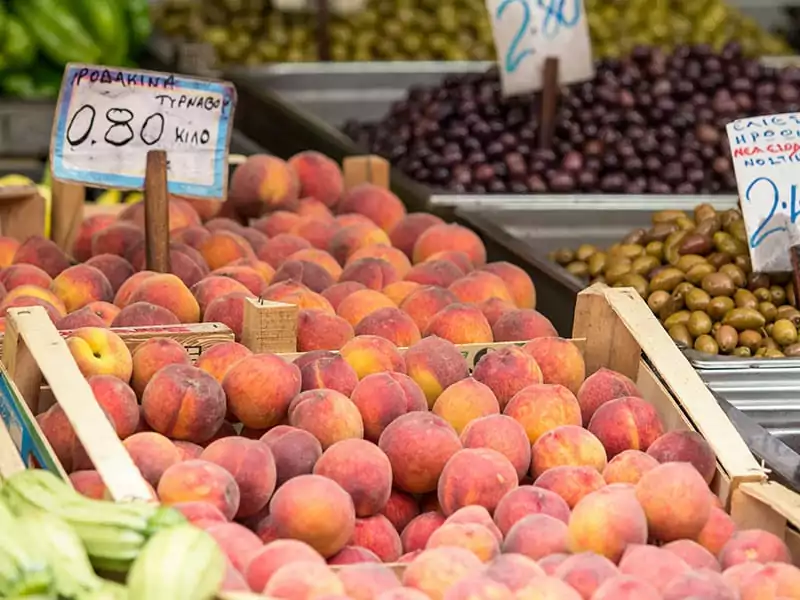 Stimulate Your Taste Buds With 4 Greek Citrus Fruits
Different types of fruits will bring various experiences and feelings. The distinctive taste of Greek citrus fruits in this part will make you flutter right now. Let's taste them.
1. Oranges – Portokali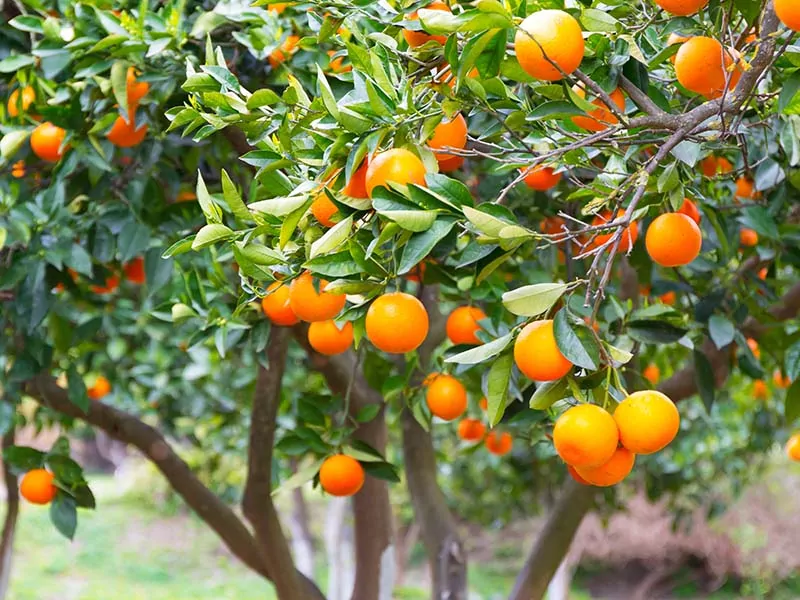 When speaking of yummy Greek drinks, it is impossible not to mention orange juice. Orange is a luxury fruit in this country. Southern China, Myanmar, and Northeast India are the homeland of this citrus fruit.
Orange is a hybrid fruit since it is created from Pomelo and Mandarin. There are many different types of oranges. Oranges have round or elliptical shapes. Green is the popular color of the rind of unripe orange. And it will have bright orange or yellow-orange when ripe.
You can come across about 7 to 10 segments in each orange. They will have orange or yellow colors and are juicy. It is a perfect experience to enjoy the characteristic sweet-sour flavor of succulent oranges on summer days.
Because of the high water content, Greeks usually squeeze oranges to get the juice. Also, they are a good choice for dessert after each meal. In particular, people take advantage of their rind to add to many excellent desserts to bring the citrus taste.
Nutrients: Rich in calories, fiber, protein, vitamin A, C, and calcium.
Season: It is common from the 20th of October to the 15th of May in Greece.
How to eat: Peel the skin and eat its segments. Another way is to slice it and eat the flesh from the rind. You can squeeze this fruit to get the juice.
Go to an orange garden in Greece to get a closer look at this fruit.
2. Lemons – Lemoni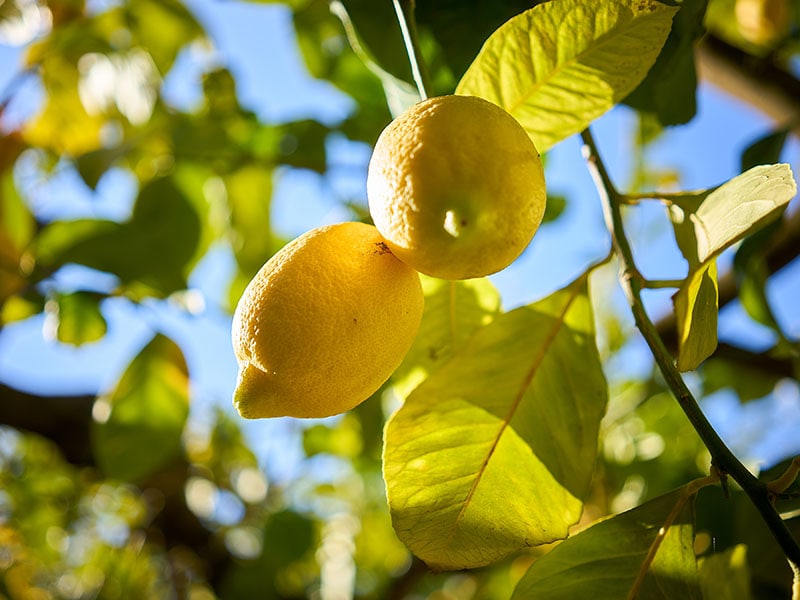 Greece has many types of citrus fruit, and lemon is one of the famous options you should not ignore. This fruit has its origin in Asia, Northeast India, China, and Northern Myanmar. In Greece, it is cultivated widely in the Peloponnese and areas of Crete and Laconia.
This well-known fruit appeared in the Mediterranean from 1000 to 1150. Its appearance is similar to Orange, but it is smaller. This fruit contains green, pale green, or yellow skin on the outside. There are about 4 to 6 succulent segments inside the fruit.
You can find different types of lemon in many shapes and colors. The bitterness, sourness, and harsh flavor of lemon will awake you immediately. Usually, lemon contains about 5 to 6 percent citric acid, leading to the distinctive tartness of this common fruit.
Because of the intense tartness, lemon is used widely for cooking. This fruit is a suitable choice for making jams or pies. People often add it to lemonade, or to make delicious Greek cocktails, and other drinks. The rind of lemon is a critical ingredient in cuisine with many practical uses.
Nutrients: A source of calories, protein, carbs, fiber, vitamin C, and fats.
Season: January to March is the best time for harvesting lemons in Greece.
How to eat: You can consume lemons as you use oranges.
3. Mandarin – Mandarini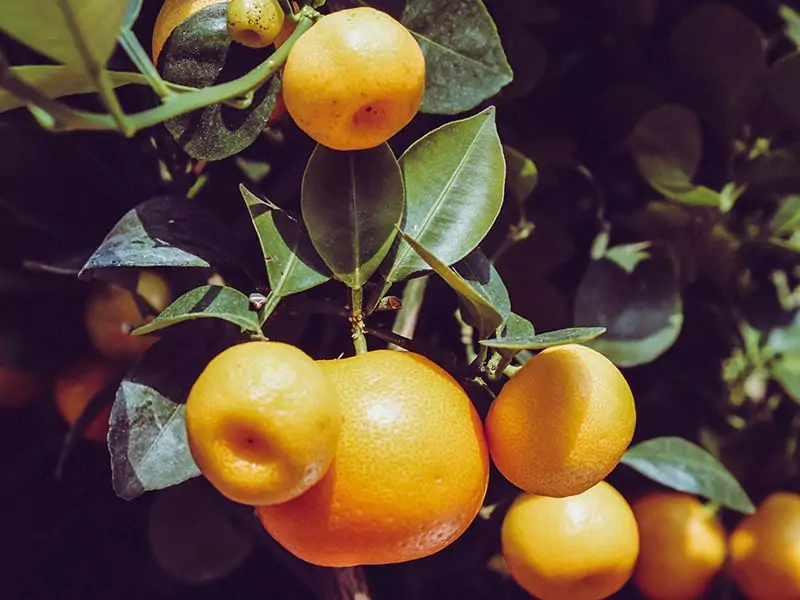 When talking about Greek citrus fruit, mandarin is an indispensable name. It is similar to Orange but smaller and sweeter. This fruit is softer and has a more potent fragrance than Orange.
The oblate shape is the typical appearance of mandarin. The eye-catching orange, red-orange, or yellow-orange colors of mandarin will fascinate you at first sight. There is a white mesocarp beneath the rind of the fruit.
Similar to other citrus fruits, mandarin has some juicy segments inside. Mandarin can be seedless or consists of a few tiny seeds depending on the various varieties. Sweetness is the primary flavor of this fruit, and a hint of acidity will make it more fantastic.
China is the top mandarin producer globally, with about 19.7 million tonnes. Fresh mandarin is often consumed as a dessert or added to salads, desserts, and main dishes. People love to enjoy a glass of fresh juice on summer days.
Nutrients: Calories, protein, carbs, fiber, vitamin C, potassium, and calcium.
Season: The season lasts from October to late February in Greece.
How to eat: Follow the methods to consume oranges to eat mandarin.
Let's discover the main differences between mandarin and oranges.
4. Kumquat – KoumKouat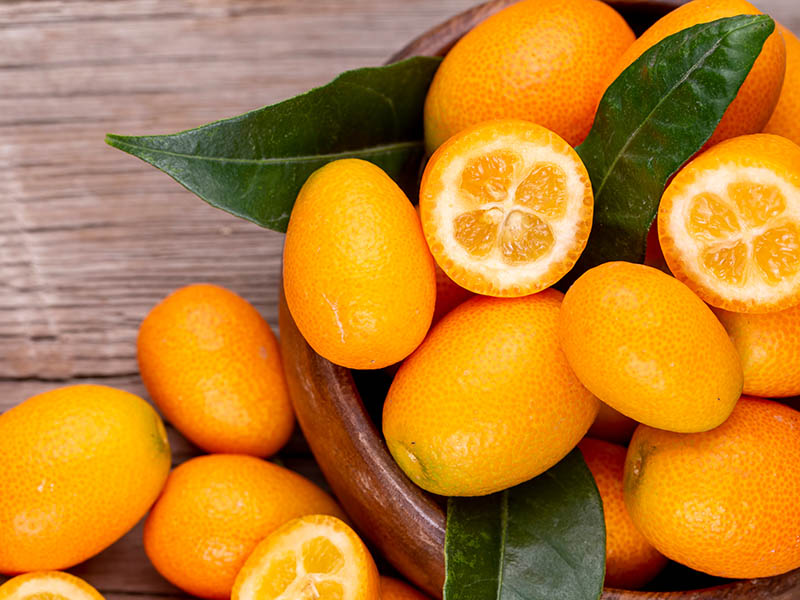 Kumquat is a famous citrus fruit loved by many local citizens in Greece. This fantastic fruit belongs to the Rutaceae family. It is similar to common oranges in shape and color, but it looks smaller. You can imagine a large olive when looking at this fruit.
Its unique name originates from "Kamkwat", which means "golden mandarin orange". Southern China is the homeland of kumquat, and it was shown in Europe in 1846. It appeared in Greece in the 19th century.
In particular, one kumquat tree can create hundreds or thousands of kumquat fruits per year. Round, oval, Meiwa, or Hongkong kumquats are the common types of this fruit. Round kumquat will have sweet peel and tart flesh, so it is commonly used in cooking.
In Greece, this fruit is planted widely on the beautiful Corfu Island. Kumquat liqueur is an amazing recipe in this area. It is an international product when it appears in many regions worldwide.
You can find it in many Chinese foods, such as marmalades and jellies. It is considered the symbol of luck in China, so the Chinese often use it as a gift during the Lunar New Year.
Meanwhile, the oval version is bright green and has many yellow stripes. Like round kumquat, it still has a sweet rind and sour center.
When eating the Hongkong kumquat, you will feel the bitter, sour, and sweet taste. This fruit is a rich source of essential oils and vitamin C.
Nutrients: Rich in vitamin A, C, fiber, and antioxidants.
Season: Its season runs from January to May in Greece.
How to eat: The ways to use kumquat are similar to oranges.
What Do You Think About These Excellent Greek Pome Fruits?
Are you a big fan of pome fruits? If yes, this section is for you. They are the ideal options you can try when coming to Greece on your trip. Please enjoy them.
5. Quince – Cydonian Pome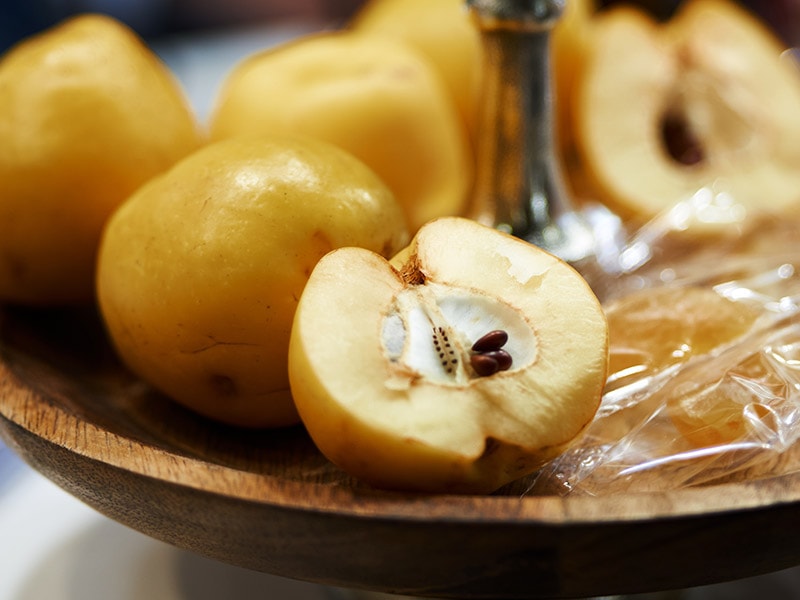 Besides the delicious Greek foods, you can try the excellent fruits in this country. Quince is one of the fruits you must try. It is an iconic fruit of Greece and loved by natives and tourists. This fruit belongs to the Rosaceae and has many similarities to pears and apples.
Quince originates in the Hyrcanian forest located in the South of the Caspian Sea. Its cultivation has taken place in the Mediterranean since the archaic period, and it was known as "golden apples" in ancient times.
In ancient times, people often called it "melimilon" because this fruit is tied with the Greek goddess of beauty and love (Aphrodite) in Greek mythology. It is a gift at weddings according to Greek tradition. It is a sign of happiness when Greeks see this fruit in their dreams.
Greeks often call it Cydonian Poem because it is tied with Cydonia on Crete. Unripe quince has green skin with a layer of gray-white hair outside. When mature, the fruit will turn golden yellow and has an intense fragrance.
The hard texture and tartness will leave a deep impression on your mind when you consume ripe quince. Therefore, it is rare to be eaten raw. Greeks often prepare marmalade, jelly, jam, and alcoholic drinks from this fruit. Quince is a fruit for the goddess Aphrodite of Paris.
Nutrients: Rich in calories, protein, carbs, fiber, vitamin C, B6, and thiamine.
Season: December is the high peak season of quince in Greece.
How to eat: Peel the skin, consume its flesh and remember to remove the seed.
Follow these directions to prepare quince and make baked quince.
6. Apples – Milo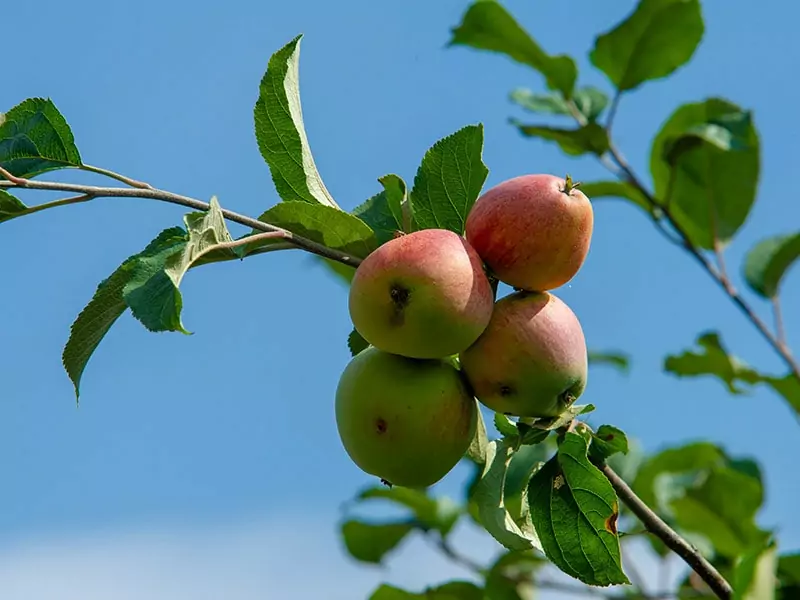 There is no controversy about the popularity of apples anymore because it appears in every region around the world. This famous fruit is derived from Central Asia and spreads gradually to Europe and other areas.
It has existed in Asia and Europe for thousands of years. Zagora, Makriahi, Pouriou, and Kastoria are famous producers of apples in Greece. Apples are the pome fruit and are often ripe in January. People will start picking them from October.
Mature apples often appear in red, green, pink, yellow, or russeted skin. There is an epicuticular wax layer around the skin to protect the fruit. The sweet and sour taste of yellowish-white, green, yellow, or pink flesh will captivate you.
Moreover, the crunchiness of its flesh is another attractive feature of this exotic fruit. Apple is diverse in variety, with about 7500 different types of apples worldwide. Greeks often consume fresh apples or add them to many pies, cakes, drinks, and desserts.
Nutrients: A source of calories, protein, carbs, fiber, fat, and vitamin C.
Season: Apples are often ripe in January, and people will pick them up in early October.
How to eat: Enjoy apples by peeling their skin and cutting it into small pieces to eat.
2 Amazing Greek Berries Will Fascinate You
Berries are always the common choice of many people for their fruits list. I hope you will love these mouthwatering berries I am about to introduce in this part.
7. Watermelon – Karpouzi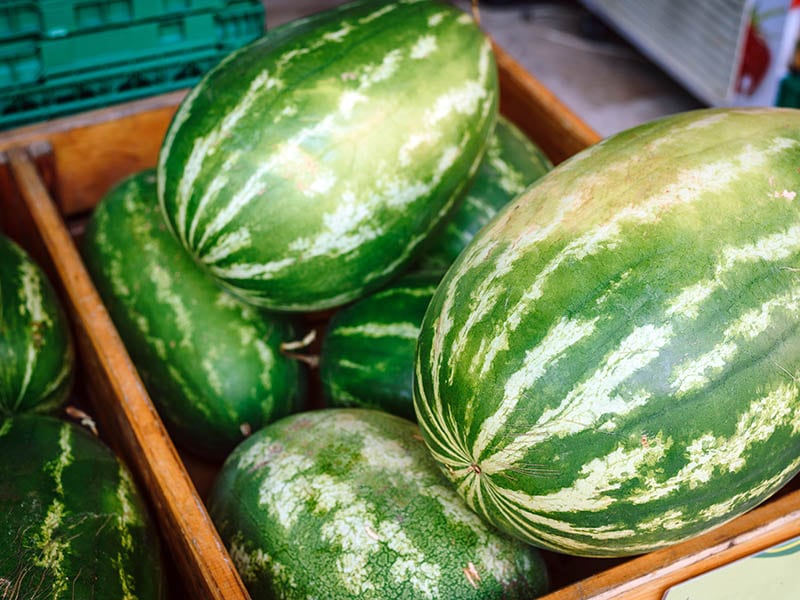 There are many famous types of fruit in Greece, and watermelon is one of them. This fruit is a good choice for the hot summer days. Watermelon is a global fruit when planted commonly in many parts of the world. Peloponnesian peninsula is the main watermelon producer in Greece.
It was a long-standing fruit when its seeds existed in the Dead Sea in ancient times. Initially, it was grown to take advantage of its high water content for dry seasons. The first records about watermelon appeared in 1753.
Watermelon was introduced in the Mediterranean in Roman times. It is a large berry and has oval or round shapes. A thick and deep green rind will cover the fruit, and you will see some stripes on its skin.
You will fall in love with the juicy and sweet flesh beneath the rind. Its flesh can be red, pink, yellow, green, white, or orange, depending on the various varieties. You can find more than 1000 different types of watermelon. The sweetness of it will make you flutter.
Thanks to its sweetness and juiciness, it is a common choice for making juice to relieve thirst on summer days. You can eat raw watermelon or add it to salads and many delicious other desserts. It is common in the summer and is often eaten on the shore or in the taverns.
Nutrients: High in calories, carbs, fiber, protein, fat, vitamin A, C.
Season: It is easy to buy watermelon in Greece between May and September.
How to eat: The fastest way to eat watermelon is to slit this fruit into 2 parts and use a spoon to get the flesh.
Go to the kitchen to make fresh watermelon salad with Feta cheese for your meal.
8. Kiwi – Aktinidio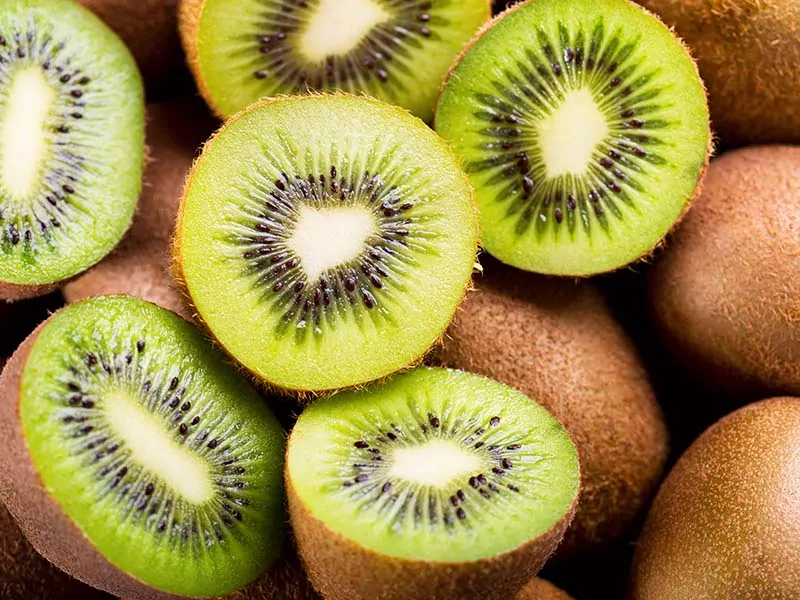 It is a shortcoming, not to mention kiwi in the list of exotic Greek fruits. This mouthwatering fruit originates in Central and Eastern China. The first records about this fruit existed in the 12th century during the Song Dynasty. You can see many different types of kiwi globally.
Nowadays, kiwi cultivation occurs in many parts of the world. Kiwi is a vine plant about 1.5 to 2.5 inches in diameter. It looks like an egg with light brown and tart peel. It has a golden or pale green flesh with many tiny edible seeds.
It is hard to resist this famous fruit's perfect soft texture and appealing sweetness. Pierias kiwi is the favorite variety in Greece. This type was cultivated in 1974 on the Pierian plains. Greeks call it "the fruit of Olympus" thanks to its delicate and distinctive aroma.
Nutrients: High in vitamin C, fiber, potassium, and antioxidants.
Season: The best season extends from October to November in Greece.
How to eat: To eat kiwi, let's slice it into small pieces and eat it as a delicious dessert.
Fruits are diverse, so do not limit your choices to the above fruits. You can refer to this section to get other fantastic fruits for your parties.
9. Figs – Syko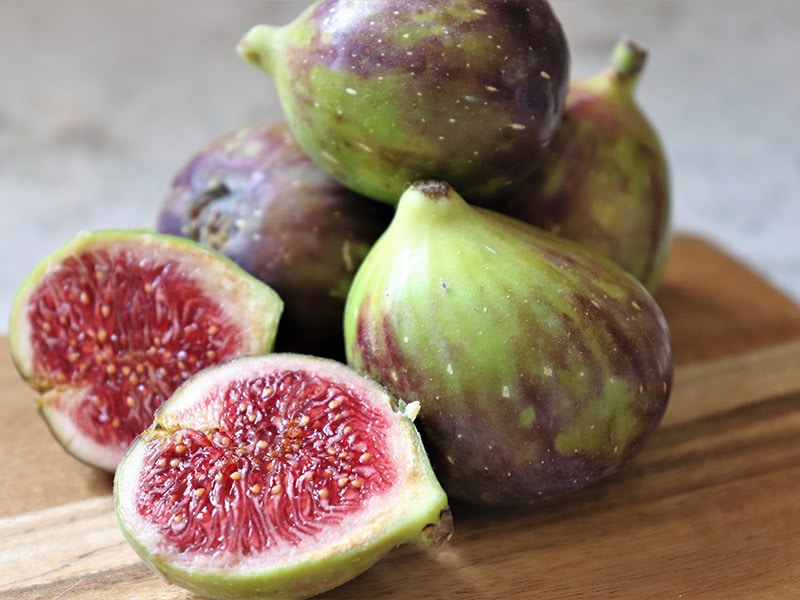 It is a pity not to try figs when coming to Greece. Figs are native to the Mediterranean and Western Asia. This fruit is a prominent member of the Moraceae family and existed in ancient times. Nowadays, you can see this fantastic fruit in many places worldwide.
The shape of the fig is similar to a tear, and this fruit will be green when unripe. The purple or brown will appear when it is ripe. After cutting this fruit, you will see eye-catching reddish flesh with numerous edible and crispy seeds.
To buy figs, you can go to the vendors along the roadsides in Greece. If you want to taste the best figs in Greece, I suggest coming to Kalamata and Evia.
When consuming ripe figs, you will immerse yourself in the honey-like sweetness. Moreover, a bit of berry taste will make this fruit special. You can eat fresh or dried figs. In addition, making jams, rolls, biscuits, or other desserts is a perfect choice.
Nutrients: A source of calories, carbs, fiber, copper, magnesium, and potassium.
Season: It is famous from late August to early September.
How to eat: Wash the fruit and consume the whole fruit.
Explore all amazing things about 3 excellent Greek figs.
10. Peaches – Pooakivo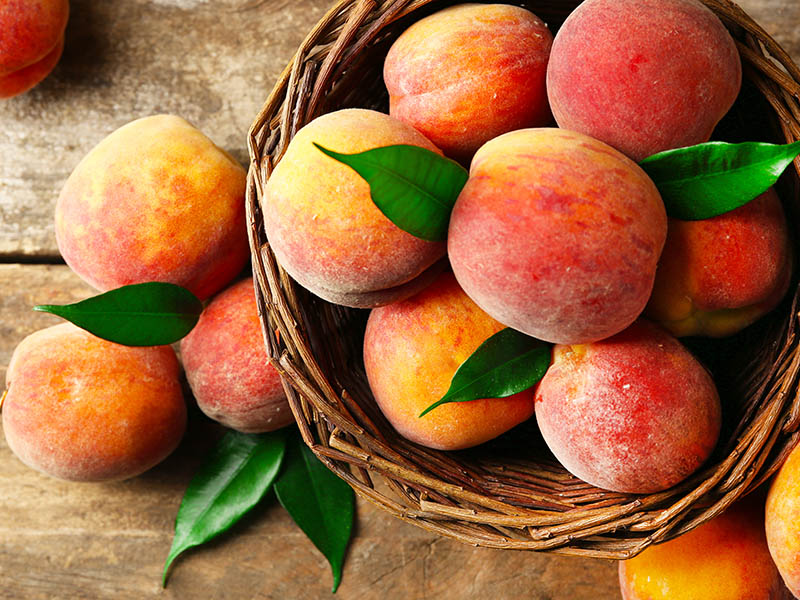 Peach is a wide choice to make many delicious Greek desserts. This mouthwatering fruit is native to the Zhejian province of Eastern China. In Greece, peach cultivation existed in 300 BC, and Alexander the Great brought it to this country.
You can recognize a peach quickly, thanks to its smooth red skin. Peach is a drupe fruit with a single red-brown seed in the middle. It is easy to see a wood-like husk around the seed. Its seed is surrounded by white or yellow flesh.
Sweetness and tartness are 2 flavors you can feel while eating peach. The white flesh version will be sweeter than the yellow flesh type. The acidic tang is the dominant taste of the yellow flesh peach.
There are two different types of peach, including clingstone and freestones. The flesh of the Clingstone peach will stick to the stone, while this does not happen with the Freestone version. Greeks often eat raw peaches or make jams, pies, and desserts.
Nutrients: It includes calories, fat, carbs, fiber, protein, vitamin A, and C.
Season: It is often ripe between May and August in Greece.
How to eat: Remove the skin, enjoy the flesh around the pit. Or, you can dice it and discard the seed before eating.
11. Cherries – Kerasia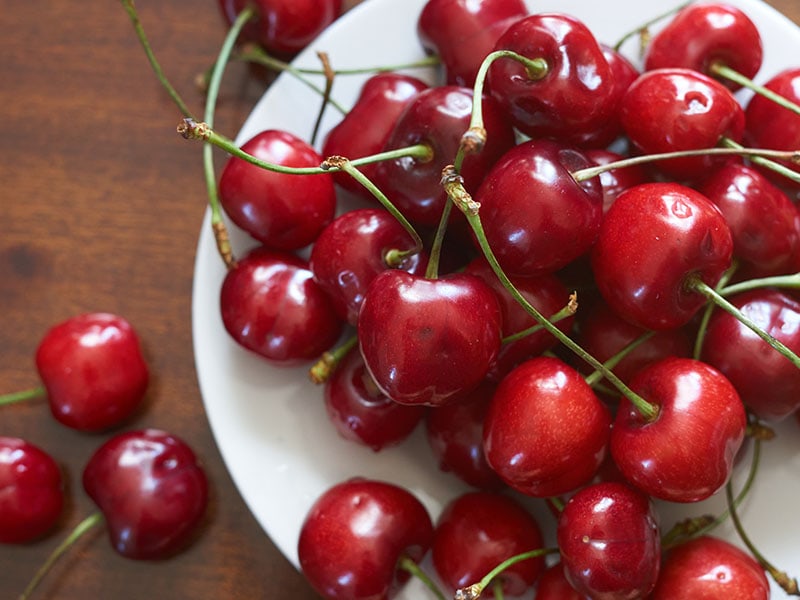 Cherries are one of the global fruits when loved in many places worldwide. Its English name "Cherry" comes from the word "Cherise" from the Latin cerasum. Kerasous (an ancient Greek area) is the first place where cherries were brought to Europe.
There are many different types of cherries, including true cherries, bush cherries, bird cherries, racemose cherries, and Cherry Laurels. Kerassia Tragana Rodochoriou is the most famous cherries in Greece. This variety appeared in Rodochori village in the 1950s.
Cherries are fresh drupes with a heart shape. It looks adorable in yellow, red, or black colors. You can eat its thin skin and delicious flesh. Its flesh is really firm and juicy with an enchanting sweetness.
Besides, you can feel a bit of tartness from this excellent fruit because of the low acid content. Cherries are a favorite dessert of Greeks, and they are used in salads and many delicious dishes.
Nutrients: A rich source of calories, protein, carbs, fiber, vitamin C, potassium, copper, and manganese.
Season: Its season is in late May or early June in Greece.
How to eat: Put the fruit into your mouth and eat the fruit after rinsing, but you should remove its seed.
Learn the specific tutorials to make an outstanding cherry liqueur.
Fruits play an essential role in the daily diet of everyone since they help refresh your body and supplement many essential nutrients. After reading this post, I believe you have more healthy choices to diversify your daily menu.
Do you know any other delicious Greek fruits? Please, let me and others know by sharing them in the comment section. Do not hesitate to introduce this helpful post to people around you to convey positive information. Thanks for your time!