Do you want to enjoy luscious Greek cocktails to refresh your soul on gray summer days? If the answer is a "yes", this post is what you are looking for. It will give you a list of tasty cocktails which are loved not only by Greek but also by a lot of people all over the world.
Moreover, this post also provides you with some typical characteristics of these drinks and the reasons why they are so attractive. You will know which type of cocktail is suitable for you and the special flavors they bring. Read on to check this out!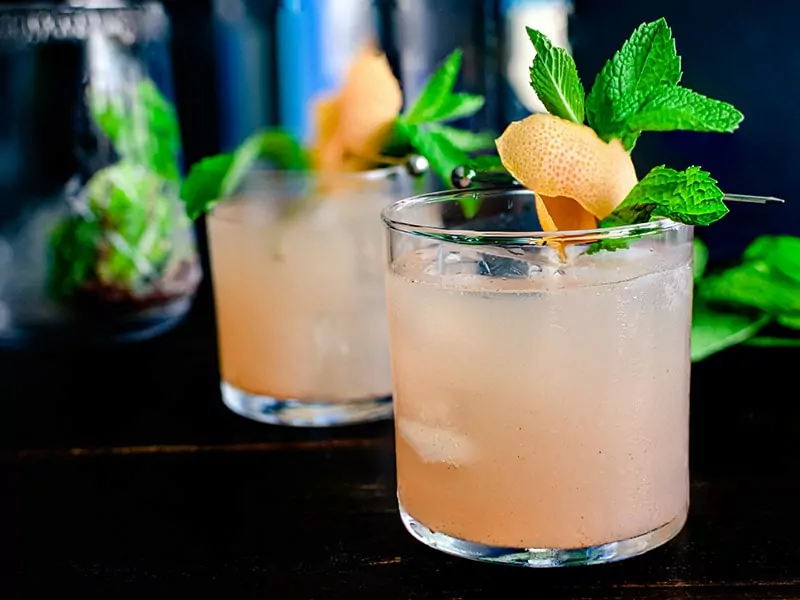 Something You Should Know About Cocktails
Have you ever questioned whether a cocktail is a wine or a juice or why its taste is a blend of these two drinks? The following section will give you the answer, don't skip it.
Simply put, cocktails are any beverages that include at least one kind of alcohol and other ingredients such as fruit juice, cream, or flavored syrup. That's why you always feel the rich fruit flavor from this drink.
A basic cocktail consists of the main alcoholic base and the flavorings. You can choose plenty of liquor such as Brandy, Rum, Vodka, Metaxa, Ouzo, etc., to make your base depending on your preference.
A cocktail should include fruit juices and other ingredients to be full of flavor. Bartenders usually use different juices such as orange juice, lemon juice, grapefruit juice, etc.
Depending on the type of alcohol you choose, your drinks will have distinguished differences, and these differences are also the factors that form the characteristics of cocktails in each country and region.
Are Cocktails Popular In Greece?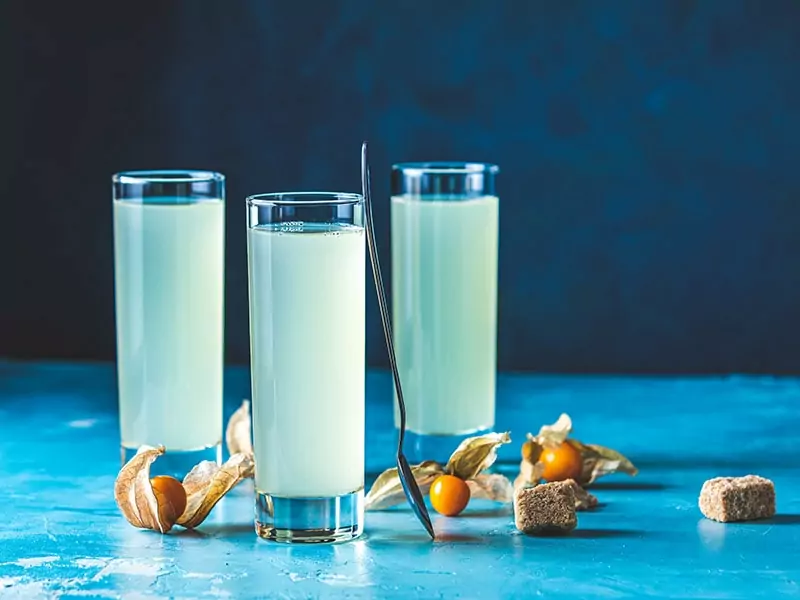 Greek drinks are as important to the inhabitants here as traditional Greek foods. Therefore, cocktails are not an exception. Cocktails are one of the most popular drinks in Greece.
This drink is not only used in bars and pubs, but it is also a daily drink of the people here. It is present in their picnics and parties as well as an indispensable drink in meetings.
Greek cocktails are not only loved by the native people, but they are also gaining popularity all over the world. There are many types of cocktails in Greece, and each of them has its character and uniqueness. Keep on reading to gain more knowledge about Greek cocktails.
12 Luscious Greek Cocktails That Will Amaze You
If you want to discover more about this country's unique drinking culture, cocktails are an ideal choice for you. You will know how amazing the beauty and uniqueness of this country can be through their favorite drinks.
Total time: 22 minutes.
Let's start the interesting topic today with Greek Salad Bloody Mary. Through its name, you can easily guess that this type of cocktail consists of plenty of ingredients. Some typical ones include tomato, lemon juice, vodka, olive oil, etc.
All you need to do is to mix all the ingredients and heat them together on the stove. It is a complex flavor blend but will make your desired Greek beverages come out super smooth and delicious.
Greek Salad Bloody Mary is creamy, spicy, salty, and overall a savory flavor. Moreover, the vibrant color of this type of cocktail also satisfies you. It will be a nicely garnished cocktail if you can add more granular cherry tomatoes or slices of lemon.
This incredible cocktail recipe is a healthy choice due to its variety of nutritious veggies. You can enjoy this wonderful drink as a brunch drink or a nice evening cocktail. You can make it in advance and store it in the fridge for use at any time.
Total time: 1 hour 10 minutes (including 1 hour of infusing the fennel seeds).
If you are a fan of coffee, don't miss Bold Greek Coffee Cocktail. The main alcoholic drink used in this recipe is Ouzo, one of the most popular liquors of Greeks produced from a base spirit of grapes.
It gives a strong anise flavor to this delectable coffee cocktail. Moreover, you will need fennel syrup, coffee, Tia Maria (a coffee liqueur originating from Jamaica), and some other spices to boost the flavor of this cocktail.
The resulting cocktail is a little sweet and derives the licorice flavor from the syrup. This is an incredibly robust drink, so you should consider it carefully before enjoying it.
You will have a glass of Bold Greek Coffee Cocktail within a few minutes through these instructions.
Total time: 5 minutes.
Metaxa Mojito is the next drink for you. First of all, you need to better understand Mojito. Mojito is a traditional cocktail originating from Cuba and is often made with rum, fresh mint, soda water, and lime juice.
The inclusion of Metaxa, which is a Greek amber spirit, makes your Metaxa Mojito smoother. Moreover, your cocktail will possess a flora aroma, a bit of fruit flavor, and a faint scent of honey.
All you need to do for this recipe is to mix the mint, lime juice, and brown sugar in a cocktail shaker. After that, you need to add Mataxa and other ingredients and shake them well. A touch of citrus will improve the flavor of your result.
If you don't want your homemade cocktail too sweet, you can add less lemon juice and lime juice to make it more suitable for your taste.
Total time: 10 minutes (plus 12 hours of freezing honeydews).
Do you want to enjoy a glass of cool smoothie on hot summer days? Honeydew Ouzo Cocktail is here for you. This is the perfect combination of frozen honeydew, lime juice, mint leaves, etc. You can buy frozen honeydews or freeze them at your home.
By blending all the ingredients you have prepared, you will have a smooth and passionate cocktail in no time. A splash of Ouzo is an ideal booster in this recipe; you should include this kind of alcohol to make your cocktail smoother and more aromatic.
You can also adjust the amount of Ouzo depending on your preference. Your refreshing frosty drink will be a little sweet and sour with anise flavor coming from Ouzo. Attractive, right?
Total time: 5 minutes.
Let's imagine you are on a boat and enjoying the refreshing air of the Greek sea. Is it interesting, right? Greek Apollo Cooler will add a nice touch to that wonderful experience.
Metaxa, Ouzo, and ginger ale are the outstanding ingredients that must be included in this recipe. If you want your cocktail sweeter, you can add more Metaxa. On the other hand, if you love the black licorice flavor, add more Ouzo to achieve your desired result.
It's even easier to make than other cocktails but the taste it can bring will warm your soul. Don't forget to use some slices of lemon to make it more beautiful.
Total time: 5 minutes.
Ouzo is always an ideal option for Greek cocktails, and I'm going to introduce to you Ouzo Lemonade, another amazing cocktail made from Ouzo.
The perfect blend of popular Greek flavors, including Ouzo, mint, honey, and lemon juice, is the way to create this wonderful drink.
This drink is a convergence of a little sweetness from honey, the light refreshing aroma from mint, and the mild anise flavor from Ouzo.
If you are not a fan of black licorice, you can add more water, lemon juice, or honey to improve Ouzo Lemonade's taste, making it more attractive to you.
These instructions will help you have a wonderful Ouzo Lemonade to enjoy.
Total time: 10 minutes.
If you are looking for a beverage suitable for a holiday, Greek White Sangria is an ideal option for you. This is a nice combination of a variety of wines, including white wine, Greek brandy (like Metaxa), orange liquor, etc.
Although Sangria is an alcoholic beverage that originated in Spain, not Greece, it's still loved by Greeks thanks to its deliciousness and the festive atmosphere it brings. The cocktail is even more so when Greek alcohol is a part of it.
Greek White Sangria tastes like a garden of citrus fruits. This cocktail is fragrant and full of a fruity aroma. It's not exaggerating if you think that this kind of cocktail is a sunny drink because it can brighten up your gray summer days.
Total time: 3 minutes.
If you are suffering from hot summer days, don't skip this recipe. Summer On Corfu is a mixed alcoholic beverage that originated from one of the most beautiful islands of Greece, Corfu.
You need to prepare light Rum, gold Rum, kumquat liqueur, and some other juices from the citrus family. The blend gives your cocktail a great color and flavor. It is fragrant from the citrus family and has a sweet taste.
If you want your tasty rum-based cocktail to have a more sour and tangy flavor, you can reduce the amount of grape juice and increase that of kumquat juice.
This will not negatively affect the appearance of the drink, but its taste will change dramatically. Please consider it carefully before doing it.
Total time: 2 minutes.
Believe me when I say you will be attracted by this cocktail. It not only takes a very short time but also uses only some simple ingredients. But the taste it can bring will amaze you.
Mastiha is the key point in Mastiha Mojito. It is a sweet liqueur with flavors equivalent to the smell of a pine forest and herbs. Mastiha gives this recipe a distinctively Greek flavor, making your classic Mojito fresher than ever.
Bacardi is also a must for this cocktail. It is a white light rum that first appeared in 1862. With the smoky and tropical-fruit flavor, Barcadi is an ideal flavor booster for this cocktail. If you like a mixed beverage with a licorice flavor, you can add Ouzo to your alcohol base.
Total time: 5 minutes.
The vibrant and bright colors of this cocktail will draw you at first sight. The combination of Ouzo and blackberry will distinguish this recipe from the classic Mojito. The most significant difference is the use of Ouzo instead of Rum.
Moreover, blackberries are also important for this beverage. They are sweet and tangy with a tart flavor. The inclusion of blackberries will make your cocktail sweeter and fresher. You just need to adjust the amount of blackberry to suit your appetite.
Don't forget to take advantage of a few blackberries to garnish your cocktail. This is a great choice for a summer party or a picnic. Don't miss this wonderful cocktail because you will regret it.
Total time: 3 minutes.
Sidecar Cocktail is a sour cocktail often made with Cognac, orange liqueur, and lemon juice. But instead of using Cognac in the traditional Sidecar Cocktail, the Greek version will use Metaxa, which is one of the most popular liquors in Greece.
In addition to Metaxa, orange liqueur, lemon juice, etc., are the necessary ingredients for this recipe. Thanks to the presence of Metaxa, this version of Sidecar Cocktail becomes more flavorful and sweeter.
A touch of citrus notes also plays an important role in improving the taste of this cocktail. They bring to your drink a little sensation of sourness, creating a great blend in this recipe.
Follow this guide to have a homemade Greek Sider Cocktail.
Total time: 10 minutes.
Peach And Orange Metaxa Cocktail is another cocktail made from one of Greece's strongest spirits – Metaxa. That's why it's not surprising when it's also flavorful and has a little bit of sweetness like other cocktails.
A new ingredient in this recipe that sets it apart from the others is the inclusion of peaches. With an enchanting sweet aroma and juicy flesh, ripe peaches bring a fresh taste to your drink, making it more captivating than ever.
This yummy peach cocktail is also very easy to make. You just need to place the prepared ingredients in a food processor and puree them until smooth. After that, add Metaxa to the mixture and serve with some slices of peaches. It will help you to melt away the heat of summer days.
Let Greek Cocktails Fascinate You
With bright colors and impressive appearances, these Greek cocktails won't disappoint you. It requires you only a few minutes and uses very easy-to-find ingredients. Therefore, there is no reason inducing you not to try these wonderful alcoholic beverages, right?
Finally, if you are also interested in Greek cuisine, don't hesitate to like this post and share it with your friends. Feel free to leave a comment below because I always need your contribution to improve and develop day by day. Thank you, and have a good day!
Nutrition Facts
1 servings per container
---
Amount Per ServingCalories198
% Daily Value *
Total Fat 0.5g

0

%
Sodium 16mg

1

%
Potassium 113mg

4

%
Total Carbohydrate 23.7g

8

%

Dietary Fiber 1g

4

%
Sugars 6.7g

Protein 0.8g

0

%
---
* The % Daily Value tells you how much a nutrient in a serving of food contributes to a daily diet. 2,000 calories a day is used for general nutrition advice.