Is it a good idea to add Finnish foods to your menu? Many people will tell you that the icy-cold climate and poor supply of fresh veggies make Finnish cuisine inferior to the neighboring countries. But I'm going to show you a different picture.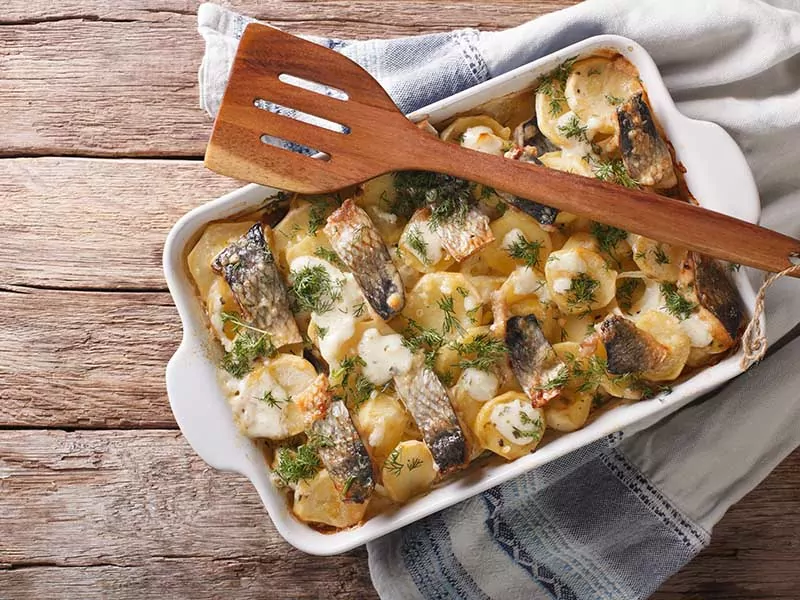 Whatever Finnish foods lack in freshness, they make up for it with their taste with ingenuity. There are many ways to adapt those exotic dishes to your menu, and this post will show you how. Just keep on reading to discover one of the world's most interesting cuisines.
1. Ruisleipä – Rye Bread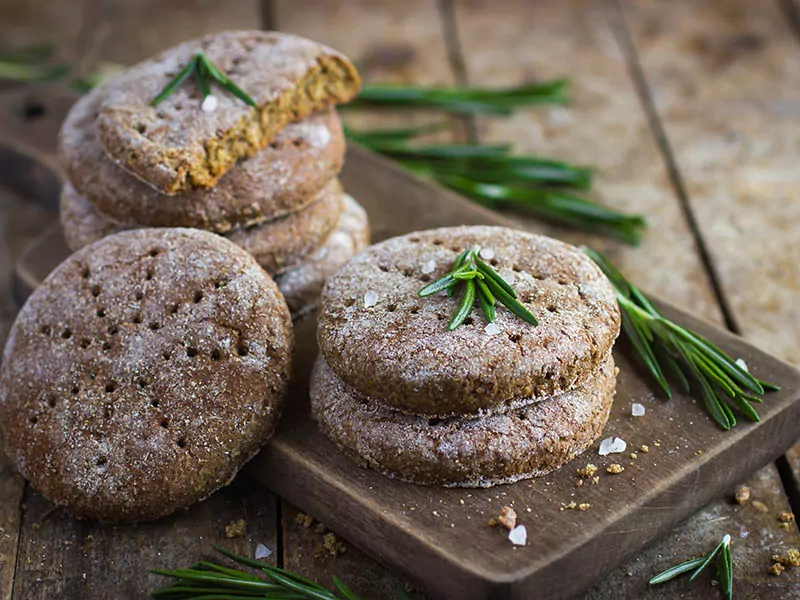 Ruisleipä, or rye bread, is the most important building block of Finnish cuisine: few dishes are complete without it.
From humble abodes to fancy restaurants, the Finnish eat Ruisleipä for all kinds of meals. The reason is simple: this delicious type of bread has a stronger flavor and higher nutrient value.
A typical Finnish breakfast consists of a loaf of rye bread, a few slices of ham and cheese, and some vegetables. For other meals, however, rye bread can go with almost anything. Its rich starchy taste whets your appetite nicely for more delicious dishes to come.
Discover everything you need to know about Ruisleipä here.
2. Kaalikääryleet – Cabbage Roll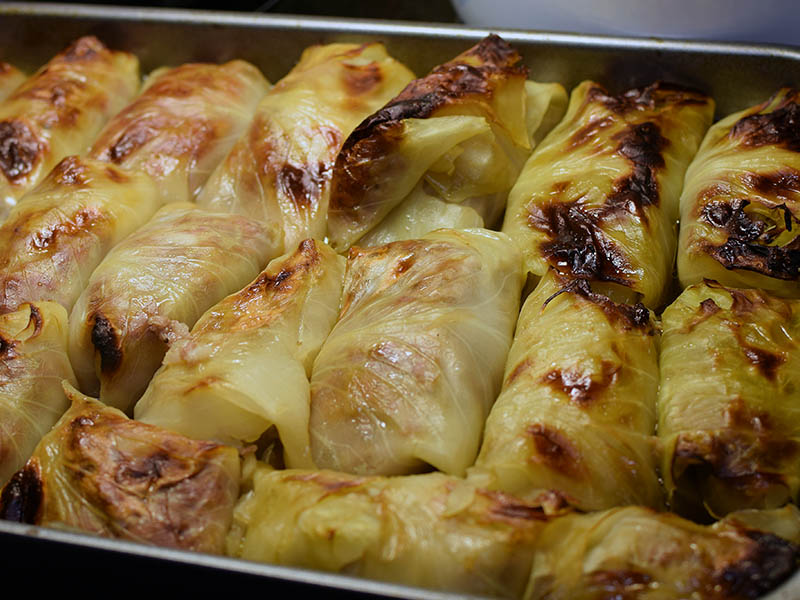 The long winter of Finland makes it difficult to have a year-round abundance of fresh vegetables. Against that background, cabbage is one of the most popular veggies available to the Finns. Kaalikääryleet, or cabbage rolls, is arguably their most exciting cabbage dish.
Kaalikääryleet is like other versions of cabbage rolls around the world. People prepare it by wrapping boiled cabbage leaves around fillings made of minced meat and cooked rice, then cooking the rolls in the oven. In Swedish gastronomy, the same dish goes by the name Kåldolmar.
Finnish cabbage rolls should be served with mashed potatoes and lingonberry sauce. The latter is a classic sauce in Finnish cuisine that can accompany many foods, with Kaalikääryleet as an excellent choice.
3. Hernekeitto – Pea Soup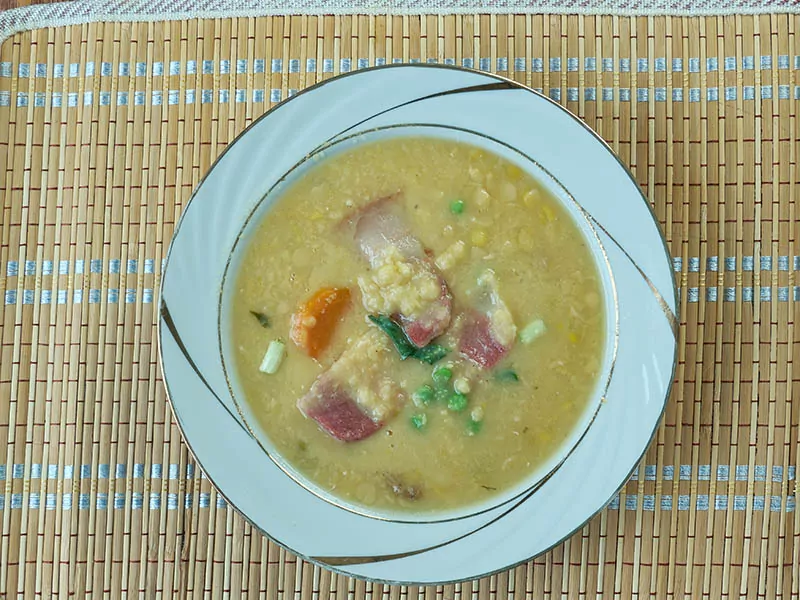 Good food doesn't always involve high-end ingredients; such is the case with Hernekeitto, or pea soup. Finnish families prepare and enjoy Hernekeitto with Pannukakku (traditional Finnish pancakes) on Thursday. This tradition dates back to long before Finland adopted Christianity.
It is super easy to cook Hernekeitto; all you need to do is to cook fresh peas (preferably green peas) until very soft. If you use dried peas, soak them in water for a whole night.
Many people add onions and herbs to make the soup more flavorful. To save time, you can use a crockpot to make this delicious soup.
While the most suitable accompaniment for Hernekeitto is Pannukakku, you can eat it with hams, smoked pork, or rye crackers. Old Finns have a lot of great memories of the dish.
4. Kalakeito – Fish Soup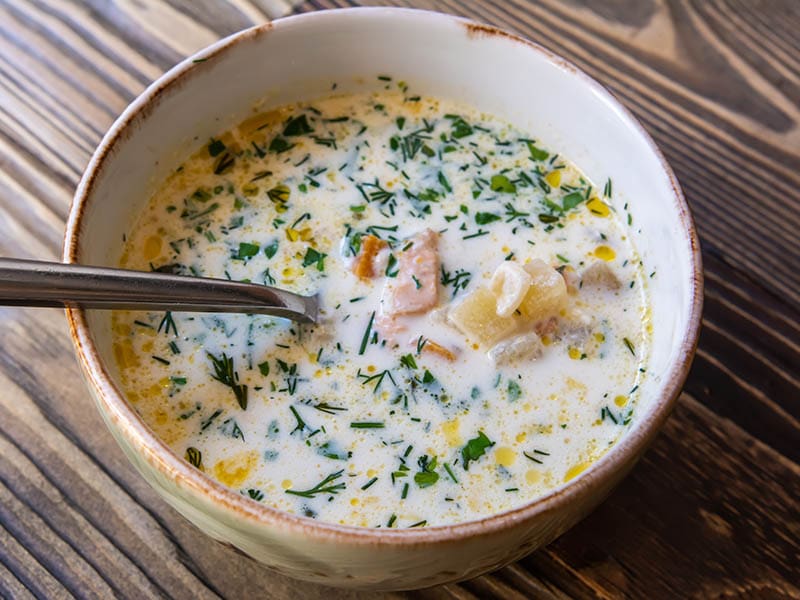 The Finnish people have a very special relationship with fish. With its long coastline and many lakes, Finland depends on fish as a reliable source of proteins. Therefore, Kalakeito or fish soup earns a special place in traditional Finnish recipes.
Kalakeito can consist of a number of both freshwater and saltwater fish: salmon, trout, or pike. Salmon soup, or Lohikeitto, is a well-known variation but other types of soup are equally tasty. The secret is to cook the fish filets in a rich broth of butter, cooking cream, veggies, and spices.
A pot of steaming Kalakeito with rye bread is an effective remedy against Finland's chilling weather. The Finns love their fish soup so much that in 2018, they set the second Tuesday of February as Finland's annual National Fish Soup Day.
5. Riisipuuro – Rice Porridge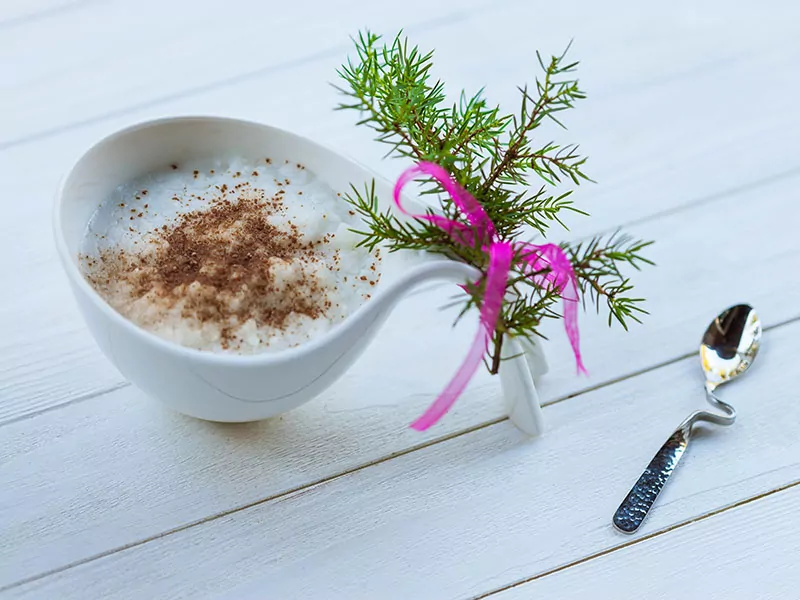 It is customary for the Finns to have Riisipuuro or rice porridge at Christmas. The dish is very easy to prepare; you just need to cook rice and full-fat milk slowly with water into a thick, smooth porridge. A pinch of cinnamon and butter will give it a spicier flavor.
There is a tradition of hiding an almond in the Riisipuuro, and whoever finds it will get lucky or, in some cases, get married. Anyway, you don't have to wait until Christmas to enjoy the porridge. The Finnish people eat it regularly for breakfast or as an accompaniment to other foods.
6. Paistetut Muikut – Fried Vendace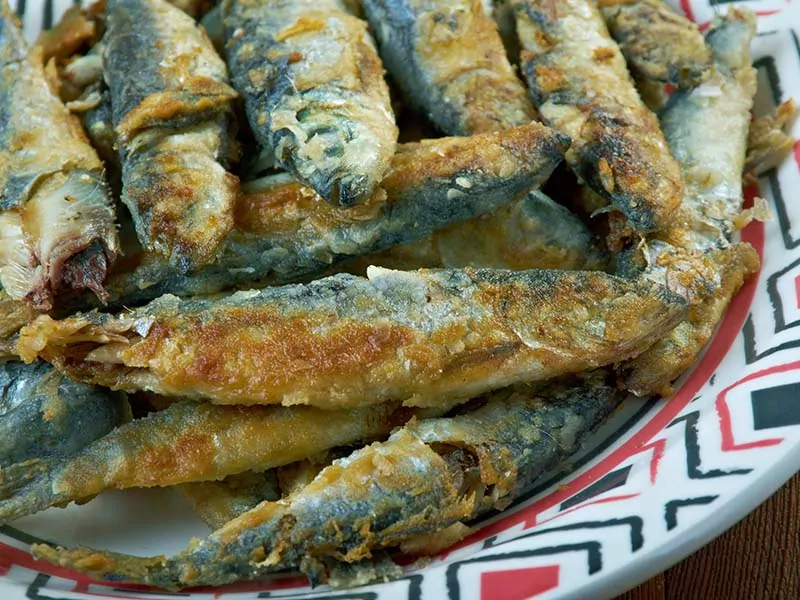 This dish is as close to local Finnish fast food as you can get. It is made from vendace (a type of small freshwater whitefish plentiful in Finland) coated in rye – wheat flour and fried in butter. Paistetut Muikut is enormously popular but only available in summer.
With some French fries, Paistetut Muikut looks just like the renowned British dish fish and chips. But eating it with fries is a mistake. Instead, the proper way is to serve crisp, fatty vendace with aioli and a lemon wedge. You can buy Paistetut Muikut at any market or food stall.
7. Uudet Perunat Ja Silli – Spring Potatoes and Herrings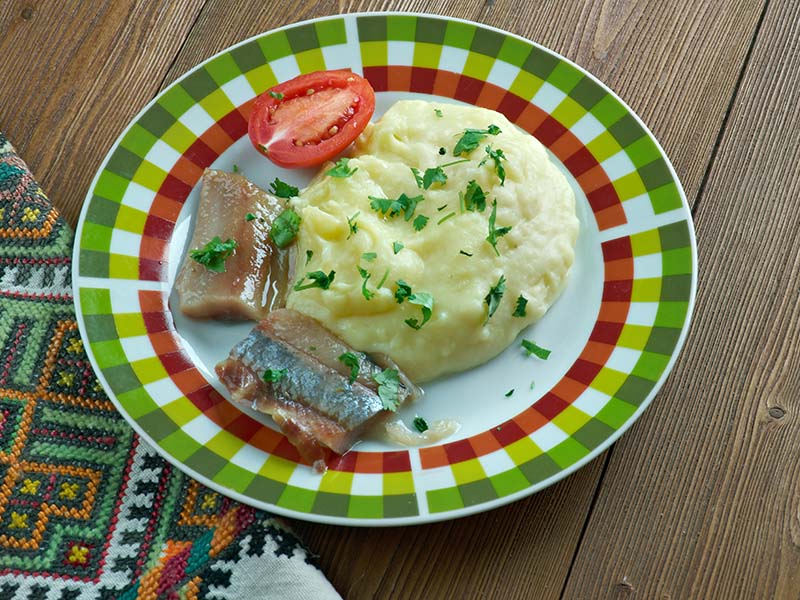 When you live in a cold country whose shortest days only last six hours, you will easily see how valuable summer is. The Finnish people celebrate the coming of beautiful sunshine with Uudet Perunat Ja Silli, a dish made from freshly-harvested potatoes and fleshy herrings.
It is important not to cook herrings but to pickle or marinate them instead. Those methods preserve the quality of freshness in the fish. Whip up some boiled potatoes with butter, spices, and marinated herrings, and you have a simple yet flavorful Finnish summer meal.
8. Lihapullat – Meatball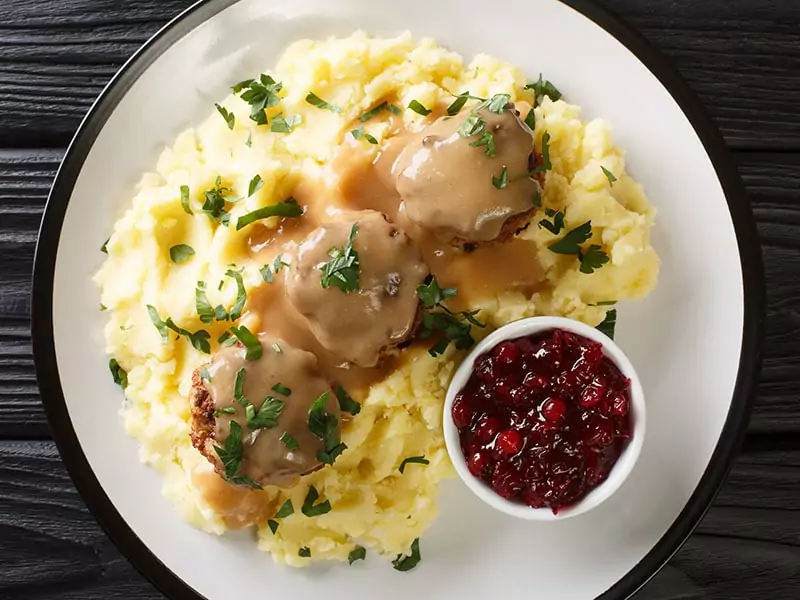 Many cuisines in the world have meatballs, so what's special about Lihapullat, the Finnish ones? One significant difference is that the Finnish version doesn't use a lot of spices.
While this reduces the diversity of flavors, you are no longer distracted from fully enjoying the tender texture and hearty taste of meat, the very thing that makes meatballs memorable. You should expect Lihapullat to contain ground beef and pork, onions, eggs, and soaked bread.
What also makes Lihapullat different is that you should serve it with gravy and beautifully ruby lingonberry sauce. It can be very nourishing when you pair it with rye bread or mashed potatoes.
9. Makaronilaatikko – Macaroni Casserole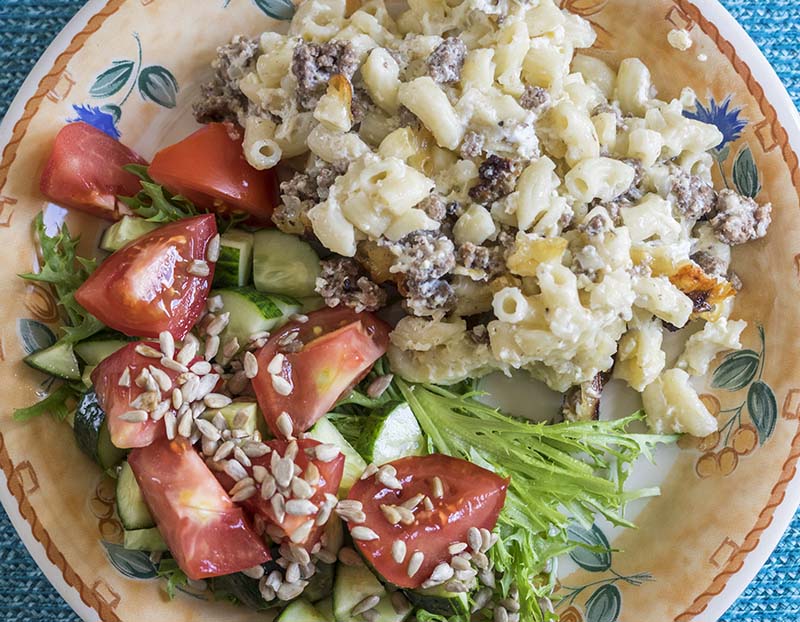 This Finnish casserole will provide you with a convenient Finnish dish. The best thing about it is its availability and affordability. A bowl of calories-packed Makaronilaatikko is rather cheap, making the food particularly popular with students.
Like other types of casserole, you cook this one by sauteing beef with onions in a skillet before adding macaroni to the mix. But the Finnish way is to use minced meat and full-fat milk, not cheese, to complete the dish. Serve with ketchup, and your Makaronilaatikko is good to go.
10. Siskonmakkarakeitto – Sausage Soup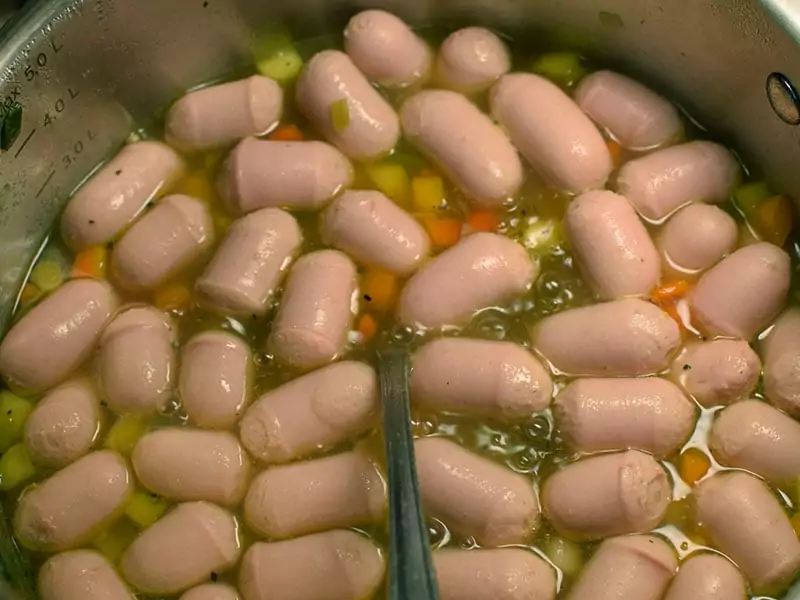 What can you do with sausages? If your answer is no different than pan-frying them, allow me to introduce a Finnish answer: turn it into a soup called Siskonmakkarakeitto. It is a rather unusual dish just like its name ("sister's sausage soup"), but it's a deliciously unusual one.
Like other soups, cooking Siskonmakkarakeitto starts with preparing a broth with chopped potatoes and veggies. Now comes the interesting part: take out a few raw sausage links, squeeze the meat out of the casings into small balls and toss them into the soup.
After waiting for a few more minutes, you will have a pot of water-mouthing sausage soup to go with bread. The dish may feel unusual (especially the squeezing part), but it is a wholesome, heart-warming Finnish food.
11. Lohikeitto – Salmon Soup with Cream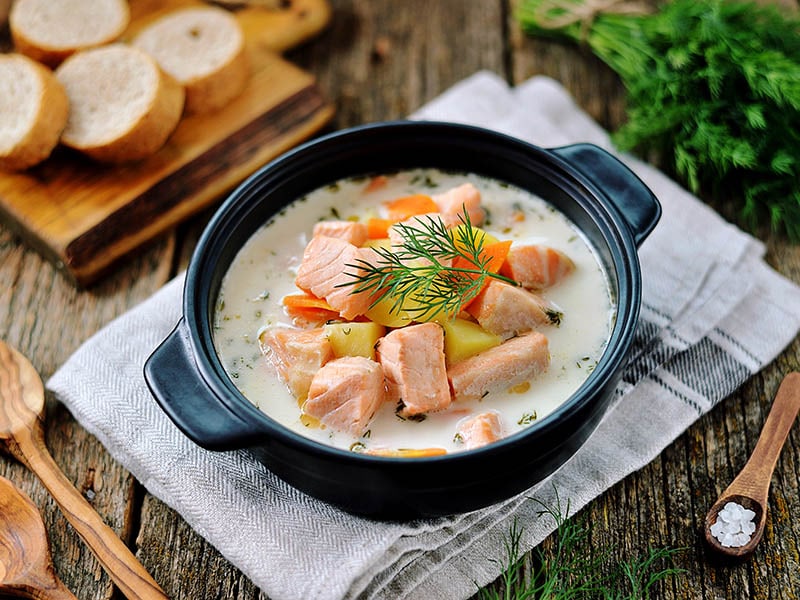 The Finnish love all fish equally, but they love some more equally than others. Salmon is such an example because it is the main ingredient for an important staple of Finnish recipes: Lohikeitto. The Swedish version of this recipe is known as laxsoppa.
Lohikeitto is a rich soup of salmon filets, diced potatoes and carrots, herbs, cream, and fish stock. Almost all Finnish grow up with bowls of delicious Lohikeitto and rye bread on their dinner tables. Mixing together simple ingredients into a flavorful dish – that's the Finnish spirit.
Dive into how amazing Lohikeito is here.
12. Poronkäristys – Sauteed Reindeer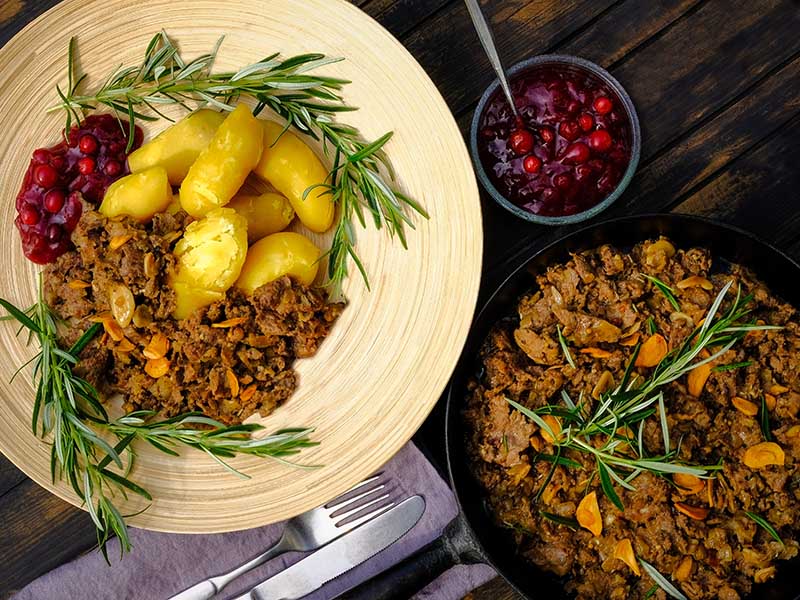 This dish originates from the Sápmi region in the far north of Finland (as well as Europe). Poronkäristys, or sauteed reindeer, may seem unusual to non-Nordic people. But it is a popular dish not only with the Finns but also with people from neighboring countries.
There are many ways to prepare reindeer meat. The most popular method is to cut the meat into thin slices and fry them in reindeer fat or butter before cooking them further with cream and water (or beer). Poronkäristys is certainly not for the fans of Rudolph the Red-Nosed Reindeer.
While reindeer is a traditional Finnish dish, you will have an easier time finding Poronkäristys in northern Finland. The reason is that there are more reindeer in that region than in other places. Poronkäristys combo includes mashed potatoes and lingonberry juice.
13. Mykyrokka – Savonian Blood Dumpling Soup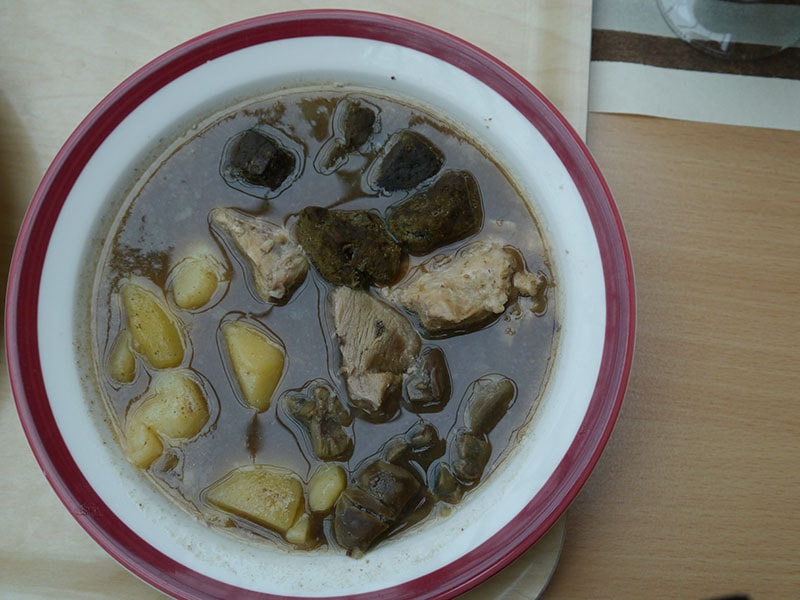 If you've nerves of steel and a burning desire to try new things, say hello to Mykyrokka. It is a traditional, rather weird-looking soup from the Savo region in eastern Finland.
Mykyrokka consists of potatoes, onions, offal or organ meats, and myky, which gives the dish its name. Myky is dumplings as big as your palm and made from animal blood and barley flour. All the ingredients are cooked into a thick and rich soup with a strong flavor.
Mykyrokka has a humble history. In the past, after butchers used up all the valuable animal parts to make meat, bacon, hams, or sausages, they cooked the leftovers into the soup. Now, it is an exotic delicacy. That is, if you dare to try it.
14. Kainuun Rönttönen – Kainuu Lingonberry Pasty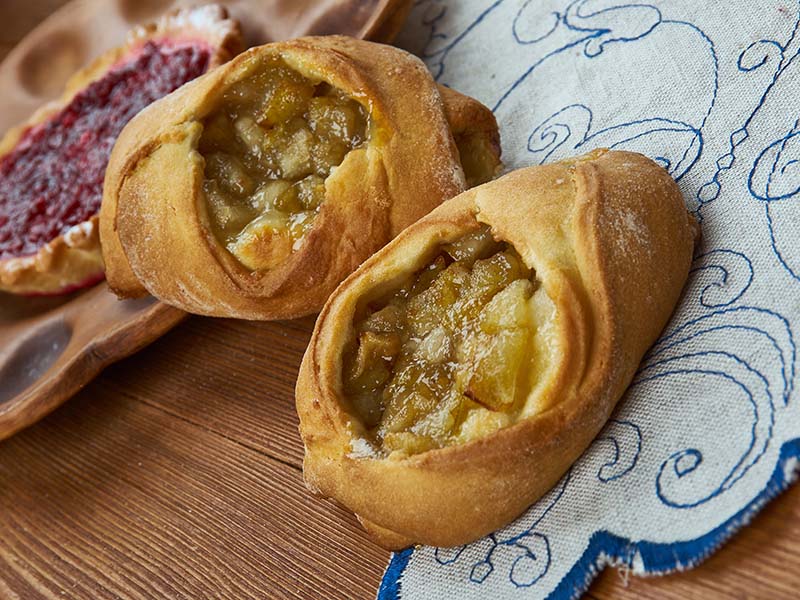 In eastern Finland lies the region of Kainuu that, despite its small population, makes a giant contribution to Finnish cuisine. I'm talking about Kainuun Rönttönen, a type of delicious lingonberry pie that goes great with soup or coffee.
Native to the northernmost areas of the world, lingonberry is no stranger to various Finnish dishes. It mainly serves as an accompanying sauce. But Kainuun Rönttönen uses it as a delicious filling enveloped by a brittle crust of rye and wheat flour.
The Kainuu people first made the pasty from the leftovers of winter foods. It holds the prestigious EU-issued status of Protected Geographical Indication (PGI) now.
15. Kalakukko – Savonian Fish Pie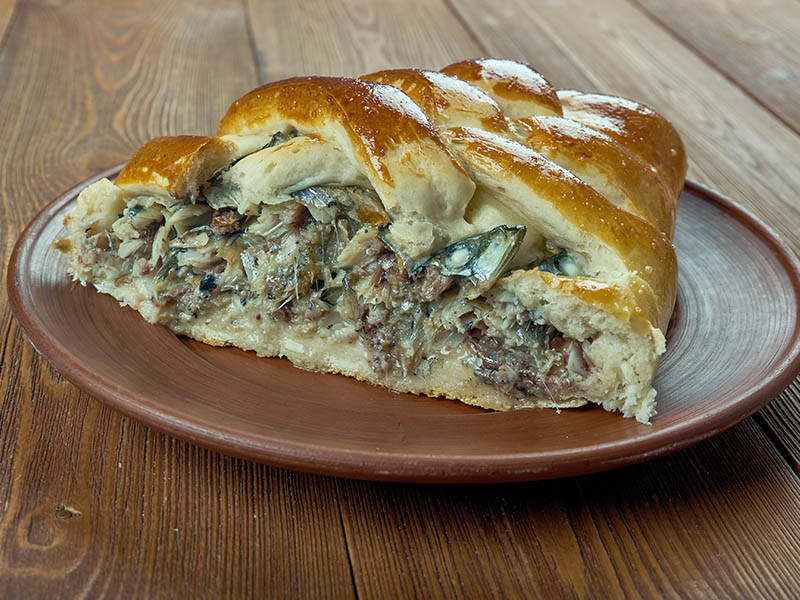 Once upon a time, Savonians needed food that was compact to carry yet nourishing enough to last them a day. Their solution was Kalakukko, a type of big, brown, long-lasting fish pie that soon became popular with all the Finns.
A Kalakukko consists of a crust of rye – wheat flour and a fish – pork filling. The most common choice for fish is vendace, though perch and salmon are also suitable. Kalakukko is cooked for hours until the bread is well-infused with the juices of meat and fish.
Nowadays, the Savo region is the biggest producer of Kalakukko. You can find many bakeries as well as Kalakukko baking contests there.
16. Karjalanpiirakka – Karelian Pasty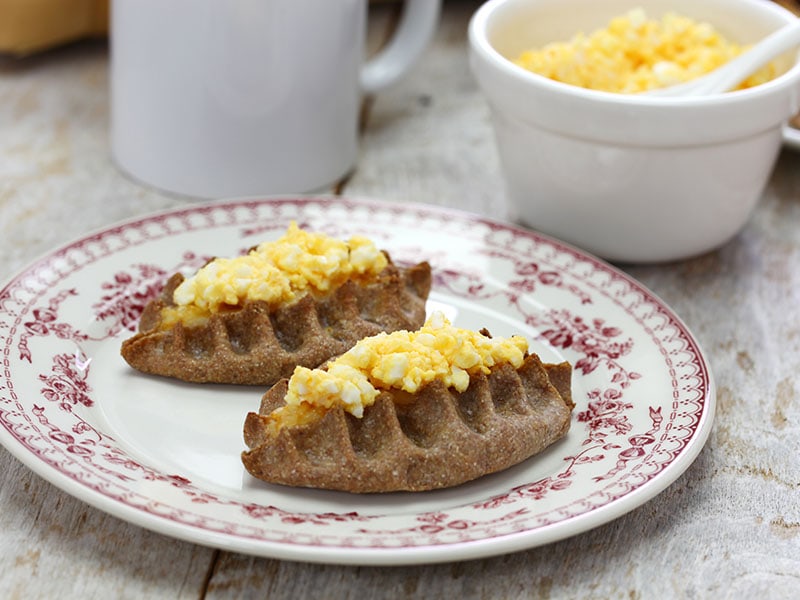 Much of Karelia now lies in Russia, but it used to be part of Finland. That past connection leaves a permanent impression in Finnish cuisine in the form of Karjalanpiirakka or Karelian pie. Karelia is "Karjala" in Finnish, hence the difference in the name.
Karjalanpiirakka is as ubiquitous in Finland as pizza in Italy or baguettes in France. Its crisp crust is usually made from rye or wheat. The filling choices are numerous, such as barley, buckwheat, rice, and mashed potatoes (the last two are the most popular varieties).
It is an unspoken rule to always eat Karjalanpiirakka with egg butter (a spread of butter and chopped hard-boiled eggs). The pasty is a Traditional Specialty Guaranteed dish, which means nobody outside of Finland can appropriate it for commercial purposes.
17. Karjalanpaisti – Karelian Stew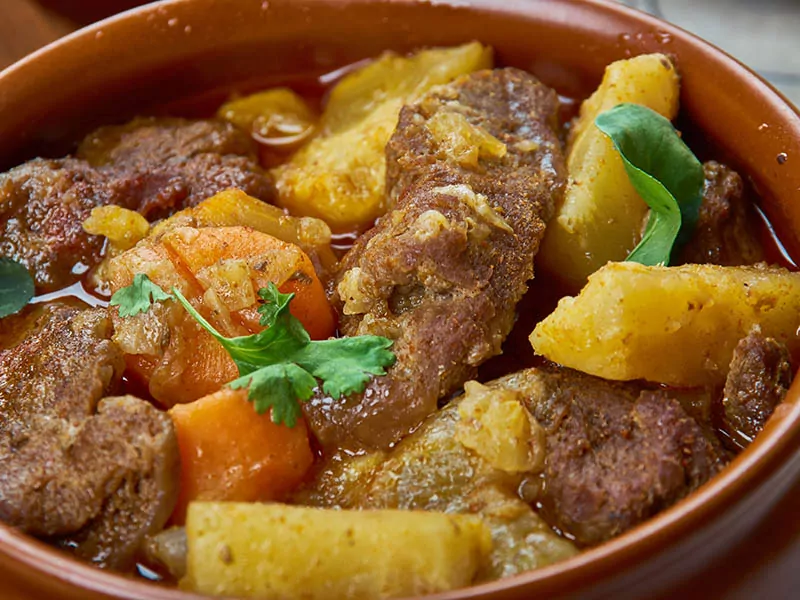 If you are looking for amazing Finnish dishes, this classic Karjalanpaisti or Karelian stew will delight you wonderfully. While it started as a local Karelian dish, many informal polls have shown Karjalanpaisti to be Finland's national dish (second only to the iconic rye bread).
The stew is suitable for a warm family dinner and only for dinner because Karjalanpaisti takes a long time to prepare. There is nothing classy about the ingredients or preparation. You just have to be patient enough to stew pork and beef with carrots, onions, and spices for many hours.
It is hard work but duly rewarding. Sharing a hot pot of Karjalanpaisti and potatoes with loved ones is a really pleasant Finnish experience. The dish used to be costly because of the shortage of meat, but it is for everybody now.
18. Leipäjuusto – Cheese Bread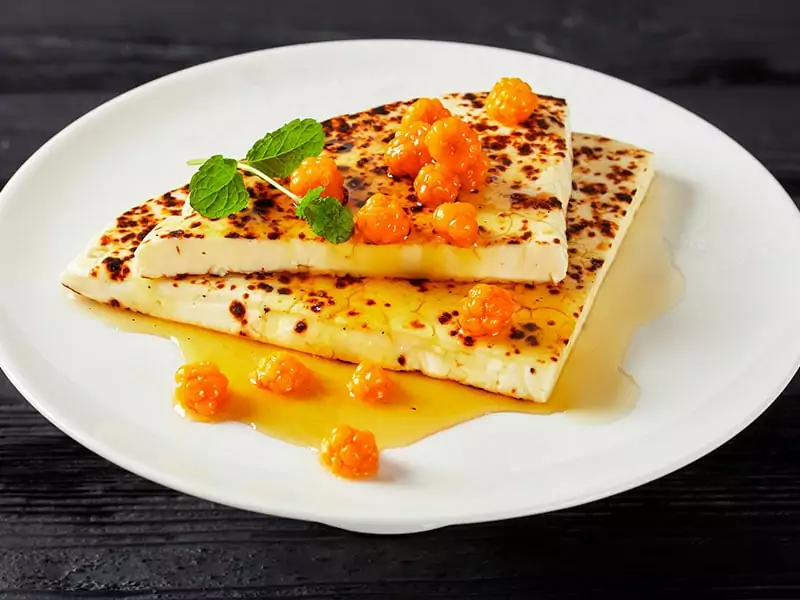 A Google search for "Leipäjuusto" will tell you it is Finnish squeaky cheese (curd), but the name actually means "cheese bread". It is usually made of cow or goat's milk. But if you travel to the northern region of Finland, you may run across exotic reindeer's milk-based Leipäjuusto.
The most common Leipäjuusto – serving way is to eat it with cloudberry jam (a plant growing in the tundra and taiga). However, there is nothing wrong with using Leipäjuusto as a side dish with coffee.
When you bite on the firm texture of Leipäjuusto, it will let out a squeaky noise, explaining the name "squeaky cheese". It will also release a slightly sweet, fatty, and tangy taste that the Finns love so much.
19. Salmiakki – Salty Licorice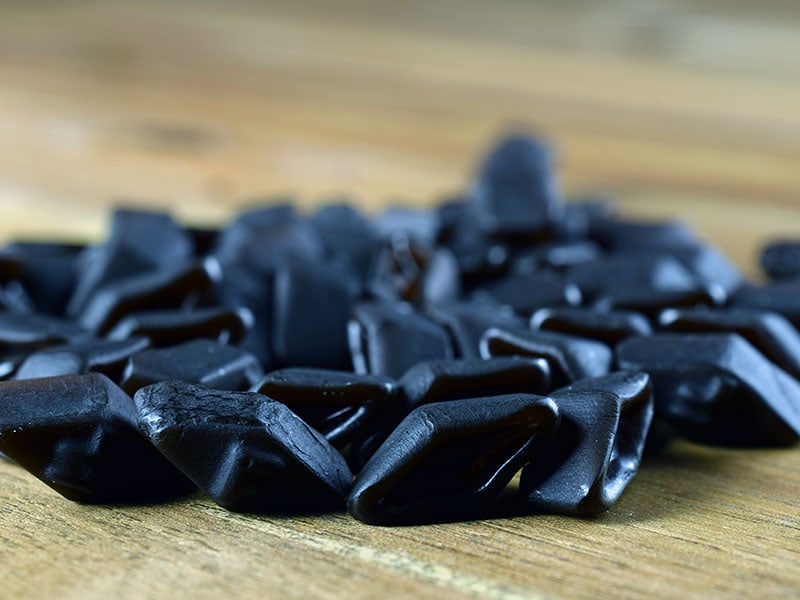 You probably have fond childhood memories of eating sweet, teeth-damaging, dentist-scaring licorice. I would like to introduce you to its healthier version: Salmiakki, or Finnish salty licorice. Some people call it the national Finnish dessert, which says something about its popularity.
People make Salmiakki by treating normal licorice with ammonium chloride salt. Many homemade recipes use flaky sea salt instead. The dish began as a cough medicine before becoming a beloved snack, available at almost all Finnish supermarkets.
But Salmiakki is an acquired taste. Many people dislike it on the first try. However, once you get used to the salty licorice, you can eat it alone or mix it with many other kinds of foods ranging from ice cream to milkshakes and even vodka.
20. Korvapuusti – Cinnamon Bun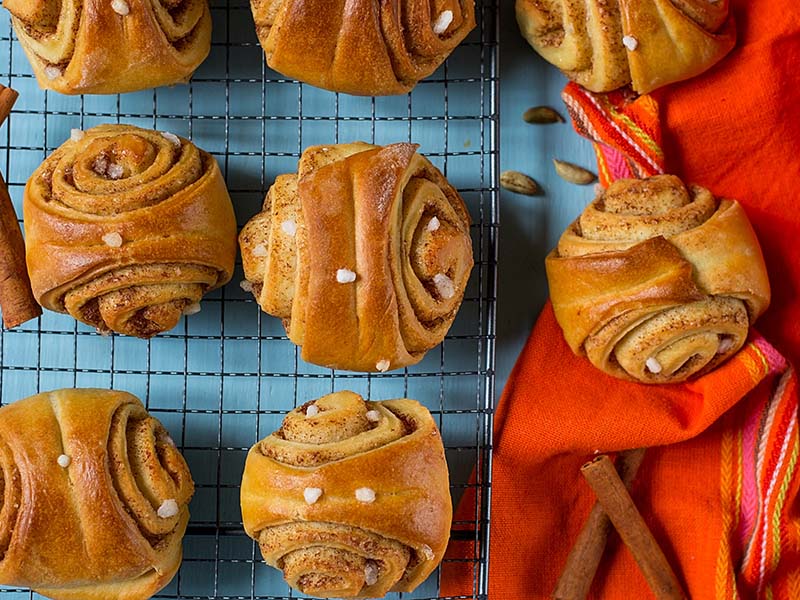 What does a Korvapuusti or Finnish cinnamon bun look like? My personal opinion is a snail's shell, but the general consensus is that it resembles an ear. In fact, the name "Korvapuusti" curiously means "a slap in the ear".
Putting the funny name aside, you can clearly see that the dish is a very attractive dessert. It is made from yeast dough infused with cinnamon, sugar, and butter. Bakers skillfully roll sheets of yeast to create the distinct shape and bake the buns in the oven.
Sweet and savory Korvapuusti are favorite snacks for the Finns. They particularly like to enjoy the buns with coffee, a drink that the Finnish are passionately in love with. When you're in the country, definitely give this dish a try!
21. Mämmi – Easter Dessert Pudding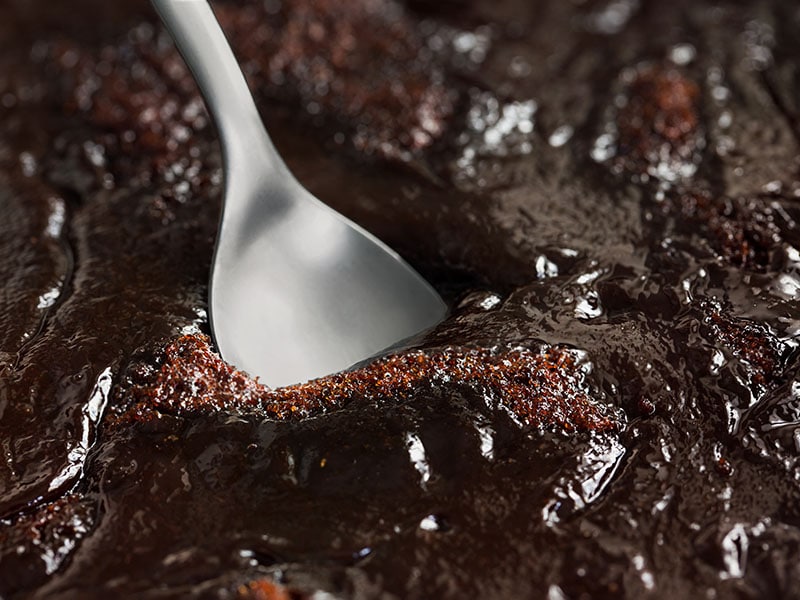 What Easter dessert do you usually have? In Finland, forget the Easter eggs because the Finns have something else much more unearthly: Mämmi. It is a sweet, dark-colored dessert pudding made from water, rye flour, powdered malt, salt, and orange zest.
All the ingredients are mixed together and left to develop a sweet taste before people bake the mixture. Making traditional Mämmi is time-consuming, but the resulting product contains little sugar. By contrast, the modern version using dark molasses is much quicker and sweeter.
Good Mämmi should have the aroma and taste of dark bread. The Finns usually eat Mämmi cold with milk and cream and consider Easter incomplete without it. The sweet may mystify outsiders, but it's worth a try.
22. Munkki – Doughnut

Munkki is a cornerstone of Finnish bakeries. It is a type of deep-fried doughnut that is usually eaten around May Day, a springtime national holiday in Finland.
While many Finnish dishes don't place so much emphasis on spices, Munkki requires you to use good ground cardamom to make it work. A few batches of sweet, sugar-sprinkled Munkki are best enjoyed with Sima, a Finnish lemon-flavored mead.
The name Munkki means "monk" in English. There are many theories about it. One says that the shape of the doughnut resembles the hairstyle of European monks, while another one suggests that the monks came up with this recipe.
---
See For Yourself That Finnish Cuisine Is Great
In 2001 and 2005, the Italian and French heads of state respectively derided Finnish cuisine as the worst in the world. The ensuing backlash against them was fierce and decisive. But if you still have any lingering doubt about the quality of Finnish foods, it's time to clear it.
Have a try at those recipes or, even better, cook them at home. You will find Finnish foods to be as rich and flavorful as anything out there. The inclusion of these dishes will make a valuable addition to your menu.
If you like this post, it would be very helpful to share it with your friends. Let's spread the word about the merits of Finnish cuisine to your loved ones. And in case you have anything to share, don't hesitate to leave a comment. Thank you and have a good day.