How many foods can have a name that starts with a letter "V", you may ask? Well, the answer is hard to count. From savory dishes to sweet tooth treats, you can easily find these V-named delicacies in different regions and cultures.
Let's explore together.
Flavorful V-Starting Foods: A Food Lover's Paradise
To give you a clear image of the variety of foods that starts with V, I divided them based on their way of cooking. There are non-cooked food, and cooked food, which vary in different regions of the world. I hope it will help you read this post conveniently.
Fruits
Velvet Apple
Victoria Plum
Valencia Orange
Valencia Pride Mangoes
Variegated Banana
Vanilla Persimmon
Vermont Beauty Pear
Vegetables And Legumes
Velvet Bean
Vanilla Beans
Vezena Piperka
Valor Beans
Velvet Pioppini
Velvet Shanks
Vidalia Onions
Viking Potatoes
Vitelotte
Spices, Condiments, Sauce And Dressings
Vegemite
Vegetable Oil
Voatsiperifery
Vinegar
Vinaigrette
Velouté Sauce
Vincotto
Cheese and Dairy Products
Velveeta Cheese
Vermont Cheddar Cheese
Vacherin Cheese
Viili
Appetizers and Snacks
Vol-Au-Vent
Veggies Chips
Vada Pav
Vienna Sausages
Vetkoek
Main Courses
Vindaloo
Vatapá (Brazilian Shrimp Stew)
Varuval
Vitello Tonnato
Vori Vori
Vegetable Biryani
Vegetable Spaghetti
Vegetable Soup
Vegetable Curry
Veal
Venison
Vichyssoise
Vareniki/Varenyky
Desserts and Baked Goods
Victoria Sponge Cake
Vanilla Bean Crème Brulee
Viennoiserie
Vasilopita Cake
Vatrushka
Vanilla Ice Cream
Viennetta Ice Cream
Viennese Fingers
Viennese Whirls
Vla
Vlaai
Violet Crumble
Veka
Vienna Bread
Verhuny (Ukrainian Fried Cookies)
Beverages
Valerian Tea
Vermouth
Virgin Mojito
Vodka
Valentini
Other
Vermicelli
Fruits
1. Velvet Apple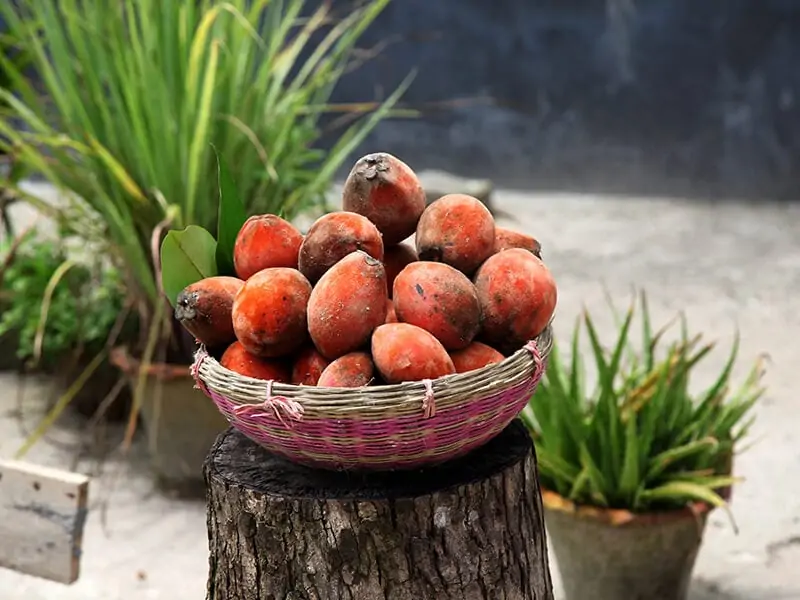 In the vibrant tropics of Southeast Asia and the Caribbean, you might come across a peculiar V-starting fruit named the velvet apple. The fruit is native to the Philippines, also known as butter fruit or velvet persimmon. Its season is year-round, but it's best to harvest during summer.
Velvet apples have white flesh inside. It crisps when it comes to maturity and softens slightly eventually. Furthermore, the skin is thin and smooth, covered with brown fur. When ripe, the fruit transitions to a vibrant yellow or orange with a musky aroma.
This apple has a sweet taste, the flavor links to banana-flavored apples or strawberry-mango yogurt with hints of berries, peaches, and bubblegum.
Velvet apples are a good source of calcium and potassium. It's also rich in vitamins (A, C, B-complex), iron, fiber, and protein. It is most often used to eat raw, but you can consume it in various ways: salads, desserts, jams, or dried fruits.
2. Victoria Plum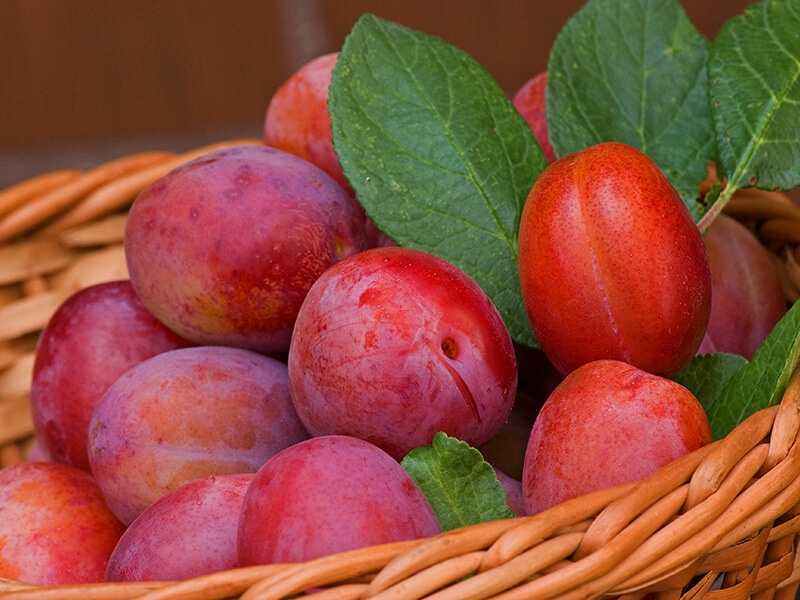 Another V fruit is Victoria plum. An egg-shaped English plum is the most famous plum that you can find in the United Kingdom. It has mottled skin and yellow flesh.
The Victoria plum has a name bestowed in honor of Queen Victoria. This hardy fruit plant presents a delightful balance of sweet and tart flavors. The plant is sturdy and not particularly prone to diseases, although mold can sometimes be an issue.
The plum is ready to eat when it has a dark red or purple color. The best way to enjoy these purples is by having a big bite to let the juicy flesh get fully into your mouth!
Besides being eaten directly as a snack, plums can be used as an ingredient in cooking. You can make jams, pies, tarts, or crumbles from this fruit.
3. Valencia Orange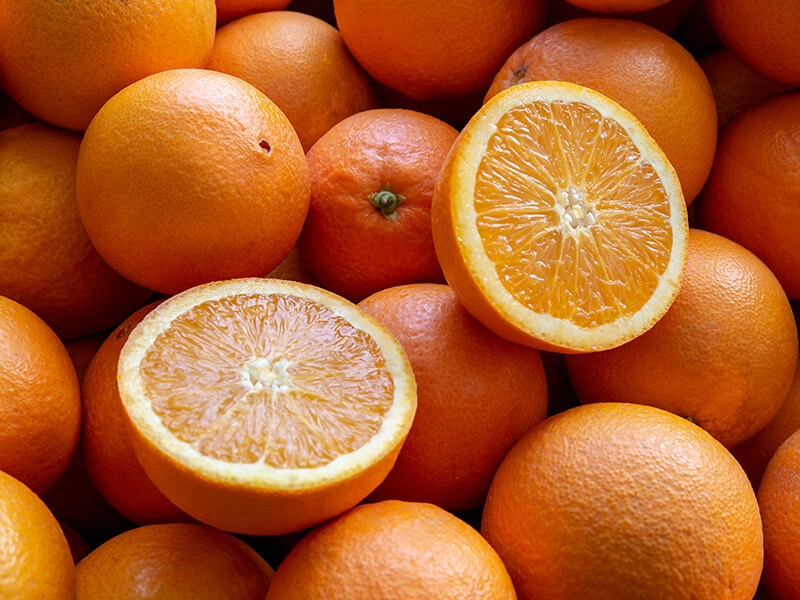 Valencia oranges have a sweeter taste than most other kinds of orange. It is seedless and super juicy, making them become the ideal orange type for making juice. So if you want a fresh drink for hot summer days, choose this orange variation.
Created in 19th century Florida, the Valencia orange comes from the Spanish València region, famous for sweet oranges. Unlike other oranges (blood oranges or navel oranges) that fruit in different seasons, Valencia has a specific fruiting season.
These delicious fruits starting with V are available from March to September, with their peak season between April to June. Thanks to their thin-skinned fruits, Valencia oranges have a sweet flavor, perfectly balanced with a hint of bitter tang.
4. Valencia Pride Mangoes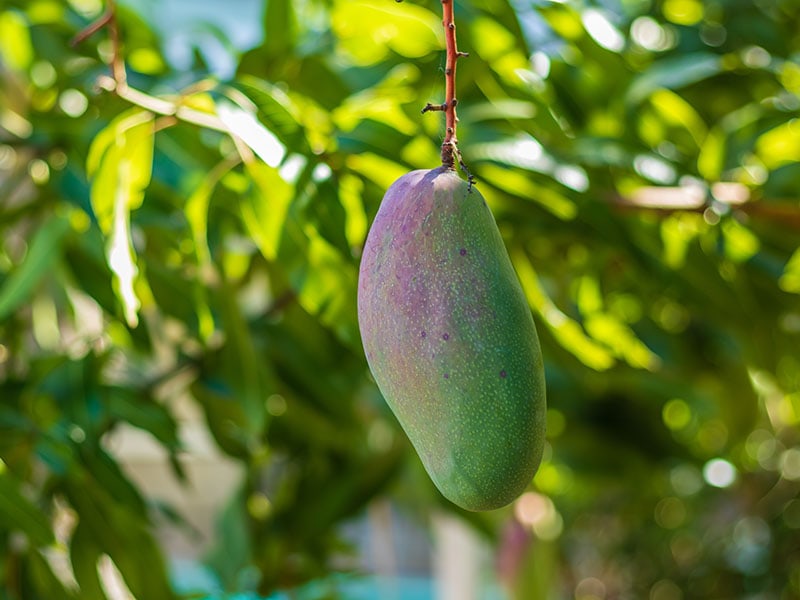 The Valencia Pride mango is a delicious late-season cultivar widely available from July to August.
First seen in the 1940s in Florida, the mango has a distinct sweet and fruity flavor, complemented by floral aromas. Furthermore, the plant is also fast-growing, making it a mango cultivar with high productivity.
5. Variegated Banana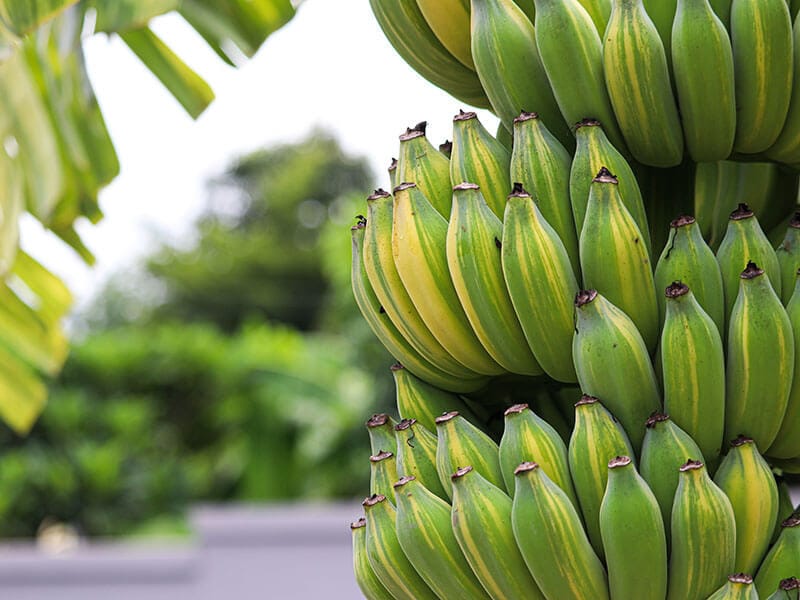 Hawaii's unique gift to the world is the rare variegated banana, known scientifically as Musa paradisiaca.
This banana variety offers a delightfully creamy flavor, starchy flesh, and a harmonious blend of sweet and savory.
6. Vanilla Persimmon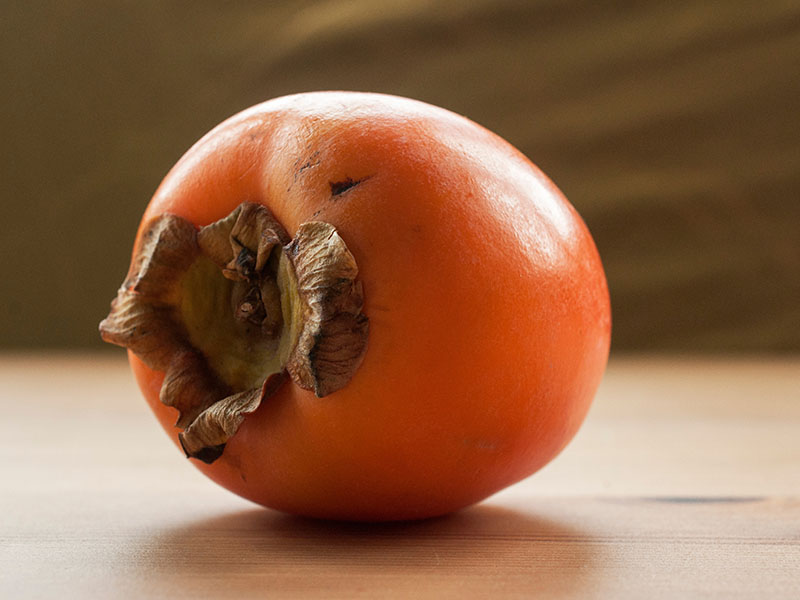 From the fertile soils of China, the Vanilla persimmon (Diospyros kaki) found its way to America and Southern Europe in the 19th century. This unique fruit, known as kaki persimmon or vanilla kaki persimmon, lacks the usual astringent tartness found in its siblings.
However, they are deliciously sweet to use as a great raw dessert on their own, while also pairing perfectly with cakes and jams.
7. Vermont Beauty Pear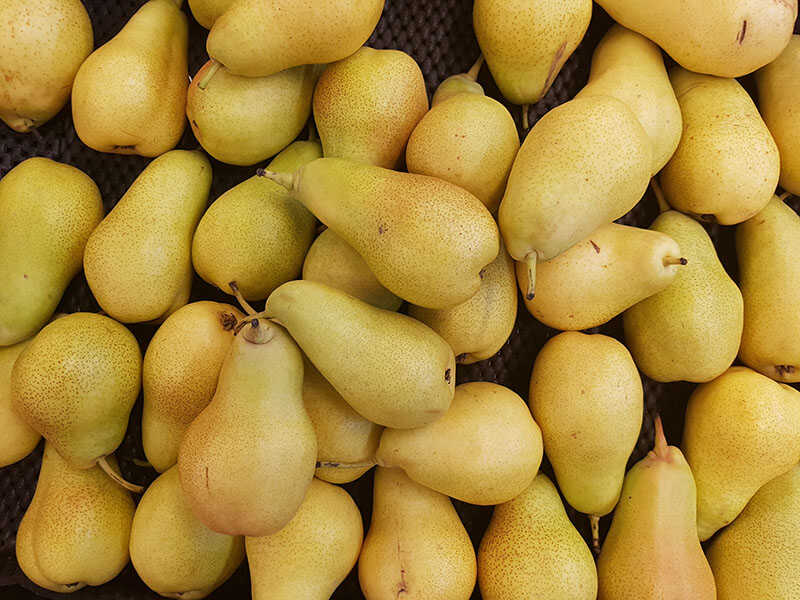 The Vermont Beauty pear has found a home not just in America but in regions as far as Africa and Southeast Asia. The fruit has an oblong shape and pale greenish-yellow skin adorned with pink-red dots. Interestingly, the Vermont Beauty pear is quite similar to the Forelle variety.
Furthermore, these pears encase a juicy, melting white flesh. Each bite offers an aromatic sweetness, making it a versatile star for raw snacks, fruit salads, or even baked into cakes.
Vegetables And Legumes
8. Velvet Bean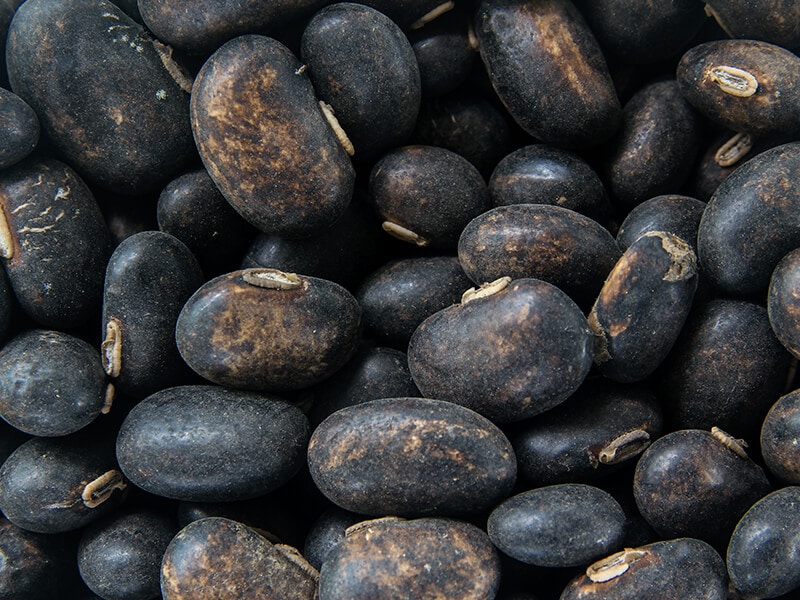 Velvet beans are African and tropical Asian legumes. Its other name is Mucuna pruriens. With its root in Africa and Asia, the bean has appeared in many countries worldwide. These tropical legumes are under diverse names like Florida velvet bean, cowhage, and monkey tamarind.
While the seeds have a sweet taste and can be made into a good boiled green peanut, its pod isn't edible. There is a toxin inside the pod that causes nausea and lightheadedness. It can make you feel like vomiting with high consumption. Skin contact with the bean pods can cause itching.
Furthermore, these beans are a powerhouse of antioxidants, capable of reducing blood pressure and thinning the blood (1). It also helps control cholesterol while boosting dopamine levels for an uplifting effect.
9. Vanilla Beans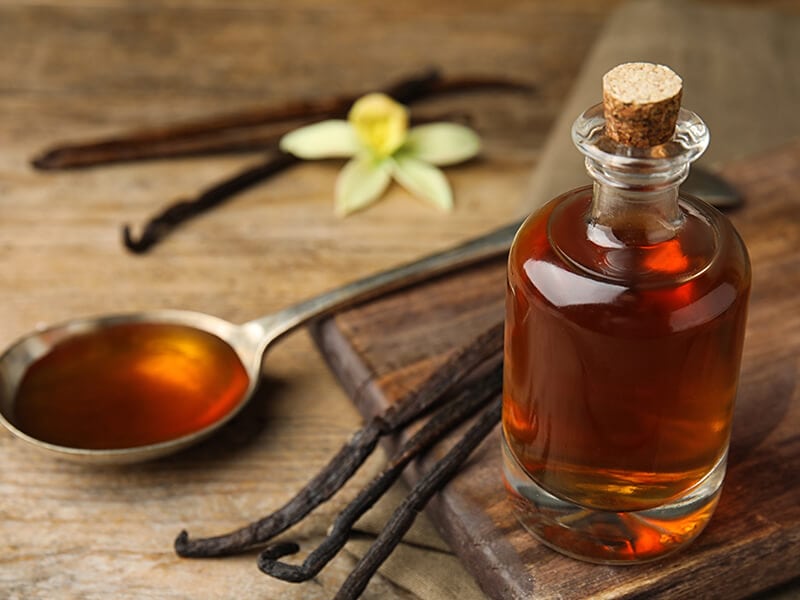 Vanilla, though native to South and Central America along with the Caribbean, has traveled far to become a beloved addition to kitchens worldwide. With Indonesia and Madagascar as top-notch producers, this unique condiment has won over countless taste buds.
But here's a fun fact – Vanilla isn't actually a bean! Nope, it's the fruit of orchids in the genus Vanilla, taking the form of a long, black pod filled with seeds. Whether extracted as a liquid or an essence, it always provides a comforting, creamy, warm, and sweet scent for any dessert.
10. Vezena Piperka
Vezena Piperka is a rare chili pepper having its root deeply embedded in Eastern Europe, particularly Macedonia. Its name, translating to "embroidered pepper," is a fitting description for the thread-like lines on its skin.
This chili brings a touch of sweetness and an earthy flavor to the table, with heat comparable to a jalapeno. Roasting or grilling unlocks its potential, while its profile makes it a top choice for creating paprika powder. Just remember, this pepper is better for cooking than eating raw.
11. Valor Beans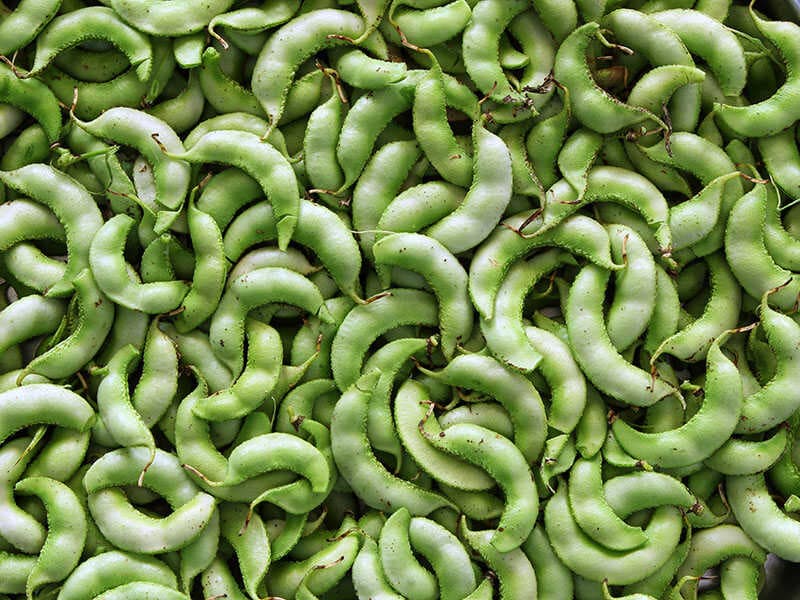 Valor beans, or "val papdi" in India, are a cherished staple, especially in Gujarati cuisine. These beans, also recognized as broad or field beans, are widely popular in African, Australian, and Southeast Asian dishes.
They are bitter and grassy, making them a welcome addition to many vegetable stir-fries.
12. Velvet Pioppini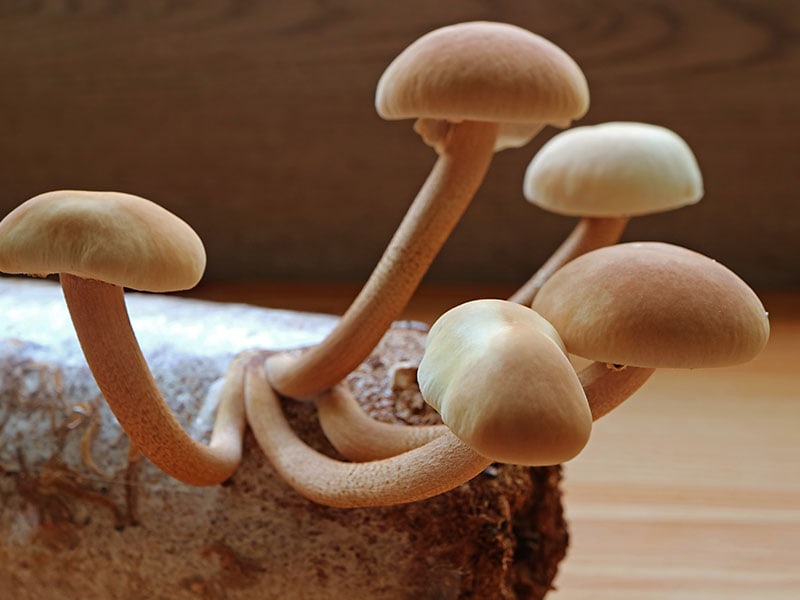 Velvet Pioppini, fondly known as Black Poplar mushrooms, is a sight to behold with its ivory stems and dark brown caps. This mushroom is common in the wild and is now cultivated globally.
The mushrooms bring a slightly sweet, earthy flavor and a meaty texture to any recipe. For cleaning, you just need a soft dry cloth to brush off the dust instead of using water.
Regarding cooking, it's pretty versatile with dishes like stir-fries, pasta, risotto, or as a side dish to gamey meats.
13. Velvet Shanks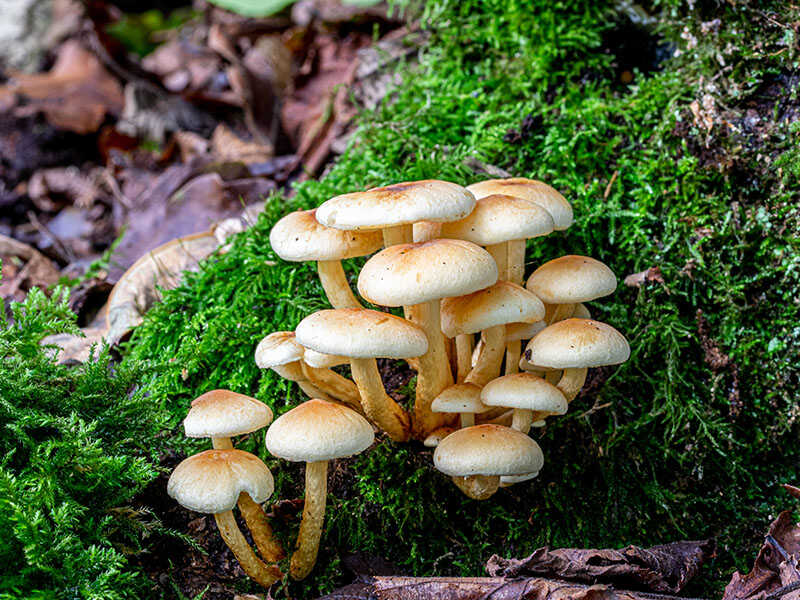 Scientifically known as Flammulina velutipes, Velvet Shanks is a type of mushroom that thrive during the winter season. These mushrooms defy the odds when thriving between the cold November and March.
Their preferred habitat is decaying hardwood, where they extract nutrients to grow. Commonly, these mushrooms come with vivid yellow-orange caps, smooth and slimy tops, and stripe velvety reddish-brown stems.
Velvet Shanks offers a sweet, meaty flavor that's pretty close to enokitake, a favorite mushroom in Japanese cuisine. But a word of caution – Velvet Shanks' resemblance to some toxic varieties like the funeral bell can be misleading, so be careful if you're foraging for mushrooms.
14. Vidalia Onions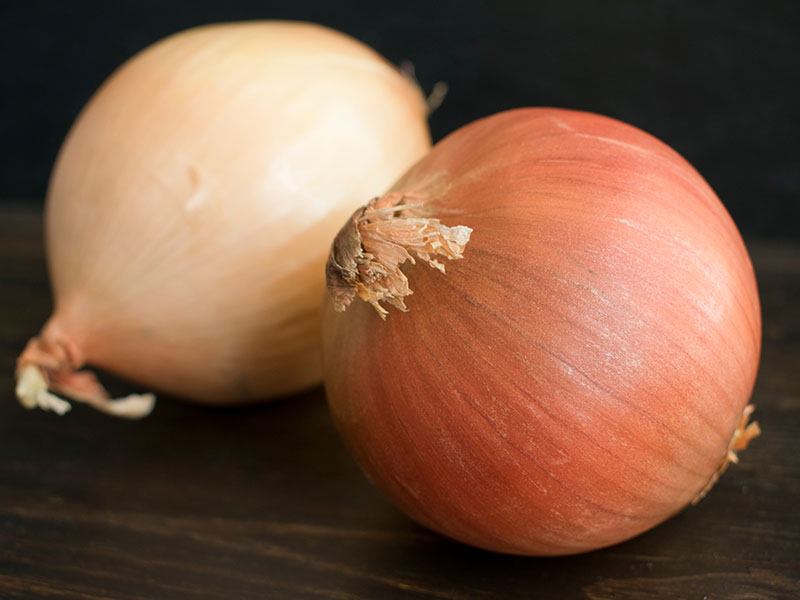 With an affectionate name based on a Georgia town, Vidalia onions are some of the sweetest onion varieties in the world. Having first appeared in the 1930s, these onions offer an apple-like sweetness that's even fit for raw consumption, thanks to a high sugar and water content.
Their unique, mild flavor owes a lot to Georgia's low-sulfur soil. But if grown elsewhere, they can turn out as pungent as regular onions. These sweet gems are perfect for pickled onions, salads, sandwiches, burgers, and roasted dishes.
15. Viking Potatoes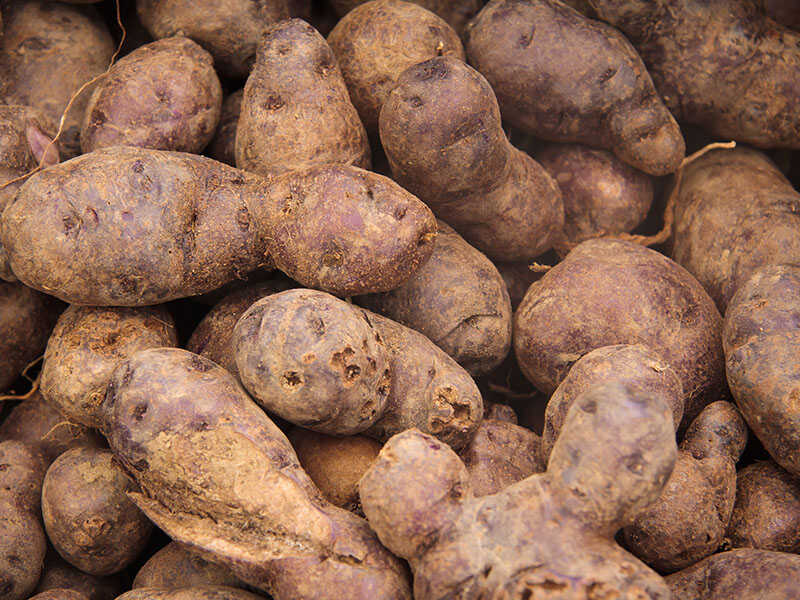 Viking potatoes sport a vivid red exterior and creamy, moist white interior. These early maturing tubers can reach an impressive weight of 2 pounds each! They're perfect for frying, roasting, baking, boiling, or tossing them into a salad.
With a sweet, buttery flavor and moderate resistance to scabs, Viking potatoes are a reliable and tasty choice for your culinary endeavors.
16. Vitelotte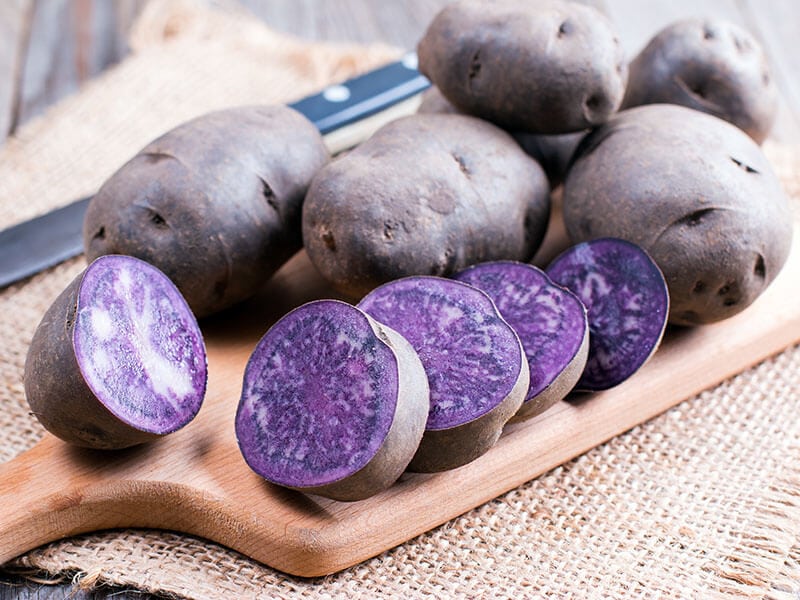 Hailing from France, Vitelotte is a gourmet blue-violet potato variety known for its thick skin and small to medium size. Sometimes referred to as Vitelotte noire or Truffe de Chine, they possess a smooth, firm flesh and a unique nutty flavor with chestnut undertones.
The renowned author of The Three Musketeers, Alexandre Dumas, even praised Vitelotte as a Parisian delicacy. Plus, it's full of antioxidants and vitamins!
Spices, Condiments, Sauce And Dressings
17. Vegemite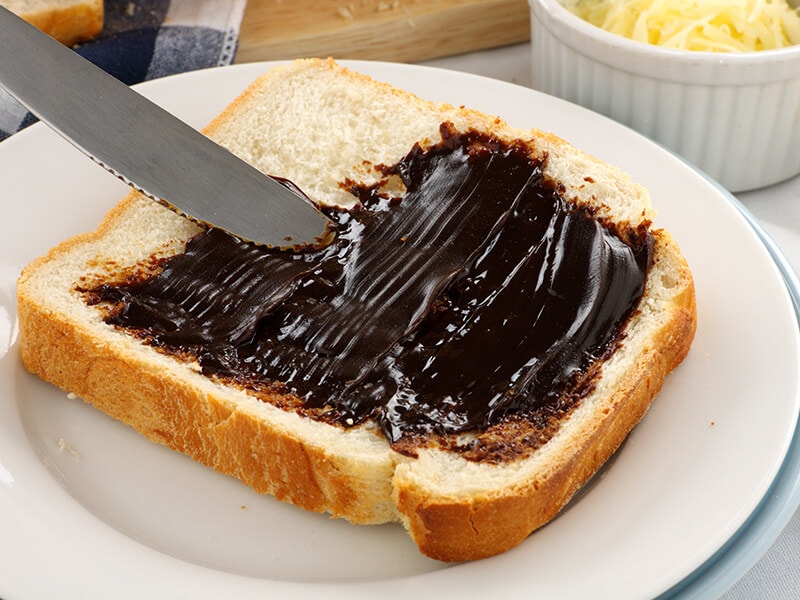 Every year in Australia, a whopping 22.7 million jars of Vegemite are produced (2), showcasing its iconic status in the country's cuisine. The savory spread that first made its appearance in 1922 can have quite an acquired taste due to its unique flavor profile.
Made from brewer's yeast extract, vegetables, and spices, Vegemite has a thick, dark brown texture and a salty, malty, and slightly bitter taste. Its richness in glutamates gives it a powerful umami kick that may be very hard for newcomers to enjoy.
Besides being famous for its taste, Vegemite is also known for its health benefits, as it's packed with essential B vitamins like thiamin B1, riboflavin B2, niacin B3, and folate (3). The spread can go on toast, crackers, or even as a seasoning in soup stocks and meat pies.
Remember, when trying Vegemite for the first time, you should start with a small amount just to familiarize yourself with the one-of-a-kind flavor.
18. Vegetable Oil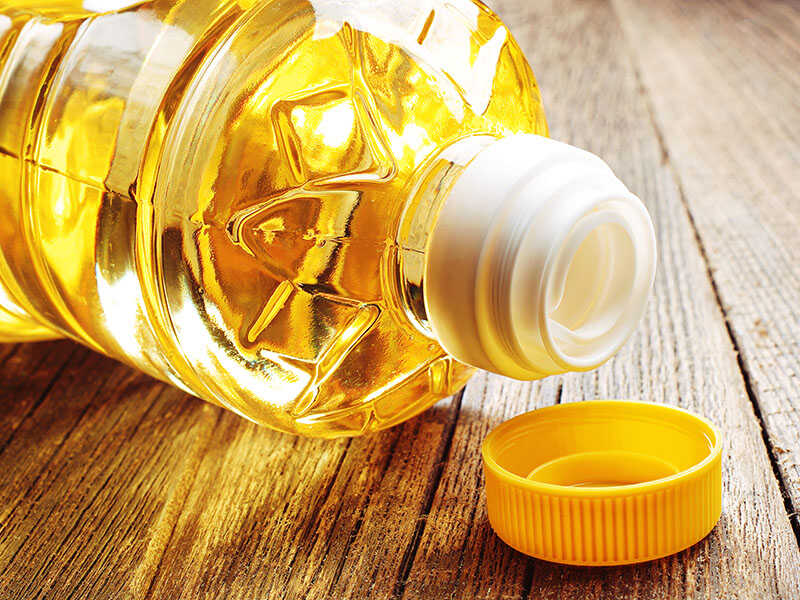 Vegetable oil extracted from plants or seeds, sometimes called vegetable fats, is a versatile cooking oil used in cooking. Some well-known examples include corn, soybean, coconut, sunflower, and grapeseed oils.
Surprisingly, healthier options, like canola and olive oils, also fall into the category of vegetable oils. Most "vegetable oils" on the market are blends of different oils. These oils are liquid at room temperature, typically flavorless and odorless, making them a great alternative to animal-derived fats.
With low saturated fat content and high levels of polyunsaturated fat, vegetable oils can help reduce the risk of strokes and heart diseases (4). However, be cautious of heavily processed oils, as they may contain harmful trans fats and offer no benefits.
19. Voatsiperifery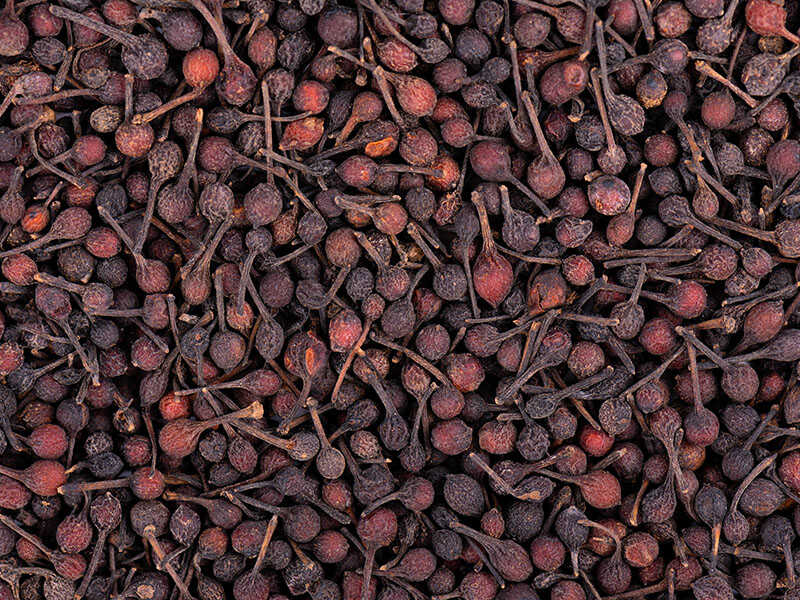 Voatsiperifery, or Piper borbonense, is a wild pepper vine native to Madagascar and a close relative of the black pepper.
This fairly rare and expensive spice is known for its unique spicy flavor combined with citrusy and herbal notes. You can use Voatsiperifery, just like black pepper, to add a distinct taste to your dishes. To get your hands on this exotic spice, look for it in online stores.
20. Vinegar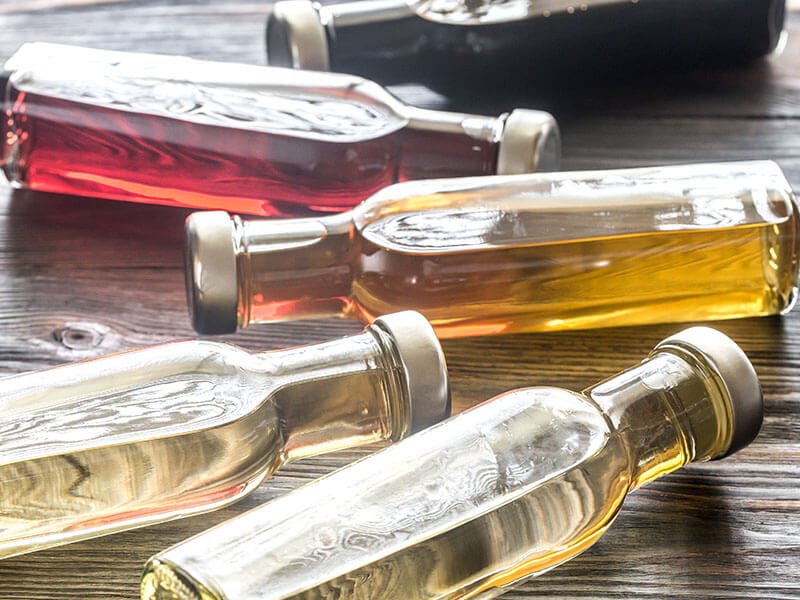 The sour-tasting liquid made up of acetic acid, water, and sometimes flavorings that goes by the name vinegar has a rich history dating back to ancient Egypt. With a typical acetic acid content of 4 to 8%, vinegar can be infused with various spices, herbs, or fruits for added taste.
Its name stems from the Old French term "vin aigre," meaning "sour wine." In various cuisines worldwide, vinegar's acetic acid is created by fermenting different alcoholic liquids, like fruit wine and cider vinegar in Europe, balsamic vinegar in Italy, and rice vinegar in East Asia and Southeast Asia.
Aside from culinary uses such as pickling, salad dressings, and dipping sauces, vinegar is a great cleaning agent, folk medicine ingredient, insect repellent, and hair conditioner.
21. Vinaigrette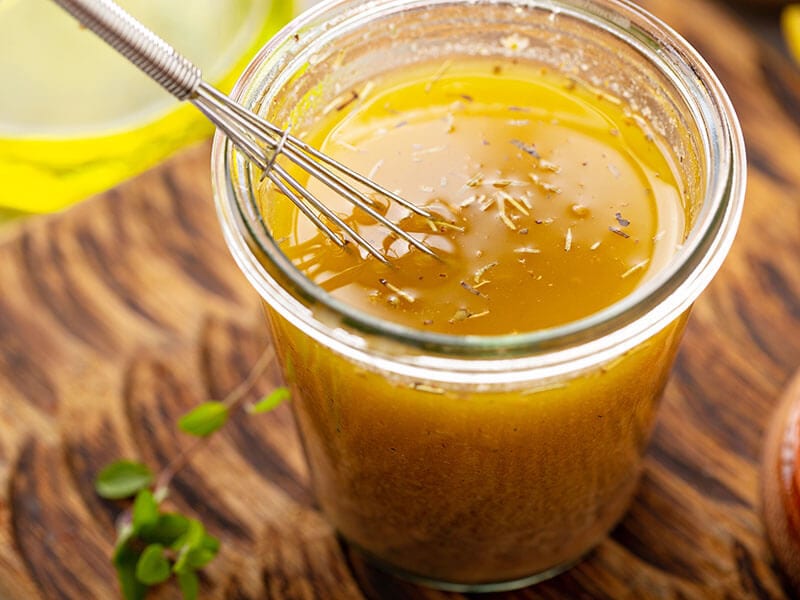 Once known as "French dressing" due to its origin, vinaigrette is a sauce or salad dressing typically made with a 3-to-1 ratio of oil to mild acid. Olive oil, especially the extra virgin variety, is the popular choice, while balsamic vinegar or lemon juice serves as the mild acid component.
However, you can opt for neutral vegetable oils like sunflower or canola. Furthermore, seasonings such as salt, pepper, mustard, or herbs may be added to create a more complex flavor. For your information, the condiment is one of the healthiest salad dressings available.
22. Velouté Sauce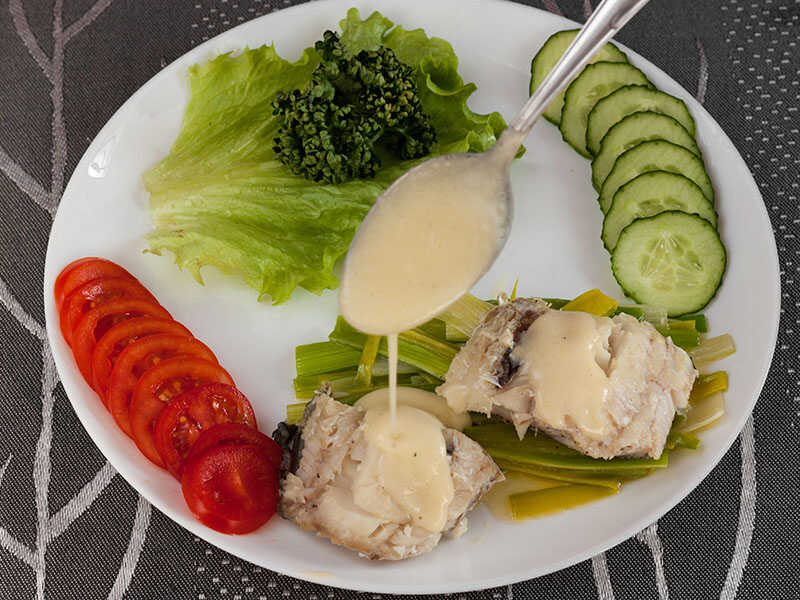 Velouté sauce, meaning "velvety" in English, lives up to its name with a smooth texture. With a mild and savory flavor, it's crafted by thickening light stock, mainly chicken or fish. Plus, people usually use a roux and add spices for an extra kick.
Versatile and delicious, this "mother sauce" can be incorporated into a wide range of savory dishes, from red meat to fish and seafood in French cuisine.
23. Vincotto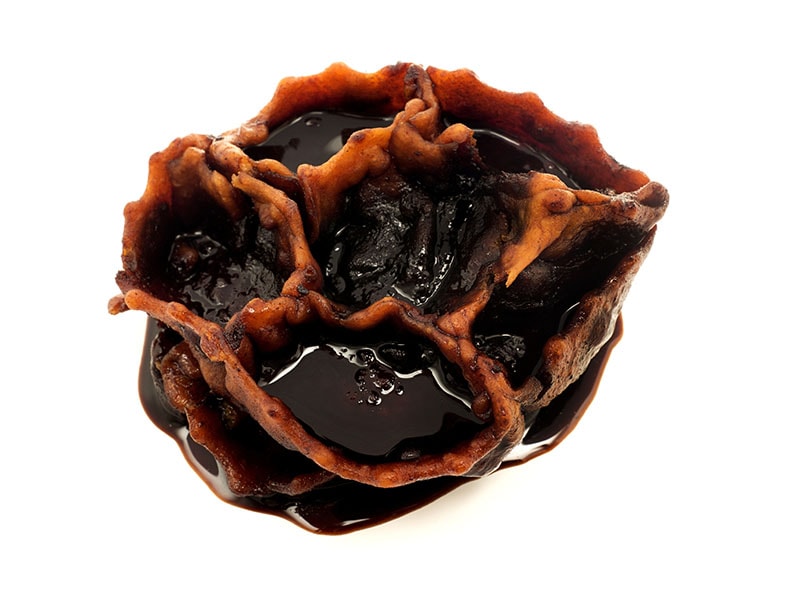 Originating from Italy, Vincotto is a dark, velvety liquid that gets its name from the Italian phrase for "cooked wine." This concoction results from slowly cooking and reducing non-fermented grape must (the freshly pressed juice containing grape skins, stems, and seeds).
With its sweet, acidic, malty, and plum-like flavor, Vincotto can be a great substitute for balsamic vinegar or even used to make it. Some popular cooking methods for Vincotto include glazing food, marinating meat, and whipping up salad dressings.
Cheese and Dairy Products
24. Velveeta Cheese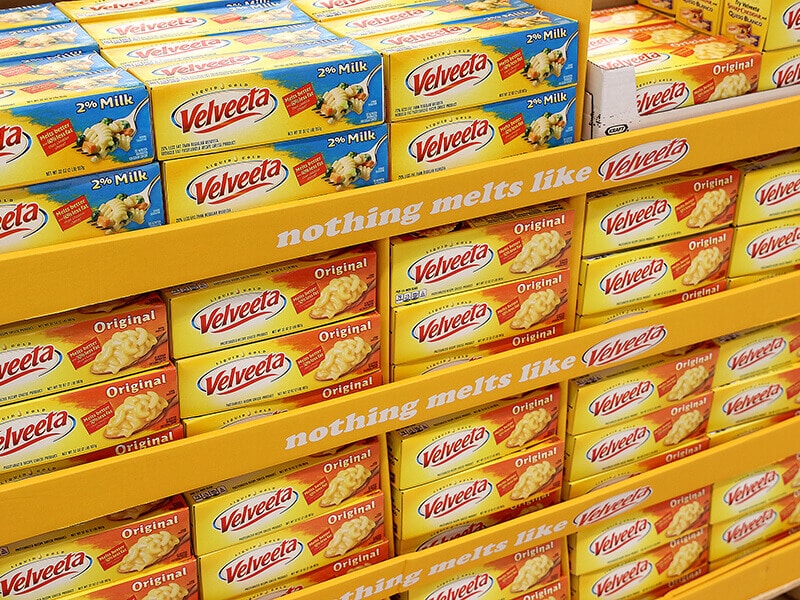 Dating back to 1918, Velveeta cheese is a processed cheese brand that has been a part of the American culinary story. Known as Liquid Gold, these cheese blocks can capture your attention with their signature orange color.
Interestingly, people no longer make Velveeta from real cheese. It contains mainly whey protein concentrate, milk protein concentrate, pasteurized milk, and emulsifiers, rather than actual cheese like in the old days. Velveeta cheese is excellent for making nachos at home!
Velveeta cheese usually carries a mild taste and velvety consistency, giving it the name Velveeta. The cheese is a star in grilled cheese sandwiches, casseroles, mac and cheese, and even stuffed peppers, thanks to its melting nature.
25. Vermont Cheddar Cheese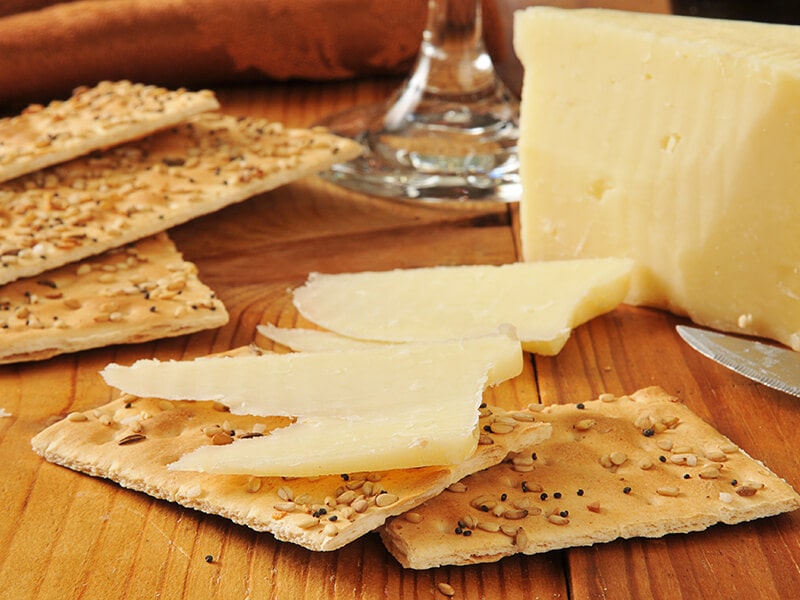 Let me introduce to you my cheddar cheese – Vermont cheddar cheese.
Vermont cheddar cheese is softer and has white-milk color. The reason is Vermont's cheddar cheese doesn't contain annatto – an extract from seeds used as a food coloring.
The cheese is a unique twist on the classic cheddar, offering a sharper, more bitter taste. This white cheddar, unlike the traditional orange hue, gets its color naturally, without the use of additives.
What's fascinating is that it can be made from cow, sheep, or goat milk. The white color is so iconic that any similar cheese can borrow the 'Vermont' title, regardless of its actual production place.
26. Vacherin Cheese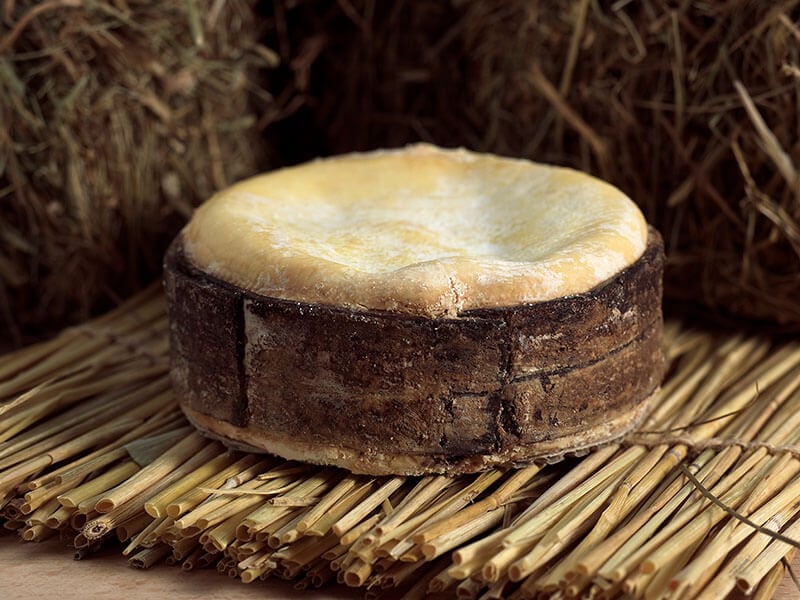 Vacherin Mont d'Or, a soft cheese from Switzerland and France, is a winter delicacy with a rich and nutty flavor. Made from cow's milk, it's adorned with a brown-washed rind featuring wave-like indentations.
However, you better be careful not to mix it up with its Swiss cousin, Vacherin Fribourgeois, which has a semi-hard texture. Additionally, ripe Vacherin Mont d'Or has an irresistible gooey texture, perfect for scooping out once the rind is removed.
And don't forget, Vacherin cheese is splendid for baking, spreading on crusty bread, or melting into fondue.
27. Viili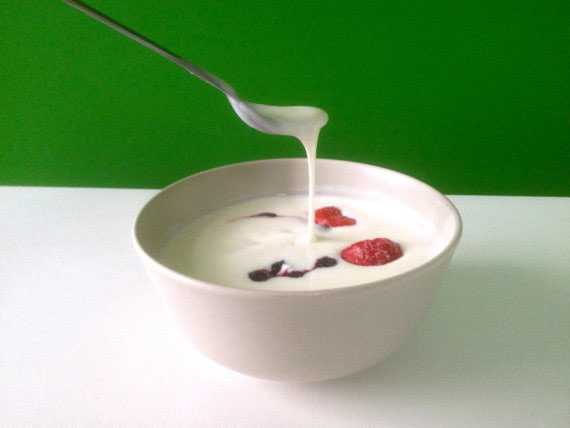 In the world of Nordic delicacies, Viili holds a special place. This Finnish specialty utilizes fermented milk products to create its stretchy, jelly-like texture with a mild, nutty flavor.
Standing out from the crowd, Viili is thicker than most yogurt varieties, so it's perfect for a solo snack or mixing with fruits or bread. Not only that, Viili is also a superstar when it comes to health benefits, thanks to its rich probiotics content.
Appetizers and Snacks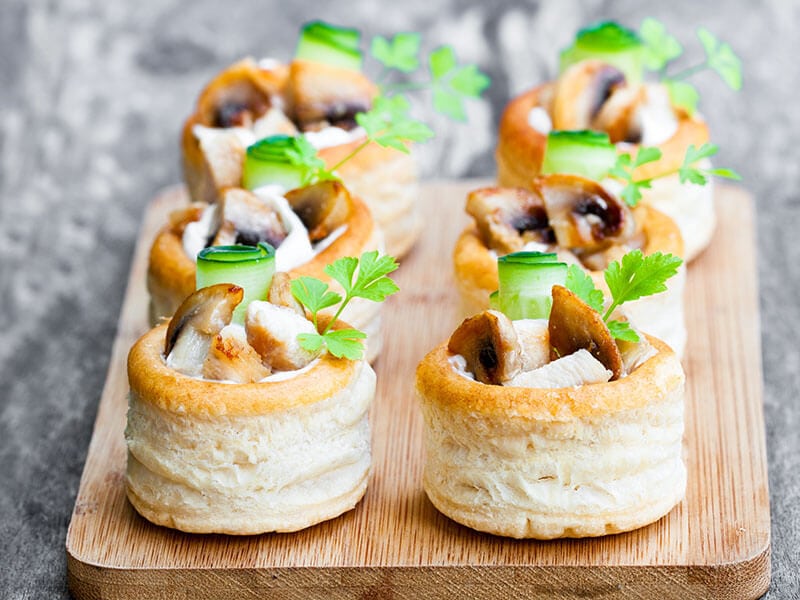 The way to pronounce it is "vaw-Loh-vahn", a French word for "windblown". This is a genuinely old plate because it has its first appearance since the early 1800s.
My favorite baked hollow puff pastry is filled with vegetables, fish, chicken, or meat mixtures with a sauce. The puff pastry shell of a vol-au-vent is light, flaky, and hollow, with a crispy exterior that forms a small, cup-shaped vessel perfect for holding a savory filling.
In addition, this dish is usually served as a French-styled appetizer. So don't wait until you come to France to eat this. Try to make it home now!
But keep in mind that don't fill the pastry too far in advance as it will result in a soggy Vol-Au-Vent.
29. Veggies Chips
No one can decline chips! Veggies chips (also referred to as vegetable chips) are made from slices of vegetables other than potatoes.
It has the same cooking method as regular potato chips. It can be deep-fried, dehydrated, dried, or baked, basically, a method that takes out all of the water from the vegetable so that veggie slices can become crispy.
However, buying veggie chips doesn't make you look healthier than regular chips. The manufacturers usually add a lot of seasoning to make the snack more delicious (original veggie snacks are bland with only a slight hint of the vegetable flavor).
If you want to try veggie chips correctly, I would recommend you make them at home. The recipe is simple, and you can be creative with the flavor and the kinds of vegetables you like. Plus, you should use a sharp knife or a mandoline to cut them properly.
30. Vada Pav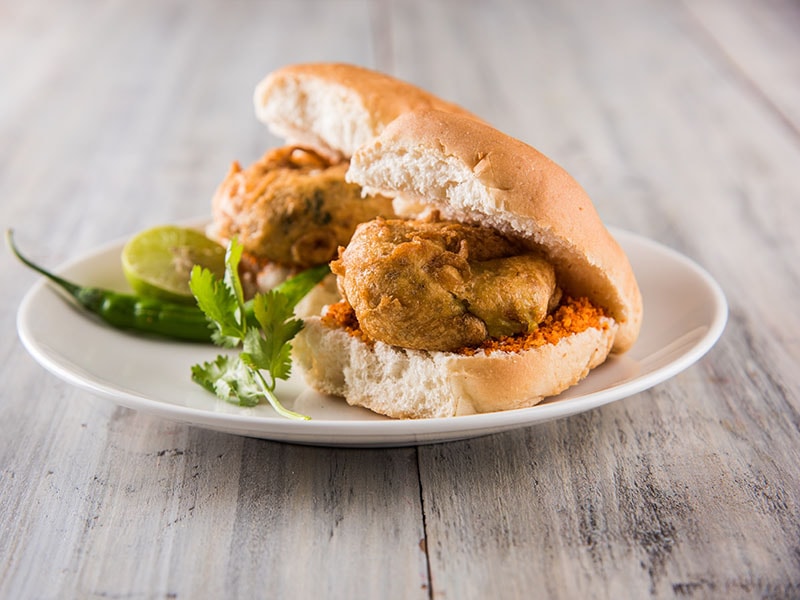 Here is an appetizer from India that not everyone knows. Asian. So if you have a chance to visit this country, particularly Mumbai, you cannot skip this dish because it is so tasty.
Vada pav is a vegetarian fast food meal invented by Ashok Vaidya, who sold food at Dadar Station. The plate became famous during the 70s and 80s as a working-class snack and then became nationwide. Today, it's considered a staple of Maharashtrian cuisine.
The reasons for its popularity are easy to make, convenient to eat, and cheap. Vada pav includes a deep-fried potato dumpling stuck in the middle of a bread bun (pav). The cook will slide the bread almost in half to place the potato filling.
Its shape looks like a mini burger. The taste of Indian domestic potatoes is incredibly delicious. In the advanced version, you can find chutneys and green chili pepper to eat with. You can also order it by name: Wada Pao, Spelt Vada Pao, or Bombay burger.
It's less than 6 minutes to learn how to make Vada Pav. Don't you want to?
31. Vienna Sausages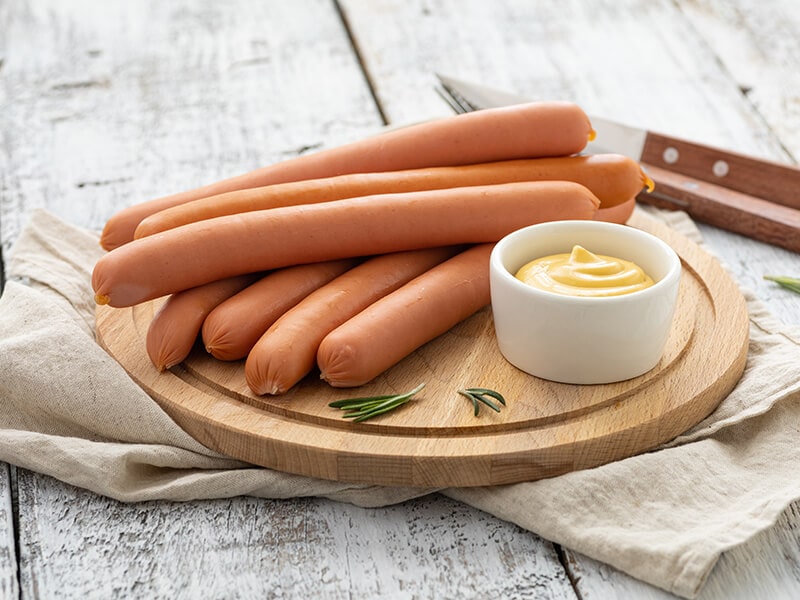 Another popular food that starts with "V" – Vienna sausages, also known as Frankfurters or small German sausages, are made from low-temperature smoked beef and pork, covered by sheep's intestines.
These European sausages are thin, par-boiled, and are usually sold in a can. After being cooked or boiled, they remove the casings and then cut the sausages into short pieces to put in cans.
Once you try canned Vienna sausages, you will feel the finely ground paste with the taste of various seasonings and spices like cloves, nutmeg, garlic powder, and red pepper.
However, the sausages naturally contain high salt and saturated fat, so keep an approximated amount if you don't want height and weight problems.
32. Vetkoek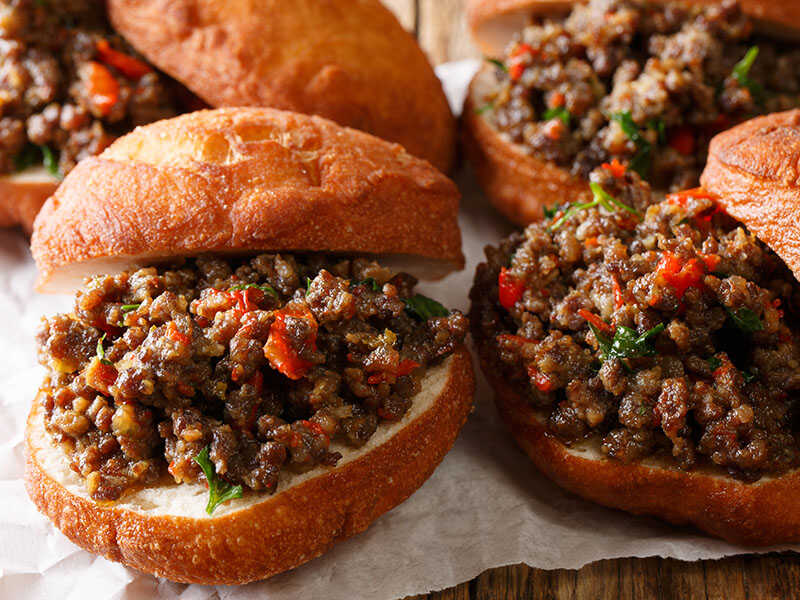 A classic South African food, Vetkoek is a scrumptious deep-fried bread you'll fall in love with at the very first bite. It is often filled with other ingredients, like curried ground beef. Overall, Vetkoek has a crispy exterior and flavorful filling.
In addition to South Africa, Vetkoek is also a classic dish in Botswana cuisine. If you plan to make it at home, you can be flexible with the cake's size and the cake filling. Sometimes, you can make sweet vetkoek by using cheese, syrup, and honey and serving it as a dessert.
Main Courses
33. Vindaloo (Goan Curry Dish)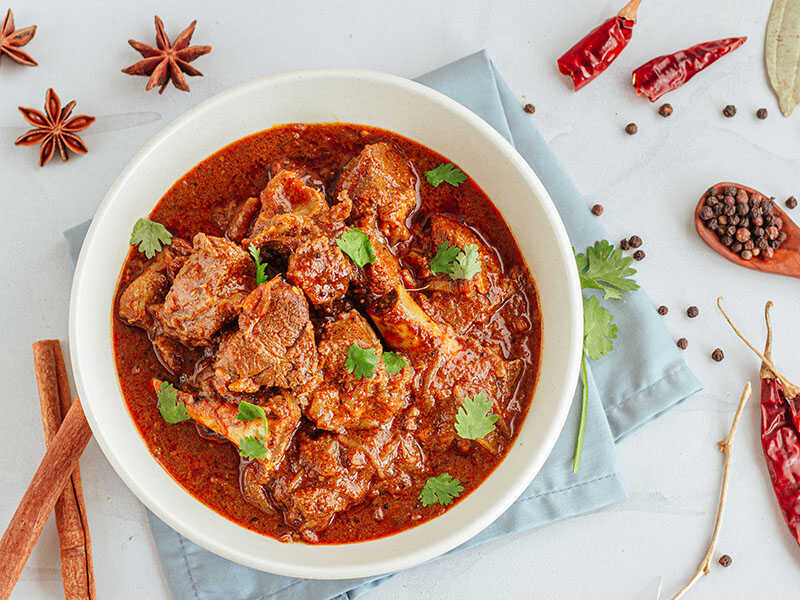 This is one of the most popular Goan dishes in Indian cuisine. It's widely eaten for both a meaty diet and a vegetarian diet, depending on your ingredients, including chicken, pork, lamb, and vegetables like zucchini, potatoes, or bell chilies.
Similar to other dishes of India, Vindaloo is a heavily spiced dish with a heavy smell. You will need a lot of chilies to create the genuine Indian fiery hot and spicy taste.
The fiery spicy taste of this dish can be challenging for newcomers. At a beginner level, control the number of chilies, jalapenos, and spicy seasoning.
34. Vatapá (Brazilian Shrimp Stew)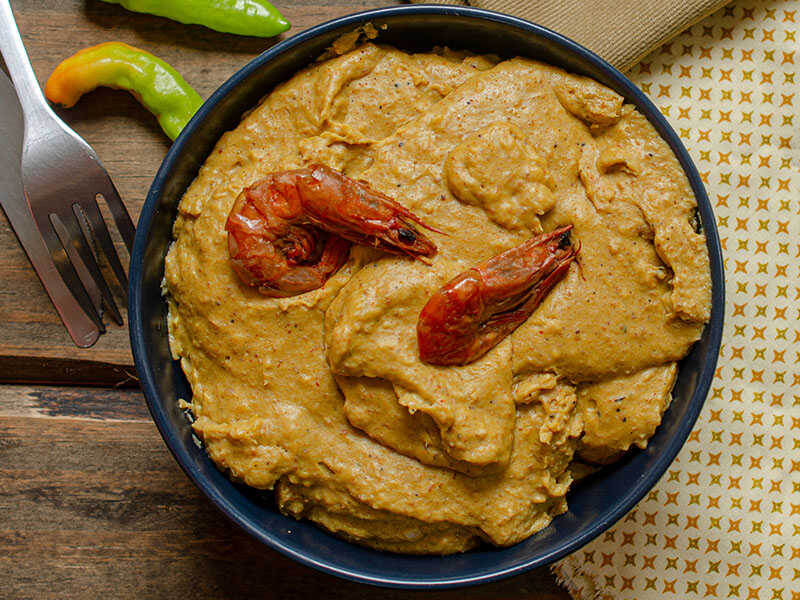 There are two types of Vatapá: One has quite a thick paste texture, used as the cake filling of a Bahian bean fritter called acarajé. Another is a loosen texture, with many chunks and pieces of various ingredients in a thick sauce. Both are made from bread, shrimp, coconut milk, peanuts, and palm oil.
Vatapá can be served as a side dish in a Bahian meal or part of the Bahian buffet. Since it has two reasonably different types, the way to make them is different too.
"The most typical Bahian dish", "The glory of Bahian cuisine". "You must try Vatapá when you travel to Brazil", is what local citizens usually say about Vatapá.
35. Varuval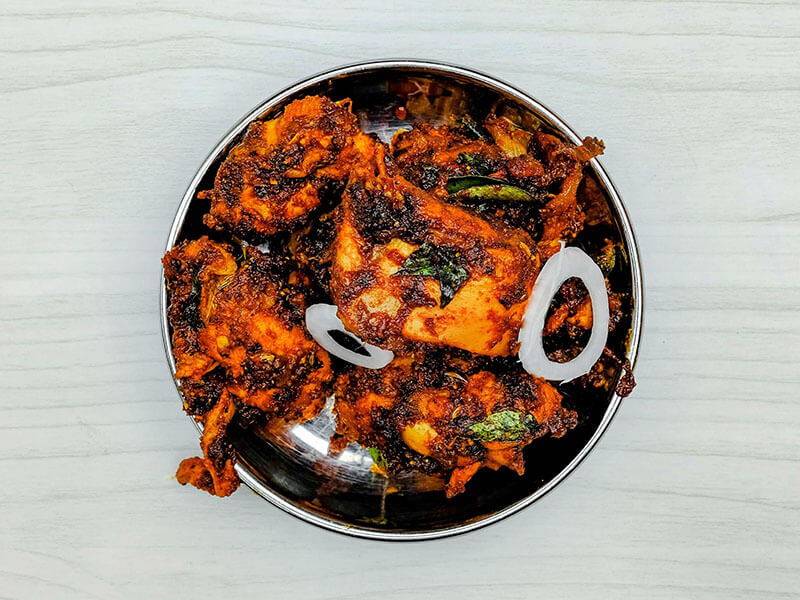 This is a Southern Indian specialty dish made from marinated chicken, garlic, black pepper, cinnamon, fennel seeds, curry leaves, and, last but not least, a sign of India's cuisine – chilies.
The recipe to make this dish is not complicated. You can easily find all of the ingredients and complete the plate within a few steps. Additionally, making the dish at home allows you to adjust the spicy level easily. This hot tangy dry-fried chicken dish goes well with white rice.
Quick fact: the name 'varuval' means 'fried'.
Instead of traveling to India, why don't you make your version of this Varuval at home? Watch this video:
36. Vitello Tonnato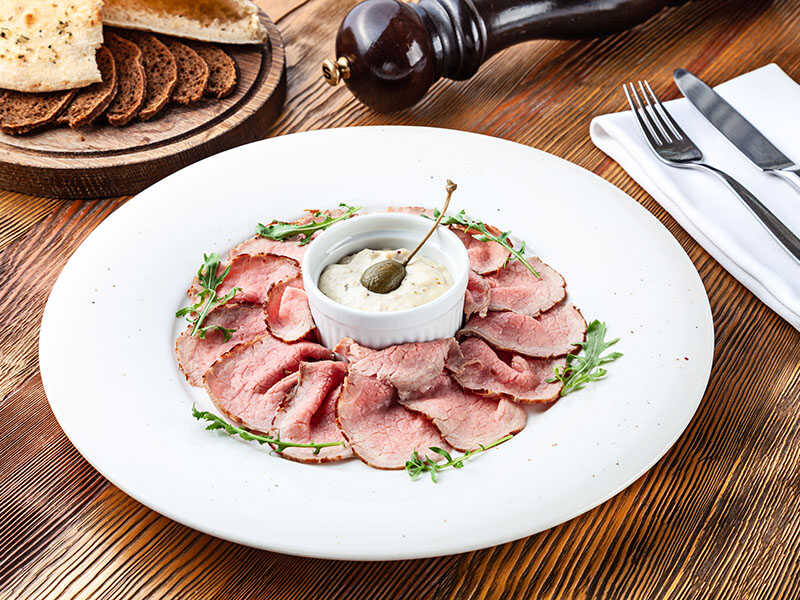 Vitello tonnato is a chilled Italian dish, particularly in Piedmont, that mainly serves as the main course. In Italian, "vitello" means 'veal' and tonnato means 'tuna sauce" to refer to its key ingredients.
In the center of the dish, there will be cold, sliced veal, then a layer of tuna-flavored, creamy, mayonnaise-like sauce. Look simple, right? But to make this dish, you have to prepare it for at least one day.
The unique combination between veal and tuna will make you feel you deserve to wait for preparation time. Sometimes, it is considered an exceedingly sophisticated appetite for fine dining, especially during summertime.
37. Vori Vori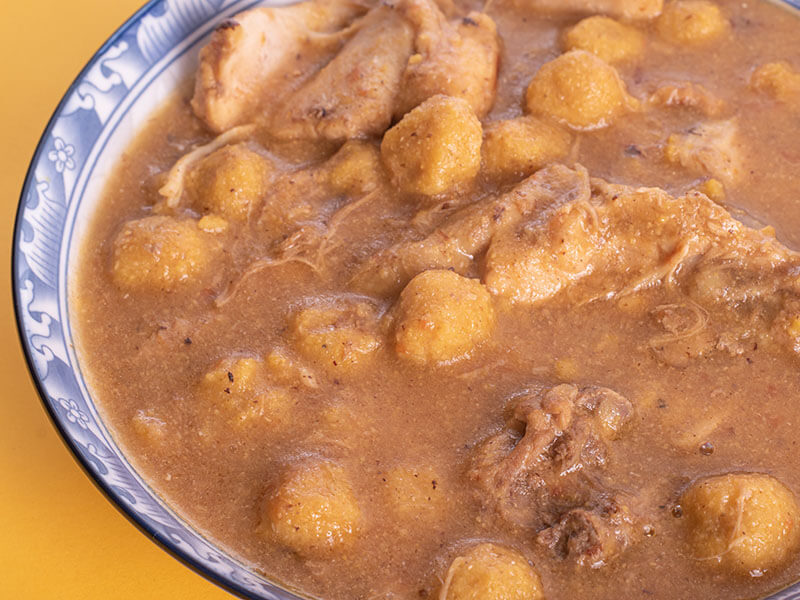 Vori Vori is a portion of delicious and satisfying food for everybody. The plate contains small balls made from cornflour, cornmeal, and cheese dipped into a thick yellow chicken broth soup.
Vori Vori is either an authentic food from Paraguay or North-East Argentina ("vori" means ball in the Guarani language of Paraguay). It is a traditional chicken and dumplings soup that represents Paraguay cuisine.
If you want to make this dish, try to use clarified butter, referred to as ghee, to achieve the lightest dumplings. This dish is gluten-free, nut-free, soy-free, and relatively simple to make; all are good for a try!
38. Vegetable Biryani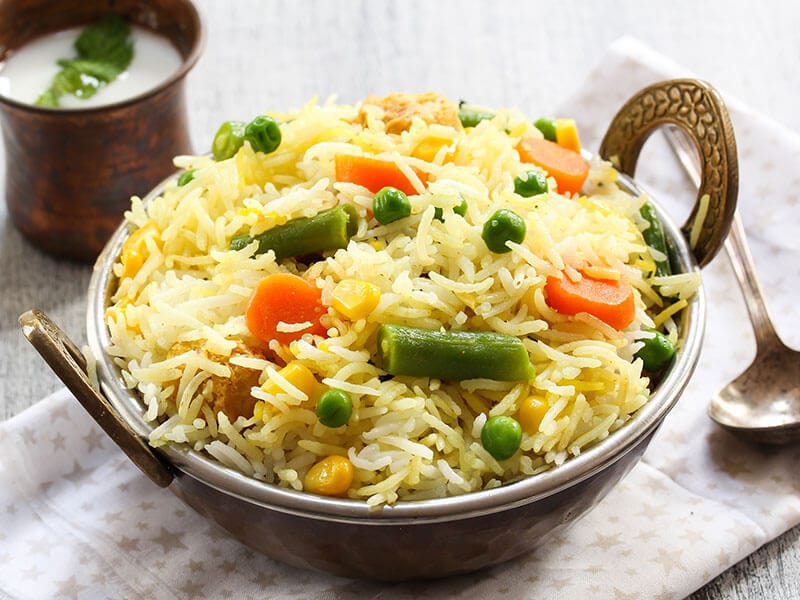 Honestly, whenever you go to an Indian restaurant, and someone is ordering a vegetable biryani dish, you can smell the aromatic smell right when you come in.
Vegetable Biryani is a healthy and flavorful Indian rice dish made from basmati rice (a kind of Indian rice that is thinner and longer than traditional long-grain rice) with mixed vegetables, herbs, and biryani spices. It's an easy Indian recipe to make using an instant pot.
The vegetables for this plate are bell peppers, peas, carrots, and sliced potatoes, combined with turmeric and many warm spices. From the look, it's like regular fried rice for vegetarians, but the taste and scent are far more different. It's healthy with many good ingredients and worth a try!
A guide to make vegetable biryani with 7 flavors included! Watch this video to know:
39. Vegetable Spaghetti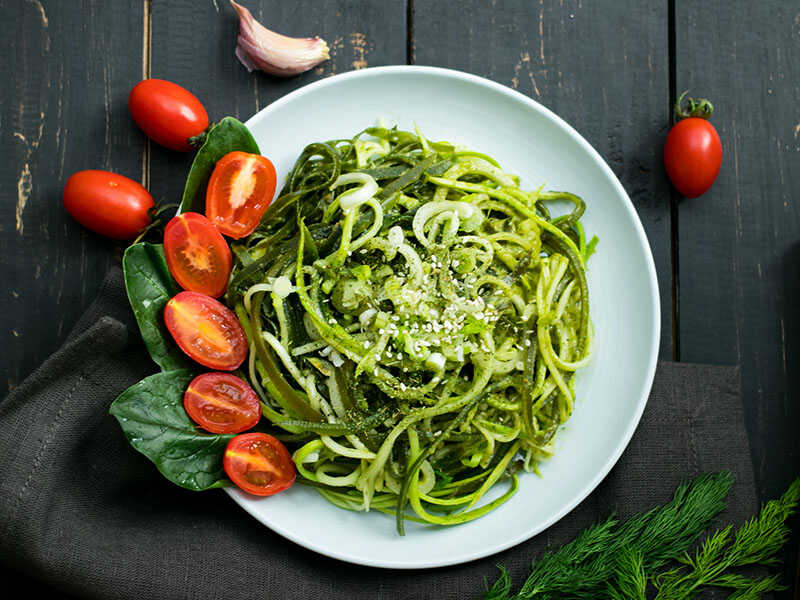 Instead of wheat flour, a healthier kind of spaghetti is made from fresh vegetables. Vegetable spaghetti will have a lower carbohydrate content, free from fat and gluten, and higher fiber content, which is good for your digestion.
The ideal vegetable you can use here are zucchini or yellow squash. A good tip to cut them into thin and even slices is using a julienne peeler, a mandoline slicer, or a spiralizer. Then you can cook these spaghetti with the sauce you like.
In general, this dish is an ideal solution for pasta lovers who still want to control their weight.
40. Vegetable Soup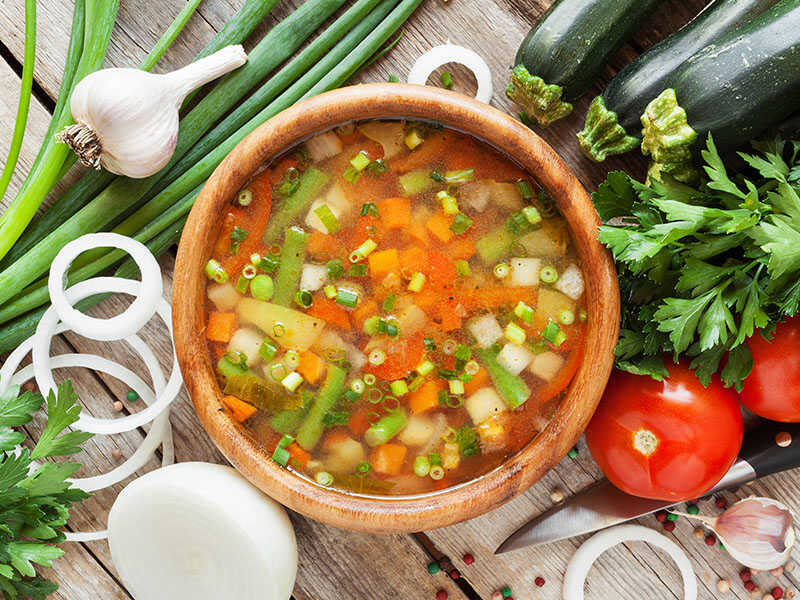 The vegetable soup uses vegetables as the main ingredients. Vegetable soup is a traditional dish familiar to every family globally with a wide range of variations. You can make your soup sweet, savory, spicy, or sour with other ingredients.
This soup is simple to prepare, and the variety depends on the gout of the cook. You can make a single-vegetable soup like baby corn soup or mix up to 2-3 types or more vegetables like zucchini, tomatoes, bay leaves, garbanzo.
Chop them into pieces, then add to a vegetable broth pot and stir it well. Sometimes, to make the soup tastier, you can use chicken broth or bone broth for the stock.
Vegetable soup can also be creamy and fatty, like broccoli mushroom creamy soup. And do you know that creamy veggies soup is one of many comfort foods that go well with tuna steaks? Yes, it is; so do not forget to prepare this dish for the next tuna party.
41. Vegetable Curry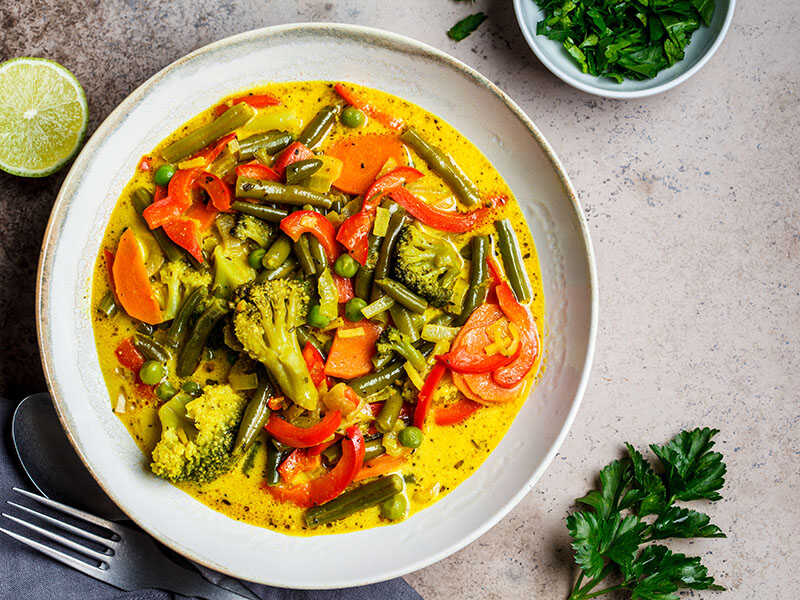 Curry is not something strange. Vegetable curry is suitable for vegetarians particularly, and those who want a light meal for the stomach.
Since it's made from vegetables, you have the freedom to create a new version of vegetable curry every time. I am talking about chickpeas, pumpkin, sweet potatoes, corn, and more!
You can combine 2 or 3 types of veggies into one pot. For a vegetarian diet, add some tofu to it to ensure you have protein.
Let's learn how to cook Vegetable curry in Japanese style:
42. Veal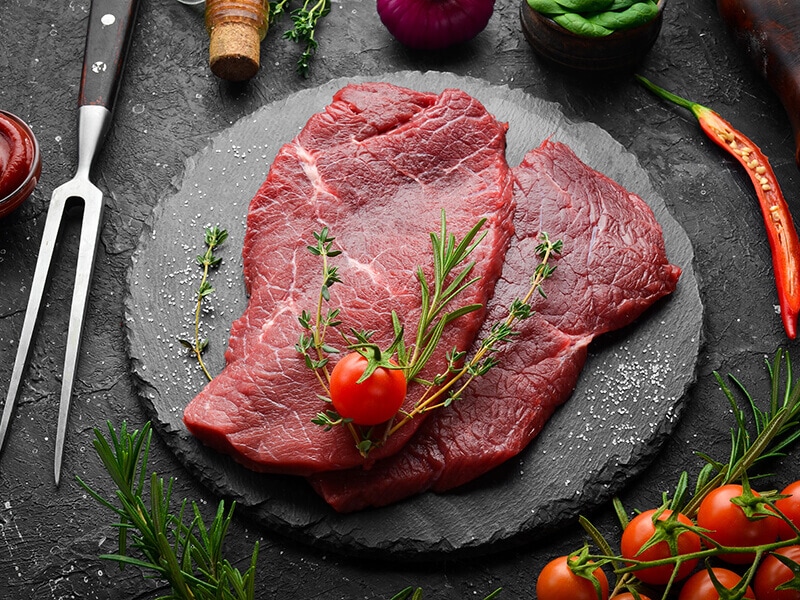 Oppositely to beef, which is obtained from older cattle, veal is genuinely meat obtained from calves, especially the fatty ones.
The best pieces of veal usually come from 0 to 12 month-old calves. Older-than-12-month calves are classified as beef. Veal's taste is milder than typical beef because of the calves' age and diet.
Commonly, veal has a mild and clean taste that holds a unique spot in the realm of red meats. Unlike its counterparts, veal has a lower fat content, offering a leaner option and a fine-grained texture.
This meat contains lots of nutrients and can quickly absorb many marinades. It's also a nutritional food, packing a punch with vitamins B6, B12, niacin, and zinc (5). That's the reason why veal is considered a portion of high-quality and intensely flavored food.
43. Venison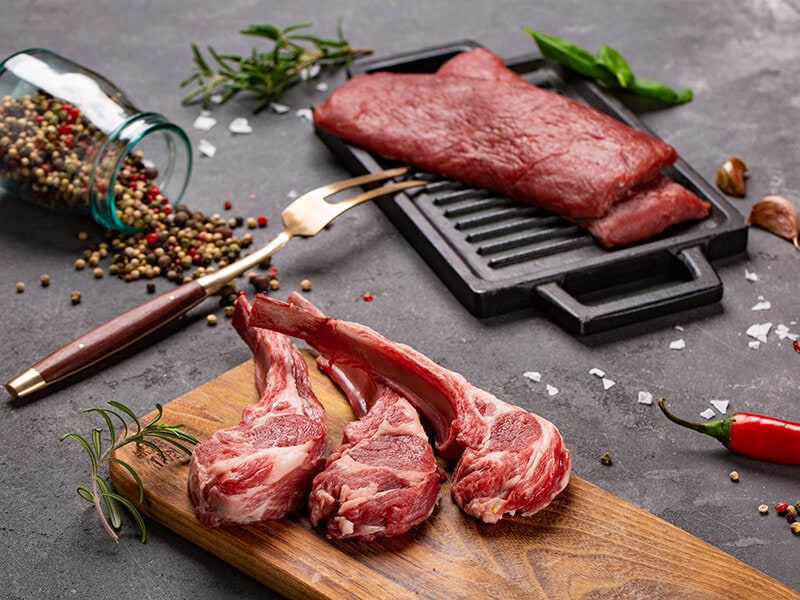 Venison is "venari" in Latin, which means to hunt. It is meat from game animals like elk, deer, or antelope. Deer is the most popular.
Venison and veal that I mentioned above are frequently mistaken. Many people prefer venison to beef since it contains higher protein but less than 50% fat. This meat is a good option for the one who needs to cut off fat and focus on re-building lean muscle.
Commonly, venison offers a unique culinary experience with its earthy and rich flavor. The texture is firmer and less juicy than beef, adding to its one-of-a-kind appeal. To savor its essence, medium-rare is the recommended preparation.
Remember, the ideal internal temperature should be at least 145°F degrees (for medium rare steak), and you should avoid overcooking. Beyond its irresistible taste and texture, venison brings a wealth of nutritional benefits to the table, including vitamins K and B12, as well as iron and zinc (6).
Now, I guess you can choose precisely the meat you want next time, right?
44. Vichyssoise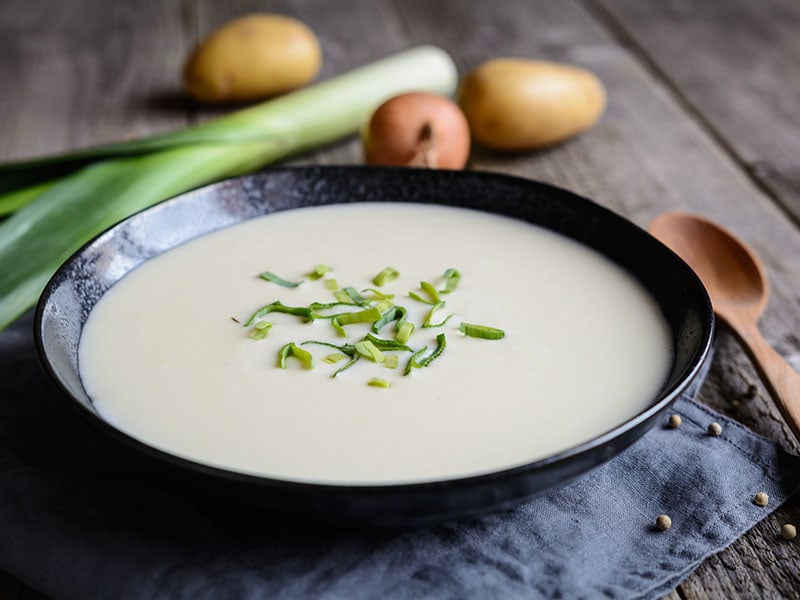 Vichyssoise is a cream bomb from France. When it comes to summer, I will say it's never wrong to have a bowl of Vichyssoise at a meal.
The dish is typically served after being chilled to help you reduce the hot temperature of summertime. You will be surprised how the creamy potato, pureed leek, and chicken stock even taste better at a cool temperature.
With the chilled dish concept, the soup, which is full of creamy potato, pureed leek, and chicken stock, can help you reduce the hot temperature of summertime. Sometimes, you may catch Vichyssoise with onions instead of leeks.
The soup has a thick texture with off-white color and creamy flavor. For me, Vichyssoise is like melted ice cream in the savory category. It can be served with bread or eaten alone. It's genuinely comforting food.
45. Vareniki/Varenyky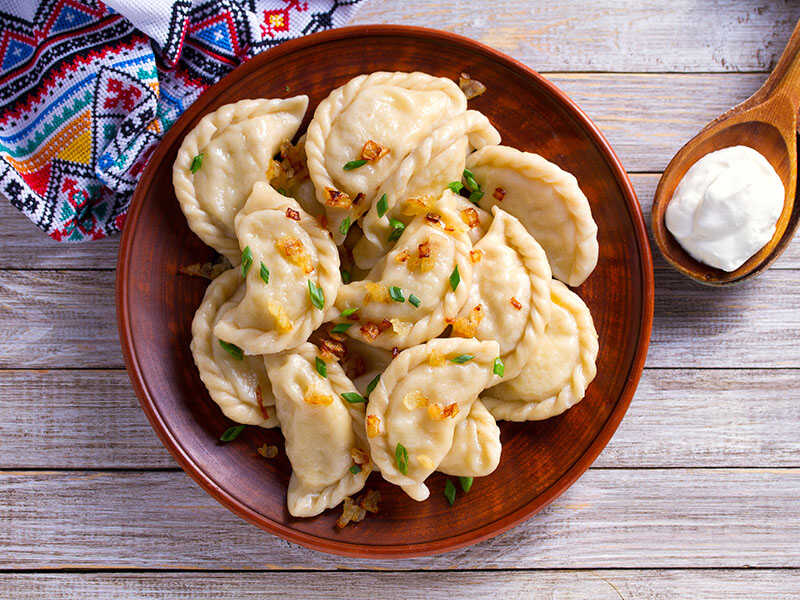 Vareniki is an essential dish in Russian and Ukrainian cuisines that comes in a half-moon-shaped dumpling. The dough, a delicate blend of flour, milk, and eggs, hosts a variety of fillings, but the potato version is especially loved.
A perfect Vareniki requires a not-too-thick dough and just the right amount of potato-onion filling. However, Ukrainians often savor it with sour cream, fried onion, and butter. While the name "Vareniki" is a Russian favorite, "pierogi" is the name of the dish in Poland and Slovakia.
Desserts and Baked Goods
46. Victoria Sponge Cake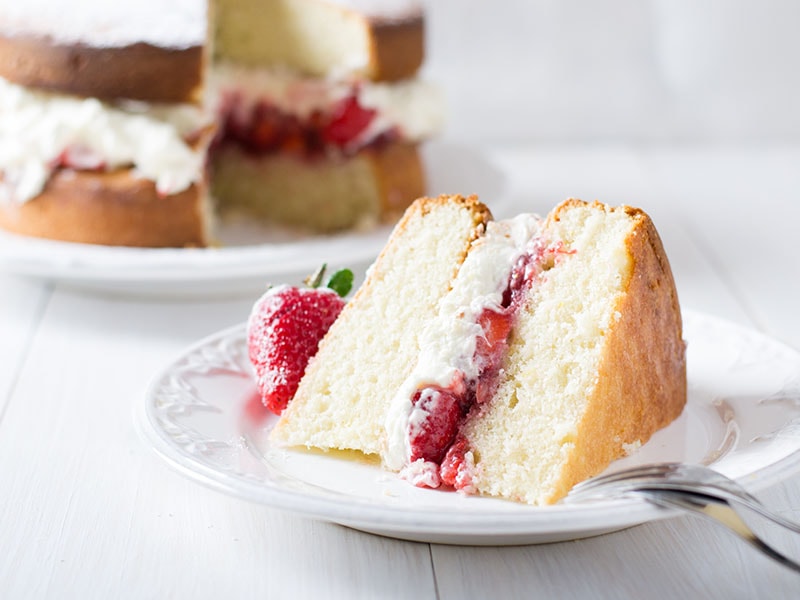 The sponge cake has two layers with an airy texture, separated by chewy raspberry jam and soft vanilla buttercream. The attraction comes from the lovely, buttery flavor and fluffy texture.
There is an interesting story behind this cake, which makes it even more famous. This sponge's name comes after Queen Victoria. It's cut into small pieces like sandwiches when served. So you can also call it a Victoria sandwich.
There are two ways I will recommend you to enjoy this delicious sponge. One is that you can have it with an afternoon teacup as a British person. The other way is simply having a big slice while watching Great British Chefs on the bed, like me!
47. Vanilla Bean Crème Brulee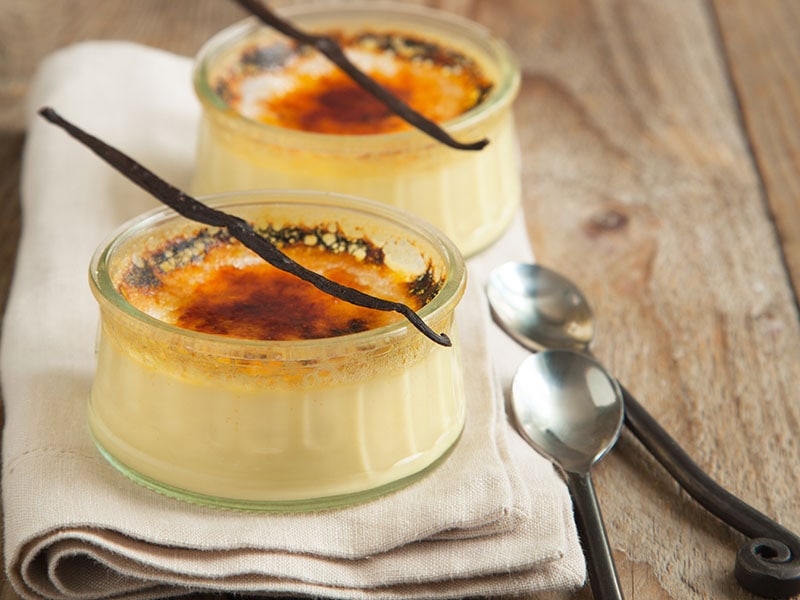 This creme brulee has two layers. At the bottom is a layer of custard with a vanilla flavor. Then over the top is a layer of hard brown caramelized sugar. That's the textural distinction that drives people crazy about this dish.
If you want to eat the creamy custard, you will have to use a spoon to break the hard brown cover. Imagine the hard and crunchy sugar top layer, then the custard's dedicated creamy, sweet, and smooth texture, all combined in one bite.
It always feels like a delightful culinary experience for me! Additionally, you can add fruits like berries on the top for a fruity note at the end.
48. Viennoiserie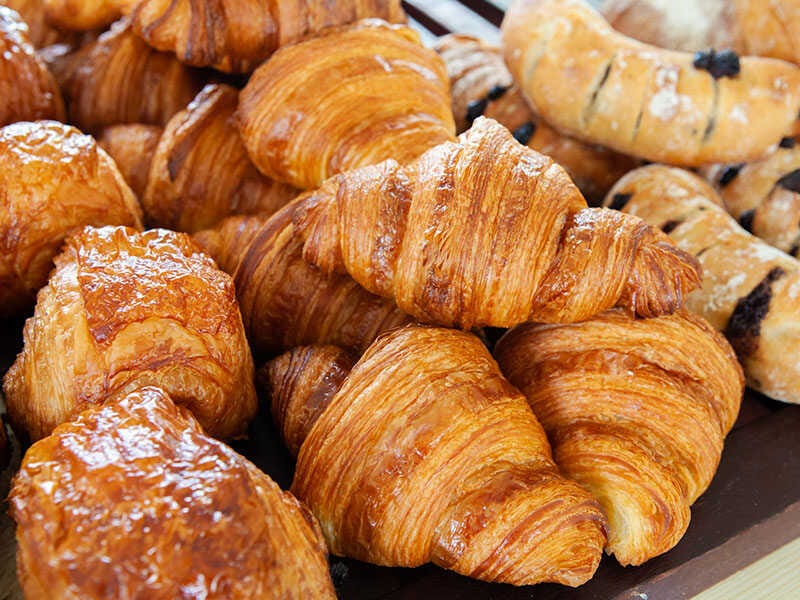 There are many kinds of bread in the world. Originated in Vienna, Viennoiserie is a French word referring to a bread recipe made from yeast-leavened dough.
Making Viennoiserie is similar to making bread or puff pastry but with add-in ingredients such as eggs, butter, milk, cream, and sugar.
That means Viennoisere's taste will be more like a sweet pastry. Plus, it is a great breakfast or snack in French.
There are two main versions of Viennoiserie: One is that brioche has richer aspects of pastry since it contains a higher amount of egg and butter content. The other is croissants which are made from a laminated pastry dough with lots of yeast and milk.
49. Vasilopita Cake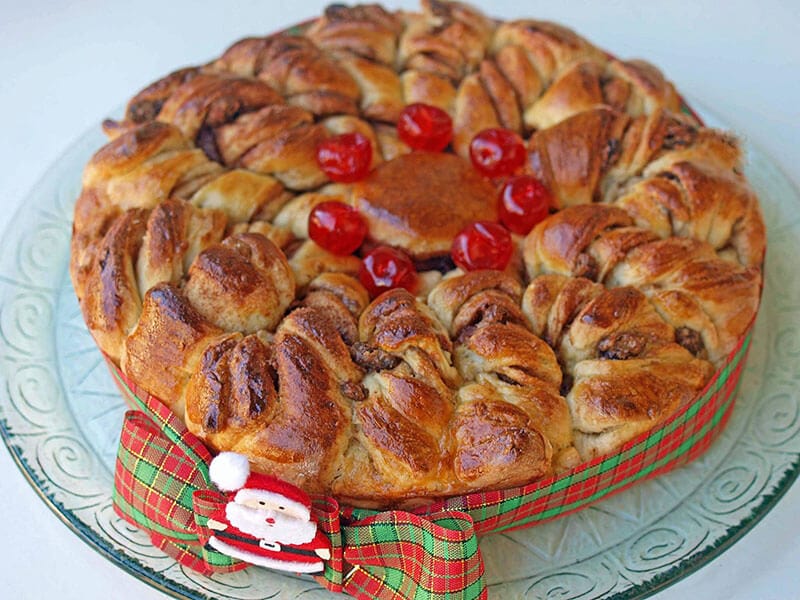 Vasilopita cake is a traditional Greek cake served at midnight on New Year's Eve to celebrate the life of Saint Basil.
This custard cake is full of orange aroma and garnished with a thick and glossy vanilla-flavored sugar glaze. It's a sweet pie that is suitable for a family meal or a party.
Depending on the region, you can find many versions of Vasilopita cake. Choosing different doughs to make the base will also produce a new version. The most common one is Vasilopita Tsoureki bread.
50. Vatrushka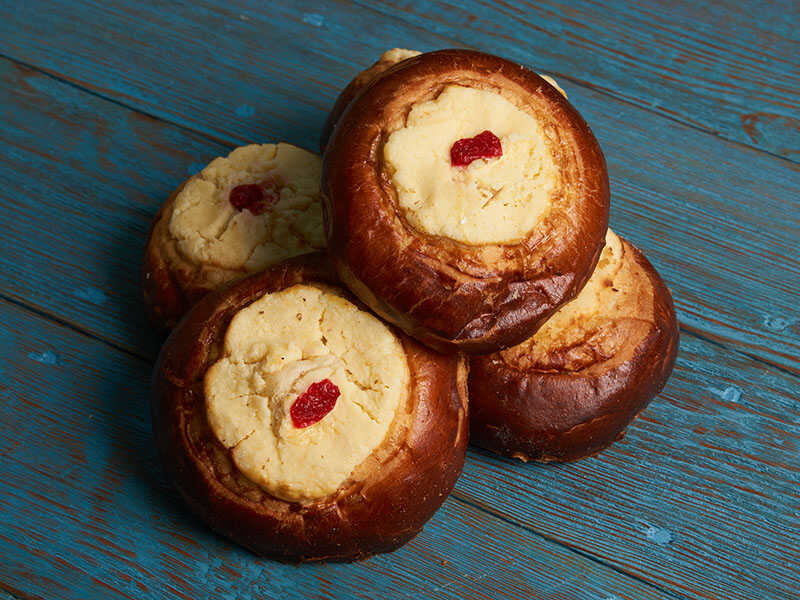 For those who have sweet teeth, you must try this!
Vatrushka is a Russian cake shaped like a ring, filled with cheese in the middle, and finished with bits of raisin or fruits.
After finishing the dough, you can add in as many kinds of filling as you want, from sweet cottage cheese to many types of jam (but cheese is the most popular filling).
Traditionally, Vatrushka needs to bake in a firewood oven in those ancient villages. However, the modern multi-function oven can easily make these "inside-out buns" at home.
51. Vanilla Ice Cream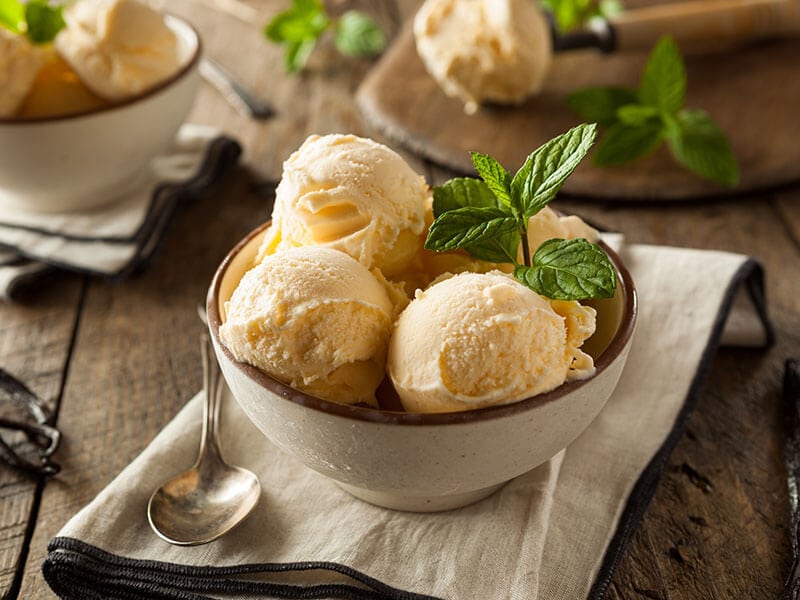 What is your favorite vanilla dessert? Mine is a nice vanilla ice cream. This dessert has a creamy, smooth, and rich texture with a signature aroma of Vanilla. You can make it at home with milk, egg yolks, sugar, heavy cream, and vanilla bean (or vanilla extract).
According to the United States Food and Drug Administration, the timeless vanilla classic comes in three varieties. The first kind has only natural vanilla extract, while the second kind has an ounce of synthetic vanillin added to each gallon of one-fold vanilla extract.
The third is purely synthetic with creamy goodness, perfect for savoring with your favorite toppings, such as nuts or Oreos, or as a companion to pies and cakes.
You can buy from top ice cream brands like Häagen-Dazs, Ben & Jerry's, Breyer's, or some local brands that offer a unique taste. Exploring and comparing the difference between each brand is my favorite activity.
52. Viennetta Ice Cream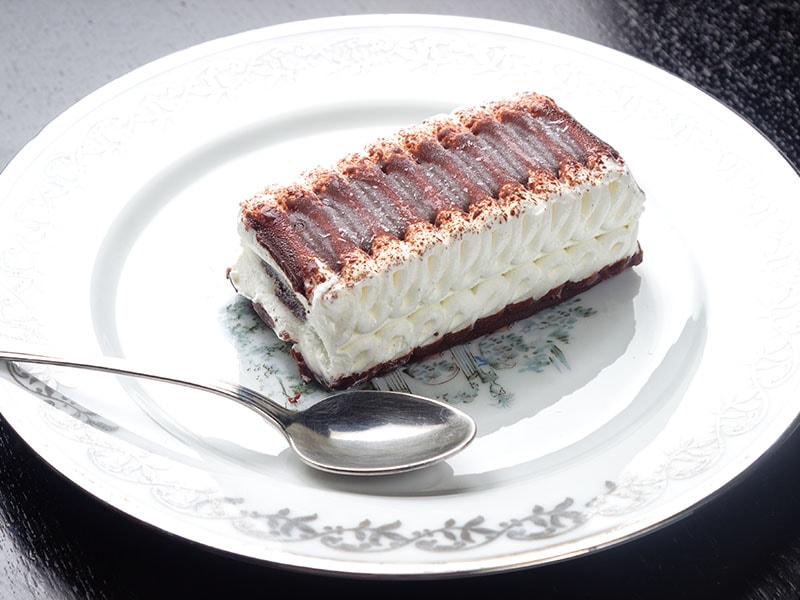 Viennetta ice cream is a British brand with a delightful blend of frozen ice cream. As a staple dessert in the UK, it made its way to America and Canada in the late 1980s through the Breyers brand.
Now, under the Good Humor brand with crisp, chocolatey layers, Viennetta is making a delicious comeback with its generous size, perfect for sharing with family or friends.
53. Viennese Fingers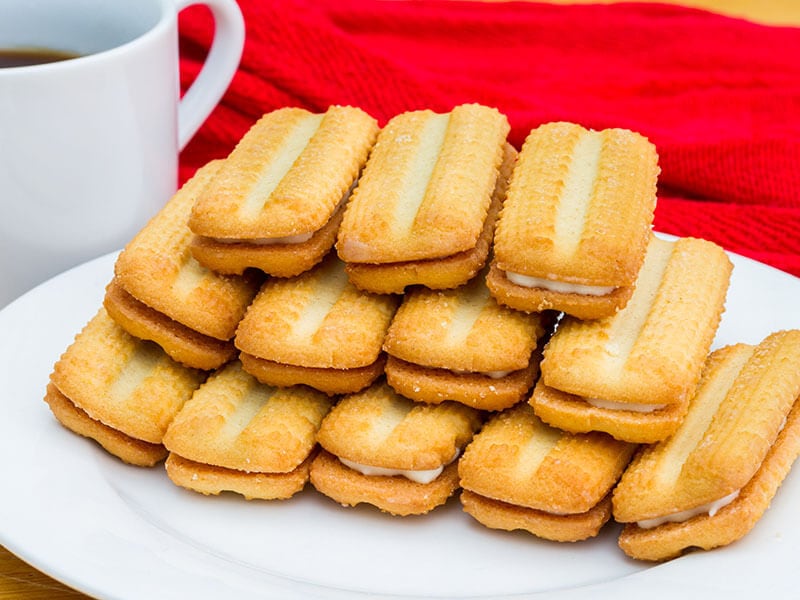 Viennese Fingers are an American cookie brand shaped like round-ended 'fingers', giving them their distinctive name. However, it's the flavor that really steals the show for its buttery, sweet, and strong vanilla hint.
Their sandwich design, involving a vanilla-flavored crust and a vanilla-flavored filling, is another intriguing version to sample. The texture is beautifully crumbly, which makes them an excellent companion to your afternoon tea.
54. Viennese Whirls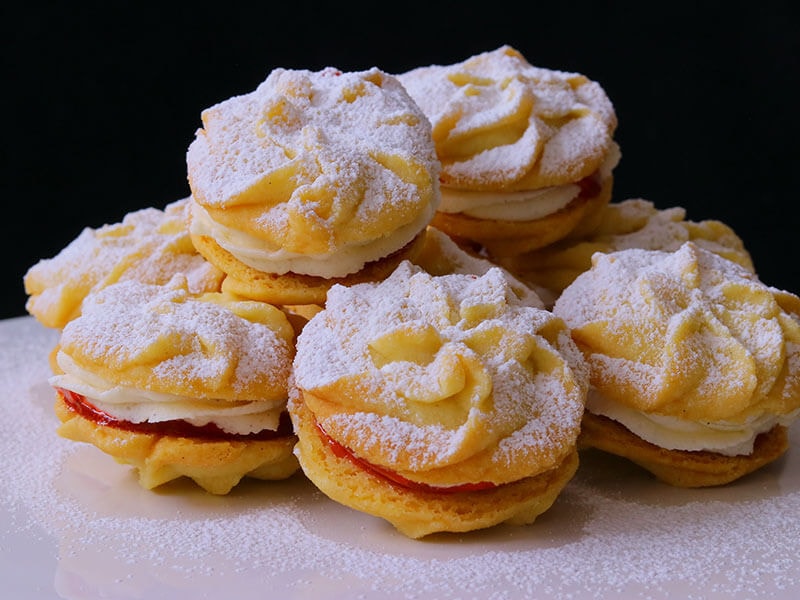 The delightful British biscuit Viennese Whirls draw inspiration from Austrian pastries. These whirls are soft shortbread with a buttercream and fruit preserve filling being the most popular among other flavors.
These biscuits are known for their melt-in-your-mouth buttery texture, which can pair excellently with afternoon tea. Despite their simplicity, the dough demands care in preparation, requiring thorough chilling in the fridge to achieve the perfect result.
55. Vla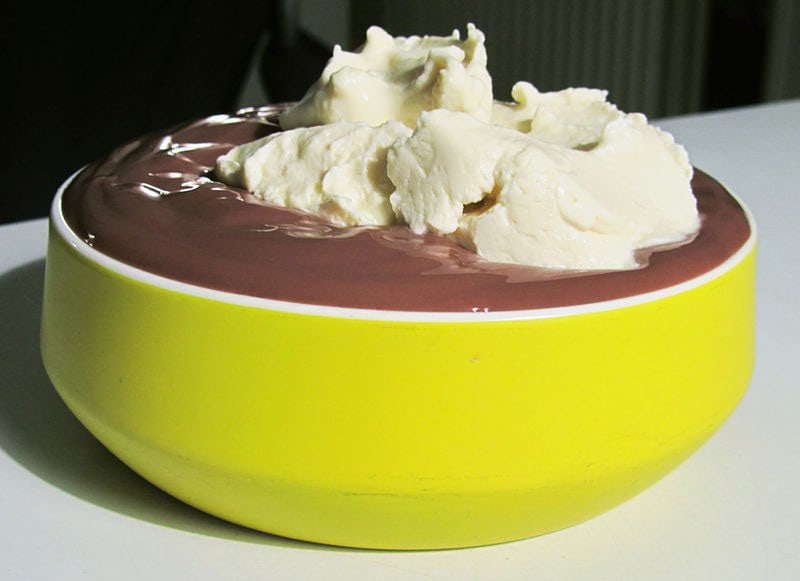 Vla is a dessert staple in the Netherlands and Belgium, closely resembling custard pudding. This pudding-like dessert consists of milk, cornstarch, eggs, sugar, and a selection of flavorings.
From apple to chocolate, banana, and caramel, Vla offers a flavor to suit every sweet tooth. You'll find it packaged in glass bottles, ready to be served cold.
56. Vlaai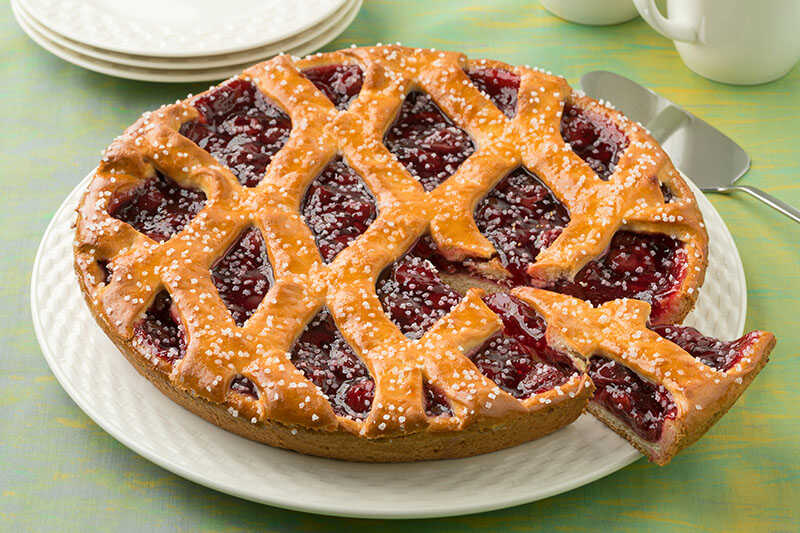 In the Netherlands, Vlaai is a cherry pie popular especially in the southern region of the country, most notably Limburg. This circular beauty, about 10 to 12 inches in diameter, combines a yeast pastry and a fruity cherry filling.
The top is usually adorned with a lattice of dough. It's perfect for celebrating life's milestones, from weddings to birthdays. Best served cold, Vlaai offers a truly special dessert experience.
57. Violet Crumble
Violet Crumble is a beloved chocolate bar from Australia with a flavorful punch.
You can experience a honeycomb toffee center coated in a smooth layer of milk chocolate. This bite-sized snack tastes similar to toasted marshmallows, making it a go-to sweet fix.
58. Veka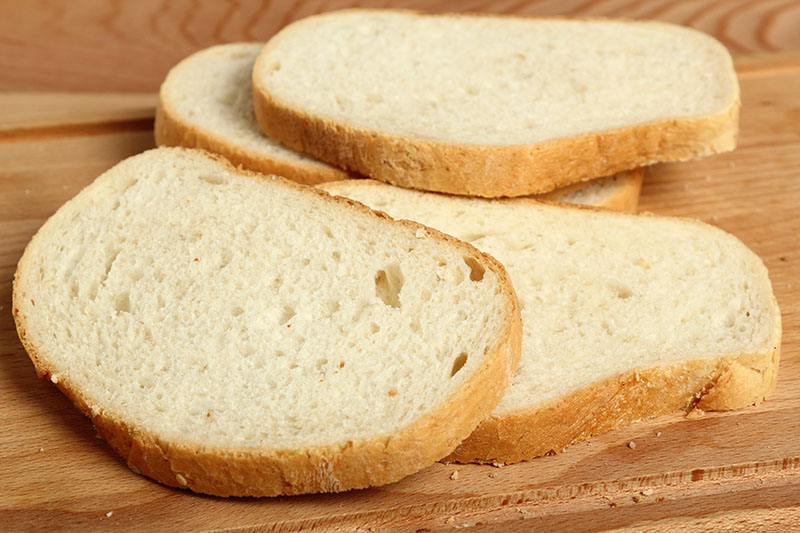 The beloved white bread Veka holds a special place in the hearts of Czech, Slovak, and Polish people. It's made from wheat flour and shares similarities with the French baguette.
However, Veka is wider, bigger, and fluffier, sporting a notably smoother surface. Depending on the region, it goes by different names, like Angielka in Łódź or Gryzka in Central Poland.
59. Vienna Bread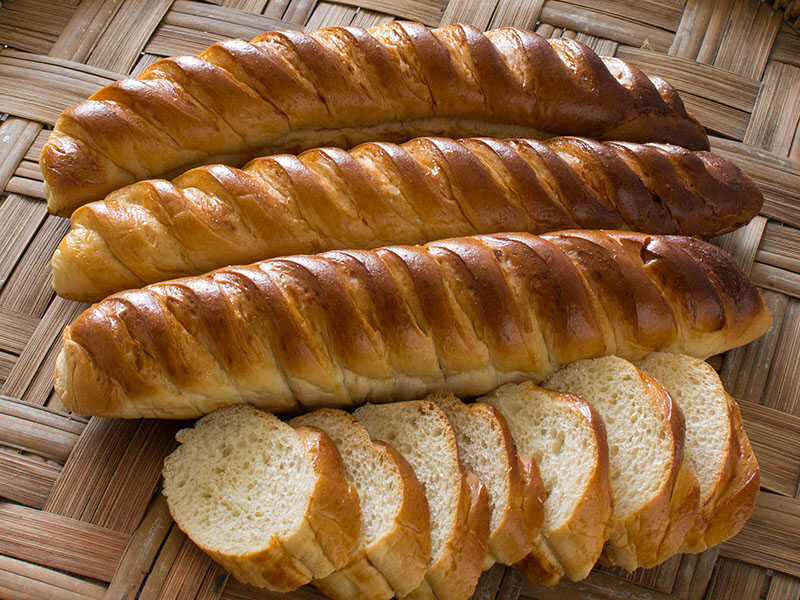 Vienna bread came to the world in the 19th century, embodying the rich culinary heritage of Vienna. This bread is a unique blend of flour, milk, yeast, butter, and sugar. Commonly, people toast or top the bread with cheese for a simple yet flavorful snack.
It's distinctly different from the delicate and light French bread, as the dough uses a different type of flour for a chewier texture and a crispy crust. The sweet undertone of Vienna bread makes it ideal for sandwich bread, served alongside meals or dipped in sauce.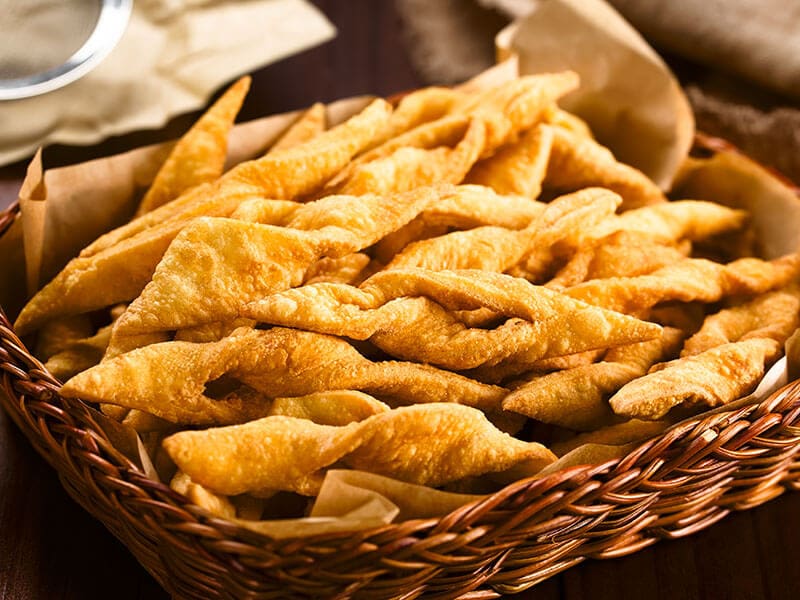 Verhuny is a standout cookie from the realm of traditional Ukrainian cuisine. Fried in oil, it has a crispy and sweet profile. In addition, the cookie dough and shape can differ depending on the region.
With a mix of flour, eggs, sugar, and butter, Verhuny brings a distinctive taste. These cookies are not just a daily indulgence but also make special appearances during holidays.
Beverages
61. Valerian Tea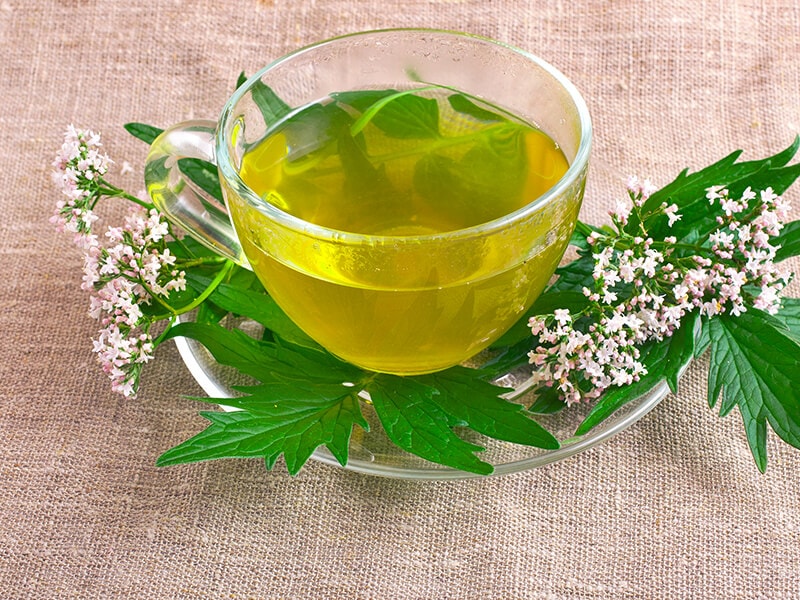 Valerian is a perennial flowering plant from Asia and Europe with earth, a sweet scent, and earthy notes. It has the benefits of being a herbal remedy to let you fall asleep and relieve anxiety. Valerian is commonly produced as a tea for daily usage, especially for elders.
The tea variation of this plant is a herbal brew crafted from the dried root and underground stems of the valerian plant (Valeriana officinalis), which grows wild in various locations. For your information, it has a potency stronger than chamomile tea, especially in aiding sleep (7).
Valerian is also available in many different forms, including capsules and liquid exacts. But be cautious: its effectiveness means you should avoid driving or operating heavy machinery after indulging. Pregnant and breastfeeding women, as well as people with liver disease, should steer clear of this powerful tea.
62. Vermouth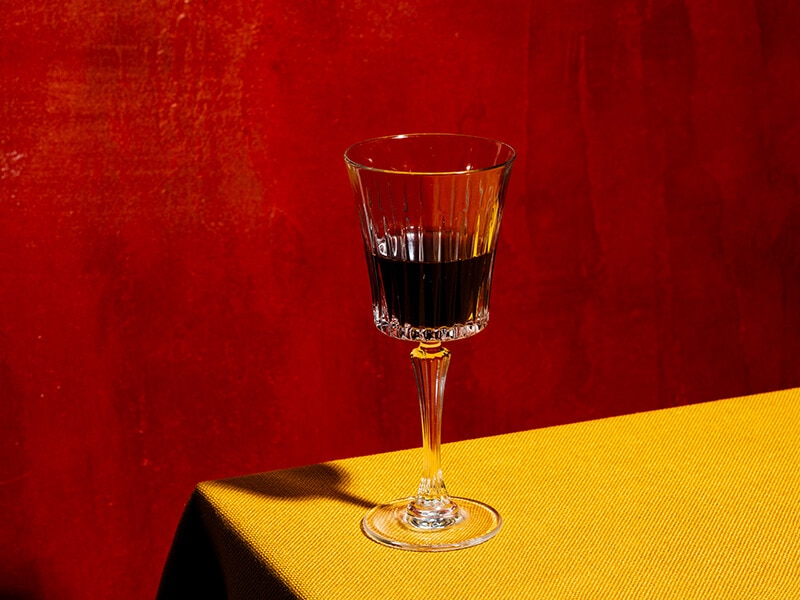 From Italy and France, vermouth is a fortified wine with an herbal flavor and aroma perfect for cocktails or sipping solo. It is infused with botanicals, herbs, spices, and roots.
The wine comes in two varieties with the Vermouth Rosso, also called sweet red vermouth, which sports a caramel color and is sweeter than other varieties, but not as sweet as liqueurs. It's ideal for making Manhattans, Americanos, and Negronis.
On the other hand, Vermouth Blanco, known as dry white vermouth, is favored in martinis. With numerous sub-types, vermouth offers a versatile option for those seeking a delightful drink experience.
The usage of this classic Italian beverage is versatile. You can mix it with soda or tonic, and top it with an orange slice. A delicious Vermouth can allow you to drink it barely over the ice.
63. Virgin Mojito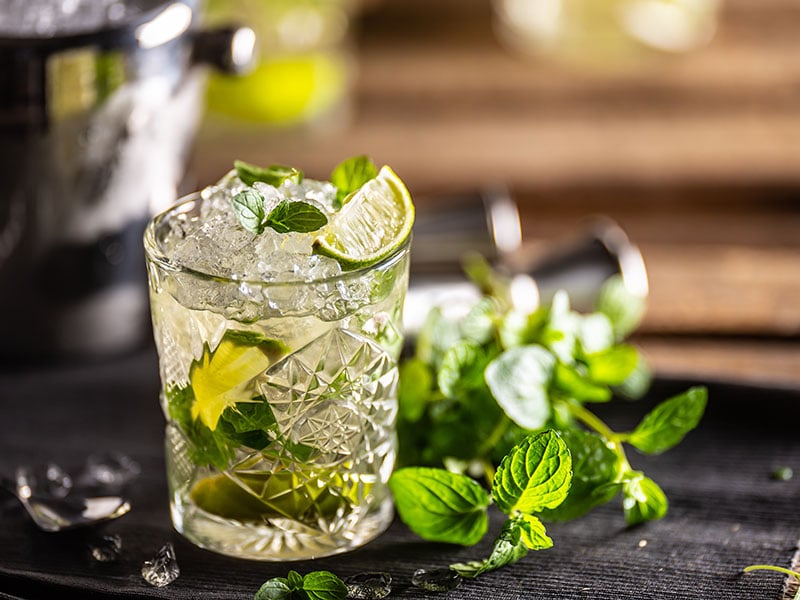 Virgin Mojito, or Nojito, might be the perfect way to cool down on a sunny day. This non-alcoholic twist on the classic Mojito cocktail combines bubbling drinks like soda, Sprite, or sparkling water with fresh mint leaves, lemon juice, and sugar syrup instead of alcohol.
You can find it at restaurants, parties, or even fix it at home. The tangy lime flavor mixed with the sweetness of sugar syrup is reminiscent of lime water.
However, the real magic comes from the cooling sensation of the mint leaves. This burst of cool, peppermint aroma elevates the Virgin Mojito, making it an ideal choice for a hot summer. Give it a try and see how the scent of fresh mint instantly revitalizes you!
64. Vodka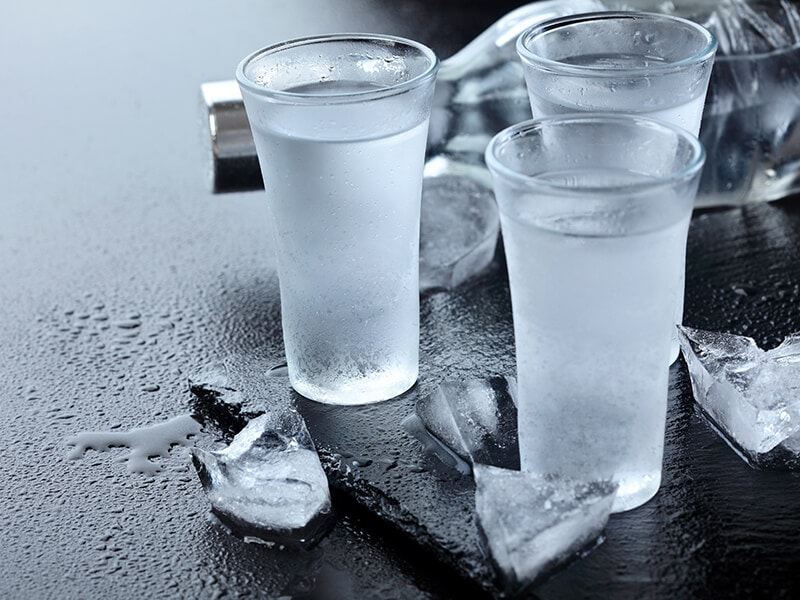 Vodka traces its roots back to Poland, while the modern recipe people know today hails from Russia. Made primarily from grains like rye and wheat, vodka is an incredibly pure drink containing only alcohol and water.
With a neutral flavor and about 40% ABV, it's suitable for crafting mixed drinks. Though traditionally enjoyed neat, it's a popular option for those seeking a low-calorie option, as it contains no sugar and fewer calories than many other liquors.
As an alcoholic product, people usually like to have vodka with a small plate food called zakuski – a Russian tapas. A more popular way to use vodka is to use it as a base for different alcoholic drinks; for example, you can mix vodka with apple juice for a pleasant afternoon, only 5 minutes to prepare! Meanwhile, some love to drink it bare. It all depends on your taste.
65. Valentini
Valentini is a famous name in the world of Italian wines, carrying a long tradition of winemaking in the Abruzzo region of Italy. Furthermore, Edoardo Valentini, who helmed the winemaking from 1956 to his passing in 2006, was an artisan who kept his techniques a secret.
The Valentini portfolio includes a highly collectible white Trebbiano d'Abruzzo, a red Montepulciano, and a Cerasuolo rosé. Particularly, the Valentini Trebbiano d'Abruzzo is often hailed as Italy's greatest white due to its complexity and age-worthiness.
Typically, Valentini wines need many rounds of fermentation in old oak barrels to produce a toasty vanilla note. Also, the second round of fermentation usually infuses the wine with a creamy texture.
Others
66. Vermicelli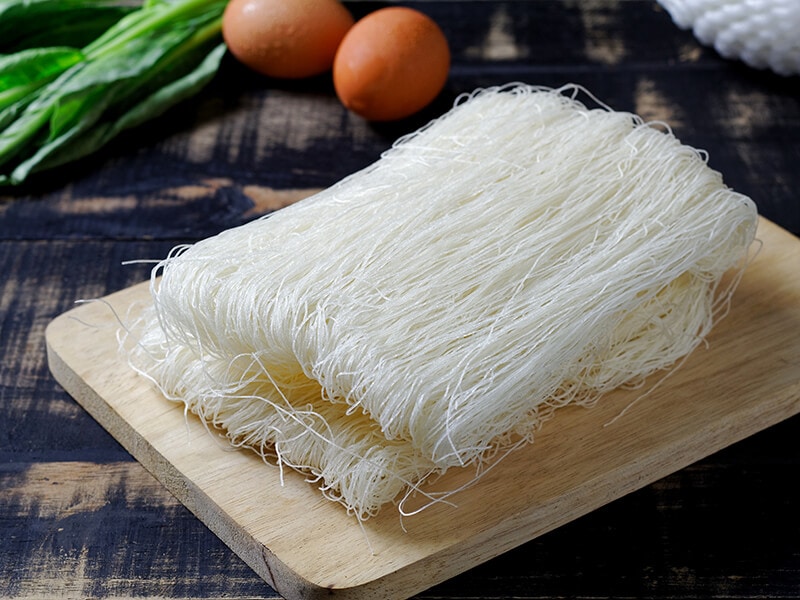 Vermicelli, which amusingly means "little worms," is an easy-to-cook ingredient with variations all over the globe. In Europe, it's a semolina flour pasta with long threads, even out-sizing spaghetti in Italy. However, these pastas can be thinner in other countries.
The East African and Middle Eastern regions have their own spins. However, in Asia, vermicelli transforms into rice noodles, known as rice vermicelli, and can be incredibly thin. Another variation includes cellophane or glass noodles made from mung bean starch.
FAQs
How Many "V" Foods You Have Noted?
I hope you've enjoyed exploring these fascinating foods that start with V! It's always exciting to discover new flavors and dishes from various cultures. I encourage you to give some of these a try in your own kitchen or seek them out in local restaurants.
Let me know what you think in the comment section about these numerous V-starting foods. You may share the post with others so they can enrich their understanding of the wonderful culinary world.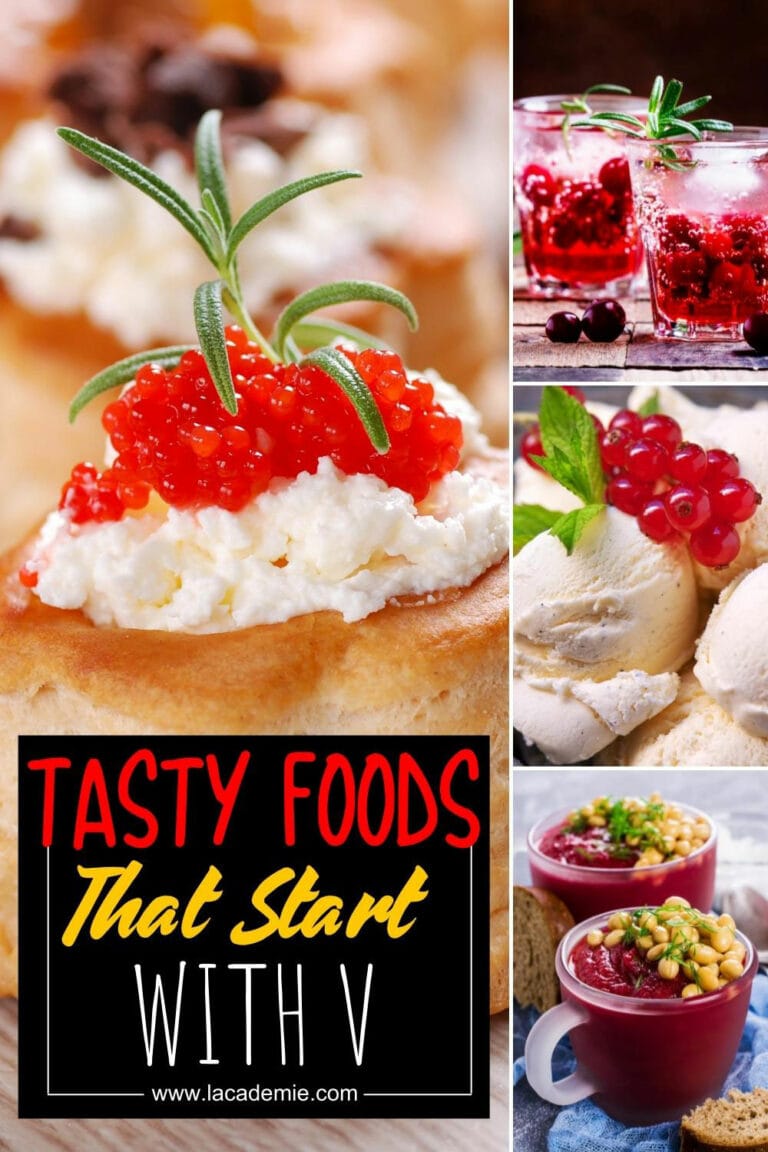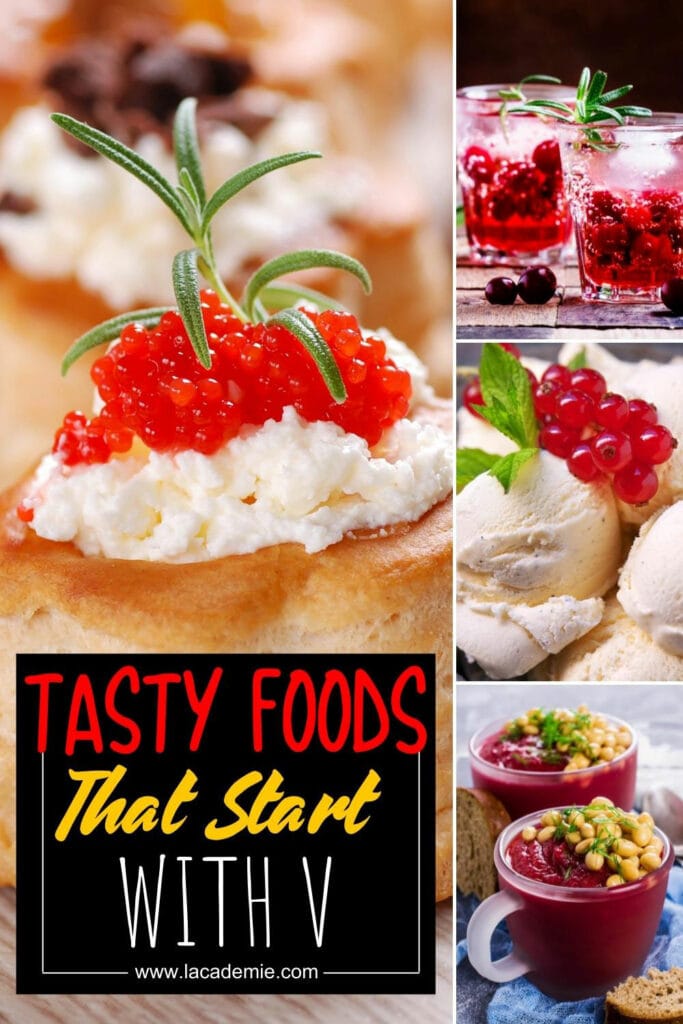 References
Velvet Bean (2023). utep.edu.
Vegemite(2018). vegemite.com.au.
Vegemite: Is It Good For You? (2020). Webmd.com.
FDA Completes Review of Qualified Health Claim Petition for Oleic Acid and the Risk of Coronary Heart Disease. Fda.gov.
Veal, ground, cooked, broiled (2019). Fdc.nal.usda.gov.
Wild Eats: Venison Nutrition and Cooking Tips (2019). Extension.illinois.edu.
Valerian (2023). mountsinai.org.