How many foods can have a name that starts with a v, you may ask. Well, the answer is hard to count. From savory dishes to sweet tooth treats, you can easily find food that starts with v in different cooking methods.
From ingredients to main dishes, from desserts to beverages, there may be some food that seems strange to you. Well, new ideas for meal prep, why not? Let's explore together.
My Recommendation For Food That Starts With V In 2021
To give you a clear image of the variety of foods that starts with V, I divided them based on their way of cooking. There are non-cooked food, cooked food, which vary in different regions in the world. I hope it will help you read conveniently.
Cooked Foods Start With V That Are Flavourful
Savory Dishes
Vindaloo
Vatapá
Varuval
Vol-Au-Vent
Vitello Tonnato
Vori Vori
Vetkoek
Vada Pav
Vichyssoise
Vegetable Biryani
Vegetable Spaghetti
Vegetable Soup
Veggies Chips
Vegetable Curry
Sweet Foods
Victoria Sponge Cake
Vanilla Bean Crème Brulee
Viennoiserie
Vasilopita Cake
Vatrushka
Vanilla Ice Cream
No-Cooked Foods Start With V You Should Try Once
Veggies And Fruits
Velvet Bean
Velvet Apple Fruit
Victoria Plum
Vanilla Beans
Valencia Orange
Vegetables
Cheese, Meats, And Their Products
Velveeta Cheese
Vienna Sausages
Vermont Cheddar Cheese
Veal
Venison
Others
Vermicelli
Valerian Tea
Vermouth
Virgin Mojito
Vegemite
Vodka
Ok, here come the details of each dish. Enjoy!
Cooked Foods Start With V That Are Flavourful
From Asian to European or American cuisines, you can easily find signature dishes starting with v with both savory or sweet taste.
Savory Dishes
First, let me introduce the savory plates that start with v. All of them have a robust flavor that can blow up your taste.
This is one of the most popular Goan dishes in Indian cuisine. It's widely eaten for both a meaty diet and a vegetarian diet, depending on your ingredients, including chicken, pork, lamb, and vegetables like zucchini, potatoes, or bell chilies.
Similar to other dishes of India, Vindaloo is a heavily spiced dish with a heavy smell. You will need a lot of chilies to create the genuine Indian fiery hot and spicy taste.
Ok, I'm mouthwatering now. The fiery spicy taste of this dish is something both torturing your tongue and pounding your appetite simultaneously. At a beginner level, control the number of chilies, jalapenos, and spicy seasoning.
There are two types of vatapá: One has quite a thick paste texture, used as the cake filling of a Bahian bean fritter called acarajé. Another is a loosen texture, with many chunks and pieces of various ingredients in a thick sauce. Both are made from bread, shrimp, coconut milk, peanuts, and palm oil.
Vatapá can be served as a side dish in a Bahian meal or part of the Bahian buffet. Since it has two reasonably different types, the way to make them is different too.
"The most typical Bahian dish", The glory of Bahian cuisine". "You must try Vatapá when you travel to Brazil", that is what local citizens say about Vatapá.
The most popular version of this Indian dish is Chicken Varuval. This is a Southern Indian specialty dish made from marinated chicken, garlic, black pepper, cinnamon, fennel seeds, curry leaves, and, last but not least, a sign of India's cuisine – chilies.
The recipe to make this dish is not complicated. You can easily find all of the ingredients and complete the plate within a few steps. Additionally, making the dish at home allows you to adjust the spicy level easily. This hot tangy dry-fried chicken dish goes well with white rice.
Instead of traveling to India, why don't you make your version of this Varuval at home? Watch this video:
The way to pronounce it is "vaw-Loh-vahn", a French word for "windblown". This is a genuinely old plate because it has its first appearance since the early 1800s.
My favorite baked hollow puff pastry is filled with vegetable, fish, chicken, or meat mixtures with a sauce. "Vol-au-vent" is described as the light, airy texture of these hollow puff pastry vessels.
In addition, this dish is usually served as a French-styled appetizer. So don't wait until you come to France to eat this. Try to make it home now. You will not regret it!
Vitello tonnato is a chilled Italian dish that mainly serves as the main course. Sometimes, it is considered as an exceedingly sophisticated appetite for fine-dining, especially during summertime.
In the center of the dish, there will be cold, sliced veal, then a layer of tuna-flavored, creamy, mayonnaise-like sauce. Look simple, right? But to make this dish, you have to prepare it for at least one day.
The unique combination between veal and tuna will make you feel you deserve to wait for preparation time.
Vori Vori is a portion of delicious and satisfying food for everybody. The plate contains small balls made from cornflour, cornmeal, and cheese dipped into a thick yellow chicken broth soup.
Vori vori is either an authentic food from Paraguay or North-East Argentina ("vori" means ball in the Guarani language of Paraguay). It is a traditional chicken and dumplings soup that represents Paraguay cuisine.
If you want to make this dish, try to use clarified butter, referred to as ghee, to achieve the lightest dumplings. This dish is gluten-free, nut-free, soy-free, and relatively simple to make; all are good for a try!
A classic South African food, vetkoek is a scrumptious dough pastry you'll fall in love with at the very first bite. To make vetkoek, you will need to fill the dough with various meats like mincemeat, ground beef, tuna, then deep-fry the cake into the cooking oil.
In addition to South Africa, vetkoek is also a classic dish in Botswana cuisine. If you plan to make it at home, you can be flexible with the cake's size and the cake filling. Sometimes, you can make sweet vetkoek by using cheese, syrup, and honey and serving it as a dessert.
Here is an appetizer from Asian countries that not everyone knows. Asian. So if you have a chance to visit India, particularly Mumbai, you cannot skip this dish because it is so tasty.
Vada pav is a vegetarian fast food meal invented by Ashok Vaidya, who sold food at Dadar Station. The plate became famous during the 70s and 80s as a working-class snack and then became nationwide. Today, it's considered a staple of Maharashtrian cuisine.
The reasons for its popularity are easy to make, convenient to eat, and cheap. Vada pav includes a deep-fried potato dumpling stuck in the middle of a bread bun (pav). The cook will slide the bread almost in half to place the potato filling.
Its shape looks like a mini burger. The taste of Indian domestic potatoes is incredibly delicious. In the advanced version, you can find chutneys and green chili pepper to eat with. You can also order it by name: Wada Pao, Spelt Vada Pao, or Bombay burger.
It's less than 6 minutes to learn how to make Vada Pav. Don't you want to?
Vichyssoise is a cream bomb from France. When it comes to summer, I will say it's never wrong to have a bowl of Vichyssoise at a meal.
The dish is typically served after being chilled to help you reduce the hot temperature of summertime. You will be surprised how the creamy potato, pureed leek, and chicken stock even taste better with a cool temperature.
With the chilled dish concept, the soup, which is full of creamy potato, pureed leek, and chicken stock, can help you reduce the hot temperature of summertime. Sometimes, you may catch Vichyssoise with onions instead of leeks.
The soup has a thick texture, with off-white color and creamy flavor. For me, Vichyssoise is like melted ice cream in the savory category. It can be served with bread or eaten alone. It's genuinely comforting food.
Honestly, whenever you go to an Indian restaurant, and someone is ordering a vegetable biryani dish, you can smell the aromatic smell right when you come in.
Vegetable biryani is a healthy and flavorful Indian rice dish made from basmati rice (a kind of Indian rice that is thinner and longer than traditional long-grain rice) with mixed vegetables, herbs, and biryani spices. It's an easy Indian recipe to make using an instant pot.
The vegetables for this plate are bell peppers, peas, carrots, and sliced potatoes, combined with turmeric and many warm spices. From the look, it's like regular fried rice for vegetarians, but the taste and scent are far more different. It's healthy with many good ingredients and worth a try!
A guide to make vegetable biryani with 7 flavors included! Watch this video to know:
Instead of wheat flour, a healthier kind of spaghetti is made from fresh vegetables. Vegetable spaghetti will have a lower carbohydrate content, free from fat and gluten, and higher fiber content, which is good for your digestion.
It has the same shape and nearly the same texture as regular spaghetti in the end. Preparing these noodles for making a "zoodles" dish is not a bad idea at all.
This dish is an ideal solution for pasta lovers, but still want to control their weight.
The vegetable soup uses vegetables as the main ingredients. Vegetable soup is a traditional dish familiar to every family globally with a wide range of variations.
This soup is simple to prepare, and the variety depends on the gout of the cook. You can make a single-vegetable soup like baby corn soup or mix up to 2-3 types or more vegetables like zucchini, tomatoes, bay leaves, garbanzo.
Chop them into pieces, then add to a vegetable broth pot and stir it well. Sometimes, to make the soup tastier, you can use chicken broth or bone broth for the stock.
Vegetable soup can also be creamy and fatty, like broccoli mushroom creamy soup. And do you know that creamy veggies soup is one of many comfort foods that go well with tuna steaks? Yes, it is; so do not forget to prepare this dish for the next tuna party.
On the other hand, you can make your soup sweet, savory, spicy, or sour with other ingredients. In general, your creation will not be limited to this hearty idea.
No one can decline chips! Veggies chips (also referred to as vegetable chips) are made from slices of vegetables other than potatoes.
It has the same cooking method as regular potatoes chips. It can be deep-fried, dehydrated, dried, or baked, basically, a method that takes out all of the water from the vegetable so that veggie slices can become crispy.
However, buying veggies chips doesn't make you look healthier than regular chips. The manufacturers usually add a lot of seasoning to make the snack more delicious (original veggies snacks are bland with only a slight hint of the vegetable flavor). If you want to try veggie chips correctly, I would recommend you make it at home. The recipe is simple, and you can be creative with the flavor and the kinds of vegetables you like.
Curry is not something strange. Vegetable curry is suitable for vegetarians particularly and those who want a light meal for the stomach.
Since it's made from vegetables, you have the freedom to create a new version of vegetable curry every time. I am talking about chickpeas, pumpkin, sweet potatoes, corn, and more!
You can combine 2 or 3 types of veggies into one pot. For a vegetarian diet, add some tofu to it to ensure you have protein.
Let's learn how to cook Vegetable curry in Japanese style:
Sweet Foods
Foods that start with v also appear a lot in a desert land. From cake to creamy flan, you get everything here!
A perfect plate for an afternoon – Victoria Sponge Cake.
The sponge cake has two layers with an airy texture, separated by chewy raspberry jam and soft vanilla buttercream. Upon that, the attraction comes from the lovely, buttery flavor and fluffy texture.
There is an interesting story behind this cake, which makes it even more famous. This sponge's name comes after Queen Victoria. It's cut into small pieces like sandwiches when served. So you can also call it a Victoria sandwich.
There are two ways I will recommend you to enjoy this delicious sponge. One is that you can have it with an afternoon teacup as a British person. The other way is simply having a big slice while watching Great British Chefs on the bed, like me!
What should I say about this…A perfect ending for every meal!
This creme brulee has two layers. At the bottom is a layer of custard with a vanilla flavor. Then over the top is a layer of hard brown caramelized sugar. That's the textural distinction that drives people crazy about this dish.
If you want to eat the creamy custard, you will have to use the spoon to break the hard brown cover. Imagine the hard and crunchy sugar top layer, then the custard's dedicated creamy, sweet, and smooth texture, all combined in one bite.
Gosh! It always feels like an exploring experience for me! Additionally, you can add fruits like berries on the top for a fruity note at the end.
Coming from romantic France, Viennoiserie is bread made from yeast-leavened dough.
Making Viennoiserie is similar to making bread or puff pastry, but with add-in ingredients such as eggs, butter, milk, cream, and sugar. That means Viennoisere's taste will be more like a sweet pastry.
There are two main versions of Viennoiserie: One is that brioche has richer aspects of pastry since it contains a higher amount of egg and butter content. The other is croissants which are made from a laminated pastry dough with lots of yeast and milk.
Vasilopita cake is a traditional Greek cake served at midnight on New Year's Eve to celebrate the life of Saint Basil.
This custard cake is full of orange aroma and garnished with a thick and glossy vanilla-flavored sugar glaze. It's a sweet pie that is suitable for a family meal or a party.
Depending on the region, you can find many versions of Vasilopita cake. Choosing different doughs to make the base will also lead to a new version. The most common dough to make Vasilopita is tsoureki.
For those who have sweet teeth, you must try this!
Vatrushka is a Russian cake shaped like a ring, filled with cheese in the middle and finished with bits of raisin or fruits.
After finishing the dough, you can add in as many kinds of filling as you want, from sweet cottage cheese to many types of jam (Cheese is the most popular filling).
Traditionally, Vatrushka needs to bake in a firewood oven in those ancient villages. However, you can easily make these "inside-out buns" at home with the modern multi-function oven.
What is your favorite vanilla dessert? Mine is a nice vanilla ice cream. This dessert has a creamy, smooth, and rich texture, with a signature aroma of Vanilla. You can make it at home with milk, egg yolks, sugar, heavy cream, and vanilla bean (or vanilla extract).
Otherwise, you can buy from top ice cream brands like Häagen-Dazs, Ben & Jerry's, Breyer's, or some local brands that offer a unique taste. Exploring and comparing the difference between each brand is my favorite activity.
No-Cooked Foods Start With V You Should Try Once
If you are not a fan of cooking activity, try these no-cooked foods that start with v. From the below list, you will see many well-known foods and some special foods that you hear for the first time.
Veggies And Fruits
Check the list and tell how many vegetables and fruits that start with v you have tasted before.
21. Velvet Bean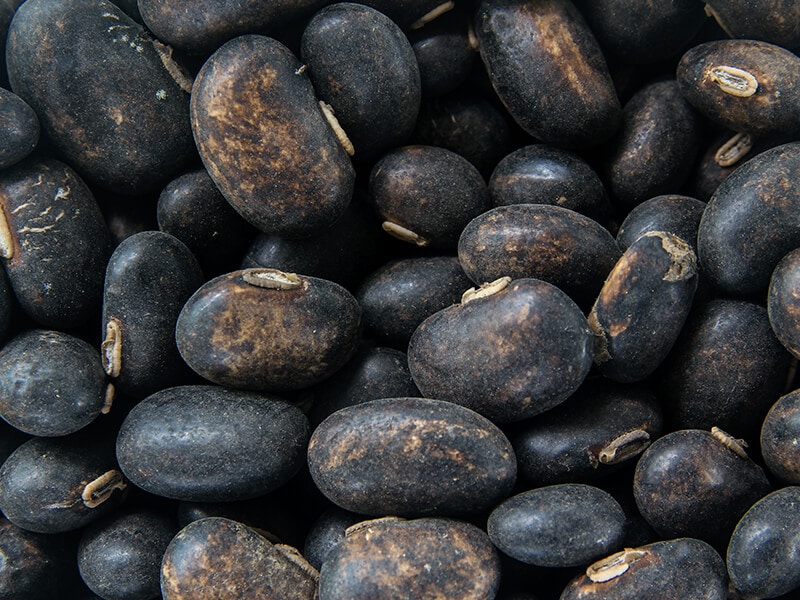 Velvet beans are African and tropical Asian legumes. Its other name is Mucuna pruriens.
While the seeds have a sweet taste and can be made into a good boiled green peanut, its pod (also known as cowhage) isn't edible. There is a toxin inside the pod that causes nausea and lightheadedness. It can make you feel like vomiting with high consumption.
22. Velvet Apple Fruit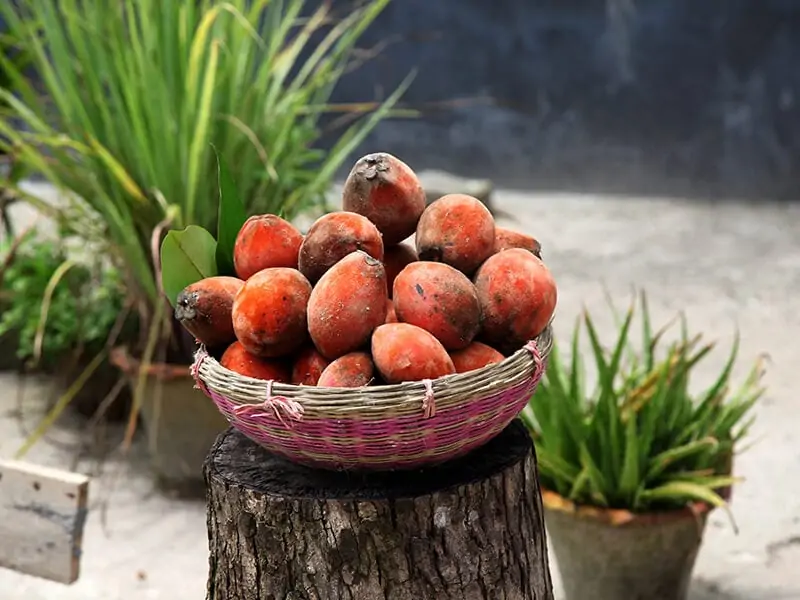 A fruit is native to the Philippines, also known as butter fruit or velvet persimmon. Its season is year-round but best to harvest is during summer months.
Velvet apples have white or off-white flesh inside. It crisps when it comes to maturity and softens slightly eventually.
This apple has a sweet taste, the flavor links to banana-flavored apples or strawberry-mango yogurt with hints of berries and bubblegum.
Velvet apples are a good source of calcium and potassium. It's also rich in vitamins (A, C, B-complex), iron, fiber, and protein. It is most often used to eat raw, but you can consume it in various ways: salads, desserts, jams, or dried fruits.
23. Victoria Plum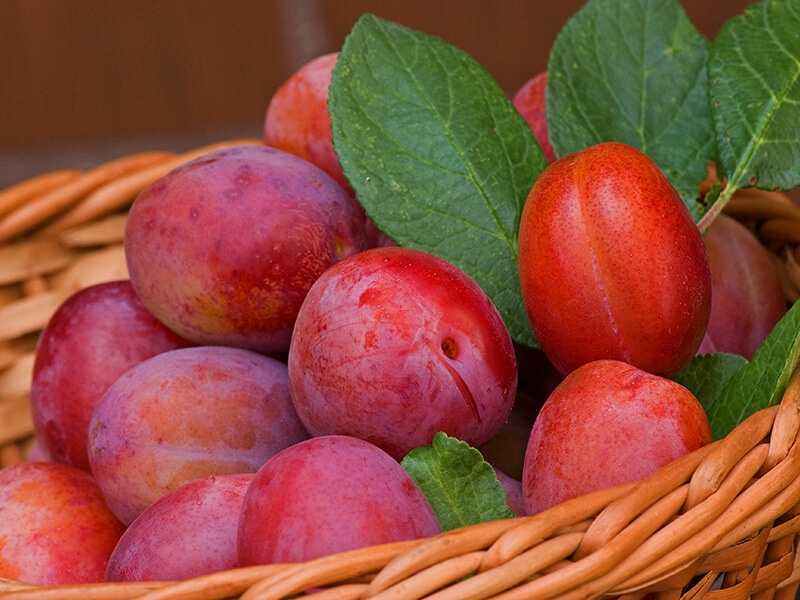 When it comes to food that starts with v, I can't miss Victoria plum. An egg-shaped English plum is the most famous plum that you can find in the United Kingdom. It has mottled skin and yellow flesh.
The plum is ready to eat when it has a dark red or purple color. The best way to enjoy these purples is by having a big bite to let the juicy flesh get fully into your mouth!
Besides being eaten directly as a snack, plum can be used as an ingredient in cooking. You can make jams, pies, tarts, or crumbles from Victoria plum.
24. Vanilla Beans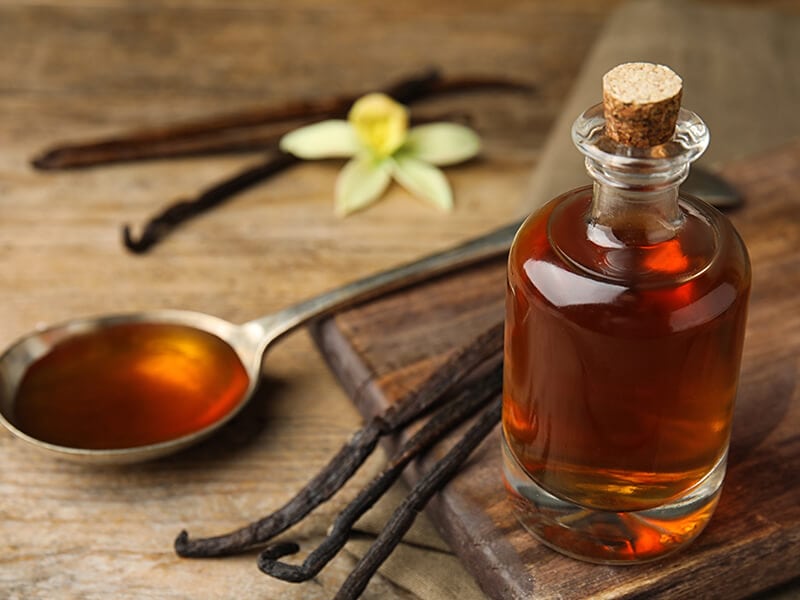 Vanilla comes from South and Central America and the Caribbean and has become common worldwide nowadays.
They are the fruit of orchids in the genus Vanilla, come under a shape of a long, black pod filled with seeds. They are usually extracted as liquid or essence for daily usage.
The scent of vanilla beans is a genuinely comforting, creamy, warm, and sweet scent. Hence, they are preferred as a seasoning ingredient in cooking, especially in Vanilla delicious desserts for dinners.
25. Valencia Orange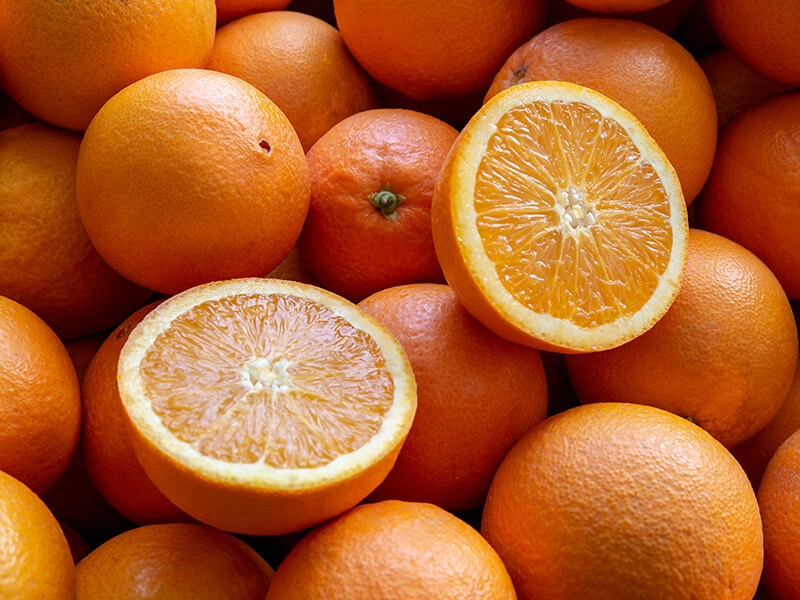 Valencia orange is a kind of orange that is named after Valencia, Span. But it comes from Floria. Interesting, right?
Valencia oranges have a sweeter taste than most other kinds of orange. It is seedless and super juicy, making them become the ideal orange type for making juice. So if you want a fresh drink for hot summer days, choose this orange variation.
These delicious fruits starting with V are available in summer and autumn, especially from July to October. Hence, don't forget to add some pounds of Valencia orange to your basket to make fresh homemade juice.
26. Vegetables
I can't miss this when talking about food that starts with v. The original meaning of "vegetables" is commonly used for edible parts of plants. These can be flowers, fruits, stems, leaves, roots, and seeds.
A wide range of vegetables can be used as the main ingredients in many dishes, for example, salad. So if you are seeking recipes for quick and fresh salad meal preps, you will find numerous ideas. And they are absolutely perfect to serve along any main course.
Cheese, Meats, And Their Products
Foods that start with v are more versatile than you think. There are many kinds of cheese, meats that begin with this little letter. Let's explore what they are.
27. Velveeta Cheese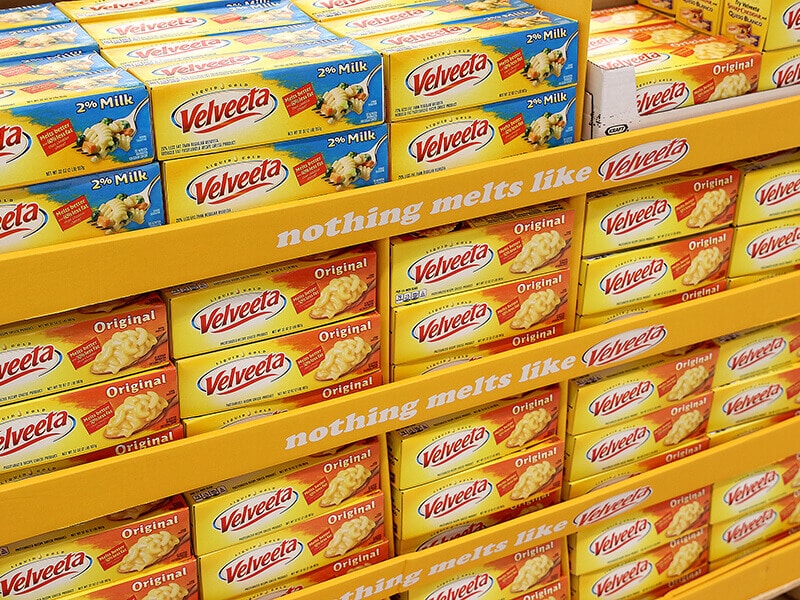 For simple imagination, Velveeta cheese is the same as American cheese, but it's smoother and softer.
Its original story comes from a guy named Emil Frey who wanted to salvage his broken or misshapen Swiss cheese wheel, hence, tinkered these scraps with some byproduct like whey, melted them together, and finally turned them into a velvety consistency.
Nowadays, the formula of Velveeta cheese has changed. It contains mainly whey protein concentrate, milk protein concentrate, milk, fat, and preservatives, rather than actual cheese like the old days. Velveeta cheese is excellent for making nachos at home!
28. Vienna Sausages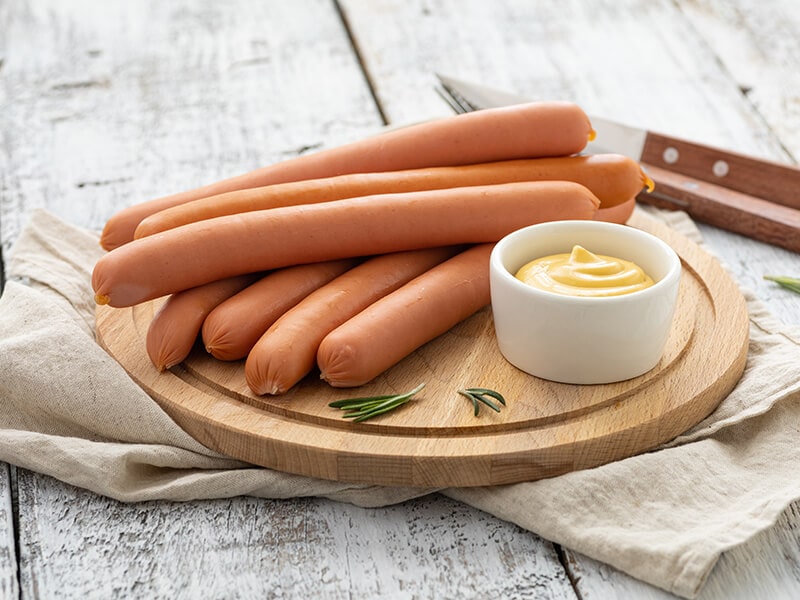 Another popular food that starts with "v" – Vienna sausages, also known as Frankfurters or small German sausages, are made from low-temperature smoked beef and pork, covered by sheep's intestines.
These European sausages are thin, par-boiled, and are usually sold in a can. After being cooked or boiled, they remove the casings then cut the sausages into short pieces to put in cans.
Once you try canned Vienna sausages, you will feel the finely ground paste with the taste of various seasonings and spices like cloves, nutmeg, garlic powder, and red pepper. However, the sausages naturally contain high salt and saturated fat, so keep an approximated amount if you don't want height and weight problems.
29. Vermont Cheddar Cheese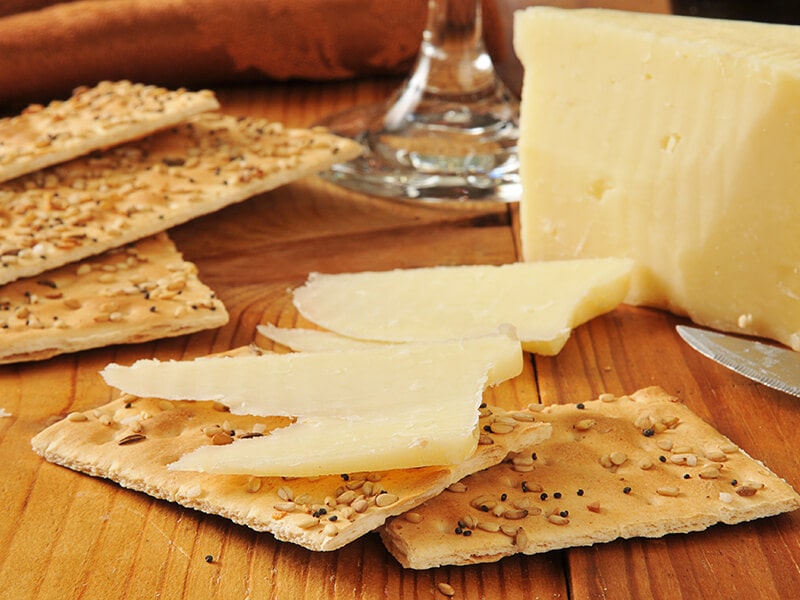 Let me introduce to you my cheddar cheese – Vermont cheddar cheese. Unlike regular cheddar cheese, which is complex and has an orange color.
Vermont cheddar cheese is softer and has white-milk color. The reason is Vermont's cheddar cheese doesn't contain annatto – an extract from seeds used as a food coloring. It's also known as white cheddar.
30. Veal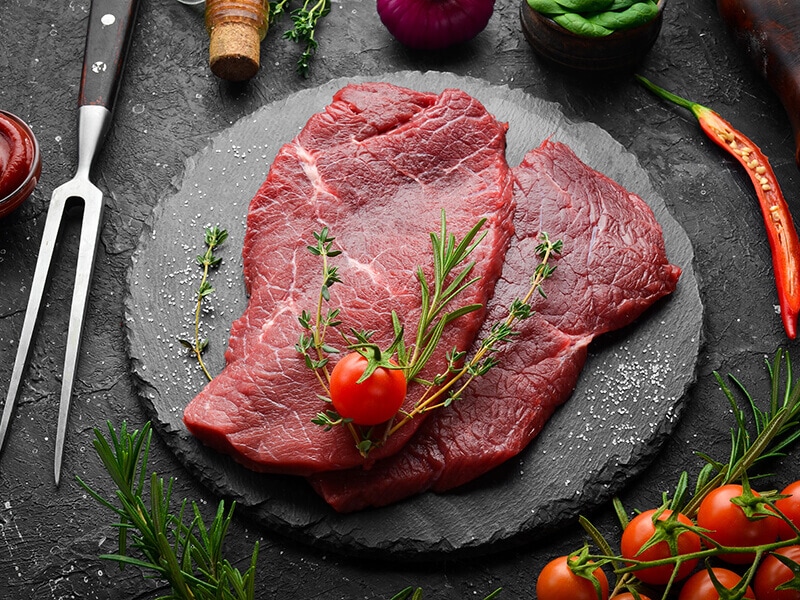 Oppositely with beef, which is obtained from older cattle, veal is genuinely meat obtained from calves, especially the fatty ones.
The best pieces of veal usually come from 6-7 month-old calves. It is beef, but its taste is milder than typical beef because of the calves' age and diet.
This meat contains lots of nutrients and can quickly absorb many marinades. That's the reason why veal is considered a portion of high-quality and intensely flavored food.
31. Venison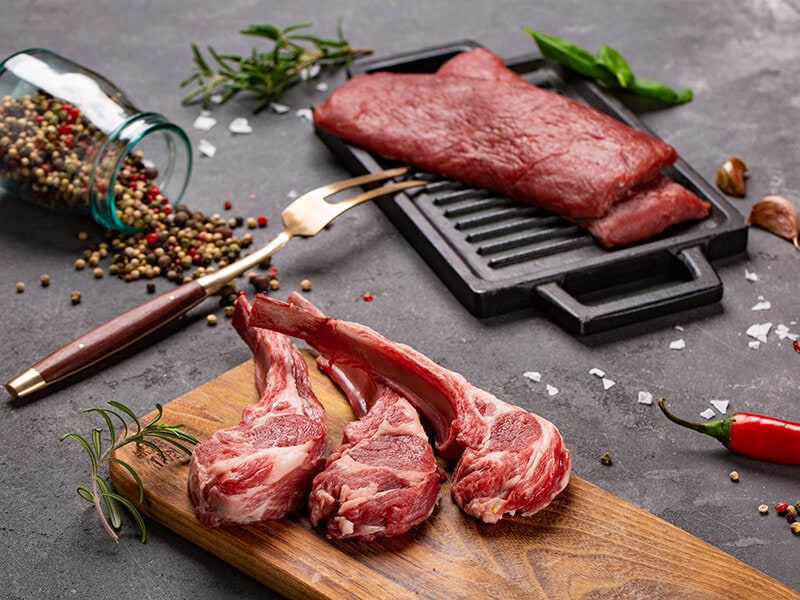 Venison is "venari" in Latin, which means to hunt. It is meat from game animals like elk, deer, or antelope. Deer is the most popular.
Venison and veal that I mentioned above are frequently mistaken. Many people prefer venison to beef since it contains higher protein but less than 50% fat. This meat is a good option for the one who needs to cut off fat and focus on re-building lean muscle.
Now, I guess you can choose precisely the meat you want next time, right?
Others
Knock knock! The list is not over! Besides foods that can be eaten raw or used in cooking, I want to introduce to you some well-made products that start with v that you may want to try for once.
32. Vermicelli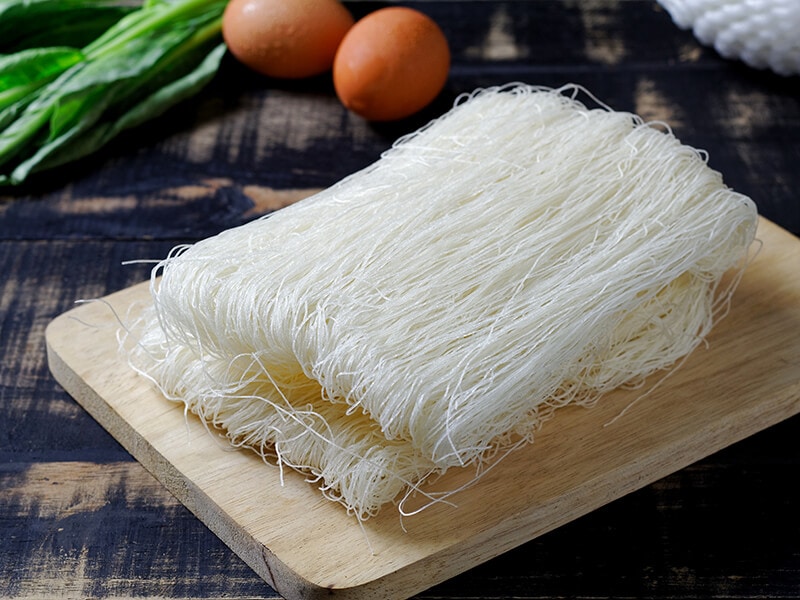 Vermicelli is a noodle with a long thin noodle shape, similar to pasta but looks more delicate and has a pretty tough texture. I know it's hard to differentiate noodles and pasta, and here comes the new type!
You can find various kinds of vermicelli with different names and shapes worldwide, for example: Chinese vermicelli, bean thread vermicelli, harusame, cellophane noodles, rice noodles, or glass noodles. In Europe, "vermicelli" means "little worms".
The famous dishes of vermicelli noodles are stir-fried with vegetables, soups, spring rolls, and salad. It takes about 5 minutes to cook and prepare, and you can add them to a dish of your choice.
33. Valerian Tea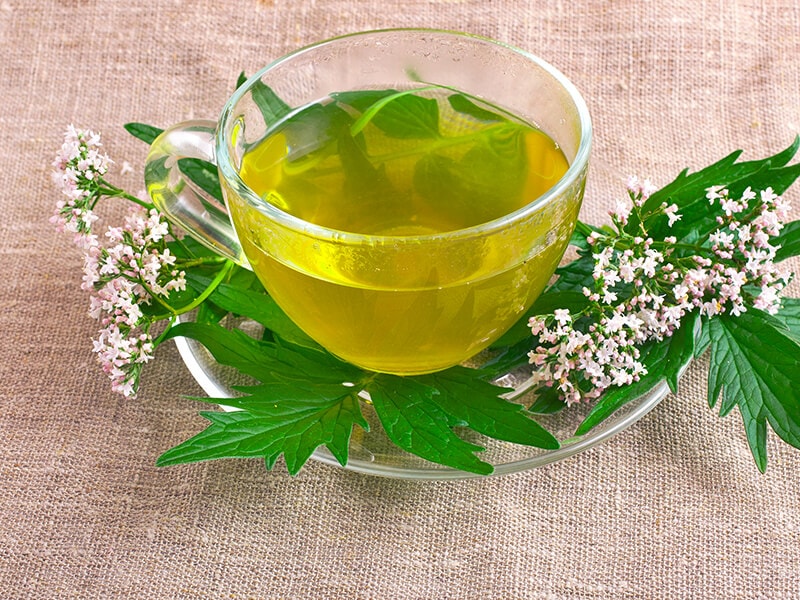 Valerian is a perennial flowering plant from Asia and Europe with earth, a sweet scent, and earthy notes. It has the benefits of being a herbal remedy to let you fall asleep and relieve anxiety. Valerian is commonly produced as a tea for daily usage, especially for elders.
Valerian is also available in many different forms, including capsules, liquid exacts.
34. Vermouth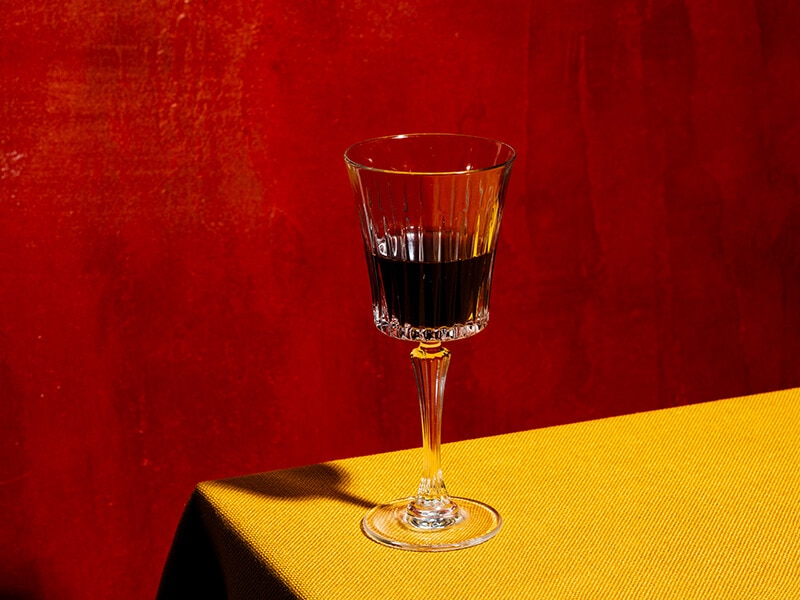 Vermouth is an Italian wine with boosted ABV by another alcohol. It is infused with botanicals, herbs, spices, and roots. Vermouth is usually used in Martinis and Manhattan cocktails for boosting flavor.
There are three types of Vermouth: Vermouth Rosso, also known as sweet Red Vermouth; Vermouth Blanco, also known as sweet white Vermouth; and dry Vermouth. You can differ them by the color of the liquid and the level of sweetness.
The usage of this classic Italian beverage is versatile. You can mix it with soda or tonic, top with an orange slice. A delicious Vermouth can allow you to drink it barely over the ice.
I always think about Virgin Mojito when it's hot. This is a signature refreshing drink made from mint leaves, lemon juices, and sugar syrup.
This drink is developed from a typical Mojito cocktail but replacing the alcohol with bubbling drinks like soda, Sprite, or sparkling water. It's the basic drink that you can find anywhere, from restaurants, parties, or home.
The drink has a tangy lime taste with the sweetness of sugar syrup. Some people claim its taste is similar to many lime water ideas.
In fact, Virgin Mojito is much fresher because it has a cool, camphoraceous, and distinctive peppermint aroma hidden behind the bubbling water. This is the ultimate game-changer for a hot summer afternoon.
Just try to make a glass of virgin mojito by yourself, the smell from mint leaves that give you a refreshment right away.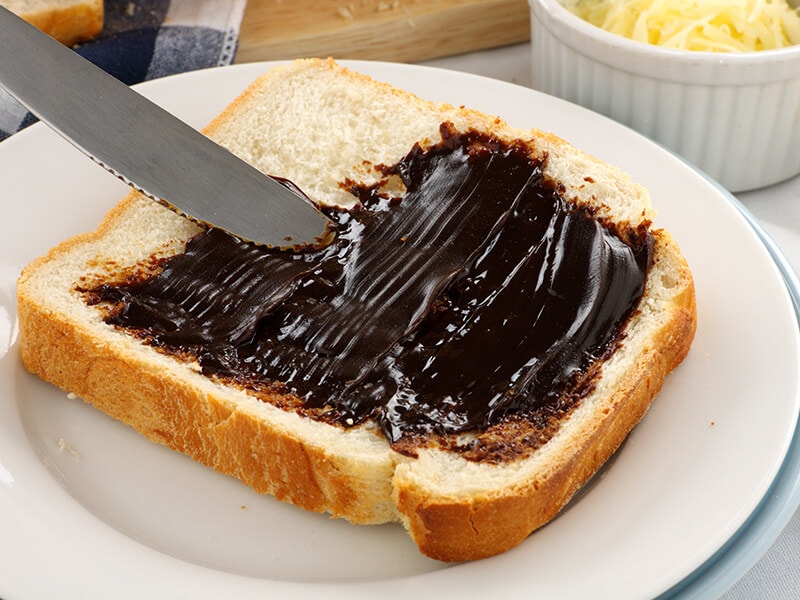 Vegemite is a food spread that comes from Australia. This savory spread has been around the world since 1922, after becoming an icon for Australian cuisine. However, its taste is not easy to try for someone new.
Vegemite is made from leftover brewers yeast extract, vegetables, and spices. It has a thick texture with a dark brown color. It is salty, malty, slightly bitter, and rich in glutamates, giving it a strong umami flavor.
However, vegemite is considered good for your health because it contains a high level of the vitamin B complex (thiamin B1, riboflavin B2, niacin B3, and folate). People usually use it with toasts, crackers for quick snacks, breakfast, or as a seasoning for soup stock and meat pies. Because of its strong taste, you should start with a small amount only.
37. Vodka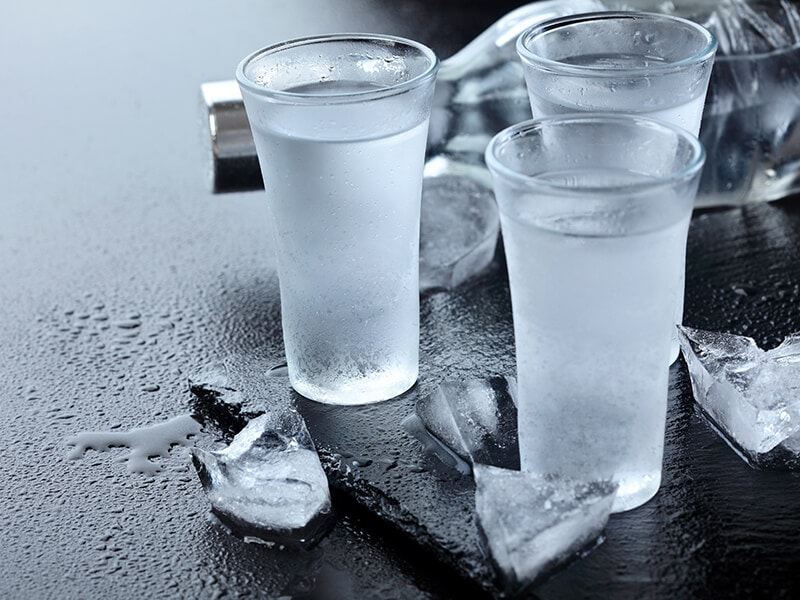 Vodka is a kind of alcohol made from potatoes or sugar, originating in Poland, Russia, and Sweden. This beverage is one of the most popular alcohols around the world.
As an alcoholic product, people usually like to have vodka with a small plate food called zakuski – a Russian tapas. A more popular way to use vodka is to use it as a base for different alcoholic drinks; for example, you can mix vodka with apple juice for a pleasant afternoon, only 5 minutes to prepare! Meanwhile, some love to drink it bare. It all depends on your taste.
How Many Foods That Start With V You Have Noted?
Ok, I'm running out of ideas for foods that start with v already. I hope you enjoy my post. After reading my list, please share your most noble food that starts with v and the most curious food you want to try. For me, I want to try the signature Australia paste – Vegemite. I think the taste will be interesting to try.
If you like this article, like and share it with your friends. I will come back with more helpful content like this. See you!