Japanese foods always leave a deep impression in the mind of diners due to their incredible flavor. Therefore, do not miss any chance to try them if you have a chance to visit Japan. And I am sure you will fall in love with these signatures immediately.
One of the hallmarks of Japanese cuisine is its focus on the quality of ingredients, presentation, and the use of seasonal foods. Therefore, Japanese recipes have not only an incredible taste but also an eye-catching appearance.
So follow me to explore more about the beauty of this cuisine!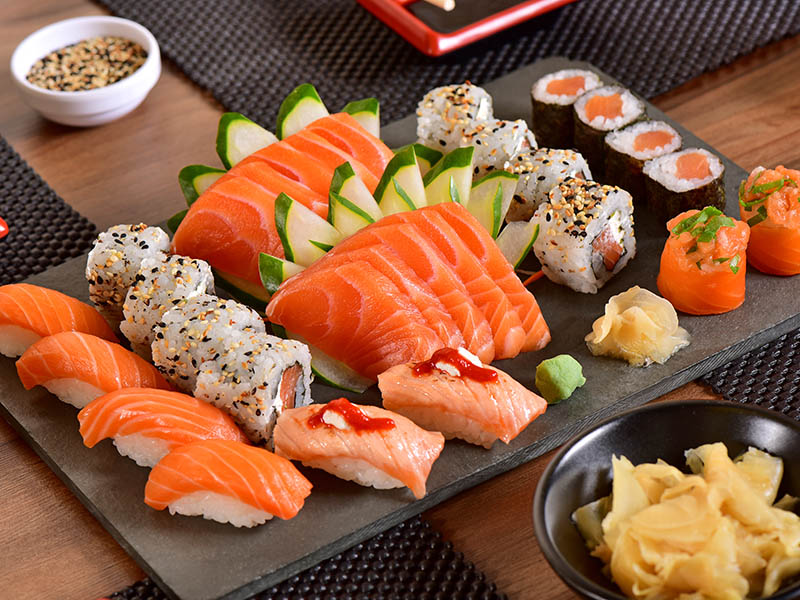 The Overview Of Japanese Cuisine
First, let's have a quick glance at some factors that feature the culinary culture of Japan.
Presentation
The presentation of dishes is a key element of Japanese cuisine. Japanese chefs not only make their dishes taste delicious but also delightful to the eye.
Many dishes follow the minimalist style, with a focus on simplicity and elegance in presentation.
Japanese chefs also pay close attention to every detail of the dish, from the way the food is cut and arranged to the placement of garnishes and sauces.
Ingredients
There is a wide array of ingredients that the Japanese love to use in their signature food. However, they emphasize the use of fresh, seasonal ingredients. Here are some popular components in Japanese meals.
Rice: Rice is a staple of the Japanese diet. People use it in a wide range of dishes, namely sushi, donburi bowls, and onigiri (rice balls).
Seafood: Japan is surrounded by water and has a long history of fishing, so seafood is a major part of natives' meals. Common types of seafood used in Japanese cooking include fish (like tuna and salmon), eel, squid, and octopus.
Soy sauce: Soy sauce is a key condiment in Japanese cuisine. The main purpose of soy sauce is to add flavor to various dishes. It is made from fermented soybeans and has a salty, umami flavor.
Miso: Miso is another fermented soybean product. It is often used to make soups and marinades, thanks to its rich, savory flavor.
Vegetables: These plant-based foods are important parts of their diet. Common ones are daikon (Japanese radish), shiitake mushrooms, green onions, and seaweed.
Tofu: Tofu is made from soybeans. Though it is also a plant-based food, it is a popular source of protein in Japanese delicacies that you can normally find in soups, stir-fries, and salads.
Flavor
This cuisine seeks to achieve balance and harmony in flavors. And umami is a key flavor in Japan's feasts, which is often achieved through the use of complementary ingredients (e.g., soy sauce, miso, and dashi) and cooking techniques.
Regarding their cooking methods, there are five primary Japanese techniques, such as Raw (namasu), Simmered (nimono), Steamed (mushimono), Grilled (yakimono), Fried (agemono).
There is a strong respect for history and tradition in Japanese cooking. Thus, many Japanese recipes are deeply rooted in traditions that have been passed down for generations.
On the other hand, this culinary cuisine often involves communal dining, with shared plates and the opportunity for socializing and bonding over a meal.
Regional Diversity and Innovation
They have a diverse range of regional cuisines, each with its own unique flavors and specialties.
However, while Japanese cuisine is deeply traditional, there is also a spirit of innovation and experimentation in modern cooking in the country. Chefs are constantly exploring new techniques and ingredients to create new dishes.
Traditional Japan's Noodle-Based Delights
There are thousands of attractive noodle types in Japanese cuisine. So you should learn about the unique and beautiful flavors of the well-known noodles in the list below to enjoy the essence of Japanese recipes.
And in order to eat these dishes properly, you have to learn how to use a typical East Asian eating utensil – chopsticks since many Japanese foods normally come with these pairs of sticks, particularly noodle delicacies.
1. Ramen (Japanese Noodle Dish)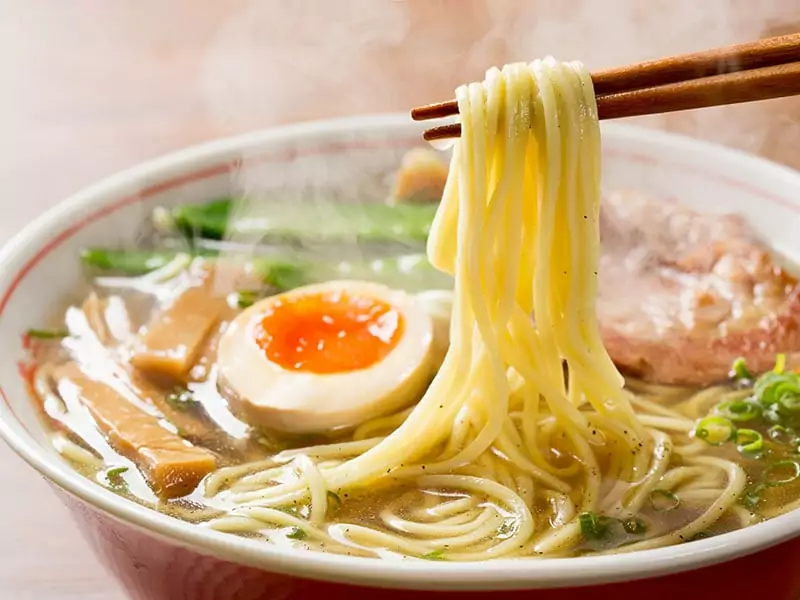 Ramen was originally called "Chinese soba" and was introduced to Japan during the Taisho era. Ramen restaurants began to emerge in the 1900s and have since evolved into numerous ramen variations.
Made primarily with wheat flour, ramen noodles are famous for their satisfying chewiness. A typical bowl of ramen includes pork, seaweed, and eggs, but there are many other toppings to choose from.
Besides perfect ramen noodle varieties, the soup is the soul of the dish, with various flavors and ingredients creating a complex and rich taste. With its delicious taste and comforting warmth, ramen is a must-try Japanese dinner for anyone.
These are all things you need to know about delicious ramen.
2. Udon (Japanese Thick Noodles)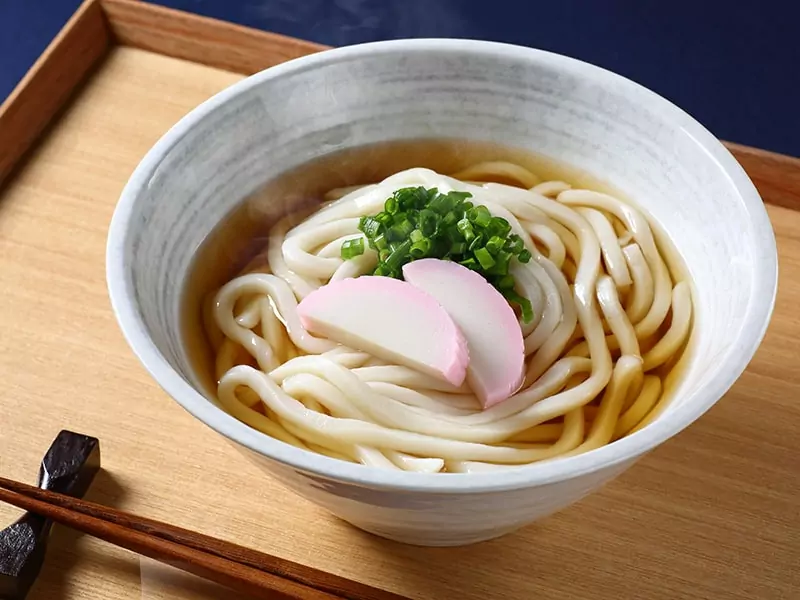 Udon is one of the three most-eaten noodles in Japan, so there is no reason not to try it. Udon noodles with brine wine and wheat flour will have the perfect chewiness and texture.
There are many ways to enjoy this delicious food starting with "U" Japanese people often stir-fry noodles with vegetables or put them in a hot pot. However, the most popular version is udon noodle soups. You will be mesmerized by the sweetness of the broth and the varieties of Udon toppings.
Speaking of its origin, Udon was first created in the 13th century when the monk Enni invented the noodle-making technique. Originally, udon was known as "Konton", and was a combination of sweet fillings and wheat flour. There are 15 different ways to prepare udon.
Learn the history and the ways to make fantastic Udon noodles.
3. Yakisoba (Fried Noodles)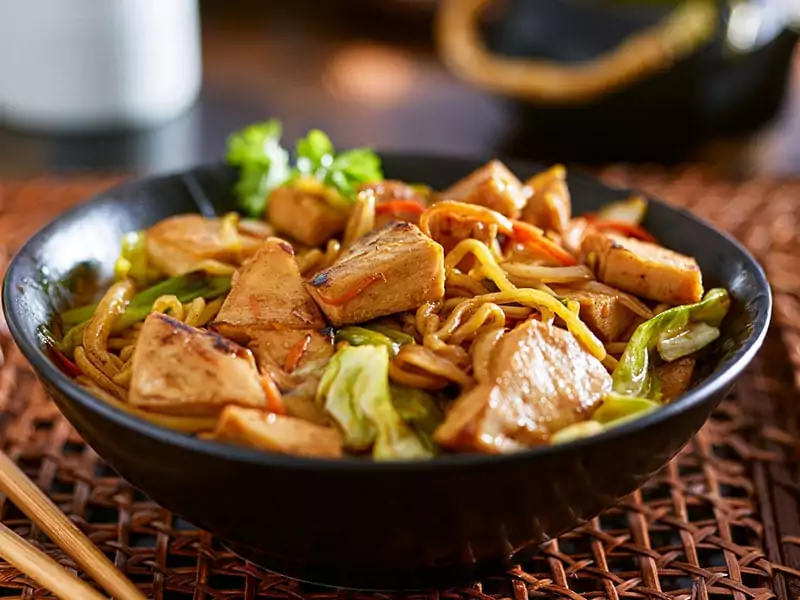 Yakisoba is a popular dish in Japanese noodles that appears in numerous famous Japanese cookbooks. Noodles will be stir-fried with various vegetables and pork. A little yakisoba sauce will make the noodles richer and more attractive. You will be defeated by the deliciousness of the noodles immediately.
In particular, yakisoba is a noodle that is not made from buckwheat. If you have the opportunity to visit Japan during the festivals, you will encounter vendors making noodles outdoors in the bustling atmosphere of the festival.
Besides the famous restaurants around the world with yakisoba, this food beginning with "Y" popularity is also supported by the company Nissin. This is the company that has continuously produced Japanese noodles so that more people can have access to this signature food.
4. Soba (Buckwheat Noodles)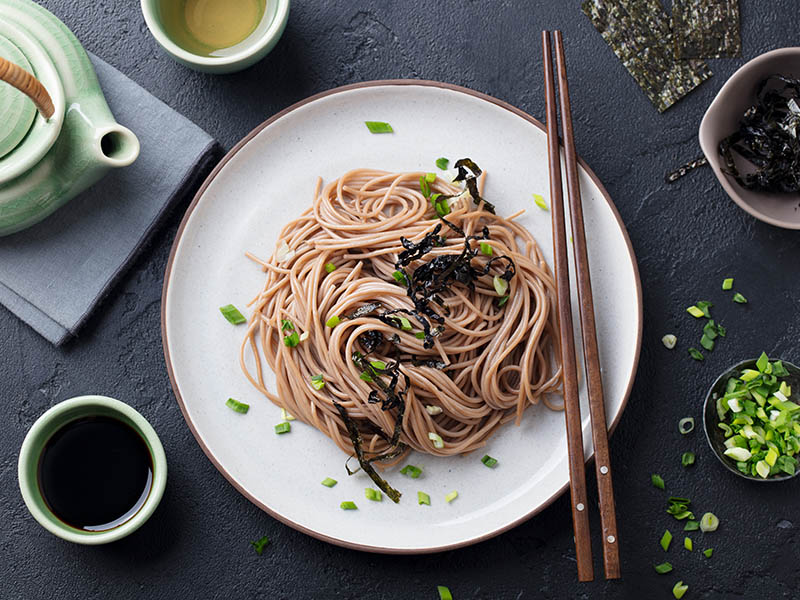 Soba is a type of Japanese noodle made from buckwheat flour. You will be immersed in the characteristic nutty and earthy flavors when eating the chewy and yummy soba noodles.
A bowl of soup typically contains soba noodles, onions, tempura, and fish cake. Another popular soba dish is tempura soba, which is soba noodles served in a hot broth with pieces of tempura (deep-fried seafood or vegetables) on top. The crispy tempura adds a nice texture to the soft noodles and savory broth.
In addition, soba noodles are often eaten with a dipping sauce called tsuyu, which is made from soy sauce, mirin, and dashi broth.
FYI, soba is also known as "breaking off the old year" since the noodles break easily.
Let's taste soba noodles to understand more about their flavor.
Delicious Japanese Dishes With Meat And Seafood
Japan's food scene is a paradise for meat and seafood lovers, with an array of beautiful dishes waiting to be discovered. So make sure to jot down these fantastic delights so you can try them while in this country.
5. Sashimi (Sliced Raw Fish)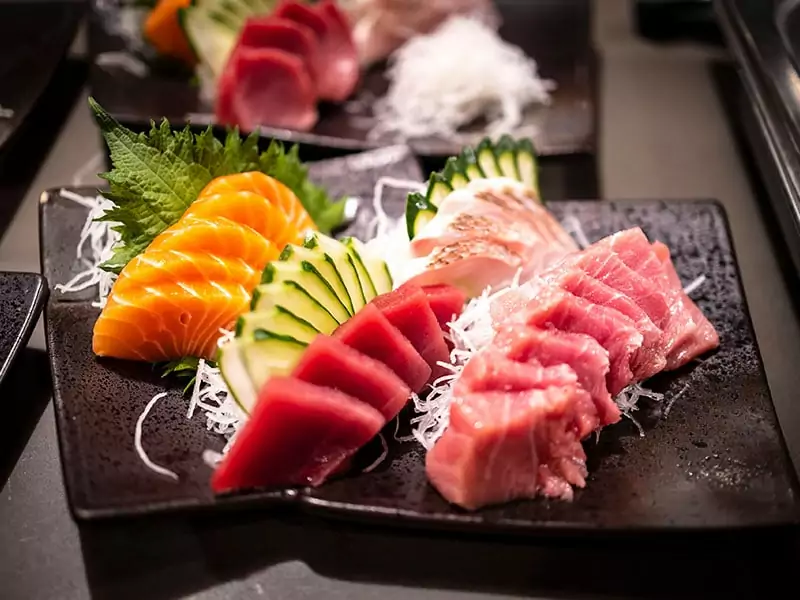 Sashimi is one of the iconic Japanese dishes. You should add this fantastic food to your Japanese lunch recipes during this trip. The slices of fresh fish will make you enjoy the original and most natural seafood taste.
In reality, fish is a major ingredient in Japanese meals. People consume more than 154 pounds of fish per person annually.
These tender and delicious fish slices will bring out their full flavor when accompanied by soy sauce, wasabi, and pickled ginger. You shouldn't confuse sashimi with sushi, nigiri, or maki, as they're all vastly different dishes.
A sashimi chef needs to be trained for 10 years before serving sashimi directly at a restaurant. In particular, sashimi is not only fish but also beef, chicken, and raw squid. About 80% of tuna is used for sashimi.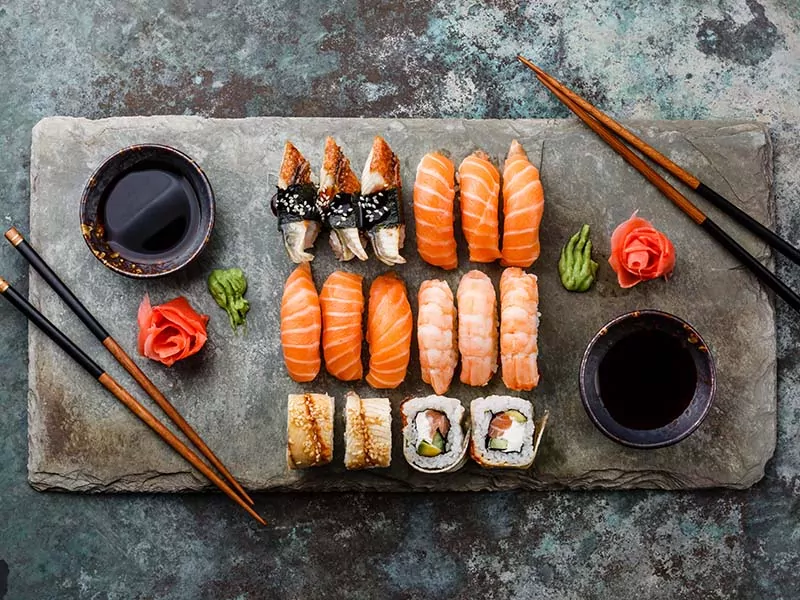 When it comes to the most common and traditional Japanese delight, most of us will think of sushi immediately.
This dish was brought to the Americans in 1868 after the Meiji Restoration. Today, this is considered a symbolic dish of the land of the rising sun and is enjoyed around the world.
A research carried out in Japan in 2022 revealed that sushi was the preferred food choice among Japanese consumers, with nearly 80% of the participants selecting sushi as a favored dish.
The main ingredients of sushi are rice, vinegar, and seafood or other toppings. The rice used in sushi is a short-grain variety and is seasoned with a mixture of vinegar, sugar, and salt.
The seafood used in sushi can include raw fish (e.g., tuna, salmon, or yellowtail) as well as cooked seafood like shrimp, crab, or eel. Vegetables such as cucumber, avocado, or pickled daikon are also common additions.
Sushi is often served with various condiments, including soy sauce, wasabi, and pickled ginger. These simple delights are meant to complement the flavors of the sushi and provide a balance of tastes and textures.
Let's learn some fantastic facts about sushi.
7. Yakitori (Skewered Chicken)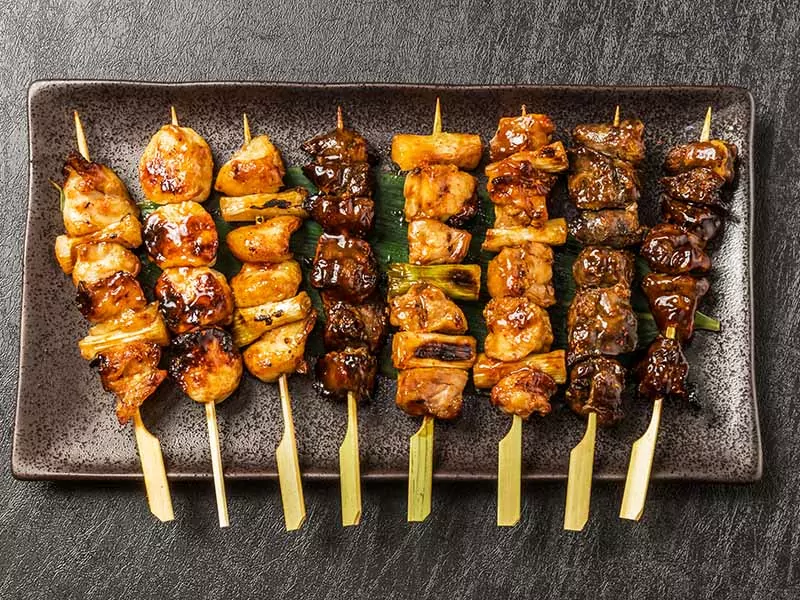 Yakitori is a recipe associated with Japan's sports matches. This Japanese chicken delicacy is common on most menus of Japanese restaurants. It is usually served pre-cooked, frozen, or canned.
Hotei Foods Corporation was the first company to produce canned yakitori in 1970. It is also sold at street stalls in this country.
The Japanese love to eat these grilled chicken sticks and the bite-sized pieces of yakitori will awaken your taste buds. Plus, the name "yakitori" means "barbecued chicken".
The sauce on the outside of the chicken pieces is another thing that makes them become a well-loved dish. Nowadays, you can find yakitori sticks with beef, pork, fish, or vegetables. Dipping yakitori in the traditional teriyaki sauce and enjoying it with wine is an incredible experience.
Get these instructions to cut chicken for yakitori.
8. Tempura (Deep-Fried Seafood And Vegetables)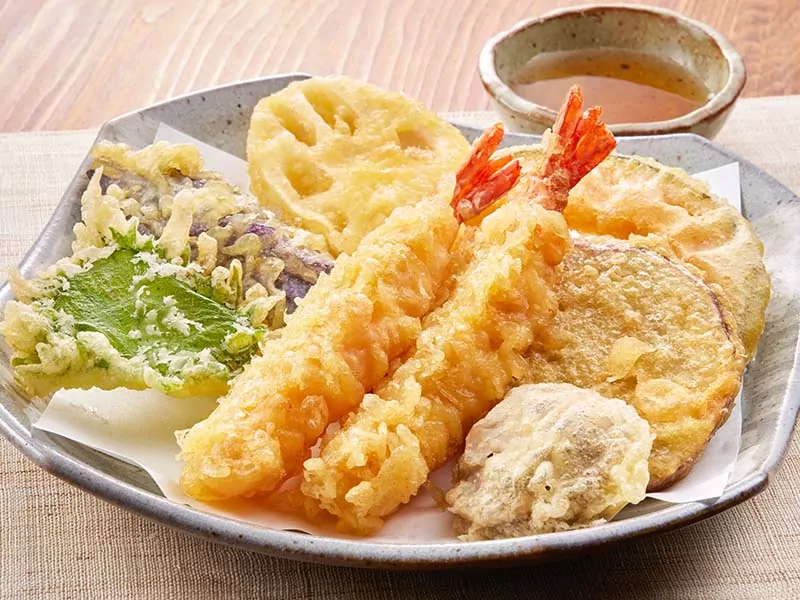 It would be remiss not to mention tempura in this list. If you love crunchy foods, you cannot go wrong with them. Meat, seafood, and vegetables are deep-fried with a layer of tempura batter on the outside.
The eye-catching yellow color of this recipe will captivate you at first sight. You will feel a rustling sound in your mouth when chewing tempura. In Japan, people often eat this food with rice or noodle soups.
Tempura first appeared in Japan in the 1600s when Portuguese missionaries arrived. It was born when they were forbidden to eat meat and it became an indispensable recipe during Lent.
It is time for you to try the crispy tempura in a Japanese restaurant.
9. Mentaiko (Salted Alaska Pollock Roe)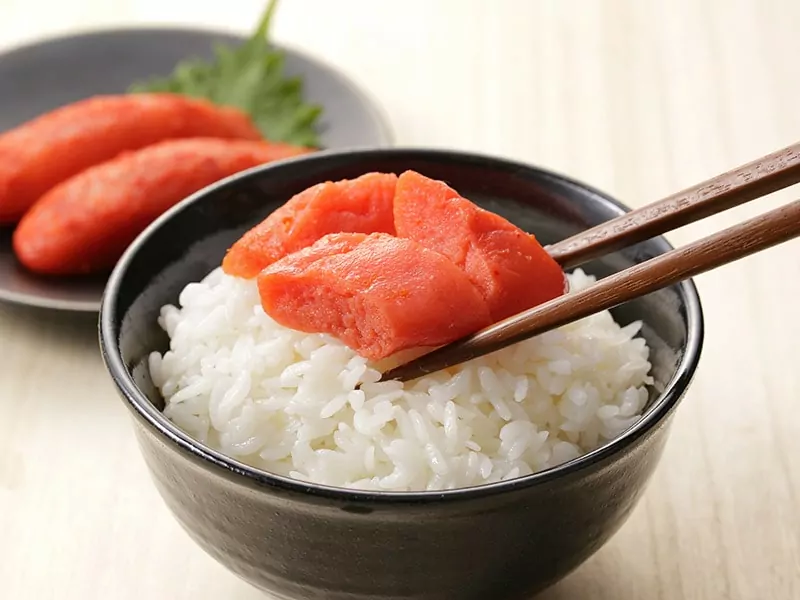 Mentaiko was introduced to Japan from Korea in 1949 by a Japanese named Kawahara Toshio, who lived in Busan. He went through the tasting process of Korean cod roe before introducing it in Japan. You'll often see it in comparison between Japanese and Korean food.
Mentaiko is a unique gift I would like to dedicate to seafood fans. Pollen eggs will be marinated in salty water to eat with white rice. The version of Karachi mentaiko seasoned with chili peppers is for spicy food lovers.
When eating ramen, you will also have the opportunity to enjoy mentaiko when it is used as a topping of this noodle dish. In addition, it is combined with butter or cream to make a mentaiko sauce to eat with pasta.
10. Tonkatsu (Fried Pork Cutlets)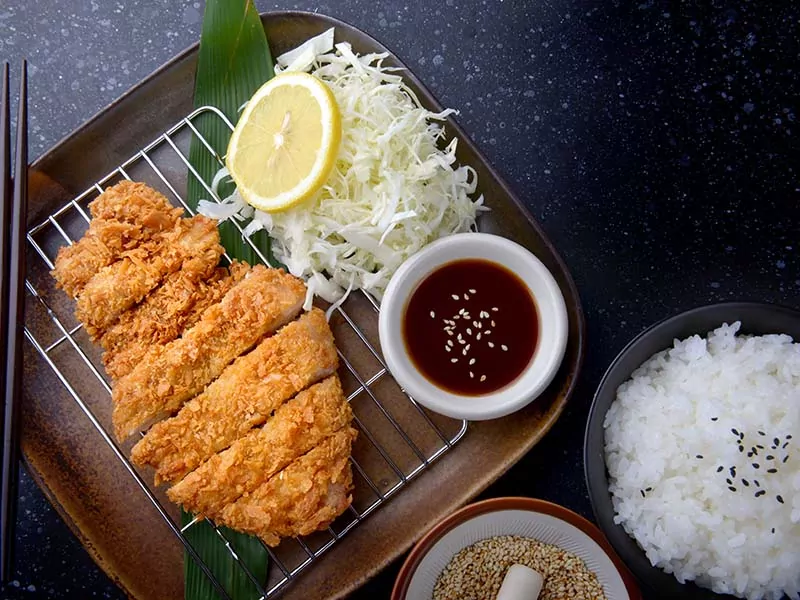 Tonkatsu is a dish made from pork cutlets introduced to Japan by Europeans. The pork pieces are fried in oil with a layer of breadcrumbs covering the outside to give it a perfect crunch and an eye-catching golden brown color.
When ordering tonkatsu at Japanese restaurants, you will be provided with a cup of dipping sauce made with vegetables and delectable Japanese fruits. Moreover, cabbage and salad will make you not bored when consuming these excellent pieces of pork.
Take a trip to Japan to eat mouthwatering tonkatsu.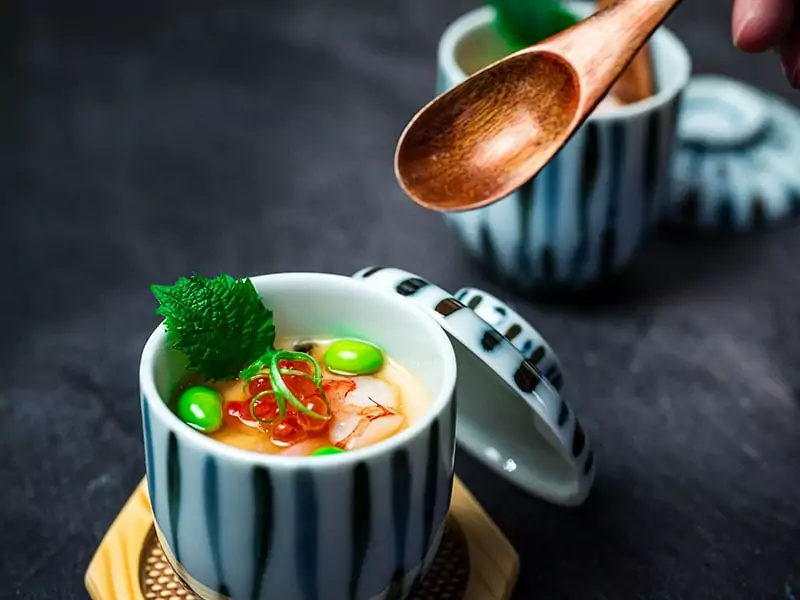 Recharge with a delicious and rich teacup of chawanmushi that will make you feel more comfortable and relaxed after a day of exploring Japan. Eggs will be steamed in a small cup with meats and vegetables after seasoned. People also turn it into a delicious Japanese shrimp dish.
When you eat chawanmushi, you will easily associate it with pudding because of its texture. The name chawanmushi comes from the way it is prepared. "Chawan" means a cup of tea, and "Mushi" means steamed. It was born 300 years ago during the Edo period.
Check out the methods to make soft and fantastic chawanmushi.
12. Kaki Fry (Deep-Fried Breaded Oyster)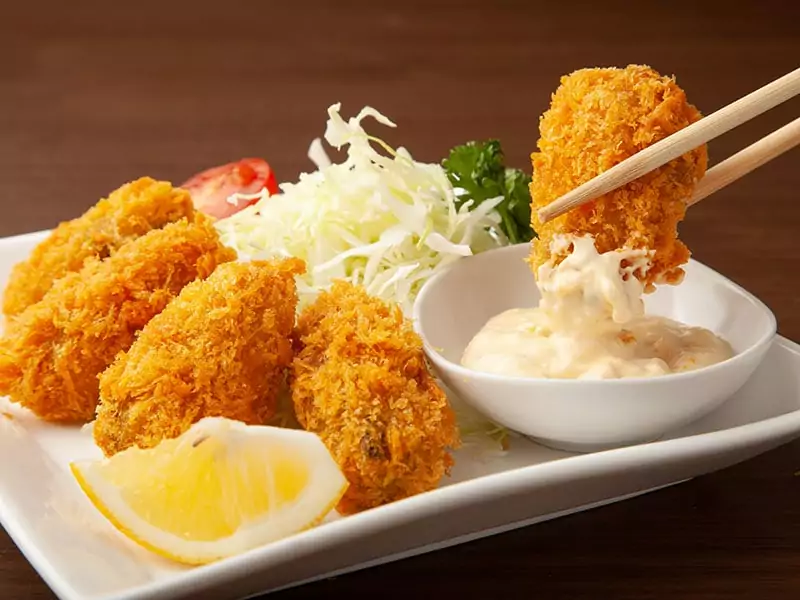 If you love dishes made with oysters, you will love this delicious and beautiful deep-fried oyster. It appeared in Japan in the late Meiji era. Fresh oysters will be coated with flour, beaten eggs, and bread crumbs before becoming crispy in hot oil.
This food is pretty popular in Japan in autumn and winter because these are the two seasons when oysters are most abundant and yummy. Restaurants often serve this fantastic dish with vegetables and various sauces.
13. Karaage (Japanese Deep-Fried Meat)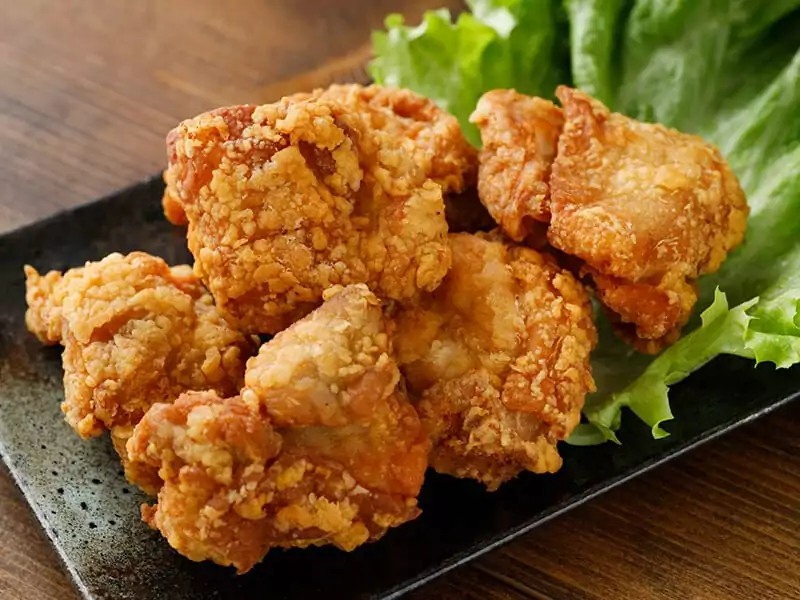 Karaage is another popular Japanese dish that consists of bite-sized pieces of deep-fried meat, typically chicken. The origins of karaage can be traced back to China" and was introduced during the Edo period (1603-1867).
In fact, Karaage refers to a cooking method that you lightly coat pieces of meat in flour before deep-frying in oil. Therefore, many people assume this delicacy is a variation of tempura.
However, the key difference between these two is the ingredient of Karaag typically marinated in a blend of seasonings before being coated in potato starch or cornstarch and deep-fried until crispy and golden brown.
The most commonly-used meat to make Karaage is chicken, but you can find other styles with fish or other meat.
The dish is often served alone as an appetizer or snack. Or you can enjoy it with shredded cabbage or rice.
Yummy Japanese Street Foods You Must Try
If you like the comfort of eating, Japanese street cuisine should be a top choice on your waitlist. It is time to satisfy your cravings with these mouthwatering treats right away.
14. Dango (Japanese Dumplings)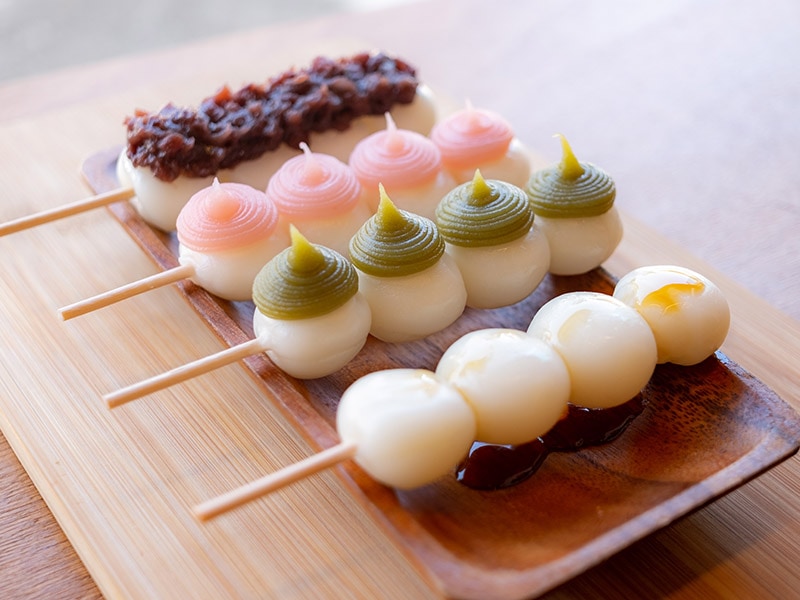 Japanese dessert recipes are varied, but you will need sweet Dango dumplings if you want something to refresh your mouth after enjoying street food.
These irresistible desserts from Asia are usually skewered on sticks with (about 3 to 5 dangos) and sold in every corner of Japan. Round cakes of various colors are made from mochiko (sweet rice flour).
The Japanese will make seasonal dango. In the cherry blossom season, they will make hanami dango with pink colors like these flowers. Plus, if you like matcha (finely ground powder of green tea), Matcha Dango is also a well-loved sweet.
Regarding its history, the first version of dango was first made in the Jomon period from 1400 to 300 BC. The Japanese of this time collected nuts to grind into flour like today's flour.
15. Shioyaki (Grilled And Salted Fish)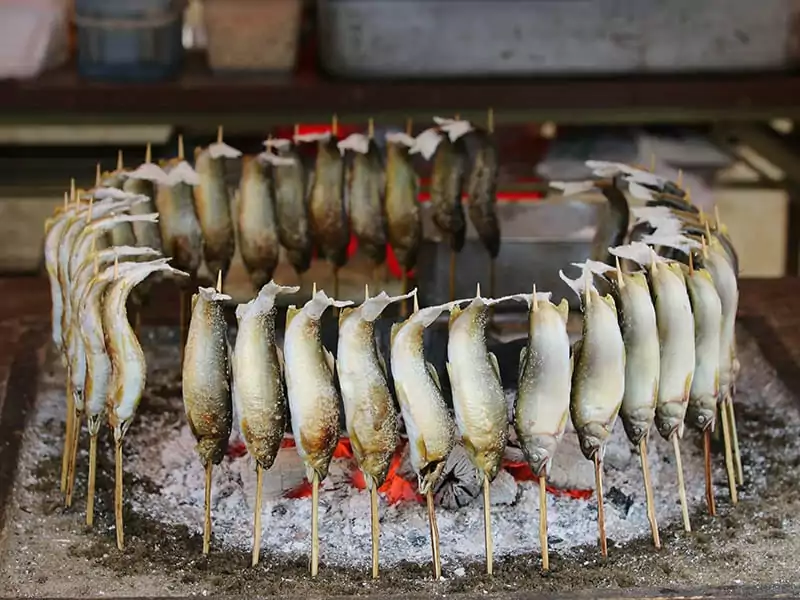 Do not look at the simple appearance of shioyaki and judge its quality. It is not just fish sticks, but it is the result of fish marinated with salt overnight and grilled with charcoal fire. This is a unique Japanese technique.
The fish has an incredible taste, and the meat is pretty tough, so you should prepare some Japanese beverages to drink while eating it. Nothing is better than enjoying a beer and this excellent grilled fish in the bustling streets.
Besides serving Shioyaki as a standalone dish, you can also enjoy it with sides such as rice, vegetables, or miso soup.
Quick fact: The term "shio" means salt, while "yaki" means grilled or broiled.
16. Mochi (Japanese Rice Cake)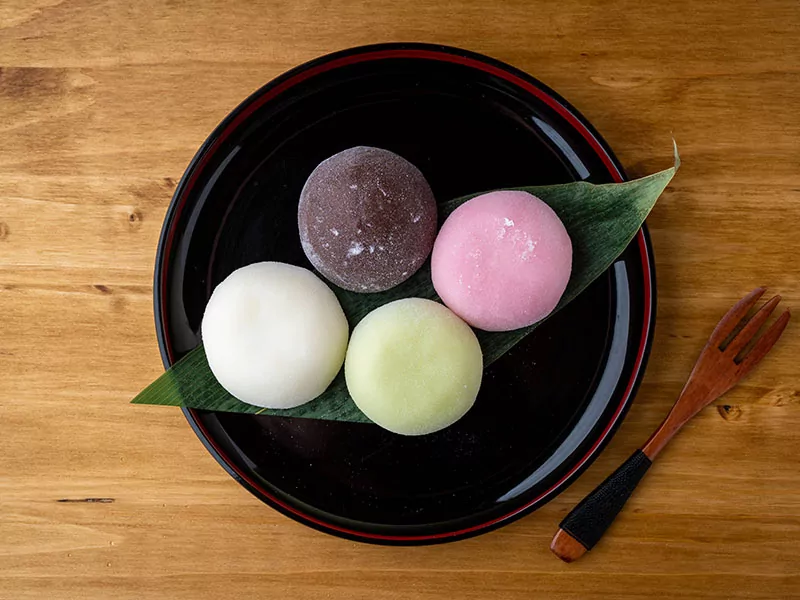 Mochi is a beloved traditional Japanese dish that is made from sticky rice. Creating these soft and supple mochi cakes requires a complex process of making the dough, filling, shaping the cake, and cooking it. While it may seem like a daunting task, making mochi today is much simpler than it used to be.
In the past, creating mochi was a time-consuming and labor-intensive process that involved pounding the rice with a pestle and mortar to create the necessary dough. However, with modern technology and equipment, the process has become much more streamlined.
Despite the evolution of the process, mochi remains an integral part of Japanese culture and is often enjoyed during special occasions such as New Year's Eve, like Kagami mochi.
Mochi also comes in a variety of flavors, including matcha, strawberry, black sesame, and more.
Listen to the directions to make ice cream mochi.
17. Ikayaki (Grilled Squid With Soy Sauce)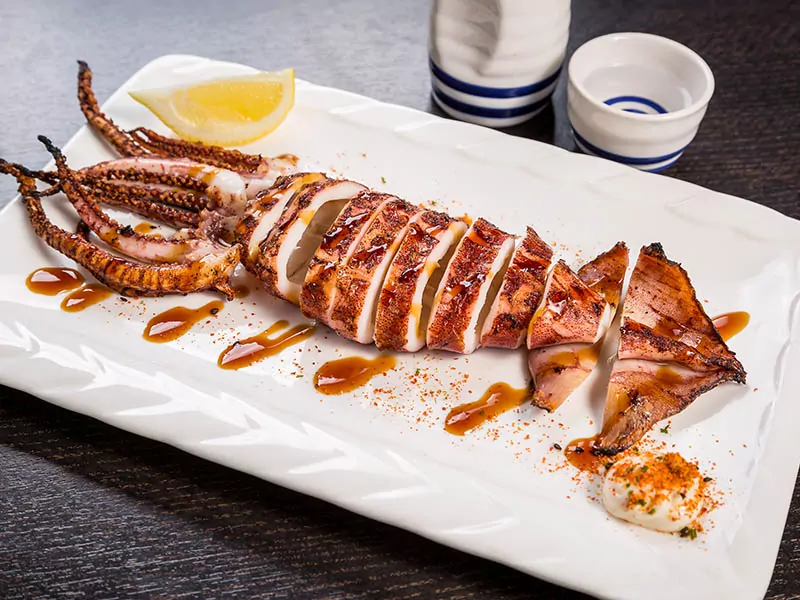 Ikayaki, a popular Japanese street food, features succulent grilled squid that is bathed in sweet soy sauce and cooked over charcoal.
This cooking technique results in a tender and smoky flavor that pairs well with the sweet and savory sauce.
They are normally served with the whole body pierced through a stick or ring cut from the body, depending on the size of the squid.
18. Takoyaki (Octopus Balls)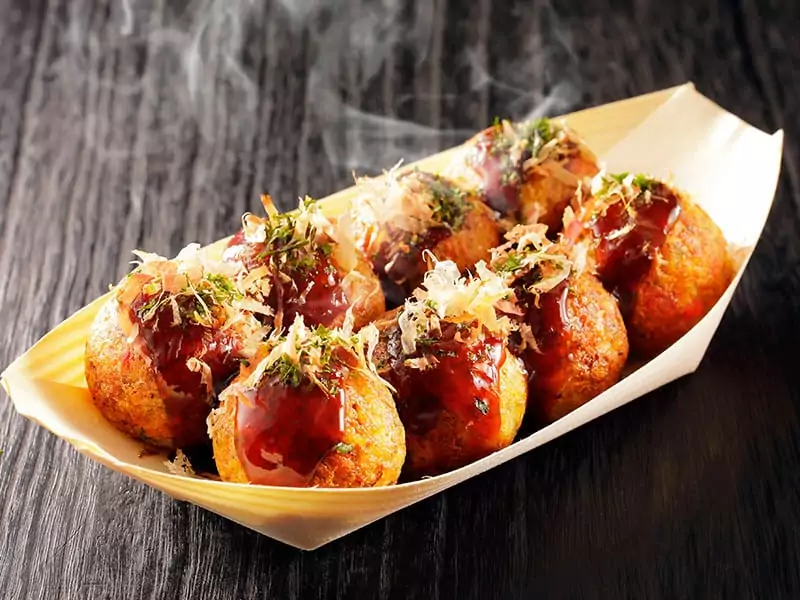 Speaking of famous Japanese street foods, it is impossible not to mention takoyaki, aka octopus ball. It is also a top favorite snack in Japan. These round balls are made with dough and an octopus in the middle.
The takoyaki is coated with takoyaki sauce for extra flavor. Furthermore, the greasy of the mayonnaise topping will leave an indelible impression in your mind.
Originally, this delicious Osaka-based street food was made by a vendor in 1935. Akashi city akashiyaki dumplings are considered to be the forerunners of this food.
It is time to explore all information about the history of takoyaki.
19. Okonomiyaki (Pan-Fried Cake With Seafood, Meat, And Vegetables)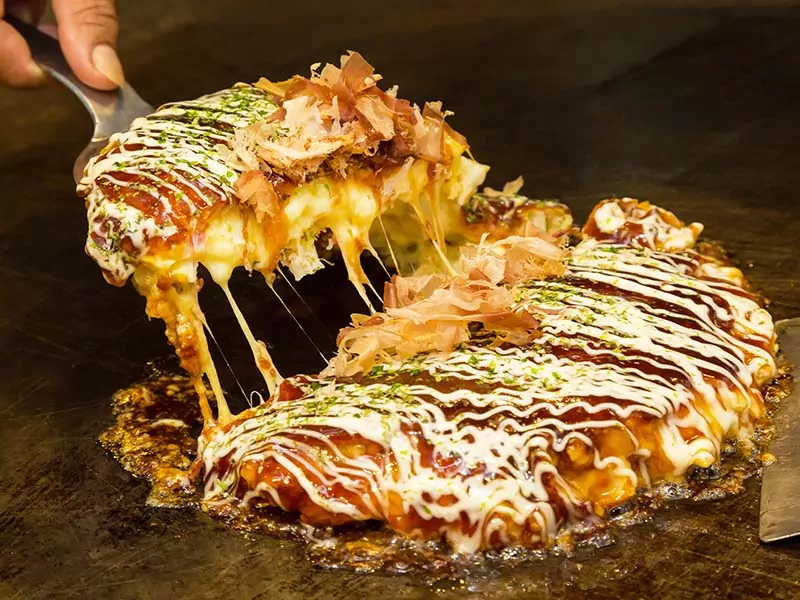 Okonomiyaki was first created in Osaka and Hiroshima and gradually spread throughout Japan. The flours are mixed with the cabbage and savory components to make a wonderful recipe that you should try.
This pancake will be pan-fried and covered with mayonnaise sauce. When you come to Japan, you will have the opportunity to make your okonomiyaki pancakes to enjoy on the spot. It is a perfect experience, isn't it?
It is straightforward to make incredible okonomiyaki to enjoy at home.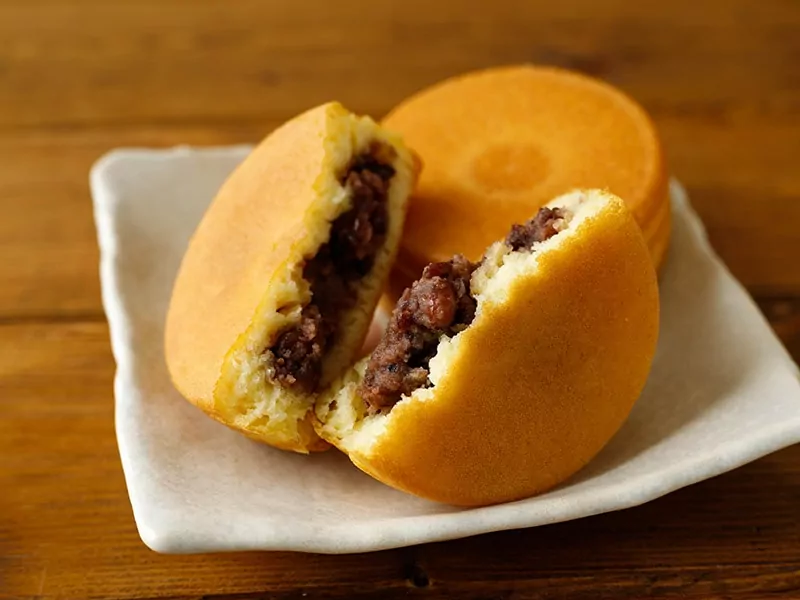 If you are a fan of the anime Doraemon, you will know this famous imagawayaki donut. This delicious treat is popular on the streets of Tokyo and throughout Japan. Therefore, let's find them to taste right now.
Its name is inspired by the Imagawa Bridge. This is where these donuts were first sold in the late 1700s. Before that, it was called Obanyaki because it was shaped like the ancient Oban coin.
The outer layer of the cake is made from eggs and flour for excellent porosity. Depending on your preference, you can buy imagawayaki with fillings made from bean paste, custard, or chocolate.
If you don't have a premium-quality donut maker at home and don't want to figure out the best way to prep donuts with no donut pans, Imagawayaki will be the best choice for you. Why bother coming up with ways to create donut holes when you can just make donuts without ones?
21. Yakiimo (Roasted Sweet Potatoes)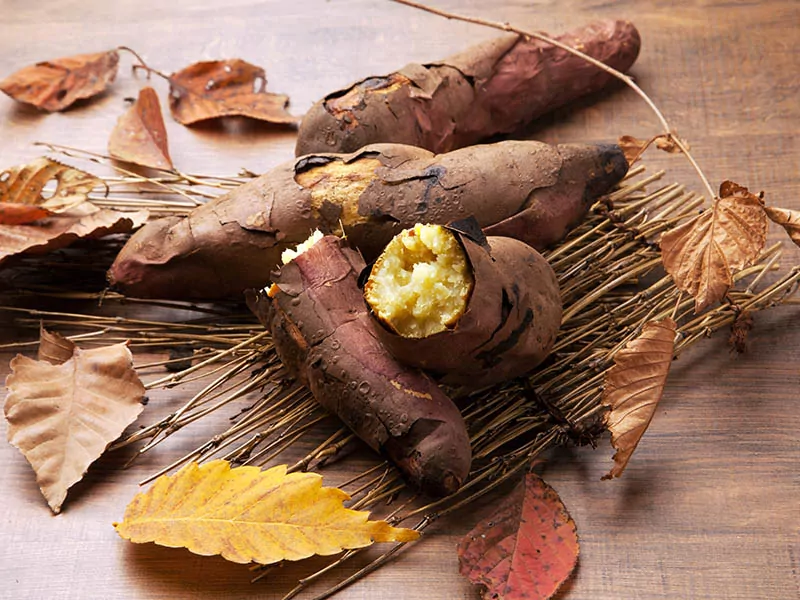 Yakiimo (aka roasted sweet potato) is another ideal street food not only in Japan but also in other East Asian countries.
When it was introduced to Japan in the 15th century, the Japanese created delicious yakiimo dishes for winter days to keep them warm.
A sweet potato called satsuma-imo is the main ingredient of this food. Sweet potatoes grilled over charcoal will have tough skin and soft, fluffy, and fragrant flesh. You can think of a caramel taste when you eat it.
Next to its wonderful flavor, this food also contains a large amount of protein, fat, vitamins, and minerals, making them a wholesome treat for everyone.
Other Incredible Japan's Delicacies
The richness of Japanese cuisine offers many different wonderful options for you to enjoy. You can refer to the suggestions below to add to your food menu for this trip.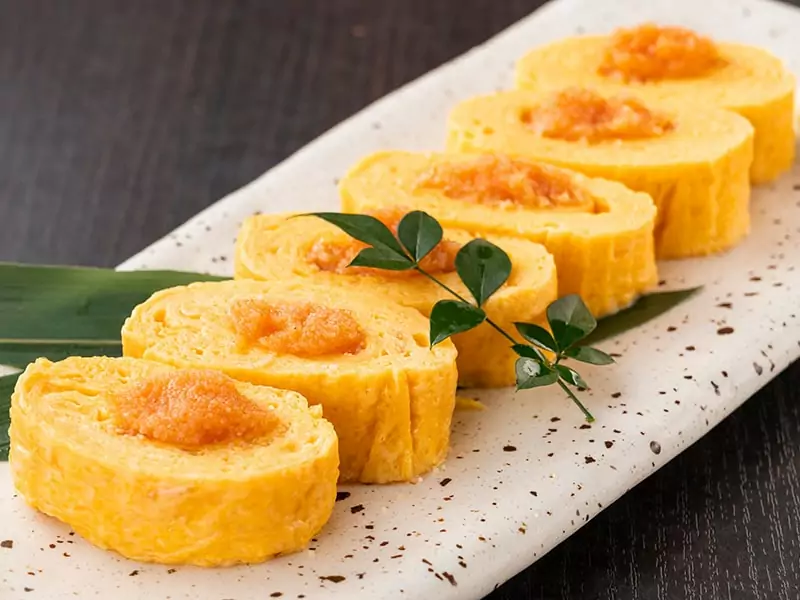 Tamagoyaki is a delicious addition to your Japanese breakfast recipes. The egg slices with their soft and spongy texture will melt in your mouth in no time. You will feel the gentle sweetness when enjoying this unique egg dish.
Thinly fried eggs are rolled into multiple layers and then cut into delicate slices, arranged beautifully to create an irresistible temptation. Overall, it is a popular feature at sushi parties and a must-try for any egg lover.
Quick fact: During the 1950s, tamagoyaki enjoyed its heyday, as eggs were encouraged by the government as a way for parents to provide their children with more protein.
Do not ignore these instructions to get the delicious tamagoyaki.
23. Natto (Steamed And Fermented Soybeans)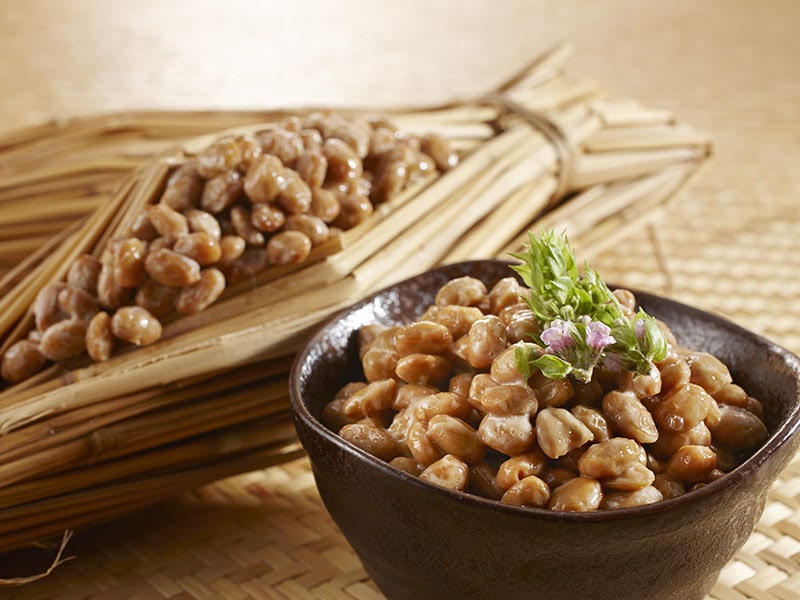 A traditional food I would recommend to you is natto. The soybeans are fermented with bacteria found in the human gastrointestinal tract. The flavor of these soybeans is pretty intense and will leave an unforgettable impression on you.
When you eat these beans, you will think of moldy cheese because of its smell. Some people will not like the scent, but its flavor will entice you. With their characteristic salty and umami taste, the beans will stimulate your taste buds.
You will get more nutrients after eating this food beginning with "N". The high content of vitamin K2 and protein will be valuable for your health. Plus, this food is known to reduce blood pressure and blood glucose.
24. Sukiyaki (Japanese Hot Pot)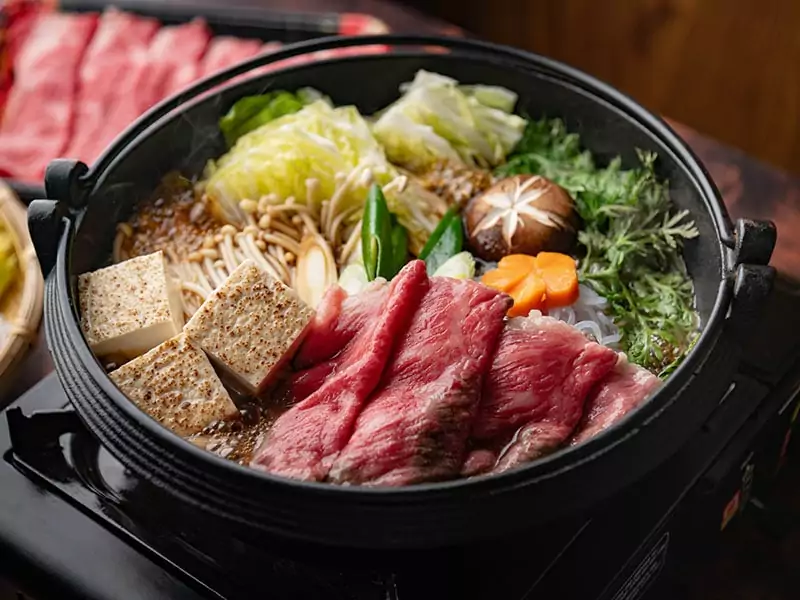 Sukiyaki translates to "cook what you like", so this hot pot can hold any ingredients you want to add.
This traditional Japanese hot pot regularly includes thinly sliced beef, vegetables, and noodles, all cooked together in a savory broth made from soy sauce, sugar, and mirin.
Hot pot broth is the highlight of this remarkable dish. As you cook the ingredients together, the flavors meld and intensify, creating a rich and satisfying dish.
And while sukiyaki is often enjoyed in the winter months, there's really no bad time to indulge in this delicious meal. In reality, this is a favorite choice of office workers at weekend parties.
Get the ways to have fantastic sukiyaki at home.
25. Oden (Japanese Fish Cake Stew)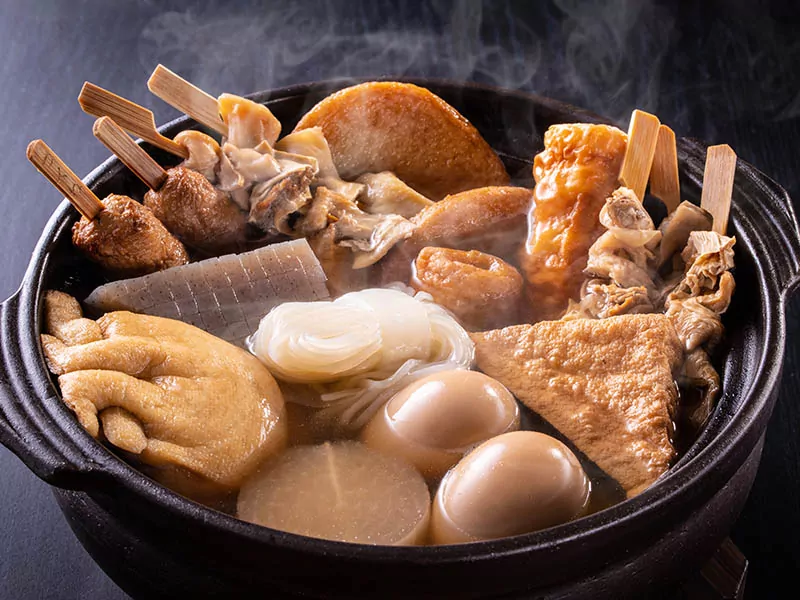 Warm up your cold winter nights with a delicious bowl of oden, a savory hot pot filled with an assortment of vegetables and ingredients.
Did you know that oden originated in the 14th century during the Muromachi era, with its earliest version being grilled tofu skewers coated in miso sauce?
Today, they mainly contain chewy mochi rice cakes, flavorful fish cakes, daikon radish, and eggs. And every bite is a symphony of flavor that will leave you wanting more.
The nourishing broth, made from bonito fish flakes and seaweed, will warm your body from the inside out. For a heartier meal, add in some noodles and sip a glass of wine with friends while relishing this dish.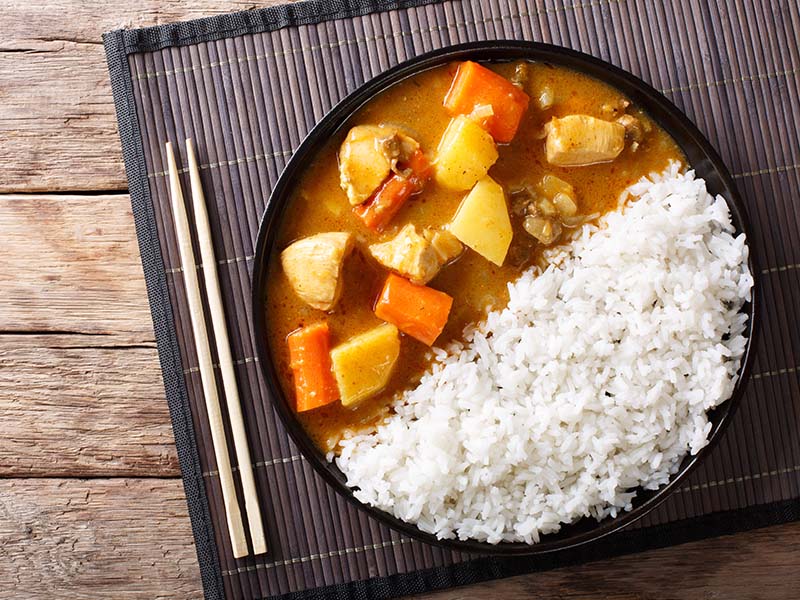 If you are looking for a rice dish to fill your hungry stomach, curry rice is suitable. It was brought to Japan by the British in the Meiji era, so it is pretty similar to United Kingdom curry.
Sweetness is the signature flavor of this beautiful dish. Curry is stewed for a long time with meat and vegetables. The soft and flexible rice grains will evenly absorb the curry juice, bringing an irresistible flavor to diners.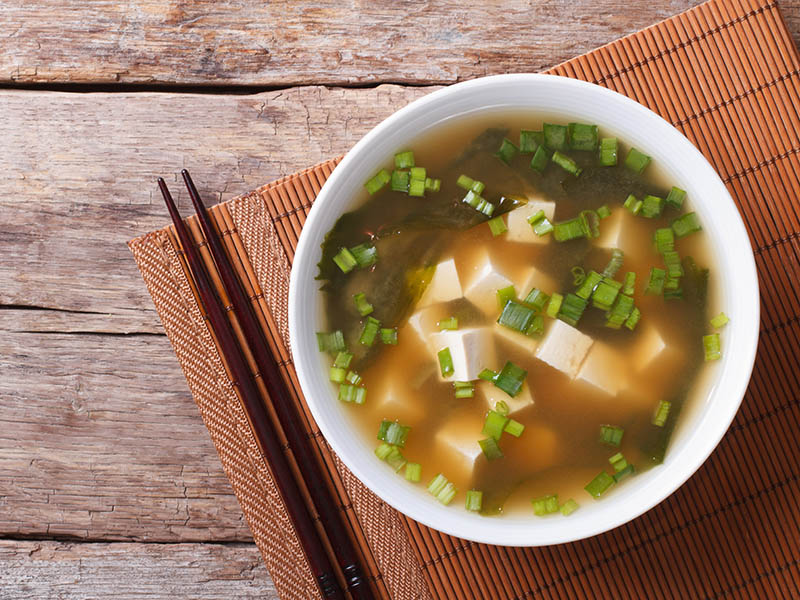 Miso soup is a culinary staple of Japanese cuisine. A small bowl of miso soup is always present in every Japanese meal and a common companion food for sushi. In fact, this is one of the most common side dishes of any Japanese delicacy.
Miso paste is fermented from soybeans, giving this recipe its distinctive flavor. Furthermore, you will enjoy the taste of dashi broth in this food. You will feel warm after sipping a cup of miso soup.
Miso is inspired by the fermented food of ancient China. It was brought to Japan and Korea in the 7th century.
Avoid 5 mistakes for a delicious miso soup.
28. Onigiri (Japanese Rice Balls)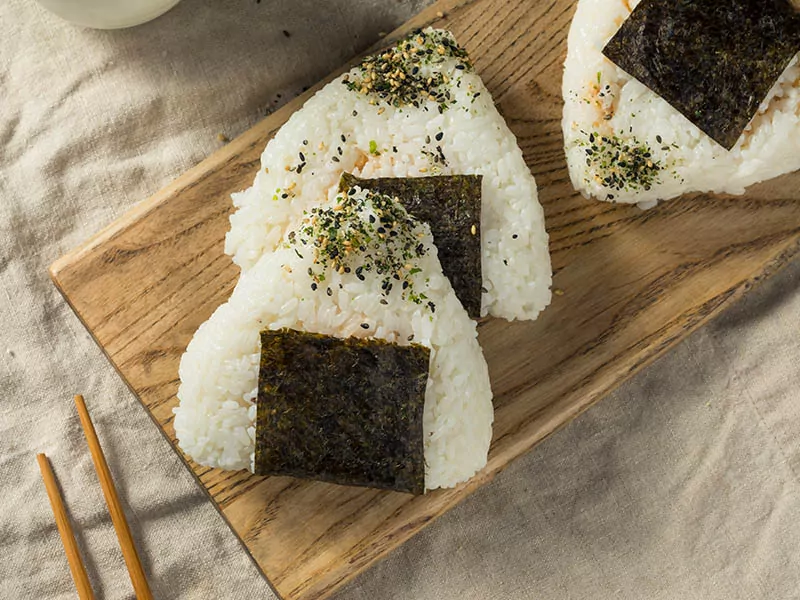 You are probably no stranger to Onigiri. It is considered a portable dish of the Japanese. You just need to go to convenience stores and wait for a few minutes to have an onigiri for breakfast.
It is also known by various names, such as "nigirimeshi", "omusubi", or "rice balls". The triangular or cylindrical rice balls wrapped in dried seaweed (nori) with tuna or teriyaki chicken fillings are a great choice when there is not much time.
29. Omurice (Japanese Omelette Rice)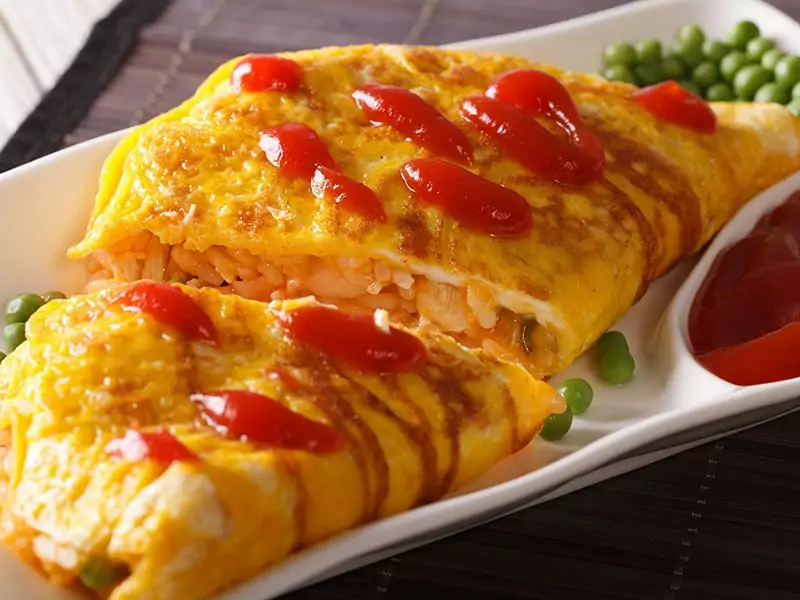 Omurice is believed to have originated in Japan in the early 1900s when Western cuisine was first introduced to Japan. So this delight is a perfect blend of Japanese and Western cuisine, particularly Japanese fried rice and Western-style omelette.
The name "omurice" is a combination of the words "omelette" and "rice" in English. It is also sometimes referred to as "omuraisu" in Japanese, which is a combination of the Japanese words for "omelette" and "rice".
Omurice is a favorite dish among people of all ages in Japan, especially children. It is also popular in other parts of Asia and around the world, where it is served in Japanese restaurants.
If you prefer a home-cook recipe, the basic ingredients for Omurice include rice, eggs, and ketchup. The rice is usually fried with meat (typically chicken), vegetables, and ketchup. Then they will be wrapped in a thin omelette made of eggs.
There are many variations of omurice, with different fillings and sauces. Some popular varieties include curry omurice, seafood omurice, omurice with cheese, etc. In some versions, people can also replace fried rice with fried noodles.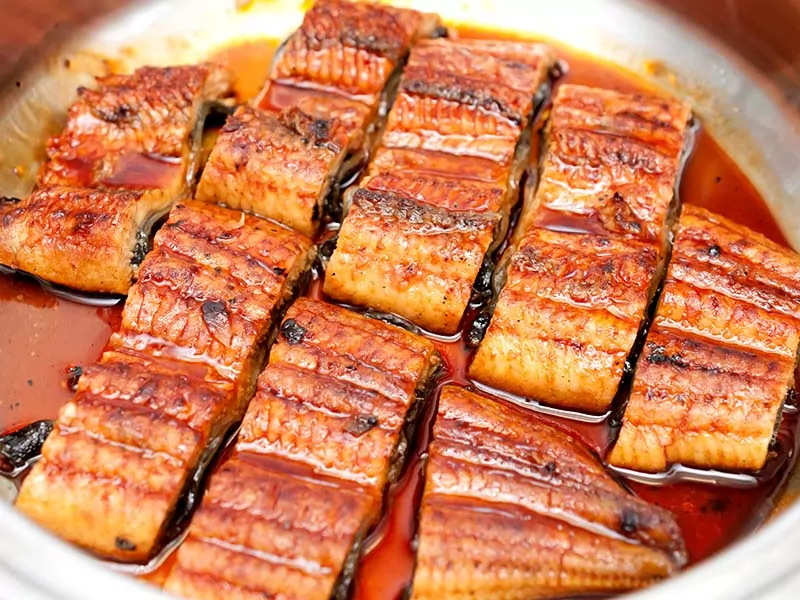 If you travel to Japan during the summer, you will have the opportunity to enjoy unagi no kabayaki with the best and definitive flavor. This unique dish has been around since the Edo period.
Pieces of eel are grilled on a griddle with kabayaki sauce. This is a sweet sauce with soy sauce as the primary ingredient. The Japanese also replace eel with fish in the seasons when there are few eels.
Grilled eel is a popular component in sushi. On the other hand, locals also serve it over a bed of rice (aka Donburi – a rice-bowl dish with meat, vegetables, or meat). With eel, it is called Unagi Donburi.
31. Gyoza (Japanese Potstickers)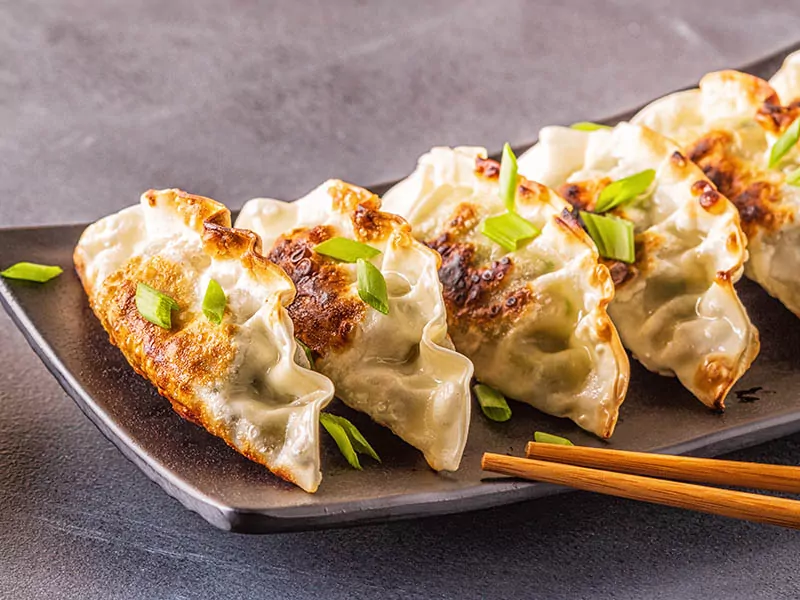 These half-moon-shaped dumplings will leave you spellbound. The rich filling combines minced pork, mushrooms, cabbage, and other elements. In addition, you will enjoy many different versions of the filling depending on the restaurant you choose.
For example, chefs might swap out pork for beef, hence resulting in a mouth-watering Japanese ground beef dish. Other unconventional fillings might also include lamb, seafood, or cheese.
Until now, you may think gyoza is quite similar to regular dumplings. But the outer layer is what sets these potstickers apart from other dumplings. The chef will fry them on one side and steam them for about 2 to 3 minutes to bring out gyozas with a succulent filling and silky wrapping.
China was considered the homeland of this food when Jiaozi was invented. Japanese soldiers stationed in China during World War II brought this recipe back to Japan when they returned.
You will regret it if you do not taste yummy gyoza.
32. Gyudon (Beef And Rice)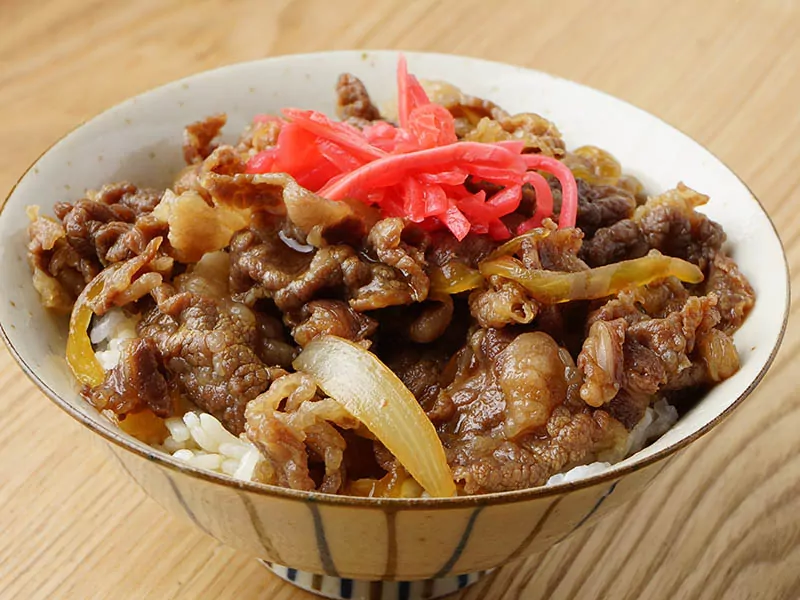 Gyudon was very common in the Meiji era from 1868 to 1912. It combines rice and beef with a rich taste as Gyudon is seasoned with various spices. If you want to enjoy this feast at its best, you should go to Sukiya – the biggest Gyudon restaurant chain.
A small salad and a bowl of hot miso soup are typical side dishes of Gyudon. There is no need to worry about its price because it is pretty cheap and still ensures a full stomach for you after eating it.
For more information, Japan's lunchtime favorites include a variety of rice bowls and noodle dishes such as Gyudon beef bowls, ramen, soba, and udon. It's common for individuals to pack bento lunch boxes for school or work.
33. Edamame (Boiled Green Soybeans)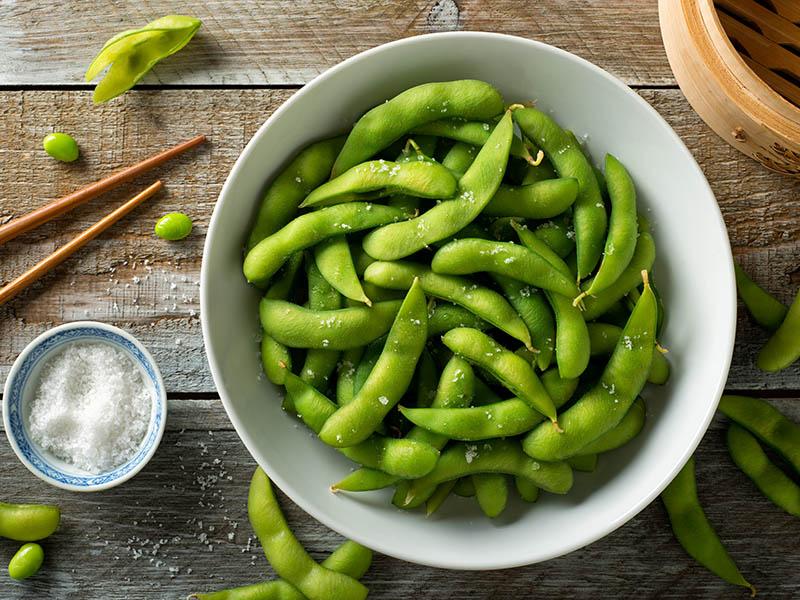 In Japan, edamame is a popular snack that you can easily find in pubs and restaurants. In general, edamame is soybeans harvested when they are still young.
They are lightly blanched in boiling water to preserve their natural sweetness and crunchiness. Unlike mature soybeans, edamame is consumed while they are still in the pods, which adds a fun and interactive element to the snacking experience.
In addition to being a delicious snack, this food is also a healthy one, as it is a good source of protein, calcium, and iron.
Despite its popularity in Japan, edamame actually has its roots in China, where it is believed to have first appeared around 200 BC.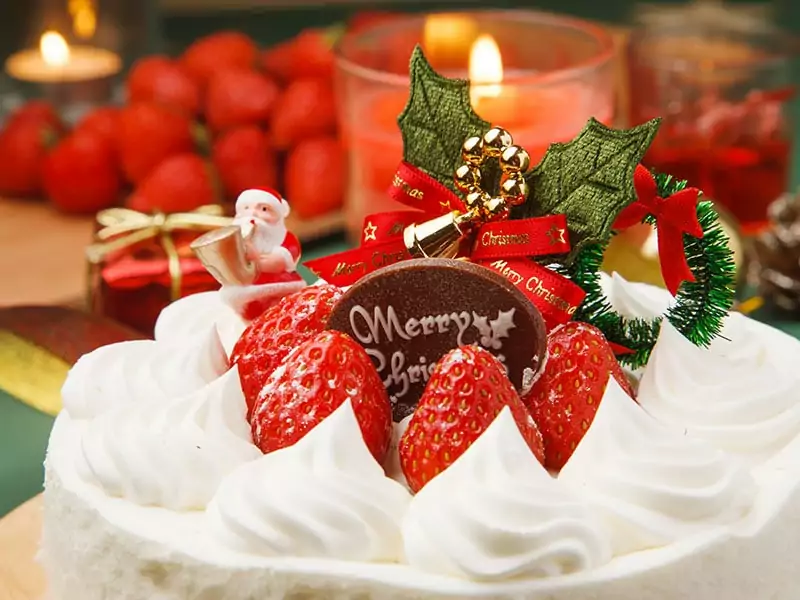 Kurisumasu Keki, or Japanese Christmas Cake, is a famous dessert in Japan during the holiday season. It is a light and fluffy sponge cake that is typically layered with whipped cream and decorated with strawberries.
The history of the Japanese Christmas Cake can be traced back to the Meiji period when Western-style desserts became more popular in Japan. Today, the Christmas cake is an important part of Japanese Christmas celebrations.
The flavor of Kurisumasu Keki is generally light and not too sweet. Additionally, the fresh strawberries add a juicy, slightly tart flavor that provides a nice contrast to the soft sweetness of the cake and cream.
Overall, it is a perfect dessert for celebrating Christmas with friends and family in Japan.
35. Kaiseki (Multi-Course Japanese Meal)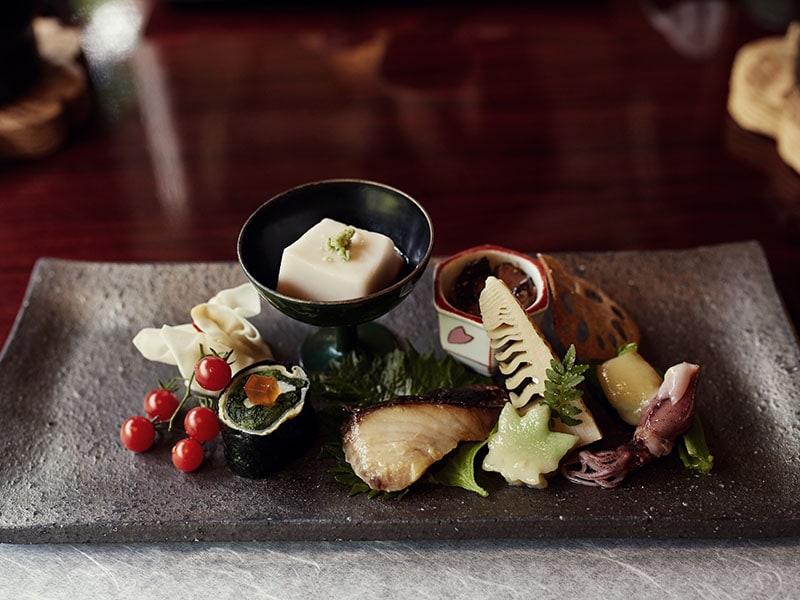 The last one is Kaiseki, which is not the name of a Japan's dish. In fact, it is a culinary term referring to traditional Japanese multi-course that emphasizes the harmony of taste, texture, and presentation.
The meal typically includes a series of small, carefully prepared dishes that showcase the high-quality seasonal ingredients and flavors of Japan. Kaiseki often involves elaborate presentations and is served in a tranquil setting. That's why it is similar to Western haute cuisine.
Kaiseki is considered a form of art, and it reflects the culture, aesthetics, and philosophy of Japan. The meal may be paired with sake or other Japanese beverages. And it is often served at high-end restaurants and ryokans (traditional Japanese inns).
Thus, Kaiseki might be a bit expensive, but it is worth it to try and improve your culinary journey while visiting Japan.
FAQs
Finally, here are some frequently asked questions and answers to help you expand your knowledge about this brilliant culinary practice.
Feast Your Eyes and Palate: Japanese Cuisine at Its Finest
Have you tried any of the foods on this list? I hope this article will help you better understand Japanese cuisine and make it easier to choose delicious dishes to enjoy when you come to Japan.
As always, I'm eager to hear your thoughts and suggestions on how we can improve our content and provide you with an exceptional experience. So, feel free to drop your comments below, and let's discuss more Japanese cuisine. Thanks for taking the time to read this article, I appreciate it!