How many foods that start with U can you name immediately? 10 or 20? Are you curious to know about the foods that begin with the letter U all over the world?
Honestly, if you search extensively enough, you can find a lot.
The food can come from Asia, Europe, America, Africa, and more. Some dishes you may have tasted during your travels, but there are some dishes that are only popular with locals.
Let's see how many dishes you know and which one you like best from the list I mentioned below.
List of Foods That Start With U
Check out my following list to have more inspiration about foods that start with U:
U-No Bar
Ube
Ulluco
Udon
Ulava Charu
Ugali
Ugli Fruit
Ukrainian Garlic Buns
Umami Burgers
Umbrella Fruit
Umbricelli Pasta
Unpasteurized Cheese
Unagi
Urchin
Upma
U-Boot
Upside-Down Cake
Ukrainian Cabbage Rolls
Urfa Biber
Ume
Uszka
Utah Scones
Uno Pizzeria & Grill
Ugni Fruit
Umbu Fruit
Umbuzada
Ukha
Utap
Urad Dal
Undhiyu
30 Foods That Start With U
1. U-No Bar
If you have ever had 3 Musketeers candy bars, you might find U-No bar is quite the same. This toothsome treat is a favorite product of Annabelle Candy Company.
You can quickly identify them in the confectionery section of the grocery store because they are all wrapped in silver wrappers.
U-No bar is known for its truffle-like center and chewy bite. It's made with white chocolate and ground almond.
2. Ube
When it comes to vegetable and fruit names that begin with U, the first thing that comes to my mind is ube. Ube is a purple yam and is usually found in the Philippines. It has become more and more popular in the kitchen today due to its catchy color and yummy taste.
Now ube is cultivated in many countries and sold in various forms such as ube powder, ube jam, or ube extract. It's loaded with healthy carbs, fiber, and vitamins, incredibly potent antioxidants.
This root vegetable features a sweet flavor and a hint of vanilla and nutty aroma. People use ube to make sweet treats and desserts such as ice creams, cookies, donuts, brownies, pancakes, milk tea, and chips.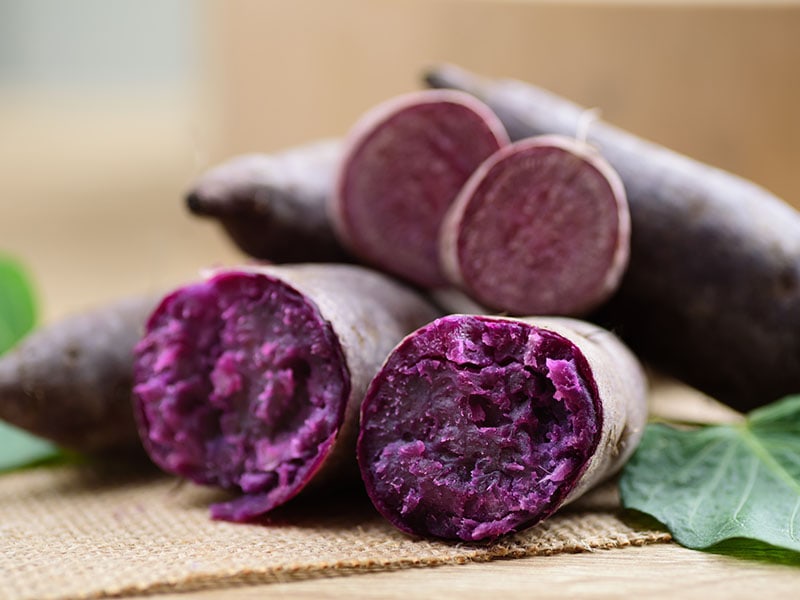 3. Ulluco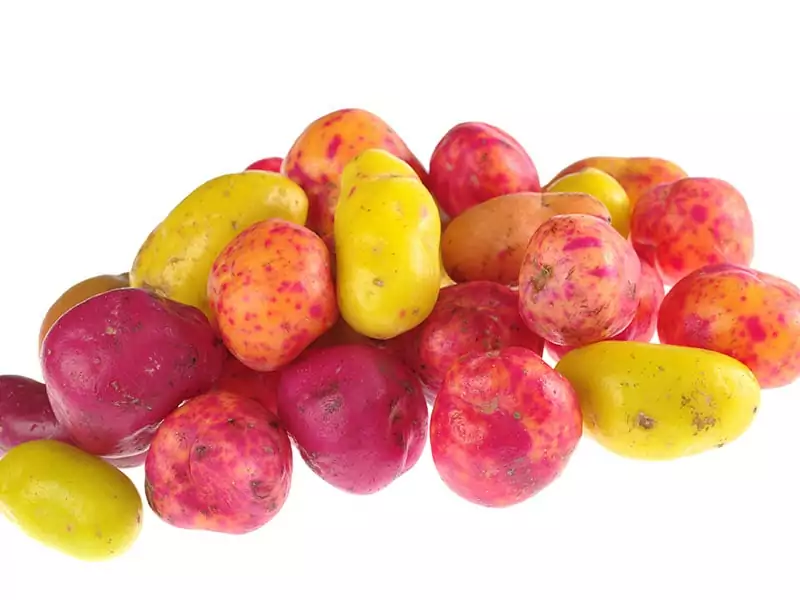 Ullucus tuberosus is native to the Andean region and is a critical root crop besides mashua, potato, and oca in South America. It has been called by various names such as papa lisa, chugua, olluco, ruba, or melloco, depending on different areas.
Ulluco tubers are available in numerous colors, including yellow, purple, red, white, green, and orange. The tuber flesh is often white or bright yellow. Its texture is something between beet and potato.
4. Udon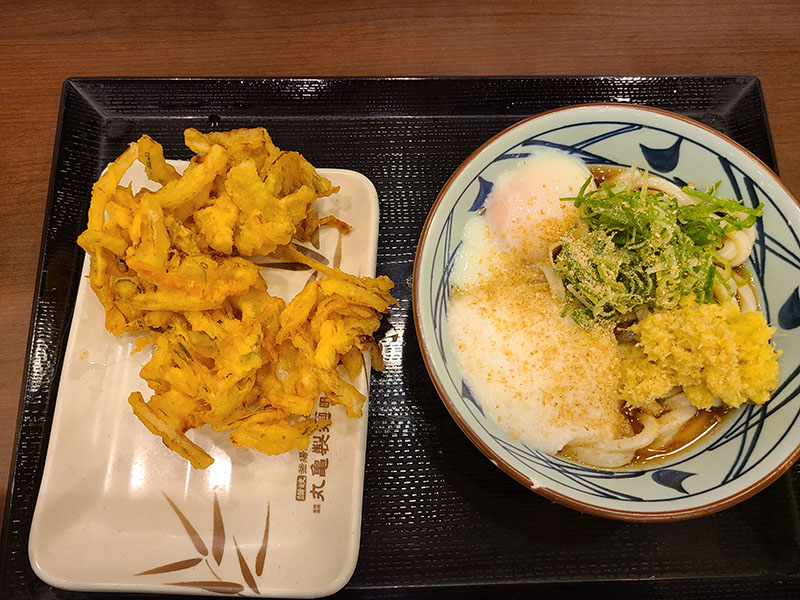 Together with ramen, soba, and yakisoba, udon is commonly used in Japanese cuisine, described as a thick and chewy noodle made from wheat flour. It is often served with other ingredients such as shrimps, fried tofu, mirin, soy sauce, and mochi cakes to enhance the dish's flavor.
You can enjoy udon as the main course or as a side dish of sushi to compliment your meal. The most basic and traditional Japanese udon is Kake-udon. Kake means "pour," just pour broth into the noodles and don't add anything else.
At best, sprinkle some scallion on top for more color. This broth is usually made from soy sauce, mirin (a Japanese condiment, like a sweet cooking wine), and dashi.
5. Ulava Charu
This hot steaming soup is made from horse gram and is a traditional dish of the Telugu-speaking community. People often enjoy ulava charu with fresh cream, rice, or butter in the winter.
Its robust and earthy flavor makes you feel full and nourishing after the meal. This dish is also full of protein necessary to recover your energy and heat, especially during cold days.
There might be some flavor boosters you could add to your soup, such as fenugreek, mustard seeds, and cumin.
6. Ugali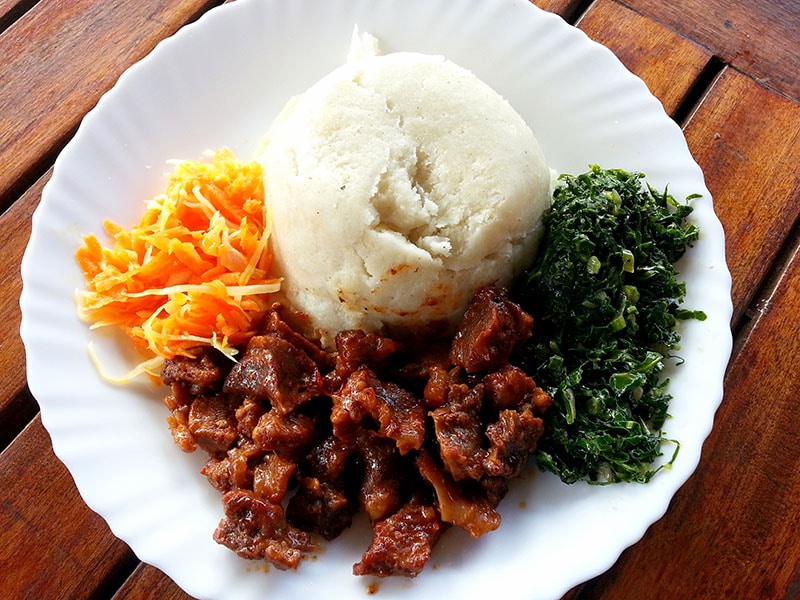 Ugali is a thick cornmeal porridge from Africa. The dish is well-known in Kenya, Nigeria, Rwanda, and many more.
It's also known as ngima, phutu, obusuma, mieliepap, obuchima, umutsima, isitshwala, kimnyet, nshima, gima, sadza, kuon, gauli, and ubugali. It's quick and easy to cook and goes well with meats and vegetables.
Ugali is described as a starchy, soft, and filling dish using corn or maze as the main ingredient. Traditional ugali doesn't contain salt, but you can add a pinch of it if you prefer to taste your ugali this way.
7. Ugli Fruit
Ugli fruit belongs to the lemon family and is favored by many health-conscious people because of its high vitamin C content. It's believed to be a cross between an orange tangerine and a grapefruit.
This citrus fruit also has another name which is Jamaican tangelo. It was first found in Jamaica about 80 years ago.
8. Ukrainian Garlic Buns
Ukrainian garlic buns or pampushky is a small and delightful yeasted bun from Ukraine. These authentic Ukrainian dishes come in both savory and sweet options. You can enjoy them with your favorite soup, especially with iconic Ukrainian borsch.
The dough is simply made with salt, oil, milk, butter, flour, eggs, sugar, and yeast. Typically, people often use jam and fresh fruits as a filling for a sweet version. For savory buns, garlic sauce is added to enhance the overall taste of the dish.
9. Umami Burger
If you love burgers, there are many chances that you have heard about Umami Burger – a gourmet burger chain in the US. "Umami" is a Japanese word that refers to the satisfying taste of meat.
Umami Burger is a special hamburger created by Adam Fleischman, who developed a cooking way to maximize an umami flavor. It has opened many restaurants all over the US states and in Japan.
10. Umbrella Fruit
Umbrella fruit (June plum) is widely grown in many different countries, mainly in tropical regions, especially in Southeast Asia.
Umbrella fruit is green on the outside. Its flesh is light green when young and turns yellow-green, yellow, or pale yellow when ripe. When you open it, you will see that each umbrella fruit has a succulent pulp with many veins extending into the fruit's flesh.
The taste of umbrella fruit is usually sour, and the size ranges from 3 to 8cm depending on the variety and time of harvest. Usually, when the umbrella fruit is young, it is hard, crunchy, and sour, but it has a sweeter and softer taste when it is ripe.
11. Umbricelli Pasta
Umbricelli pasta is originated in the Umbria region of Italy and is considered quite similar to spaghetti but seems to be thicker and shorter.
The dough to make this pasta doesn't contain eggs, only water and wheat flour; therefore, it might be a bit challenging to knead. This pasta is often hand-rolled.
Umbricelli pasta goes well with thick and creamy sauce or tomato sauce.
12. Unpasteurized Cheese
Unpasteurized cheese is used to describe cheese that is made from unpasteurized milk. It's likely to be soft when tasting and can be one of the following cheeses: feta, Brie, blue cheese, Camembert, Mexican queso fresco or queso blanco, and goat cheese.
Many believe that unpasteurized milk makes cheese taste more delicious because this type of milk doesn't involve any heating process that might destroy the milk's aroma.
According to US law, raw cheese needs to be aged at least 60 days before it's sold in the market.
13. Unagi
Unagi is a Japanese word for a Japanese dish made from the freshwater eel. Have you ever tasted this special dish? Can you describe the taste of eel? In reality, it's pretty expensive and has become one of the most great-tasting and nutritious foods in Japanese cuisine.
Unagi has a smooth, savory taste that is served with rice or sushi. Eel is usually cut into square pieces and marinated with the typical sauces of each restaurant. Japanese people often enjoy this dish on hot days.
14. Urchin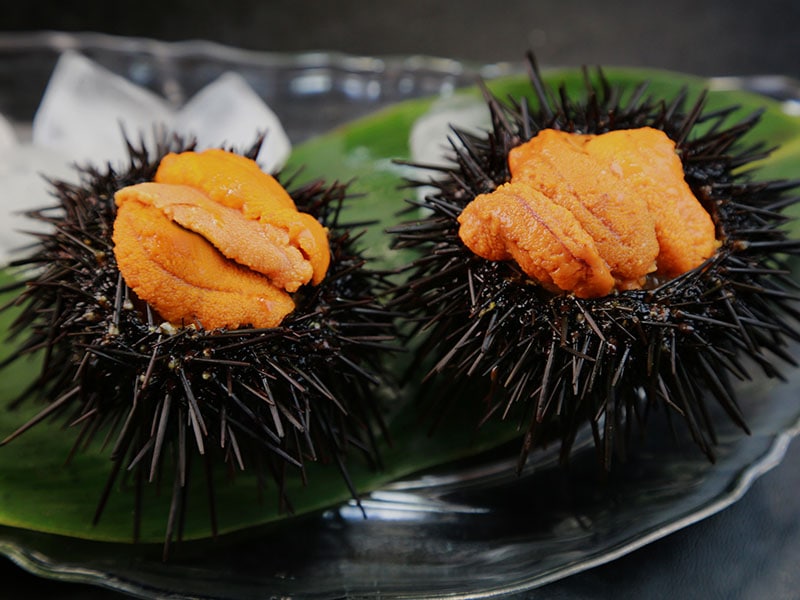 There are more than 900 species of sea urchins; only a few are used as food. Urchin is famous in Italy and the Mediterranean, Korea, Chile, and Japan.
As you might not know, there are various types of urchins on the seabed, and some of them are edible.
Sea urchins are small, round, and spiny. This ocean creature tastes somewhat like oysters and clam and combines well with sandwiches, sushi, and pasta.
15. Upma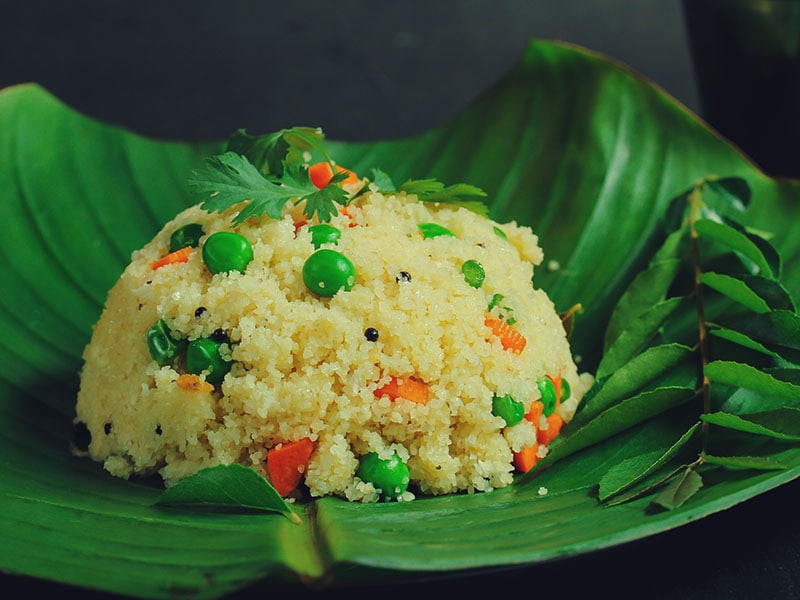 If you visit India, you might be introduced to upma – a must-try Indian breakfast made mainly from coarse ground rice, semolina, or wheat. It takes you less than 20 minutes to prepare.
This dish is more prevalent in Southern India, especially in Telugu, Karnataka, Maharashtrian, and Tamil food cultures. Upma is favored because of its filling and nutritional properties.
Upma also includes spices, curry leaves, cumin, lentils, nuts, onions, green chilies, ginger, and mustard. It's up to you to choose the ingredients you would like to add to your food.
16. U-Boot
A U-boot is a beer mixed with vodka and is common in several countries such as Germany, Serbia, Flanders, North Macedonia, and Poland. It's made by dropping a shot of vodka into a glass of beer.
U-boot means submarine in German. This drink is named so because the shot of vodka will first sink to the bottom and then slowly rise as you drink. If your alcohol tolerance is not good, be careful when trying this drink.
Are you curious about how to make a u-boot at home? Check it out below:
17. Upside-Down Cake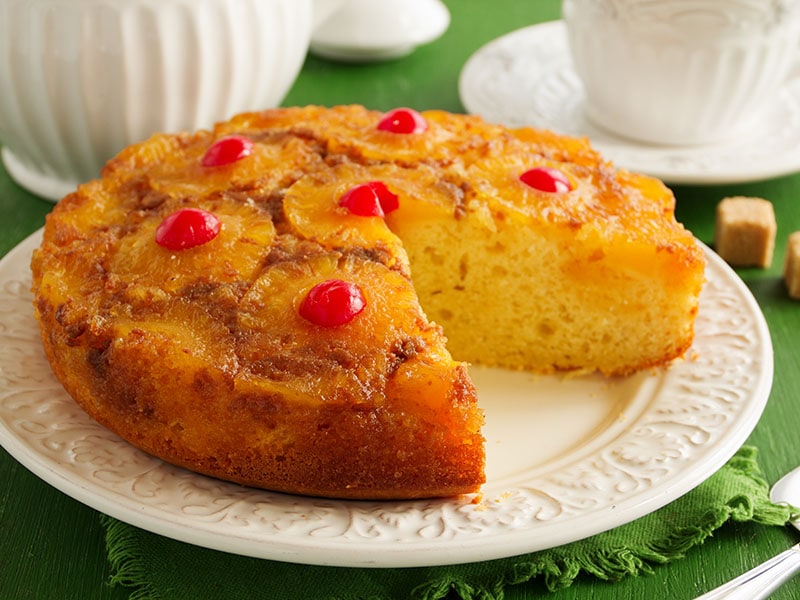 The "Upside-Down" reveals how the cake is made, meaning it is made in reverse of a regular cake: toppings such as sliced fruit (peaches, apples, pineapples, and kiwis), butter, and sugar are placed at the bottom of the cake pan.
Then pour the batter on top to fill the mold. After baking, the cake will be served by turning it upside down. This unique cake is loved by all ages and is perfect for all occasions.
There are many versions of upside-down cake in the world of eye-catching Southern desserts. So if you are a cake lover, it would be a huge miss if you have not tried one of them.
18. Ukrainian Cabbage Rolls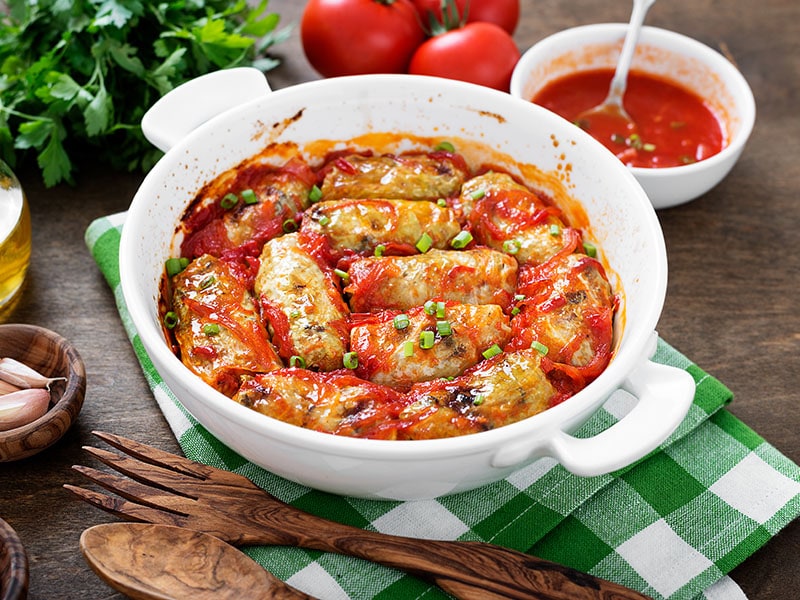 A Ukrainian cabbage roll is a simple yet delicious dish consisting of steamed cabbage leaves wrapped around some kind of filling, usually chopped onion, uncooked white rice, or minced pork.
To separate cabbage leaves successfully, you might need to freeze the whole cabbage head for several hours, then let it thaw in one hour before processing the next step.
Apart from Ukraine, cabbage rolls also appear in the culinary culture of Finland, Sweden, and many other countries worldwide. The combination of cabbage and meat along with spices and tomato sauce makes you feel satisfied when eating.
19. Urfa Biber
Urfa pepper flakes or urfa biber refers to dried Turkish chili pepper, which tastes sweet with a hint of smoke and dried fruits. Although it appears less spicy than many other types of pepper, it provides more lasting heat.
Urfa biber is collected when reaching dark maroon, and after being processed, it might have a deep purple to a dark, purplish-black.
20. Ume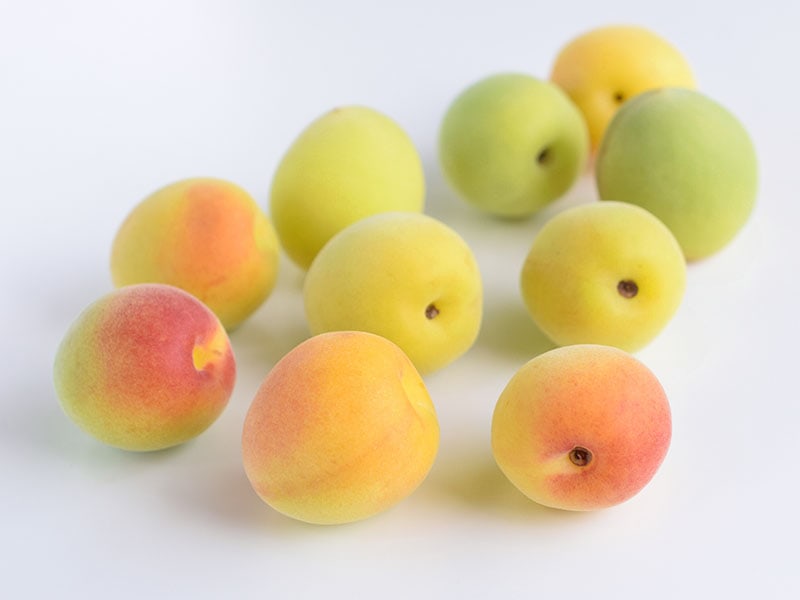 You might have heard about it with various names such as plum blossom, Japanese plum, Japanese apricot, or Chinese plum. This fruit is quite popular in Chinese, Vietnamese, Japanese and Korean.
In Japan, ume is the main ingredient to make umeboshi (pickled plum) known for its sour and salty flavor.
21. Uszka
Uszka is a native dish of Poland which is considered as a version of Asian dumplings. Uszka in Polish means little ears, and its name implies how it looks.
These small dumplings are easy and quick to prepare. They are filled with savory ingredients, usually chopped wild forest mushrooms and minced meat of your choice.
Uszka can be served simply with butter, borscht, and herbs.
22. Utah Scones
People love Utah-style scones a lot, and they often enjoy them on the weekend and at get-together parties.
This golden-fried, puffy and sweet treat is simple to make and served according to your liking. It goes well with chocolate, butter, and many other fruits.
Let's discover the recipe of Utah scones by watching the following video:
23. Uno Pizzeria & Grill
Uno Pizzeria & Grillis is a well-known chain of restaurants. Its signature dish is Chicago-style deep-dish pizza which contains more cheese than you expect. Therefore, this dish is dear to cheese lovers.
Uno Pizzeria & Grillis opened its first restaurant in 1943 by Ike Sewell and now belongs to Uno Restaurant Holdings Corporation.
24. Ugni Fruit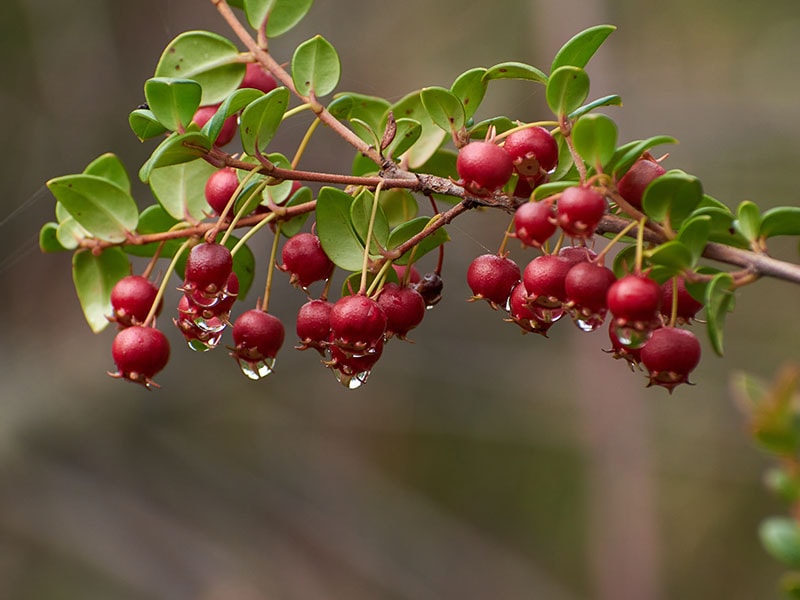 Ugni Molinae fruit, commonly known as Chilean guava, strawberry myrtle, and New Zealand cranberry, originated in Chile and southern Argentina and has grown widely in New Zealand.
This Chilean-originated fruit tastes fantastic and can mimic the flavor of cotton candy. As you might not know, strawberry flavoring found in some commercial confectionary products is made from ugni fruits.
It's used in desserts and to make Murtado, a famous Chilean liqueur.
25. Umbu Fruit
Another citrus fruit that starts with U from Northeast Brazil is umbu fruit. It features an acidic and sour taste and perfect for making jam, fruit cheese, and ice cream.
Umbu is one of the few plants that can thrive in harsh, dry semi-desert land and plays an essential role in the diet of local people.
26. Umbuzada
Umbuzada or Imbuzada is a drink often found in Bahia, Brazil. To make this beverage, you need umbu, milk, and sugar. First, you cook umbus in the boiling water for about 5 minutes until they get soft, add milk, sugar and stir well. Sieve the mixture to remove all seeds. You can enjoy umbuzada hot or cold.
27. Ukha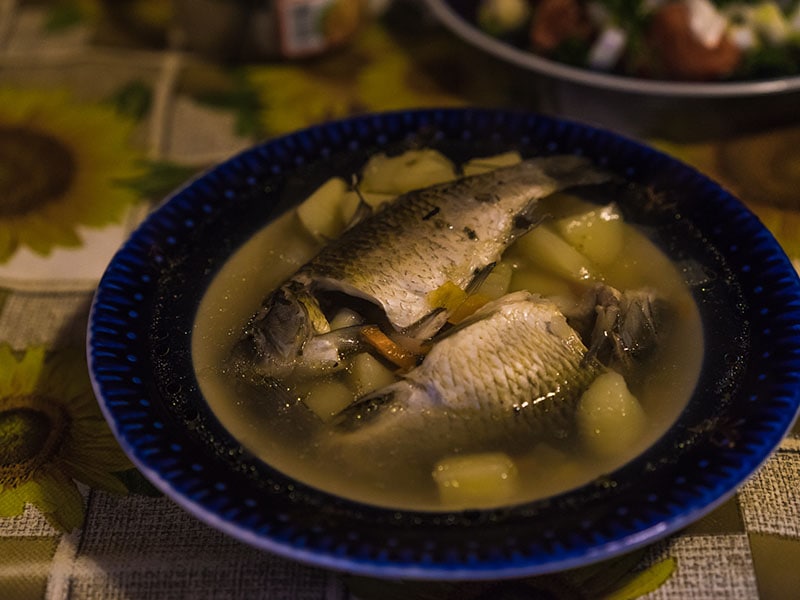 If you're fond of warm soup, you might like ukha – a soup made of spices, root vegetables, seasonings, and whole fish. Ukha is the iconic Russian treat when it comes to soup to serve in the cold winter.
You can choose your favorite fish to make this soup, like wels catfish, trout, cod, northern pike, salmon, sturgeon, and more. To enhance the flavor and nutrition of this fish soup, you can add potatoes and carrots.
28. Utap
Utap or otap is an oval-shaped pastry that originated in the Philippines, especially in Cebu, consisting of coconut, flour, sugar, and shortening. It's pretty challenging to make this cookie because it requires a complicated baking process.
29. Urad Dal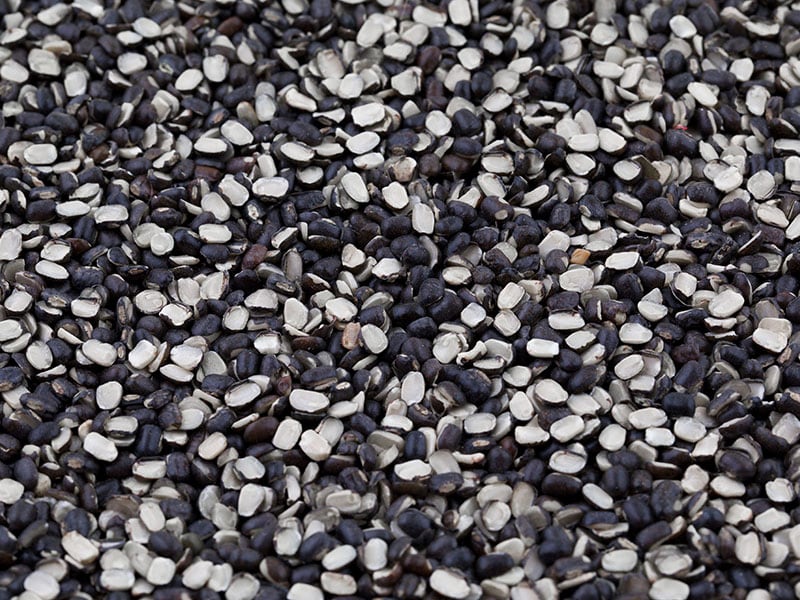 Indian black bean, also known as Black ural dal, is one of India's famous and widely grown beans. The inside of the bean is opaque white. Cooked black ural dal is soft, fragrant, and nutritious.
This type of bean is used a lot in Indian cuisines, such as black sticky rice, bean paste, bean milk, dosa, papadum, vada, and more.
30. Undhiyu
Undhiyu refers to a curry made with various vegetables like tuvar dana, surti, papdi, waal dana potatoes, carrot, green garlic, and ratalu. It's full of spice and is often served with puri or roti.
Interesting Foods To Taste And Describe
It is exciting to learn about new and exotic cuisines around the world. If possible, find them around your places or remember to try them whenever you have a chance to visit a new country. And how about sharing your knowledge with others so that they can expand their culinary horizons?
This word list has provided me with a lot of recipes that I would like to cook in my kitchen. It's also a good conversation starter when talking with my foreign friends.