How many foods that start with U can you name immediately? 10 or 20? Are you curious to know about the foods that begin with the letter U all over the world? Honestly, if you search extensively enough, you can find a lot.
The food can come from Asia, Europe, America, Africa, and more. Some dishes you may have tasted during your travels, but some dishes are only popular with locals.
Let's see how many foods and dishes you know and which one you like best from the list I mentioned below.
Unveiling The U-niverse of Foods Beginning U
Fruits And Vegetables
Ube
Ulluco
Ugli Fruit
Ugni Molinae
Umbu Fruit
Urad Dal
Ume
Umibudo
Ububese Fruit
Urava Fruit
Usuma Fruit
Upland Cress
Baked Goods And Desserts
U-No Bar
Ukrainian Garlic Buns (Pampushky)
Upside-Down Cake
Utah Scones
Utap
Unni Appam
Ube Halaya
Ube Cake
Ul Boov
Unsweetened Chocolate
Ugly Pie
Uunijuusto
Beverages
Umbuzada
U-Boot
Up To Date
Ulmer Maibock
Savory Dishes And Main Courses
Udon
Ulava Charu
Ugali
Ukha (Russian Fish Soup)
Undhiyu
Unagi
Umami Burger
Uszka
Upma
Ukrainian Cabbage Rolls/Ukrainian Holubtsi
Uttapam
Ukrainian Borscht (Beet Soup)
Usal
Usban
Utica Greens
Urap
Dairy And Cheese Products
Unpasteurized Cheese
Urgelia Cheese
Urda Cheese
Spices And Condiments
Urfa Biber
Ugba (Africa Oil Bean Seed)
Other
Umbricelli Pasta
Urchin
Umeboshi
Fruits And Vegetables
1. Ube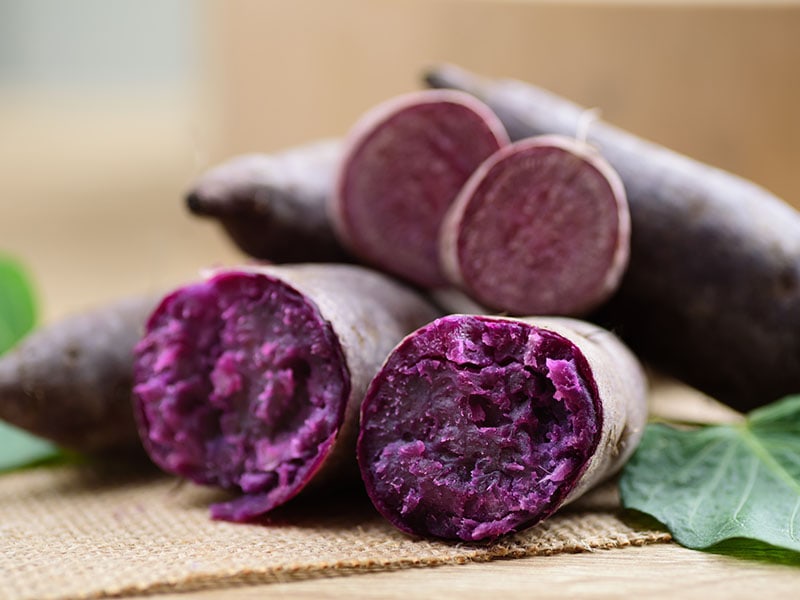 When it comes to vegetable and fruit names that begin with U, the first thing that comes to my mind is ube. Ube is a purple yam and is usually found in the Philippines. It has become more and more popular in the kitchen today due to its catchy color and yummy taste.
Ube means "tuber" in Tagalog or "greater yam," a purple yam with a vibrant hue bestowed by anthocyanins. These yams are also packed with health benefits. Now ube is cultivated in many countries and sold in various forms, such as ube powder, ube jam, or ube extract.
It's loaded with vitamin C, potassium, phytonutrients, fiber, and more (1). The texture is moister than your average sweet potato, but it isn't quite as sugary. However, compared to taro, ube has a sweeter profile.
This root vegetable features a sweet flavor and a hint of vanilla and a nutty aroma. People use ube to make sweet treats and desserts such as ice creams, cookies, donuts, brownies, pancakes, milk tea, and chips.
2. Ulluco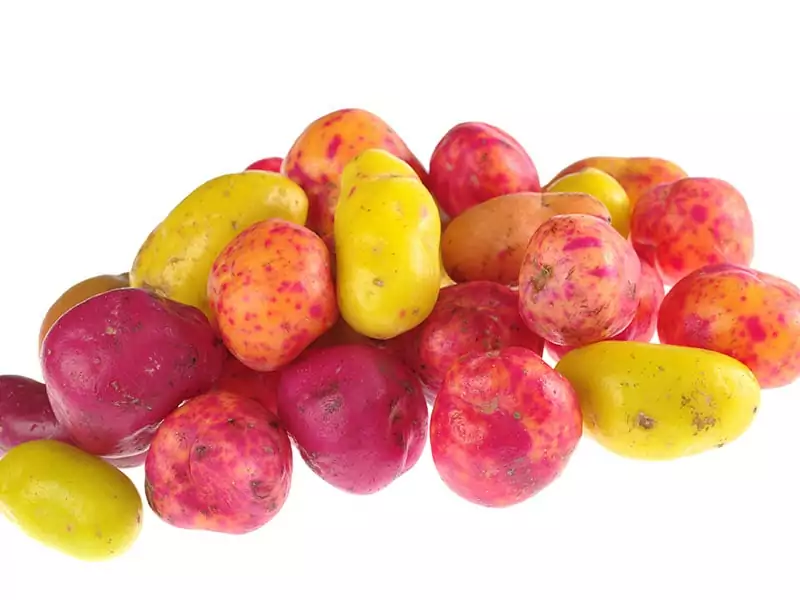 Ullucus tuberosus is also known by a host of local names like papa lisa, chugua, olluco, ruba, or melloco. It is a root vegetable hailing from the Andean region. Standing tall beside mashua, potato, and oca, it's a key root crop in South America.
With a color palette rivaling a rainbow, ulluco tubers come in yellow, purple, red, white, green, and orange. On the inside, you'll find white or vibrant yellow flesh. In terms of flavor, ulluco tastes like a cross between beetroot and potato.
3. Ugli Fruit
Ugli fruit belongs to the lemon family and is favored by many health-conscious people because of its high vitamin C content. It's believed to be a cross between a grapefruit and an orange or tangerine.
First discovered in the 1910s, the ugli fruit is a unique species in the citrus family. Despite its name, it holds a lovely blend of sweet, tangy, and slightly bitter flavors. Plus, it's not one to overwhelm you with seeds, making it a rather user-friendly fruit.
This citrus fruit also has another name which is Jamaican tangelo. It was first found in Jamaica about 80 years ago.
4. Ugni Molinae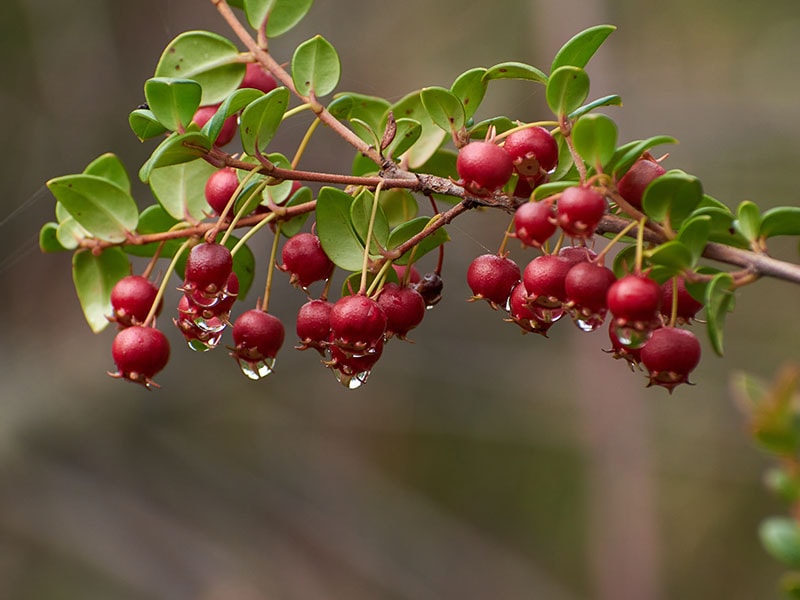 Ugni molinae, commonly known as Chilean guava berry, strawberry myrtle, and New Zealand cranberry, originated in Chile and southern Argentina and has grown widely in Australia and New Zealand.
Blueberry-sized and oval-shaped, Ugni molinae has more than one trick up its sleeve. On the one hand, it's a charming ornamental plant, lending beauty to any space. On the other, its fruits offer a blend of sweet and tart flavors, like a delightful mashup of guavas and strawberries.
This Chilean-originated fruit tastes fantastic and can mimic the flavor of cotton candy. As you might not know, strawberry flavoring found in some commercial confectionary products is made from ugni fruits.
It's used in desserts and to make Murtado, a famous Chilean liqueur. You might even recognize its taste in commercial strawberry flavorings.
5. Umbu Fruit
Known as the Brazilian plum, the Umbu fruit, or Spondias tuberosa, is quite the thirst quencher. It balances a sweet-acidic flavor that blends in its succulent flesh. The name 'umbu' translates to "tree that gives drink".
Umbu is one of the few plants that can thrive in harsh, dry semi-desert land and plays an essential role in the diet of local people. It is perfect for making jam, fruit cheese, and ice cream.
6. Urad Dal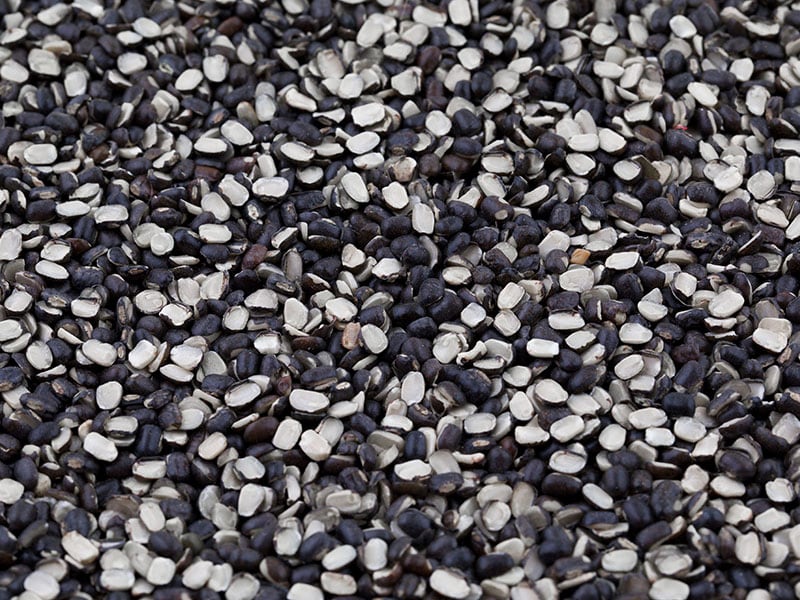 Indian black bean, also known as Black urad dal or black lentils, is one of India's famous and widely grown beans. The inside of the bean is opaque white. Cooked black urad dal is soft, fragrant, and nutritious.
The beans are a friendly companion for diabetic patients with low glycemic index and high dietary fiber content (2). These black gram splits are also a culinary star in dishes like idli and dal makhani.
This type of bean is used a lot in Indian cuisines, such as black sticky rice, bean paste, bean milk, dosa, papadum, vada, and more.
7. Ume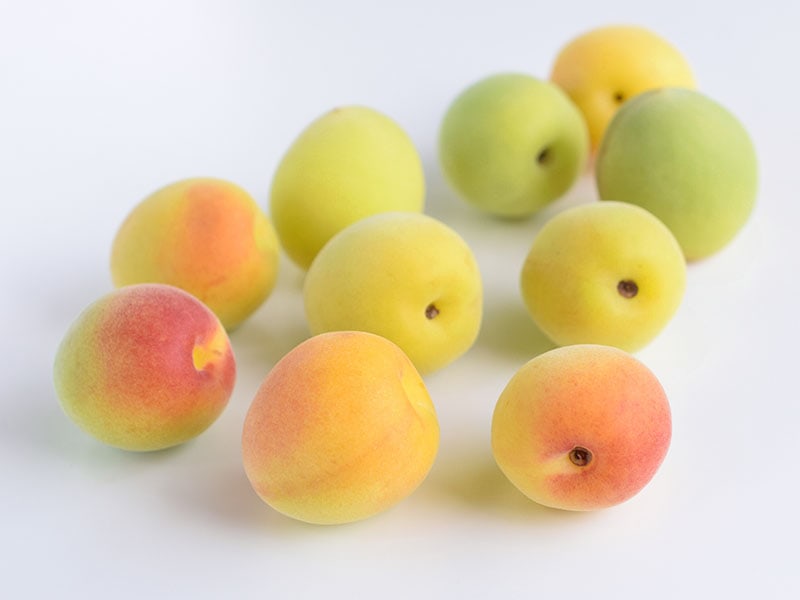 You might have heard about it with various names such as plum blossom, Japanese plum, Japanese apricot, or Chinese plum. This fruit is quite popular in China, Vietnam, Japan, and Korea.
Ume, the Asian plum (Prunus mume), is a fruit that's actually more akin to the apricot. This Japanese treasure blooms from mid-winter to spring, usually considered a harbinger of good luck and fortune. Japanese folks see it as a talisman warding off evil and having a special place in temple gardens.
The fruit is all about tartness with a fruity aroma, making it a perfect base for umeboshi – those salted plums you've probably tasted if you're into Japanese cuisine. Traditional umeboshi packs a sour and salty punch, and it's so well-preserved that it can last up to a year at room temperature.
In Japan, ume is the main ingredient to make umeboshi (pickled plum) known for its sour and salty flavor. It's also a versatile companion to rice, meat, and veggies, too.
8. Umibudo
Umibudo, or "sea grapes," are quite unique for their resemblance to clusters of green grapes. They aren't your everyday fruit, but a type of edible seaweed known scientifically as Caulerpa lentillifera and affectionately as green caviar.
These intriguing sea treasures are typically harvested from shallow coastal waters of East Asia, Southeast Asia, and Oceania. The tiny bubbles on the stems give a satisfying crunch and burst open to release a salty, umami-rich flavor.
Despite the salty taste, they're low in calories and mineral-rich. Preparing umibudo is simple: just soak it in cold water, let it expand, and rinse off the salt. It's perfect for raw consumption, added to sushi, mixed into a salad, or paired with rice.
9. Ububese Fruit
Ububese fruits, or Annona senegalensis senegalensis as scientists prefer, are quite intriguing. Often referred to as wild soursop or African custard apple, they have a mild, white pulp that brings pineapples to mind.
Besides the tasty fruit, the plant also offers edible leaves that are pretty good raw. And let's not forget about the essential oil contained in the fruit, adding another layer to its intriguing charm.
10. Urava Fruit
The urava fruit, or as some might call it, the mangrove apple, is a versatile berry with a tangy punch and nutty hints alongside its green-yellow skin. Found in mangroves from Africa to Australia, even the leaves of this plant are edible along with the fruit's pulps.
This fruit can fill in many roles, from being a raw snack to jazzing up salads, salted fish, hot pots, and soups for extra flavor. In Sri Lanka, it's the star in a popular milkshake, blended with coconut milk for a tropical twist.
11. Usuma Fruit
A wonderful plant of the South American rainforests is the usuma, or Bunchosia argentea. It's an olive-sized, oblong fruit with hairy, color-changing skin – going from dark green to red as it ripens. In addition, the plant is an ideal ornamental tree in Florida.
Now, here's the kicker – it tastes like peanut butter! Yep, the peanut butter fruit is its other moniker. It can effortlessly slide into smoothies, milkshakes, and jams, adding a distinct, delectable twist.
12. Upland Cress
Upland cress is a superfood with multiple aliases like land cress and early wintercress. The vegetable has a bold taste, more pungent and peppery than its cousin, watercress. Its leaves and stems are tender, not quite as crunchy, yet they're packed with vitamins and antioxidants.
Cultivating the upland cress is a breeze, requiring less water than a watercress, making it a gardener's friend. Raw or cooked, it's versatile in the kitchen, adding a peppery punch to salads, pasta dishes, and sandwiches, or sauteed, boiled, or steamed for a nutritious side.
Baked Goods And Desserts
13. U-No Bar
Are you a fan of the 3 Musketeers bar? Then, you might just be a future fan of the U-No bar, another sweet sensation from Annabelle Candy Company. Spotting them is simple, with the silver wrappers shining in the candy aisle.
Furthermore, the U-No bar's truffle-esque core and chewy texture, alongside the white chocolate with ground almonds, is something your taste buds would certainly appreciate.
14. Ukrainian Garlic Buns (Pampushky)
So, have you heard about Pampushky (Ukrainian garlic buns/ dinner rolls)? They're these cute little yeasted buns from the heart of Ukraine's cuisine. Baked to perfection, they come in two mouthwatering versions, either sweet or savory.
You can indulge in a sweet one filled with fruity jams or opt for a savory bun, unfilled yet flavored with garlic sauce.
All you need for the dough is some salt, oil, milk, butter, flour, eggs, sugar, and yeast. These buns are perfect for dipping in soup, but it's best to make a combo with iconic Ukrainian borsch, as they're a match made in culinary heaven.
15. Upside-Down Cake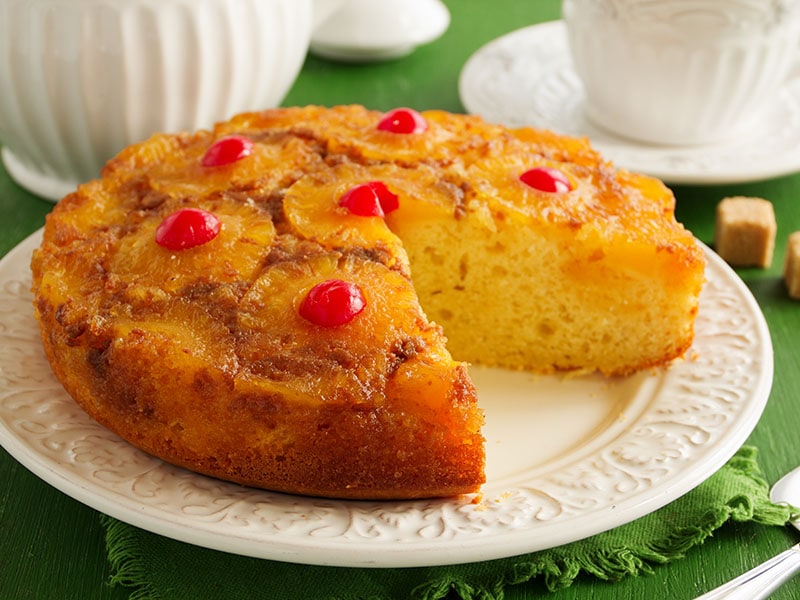 The "Upside-Down" reveals how the cake is made, meaning it is made in the reverse of a regular cake: toppings such as sliced fruit (peaches, apples, pineapples, and kiwis), butter, and sugar are placed at the bottom of the cake pan.
Then pour the batter on top to fill the mold. After baking, the cake will be served by turning it upside down. This cake is loved by all ages and is perfect for all occasions.
To keep the shape perfect, you need to allow it to cool in the pan first. Then, just before you're ready to serve, warm the bottom of the pan a bit. Then, a gentle nudge with a spatula around the edges helps loosen the cake, ready for the grand flip to reveal its beautiful, cherry-studded top.
The cake has a rich history, stretching back centuries when cast-iron skillets were the go-to baking tool. Thanks to a high-profile recipe contest, this delicious cake became a sensation in the 1920s. The cake easily impresses consumers with its sweet maraschino cherries adorning the top.
There are many versions of upside-down cake in the world of eye-catching Southern desserts. So if you are a cake lover, it would be a huge miss if you have not tried one of them.
16. Utah Scones
Utah scones, or fried scones as they're sometimes called, are a delightful treat made from deep-fried dough. They're a sweet delight made using basic ingredients like baking powder, flour, salt, and eggs before adding butter, honey, or maple syrup.
With an inspiration probably coming from Native American fry bread, these scones gained popularity among Mormons who possibly attained the recipe from the Navajo tribe.
Here's a fun fact: these scones are nothing like English ones that are baked and served with tea or clotted cream.
Let's discover the recipe of Utah scones by watching the following video:
17. Utap
Utap or otap is an oval-shaped pastry that originated in the Cebu island of the Philippines, especially in Cebu, consisting of coconut, flour, sugar, and shortening. It's pretty challenging to make this cookie because it requires a complicated baking process.
People often make these treats from simple ingredients like flour, coconut, sugar, and shortening; it's a crispy baked delight ideal for dessert or as a snack. It resembles the French heart-shaped palmier cookies but has its own twist.
18. Unni Appam
Unni Appam, hailing from Kerala, India, means "small rice cake", a treat that packs a punch of flavor. This deep-fried fritter combines rice flour, bananas, roasted coconuts, ghee, jaggery, and spices into a ball-shaped wonder.
You might even come across modern recipes swapping out bananas for jackfruit preserves, adding a different twist to the rich, sweet taste. These gluten-free, vegan treats, although high in carbs, are an integral part of Onam Sadhya, a grand vegetarian feast during festivals.
19. Ube Halaya
Also known as halayang ube or ube jam, ube halaya is a lovely Filipino treat. With its sweet, nutty flavor and vanilla scent, this creamy delicacy is a jam made from purple yam.
Commonly, locals will boil and mash the yam with condensed milk and optional additions like butter and grated coconut. It's a treat on its own, but it also plays a role in many Filipino desserts, including Halo-halo and ice cream. You can also smear it on toast or cakes to enjoy.
20. Ube Cake
Ube cake is a vibrant Filipino sponge cake, drawing its enticing purple color and sweet, rich flavor from ube halaya. This dessert combines essential baking ingredients like flour, eggs, baking powder, milk, and cream of tartar to create a lush base.
To top it off, locals employ shredded coconut or ube-flavored whipped cream, maybe even cream cheese. If ube halaya is unavailable, ube powder or extract are fine substitutes to retain that signature purple allure.
21. Ul Boov
Ul Boov, or "shoe sole cake," is a deep-fried Mongolian biscuit prepared painstakingly for special occasions, including the Mongolian Lunar New Year, Tsagaan Sar. These brittle cookies boast an oval shape and elaborate designs, closely mimicking a shoe sole.
The preparation involves stacking the biscuits in odd-numbered layers to form a towering biscuit cake. The layers are interlaced with aaruul, a sour-curdled milk product. Plus, the dish is a common item in many wedding events in Mongolia.
22. Unsweetened Chocolate
Unsweetened chocolate, more popular to the public as bitter or baking chocolate, is the rawest form of chocolate there is. Stripped to basics, it consists of only cocoa solids and cocoa butter. Given the absence of sweeteners, milk solids, and vanilla, it's a healthier alternative to regular chocolate.
However, you should expect a very bitter, astringent flavor. Also, its cousin, dark chocolate, shares similar ingredients but offers a richer flavor due to a higher proportion of cocoa solids.
Despite the bold taste, it's a favorite in baking, lending a rich chocolatey essence with just a small amount. This chocolate variant is full of antioxidants and minerals like zinc, iron, and copper (3).
23. Ugly Pie
Though it has an unusual name, ugly pie is far from unattractive in terms of flavor. This mouthwatering dessert draws inspiration from a 2014 children's book penned by Lisa Wheeler. Usually, a pre-made crust can be your time-saving secret weapon to whip up this pie.
Granny Smith apples mingle with dried fruits, nuts, molasses, and a splash of lemon juice are the needed elements for the filling. Once baked, this pie may not win a beauty pageant, but one bite into its flavorful heart, and you'll agree – its deliciousness personified!
24. Uunijuusto
Discover Finnish cuisine with Uunijuusto, a dessert that's more like a baked delight than cheese, despite its literal translation as "oven cheese". Its secret lies in baking cow's colostrum, the nutrient-rich first milk of a cow calf, sprinkled with salt.
However, you can also use regular cow milk, eggs, and butter as alternatives. It's best to enjoy Uunijuusto with berries, jam, or the luscious Finnish berry juice dessert, mehukeitto.
Beverages
25. Umbuzada
Umbuzada or Imbuzada is a drink often found in Bahia, Brazil. To make this beverage, you need umbu, milk, and sugar. First, you cook umbus in boiling water for about 5 minutes until they get soft, add milk, sugar and stir well. Sieve the mixture to remove all seeds. You can enjoy umbuzada hot or cold.
Typically, this Brazilian creation spins its magic from the humble umbu or Brazilian plums. The beverage beautifully balances the acidic notes from the fruit.
26. U-Boot
U-boot is a potent refreshment celebrated in Germany, Belgium, North Macedonia, and Poland. This beer cocktail, a spirited blend of lager or Korn with a shot of vodka, borrows its name from the German word for submarines.
The drink, in a playful nod to the drink's namesake, initially sinks a vodka shot to the glass's bottom before serving. But be warned, this cocktail carries a punch and could make you feel tipsy if your alcohol tolerance isn't high.
Are you curious about how to make a U-boot at home? Check it out below:
27. Up To Date
The Up To Date cocktail, first mixed in 1916, brings a savory Manhattan cocktail-like taste to your palate.
It consists of dry sherry, Angostura bitters, Grand Marnier, and rye whiskey. If a sweeter note is more your style, sweet sherry is an excellent alternative to dry.
28. Ulmer Maibock
Ulmer Maibock is a German strong beer from Bavaria. The alcohol is a malty lager with a captivating light amber to a deep golden hue. Known as Heller Bock or Bright Bock, this brew brings a lesser hop flavor and bitterness than its Bock cousins.
Crafted from noble Bavarian hop varieties, Ulmer Maibock has an alcohol content of around 6 – 8%. Commonly, the term "Mai", meaning May in German, nods to the beer's fittingness for spring festivals.
Savory Dishes And Main Courses
29. Udon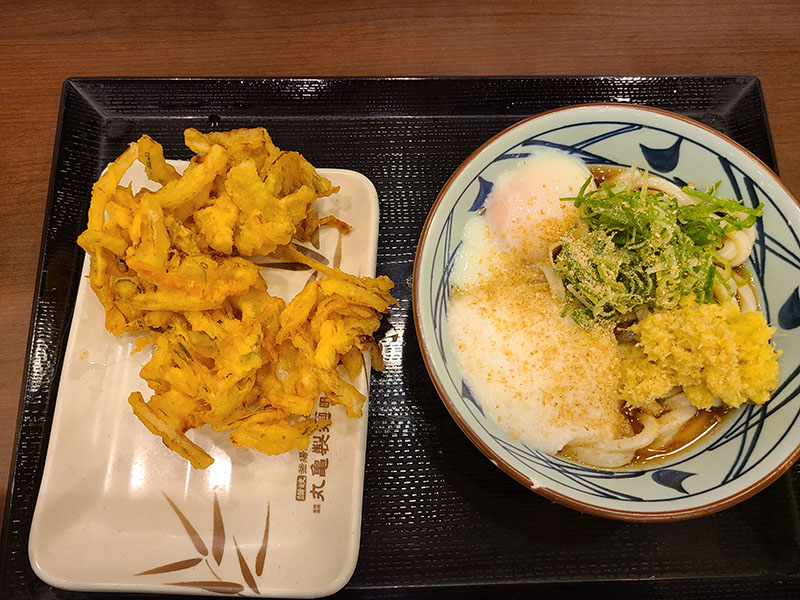 Together with ramen, soba, and yakisoba, udon is commonly used in Japanese cuisine, described as a thick and chewy noodle made from wheat flour. It is often served with other ingredients such as shrimp, fried tofu, mirin, soy sauce, and mochi cakes to enhance the dish's flavor.
With its neutral flavor profile, udon is a versatile noodle in the culinary world. Unlike ramen, traditionally steeped in rich soup, udon thrives in a light broth. To amp up the flavor, tempura, deep-fried tofu, or fish cakes are popular add-ons you can try.
You can enjoy udon as the main course or as a side dish of sushi to compliment your meal. The most basic and traditional Japanese udon is Kake-udon. Kake means "pour," just pour broth into the noodles and don't add anything else.
At best, sprinkle some scallion on top for more color. This broth is usually made from soy sauce, mirin (a Japanese condiment, like a sweet cooking wine), and dashi.
30. Ulava Charu
This hot steaming soup is made from horse gram and is a traditional Telugu-speaking community dish. People often enjoy ulava charu with fresh cream, rice, or butter in the winter.
As a rich lentil soup from South India, Ulava Charu includes horse gram (Macrotyloma uniflorum), tamarind, and a kick of spices such as red chilis, mustard, and cumin. This comforting dish, highly revered in Andhra Pradesh, is often paired with rice or ghee.
Its robust and earthy flavor makes you feel full after the meal. This dish is also full of protein necessary to recover your energy and heat, especially during cold days.
You can add some flavor boosters to your soup, such as fenugreek, mustard seeds, and cumin. Perfect for those chilly winter months, Ulava Charu warms you from the inside out.
31. Ugali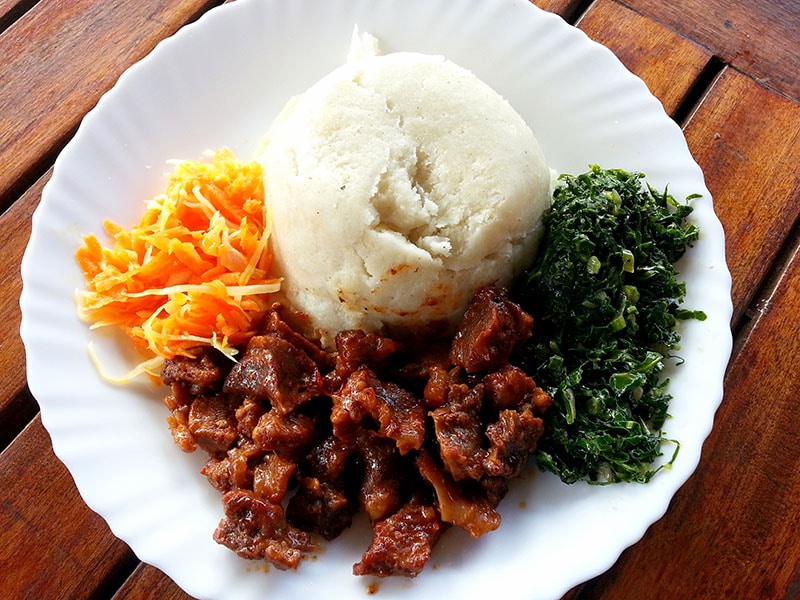 Ugali is a thick cornmeal porridge from Africa. The dish is well-known in Kenya, Nigeria, Rwanda, and many more.
It's also known as ngima, nshima, gauli, or ubugali. The dish is quick and easy to cook to pair well with meats and vegetables.
Ugali is described as a starchy, soft, and filling dish using corn or maize as the main ingredient. Traditional ugali doesn't contain salt, but you can add a pinch of it if you prefer to taste your ugali this way.
Dating back to the 19th century, Ugali has a place of honor in Africa's culinary scene. Think of it as a cousin to grits or polenta with a mild popcorn-like flavor. Simple and quick to digest, Ugali is your go-to for a speedy energy boost. Remember, the best way to relish Ugali is to eat it with your hands.
32. Ukha (Russian Fish Soup)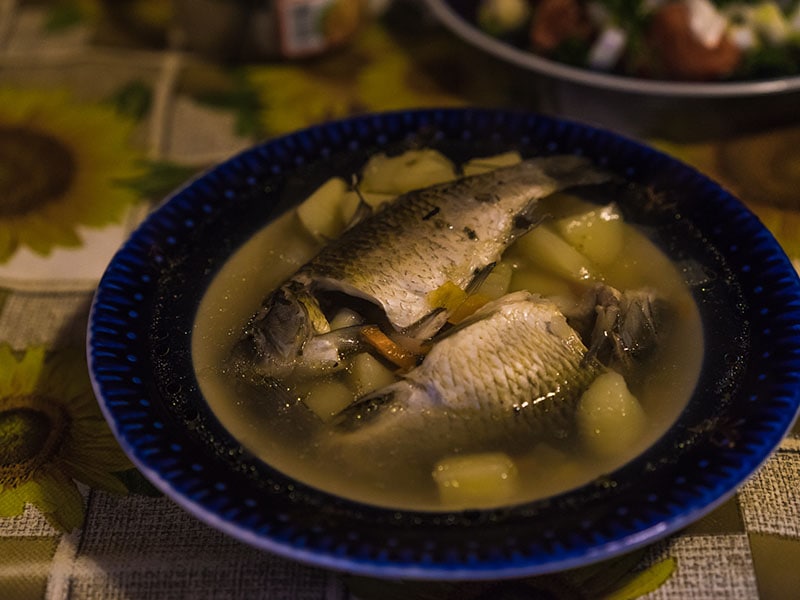 If you're fond of warm soup, you might like ukha – a soup made of spices, root vegetables, seasonings, and whole fish. Pronounced as ooh-hwha, Ukha is the iconic Russian treat when it comes to soup to serve in the cold winter.
The dish's first recipe takes you back to the 17th century. Its concept is basically a savory broth simmered with fish bones, heads, and tails.
You can choose your favorite fish to make this soup, like Wels catfish, trout, cod, northern pike, salmon, sturgeon, and more. Plus, you can add potatoes and carrots to enhance the flavor and nutrition of this fish soup.
33. Undhiyu
Undhiyu is a beloved Gujarati curry that is a favorite winter item bursting with seasonal vegetables. Purple yams, sweet potatoes, bananas, surti papdi (flat green beans), and tuvar (pigeon peas) are what you get in one delicious pot.
The flavorful curry also requires Muthiya, fried dumplings made from gram flour and bitter methi leaves for a delightful texture. Also, the mix of coconut, chili pepper, and spices gives the curry blend a remarkable flavor profile.
The preparation itself is fascinating. Typically, the pot, or matla, is filled with all these ingredients before being placed underground beneath a fiery blaze. Surprisingly, this upside-down method, or "Undhu", gives Undhiyu its name.
Once cooked, people add a drizzle of sesame oil and chutney to complete the dish. During Uttarayan, the Hindu festival marking the winter solstice, it's almost impossible not to find Undhiyu on the menu.
34. Unagi
Unagi is a Japanese word for a Japanese dish made from freshwater eel. Have you ever tasted this special dish? Can you describe the taste of eel? In reality, it's pretty expensive and has become one of the most great-tasting and nutritious foods in Japanese cuisine.
Unagi has a smooth, savory taste that is served with rice or sushi. Eel is usually cut into square pieces and marinated with the typical sauces of each restaurant. Japanese people often enjoy this dish on hot days.
It is a nutritional delicacy packed with protein, calcium, potassium, and more (4). If you're mindful of your health, you'd be glad that Unagi could help lower cholesterol levels, alleviate blood pressure, and even reduce the risk of diabetes and arthritis.
35. Umami Burger
If you love burgers, there are many chances that you have heard about Umami Burger – a gourmet burger chain in the US. "Umami" is a Japanese word that refers to the satisfying taste of meat.
Umami Burger is a special hamburger created by Adam Fleischman, who developed a cooking way to maximize an umami flavor. It has opened many restaurants all over the US states and in Japan.
36. Uszka
Uszka is a native dish of Poland and is considered a version of Asian dumplings. Uszka in Polish means little ears, and its name implies how it looks.
These small dumplings are easy and quick to prepare. They are filled with savory ingredients, usually chopped wild forest mushrooms and minced meat of your choice.
Fondly known as vushka, the dish is a traditional Polish dish. Hailing from Poland, this food has been an essential part of the heart of their Christmas Eve celebrations. Commonly, locals savor Uszka as a quick snack or as a soup garnish. Also, Uszka can be served simply with butter, borscht, and herbs.
37. Upma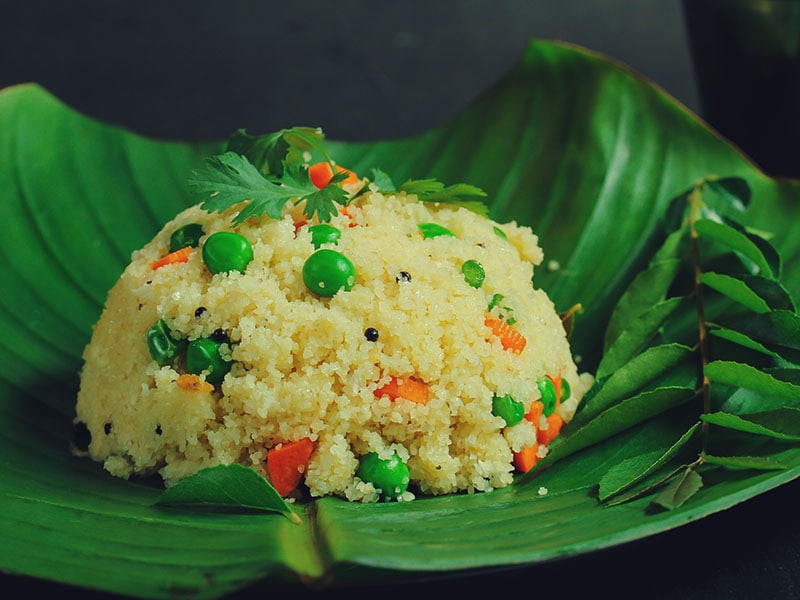 If you visit India, you might be introduced to Upma – a must-try Indian breakfast made mainly from coarse ground rice, semolina, or wheat. It takes you less than 20 minutes to prepare.
This dish is more prevalent in Southern India, especially in Telugu, Karnataka, Maharashtrian, and Tamil food cultures. Upma is favored because of its filling and nutritional properties.
Upma also includes spices, curry leaves, cumin, lentils, nuts, onions, green chilies, ginger, and mustard. It's up to you to choose the ingredients you would like to add to your food.
38. Ukrainian Cabbage Rolls/Ukrainian Holubtsi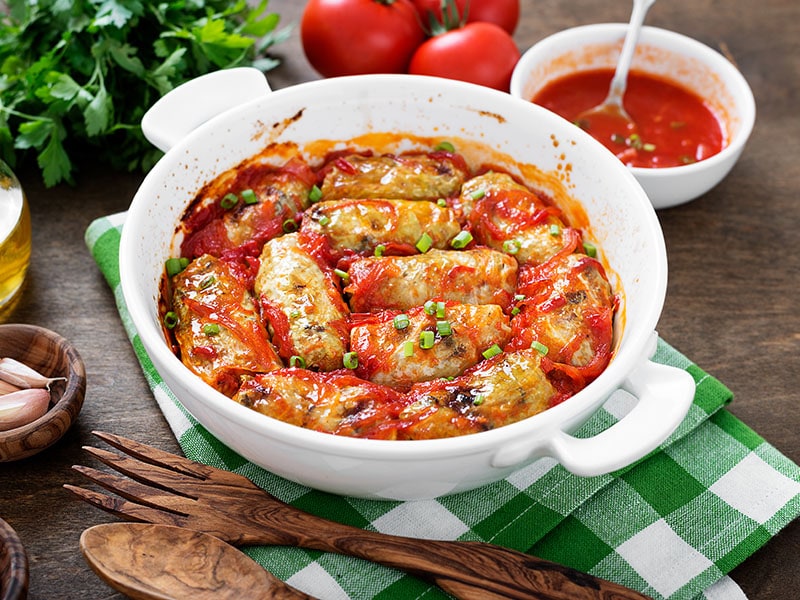 A Ukrainian cabbage roll is a simple yet delicious dish consisting of steamed cabbage leaves wrapped around some kind of filling, usually chopped onion, uncooked white rice, or minced pork.
To separate cabbage leaves successfully, you might need to freeze the whole cabbage head for several hours, then let it thaw for one hour before processing the next step.
Apart from Ukraine, cabbage rolls also appear in the culinary culture of Finland, Sweden, and many other countries worldwide. The combination of cabbage, meat, spices, and tomato sauce makes you feel satisfied when eating.
39. Uttapam
The South Indian specialty, known as Uttapam, Uthapam, or Uttapam, is a thicker version of the familiar dosa, sprinkled with tasty toppings like tomatoes, onions, chilies, capsicum, and coriander.
Originating from Tamil Nadu, its name means "poured appam", deriving from the words "appam", "utthia" or "uttria". Usually, there are two popular spins on the traditional Uttapam, the vegetable Uttapam and oats Uttapam.
This dish is a breakfast classic and a smart pick for health-conscious folks, thanks to its low fat and calorie content. Indians typically accompany it with sambar or chutney for a flavorful start to the day!
40. Ukrainian Borscht (Beet Soup)
Ukrainian Borscht is a traditional, hearty soup of Ukraine. It's full of beef and vegetables while the beets give it a distinctive deep red hue. Borscht is both sweet and sour, perfect for serving warm with a dollop of sour cream and a sprinkle of fresh dill for garnish.
On the side, you can expect home-cured pork belly slices, pampushky, rye bread, and fresh garlic to be common additions to the soup. In the heat of summer, chilled borscht can be just the thing. The soup is a vitamin C and nitrate-rich powerhouse (5), thanks to beets, cabbage, and potatoes.
41. Usal
Also known as Oosal, Usal is an iconic dish from Maharashtra that centers around various legumes like peas, lentils, black-eyed beans, or hyacinth beans (matki or moong).
Typically, the beans are soaked, sprouted in around one to two days, and then stir-fried with onions, spices, and curry leaves, resulting in a thick gravy that warms the heart.
42. Usban
With another name Osben, Usban is a traditional North African sausage savored in countries like Algeria, Tunisia, and Libya.
This delicacy comes with a stuffed mixture of rice, herbs, lamb, chopped liver, and heart. It's a dish that usually appears on special occasions, served alongside the main meal of rice or couscous.
43. Utica Greens
Utica Greens are a flavorful Italian American delicacy rooted in 1980s Utica restaurants. With inspiration from traditional Sicilian and Southern Italian cuisine, it features escarole sautéed with garlic and olive oil.
This dish, now savored in various US cities, is a feast for the palate while providing numerous nutrients to the body. It's packed with vitamins A and K, fiber, antioxidants, and an abundance of minerals and nutrients.
44. Urap
Let's welcome Urap, a vibrant salad dish from the kitchens of Indonesian and Javanese cuisine. The green mix takes center stage with its unique blend of steamed vegetables with a spiced grated coconut dressing.
Interestingly, Balinese cuisine labels it as Urab sayur. Furthermore, the dish can star in vegetarian meals, as a standalone salad, or complement other dishes.
Dairy And Cheese Products
45. Unpasteurized Cheese
Unpasteurized cheese is used to describe cheese made from unpasteurized milk. It's likely to be soft when tasting and can be one of the following cheeses: feta, Brie, blue cheese, Camembert, Mexican queso fresco or queso blanco, and goat cheese.
Many believe that unpasteurized milk makes cheese tender and more flavorful because this type of milk doesn't involve any heating process that might destroy the milk's aroma. In addition, the cheese sometimes has a higher nutritional value than pasteurized one (6).
According to US law, raw cheese needs to be aged at least 60 days before it's sold in the market.
46. Urgelia Cheese
Urgelia cheese, also known as Urgell or queso de l'Alt Urgell, comes from the Catalan Pyrenees mountain region in northern Spain. It's a product of pasteurized cow's milk cured for a brief period, resulting in a semi-soft, creamy texture.
This wheel-shaped cheese carries an infused yeast brine rind before initiating the curing process. The cheese also carries a hint of saltiness alongside its aromatic qualities and robust flavor.
Whether it's fresh in salads or simply as a snack, Urgelia cheese adds a dash of Spanish charm to your meals with its semi-soft texture. And to top it off, I suggest pairing this cheese with dry burgundies, fruity wines, or even a good beer to enhance its flavor profile.
47. Urda Cheese
Urdă cheese is a unique, whey-based delight crafted in Southeast Europe, with notable roots in Serbia's southern region of Pirot. The cheese mainly consists of sheep, goat, or cow milk whey, similar to the process of making ricotta.
Its smooth, crumbly texture and fresh aroma offer a mild, sweet, and milky flavor. Notably protein-rich, Urdă packs 18g of protein per 100g cheese!
In Romania, Urdă is a favorite addition to desserts like clătită and plăcintă. Whether you fancy cheesecakes or prefer the cheese in salads, Urdă can meet all your demands.
Spices And Condiments
48. Urfa Biber
Urfa pepper flakes or urfa biber refers to dried Turkish chili pepper, which tastes sweet with a hint of smoke and dried fruits. Although it appears less spicy than many other types of pepper, it provides more lasting heat.
Hailing from Turkey's Urfa region; urfa biber is a distinctive spice. It comes with a combination of sweet, smoky, and salty flavors. Urfa biber is collected when reaching dark maroon, and after being processed, it might have a deep purple to a dark, purplish-black.
This versatile spice is a secret weapon for soups and stews, elevating their taste profiles. You may even sprinkle it over raw or roasted veggies.
49. Ugba (Africa Oil Bean Seed)
From the African oil bean tree comes Ugba, a nutritional gem known by various names: Pentaclethra macrophylla, Ukpaka, Ukana, or Apara.
Typically, the fermentation process gives Ugba a unique profile, rich in oleic, fatty oil, essential amino acids, and beyond (7). You might find it enriching soups or salads, replacing meat, or even enjoyed as a casual snack in certain regions of Nigeria.
Other
50. Umbricelli Pasta
Umbricelli pasta is originated in the Umbria region of Italy and is considered quite similar to spaghetti but seems to be thicker and shorter.
The dough to make this pasta doesn't contain eggs, only water and wheat flour; therefore, it might be a bit challenging to knead. This pasta is often hand-rolled.
Umbricelli pasta goes well with thick and creamy sauce or tomato sauce.
51. Urchin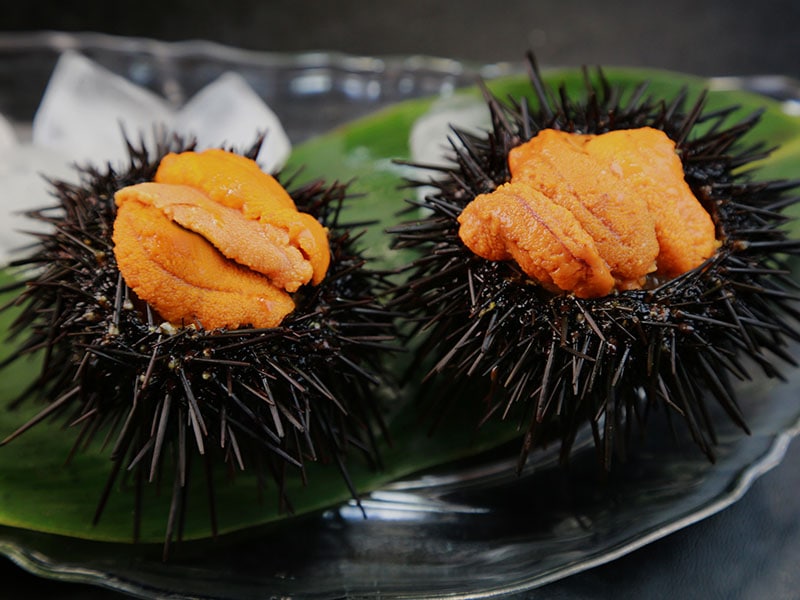 Many food connoisseurs from all over the world love the sweet, umami, and satisfying flavor of urchin. There are more than 900 species of sea urchins; only a few are used as food. Urchin is famous in Italy and the Mediterranean, Korea, Chile, and Japan.
Most of the time, Uni is the only edible part of an urchin that usually appears at sushi bars in Japan. Like salmon roe, its creamy texture embraces a deep umami flavor paired with a fresh, salty hint.
As you might not know, there are various types of urchins on the seabed, and some of them are edible. Sea urchins are small, round, and spiny. This ocean creature tastes somewhat like oysters and clams and combines well with sandwiches, sushi, and pasta.
Uni is also a perfect companion to rice! But it doesn't stop at the taste, as Uni is also a great source of dietary fiber, protein, zinc, beta-carotene, and vitamins A and C (8).
52. Umeboshi
Umeboshi, translated as "salted Japanese plums," "Japanese plums," or "preserved plums," are a popular kind of tsukemono, or pickled dish, in Japan. These round fruits can be either smooth or wrinkled, offering an intense experience of salty and sour flavors thanks to their high citric acid content.
However, there is also sweet umeboshi, made with honey! These pickled gems are usually the go-to side dish for rice or a tasty filling for rice balls (onigiri) at breakfast or lunch. In some cases, you might find them seasoned or boiled.
Commonly, June is the traditional umeboshi-making month, coinciding with the ripening of the ume fruit. Plus, umeboshi is rich in polyphenols, a substance known to aid digestion, prevent nausea, and even combat hangovers!
FAQs
Interesting Foods To Taste And Describe
It's been quite a journey discovering foods that start with "U," hasn't it? There's a whole world of "U" foods out there. I hope you've enjoyed this delicious adventure as much as I have.
Have you tried any of these foods? Whatever your food story is, I can't wait to hear it. Make sure to share this post so people around you may uncover some fascinating U-starting delights.