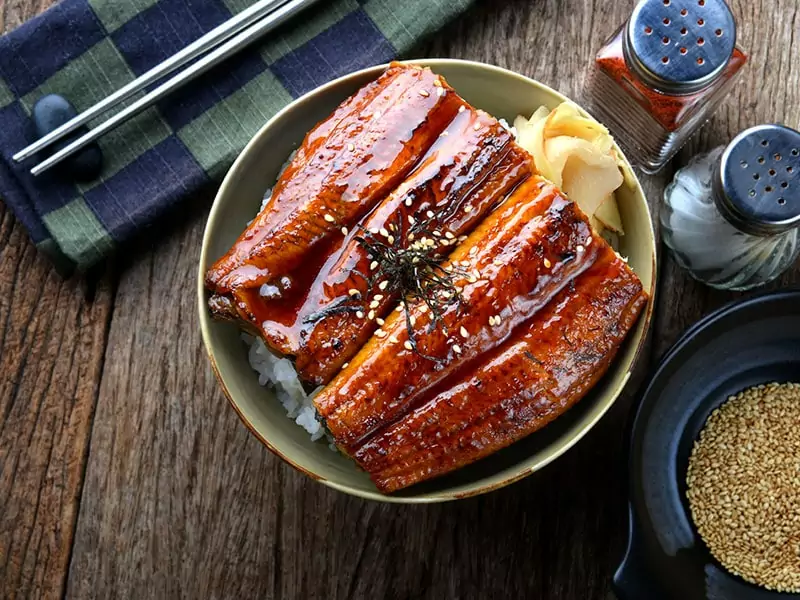 "Eww" might be the reaction of some people, but what does eel really taste like? Is it that bad, compared to other foods also with "E" as a starter? In fact, it is the opposite. They might have an unsightly appearance, yet their meat would blow your mind.
Still, consider trying them? After reading this post, you might change your mind because what I am about to discover here will answer your question about what eel tastes like, and I guarantee it is more delightful than you expected.
Let's begin with some interesting facts that you might (or might not) know yet about eel.
Try Something New Like Eel. Why Not?
The taste of eels, generally, is nice. However, there is a slight difference in taste between two kinds of eel: Freshwater eel and Saltwater eel.
What similarities and contrasts are will be discussed in detail later. Let's scroll down to discover.
Eel Is A Fish Or Snake?
Before digging into the taste of eels, I will explore some general information about them in 2 following parts.
Fun Fact About Eel That You Should Not Ignore
First of all, although they have the look of a poisonous snake, they are absolutely a kind of fish. Indeed, they belong to the ray-finned fish family, and they are edible to humans.
Eels are varying in colors from dark gray or black to colorful patterns on their skins because it depends on the area they grow. Given eel species, mature eels have lengths from 10 cm to 3 m and their weight up to 65 kg.
Eels can live in both saltwater and freshwater. If they live in the ocean, they prefer the shallowest areas, yet some species live in the deep sea. You can spot them among rocks, under sand, or mud.
They possess long and thin bodies, and unlike fish, most of them have no scales. Besides, their special characteristic in swimming is that they can swim backward by using their elongated bodies. Sounds fascinating, right?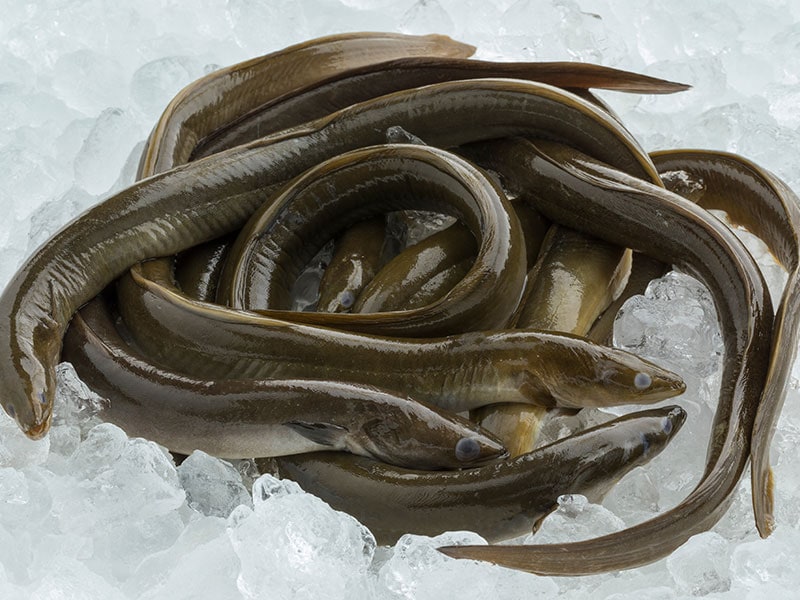 Common Eel Species
Although there are around 400 species of them, only 5 common species that you can find in some specific countries, and those species are:
European Eels: They are considered the heaviest eel living in the ocean, with the size reaching 3 m in length and 110 kg in weight (1).
American Eels: Some characteristics of American eels are different from other eels as they have slender shapes and have a few scales on their bodies.
Japanese Eels: They can also be found in Korea and China. And if you are a real foodaholic, especially sushi, then you might already try them.
Australia Eels: Short-finned eels live in freshwater areas; that's why many Australian farmers start to farm them today.
New Zealand Eels: If the European eel is the heaviest one in saltwater, New Zealand eel is one of the largest species living in freshwater areas.
Taste Of Eels, Yay Or Nay?
Back to the main point of this article, so what does eel taste like? A bland or tangy or strong flavor that you cannot resist? Let's find out.
First, I divide it into two kinds of eels based on their living area to discuss their tastes, which are Freshwater and Saltwater eels.
Freshwater Eel Taste
When mentioning freshwater eel, delicious eel sushi dishes might be the first thing that occurs to your mind. Generally, freshwater eels have a soft to medium-firm texture and taste like the combination of lobster and chicken.
Some people claim eels taste bland, but it is not. It combines the sweetness and soft yet fairly-firm texture, creating the delightfulness of eel meat. Somehow it tastes like raw salmon, squid, or lobster. They also have a high level of oiliness.
Indeed, eels taste very good. When eating freshwater eels, you can feel the rich flavor and a little bit of toughness that reminds you of how lobster feels in your mouth. Also, the fishiness of their white meat is lighter than saltwater eels, so you barely feel the fishy aftertaste.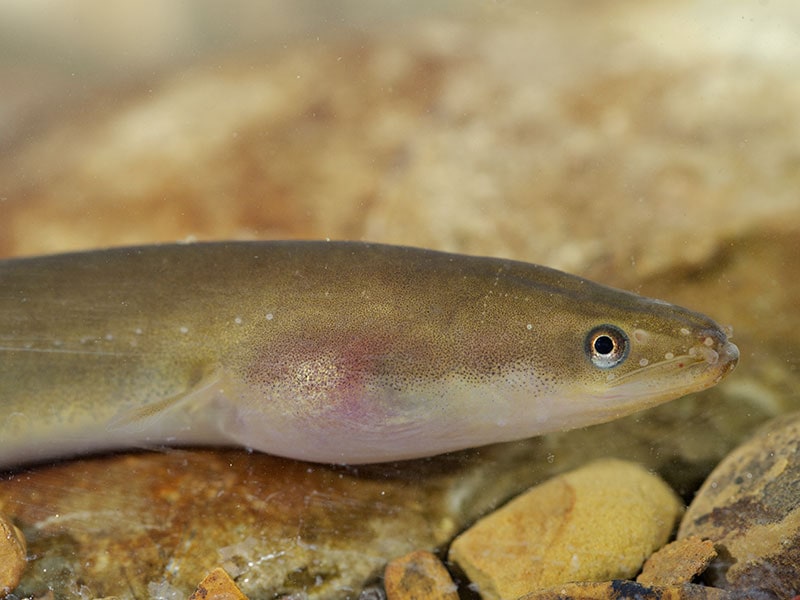 Saltwater Eel Taste
There is no big gap between the tastes of fresh and saltwater eels, yet some flavors are affected as their skins and bodies are quite different from freshwater ones.
They are leaner than freshwater eels and have thicker skins and tougher meat, yet saltwater eel texture is softer than freshwater ones. Its taste is not as rich as the other but still good to enjoy.
They have a blander taste with a slight sweetness compared to freshwater ones. Besides, saltwater eels are not as oily as the other.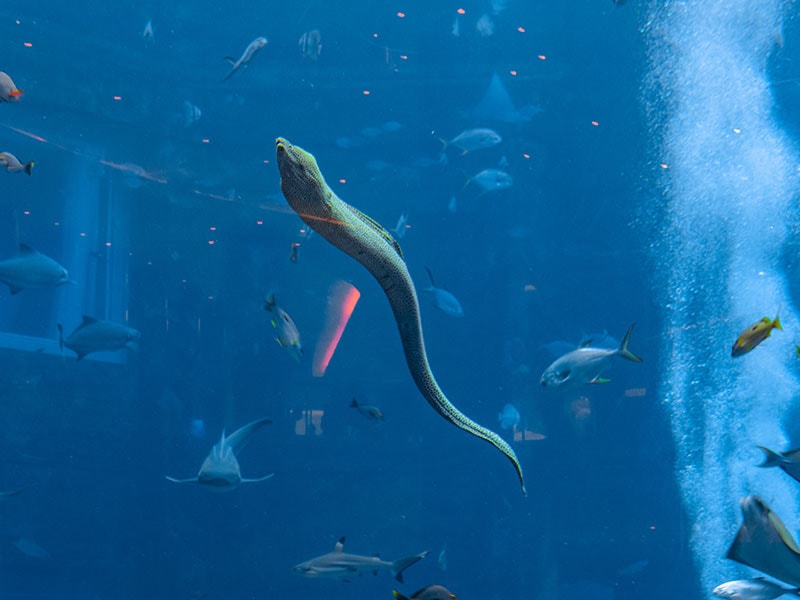 For better comprehension, check the below table for the comparison between freshwater and saltwater eel.
| Aspects | Freshwater Eel | Saltwater Eel |
| --- | --- | --- |
| Texture | Soft to medium-firm | Soft |
| Meat color | White | White |
| Flavor | Delicate | Delicate |
| Oiliness | High levels | Medium levels |
| Fishiness | Lighter than salter eel | Light |
How To Prepare Eel Safely?
If you are a sushi fan, you might question why eel is always served cooked, unlike fish. In fact, the most important thing that you should remember is that eel blood is very dangerous to humans.
Therefore, after you buy eels from the market, you should take note of some following preparation steps that are very helpful for you and your family before consuming them.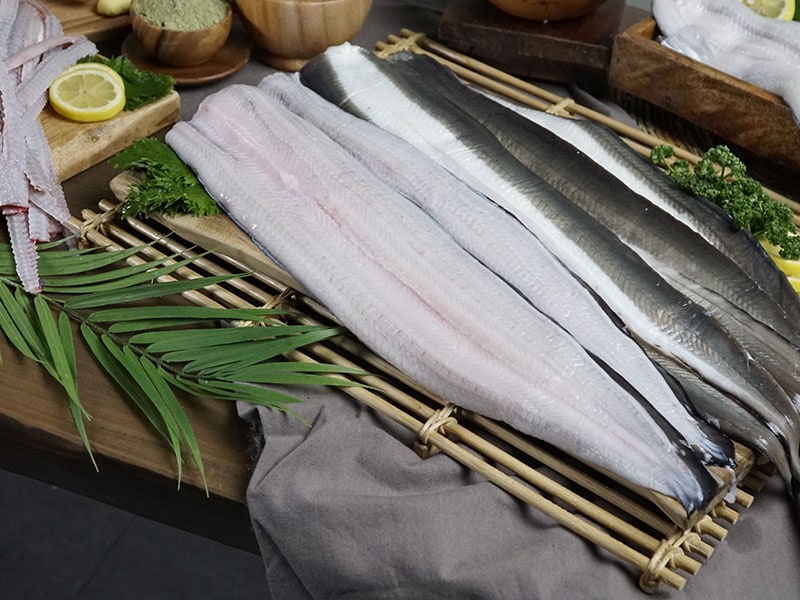 1. Cleaning
Dead eels should be washed thoroughly in water. Leave them in the water for a certain time (at least 10 minutes). Clean their skins, remove all of their scales (if they have). Then, make sure that there are no blood trances left since it is poisonous.
2. Peeling Skins And Cutting
Eel skin is covered by a mucus layer, so it is very slippery. I highly recommend you remove their skins right after they are dead or as soon as you can.
Now, all you have to do is:
Step 1: Use a knife to make a slit behind eel' gills.
Step 2: Wear gloves or use paper towels, avoid using your bare hand, to peel their skin by grasping and pulling it. Pull eel skin gently; otherwise, it will be ripped.
Step 3: Slit the belly around 20mm to the gut and remove the kidney. Check for any blood trances so you can wash it one more time until it is totally clean of blood.
Step 4: Finally, cut them into slices, fillets, or any form, depending on your cooking purpose.
Top Delicacies Made From Eel Around The World
Eel is a good source of food that inspires many chefs to create mind-blowing dishes. In many countries, eel is popular, from normal meals to fine-dining menus. And one of those must be the famous Japanese cuisine with tons of eel recipes, ready to satisfy any eel-lover.
So, let's start this list with some Japanese dishes and other special recipes made from eels around the world.
Sushi can be seen as the most famous food in Japan. Apart from other meats, eels also play a critical role in sushi.
Unagi, which means freshwater eels in Japanese, and Anago is for saltwater eels. Both of them are usually grilled for sushi. They can be served with avocado or cucumber to increase the flavor.
This dish is grilled eel served with steamed rice and glazed with soy sauce and caramel. The main ingredient of unadon is freshwater eels.
The eel in unadon is cut into square or long and thin fillets and dipped in sweetened soy sauce before grilling. Therefore, you can see the orange blended brown color, which could make you crave it from first sight.
Eel will be prepared by cutting (removing head and tail), deboning, and grilling. In the grilling process, eel fillets are also coated with unagi sauce (eel sauce) to create an eye-catching color for the eel.
[
Eel sauce fact:
It is served with meals that relate to eels, you can use it as a dipping sauce to increase the flavor.
However, it is not made from eel as you might assume. Most eel sauce's ingredients are Japanese rice wine, soy sauce, and sugar, so it is also suitable for vegans.]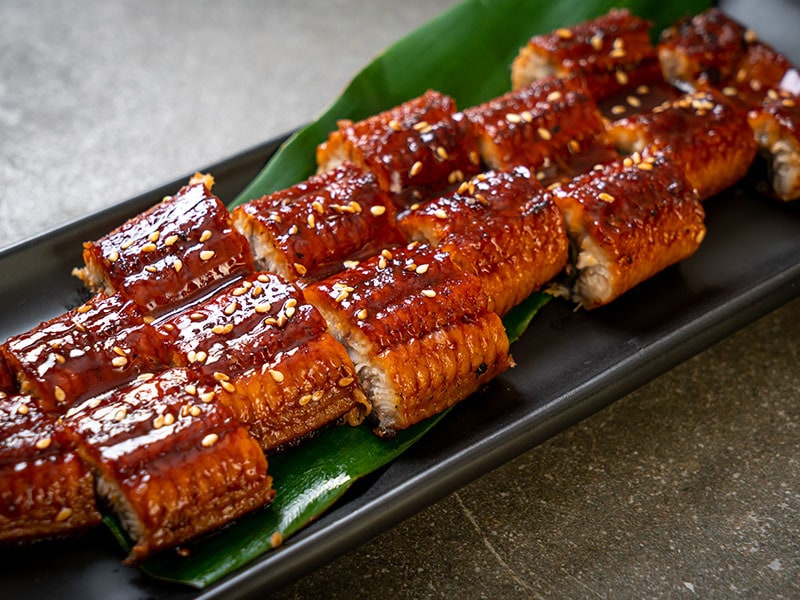 Most of the mentioned dishes are hot-served but do you know in England, they can eat eels in cold jelly form? If you have not heard about it before, let me tell you.
It is a traditional English meal that consists of diced freshwater eels that have been boiled and chilled to form a jelly. Some people say it is not delicious, somewhat hard-to-swallow; others claim jellied eel is a healthy dish, so they do not mind eating it.
Still wonder how jellied eels look like? Just explore how to make a jellied eels dish here.
In Belgium, the boned eels are simmered with various herbs such as basil, parsley, ginger mint, thyme, chives, etc, then seasoned with butter and salt.
Paling in't groen can be eaten cold though it is commonly served hot with bread or chips.
Apart from these top 5 specific cuisines in these countries, smoked eel is also popular in many countries, especially in Australia and Europe. Smoked eel flavor is delicate yet bold. It can be served as a perfect appetizer for your menu.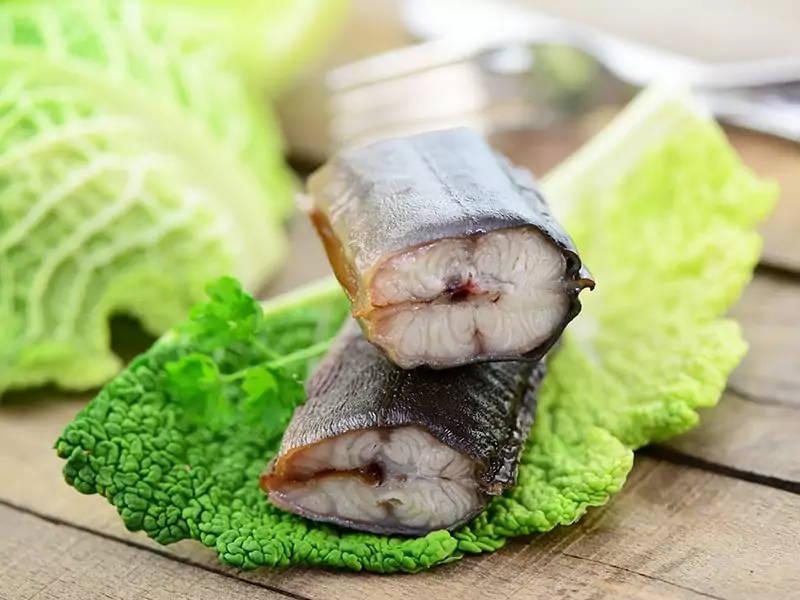 Benefits And Cautions Of Consuming Eel
There are certain reasons that I think everyone should try dishes that are made from eel at least one time. If not, maybe you would change your mind after reading the information below.
What Are The Benefits?
Regarding its benefits, eel is a great nutrition source for human health:
Improve Skin: Eel is rich in nutrients such as calcium, magnesium, potassium, manganese, zinc, and iron. Moreover, it contains vitamin A and omega-3 fatty acids (2) that are beneficial to your skin, and you do not worry about wrinkles.
Strengthen Bone: Phosphorus found in eel can maintain and improve your bones and teeth.
Protect Your Heart: Omega-3 fatty acids and phosphorus can keep your heart healthy and free of cardiovascular problems.
Improve Blood Condition: Omega-3 acid also reduces the potential problems of blood pressure. Besides, the rich amount of iron in eel helps you prevent anemia.
Enhance Digestive System: Vitamin B in eel supports the function of your digestion, helping you have a healthier stomach.
Boost Eye Function: Consuming eel can be a good solution for your vision as eel contain high levels of vitamin A.
What Are The Cautions?
Besides their toxic blood, there are some drawbacks that you should consider before consuming them.
High content of cholesterol: With 257 mg cholesterol per 200 grams (3), eels are not recommended for those who are dealing with high cholesterol problems.
High content of fat: They have high-fat levels in their meats, so if you are attempting to lose weight, eels are not an ideal food for you.
Mercury level: Eel also contains mercury, so it should be alerted for pregnancy, breastfeeding women, and babies.
What Is Your Opinion About The Taste Of Eel?
Obviously, eel offers various benefits for your overall health if you consume them properly. Moreover, it would be an unforgettable dish for anyone because of its bold flavors despite its ugly appearance.
The taste of them also depends on the skills of the chefs. It requires many years of training and practicing to cook them perfectly. Eels can be seen as iconic food in Japan. And given eel nutritions, no doubt the Japanese are recorded as having the longest life expectancy.
So what do you think about the taste of eel? What is your favorite eel dish? Feel free to share your thoughts by leaving your comment here. And don't forget to share this post to spread this useful information about eel for everyone.
Reference
Wikipedia.org. 2021. European Conger – wikipedia. [Online]. Available at: <https://en.wikipedia.org/wiki/European_conger>.
The Nutrition Source. 2021. Omega-3 Fatty Acids: An Essential Contribution. [online] Available at: <https://www.hsph.harvard.edu/nutritionsource/what-should-you-eat/fats-and-cholesterol/types-of-fat/omega-3-fats/>.
Eatthismuch.com. 2021. Eal Nutrition Facts [Online]. Available at: <https://www.eatthismuch.com/food/nutrition/eel,3278/>