Your deep-fried fish will never satisfy your appetite until you find out the best oil to fry fish in. Oil not only affects the texture of your food, but it might also alter its taste. Sometimes, the choice of oil is what decides the dish's quality.
Most people use only one kind of oil for all recipes and methods of cooking. It's high time to break the habit if you want to level up your cooking skills. You will realize that choosing the right oil for specific food and technique will dramatically elevate your dish's flavor.
In this article, I will elaborate on what kind of oil you need and how good they are at frying. Keep reading to learn more about cooking oils!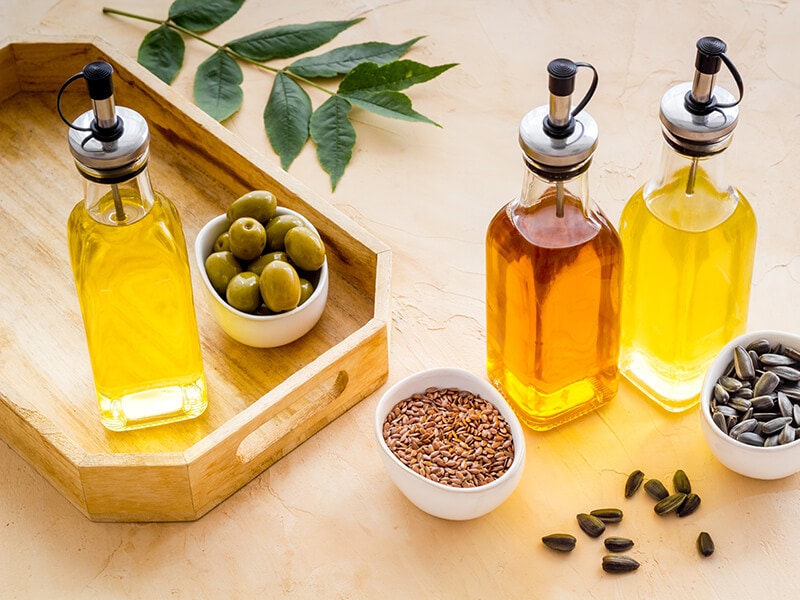 Cooking Oil: Definition and Importance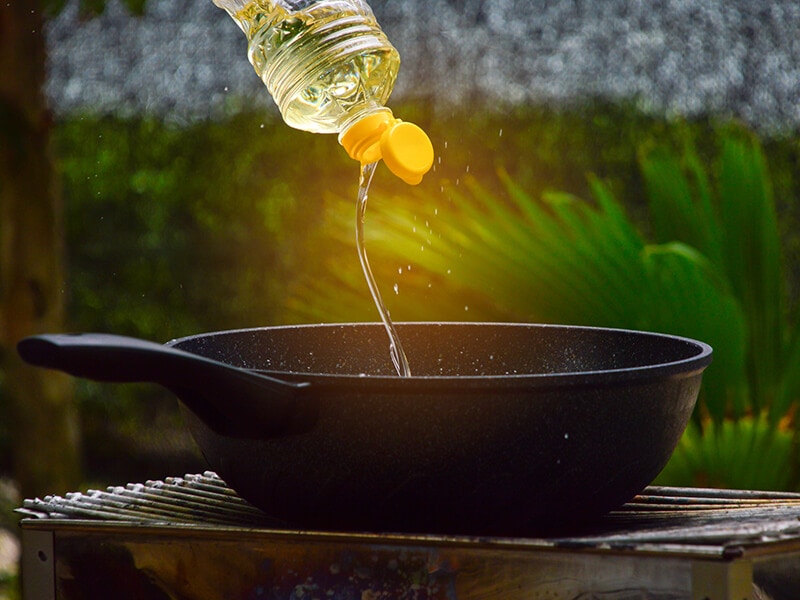 Cooking oil is liquid fat from animals, plants, or synthesis used in frying, baking, stirring, and other cooking techniques. Some kinds of dishes without involving heat also use some oil with saturated fat, such as palm oil and coconut oil.(1)
There are many plant-based oils, such as olive oil, soybean oil, canola oil, corn oil, sunflower oil, and other vegetable oils. Butter and lard, on the other hand, are animal fat.
The purpose of cooking oil is to prevent food from sticking to the cookware. Oil can also be heated up above 300°F (148°C) while water tops out at 212°F (100°C), which means oil heats things faster.
Oil serves as a heat-conducting environment for the foods since frying something in oil transfers heat better than "dry frying". It's also an important flavor contributor, which makes food taste better by bringing out the flavors.
Nowadays, people remove flavors in cooking oils, so they do not intrude on the cooking process and alter the dish's taste. However, some flavors are desirable in cooking, such as virgin olive oil or goose fats are the favorite flavors that many cooks are after.
Let's explore what kinds of oil are the healthiest for deep frying.
Factors
The choice of oil is extremely important if you want your fried fish to be crispy and flavorful. Greasiness and soft texture in fish is a sign of bad cooking oil. A good kind of cooking oil should have all or most of the following qualities: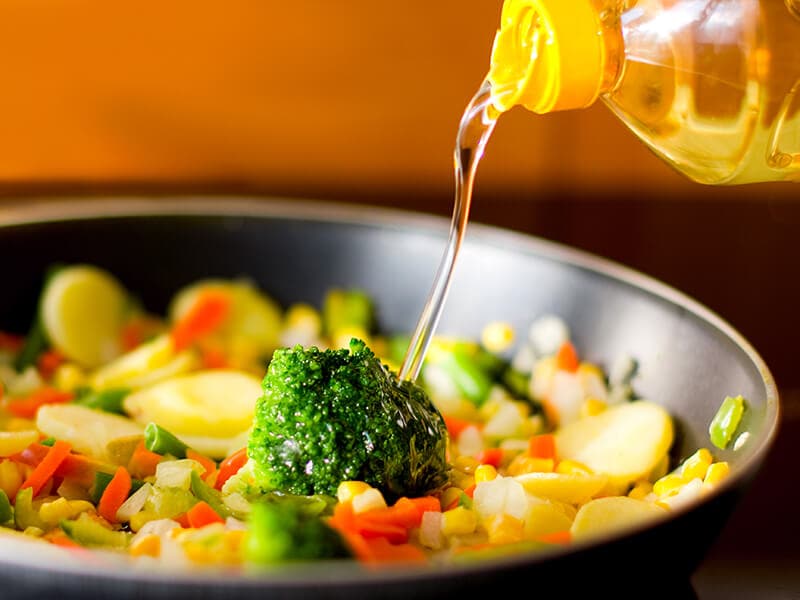 1. Smoke Point
The oil's smoke point, or the burning point, is the temperature threshold where the oil stops simmering and starts smoking, leading to a burnt flavor in foods prepared in the oil. Burnt oil can release harmful substances that are bad for your health.
The perfect temperature in deep frying fish is between 350 – 375 °F. Lower temperature causes the fish to soak up more oil, while higher temperature leads to burning.
That means the kinds of oil with smoke points exceeding that temperature are more favorable. Your oil should be stable and able to handle high heat.
2. Oil Flavor
Most fish have a delicate and unique flavor. It is not wise to choose an oil with a strong flavor that will likely overshadow the original flavors. Oil like virgin olive or goose fat is a bad choice in this case because it imparts a strong flavor to the fish.
Light-flavored or neutral oil for deep frying will help to retain the fish's distinctive taste so that your guests can tell what fish they are eating. It's safe to taste the oil beforehand to determine its flavor.
3. Oil's Form
The form of oil can be an important factor. The refined oil has gone through a variety of processes of filtering, bleaching, and heating.
Due to this process, refined oil increases its smoke point and is suitable for high-temperature cooking. However, refined oils have lost their natural nutrients in the refinement process.
4. Flavor Transfer
Used oil can absorb the taste of the last batch of fried food and transfer it to the next one. It's best to avoid mixing flavors and diminish the original taste of your fish, but it is not that bad in case the last batch you cook is seafood.
In case you have to fry different types of fish in different batches, you should find an oil that won't transfer the flavors of the last batch.
5. Health Factor
Cooking oil can be a two-edged knife, depending on your choice and how you use it. Consume more cooking oils with good fats and less oil with harmful content. Good oil should not only be a part of the cooking process but also a good source of nutrients.
Saturated and monounsaturated fats are the safest and most stable oils in cooking. On the other hand, polyunsaturated oils contain many short-chain acids. These acids easily break apart in high heat, releasing free radicals that can harm your health.
Learn about your cooking oils to know what they are best for.
Best Oils For Fried Fish
With the above criterion, I assure you can find numerous oils that can match those requirements. Feel free to choose any of these oils I recommend you for your frying your fish:
| Oil type | Smoke point | Flavor |
| --- | --- | --- |
| Sunflower Oil | 440°F-450°F | Neutral, slightly nutty |
| Canola Oil | 400ºF | Light and neutral |
| Peanut oil | 400 - 450 °F | Slightly nutty |
| Safflower Oil | 510°F | Neutral |
| Avocado Oil | 520°F | Neutral |
| Coconut Oil | 450°F | Slight coconut flavor |
| Vegetable Oil | 400°F | Neutral |
1. Sunflower Oil
Sunflower oil is one of the most common oils in the market. It is a non-volatile oil derived from the seeds of the sunflower. It has a quite neutral flavor with a slightly nutty hint, but that flavor will not affect the taste of your fish.
Semi-refined and refined sunflower oil has a smoke point of 440°F-450°F, which is suitable for deep-frying. Meanwhile, unrefined sunflower oil is around 225°F, which is not recommended for frying purposes.
Sunflower oil is also great for frying chips and fish. It contains polyunsaturated fat, which is better than saturated fat for your cardiac health.
However, consuming too much sunflower oil can lead to an imbalance in your nutrition. This oil contains essential omega-6 fatty acids, but overconsumption can contribute to cardiovascular disease and inflammatory response.
If you're looking for a good kind of sunflower oil, Iberia Premium Blend, Sunflower Oil & Extra Virgin Olive Oil, which contains up to 80% sunflower oil, can be your go-to.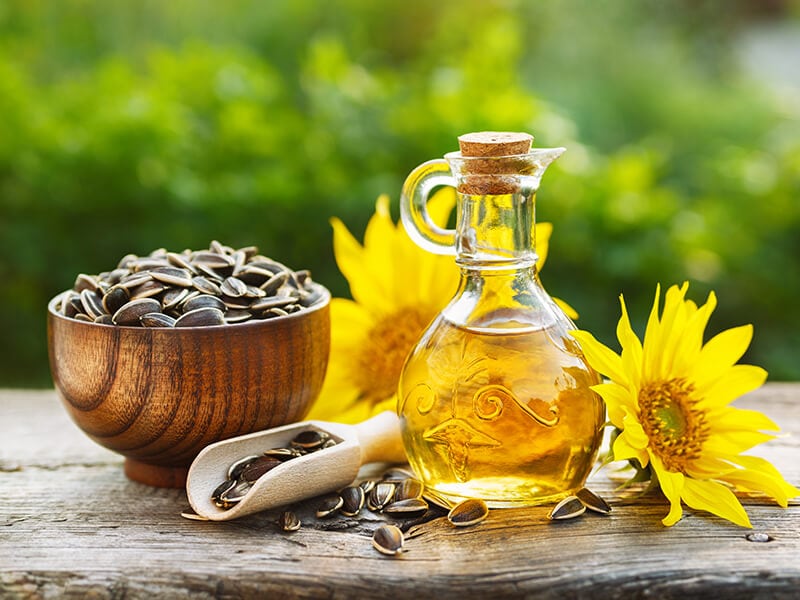 2. Canola Oil
It's hard to find a better option than canola oil when frying food. Canola or rapeseed oil is one of the oldest kinds of vegetable oil recorded.
Because of its light flavor, high smoke point (around 400ºF), and smooth texture, it is one of the most common choices in cooking. Canola oil packs a neutral flavor and is good for frying fish. The flavor of the oil is so light you will not even feel a hint of it.
Canola oil is also high in omega-6 and omega-3, indicating that it's a healthy choice. Deep-frying requires an abundant amount of oil, so the low price of canola oil is also a plus. The price is also why canola oil is the top choice in many commercial kitchens.
However, canola oil is also highly refined because it originally contains some toxins. The refinement process reduces the number of natural nutrients like antioxidants. Try this Happy Belly Canola Oil as a neutral flavor and multi-function oil for your fried fish recipes.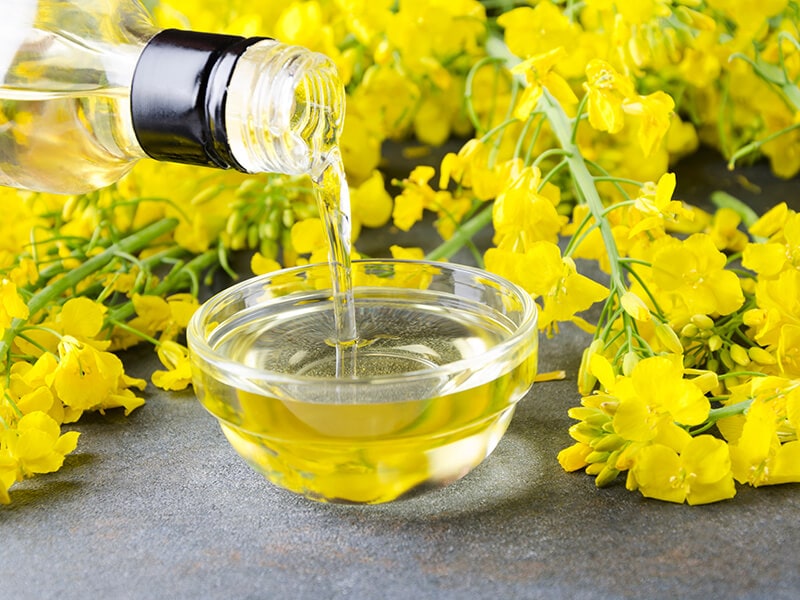 3. Peanut Oil
Peanut oil is a perfect choice for filling up your frying pan due to its high smoke point and the tendency to develop fewer off-flavors during cooking than other vegetable oils. It has a slightly nutty flavor but is so mild that you can barely taste it in the food.
Its high smoke point allows you to fry at 400 – 450 °F and give your fish a desirable crispy texture. Peanut oil also prevents flavor transfer. On the flip side, this oil variety contains some fat that can break down into free radicals and harm the body.
But people with peanut allergy should refrain themselves from using this oil as it can cause allergic reactions.
There are many peanut oil products out there, but La Tourangelle Roasted Peanut Oil is among the most efficient oils and good for all purposes.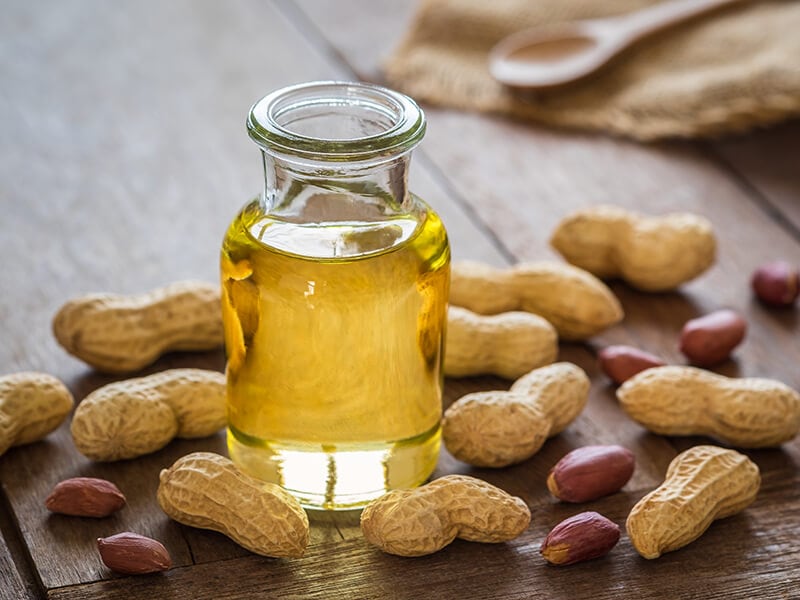 4. Safflower Oil
Safflower oil is great for frying fish due to its high smoke point – up to 510°F. It has a subtle aroma or taste, making it a perfect oil for retaining the original flavors of the fish.
Safflower oil contains high monounsaturated fat content making it even more ideal for cooking at higher temperatures. These types of fat are very beneficial for your health. They lower the risk of heart disease and stroke.
If you prefer safflower oil and can't decide which brand to buy, Hollywood Safflower Oil is worth going into your next grocery list. Safflower oil is more expensive than other oils, but its benefits outweigh the cost.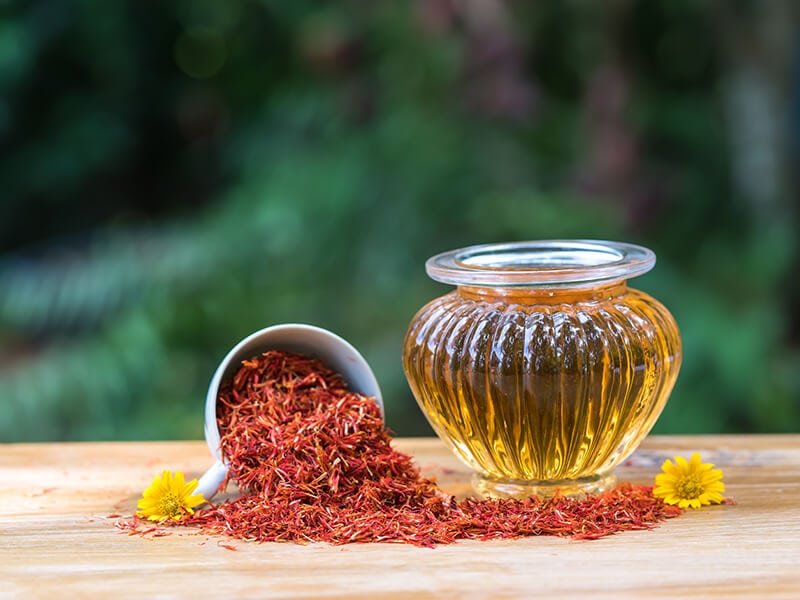 5. Avocado Oil
Refined avocado oil has the highest smoke point, at around 520°F. This makes it good for all cooking techniques, especially deep frying. The flavor is also neutral after the refinement process.
Avocado is good for your health with its rich monounsaturated fat content and high vitamin E level. It is one of the heart-healthy oils that can potentially lower bad cholesterol in your blood.
The biggest drawback of avocado oil is its price. This well-rounded oil is a bit pricey, which is off-putting if you're using it for deep frying. Try this BetterBody Foods Refined Avocado Oil.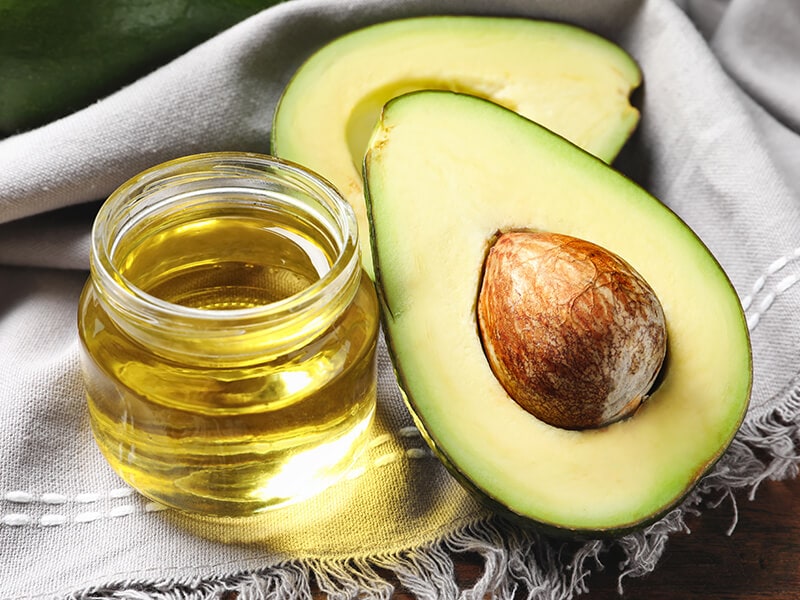 6. Coconut Oil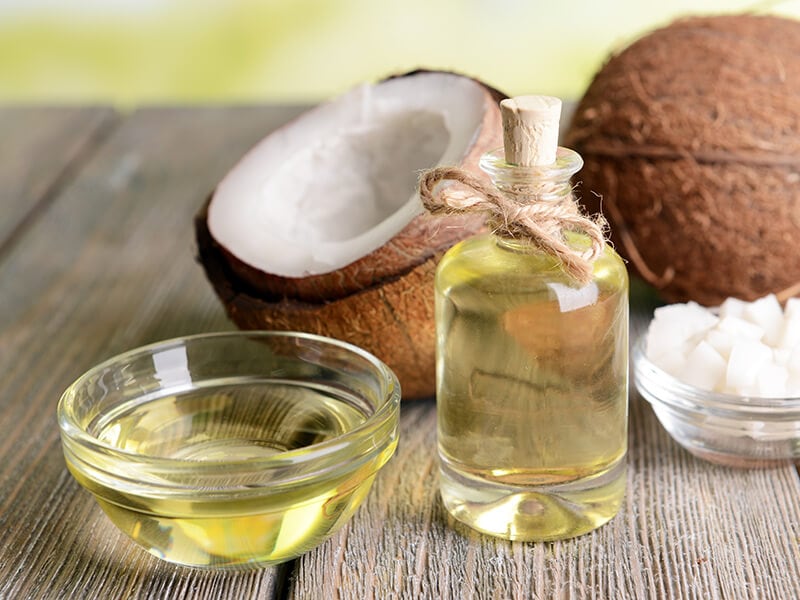 Coconut oil is another healthy option for frying your fish. Its smoke point is around 450°F, which is good for high-heat cooking.
However, even refined coconut has a slight coconut flavor in it, but it's so mild it won't interfere much with your fish taste. It can also reduce flavor transfer when reusing oil.
It contains high amounts of nutrients such as bioactive compounds like polyphenols and vitamin E(2). It's also full of fatty acids that your body needs and extremely beneficial for your metabolism, hair, and skin health.
This oil is more expensive than other oils due to its scarcity and difficult extraction process. Consider its price before using it to deep fry fish.
Coconut oil has grown more and more popular in recent years due to its benefits. Start with this Carrington Farms Coconut Cooking Oil to see how it works on your fish.
Learn about the reason why coconut oil is so expensive.
7. Vegetable Oil
Vegetable oil is a blend of multiple oils, such as sunflower, soybean, canola, and palm oil. Its smoke point is around 400°F, making it not so perfect for deep frying but still an acceptable option. It also has a neutral flavor that is good for cooking in general.
The biggest plus of vegetable oil is its economic value. You don't have to brainstorm too much before chucking down a quarter of your vegetable oil bottle into your deep fryer. Vegetable oil is perfect for people who are afraid to reuse fryer oil.
Crisco Pure Vegetable Oil is an ideal choice for deep frying purposes, including fish.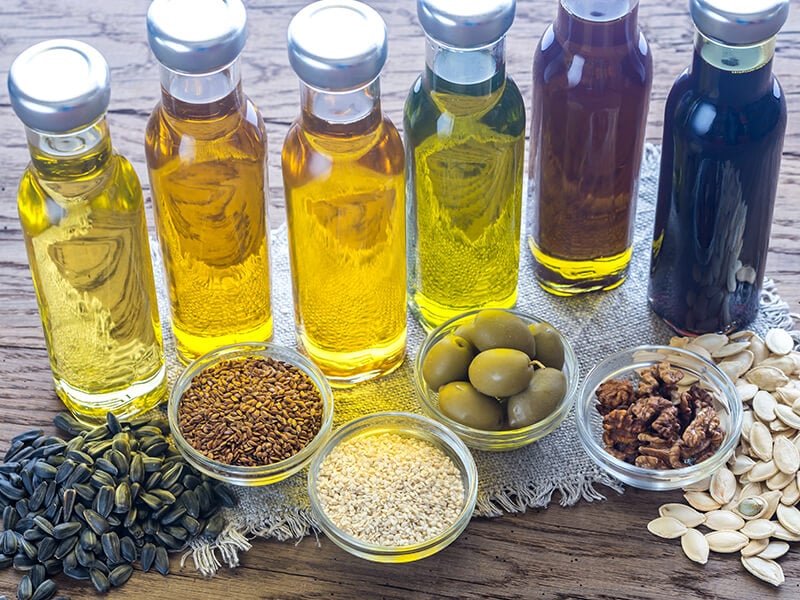 Pro Tips To Perfect Your Fried Fish!
After choosing the right oil, there are still some factors you should be mindful of to make delectable fried fish. Here are some great tips for you: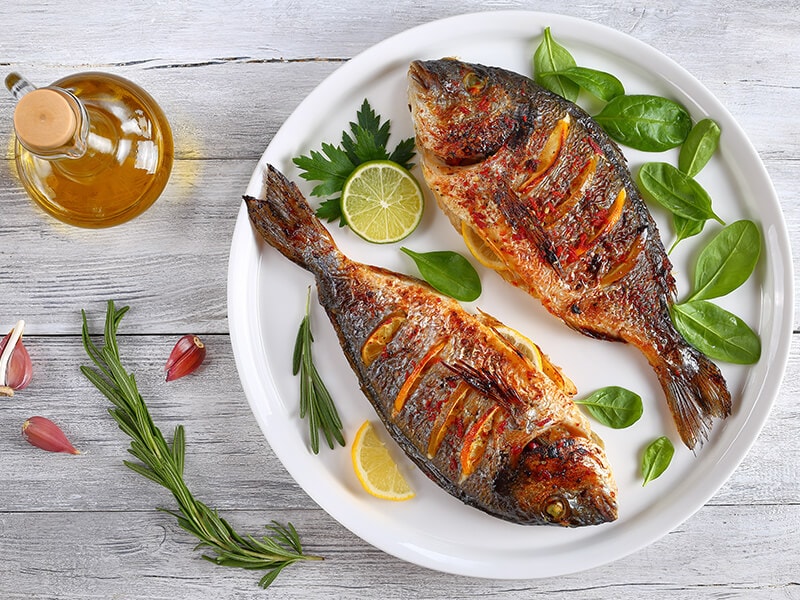 1. Pick The Right Fish
Whether you are opting for crispy fish fingers or fish batter, choosing the right kind of fish for frying is important. Not every fish is fit for frying.
Frying salmon or tuna is not the best choice, for example. It's not impossible, but the fish will lose much of its taste when deep-fried. For that reason, you should choose fish that are neutral in flavor and low in fat, some of which are tilapia, catfish, trout, cod, perch, and halibut.
2. Maintain Oil Temperature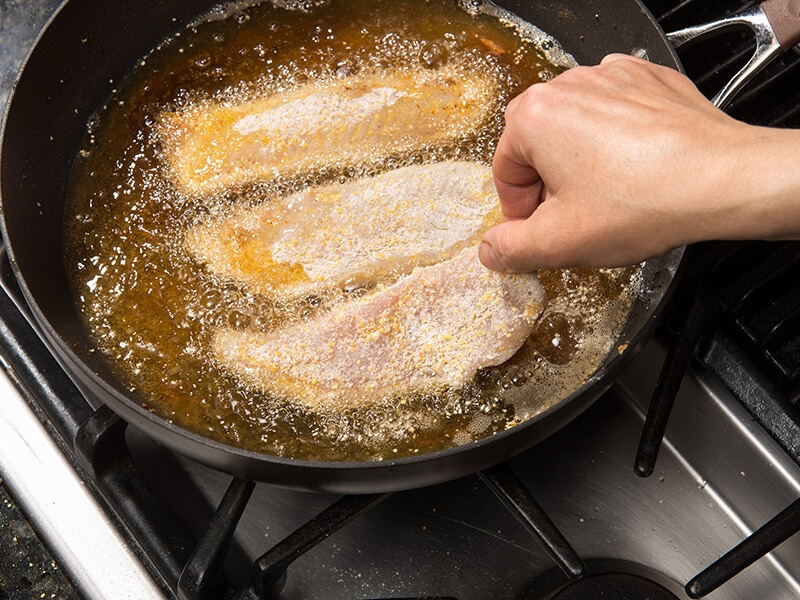 Getting the temperature right is crucial in deep frying. The temperature in frying fish or seafood, in general, should be between 350 – 375 °F. Fish cut into smaller pieces or slices should be cooked around that temperature.
You should not put the fish into oil that is not properly heated, as it will make the fish soak up oil and turn greasy.
Learn this tip to keep your fish crispy when frying.
3. Don't Overcrowd!
When you add food to the boiling oil, its temperature will drop. You should fry them in small batches and then reheat them all at the end. Cooking in a too-dense space will make your fish less crispy.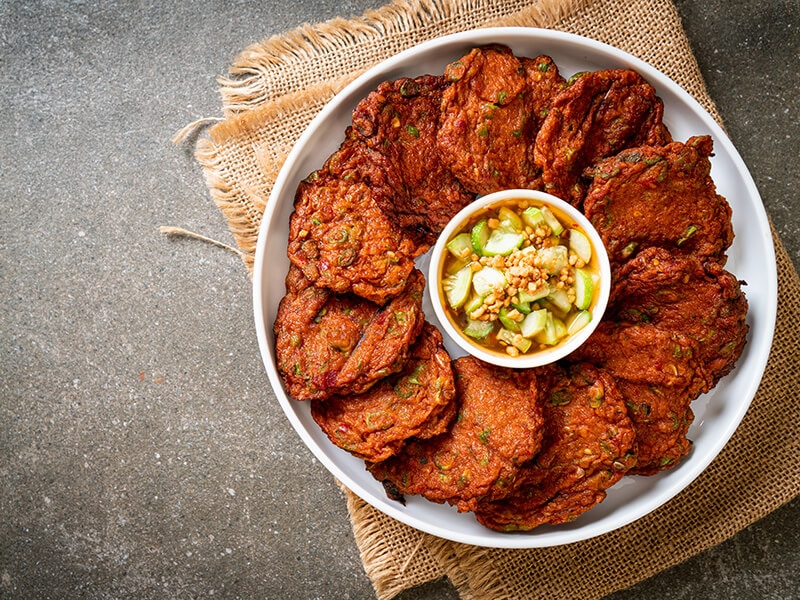 4. Add Salt At The End
Never salt your fish before deep-frying it. The salt will draw moisture out of the food and cause boiling oil to splatter. Salt also lowers the oil's smoke point, making it prone to being burnt. Instead, season your fish after it is fried.
5. Avoid Overcooking
Overcooking will make your fish greasy. When your fish is cooked through, it will stop emitting steam allowing oil to seep back into your food.
Pay attention to what is going on in your fryer to know if your fish is good to take out. When the bubbles subside and the sizzling stops, it's time to serve your fish in the dish.
6. Say No To Paper Towels
Most people use paper towels to extract the extra oil from fried fish. However, putting fish on the paper towels makes the crust steam from below, causing soggy bottoms and coating to fall off.
Learn how to clean and reuse your oil for the sake of healthier cooking.
Best Oil Brands For Your Cooking
Choosing the right oil is not enough; oil has to be processed correctly to retain its nutritional content and remove the excess toxin. Here are some best brands for you to choose from:
BetterBody Foods began as a local farm in 2007. They are striving to be the best healthy food supplier in the market. Food safety and nutrition are their number one standard. Organic and non-GMO products are their proudest achievements so far.
Pompeian is a famous traditional brand known for its high-quality cooking oils. This brand might be familiar to many cooks since they have been in the market for over 100 years. Their long-standing position in the market has proven their product's quality.
Since its introduction in 1911, Crisco has revolutionized how food is prepared. Crisco specializes in providing healthy cooking oils, olive oils, and cooking spray. If you care about your cardiac health, you might want to spend a little extra on this Organic Coconut Oil.
La Tourangelle is famous for its locally crafted products in California and France. Their products are made in small batches stored in delicate metal bottles. Some products are made from hand-picked components to ensure the best quality from the ingredients.
FAQs
That were many things to learn about cooking oils for frying fish, but I still pack some more knowledge in this FAQs section for you!
What's Your New Favorite Oil For Fried Fish?
People love different recipes for cooking fish, but fried fish might be the most chosen dish among fish lovers. Its taste, crispy texture, the way it crumbles in your mouth, everything about fried fish is just too perfect for such an easy-to-make dish.
But be careful about your consumption, fried foods may taste good, but they are not the best food to consume in the long term. You can balance your diet by serving green vegetables alongside your fried foods and choose the right kind of oil to maintain a healthy lifestyle.
One last thing: Please let me know your favorite fried fish recipes in the comment. Also, share this useful article with other cooking lovers!