So, how to smoke fish? Maybe you need an efficient way to keep fish, or you're trying to learn to smoke fish for an upcoming BBQ party. Either way, this guide will have it all.
Smoked fish has a beautiful texture that everybody loves. Flaky flesh infused with the aroma of burnt wood is a simple but delicious BBQ candidate. I will give you a step-by-step set of instructions for you to master the art of fish smoking.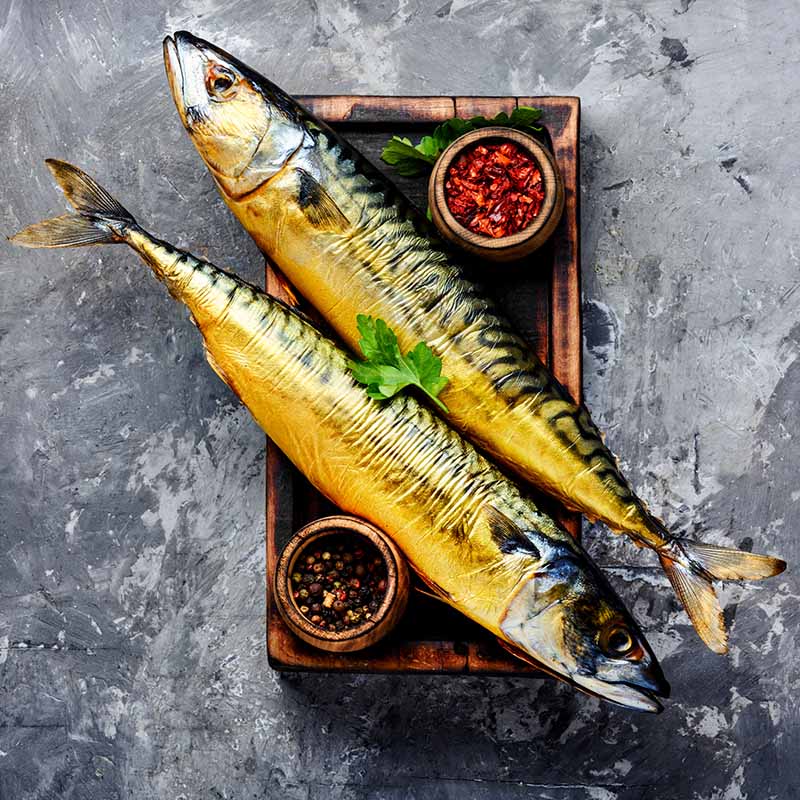 The Steps To Smoke Fish Properly
Fish can be smoked in several ways. Some methods can be more involved than others, and the time required is different as well. Also, you need to spare some time to look into issues regarding the temperature, the wood, and various other elements.
What Is Cold Smoking?
Cold smoking is a smoking process that is often used as a preservation method. It is often paired with curing to make meat last for a long time without the need for refrigeration.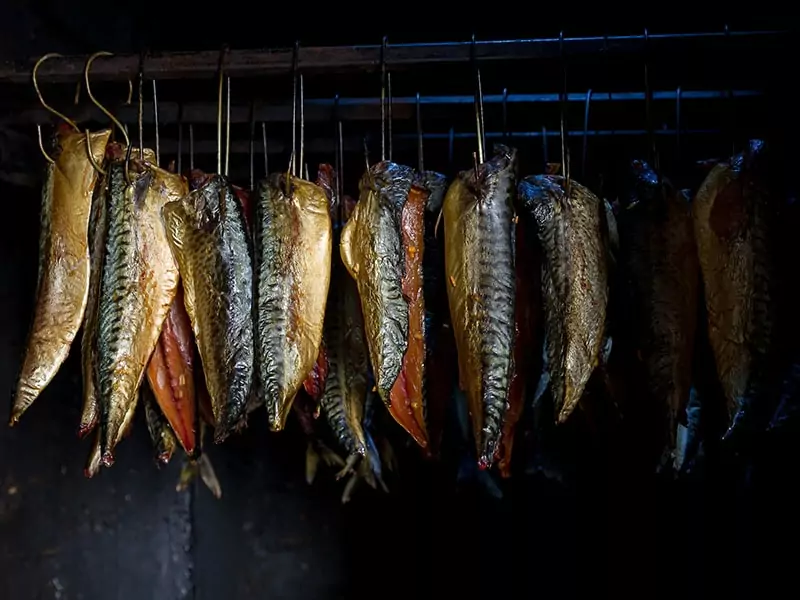 Step 1: Prepare The Fish
Once you check for signs suggesting fish spoilage, note that small and big fish are prepared in different ways. Small fish can be smoked whole. Big fish need to have their head, gills, and guts removed. Then you should cut along their spines and butterfly them like you would with a chicken breast.
If you're starting with frozen fish, make sure you thaw fish properly. This might seem unimportant to some, but improper defrosting can cause sogginess in food as well as food hazards
Step 2: Dry Rub Or Brine
The purpose of this process is to draw out the moisture inside the fish. Salt alone is enough for the job. However, you can also use a mix of salt and brown sugar at the ratio of 1:1.
For extra flavors, you can add some more herbs and spices based on your references. You can coat the fish with salt, or mix the salt into the water to make a brine and soak the fish in it.
If you're doing it dry, just rub the salt generously onto the fish. You should add more salt to the meatier side of the fish. If you intend to soak the fish, just leave it in the brine.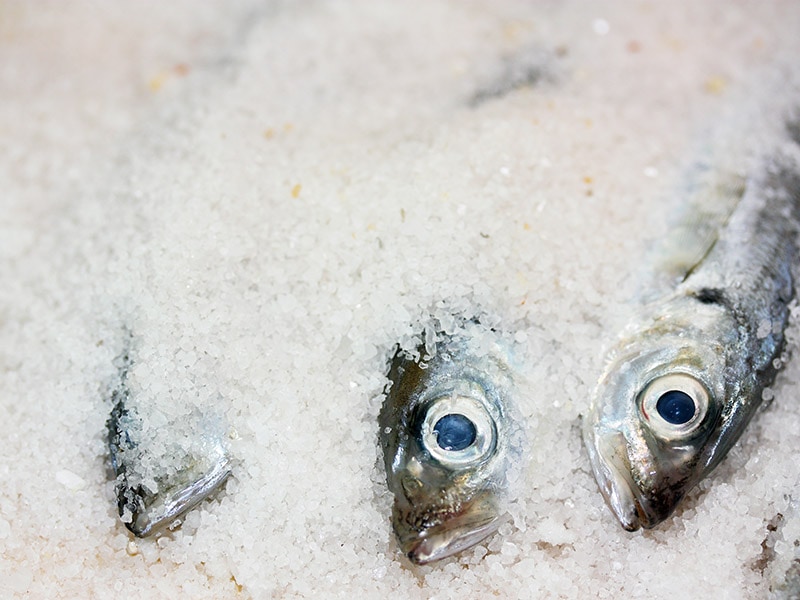 Step 3: Wait Overnight
For dry-salted fish, you can stack them onto each other and store them in a dry, cool place for some time. The duration is in correlation to the size of the fish. Generally, it's best to wait overnight for both methods of salting.
Step 4: Clean The Fish
After you wait for one night, rinse the fish under cold water to remove excess salt, and pat them dry with paper towels. Do this for brined fish as well.
The salt extracts water from the fish, so you should find some juice dripping from the container. This is a sign that the fish is ready for curing.
Step 5: Cure The Fish
This is the last step before you can smoke the fish. After you clean them, find a rack and hang them to dry. Make sure that the fish is perfectly dry before you attempt to cold smoke.
The best way to tell when the fish is cured is to look for the pellicle. This is the shiny outer layer of the fish formed after curing. It seals the moisture inside and helps smoke adhere better to the fish when smoking. (1)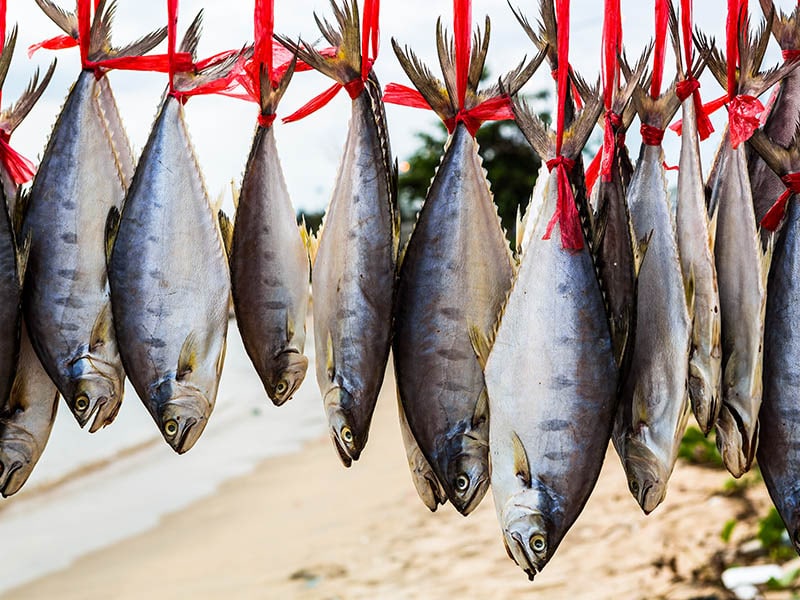 Step 6: Place The Fish Inside The Smoker
If you're using a smokebox, it may have come equipped with racks you can use to spread the fish on. You can also use wires or strings to hook the fish and hang them on the rails of the smokebox.
Step 7: Finally, Cold Smoking
It's called cold smoking because it's done at a temperature below 70 degrees F. For this to be possible, the fire needs to be situated away from the fish. A smokebox is convenient because it is built with this feature in mind.
You should find ways to cover the holes on top of the smokebox when necessary. Being able to control the flow of smoke is important.
After everything is in place, burn the fuel and let it smoke slowly. Keep in mind that you need to regularly check the fire and maintain airflow during the whole process.
You can cold smoke the fish anywhere from a few hours to a few days. The fish can store for longer the more you smoke it. However, there is no definite answer as to how long smoked fish can stay good outside the fridge.
Should you intend to not eat them straight away, it is best to keep them inside the fridge and treat them as normally cooked fish. Though properly cold-smoked fish can indeed be stored long-term, I do not recommend this because there are still some risks in this process.
Check out this easy-to-follow guide on how to cold smoke salmon properly.
Is There Hot Smoking?
Hot smoking is the process where fish is smoked in a short amount of time, much shorter than cold smoking. The fish can stay in the smoker for 3 hours, and the whole process can take as short as 4 hours.
Step 1: Choose The Right Fish To Smoke
If you intend to get fish from the store, make sure to pick fresh fish. You should choose fatty fish for better flavors. You can check for more info about which fish to choose in the fish section down below.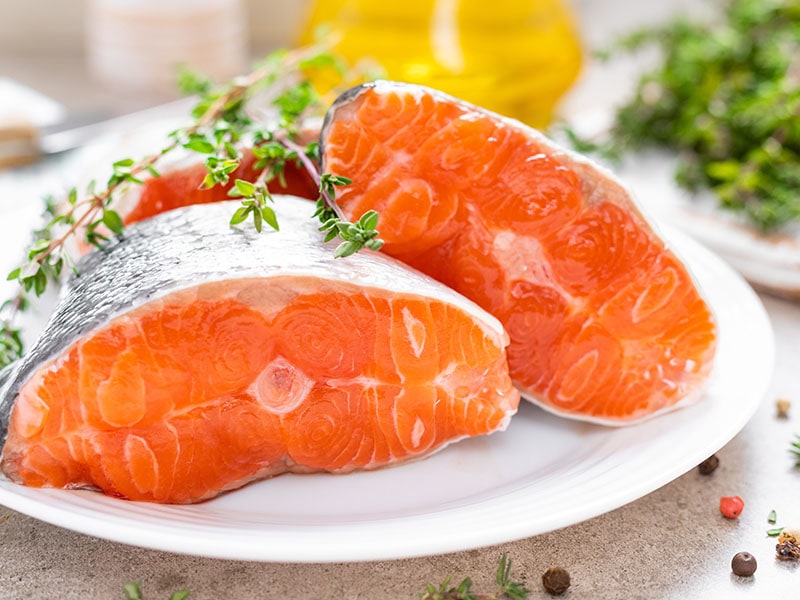 If it's a recent catch, you should immediately put it on ice to preserve the freshness. Small fish can be smoked whole, while big fish would need some preparations for it to be ready for the next steps.
Learn how to tell whether the fish is fresh through this short clip.
Step 2: Prepare The Fish & The Brine
If you buy your fish, high chances are that they are already prepared. You don't need to do anything in this scenario.
For recently caught fish, they should be put on ice right before preparation. You need to scrape off the scales using the dull back of the knife. Next, remove the heads, fins, tails, and guts. Rinse the body over cold water to remove any remaining blood and guts.
Cut the body into filets using the spine as a guide. For big fish, you may want to cut them into smaller portions for better temperature control during the smoking process.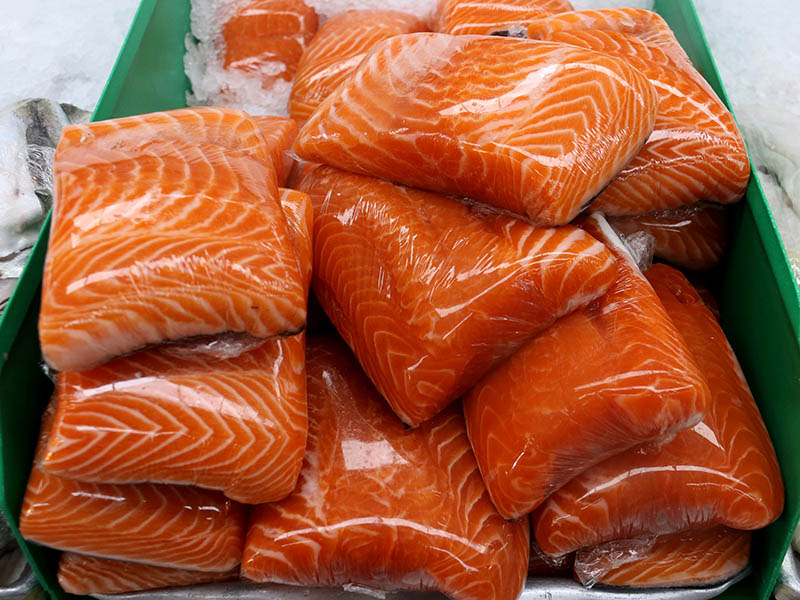 Step 3: Brine The Fish (Optional)
Since you're hot smoking, this step can be omitted. Hot-smoked fish can get pretty tough if you put them in a brine. However, for clarity, I'll still give you the information regarding this step.
Make the brine by combining water and salt into a bowl. Use as much salt as 1-2% of the weight of the fish. For a sweeter profile, add sugar into the mixture. The sugar to salt ratio should be 1:2. Mix everything until the solution becomes clear, then place the fish inside the bowl.
Wait for 6-10 hours based on the size of the portions. Filets tend to float to the surface of the brine. In this case, use another bowl or something heavy to push the fish down for it to brine thoroughly.
Step 4: Apply Dry Seasonings
If you choose to brine the fish, take it out of the solution and wash it under cold water. Dry it well with paper towels.
Now you can sprinkle your favorite spices and seasonings onto both surfaces of the fish. Paprika, olive oil, honey mustard, peppercorn, and garlic are some common ingredients you can use to make the rub.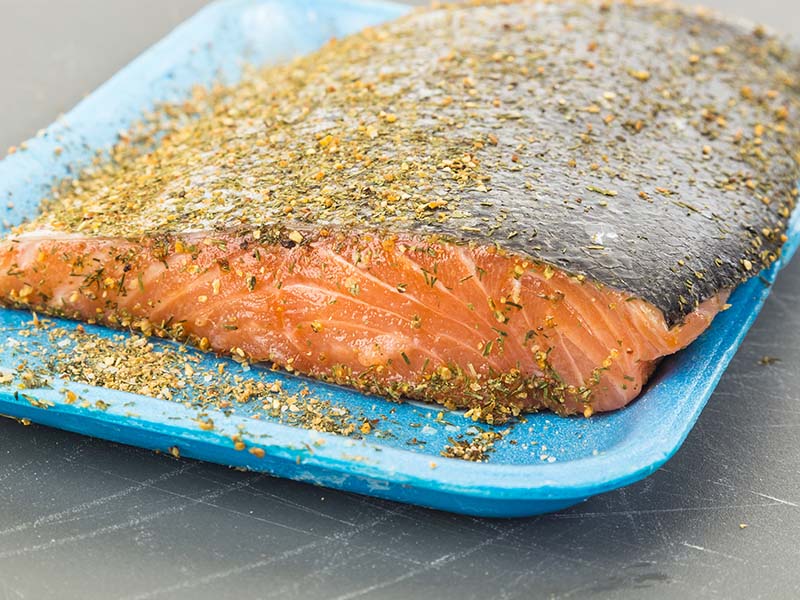 Step 5: Prepare The Fuel
You can hot smoke on either a grill or a smoker. Add in the wood chips and preheat them for 45 minutes in whichever device you prefer.
You can also use wood shavings or sawdust if the manufacturer of the smoker allows it. Every type of fuel gives a slightly different result. Test out various woods to find your personal favorite.
Step 6: Smoke The Fish
If you're smoking filets, flip the fish skin side up to crisp up the skin. For thicker cuts, flip as needed to keep some parts from being overcooked. Also, look for signs of cooked fish to make sure that you don't accidentally overcook the fish, which will result in a dry and flaky texture.
If you're smoking skinless cuts, be careful when you move the fish. It can stick to the surface of the smoker and break apart, so consider using wax paper or olive oil to grease the grate before smoking.
For skinless cuts, you can also smoke them on wood planks. Remember to soak them in water for one hour before cooking.
Direct smoking: You can use a grill, a portable smoker, or a tube smoker for this method. Filets and small fish only need 6 to 8 minutes to smoke. Thicker portions may require additional 10 minutes or more.
Indirect smoking: This method is for traditional smokers like gas smokers and electric smokers. After the internal temperature of the smoker reaches 175-200 degrees F, place the fish inside to smoke for at least 3 hours.
If you're cooking at a higher temperature, reduce the smoking time accordingly:
Above 210 degrees F, smoke for 1 to 2 hours.
From 270 to 340 degrees F, smoke for under 1 hour.
This hot smoke tutorial offers some great tips that you can follow.
Wait, Before You Smoke The Fish
Techniques are one thing, but knowing how much fish to prepare for an individual and having the proper supplies can make a good smoking session. Different fish varieties have different reactions to smoking, and you must know the most common ones to make good smoked fish.
What Type Of Fish Should You Smoke?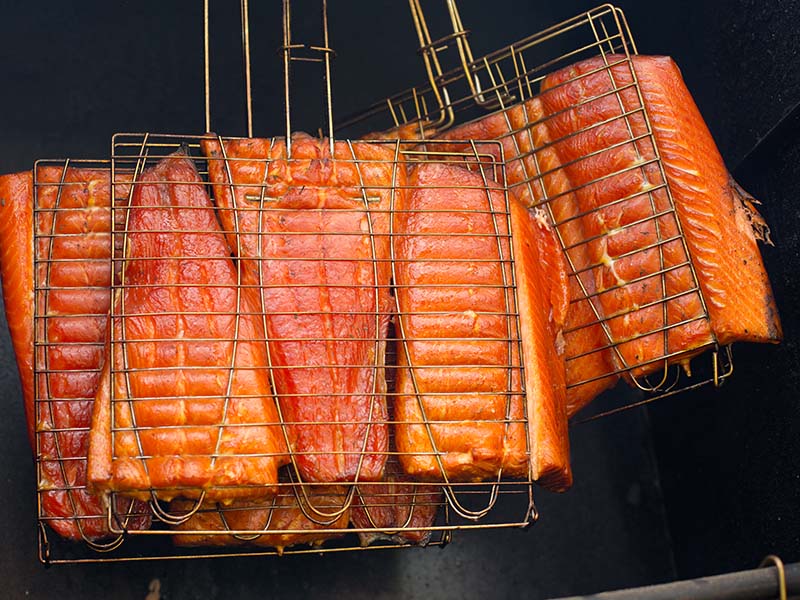 In general, fish can be separated into 2 types: lean fish and fatty fish. Although there are exceptions, fatty fish are mostly more suitable for smoking because they absorb the flavors better than lean fish.
Salmon is a common example, despite the fact not many people know if smoked salmon is classified as cooked or raw. Smoked salmon is a treat on special occasions, and it tastes good because the fish's fat tissues absorb the flavors of the wood better during the smoking process.
Therefore, when you choose fish to smoke, it's better to go for fatty fish. They are a great source of omega-3 fatty acids. (2) Other than salmon, there are also tuna, trout, mackerel, sea bass, sturgeon, sailfish, and sablefish.
You can smoke lean fish, but it is not as ideal. A typical lean fish you can use for smoking is haddock and tilapia. However, they need extra flavorings to compensate for their lack of fat.
Some cuts of fish are better to smoke than the others. For big fish like salmon and tuna, their filets are good cuts for smoking.
It's also better to leave the skin intact while smoking for the flesh to hold together. You wouldn't want smoky chunks of tasty fish to fall apart in the smoker.
The Necessary Tools And Supplies To Smoke Fish
When you smoke fish, proper tools and supplies are needed. You should get all of the things mentioned below to ensure that the fish can be smoked properly.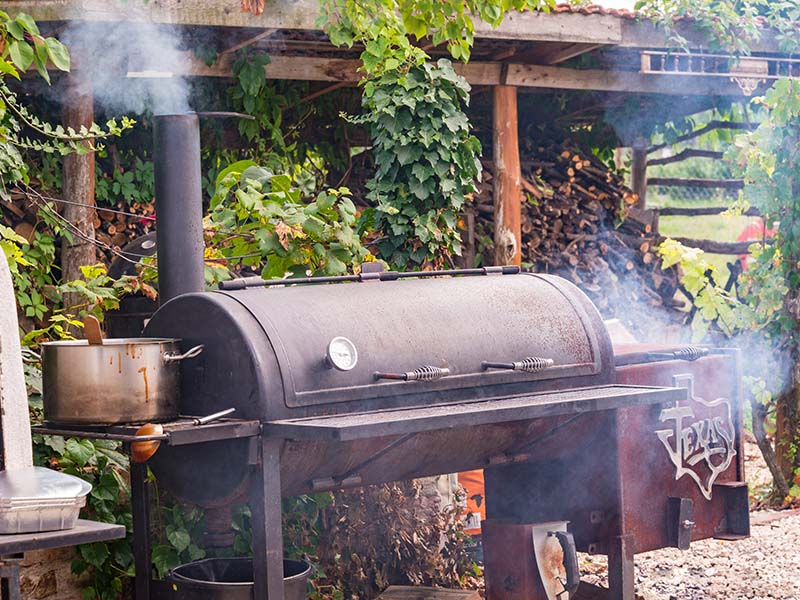 The Smoker And Other Essentials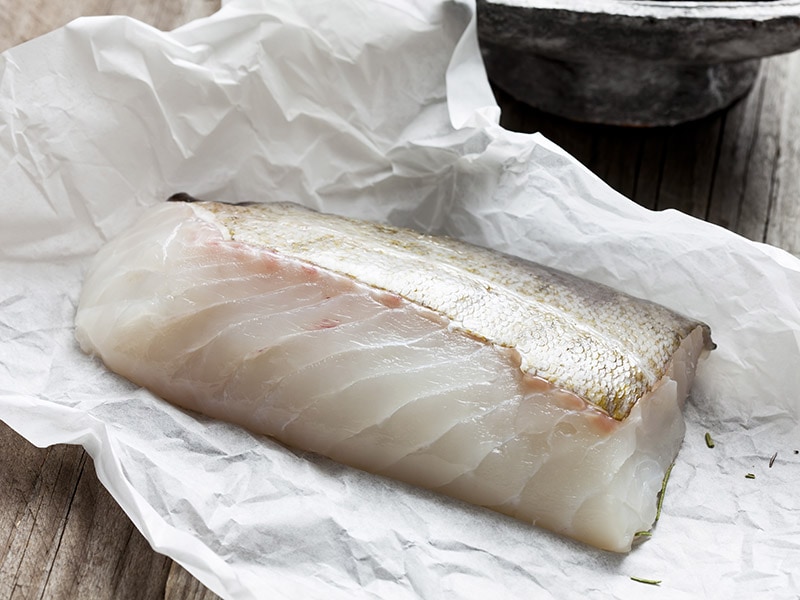 Smoking fish is a pretty demanding task that requires a lot of preparation. Here I have compiled a list of crucial items for your smoking endeavor:
Knife: to cut the fish into sizable portions
Bowls and spoons: to make the brine and temporarily store the fish
Paper towels: to clean and dry the fish after washing over water
Lighter fluid and lighter: to light the fire
Wood chips: to use as fuel for the fire
Smoker/Grill: to smoke the fish inside
Give this video a quick glance to know the basics of operating a smoker.
Wax paper: to prevent the fish from sticking. If you don't have one, find something else to replace wax paper. Otherwise, you'll have a difficult time removing the fish and cleaning everything up afterward.
Meat thermometer: to check the temperature of the fish
Wood That's Good For Smoking
Fuel is important in smoking. Not only is it used to cook the fish, but it is also what imparts flavors into the fish. If you're not picky about this sort of thing, you can smoke with any wood chips available in your area.
For those who are more enthusiastic, the common options are alder and fruit woods. They need to be non-resinous, dense woods. Here are a few types of wood you can look for to smoke your fish: oak, maple, apple, birch, pecan, mesquite, hickory, beech, cherry alder, and alder wood.
Learn about the best woods for smoking and relevant information about them.
Additional Tips To A Perfect Smoked Fish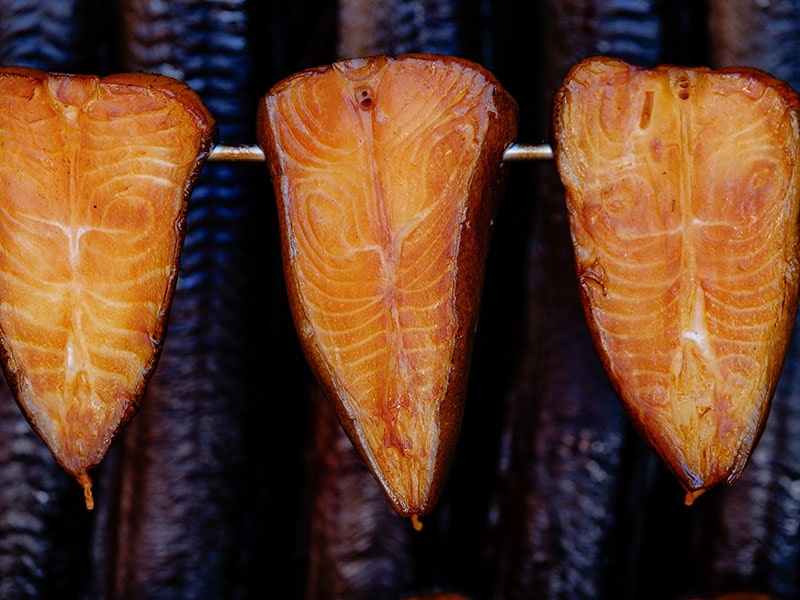 Now that you've nailed the basics, it's time to know about the smaller details that can enhance your fish smoking session. Here are some tips you can take notes of and avoid unnecessary issues along the way.
It's a good idea to smoke one type of fish at a time. Different cuts also need different times to fully cook. The rule of thumb is the thicker the fish, the longer you smoke it. For example, trout filets only require 90 minutes to cook, while the whole trout need 60 minutes on both sides.
If there's leftover once your meal is over, you need to store the fish properly and check to see, for example, the maximum shelf-life of smoked salmon and other fish. Utilize the leftover fish to make new dishes during this time span to reduce food wastage.
If your filets are too thin for the thermometer to get a good read, calculate the smoking time using the following formula: 3 hours and 30 minutes per 1 pound of fish.
For food safety, the fish need to reach a temperature of at least 165 degrees F if you're hot smoking.
In case your smoker overheats too much, place a tray of ice inside to immediately cool it down.
Lean fish dry faster than oily fish. When you're curing both of these fish at the same time, remember to give fish like salmon a head start.
Remember that a slight sheen when the fish is curing is the sign that a pellicle has formed and the fish is ready to be smoked.
When storing smoked fish, wrap each portion individually and keep them in a cool place with air circulation.
The dryness of the fish is an indicator of how long the fish can stay in storage. This means that you can increase the fish shelf life by smoking them for longer.
Don't be stingy when it comes to salt. Salt extracts moisture, which is the living environment of bacteria. The more water salt can extract, the lower the risk of food poisoning.
A stable temperature is important in smoking. You should ensure that the temperature of the area inside the smoker does not exceed or go below the recommended numbers too much.
FAQs
I'm sure I have covered the basics needed for you to smoke fish. There are other details, however, that you may come to ask when you begin the smoking process. I have compiled some of the popular questions regarding smoked fish down below.
Some Benefits Of Smoked Fish
Smoked fish are often fatty fish, and fatty fish is pretty up there when talking about health. Not only does smoking retain and enhance the flavors of the fish, but it also keeps the healthy benefits of the fish.
Smoked fatty fish is a good source of protein, various types of vitamin B, DHA, EPA, and omega-3 fatty acids. These are said to lower the risks of heart diseases and Alzheimer's disease.
I'm sure you have reaped some quality information on how to smoke fish in this article. Should you intend to use it as a guide to smoke your favorite fish, consider leaving a comment to show your support. Let me and others know how tasty your smoked fish is.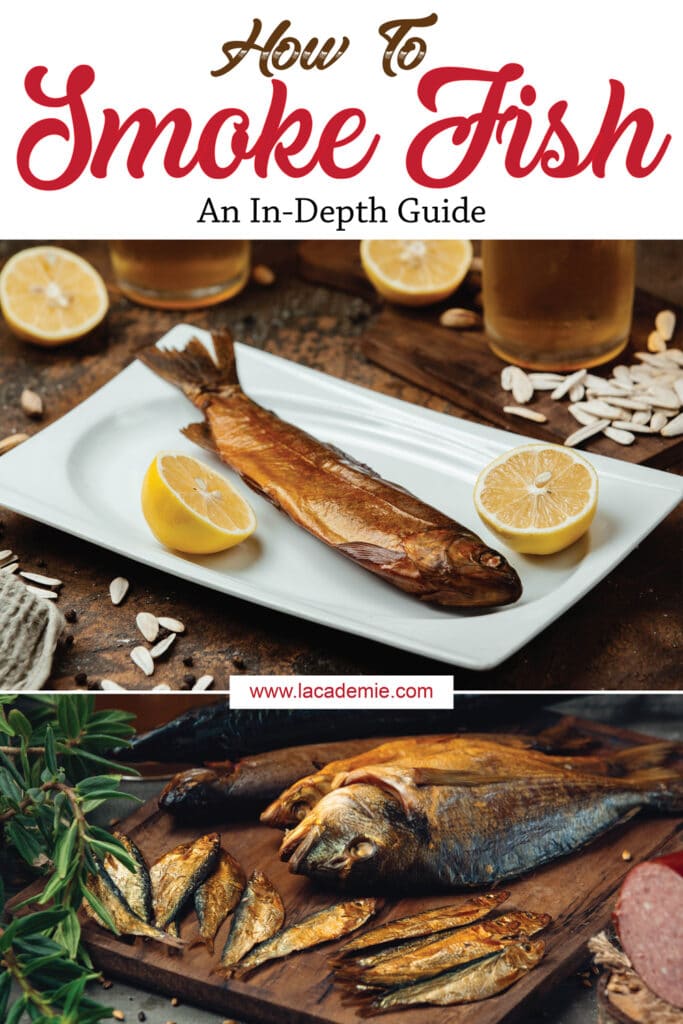 References
Oppenheim, N., 2021. My New Pellet Smoker Upped My Seafood Game
Harvard Health. 2021. Ask the Doctor: Does Smoked Fish Contain Omega-3 Fats?